BALI VOLCANO
Bali safe to visit in 2023 after earlier eruptions and tremors
The Mt Semuru eruption in East Java 4 December 2021, while affecting Malang, remains a little distance from Bali and Lombok. Bali has experienced off and on eruptions since 25 November, 2017 and the 29 June 2018 June eruptions disrupted flights but it was business as usual by late 2018. Details on resort areas (and distances) in relation to Mt Gunung Agung volcano. Also Bali flights status and live seismic data. Lombok and Bali earthquakes. No tsunami warning was raised but the spectre of 2004 loomed large.
First posted 28 Sep 2017. Updated November 2023
SEE ALSO Asia tsunami damage | Asian health risks and Wuhan virus | Bali resorts review | Bali guide | Covid-19 responses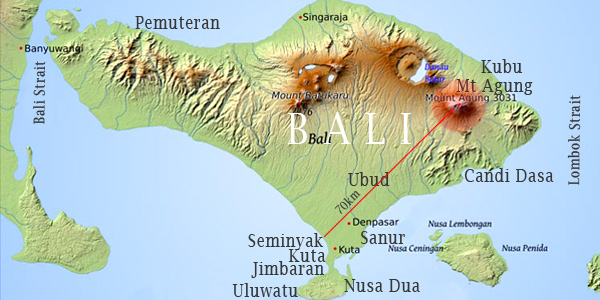 THE MT SEMERU eruption in East Java 4 December 2021, while affecting the hill town of Malang and severing roads and bridges, is a little distance from Bali and Lombok.
Bali was shaken by a 6.1 earthquake centred about 100km south of the island on 16 July 2019. Hotels reported minimal damage and holidaymakers continued as normal for the most part. No tsunami warning was raised. Bali was safe for travel most of the second half of 2018 and by early 2019 it was business as usual on the island. Resorts have kept an eye on the sacred Mt Agung that vented on 15 January 2018 preceding a larger eruption 28/29 June 2018 that closed the airport for a while and disrupted over 300 flights. Several Bali airline cancellations and disruptions ensued. Seismic activity has been up and down but plateaued somewhat and officials are watching the situation closely. Lombok reported a 6.5 magnitude earthquake on 29 July 2018 that trapped hundreds of hikers on Mt Rinjani with several building collapses reported. Much of the devastation was in the north of the island. Lombok is a short distance east of Bali.
The background: The first significant Bali eruptions occurred 25 November 2017 spewing ash clouds 4,000m high and disrupting flights. The alert level for residents and travellers - dropped a notch from the maximum on 29 October 2017 (see Bali Tourism Board 29 Oct announcement) - but was back before long at the highest Level 4. After subsiding mid-November, seismic activity climbed end November with magma rising close to the surface of the crater. The Bali governor declared a state of emergency.
In late December 2017 the alert level for Bali (not the volcano) was lowered, with the government declaring the island safe to visit. By March 2018 the alert level for the volcano was down to Level 2. The government has reminded people to be vigilant in the volcano exclusion zone that ran 10km around the crater and was reduced to 6km by mid January 2018. Despite cautionary tales and advice, travellers and devotees continue to visit the revered Besakih Temple on the volcano's flanks.
Several readers have asked us, "Is it safe to travel to Bali?" Some facts. On 24 September 2017, authorities called for the evacuation of all within a 9km zone that was extended to a 12km radius. The revered Besakih Temple on its flanks was closed. The danger zone in late November was estimated at 7.5km (on 27 Nov this was extended again to 10km) from the crater and face masks were in evidence as fine ash covered areas close to the volcano and cold lahar ash flows poured down the volcano's flanks and through streams. Minor eruptions have continued since.
While volcanic eruptions are notoriously difficult to predict, the Bali Government Tourist Office cautioned against misleading posts and urged tourists (27 September 2017) to "continue visiting Bali." The agency at the time said, "The island is safe except for areas around Mt Agung." The tourist office estimates about "50,000 to 60,000 travellers in and out of Bali Island every day." That was before the eruptions commenced. By January 2018, already the rainy low season, an estimated 70 percent of business (or more) had evaporated.
Gunung Agung volcano last erupted in 1963 causing an estimated 1,500 deaths. Bali's Mt Agung has been considered an active volcano ever since. Find useful information at sites run by the Meteorological Climatological and Geophysical Agency (www.bmkg.go.id) and the Natural Disaster Management Authority, BNPB (www.bnpb.go.id). There is also a detailed live seismogram graph by MAGMA Indonesia displaying recorded seismic activity around Mt Agung minute by minute.
MAIN VOLCANOES
Indonesia has more active volcanoes than any other country and there have been significant eruptions in recorded history.
MT AGUNG At 3,142m Gunung Agung is a sacred volcano in Bali's northeast that last erupted in 1963.
MT MERAPI At 2,968m, and not far from Jogjakarta on the main island of Java, Gunung Merapi last erupted in October 2010. It remains an active volcano.
MT RINJANI At 3,726m this is a popular volcano for hikes and climbs in Lombok, the island neighbouring Bali to the east.
MT KRAKATAU At 813m, and known the world over as Krakatoa, this volcano grabbed international headlines with a massive eruption in August 1883. The island is between Java and Sumatra and the climbs to the top have been stopped. The volcano remains active.
MT BATUR At 1,717m, this is a sibling of Mt Agung in northeast Bali, rising from a scenic crater lake. With sulphur steam emissions growing climbs up its slopes were stopped by 2017.
MT BROMO At 2,329m this is a much photographed perfect cone in East Java. Mount Bromo last emitted ash into the air in 2015 with heightened seismic activity recorded. It's last major eruptions were in 2010 and 2011.
MT SEMURU, an active volcano and the highest point in East Java erupted 4 December 2021, taking lives, disrupting communication, cutting off Malang, and raining ash over a wide area.
MT SINABUNG At 2,460m on North Sumatra, Sunabung volcano has been restless in recent times and erupted in 2010, remaining partially active since 2014 with a bigger outburst in August 2017 and again in late Feb 2018.
AIRPORTS / FLIGHT UPDATES/ BUS EVACUATION
Bali's Ngurah Rai International Airport - the country's third largest facility - has been largely open (it was closed on 28-29 June 2018 and 27-28 November 2017 and further closures are likely based on wind direction). This in itself is not unusual. The airport has closed in recent years due to ash cloud issues. Week of 4 December 2017 the airport was open again with the volcano emitting steam and less ash. But it is worth noting that planes cannot fly through 'radar-invisible' volcanic ash that clogs jet engines. Airport functioning is entirely dependent on wind direction and ash cloud build-up. Southwesterly winds in December and through winter may bring the ash back towards Denpasar airport. A help desk has been set up at the airport to connect tourist to their embassies.
Some key Bali flight status updates and/or flight cancellations are available for Cathay Pacific, Singapore Airlines, JetStar, Virgin Australia, and Bali Airport (www.baliairport.com). Do not be misled by earlier 2015 web updates by Garuda Indonesia about flight disruptions at the time. Through December several flights had been cancelled from China and Australia - not necessarily for safety reasons but due to low load factors - with family travel hardest hit in the festive period. Garuda, AirAsia and Batik Air were reported to be offering the most consistent services.
You can also check live air traffic into Denpasar (Bali) at Flight Radar. Another real time option is Flight Aware.
The government had planned arrangements for passengers to be evacuated on buses via ferries when required to neighbouring islands and Java where nine airports can fly people out (or in), including facilties at Surabaya and Lombok (though Lombok Airport was affected by the late November ash clouds, and shut down for a period). Government-run bus services are available from the airport and points close by to evacuate travellers to Surabaya Airport (423km from Denpasar and a gritty 9-hour run) and other points for an estimated Rp300,000 (about US$22).
An estimated 140,000 persons have been evacuated (and relocated in camps and shelters across the island) while staff of the Bali Animal Welfare Association have rescued stray dogs and pets from the red zone.
AFFECTED AREAS
The area most greatly affected is the Karangasem Regency that takes in the entire east of the island roughly from Candi Dasa (and its exclusive cliff-edge resorts) to Kubu. Travel to this area is being discouraged with no travel within the immediate exclusion zone around Mt Agung. The east is less populated and has fewer resorts with a scenic drive winding through barren countryside along the volcano's flanks - this is where the 1963 eruption tossed out giant boulders and spewed ash and lava flows turning the area into a beautiful wasteland. Kubu is a jump-off point for reef and wreck dives and snorkelling trips off Tulamben. More on the area from Bali Dives.
The Unda River that flows south down the volcano's flank is being dredged in parts around Klungkung and deepened with the construction of a 350m-long dyke to help stem any possible lava flow. This river formed one of the lava channels in the 1963 eruption.
RESORT ZONES
Popular tourist spots Kuta and Seminyak are approximately 70km away to the west of the volcano and Nusa Dua is about the same distance to the south. These are the districts where most of the tourism is concentrated with luxury hotels and family resorts. At the western tip of the southern 'chicken's foot' is the revered Uluwatu monkey temple and another slew of designer resorts.
Ubud, the island's cultural heart in the central hills is just 30km away. This is also home to spectacular Bali spa resorts and honeymooner escapes in the verdant hills, rice terraces and along the sacred Ayung River. Perhaps farthest away from the volcano on the island's far northwestern shores is the former hippie haven of Pemuteran.
FERRIES
Pemuteran is not easy to access at best of times but is very close to the port of Gilimanuk from where ferries operate around the clock every half hour (more frequently in the daytime) for the 30-minute hop across to Java (Ketapang). Other ferry terminals are at Sanur, Benoa (close to Nusa Dua) and Padang Bai (in the eastern Karangasem Regency about a 40-minute drive on the coastal highway from Sanur).
ADVISORIES
Resorts said they are prepared for various contingencies. While the government has prepared for flight diversions, travel advisories focusing on insurance and travel safety (though not outright bans) had been issued in November by Australia (advising a 'high degree of caution' all across Indonesia, with Bali updates), Britain, USA and China. Muddling the issue, some advisories are not Bali specific and have been in place for a while. Travel insurance could be an impediment for some, especially US-based travellers. While business remains somewhat fair with some cancellations, most affected are large upcoming Bali conferences and MICE events that may switch to other destinations or pull out.
HOTEL FEEDBACK
Bali Hotels Association (www.balihotelsassociation.com/news/), an umbrella body, runs regular updates on safety and security. The BHA's Ricky Putra spoke with Smart Travel Asia on 28 September and again on 28 November 2017. "We are emphasising safety for travellers and are working closely with the government and updating information to our members," he said. By 23 October, hotels were reporting slower business but weddings and leisure travel were continuing unimpeded. The BHA has suggested to member hotels that in the event of an eruption and flight disruptions, guests be permitted to stay one day on a complimentary basis and therafter at the best available rate (BAR). Said Ricky Putra (whose resort is still hosting small weddings), "We have offered the first night complimentary to guests who are stranded." It should be understood that this is a suggestion only and not legally binding. Not all hotels on the island are members of BHA. This is a position endorsed by the Bali Tourism Board as well as the Indonesian Minister for Tourism.
While not all hotels have a guest evacuation plan in place - a worrisome prospect given Bali's whimsical roads and traffic - several international chains do. Grand Hyatt Bali's livewire Ronald Nomura said his hotel "has an evacuation plan" though getting people to ferries may be complicated if the whole island gets on the move simultaneously. The hotel is keeping three restaurants open (while other hotels shut outlets temporarily) and maintaining a brisk face.
Kamal Kaul, President & CEO of homegrown Waka Hotels & Resorts told Smart Travel Asia 24 October, 2017, that both his resorts – WakaGangga on Gangga Beach in Tabanan and Nusabay Menjangan by WHM - "are located on the west coast of the island." Regarding guest hospitality he confirmed, "We will offer the first night complimentary to our guests, in case of flight disruptions caused by an eruption of Mount Gunung Agung... The ferry crossing point to Java island at Gilimanuk can be reached in 40 minutes from NusaBay Menjangan by WHM and it [is a] three hour drive along the west coast from WakaGangga."
Jorge Fernandez of the Westin Resort Nusa Dua confirmed 25 October to this magazine, that the resort "has carefully developed emergency plans in place to ensure that the safety and security of our guests and associates remains our top priority."
Craig Seaward, general manager of the W Retreat and Spa Bali remains upbeat. "All hotels under the Marriott portfolio in Bali continue to welcome our guests and are operating normally. We do not have hotels located within the regency of Karangasem. We will continue to monitor the situation closely." This was on 26 September 2017.
Pande Sutawan of Royal Pita Maha Ubud spoke with Smart Travel Asia on 28 September 2017. "Things are on track relating to possible evacuation and alert levels and the government is actively monitoring the situation," he said. "The local community is very involved and lending a hand. While no predictions are possible all precautions are in place and travel is normal."
Just out from an evacuation drill, Ana Henriques, general manager of Mandapa, A Ritz-Carlton Reserve, spoke on a crackling line on 28 September to assure Smart Travel Asia readers the hotel was doing its utmost to stay prepared in its river valley location at Sayan (beyond Ubud on the road heading down to Denpasar). Said Henriques, "Things will mainly affect the airport. We are 45 km away from the volcano and are ready for any possible evacuation. We will help guests as much as possible." The main burden of traveller dispersal "is with the airport and the local authorities."As on 24 October, it was "business as usual".
Singapore-based Vikram Khanna who owns the hideaway 12-villa yoga and lifestyle retreat Villa Nirvana in Penestanan, Ubud, looks at things pragmatically. Thirty kilometres from Mt Agung,, "a fair distance... we stand ready to help those who are in any way [disrupted directly] possible both financially and in kind. We do expect some disruptions in supply too so we are increasing our stocks of basic essentials like water and food as well as medical supplies." Like other resorts, Villa Nirvana is closely watching for any flight disruptions. This was the view of several resort owners and managers we spoke with.
Send us your Feedback / Letter to the Editor