NIGHTLIFE
Band on the Bund
Everything you need to know about Shanghai nightlife and feisty female axe-throwers. Also cool bars, top nibbles, hip clubs in Pudong, and hot jazz venues.
SEE ALSO Shanghai shopping | Shanghai business hotels | Beijing business hotels | Beijing nightlife | Sanya resorts | Hangzhou guide | Qingdao fun guide | Shenzhen business hotels | Hong Kong guide | Tokyo fun guide | Seoul business hotels | Kuala Lumpur nightlife | Singapore nightlife | Second Life virtual travel
JUMP TO The Bund | Luxe stuff in Pudong | People's Park | Xintiandi bars and clubs | French Concession | Shanghai clubs and live music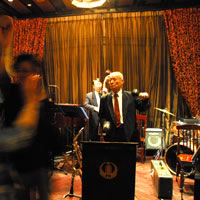 Fairmont Peace Hotel jazz/ photo: Vijay Verghese
FRENETIC commercial hub by day, Shanghai transforms after dark into a sparkling seductress. Historically, this has been a party town, and yesteryear's opium dens and dancing halls are today's nightclubs and whisky lounges. Shanghai has returned to its rightful place as one of the world's great sin cities – welcome to Shanghai by night. And the city continues to beckon with Shanghai tea houses, Bund weddings and more in a newly energised 'Maritime Silk Route' endeavour.
The Bund and the beautiful
After a half-century of neglect, Shanghai's iconic Bund waterfront underwent a three-year overhaul ahead of the 2010 World Expo. Now, the famed social and commerce centre of the swinging 1930s, is once more debonairly dressed and ready to thrill. From the regenerated RockBund district in the north, to the former dockyards in the south, many of the riverfront's iconic heritage buildings have been transformed into luxury hotels, clubs, boutiques, cocktail lounges and dining palaces.
Send us your Feedback / Letter to the Editor
It's a far cry from 1999, when restaurateur Michelle Garnaut opened Shanghai's first independent international restaurant in the old Nissin Shipping Building on the waterfront. Back then, the Bund was a long shot – but M on the Bund proved to be a very popular pioneer. This eminently stylish institution is still a Bund favourite, serving contemporary European fare such as its signature crispy suckling pig, accompanied by an excellent seasonal wine list. Downstairs, its rosy-toned sister lounge Glamour Bar has a sophisticated 1930s vibe and an excellent selection of bites and drinks from its three sexy bars: the oval mirrored cocktail bar, intimate Champagne bar, and communal wine bar with an automatic dispenser pouring 32 wines by the glass. Glamour Bar also plays host to a diverse collection of artists, panel discussions, musical recitals and an annual writers' festival (tel: [86-21] 6350-9988, 6-7/F, 20 Guangdong Road).
Glamour Bar, 1930s vibe/ photo: club
Five years after M, Three on the Bund opened right across the alley (tel: 6323-3355, www.threeonthebund.com, 3 Zhongshan E1 Road). The stone mansion is home to seven dining and lounging venues as well as the first Evian spa outside France and an art gallery. On the top floor, New Heights (tel: 6321-0909) serves a West-meets-East menu and boasts the best view in the house from the wraparound terrace.
Jean Georges (tel: 6321-7733), on the fourth floor, is the three Michelin star chef's only signature restaurant outside New York. Inspired by old Shanghai grandeur, the moody lounge is filled with pony-hair club chairs and eel-skin benches leading through to a luxurious burnished copper and cobalt blue dining room. If you're not dining on an expense account, try the Nougatine experience nightly from 6-11pm. Seated at white-clothed tables in the more relaxed bar area, you can sample a selection of JG favourites at bar prices. The three-course prix fixe menu rings in at Rmb350, and wines start from Rmb280 a bottle.
Mercato (tel: 6321-9922) on the sixth floor is Jean Georges Vongerichten's first Italian inspired outpost. The deliciously rustic menu, hip concrete and reclaimed wood interiors and comparatively reasonable food prices make this an inviting Bund dining destination. Mercato also has a cool wine lounge and sit-up pizza bar firing gourmet thin-crusts 'til 1am (Thurs-Sat). Book ahead and be prepared to dine either very early or late, as they squeeze in multiple seatings a night.
Three on the Bund has gone for the Jean Georges trifecta with the opening of yet another JG restaurant in June 2014. Chi-Q (tel: 6321-6622) is a concept developed by Vongerichten and his Korean-American wife, Marja. A combination of 'Chi' which is short for kimchi and 'Q' representing the traditional barbeque cooking style, the focus here is on Korean BBQ, where guests grill their own dinner and add an array of homemade kimchi, seaweeds and other accompaniments. Behind a secret sliding doorway, the hip wood and stone design (by the designers of Mercato) looks in toward a striking three-storey atrium, designed by Michael Graves, that cuts through the heart of the historic building.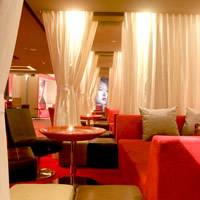 Bar Rouge: Sino sirens/ photo: Bar Rouge
Adjacent to Chi-Q on the second floor, Latin hotspots Colagreco and Unico opened in 2012. Colagreco's (tel: 5308-5396, www.colagreco.asia) fine-dining menu showcases the whimsical creations of two Michelin-star chef Mauro Colagreco from Argentina. At adjoining cocktail, tapas and live music lounge, Unico (tel: 5308-5399, www.unico.cn.com), giant lanterns and colourful armchairs set a more up-tempo vibe as patrons choose from a fun cocktail/tapas menu arranged and paired according to Latin American compass coordinates. At weekends, Unico transforms into a pulsing dance club (see 'Clubs' below).
At No. 2, the former Shanghai Club – an exclusive British gentlemen's club in the 1920s and '30s – reopened in 2010 as Asia's first Waldorf Astoria hotel (tel: 6322-9988, entrance on 88 Sichuan Middle Road). Its heritage marble halls are home to one of Asia's most fabled drinking establishments. The Long Bar was the gin-swilling star attraction of the Shanghai Club. Its must-visit incarnation retains the retro, art-deco vibe and replica 110-foot bar – once the longest in Asia. Smooth live vocals add to the seductive vibe in the evenings, and cigar puffing and oyster slurping from the Oyster Bar is de rigueur.
Bund 18 (www.bund18.com, 18 Zhongshan E1 Road), in the powder-grey neoclassical former Macquarie Bank Tower, is home to must-visit Shanghai restaurant Mr & Mrs Bund (tel: 6323-9898). Behind a big red door on the sixth floor, French chef Paul Pairet offers modern French bistro fare – some rustic, some glammed-up – with more than 100 dishes meant for sharing. Mr & Mrs Bund was placed No. 11 on Asia's 50 Best Restaurants 2014 list. The restaurant is open for dinner nightly and continues as a supper club until 2am five nights a week. Be sure to book a window seat and save room for the excellent desserts, such as the unforgettable lemon tart.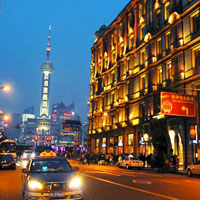 Shanghai Bund view of TV tower/ photo: Vijay Verghese
Mr & Mrs Bund is also the meeting point for diners heading to Pairet's newest venture, Ultraviolet (www.uvbypp.cc). Opened in 2012, this is a cutting-edge gourmet experience. The restaurant caters to just 10 diners a night at a single table in a mysterious location. After a minivan drops you off, prepare to rethink your perceptions of taste. A cigarillo of silky foie gras wrapped in red fruit on a silver ashtray and swirling smoke projections kick off the fun. As the DJ picks up, Pairet presents a mind-bending, 20-course set menu, where each course is accompanied by interplay of sensory components, from 360-degree wall projections to dry scent diffusers. Ultraviolet, which was No. 8 on Asia's 50 Best Restaurants 2014 list and No. 58 on the World's Best Restaurants 2014 list (the highest ranking in Mainland China), is only available to book via its website, up to three months ahead. It's very popular so be sure to plan well ahead. Visitors have been known to secure their dinner booking before finalising Shanghai travel dates.
Bund 18's top-floor Bar Rouge (tel: 6339-1199) is an enduring party haunt, especially popular with travellers to Shanghai. Between show-off bottle-juggling and setting fire to the bar, the bartenders may deign to make you one of their signature ginger melon martinis. The scenic terrace is one of the Bund's finest.
Below Bar Rouge, on level 5, Hakkasan (tel: 6321-5888; hakkasan.com/shanghai) made its Middle Kingdom debut in March 2014. The Michelin-starred London import serves up high-end contemporary Chinese cuisine at eye-watering prices. It's a ballsy concept to bring to China, but the ravishing lattice-framed, indigo-lit design, pre-club soundtrack and reputation as an international celebrity hangout, is winning over locals. And the food is pretty good too, with non-traditional dishes like Jasmine tea smoked Wagyu tenderloin and Peking duck with caviar.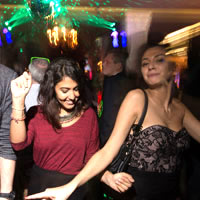 Mr & Mrs Bund/ photo: club
Dim sum is another specialty, served during the day and on the late-night menu from 11pm-1.30am (Friday and Saturday). Wash it all down with Hakkasan's creative cocktails, shaken and stirred at the two restaurant bars.
Right next door, the site of the First International Opium Conference in 1909 is now the funky Swatch Art Peace Hotel (23 Nanjing East Road). Its two-storey penthouse restaurant and lounge Shook! (tel: 2329-8522) fires up pan-Asian favourites from the fifth-floor show kitchen. But even better, is the expansive sixth-floor rooftop where you can lounge on daybeds under the stars or take a perch in the tiny cupola cigar bar gazing out to bedazzling views of the river, Bund and Pudong.
A little further north along the Bund, Sir Elly's at The Peninsula Shanghai (tel: 2327 2888, 32 Zhongshan E1 Road) is an art deco styled fine dining restaurant and bar. Ascend the glowing staircase to the two-storey rooftop terrace for sophisticated sipping amidst breathtaking Bund views. A quick zip across Garden Bridge into Hongkou district, VUE Bar at Hyatt on the Bund (tel: 6393-1234 ext 6348, 199 Huangpu Road)looks directly down the river flanked to the right by the classical architecture of the Bund and to the left by the glassy futurism of Pudong. Enjoy the truly Shanghai spectacle from the 33rd-floor rooftop Jacuzzi.
Opened in the up-and-coming RockBund precinct behind the Bund, 8 1/2 Otto e Mezzo Bombana (tel: 6087-2890, 6-7/F, 169 Yuanmingyuan Road) is a branch of the three Michelin-starred Hong Kong restaurant by celeb chef Umberto Bombana. Come here for simply exquisite fare that sings of northern Italy, albeit at hefty prices. The tiny bar in a separate chamber is a little-known gem.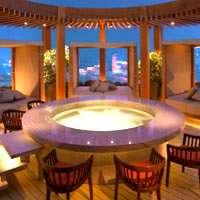 VUE Bar, Hyatt on the Bund/ photo: hotel
Just around the corner at Yi Feng Galleria – a 1911 heritage building revamped as an Italian fashion emporium – Naples-born Shanghai-based chef Enzo Carbone has opened Neapolitan steakhouse, Capo (tel: 5308-8332, 5/F, 77 Beijing East Road). The funky attic space is inspired by a basilica, with its 'altar' reserved for two artisan wood-fired ovens turning out Neapolitan pizzas and Capo's signature 600-day grain-fed organic Australian Wagyu steaks. Heavenly. If you're in the mood to party, follow the thumping bass to local nightclub Muse on the Bund next door (see 'Clubs' section below).
On the South Bund, Lost Heaven (tel: 6330-0967, 17 Yan'an East Road) traces the cuisines and cultures of the Dai, Bai and Miao ethnic hill tribes through China's Yunnan province. From the jangling costumed greeters at the entrance, to the richly spiced curries in the low-lit second-floor restaurant, and exotic cocktails on the rooftop bar terrace – it's folksy fabulous all the way.
Beautifully redeveloped Bund heritage building Bund 22 (22 Zhongshan East No. 2 Rd) is home to several elegant eateries with arched windows and river views. Flamboyant Catalan chef Willy Trullàs Moreno helms popular mod-Spanish restaurant El Willy (tel: 5404-5757) on the fifth floor. Napa Wine Bar & Kitchen (tel: 6318 0057, www.napawinebarandkitchen.com) on the second floor is another fine pick; its 700 unique wines are stashed in a private heritage cellar beneath the building. The tiny 30-seat Tenya Twenty Two (tel: 5302-5317) on the third floor serves omakase-style feasts with a focus on the finest toro. And then there's Cirque Le Soir… (see 'Clubs' below).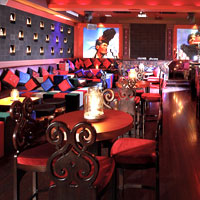 Lost Heaven, Yunnan flair/ photo: club
At boutique hotel The Waterhouse at South Bund, Table No. 1 (tel: 6080-2988, 1-3 Maojiayuan Road, Zhongshan South Road) serves excellent mod-Mediterranean fare created by Michelin-starred Brit chef Jason Atherton. The rusted rooftop cocktail bar is a chilled spot for summertime drinks and stellar Pudong views.
How to throw a party in Pudong
Pudong has perked up considerably and some of the Shanghai nightlife throb has moved here in recent years. The swanky Shanghai ifc development in central Lujiazui features a host of smart venues (8 Century Avenue). At the top of the list is Flair (tel: 2020-1888). Crowning the 58th floor of the Ritz-Carlton Pudong, the Super Potato designed hotspot is China's highest alfresco restaurant and bar. The real kicker is the huge, stepped terrace, affording unforgettable views of the Bund and Oriental Pearl Tower. Reserve ahead for a decadent front-row lounge.
Several sleek dining options can be found on the third and fourth floors of the ifc mall, including a branch of Hong Kong's Michelin-starred Cantonese restaurant Lei Garden (tel: 5106-1688) and Morton's of Chicago, The Steakhouse (tel: 6075-8888). Along with its hearty steaks and American favourites, Morton's is also a popular after-work drinks destination on account of its excellent Happy Hours (Mon-Fri, 5-7pm) serving half-priced martinis and complimentary steak sandwiches in the polished wood bar and expansive fourth-floor terrace.
Across the road at the base of Super Brand Mall, Mamma Mia (tel: 5081-0966, GF50, Super Brand Mall, 168 Lujiazui West Road, www.mattopizza.com) is a familia-style Italian restaurant by the folks behind Capo (see 'Bund' section above). Patrons can enjoy the wood-fired Neapolitan pizzas, antipasti, simple handmade pastas and decent wines inside at traditional red-and-white-checked tables or on the pleasant wooden terrace.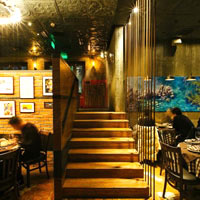 Family style Mamma Mia/ photo: club
Park Hyatt's 100 Century Avenue (tel: 6888-1234, 91-93F, Shanghai World Financial Centre, 100 Century Ave, Pudong) stretches from the 91st to 93rd floors of the 101-storey Shanghai World Financial Centre. The 92nd floor hosts a jazz bar and quieter Oriental-style lounge with a small dance floor and ballroom dancing four nights a week, while the uppermost level is a private dining space for 100 people adorned in mod-Nordic style and lorded over by mischievous ceramic mooseheads.
In the sunken garden of the same skyscraper, popular Shanghai bar chain Blue Frog (tel: 6877-8668, B109, 100 Century Avenue) offers 2-for-1 house pours daily from 4-8pm, good burgers, free Wi-Fi and a friendly, laidback attitude.
Pudong Shangri-La's penthouse bar Jade on 36 is a destination in its own right, offering creative cocktails and jaw-dropping views, plus great workday happy hours. Downstairs, Japanese institution Nadaman serves teppanyaki and yakitori in a Zen-like setting with sleek granite surfaces and big paper lanterns (tel: 6882-8888, Pudong Shangri-La, 33 Fucheng Road).
Over at Mandarin Oriental Pudong, Shanghai (111 Pudong South Road), Michelin-starred chef Richard Ekkebus gives French bistro classics a 'fun dining' twist at Fifty 8º Grill (tel: 2082-9938). Choose to dine in the sexy art deco dining room or head out to the terrace surrounded by manicured lawns and skyscraper views. Meanwhile, Shanghai celeb chef Tony Lu oversees some of the city's finest local cuisine at elegant Chinese restaurant Yong Yi Ting (tel: 2082-9978), which also offers private dining suites and outdoor seating in a lush sunken garden.
Playtime in People's Park and Jing'An District
Jade on 36/ photo: hotel
Several charming neighbourhood restaurants and cazh bars are popping up around Jing'An district, to the north of the former French Concession and west of People's Square. The Commune Social, opened in 2013, is a tapas, dessert and cocktail bar by British celeb chef and restaurateur Jason Atherton (tel: 6047-7638, 511 Jiangning Road). Atherton's second Shanghai venue (after Table No. 1, see 'Bund' section above) serves creative small plates in a simple but sleek setting, with a slither of a cocktail bar upstairs and a cute open-air courtyard.
French pub Le Cafe des Stagiaires (tel: 3425-0210, 1085 Wuding Road) is a trés-relaxed and very reasonably priced spot for a Belgian beer, glass of wine or Pastis along with simple French charcuterie and pizzas. Offers half-price daily happy hours from 4-8pm and attracts an energetic young crowd later in the evenings. Next door, Malabar (tel: 5237-3085, 1081 Wuding Road) has a similar vibe but with a Spanish bent… tapas, Sangria and La Liga – and other action - on big screens.
Constructing an Arabian palace on historic green space in the heart of the city was a questionable move by Shanghai's town planners – but the party people aren't complaining. Deep in People's Park, on the edge of a still lake, candlelit Barbarossa (tel: 6318-0220, 231 Nanjing Road) glimmers like a mirage. Step inside to find three storeys of maharajah chic filled with North African antiques and European trip-hop beats. Food and service can be lacklustre but you won't much care after a cappuccino-flavoured sheesha pipe on the terracotta rooftop.
On the rooftop of the old British Racing Club, Kathleen's 5 (tel: 6327-2221, 5/F, 325 Nanjing West Road) is an elegant restaurant in a glassed-encased terrace beneath the original clock tower. The food plays second fiddle to the ambience. Ignore the haughty security guards at the ground-floor entrance to the former Shanghai Art Museum, and take the lift to the top, then the stairs up to the fifth level, noting the old horsehead wrought-iron staircase railings on the way.
Shikumen chic – Xintiandi bars and clubs
XTD Elevated/ photo: club
Site of the Communist Party's first clandestine meeting in 1921, the 19th century shikumen neighbourhood of Xintiandi (Lane 181, Taicang Road) is now a hub for all manner of glamorous delights. If you have the cash, there are more Shanghai dining options here than you can shake a cocktail ring at – but some are more memorable than others.
On the fifth-floor terrace of The Langham Xintiandi, Shanghai, XTD Elevated (tel: 2330-2288, xtdelevated-xintiandi.com, 99 Madang Road) is an ideal perch in pleasant weather with canopied cabanas, well-mixed cocktails and an open grill.
T8 (tel: 6355-8999, No 8, North Block Xintiandi) serves global cuisine in a lacquered Zen setting, with an impressive list of boutique wines. If you're craving Chinese, Crystal Jade (tel: 6385-8752) and Din Tai Fung (tel: 6385-8378) are perennial favourites. Casual American bistro KABB has sunny seats in the grey-brick lane and great hangover brunches on weekends.
Fans of Liuligongfang will love Taiwanese owner Yang Hui Shan's showcase restaurant TMSK (tel: 6326-2227). Perch on a crystal stool at the bar or head up the carved staircase to a sumptuous dining room complete with musicians playing traditional Chinese instruments on a small stage. Equally colourful is the Shanghai Tang Café (tel: 6377-3333, 2-3/F, 333 South Huangpi South Road), an art deco bar and restaurant dressed in the fashion brand's signature China-chic style with pops of lime, tangerine and aqua.
The dark, sultry DR Bar (tel: 6326 8008) is owned by the architects of the Xintiandi development, Ben Wood and Carlos Zapata. Their minimalist venue is possibly Xintiandi's coolest and showcases design materials sourced in China, from the ink stone slabs to the trio of vodka shooters served in a Chinese "cricket jar".
To the manor born in the former French Concession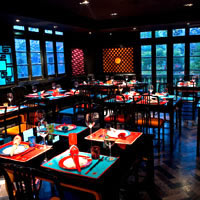 Shanghai Tang Cafe/ photo: club
Shanghai bars and restaurants have made full use of the city's rich architectural heritage and many of the French Concession's finest old villas are now atmospheric tippling grounds.
Members' club KEE Shanghai (tel: 3395-0888, 3/F, 796 Huaihai Road) occupies the upper floors of twin 1920s French Concession villas just off Huaihai Road. Its classic European restaurant and luxe scarlet lounge adorned with art and antiques, lead out to a colonnaded balcony overlooking a quiet garden. A good concierge should be able to get you in.
Sasha's (tel: 6474-6628, 11 Dongping Road) has been the long-time resident of a big red villa formerly home to the infamous Soong family. The bar offers a relaxed, colonial vibe, pool table, reasonable happy hours and an expansive courtyard with comfy wicker chairs.
Cocktail gem Constellation II (tel: 5465 5993, 1-2/F, 33 Yongjia Road) is a more refined affair. Taking its interior cues from the roaring 1930s its two floors joined by a spiral staircase are filled with quiet nooks and leather armchairs bathed in the glow of antique lampshades. Immaculate cocktails are shaken by Japanese-trained barman/owner, Kin. Down the road in a two-storey heritage villa on quiet Anting Road, Cotton's exudes warmth, with four open fireplaces and a large, leafy garden (tel: 6433-7995, 132 Anting Road).
Yuan (tel: 6433-0538, 7-2 Xiangyang North Road) is pioneering Chinese haute-mixology with its well-poured cocktails infused with indigenous ingredients like Changbai Mountain ginseng and hawthorn-infused tequila, along with crispy chili and fish-skin bar snacks and funky red-lacquered furniture.
Nearby, Dr Wine (tel: 5403-5717, 177 Fumin Road) is a popular wine lounge across two levels with a sit-up bar that's great for striking up conversations. It's hoppy relative Dr Beer (tel: 5468-1077, 83 Fumin Road) is just a few doors down in a sprawling space with windows that open up to the street in summer and a selection of craft beers brewed on the premises.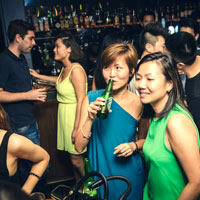 Nightspot The Apartment/ photo: club
The stretch of Yongfu Road near Fuxing Road is a late-night draw – complete with its own late-night hot dog kiosk. The Apartment (tel: 6437-9478) is a heaving nightspot styled like a hip friend's apartment across multiple rooms. Head to the rooftop when you need some fresh air.
Intimate lounge El Coctel (tel: 6433-6511, 2/F, 47 Yongfu Road) serves up well-mixed (if somewhat measly) cocktails and a low-lit, seductive vibe, complete with leather sofas and bagged brick walls. Meanwhile, Bocado (tel: 180 1727 0340) is a stylish Spanish tapas and wine joint by experienced Shanghai restaurateur Charles Cabell.
Further along the road, Yongfoo Elite (tel: 5466-2727, 200 Yongfu Road) is a rarefied members club in the old British consulate evoking the Shanghai of popular imagination rendered in mahogany, old leather, crystal chandeliers and Chinese lanterns. The Shanghainese cuisine is nothing to write home about, but an evening spent draped across a canopy bed in the garden sipping gin-and-tonic and listening to Beijing opera in the background certainly is.
Nearby Anfu Road has become a buzzing gourmet strip. Book ahead for a table at tiny loft kitchen Mr Willis, where Australian chef Craig Willis and his team dish up Oz-Med comfort food for sharing from the cosy open kitchen (tel: 5404-0200, 195 Anfu Road). Downstairs, Willis' La Strada (tel: 5404-0100) serves gourmet thin-crust pizzas along with stylish salads, Italian desserts, plus good coffee and limoncello.
For its jaw-dropping industrial-chic interior and nouvelle Japanese cuisine, book one of the mezzanine tables at Shintori Null II (tel: 5404-5252, 803 Julu Road). The same group also owns bar/restaurant People 7 (tel: 5404-0707) next door, known for its fun password-protected entrance and trick toilets.
Yongkang Road attracts a youthful hipster crowd – arrival by scooter a must. The narrow residential street is lined with ultra-chill, hole-in-the-wall bars and cafes that spill onto the sidewalk, and sometimes right across the street, when the weather is fine. At night, drinkers huddle inside and the stereos are turned down on account of elderly neighbours living in the terraces above who have been known to throw buckets of water down onto noisy revellers.
Shanghai clubs and live music scene
MINT, penthouse club/ photo: club
M1NT sprawls across a 2,000sqm, 24th-floor penthouse, offering 360-degree views from behind the Bund. Join primped-up clubbers in this glam venue complete with a 17-metre shark tank, raunchy pop art murals and hot tubs on the rooftop terrace. (tel: 24/F, 318 Fuzhou Road, 6391-3191).
Within stumbling distance, Muse on the Bund club (5/F, Yi Feng Galleria, 77 Beijing East Road) is hugely popular with a well-heeled local crowd who prefer to gather at low-slung tables and order bottles of spirits and Champagne served with flaming sparklers. There are private KTV rooms at the back, plus a rooftop terrace.
Circus-themed nightclub Cirque Le Soir (tel: 400-991-0088, 22 Zhongshan East No.2 Road) at Bund 22 runs the gamut from sexy to surreal with everything from shirtless clowns juggling on stilts to scantily clad female axe-throwers. It's the third Cirque Le Soir worldwide after London and Dubai. Freaking fabulous.
At Three on the Bund, tapas lounge Unico (tel: 5308-5399, www.unico.cn.com) really lets its hair down after 11pm, when a DJ and live musicians take to the stage and Shanghai's glitterati strut their stuff on the dance floor.
MAO Livehouse (tel: 6445 0086, 308 Chongqing South Road) and Yuyintang (tel: 5237-8662, 851 Kaixuan Road) are two of the most happening music venues with regular live bands and DJ gigs.
Shanghai and jazz are synonymous and two of the city's best-loved live jazz clubs are within a stone's throw of each other on Fuxing Lu. JZ Club (tel: 6431-0269, 46 Fuxing West Road) hosts a varied weekly line-up of vocal jazz, Big Band, Latin and Shanghai jazz, headlined by popular Shanghai-based musicians, while the long-running Cotton Club (tel: 6437-71108, Fuxing West Road) is a much rawer venue with a dark, smoky interior and righteous blues.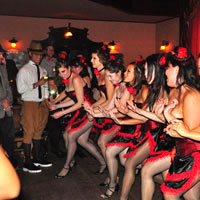 House of Blues chorus line/ photo: club
In a heritage villa behind the Bund, House of Blues & Jazz (tel: 6323-2779, 60 Fuzhou Road) revives the golden Shanghai Jazz Age, complete with wood-panelled walls, art deco furnishings, fat cigars and stiff G&Ts. The musical roster brings top jazz and blues bands from the international circuit for three-month stints, along with 'mellow Monday' gigs by local performers, and jam sessions on Sundays. Back on the Bund, the Fairmont Peace Hotel Shanghai's Old Jazz Band (all members are aged 70+) plays timeless tunes in the Jazz Bar before the livelier Theo Croker Collective takes the stage (tel: 6321 6888, 20 Nanjing East Road).
Shanghai nightlife waits for nobody, so strap on your beer goggles and enjoy the ride.
Send us your Feedback / Letter to the Editor