SPA GETAWAYS
Taipei hot spring resorts
Bubbling sulphurous waters await the intrepid in Beitou and the scenic hills around Taipei, Taiwan. Here's the where and how of some top Taipei spas.
updated by Liz Tsai with additional reporting and photography by Vijay Verghese
SEE ALSO Taipei fun guide | Taipei business hotels | Taipei nightlife | Yilan fun guide | Manila fun guide | Bali spas | Sapporo guide | India spas | Malaysia spas | Thailand spas | Seoul guide | Hong Kong shopping | Tokyo fun guide | HK Haven Street food guide | HK Yuen Long coffee, cafes | Top Asia holiday guide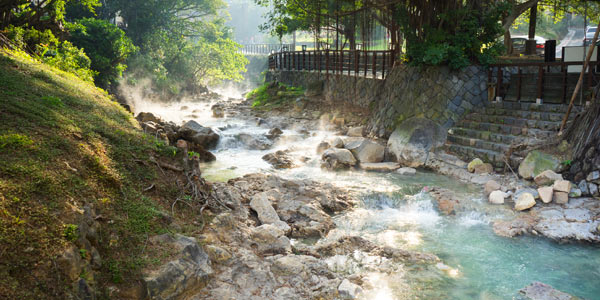 JUMP TO Xin Beitou springs | Wulai resorts | Jinshan (Yangmingshan) | Taipei spa hotels | Hotel Contacts
WHENEVER I FIND MYSELF forgetting why it is I ever chose to live in Taipei – and during the cold, damp winter months this can be relatively frequently – I console myself with the knowledge that relief from the blues is not far away.
Few cities can boast such a natural abundance of world-class, volcanically activated hot water springs on their doorstep as the Taiwanese capital. And thanks to Taipei's ever-improving public transport system, heading out for a quick soak in perfect 60-degree-Celsius waters – cool beers at hand and a massage in mind – has never been easier.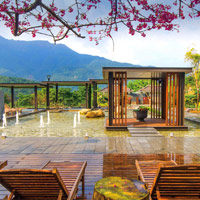 Stylish Yangmingshan Tien Lai resort/ photo: hotel
The Japanese pined for their hot springs (or onsen) whilst governing Taiwan for the first half of the 20th century and soon set their sights on the hills around Taipei.
The area around Beitou, supplied naturally by the geothermal energy of neighbouring Yang Ming Shan (the still active volcano, itself a National Park) became an obvious location for the beer halls, tea gardens, bathhouses and intimate hotels so beloved of the era. For Taipei spas, hot springs, and Taipei spa resorts, the Beitou spa region is the ideal hunting ground.

Send us your Feedback

Hotel Contacts
Xin Beitou (or New Peitou), connected by its own separate line to Taipei's wonderful Mass Rapid Transit system, or MRT, is the most popular and easily accessible of several hot spring regions – others include Wu Lai and Jin Shan – which surround Taipei.
Its spas help keep the Japanese tradition alive, despite a decline in the popularity of spa-going through the 1970s and '80s.
Today, new resorts are springing up offering spa packages catering to tired businessmen, health-conscious families and reticent lovers, alike. Be it hot oil massages, aromatherapy treatments, saunas, karaoke (optional) or fine dining, the Hot Spring Renaissance is upon us.
Send us your Feedback / Letter to the Editor
Xin Beitou area springs and inns
Xin Beitou is the first choice getaway from Taipei. For just about US$1 the aforementioned MRT will whisk you from Taipei's Main Station out to Beitou, a half-hour ride away. Change at this station for a single stop along the branch line to the Xin Beitou terminus and it's as though you've entered a different world. A taxi from Taipei will do the run in about 30 to 40 minutes depending on the traffic for roughly around NT$300 one-way.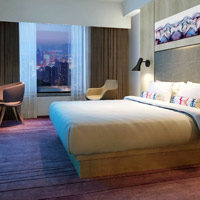 Aloft Beitou room/ photo: hotel
Not quite in Xin Beitou but a short walk from the Qiyan train stop just before Xin Beitou when coming from Taipei City, a hip newby in this general area is the Aloft Taipei Beitou (opened January 2017, www.marriott.com/aloft-taipei-beitou/) with its 292 'jet-setter-styled' rooms ranging from 30sq m to a 48sq m Sweet Suite or an exceptionally roomy 89sq m Breezy Suite, all with large flat screen televisions, fast and free WiFi, and Camp Aloft for kids. Get a 20 percent discount on early bird bookings a week in advance. The hotel has a car park too. This is a hotel-style high-rise with lively interiors.
The decor is minimalist and modern with purple themes and blue mesh screens punctuated by splashes of colour. Expect a gym for evening workouts, a restaurant, the W XYZ bar, and small corporate meetings facilities for up to 80 persons. Need an upbeat company team-building jaunt? This may be the answer.
Uniquely, this hotel is a pet friendly address where your dog is welcome to join you for dinner at Nook, perhaps the first international city restaurant here to welcome canine companions. What's more, for a small outlay of NT$100 your dog will get a special doggie treats, toys and a complimentary diaper. A doggie meal is NT$280. Do ensure Fido is under 15kg to qualify for this barkingly good welcome. Aloft Beitou is not smack in the hot springs area but is happy to arrange transportation to Xin Beitou and its many steaming distractions.
In Xin Beitou, mountain greenery and wafting sulphur vapours stimulate the senses. Straight across from the train station is the Hot Spring Museum, a painstakingly restored Japanese colonial-era bathhouse containing all you ever needed to know about the history of Beitou's spas. Running uphill beside the museum is a road looping up into the steaming foothills, with most of the best Taiwan hot spring resorts located, conveniently, around its circuitous route.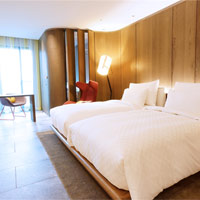 Hotel Royal Beitou/ photo: hotel
One of the first hot spring areas you'll encounter is the Millennium Hot Spring bathhouse adjacent to the museum. This government-run hot spring area is accessible for an incredibly affordable NT$40, and consists of several hot spring pools of varying temperatures for the public to enjoy.
However, unlike many of the private resort establishments, only carefully guarded communal pools are available, meaning visitors are required to wear bathing suits while soaking under the watchful eyes of hot spring attendants.
For a more refined approach, however, the absolutely best place to begin a tour of Taipei spas in the Beitou area is at the Yitsun Hotel. Built in 1901, the hotel was originally named Xin Nai Tang, and was later renamed Yitsun in honor of Dr Sun Yat-sen's given name of Sun Yi-xian. According to the hotel, he had once visited and praised the quality of its hot springs.
Yitsun was also a favoured spot for Japanese army officers – during the second world war, kamikaze pilots would often spend their last nights in Beitou. It is a beautifully preserved wood-panelled collection of rooms built on different levels, set within a garden ring of bonsai trees and centred round an ornate goldfish pond.
Many of the guestrooms are decorated as they've always been in the Japanese style, with tatami mats being the order of the day. Genial matron, Mrs Lee, is one of a gaggle of elderly female staff to whom the Yitsun has been both workplace and home since her teenage years. One of the eccentric design touches at the Yitsun is its lobby furniture, reminiscent of Beirut Airport, circa 1973.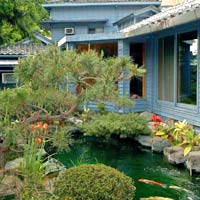 Whispering Pines/ photo: hotel
The baths – the heart of any hot spring resort – are of the communal type, one for men and one for women. These steaming hot sunken pools are set in grey slate stone with views through large windows to the garden foliage beyond. The waters here are clouded almost white, topping-out at around 60 degrees Celsius, comfortable enough to make for long, lazy dips.
Guests wander around as though at home, stopping off for a few minutes in the pool or ordering some of the Yitsun kitchen's fabulous Taiwanese or Japanese food. This is eaten cross-legged at low tables. Sliding doors open to admit gentle breezes and the sound of water trickling in the nearby rock garden.
Dutch design outfit Mecanoo has managed to harness grained stone and textured wood to create a sense of local culture, history, and environment at the Hotel Royal Beitou (www.hotelroyal.com.tw/beitou/), a wellness and therapy retreat. Six spacious Family rooms offer scented plants, hot spring baths and soothing music to get you in the mood. Healthy in-room snacks are free. Standard rooms offer woody accents on the walls and stone floors, with flat-screen TVs and hot spring baths. Yoga mats are on hand too in all rooms. Quan Spa uses specially-sourced essential oils and 'energy massage stones'. And on the top floor is the Mu Hot Springs with hydrotherapy facilities and green hill views.
A little further up the valley is Whispering Pines Inn. Of similar vintage and design to the Yitsun, the password here is discretion. No neon signs or garish fairy lights advertise this spa. One could almost mistake it for a private home. It is this low-key quality that patrons appreciate. Stars such as Richard Gere and Zhang Zhiyi (Crouching Tiger Hidden Dragon) number among the many VIPs to have sought escape here.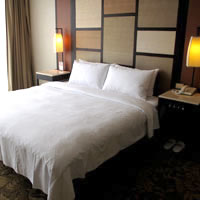 Sweetme new look/ photo: Verghese
Blind masseuses are on hand to work out those knotty muscles, if relaxing in the milky sulphur waters hasn't already done the trick. Later, delicious Taiwanese delicacies tempt the palate, with ice-cold Taiwan Beer to chase them down.
A stone's throw away, a hot spring experience of a more energetic nature is offered by the huge, glitzy and revamped Spring City Resort (www.springresort.com.tw/). This is the sort of place to visit armed with an agenda — there's stuff to keep you occupied every minute of the day. Outside, the extensive grounds include cafes and warm sulphur paddling ponds, children's play areas, swimming pools and fountains.
There's a health club with all the trappings. All rooms come with en suite hot spring baths. Top of the range is the Spring Suite, decorated in minimalist Japanese style. This includes its very own juniper pool and precisely geometrical Japanese yard, a huge dining room laid with tatami mats, state of the art entertainment systems and so on. When not relaxing or exercising, there's no end to the opportunities for eating. Chinese, Japanese and Western menus are on offer at the main restaurants of this five-storey pleasure dome.
The intriguingly named 69-room Sweetme Hotspring Resort (www.sweetme.com.tw) is a contemporary streamlined option with the no nonsense design touches of traditional Japan just a short stroll from the MRT station. This narrow, medium-rise hotel at the base of a small valley, has an unprepossessing exterior but the interiors are surprisingly serene and welcoming. Find blond-wood parquet, cream and beige tones, glass partitions, tatami flooring and ikebana displays. Each room harbours its own private dip pool – a sculptural work of art in its own right – filled directly from the hot springs.
The Deluxe Double rooms reappeared in October 2011 with a smart new look, featuring flat-screen TV, new air-conditioners, tatami futons, camera-size safes, mini-bar, and small desk with one three-pin multi-plug socket. Some sport a narrow balcony with open views across the town and valley.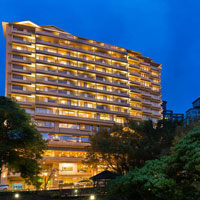 Kagaya highrise/ photo: hotel
The hotel has some limited spa facilities. A word of caution at Beitou hotels: the drainage system is antiquated and many establishments encourage used toilet paper to be deposited in a separate sanitary bag – not in the flush.
The public spa and hot springs area nearby has a Japanese-Mediterranean touch and promises to treat you "like a Roman aristocrat". A Chinese restaurant and coffee shop are on hand to provide post-soak nourishment and a swift return to Asia.
Hailing from a storied Japanese family of inns, the Radium Kagaya (www.kagaya.com.tw/en) arrived in Beitou in December 2010 with the usual unremarkable if neat angular high-rise exterior married with an exquisite "landscaped" Japanese interior with water features, bamboo fronds, pebbled pathways, rice-paper screens, woody surrounds, art works, and black granite spring-fed tubs in many rooms. A blond-wood Garden View Mixed Deluxe Suite offers a Western-style twin bed arrangement with city views out from the tatami-style living area and a black-stone bathtub.
Try an Executive Suite with Open-Air Hot Spring Bath or a Western Guestroom if the spirit is less adventurous. A useful blend of mixed design rooms will ensure guests remain at ease. And the Special Suite on the 16th floor is a lavish affair with twin beds that will not offend Western sensibilities. Female attendants - or butlers - are on hand to dole out that special brand of Japanese hospitality and, conveniently, being situated lower down the hillside, the train station is close by.
Chic Villa 32 lobby/ photo: Vijay Verghese
Close by but dramatically up the scale of exclusivity on the narrow road winding up the low hills, is a Xin Beitou hideaway gem, Villa 32 (www.villa32.com/). Hiding behind high walls lies a world of gurgling water features, a splendid minimalist Zen landscape littered with lanterns (discreetly submerged, of course), and a cache of vintage vino in the speciality wine cellar.
The award-winning Villa 32 sets the standard now for all of Xin Beitou's aspiring hot spring hotels. The lobby is contemporary and elegant, manned by beaming staff who appear well trained and alert. Understanding English is not a problem here.
Enjoy alfresco Italian gourmet dining beneath towering camphor and maple trees, and for once (in this child tolerant city) escape the charms of childish chatter thanks to Villa 32's policy of restricting children under the age of 16. Hurrah! There are just five suites, three in a quiet, contemporary European style, and two in Japanese décor. The Japanese suites are on a single level while the European suites are split-level with the soaking tub upstairs.
Water for the tub comes in directly from the spring. Expect muted pastel tones with a woody flavour, flatscreen TV in the living room as well as a large LCD in the bedroom, heavy window drapes in earth tones and a black stone toilet.
There are two outdoor hot spring areas, one for men and one for women. Each offers three spa treatment rooms and eight hot pools all served up in a neat Japanese modular design with cream stone flooring and water features. To walk in here you'll have to get naked. Entirely. Stylish, discreet, and modern, Villa 32 is associated with Relais & Chateaux and is easily among the best Taiwan spa resorts and certainly one to seriously explore for a Taipei hot spring excursion.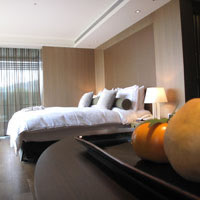 Elegant Grand View Resort/ photo: Vijay Verghese
Heading up the same ribbon of uncertain road, a three-minute drive will bring you to the ultra-modern Grand View Resort (www2.gvrb.com.tw/, which arrived back in 2011 causing quite a flutter. This charming grey-stone retreat is exquisitely Japanese in design and execution with neat clean lines, and a central black-tile pool overlooking the valley. Just a tad higher up, it offers cleaner air and better views. All the rooms pipe in hot spring water to scald you silly.
A Standard room serves up a wooden floor, flatscreen TV, DVD, sound system, coffee and tea facilities, a big flat safe for your notebook, a balcony (with a lounging divan) presenting hill or valley views, and two grey-stone tubs to sensibly separate hot and cold soaks. It's the best way to sober up.
The top-of-the-line You Ya Suite (taking its name from the road) is worth exploring if you really wish to splash out in style. On offer, apart from the invitingly plump white bed, is a generous outdoor patio to catch the sun and soak some more in a large square tub. There are nice views in all directions. Ask for Room 603. This Beitou resort also has a nice spa. All in, an elegant address. As its brochure says, "Several decades of hot spring pool, compose adult well-being of thick art paper space." Our sentiments exactly. With great attention to detail and design, this is without doubt, one of the best Taipei spa hotels and Beitou resorts in our hot springs review. Try the "Immune system promotion treatment" or a "Deep awaken treatment" for the whole body.
On the aptly named Wenquan Road, which translates to "Hot Spring Road", is the Kyoto Spring Hotel (www.kyoto-spring.com.tw/). Although its hot springs have been in existence since the Japanese colonial era, the hotel didn't officially open to the public until 2004. This quiet hideaway has Japanese and Western fusion-styled rooms that are secluded by a beautiful wooded area. However, the hotel also offers a link to the outside world by providing free Internet access for those who opt to bring along their laptop computers.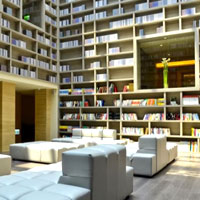 Gaia's amazing four-storey library / photo: hotel
Farther up the road and across from Kyoto Spring is the Nine Plus Spa Hot Spring Hotel. Aside from its hot springs, Nine Plus also boasts an Imperial Room lounge where customers can surround themselves with Chinese antiques and paintings while enjoying some hot tea.
The art gallery around the corner also showcases some pieces from the owner's private collection of Buddhist-themed stones and carvings. Meanwhile, the restaurant allows patrons to enjoy a variety of Japanese and Chinese delicacies between soaks in the hot spring in the form of afternoon tea or set meals.
In a world unto its own, the Asia Pacific Resort (www.apresort.com.tw/) covers a massive 72,000 square feet surrounded by bamboo trees and an assortment of seasonal flora for the ultimate tranquil Taiwan hot spring retreat.
This family-friendly resort has a separate swimming pool area for the children to have something to do while the adults can choose from five different kinds of indoor or outdoor hot spring baths. A spa facility also allows guests to have the knots worked out of their shoulders under the fingertips of experienced masseuses.
Although the Asia Pacific is situated farther up in the hills than most other resorts, patrons needn't worry about hiking all the way up there on foot, as there are regularly scheduled free shuttle bus services to and from the Xin Beitou MRT station.
A similar high-end facility located on a winding path just off of Wenquan Road is the Pacific Wellness Spa & Club that went strangely silent in 2019. Here guests were treated to individual hot spring suites complete with large granite bathtubs and separate shower rooms.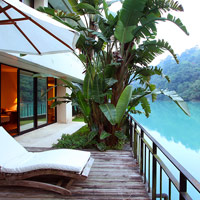 Volando Urai Lake Suite photo: hotel
The Gaia Hotel (www.thegaiahotel.com/) is a slightly different offering with nice design accents, pale wood flooring, pastel tone rooms, and a dedication to nature. Park at the top floor Gaia Suite for wraparound views of Beitou along with the comfort of flatscreen TVs, large beds, and a separate hot sulphur spring soaking room. Expect Hermes toiletries, Fuji water, and Nespresso coffee shots. The Gaia features an unusual library with cube cream sofas at the centre of a light-filled room, surrounded by bookshelves rising up a four-storey atrium. There is a good 20m swimming pool that catches natural light, a gym, and a spa too. Nicely set up hot spring rooms for a sulphur water soak (for a couple) will set you back around NT$2,500 for 90 minutes, Mondays to Fridays. The public hot springs at the hotel are free for guests and cost NT$1,800 for outside visitors from 7am to 11pm.
Wulai resorts and hot springs
National Route 9 snakes along the contours of a steep valley towards the small settlement of Wulai, 20km southeast of central Taipei. Clustered here are some of the most splendid hot springs of Taiwan. Principal among them is the Volando Urai Spring Spa & Resort (formerly SpringPark Spa and Resort). Designed – unlike much of Taiwan's architecture – to blend into the landscape, and using much wood and local stone to achieve this effect, Spring Park offers world class facilities to an otherwise very local destination. All this in a wonderful location overlooking the waters.
Soaking in a deep tub, staring out through floor-to-ceiling windows, one takes in the copper-green waters of the river, overshadowed by a towering wooded hillside. One thing you'll notice is the crystal clarity of Wulai's sulphur water, and its lack of odour (a distinct plus for those who turn their noses up at the boiled-egg smell of most sulphur springs).
The Scandinavian atmosphere of Spring Park resort is enhanced by its open plan, multi-tiered layout. Light and "lightness" is worshipped, in all its senses. A café and various restaurants make use of open-air terraces. Whether it's nouvelle cuisine or a good old-fashioned massage, rest assured that the traffic and bustle of Taiwan is another world away from this, Taipei's most international hot spring resort and one of the best Taipei spa hotels.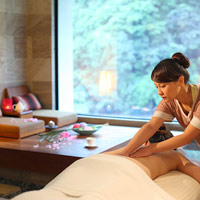 Volando Urai Dasha Spa/ photo: hotel
Turn left immediately after crossing the narrow bridge at the start of Wulai village and follow the country lane for half a kilometre as it clings to the mountainside, a white river crashing by on your left side, a long way down, and you'll find the Wulai Spring Resort. The resort's open-air pools look out onto the privacy of thickly jungled mountainside, across the river. Catering to the domestic and Japanese tourist markets, the Japanese rooms here offer that bedroll-on-wooden-floor experience so essential to the delivery of a solid night's sleep in the Taiwanese countryside. The private hot spring rooms are just right, no unnecessary gadgets; a true back-to-nature experience and at a price that fits.
More representative of the older, family-run hot springs – which have attracted visitors to the curative properties of Wulai's sulphur waters for decades – is the Guo Chi Yen Hot Spring. An unabashedly communal experience, the sounds of kids splashing and shrieking in delight welcomes one to this resort. Families and groups of friends often prefer the more casual atmosphere of these traditional baths to the contemplative privacy of places like Spring Park Resort.
After a soak, punctuated by many cool showers, happy day-trippers mingle, drinking beer, eating salty local snacks and playing cards — it's the Taipei equivalent of a day trip to the beach. Similar in terms of price and range of facilities on offer, the Tungfung Hot Spring Lodge, located a short distance down Wulai's main street from Guo Chi Yen, is well worth popping into.
They are so relaxed here that no limit is imposed on the length of your stay. Pay your entrance fee and soak all day (and well into the night, too)!
Yangmingshan Tien Lai Japanese room/ photo: hotel
For more modern fare, the Full Moon Spa (www.fullmoonspa.net) retains an old world charm with its Japanese-styled decor, while still appealing to visitors who prefer more contemporary facilities. Polished wood is the dominant theme, which gives the interiors a warm, pleasant glow that contrasts nicely with the wide-window views of deep green forests outside.
Jinshan (Yangmingshan)
The Jinshan hot spring region is located on the northern side of Yangmingshan, the volcanic National Park. It is a beautiful area, high up in the clouds and a good hour's drive north from central Taipei (about US$25 by cab, each way). On a clear day one can see down to the ocean at the northernmost tip of Taiwan's rugged coastline.
Hikers naturally gravitate to the trails across this rugged area. End a hard day's walk at the Yangmingshan Tien Lai Resort & Spa (www.tienlai.com.tw/en/), Jinshan's most elaborate hot spring resort. Whether it's a restorative hour-long sulphur dip or a weekend hideaway, the Tien Lai comes up trumps. One of the most impressive features here is its open-air pools that drop-off dramatically against a background of sweeping mountain scenery. There are sulphur showers and fountains, even a special area designated for hard-boiling your eggs!
Inside, many rooms come with their own hot spring baths. The main body of the complex houses a well-equipped health club, including both dry and humid-style saunas. Pick from European style rooms or Japanese. This is by far one of the best quality spa resorts in Northern Taiwan and within striking distance of Taipei. If you wish, you can bring along 300 people for a small corporate meeting or conference in the clean hill air. The hotel has meeting facilities with flexible space for events.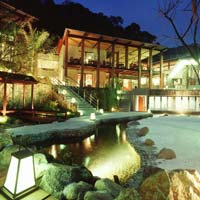 Asia Pacific courtyard/ photo: hotel
Scrubbed and pummelled clean, one can then proceed to the resort's many and varied restaurants and cafés to fortify oneself for the journey home.
In JinshanTownship, a little further down the mountainside, a cheap and friendly hot spring experience is offered at the eponymous Jinshan Hot Springs.
Relax for as long as you can stand their piping hot acidic sulphur waters. Private baths as well as public pools are available, along with the ubiquitous, life-saving ice-cold Taiwan Beer.
The Ba Ian Hot Spring Resort (www.ba-ian.com.tw/) is a fancier option where in between dips in hot sulphur springs, guests can enjoy coffee and dessert on an open balcony overlooking sweeping views of endless mountaintops. The high altitude ensures patrons are surrounded by only crisp, clean mountain air free of the city's noise and car exhaust.
Taipei spa hotels and options in the city
If time is of the essence, there's no need to leave Taipei City for a spa experience. Simply jump in a cab to Shangri-La's Far Eastern Plaza Hotel (www.shangri-la.com/taipei/). This is a place for sweeping views with a a dose of wellness and massage too. Explore the Japanese-style Qi Shiseido Salon and Spa (opened April 2013) on the 40th floor. Nothing will be lost in translation here. Sit down with a therapist and explore "qi estherapy" focusing on balancing your energy flow. Nothing better than a solid dose of qi before the next CEO chinwag or smacking the kids around. There's a nail treament set-up too so book your manicure.
Shideido Spa at Shangri-La/ photo: hotel
A relative newcomer to the Taipei spa scene is Miramar Spa (www.miramargarden.com.tw), on the spacious 2nd floor of the Miramar Garden Hotel. Located in the hotel's Vigor Health Club, with its floor-to-ceiling windows, the spa specialises in facial treatments and in detoxifying the executive body in (almost) every way imaginable.
Fancy some lymphatic drainage? A collagen treatment? Being sculpted by Dead Sea Salts? Then Miramar is the spa for you.
In town, and centrally located, there's always the trusty Wellspring Spa at Regent Taipei (www.regenthotels.com/regent-taipei/) that runs from 10am till midnight with specially tailored treatments. Or pop by the newer and quite spectacular luxury wellness area at Mandarin Oriental Taipei (www.mandarinoriental.com/taipei/) where menus range from modern to ancient and private spa suites await - for singles or couples..
And that's the skinny on Taiwan spas. Don't worry. If all this has transformed you into a spa-junkie, Taipei is certainly the right city to get your next fix.
FAST FACTS

/ Hotel Contact List
Xin Beitou resorts and springs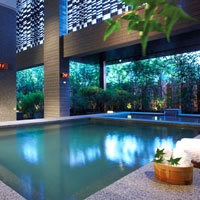 Grand View Resort spa/ photo: hotel
Aloft Taipei Beitou. Tel: [886-2] 7701-1788, (www.marriott.com/aloft-taipei-beitou/).
Asia Pacific Resort. No. 21-2, Yinguang Lane, Wenquan Rd., Beitou District, Taipei. Tel: [886-2] 2898-3088, fax: 2898-4053. (www.apresort.com.tw/).
Grand View Resort. No 30 Youya Road, Beitou District. Tel: [886-2] 2898-8888, fax: 2898-8088, (www2.gvrb.com.tw/).
Hotel Royal Beitou. No.2 Zonghe Street, Beitou District. Tel: [886-2] 2896-9777, fax: 2896-9669, (www.hotelroyal.com.tw/beitou/).
Kagaya. Tel: [886-2] 2891-1238, (kagaya.com.tw/en).
Kyoto Spring Hotel. No. 105, Wenquan Rd., Beitou District, Taipei. Tel: [886-2] 2891-2151, Fax: 2893-7315, (www.kyoto-spring.com.tw).
Millennium Hot Spring. No. 6, Zhongshan Rd., Beitou District, Taipei. [886-2] 2893-7014.
Nine Plus Spa Hot Spring Hotel. No. 1, Yinguang Lane, Wenquan Rd., Beitou District, Taipei. Tel: [886-2] 2897-9955.
Pacific Wellness Spa & Club. No. 1, Qiyan Rd., Beitou District, Taipei. Tel: [886-2] 2893-1668.
Spring City Resort. No.18, You Ya Rd, Beitou District, Taipei. Tel: [886-2] 2897-2345, fax: 2987-7245, (www.springresort.com.tw/).
Sweetme Hotspring Resort. No. 224 Guangming Rd, Beitou District, Taipei. Tel: [886-2] 2898-3838, fax: 2898-4505, (www.sweetme.com.tw).
The Gaia Hotel. Tel: [886-2] 5551-8888, (www.thegaiahotel.com/en/).
Villa 32. No 32, Zhongshan Rd, Beitou District, Taipei. Tel: [886-2] 6611-8888, fax: 6611-5000, (www.villa32.com/zh-tw).
Whispering Pine Inn. No. 21, You Ya Rd, Beitou District, Taipei. Tel: [886-2] 2895-2063.
Yitsun Hotel. No. 140, Wenchuan Rd., Beitou District, Taipei. Tel: [886-2] 2891-2121, fax: 2893-7129.
Jin Shan (Yang Ming Shan)
Bai Ian Hot Spring Resort. No. 35, Linkou, Chong He Village, Jin Shan Township, Xinbei City. Tel: [886-2] 2408-0103, Fax: 2408-0686, (www.ba-ian.com.tw).
Jin Shan Hot Springs. No.1, Ching Nian Rd, Jin Shan Township, Xinbei City. Tel: [886-2] 2498-1191, fax: 2498-3621.
Yangmingshan Tien Lai Resort & Spa. No 1-7, Ming Liu Rd, Chong He Village, Jin Shan Township, Xinbei City. Tel: [886-2] 2408-0000, fax: 2408-0999, (www.tienlai.com.tw).
Some Taipei spa hotel choices in the city
Mandarin Oriental Taipei. Tel: [886-2] 2715 6888, (www.mandarinoriental.com/taipei/)
Miramar Spa. Tel: [886-2] 8772-8800 /ext 2254 or 2255, fax: 8772-1010, (www.miramargarden.com.tw).
Regent Taipei. Tel: [886-2] 2523-8000, (www.regenthotels.com/regent-taipei/)
Shangri-La's Far Eastern Plaza Hotel. Tel: [886-2] 2378-8888, (www.shangri-la.com/taipei).
Wu Lai hot spas and resorts
Volando Urai Spring Spa & Resort (formerly SpringPark Spa and Resort). No 3, Yanti, Wu LaiTownship, XinbeiCity. Tel: [886-2] 2661-6555, fax: 2661-6995, (www.volandospringpark.com/en/).
Wulai Spring Resort. No 36 La Ka Rd, WulaiTownship, XinbeiCity. Tel: [886-2] 2661-6161, fax: 2661-7890.
Guo Chi Yen Hot Spring. No. 22, Wu Lai St, Wu Lai Township, XinbeiCity. Tel: [886-2] 2661-6351.
Tungfung Hot Spring Lodge. No. 66, Wu Lai St, Wu Lai Township, XinbeiCity. Tel: [886-2] 2963-4336, 2661-7888, fax: 2661-7832.
Full Moon Spa. No. 1, 85 Lane, Wulai St., WulaiTownship, XinbeiCity. Tel: [886-2] 2661-7678, (www.fullmoonspa.net).