ADVENTURE
Reds under the beds
Forget Crocodile Dundee and say hello to a Titanosaur at Eromanga on an Australian adventure to the Red Centre from Birdsville to Windorah.
SEE ALSO Australia spas | Cairns guide | Melbourne guide | Sydney fun guide | Zanskar treks | Bhutan guide | Nepal treks | Bali guide | Asian dives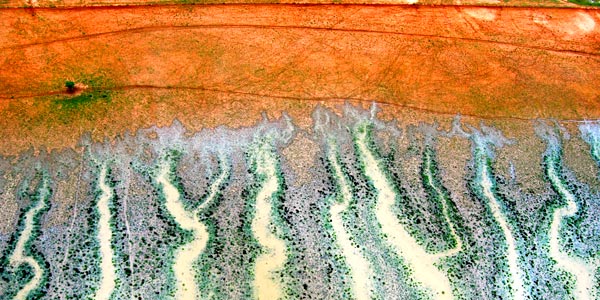 THERE's a part of the Wide Brown Land that many international visitors would never have thought about. Yet there's a certain mystique about the Land of Sweeping Plains that's intriguing, beguiling… and different. It's certainly a place to fill your Facebook posts and impress your friends.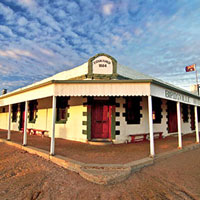 Birdsville Hotel/ photo: hotel
It's called The Outback, and Queensland has plenty of it.  Enough in fact to travel around for months, if you happen to have the time.  Most of us don't, so we find ways to condense a multi-faceted experience into weeks or even days, if that's all we can afford to take. 
You can fly there on Regional Express (REX) in a SAAB 340 or hire a 4WD from Brisbane or Charleville and drive all the way. Distances are huge, so be prepared for long days at the wheel on lonely roads. Regional Express flies twice weekly to Birdsville with stops at Charleville, Quilpie and Windorah.

Slide Show

E-mail Page

Print

Hotel Contacts
For many, the ultimate outback destination is Birdsville. It's the iconic remote place that's famous for its annual race meeting in September, and more recently for the July event called The Big Red Bash… this year featuring a whole range of rockers, folk singers and instrumentalists.  There's no accommodation provided at the edge of the Simpson Desert amongst the dunes, so camping only. Of course basic facilities are provided, just in case you're wondering.
Kylie Scott of Desert Edge Tours runs a 4WD tour out to Big Red and you can watch the sunset while nibbling snacks with wine or beer. Very civilised. She can also arrange longer tours down the Birdsville Track and the loop back through Innamincka. Nothing is too much trouble for Kylie.
Send us your Feedback / Letter to the Editor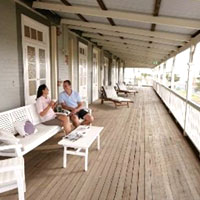 Quilpie Heritage Inn/ photo: hotel
Birdsville has its legendary pub, a bakery and general store, a school, the helpful Wirarri Visitors Information Centre and a clinic.  Not much else. Ah well, I forgot the police station. You can walk around it in 20 minutes. So why go there other than for the big events, or to take off for the Simpson Desert?
The answer: it's the journey there, the towns and sights you'll find along the way, and the people you'll meet.  And this is the real joy of an Outback Experience. Also see the Diamantina site.
Quixotic Quilpie's opal shine
Quilpie describes itself as "Simply Unique". That may be a stretch, but this small town in the Channel Country has a definite friendly vibe and all the essential services for the traveller. There are even a couple of coffee shops which meet city standards, which is a pleasant surprise if you've been drinking only Nescafe along the road.
The town is famous for its boulder opal mining industry and there's a beautiful altar at St Finbar's Church made from a collage of boulder opals. You can also go fossicking and maybe get lucky. It's a fun thing to do and a good reason to stay around for a few days. Opals in Australia are a really good buy at the local shops.
The Heritage Inn in the main street is undergoing painstaking restoration  by owner Troy Minnett who also runs the nearby caravan park.  The hotel rooms are comfortable with aircon, flat-screen TV and a decent shower, and there's a convivial bar as well as a wide verandah overlooking the street. Troy can also book you on an Eromanga Tour to see the dinosaur fossils, or on one of two mail runs to see the "real outback".
Guess who's coming for dinner? Eromanga Titanosaur/ photo: museum
The Quilpie Visitor Information Centre, gallery and museum has daily town tours which take you to Baldy Top lookout and Lake Houdraman with its abundant bird life. Watch for events like the Polocrosse Carnival 25-26 June; the Quilpie Fringe Festival 1-2 July; and the Quilpie Show and Rodeo on 10 September. Check the actual dates.
Troy says that visitors often stop in Quilpie for a night or two and then stay for a week. I wouldn't be surprised.
Send us your Feedback / Letter to the Editor
Why Eromanga is a BIG deal
Just 100km from Quilpie, tiny Eromanga has burst into the spotlight in the last decade because of an extraordinary find… dinosaur fossils from 95-98 million years ago. These include the bones of the biggest dinosaur yet discovered in Australia, a Titanosaur named Cooper after his final resting place in the Cooper Basin.
 To add to the prehistoric mystery, at nearby Eulo there have been discoveries of megasaurs, large creatures like Kenny the Diprotodon. It's the kind of stuff only an average five-year-old can pronounce. These are all displayed in a brand new building, the Eromanga Natural History Museum, which is an absolute must if you're out that way. Robyn Mackenzie, whose son made the first dinosaur discovery, is extremely knowledgeable and together with her passionate staff will enthral you with a guided tour.
In town there's also the fascinating Natural History Centre and the Royal Hotel for a counter lunch and the chance to meet colourful locals like "Giggles" who's an opal miner and a great storyteller.  Eromanga is a real outback gem.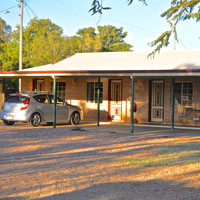 Western Star Motel, Windorah/ photo: hotel
Windswept Windorah
This is the last stop before you hit the mostly unpaved road into Birdsville and the more remote towns.  And it's a friendly, meet-the-locals kind of place. The Western Star Hotel (A$150 per room, double, motel, or A$95, hotel) is the social hub of the district and you're welcome to introduce yourself to station owners and workers, a teacher, the local cop, an Indigenous elder and various blow-ins over lunch or if you're lucky, an evening BBQ with excellent food.
The Western Star has comfortable motel-style rooms and a camping area, and has won the "Best Outback Hotel" award for a few years.
Maureen and Helen at the Visitor Information Centre can arrange for local tours around Cooper's Creek and the red sandhills, or get Jeff to take you out yabbying.
An interesting idea is to leave your car/caravan at Windorah and avoid the rougher road through to Birdsville by taking the short flight there with REX.
For more information, also check www.outbackqueensland.com.au/