FAMILY FUN
Wild and woolly Sabah guide
Sabah guide with soft adventure from white-water rafting and orange critters to dives, climbs, and the world's largest flower. The best Sabah resorts and child-friendly fun.
Updated by Nova Renata
SEE ALSO Brunei guide | Langkawi guide | Penang guide | Malaysia spas | Kuala Lumpur shopping | Kuala Lumpur hotels | Kuala Lumpur nightlife | Zanskar treks
JUMP TO Sabah airport | Kota Kinabalu beds | Child-friendly resorts | Gaya Island | Guide to shopping, nightlife, dining | Sabah adventure | Sandakan hotels | Sipadan dive resorts | Hotel Contacts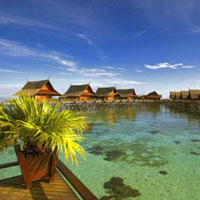 Sipadan Kapalai dive resort/ photo: hotel
ARRIVAL into Sabah is like wandering through an elaborately slow dream on leaden feet. There is a sudden slowdown in pulse, action, lights, crowds, and generally anything you may have encountered in a Hong Kong or Sydney. Immigration lines are nonexistent, taxis trundle down the highway at a crawl and the sun sets at its own languorous pace igniting the skies in vivid pink and orange. Things are sleepy, enlivened occasionally by the odd taxi driver who may muster the courage to modestly overcharge. But tiny Sabah is no slouch on the travel front. In the first quarter of 2015 alone, around 750,000 international travellers had dropped in with a big growth in visitors from Hong Kong and China. It's not quite dim-sum time yet, but it's getting there.
Over a decade, the hotel count has jumped, new shopping centres are underway, and more dive centres are on the radar. Yet, despite a slew of big brand hotels and some busy new attractions, the main draws remain the eternally misty Mt Kinabalu that lures hikers up its crags, steamy jungle treks, island hops, and rare views of the world's largest flower — that is, if you can peel yourself from the poolside and dive into the wild.
From the orangutans to the fat-nosed proboscis monkeys, speckled lobsters to giant clams, Sabah is a cornucopia of exotic species. For its size, Sabah also hosts a surprising amount of human diversity. The region is home to more than 34 ethnic groups, including Chinese and Filipinos. Nearly 50 percent of Sabah residents are of Chinese descent, with Hakka, Mandarin or Cantonese as the most widespread languages aside from English. Bahasa Malaysia (Malay) is of course widely spoken, albeit with a distinct local flavour.

Slide Show

E-mail Page

Print

Hotel Contacts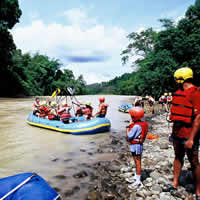 On the Kiulu River/ photo: Vijay Verghese
Our Sabah guide kicks off in the capital city, Kota Kinabalu, or KK, from where you can take a short flight to a more far-flung destination, stay put in Kota Kinabalu for some rest and relaxation, or set off for the thrill of your choice.
Under British rule till 1963, Kota Kinabalu was known as Jesselton. East Malaysia, in the northwest corner of Borneo is cradled by a giant marine reserve, the Tunku Abdul Rahman Park, Mt Kinabalu and the South China Sea.
For Sabah child-friendly resorts you'll need to step out of the city to one of the beach areas.
Airport, arrival, and getting around
Downtown Kota Kinabalu overlooks Gaya Island, and offers easy access to most hotels, shopping and travel agencies. The city centre is quite small, and you can stroll from one end to the other in less than 30 minutes.
Short fares are around 10 Malaysian ringgit, longer trips around RM20. Taxis seldom use meters, meaning haggling is absolutely vital. Expect to pay about RM30 from the airport to Kota Kinabalu town and watch out for the after-midnight surcharge that could double your fare.
Send us your Feedback / Letter to the Editor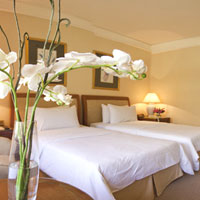 Jesselton deluxe/ photo: hotel
Situated around seven kilometres from the city centre, Kota Kinabalu International Airport (KKIA) is Malaysia's second busiest airport and the main gateway to Sabah. Direct and transit flights connect Kota Kinabalu city to Bangkok, Brunei, Hong Kong, Taipei, Kaohsiung, Manila, Cebu, Seoul, Singapore and Tokyo.
There are two terminals at the airport. Terminal 1 serves full-service airlines such as Malaysia Airlines, Asiana, and so on while Terminal 2 serves budget airlines like AirAsia and Cebu Pacific. Check information at the Sabah Tourism Board Office.
Kota Kinabalu plump beds, budget stays
After a 10-minute drive from the airport, you'll find a cheery welcome at Shangri-La's Tanjung Aru Resort and Spa, set in 25 acres of landscaped gardens by the sea. Its open-air reception and breezy check-in augurs a smooth stay. It's a sprawling resort with 492 rooms, eight restaurants and a jungle of recreational activities on the menu. When you're not lounging on the beach, choose from mountain climbing to scuba diving, Malaysian cooking to traditional rice wine tasting. To help you narrow it down, Shangri-La has introduced an iPhone and iPad app, "Insiders' Guide to Kota Kinabalu", highlighting the best of local flavours.
All rooms have private balconies and come with free WiFi access, large safes, multi-plug data ports, tea-and-coffee-making and ironing facilities. The Tanjung Aru upgraded its 2,000sq m infinity pool and waterslides, Coco-Joe's Bar & Grill, trendy seaside Sunset Bar and the kids club in late 2011. Not only has the resort thrilled children of all ages with its theme-park feel, but it also offers hours of daily activities at the Cool Zone Kids Club, a children's welcome pack and a priority breakfast corner for those with little ones.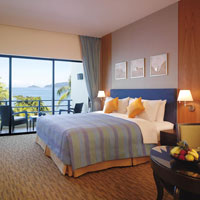 The Shangri-la's Tanjung Aru/ photo: hotel
Though considered a romantic retreat as well as a firm family favourite, it's hard to picture a quiet moment at this hopping child-friendly locale. Kids sprint between colourful spiral slides while water buckets splash overhead all day, but expect a bit of peace in the evenings. If you're travelling on business or as a couple, consider staying in the Kinabalu wing, which has a more private feel. Head to Cafe Tatu for casual family fare, catch views from the Sunset Bar, or step into Peppino (sans sandals and swimwear) for a more gourmet experience. What was once the Blue Note nightclub has since been transformed into a seaside gym. Next door, the bean-bag-littered Star lounge converts into a waiting area during high occupancy. In 2013 look forward to a private marina to whisk you away to nearby islands for swimming or snorkelling.
For guests wanting a little more pampering, try one of the eight private villas located at CHI, The Spa, on an island connected by walkway to the main resort. The "spa within a spa" concept features private treatment rooms, lounging areas, steam rooms and gardens. Five are designed especially for couples. Apart from the extensive range of treatments available, the yoga pavilion is a highlight – try a sun salutation with an unobstructed outlook to the South China Sea.
Sportsters can swing away on the nine-hole putting course or on one of the four tennis courts. Soccer matches are held daily for all budding Ronaldos. This is one of the top choices on our Sabah resorts review and it is also one of the plusher Sabah spa resort options.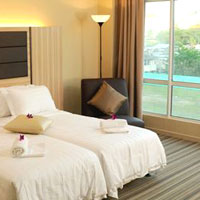 Zara's Boutique deluxe/ photo: hotel
Heading into town, you'll pass by KK Times Square and Imago Shopping Mall, a shopping and entertainment complex. Across the street in Harbour Plaza is Zara's Boutique Hotel, Harbour City. Meaning blooming flowers, radiance or light depending on the inflection, Zara is a budget hotel that is 100 percent owned and operated by women. All staff – technicians, housekeepers, managers – are women. This is perhaps why they have kept costs smartly down, providing wonderful stays at wallet-stretching prices. And they have proven that it is possible to compete successfully in a man's world.
Despite the feminine appeal, anyone can stay at this 119-room property. The standard rooms are large to the point of feeling empty, with queen-sized beds, brown striped carpets, small safes and large glass desks. The bathrooms are simple, with terracotta-coloured tiles, odd faux ivy strewn around the mirror, and hairdryers upon request. At roughly RM150 per night, the property is one of the most reasonably priced options in the city. While the staff is attentive and the adjoining restaurant, De Patio, serves up great local food, don't expect resort-style fuss. This is a good option for Kota Kinabalu budget hotels that you may not spot in any older Sabah guide.
Bang in the centre of town, around 20 minutes from the airport, is Warisan Square, home to a 102,677sq ft complex of hotels and shopping malls that will amply exercise your wallet. The "street mall" concept marries those beloved commercial spots with the feel of an open-air market. You'll find cafes, local kiosks, a handful of name brands and several hotels in the mix. The five-storey Celyn City Hotel is another budget hotel option in this complex. Though the 72 rooms are a more than a bit snug and over styled, they are completely functional with free WiFi, flat-screen TVs and a large in-room safe.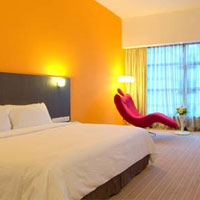 Colourful Klagan/ photo: hotel
Next door is The Klagan Hotel, which underwent a full refurbishment in 2011. The 208 renovated guest rooms are basic but modern, with great views of the South China Sea, balconies, complimentary WiFi, plasma-screen TV and large in-room safes.
Another choice in Warisan Square is the 93-room Imperial Boutec Hotel Waterfront (previously known as Radius International) on the seventh floor. The name refers to the boutique-styled rooms with a futuristic edge; these are small but well-appointed and decorated with splashes of bright orange.
Across the street from Warisan Square Shopping Centre, you'll find KK Waterfront, one of the newer boutique urban hotels in KK. This no-frills property opened December 2011 and is home to 42 rooms dressed in blacks, greys and crisp whites.
Walking along the waterfront on Jalan Tun Fuad Stephens, you can't miss the five-star Le Meridien Kota Kinabalu. With 306 guest rooms, this mammoth is located across the street from the city's wet market and nightlife hub. The deluxe guest rooms, fitness centre, outdoor pool and club lounge all have excellent sea views. Classic rooms facing the city are decked out with the usual mod-cons - TV, DVD player, electronic safe, large work desk and a spacious wood and granite bathroom with old-style touches. WiFi will cost you RM35 per day, but a shoe-shining service is complimentary.
Though the club rooms are almost identical to classic rooms, guests staying on Le Royal Club floor can enjoy access to a private lounge with express check-in, a daily breakfast buffet and complimentary evening snacks and cocktails.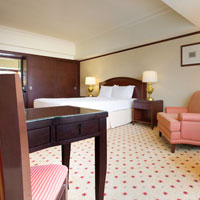 Le Meridien hues / photo: hotel
The views alone are worth it. The decor is in pastel with powder pinks, cream carpets and lots of dark wood panelling. The hotel unveiled its new meeting rooms in 2012. Now on the sixth floor, the modern rooms are glossy but lack natural light. Arrangements of leather couches and chair, mirrored pillars and gray details give business travellers a choice of meeting styles. Like the entire Starwood brand, Le Meridien has rolled out personalised welcome kits for Chinese guests, complete with tea kettles, noodles on demand and breakfasts menus written in Pinyin. This is a well-equipped Kota Kinabalu conference hotel with useful corporate meeting venues but may be a tad impersonal for families and young couples preferring beach access.
Gaya Centre Hotel sits at the centre of town across from the Sabah fish market and next to Suria Sabah, the city's popular high-end shopping mall. This three-star option offers 260 brown and red hued rooms, solid work desks and free WiFi. All standard rooms come equipped with two single beds. For a queen-size, snag a Superior.
Farther down Jalan Tun Fuad Stephens, next to the Wisma Merdeka shopping centre is the 288-room Hyatt Regency Kinabalu. In 2011, the hotel underwent a RM44 million renovation of its rooms and swimming pool. It modified its atrium-facing rooms, removing the balconies to add floor-to-ceiling windows and more interior space. The neutral-toned standard rooms feature Broadband internet access, TVs, three telephones, large work desks and good sized showers. This is a typical contemporary feel Hyatt format, minimal but functional.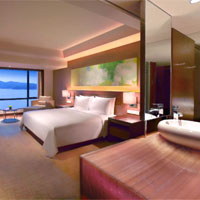 Hyatt Regency/ photo: hotel
Though all rooms include the open bathroom with sliding doors and onyx counters, the City View Club Rooms have a warmer, fresher feel with more wood underfoot. Regency Club guests enjoy access to a private lounge that serves up breakfast and evening cocktails on tables adorned with bright green pom-pom flowers and sterling vistas. At Hyatt, there is a fitness centre and a spa, as well as seven food and beverage outlets, including Nagisa, a lauded Japanese restaurant. If you're up for a tipple and a sing-along, head to Shenanigans, still one of Kota Kinabalu's most popular watering holes.
A block inland on Jalan Gaya, you'll find several new budget hotels, including the 180-room Horizon Hotel. With its in-room iHome docks and timber flooring, this city hotel is a hybrid between hi-tech and traditional. Just blocks away from the Gaya Street "Sunday Market", the Horizon hotel also offers a panoramic sixth-floor swimming pool and a sky-top spa is in the pipeline.
Another downtown option is The Jesselton Hotel, a boutique property built back in 1954. It has 31 guest rooms and one suite. Standard rooms feature a 32-inch flat-screen, small desk, in-wall hairdryer and a small, square-shaped safe for jewellery but not a laptop. Expect free WiFi. The colonial building has a cosy lounge, Parisian-style cafe and tells a tale of Borneo's British heritage. Though it is starting to look its age, the Jesselton's old-world charm and Malay details have a feel of classic elegance that won't go out of style. Mark this down as a dated but still dapper Kota Kinabalu boutique hotel choice. On with our Sabah guide.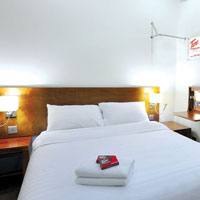 Spartan but clean Tune Hotel 1Borneo / photo: hotel
Down the street toward the Sabah Tourism Board Office, you'll pass HotelSixty3. This '60s-inspired spot blends modern amenities with black-and-white historic photographs throughout the 100-room hotel. The rooms are decorated with neutral colours, and come with the usual fixings.
A cut-price option is the Tune Hotel 1Borneo, Kota Kinabalu, one of a chain of budget hotels from Tony Fernandes, who brought budget airline AirAsia onto the scene. Rates can be as low as RM28 — that converts to a ridiculously cheap US$8, but expect an average RM58. Pay extra for amenities such as air conditioning, towels and WiFi.
Sabah child-friendly resorts
Tanjung Aru's sister resort, Shangri-La's Rasa Ria Resort, is a family-friendly Sabah resort about a 45-minute drive from the airport (taxi RM90 one way). Spanning 400 acres, the 416-room resort is set between tropical vegetation and a three kilometre beach. The resort's charm is its jungle backdrop and lack of neighbours. Of course, that also means you're farther from town.
In early 2012 the resort completed a US$20 million refurbishment of the 326 Garden Wing guest rooms, reception and fitness centre. The lobby has been donned in earth tones, wooden mosaics and naturally textured textiles while the rooms and suites have been enlivened by ethnic artwork, wide-screen TVs, and bright accents. Expect 42-inch plasma TVs, Broadband internet access, a rain shower, laptop-friendly safe, tea-and-coffee-making facilities, a decent-sized bathroom, a hairdryer, and an iron and ironing board. All Garden rooms have their own balconies and are close to the family swimming pool, which has also seen a few upgrades. Expect a sleek, slithering slide towering from 40 feet in the air, as well as new deckchairs and wooden daybeds.
Shangri-La Rasa Ria/ photo: hotel
Though the Garden Wing is popular among families, spend a little more and enjoy the quieter, more intimate Ocean Wing. These 90sq m Premier rooms offer luxurious surrounds, where you can cartwheel across the orange and lime green bedding if the mood strikes. Huge balconies include a private soaking tub for couples. The Ocean Wing has a separate entrance from the main hotel, as well as its own pool. The entire resort offers free WiFi, but if you left your laptop at home, you can always head to the recently added Internet Café, where you can surf the Web on an iMac, borrow a book, play board games, or print documents over a steaming cappuccino.
One of the main draws for Rasa Ria remains its 64-acre nature reserve, a conservation effort between the resort and Sabah Wildlife Department, with the only rehabilitation programme for orangutans on the west coast of Sabah. Around 2pm, baby orangutans munch on lunch, and you're invited. Follow the animal footprints up to the cabana, where you can help with the diminishing primate population by fostering one. This is one of the best Sabah family resorts with great child-friendly features.
Next to the resort, the Dalit Bay Golf Club has a challenging 18-hole golf course. The club also houses The Spa at Dalit Bay, where all treatments begin with a "purifying foot ritual". There is a shuttle to take guests to and from the spa and golf course; otherwise it's a pleasant five-minute stroll. Bicycles are available free and are a lovely (albeit hot) way to see some of the surrounding village life.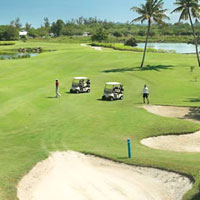 Nexus golf course - a great family resort/ photo: hotel
Not far from here is the Tuaran Beach Resort, an unfussy and simple affair with a large free-form pool, and a lovely five kilometre stretch of sand. There are 115 rooms and chalets — only the chalets have balconies. Expect tea and coffee-making facilities, TV and minibar. And, yes, the resort offers karaoke.
About 40km from the city, the luxurious and sprawling Nexus Resort & Spa Karambunai has a six-kilometre sandy beach, lush gardens and yet another championship golf course, the 18-hole Karambunai Resorts Golf Club. This is a popular retreat for golfers and doubles up as a splendid family-friendly hotel where kids are well entertained. This landmark property is going through a sweeping facelift in stages taking in rooms, public areas and restaurants through 2015.
If swinging out in the heat is too much for you, the Borneo Spa at Nexus is a less taxing bolthole. Or take a dip in one of three pools. All of the 236 rooms have terraces, views of the ocean and modern amenities to suit both business and leisure travellers. Look out for the wing with luxury villas and suites. The two-bedroom Pool Villas have lap pools, separate living rooms that open to private patios and fully-equipped kitchenettes. Spa Suites, also in the new wing are serviced by private lifts and come with a Jacuzzi, steam baths and, of course, balconies with sea views. There are eight restaurants and bars, but should the city lights beckon, there's a regular shuttle to Kota Kinabalu. This is a popular child friendly Sabah resort.
The sprawling Sutera Harbour Resort with a mind-boggling 956 rooms and suites, 15 restaurants and bars and an Olympic-sized swimming pool, is closer to town, near the Tanjung Aru. The whole resort comprises two 'mini' resorts; the refurbished Pacific Sutera with 500 rooms, catering for business travellers, and the more up-market resort-style Magellan Sutera with 456 rooms, for families, honeymooners and leisure travellers.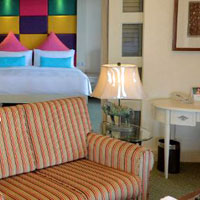 Magellan Sutera Harbour suite/ photo: hotel
Other facilities include several more pools, a 100-seat movie theatre, a wide range of water and other sports and the 104-berth Sutera Harbour Marina. Golfers can swing out at the 27-hole day and night golf course and 41-bay driving range. The resort has two select spas. Chavana Spa is aimed at business travellers, while the Mandara spa is geared towards couples and women craving "exotic indulgence".
The resort also runs several Sutera Sanctuary Lodges in five eco-destinations; at Kinabalu Park, Mesilau Nature Resort at the foot of Mount Kinabalu, Laban Rata (where Mount Kinabalu climbers break after the first day's hike up the mountain), Poring hot springs and Manukan Island (the second largest island forming part of the Abdul Rahman Marine National Park). That's the A to Z of some of the best Sabah resorts and smaller places. Time to move offshore.
Gaya Island resorts and sand
Tunku Abdul Rahman Marine Park is a collection of five islands (Gaya, Manukan, Sapi, Sulug and Mamutik) just off the coast of KK. Boats departing from Jesselton Point or the Sutera Harbour take about 15 to 30 minutes to reach the islands. Many of the islands are public and welcome beachcombers; however, the largest island, Pulau Gaya, is a private spot only accessible to luxury resort guests.
Opened in 2007, the Gayana Eco Resort and its 44 stilt villas rest at the edges of a coral reef. As you step off the speedboat, schools of fish swim tirelessly on either side of the dock. The resort prides itself on ecological rescue, with an on-site Marine Ecology Research Centre (www.merc-gayana.com) worth a tour that specialises in coral restoration and giant clam breeding. Travellers who are not staying at the resort can arrange a day trip.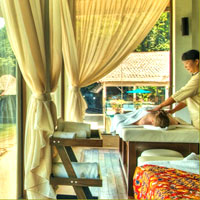 Gayana Eco Resort spa/ photo: hotel
The cabanas, ranging from 57 to 153sq m, are made of dark brown wood with orange contours. Every villa has a 32-inch flat screen TV, cosy wicker furniture, powerful AC units, complimentary WiFi, spacious bathrooms and a daybed. The Palm Villas (completed 2010) are the most luxurious, with two living areas, a glass floor where you can watch the water lapping below, private spa treatments, a full kitchen and a private pool on the deck. Palm and Bayu Villas (ocean view) have private balconies with staircases that disappear into the sea. The Rimba Villas (jungle view) will get personal decks mid 2013.
Though children are welcome, the resort shouts storybook romance. Guests can arrange private breakfasts on their balconies and couples can head to the Solace Spa for a honeymoon treatment, complete with lush red drapes, an oversized bathtub and an ocean view. The resort is also well known for its PADI Dive Centre, jungle treks, on-site wreck sites and coral reef snorkelling excursions. Worth a look if you are shopping for Sabah spa resorts with a lot of romance thrown in.
Another 10-minute boat ride will bring you to Gayana's sister property, Bunga Raya Island Resort. While Gayana is one with the waves, Bunga Raya is one with the wild. Practically a glorified sprawl of tree houses, Bunga Raya's 47 villas are made of thick timber and terraced across the hillside, blending into the foliage. Not to worry: Each villa also comes with a tub of tiger balm to soothe the inevitable bug bites. The 70sq m Superior Villa is the entry-level, with a 32-inch flat screen, small wooden desk, wooden cabinets, coffee-and-tea facilities, batik embroidered linens, natural stone showers, and unique Murat ceiling.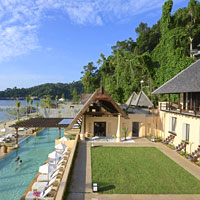 Gaya Island Resort/ photo: hotel
The more expensive villas have multiple bedrooms, canopy beds, private plunge-pools and huge corner bathtubs connected to rain showers. Though the tall trees, cool shades, zip-line course and canopy walks are the main draw for mountaineers, beach bums also have a nearly deserted crescent-shaped cove to call their own.
Hop onto an on-call golf cart, ride up the hill past the 85 species of hibiscus, cross the hanging bridge and enter the Solace Spa, surrounded by exotic plants and Murat design. After the signature bubble massage or a hot and cold treatment, you can head to one of the restaurants, or down to the frosty wine room. One of the top three wine cellars in Malaysia, the chilly basement cave is home to white leather couches, a cigar room, faux rock details and more than 4,000 bottles of wine. Have a chopper? Thanks to a helicopter pad, VIPs are encouraged to swoop in for a weekend.
A relatively newer kid on the block is Gaya Island Resort (arrived 2013). Next to Gayana Eco Resort along the coast of Malohom Bay, this YTL property has 120 villas ranging from 47 to 188sq m. Though the resort offers several facilities for children, including a kids' pool, babysitting and activities, the steep staircases and high terraces suggest you should leave the babes behind. With its 40m lap pool, floating cabanas, arched walkways, lily pad ponds, relaxation chambers, cigar lounges, and personalised gourmet picnics, this escape will appeal to many.
The architecture balances contemporary elegance with tribal patterns, featuring arched porticoes, spiral staircases and stone pathways. The chefs will often host special beachside dinners, but the resort also offers casual and fine dining options. Gaya Island Resort also offers PADI dive programmes, nature walks, sunset cruises and spa and yoga facilities. Keeping with its "Distinctly Borneo" motto, the resort also holds classes on local customs such as handicrafts, storytelling and a Borneo Culinary Journey. This hillside escape is another upscale Sabah dive resort to keep in mind.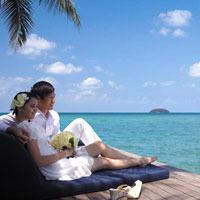 Shangri-La's Tanjung Aru - romance/ photo: hotel
Kota Kinabalu is an attractive city, and well worth a day trip for sightseeing. The tranquil Poh Toh Tze temple is alive with bougainvillaea and greenery. Kota Kinabalu shopping malls are nothing to write home about, but a few new ones have entered the mix.
Bargain hunters will enjoy the Handicraft Market, more commonly known as the "Filipino market" (open from 7am to 9pm daily). Make your ringgits work overtime as you can pick up some pearls, handbags or shell ornaments. Also take a wander in the Central Market, open daily until 5pm selling food, vegetables and essential items. If it's antiques, batik, pottery, or even pets that you're after, the Gaya Street Sunday Market– also a great place to sample local dishes and snacks — is the place for you. Come early — it's all over by noon. A little tip, it always helps to know a handful of words and sentences in the local lingo, such as 'terima kasih' (thank you), 'selamat pagi' (good morning), 'apa khabar?' (how are you?) and the all-time Sabahan favourite: 'di mana mahu makan?' (where to eat?). Brush up on some Bahasa Malaysia and sally forth to sniff out the best deals and curries.
Alternatively, the night market behind Sinsuran Commercial Centre next to Le Meridien hotel is a memorable way to spend an evening, and some cash. It's the perfect place to browse wood carvings, rattan baskets, funky jewellery and silky sarongs. Remember to barter, or prepare to pay double. A little farther on the outskirts of town, you'll find the Tamu markets, abuzz with bargains on crystals, antiques and exotic fruits. It's less touristy and a great way to interact with villagers.
If you insist on stepping into a mall, check out Suria Sabah, the newest and most modern around. Suria Sabah is tucked between Wisma Merdeka, one of the veteran malls, and Jesselton Point. Though there are a few international brands such as Coach and MNG, the mall does not offer too much local flavour. Other notable spots include Centre Point, near Warisan Square, or 1Borneo Hypermall, a commercial goliath about 20 minutes outside of the city centre. 1Borneo is elephantine, but unless you're staying out that way, it's not worth the ride.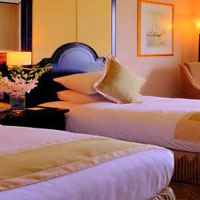 Pacific Sutera Club/ photo: hotel
As any Sabah guide will tell you, it's not all beaches, sun and surf. Nightlife bops until 2am on a weekend and 1am on weekdays. For a private sunset, enjoy an evening at First Beach's AruBa or spring for a chic cocktail at the Shangri-La Tanjung Aru's Sunset Bar. For atmosphere and Kota Kinabalu nightlife, the City Waterfront (Anjung Samudra) is the spot to be seen, with a plethora of pubs, clubs, bars and dining. B.E.D (Best Entertainment Destination) serves up warehouse-style décor and spaces, large crowds with live bands or an in-house DJ. Cock & Bull Bistro is known for its live bands, casual vibes, pool table and sea breezes. The Loft is more of a classy affair and a great place to watch the sun setting over the South China Sea.
Though the heart of nightlife remains on the waterfront, KK Times Square is a shopping and entertainment spot worth checking out. Here, you'll find themed clubs, lively pubs and laid-back cafes. For more wining and dining options, you can always take a stroll from KK Times Square to the adjacent Imago Shopping Mall, which opened in early 2015, and has already made a name for itself with great retail offerings.
For more places to chill overlooking the sea, check out the aptly named Oceanus Mall, which is located in between Anjung Samudera and the KK Waterfront. Enjoy alfresco dining or a hangout session just before sunset at Sushi Tei (tel: 274-333), one of the city's hippest sushi bars, or have a juice detox at Fruto Juice Bar (tel: 273-426) – a premium juice bar that is fast gaining popularity amongst health and fitness enthusiasts.
Jarrod & Rawlins is another upscale pub pouring healthy pints of Guinness, but you'll find the cheapest stouts (RM15) at Upperstar, a perennially packed favourite in the Suria Shopping Mall.
Sabah is known for its delicious seafood and combinations will surprise you. Try the buzzing Port View seafood restaurant (tel: 242-875), which has a reputation as one of the best in town. Make sure you book ahead. Kohinoor (tel: 235-160) was the first, and some say still the finest for Indian cuisine, at the waterfront (tel: 409-500). You can also shop for souvenirs at the Borneo Trading Post or simply promenade amongst the idiosyncratic dolphin and fish statues that dot the City Waterfront Esplanade (Anjung Senja). Try Ocean Seafood Restaurant, and Kampung Nelayan, which also offers cultural performances while you dine.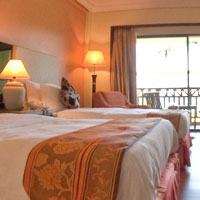 Nexus room/ photo: hotel
In addition to its glorious seafood, Sabah also boasts a variety of lip smacking signature local dishes, such as the 'ngiu chap' (beef noodle soup), 'kon lau mee' (dry noodles with soup on the side), 'sang nyuk mien' (pork noodle soup) and the ever-so-popular Malaysian favourite, 'nasi lemak'. To have a taste of these utterly delicious and oh-so-affordable selections, simply drop by ANY coffee shop - these shops usually have the words 'Kedai Kopi' at the beginning of their titles on the signboard.
Jothy's Banana Leaf Restaurant near the waterfront has had rave reviews from travellers. The South Indian dishes, at round RM4 each, come highly recommended if you're looking for a cut-price meal. For good barbecued seafood, there's Chuan Hin on Jalan Kolam (next to Cottage pub, Luyang, tel: 235-960).
Though once a shipping port, Jesselton Point has also transformed into an alfresco dining centre. Don't expect anything too fancy, but the open-air restaurants serve a variety of Malay dishes, milk teas and ice-creams perfect for a quick bite after island hopping. Chinese food tends to dominate the more informal restaurants, but you can find excellent Malay and Filipino dishes at the night markets. Down the road, opposite Wisma Merdeka, Little Italy remains the most popular Italian restaurant in Kota Kinabalu. Across from KK, Harbour City is home to a few popular Malay eateries, including Kak Nong, where you'll want to try the Kopi Tiam.
For a casual lunch, head to Chilli Vanilla, a colourful Hungarian cafe with friendly staff in the centre of town, where the wraps and salads come out crisp and fresh. Man Tai, a few doors down from the Jesselton Hotel serves a satisfying local lunch. Don't leave without trying the Chinese herbal soup boiled with pork, bak kut teh, available at just about any hole-in-the-wall eatery with a line out the door. Afterwards, stroll over to Atkinson Clock Tower. Built in 1902, the clock tower sits on a hill next to Jalan Tunku Abdul Rahman. A 10-minute walk up will bring you to the Signal Hill Observatory, where the views of Sabah are perfect for photos.
Adventure - rafting, treks, trains, apes
Seeking an adrenaline rush? Or simple family fun? Head to the Padas River for a half-day of rafting. (Set aside a full day, though, as it's about a three-hour journey by road and rail to the starting point.) There are many tour and travel operators in Kota Kinabalu, with desks at all the major hotels, so it's easy to arrange the trip. There's also rafting on two other rivers, the Kiulu and, lately, also on the Papar, but Padas is still regarded as the best for rapids and accompanying thrills.
Beachside at Rasa Ria/ photo: Vijay Verghese
For the less adventurous, relatively calm river cruises are also becoming more popular among travellers. The Klias Wetland Mangrove Forest Reserve, about two hours from KK, is a great way to spend an evening, surrounded by fireflies, birds and proboscis monkeys. The entire excursion usually lasts from 1pm to 9pm, and dinner is usually provided.
The aforementioned Sutera Harbour Resort also runs the North Borneo Railway (www.suteraharbour.com/north-borneo-railway), a staple of any Sabah fun guide, featuring a British Vulcan steam locomotive and six restored steam train carriages, running through the main stations of Tanjung Aru, Papar, Bongawan, Beaufort and Tenom. There's yet more to the Sutera portfolio. The resort's 104-berth Harbour Marina is home to the exclusive marine leisure charter, North Borneo Yachting (tel: 318-888) consists of luxury yachts for seafarers wanting a touch of comfort. The boats are available for executive meetings, functions, diving and fishing trips, island hops and tailor-made cruises for honeymooners. The Kinabalu Yacht Club (tel: 240-070) in Tanjung Aru is also a safe bet for seafaring souls.
At 4,095m, soaring Mount Kinabalu is Southeast Asia's highest peak and perhaps Sabah's most famous tourist attraction. You can arrange permits, guides and porters through Sabah Parks (www.sabahparks.org.my). Take a communal, minivan taxi (only leaves when full) for RM15-RM18 each way. The entrance fee to Kinabalu Park is RM15 for a non-Malaysian adult (RM3 if you are Malaysian), the suggested mountain guide costs from RM85 per trip (depending on the number of climbers), and the climbing permit RM120 for a non-Malaysian. Add to that insurance (RM7 per person), and RM10 for your certificate at the end.
If you are fit and healthy, you shouldn't have a problem getting to the summit in two days, but take water repellent, warm clothing (including extra socks, gloves and a warm hat; temperatures fall rapidly as you ascend), high-energy snacks such as chocolates and nuts, sunblock, a raincoat and mosquito repellent.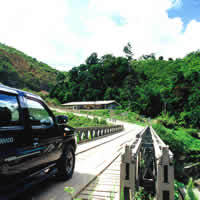 Big drives/ photo: Vijay Verghese
The climb is tougher than some might expect. In addition to the 360-degree views of Sabah, Mt Kinabalu Park also boasts flourishing flora with more than 800 species of orchids and more than 600 species of ferns. The trek is popular, so be sure to book overnight accommodations at least a month beforehand.
Tour companies such as Amazing Borneo Tours (tel: 448-409, www.amazing-borneo.com/) also arrange climbs – a two-day, one-night package that includes entrance fees, permits, mountain guide, accommodation and food costs RM1,100 per person. Or book a two-night Mount Kinabalu package including rooms and meals through Sutera Sanctuary Lodges. This includes a night's stay at Kinabalu Park and a night's stay at Laban Rata with meals, but you have to organise the rest (permits, guides, insurance fees and so on) yourself.
If you prefer to stay on terra firma, the Kinabalu Park World Heritage Site is 754sq km of rugged mountain covered with pristine jungle. The dramatic, densely forested Crocker Range divides the coastal plains from the rest of Sabah. It takes about 90 minutes to get to the park by car from Kota Kinabalu (three hours by coach). At the park, you can go on guided walks to see exotic Borneo tree orchids and wild ginger plants. The temperature here is cooler and less humid than in Kota Kinabalu. The park supports lowland, mountain and alpine vegetation.
About 40km from Kinabalu Park, the Poring Hot Spring & Nature Reserve (tel: 878-801) in Ranau has Japanese-style open-air baths and sulphurous hot water said to have curative properties. It sounds appealing, but high season crowds and the physical appearance of the baths can be off-putting. The entrance fee to the springs is RM15 (non-Malaysian adults); RM3 (Malaysian adults). More appealing was the 20-minute hike to the canopy walkway, 41m from the forest floor. Apart from the entrance fee (RM5), you have to pay to take in your camera (RM5 per camera) or video equipment (RM30).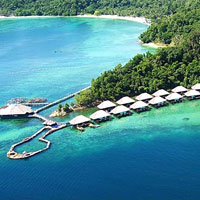 Gayana Eco Resort/ photo: hotel
In Kudat, about two-and-a-half hours north of Kota Kinabalu, visitors have a chance to explore the traditional villages of the Rungus tribe, famous for its natural longhouses and dancing rituals. The Mari-Mari Cultural Village, located near the jungles of Inanam about 30 minutes northwest of KK, is another popular ethnic excursion. Tickets to enter this throwback to tribal village lifestyles cost between RM100 and RM150. The houses showcase traditional architectural styles, brought to life by shows involving fire-starting, tattoo-making and rice-wine brewing. If you're willing to venture in the opposite direction, the Monsopiad Cultural Village (entrance fee RM55-RM75) is roughly 30 minutes southeast of town and highlights the triumphs of a Kadazan warrior who killed more than 40 men and collected their skulls as trophies, now showcased in the Hall of Skulls. Though 300 years old, the skulls are still eerily intact. If you take a cab, expect to pay about RM20 one way.
But if what really brought you to Sabah are the orangutans, you need to go closer into their remaining natural habitat. If you miss the 2pm feeding time at the aforementioned Rasa Ria resort, you can always hop on a quick 45-minute flight from Kota Kinabalu is sleepy Sandakan, on the east coast of Sabah, where you can set off for the Sepilok Orang Utan Rehabilitation Centre (www.wildlife.sabah.gov.my; entry for non-Malaysian adults about RM10, plus RM10 for camera equipment). With the exception of Rasa Ria, this is the main sanctuary for orphaned baby orangutans, which are cared for and rehabilitated here. It is also a safe haven for wild orangutans, and houses an enclosure where you can see another rare Sabah local, the endangered Sumatran rhinoceros.
The centre is located at the entrance of Sepilok Forest Reserves, and while you don't actually really see the primates "in the wild", you can watch them being fed on a wooden platform in the forest twice a day. Orangutans' natural habitat is shrinking at an alarming rate as logging claims increasing sections of the remaining Borneo rainforests. Stay overnight at the nearby wooden bungalows at the Sepilok Nature Resort (www.sepilok.com), which is also a good starting point for excursions on the Kinabatangan River and the surrounding Sukau area.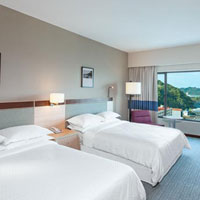 Four Points Sandakan/ photo: hotel
Open from 9.30am to 5.30pm daily, the Lok Kawi Wildlife Park (www.lokkawiwildlifepark.com) is a great day trip for those carting little ones. Spanning 280 acres, the open-environment zoo is home to many of Sabah's diverse fauna. The park also houses a botanical garden brimming with unusual jungle species. Entry for non-Malaysian adults is RM20, children is RM10. Malaysian pay half that. Also easy to spot on any Sabah fun guide is the Green Connection Aquarium, about 10 minutes outside of the city. Depending on your mettle, you can stroke a shark or tap a turtle or simply feed some fish.
Sandakan eco lodges, wildlife
Farther south in Sandakan, which is the nature capital of Sabah, the Sabah Hotel Sandakan is a five-star hotel nestled in lush foliage, and one of the only "international class" hotels in the town. The atmosphere is mellow and the people friendly. There is a pool, fitness centre, tennis courts, as well as a sauna, steam room and children's playground. There are four restaurants and bars — one of which hosts a live band every night.
A younger rival is the Four Points by Sheraton Sandakan (opened 2012), which anchors Sandakan Harbour Square. From its front-row seat on the water, the 299-room tower overlooks the Sulu Sea and is a quick skip to local markets and eateries. While the public spaces are a bit louder, with colourful, mod designs, the rooms stick to a basic cream, blue and gray palette. Expect functional desks, free WiFi, compact but clean bathrooms, free bottled water, in-room safes and 32-in TVs. Sandakan is where you would start your journey to any one of the Sabah dive resorts flung out over the gin-blue waters.
Sandakan is also your springboard to explore the Kinabatangan Wildlife Sanctuary, a forest-covered alluvial floodplain with some of the last remaining freshwater swamp forests. The Sukau rainforest, about a two-hour drive from Sandakan, teems with wildlife. Arrange your trip and a stay in a jungle lodge through a travel agent, as public transport is virtually non-existent in this area.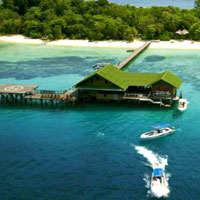 Sipadan Lankayan / photo: hotel
One option is the 20-room, eco-friendly Sukau Rainforest Lodge (www.sukau.com), which has had regular upgrades to its facilities since 2001. Additions include bird and wildlife viewing decks and a 1,500ft-long 'Hornbill Boardwalk', including two elephant passes to accommodate their regular migration at the back of the property. Electricity at the lodge is supplied by acoustic generators and hot water by solar heaters.
The Sukau River Lodge in Kinabatangan Wildlife Sanctuary and the rustic Borneo Rainforest Lodge (www.borneonaturetours.com), which accommodates 60 people at most, in the Danum Valley Conservation Area (for which you need a permit) offer jungle treks and bird watching. Get here by flying to the town of Lahad Datu, the gateway to Danum Valley, from Kota Kinabalu. The Borneo Rainforest Lodge is a two-hour drive from Lahad Datu.
The Labuk Bay Proboscis Sanctuary (www.proboscis.cc) is perhaps the only place in the world where you can see the odd-looking and very shy proboscis monkeys in their natural habitat from fairly close range. The sanctuary has an observation platform, where they can be watched when they come for their meals twice a day, at 11.30am and 4.30pm. The sanctuary is about an hour from the airport along gravel roads and through plantation estates.
There are three types of accommodation available at the sanctuary. Bangkatan House, directly linked to the observation platform, has six rooms with private bathrooms and one long shared balcony. Nipah Lodge with eight semi-detached chalets is a five minute walk away. For groups of ten or more, consider the Nipah Dormitory which has shared bathrooms – only some of the dorm rooms have aircon.
Sipadan dive resorts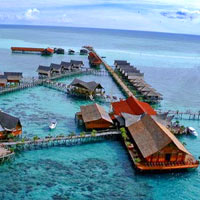 Sipadan-Kapalai Dive Resort/ photo: hotel
The islands of the protected Tunku Abdul Rahman Marine Park, off the coast of Kota Kinabalu, are well worth a day visit. Highlights include the Gaya wreck, lying in 50m of water about 30 minutes from KK, and the three wrecks spread off Usukan Bay, but the sites in this area are tame compared to the pristine beauty of the waters farther afield. A divers' paradise is the small rainforest-covered island of Sipadan, reached by taking a flight to Tawau, followed by a land transfer to Semporna. Sipadan is reached by boat from Semporna jetty and requires an official permit for diving.
The Sipadan-Kapalai Dive Resort, standing on stilts and resembling a village built on the water, is about 15 minutes from the island. The resort can take care of dive permits for foreigners. The place may be remote, but it does have Internet and a satellite phone. Guests stay in wooden chalets with private balconies and bathrooms, all linked by walkways.
Book your accommodation in advance through Pulau Sipadan Resort & Tours (tel: [60-89] 765-200, www.sipadan-resort.com), which also operates the Lankayan Island Resort on the virtually uninhabited Lankayan Island in the Sulu Seas.
Sipadan is in the centre of the richest marine habitat in the world, the Indo-Pacific basin with more than 3,000 species of fish and hundreds of coral species. The Sipadan Water Village Resort (tel: [60-89] 751-777, www.swvresort.com) on Mabul Island, a 35-minute boat ride from Semporna, has elegant water cottages built on wooden stilts, with private sundecks. The resort also has a diving centre. Other diving spots worth noting include Layang-Layang, known for its hammerhead sharks, and Mantanani, an hour's journey from Kota Belud.
Swim with the turtles/ photo: Sipadan-Kapalai
There are dozens of diving operators, but let us narrow them down: Scuba Junkie KK (tel: [60-88] 255-816, info@scuba-junkie.com); Borneo Dream (tel: [60-17] 811-8149, info@borneodream.com); Downbelow Marine & Wildlife Adventures (tel: [60-12] 866-1935, dive@divedownbelow.com); Sabah Divers (tel: [60-88] 256-483, sabahdivers2u@yahoo.com).
Typhoon-free Sabah was called "the land below the wind" by the early seafarers. To them, it was a sanctuary from the fierce Southeast Asian tropical storms. Today, the state with its friendly people offers a different kind of refuge — a break from skyscrapers and the corporate rat race. Prefer to kick back, or raring to go? It's your call entirely. And that wraps up our Sabah fun guide.
Send us your Feedback / Letter to the Editor
FAST FACTS

/ Hotel Contact List

Additional charges may include a 10 percent service charge and six percent government service tax (GST) amounting to an additional 16 percent. Sabah has a tropical climate, with temperatures ranging between 23 and 31 degrees Celsius. The rainy season is from November to February. The exchange rate is US$1=RM3.60. A useful website for Sipadan is www.sipadan.com.

Room rates will fluctuate depending on season so do check with your travel agent and also explore the best available rates (BAR) online. In general rates will range from around RM50 at guesthouse and budget establishments and RM120 at low-end clean two or three-star hostelries, to RM888 and more at premium five-star hotels.
Kota Kinabalu hotels and Sabah resorts
Beringgis Beach Resort. Tel: [60-88] 752-333, fax: 752-999, (e-mail: info@beringgis.com or www.beringgis.com).
Bunga Raya Island Resort & Spa. Tel: [60-88] 271-000, fax: 271-100, (e-mail: info@bungarayaresort.com or www.bungarayaresort.com).
Celyn City Hotel. Tel: [60-88] 448-787 or 270-140, fax: 270-123, (e-mail: reservation@celyncity.com or http://www.celyncity.com/).
Gaya Centre Hotel. Tel: [60-88] 245-567, fax: 266-678, (e-mail: reservations@gayacentre.com or www.gayacentre.com).
Gaya Island Resort. Tel: [60-3] 2783-1000, (email: travelcentre@ytlhotels.com.my or www.gayaislandresort.com).
Gayana Eco Resort. Tel: [60-88] 271-098, fax: 881-6527, (e-mail: info@gayana-eco-resort.com or www.gayana-eco-resort.com).
Horizon Hotel. Tel: [60-88] 518-000, fax: 518-111, (www.horizonhotelsabah.com).
Hotel Sixty3. Tel: [60-88] 212-663, fax: 318-863, (e-mail: info@hotelsixty3.com or www.hotelsixty3.com).
Hyatt Regency Kinabalu. Tel: [60-88] 221-234, fax: 218-5972, (e-mail: kinabalu.regency@hyatt.com or www.kinabalu.regency.hyatt.com).
Imperial Boutec Hotel (formerly Radius International Waterfront Hotel, Kota Kinabalu). Tel: [60-88] 525-969, fax: 525-968, (e-mail: reservation@imperialboutec.com or www.imperialboutec.com).
KK Waterfront Hotel. Tel: [60-88] 485-787, fax: 485-767, (e-mail: rooms@kkwaterfronthotel.com or www.kkwaterfronthotel.com).
Le Meridien Kota Kinabalu. Tel: [60-88] 332-2222, fax: 322-223, (e-mail: reservations.kk@lemeridien.com or www.lemeridien.com).
Lintas View Hotel. Tel: [60-88] 313-963, fax:313-263.
Nexus Resort Karambunai. Tel: [60-88] 480-888, fax: 480-999, (e-mail: info@nexusresort.com or www.nexusresort.com).
Shangri-La's Rasa Ria Resort. Tel: [60-88] 797-888, fax: 792-777, (e-mail: rrr@shangri-la.com or www.shangri-la.com/kotakinabalu/rasariaresort).
Shangri-La's Tanjung Aru Resort and Spa. Tel: [60-88] 327-888, fax: 327-878 (e-mail: tah@shangri-la.com or www.shangri-la.com/kotakinabalu/tanjungaruresort).
Sutera Harbour Resort. Tel: [60-88] 318-888, fax: 317-777, (e-mail: reservations@suteraharbour.com.my or www.suteraharbour.com).
The Jesselton Hotel. Tel: [60-88] 223-333, fax: 240-401, (e-mail: reservation@jesseltonhotel.com or www.jesseltonhotel.com).
The Klagan Hotel. Tel: [60-88] 488-908, fax:488-909, (e-mail: enquiry@theklagan.com or www.theklagan.com).
Tune Hotel 1Borneo. Tel: [60-88] 447-680, fax: 447-880, (www.tunehotels.com/my/en).
Tuaran Beach Resort. Tel: [60-88] 788-271 246-911, fax: 788-270, (e-mail: info@tuaranbeachresort.com or www.tuaranbeachresort.com).
Zara's Boutique Hotel, Harbour City. Tel: [60-88] 488-976, fax: 487 396, (zarasboutiquehotel.com/index).
Sandakan resorts and surrounds
Hotel Sandakan. Tel: [60-89] 221-122, fax: 221-100, (e-mail: info@hotelsandakan.com.my or hotelsandakan.com.my).
Labuk Bay Proboscis Monkey Sanctuary. Tel: [60-89] 672-133, fax: 672-136, (e-mail: labukbay@proboscis.cc or www.proboscis.cc).
Sabah Hotel Sandakan (formerly the Renaissance). Tel: [60-89] 213-299, fax: 271-271, (e-mail: sales@sabahhotel.com.my or www.sabahhotel.com.my).
Sepilok Nature Resort (operated by Pulau Sipadan Resort & Tours). Tel: [60-89] 765-200, fax: 763-575, (e-mail: psrt@po.jaring.my or www.sepilok.com).
Four Points by Sheraton Sandakan. Tel: [60-89] 244-888, fax: 218-666, (e-mail: fourpoints.sandakan@fourpoints.com or www.starwoodhotels.com/fourpoints/).
Sipadan dive resorts
Pulau Sipadan Resort & Tours. Tel: [60-89] 765-200, fax: 763-575, (www.sipadan-resort.com).
Sipadan Kapalai Dive Resort. Tel: [60-89] 765-200, (e-mail: psrt@po.jaring.my or www.sipadan-kapalai.com). Operated by Pulau Sipadan Resort & Tours (see above).
Lankayan Island Dive Resort. Tel: [60-89] 230-782. Operated by Pulau Sipadan Resort & Tours (see above).
Sipadan Water Village Resort. Tel: [60-89] 751-777, fax: 752-996, (e-mail: info@swvresort.com or www.swvresort.com).