INTERVIEW
Maybe when I retire I can sell cakes online
We talk with Novi Samodro the first Indonesian lady General Manager in Jakarta to get her take on guest interaction, rumbling boilers, and Indonesian style at sprawling old world resorty The Dharmawangsa Jakarta.
December 2017
SEE ALSO Franz Donhauser | Choo Leng Goh | Iwan Dietschi | Maria Helena de Senna Fernandes | Anchalika Kijkanakorn | Cavaliere Giovanni Viterale | Hans Jenni | Carina Chorengel | Peter Caprez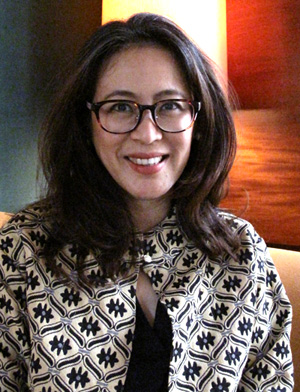 Novi Samodro took over as GM at The Dharmawangsa Jakarta in August 2017/ photo: Vijay Verghese
Growing up in Indonesia, the eldest of five girls, Novi Samodro – who took over as the General Manager of The Dharmawangsa Jakarta in August 2017 – never dreamed of becoming a hotelier. "I always thought I would do business management. It seemed a sensible choice," she chuckles. Novi has a personable style, great charm, an easy smile and a disarmingly direct honesty. It is an endearing trait. She is careful and attentive, and her eyes behind the turtle shell glasses widen intently when she listens. On a bright November afternoon, wearing a black knee-length dress with small pearl earrings and embroidered coat worn casually like a cape, she sat in The Library of the hotel with Editor Vijay Verghese and talked informally about her plans for this 20-year-old icon, more a stately home in a resolutely Indonesian (Majapahit) style, than a fast-paced hotel. It is cranky at times, operates at its own pace, and guests love it.
Smart Travel Asia: How did you get started in hotels?
NOVI SAMODRO: I actually wanted to do business management but my father convinced me to do a course at the National Hotel Institute, Bandung, operated with Swiss participation. After a gruelling week of induction, which was a real bonding experience… it was so tough… I decided to stay on. I later tried banking and found it so boring I left.
What happened then?
NS I went to USA for a hotel management diploma and ended up a pastry chef. I actually had no interest in cooking and was surprised at my results and this special 'aptitude' as instructors pointed out. But it's good for my retirement I suppose… I can sell cakes online (laughs). I had a nickname: Miss Black Forest.
How did your hotel career get started?
NS I started out in Bali Cliff as a GRO (guest relations officer) and was moved into event sales, which I liked. I developed an interest in catering and later worked at the Shangri-La Jakarta, and the old InterCon Midtown, before joining Four Seasons where my Director of Marketing pushed me into sales as he felt I was people oriented. One thing led to another.
How was your first day as GM?
NS I felt so excited. I tried to think positive and received great support from the executive committee, many of whom were much older than me. You see, when I was interviewed in 2011 by Dharmawangsa I had said in five years' time I wanted to be a GM. It just popped into my mind. I started out here in sales as the Director of Marketing and became EAM for a short while before being appointed GM in August 2017.
What are your first thoughts about where you want to take this product?
NS I want to bring this hotel to the next level. We have so many VIPs and heads of state. They stay with us to experience true Indonesian luxury service. Richard Gere stayed here a long time ago and enjoyed it.
What do you see as the next level?
NS I want The Dharmawangsa on a par with The Plaza New York, as an icon of Jakarta. That's my dream, my goal. I am building confidence in my team and encouraging guest interaction.
What would you change in guest interaction?
NS Well, I don't really want to change the interaction as our guests like the quiet. I do want them to remember us. I try to meet five guests in the morning and again five in the evening to increase personal interaction. We'll informally wave 'Hi' in the gym, at the lift… I enjoy meeting new guests and am always on the lookout for apartment guests and new members at the Bimasena Club. (The hotel runs two residential towers on site as well as a club in a standalone building with fitness, spa and activities).
How do you handle your team?
NS I try to find the potential in the team and get people to grow. We have to first start with the people and then move to the product.
What needs to be done with the product?
NS We're a good product, 20 years old in December (2017). But maintenance is a big job. Profits only come when everything is in place – good people and a good product. I don't like surprises and always ask our engineers to check everything. I recall an engineer who was chasing madly around once with a slip in his hand to sign off on parts for the boiler! I have set up systems and processes to make things professional. We have talk shows, fashion shows, and have worked to upgrade hygiene at food stalls in our residential area. It's all about 'community'.
What is the best and worst guest feedback you've encountered?
NS Our guests like the people, our concierge. One guest left his passport behind in the room and our concierge rushed it to the airport and saved the day. Others are amazed at the level of maintenance in a 20-year-old building. Other hoteliers come to check the wood and upkeep. But sometimes there may be negative comments about service.
You must receive many odd requests from guests.
NS We had a one-day notice for a wedding once. The guests had paid an event organiser who cheated them. Well, the show must go on. Fortunately our ballroom was available. The hotel got the master of ceremonies, flower arrangements, catering, and planned an entire wedding for 2,000 guests, in a single day. I think this was sometime in 2010. I wasn't here then.
What do you think you bring as a woman general manager?
NS I think women can help with problem solving as upset guests react differently to a lady. I have noticed that. We have women butlers too. The butler is a friend to chat with. That's our concept.
Send us your Feedback / Letter to the Editor
NOTE:
Telephone and fax numbers, e-mails, website addresses, rates and other details may change or get dated. Please check with your dealer/agent/service-provider or directly with the parties concerned. SmartTravel Asia accepts no responsibility for any inadvertent inaccuracies in this article. Links to websites are provided for the viewer's convenience. SmartTravel Asia accepts no responsibility for content on linked websites or any viruses or malicious programs that may reside therein. Linked website content is neither vetted nor endorsed by SmartTravelAsia. Please read our
Terms & Conditions
.