FEEDBACK
Ten biggest travel gripes
The frazzle of travel. From tiny seats for burgeoning bottoms to hefty hidden surcharges, modern travel is either an adventure, or an art, depending on your point of view.
SEE ALSO Asian medical tourism | Best travel sites | Concierge Travails | Duty free In-flight | Fake travel reviews | What hotel guests steal
JUMP TO Security | Delay | Space | Immigration | Taxi | Advertising | WiFi | Currency | Hidden fees | Fuel surcharges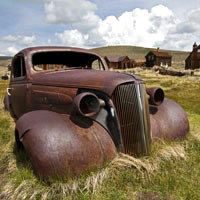 Trying to get somewhere fast?
AS THE adage goes, "life is a journey, not a destination". With air travel these days fraught with delays and tarmac torment, Emerson's prose rings cruelly prophetic, though this is not quite what he had in mind. Whether you're a jet-setter whizzing through Singapore, a family off for a beach roasting in Phuket, or a wonk heading for a dark matter conference in Hawaii, despite the considerable obstacles – long queues, invasive pat downs, armrest standoffs and wailing kids – it is good to "arrive".
We all have our favourite travel grievances but a few coalesce into larger collective hurdles that all travellers dread. Here's a distillation of all the frazzle into our 10 biggest travel gripes – what they are and what hoteliers and airlines are doing about them.
Snagged at security

The sweats start at the airport. Check-in isn't too trying thanks to electronic kiosks, online check-in, and occasional smiles across the counter at the better Asian airports. But it's at the security check where things start to get really aggravating. Sometimes you go through immigration first, and then the metal detectors, or vice-versa, with another security point right before boarding. Flights to USA are earmarked for special attention.
Send us your Feedback / Letter to the Editor
Inconsistencies abound from one airport to another, especially when it comes to items banned onboard. At some airports, you can bring a bottle of water and a lighter, but don't you dare try to board with a nail clipper. Until recently, even knitting needles were on the blacklist – "Take this plane to Havana or I'll knit a scarf and strangle the pilot in a month or two!" Extra lithium batteries are off limits in much of Asia, and techie travellers with too much gear will get a thorough once-over.
At some airports, you can bring a bottle of water and a lighter, but don't you dare try to board with a nail clipper
Security measures need to stay in-line with international recommendations or practices as applied by the FAA (Federal Aviation Administration, USA) and the ACI (Airports Council International, Europe). In Hong Kong, the Civil Aviation Department interprets all this for the Airports Authority Hong Kong, which in turn implements decisions. Airport governing bodies in different countries often suggest different solutions and this makes security far from seamless as you fly from Bali to Singapore and on to New Delhi.
Hong Kong International Airport says it organizes its security and immigration procedures based on tracking feedback. Various performance indicators inform HKIA of any snags. According to data from 2011 and early 2012, as many as 98.7 percent of departing passengers passed through the security screening in 4.5 minutes or less in normal circumstances. Expecting more speedy service at Bangkok's Suvarnabhumi International Airport? The stated average time from check-in to gate here is about 25 to 30 minutes though this may be optimistic given distances, immigration queues and new security routings on separate floors.
Delay delirium

All ready to go. Then you take a look up at the departures board and realise your flight has been delayed another 15 minutes or more. According to FlightStats, an independent aviation performance-tracking company, anything over a 15 minute delay means your flight is not on time. This seems pretty obvious but airport traffic data reports can be lenient. The 15-minute rule now stretches to 20 or 30 minutes and in some instances the "delay" is built into your ticket flying time. So an "on time" flight may be far from what you expect.
According to a quick sampling of January 2013 delays documented by FlightStats.com. Asia's worst offenders included Beijing Capital International Airport (with a whopping 91 percent of flights delayed), Shanghai Pudong International Airport (48 percent), and Singapore Changi Airport (30 percent). The situation is not so unbearable in the US, where about 16 percent of flights were delayed in 2012, down from 18 percent in 2011, according to the US BTS (Bureau of Transportation Statistics). It's a huge improvement compared with 2007, when delays plagued 24 percent of US departures. Frequent travellers know the drill and come prepared with fully charged devices, loaded e-readers and unshakable patience.
Thitiporn Setaluk, a spokesperson for Suvarnabhumi International Airport, says she once waited more than a day for a flight from Bangkok to Kathmandu by Royal Nepal Airlines. This was not the airport's doing and luckily, the airline arranged hotel rooms for the stranded passengers. She says that often aircraft traffic can hold up takeoff, but it's primarily up to airlines to stick to schedules. Of an average 800 daily flights, about 15 percent are delayed more than 15 minutes.
According to Dianne Kwok, from Japan Airlines, the a major causes of delayed flights include adverse weather, traffic flow, and maintenance issues. No surprise there. But guess what? Travellers are as much a part of the problem as a blazing battery. If you're in a hurry, it's not a bad idea to arrive on time and find your seat without fuss. This simple courtesy will save you and others time – and money.
FlightStats gives JAL an on-time rate of 90 percent for 2012. Not too shabby. If you're flying down under, you may want to book a seat on Qantas. The airline was named the most punctual domestic airline in 2012 by the Australian BITRE (Bureau of Infrastructure, Transport and Regional Economics).
An economy of space

Headed for your economy class seat? Suck in – it's going to be a squeeze. In case you hadn't noticed, economy class is mysteriously shrinking. The actual seats aren't becoming smaller, but there are more of them. To up the body count, several airlines have squeezed in more seats per row, and more rows per plane, partially covering exits and more. And, of course, with more passengers comes less personal space. When the guy parked in front yells at you for grabbing his seat every time you get up, tell him to blame the "pitch" – the distance between your seat anchor and his.
See our economy class seat survey with a chart detailing width, pitch and recline. We pick Asiana economy with 18 inches of rumpus room on a B767-400, Cebu Pacific with 20.6in on A320s, Jet Airways with 18in width on B777-300ERs, Korean Air's 18-inches, Vietnam Air's whopping 20.9 inches on B777s, and Bangkok Airways with 19.37 inches of bottom wiggle. Remember, seat width depends on aircraft type. Also check out Seat Guru that displays configurations for most major airlines and several smaller players. The tightest seats will be around 29 inches in pitch and 17 inches in width. The comparison charts are especially helpful, as they outline the pitch and width on select short and long-haul flights.
To up the body count, several airlines have squeezed in more seats, and more rows per plane, partially covering exits
According to Seat Guru ratings, AirAsia has some of the narrowest pitches on short-haul flights (trips under six hours) at around 29 inches. Qantas, Air New Zealand, Indigo Airlines, Lufthansa and Air China all clock in around 30 inches. You'll find the greatest pitches aboard British Airways (33in), Asiana (34in), and JetBlue with a whopping 38 inches.
Of course, you also have to consider seat width. Expect 17 inches of elbow room on some aircraft flown by EVA Air, Air New Zealand, Qantas, Philippine Airlines and Cathay Pacific. The broad shouldered will want to fly China Southern (20in), ANA (20in), AirAsia (21in). Not enough for you? Check out KLM (Royal Dutch Airlines), which boasts a 31-inch seat pitch while the width stays a meagre 17 inches.
Some airlines try to make up for cramped quarters with added value from entertainment, food and seat design. On Singapore Airlines, for example, the average seat width in economy class is 18 inches and the average seat pitch is 32 inches. Though the real estate is an average brag, the carrier has upped the in-flight experience with ergonomic reclines, non-intrusive reading lights, more than 1,000 entertainment options, and in-seat power outlets.
Qantas also adds perks to make the trip more pleasurable. On its A380, for example, economy class has four self-service bars and ergonomic seats to increase legroom and improve sleep. You'll also find adjustable headrests, mood lighting and a USB port.
Immobile at immigration

Don't get us started on the serpentine lines for immigration. A tip: if the immigration queue is curved (rather than straight), avoid it. Curved queues indicate people are getting impatient and stepping out of line to peer ahead to identify the problem. You've survived the flight and all that stands between you and the sweet embrace of your plush 400-thread-count hotel linen is the immigration line. Heading into the London's Heathrow? Immigration queues are notorious and times can run into hours at peak points.
It's not much better in the US. During a Christmas break, I waited in line for more than an hour while two immigration officers stamped passports, seemingly in slow motion, at Chicago O'Hare. Asian airports offer more fluid service, but it's common to get snagged.
At Hong Kong International Airport, there are a few time-saving techniques. First, residents can fast-forward to baggage claim with their Hong Kong ID cards in separate queues called e-channels. (HKIA says 97.7 percent of bags arrive at the carousel within 20 minutes, and at Bangkok's Suvarnabhumi the first bag is expected within 25 minutes.) The Immigration Department and HKIA work together closely, so immigration can add manpower during peak travel times. Holidays can be a bit manic, but it's rare to wait more than 30 minutes when entering Hong Kong. Try that in Shanghai's Pudong Airport where dogleg queues will evoke a collective moan.
HKIA says 97.7% of bags arrive at the carousel within 20 minutes, and in Bangkok the first bag is due within 25mins
Suvarnabhumi claims some impressive numbers. According to Thitiporn, the average wait at immigration is "three minutes". We've had longer encounters, but the Immigration Bureau increases its staff when demand climbs, with an average of 80 immigration officers working on arrivals and 60 on departures. Like Hong Kong, there are also automatic machines that enable Thai passport holders to zoom through.
Those taxing taxis

From Chicago to Calcutta catching a cab is a calamitous business. Taxi ranks are bare, illegitimate touts and friendly shills entice you to other waiting wheels, and lines stretch as far as the eye can see. And once you've landed a taxi, the meter is off, damaged, concealed, or set to run at Olympian speeds.
Though modestly more expensive, registered hotel cabs (as opposed to hotel limousines that cost an arm and a leg) are cleaner, more comfortable and can be held accountable in the case of lost property. Doormen will help translate destinations, record license plate numbers, and provide the hotel's information to ensure you safely get where you're going – and back. There is usually a fixed rate for the airport. Pick a black premium taxi in Seoul or a blue deluxe option in Kuala Lumpur and you'll arrive in decent shape with just a minor dent in the wallet.
Hotels have to be extra careful in Bangkok, where taxis are notorious for pulling tricks with the meter. Guy Poujoulat, general manager of Pullman Bangkok Hotel G, says the hotel's bellhops hold taxis until the meter switches on. During peak hours and on airport trips, the hotel allows taxis to charge fixed fares rather than let the meter run. If they didn't, he says the drivers would decline to pick up guests.
In Indonesia, laws require hotels to employ local taxi companies. At the Nikko Bali Resort and Spa, the contracted companies run meters but also offer limousine and rental car services. Unless guests choose premier services, the price is the same as a normal cab ride. Airport trips do have set prices, however.
Theresa Goh, the communications manager at Traders Hotel Kuala Lumpur, says hotel cabs to and from the airport cost RM$3 more than the fixed rates of standard cabs (not using meters). Around town, the hotel's premier cabs will also cost a bit more, but charges are based on metered rates. "If we ever get a complaint from a guest that our contracted drivers offer fixed rates, we will issue a warning," she says.
Ahem, that's advertising

You've made it to your retreat... you think. The real thing looks nothing like the doctored online photos. That hip and happening room for a fancy frolic is a Frankenstein with creaky plumbing and no hot water and that "centrally located" hotel turns out to be a 30-minute cab ride from anywhere. False advertising and Photoshopped skies are here to stay.
Simeon Olle, general manager of the Waldorf Astoria Shanghai on the Bund, takes a dim view of these shenanigans. "Integrity is crucial within our culture," he says. In any event, Simeon warns against relying solely on photos and encourages travellers to do their research.
In Kuala Lumpur, Theresa at Traders says the policy is never to oversell. A promotional photo might be adjusted for lighting, but it won't mislead viewers with larger fruit baskets or hallucinogenic flowers. "What you see is what you get," she says. Usually, international chains are quite careful about false advertising. It's the smaller players who sometimes run wild. And this is why it can be so hard to judge boutique and budget inns.
That hip and happening room for a fancy frolic turns out to be a Frankenstein with creaky plumbing and no hot water
On the photogenic beaches of Bali, it's hardly an issue. Jean-Charles Le Coz, general manager of the Nikko Bali Resort and Spa, says the constant site inspections, media trips and use of social media would quickly reveal any funny business. "Your customer can simply take a photo and post it for the entire world to see", he says. "Customers today are smarter and know what's real and what's not." In keeping up with technology trends, the hotel even goes au natural in its HD virtual tours that give guests a more tactile sense of the place.
Whither free WiFi?

So you're ready to upload your tell-it-all photos of that exotic resort. Your eager Facebook fans await the gory close-ups. But, wait. How much does the WiFi cost?
Larger hotels chains will capitalise on your need to plug in. If it's a necessity, charge. In Singapore, for example, WiFi commonly costs between S$20 and S$30 per day among high-end hotels. They'll also pull a "one or two device" policy, where you have to pay for more than one gadget. Choose between your iPad and smartphone? That's cruel and unusual.
Meanwhile, smaller boutique properties eager to attract customers tend to include connectivity as part of the experience. Most hotels lack a clear policy online, so it's best to check on WiFi policies first before booking.
At the forward-thinking EAST Beijing, WiFi is complimentary but that's not the norm in the Chinese capital. According to Elyse Kerr, director of sales and marketing at Swire Hotels Beijing, about 30 percent of hotels in the area offer free internet, and it's most common among boutique hotels. As a traveller, Elyse says she expects complimentary WiFi if she's paying five-star rates. "I would much rather spend US$20 on a nice glass of wine in the lobby bar" she says. "The hotel will still get the revenue from me anyway… just in a more enjoyable form."
Waldorf Astoria Shanghai on the Bund also champions free WiFi. Simeon says he is "surprised and disappointed" that many hotels still charge for this basic and critical service. This is especially tough on business travellers who need to stay on top of their e-mail.
In destinations where leisure is the draw, constant connection is not quite so critical. At the Nikko Bali, WiFi is free as long as guests log in every 30 minutes, a number based on the average usage time of guests. "Most of our clients come here for holiday," says Jean-Charles. "They may need to check their emails from time to time, but they don't really use the internet that often." For uninterrupted access, WiFi costs about US$11 per day.
Shangri-La introduced free WiFi to all of its properties in 2009. Director of Public Relations Ilona Yim says that the brand realised early on that connectivity was "as important to hotel guests as a good breakfast". The brand has even started providing WiFi in its fleet of 82 chauffeured cars. The Mira in Hong Kong also sees the value to tech-savvy travellers and offers free WiFi in rooms, public areas and hotel limousines.
Conned with the currency

At some point during the trip, you're going to need to exchange money. Hotels get a bad rap for bad rates, but what's the deal behind the counter?
"A lot of guests do not understand that changing money is a job in itself," says Jean-Charles. Nikko Bali doesn't charge a commission and rates are set by the Bank of Indonesia, but it costs a little more because the hotel has to spend money on man hours on various processes.
The Mira handles currency exchange a little differently, says Connie Kwan, the director of sales and marketing. Instead of charging a fixed commission, the hotel reflects its "costs" directly in the exchange rates. For example, in March 2013, US$1 translated as HK$7, while other vendors may have nudged closer to HK$7.60. Connie says the prices reflect the convenience of a 24-hour service.
The Pullman G Bangkok sticks with the daily bank exchange rate plus an additional five percent. But for the best rates, Guy says guests should carry a debit card or head straight to an ATM.
Hounded by hidden fees

At check out travellers often claim to encounter a battery of hidden fees. Everyone knows to steer clear of the overpriced mini-bar, but it's common for hotels to tack on some extra fees for things like faxes and local calls. Imagine, then, a guest's surprise upon receiving an entire movie script by accident. It has happened and hotels have pressed charges. Government taxes can hit hard too, sometimes reaching 17 to 20 percent.
Expect extra fees for faxes and local calls. Imagine, then, a guest's surprise upon receiving an entire movie script by accident
Mira's Connie recalls a time she was charged for "road construction tax" in China. She says it was a surprise, but then again, travelling in China is typically full of surprises. As it wasn't a huge expense, she paid the bill without a fuss. In Hong Kong, most hotels are transparent about costs. The Mira makes it clear that local calls cost guests a flat HK$5. Faxes start at HK$20 and rates increase depending on the region. While guests may quibble about these fees – local calls are free in Hong Kong – the hotel offers extra services like in-room mobile phone that guests can use all over the city. The price is the same as room rates and incoming calls are redirected to you on the go. Expect call rates of HK$3-$5 at various Hong Kong hotels.
EAST Beijing doesn't charge for faxes or local calls, and the minibar is also a complimentary treat for travellers at sister-property the Opposite House. Elyse's pet peeve? "Hotels that offer rooms service, then add service charge, then add a delivery fee, and then the delivery staff also expects a tip!"
The fuss over fuel

Fuel surcharges on flights will hit hard. You think you've found a steal to Penang, then realise it's twice as much as the advertised price when you pay. The travel agent quotes a terrific deal for that transpacific hop and then you get hit by the fuel surcharge hammer. Best price newspaper rates by travel agents often fail to include fuel surcharges. The booking process can be misleading and, unfortunately, there doesn't seem to be a mandatory transparency standard. Bottom line: fuel is a huge expenditure that bites airlines too. At least the pain is shared.
According to Irene Chua, associate director of BITE PR, the Qantas jet fuel bill increased by A$645 million in 2012, hitting a record A$4.3 billion. Even with fuel surcharges, Chua says Qantas is nowhere near covering rising fuel costs. In the case of Japan Airlines, the carrier sets fuel surcharges every two months, based on the two-month average of Singapore jet fuel. These numbers then have to be approved by the government.
Hong Kong's Cathay Pacific clearly states fuel surcharges on its website where potential passengers will learn that the new fuel surcharge from Hong Kong to North America, Europe, the Middle East, the Indian subcontinent and Africa is US$123 (after 1 March 2013). Codeshare flights are subject to fuel surcharges as well.
So is it the journey and not the arrival? T S Eliot this time. Hopefully travellers can savour both.
Send us your Feedback / Letter to the Editor