ADVENTURE
Krabi resorts for all pockets
First push your eyes back in their sockets. Gear up for stunning sunsets, exquisite Krabi spa resorts, luxury digs and cool karsts in this no-holds-barred review and fun guide.
with photography by Vijay Verghese
SEE ALSO Phuket resorts | Phuket guide | Bangkok hotels | Bangkok shopping | Koh Samui resorts | Chiang Mai guide | Thai spas | Golf | Maldives resorts | Asian dives | Asian Cruises | Vietnam Resorts | Isan, Khao Yai guide | Pattaya guide
JUMP TO Getting there | One large bed | Klong Muang & Ao Nang | Family friendly Krabi resorts | Boutique chic hideaway | Rai Le (Railay) | Klong Dao Lanta Yai | Phra Ae Lanta Yai | Lanta Yai beach resorts | Phi Phi Island | Hotel Contacts
IF YOU'VE ever dreamed of getting up to some serious hanky-panky on vacation, you'll need some serious space. You could pick the Serengeti plains and dodge migrating wildebeest as you whisper, "Yes we can… right here," to your terrified loved one, unless she's baaing in woolly rapture, or you could simply pick a bed. We don't mean a normal, dumpy, elbow-in-the-eye sort of Inquisitional double bed designed to keep people permanently chaste.
We're talking serious wind-in-the-hair space. The sort of bed that makes you wish you had a map, or a decent GPS. "From the plumped eiderdown pillow, make a sharp right and proceed 10 paces to the turned-down duvet, then hang a left, walk another 10 paces to the rumpled area marked X." For this you'll have to head to Krabi, Thailand. More in our Krabi resorts review as we trawl spa menus, child-friendly hotels, romantic hideaways – and some very large beds.
On the Andaman coast, the west side that is, of the Thailand isthmus down south, facing Phuket, Krabi stretches along a sun-dappled coast with some eye-popping beaches and stretches of white sand to rival the best. And everywhere, on land, and in the azure seas, are humps of white limestone karst outcroppings rendered even more dramatic as the sun sets and orange flames lick across the ocean to ignite the tableau. This is 20-megapixel country where sheep forget their companions and gaze contemplatively out at the ocean dreaming of dating astronauts. Anything is possible here, far from the madding crowd.

Slide Show

E-mail Page

Print

Hotel Contacts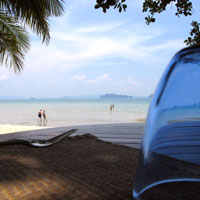 Tubkaak Boutique Resort/ photo: Vijay Verghese
Around a two-hour leisurely drive from well-connected Phuket Airport (and one-and-a-half hours or less if the roads are truck-free), the splendid Krabi coast is a doable escape packed with some of the best spa resorts in Thailand, most of them family-friendly and very welcoming of kids. Krabi has its own airport too. No matter how you arrive, bear in mind that you may need boat and ferry transfers and all this will add time. So hunker down and enjoy the journey. The arrival will happen, eventually, Thai style, khop khun krap. On with our Krabi resorts review.
Getting there and the lay of the land
Just 30 to 40 minutes from Krabi Airport, the more accessible part of the coast is broadly along the Klong Muang, Nongthalay and Ao Nang areas. Ao Nang is the nightlife area with a night market and a few restaurants. Then there's Rai Le (or Railay) just south of Ao Nang along a secluded stretch of coast protected by towering limestone cliffs and accessible only by speedboat. Krabi town is tucked into the bay as it curves east and then the coast drops straight south to the two islands that comprise Koh Lanta – Lanta Noi and Lanta Yai. The Krabi beach resorts sited here require road drives and ferry transfers. And to the west, between Krabi and Phuket, is picture-postcard Phi Phi whose two main islands can be reached by ferry from Krabi (or Phuket) in an hour-and-a-half. Slower boats take up to three hours. Or hire a faster speedboat. See our Krabi map to get acquainted. Interestingly, much of Krabi is off-limits to motorised water sports so you can swim in relative peace with all your digits intact. More details on getting there, airport transfers, room rates and nightlife in our Fast Facts section at the end.
Send us your Feedback / Letter to the Editor
Stunning sunsets and one very large bed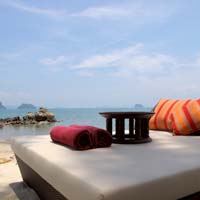 Phulay Bay beach divan/ photo: Verghese
THE BED. I turned off the country road and pulled into a stone-walled carpark shaded by a murmuring copse. The gravel path lined by elegant white-bark trees debouched into a bright purple, very geometric and straight-lined, high-wall courtyard with swaying palm trees. I blinked hard. This could have been the very seat of the Caliphate. Or maybe it was Morocco. Thus do startled visitors arrive at Phulay Bay, a Ritz-Carlton Reserve, Krabi. "There is a dramatic sense of arrival," Estelita Sebeto the South American general manager informed me, looking rather dramatic herself in a loose white cotton dress that appeared to float above the reflecting ponds surrounding the greeting pavilion, a large, solitary sala embraced on all sides by water, soft music, and the purple wall, the colour of the Thai royals.
At night up to 2,000 candles may be lit here to welcome visitors. Guests have one route into this Brobdingnagian bolthole and another one, out. It is very civilised, once you've got over the shock of the scale of things here and the Moorish arrival – the handiwork of celebrated Thai architect Lek Bunnag. If you've seen the Four Seasons Langkawi, there's some of that here in this long-cooking multimillion-dollar fantasy that took the old Phulay Beach Resort up to an entirely new level in late 2009. Woven into the fairytale are Lanna motifs, giant teakwood doors, enormous living spaces, cavernous bathrooms with harem arches, and gigantic beds measuring 2m x 4m (think 13 feet across), big enough for an average Indian extended family plus one Nano microcar.
There are 54 pavilions and villas to choose from. Pick from an 84sq m Resort Pavilion, a 106sq m Reserve Villa, or vault completely over the top and send your accountant berserk with a bill for a120sq m Royal Beach Villa. Remodelled older Beach Villas with curving shingle roofs dating back to the resort's previous incarnation line the ocean with small gardens and hedgerows. Be certain, wherever you lay down, no expense has been spared to ensure a grand holiday.
Phulay Bay purple/ photo: Verghese
The pavilions are set in four suites per building, two upstairs and two downstairs. While this is entry-level for Phulay, it will be more than adequate for most. Expect a spacious balcony (or verandah) with divan, flat-screen TV, BOSE sound, iPod dock, complimentary WiFi and Broadband, Nespresso with special blends, a somewhat complimentary minibar (you'll need to pay for alcohol), hand-blown crystal, Lanna paintings on the doors, twin vanities, lotus basins, and a bathroom with hidden alcoves and arched recesses where you'll find a Bulgari razor no less and a splendid dental and manicure kit. This is where you might hide the belly dancer if your wife gets back from the beach early. Plenty of room for him and her. You may need a mobile phone to find each other again, but that's all part of the fun. There's also a huge professional hairdryer that will down a grown man at 20 paces, a large laptop-size safe, beach bag and straw hats.
At the Royal Villa expect more shock and awe, with a procession of statuettes, hanging Middle-Eastern lamps, a bath pavilion in a separate but connected sala with a wraparound pond, outdoor shower, and a 12m lap pool with ocean views. You get the drift. This is undoubtedly one of the best Krabi resorts around but if our Ritz-Carlton Phulay Bay review was to pick a quibble it is that there is simply too much ostentation in your face at every turn, almost as if the architect thought you might forget and confuse this for a Holiday Inn. And as with too much good chocolate, some might wince.
Another letdown is the absence of a swimmable beach – this immediate stretch of coast is coral pebble – so the resort organises long-tail boats to park you on your own beach idyll offshore. Some of the sandy bays are magnificent. There is no doubting this hideaway has its strong points. The 2,000sq m ESPA for one with wellness treatments by the bushel, and a hedonistic sanded seafront lounging area to catch the rays. Not to mention that BED, and exquisitely attentive service. This is not a getaway for everyone or all pockets, but those who go the distance, forewarned, will not be disappointed. Do I feel a Krabi resort wedding coming on?
Klong Muang, Nongthalay and Ao Nang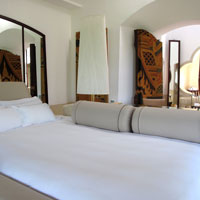 The BED at Phulay/ photo: Verghese
The Klong Muang area just north of Ao Nang is packed with child-friendly Krabi hotels ranging from crass to chic and everything in between. Heading along local highway 4024 that girdles the promontory and most of the area's resorts, one of the nicest affordable family escapes or honeymooner hideaways is The Tubkaak Boutique Resort.
This is a simple and friendly establishment with a compact array of two-storey villas circling a freshwater pool and cobbled paths leading on to the beachside restaurants, a stretch of superb white sand – strung with hammocks – and uninterrupted sea views. The beach area is what will sell this quaint resort to many. Wade in and get swimming. Service is friendly, the general atmosphere laid back. The 16 Superior rooms are 40sq m, with four Seaview rooms at 60sq m and the Tubkaak Suite at a thundering 198sq m.
Size is not the issue here as you'll spend most of your time outdoors. Expect a small terrace or balcony with outdoor bathtub, free WiFi, satellite TV, safe and tea and coffee facilities. Smart work desks sit atop parquet floors. The more expensive rooms offer a DVD player. The Seaview chalets are very Swiss in look and feel but utterly Thai inside with gleaming timber walls, silk cushions, plump white beds, and rough-hewn stone walls enfolding the bathing area and black granite tub. An air-conditioned library is available for all guests with an Internet station. Grab a good book and head to the beach. During the monsoons, June to late October, watch for those iridescent sunsets.
Not far from here, the Nakamanda Resort & Spa, ups the ante a notch with slick grey-tile design, clean straight lines and zen minimalism. This was the resort that first set the benchmark by early 2000 not least for its eye-catching seafront pool with statues, tall grey wall running along its length, and extraordinary vistas. Sadly the resort is sited on a pebble beach and the sea is not really swimmable.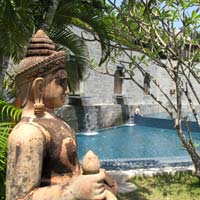 Stylish Nakamanda pool/ photo: Verghese
At high tide when the water is in, the tableau is at its best. As at other resorts similarly limited by the vagaries of strewn coral, Nakamanda cheerfully carts off foreigners to pristine sandy beaches within gazing distance. The 39 rooms are in villa-style arrangement spilling down a low rise to the sea with their smart grey-tile roofs.
There is a fitness centre near the lobby and a Naga Spa for aching limbs. The two 315sq m Pool Villa complexes are attractive with villa rooms looking onto a long narrow dark-tile pool with sun decks and umbrellas. The facade is clean with rich wood framing the long-panel windows. In-room expect parquet floors, a divan that can sleep kids, and TV. Staff are friendly and responsive. All in, a decent choice for families as well as romantics with value room deals. Nakamanda is a member of the Small Luxury Hotels of the World (SLH).
The Amari Vogue Krabi on Tubkaek Beach is another compact and stylish affair with 57 rooms including four villas set along a narrow plot running from the crest of a low hill down to a swimmable sandy beach. WiFi is free so guests may plug in anywhere. This is a no-holds-barred child-friendly Krabi resort and even features a dedicated kids' pool. A small pool runs along the beach with brooding stone elephants watching your every paddle. The terrazzo stepped walkway leading up to the lobby is punctuated by regular splashes of bright orange courtesy of the feisty sun umbrellas.
The ochre buildings feature dark wood balconies that provide a sea view and also look on to other balconies. Privacy is not the resort's forte, but fun is. Room interiors are playfully ornate with Thai murals and painted cupboards looking onto large white cotton beds and timber floors. Wicker furniture offers endless combinations for fidgety families and for those in need of a holistic workout, there are two Spa Suites. In all rooms, expect Broadband Internet, TV, coffee-making facilities, and 24-hour room service. For more indulgence and wellness treatments, guests can visit the three-level Sivara Spa that also serves up a Vichy Shower and a lavish VIP room. The Amari is a good mid-range hotel with dependable standards.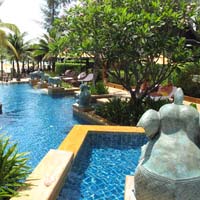 Amari Vogue stepped pool/ photo: Verghese
At the end of the Tubkaek Beach strip is the fast-developing Anyavee Tubkaek Beach Resort with a mandarin villa style design and free WiFi. The resort opened in January 2008 and has been adding rooms at a fair clip.
The beach is okay for swimming. (There is another Anyavee at Railay Beach). Inroom decor is dark wood and deep silk hues. Expect balconies, tea and coffee facilities, minibar, satellite TV and hairdryer. For more indulgence pick a Jacuzzi Villa or a 107sq m Two-Bedroom Pool Villa.
The breezy oceanfront pool is a plus. Modest shades of Trisara (if you're familiar with that Phuket escape) are evident everywhere and not just in the evening silhouette. Fast developing Anyavee offers fresh options for those hunting for Krabi beach resorts but as with others on this strip, its ambitions are hemmed in by its compact footprint.
Stately, spacious, and surrounded by extensive manicured gardens, is the Sofitel Krabi Phokeethra Golf & Spa Resort. The name is quite a mouthful but your persistence will pay off. This is not a small boutique wannabe. It is a proper hotel, modestly grand but not overpowering, old world, but with contemporary interiors, with a nice freeform pool ambling across the front lawns. The hotel looks onto the sea and is separated from the pebble beach by the narrow road.
There are 276 rooms in all with WiFi in the lobby and at the pool. In-room plug-in Broadband comes at Bt702 per day. Rooms are finished in dark teakwood flooring with traditional furniture and large white-cotton beds with bright silk runners. Most open onto breezy balconies to catch the sunset. A 54sq m Luxury Room typically offers wooden furniture, a sofa bed, and a spacious bathroom with a marble bathtub and separate shower area. The faux-colonial building is finished in cream, somewhat bland but rigorously neat and with a good finish in common spaces and in-room.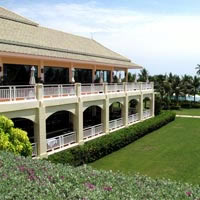 Sofitel, stately lawns/ photo: Verghese
Apart from being a decent Krabi spa resort choice, the hotel doubles as a swinger paradise with its own nine-hole golf course and serves up the lotion-potion Le Spa. It is also a useful address for corporate meetings and small-scale confabs with the Grand Ballroom holding up to 350 people for a cocktail reception or lavish wedding celebration. Function rooms can manage small corporate meetings of between 20 to 50 persons. If you're mulling Krabi conference hotels you could do worse than take a stab at this property. The more energetically inclined can take to the floodlit tennis courts or jogging track. Or hire a speedboat for up to 25 people to roar through the islands that dot the bay. Bottom line, this is a family-friendly establishment that works just as well for business travellers and meeting planners who want to know that everything really is tickety-boo.
More family-friendly Krabi resorts
With editor Vijay Verghese wrestling with that enormous bed up at Phulay Bay it was up to intrepid correspondent Lydia Soh to carry the fact-finding baton forward. Her report.
The name of the modern-looking resort, The Elements Krabi, is inspired by the elements of nature – earth, water, wind and fire. And the inspiration doesn't only stop at the name – rooms are decked out in the four themes too. Rooms on the first level (Deluxe Pool Access) are decorated with silver and vivid shades of blue to represent the water theme, from the oil paintings on the wall, down to the robes and sarongs provided.
Superior rooms on the second floor are swathed in an earthy palette of brown and khaki. All rooms come with a TV, free Internet access, hairdryer, tea and coffee facilities, minibar and laptop-sized safe. Contemporary Thai influences can be seen throughout the property, which is popular with families.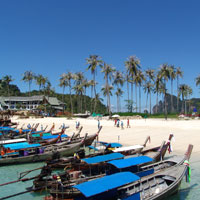 Sheraton beach long-tails/ photo: hotel
The resort facilities have tongue-in-cheek monikers. The 'Playground' is the centre of all in-house activities that comprise a fitness room, yoga and aerobic studio, sauna and steam rooms and a soundproof room for you to warble your favourite karaoke hits or play noisy video games.
The 'Fireplace', modelled after a European drawing room, is where guests rest and relax by reading or playing party games, while 'Peace on Earth' is the name of the spa. There is also a pool, restaurant and bar.
If you are uncomfortable with anything too quirky, too modern or too rustic, Sheraton Krabi Beach Resort (which rebrands as the Dusit Thani Krabi Beach Resort 1 July 2015), is the choice for you. The 246-room property is divided into two wings and provides the following facilities: kids club, gym, table-tennis equipment, tennis courts, two pools, spa and three restaurants. The lobby area is massive, quiet and designed with simple elegance.
The facade, though not old-fashioned, is quite standard in architecture, more hotel than resort. The Sheraton is very much like a world-weary, wealthy aunt as compared to her funky fashionista niece (a.k.a the newer, more modern properties). The Superior rooms are classic in style and feature white and navy blue, adorned with unobtrusive woodcarvings.
Expect a TV, safe, ironing board, tea and coffee facilities, minibar and standard shower. A plus point is the ice-machine on every floor. Walk through the mangroves on the concrete walkway to arrive at a splendid beachfront pool and lounging area with gardens and acres of sand. It is well worth the sweat. This seafront area more than makes up for any other possible shortcomings. Bring the whole brood. The Sheraton is a child-friendly Krabi hotel that prides itself on keeping bawling tots entertained.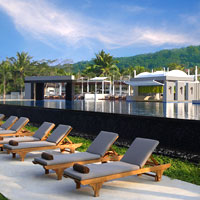 Sheraton Krabi pool/ photo: hotel
Pakasai Resort on Ao Nang is a 104-room boutique resort located five minutes away from the beach. It has more of a garden-cum-forest theme since it is surrounded by much foliage and though you may not wake up to majestic sunrises here, you will arise instead to the sweet sound of birds chirping in the morning.
The Superior room is decked out with oriental flair in pop colours, like the lime-green wall behind the bed. Each comes with a balcony and features a mini-bar, TV, hairdryer, safe, tea and coffee facilities and standing shower.
At the other end of the category is the Adora suite, which is chalet-style and features an outdoor landscaped verandah fitted with a bathtub. The nicest spot in this resort is the rooftop infinity pool that has plush, booth seats on one side. There is also a gym, spa, small playground, and a charming restaurant located beside a lotus pond. Baby-sitting services are available for parents wanting some quiet time alone.
A few minutes away is Pakasai's sister property, Red Ginger Chic Resort. And the 63-room boutique resort is as cute as it sounds. Popular with the younger crowd and high school groups, the four-storey building reeks "boutique" from top to toe. The open-air lobby is flanked by red, orange and green lattice screens while huge red lanterns dangle over the mostly-white reception area on the left. The hotel has a red-and-black contemporary oriental theme that is carried through to the rooms.
For Superior rooms, expect all the basic amenities (TV, safe, coffee and tea facilities, safe and mini-bar) and bathroom with a standing shower. A black-trimmed linen screen separates the vanity sink and bathroom from the bedroom – a simple yet stylish way to demarcate the space.
Pakasai's woody tones/ photo: hotel
Couples will relish the Ginger Club Suite – a duplex with a loft-style bedroom and a living room downstairs. The room can accommodate two couples as the sofa in the living room can be converted into a bed. On-site facilities include a pool with a raised sundeck and a chic-looking restaurant.
Boutique chic on the mainland
If you want to be away from the hustle and bustle of the main Ao Nang strip, yet enjoy what it has to offer in terms of food and entertainment, head to Centara Grand Beach Resort & Villas. Located at a private bay with 500m of beachfront, the resort is only accessible by boat. There is a complimentary two-way shuttle boat service (a 10-minute ride) from Ao Nang that runs from early morning to late at night, or you can choose to take a 15-minute stroll across the headland via an illuminated walkway that connects the resort to the happening part of Ao Nang. This is one of the best Krabi beaches around – even in low season.
There are 192 rooms – all ocean facing – and all come with a wraparound terrace. Deluxe rooms start at 72sq m and are equipped with a minibar, safe, tea and coffee facilities, bathtub, standing shower, rain shower and hair drier.
The toilet is in a little cubicle by itself a couple of steps away. If you book a Premium Deluxe Spa room, extras include a Jacuzzi on the terrace (you can wash yourself four ways instead of three, and glug bubbly under the stars) and a DVD player.
The main door opens onto the terrace, with glass sliding doors on the left leading to the bedroom. The outdoor area is perfect for unwinding and catching up on your reading – a daybed lies alongside the sliding doors, while there are also lounge chairs on the other side of the terrace facing the sea.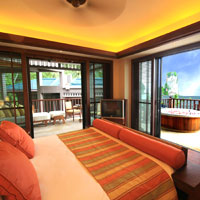 Centara Grand stretch space/ photo: hotel
The interiors are uncluttered and understatedly classy – lots of wood with cheery bits of yellow and orange woven into the furnishings, and stylish crockery. The framed pictures of seashells on the wall add a whimsical touch.
Roll back the heavy sliding doors that separate the bathroom from the sleeping quarters for a more open-concept style of living. The sturdy dark wood towel rack standing outside the door-less bathroom is terribly convenient. The whole layout gives the illusion of space – two people can share one room yet curl up in their own corner and enjoy some privacy when needed.
There are two pools, five restaurants and bars (Deep Blu, the underground bar is worth a visit with its futuristic, sophisticated setting and wall aquarium), a kids club, tennis courts, fitness centre, spa and dive centre. The resort also offers free watersports such as sailing and windsurfing. Mark this down in your diary. It is one of the best Krabi resorts around and among the top contenders in this Krabi resorts review.
Rock climb or relax at Railay Beach
Set on a small peninsula between Krabi and Ao Nang on the mainland, Railay Beach is accessible only by boat as the surrounding limestone cliffs prohibit direct access. It is a 10-minute long-tail boat ride (Bt100 to Bt150 per person, with a minimum of eight people) from Ao Nang. Not only is it a rock climbing hotspot but the beaches here are also a hit with all kinds of travellers, from backpackers to the jet-set crowd. Railay East is the mangrove side of the island and is the drop-off point for boats coming in from Krabi (usually only available on demand). It's not the greatest spot for swimming and sunbathing, but visitors throng this area for its restaurants and bars.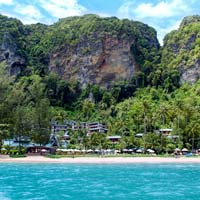 Centara has a stunning location/ photo: hotel
Railay West is a much prettier, and more suitable, beach for lounging around on because it's clean and has shallow water. Longtail boats from Ao Nang land here and do note that you will be expected to waddle and slosh through a few metres of surf when alighting or boarding. These two beaches are connected via walkways through the bigger resorts. Phra Nang, on the southern tip of the peninsula, is touted as one of the loveliest beaches in Southeast Asia – a broad strip of white sand beckons with massive cliffs towering on either end. All the resorts can usually organize snorkelling trips, jungle tours and other activities upon request.
Rayavadee, arguably the swankiest resort on Railay Beach, comprises 102 two-storey pavilions and beachfront villas spread over 26 acres of coconut groves. Facilities within the compound include squash and tennis courts, a rather grand library, watersports centre, fitness centre, sundeck with loungers facing the beach, infinity pool, spa and four restaurants. The resort also provides access to three beaches: Railay West, Phra Nang and Railay East.
Ladies will love the spa with its hushed atmosphere, in-house hair salon and array of relaxing treatments. A must-do during your stay here is a sunset dinner at The Grotto, the outdoor restaurant situated under an ancient limestone cliff at the end of Phra Nang beach. They light up the restaurant as twilight falls, making it a romantic night to remember. The best tables are right in the cave of the cliff. This resort scores well on our Krabi resorts review.
As you wander around, you'll soon discover there is a persistent circular theme resonating throughout– from the cylindrical architecture of the pavilions with their tortoise shell-like roofs to the round furniture and the circular-shaped carpets. Drinking water is also poured into wooden cylinders that can be found by the bed. Interesting.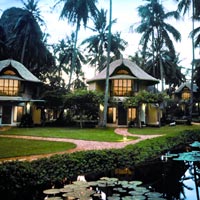 Rayavadee goblin homes/ photo: hotel
The one-bedroom Deluxe Pavilion is more of a holiday home than a hotel room. The living room on the lower floor is linked to the bedroom upstairs via a spiral staircase. The interiors and furnishings are a tropical mix of traditional and modern – lots of handcrafted details complementing the polished dark wood features and richly textured fabrics. A swing chair doubling up as a sofa and fascinating papier mache wall art sprinkle a little uniqueness to the overall decor.
You will find tea and coffee facilities, a minibar, safe, two TVs, hairdryer, a sunken tub with a separate shower and complimentary cookies. A generous range of toiletries are provided, including a ginger and marigold body scrub. Apart from being one of the better Krabi spa resorts, this is a place welcoming of families.
Skip a couple of steps down the Railay East side of the beach and you will come to Railay Bay Resort & Spa. There are 146 rooms available divided into seven types. Single-storey bungalows with thatched roofs are laid out in neat rows that flank the main path, with signs depicting room numbers at the start of each row. The fuss-free Deluxe Cottage is simple in design, and features mostly bamboo and wood elements. The amenities include a rain shower and bathtub, a minibar, safe, TV and tea and coffee facilities. There is also a little porch out front to relax on.
A few metres away is the Bhu Nga Thani (opened 2008), a 60-room resort built with simple, sleek lines. The open concept style is pretty much valued and utilised here – you walk up a gangway from the entrance marked by large patterned lamps and on your left is an outdoor restaurant on a platform facing the sea, and on your right is the airy, high-ceilinged reception area. The openness extends to the area around the infinity pool and the neighbouring sandpit, which resembles a miniature beach with lounge chairs surrounding it. This sandy playground is popular with families as it is easier for parents to keep an eye on their children while they play here rather than at the beach itself.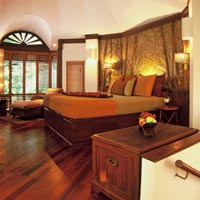 Rayavadee plush interiors/ photo: hotel
The Deluxe rooms are contemporary chic, each having a balcony with a daybed. The dark wood furniture coupled with the deep hues used for the pillows and bed throws provide an attractive contrast to the lighter walls and flooring. Rooms are equipped with a 32-inch flat-screen TV, DVD player, hairdryer, tea and coffee facilities, safe, minibar, and the bathroom features a bathtub and separate rain shower. But if you're willing to cough up that extra bit of moolah, book the Deluxe Grand. The bedroom is the same size as the Deluxe but the highlight is a waterfall-like feature, which flows into a sunken tub. Throw in the dimmed, hazy lighting and you're in for some relaxed, romantic moments.
A bit further down the beach is Railay Village Resort & Spa that consists of 49 rooms divided into two categories, Deluxe Pool View and Jacuzzi Villa. The difference between the two is that the Jacuzzi Villa has a slighter larger floor area and outdoor Jacuzzi. All rooms feature a TV, DVD player, mini-bar, hairdryer and tea and coffee facilities. Though the furnishings are slightly dated, the interior design is warm and cozy with soft browns and glowing orange tones lending a homely vibe. On-site there is a beachfront restaurant, pool and spa, or you can head down to the beach for a game of hard-hitting volleyball. Most of the inns and hostelries mentioned in this Krabi resorts review, are child-friendly establishments.
Back-to-basics at Klong Dao Beach, Lanta Yai
Crown Lanta Resort & Spa is sprawled across a hillside, with some of its rooms and restaurants perched atop a cliff. Situated on a peninsula at the tip of Klong Dao on the northwest coast of Lanta Yai, it has sweeping views of the bay and two private beaches. Guests can explore the resort via a wooden boardwalk which winds through the grounds. Take a moment to stop and snap some photos at various lookout points scattered around the premises.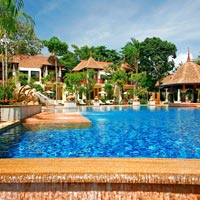 Crown Lanta poolside/ photo: hotel
There are six types of rooms ranging from Elegance Deluxe to Grand Villa. The Thai-style rooms are neat, modern and have a rain shower, safe, TV, DVD player, minibar and tea and coffee facilities. There is a separate dressing room complete with a vanity table and hairdryer. Guests can also choose to while their time away at the two pools, library, spa and fitness centre.
But if you are itching to splash some cash, book the 235sq m Grand Villa suite. Snuggle under the duvet in the master bedroom and be mesmerized by floor-to-ceiling views out over the Andaman coast and Phi Phi Island. You won't want to get out of bed after waking up to such a sight. Dining is all about the ambience at The Cliff, a seafood restaurant that overlooks the bay and The Peak – the prettiest spot to catch the sunset. Nice beach and worth a tick on your Krabi spa resorts shopping list.
If there were designer resorts during the caveman era, they would most probably feel and look a lot like Costa Lanta. Heading down the coast, this stylish resort is ultra-modern – it is minimalistic to the brink of being spartan – and ultra-rustic at the same time. To get to your room you have to walk on wooden gangways through the forest and cross bridges over swampy ponds.
The 22 stand-alone, modular rooms – 18 standard and four superior – feature cement walls, cement sinks and, well, pretty much cement everything. A mosquito net (handy if you consider your surroundings) drapes over a low-rise king-size bed and two white chairs take residence on the cement patio. There is a safe and fridge, but no TV. The standing outdoor rain shower and candles by the bed complement the back-to-basics, intimate setting.
Access to standard rooms is via heavy, wooden folding doors that double up as two of your four walls. And forget about fancy swipe cards – you enter with a down-to-earth key. It's all just terribly simple, creative and cool. The 35m infinity pool, enclosed by cement and facing the ocean, is a great place to unwind, though the beach is just a few steps away. When night falls, head to the restaurant which also has a loft-like bar.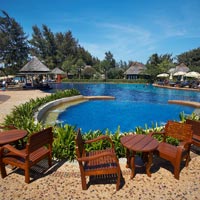 Cha-Da Beach Resort/ photo: hotel
Its wooden floor-to-ceiling doors open out towards the sea, giving you an uninhibited view of glittering stars and crashing waves. Recommended for couples who are seeking solitude in chic fashion.
Cha-Da Beach Resort & Spa sits right on the beachfront. A large chiming glass chandelier dangles gracefully in the middle of the lobby lending a touch of modern elegance to the mainly Thai-influenced architecture. There are 192 rooms nestled among the shady tree-lined paths, two pools, a spa and gym. Emerald Suites are the standard rooms here, which are decorated simply with splotches of cheery colours in the form of orange walls in the shower, and bright pink and yellow cushions. Amenities include a safe, hairdryer, free tea and coffee, minibar and TV.
Do let the hotel know whether you are visiting as a couple or a family: guests are housed in different wings depending on the company they keep. That way, lovebirds won't have to tolerate screaming kids in the pool or as neighbours. Babysitting services and a kids club are available for frazzled parents needing some downtime. And couples wanting to heighten the romance can book the double-level Platinum Suite – the room on the upper floor comes with a skylight right above the bed, allowing for some serious star-gazing.
Down the road and farther inland is the much smaller 49-room Pilanta Spa Resort (opened 1 January 2010), a newer kid on the block. The reception area is pretty much your point of reference: it leads directly to the ellipse-shaped pool and the restaurant is just a short flight of steps away. It is a colourful, modern compound with bottle-green tiled corridors dotted with huge, multi-coloured vases.
Deluxe rooms are housed on the second floor and each has a whirlwind Jacuzzi tub and balcony. Fork out a little more and enjoy the Spa Deluxe room that comes with a small private pool and massage bed. All rooms are decked out with quaint rattan furniture, a flat-screen TV, DVD player (you can borrow movies from reception), safe, tea and coffee facilities and minibar. The minus point of this resort is the 200m walk to the beach which might be considered too far for hardcore beach bums.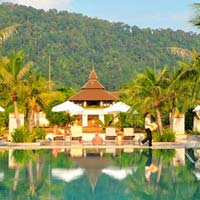 Layana catches the rays/ photo: hotel
Midway between Klong Dao and Phra Ae you'll find Royal Lanta Resort & Spa. And it does live up to its name with grand bungalows edged with red-tiled steeple roofs and wood trimmings, reminiscent of old Thai palaces. And the traditional theme extends to the rooms: an old-fashioned wooden recliner occupies a corner of the Superior room that is embellished with ethnic wood carvings and silk throws. There is a standard shower and a rain shower, TV, desk and minibar but no safe. Safe boxes can only be found at reception. If you are travelling with kids, the Family room with a double bed and double bunk bed will more than suffice. The restaurant is housed in an airy pavilion right next to the beach and was unexpectedly playing contemporary R&B and Korean pop music when we visited. For a quick break, pop next door to the Sea Cow Internet Cafe for frothy lattes and freshly baked pastries. There is also a pool and spa for further relaxation.
Phra Ae Beach (Long Beach), Lanta Yai
Some locals claim Phra Ae is the best beach around and at Layana Resort & Spa you can enjoy it firsthand. Dig into a scrumptious breakfast (try the freshly blended fruit smoothies) or enjoy a romantic candlelit dinner at Tides, the in-house restaurant serving quality Thai and Mediterranean cuisine, set just metres away from the shore. Sun worshippers can choose to laze around the infinity pool that faces the beach – although its handy shape and size allows lap swimming if so desired – or soak up some rays on lounge chairs on the sand. Either way, you're guaranteed a first-class view of the sparkling Andaman Sea. There's a library where you can borrow a book for the beach or DVDs to watch in your room, a spa and small fitness centre. You won't find a treadmill, but who needs one when you have the beach to run along.
The guestrooms are divided into 11 buildings (four units to one) facing lush gardens, with six other suites overlooking the beach. The whole property feels very organic, right down to the rooms, which feature wood complemented with sandstone, rattan and marble. Earthy hues are punctuated with red-and-black vases, and the bench that greets you when you enter the room is a useful spot for tying shoes and resting your bags. Amenities include tea and coffee facilities, a safe, hairdryer, minibar, DVD player and TV. A sliding door separates the bedroom from the bathroom and while the sunken bathtub is good for a soak, the standing shower is there for those who would rather an upright cleansing experience.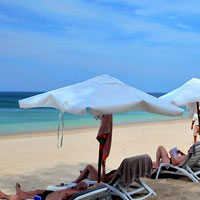 Layana's sandy acres/ photo: hotel
Overall the room is very tidy with neat boxes and drawers for everything from the kettle to the hairdryer. And there's a pillow menu for those still sleepless in the south. If you want to chill out simply laze on the comfy daybed by the window or in a wooden recliner on the balcony and enjoy intimate chit-chats over cocktails. Bear in mind that during the low season when the monsoon is in force the beaches are not at their best. During high season there's more regular clean-up activity.
A few minutes away is Relax Bay Resort, which is perched on a steep slope and is walking distance from the beach. It consists of 37 bungalows which resemble huts with thatched, straw roofs. It can be a bit of a hoof up for some. Negotiating your way around the place is a bit like jungle trekking – so you need to be quite fit and adventurous. There are tons of steps, rocky paths and you'll have to brush away leaves and branches every 10 paces or so. This place is as rustic as you can get without compromising on basic comfort and cleanliness. All the rooms have a simple setup of bed and bathroom, with a standing shower, safe and minibar. There are no TVs or telephones in any of the rooms – this place is strictly for those who want to be cut off from the frantic pace of daily life for a few blessed days. The highlight of this resort has to be its outdoor yoga platform constructed in a raised pavilion overhanging the water edge. After you've refreshed your body and mind head to the resort's restaurant and treat yourself to their must-try creme brulee.
For a completely different experience, head to Lanta Loft across the road. Built on a hill, this four-storey serviced apartment complex contains all the latest hi-tech amenities and distinctly contemporary decor. The fashionable crowd will feel utterly at home in any of the seven apartments offered here. Each unit has mostly-white interiors edged with touches of black and red, and consists of two en suite bedrooms, spacious living room, and an extremely modern open-concept kitchen that incorporates a seriously cool bar counter. The unit on the fourth floor comes with a rooftop terrace, accessible via a spiral staircase off the living room area. It's the perfect setup for a fun private party with your best friends. A small pool and bar on the ground floor provide alternative options for chilling out. You may not be near the beach, but that is easily solved with the rental of a car or motorbike.
Klong Khong, Klong Nin and Klong Hin, Lanta Yai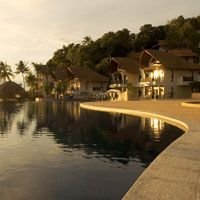 Rawi Warin poolside/ photo: hotel
The stretch along this part of the central west coast is dotted with all kinds of accommodation, from bare minimal to full-fledged comfort. The Rawi Warin Resort & Spa on Klong Khong beach belongs to the latter category and is nestled among a tranquil forest and overlooks Klong Tob bay. With 185 rooms, it is a big resort and the design meshes traditional and modern with a dash of opulence. In the lobby, Victorian-style winged armchairs dominate one corner and funky rattan furniture covers the other.
The resort rates highly when it comes to facilities – there are five pools (including a floating ocean pool and one on the hilltop), plus a plush library, 24-seat theatre, listening room with an audio system that sounds as posh as it looks, spa, on-site PADI dive centre, function room that can hold up to 200 people, and kids club. There are also five restaurants and bars for wining and dining. Like many of the bigger resorts, there is a fair bit of walking to do to get from one place to another, especially if your room is on a hill, but you can call reception and they will arrange for a tuk-tuk to ferry you around.
The Seaview Deluxe room features tea and coffee facilities, an ironing board, a safe, TV, DVD player, minibar and hairdryer. There is a bathtub with a separate rain shower and the cutely packaged toiletries resemble miniature roofs. Interiors are a combination of white and dark wood, with touches of gold and red. As you exit from Rawi Warin, make a right turn and you'll come to Auntie Mae's Bakery & Deli, which is also part of the resort. Try the monster-sized muffins and homemade ice-cream.
Drive on a little further and you'll reach Sri Lanta on Klong Nin Beach. This boutique resort comprises 49 villas and one two-storey Beach House. Located between a hillside and a quiet beach, The Cottage room is a warm, cosy hideout with a yellow-and-orange theme complemented by a low coffee table, daybed, fluffy throw cushions and candles.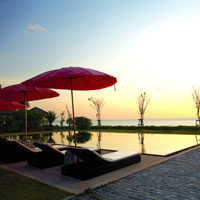 Sri Lanta pool/ photo: hotel
Expect a hairdryer, standing shower, safe (under the bed), tea and coffee facilities and minibar. There is no TV and the telephone only works for internal calls within the resort. The theme here is rustic, with many straw, wood and bamboo features.
There is also an infinity pool, spa and restaurant on-site. Near reception there is a free Internet cafe and the restaurant is hooked up with wireless, so take your laptop there and catch up on the latest news and gossip. Suitable for couples hunting for something in the mid-budget range.
For a take on modern living, there's The Houben near Ba Kantiang Beach. This three-storey, 15-room hotel, perched on a cliff, is every inch contemporary from its edgy facade to its pool deck with a see-through glass-walled balcony. Nothing rustic or earthy here, but every room boasts an unobstructed panoramic view of the Andaman Sea. No two rooms are the same: furniture and other knick-knacks differ from room to room.
The interiors of the family-run property are dressed up predominantly in dark grey and pristine white, with accents of red (the owner's favourite colour, we were told) in generous doses all around. The Deluxe room is spacious and decorated with funky printed furniture. The bathroom has a cement-like finish, and comes with a Jacuzzi and separate shower. A transparent weighing machine adds a stylish touch. Amenities include a 32-inch flat-screen TV, long work desk, DVD player, tea and coffee facilities, safe and minibar.
The suites are bigger and come with an outdoor Jacuzzi, 42-inch flat-screen TV, iPod dock, coffee machine and a cosy living room area. Twin vanity sinks are directly behind the bed, which faces full-length windows. The first thing you see when you wake up is the glistening waters of the Andaman and beyond.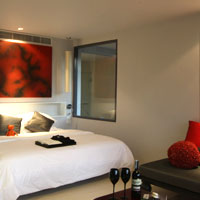 Stylish Houben room/ photo: hotel
There is also a spa, infinity pool and restaurant on the premises and free WiFi throughout the hotel. It's a short drive to the beach, but the hotel can easily arrange transportation for guests.
Also on Ba Kantiang at the southern end of Lanta Yai's long sandy west coast is Pimalai Resort & Spa, a sprawling property with 121 rooms divided into 10 categories spread over 100 acres. Your interest starts to pique once you enter the lobby: a fascinating curved brick wall feature behind the reception area looks like something straight out of a Tetris game, albeit with a much neater arrangement. It adds some spice and texture to an otherwise fairly spartan decor that is rich in browns and reds. Facilities on-site include five pools, five dining venues, an outdoor yoga platform, tennis courts, a basketball court, a spa which resembles a small self-contained village, a dive centre and fitness centre. Water sport activities like kayaking and boogie boarding can also be arranged for free upon request.
All of the Deluxe rooms come with private balconies and most have sea views. They exude a classy, yet comfy vibe. The interiors have a sunny theme and homelike quality – from the light wood furniture to the bright yellow pillows and cushions. Amenities include TV, DVD player, safe, hairdryer, tea and coffee facilities, bathtub and separate shower. And if you have your laptop with you, plug it into the Internet outlet and surf for free.
The highlight of this escape, easily among the best Krabi resorts, is probably its 900m of beachfront that is simply breathtaking on a cloudless day. The long stretch is perfect for sunbathing and lovey-dovey strolls in the sand. Which brings us to the topic of weddings – Pimalai holds 50 to 60 weddings a year on average. And it's easy to see why with its naturally romantic setting and lush, tranquil surrounds. And for the newly weds, we suggest you book yourselves into one of the pool villas. A huge, sheltered daybed on the pool terrace is a great place to snuggle up, even on rainy days.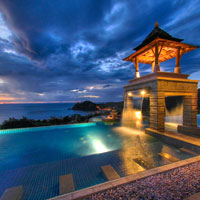 Pimalai pool with a view/ photo: hotel
This large resort is quite hilly so if you're feeling lazy call reception and they will send a buggy for you. Mark down the Pimalai sands. This is one of the top beaches in Krabi – even during the low season.
While the west coast of Koh Lanta is mainly occupied with resorts, the east coast is mostly flat and set aside for local villages. It is the non-touristy part of the island and if you take a drive through the area, you will spot rubber plantations, mangrove swamps and local fishermen going about their daily activities. Also spot a snake farm and monkey school along with elephant trekking establishments.
Phi Phi Island resorts – the party paradise
Although famous for its all-night parties, Phi Phi Island is about far more than just glow sticks and dancing till dawn. Away from the thumping beach bars and crowded trinket stalls, you will find beautiful stretches of pristine white sand beneath majestic limestone cliffs, plus great diving and snorkelling opportunities at Long beach and Viking Beach.
The easiest way to reach Phi Phi is by ferry from Krabi which takes around 90 minutes or you can hire a more expensive but faster private speedboat. You can come in via speedboat from Phuket too. Upon arrival in Tonsia Bay, you will continue your journey to your hotel via a smaller ferry or private long-tail boat.
For a blissful tropical retreat head to luxury beach villa resort Zeavola which is located on the northern tip of the island among 10 acres of lush forest and fronting a white sand beach. This attractive resort offers game fishing and scuba diving and is within easy reach of the James Bond Island, Maya Beach and Phi Phi Ley (the setting for the film "The Beach").
Pimalai has a splendid beach/ photo: hotel
It's not all Robinson Crusoe here with Baxil restaurant serving up trendy Thai and Tacada doing international fare. Pick from a Pool Villa Suite, a Beachfront Suite or go whole hog with a 40sq m Village Suite. Expect gleaming teakwood, outdoor showers, Wi-Fi, hairdryer, coffee and tea facilities and a DVD player.
Continue south along the coast and you'll find the boutique-style Holiday Inn Resort Phi Phi Island comprising 77 bungalows built on the beachfront and throughout 20 acres of landscaped tropical gardens. It has a PADI dive centre and offers everything from watersports to Thai cooking classes. Leave some footprints in that sand.
As we said, we feel a Krabi resort wedding coming on. Grab your in-laws and outlaws and friends and hangers-on and elephants and monkeys and divine sheep and inflatable dolls and head into the sunset, pausing only to spend a few reflective nights on that Giant Bed.
Send us your Feedback / Letter to the Editor
FAST FACTS

/ Hotel Contact List

Seasons: The island is a hotspot for Scandinavians (there are direct flights from Stockholm). Low season (generally May to October) usually sees room rates being slashed by almost 50 percent and beaches become more deserted and unkempt this time of year. Come November when high season beckons, tourists from around the world explore the scattering of beachside restaurants and cafes, and soak up the sun on the many tempting beaches. This flurry of dining and reclining activity will continue until April. Airport transfers to Ao Nang take around 30 to 40 minutes while transfers to Koh Lanta can run upwards of two hours. Several hotels only offer faster speedboat transfers during the high season.

Nightlife & activities: Most visitors will head to Ao Nang – the Patong of Krabi – where there's a night market, clusters of eateries, money changers, tour offices, and yes, McDonald's and Starbucks. Thankfully the area still has an air of rustic charm and feels far less commercialised than Phuket. Motorised water sports are strictly off-limits in Krabi so roaring jet-skis and snarling speedboats won't invade your swimming space.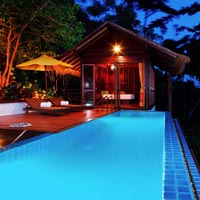 Zeavola Pool Suite/ photo: hotel
Transport and airport transfers: During high season, you can easily catch a ferry (rates are from 400 to 500 baht) from neighbouring Phi Phi Island, Krabi or Ao Nang to the Saladan Pier at Koh Lanta. Be aware that hotels only provide direct land and speedboat transfers during high season and that the pier does not operate during the low season. If you're planning an off-peak trip then your best bet is to take a public minivan or hired taxi from the airport at Krabi, which will set you back around Bt2,300-Bt2,800. We advise checking with your hotel first as it may offer minivan transfers at a subsidised rate.
Not only transport becomes scarce during the low season. Saladan Pier and the town have a healthy buzz during the peak tourist period but when the crowds leave, Koh Lanta pretty much becomes a ghost town. Barely a handful of restaurants and shops open for business, which is why most off-peak visitors hole up in their hotels for all three meals. The only shops you'll see open are mini marts and quite strangely, optical shops.
The best way to get around is via a hired motorcycle or car as taxi rides do not come cheap; the island is pretty easy to navigate if you are armed with a map. Don't fret if all you seem to encounter is thick jungle, dusty streets and dilapidated shops. Just follow the signs directing you to the various resorts and you'll discover off-road luxury lurking somewhere within. The easiest route to take is along the west coast, starting from Klong Dao Beach up north and moving south towards Kantang Bay.
Room prices: The Krabi hotel room rates are based on the best available rate (BAR) on the Internet either via the hotel reservation system or an Online booking company. Some rates may be full, or published "rack" rates. Other services charges and government tax may apply. These rates are for relative pricing comparisons only. You should always check with your travel agent or the hotel close to your booking time.
Exchange rate: The approximate exchange rate is US$1= Bt31.9. View our Krabi map of the resort areas and beaches before you get started.
Krabi resorts guide, Klong Muang, Nongthalay and Ao Nang
Amari Vogue Krabi. Tel: [66-75] 607-777, 560-7700, (e-mail: vogue@amari.com or www.amari.com/vogue/).
Anyavee Tubkaek Beach Resort. Tel: [66-75] 607-200, fax: 560-7222, (e-mail: booking@anyavee.com or www.anyavee.com/tubkaek).
Best Western Ao Nang Bay Resort & Spa. Tel: [66-75] 661-400/ 3, fax: 661-399, (book.bestwestern.com).
Best Western Ban Ao Nang Resort. Tel: [66-75] 637-071/ 4, fax: 637-070, (book.bestwestern.com).
Centara Grand Beach Resort & Villas. Tel: [66-75] 637-789, fax: 637-800, (e-mail: ckbr@chr.co.th or www.centarahotelsresorts.com).
Pakasai Resort. Tel: [66-75] 637-777, fax: 637-637, (e-mail: pakasia@pakasai.com or www.pakasai.com).
Phulay Bay, a Ritz-Carlton Reserve. Nongthalay. Tel: [66-75] 628-111, (reserve.ritzcarlton.com/phulay_bay/).
The Tubkaak Boutique Resort. Klong Muang. Tel: [66-75] 628-400, fax: 628-499, (e-mail: hotel@tubkaakresort.com or www.tubkaakresort.com).
Nakamanda Resort & Spa. Tel: [66-75] 628-200, fax: 644-390, (e-mail: info@nakamanda.com or www.nakamanda.com).
Red Ginger Chic Resort. Tel: [66-75] 637-999, fax: 637-888, (e-mail: info@redgingerkrabi.com or www.redgingerkrabi.com).
Sheraton Krabi Beach Resort. Tel: [66-75] 628-000. fax: 628-028, (e-mail: rsvn.krabi@sheraton.com or www.sheraton.com/krabi).
Sofitel Krabi Phokeethra Golf & Spa Resort. Tel: [66-75] 627-600, fax: 627-899, (e-mail: rsvn@sofitelphokeethrakrabi.com or www.sofitel.com).
The Elements Krabi. Tel: [66-75] 627-999, fax: 600-000, (e-mail: info@theelementsresort.com or www.theelementsresort.com).
Koh Lanta Resorts Guide
Cha-Da Beach Resort & Spa. Tel: [66-75] 668-124 / 7, fax: 668-123, (e-mail: res_lanta@chadahotel.com or www.chadabeach-lanta.com).
Costa Lanta. Tel: [66-75] 668-186, fax: 668-185, (e-mail: booking@costalanta.com or www.costalanta.com).
Crown Lanta Resort & Spa. Tel: [66-75] 626-999, fax: 668-351, (e-mail: info@crownlanta.com or www.crownlanta.com).
Lanta Loft. Tel: [66-75] 684-908, (e-mail: info@lantaestate.net or www.krabidir.com/lantaloftapartments).
Layana Resort & Spa. Tel: [66-75] 607-100, fax: 607-199, (e-mail: resa@layanaresort.com or www.layanaresort.com).
Pilanta Spa Resort. Tel: [66-75] 668-444 / 7, fax: 668-448, (e-mail: contact@pilanta.com or www.pilanta.com).
Pimalai Resort & Spa. Tel: [66-75] 607-999, fax: 607-998, (e-mail: reservation@pimalai.com or www.pimalai.com).
Rawi Warin Resort & Spa. Tel: [66-75] 607-400, fax: 607-499, (e-mail: resv@rawiwarin.com or www.rawiwarin.com).
Relax Bay Resort. Tel: [66-75] 684-194, fax: 684-196, (e-mail: relaxbay@hotmail.com or www.relaxbay.com).
Royal Lanta Resort & Spa. Tel: [66-75] 684-361 / 3, fax: 684-362, (e-mail: sales@royallanta.com or www.royallanta.com).
Sri Lanta. Tel: [66-75] 662-688, fax: 662-687, (e-mail: srilanta@thesrihotels.com or www.srilanta.com).
The Houben. Tel: [66-75] 665-144, fax: 665-133, (e-mail: info@thehouben.com or www.thehouben.com).
Rai Le (Railay Beach) Resorts
Bhu Nga Thani Resort & Spa. Tel: [66-75] 819-451 / 4, fax: 819-455, (e-mail: info@bhungathani.com or www.bhungathani.com).
Railay Bay Resort & Spa. Tel: [66-75] 819-401 / 3, fax: 819-404, (e-mail: info@krabi-railaybay.com or www.krabi-railaybay.com).
Railay Village Resort & Spa. Tel: [66-75] 819-412 / 3, fax: 819-414, (e-mail: info@railayvillagekrabi.com or www.railayvillagekrabi.com).
Rayavadee. Tel: [66-75] 620-740 / 3, fax: 620-630, (e-mail: reservation@rayavadee.com or www.rayavadee.com).
Phi Phi Island Resorts
Holiday Inn Resort Phi Phi Island. Tel: [66-75] 627-300, fax: 627-397, (e-mail: info@phiphi.holidayinn.com or www.phiphi.holidayinn.com).
Zeavola. Tel [66-75] 627-000, fax 627-023, (e-mail: reservation@zeavola.com or www.zeavola.com).