SPAS AND HOT SPRINGS
Get your feet wet in Yilan
A Yilan fun guide for families and karaoke kings, with hot springs, spa hotels and some delicious soup.
SEE ALSO Taipei spa | Taipei nightlife | Vietnam resorts | Sanya fun guide | Hong Kong guide | Palawan dives
JUMP TO Jiaoxi resorts | Yilan City | Luodong adventures | Hotel Contacts
Lanyang street, heritage feel
GEOGRAPHICALLY, Yilan is right next door to Taipei. Yet, it used to take a tedious two hours to reach, with stout mountains rising unyielding, in between. You'd think that's not too bad, but considering it only takes two hours on the High Speed Rail to whizz from Taipei all the way down to Kaohsiung, in southern Taiwan, Yilan appears rather distant.
Thankfully, a timely saviour arrived in the form of the Hsueshan "Snow Mountain" Tunnel, the country's longest (and ranked fifth longest in the world). As part of National Highway 5 since 2006, the new road carved through the hills has whittled down the journey from Taipei to Yilan to just a little over 30 minutes.
Send us your Feedback / Letter to the Editor
This burrowing marvel took 15 years to complete. Not just because it was long, but also because engineers were faced with numerous challenges that caused unexpected delays. In fact, most Taiwanese would be able to tell you exactly what happened as news updates were flashed regularly. Headline-grabbing reports related to tunnel collapses; and at other times the news was about flooding. It was dismal stuff and, understandably, a matter of great national pride when the road triumphantly emerged the other end.
You can rent a car and drive or simply hop on a Kamalan Bus (tel: [886-3] 956-6198, www.kamalan.com.tw) that stops at most of the key spots in Yilan. It travels as far as Luodong Train Station in Yilan County for just NT$243 per roundtrip ticket, with the first stop approximately 45 minutes away.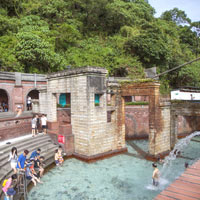 Public springs are aplenty
The bus picks passengers up at several MRT stations in Taipei, but the most convenient boarding points for visitors are likely MRT Technology Building Station (Brown Line) and MRT Taipei Main Station (Exit 1, Blue Line). Tickets can be purchased on site, so don't worry about reserving online.
Another option of getting to Yilan is via Taiwan Railway (www.railway.gov.tw). From Taipei Main Station to Yilan City or Luodong Train Station takes around 65 to 80 minutes on the fast train and costs NT$218 to NT$238 one way.
Send us your Feedback / Letter to the Editor
Yilan can be divided into three main areas of fun – Jiaoxi, Yilan City, and Luodong – and we explore them all. Before we start from Jiaoxi, let's make one extra stop at the Lanyang Museum (tel: [886-3] 977-9700, www.lym.gov.tw), which I highly recommend to all Yilan visitors. I assure you, it's worthwhile.
If you're travelling from Taipei via rail, get off at Toucheng Station and take a three-minute taxi ride to the museum. For those taking the Kamalan Bus, you'll have to hop off at Jiaoxi Station and call for a cab; the drive is about 15 minutes.
As you approach the site, you'll see a curious site - a building sloping into the water. Before you get that sinking feeling, look closely again. I guess it depends on how you view it, like the half-full or half-empty glass. Opened to the public in 2010, the museum was designed by award-winning architect Yao Ren-xi and his team. The inspiration was drawn from the unique geographical features of the region known as "cuestas", which are commonly seen along the coast. A cuesta is a rock-layered hill with a long gentle slope on one side and a steep drop on the other – this is the shape the museum assumed.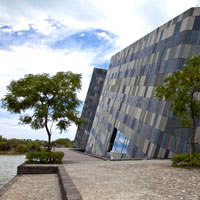 Lanyang Museum has an intriguing tilt to it and is a must-see for shutterbugs
Enter the museum to find an even more interesting sight. For a while, you will try to "straighten" yourself (you'll know what I mean once inside). I had so much fun I probably spent the most time in the lobby.
There are three floors that are cleverly categorised into the Mountains, Plains and Ocean levels, showcasing what the residents of Yilan take pride in.
The cultural and way of life is vividly represented through artworks and images. The museum is a highlight of any trip.
Jiaoxi hot springs and spa resorts
Jiaoxi is a township in the north of Yilan County. The town's natural underground hot spring is akin to Mickey Mouse at Disneyland - the main draw that has continuously maintained its title as one of Taiwan's most favoured weekend hideouts.
The clear spring has a weak alkaline base and the water is odourless, with an average temperature of around 50 degrees Celsius. The "superpower-ed" water features elements including sodium, magnesium, calcium and potassium (and no, don't try drinking it). Supposedly, Jiaoxi's hot spring is also known as a "beauty soup;" it beautifies your skin with all its natural minerals (and again, it is not for drinking).
The central part of Jiaoxi is packed with many hotels, ranging from backpacker inns to high-end luxe. What most of them offer is overnight stays, obviously, but also temporary access to spa facilities and entrance fees.
So, let's pack your swimming gear (didn't think you'd need it for an inland trip, eh?) and have fun soaking in Jiaoxi. Here are some fun Yilan hot springs and spa resort options.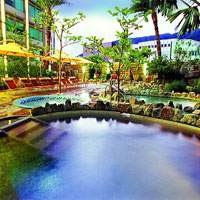 Colourful Art Spa Hotel/ photo: hotel
An easy 4-minute walk from Jiaoxi Railway Station takes you to Art Spa Hotel, where dozens of hot spring water-themed facilities are housed. The hotel offers western and Japanese style rooms, all with spacious bathrooms and big bathtubs (some with a view).
Unlike the traditional hot spring baths, this hotel offers hot baths with a touch of fun. This is evident from a distance, as you see an outdoor 360-degree water slide that is five storeys tall. There are also massage pools in the therapy area that utilise water pressure jets to get the job done. My favourite is the "waterfall" designed to massage your back. To enter, it costs NT$250 per adult (NT$300 per adult on weekends and holidays). You'll need your own swimsuit, swimming cap (this is commonly required in Taiwan) and towel. I find this hotel more suitable for families, so if you're travelling with kids and need a child-friendly hotel, or if you aren't, just keep that in mind.
Chuang-Tang Spring Spa Hotel is located two blocks away. The guestrooms here are designed with different themes and colour tones. With the high concentration of hotels clustered within the same area, hotels attempt to stand out from one another with different methods. The themes range from "Shanghai night" to "casino style" to "Chinese palace." It pretty much sums it up. And, needless to add, it will boggle the mind.
The facilities include an open-air hot spring areas with themed pools (they're really into the "themes" concept here) and private bathhouses that are available at NT$980 per 90 minute session. The bathhouses come with windows but you'll likely want to put the curtains down because in some of them, you can see people in the buildings next door.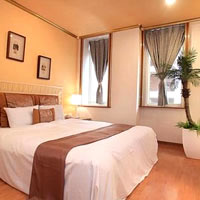 Chuan-Tang Spring Spa Hotel/ photo: hotel
If you're all adults travelling with family or friends, consider staying at the popular City Suites – Jiaoxi Maple Leaves Hot Spring Hotel, which is located only two minutes away. The lobby features soft earth tones and a serene air. Of the 74 rooms at this hotel, 69 boast four single beds or two double beds – enough to pack in all your fans. The rooms are contemporary and flooded with natural light. Hot spring baths are offered in every room.
Approximately 300 meters away is the 80-room Guan Xiang Century Hotel, which opened in 2007. With spacious rooms in a clean and contemporary design, this hotel boasts an outdoor hot spring area that covers over 1,300sq m, featuring assorted spa facilities and massage pools. All massage pools are spoiling, but the hot spring water here is simply fantastic and makes it awfully hard to return to "normal" tap water at home. Entrance tickets are available from NT$300 per adult if you wish to go for a dip.
Evergreen Resort Hotel is one of the most well known and more refined options in the area. The rooms are clean, modern and of a five-star standard. In-room bathtubs can be filled with water fed from the rock strata 200m beneath the ground. The resort provides in-room guests with traditional Japanese style straw slippers that can be taken away as souvenirs.
A 40sq m Deluxe Room features a large window in the bathroom beside the bathtub, offering a view of the Yilan plain. Spacious family rooms designed to accommodate four guests include two king size beds; this is a good option for a small group of friends, too. In addition, various types of suites are available. Meanwhile, individual rooms for 90-minute bookings feature milk spring baths and are priced from NT$1,800.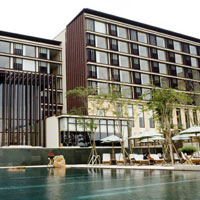 Royal Chiaohsi, five-star offering with Japanese touches/ photo: hotel
Overnight guests will discover their inner teen – or child – in the multi-entertainment room, where game consoles and video screens are set up for friendly competitions. Perhaps you'd rather play table tennis at the sports centre. If you wish to exercise those vocal chords, check out the two karaoke rooms. Considering the Taiwanese love singing, two rooms may seem enough to you, but you'll be surprised how long it may take to await your turn.
Also leaning towards the fancier travellers is Hotel Royal Chiaohsi, where five-star service is offered. The hotel brand is trusted by local Taiwanese and has won much international recognition. The rooms are welcoming and Japanese, despite some labelled "western." Most of the beds are placed on the tatami floors, which is actually a very comfortable arrangement.
The resort-like property is surrounded by themed gardens (again), enhancing the sense of relaxation. Some of the outdoor hot spring pool facilities are open to the public, but most are reserved for in-house guests. A unique feature of the resort is its own golf course that covers 1.5 hectares with 18 holes; golf clubs are available for rent, so don't worry if you've left yours back at home.
If you're travelling on a budget, public hot spring pools are also available for leisurely footbaths free of charge. For those with limited time, get off at Jiaoxi Station to find a plaza with wooden-panelled walkways alongside pools.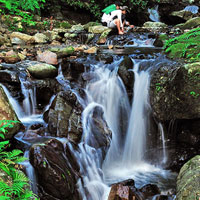 Check out the numerous waterfalls around Wufengqi
After all that soaking you'll have the energy for a hike. Strap on your walking shoes and head to the scenic area of Wufengqi. This is one of the most beautiful areas in Yilan County.
Mist drifts along the hilltop throughout the year, and mountain springs gurgle down the slopes. At Wufengqi, there are three levels of waterfalls with a viewing platform built at the second one. The entire hike takes about an hour. Along the way, you'll find stone tables and chairs; local hikers like to bring food with them and enjoy lunch at the mid-point. Maybe you can consider doing the same.
Yilan City fun and pork soup to die for
Farther south from Jiaoxi brings you to Yilan City, where delightful surprises are to be found from the starting point: Yilan Railway Station.
Step into a world of cheerful colours and interesting artworks at the space right across from the station. The art is derived from the illustrated books by famous Taiwanese artist Jimmy Liao. His creations have won ample recognition, and been sold all around the world. As a native "Yilan-ese," Jimmy is a local celebrity, and bringing some of the characters in his stories to life in the city becomes particularly pleasant and meaningful. Fans of Jimmy have travelled to this station just to see the illustrations in person and photograph the delightful statues and flying train.
Located 10 minutes by foot from the train station is arguably the most fancy hotel in the city, Silks Place Yilan. A branch of the Regent Group, the five-star hotel with nearly 200 rooms features rare outdoor Jacuzzis in the sky villas.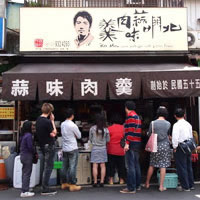 Always a queue for Bei-Men Pork soup
Contributing hugely to its popularity is the much sought after signature dish – roasted cherry duck, which requires prior reservations. If you're a Peking duck lover, then call in advance and book a table. Attached to Silks Palace is a large shopping centre known as Luna Plaza (tel: [886-3] 932-8800, www.lunaplaza.com.tw).
North of the hotel is an area concentrated with local eateries. One of the must-stop-by places is the 40-year-old Bei-men Pork Pottage (tel: [886-3] 933-3580, mahogahon.com.tw), where the unique homemade garlic-flavoured thick pork soup will have you salivating in no time. The restaurant is small and can barely fit a dozen customers, which is why queues are long. At the entrance of the restaurant, you'll see the pork paste freshly made into strips by hand. Only a set amount is offered every day, so I would suggest an early visit (before dinnertime) to ensure it's not sold out for the day.
A few stores down is a beverage stand called Bei-men King of Milk (tel: [886-3] 932-2852) at the corner. Its star-product is the delicious green bean milkshake. Several copycats have tried to replicate the recipe and open new stores elsewhere, but nothing beats the original.
Hei-shio Ice Paste store (tel: [886-3] 932-9382) offers a cooling treat in the hot summer months. The reason why it is called "ice paste" and not "ice cream" is because the texture is softer. At first glance, you might think you've got a cup of peanut butter instead of the peanut flavoured ice paste.
After the food tour, it's time to sip some wine. The Yilan Distillery (event.ttl-eshop.com.tw), now a wine museum, was built in 1935. Constructed in a Japanese style, the distillery now showcases wine-making process and provides visitors with information on the local wine culture.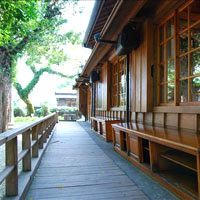 The dry-sounding Memorial Hall is an interesting browse
Across the road is the Memorial Hall of Founding of Yilan Administration (tel: [886-3] 932-6664, memorial.e-land.gov.tw), one of the nicest historic sites in Yilan (in my opinion), despite the dreadfully serious name. The Japanese wooden structure with a hint of western elegance once served as the official residence of city magistrates. There is a limit to the number of visitors entering at once, so there may be a wait. Inside the memorial hall, there are rooms dedicated to showcasing the city's past, while one specific space is saved for temporary exhibitions. You'll find a nice serene garden surrounding the hall, housing a century-old tree that has been well taken care of.
Back to lodging choices, the reasonable priced Grand Boss Hotel has nearly 50 rooms with all your basic needs covered. Well-located, the hotel features double glass windows that block noise from the adjacent high-traffic road. Room packages with great discounts are often available via its website.
A cheaper accommodation choice would be Kings-Hotel. The three-star hotel has bedrooms for two and four. It offers free bicycles and arranged tours to room guests.
You might also consider going for a B&B in Yilan if you're travelling in a big group. Sunrise Rookie B&B offers an entire floor of rooms for six to eight people from NT$6,900 per night. Despite its budget aspirations, the rooms are nicely decorated with clean bathrooms. Whew!
Luodong adventures – markets and B&Bs
Travel farther down south towards the central part of Yilan County to arrive at the township of Luodong, where the island's largest night market is located. According to Taiwanese foodies, the night market gathers the greatest delicacies, ranging from the sweet to the sour, and from the salty to the spicy. So make sure your stomach is empty before you visit.
Smart Kapok/ photo: hotel
Prior to the night market, consider making reservations for a two-hour tour at Taiwan's first ball pen factory called Rabbit (tel: [886-3] 965-3670, www.rabbit1.com.tw). By car, it's just about 10 minutes away from the night market. The walk-through is educational, as they pretty much explain the entire production process. It will be especially engaging for children. This brand holds special meaning for folks of a certain age (as they grew up using this, and only this), so local Taiwanese like going to the factory for half-day nostalgia trips, too.
The town is also known for housing the large Loudong Sports Park (tel: [886-3] 954-1216) that covers 47 hectares of land with a range of facilities. Designed for outdoor enthusiast and families, the beautiful park is divided into different themes, including the Forest, Sports and Waterscapes.
Near the night market is Kapok Hotel & Resorts, a small sophisticated hotel with clean decoration and a young vibe. There are 42 spacious rooms and suites with well-equipped bathrooms. Probably a better choice for couples, however, unless you don't mind your roommate watching you shower, as the bathroom is partitioned with peekaboo glass doors.
If you dig the homey kind of B&Bs, be sure to check out Shire Homestay. The owners are friendly and the rooms are done in a northern European style. The living room is petite but very welcoming and cosy. Light music plays in the background during the day, adding a sense of elegance and leisure to the place.
The Season Skyline Hotel is one of those artsy sorts, located within walking distance from the railway station. If you enter the welcome lounge thinking, "Am I at the dentist's?" you're at the right place. I imagined the designer(s) must have had fun working on this hotel, because every room has its own unique persona. While some are futuristic, others are simpler and charming. A few rooms have large ceiling-to-floor windows, allowing sufficient daylight to add a brisk welcometo the space, and chairs or sofas facing the view.
Jiaoxi hot springs attract many fans
Trick yourself into believing you're no longer in Yilan by staying at the San Xing White House, which is slightly far out, but no more than a 20-minute drive from central Luodong. The resort-like bed and breakfast inn is suitable for families with a pool for adults and another for children. There is a room for karaoke as well. Despite this, at night, the silence is deafening – and calming.
And that's our Yilan fun guide for families and explorers with a few hot springs and spa resorts thrown in for good measure.
Send us your Feedback / Letter to the Editor
FAST FACTS

/ Hotel Contact List
Jiaoxi hot spring hotels
Art Spa Hotel. No. 6, Deyang Rd., Jiaoxi Township, Yilan County 262. Tel: [886-3] 988-2011, fax: 988-3838, (www.art-spa-hotel.com.tw).
Chuang-Tang Spring Spa Hotel. No. 43, Deyang Rd., Jiaoxi Township, Yilan County 262. Tel: [886-3] 988-9889, fax: 988-9779, (email: chuang.tanghtl@msa.hinet.net or www.chuang-tang.com.tw).
City Suites – Jiaoxi Maple Leaves Hot Spring Hotel. No. 118, Jiaoxi Rd., Jiaoxi Township, Yilan County 262. Tel: [886-3] 988-8565, fax: 988-8622, (email: jiaoxi.reservation@citysuites.com.tw or www.citysuites.com.tw).
Guan Xiang Century Hotel. No. 6, Lane 66, Ren'ai Rd., Jiaoxi Township, Yilan County 262. Tel: [886-3] 987-5599, fax: 987-5800, (e-mail: service@hotspring-hotel.com.tw or www.hotspring-hotel.com.tw).
Evergreen Resort Hotel. No. 77, Jiankang Rd., Jiaoxi Township, Yilan County 26241. Tel: [886-3] 910-9988, fax: 987-6383, (jiaosi.evergreen-hotels.com).
Hotel Royal Chiaohsi. No. 69, Wufeng Rd., Jiaoxi Township, Yilan County 262. Tel: [886-3] 988-6288, fax: 988-1511, (www.hotelroyal.com.tw).
Yilan city hotels
Silks Place Yilan. No. 36, Minquan Rd., Sec. 2, Yilan City. Tel: [886-3] 935-1000, fax: 935-4000, (www.silksplace-yilan.com.tw).
Grand Boss Hotel. No. 366, Yising Rd., Sec. 1, Yilan City 260. Tel: [886-3] 931-2999, fax: 931-2899, (www.boss-hotel.com.tw).
Kings-Hotel. No. 30, Jiucheng North Rd., Yilan City. Tel: [886-3] 932-4966, fax: 933-1107, (www.kings-hotel.com.tw).
Sunrise Rookie B&B. Lane 34, Donggang Rd., Yilan City. Tel: [886] 939-103-449 (email: cyl751117@gmail.com or sunrise.oks.tw).
Luodong rooms and inns
Kapok Hotel & Resorts. 306, Zhon-shan Road, Sec. 3, Luodong Township, Yilan County, 265. Tel: [886-3] 956-4888, fax: 957-6611, (www.kapok-hotel.tw).
Shire Homestay. 16, He-bing Road, Lane 23, Alley 1, Luodong Township, Yilan County Tel: [886] 923-123-595, (shire16.tw).
The Season Skyline Hotel. 27, Gong-zheng Road, 9F, Luodong Township, Yilan County Tel: [886] 955-2877, fax: 955-2977, (www.seasonskyline.com.tw).
San Xing White House. 238, Dayi Second Road, San Xing Township, Yilan County Tel: [886] 958-905-258, fax: [886 2] 8667-6536, (www.sanxingwhitehouse.com).