CITY GUIDE
It's perfect, to a fault
San Francisaco fun guide without the crackheads – just parties, picnics, bars, walks, museums, and tacos. Bring along an empty stomach and a big grin for that post martini flush.
SEE ALSO Barcelona guide | Hong Kong guide | New York guide | Tokyo guide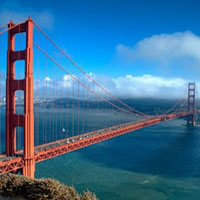 Much photographed Golden Gate Bridge
THERE is no place like San Francisco. Well fine, there is no place like anyplace. But rarely has a town (an American town anyway) been so synonymous with quality of life and downright pleasantness. Tourists often see it as a spot of Europe in a sea of red white and blue. Misled and clearly jealous New Englanders call it the Boston of the west and even New Yorkers will condescend from time to time to acknowledge that it exists. Everybody loves San Francisco and like any place that everybody loves, it attracts a fair smattering of transparent contrarians who like to loudly and publicly sneer at the city by the bay with ill-conceived hipster snark.
Like all great things, San Francisco is oft misunderstood. A doe-eyed tourist expecting some sort of hippie utopia may be put-off the third time she catches a crackhead peeing on the driver's side door of her rental car. And nervous travellers, stocking up on pepper-spray for their visit to Barack's apocalyptic commie social experiment, might find that in a devil-may-care moment away from our Cheese Cake Factories and Bubba Gumps (just like Tulsa), eating a bulgogi taco from, gasp, a truck, may not make you any gayer than you were to begin with.
Send us your Feedback / Letter to the Editor
So, a quick down and dirty San Francisco fun guide. This city's tourist stuff actually doesn't suck. The Golden Gate Bridge is beautiful. Alcatraz is awesome. Golden Gate Park is resplendent and the Ferry Building is delicious. You should see all of it. Just make sure you see a lot more too and in between all that, make sure you're eating a lot of things and drinking a lot of things too. People always underestimate how boozy and gluttonous San Francisco really is. Underneath it all it is still pretty much a loosey-goosey mining town. Hell, underneath that it's all still pretty much Mexico.
Start of at The Mission. This neighbourhood is really at the centre of the whole "San Francisco" scene. Yes, it can be obnoxiously hip and you can basically sit and watch the poor people moving away but like many urban neighbourhoods in the third trimester of gentrification, The Mission is a great place to hang out. It is colourful and accessible; with plenty of urban grit but won't have you fingering the emergency call button on the cell phone in your pocket.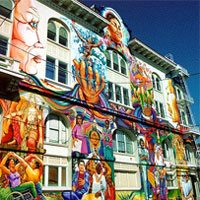 Mission: bright and bustling
The Mission is basically two streets, Mission and Valencia and, truth be told, on a short visit, you could be forgiven for never leaving Valencia. People come to this area to eat, drink, shop and parade around showing off their fixed gears to fellow members of the beanie set. The great shopping includes lots of independent boutiques, thrift stores, bookstores, curio shops and a few art galleries. Need a bronzed hummingbird skull? Antique botany equipment? Raccoon penis bone? Poke your head into Paxton Gate (www.paxtongate.com). This self-described purveyor of "neo-Victorian delights, eclectic animal and plant ephemera, taxidermy, bones and skulls, framed and mounted insects, jewellery, affordable art, fossils and minerals, and more" is not cheap but a visit is rewarding even for window shoppers and will set the tone nicely for the rest of your stay in San Francisco.
The other reason to go to The Mission is to eat. Near the start of Valencia is the Arizmendi Bakery (www.arizmendibakery.org) where they do a different, fantastic, pizza every day. Another great pizza option right down the street is Pizzeria Delfina (www.delfinasf.com), although perhaps it's better to return in the evening to the real Restaurant Delfina for a sit down dinner where you can do it right, and at that point you might want to get the chicken. Also right nearby is Bi-Rite Creamery (biritecreamery.com). You should be able to recognise it by the line spilling onto the street. Their ice cream has a mythical stature around town and if you don't brave the line and grab a salted caramel cone you will regret it forever, just saying.
All this talk of pizza and ice cream is a kind of sacrilege because The Mission is the epicentre of what is perhaps the single best reason to come to San Francisco in the first place, the burritos. Burritos in San Francisco deserve their own article, really even their own magazine, but I'm going to make this as quick and straightforward as possible. For the archetypal mission burrito, the burrito against which all others are measured, spring for a carne asada burrito at Taqueria La Cumbre on Valencia between 16th and 17th streets. If you only get one burrito during your visit (big mistake), make it a La Cumbre burrito. Feeling like something a little more high-end? Head to Papalote Mexican Grill at 24th and Valencia. Cheaper? Line up at El Farolito at 23rd and Mission. Porkier? Get a carnitas burrito at Taqueria Los Coyotes (16th and Mission), or al pastor from Taqueria San Jose (Mission between 24th and 25th). Be warned, plenty of tourists coming to San Francisco with well-laid plans and a packed itinerary, have found themselves, after their first bite of a mission burrito, spending the remainder of their stays bouncing hungry and hollow-eyed across The Mission from taqueria to taqueria.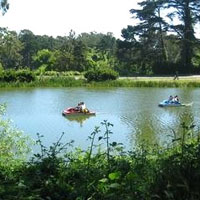 Stowe Lake: paddle boating
The Mission also has a pretty great night scene. Lots of bikers, an oddly hostile staff, great burgers and a huge outdoor area make Zeitgeist (199 Valencia) a neighbourhood favourite. Another great bar with a nice outdoor space is EL Rio (3158 Mission). It also has pretty good food and shuffle board. If alcohol isn't enough to keep you entertained head to Doc's Clock (Mission between 21st St & 22nd St), a bizarre pseudo '50s style bar (think boozy diner without the food), with lots of games (shuffle board, packman etc) and various distractions. If alcohol is enough to keep you entertained then head to The Phone Booth. One of the finest bars in San Francisco, if you like dark holes with great jukeboxes and drinks so strong you'll be legless in no time. A little bit of a hike from the heart of the neighbourhood is Martuni's (4 Valencia at Market), a gay bar and sometimes cabaret with martinis the size of lava lamps. Or try The Lexington Club (Lexington and Valencia), one of San Francisco's last true lesbian bars. Oh and when you're nice and well-lubricated grab bacon wrapped hot dog from one of the street vendors. It's a perfect evening fix.
Another great area to spend the day, and definitely on the tourist path, is the Golden Gate Park. San Francisco's answer to Central Park is a sprawling and varied swathe of green: a great place to spend a day strolling, touring gardens, checking out museums or just napping on the grass. One of the big draws is taking a paddleboat out on Stowe Lake. There's no telling why these boats are so charming, they just are, so go ride them (you can even bring your dog). Perhaps the most contemplative and tranquil part of Golden Gate Park is the Japanese Tea Garden. This meticulously manicured traditional tea garden is the oldest public Japanese garden in the United States. Come on a Wednesday and make an appointment to take part in a traditional tea ceremony. You will forget entirely where you are, and not in the same way you would at Martuni's.
If your inner-scientist wins out over your Zen streak then take a stroll through San Francisco's justifiably famous Botanical Gardens (www.sfbotanicalgarden.org). If you can, plan your trip for when the flowers are in bloom, but the garden is beautiful all year round. Perhaps the best reason to visit Golden Gate Park is the museums. Both the de Young Museum and California Academy of Sciences have come out of massive renovations and the results are breathtaking. At the De Young, the building itself is a work of art, and inside you'll find fine art pieces from all over the world. The California Academy of Sciences is one of the best museums of its kind with a world-class aquarium, green living roof, state-of-the-art planetarium and towering enclosed jungle habitat with plenty of exotic butterflies and other tropical critters.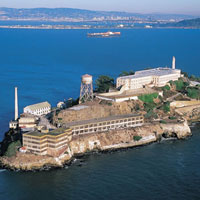 Alcatraz: big draw
Usually museums are a pretty sober daytime affair but not in San Francisco. On Thursdays The Academy of Sciences hosts Night Life and comes alive with DJs, special exhibits and bars scattered throughout. Slow dancing with your sweetie in soft blue light in front of the floor to ceiling aquarium is a magical experience, as is getting drunk and watching the penguins. On Fridays the de Young throws a similar event albeit a bit more subdued.
Another must-see is Alcatraz (www.alcatrazcruises.com). Yes I know it is super touristy, but trust me the audio tour at Alcatraz is one of the best in the world. Disturbing and fascinating. Wait till you're touring the mess hall while an octogenarian friend of Al Capone's describes what it sounds like when you shank someone with a butter knife and tell me if it wasn't worth the ferry ride. Speaking of the ferry ride, you can get your tickets down in Fisherman's Wharf and if you're travelling in the height of tourist season plan ahead. You may have noticed this is my only mention of Fisherman's Wharf. That is not an oversight. Although, if you have kids, a visit to Pier 39 wouldn't be a complete waste of time.
Now on to an area that doesn't get nearly as much attention as it deserves in run-of-the-mill San Francisco fun guides, The Presidio (www.presidio.gov). This old decommissioned military base has really come into its own in the last few years and despite Newt Gingrich's best efforts to have it turned into condos, it is one of the most fascinating and pleasant parts of the city. The base itself is full of history and the historic buildings have been painstakingly restored to hold shops, museums, restaurants and housing. The location is also beautiful with sweeping views and plenty of woodlands, paths and tucked away spots. There is something for everyone. Nerds can get their picture taken with the iconic Yoda statue outside the Lucasfilm headquarters; kids will go absolutely nuts for The Disney Museum and parents can find some respite in the SenSpa. The Presidio is also home to two large Andrew Goldsworthy installations and if you have a death wish you and the family can head over to House of Air (www.houseofair.com), an indoor trampoline park in an historic airplane hangar that must have the highest insurance premiums in the city.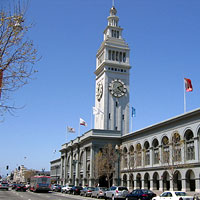 Ferry Building
Another great spot near the Presidio is The Palace of Fine Arts, which is a fine place to wander around in on a sunny day, but the real draw is The Exploratorium. If I describe what The Exploratorium is exactly, you'll think it is just for kids: a hands-on museum about science and technology filled with fun activities from extreme bubble blowing to a tactile dome (a pitch black pseudo-maze with lots of fun stuff to touch). And, although it is a great place to take the kids, The Exploratorium offers up so much unadulterated fun with absolutely zero pretension that everyone will leave with a smile on his face. And hey, you might actually learn something.
The Presidio is also a great starting point for a trip across the Golden Gate Bridge. I know, you think you know what it looks like but trust me it will impress you no matter how many times you've watched the credits to Full House. If it is warm you should really walk across it then stop on the other side at the viewing area to look back over the city. If it is not warm you should not walk across it, but since you're in a car you might as well keep driving and get yourself some BBQ oysters and champagne at Tiburon's Sam's Anchor Café, or stop in Sausalito for some amazing sushi at Sushi Ran. Take note, Sausalito is also a great place to see a movie.
Another traveller hangout that deserves the hype is The Ferry Building. This historic and still functioning ferry terminal is now home to a wide selection of the best snacks San Francisco has to offer. It is one of the most pleasant and expensive food shopping areas of the city with delicious restaurants, organic markets and purveyors of everything from sublime artisanal cheese at The Cowgirl Creamery to great Meats from Prather Ranch and salted pig parts from Boccalone Salumeria. The Ferry Building is also home to one of San Francisco's best restaurants, The Slanted Door, and great back to basics (with a yuppie twist of course) fare at Grott's Roadside. The best thing The Ferry Building has going for it is its location, right in the heart of the Embarcadero, backing up to the bay with a sweeping view from bridge to bridge. On a warm and breezy day it's possible to while away half a day and about six months' salary here.
You'll notice that I didn't mention the famed Hog Island Oysters at The Ferry Building and that's because only a fool would have seafood anywhere other than Swan's Oyster Depot (1517 Polk Street). I can't begin to explain how amazing this place is – one of America's greatest eateries; maybe the greatest: an unadorned marble counter (always crowded) and mounds of the freshest seafood, prepared simply and proudly without frills. A pile of raw oysters, clam chowder, sea urchin and an overflowing crab cocktail all served with warm sourdough bread and endless glasses of chilled white wine.
Streetcar named Desire?
Oh, and another traveller must: ride a cable car. An overpriced ride on a crowded and antiquated glorified bus not sound appealing? Well trust me, you're wrong. I can't even explain it but there really is something profoundly charming about riding a cable car. Hop on and look around. Everybody is smiling. Even the driver is smiling. You're not going to see that on any bus. And it's not just for tourists. Locals ride them too. Start at the ferry building and grab the California Street trolley up the hill. I used to take this line it to work every day, and once you see the hill you'll understand why. Mark this down as an excellent and easy-to-do family-friendly pursuit.
If you're in a shopping mood hop off the trolley when you get to Powell Street and walk down the hill until you get to Union Square. People don't usually think of San Francisco as a luxury-shopping destination but we have all the brands you're looking for around Union Square. This high end shopping area has a definite New York vibe and like that great city, the best time to visit is over Christmas when the square is transformed into an ice skating rink. This is also one of the city's main theatre districts so see what's playing and check out a show.
After some shopping head West on Geary and you'll find yourself in San Francisco's infamous Tenderloin neighbourhood. Gentrification is happening fast here and what used to be the clear delineation between The Tenderloin and the hoity-toity Nob Hill area has begun to blur, in fact real estate agents now refer to this area with the unintentionally naughty sounding moniker: The Tender Nob. Yes, it is still a bit rough around the edges: plenty of sidewalk markets with all kinds of clearly stolen goods, pretty open drug use and lots of colourful crack heads eager to relieve you of some change but to skip this area would be a real tragedy, as The TL (in local parlance) is one of the most exciting areas of San Francisco. Within a few blocks are many cheap and delicious restaurants, bars to fit every orientation and requirement, nightlife of all kinds as well as boutique shops and lots of local colour.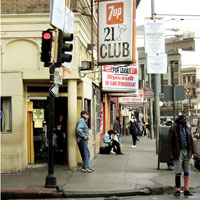 Tenderloin is rough at the edges
This area is also the city's Little Saigon, so be sure to pick up a Banh Mi sandwich or a big bowl of "pho" noodle soup. That said, my favourite restaurant in the area is Lahore Karahi on O'Farrell and Leavenworth. The wait may be long, and the delightful but overworked owner is often wrongly maligned as a grump, but this hole-in-the-wall serves up some of the freshest and most flavourful South Asian food you'll find anywhere all at great prices. It's BYOB.
San Francisco nightlife and bars? Sure. Wait around until after dark and go check out San Francisco's famous hipsters at Edinburgh Castle Pub (950 Geary Street), a venue that manages the almost oxymoronic feat of being a hip and happening pub: lot's of dancing and the opportunity to meet pretty strangers. If you're looking for a slightly older more employed crowd, head over to Rye (688 Geary Street). This bar has great cocktails, great music and a large smoking area. If you like to eat when you're drinking, wait until Tuesday then go to The Ambassador (673 Geary St) for "Two Dollar Tuesdays". Every well drink and a selection of beers are only US$2 each. What's even more impressive is that food is only US$2 as well and we're not talking peanuts and pretzels but more along the lines of a delicious runny grilled cheese with a bowl of steaming tomato soup.
Looking for a gay dance party? Walk down the hill to Aunt Charlies Lounge (133 Turk). Just be warned this area really is rough so keep your wits about you. If the scene at Aunt Charlies is a little too exuberant for you and you'd prefer the kind of gay bar where you can cry into your old fashioned without being bothered then maybe the half-heartedly nautical-themed Gangway (841 Larkin St) is more your speed. Also, don't forget to check out some of the city's many dive bars. Most American cities are getting rid of these out-at-elbow dives faster than low-income housing, but not San Francisco. There's a dive on every block. The Nite Cap and The Brown Jug are especially disreputable but it's probably best if you just explore on your own.
So far this guide may seem a bit biased towards drunks and well, fatties. But there is plenty for the respectable, cultured and more health-conscious visitor to enjoy as well. For example, San Francisco has a vibrant and diverse theatre scene offering everything from big budget productions to smaller art house affairs. The local favourite is probably The American Conservatory of Theatre (www.act-sf.org) or ACT; it puts on plays by local writers as well as more well known selections. For something a little more avant-garde check out The Marsh (1062 Valencia St, www.themarsh.org). This smaller community theatre puts on a great show. It has a second location in Berkeley. Another great theatre in Berkeley is The Berkeley Repertory Theatre (www.berkeleyrep.org).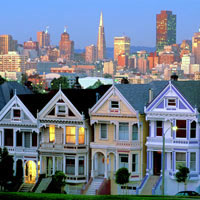 Frisco views over the city
Other options for the more sober set include The 49 Mile Drive a near 50-mile loop that shows off all the best sights by the bay, or Twin Peaks a view spot in the middle of the city that really is worth the drive. And, if you're a thrill seeker, some of the best hang gliding around can be found at Fort Funston. It's also just fun to watch if you're not the death-tempting sort.
There is plenty to see outside of the city too but that should probably wait for another guide. Just briefly: up north we have the justifiably famous Napa wine country. Also north, along the coast are the charming towns of Bolinas and Stinson beach and the home of Audubon Canyon Ranch, a preserve of wild lands in Marin and Sonoma counties. Nature lovers will squeal with delight. It's especially worth a visit between March and July when the egrets are nesting.
Heading South from the city there is plenty to do as well. On the peninsula, in the town of Belmont, is The Peninsula Museum of Art, a brand new local museum highlighting local artists from the area and worth the trip. Keep heading south and you'll find yourself in San Jose, the capital of Silicon Valley and home to The Tech Museum, maybe the world's best science and technology museum.
South of the city and along the coast are some charming small coastal towns including Half Moon Bay and further down the Pacific Coast Highway is the rural enclave of San Gregorio near some great beaches and home to the funky, neo-western San Gregorio General Store. In my opinion, a must see.
East of the city, across The Bay Bridge is The East Bay: a world unto itself revolving around Berkeley and Oakland. There is too much in the east bay to get into now, but just make sure you try the BBQ at Everett and Jones (www.eandjbbq.com) or at least pick up some of that spicy BBQ sauce to bring home.
In terms of hotels and accommodation, I'm sure you'd think I'd recommend some appropriately bohemian artsy boutique hotels. Well, you'd be wrong. The San Francisco hotel scene is still dominated by those grand old dames of yesteryear. Big old palaces that look down on the rest of the city with an aristocratic air, and don't skimp on the marble. I'm talking hotels with names like The Palace (www.sfpalace.com), The Fairmont (www.fairmont.com/sanfrancisco) or The Mark (The Mark Hopkins San Francisco now by InterContinental, www.intercontinentalmarkhopkins.com). The Fairmont is probably the fairest of them all and is especially worth a stay over Christmas.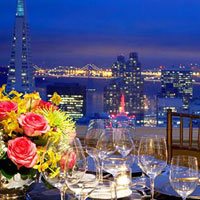 Night view from The Fairmont
Just in case you're worried things will get too stuffy The Fairmont houses The Tonga Room in its basement: a veritable time capsule from the days of the tiki craze complete with floating Filipino band and a simulated thunderstorm over the lagoon (which used to be the hotel pool) every hour. I have never experienced a more pure or visceral sensation of stepping back in time than walking through the doors at The Tonga Room.
On the top of The Mark is the famous Top of the Mark. This prime view spot, landmark and historic watering hole has been around for over 70 years and is justifiably famous for its "100 Martinis Menu".
For some slightly less stuffy hotel options try out the brand new (in 2011) but paradoxically historic Inn at the Presidio (www.innatthepresidio.com). Or, cross the bay for a stay at Julia Morgan's Little Castle (part of the The Berkeley City Club) in Berkeley. A night in this historic building designed by the famous Hearst Castle architect is guaranteed to be an unforgettable experience.
Check out Hayes Valley or grab a scorpion bowl at Smuggler's Cove (smugglerscovesf.com). You'll notice I never mention Lombard Street. To be honest, locals still can't figure out why so many people travel hundreds of miles to stare at a traffic jam. Also, you'll hear lots of advice along the lines of, "Whatever you do, don't call San Francisco San Fran or Frisco." My advice? Do as a real San Franciscan would do – and that's whatever you damn well please.
Send us your Feedback / Letter to the Editor