BUSINESS TRAVEL
Dubai fun guide and best beds
Our Dubai stopover guide and Sharjah escapes shows nothing is Mission Impossible here from high speed zip lines and vertiginous views to business hotel reviews, safaris, luxe resorts, family-friendly hotels, cool bars, shopping, and even skiing.
updated by Ambika Behal and staff reporters
SEE ALSO Abu Dhabi business hotels | Best Maldives resorts | Yerevan guide | Mumbai business hotels | Seychelles resorts | Barcelona guide | New York guide | Istanbul hotels | Child friendly resorts Asia | Asian resort weddings

Al Bait Sharjah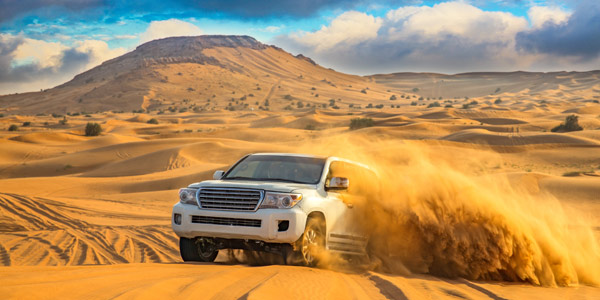 JUMP TO Dubai business hotels | Creek and Deira stays downtown | Nights on the dunes and at the marina | Shopping in Dubai | Dining options | Nightlife and bar | Entertainment | Sharjah | Transiting Dubai | Hotel Contacts
DUBAI seems to hugely polarise public opinion. On the one hand there are those that maintain the place is a sandy paradise where the sun shines all year around, there's no crime, luxury comes as standard, and Dubai business hotels and luxury resorts outshine some of the best in the world.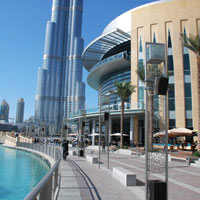 Dubai Mall with Burj Khalifa/ photo: mall
Others argue that for half the year the temperatures nudge 50 degrees Celsius and the place has absolutely no soul though it is a fashionable adult Disneyland of sorts magiced out of the thin desert air. So who do you believe? I mean, famous people that have bought property there – sporting stars David Beckham and Roger Federer, actors Denzel Washington and Brad Pitt, among others – can't all be completely crazy, right?
As ever, the truth is somewhere in the middle. Sure, if you turn up in the summer months and go to the beach you may die within 15 minutes, not literally of course. And, yes, the place has all the culture of a Las Vegas casino - though you do have to wonder that it must be something more than cash that attracts the 70 percent foreign population who live in a city where only 30 percent of residents are locals.
As any Dubai fun guide is quick to point out, the city state for a while focused on building the biggest, longest, widest and tallest of everything from skyscrapers and shopping malls to rotating ski mountains before throwing its arms open and inviting the world to come and take a look. The best Dubai business hotels have all the flash and poise of their better-known siblings in Europe and America.

Slide Show

E-mail Page

Print

Hotel Contacts
But the global economic crisis post 2009 briefly forced the miracle in the desert to take a long hard look at itself. The thrusting, build-it-and-they-will-come confidence was, for a very short few years, replaced by no small amount of navel gazing and contrition as visitor numbers plummeted.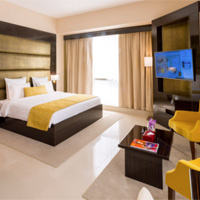 Gevora hotel, more vertiginous views/ photo: hotel
Abu Dhabi jumped in to save the day with a loan of no small proportions. Less than three years later Dubai not only repaid the loan, but also found itself bursting with new energy that finds a construction crew and a few cranes adorning every corner.
Dubai loves its flash and buzz - when the Atlantis resort opened in 2008 with the most expensive party ever thrown – patronised by a vast line-up of international and Hollywood film stars and rock stars – it made headlines. Suddenly, crazy Dubai stopovers were back in fashion.
Send us your Feedback / Letter to the Editor
A couple of years later, on 5 January, 2010, the 828m Burj Khalifa (formerly Burj Dubai) was inaugurated with spectacular fireworks, pomp and ceremony. It lays claim to be the world's tallest building and offers a viewing platform on its vertiginous 124th floor. The Burj Khalifa is is also where the swish Armani Hotel Dubai is located.
By 2018 - marking the 100th anniversary of this emirate on steroids - event calendars were bursting at the seams as world class attractions literally rose up out of the sands and multiplied. Think the XLine (xdubai.com/xline/) at Dubai Marina (a vertiginous one kilometre high speed rush), the vast back-to-nature CityLand  mall (late 2018), the Gevora Hotel (gevorahotels.com/), the world's highest hotel on Sheikh Zayed with a Dhs100 charge for tourists wishing to access the viewing deck and spacious 46sq m rooms with fast WiFi and 50-inch LCD TVs, Dubai Safari (www.dubaisafari.ae/en) with its animal adventures and Dhs30 entry (closed in summer and open October on), the humungous observation wheel - now de rigueur at most international metropolises of any note - and the imaginatively redeveloped Al Quoz  industrial zone that now blooms with cultural offerings in converted warehouses, art shows and galleries and trendy safes. Adult Disneyland? Maybe. Dull? Never.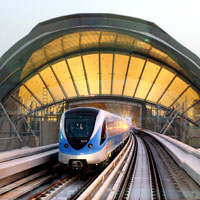 Driverless Dubai Metro/ photo: metro
It is still a Casablanca oasis of calm in a region of notorious instability where myriad nationalities rub shoulders; where you can enjoy luxury hotels, shopping, skiing, sand boarding, wadi bashing, paragliding, or nothing at all, all in one day. Above all, despite its adult thrust and entertainment glitz, Dubai child-friendly hotels are too numerous to shake a stick at. This clearly is a key ingredient in the Middle East stopovers that have become a hallmark of the place. Enough reason then for this Dubai fun guide for families with kids and executives on the march. In little more than a decade and a half, Sheikh Mohammed – the Ruler of Dubai, and its self-styled CEO – has transformed a sleepy fishing village-emirate, which was running out of oil, into one of the world's top ten accolade-winning tourist destinations.
To orientate yourself, the emirate of Dubai is the second largest of the seven emirates within the United Arab Emirates (UAE). The city of Dubai is divided by the Creek, an inlet of the Arabian Gulf. Deira, essentially comprising the city centre and the traditional areas comprising the glittering Gold Souk and old-world spice souk, lies to the north of the creek, and Bur Dubai (along the Sheikh Zayed Road business artery towards Abu Dhabi) lies to the south.
Getting around is easy – the traffic runs smoothly along several grand stretches of highway, and if you're trying to cross the creek, one dirham and five minutes of your time will get you a trip on one of the traditional abra boats – a sort of flat old-worldly boat run by a boatman and a motor – which ply the narrow stretch of water. Of course there are also several bridges for land-based motor traffic to cross a little more quickly too.
Then there's the flash Dubai Metro (dubaimetro.eu) with driverless trains featuring at least one "gold" class carriage with wide leather seats and panoramic views from the front. There are cabins exclusively for women and children too. And there's WiFi.
Dubai business hotels review and Jumeirah resorts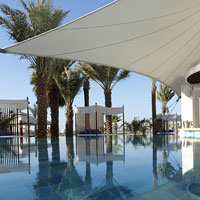 Ritz-Carlton on Jumeirah Beach/ photo: hotel
Whether you're looking for a swank address or a gleaming Jumeirah beach resort, the first thing you'll need to do is peruse the options. Many years ago in the relatively recent life-span of Dubai, the case was that if you didn't stay at a beachfront hotel the alternative was: a) book into an inexpensive fleapit in Deira, or b) sleep in your hire car. But this is no longer the case, with an incredible array of classy hotels for a traveller of any budget to pick and choose from.
The area around the main strip of beach hotels past Jumeirah (including hotels such as the stylish Ritz Carlton Hotel Dubai with its spa and beach clubs that is an excellent spot for Dubai small corporate meetings, Le Meridien Mina Seyahi, the Le Royal Meridien Beach Resort & Marina and the Hilton Dubai Jumeirah Resort) went through intensive, round-the-clock renovation – and by that I mean that for over two years the hotels were surrounded by building work of such magnitude that your fitful slumber (if you got one at all) would be punctuated by the sound of drills. Le Royal Meridien, for example, once warned on its website that "development work at the Dubai Marina, which can be seen from our land view rooms, may be a cause for noise disturbance". But it has all been worth it. Peace and commerce have descended again.
One of the first hotels to emerge from Dubai's construction flurry, was The Westin Dubai Mina Seyahi Beach Resort & Marina. Located on the Jumeirah beach strip, Its 220 rooms feature LCD TVs, Internet access (both wired and wireless for a fee), safes, and the brand's signature "Heavenly Beds". Bathrooms come with separate tubs and rainshowers. The resort's beachfront location means there's no shortage of water sports available from water-skiing to windsurfing and most things in between. You may choose to charter a yacht, but if sailing is not your style, there's always the pool, tennis courts or fitness centre to keep you busy.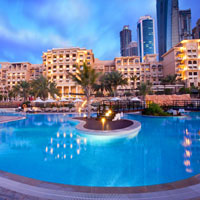 Westin Dubai Mina/ photo: hotel
Wining and dining choices are aplenty with 11 (including the pool bar) bars and restaurants that offer contemporary and international fare from Spanish to Japanese. Large-scale events, conferences and weddings may be held in the hotel's 15,600sq ft function space. For Dubai conference hotels, this is an address to mark down.
Nearby, The beachfront Sofitel Dubai Jumeirah Beach is a luxury all-balcony, all-seaview room hotel. With the Dubai Marina in walking distance, you can shop, then drop into a 36sq m room or 54sq m suite with a sleek flat-screen LCD cable TV, Bose sound system, free WiFi, safe, separate bathtub and tea and coffee-making facilities. Rooms are comfortable, with attractive wood panelling above the bed and lots of soft furnishings. Rococo, the hotel's signature Italian restaurant with its signature lime green and purple décor also has a wavy ceiling that is somewhat underwhelming. Spend more time over your tiramisu or enjoy the more muted tones upstairs. It is all a question of taste.
As you make your way farther down the Jumeirah beach strip, you'll find the One & Only Royal Mirage, a sprawling resort with three separate hotels contained in one vast area of beautifully manicured land, each boasting a distinctive style and flair: The Palace, Arabian Court, and the Residence & Spa. The Palace, arguably the biggest of the three properties, boasts a series of lush gardens, and pretty water features – that give you an odd impression of not actually being in the desert. It's the pick for families, with 'Kids Only' children's facilities, and a selection of water sports available at the hotel's private beach.
Rooms-wise, the 147 Superior Deluxe are the base option, and you can work your way up into one of the 49 Gold Club rooms, 33 Superior Executive Suites, or two Royal Suites. The Palace is also the event property – with a ballroom catering for to up to 350 guests providing the backdrop for many a destination wedding party. And a visit to The Beach Bar & Grill is not to be missed, for a taste from the seafood menu and a view over the water.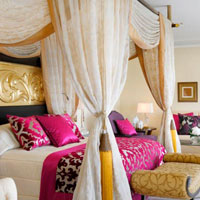 Royal Mirage suite/ photo: hotel
Arabian Court is the next property up the rung, with a slightly cosier feel and stylish decor. Each room here is sea-facing, and all guests have access to their own private balcony or garden patio. And on a whole separate level is the exclusive Residence & Spa, with its 18 suites, and 32 Prestige rooms providing a very intimate feel for guests looking for a quieter experience – fully catered by a space which houses an oriental hammam, spa, and fitness centre. Guests staying at the Residence & Spa can hop between The Palace and Arabian Court if they so choose. Enjoy one of the rooftop terraces where you can watch the sunset over the Arabian Gulf, or smoke a "shisha" (traditional water smoke pipe) at one of the "Shisha Courtyards".
Just a hop, skip, and a jump away is another famous (or infamous if small and subtle is your thing or you're one of the 1,869 relocated fish) is The Palm Jumeirah, a giant manmade island. To say that The Palm Jumeirah is large is an understatement. Developers claim it is the "eighth wonder of the world" – it has pretty much doubled Dubai's coastline and consists of "fronds" that branch out from a two kilometre "trunk" as well as an 11km crescent circling the fronds. It's an area that is home to fancy residences, plenty of resorts, and access to a myriad entertainment and leisure options. For your Dubai shopping jaunts it's likely you will find yourself here at some point.
Here sits the mini-island's flagship resort, Atlantis on The Palm, which opened in September 2008. It's familiar contours will leap out at you from every Dubai fun guide. In step with its host, Atlantis is gargantuan, covering 46 hectares with 1,539 rooms offering views over the Arabian Gulf or The Palm itself. Guests can choose from a variety of accommodation including the indulgent Bridge Suite (spanning the entire Royal Towers, above the signature arch of the building, with three bedrooms, two balconies, and a private lift) or Lost Chambers (three opulent floors with bedrooms that look into the underwater world of "Ambassador Lagoon").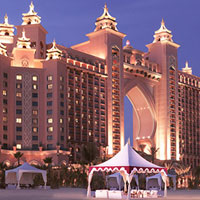 Over the top Atlantis/ photo: hotel
There are no less than 17 restaurants, lounges and bars – celebrated Japanese restaurant Nobu has opened here. These are found on a promenade called The Avenues that is also home to a nightclub and dozens of brand-name shops.
Shopping and eating are all well and good, but what to do when you're craving activity? Well, consider the Aquaventure water playground – 18 million litres of water, cascading rides, tidal waves and rapids, and seven water slides. Or take in the sights of the aforementioned Ambassador Lagoon, a marine habitat that is home to around 65,000 species of sea life, or Dolphin Bay – an education and conservation centre for one of the ocean's most enchanting creatures.
The resort also has 5,600sq m of meeting and function space. If this is too much to contemplate, visit the spa for a few hours of relaxation. Or simply head to the beach with a bucket, a spade, and a sunhat. If you are shopping for Dubai family-friendly hotels with a luxury setting where ostentation is not out of place, this one's for you.
Sofitel Dubai The Palm Resort & Spa (July 2013) is a Polynesian-theme resort sprawled over a broad frontage of water with 500m of beach to catch the rays. The 361-room resort is lowrise and serves the usual mix of French inspiration coupled with local flavours. In-room expect a yielding feather bed, down duvet, onyx-clad bathroom with toiletries from Hermes and Lanvin, and a breezy balcony.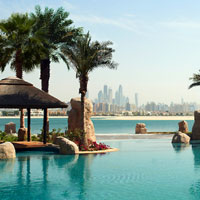 Sofitel The Palm/ photo: hotel
The décor is bright and welcoming of light with bright turquoise cushions and bed runners, alabaster walls, and bricked shower areas with folding doors separating the bathing area from the bedroom. There are also long-stay residences and apartments with one to three bedrooms should the need arise.
A choice afternoon delight is the 2,500sq m So Spa with 28 treatment rooms and Tahitian remedies to get your muscles limbered up in no time. The fitness area includes a "technogym" with LCD screens atop cardio-workout machines. Last but not least, for CEOs in search of a corporate meeting from small to big, there's a range of function space including a 700-pax ballroom.
Anantara Dubai The Palm Resort & Spa is a mouthful of a name but it should leave most mouths agape at its stylish rendering of a red-tile-roof Oriental escape with strong Thai touches. Perched along the eastern frond - or "crescent" - of the Palm Jumeirah, this address serves up lagoon and Lagoon Access Rooms, Beach Pool Villas and some exhilarating Over Water Villas.
A 106sq m One Bedroom Over Water Villa offers ample elbow room, huge sea views and, in some instances, marine life closeups through glass floor panels. A 47sq m Premier Lagoon Access Room has dark wood floors and a large inviting king-size bed.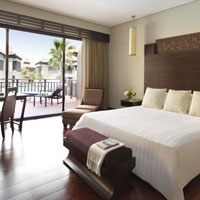 Premier Lagoon Access room at Anantara Dubai The Palm/ photo: hotel
Accents are dark and woody and a sunning patio offers loungers for a good book or sizzling rays. The complex is arrayed around several free-form 'lagoons' with the over water accommodations jutting into the sea at either end. There's an Anantara Spa on hand for wellness rubdowns and for gourmets there's Mekong (Thai, Vietnamese and Chinese) and Crescendo (international fare).
But if you're a single traveller, unenthused by screaming children and crazy balloons, then another Dubai luxury beach hotels contender in The Palm set-up is the Jumeirah Zabeel Saray. Located on the west crescent, this address is typically decadent with the highlight being an extensive Ottoman spa – with its 42 treatment rooms, eight hydrotherapy rooms, steam rooms, saunas, snow rooms, and three Turkish hammams. Whew. There are also eight restaurants and two bars and even a 600-seat theatre. Guests enjoy a private beach with water sports and scuba diving. Rooms feature an opulent Arab decor and each offers a balcony and free WiFi along with an iPod dock. Expect marble bathtubs and rain showers.
Farther down the coast, you'll see Dubai's most famous erection. The Burj Al Arab, a self-styled "seven-star" hotel, is Dubai's thrusting, phallic symbol of luxury and business acumen – and holds the distinction of housing the fourth tallest hotel in the world. Despite its size, the hotel only hosts 28 double-storey floors with 202 bedroom suites. But if you're looking for helicopter or Rolls Royce airport transfers, this is the address to be staying at. Its colourful hallucinogenic delights feature on number plates, restaurant signs, sunglasses. You name it, the Burj adorns it.
Unmistakable Burj Al Arab/ photo: hotel
So proud are Emiratis of their 321m construction that fighter jets are on a three-minute stand-by lest anyone wanders into its airspace accidentally. Access for non-guests is restricted. True, the interior resembles the palace of a recently enriched Russian crime boss, but it is still a luxurious experience almost impossible to top.
While the "Burj" is managed by the Jumeirah Group, their slightly larger, and more family-friendly hotel is the wave-shaped 617-room Jumeirah Beach Hotel next door. This was Jumeirah's original trendsetter at the forefront of the Dubai luxury hotels scene. With over 15 lounges and restaurants, earlier complaints that it was over-priced and over-rated have lessened thanks to numerous upgrades to service and facilities. And one of the perks of stay is complimentary access to Dubai's Wild Wadi Waterpark. The water park is a must-have on your Dubai stopover list especially if you have kids in tow.
The Madinat Jumeirah resort has also taken the concept of "old Arabia" – with a luxury (and theme park) touch. It includes three hotels, almost four kilometres of waterways with traditional water taxis transporting guests from their rooms to the restaurants and beach and a retail souk (market) with shops, bars and restaurants (more about these later).
Perched conveniently on the edge of the Arabian Sea, there's almost no need to leave the resort area during your stay – not only will you find the usual luxury amenities in every room – the complimentary WiFi, the rain shower, the private balcony – but there's a private beach with a range of water sports activities to indulge in, and the Talise Spa comes with its own rock climbing wall, and a 25m pool. There's also a 445-person theatre venue at the Souk Madinat.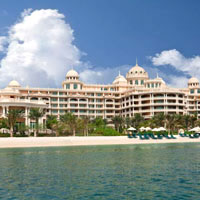 Sprawling Kempinski/ photo: hotel
The Mina A' Salam boutique hotel has 292 rooms sized at least 50sq m and suites have private balconies with Arabian Gulf views. Neighbouring Al Qasr is a "mansion-style" hotel surrounded by water.
Travellers looking for luxury should check out the Dar Al Maysaf, also in the Madinat Jumeirah, a collection of standalone two-storey suites and villas modelled after traditional Arab summer houses.
After the beachfront properties, there's a place for the dedicated shoppers. Attached directly to one of the world's largest malls, the one with the indoor ski slope, are the Kempinski Mall of the Emirates Hotel, and the Sheraton Dubai Mall of the Emirates Hotel – formerly known as the Hotel Pullman Mall of the Emirates. While the Kempinski retains its luxurious five-star signature, with a slick infinity pool and distractions for well-heeled travellers, the Sheraton although also classy with its sleek and modern decor, caters more for the business traveller and offers modern open plan rooms with solid business amenities.
Another option for shopping fanatics and business travellers alike is the Mövenpick Hotel Ibn Battuta Gate. The hotel is adjacent to the Ibn Battuta mall and with its massive 60-metre tall triumphal arch, is pretty hard to miss. Expect comfortable 35sq m standard rooms with separate seating alcoves and large work spaces. Amenities include a 40-inch LCD television, ironing board, iPod dock and Internet connection. Bathrooms provide soaking tubs, separate rain showers and a magnifying mirror.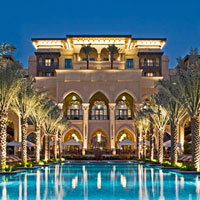 The Address Downtown, Palace/ photo: hotel
Heading away from the beach and the heady rack of Dubai child-friendly hotels, it's on to the realm of the bustling high-rise cityscape, The Address Hotels and Resorts brand is one of the big players in Dubai with five unique properties across the city. The Address Downtown Dubai and The Palace – The Old Town are two of the best. Both offer complimentary WiFi in all rooms, up to 42-inch plasma TV screens and iPod docking stations, but also direct their luxury arrangements toward different markets.
The Address Downtown Dubai boasts more of Dubai's brash and eye-popping "ests" – the world's tallest tower, flanked by The Dubai Mall one of the world's largest shopping centres. The relentless search for the biggest means that these glass-and-steel statements may soon be dwarfed, but they are an impressive addition to the Dubai skyline.
Eight restaurants and bars have every taste covered, but the biggest distinction for The Address is its family friendly focus, which includes a designated children's pool and the Qix Club children's programme.
The Palace - The Old Town, built on the edge of a lake and situated at the heart of a traditional Arabian village, mixes Middle Eastern Heritage with contemporary glamour. The hotel's focus on the high-end business traveller is evident in its location (close to all major business and financial institutions), the comprehensive business centre and three international restaurants. There are balconies for all rooms with a lake or Old Town view and dramatic suites.
A slightly younger addition from The Address Hotels and Resorts is the sharp and modern The Address Dubai Marina. At this towering edifice in Dubai's swank marina district, expect an infinity pool and spa as well as extensive conference facilities. Shoppers walk right into the Dubai Marina Mall. Rooms are modern but warm with lots of dark wood and crisp lines. Furnishings are reassuringly homey but exude a modern flair.
Armani's dark hues/ photo: hotel
All rooms include flat-screen televisions, iPod docks, coffee making stations and free WiFi (complimentary throughout the hotel as well). Bathrooms with separate shower and bathtub are the norm. The hotel is just minutes from the beach.
A short walk away from the Dubai Mall is the designer Armani Hotel Dubai, occupying the lower floors of the vertiginous Burj Khalifa tower. It opened in March 2010. When you pull up outside, the burly doormen in sunglasses are busy celebrity spotting and may forget to open your car door or help you with your bags – unless, of course, you are one. With the dark signature muted tones of Armani's greys, brown, and blacks, the lobby is hushed, sombre and businesslike. This is a resoundingly sober, if chic, hangout for the rich and famous. It is popular with Chinese and Indian jetsetters.
A huge feather in the Armani cap is the beautiful 12,000sq ft of wellness space, where you will be charged according to time spent getting a thorough pampering and not on the basis of individual treatments. This is an eminently sensible spa format. Again, each room comes with its own iPad Lifestyle Manager. The 168 rooms serves up a complimentary mini-bar, free WiFi (a small but welcome addition in a dizzyingly lux hangout), and a single person to take care of you through your stay. In the executive suites find more space along with the de rigueur dark woody tones, Florentine leather, and a gold-and-grey chequered bedsheet and pillow ensemble. In need of Brazilian green bamboo marble? Spot it in the bathroom.
Attached to the hotel are the Armani Residences, which are a series of long-stay serviced apartments (with some for sale). The Amal restaurant, a contemporary Indian space with sleek decor and sharply presented modern cuisine, is one of the reasons the hotel is so popular with South Asians.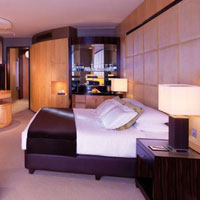 Smart Shangri-La/ photo: hotel
Moving on, if you're looking for a more traditional Thai touch, starting with the traditional Thai "sawasdee" greeting at the door - the Dusit Thani Dubai is at the forefront, location-wise, of the business hotels on the business stretch of Sheikh Zayed Road. Featuring 171 guest rooms, the hotel has invested in newly renovated rooms – expect to find more modern, light, and technologically friendly space now , with free WiFi. Some rooms have a view of the Burj Khalifa.
Across the road is the Shangri-La Hotel, Dubai, a 200m, 43-storey hotel with 302 generously sized guestrooms and suites, good business facilities and a luxurious spa and health club. Rooms are modern in earth tones and pale wood. Bathrooms have L'Occitane bath products and soaking tubs with overhead showers.
Also on the business stretch of Sheikh Zayed Road is the JW Marriott Marquis, not to be confused with sister property JW Marriott Hotel on the Creek. This property, with claims to be the "world's tallest hotel", is spread across two towers overlooking the central business district. With its sleek and clean lines, this place is definitely a business traveller's delight and it also focuses on the MICE (conferences and meetings) crowd, and Indian weddings, of course. You'll find bigger bathrooms, and an iPod dock along with electronic room controls. And if you get bored there's a fitness centre and pool.
The Fairmont is one of two properties in Dubai – the other is the slightly more luxurious residences at The Fairmont Palm Hotel and Resort, which sit, yes, you guessed it – on The Palm – and has a little more for the kids to do. The Fairmont Dubai however, is built to resemble a traditional Arabian wind-tower (also known as a barajeel) on Sheikh Zayed Road (opposite the Dubai International Convention Centre). The lobby is due for a facelift and the rooms have had an upgrade – expect rain showers, but free WiFi is only for those who join the loyalty programme. There are 394 rooms and suites with business facilities and 10 dining and entertainment venues. There's also a two-floor business centre and 40,000sq ft spa and health club.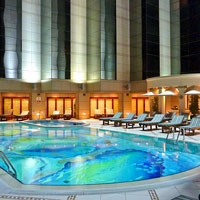 Fairmont Dubai pool/ photo: hotel
One key perk for those sun-followers tagging along on spousal business trips is the fact that the hotel offers a "Sunrise" pool and a "Sunset" pool. It's also here that the famous Friday brunches were started (Dubai's equivalent of a Saturday in the rest of the world), but bookings are recommended for the all-inclusive and hugely popular meal. Paying a visit to the small and unassuming Sushi One, usually frequented by the business crowd, is a must.
The contemporary 252-room The Oberoi Dubai is also on Sheikh Zayed Road with views of Burj Khalifa and easy access to the Dubai Mall and the Dubai International Finance Centre. The hotel is in the mixed-use Oberoi Centre that incorporates an office tower. Expect a spa and fitness facilities, a good spread of cuisines, and corporate meeting facilities with video conferencing capability. The 560sq ft deluxe rooms are welcoming of light with floor-to-ceiling windows, cool timber flooring underfoot, bright paintings on the walls and roomy bathrooms with soaking tubs, some with a view. A good Dubai business hotels choice this.
Dubai Creek and Deira downtown
We venture out now to the creek, the Dubai Creek. This is the original site of the fishing village that mushroomed into Dubai. This area, known as Deira, hosts not only a rather large Cruise Liner Terminal, but also several heritage sites, and some of the more traditional hotels.
Overlooking the Creek and the Arabian Sea is the Hyatt Regency, an uncomplicated, modern business-choice hotel. Nearby is the contemporary-style Jood Palace Hotel Dubai (which took over from Taj Palace in late 2015) boasting among the largest rooms in the city going up to 61sq m, including the balcony – and the added benefit of being only a 15-minute taxi ride from the airport. Expect traditional carpeted standard rooms in earth tones with homey paintings and photos adorning the walls, lampshades and comfy sofas. Watch the news on a reasonable but not massive 32-inch Samsung LCD television.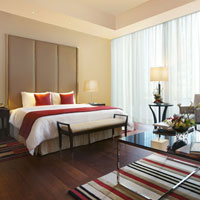 Contemporary Oberoi/ photo: hotel
Opt for a generous 1,305sq ft suite or go whole hog with a Royal Suite that offers a butler upon request. The Taj Spa serves up beauty treatments, sauna and steam showers among a wealth of wellness distractions. There is conferencing and wedding space as well.
The latest addition to the Taj stable is the Taj Dubai (March 2015) in the Burj Khalifa district with grand views of the soaring Burj. Rooms from 49sq m to 67sq m serve up pastel earth tones and rich textures, hand crafted Indian furniture, flat-screen TV and shoe-shine facilities. Taj Club rooms and Junior Suites (72sq m) up the ante with roomy bathrooms and walk-in wardrobes. Best of all are the bustling Taj butlers who are always on hand to manage everything from mundane unpacking to advice. The 680sq m Royal Suite is an address for kings and the well heeled with enough room to swing more than an elephant by the tail. As with other rooms, expect the customary chrome and square lines with a preponderance of browns and wooden lattice-work head-wall. It's all a little bit of India in Dubai. Enjoy a workout at the Jiva Fitness Suite or workout in a sharp pin-stripe at a conference or MICE event in the 527sq m ballroom that holds 300 persons.
Take a look at the 252-room Sheraton Dubai Creek Hotel & Towers overlooking the Creek, which reopens mid 2014 - and the JW Marriott with its award-winning conference facilities. New business suites here offer laptops, all-in-one scanners, copiers, faxes and printers, flat-screen televisions and high-speed Internet.
A value business address to watch is the Radisson Blu Hotel, Dubai Deira Creek. Sitting on the embankment of Deira Creek, the hotel offers private balconies in every one of its 242 rooms and suites. In-room WiFi is free, and complimentary internet is available throughout the hotel. There's also a bevy of sports facilities available. Choose from two full gyms, an outdoor pool, tennis and squash courts and more. Later, grab a massage treatment to wind down. Corporate types might take note of the MICE options on offer. Book an event at the Radisson Blu Deira Creek and receive the attentions of a dedicated conference coordinator to ensure everything goes smoothly.
Before we continue with our Dubai fun guide, let's pootle up the creek to the elegant Park Hyatt Dubai. The stunning Moorish themed architecture and peaceful surroundings belie the fact that you're actually a stone's throw from the city's main bottleneck – Garhoud Bridge. With it's beautiful water features, each of the 225 rooms also face the Creek and have a balcony with views of the Dubai skyline as well as the private marina below. Rooms are light and calm in pale wood with lots of white and grey. Expect DVD players, hairdryers, satellite radio and free WFi in all rooms and public hotel spaces.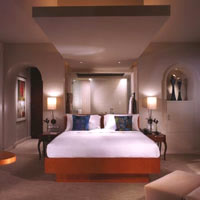 Clean tone Park Hyatt/ photo: hotel
Bathrooms have marble soaking tubs complete with all four feet, 50's style. There's a spacious pool for anyone to lounge around, with plenty of space to allow the kids a decent splash. Babysitting services are also free at the hotel for children aged four and up, an interesting child-friendly feature at what is a very upscale hotel.
The Park Hyatt is also home to the Amara Spa, housed in a separate building. The spa is designed around a serene garden courtyard and the sound of trickling water soothes visitors – but the best part is that each of the eight treatment rooms has its own private garden with an outdoor rain shower and a lounge chair to enjoy refreshments post treatment. The spa also sells a selection of the Green Bar, natural Bahraini beauty products. This is one of the best Dubai business hotels and certainly worth noting in your diary.
If being greeted by a big crystal pineapple chandelier hanging in the lobby is your thing, then the Grand Hyatt Dubai is the place to go. Set amidst 37 acres of gardens, and overlooking Dubai Creek, this is another of the top Dubai business hotels, it offers 674 rooms and suites as well as 186 long-stay apartments. All rooms feature contemporary decor (with an Arabian touch) and amenities include TVs (25-inch or larger), high-speed Internet, minibar, and safes that are large enough to fit a laptop. The marble bathrooms have separate tubs and showers, twin basins, and bidets. No excuses for laziness at this hotel; there are indoor and outdoor pools, squash and tennis courts, and a jogging track, all part of "The Grand Spa".
But it's really the indoor waterfall and pool full of koi fish with giant upside down dhow boats hanging from the enormous ceilings that will engage visitors. The Grand Hyatt Dubai also has vast meeting and conference facilities for the MICE inclined and event planners. Mark this down as a top Dubai conference hotels choice.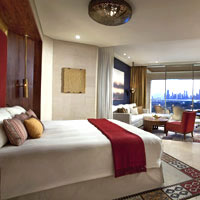 Spacious room at Raffles Dubai/ photo: hotel
Raffles Dubai cuts an iconic pyramidal figure on Sheikh Rashid Road, Wafi, with direct access to the Wafi Shopping Mall. A soothing water feature greets visitors entering the breezy lobby area, and the signature Raffles service kicks in from the moment the doorman opens your car door. Each of the 252 rooms and suites boasts a private terrace with eagle-eye views across the city. There are four Presidential suites, and the latest offering is a brand new floor, which can be rented in full or in part with its own nine-seat cinema and spa relaxation area. You can't get more private than that.
Find the four Asian elements – earth, air, fire, and water – blended seamlessly with Middle Eastern motifs like the eye of Horus in the property's beautiful botanical garden. Guests looking for feng shui friendly rooms will find them here, as well as a version of the famous Singapore Sling at the bar – aptly renamed: the Dubai Sling. Enough said. TOMO by Chef Takahashi - Dubai's popular Japanese restaurant – is frequented by locals and the weekend crowd comes with a bang, looking to party afterwards. But no fear – there is a separate elevator bank ready and waiting to take diners up that way.
Rooms at the Raffles also come with iPod docks, espresso machines, free WiFi and rain-showers in the bathroom, along with a host of luxury trimmings. There's ample space for business and leisure events – 11 meeting rooms, a 750sq m ballroom, and a botanical garden. Expect a breezy pool, spa, and library (with 15,000 books, no less). The Raffles is not your typical Dubai stopover hit and run. It is a place to savour.
If you're looking for a classy hotel close to the airport, then one of the new kids on the block – the Jumeirah Creekside Hotel (opened in July 2012), is a great bet. The bright and airy lobby greets guests with funky glass elevators and a lot of local artwork. Catering mostly to business travellers, Asians in particular will appreciate the feng shui touches in the tastefully simple 292 rooms and suites. The complimentary soft drinks fridge and WiFi don't hurt the wallet either.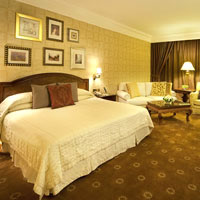 Classic Taj standard/ photo: hotel
Even better is the hotel's connection with the next door Dubai Open tennis courts – guests can practically view the Dubai Open from their rooms (and most of the players stay here during the season).
The Dubai Aviation Club is also a part of the property, and guests can avail of a plethora of air-conditioned sports activities (squash and badminton included), as well as a hair salon, nail spa and health spa. There's no need to leave the place during a stay here.
But this is one property that has thought of the families travelling with business travellers – kids get not only pool access (with a ping pong table), but also a game room area – and there's a small screening room cinema with nightly film shows. All guests also receive a day pass for the Jumeirah Beach Hotel, and the Wild Wadi Water Park. If you're worried about being so close to the airport and a little further from everything else, there's also complimentary shuttle service to all malls and sightseeing around the city.
Nights on the dunes and at the marina
A little farther out of the city, Bab Al Shams Desert Resort & Spa is another that hasn't let a lack of beach hamper it. The fact that this Dubai luxury resort is in the middle of nowhere, surrounded by miles of unbroken dunes and a deserted, lightly chilled infinity pool more than makes up for the lack of a small strip of sand skirting a salty, not altogether clean, body of water. This lowrise resort's neutral tones blend into the surrounding desert. Rooms are traditionally inspired but modern in comfort and convenience: expect rain showers, Bloom and Dorothy Prentice bath products and free Internet access.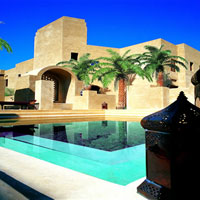 Bab Al Shams luxury resort/ photo: hotel
Farther inland on the Dubai-Al Ain highway is the exclusive "eco-tourism" Al Maha, a Luxury Collection Desert Resort & Spa, set within a 25sq km desert reserve. This plush Bedouin-style oasis in the dunes is sufficiently off the beaten path to offer a genuine wilderness setting, complete with falconry, camel rides, archery, sand skiing and four-wheel-drive dune runs. Who says money can't buy you fun?
That's not to say that beach areas are totally redundant. Near the marina you'll find the Grosvenor House West Marina Beach by Le Méridien, which has expanded with a second tower.
This about wraps up our key Dubai business hotels review and family friendly holidays in the desert, but on with the shopping.
You can say Dubai was built on sand but really it was built on shopping. The once yearly Dubai Shopping Festival (www.visitdubai.com/en/dsf) – usually held for several months at the beginning of the year – was started in the late 1990s to attract more visitors to the emirate and Dubai's explosive success has been in no small part due to this. For fun Dubai stopovers, shopping is almost mandatory. Check out 2018 and 2019 highlights.
But while once you could get great bargains, now you'll have to look harder for prices that can beat other places in Asia. Not even at the awful Global Village, a huge, semi-permanent bazaar selling authentic tat from around the world. Be warned though, prices aren't cheap – shoppers go for the sheer selection of goods and designs from all over the world.
But there are some places worth checking out. Most of the best Dubai shopping is conducted in air-conditioned malls. One of the top ones is the Mall of the Emirates (tel: [971-4] 409-9000, www.malloftheemirates.com), the second biggest mall outside North America that seems to house everyone from Armani to H&M.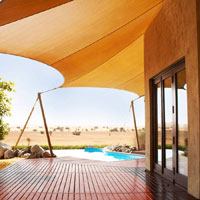 Al Maha luxury encampment/ photo: hotel
Best of all, however, is that you'll be able to go skiing. You might burn like an albino on a sun bed outside, but inside Ski Dubai (tel: [971-4] 409-4000, www.skidxb.com) you can experience "real" snow and a huge slope down which you can ski, snowboard, pull some tricks or just fall over gracefully.
Souk Madinat on the other hand, tries to take a more authentic approach by modelling itself on a traditional souk. Most of the stuff on sale here is tacky and triple the price you'd get elsewhere in the city, but the Madinat does have a maze of fantastic bars and restaurants to explore (check out Agency, BarZar and the Noodle House) when you get bored of the shopping.
Jumeirah Emirates Towers (tel: [971-4] 330-0000, www.jumeirahemiratestowers.com) on Sheikh Zayed Road (the twin towers you can see from anywhere in Dubai) is where to head when you want to peruse some designer brands or fancy some karaoke.
The BurJuman mall (www.burjuman.com) is by far the most upmarket of Dubai malls, despite being located in a downmarket area of Bur Dubai. There's little in the way of independent shops in Dubai but there are a few shoots poking through.
There is still one totem to Dubai's massive ambition that survived the 2009-downturn, and that's The Dubai Mall (www.thedubaimall.com). The Dubai Mall takes gargantuan shopping experiences to a whole new, ludicrously massive level. It's officially the biggest shopping mall in the world so you could visit here on the first day and not actually leave until a) your credit card runs out or, b) you need to take a shower and a change of clothes.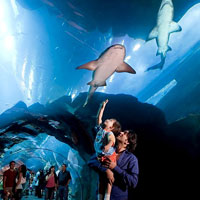 Dubai Mall aquarium, family fun/ photo: hotel
The sheer breadth of shops is impossible to list here. But needless to say this is one place where you can truly believe that, if they don't sell it here, nowhere does. And of course, being home to a massive aquarium as well as a sparkling, dancing musical fountain doesn't hurt.
Rather more quaint for Dubai shopping is the Ibn Battuta mall (www.ibnbattutamall.com). Found on the highway to Abu Dhabi, it has often been forgotten amongst the plethora of glitzy shopping outlets. So it has stayed stout and let Dubai come to it.
As the city has spread northwest, Ibn Battituta, with its crazy, theme-park theme – based on the adventures of the famous Arab explorer – has started to finally attract the attention it deserves. With more children's entertainment than any other mall, this is definitely one to take the kids to.
For a bit of old world, pre-boom bartering head down to the Gold Souk in Deira. You won't find much of the airconditioned molly coddling you get in Dubai's shopping centres, but it's all the better for it. What you will find, though, is store after store jammed with gold, silver and diamonds.
The souk is regulated so you everything you find is bona fide. Be prepared to haggle hard but with some of the cheapest gold prices in the world you will walk away with a bargain. And it's not often you can say that in Dubai these days.
Right next door to the Gold Souk, is the Spice Souk – a fun little market filled with, yes, you got it - spice shops and some funky little knick-knacks (cheap stoles to battle the brutal indoor air-conditioning, anyone?). It's a good place to go for those offbeat Arabian gifts that you won't find in the mall.
Dining options and more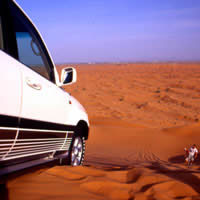 Stomach-churning downhill/ photo: Verghese
You'll need all that designer clothing, faux or not, to look the part at Dubai's many high-class restaurants. A decade or so ago fine dining would have meant a greasy shawarma kebab with sauce after a night out. But then Gordon Ramsay came to town.
His elegant eatery at the Hilton Dubai Creek Hotel in Deira, Verre blew the spots off the competition and set the standard for others to follow. With Ramsey's departure, Verre has become Table 9 (Tel: [971-4] 227-1111), a more relaxed restaurant by former Verre chefs Scott Price and Nick Alvis, garnering rave reviews from Dubai foodies.
Gary Rhodes' Mezzanine restaurant (tel: [971-4] 399-8888) at Grosvenor House is another dining gem. The modern, white interior, Perspex lime-green walls and chintzy 1940s furniture makes it look like something out of Alice in Wonderland but gets the point of the menu across: modern, continental takes on British culinary favourites.
From the sublime to the ridiculous, if you have the money Al Mahara (tel: [971-4] 301-7600) at the Burj Al Arab is worth a visit, if only for the submarine ride down to the "underwater" restaurant. Of course, you're really eating in what's essentially the car park but they make a big show of taking a voyage when you climb into the lift.
Not everyone will be able to afford to eat fine food and down expensive wines. But you can gorge on slightly less fine food and moderately priced wine for far less. For about 30 cents, to be precise. The Glasshouse Brasserie (tel: [971-4] 227-1111), situated right opposite Table 9 in the Hilton Dubai Creek, offers more affordable food for the masses. But go on a Monday night and you'll be able to enjoy one dirham drinks (of course you have to order any two main courses first) until they have to roll you home. Who cares what the food tastes like?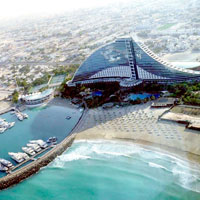 Jumeirah Beach Hotel/ photo: hotel
Another favourite is the elegant Royal China outpost at the Dubai International Financial Centre (DIFC) – it's the same branch of the popular London Royal China – and here, despite the chic Chinese style décor, prices aren't insane.
If you're on a budget though, head to Al Diyafah Road, a street packed with restaurants – where you'll find the Middle Eastern favourite, Al Mallah restaurant. Don't let the flashing green lights put you off, the place is popular for it's shawarmas – and if you stick around late enough, you'll get a bit of free entertainment in the form of local youth showing off their flashy cars down the strip in front of the restaurant.
You'll also be able to find the best curries in the world in Dubai. Over half of the city's population is from India and Pakistan and there's no shortage of places to find a decent biryani or curry for next to nothing. Gazebo (tel: [971-4] 391-6789) in Bur Dubai is a little more upmarket but you'll still be able to order the most expensive thing on the menu and have change from a Dhs50 note for a cab home. In fact, Gazebo has proved so popular that there are six or more locations across Dubai.
Nightlife and bar guide
Dubai nightlife has grown up in recent years. No Dubai fun guide would be complete without a sprinkle of mentions. You'll still find middle-aged Western men drunkenly hanging off the arm of a Russian, er, friend at some old clubbing haunts, but the city's younger crowd is a little more discerning. A top club is Chi (Al Nasr Leisureland). Once a sleazy booze pit called The Lodge, one pricey refit later and this outdoor venue is now attracting the cream of European and American DJ talent.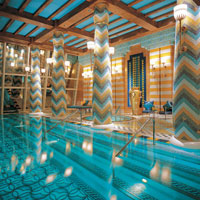 Burj Al Arab pool/ photo: hotel
To truly experience Dubai's love of all things over-the-top, head to Cirque du Soir (tel: 332-4900). This London hot-spot and celebrity favourite now has a branch in The Fairmont Dubai. Expect the same circus themed antics and high wire mayhem of its famous British cousin. Stay late to see the performers come together for a rowdy and raucous stage show.
But if you like the soundtrack of your night to be punctuated with clinking glasses of Crystal, then head for The Apartment (tel: [971-4] 406-8000). The Apartment is set apart by the fact that the music is always fantastic: usually variations on a house theme, but they've been known to delve into hip hop, drum and bass and sometimes even dub.
To cut loose on the dance floor give Zinc in the Crowne Plaza a try. This underrated nightspot showcases world class DJs most days of the week. For the most serious club-goer, or maybe just crowd-lover, there's Elegante. Dubai's largest dance floor often has capacity crowds out of their seats and getting down. Free drinks for ladies on Wednsdays.
A mention must also go to the Buddha Bar (Grosvenor House, tel: [971-4] 399-8888). Yes, it is a proper one and yes it does have beautiful décor, amazing cocktails and actually-not-that-bad chill-out trance soundtrack. But it's all undermined by a clientele of such insufferable arrogance that you'd rather stab yourself in the neck then engage in another conversation with a wealthy – but very lonely – local about his latest Bentley purchase. Still, the Southeast Asian fusion menu is pretty good. And that's pretty much the best of Dubai nightlife for the peripatetic.
Also not to be missed is the simple Al Bastakiya Quarter in the "original" old Dubai with a trip to the Arabian Tea House Café of an evening after the sun has gone down. There are breezy canopies and a feeling of old world Middle East that Dubai otherwise lacks.
Fun stuff, entertainment, golf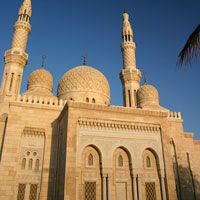 Stately Dubai mosque
As you would expect from an expat haunt with more money, space and sunburnt Englishmen than sense, Dubai has a prolific number of golf courses. In fact, the emirate's insatiable desire for lush, green courses is one of the reasons why the UAE, per capita, consumes more water in the world than anyone else. The oldest, and still one of the best, is the Emirates Golf Club. The "miracle in the desert" was the Middle East's first grass course and now hosts the Dubai Desert Classic, a PGA event where the best players in the world come and chance their arm.
At the other end of town is the Dubai Creek Golf & Yacht Club, where you can play their par three course if you fear you'll embarrass yourself with the big boys and girls. But the new breed of courses has an added extra: celebrity endorsement. Colin Montgomerie already has a course here, as do Ernie Els and Greg Norman. It's only a matter of time before John Daly will put his name to a course where you're docked shots for not consuming ten pints and 30 Benson and Hedges by the time you reach the back nine. On with our Dubai fun guide for the family, kids, and sizzled dads.
Other than golf, water sports by the beach, and maybe a desert tour, you could try some culture. Dubai Museum (tel: [971-4] 393-7151) in Bur Dubai takes you 30 minutes, if that, to get around and ironically highlights the city's cultural paucity. But visitors interested in the city's history might still find it worthwhile.
If you prefer to spend your time looking for the real Dubai that doesn't exist, revel in its excessive wastefulness at Wild Wadi (Jumeirah Beach Hotel, tel: [971-4] 348-4444, www.wildwadi.com), the Middle East's biggest water theme park. It occupies 12 acres (right next to the Burj Al Arab) had a refit to pack in more rides.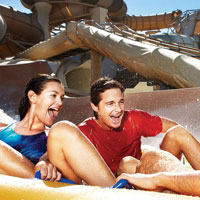 Wild Wadi water ride/ photo: Wild Wadi
Although Dubai is an emirate, the city sprawl pretty much takes stretches from its eastern border with Abu Dhabi to its western one with Sharjah. But drive south and you'll soon find rolling sand dunes and arrogant camels who wander onto the semi-deserted highways unconcerned that they might be complicit in a fatal road accident. (Actually, do be careful. Killing a camel may cost you millions of dirhams in compensation, as the animal has protected status under UAE law).
After 40 minutes you'll notice that the sand has changed colour from a pale yellow to a rusty red as you enter the Hajar Mountains and Dubai's mountain retreat of Hatta. People come to Hatta for three reasons. Firstly, to escape the heat. In the summer it's cooler than the rest of Dubai plus it has the Hatta rock pools, natural fresh water ponds that provide a blessed relief from the pounding heat. Secondly, to go on a visa run, as it's situated on the Omani border. The third is to go for a dirty weekend at the Hatta Fort Hotel. You can't miss it. It's the splash of green on your left as you drive into the town. It used to have a '70s Swedish porn set ambience but they have since opted for a refit, as a result losing some of its charm. Still, it has great amenities including a swimming pool, par three golf course, archery, skeet and clay pigeon shooting and floodlit tennis courts. Plus there's a harassed camel tethered to a pole outside that is available for short rides. Perhaps the owner was one of the unlucky drivers on the Hatta-Dubai highway. Hatta is an interesting distraction for your Dubai stopovers list.
But back to the sand. Midway back from Hatta you'll notice a hut next to a massive sand dune and a collection of crazy expats ploughing their four-wheel-drive Toyota Landcruisers at insane angles. You'll soon realise that the kind of people who boast about doing a spot of wadi-bashing (also known as dune-bashing) – essentially just careening around dried-up river beds and up sand dunes at great personal risk – are the kind of people you'd rather leave to burn in the desert than spend a day with.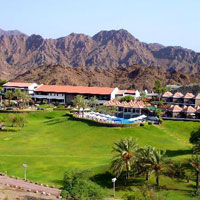 Hatta Fort Hotel/ photo: hotel
But with downward angles more vertiginous than a trip down a St. Moritz ski slope, it's pretty darn heady. Cars skeeter down slopes and then up soaring hills, teetering on knife-edges before going over the top. Gasoline is cheaper than a litre of water, so tank up and head on out if self-drive takes your fancy. Per person dune-run charges with an alfresco dinner thrown in are around Dhs250. This is one of the top-rated sand-in-your-hair activities in our Dubai fun guide.
Of course, Dubai is only one of the seven emirates making up the UAE. The others are Abu Dhabi (the capital), Ras al Khaimah (mountainous and on the up), Ajman (tiny but liberal alcohol laws), Umm Al Quwain (sells itself as an extreme-sports centre) and Fujairah (a long drive but has some of the best snorkelling and diving in the Middle East). But the closest to Dubai is Sharjah. The two emirates have had a fractured relationship. An ex-army officer once regaled friends with a story of how troops from Sharjah and Dubai massed at the border for a scrap a mere 10 years ago before being subsumed into a larger UAE army.
And if you really want to go to Sharjah…
Dubai residents see Sharjah as a backward little anachronism – mainly because it's "dry" and you can get nicked for carrying a bottle of wine – while the majority of Sharjah's residents have to work in Dubai (where the wages are higher) and live in Sharjah (where the rents are half the price).
The result is a near permanent traffic jam that snakes from the border all the way back to Jumeirah and a lot of very unhappy Sharjah residents who have to spend three hours commuting a journey that would usually take 15 minutes.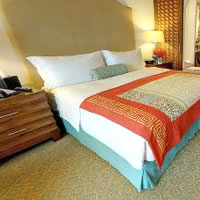 Atlantis room/ photo: hotel
But despite most Dubaians' disdain for the place, it has plenty of positives. For one, it has a wealth of museums that Dubai can only dream of. In fact, the Sharjah Biennial is the biggest modern-art event in the Middle East. Because of it, Esquire magazine dubbed the place "the new Monaco". They might have gone a bit far but shopping here is generally much cheaper too. The Blue Souk on Corniche Road is perfect for picking up Middle Eastern souvenirs like shisha pipes, which are half the price of outlets in Dubai.
The Breeding Centre for Endangered Arabian Wildlife (tel: [971-6] 531-1212, www.breedingcentresharjah.com) outside Sharjah city is the best wildlife park in the region. Here you'll find local species galore plus the odd cheetah or lion. They aren't indigenous to Sharjah, obviously, but the emirate has long been a centre for endangered animal smuggling. Whatever gets rescued at customs gets sent here. So what you see when you get there depends on what mood the animal smugglers were in that week.

Al Bait Sharjah (December 2018) is a 53-key resort, part of a grand restoration known as the 'Heart of Sharjah' celebrating Arabic heritage and local architectural lines. This is the renowned hotel management group's second pure bred horse in the region after the award-winning Chedi Muscat.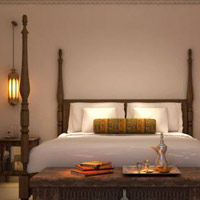 Al Bait Sharjah ups the luxury ante / photo: hotel
Watch for The Ice Cream Shop selling deliciously flexible and acrobatic Turkish ice-cream, enjoy connectivity to a resorted Arab souk, design features redolent of an Emirati home, four-poster beds in hushed minimal beige earthy surrounds going up to 103sq m in suites, and a spa with His and Her facilities.
This is a business and leisure residence with equal appeal to both holiday trippers - in search of museums, art, and food in a part of the Middle East so rich in maritime traditions - as well as corporates and business travellers in need of home-style indulgence. While more a wind-down retreat, Al Bait can cater for small get-togethers if you are in need of a classy corporate meetings venue in Sharjah, UAE. Or book the whole place for an elegant wedding.
(The Al Bait Sharjah features in our exclusive by-invitation Top Asian Hotels Collection, featuring the best Asian hotels, resorts and spas in a printable A4 page with stunning visuals.)
Other good spots to unwind at are the lagoon-side Hotel Holiday International (which plays host to international cricketers and features a large sports TV screen in the lobby) and sister resorts Marbella and the simple yet stylish Lou' Lou'a (with a private beach). The Marbella Resort has a pleasant green coconut-grove setting, also on Khalid Lagoon, with 50 villas. All three are ideal for families and at affordable prices. Also on the beach is the Coral Beach Resort, with 156 rooms, most of which have sea views.
The beachfront, five-star Radisson Blu Resort Hotel, Sharjah caters to business and leisure travellers, with free Broadband throughout the hotel and a beach, spa and fitness centre.
If you're a South Asian foodie, check out the biryani at Pak Ghazi, Bank Street, Sharjah (Indian food is across the main road at Rolla Square). Or Saravana Bhavan and Vastanta Bhavan (for South Indian in Dubai). Al Fawar in Sharjah has excellent Lebanese (which is also abundant in Dubai's Al Nasser Square).
Flying to or transiting Dubai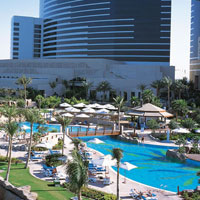 Grand Hyatt pool/ photo: hotel
Emirates airlines is a great way to enjoy a Dubai stopover. Its newer terminal offers over 32 gates including five specially crafted aerobridges for the A380 behemoth. Expect over 10,000sq m of duty free shopping in this gleaming new Dubai terminal with some attractive duty-free prices.
The Emirates A330-200s have pleasant service and comfy seats (2-4-2 in economy) with PTV and a nose-wheel camera for gripping take-offs and landings. There is also a downward camera. Stewardesses speak Chinese, Russian, Hindi, Bengali, Arabic and Thai, and it is reassuring to get headphones with ear cushions already attached so you don't have to fumble with them for hours.
Travellers receive three stickers, which they can affix to their headrest – "do not disturb", "wake for meal" and, rather hopefully, "wake for duty-free". Inflight payphones and fax facilities are available. Cathay Pacific flies to Dubai from Hong Kong. The city is very well connected from Europe and Asia (India in particular).
Send us your Feedback / Letter to the Editor
FAST FACTS

/ Hotel Contact List

Dubai offers a visa-on-arrival facility for several nationalities. Citizens of Andorra, Australia, Austria, Belgium, Brunei, Canada, Denmark, Finland, France, Germany, Great Britain, Greece, Holland, Hong Kong, Iceland, Ireland, Italy, Japan, Liechtenstein, Luxembourg, Malaysia, Monaco, New Zealand, Norway, Portugal, San Marino, Singapore, South Korea, Spain, Sweden, Switzerland, USA and Vatican City are eligible for 30-day visit visas on entry. Nationals of other countries can have their visas sponsored by their hotel, or have them arranged by a travel agent (along with all bookings).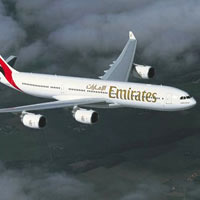 Emirates, the gateway airline/ photo: airline
If you're looking for a travel agent, try South East Asia Tours (tel: [971-6] 559-7881, fax: 559-7886); Arabian Adventures (tel: [971-4] 303-4888, www.arabian-adventures.com); Emirates Holidays (tel: [971-4] 343-9999, www.emiratesholidays.com). A fun alternative is the Emirates Dubai Stopover program (www.emirates.com).
A useful web resource is Time Out Dubai (www.timeoutdubai.com).
The exchange rate is US$1=Dhs3.67. The summer season when the mercury gets to 50 degrees Celsius is the low season. The best hotel rates are therefore available between 15 May and 30 September. In winter months temperatures average a pleasant 20 degrees Celsius and it can be cold at night. This is also the "rainy" season.
Taxis are safe and metered, and single women have no worries travelling alone. First flagfall is Dhs3.50 with additional Dhs1.50 per kilometre. Car rentals start at about US$50 per day for a Toyota Corolla equivalent and taxis are available for full-day hire with a bit of haggling for Dhs200-300. Avis (tel: [971-4] 295-7121), Budget (tel: [971-4] 282-3030).
Dubai business hotels and luxury resorts
Al Qasr & Mina A' Salam (Madinat Jumeirah Resort). Tel: [971-4] 366-8888, (www.madinatjumeirah.com).
Al Maha, a Luxury Collection Desert Resort & Spa, Dubai Desert Conservation Reserve, Al Ain Highway. Tel: [971-4] 832-9900, (www.al-maha.com).
Atlantis, The Palm. Tel: (971-4) 426-0000, (e-mail: info@atlantisthepalm.com or www.atlantisthepalm.com).
Anantara Dubai The Palm Resort & Spa. Tel: [971-4] 567-8888, (www.anantara.com/en/palm-dubai/).
Armani Hotel Dubai. Tel: [971-4] 888-3888, (www.armanihoteldubai.com/).
Burj Al Arab, Jumeirah Beach, Dubai. Tel: [971-4] 301-7777, (www.jumeirah.com/en/hotels-resorts/dubai/burj-al-arab/).
Dusit Thani Dubai. Tel: [971-4] 343-3333, (www.dusit.com).
Gevora Hotel . Tel: [971-4] 524-0000, (gevorahotels.com/).
Grand Excelsior Hotel Deira. Tel: [971-4] 268-8888, (www.grandexcelsiorhoteldeira.com/).
Grand Hyatt Dubai. Tel: [971-4] 317-1234, (dubai.grand.hyatt.com).
Grosvenor House West Marina Beach by Le Méridien, Dubai Marina, Dubai. Tel: [971-4] 399-8888, (www.grosvenorhouse-dubai.com).
Hatta Fort Hotel, Hatta, Dubai. Tel: [971-4] 809-9333 , (www.jaresortshotels.com).
Hilton Dubai Jumeirah Resort. Tel: [971-4] 399-1111, fax: 399-1112, (e-mail: jumeirah@hilton.com or www.hilton.com).
Hilton Dubai Creek. Tel: [971-4] 227-1111, 227-1131, (www.hilton.com).
Hyatt Regency Dubai. Tel: [971-4] 209-1234, (www.dubai.regency.hyatt.com).
Bab Al Shams Desert Resort and Spa, Dubai. Tel: [971-4] 809-6100, (babalshams.com/).
Jood Palace Hotel, Dubai. Formerly Taj. Tel: [971-4] 223-2222, (www.joodhospitality.com/).
Jumeirah Beach Hotel. Tel: [971-4] 348-0000, (www.jumeirahbeachhotel.com).
Jumeirah Creekside Hotel. Tel: [971-4] 230-8555 (www.jumeirah.com).
Jumeirah Emirates Towers. Tel: [971-4] 330-0000, (www.jumeirahemiratestowers.com).
JW Marriott Hotel Dubai. Tel: [971-4] 262-4444, (www.marriott.com). From Dhs750.
JW Marquis Marriott Hotel Dubai. Tel: [971-4] 414-0000, (www.marriott.com).
Le Meridien Mina Seyahi Beach Resort & Marina. Tel: [971-4] 399-3333, (www.lemeridien-minaseyahi.com).
Kempinski Mall of the Emirates Hotel. Tel: [971-4] 341-0000, fax: 409-5013 (e-mail: reservations.mallofthemeirates@kempinski.com or www.kempinski.com).
Le Royal Meridien Beach Resort & Spa. Tel: [971-4] 399-5555, fax: 399-5999, (e-mail: lrmgh@starwoodhotels.com or www.leroyalmeridien-dubai.com).
Mövenpick Hotel Ibn Battuta Gate. Tel: [971-4] 444-0000, (www.moevenpick-hotels.com).
One&Only Royal Mirage, Jumeirah Beach, Dubai. Tel: [971-4] 399-9999, (www.oneandonlyroyalmirage.com).
One&Only, The Palm, Dubai. Tel: [971-4] 440-1010, (thepalm.oneandonlyresorts.com).
Radisson Blu Hotel, Dubai Deira Creek. Tel: [971-4] 222-7171, (www.radissonblu.com/hotel-dubaideiracreek).
Park Hyatt Dubai. Tel: [971-4] 602-1234, (dubai.park.hyatt.com).
Raffles Dubai. Tel: [971-4] 324-8888, 324-6000, (www.raffles.com/dubai).
Shangri-La Hotel, Dubai. Tel: [971-4] 343-8888, (www.shangri-la.com/dubai).
Sheraton Dubai Mall of the Emirates Hotel. Tel: [971-4] 377-2000, (www.starwoodhotels.com/sheraton/).
Sofitel Dubai Jumeirah Beach. Tel: [971-4] 399-2555, (www.sofitel.com).
Sofitel Dubai The Palm Resort & Spa. Tel: [971] 4455-6677, (www.sofitel.com).
Taj Dubai. (taj.tajhotels.com/en-in/taj-dubai/).
The Address Downtown Dubai. Tel: [971-4] 436 8888, (www.theaddress.com).
The Oberoi Dubai. Tel: [971-4] 444-1444, (www.oberoihotels.com).
The Palace - The Old Town. Tel: [971-4] 428 7888, fax: 428-7999, (e-mail: info@thepalace-dubai.com or www.theaddress.com).
The Fairmont. Tel: [971-4] 332-5555, (www.fairmont.com/dubai).
The Ritz-Carlton, Dubai. Tel: [971-4] 399-4000, (www.ritzcarlton.com/en/hotels/dubai/dubai-beach).
The Westin Dubai Mina Seyahi Beach Resort & Marina. Tel: [971-4] 399-4141, (www.westinminaseyahi.com).
Sharjah hotel guide
Al Bait Sharjah. Tel: [971-6] 502-5555, (albaitsharjah.com).
Coral Beach Resort. (www.hmhhotelgroup.com/en/uae/sharjah/coral-beach-sharjah).
Hotel Holiday International, Sharjah. Tel: [971-6] 573-6666, (www.sharjahnationalhotel.com/).
Lou' Lou'a Beach Resort, Sharjah. Tel: [971-6] 528-5000, (www.loulouabeach.com).
Marbella Resort, Sharjah. Tel: [971-6] 574-1111, (www.sharjahnationalhotel.com/marbella-resort/).
Radisson Blu Resort Sharjah. Tel: [971-6] 565-7777, (www.radissonblu.com/resort-sharjah).