FAMILY FUN
No fear Hong Kong fun guide
An all-weather, all-pockets Hong Kong guide to the best sights, bars, hikes, beaches and burgers (even vegan bites). Bet on the horses, tailor a suit or cast a curse on your boss.
Updated by Vijay Verghese and Staff Reporters
SEE ALSO Hong Kong shopping | Hong Kong business hotels | HK Haven Street food | Sanya guide | Macau guide | Taipei nightlife | Kuala Lumpur nightlife | Singapore nightlife | New York guide | San Francisco guide | Trans-Siberian Railway | Fastest roller coasters | Singapore fun guide | Second Life virtual travel | Songdo, Incheon business hotels
JUMP TO Around Hong Kong | Horses & Tailors | Family Fun | Heritage | Bars, Dining | Spas | Arts Scene | Islands, Hikes | Beaches, Dives, Golf
BRISTLING with cloud-tickling skyscrapers and sartorially keen investment bankers – not all leaping out of tall buildings fortunately, as there is money to be made in this energetic metropolis – Hong Kong has always been much more than a business hub. You don't have to be on a Goldman Sachs expense account to get the best out of it.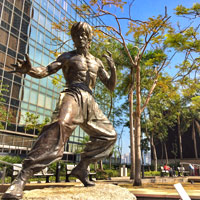 Bruce Lee in action, Avenue of the Stars/ photo: Vijay Verghese
Much of the appeal comes from its multi-sensory energy and ever changing personality. Every street corner struggles for its own piece of the action that in turn defines the montage. Shifty street-side astrologers vie with gleaming multi-storey malls, and frantic cut-price electronic stores compete with gorgeous quiet beaches and hiking trails in the sparsely populated outlying islands and the New Territories. Even a short visit out of town makes a fine contrast to the teeming streets of Kowloon and Hong Kong Island and steaming dim sum carts and harbour-view sundowners. To the aromas by 2019 you could add the rich stomach-luring smells of beef burgers from US giants and top Hongkong chefs. Whatever you need - from burger wars to equally beefy vegan - Hong Kong delivers. Here's our A-to-Z Hong Kong travel guide. And for more on sales and shoes, head to our Hong Kong shopping guide.
Stepping into and around Hong Kong
Hong Kong International Airport (www.hongkongairport.com), otherwise known as Chek Lap Kok, is large, airy and very 21st century. Designed by prolific British architect Sir Norman Foster, it's a remarkable piece of design. Situated on an islet just off Lantau Island, it connects to Kowloon and Hong Kong Island by bridge and snaking highways. There are two terminals – Terminal Two opened in 2008. Adding to the multitude of duty free shopping options already available at Terminal One, it has entertainment outlets such as a 4D IMAX movie theatre, and an Aviation Discovery Centre – part museum part, educational amusements.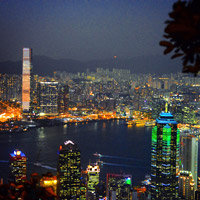 Evening lights at Victoria Harbour, view from Peak/ photo: Vijay Verghese
SkyCity Nine Eagles Golf Course is next door, where you can rent golf clubs, store your baggage, play nine holes, and get a foot massage. Also to distract you a smidgen, is the large Sky Plaza mall. A taxi to town from the airport will set you back around HK$250 to Kowloon and HK$300 to Hong Kong Island (US$1 = HK$7.8) but the fast and convenient Airport Express train will whip you into town in 23 minutes for just HK$115 (it has gone up from $100). Get a return – useable within one month – and it works out even less. Catch it right outside the arrivals hall and get off in Kowloon or on Hong Kong Island. Hotel shuttles and taxis are easy to find – follow signposts. When departing Hong Kong, you can check-in for most flights at the Central and Kowloon Airport Express stations.
Taxis in Hong Kong are inexpensive, safe and reliable. Drivers' English skills are patchy, but your concierge or even a passer-by can help with any difficulties. Flagfall is HK$24 but the meter rarely goes far above HK$60, even if you use one of the cross-harbour tunnels (which levy tolls). Few travellers consider renting cars, since parking spaces are such a pain to find, and expensive. But this is a fun option if you plan to head out of the urban centres – particularly in the New Territories. Trams, buses and the shiny, user-friendly MTR (Mass Transit Railway) all take change or a quick swipe of the city's rechargeable electronic-payment Octopus smart cards (used to pay for virtually all public transport as well as convenience-store, supermarket and fast-food purchases). Pick up one of these at the Airport Express counter when you arrive or from MTR counters.
Pay at entry when you get on a bus. Fares are clearly marked on money boxes. There's no change returned – so do carry lots of coins, or get an Octopus card. Buses are a convenient way to get around, when it's not rush hour. They can be a bit of a tourist attraction in themselves – think roller-coaster, nail-biting, tree-scraping action, all for not more than around HK$10. Try the double-decker Number 6 bus from Central to Stanley or Number 15 from Central up to The Peak. Sit in the front row up on top and push your eyeballs back in their sockets as the bus lurches, albeit smoothly, around sharp bends revealing miles of coastline and azure seas.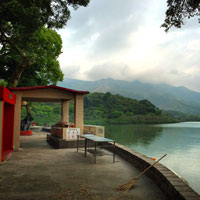 Pat Heung seafront temple near Sha Tau Kok/ photo: Vijay Verghese
For an introduction to the real Hong Kong there really is no better way than to trundle the length of the tram line, which runs along the northern edge of Hong Kong Island. Trams are boarded from the rear and you pay at the front (next to the driver) when you alight. Sit up top, at the front if you can, for the best view. It'll take you an hour or two, but there'll be little you haven't seen by the end of it. They've been running from Kennedy Town to Shau Kei Wan since 1904, and in 2019 cost just HK$2.60 for an adult fare (children HK$130). How's that for an inflation beater?
Send us your Feedback / Letter to the Editor
For another quintessential Hong Kong that's also a bargain, hop on the bobbing Star Ferry (www.starferry.com.hk) to do the famous shuttle from Hong Kong to Kowloon for HK$2.70 (Monday to Friday, upper deck, HK$2.20 lower deck) or HK$3.70 (upper deck) on weekends and holidays. Now, on with our Hong Kong guide.
Horses to tailors, the race is on
First, some offbeat – and some downright bizarre – detours. If your deep and buried mean streak needs satisfying, why not slap a curse on your mortal enemies, or the boss? No, we've not been reading too much Harry Potter. We've just been to Causeway Bay, where, under the Canal Road flyover (or Ngo Keng Kiu) on Hennessy Road, you will find a number of seemingly angry old women thrashing bits of paper with shoes and stamping on the pavement. They are performing a brand of folk-sorcery known as "villain-hitting". Pay a small fee to choose whose name goes on the paper, and under the shoe. Take that, scumbags!
For a far-flung oddity, check out a Buddhist and Taoist temple built in the shape of a boat, in the middle of a stream in the New Territories. Called Heung Hoi Tse Hong, this temple is off Lo Wai Road, which is strewn with monasteries and temples – the most famous one being Yuen Yuen Institute, in Tsuen Wan.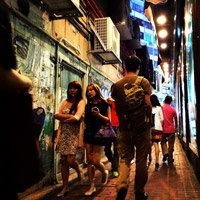 Causeway Bay back alley grunge near Times Square/ photo: Vijay Verghese
If there are a few of you, why not rent a tram (www.hktramways.com)? Adorned with party lights, the special open-topped double-decker rumbles through the city most evenings packed with revellers. Or, join a harbour cruise – several operators float out a various times – the "booze cruise" (www.watertours.com.hk), is an old favourite with unlimited drinks (including soft ones). Another company (www.cruise.com.hk) has a dinner version. And a modified Star Ferry does a cruise in the evening to catch the nightly harbour-front Symphony of Lights display at 8pm. For a day or evening private harbour party, test out your sea legs and rent a junk. These are large, wooden, two-tiered pleasure boats, and can come with catering (www.jaspasjunk.com) or without (www.jubilee.com.hk). By day, have your coxswain head to one of the outlying islands so you can lunch at a local outdoor seafood restaurant and then spend the rest of your time swimming and lazing about.
For a memorable panoramic sweep, make for Wooloomooloo (wooloo-mooloo.com) steak house in Wanchai on the 31st floor of The Hennessy at 256 Hennessy Road and head up to the roof bar for a vertiginous view of the Happy Valley racetrack and Victoria Harbour. At luxe bolthole The Murray hotel on Garden Road, Popinjays (www.niccolohotels.com/) on the top floor serves up a wraparound verandah bar (open mid-March 2019) with breathtaking views of the hills and Mid-Level skyscrapers. SEVVA (www.sevva.hk/) on the 25th floor of Princes Building in Central offers something similar with views into Hong Kong Bank and across bits of the harbour. This Bonnae Gokson inspired eaterie and verandah bar has been a hit since 2008 but keep an eye on your fast shrinking wallet. Or wander up to the 27th floor of the Pullman Park Lane in Causeway Bay to enjoy rooftop bar SKYE (www.parklane.com.hk/skye.html).
For a free peek at the skyline, dart into the Hopewell Centre at 183 Queen's Road East in Wanchai, where you can soar up and down 40 storeys in a glass bubble lift, at least until the building staff ask you to leave. Other urban vantage points include Central Plaza, also in Wanchai on Harbour Road, which allows visitors to enjoy its views from its 46th floor.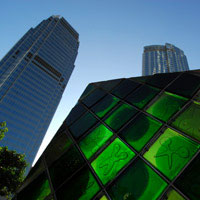 Cube art at the IFC/ photo: Vijay Verghese
Sky 100 (www.sky100.com.hk) in Kowloon – 100 floors up in the ICC tower – charges entry to enjoy panoramic views and play with gizmos such as intelligent video-telescopes and touch-screen info boards. Catch the lift up further to enjoy similar views at a handful of restaurants, or the world's highest bar – Ozone, all at Ritz-Carlton Hong Kong (tel: 2263-2270, www.ritzcarlton.com).
Hong Kong used to have a reputation as being a place to get great tailor-made togs. This is heavily marred nowadays, if you are not local Hong Kong-looking, by pestering street touts urgently trying to earn commissions from dozens of cheap fast operators. Safe enough to try, it's hard to vouch for the consistency of these places.
A Hong Kong institution is Sam's Tailor (tel: [852] 2367-9423, www.samstailor.com), which occupies a tiny shop in scruffy Burlington Arcade, just off Nathan Road, on Kowloon's "Golden Mile". It looks unprepossessing – until you see the photos of satisfied customers on the wall. Sam's outfits have been worn by royalty, pop stars, movie stars and several US presidents. Bill Clinton, Tony Blair, Michael Jackson, Margaret Thatcher, John Travolta and Pavarotti have all come here to be measured by Manu Melwani. Good woollen suits start at around HK$3,000 (though lighter material is appreciably cheaper) and, famously, can be made in 24 hours. Shirts used to range in price from HK$350 to HK$620 but rates have climbed and visitors may be charged upwards of US$139 for a ladies' blouse. About the same for trousers. Material is excellent and with a good feel but prices have inched into the higher off-the-rack range. It is wise to allow time for a second fitting.
Punters with an eye on heaving horseflesh should head to the Happy Valley Racecourse (www.happyvalleyracecourse.com). The night races have an almost beer-fest feel to them, and the backdrop surrounding residential tower blocks, illuminated from within, adds to the unique charged experience. Hongkongers betting their life's savings on horses with names such as "Pillow King" would probably disagree. Their eye is always on the money. For a grandstand view in Happy Valley, pop by the Pavilion Stand 2F and 3F Adrenaline lounge with its alfresco section to listen to those hooves, and enjoy a HK$300 cocktail buffet and an evening of betting. The racing season runs from September to July. For something a little more sedate, weekend races take place at Sha Tin (www.hkjc.com).
Family fun, parks, arks, museums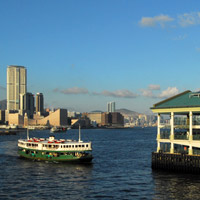 The Star Ferry offers a scenic harbour crossing/ photo: Vijay Verghese
Hong Kong has a well-earned reputation for boorishness but it is certainly family-friendly. Witness the happy family hordes with all generations from tiny tots to grandparents at weekend yum-cha. Since Hong Kong Disneyland (park.hongkongdisneyland.com) opened in 2005 the city has become a magnet for kid-toting couples. Those familiar with the US versions might not be easily won over by this pocket-sized model, but a good few thousand visitors a day go Mickey-mad for its themed environs, perky rides and restaurants with a Chinese flavour. More rides and themed areas including Toy Story Land and a special zone made just for this park, called Mystic Point, opened in late 2011. The adjacent Disney-owned hotels are two of just a few great family-resort stays in Hong Kong. Find it all at Sunny Bay near the end of the Tung Chung MTR line on Lantau Island.
The only real rival for the theme-park crown here is homegrown Ocean Park (www.oceanpark.com.hk), which is undergoing a 'Master Redevelopment Plan'. In many respects it out-punches Disney and has a loyal following. Ocean Park is a must-visit on any Hong Kong fun guide. Its attractions appeal to a wider age range, with lunch-threatening rides (such as "Raging River" with a vertical drop and "Mine Train", which is 85m above sea level), aquariums and animal shows – including four very popular and eco-friendly pandas (their fibrous "poo poo" is used to make recycled paper). Opened in June of 2012, the nostalgic Old Hong Kong zone transports you to the Sixties with its Heritage Tram, recreated street scenes and throwback souvenirs. Spot penguins too. You can't really beat the views at Ocean Park. The two parts of the park (the Lowland and the Headland) are connected by an exhilarating cableway, and views from the cars offer some of the most stunning scenery Hong Kong has to offer. At summer and festive times, additional themed shows and temporary attractions appear. The park is open from 10am till 6pm daily.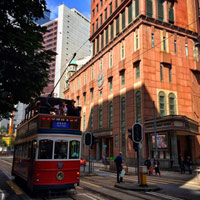 Open top tour bus tour passes Johnston Road Wanchai/ photo: Vijay Verghese
Both Hong Kong Disneyland and Ocean Park are heaving during school holidays, public holidays, weekends and especially if there is a public holiday on in Mainland China. Weekdays at park opening times onwards are recommended for visits.
Fun for some, underwhelming for others (but kids under 10 will all love it) is Noah's Ark (www.noahsark.com.hk). At 270,000 sq ft, this full-sized model of the mythological Noah's Ark is certainly captivating. Children will enjoy the Ark Expo, with its 4D theatre, snazzy meteorite exhibition, hand crafted animal sculptures in the Ark Garden, a Treasure House and Life Educational House. Little thrill-seekers can run along to Noah's Adventureland, an outdoor activity extravaganza with rope courses, abseiling and more. Specially designed team building activities for corporate groups are also available. Tickets vary in prices per location.
The Big Buddha towers atop a breezy promontory on Lantau Island. The statue silhouette is something to behold on the hillside but it has shaken things up for the once reclusive monks at the adjacent Po Lin Monastery, who have got sucked willy-nilly into a commercial hullabaloo. The statue is a good focus point for getting out of the city, and you get nice green views all around. No need to buy a ticket here – it's free. You can also elbow your way into the monastery's popular – though a bit hit and miss – vegetarian restaurant, enjoy some old temple architecture and light a few incense sticks. Give the Buddha a miss at the weekend if you dislike crowds.
A short walk from the giant statue is Ngong Ping 360 (www.np360.com.hk), a complex of newly built family attractions, including Walking with Buddha, an immersive, multimedia educational experience, souvenir shops and restaurants. A round-trip ticket on the cable car is HK$135 for adults; HK$68 for kids – and more if you choose the highly recommended Crystal Cabin ride, with its glass flooring. An alternative route to get here – as well as to the Big Buddha – is by taking the ferry from Central to Mui Wo on Lantau (www.nwff.com.hk), followed by a 45-minute ride on bus Number 2.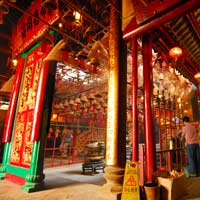 Man Mo Temple, Hollywood/ photo: Vijay Verghese
Hong Kong also has a number of good urban parks, including Hong Kong Park (www.lcsd.gov.hk) in Admiralty (above the Pacific Place mall) and Kowloon Park, a few minutes from the harbour. Both have space for running around, small playgrounds, fishponds and fountains, as well as aviaries. Kowloon Park is big on recreational facilities, with one indoor and three outdoor public pools.
The Zoological and Botanical Gardens on Albany Road, overlooking Central, are within walking distance of Hong Kong Park and the Peak Tram area and have more of a natural, overgrown feel. The gardens are the closest thing Hong Kong has to a zoo, including aviaries (the large walk-in one is a surprise in the middle of urban Hong Kong), an orangutan enclosure and an area housing various mammals and reptiles, including a two-toed sloth.
When the temperature hits the thirties (Celsius) at the height of summer, air-conditioned diversions beckon. The Hong Kong Science Museum (hk.science.museum) in Tsim Sha Tsui or simply TST, offers a range of hands-on learning activities. Or take a step back in time to the Hong Kong Museum of History (hk.history.museum). Located behind the Science Museum, permanent exhibits vary from pre-historic Hong Kong to the 1997 British handover of Hong Kong to Beijing. The Space Museum (www.lcsd.gov.hk) along the Tsim Sha Tsui waterfront isn't bad – and it puts on some great shows in its Planetarium cinema. TST's Hong Kong Museum of Art (www.lcsd.gov.hk) is an option, as are the Museum of Coastal Defense (www.lcsd.gov.hk) or the Museum of Medical Sciences (www.hkmms.org.hk) in Mid-Levels. Very new – or newly more centrally positioned – is the Maritime Museum of Hong Kong (www.hkmaritimemuseum.org), which opened in 2013 at Pier Number 8 in Central, to reflect on the territory's significant seafaring history over the centuries.
In Mid-Levels is the Dr Sun Yat Sen Museum (hk.drsunyatsen.museum), delving into the life of the man who dedicated his life to overthrowing the Qing Dynasty. The museum, housed in an historic building from 1914, has artefacts, audio-visual presentations, lectures and a library. For futuristic cinematic experiences, head for Hong Kong's IMAX theatres at iSquare mall  (www.isquare.hk) in Tsim Sha Tsui or at 19-storey Megabox Mall in Kowloon Bay.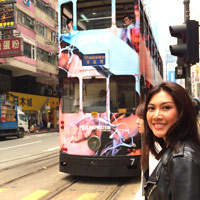 Waiting for a tram in Wanchai/ photo: Vijay Verghese
At Megabox, pilot wannabes aged four and up can test their skills in a Boeing 737-800 simulator at Flight Experience (www.flightexperience.com.hk), where flights last from 30 to 90 minutes and fares start from HK$1,290. Up the hill in Central, zip around a world-famous racetrack or two in one or more categories of motor racing car at Sideways (www.sideways-driving-club.com) – home to 15 networked racing car simulators, each comprising a colourful plastic cockpit and comfy seat, wide plasma screen and headphones. Suitable for kids are over 1.4 metres tall; from HK$200.
Jumpin Gym USA (www.jumpingym.com) offers lots of mall-based amusement areas throughout Hong Kong with small rides and arcade games. Try the large one in Taikoo Shing's Cityplaza mall, and then take the kids ice-skating afterwards (www.icepalace.com.hk). For more fun on the ice, try Glacier (www.glacier.com.hk) at Festival Walk, a super-sized shopping mall in Kowloon Tong.
Victoria Peak (also known as simply The Peak), crops up on every traveller's itinerary, and rightly so. The views from here on a clear day are quite lovely. Being hauled uphill in the remodelled Peak Tram is also a thrill, though queues are long on weekends and sometimes pre-twilight. Rates in March 2019 for an adult were HK$37 (one way) to HK$52 (adult return) and HK$23 (child fare return or HK$14 one way). The Peak Tower is a space age monument housing, among other things, Bubba Gump (tel: 2849-2867, www.bubbagump.com) that serves up beer-batter fried shrimp by the bucket and has kids' menus; and the Sky Terrace (tel: 2849-0668, www.thepeak.com.hk) on the roof of the Peak Tower offers expansive views of the city, and can be hired for parties. Families might want to drop by Madame Tussauds Hong Kong wax-work museum (www.madame-tussauds.com.hk). There's a natural bias towards Asian celebrities, but you'll also find your Monroes and Madonnas.
And now Gordon Ramsay has arrived with his Bread Street Kitchen & Bar at the neighbouring Peak Galleria. The Peak Galleria mall and dining outlets return mid 2019 after a major overhaul. Do opt for the pleasant Lugard Road walk that encircles the Peak and take in the greenery, the butterflies, and a 360-degree view of Hong Kong. The path is a favourite with joggers and dog-walkers. Find it either side of the chalet-style Peak Lookout restaurant (tel: 2849-1000, www.thepeaklookout.com.hk) with its great outdoor seating area and zesty Indian, Thai and Italian fare.
That disappearing heritage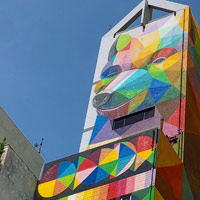 Sham Shui Po wall art, Tai Nan Street/ photo: Vijay Verghese
For a dip straight into 1960s' Hong Kong, head to Sham Shui Po in Kowloon. Hop off the Tsuen Wan line MTR at Exit D2 (if you're in the mood for a street alley browse or computers) or A2 for Apliu, Ki Lung, and Tai Nan Streets where electronics, textiles, buttons and bows litter the pavements in between brightly painted buildings and bright cafes.
The Hong Kong Tourism Board (www.discoverhongkong.com) has designed a number of walks to take in fast-disappearing heritage spots. Pick up a brochure at one of the visitor centres (at Hong Kong Airport, Causeway Bay MTR Station, Kowloon Star Ferry pier, or The Peak).
You'll find tiny knee-high shrines set into the walls of many buildings around town, but it is Man Mo Temple on Hollywood Road (just above Central), originally built in 1847, that draws the most pilgrims, sightseers and stressed mid-exam students. The place has big looping incense coils suspended from the ceiling. The neighbouring Sheung Wan-end of Hollywood Road is also good for antique shopping, and if you explore a little further you'll find the fancy, Edwardian-style Western Market building, rubbing shoulders with little bakeries and Chinese medicine shops. The streets around Bonham Strand East have wall-to-wall dried seafood products like controversial sharks fin, scallops, bird's nests, and dried medicinal herbs – the smells alone are reason to pay a visit.
In Central, the old Bank of China building is one of the few remaining business structures left over from colonial times. The two-storey Flagstaff House in Hong Kong Park was once home to the Commander off the British Forces in Hong Kong, and now houses the charming Museum of Tea Ware, while the red brick former French Mission building behind the spacious HSBC headquarters was built in 1917 and is now the Court of Final Appeal. Just up the hill from here, St John's Cathedral (www.stjohnscathedral.org.hk) is a little oasis amid the corporate melee, and is still very active, often with free lunchtime choral performances.
Old icons are fewer and farther between in Tsim Sha Tsui. You could survey the foundations of the Kowloon Walled City at the dedicated Kowloon Walled City Park, a 19th-century garrison town torn down in the 1980s. Its Chinese-style administrative office is also recreated with info boards on the community that was a law unto itself. The truly ambitious history buff, though, should head towards the border with mainland China.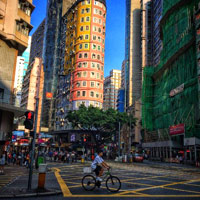 Bright new colours of Wanchai/ photo: Vijay Verghese
A group of centuries-old walled villages still stand at Lung Yeuk Tau, Fanling (accessed by the MTR's East Rail line, and Ping Shan in Yuen Long has an established historical walking trail peppered with Tang clan ancestral homes and temples. Find out more, including transport details, from the government's Antiquities and Monuments Office website (www.lcsd.gov.hk). Both areas will take over an hour to get to.
The tourism board has a pretty impressive line-up of edifying cultural experiences, and some are even free. Call (tel: 2508-1234) for details on the morning tai chi exercises along the TST (Tsimshatsui) promenade, tea or Cantonese opera appreciation, or feng shui lessons. Or get a guided tour of the Nan Lian Garden, a 35,000sq m Tang Dynasty-style patch in Diamond Hill, Kowloon. Two easy cultural excursions are an early-morning stroll through Causeway Bay's Victoria Park (for tai chi and kung fu aplenty) or a night visit to Jordan Road's bric-a-brac Temple Street Market, besides which ear-splitting Chinese opera is still sung with gusto.
Bars, dining with a view, curry
This little territory is rightly known for its thousands of restaurants and bars. Many on-the-street establishments, known as dai pai dongs have long gone, but some of the most accessible of the few that remain are around Temple Street in Kowloon and in Stanley Street in Central, serving seasonal and everyday no-nonsense Cantonese food – noodles, conges and clay-pot rice dishes for instance – on shared folding tables, to diners on stools. For those on a budget or with adventurous feet and palates, food trucks have started for the first time in the city and 16 licences have been awarded to operators. By March 2017 food vans with stuffed Chinese buns (HK$38) and more were operating outside Wong Tai Sin temple, in TST, and next to the Hong Kong Convention and Exhibition Centre (at Bauhinia Square), drawing long queues and very mixed reviews. We found the experience fun but not compelling. From the gritty and authentic to world-class swanky, it's all here – take your pick.
Your Hong Kong agenda should include an evening out amidst the neon blaze. Decide if you'd like to coincide with the 8pm nightly "Symphony of Lights" laser display around the Central and Tsim Sha Tsui waterfront buildings. Both sides of the harbour get good views, but it's always nice to take a stroll along the Tsim Sha Tsui promenade around this time. Or do an evening sail on any of the Star Ferry routes or pleasure cruises.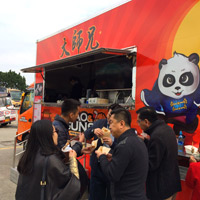 Food truck outside the HK Convention & Exhibition Centre/ photo: Vijay Verghese
In TST, Kowloon, Avenue of Stars (rather tackily modelled on the Los Angeles Walk of Fame) offers a larger-than-life-sized Bruce Lee statue against a dramatic harbour and Hong Kong island skyline backdrop. As the harbourfront develops, the statues and starlet memorabilia have been moved around so keep an eye on them. Look also in the Garden of the stars in TST East.
Surrounding TST East regularly sees a new bar or café popping up. Alongside two-floor Bulldog's Bar & Grill (tel: 2311-6993, Tsim Sha Tsui Centre, 66 Mody Road), or Mc Lovin's Tavern (tel: 2722-7101) in the same building, where they may foist a Guinness and champagne concoction on you, is Eastside Tavern (tel: 2367-8770, Empire Centre, 68 Mody Road). There's also Deck N Beer (tel: 2723-9227) right on Avenue of the Stars for BIG harbour views.
If martinis sound more appealing, catch the light show with a drink in hand. Aqua Spirit (tel: 3427-2288. www.aqua.com.hk) on the Kowloon side of the harbour is a sleek theatrically lit lounge above combined Italian and Japanese restaurant Aqua Roma/ Aqua Tokyo at the sail-shaped tower that is One Peking Road. Or cruise on the Aqua Restaurant Group's Aqualuna (tel: 2116-8821), a Chinese junk with distinctive red sails, complete with cocktails and snacks. Hutong (tel: 3428-8342) is just two floors down from Aqua Spirit, with dramatic Asian décor and northern Chinese grub on the menu. Former Aqua sibling heritage hotel Hullet House was reborn in early 2019 as House 1881 (2A Canton Road, www.1881heritage.com/) with five new dining venues and bars. At the 1881 Heritage shopping and lifestyle development has had mixed fortunes and offers atmospheric restaurants for romance or slow bites.
The Philippe Starck-designed interiors of Felix (tel: 2366-6251, www.peninsula.com) in The Peninsula Hong Kong, the city's grande dame of hotels, remain popular with impressive views from everywhere, including – famously – the men's WC. Tasting menus or a cocktail at its shared Long Bar that is lit within are recommended. Most of the hotels along Salisbury and Mody Road have good top-floor lounges, but many charge fairly high prices for a quick gulp.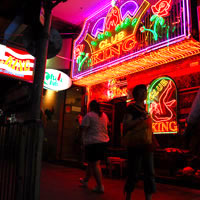 Lockhart Road bars, Wanchai/ photo: Vijay Verghese
For sundowners in true style, an almost on-the-water feel is evident at InterContinental Hong Kong's Lobby Lounge (www.hongkong-ic.intercontinental.com, tel: 2313-2323), famous for its spectacular harbour views and excellent service, in Tsim Sha Tsui. The hotel rebrands late 2020 as The Regent under the same group.
But no Hong Kong guide would be complete with a down-at-heel detour. The slew of curry houses at Chungking Mansions are considered as dives by some but loved by others. The building on Nathan Road (next to the Sheraton) has scores of South Asian restaurants on different floors – the Taj Mahal Club (Block B, 3F, tel: 2722-5454) is pretty reliable. If these are too downmarket for you, try the South Indian vegetarian Woodlands at upper ground floor, Wing On Plaza, 62 Mody Road (tel: 2369 3718), for dosas, bhel puri, and other savouries. Yet, Woodlands has seen better days and the flavours were not quite there in 2019. Far better and more authentic is Sangeetha in the same building with its harbour views and excellent dosas and other South Indian delicacies. Still in business for more than two decades is the vegetarian Branto on Lock Road (1F, number 9, tel: 2366-8171).
For trendier dining in Kowloon, the younger set and a few executive beer bellies head to the lively Knutsford Terrace or Ashley Road, where a large variety of cheaper bars and eateries await, from pizza parlours to steakhouses, and most things in between. Kick back at Bahama Mama's (tel: 2368-2121) where cocktails like 'Sex on Mama's Beach' are the order of the day – its frozen margaritas are legendary. Also along this strip is Tutto Bene (tel: 2316-2116), The Salted Pig (tel: 2367-0990) – arguably in the best spot in Knutsford Terrace; people-watch from its terrace or from behind its plate glass windows while enjoying elevated western food in a no-nonsense setting. Big Tree Pub is for reasonably-priced beer. Moving the action several notches upscale in this elbow-jostling shopper neighbourhood is the nip-and-tuck reincarnated the mira (tel: 2315-5222, www.themirahotel.com) where, at Cuisine Cuisine at The Mira, Canto proves it can still rock in the form of New Age Chinese paired with a broad selection of fine wines, while Yamm offers buffet dining and Whisk offers inventive world-class western fine dining.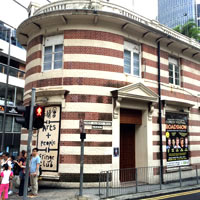 Original Ice House building now houses the FCC/ photo: Vijay Verghese
For a touch of class in the fast-developing West Kowloon area, head to the W Hong Kong (www.w-hongkong.com) and its Sing Yin, a great modern-looking Cantonese restaurant or a chill-out at Woo Bar. Nearby, is the aforementioned Ozone, at The Ritz-Carlton Hong Kong (www.ritzcarlton.com) and its excellent Italian Tosca or Chinese Tin Lung Heen (tel: 2263-2270) that serve up memorable food – and views.
Over Hong Kong-side, in Central, bars and restaurants rub shoulders in rowdy, pedestrianised Lan Kwai Fong (www.lankwaifong.com), and drinkers spill out into the streets most nights after work, downing vodka jelly shots and dancing past midnight. Backpackers may consider the 7-Eleven (or 'Club 7-Eleven' to regulars) where HK$10 will buy you a beer and the chance to hang with 17-year-olds. Dine at Japanese stalwart, Tokio Joe (tel: 2525- 1889), and then head for Insomnia (tel: 2525-0957) to dance to a great Filipino band singing cover songs. The much loved Veda restaurant (ovolohotels.com.hk/ovolocentral/) is back with fusion veggue at Ovolo Central.
Up on Wyndham Street more bars and restaurants have mushroomed in recent years. Wagyu (tel: 2525-8805) on Wyndham and its sibling, Wagyu Lounge (tel: 2522-1432) on Old Bailey Street, both pull a well-preened and well-heeled crowd, as does Tivo (tel: 2116-8055). Newcomer 6° (tel: 2868-6026) looks pretty much like those cocktail bars just mentioned, open-fronted and pleasant enough. Each bar attracts a certain kind of pack so you'll need to bar hop a bit to find your species. Azure perched atop the trendy Hotel LKF at 33 Wyndham Street is gone along with the hotel alas.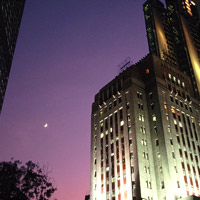 Art deco old Bank of China/ photo: Vijay Verghese
For a dance floor, join the hopeful hoards waiting outside the painfully hip Dragon-I (tel: 3110-1222) on Wyndham Street. Other clubs around the LKF/Wyndham Street/Hollywood Road area include Volar (tel: 2810-1272), Drop (tel: 2543-8856), a sophisticated club and bar, just off Hollywood Road; and younger hipsters with a hip-hop bent like Beijing Club (tel: 2526-8298, www.beijingclub.com.hk).
Some of these are members-only, so make friends with a member, pay a door charge, or bat your lids furiously at the bouncer to get in – depending on your gender or the door-person's preferences. For the latest news on guest and resident DJs, check out HK Clubbing (www.hkclubbing.com). For live music, from indie rock to folk to reggae sound systems, Backstage (1F Somptueux Central, 52-54 Wellington Street, tel: 2167-8985) – is a laid back venue with food as well as drink. For tasty African food and live music, try Makumba, above the streets of Lan Kwai Fong, (2F Ho Lee Commercial Building, 38-44 D'Aguilar Street, www.makumba.hk, tel: 2810-5300).
Things are a little more genteel on Soho's Staunton and Elgin Streets, and bars line the one-way string of escalators leading up to Mid-Levels. It's almost like picking your restaurant off a conveyor belt… or having it pick you. Everything from Japanese to Spanish tapas can be found here, and plenty of wine bars such as Enoteca on Elgin (tel: 2525-9944) and The Roger Room. Feather Boa (tel: 2857-2586) is hidden behind a nondescript door at 38 Staunton Street. Its plush sofas make it a cosy spot for a chocolate martini or two, though it gets packed later at night.
A great open-front restaurant, also on Staunton, which does dinner as well as a fine hangover-curing brunch, is Cru (tel: 2803-2083). Service is sharp and friendly. Pick a streetside table for two or head upstairs to munch on excellent steaks, pizza, starter nibbles, or a big breakfast that will make your eyes pop at the serving sizes.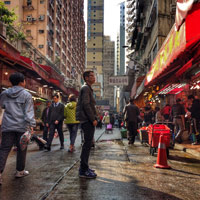 Bowrington street market and meat district/ photo: Vijay Verghese
Just along the road Jaspas (tel: 2869-0733), of the same family, is casual with similar fare and large servings. The tiny mouth-numbing tongue-cauterising Chilli Fagara (tel: 2796-6866, www.chillifagara.com) has moved from Graham Street to 7 Old Bailey Street with a modestly expanded ground floor presence. This restaurant needs reservations for some of the best and spiciest Szechuan dishes this side of the Yangtze.
Chica (24 Peel Street, SMS bookings only: 9637-7701), one of the territory's recent South American eateries, is a fine take on Peruvian fare, regularly buzzing with the fashion set. Farther along, at the western end of Hollywood Road is The Press Room (tel: 2525-3444, www.thepressroom.com.hk), with an impressive European bistro menu an extensive wine list.
For serious red meat cravings - aged, hung, carved - head to 108 Hollywood Road to Blue Butcher (tel: 2613-9286, www.bluebutcher.com) where a grotto of industrial chic awaits with timber floors, darkened interiors and rows of seating for those in search of whimsically upscale cocktails (like bacon washed blended Scotch, horseradish infused gin) and a grand feast (lamb racks, Kurobuta pig belly, veal, barramundi and Wagyu sirloin steaks). It's enough to raise expectations and eyebrows.
Sunday offers a breakfast set with Wagyu burgers and eggs benedict with a twist. Try the dry aged Wagyu beef but, whatever your preference, this is some of the best steak in town with imaginative side platters and mad mixologists looking for meaty infusions. This is a perfect spot for a nose-up banker or a gawping bar-crawler with a posh appetite. For the well heeled and stout of heart. The new Bread Street Kitchen & Bar (September 2014, tel: 2230-1800) from master chef Gordon Ramsay, offers a bright and airy diner with checked tiles, high stools and easy-to-move tables. Expect a friendly vibe and customers ranging from families and kids on weekends to lounge lizards and panda-eyed executives weekday evenings. Lots of colour, ambience, lamps, and a simple well defined menu. Pick fish 'n' chips to start or go for a burger or more.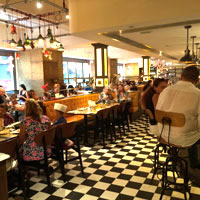 Informal Bread Street Kitchen and Bar/ photo: Vijay Verghese
Bilingual stand-up is on offer at Take Out Comedy (www.takeoutcomedy.com) on Elgin Street – where it's BYO drinks, as there is no alcohol licence. Live jazz is to be found on Tuesdays, Thursdays and Fridays at the intimate, bohemian Gecko (Ezra Lane, tucked under the escalator, tel: 2537-4680). Musicians start their sets around 10pm.
The International Finance Centre (IFC) also harbours a vast number of expensive offerings with front-row harbour seats. Acclaimed ISOLA Bar + Grill (tel: 2383-8765, gaiagroup.com.hk/isola/) offers highly recommended and authentic Italian now housed on the second floor. RED Bar + Restaurant morphed into burger joint Shake Shack (www.shakeshack.com.hk/) by 2018 that also opened an outlet at Pacific Place but faces stiff competition from Five Guys (Wanchai Dec 2018, www.fiveguys.com.hk/) and homegrown Beef and Liberty (www.beef-liberty.com/hk/, 3/F California Tower 30-32 D'Aguilar Street, Central) that does some of the best burgers this side of the Suez as well as mouthwatering vegan versions like the 'Impossible Thai Burger'.
Still in Central, at the other end of IFC, joined at the hip, is the Four Seasons Hotel Hong Kong (tel: 3196-8888, www.fourseasons.com/hongkong) and its swish Blue Bar at the lobby level. Pick from champagne, wine, or one of its signature blue cocktails. There are 88 of them. At the same hotel, sample top-drawer French food and wine at Caprice, or stunning dim sum at Lung King Heen.
Over at The Landmark Mandarin Oriental (tel: 2132-0188, www.mandarinoriental.com), there's the secluded street-level MO Bar, hip, stylish, and cosy. The restaurant here, Amber, is constantly voted one of the world's best fine dining French establishments – for good reason. Mandarin Oriental Hong Kong (tel: 2522-0111, www.mandarinoriental.com/hongkong), the one that started the now global chain, offers skyline views from both Pierre Gagnaire-associated Pierre restaurant and M Bar on the 25th floor, and a wood-panelled old-school colonial feel in its intimate Chinnery Bar – home to some excellent single malts.
Wanchai tram, pretty in pink/ photo: Vijay Verghese
Its ever popular sibling The Excelsior hotel in Causeway Bay served up breathtaking harbour and city views from its top-floor grill-room and cocktail bar TOTT's & Roof Terrace but it all comes to an end late March 2019 with the hotel closing and a commercial complex planned in its place.
One 3am favourite is Tsui Wah (tel: 2525-6338), once a cheap and cheerful local spot on Wellington Street – now a little more blingy thanks to appearing in most Mainland Chinese guidebooks, open 24 hours with a cult following. Celebs turn up here at odd hours. Just up the road is the place to go for roast goose, 60-year-old Hong Kong institution Yung Kee Restaurant (tel: 2522-1624). The granddaddy of wonton is the small and easy-to-miss Mak's Noodle (tel: 2584-3810, 77 Wellington Street) that has earned a huge following since 1960. It has an outlet at The Peak as well. Maxim's Palace (tel: 2521-1303) in City Hall does a popular dim sum – steamed offerings wheeled around on carts – though the sea view is somewhat marred by land reclamation going on outside.
If all this is too itty-bitty and you really want to make a meal of it in smarter environs, head to the groaning buffet tables of café TOO at the Island Shangri-La (tel: 2820-8571, www.shangri-la.com) in Pacific Place. Or, for a very special treat, try the hotel's swish Euro-classical Petrus that serves haute French cuisine and offers a good range of wine. There's room to swing a horse by the tail at Zuma Hong Kong (tel: 3657-6388), which occupies 10,000sq ft on two levels of The Landmark mall in Central. Zuma does a contemporary take on the informal roll-up-the-sleeves Japanese izakaya, serving up authentic fare in a "non-traditional" manner. From the robata grill, sample the signature gyuhire sumibiyaki karami zuke (spicy beef tenderloin with sesame, red chili and sweet soy).
Tung Lo Wan street, Causeway Bay/ photo: Vijay Verghese
In Pacific Place, Admiralty, up a couple of floors is the popular Ye Shanghai (L3, Room 332, tel: 2918-9833) with interesting dim sum and flavours in less-than-overwhelming portions making it easy for two persons to sample a wide variety of items. Not far from here across Queensway by an overhead pedestrian bridge is the smartly renovated and relocated Shanghai Garden at Hutchinson House, Central. The food is delicious. Try the fried string beans with mincemeat, the dumplings and large fried chilli prawns.
Wanchai's Lockhart Road features everything from drunken yobs and sashaying mini-skirted women of commercial bent beckoning from neon girlie bars, to decent Indian, Thai and Chinese food and even Irish pub-grub. Mysteriously popular American Peking Restaurant - an accessible Beijing-style veteran - was closed by 2018. Popular with Hong Kong celebrities is wallet-killer Fook Lam Moon (tel: 2866-0663, www.fooklammoon-grp.com) on Johnston Road. Don't dine here if you're on a budget; from the same family Seventh Son opened in 2013, around the corner (5F, 6F, Kwan Chart Tower, 6 Tonnochy Road, tel: 2892-2888) – traditional Cantonese food gets no better.
Around the corner on Jaffe Road is Sabah (tel: 2143-6626), a basic restaurant favoured by Malaysians who fancy a taste of home – its curries and rotis generally get the thumbs up. Various discos in the area get going after 10pm, with DJs and lively Filipino bands and an international party crowd that include a lot of Southeast Asian women. Open-sided Mes Amis was a popular spot by by mid-2016 it was boarded up for a building renovation. Good for an early evening drink while watching the party crowds, and dancing later on in the night, is Typhoon (tel: 2527-2077) – sometimes referred to as the least sleazy bar in the area. Dusk till Dawn (tel: 2528-4689) is packed in the early hours, but is fun nonetheless. And Joe Bananas (tel: 2529-1811, www.joebananas.com) has been the setting for much drunken debauchery over the years. The raunchy Old China Hand pub has given way to the modestly better turned out Churchill's on Lockhart Road.
For homey old-style Shanghainese without the fuss and frills,old timer Lao Shanghai (tel: 2827-9339) for crab, rice wine, excellent siu long bau dumplings and more, moved Feb 2019 from Novotel Century on Jaffe to the first floor of the Emperor Group Centre on Hennessy Road. And for scrumptious Cantonese dim sum stroll across to Lei Garden (tel: 2892-0333, 1F CNT Tower, 338 Hennessy Road). The service is friendly and brisk and it's best to make a reservation at this popular establishment. Lei Garden has several outlets including one in IFC. The Wanchai outlet is our pick.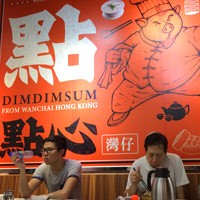 Dim Dim Sum is a cosy spot for savoury dumplings/ photo: Vijay Verghese
On Tin Lok Lane just before the Hennessy Road intersection is the delightfully remodelled Dim Dim Sum (www.dimdimsum.hk/) - claiming notoriety as Newsweek's 101 best restaurants in the world. That was a while back of course. It is a compact two-storey establishment (better service on the ground floor) with zero elbow room, quick service and tasty offbeat dim sum creations like the shrimp paste ball on eggplant. Expect meals at about HK$80 per person. And, on the sixth floor of Lee Theatre opposite Times Square is the darkly mysterious and excellent Paradise Dynasty (www.leegardens.com.hk) with its signature eight flavours xiao long bao including strong garlic, truffle, and Szechuan with numbing pepper. The dim sum comes in assorted colours coded to reflect the contents. The decor is stylish with a central watercourse, service is quick and friendly, and the food delicious. One of the best spots in Hong Kong. Times Square (www.timessquare.com.hk) has a multitude of dining options from Japanese and Shanghainese to Korean and Vietnamese. Take a look at Modern China (13F), Yun Yan for Szechuan fare (10F), Lei Garden for Cantonese, or the basement Lei Bistro.
Close by and on the podium level of Causeway Centre (next to Sun Hung Kai) a new crop of eatieries are developing, collectively and informally referred to as Sanlitun. There's Greek fast food, Italian fine dining (DiVino and California Vintage), and Belgian beer at the spacious Frites (tel: 2877-2422). Most of the restaurants on this podium level have an alfresco section when the weather is obliging. The area is formally called Brim 28 (www.brim28.com).
Star Street, on the fringe of Wanchai and Admiralty, has a handful of smart bars and restaurants. Just one of a good bunch is Classified (tel: 2528-3454) where you might strike up a conversation with fellow diners on communal tables while supping a glass of wine. 1/5 nuevo (tel: 2529-2300) is a stylish spot for drinks, dinner and a DJ. Try Italian pastry, gelato and coffee spot 2/3 Dolci (tel: 3426 9883; www.2third-dolci.com) opened in the summer of 2013.
Not far away, linking gentrified Johnston Road with Queen's Road East is the renewed and re-invented Lee Tung Avenue (the former Wedding Street) that has returned with a pedestrianised food and residence mix. Among the haute shops and twee Japanese oddities, find Passion by Gerard Dubois, a stylish yet laid back spot for everything from sandwiches and quiche to pasta, salad and ice-cream. Facing Johnston Road is the street cafe style Le Pain Quotidian, and along Lee Tung spot Blue Brick Bistro by Yoka Moka and, facing Queen's Road, the popular and relaxed Shanghainese Hay. For a hoot you might drop into the darkly sinister Ophelia (Shop 39A, 1/F, tel: 2520-1117, www.ophelia.com.hk), a dimly lit peacock festooned bar-cum-nightlub that runs till late. Elegant snuggeries are tucked away in the greeny gloom and at times, they have dancers. Stylish and fun despite the large, unsmiling bouncers upstairs. In a basement arcade find more Japanese coffee and an MTR link (opening soon). Along this development on new-look Amoy Street there's more tipples and eats, mainly Thai and Japanese. Pick from UThai (a bar), Roundhouse (fried chicken and beer), Chao Chao Gyoza (for Japanese dumplings in every imaginable combination), ramen noodles and more.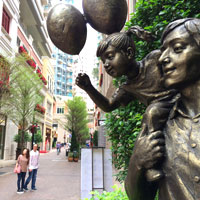 New-look Lee Tung Avenue is for pedestrians only/ photo: Vijay Verghese
is The Pawn (62 Johnston Rd, tel: 2866-3444, www.thepawn.com.hk). It's a charming colonial yellow-wash three-floor affair. After a major refit, the place has reopened with a mix of bars and restaurants. The first floor featuresa bar with the added lure of verandahs from which to watch trams trundling by. On the upper floor is the main dining area with its simple concrete floor and white-oak finish.
The old back alleys from Ship Street and Landale Street (north of Queen's Road East), and the area along St Francis Street and Star Street sloping up and around the hilly south side of Queen's Road East towards Pacific Place 3, offer an exhilarating browse - expect foodie surprises and intriguing boutique shops quietly vying for attention. On Ship Street is the excellent 22 Ships tapas bar run by Michelin chef Jason Atherton where a jambon, manchego, truffle with quail egg toastie will set you back HK$68. Long queues lunchtime. No reservations alas but no service charge either.
At 2 Landale Street, GF Rialto Building, find the tiny convivial, crowded and always heaving corner of The Butchers Club (tel: 2528-2083, www.butchersclub.com). This one-trick redbrick burger joint arrived mid-2014 with an American mix of brash humour, in-your-face service and chefs joshing customers as they go through their paces in an impossibly small steamy corner behind the open counter. Grab a burger (HK$100), a juicy mountain of aged black Angus beef, bacon and cheddar accompanied, if you wish, by potato wedges fried in duck fat, and find an unoccupied bar stool. You might wash it all down with a Dr Pepper (remember that cough syrup drink?).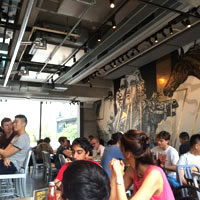 Beef & Liberty for burgers/ photo: Vijay Verghese
Just up the hill off Star Street next to eye-catching designer collection and online store kapok (tel: 2520-0114, www.ka-pok.com) at 3 Sun Street, is the bright bathing trunks store, Vilebrequin, with elaborate patterns that will dent your wallet substantially. And at one leafy corner of this tiny ensemble in the hip and fabulous Star Street area is the easy-to-miss glassed-in Spoil Cafe (Shop 1&1A Sun Street, tel: 3589-5678) that does pasta and sandwiches. Nice friendly atmosphere and a very cosy knee-bumping setting that could be romantic with the right company. In this area, look for the popular and inventive HONBO (burgers) and Ted's Lookout (more of the same meaty morsels). Another no-reservations must-try faviourite in this area from the Pirata group is the cafe-style small-bites Italian pasta cafe Pici (tel: 2755-5523, pici.hk/).
Around the corner on fast-developing Queen's Road East is QRE Plaza (opposite Hopewell Centre, www.theeast.com.hk/) where you'll find a host of new restaurants doing everything from Japanese to Italian to dairy-free vegan (Green Common 2/F).
Between Wanchai and Causeway Bay, off any main drags, is Catalunya (Guardian House, 322 Oi Kwan Road, tel: 2866 7900; www.catalunya.hk), a lounge-bar and formal dining area. The kitchen is helmed by chefs from reputed Spanish restaurants, producing Catalan fare – where Spanish, French and Middle Eastern influences combine. Atmosphere is helped at the bar with a slightly green view, alongside good tapas, wine and cocktails. And for more offbeat fare, Lebanese this time, is family-run Zahrabel club (25F, 235-239 Hennessy Road, booking hotline tel: 5503-9181) helmed by Vivienne el Mahmoud and her two daughters. Think excellent mezze and kebabs in stylish surrounds with all the home-cooked flavours of the Levant. You'll need to sign in on their website for their set meal experience at HK$520 per person.
Alfresco dining between Wanchai and Admiralty is found harbourside at The Quarterdeck Club (tel: 2827-8882) on Fenwick Pier, where the US Navy docks when it's in town. There's an emphasis on seafood at Quarterdeck, but steak, pasta and pizza is also on the menu. At the edge of Causeway Bay on the 26th floor of the gleaming new Tower 535 close to the Excelsior Hotel, is the Seafood Room (opened April 2016, tel: 3708-9668 or www.seafoodroom.hk), a swank address with glitzy decor in deep blues and greens to match the marine theme. The restaurant takes up the floor with grand views across town from window tables as well as from an outdoor patio and the alfresco rooftop where funky events can be staged. Pick your fish and have it cooked the way you like. At launch in April 2016, a set lunch was priced at HK$240. Hip music, high ceilings, and eager staff add to the fun of this place.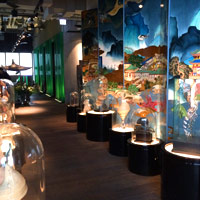 Seafood Room, Causeway Bay, great city views/ photo: Vijay Verghese
An old tourist icon awaits on the southern side of Hong Kong Island, in the somewhat polluted harbour of Aberdeen. The floating Jumbo Kingdom (tel: 2553-9111, www.jumbo.com.hk) has been a Hong Kong dining mainstay since the late 1970s. Its Chinese Imperial-style seafood restaurant has gone through good and bad times but remains popular on the tourist circuit. It's fun if a tad twee. The kids will love the wide-eyed full on experience.
For something atmospheric, laid-back and retro – complete with disco ball, zebra-stripe chairs, candles, and even a small dance place – head to Shek O village and the Black Sheep (tel: 2809-2021) for lasagna, excellent thin-crust pizzas, salads, steaks and grilled fish. In Hong Kong South, the fishing village of Shek O offers a few treats including Thai curry by the beach. Or head way out to Silvermine Bay, Mui Wo on Lantau to the China Beach Club (tel: 2983-8931) and down sangria with homemade moussaka. Also southside, in Stanley get a table with a view at Paisano's at the end of the boardwalk, or try Szechuan fare or Italian at Stanley Plaza. The excellent Vietnamese "pho" noodle pioneer Saigon has alas moved from Murray House to make way for the likes of H&M. Or head to Repulse Bay's The Pulse complex where, by mid 2016, there was a good spread from Cllassified and Coffee Academics to beachside bars and gyms, like Pure, with its lip-smacking NOOD pure coconut water from Thailand.
For something laid back and offbeat, check out the trendy cafes along Tung Lo Wan Road around the southern perimeter of Victoria Park in Causeway Bay. On Wun Sha Street you'll find popular Vietnamese at Café Locomotive (tel: 2882-8227).
Farther afield in Sai Kung, eastern New Territories, splash out on seafood, small cafes, Vietnamese, Korean, won ton, Italian (try Paisano's for large New York-style pizza, (tel: 2791-4445, 27 Chan Man Street), or wander up the promenade north from the village to the Beach Club (tel: 2792-4990) for yum cha (dim sum) and more Chinese fare open air, next to the beach. On Sai Kung's main seafront drag is the popular Hung Kee Seafood Restaurant (tel: 2792-1348) with outdoor and indoor seating. Pick your fish live from the tanks.
Hotel spas and day spas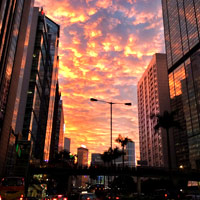 Setting sun sets clouds ablaze, Gloucester Road high rise canyon/ photo: Vijay Verghese
Burnout is never far in this frantic-paced city. Staving off collective meltdown for those who can afford it, are numerous city spas that offer escape and relief – at a price. Hong Kong hotel spas guarantee a memorable experience. Two of the best Hong Kong hotel spas are found at The Landmark Mandarin Oriental (tel: [852] 2132-0011) and Four Seasons Hotel (tel: 3196-8900), both of which sink you into soothing heat suites with Turkish hammams and rain showers. Mandarin Oriental Hong Kong's spa (tel: 2825-4888) is also up there with the best, with eight treatment rooms as well as a hydrotherapy room and Chinese herbal steam room.
The Peninsula has its chic Asian-themed ESPA (tel: 2315-3322), which feels smaller and more intimate, and offers impressive harbour views from the sauna. Feeling hungry? ESPA has a tea ceremony, reflecting Peninsula's ever-popular Afternoon Tea. Just up Nathan Road from here at The Mira hotel is Mira Spa (tel: 2315-5500, www.themirahotel.com). It is a swish presentation with mood lighting, pool, sauna, whirlpool, steam and spa suites. The mod and minimalist Nail Bar offers pedicure stations, and hair stylists are at hand should you wish to go all the way.
Both Plateau (tel: 2588-1234) at the Grand Hyatt and Chuan Spa at Mongkok's Langham Place Hotel (tel: 3552-3510) lay on the sophisticated luxury experience, and offer full spa suites for the night.
The InterContinental boasts Hong Kong's first feng shui spa, I-Spa (tel: 2313-2351). Each of the five polished granite suites has its own sauna, Jacuzzi and steam shower. Try a two-and-a-half-hour "Spa Sampler" with a facial, almond scrub and one-hour rub-down. More on where to stay in our Hong Kong business hotels review that includes family options.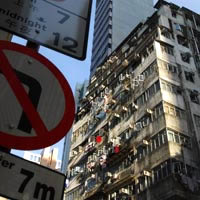 Old Wanchai building/ photo: Vijay Verghese
The Sutherland-Chan Centre (tel: 2544-5838, www.sccentre.com.hk), on Stanley Street close to the Central shopping district, provides a more technical approach to massage. Attend to sports injuries or combat jetlag professionally with Canadian-trained therapists.
There are many good, independent options around, many of them in Central. Aso Spa (tel: 2525-2578, www.asospa.com) has Hong Kong's only Japanese style hot sand bath. At Nude (tel: 2868-9100, www.nudewaxing.com.hk) you can step out like a bronzed god or goddess, typhoon or no typhoon; The Feel Good Factor (tel: 2530-0610, www.feelgoodfactor.com.hk), and Sense of Touch (www.senseoftouch.com.hk) have branches on D'Aguilar Street and Arbuthnot Roads. Expect to pay anywhere between HK$500 and HK$1,200 for a 90-minute massage at the higher end.
For a budget waxing, you can – some say – place yourself in the brusque but capable hands of May Mui (tel: 2524-8456), who works from her home in Wanchai. You can save money and do some good at the simple, somewhat clinical Acupressure and Foot Reflexology Care Centre of the Blind (40-42 Des Voeux Road, tel: 2810-6666), which charges as little as HK$200 for a therapeutic pummel. Or try Sun Lady (tel: 2548-3336) where the energising herbal smells are worth the HK$80 manicure. For something different, Xi Shi Spa (tel: 2892-7399, www.xishi.com.hk) offers to bring its service straight to your door, whether it be home or hotel, with a full range of massage treatments.
For those on a family vacation, Hong Kong Disneyland Hotel is an option for an inclusive spa experience. The Victorian Spa offers kiddies spa fun too, and hair-braiding and face-painting are just some of the child-friendly options on offer.
A look at the arts scene
Hong Kong has a small but passionate arts community. A number of corporate buildings and malls support the scene by adorning themselves with local pieces, and commercial galleries thrive from the Central-Soho area to, more recently, Sheung Wan. It's also a good gateway to the modern Chinese art world.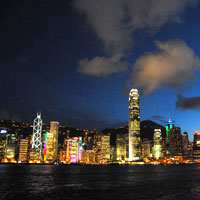 Hong Kong skyline/ photo: Vijay Verghese
For a pleasant day or evening spent browsing (most galleries stay open until around 7pm), try the route that leads along Wyndham Street and Hollywood Road, exploring the side streets as you go. Start or finish at the Fringe Club's gallery (www.hkfringeclub.com), taking advantage of its bar or rooftop café. This old brick colonial building (that also houses the venerable Foreign Correspondents' Club, or FCC) is also your best bet for community theatre, live music or dance.
At the beginning of Wyndham Street just after the Glenealy intersection, stop in at Wellington Gallery (tel: 2804-6688, www.wellingtongallery.com.hk) for contemporary Chinese art and some quirky window displays (like pigs undergoing suction cupping).
A few buildings along is the always fabulous and deceptively small Opera Gallery (52 Wyndham Street, tel: 2810-1208, www.operagallery.com) with displays spread out over four floors. Some of the larger (78-inch by 98-inch) paintings - haunting portraits of celebrities and lost sad-eyed ladies - are from Spanish artist Lita Cabellut who describes herself as an "anthropologist" who "likes to study humans". The portraits are latter day renaissance in style with a cracked porcelain finish that adds an interesting touch to the mixed media on canvas works. Expect to shell out HK$500,000 and up for one of her vivid works.
Also rummage offerings from Korean Young-Deok Seo (wire mesh sculptures), Seen (flat-colour pop art), Feng Xiao-Min (abstract acrylic landscapes), and even Dali, Miro, Warhol and Chagall. No high pressure sales - though well informed staff is on hand to fill in any gaps - and space to reflect. Definitely worth a look.
At 31C Wyndham is the mixed-media bag Grotto Fine Art (tel: 2121-2270, www.grottofineart.com) where established local artists and budding China talent is on display.
Explore hallucinogenic neon spidery creations on black (like extraordinarily creative Mac screen savers) and Yiu-wing Kong's silkscreen and canvas urban-nature collide. And further along, on Hollywood Road, you'll find contemporary Chinese fine art in the white, innovative Connoisseur Art Gallery (1 Hollywood Road, tel: 2868-5358, www.connoisseur-art.com) with works by Dorina Mocan and Chinese artists like Tin Yun Tsui.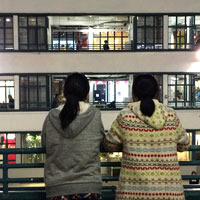 PMQ displays local design and art/ photo: Vijay Verghese
Walking uphill on Old Bailey Street, next to the old Central Police Station, you'll pass a couple of bars and the popular 24-hour diner The Flying Pan (tel: 2140-6333, www.the-flying-pan.com) to 10 Chancery Lane Gallery (tel: 2810-0065, www.10chancerylanegallery.com), which feels a bit like an artist's studio.
Archangel Art (tel: 2851-6882, 39 Peel Street, corner Hollywood) is a large space, covered in Vietnamese and Indo-European paintings. The owners are Dutch and well in tune with the Asian art scene. Across the road is Archangel Antiques (tel: 2851-6848), with particularly interesting authenticated pieces from China.
There are spots of interest to explore down this road towards Sheung Wan, with the farthest probably being Para/Site Art Space (tel: 2517-4620, www.para-site.org.hk), on Po Yan Street. This one is the most radical of the Central-based galleries. International works at Contemporary by Angeli Li (tel: 3571 8200, www.cbal.com.hk) are worth checking. There's a useful gallery map at www.hongkonggalleries.org. And if you happen to be in town in March or April (the date varies), art buffs might consider Hong Kong Art Walk (www.hongkongartwalk.com), when galleries in the areas above and beyond put on great shows, and local restaurants and bars contribute food and drink in each. You buy a badge and follow a map, with proceeds going to a local charity.
To explore your inner Picasso, try Artjamming (www.artjamming.com). Here you can buy a canvas (HK$500) and paint to your heart's content. Bring your own wine, food, friends and make it a painting party.
In a large corner plot framed by the upward ascending Aberdeen Street and Staunton Street, the lively mid-rise PMQ (www.pmq.org.hk) showcases local designers along with a melange of cooking schools, arts and craft, delicatessens, restaurants and ice-cream parlours, all set around a large convivial courtyard. Find Goods of Desire, bread n butter, and Vivienne Tam rubbing shoulders with outlets like Chocolate Rain, HKTDC Design Gallery, kapok, Tina's Choice, and The Refinery.
The bulk of the creativity on display is from the younger and hugely creative Hong Kong artistic set. The two breezy blocks - with plenty of open space, minimalist decor, and nice long balconies - were formerly a Central School and then served for a while as the Hollywood Road Police Married Quarters. A bit quiet late evenings so pop by lunchtime or in the afternoon.
Outlying islands, dolphins, and hikes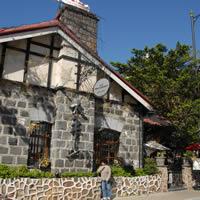 Peak Lookout, cosy and, colonial/ photo: Vijay Verghese
Grab your water flask and knot that camouflage bandana… Hong Kong has 23 protected country parks, and over 200 islands, and a fair number are within easy reach of the city. Ferries to the more populated islands leave from the Central piers, giving access to a bevy of seafood restaurants, small fishing villages, beaches and hikes. If you find yourself with a spare day, just show up at the pier and leap on the next ferry to anywhere.
One safe and easy option is tiny Lamma Island, just 25 minutes from the city, with its clutch of fresh seafood options. Ferry directly to its prime strip of restaurants in Sok Kwu Wan or ride to Yung Shue Wan (the bigger of the two landing points and with more ferry sailings) for its beaches, low-rise laid-back vibe and a wide variety of cuisines in intimate surrounds – many with waterside tables. If you want to combine the two villages in one trip, it's an hour's fairly straightforward hike between them.
Hiking and trail walking in Lamma centres round the Family Trail: a paved and well-marked path that takes you on a moderately difficult stroll round to Sok Kwu Wan Village. Here you can visit the floating fishing village or the 200-year-old Tin Hau Temple. The trail also touches upon Lamma's darker history. So-called Kamikaze Caves punctuate the walk with dark, dank openings marked by ominous "Keep Out" signs. These second world war caves were dug for Japanese military to launch suicidal explosions on British and allied forces naval vessels.
The dirt track trail to Lamma's tallest hill, Mount Stenhouse, has few signs and no hopes of a conveniently positioned ice-cream seller. But for the athletic hiker, the views of Hong Kong Island and the South China Sea are unrivalled. There are three beaches along this track. Shopping on Lamma is fun. Spend time browsing through the interesting array of clothes, jewellery and gewgaws, including a few more trendy boutiques. You will find antiques, local handmade pottery and ornaments or simply a HK$10-$20 dollar paperback from Lamma institution Nick the Book. If you prefer to stay longer, the pier-side Man Lai Wah Hotel (tel: 2982-0220, e-mail: manlaiwahhotel@yahoo.com) is the most accessible. For ferry details visit www.hkkf.com.hk.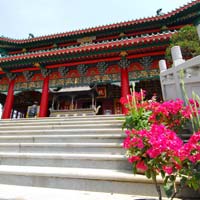 Ping Che temple/ photo: Vijay Verghese
Lantau Island is the territory's biggest, but still fairly undeveloped. This is changing. Negotiate the small village paths of Mui Wo (take the ferry straight there from Central) on foot or by rented bicycle, or try the hilly beach-bound hiking trails. Friendly Bicycle Shop (tel: 2984-2278) behind McDonald's at the pier is well stocked with reasonable prices – a bike for the day costs around HK$150.
Cheung Chau is an ideal escape from the sometimes dizzying pace of Kowloon or Hong Kong Island. Once a fishing village, the island has a charming laid-back feel and is popular with Hongkongers on weekends. Catch a ferry across in the morning (ferries leave from Central and take around 45 minutes) for a long seafood lunch at one of the many restaurants. The Po Toi group of islands lies off the southeastern coast of Hong Kong Island. The largest of the chain is accessible by public transport, and, if time allows, is a lovely jaunt out of the city. On Sundays, there is a local ferry service that departs from Stanley's St. Stephen's Beach. The island is small and rugged with coastal walks, dramatic views, and interesting wildlife. There is a small village with a few restaurants, and a 150-year-old Tin Hau temple. On Tuesdays, Thursdays and weekends, a ferry operates from Aberdeen.
There's plenty of hiking information available online. Try the Hong Kong Tourism Board (www.discoverhongkong.com) or Hong Kong Outdoors (www.hkoutdoors.com), which was set up by a local wildlife enthusiast. Hansen's Hikes (www.hansens-hikes.com) offers various daylong walks throughout the territory, most of which end with a meal. The famous 100km MacLehose Trail crosses much of Hong Kong's New Territories. It runs through the Shing Mun Reservoir and the Shing Mun Redoubt, a short-lived line of defence against the Japanese during the second world war. Battle buffs will enjoy scrambling around this string of unkempt pillboxes and trench tunnels, many marked with shrapnel and engraved with London road-names. It's relatively safe but you will come across the odd warning sign.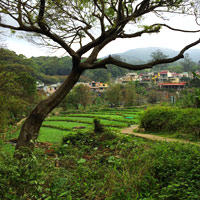 Cheng Lung village en route to Tai Mo Shan has hearty dim sum/ photo: Vijay Verghese
Liven up your hike with details of the battle from the Hong Kong Society of Wargamers (www.hksw.org), and with a foray to the nearby Kowloon Reservoir. This is where an often-intimidating troop of rhesus macaques skulk around. Our advice would be to have a big stick in hand and no bananas or unsealed food in your pockets. Another of Hong Kong's major hiking paths is the Wilson Trail, which at times interlinks the MacLehose. It is 79km in full, running from Stanley to Nam Chung in the New Territories.
For keen – and fit – hikers, stage 10 of the Wilson Trail is a goody. Start at Hok Tau Reservoir in Pat Sin Leng Country Park (reached via taxi from Fanling East Rail station) and hike for 14km up and down eight peaks of mountain range to end in Tei Mei Tuk village. Or visit Hong Kong's highest peak, windswept and rugged Tai Mo Shan by taking the No. 51 bus from Tsuen Wan MTR station. Alight at the junction of Route Twisk and Tai Mo Shan Road. At Cheng Lung Village on the flanks of the hill find hearty portions of dim-sum at the family-run DIY restaurant fronting the car park and stream. Produce comes in fresh from the fields. The place opens early for hikers. Get in before 3pm.
A more accessible and beautiful hike on Hong Kong Island is along the Dragon's Back trail to the little seaside village of Shek O, which can be reached by taking the MTR to Shaukeiwan and the No. 9 bus. The tricky part is finding the start of the trail, so ask around.
It's not too hard going and local tradition is to treat yourself to dinner at one of the restaurants at the end. Shek O is home to the east side of Hong Kong Island's longest stretch of sand.
Tiny Hong Kong has more species of animals and plants than it is credited with, but in the city the most you'll be confronted with are caged birds brandished by elderly men and the odd mosquito. Just a little way out, your wildlife-encounter chances dramatically improve. Snakes and wild boar are not uncommon sightings along rural trails.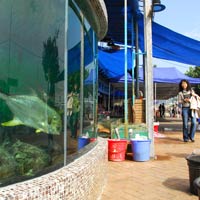 Sai Kung seafood restaurant/ photo: Vijay Verghese
The spruced-up, 60-hectare Hong Kong Wetland Park (tel: 2708-8885, www.wetlandpark.gov.hk) with its exhibitions of fauna and flora and activity centre also offers a Wetland "ecotour" and an encounter with resident saltwater crocodile Pui Pui, found in the New Territories in 2003. The Mai Po Nature Reserve (www.wwf.org.hk/eng/maipo/) is a less-developed introduction to Hong Kong's plant and animal life, run by the World Wildlife Fund, with concealed hides for bird-spotting, marshes, and workshops for kids. October to April see skies filled with migratory birds. Both of the abovementioned excursions are unfortunately underrated and under-visited. On Lantau Island, a leisurely ride by bus from Tung Chung (close by the airport), is the quaint stilted fishing village of Tai O. Worth a half day to sightsee and eat the local fare. If all this is too rough and tumble, stop by or stay at the Tai O Heritage Hotel (www.taioheritagehotel.com) that serves up around 10 stylish timber-floor rooms in an old colonial building dating back to 1902 when it was first commissioned as a police station.
Hong Kong Dolphinwatch (tel: 2984-1414, www.hkdolphinwatch.com) promises a lively morning on a boat off Lantau Island for HK$380 (HK$190 for children aged 3 to 11; HK$50 for under-threes). Trips take place every Wednesday, Friday and Sunday on the trail of Chinese white dolphins – most of which are actually pink. The small, conservation-minded group's coach will pick you up at the Kowloon Hotel lobby (just behind The Peninsula) at 9am and drop you back at 1pm. The company says they see dolphins on 97 percent of the trips, but a free re-try is offered if no dolphins are spotted. And that's our Hong Kong guide to islands, walks and trails.
Beaches, golf, and helicopter tours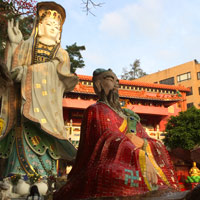 Kuan Yi statue at Repulse Bay temple/ photo: Vijay Verghese
True, this is no Thailand, but with its crop of craggy, green mountains and many picturesque little islands, there's a great deal of seashore to explore. Popular Repulse Bay and Deep Water Bay on Hong Kong Island's south side are the most accessible, just 15 minutes from Causeway Bay by cab. These spots are also served by the 260, 6X, 6A or 6 buses from Central. Dining options are a bit limited, but both are popular for their barbeque pits and get besieged at weekends – especially on Sundays, which is a holiday for Hong Kong's domestic workforce. At Repulse Bay, check out the hugely popular temple at the end of the Pulse shops and eats where the statue of Goddess Kuan Yi commands a great following of international devotees and plaques in Chinese as well as in Thai.
A quieter and more secluded option can be found just a short HK$20 taxi ride from here at South Bay, which is slightly off the beaten track. All have the full range of changing and showering amenities and at least one purveyor of snacks and beach paraphernalia.
Further up the coast, Stanley Main Beach is also popular with families and can be combined with souvenir shopping at Stanley's famous market and a pub lunch on the waterfront for a good day out. Plenty of cuisines are available in the warrens of streets off the waterfront too, and in Murray House – an old colonial downtown structure that was carefully demolished and re-erected here, brick by brick. Beach buffs note that the seawater quality improves as you move further away from urban areas. Big Wave Bay near Shek O is popular with surfers, and you can rent water sports equipment there, but don't expect Hawaiian swells. There are a number of snack outlets.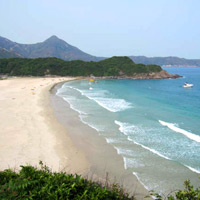 Tai Long Wan beach/ photo: Jessica Ng
Farther afield, more bucket-and-spade action can be had on a number of Lantau Island beaches that also offer a number of hearty Western and local restaurants. The South African/Mediterranean barbeque-style The Stoep (tel: 2980-2699, thestoep.com) on Lower Cheung Sha beach (both accessed via Mui Wo) is perfect for long, lazy lunches with the sand between your toes. Book on weekends as it fills up quick. It's closed on Mondays.
The best Hong Kong beaches are along the series of spectacular white-sand coves up the coast from Sai Kung in the eastern New Territories near Tai Long Wan. The water is clear, the beaches expansive and pretty much empty. In summer, a couple of friendly cafes at Tai Long Wan serve up sandwiches and hot meals. Tents and sun umbrellas are available for hire. It's quite a mission to reach the beach, but worth it. Take the MTR to Diamond Hill, then bus No. 92 to Sai Kung. From here, take bus No. 94 to Wong Shek Pier. At the pier, either negotiate with one of the sampan drivers to take you round to the beach (around HK$500) or follow the well-kept hiking trail in Sai Kung Country Park. Always take plenty of water – Hong Kong's country parks aren't exactly teeming with shops.
And diving? Surprisingly there are a few less spoilt patches of ocean that are worth a try. Diving Adventure (tel: 2572-2138, www.divinghk.com) has the inside info. The company offers local diving packages and a range of courses (from beginners to advanced and specialty programmes) and rents out gear from its main shop on Hennessey Road in Causeway Bay (full diving kit for HK$300 for the day).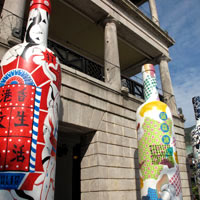 Murray House, Stanley/ photo: Vijay Verghese
Courses start at HK$3,500. Splash Hong Kong in Sai Kung (tel: 2792-4495, www.splashhk.com) is a friendly establishment offering beginner and advanced open-water courses starting from HK$2,900 for advanced and HK$3,900 for beginners. Short fun dives – offshore or from boats, start at HK$400. Pro-Dive (tel: 2890-4889, www.prodive.com.hk) offers courses from around HK$4,000.
Most golf in Hong Kong costs an arm and a leg but there are three excellent 18-hole public golf courses, and a nine-hole course, on Kau Sai Chau, (tel: [852] 2791-3388, www.kscgolf.org.hk) an island near the New Territories town of Sai Kung. The town is easily reached by MTR to Choi Hung and Green Minibus 1A to Sai Kung Bus Terminus. After a 15-minute ride on the ferry you'll be set for one of the most scenic rounds of golf in Asia. Gary Player designed the courses. Green fees start from HK$350 for nine holes on the South Course on weekdays or HK$445 for weekends and public holidays. An 18-hole round starts from HK$620 on weekdays or HK$830 on weekends and public holidays, with discounts for players both under 21 and over 60.
Hong Kong by night is amazing. Hong Kong by helicopter is both amazing and expensive. And why wouldn't it be? This is one of the greatest sights anywhere. If you have cash to flash, Heliservices (Hong Kong) Limited (tel: 2802-0200, www.heliservices.com.hk) offers charters ranging from a fifteen-minute Hong Kong island and harbour highlights scenic flight priced at HK$7,000 (pick-up from The Peninsula hotel's rooftop helipad) to a Kowloon and Hong Kong Island tour for 30 minutes for HK$14,000. Those prices charter a twin-engine AS355N helicopter, which seats five.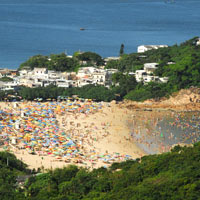 Shek O Beach, Island South/ photo: Vijay Verghese
Also offered are 12-minute around-harbour flights for which you pay HK1,200 per person. For a fly-and-dine experience, The Peninsula (tel: 2920-2888) offers a 15-minute helicopter ride across the city, followed by lunch or dinner at one of the hotel's top-end restaurants. Prices start at around HK$7,800 for two people. Fly and spa packages are also available.
So there you have it: there's a lot going on. It's easy to have fun in Hong Kong with the whole family and kids in tow. Still insisting on just that one-night stopover?
Send us your Feedback / Letter to the Editor