FOOD AND FUN
I'm in Haven
A fun guide to Haven Street - a little known Mecca for foodies in Causeway Bay, Hong Kong - plus grunge by the block for leather-and-denim bikers; eggs Benedict and pizza to die for; dog and cat cafes; and a few unnecessary oddities.
SEE ALSO Hong Kong fun guide | Hong Kong shopping guide | HK business hotels review | Singapore nightlife | Taipei fun guide | Kuala Lumpur nightlife | Phuket fun guide | Bhutan guide | Seoul | Best Thai spas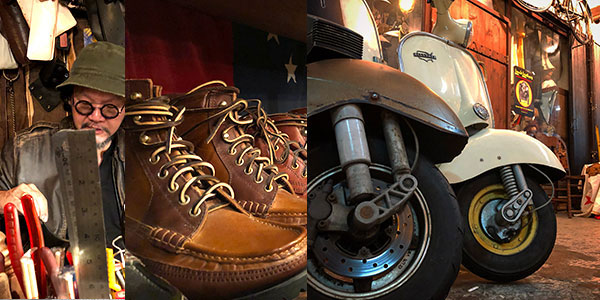 AT NIGHT as the neon blinks and store windows blaze with all manner of promise, the shopping Mecca of Causeway Bay appears dazzling as day – bright enough to read a newspaper on the street, if you are old enough to remember what that is. The place is teeming with people seeking bargain sales, the latest designer brands, and ritzy cafes.
While branded luxury chain stores have muscled out small local players who once created the special ethos and allure of the neighbourhood, delightful pockets of resistance hold out in the manner of stout-hearted Asterix the Gaul.
Island Beverley next to the heaving SOGO corner and the ding-ding trams was a trendsetter with dinky designer shops and a whirl of fun stuff. It is far more sedate – even ageing – now. For a taste of the old Causeway Bay pop out at MTR Exit F1 Hysan Place near this vast intersection, and walk south past Jardine's Bazaar for a 10-minute stroll back in time.

E-mail Page

Print

Hotel Contacts
Girdled on three sides by Caroline Hill Road, Leighton Road, and Haven Street, Lei Shun Court is a scabrous, peeling derelict building with a grimy 1960s feel. But step inside and the dimly lit inner alley is alive with old-time grunge, steaming dai pai dong food centres, musty photocopier corners, hardware stores, budget travel agents and couriers (who do roaring business with Indonesian maids) and the sound of convivial chatter. It is a comfortable white noise lullaby.
In the centre of the dark covered 'street' is a row of vintage motorcycles and Vespa scooters that announce the presence of two endearing retro clothing stores – Luddite and Roadmentic.
Very much in the Japanese road warrior image (or '60s Americana), Luddite (15A-17A Haven Street, tel: [852] 2870-0422, www.facebook.com/) with its woody work shed interior is an impossibly small space (despite the promise of its rugged timber frontage) packed to the gills with boots, leather jackets, denims, hats, satchel bags, overalls, oversize-pocket cargo pants, and accessories for bikers, gawkers, or just trivia collectors. Shoppers reverentially peer at the displays and fiddle with the fabric. This is cowboy country in Hong Kong, fun, casual, and unfussy. Fiddle all you want, chat, or dawdle – a most un-Hongkong pleasure. A smiling Boris, the most un-Boris person you will ever meet, is a genial designer whose brainchild all this is. Luddite and Roadmentic are both open from 1pm to 9pm.
Neighbouring store Roadmentic (13A Haven Street, tel: [852] 3590-8499, www.facebook.com) has a grungy tough-guy exterior fronted by rusty bikes. It is run by the Professor Calculus lookalike Mr Fat with long lanky hair and Lennon glasses squinting at his latest masterpiece or fixing an item. Slide past the heavy iron door into a small room littered with motorbike helmets (largely from Japan, roughly HK$4,000) and leather jackets (also Japanese inspired). Pick up clothes, denims and other biking paraphernalia – everything you need to look cool on a Harley. No rush. And on with our Causeway Bay fun guide.
Send us your Feedback / Letter to the Editor
Cross alleys lead to Haven Street, a dead end lane lost in the mists of time but gussied up with chic and colourful restaurant frontages, each with a line of customers waiting to get in. Passers-by scratch their heads picking from yakitori, waffles, eggs, coffee, Thai, burgers, pasta, or chha chhan tengs (local style informal Chinese diners).
The very first corner café on Haven is Noodle Joy though you may need to strain to spot the English name. Large red cheery Chinese characters are emblazoned across the windows. There are dumplings on the menu too. 
If noodles are not your thing, Sleepless (formerly R&C café, 22-24 Haven Street, www.facebook.com/) is as good a place to start as any. It is hugely popular with egg and coffee lovers and this is no understatement. Despite its eggy focus the earlier R&C only opened 12noon, an oversight Sleepless has fixed with a 10am-10pm routine to satisfy breakfaster lovers. The place is tiny with a long dark hewn-wood table centrepiece, a small snuggery with a large green stuffed Pepe the frog at one corner, and an informal vibe.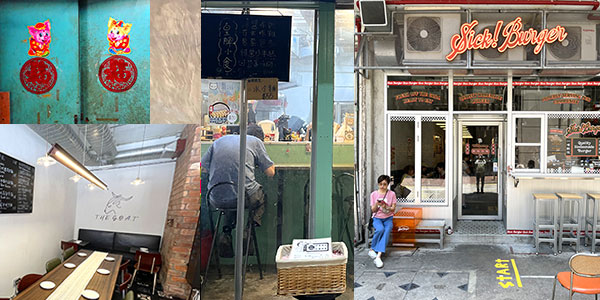 Sample eggs Benedict in various styles, latte art with cleverly designed cartoon faces on regular coffee or matcha froth (Sanrio characters like Hello Kitty, Pepe, and some exhorting customers to support local causes), black truffle pasta, sourdough bread, and more. It's a fair menu for a doll's-house squeeze of a cafe. Staff is friendly and efficient. Expect to shell out around HK$108 for eggs and $45 for coffee.
Cheek-by-jowl Peek-a-Poke (16 Haven St) is known for creative salmon dishes, Hawaii-style sashimi, runny egg yoke garnishes, wasabi yoghurt, sweet potato fries, and crab salad; while Shari Shari Kakigori House (14 Haven Street) specialises in Japanese shaved ice desserts. Small hole-in-the-wall places here are covered in small yellow-pink stickers with scribbled notes highlighting that youthful exuberance is not to be trifled with.
Just up the street fronting a swanky building is FRITES (GF Park Haven, 38 Haven Street) where there's Belgian beer by the yard on tap with an assortment of pub grub. And across the dead end street is hip barber chain Handsome Factory (27 Haven Street) in racing green with large windows through which you'll spot satisfied customers getting a haircut (HK$380) or a beard trim (HK$180). Cool New York vibes for a weekend's hair tousle.
The Bilibala Yakitori Bar (23 Haven Street) has been around for a while and remains a popular hangout for Japanese tapas, sizzling mini skewers, and sake. Walking on back towards Leighton Street you'll pass this-and-that No Boundary (passable pork knuckle and hamburgers), and Mammy Pancake that offers a fair selection of toppings and mixes for its diminutive size.
Cut through Lei Shun Court to Caroline Hill Road to explore the upscale and somewhat forbidding Japanese Ten Zushi (1 Caroline, tel: [852] 3462-2728) where a 12 piece sushi executive lunch set will set you back HK$600. Expect painstakingly crafted sashimi, sushi, and surprising omakase (leave it to the chef) dishes in dark minimalist woody surrounds. Expensive.
Next door is the Michelin-listed Ramen Jo (3 Caroline Hill Road, tel: [852] 2885-0638). The small and busy interior is unfussily traditional and packed with heady aromas and customers reverentially slurping ramen. The soup broth is excellent with notes of long-simmered pork bone and miso. Tick the boxes and fashion your own treat. Also try the deep fried tonkatsu (breaded pork cutlet). This affordable dive can butt heads with the best like Butao Ramen, the hitherto undisputed ramen king in Hong Kong.
Just up from here is the all-pork Hogology that is unremarkable but quite popular with youngsters and the older set in search of a comforting hit of attractively priced hog with an egg garnish or more. Inexpensive street style Delicious Thai is at the end of the street at the corner of the Lei Shun indoor 'alley'. It does Thai curries and pad Thai.
Retracing your steps towards Hysan Place and the MTR you'll pass the convivial and bright Brick Lane (111 Leighton Road, Lee Garden Six, tel: [852] 2736-8893, www.bricklane.com.hk/) that does eggs and more. A few steps on is Lee Garden Three. Here, alas, the whimsical, excruciatingly delicious and pricey dim-sum fusion escape John Anthony (sibling to Mott 32) has closed.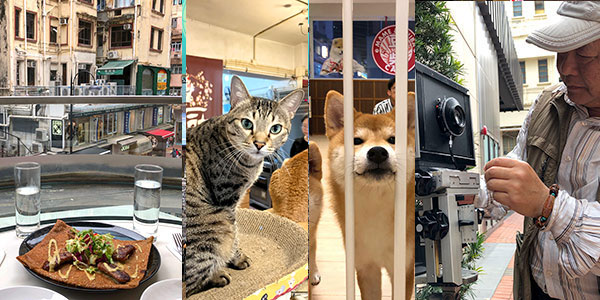 For a more local style traditional dim-sum experience at more affordable rates with decent service, there's always the expansive old stalwart West Villa Restaurant (tel: [82] 2882-2110) on the fifth floor of Lee Garden One across the road.
At the side of Lee Garden Three is the spacious and stylish street-fronting Belgos (8 Hoi Ping Road, tel: [852] 2111-1197, elgrande.com.hk), a Belgian inspired grill and seafood ensemble by a Michelin-starred chef. Pick from simple to sophisticated – everything from beers and wines to ice cream, burgers (from HK$148), to lamb chops (HK$380), wild boar sausage (presumably not from the Hong Kong hills), salmon gravlax and pasta. Find a steady, dedicated crowd, especially lunchtime, savouring the restaurant's ' bon vivant' theme. The chefs may have changed as a mid-2021 sampling led us to some undercooked and rather measly servings of Eggs Benedict with an almost indiscernible glaze of Hollandaise sauce. What?
Just across the street is the rather grandly named but easy to miss Solo Avenue – a slim horseshoe-shaped squeeze through a daintily presented indoor 'alley' for a twee shopping browse.
Walking down the far side of Lee Garden One along Lee Garden Road (what else?) still heading towards Hysan Place, you'll almost immediately hit the intersection with Foo Ming Street. Dimly-lit Mame & Shiba Café (3/F, Room J, Po Fu Building, 1 Foo Ming Street, Causeway Bay, tel: [852] 5931-8931, www.facebook.com/) is hidden up four flights of unkempt stairs in an ancient building and you may be forgiven for thinking this is a short-time sleazy escape with the red lights and unmarked door. Mame & Shiba Café charges just HK$78 for 30 minutes with these small Japanese dogs and pups. It is all above board.
You'll smell and hear it before you arrive. Not really a café – though there are instant noodles (a soft drink is included in the price) – this is more a petting zone in the tradition of cat or rabbit cafés (like the Mr & Mrs Cat Café across the street at Shop L, 1/F, Po Ming Building, which charges HK$85 for two hours with the meows and a drink).  All good for blood pressure unless the barking gets to you. Shibas are known for their pleasant temperament and the odd smirk on their faces – perfect for cute pictures. But this bunch is not always sociably inclined.
Down one floor of the same musty building is crêpe paradise Fleur de Sel (Flat 2J, Po Fu Building, 1 Foo Ming Street, tel: [852] 2805-6678, frenchcrepes.com.hk/). The staircase will send pulses racing as you tense up for some opium-addled kung-fu mugger to launch himself from the shadows. Relax. The derelict Po Fu Building, as with the rest of Hong Kong, is quite safe. In case you needed to know, fleur de sel (salt of the sea) is the fine crust of salt left behind after water evaporates from the ocean.
This intimate place - a must for any Causeway bay fun foodie guide - has been run since 2010 by husband-and-wife team, the shyly taciturn French chef Gregory and his vivacious local wife, Vanessa.
It is normally packed right to the balcony where a few breezy bar seats await. Pick the impossibly tiny corner table B6 for two and gaze down at minibuses dodging old codgers. Cramped but romantic in the right weather (and company). The restaurant does set lunches, and crêpes or galettes for about HK$120 or less. Try mixes with Emmental, mozzarella, mushroom, ham, egg, and smoked salmon or go straight for 'La Cheese Lover' (Emmental, goat cheese, Camembert, gorgonzola and walnut salad) for HK$138. Fleur de Sel wants guests to enjoy the 'best crêpes of their life' and this is no idle boast. They also rent out the space (around HK$10,000 for an afternoon) for up to 30 people with a set menu.
Closer to Hysan on Yun Ping Road in the basement of Henry House is Saboten (tel: [852] 2895-4111, www.facebook.com/Saboten.HK/), a delightful Japanese tonkatsu (fried pork and prawn) establishment, authentic and straight from Shinju-ku, Tokyo. We like the menu and flavours but still feel a special affinity to old-timer Tonkichi (Rm 412 World Trade Centre, Causeway Bay, tel: [852] 2577-6617, www.facebook.com/) that has the edge on meats, service, and quality – with harbour views to boot.
Having strayed a tad from our original grunge route, it's worth making a note of clattering dim-sum heaven Din Tai Fung (G/F, 68 Yee Wo Street, Causeway Bay, tel: [852] 3160-8998, www.dintaifung.com.hk/) where, despite the all-day crush and queues, customers are fairly speedily processed, seated and served. Saunter back past Hysan Place, perhaps stopping at the fifth floor (shop 507) to gawp at stylish workingman Dr Martens boots (with up to 12 eye-holes) with their signature yellow-thread stitching and all-British appeal. Ladies will go nuts too over the more svelte items. Who needs shoes in brown when you can pick them in olive, blue, green, or even red?
From here it's back to Leighton Road heading west this time towards the flyover at Canal Street and the delightful aromatic Mother of Pizzas (13 Leighton Road, tel: [852] 2891-2221, www.motherofpizzas.com/).
The Rolls-Royce choice is clearly a Meat de Cavemen pizza with a heavenly crisp yet chewy crust all slathered with sweet San Marzano tomato puree, spiced beef, Parma ham, salami and red onion rings. It's HK$45 for a giant takeaway slice (that will feed one quite adequately) or $50 for the privilege of sitting indoors at a street-side table. The full 13-inch pizzas are around HK$228 with the 18-inch mega-feeders at $408 and up. This is Neapolitan pizza at its best – 48-hour rising dough cooked to perfection at 800 degrees Fahrenheit – with more than a hint of New York.
That done, head for a calorie-burning stroll around Happy Valley Racecourse. The entrance to the track is a couple of hundred yards from here on Wong Nei Chung Road. You won't get in free Wednesday nights though when the horses are running but you'll hear the crowds roar. You can cheat by popping into cool lounge bar adrenaline (Level 2 Pavilion Stand, Happy Valley Racecourse, happywednesday.hkjc.com/) with a ringside balcony, for HK$400 per person including one drink and nibbles.
Send us your Feedback / Letter to the Editor