BUSINESS TRAVEL
A bouquet of new brands: a Singapore business hotels review
The best Singapore beds for suits and family-friendly escapes amidst vertical gardens. New brands sprout in 2023 and some take a breather for facelifts. The green Pan Pacific Orchard arrives. Artyzen too. Plus some wallet-friendly capsule hotels.
updated November 2023
SEE ALSO Singapore guide | Singapore shopping | Singapore nightlife | Small meetings in Asia | Top Asian hotel reviews | Bangkok hotel guide | Hong Kong business hotels | Kuala Lumpur hotel guide | Tioman guide | Jakarta business hotels | Asian casino hotels | New Singapore eco-friendly hotels review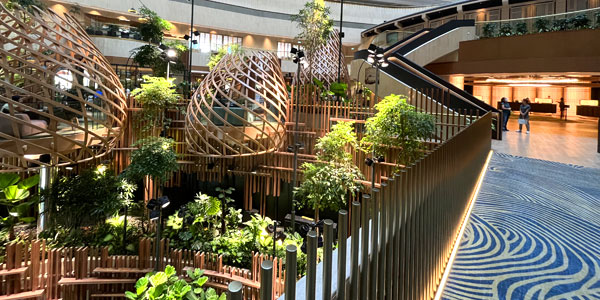 JUMP TO Business hotels at Orchard Road | North Bridge, Beach Road, Farrer, Fort Canning | Marina | Central, Duxton | Havelock Road | Sentosa island | Aiport hotels | Singapore boutique hotels | Budget hotels | Capsules | Hotel Contacts
IT'S HARD enough to catch a rush hour glimpse of that great endangered species of Singapore – the Lesser Spotted Taxi – but when you finally do, the driver is a walking (well, driving) encyclopaedia, utterly conversant with street food and the latest gossipy headlines. A tsunami of knowledge is then directed at you, the passenger, in a single nonstop sound bite starting as soon as the door clicks shut. Staying at the venerable Raffles? Fear ye not – you'll be knocking back a Singapore Sling in no time.
Caution: Other grand addresses have changed a bit. The Mandarin Orchard has morphed into the Hilton Singapore Orchard and the popular Regent re-emerges late December 2023 as the Conrad Singapore Orchard (www.hilton.com). And Marina Mandarin is now the reimagined birdsong-and-jungle conferencing extravaganza, the PARKROYAL COLLECTION Marina Bay (www.panpacific.com). More in our guide to new Singapore business hotels.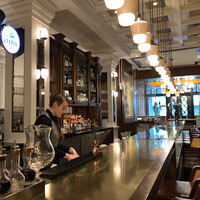 The Bar at 15 Stamford gleams with polished wood at The Capitol Kempinski/ photo: Vijay Verghese
While Covid had threatened to eliminate international travellers, domestic 'staycations' helped the industry to forge on with baseline survival. A slew of shiny new brands arrived in 2023, many of these self-described as sustainable greem eco-friendly hotels bursting with foliage and recycling initiatives. They are reviewed at length in our new Singapore green hotels guide and include both eco-friendly as well as lifestyle offerings like the Mondrian Singapore Duxton (ennismore.com); COMO Metropolitan Singapore (www.comohotels.com) off Orchard; voco Orchard Singapore (vocoorchard.sg) from IHG; The Singapore EDITION on Cuscaden (www.editionhotels.com), a 190-key minimalist ensemble from Marriott; the 142-room Hong Kong-owned Artyzen Cuscaden (www.artyzen.com) also on Cuscaden; Pullman Singapore Orchard with in-room fitness kits for the muscled set (www.pullmansingaporeorchard.com) and its sister Pullman High Street; the 'green lung' Pan Pacific Orchard (www.panpacific.com); and the 1,080-key grey-tone Hilton Singapore Orchard (formerly the Mandarin Orchard and now the group's largest hotel in Asia-Pacific, www.hilton.com). The Grand Hyatt Singapore returns later in 2024; the new-look Mandarin Oriental Singapore (www.mandarinoriental.com) is back, while the modern cubist 62 pool-villa Raffles Sentosa Resort & Spa is now due later in 2024.
There are projects still unfolding like the ACCOR Mondrian in the Duxton Hill area in June 2023, and Marriott's Autograph Collection launch with its takeover and renaming of the former Six Senses to Duxton Reserve Singapore. Fancy words and barf-inducing affectation perhaps, but do check it all out. This is a fine small hotel with a chequered history. Don't let the name put you off. Also wander into the more recent virginal white neoclassical The Capitol Kempinski Hotel Singapore for a visual treat. And on Sentosa the classical lines of the Le Meridien were taken over by Far East Hospitality to make way for the Oasia Resort Sentosa (www.fareasthospitality.com). More in our independent firsthand reviews below.
Booked into the entertainment-selfie-and-shopping hub Marina Bay Sands Resort? Prime the wallet and you'll be whisked off before you can say, "Can lah!" But mumble the name or local moniker of one of the city's trendy new boutique hotels, and you may get more than just a blank stare."Fort Canning Park only has a club, no hotel!" my driver argued. "No Capitol hotel...that is on Hill Street NOT Victoria... " And that was the cue to start waving my iPhone in his face, tapping my finger on the map. A tip: know your streets and landmarks. Instructions like "Behind Raffles Hotel" or "Near Maxwell Food Centre" will score points and make your taxi journey less painful as well as less expensive. And yes, the almost hidden entrance to The Capitol Kempinski Hotel Singapore (despite its 15 Stamford Street address) is via Hill Street (which comes right after Victoria Street).
Simplest solution, ask your hotel to book a cab. It's worth paying a little extra for the convenience. If the regular cabs (check taxi fares) are AWOL, try a Grab Taxi. One should arrive in minutes. Airport taxis are aplenty in all Terminals 1 to 4 (the newest to arrive late 2017 with space-age check-in counters and full body x-ray scans). Terminal 4 is the wondrously refashioned old budget airline terminal and what a transformation it is. The airlines segregated here, and not unwillingly, are Cathay Pacific, Cebu Pacific, AirAsia (for Philippines and Indonesia), Vietnam Airlines, VietJet and Korean Air. Singapore Airlines or SIA operates largely from T3 and T2. The jewel in the crown is literally, the much-photographed 3,000sq m Jewel (2019), with its striking glass architecture - a centrepiece of Changi Airport - and the eco-green naturally-lit Canopy Park and Changi Experience Studio with mazes, mirrors, an elaborate topiary, and offbeat dining options.

E-mail Page

Print

Hotel Contacts
You might think the most important difference between luxury and boutique is size and price; not so. The major trade-offs are ease of transport and service. That's when you miss those ever-smiling doormen at the larger business establishments, especially on a rainy day.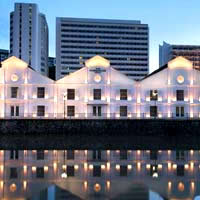 The Warehouse Hotel at Robertson Quay has 37 rooms with a wickedly engaging pedigree / photo: hotel
Hailing cabs may not be a doddle but boutiques have a smaller inventory, enabling staff to get familiar with your likes and quirks. It's called personalised service. Expect freebies with package rates – usually in the form of complimentary in-room WiFi or Broadband and, occasionally, minibar items on the house. There's also the lure of sampling the whimsical at reasonable rates. Think rooftop bathtubs, horsehair mattresses, suspended beds, neon blue rooms and lofts resembling spaceships. Why not stay in a fun hotel? More later in our Singapore boutique hotels review section.
Send us your Feedback / Letter to the Editor
At the higher end of the Singapore business hotels market there is a rich and expensive selection of properties. Opening their doors are the large IRs (Integrated Resorts) in the Marina area and Sentosa Island. A few thousand luxury rooms flooding the market in borderline recessionary times is a prospect to turn any hotelier's face sheet-white but business traveller cheeks are acquiring that warm accountant-friendly glow, if you know where to look. It's not easy to find cut-price deals. But try and pick a week devoid of room-filling conferences.
Executive hotels in the Orchard Road area
At over a hundred years old, the Goodwood Park Hotel, at 22 Scotts Road, is one of a clutch of hotels set around the Orchard Road area, the "Oxford Street" of Singapore. Other clusters are to the east, around the Marina Centre and Beach Road, and to the south, covering the central business district (CBD) and Chinatown. But on with our review of the venerable Goodwood Park Hotel.
Built in 1900 as the German Teutonia Club the estate became Goodwood Hall in 1918, graduating to Goodwood Park Hotel two years later. The hotel remained supremely unruffled despite a brief occupation by invading Japanese forces in 1941 and returned to its former owners in 1947, changing hands one last time in 1968. The Goodwood Park's original design, after a Rhineland castle, explains its distinctive centre tower. Nowhere else does it rise above three storeys. Despite the addition of a modern facade, the hotel still feels somewhere between a hill station club and a pukkah cricket pavilion – a perfect escape.
Guest rooms have small pane windows that you can open outwards. Standard rooms have a club armchair and footstool where you could imagine a great aunt sitting and fretting over where the syce had got to with the car. The rooms are big but the bathrooms are a more average fit.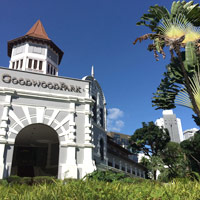 Colonial chic Goodwood Park/ photo: Vijay Verghese
Attached to the main building is the Mayfair Wing (built in 1970), with more contemporary suites that have undergone a major S$2 million renovation to return considerably spruced up mid 2013. The 77 rooms largely ring a courtyard with a central Balinese-style swimming pool. Expect eye-catching black-and-white photographs of old Singapore shophouses adorning the entire headboard wall, vivid crimson bed runners, empire chairs, pale-wood table, cabinets and trim, ergonomic chair for cranky backs, flatscreen television, and several thoughtfully arrayed plug sockets (three-pin square) for all your gadgets on the go.
The hotel's afternoon tea remains one of the city's favourites, especially with the Japanese. Along the corridor to the coffee shop, where American breakfast aromas waft, there is still an embedded Indian tailor. En route, in season, grab a green tea moon cake or some other alluring tidbit.
Just behind the Goodwood Park is The Elizabeth Hotel, a centrally located Singapore business hotel that is neat, contemporary, comfortable and economical, without excessive frills and flash. Plus, WiFi is complimentary. The Elizabeth is a short hop from Orchard Road and set just away from the bustle.
And right next door is The Quincy Hotel, an all-suite boutique hotel that runs like a normal hotel's club/executive floor; only this treatment extends to all 108 of its rooms. Staying here is akin to putting up at a stylish home of a good mate – comfortable, cosy but with that welcomed away-from-home feel. The all-inclusive rate covers complimentary Internet access anywhere in the hotel, full board meals and free-flow snacks and beverages at the in-house restaurant, airport transfers, laundry, and free use of the mini-bar in the room.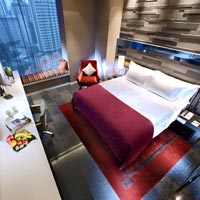 Quincy boutique style/ photo: hotel
There's a sense of fashionable neatness and space from its floor-to-ceiling glass lobby, door-less room wardrobes and quirky modern furniture. Rooms and bathrooms (separate bathtub and standing shower) are fairly spacious, with daybeds by the window adding a nice touch. The mini bar is well-stocked with munchies, beer, soda and local drinks. Room amenities include iron, safe, 42-inch flat screen TV and Molton Brown toiletries. Also explore the 24-hour gym, infinity pool and outdoor chill-out areas.
For something entirely different, farther up Scotts Road is the crisp doyen of Singapore business hotels, the Sheraton Towers Singapore, with 420 rooms, including 18 theme suites. Refurbishments in 2012 have brought rooms from classic to contemporary, with more tech-savvy touches and a modern colour scheme. Updates to the facade and driveway continue in 2013.
The place has long been a favourite among executive travellers and offers an arsenal of goodies to please the most hardboiled customer. The marble and glass Valhalla lobby is a good introduction to Singapore's penchant for cathedral entrances. Another feature, typical of local hotel architecture, is the highway-wide sweeping carpeted staircase down from the mezzanine floor.
Rooms have unusually large, marble-topped desks, media hubs, Brazilian Macassar Ebony wood furniture, plenty of plug points, adjustable Artemide reading lamps, bedside ambience controls, a top-opening safe, powerful hairdryers and a rain shower. Rooms have WiFi access, but it costs S$20 per day. Guests can order from a "pillow menu", even before their arrival.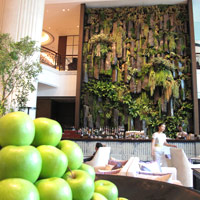 Shangri-La Singapore's new-look Tower Wing lobby/ photo: Vijay Verghese
The glass-sided coffee shop surrounded by a tropical garden with a rock waterfall is one of a kind. The Sheraton is only a brisk 15-minute walk from the Orchard Road epicentre. On sultry days take a cab. The Sheraton Towers is a sound Singapore business hotel choice.
Close by the ION Mall intersection on Orchard Road, Singapore gets another eye-catching lifestyle retreat for GenZ and Millennials in the form of the 142-key Artyzen Singapore (November 2023, www.artyzen.com), a stone's throw from the Singapore brand shopping action. All rooms feature breezy balconies and, wonder of wonders, ceiling fans for a local retro touch. Expect extra high ceilings and art and memorabilia recalling the gracious Strait settlements of yore. At the wellness area and gym the roof climbs up stratospherically to a regal 15m while you sweat it out far below. Atop this soaring edifice - once the family mansion of late philanthropist Tan Tock Seng - find a rooftop garden with a 25m cantilevered pool. The Artyzen Hospitality Group has lifestyle hotels in, among other places, Beijing, Shanghai and Macau.
With an envious location in secluded and leafy Orange Grove Road, sufficiently far from city hubbub but close enough for a civilized pootle to shopping malls and eateries by the mile, the Shangri-La Hotel, Singapore is a Muscle MICE hotel with a surprisingly delicate touch. While the revitalised Tower Wing (launched in 1971) sports an entirely new-look 2017 lobby with soaring columns, clean zen lines, cream furniture with black trim and a stunning basalt rock vertical garden behind the bar, the Garden Wing slows the tempo with its waterfalls and atrium rock garden to entice leisure trippers and families, while the reticent Valley Wing beckons top corporates with ornate luxe digs and the Baroque-style chandelier-dripping Stateroom for corporate meetings or CEO chinwags.
This is a vast property, constructed back in 1969, and it pays for that in its dated but spruced-up façade. The Tower Wing is bright and uncluttered with fabulously attentive staff leaping to assist all comers. Starting at 30-38sq m, the guest rooms in the 503-room Tower Wing were painfully modest until the 2017 unveiling of completely refurbished space that brings a contemporary mod feel to the place. The rooms are not lavish by any means, but extremely functional, set up in quirky angles, with the same compact but refreshingly neat bathrooms sans phone but with the addition of a rain shower and small tub. The rooms are in woody tones with pastel textures, dark wood floors and a soft tan carpet underneath the plump white bed. A long tapering wedge of timber with rough edges provides an interesting ledge mantlepiece below a large wall-mounted flat-screen television while the classic slimline leather-top desk is set at the bay windows with breathtaking views over the city. Find adequate stationery - the desk kit includes a scissor, stapler, pencils, useful jogging map, and broadband cable - a dataport with two three-pin plug sockets and two USB ports. Enjoy a Capino coffee machine and minibar Tiger Beer at S$13 or Coke at S$6.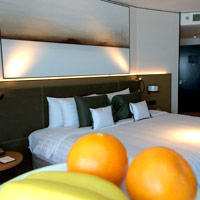 Tower Wing room at Shangri-La Singapore/ photo: Vijay Verghese
Large tactile room switches (including for the bay window curtains) are at either side of the bed as are pipe reading lights and three-pin electric sockets. The Master switch actually does banish all light unlike at many other hotels. And the individual lamps are independently operated giving guests greater control over the lighting. A standalone dresser table with its pull-up mirror with frame lighting and hairdryer will evoke oohs and aahs from many. Park on the accompanying tall slim perch and blast away. A nice touch this. Cream corridors with soft carpeting lead on past large dark-wood doors to the lift lobby.
The lush green lobby leaf cascade - remember Lost Horizon? - is by Hiroshi Sawada with an assist from an Australian designer and a Scottish stone mason. The basalt hovers moodily above the barman's head with its ferns and moss catching the natuural light spilling into the area. The decor creates a harmonious flow. Yes, feng shui. Better news for pinstripers is the free WiFi throughout the property. A minor niggle for some - occasioning a few grumbles - will be the lengthy breakfast queues especially at conference peak time at The Line (no pun intended). The ground level restaurant bursts at the seams mornings but some tables spill out facing the pool and greens, relieving the pressure. On the bright side, the live egg station here is the friendliest and the most efficient of any Singapore hotel and it is a pleasure to be served after dealing with the press of hurrying bodies. Get in early. Or late.
The Garden Wing underwent a S$66 million renovation in 2012, which infused new life into the tropical jungle atrium, 158 nature-inspired rooms, and meeting areas. The revamp also added a new dining concept, Waterfall Cafe, which serves up healthy Mediterranean dishes by the pool. Standard rooms start from 50sq m and feature scalloped balconies with views of the gardens or swimming pool. Meanwhile, the lavish 131sq m Premier Balcony Suites go all-out with outdoor Jacuzzis, private barbecue grills and front-row seats to 15 acres of tropical greenery. Valley Wing rooms hover in the 70sq m range making them among the largest in the city, not just at this hotel. Apres work swim in the large freeform pool, jog, stretch in the gardens, or swing out with tennis. Or get a massage or lavish wellness treatment at CHI the Spa.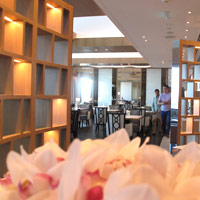 Shangri-La's new Horizon Club/ photo: Vijay Verghese
The new look Horizon Club Lounge on the 29th floor offers vast views in pale woody surrounds with gentle curved screens and flowers. If you want to swap the city location for the seaside, there's a sister hotel on Sentosa island, Shangri-La's five-star Rasa Sentosa Resort, Singapore.
The Orchard Hotel Singapore at 442 Orchard Road, is a two-wing, 656-room property with a buzz about it, particularly in the evenings when the lobby and Orchard Café are heaving, and seats at Hua Ting Restaurant are as rare as dragon's teeth (it's widely regarded as one of the best Chinese restaurants in town). Deluxe rooms have a feng shui window in the bathroom wall so you can watch the 32-inch LCD TV while you soak. There are spot reading lights on stalks, a laptop-sized safe with charger, and some rooms include a very supportive high-backed desk-chair – best to enquire if you are planning a lengthy business trip. Bathrooms are large, a recurring feature in many Singapore hotels and a relief to larger guests.
For a designer experience the hotel has four floors of opulently colourful club rooms. The most powerful design is the red-and-black with rich silks, dark rosewood, huge red drapes, framed window and black-tiled bathroom. The Executive Lounge is similarly appointed – think upmarket opium-den. Rooms in the Claymore wing have similar facilities and are fractionally larger, but the exterior looks a bit like a pharmaceutical firm and inside it's not as much fun.
The Conrad Singapore Orchard (formerly the Regent, conradsingaporeorchard.com.sg) returns with all 440 refitted 36sq m rooms in early 2024. Following its takeover of the property, the restaurants and bars and meetings spaces have been available since January 2023. The former Regent was one of those classic understated boy-next-door Singapore business hotels where things hummed along and serendipitous stuff happened without any stress or hoopla. It just glided along grandly like an old Rolls-Royce and was, understandably, a huge favourite with business travellers. Glass bubble lifts soared up the central column looking down the atrium to the elegant wraparound lobby.
At 36sq m the deluxe rooms were classic and perfectly comfortable, but a suite doubled the footprint. Unfortunately, for the less agile, bathrooms lacked walk-in showers, something we imagine the Conrad will rectify. The other need of the hour will be hairdryers that actually front a mirror or have longer cords to access the bathroom.
The good news for die-hards is that the darkly elegant Manhattan bar, the scrumptious Italian Basilico, lobby eatery Dolcetto and the Chinese cuisine Summer Palace live on.
Hotel Jen Tanglin new look Club Room (formerly Traders)/ photo: hotel
Close by, the businesslike and buzzing Hotel Jen Tanglin Singapore (rebranded October 2014 from Traders Hotel, Singapore), re-emerged in December 2015 with a breezy all-new look sporting bright colours, light and airy spaces. It remains a staple for on-the-go executive travellers, with brisk service, a central location, easy-to-catch taxis and interesting food outlets (try the jolly Ah Hoi's Kitchen poolside). Jen's Kitchen on the Go, an all day Cafe is a tarted up eatery for larger numbers and supports local start-ups who may have their products on display. WiFi is now free. Hurrah. All 565 rooms have been refurbished, dropping the dark woody interiors in favour of cream pastels, flashes of yellow, striped windowside divans, and contemporary decor with cutaway bathrooms. This makes a welcome change and helps visually stretch the otherwise compact space. Compact 25sq m rooms feature an LCD TV, dataport, not-quite-laptop-size safe, and a handy iron and ironing board combo. Hotel Jen has a well-equipped business centre, a health club, spa, and the friendly Rumpoles bar. Pick a neat 50sq m Suite for more stretch space.
Sister property Hotel Jen Orchard Gateway (2014, near Somerset) serves up free WiFi, 27sq m rooms in light pastels, a 24-hour fitness centre and a rooftop wading pool.
Just around the corner from here, at one quiet end of Orchard Road, the gleaming St Regis Hotel, Singapore impresses with an expansive marble lobby and private art collection, including several of Fernando Botero's voluptuous sculptures – the plump reclining nude by the front entrance has a bottom to rival J-Lo's.
The 299-room Singapore luxury hotel also features a 600 capacity John Jacob Ballroom with skylights, as well as air-conditioned tennis courts and a plush Remede Spa, which elicits oohs and ahs from Singaporeans familiar with its delights – expect aquariums, ice fountains, marble beds and cedar wood. Try a warm jade stone massage, an olive and eucalyptus black soap body scrub, or a steamy Vichy shower.
While the exterior is the sort of reflective glass façade ubiquitous in Asia these days, inside you will find luxury and technology artfully combined. The St Regis is unashamedly plush (find a free-standing dive-in bathtub in several rooms) and hi-tech – large bedside button pads control everything from "cosy" lighting to drawing the curtains. This can get fiddly. Get it figured out right away. The preset button light configurations run from cosy, and dim "movie" to "reading", the brightest arrangement. WiFi costs S$20 per day for up to three devices, and S$28 daily for up to eight devices.
Expect hand-painted chinoiserie silk wallpaper, Jim Thompson silk throw pillows, a 42-inch flat-screen TV, a smaller one in the bathroom, twin vanities, massage jets in-shower, generous from-the-spa toiletries, a well thought out work desk with multi-pin sockets, Bose sound system and a 24-hour butler for all your tea, coffee and bath-drawing needs. Butlers are handy but an in-room tea-making facility would be welcome.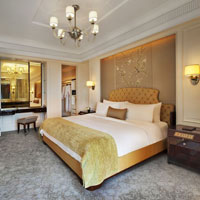 St Regis room/ photo: hotel
Rooms are spacious and movie-set spoiling. If all this is not enough, hop into a Bentley for a whisper-smooth airport transfer. The hotel offers subtle textures, muted yet rich décor, blown-glass, deep carpets, and inlaid marble floors. Finely veined marble lines the lift walls and a velvet seat is on hand for those who simply hate to stand. After hours, walk through towering silver doors into the clubby Astor Bar and unwind on a red leather chair.
The St Regis is plush, without overstatement, gracious without bluster, almost Zen in its quiet detachment. Adjacent to the development are the St Regis Residences. If you're trawling for Singapore business hotels that offer style, luxury, service and location, this is one for your diary.
Amble farther down the road and you'll come to the 388-room Orchard Rendezvous Hotel (formerly Orchard Parade). Rooms are decked out Mediterranean-style and the homey decor gives the place a cosy feel. Lovers of shoes and bags will find temptation right next door in Forum The Shopping Mall and its many swish boutiques.
The Four Seasons Hotel Singapore entrance is an early 19th century reception suite with art deco embellishments, Egyptian pillars, William IV armchairs, low, barrelled ceilings, shutters, black lampshades and a reception desk in twilight. Asian artwork scattered throughout adds to the ambience. It is one of those class acts where nothing totally matches but everything is in place. There's an intimate, boutique feel to this 255-room hotel.
A side lobby living room that once offered sumptuous cream furnishings for deep seated recline and business chats has been sealed from inside, converting in 2019 to an event space with access from outside.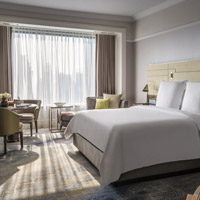 Four Seasons breezy Boulevard Room/ photo: hotel
The lobby and bar area has been revamped with the popular One-Ninety Bar extending further into a breezy alcove and One-Ninety Restaurant presenting brightly-lit pressed flower glass panels. Classy and bright. The souvenir shop continues briskly as ever and can still rustle up a bed, yes a Four Seasons bed, for around S$5,000 or more.
New look Deluxe rooms (returning refreshed summer 2018) are a spacious 49sq m and the early Victorian feel has fast-forwarded to cream contemporary with clean lines and minimalism infused with a Botanical Gardens theme and sprinklings of Peranakan porcelain. The corridors serve up pale blue carpets and lead to large white wooden doors. The plump beds are hugely inviting atop a powder blue rug with pale gold headboards and, in a Boulevard Room, two three-pin multiplug sockets either side of the pillows. Beds are custom-made – and for sale. Visit the gift shop. That's right. The firmness can be adjusted too. Simply ask.
Expect a grey divan by the window, a round table for casual work or dining, two more three-pin sockets, BOSE sound, white louvred cupboards with an iron and ironing board and a laptop-friendly safe. A large hairdryer accompanies the dresser table with its tall mirror. The marbled bathroom serves up a soaking tub as well as a rain shower, weighing scale, bidet, twin vanities, a classic clock and L'Occitane toiletries.
Eggshell walls and light drapes combine to make the room bright and welcoming. Later, get your caffeine hit courtesy a Lavazza coffee machine or dip into the minibar for a Tiger Beer (a reasonable S$15) or soft drink (S$8).
The 2019 room muscle includes four all new residential theme suites - the Royal Suite (1,668sq ft), the Governor Suite, the Ambassador Suite, and the humungous Presidential Suite (2,142sq ft) with its black-and-white theme.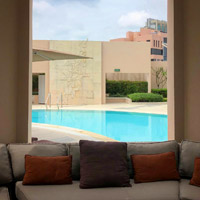 Four Seasons rooftop pool/ photo: Vijay Verghese
The roof hosts a breezy refreshed small pool with open views, sleek chocolate sun chairs and two function rooms - one in pale wood and the other in blonde hues. The Four Seasons is a good Singapore small corporate meetings choice but can handle larger events quite comfortably too with a total 1,500sq m of function space and a ballroom for up to 450 guests.
Four Seasons is connected by an internal walkway to the Orchard Road Hilton Singapore, a long-time landmark and refuge on this artery of commerce and shopper abandon. The hotel has had smart makeover design touches with new lighting, fast Broadband, and a sleek new room look. The feel is very contemporary and brisk. Large 37-inch flat-screen TVs and MP3 docks have made their way in-room facing plump white beds. The Hilton offers, marbled bathrooms, soft mood lighting, silk touches with plenty of blonde wood features and, in Executive rooms, the luxury of stitched leather headboards. Toiletries are from Crabtree & Evelyn, and WiFi costs S$26.75 per day for up to four devices.
The small remodelled rooftop pool offers city views and a touch of breeze. Hilton is a crisp and convenient Singapore business hotel choice with upgraded small meetings features. It is very accessible and right in the heart of shopping mania. The lobby is more hip than in days of yore, with a polished gleam and a succession of brand name shop windows. Checkers Brasserie offers a range of aromatic buffets for the fast pin-stripe set or those exercising their palates at a more leisurely pace. Best of all, in-room look for the idiot-proof "Hilton Alarm Clock".
Orchard Road's junction with Scotts Road is where Singapore is at its most crowded and brassy. In a 30-floor pagoda above the MRT station stands the green-hat landmark Singapore Marriott Tang Plaza Hotel, with 393 rooms directly on top of the MRT station and its foundations in at least four shopping centres. No other hotel is so melded into the town around it. Its Crossroads Cafe is a populated pavement eatery stretching back indoors seemingly the length of a football pitch.
Remodelled in 2012, Deluxe Rooms feature several plug points, a chaise longue, and a small square table instead of a desk. Though quite small, the work table is equipped with high-speed computer connections and all the plugs, bells and whistles. Décor is quietly contemporary; there is a king-sized bed, safe, 46-inch HDTV, two 1956 Eames desk chairs, walk-in rain shower, tea and coffee facilities and, like practically every other standard hotel room in town, an iron and board.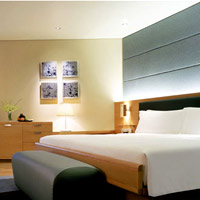 Grand Hyatt Grand Room/ photo: hotel
There is also an executive room version. The pool terrace on the fifth floor has been redone. There's an alfresco grill restaurant up there and nine cabana-style Pool Terrace Rooms leading to the pool, as well as a luxury suite with see-through bathroom wall for honeymooners.
Next door, at 10 Scotts Road, is the 662-room Grand Hyatt Singapore. It has been closed for a massive overhaul and new look and returns in 2024.
More on the earlier Grand Hyatt Singapore: Though flanked by shopping malls, all that disappears once you're through the door. Albeit a tad stark and empty, reception is calm, with a low ceiling, black marble, slate, thick wooden columns, rocks and water. The wall of the passage connecting the Grand Wing with its street scene views and the Garden Wing with its pool view is one long waterfall.
The 54sq m Deluxe Rooms have sitting and working areas with Bang & Olufsen flat-screen TV, Blu-Ray player, and retro wood panelling. There is a walk-in shower inside what is a huge bathroom for its class, plus June Jacobs toiletries. Guests with bad backs will appreciate the eye-level mini-bar.
For slightly more, the Club Room has a 42-inch plasma TV, and a double-sided closet between bed and bathroom to help out roommates who are shy about undressing in front of one another. The 24-hour technology concierge is on hand to assist with "connectivity related challenges". WiFi is pricey here, at S$25 per day, plus seven percent tax. The Grand Hyatt pulls in a decent crowd to its swish mezza9 dining spread and offers the quiet and cosy Scotts lounge for a work warm-up or postprandial whispers. Later, tap your feet at swinging basement dance bar BRIX. The Grand Hyatt does well on our Singapore business hotels review with crisp service and attention to detail.
The mezzanine-level meeting rooms underwent a complete revamp in 2012, revealing high ceilings and open layouts. Warm woods and comfy seating lend a more residential feel. It's a versatile, stylish and unique look. The second and third floor meeting rooms also see big changes through 2013, an industrious endeavour that is occasionally heard in the lobby.
Dead opposite the Grand Hyatt is the 511-room Royal Plaza on Scotts, a rather large, busy hotel with an über swank lobby that perhaps strains to make an impression. Entirely smoke-free, Royal Plaza offers up standard 32sq m rooms at deluxe and club levels. Each roof comes with free minibar beverages, local calls and an in-room Nespresso machine. The "Heat Ultralounge" bar reflects the hotel's modern bent, which filters through to the rooms in the form of ergonomic chairs and free Broadband and WiFi. Rooms are clean but uninspiring, a decent business choice, one step down from the more luxurious hotels five-stars in this list.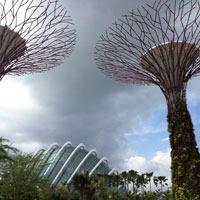 Gardens by the Bay/ photo: Kate Springer
Taking up a prime spot next to the upscale Paragon mall, is Grand Park Orchard, the flagship property of the Park Hotel Group. Formerly the Crown Prince Hotel, its futuristic steel and glass herringbone façade and accompanying flashy media wall make it stand out from its more subdued neighbours. There are 308 rooms and the lobby is on the fourth level, together with the gym, pool, bars and restaurant. Rooms are functional but chic – expect smart, modern interiors and a beautiful woman for company. On the wall, that is. Striking shots of a nymph-like model in dramatic poses greet guests from the walls.
Amenities include worktable, iPod dock, flat-screen TV, safe, ironing board, coffee and tea facilities and shower. The business centre and club rooms offers free WiFi, and annexed to the property is Knightsbridge, a four-storey shopping centre hosting international brands like Topshop and Tommy Hilfiger.
The rebranded Singapore Orchard City Centre (still within IHG and formerly the Holiday Inn Singapore Park View) is a quiet, sedate, often overlooked, property that nevertheless offers a central location at 11 Cavenagh Road not far off Orchard Road, walking distance from the thrum of shops and restaurants. There are 311 smart rooms and 28 suites. Demanding executive travellers can opt for the Executive Club. For lip-smacking good Indian food there are few better spots than their curry haunt. A second Holiday Inn, Atrium Singapore, is at 317 Outram Road.
Green lung on Orchard
To stand out amidst Lion City's eye-popping wall-to-wall green would be a triumph of architecural ingenuity. Yet, at one end of the Orchard strip, on the unassuming Claymore Road, the newly launched
Pan Pacific Orchard Singapore
(
www.panpacific.com/
) is turning heads in no uncertain manner.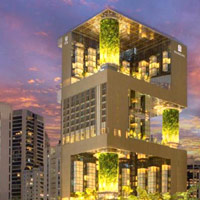 The green Pan Pacific Orchard Singapore / photo: hotel
The hotel, which is visually striking with four remarkable high-ceiling open terraces swaddled in foliage, says greenery covers a whopping 14,000sq m and "occupies over 200% of its land area." This was the site of the former Meritus Negara, a popular mid-range brand that regular business travellers to Singapore will recall, and it has been completely reimagined.
The new 23-storey 347-key Pan Pacific Orchard, which arrived 1 June 2023, features numerous energy savers like rainwater harvesting, solar power, and bio-waste treatment that have earned it a BCA Green Mark Platinum certification. This welcome accolade from Singapore's Building Certification Authority is a bold green underline for a hotel that's well worth exploring for its great location, luxe stays, or small events in the 600sq m Claymore Ballroom. Expect sleep aids, pillow menus, yoga, and local artisinal products and workshops. A perfect bolthole for those suffering acute carbon credit guilt.
Oasia Hotel Novena (opened April 2011) offers a new club floor and lounge, and a 24-hour pool. It is located in a quieter residential area to the north of the Orchard scrum in the Novena District. The contemporary rooms, some with timber headboards, offer 40-inch flatscreen televisions, iPod docks, hairdryers, ironing stations, minibars and in-room safes, as well as rain showers.
Also in Novena but a little out of the way is The Forest by Wangz (under D'Hotel Singapore by Ascott), sister to boutique Wangz Hotel in Tiong Bahru. Located a five-minute walk from Novena MRT Station, this bright and airy complex is a standout serviced property, with memorable architecture, bold furniture, and nature-inspired artwork.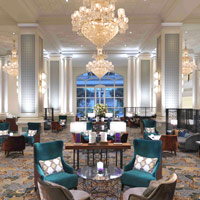 InterCon new look lobby June 2016/ photo: hotel
Useful for long stay guests, a Studio apartment is 25sq m 270sq ft, one-bedroom Deluxe gets 34sq m and the one-bedroom Premier offers a roomy 43sq m with an eight square metre balcony. One-bedroom apartments come with private balconies, and all feature a kitchenette, bright artwork and sleek décor with a woody theme. The Forest offers guests free WiFi, local calls, daily breakfast and parking. Drop by the fitness centre, relax at the residents' lounge and roof deck, or take a dip in the infinity pool. Stays must be seven nights or more.
Some distance southwest of Orchard and Tanglin en route to Vivo City and Sentosa is the new Park Hotel Alexandra (opened early 2015), a four-star getaway with 442 rooms in a 13-storey hotel paired with the Alexandra Central mall. Expect a breezy 25m infinity outdoor pool, a pool bar, and all-day dining.
North Bridge, Beach Rd, Fort Canning, Farrer
To the east of Orchard, North Bridge and Beach Roads running down to the Padang, are more traditional parts of town and some of the hotels there reflect this. At the InterContinental Singapore at Bugis Junction, you pass through an old-fashioned courtyard and enter the off-white marble lobby with black-and-white tile floors through French windows. The mix is classical-colonial and local. This charming and gracefully ageing hotel went through a major overhaul to return by mid-2016 with a freshly laundered look, losing none of its contemporary 'heritage' appeal. The Lounge serves up its signature soaring white pillars, a vast sense of space welcoming of light, an inlaid ceiling and arrays of striking - yet understated - chandeliers. The seating is well spread out, inviting private discussion, on blue-green and rust-brown chairs punctuating the intricately patterned carpet. And, everywhere, are old vases, porcelain displays and old wooden almirahs creaking with mystery. More of this in the chic old-world Club Lounge, an airy and roomy enclave with work stations and well spread out seating areas.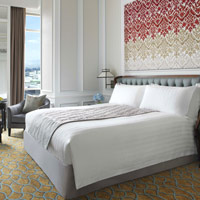 InterCon Executive Suite with a facelift June 2016/ photo: hotel
A row of Chinese shophouses were earlier converted to "Shophouse Rooms". The ethnic 1920s concept is supported by typical Straits Chinese Peranakan décor – mixed, unavoidably, with hip shopping in the street below. Shophouse rooms with cool timber floors are accessed from the mezzanine level and require a bit more of a trek than Tower block digs.
The dark wood floors are original, complete with scrapes and vestiges of the past, giving the rooms a lived-in feel. Look forward to a large LCD television screen, flat laptop safe, BOSE sound, a decent-size working desk, a dataport array with a single multi-pin plug, and complimentary internet.
The muted decor is in pastel tones and beige with a mix dark furniture and artefacts that vary from room to room. There is a comfy sofa with deep cushions to sink into and a blazing all-white bathroom with two basins, excellent light for shaving or makeup, a bathtub and a separate shower.
The new Business Rooms are sizeable, with white surrounds set off by pale mustard carpets, pastel linen and pearly hues. Traditional textile weaves adorn the headwall. Expect plenty of lamps to provide pools of light - rather like at a home - while natural light streams in abundantly through the tall windows. A large wooden desk is set up for corporate travellers and a small settee is set to one side. An Executive Suite splashes a bit more crimson on the textured headwall display with floral puffs at either side of the plump bed. Paintings and tall mirrors cleverly expand the visual space while keeping things homey. The hotel staff is attentive and efficient and you will always feel well served as a pin-striped suit or a weekend leisure tripper.
Not far from Bugis and Masjid Sultan on Fraser Street is the newish 342-room Andaz Singapore (end 2017), a lifestyle offering in a livelier part of town with plenty of local flavour (as the brand prefers). Bright and airy rooms with open views start at 38sq m with textured wood floors, pale wood walls, cream divans, and yellow doors for some pop. A pale patterned carpet is placed under the beds so no feet on cold floors middle of the night.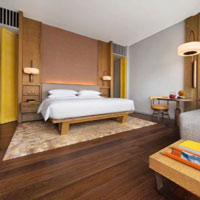 Andaz Singapore King Room/ photo: hotel
Suites run from 76sq m and the Andaz Lounge serves up refreshments 5pm to 7pm for suites and leisure trippers. Designed by Andre Fu, the suites would be our pick at this functional, brisk, and pleasing property.
Around the corner from the InterContinental and down Albert Street is the Village Hotel Albert Court, set around a courtyard, in shophouse style and with a Peranakan ambience. The rooms have all mod cons, including free WiFi, and there is a range of meeting rooms (good for small and medium-sized events) and packages on offer. The hotel is smart and the rooms simple and cosy. The convenient location and atmospheric grounds also make the hotel substantially appealing to leisure travellers.
Not far from here is Singapore's colonial legend, Raffles Hotel Singapore, a blazing white crisply laundered colonial confection dating back to 1887 when it began its starched service as a 10-room bungalow, a far cry from the brightly lit muscle haunt of today with its shopping cloisters that hark back to a more recent vintage. The hotel was closed between 1989 and 1991 for a complete renovation that brought shopping extensions and vast clouds of chandeliers and then again went under the designer's scalpel in February 2017 to return 1 August 2019 in all its refurbished finery. Unsurprisingly, this retreat is listed as a 'must-see' in all guidebooks though it takes great pains to keep residential areas exclusively for in-house guests, so pootle about with care.
Don't try and get in through the shopping arcade. Walk around to Beach Road, crunch over the civilised gravel to the front door and into the front hall. A photo with the grinning turbaned doorman is pretty much obligatory. The hotel comprises the original Sarkies brothers' block (the four Armenian Sarkie brothers were the founders of the hotel), two storeys of suites round a central court, and two later wings at each side with rooms leading onto cloisters and grass. The residents-only pool, gym and spa are on the roof.
Raffles laundered foreground with Fairmont, and taller Swissotel/ photo: Vijay Verghese
Although traditionalists complained, the original suites were in fact restored to their original 1915 proportions, meaning that false ceilings were removed and went back up to 14 feet. The Grand Hotel Suites average out at 150sq m, with master bedroom, a second bedroom, sitting room, study, pantry, 24-hour butler, big brassy light switches, service bells and a huge balcony looking onto nothing very much. Refined Palm Court Suites on the other look onto, well, a charming palm court, and serve up a spacious 70sq m of elegant space with gleaming dark wood floors, white walls with louvred doors and navy blue sofas. Studio Suites (the most fiscally prudent choice) weigh in at a relatively modest 46sq m, Personality Suits celebrate the lives and styles of famous guests while the top drawer Presidential Suites offer 260sq m of private rumpus room.
Seditiously scatter peanut shells at the Long Bar, sip a trademark Singapore Sling, sample BBR by Alain Ducasse, Butcher's Block steakhouse, the Chinese Yi, or enjoy the North Indian curry buffet at the Tiffin Room. No, you don't need a farthingale these days.
Fairmont Singapore (formerly Raffles The Plaza) around the corner is quite a different hotel. Joined at the hip to the Swissotel The Stamford Singapore next door, the Fairmont Singapore is a circular building with 769 rooms and a lobby of redwood fascias and quadrilateral shapes. The 70,000sq ft of meeting and conferencing space and 15 restaurants promise to keep you busy whatever the weather in Singapore. Deluxe Rooms are 39sq m with mini-bar, private balcony, BOSE sound system, fully equipped desk, safe, iron and board and coffee facilities. Plush extras are mattresses constructed from ten layers of goose feathers, a large bathtub and a wide-spray "tropical rain shower". Just when you thought you were being treated like a prince, the S$28 daily Internet access charge brings you back down to earth. This is a well located business hotel and the street side Prego is just place for a sunny, upbeat contract-closing chat over light pasta.
Swissôtel The Stamford Singapore lives right on top of Raffles City shopping mall and City Hall MRT station. It is a tall 60-floor cylinder and since the rooms don't start until the seventh, everybody gets a view of some sort. Of the 1,261 rooms, 845 are Classic Rooms, 255 Classic Harbour View Rooms and 44 are Grand Rooms, all with private balconies and the usual Internet, in-room tea and coffee, hairdryer, safe and iron.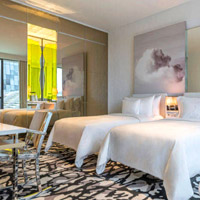 JW Marriott rooms are fresh and well designed/ photo: hotel
While a few extra dollars get you a harbour view and the possibility of an even higher floor, ride up to Equinox Restaurant to gawk at the view. Varied cuisine and limitless views unless Indonesia has spontaneously combusted again and the haze rolls in. Both the Fairmont and Swissotel offer a spa facility.
Right across from the venerable Raffles is the 654-room Philippe Starck designed luxe digs, The South Beach, which rebranded as the JW Marriott Singapore Hotel South Beach (December 2016). From the arrival past the lofty ripple sail canopy into the suddenly hushed and dimly-lit lobby that runs in a long catwalk of ethnic designs, this is a pleasantly hallucinogenic mix of pop-art video walls (minus Led Zeppelin's Stairway to Heaven or a screaming Hendrix crescendo - the music here is reassuringly chill-out), art, texture, and zany design. JW has left much of the whimsy intact but created a two section check-in with a second group entry at the rear of the hotel, allowing breathing space in the main lobby for leisure trippers and corporates. WiFi of course, remains free.
A lot more solid than Mr Starck's other boutique works, the place has a reassuring solidity to it with lots of stretch space, intriguing eye candy, and comfortable furniture. No bump and grind rickety chairs here (though you will spot those signature aluminium perches and communal long bars) or knee-banging tables set at that awkward height to trip limber lads and provoke a choice phrase or two. This is boutique luxury lifestyle at its best, always intimate, always personal, yet with elbow room galore. Wander into the lobby, watch it unfurl, and funkily-clad staff will sally forth to perform check-ins on the hoof as you take in a visual feast of rugs, filigree harem lamps, red lacquer chests, lambskin throws, textured cushions, sink-in cream sofas and an assortment of chandeliers all leading you towards that beckoning vanishing point where Singapore disappears and fantasy begins.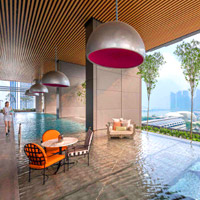 Philippe Starck's designs live on at the rebranded JW Marriott Hotel Singapore South Beach (Dec 2016)/ photo: hotel
Forget chichi wall-to-wall Italian marble. The JW South Beach offers stark (no pun intended) hushed high-ceiling interiors in crudely polished grey concrete that lends the place a friendly unfinished feel akin to that of a modern museum or a hip advertising agency. Those who know that feeling will at once be at home while those who don't, will get used to it faster than they think. 
The mood-lit lifts with their underwater theme depict intricate octopus and marine poses all daubed in electric blue or magenta. As you enter the accommodation floors, the feel turns magically plush with deep carpeting underfoot in pale grey with striped beige walls. A 41sq m room is in virginal white, the bed screaming to be rumpled, atop a black scribble carpet. If this is a women's floor (there were three in the building), expect peach trim on the quilt and pillowcases, a teddy bear to ward off stalkers, a white desk with three three-pin multi-plug sockets (one may be in use already), sockets on either side of the bed, a flat-screen television that does in-room menu orders too, cream leather divan, pastel art - perhaps a tuft of lost cloud - ladies slippers, and small lampshades. Expect a deep soaking tub with special toiletries, a rain shower with a sensible stool to park on during the rejuvenating downpour, plenty of light, pedicure implements, steamers, pink hangers - and free WiFi. Irons are upon request.
A tad larger room does the same act in style with a valet box near the entrance for whisper-smooth laundry takeaways and returns. Move up in space and style through various room choices to the penthouse suite with its bursts of colour, huge vistas, and silver wooden tables hewn out of tree trunks. JW Marriott has added useful stuff like more dresser space for ladies and a vanity table. Flow18, as the name suggests, on the 18th floor is a wraparound verandah play and relax area with an infinity pool, small bites, a bar, lounge areas, a pool table, a chrome table tennis table, and immense vistas that offer a unique perspective on the heart of downtown that includes a corner of the F1 night race track, albeit from a modest height.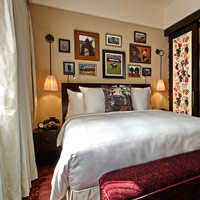 TRibute Portfolio's Vagabond/ photo: hotel
This is the place for the in crowd, the cognoscenti, who have perhaps fled the Marina Bay Sands tourist-packed sky pool. On the 6th floor is another open and green 'breathing' space, Ebb6 Sky Garden, while on the ground and lower floors you'll find the Court Martial Bar, a redesigned gastropub, and the lobby-lounge bar. Also expect Akira for Japanese, the Tonic gin bar, and the Media Bar.
For Muscle MICE in style the hotel offers 19 corporate meeting spaces and a ballroom for 500 (cocktail style) or 370 (banquet) in a laundered-white colonial heritage block next door. The South Beach development integrates an office tower, 190 residences, the hotel, and a club ( a rework of the Non-Commissioned Officers' club).
This is a Singapore luxury and lifestyle hotel to watch as it gets into its stride. It is unique - engaging, with attentive staff on rails. Mark it down in your diary. The entrance is from Nicoll Highway. While the hotel is somewhat marooned within its own island enclosed by major arterial roads - there is no fast walk out to food stalls and city bric-a-brac - it is connected by an air bridge to Suntec City where fun shopping, food, and immense conference venues are to be found. And it is right across the road from Raffles. This is, in any event, a mini-destination to be savoured.
Walking distance from Little India is the Tribute Portfolio's The Vagabond Club Singapore, designed by Jacques Garcia, and a feather in the cap of Garcha Hotels. Vagabond is now part of Marriott Bonvoy so pick up your points here. It serves up whimsy, art and style with flashes of crimson red sofas, chrome artefacts - trees and rhinos - and 41 rooms and suites, some with outdoor terraces and throw-open louvred windows, again in signature rust. Expect timber floors, large white beds, dark wood furniture, art displays, 47-inch LED televisions, 400-thread-count Egyptian cotton sheets, and bright red folding screens to add a dash of China chic to the mix.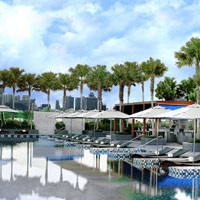 One Farrer's breezy pool/ photo: hotel
Women can enjoy "in-room blows" with a "Lady Boss Private Blow" starting at S$98 for an in-room hair-do with a glass of champagne, or opt for a "Lady Boss Beauty & Blow" at S$198 for in-room hair with make-up and, of course, a glass of champagne. There is a 24-hour gym. Find just enough wall-mounted photograph clutter to add a homey touch to things.
Close to the end of Serangoon Road is the newer One Farrer Hotel (next to the Farrer Park Hospital to which it is connected as a medicial tourism convenience). You might miss the recessed entrance, mistaking it for a car park. Rooms are modern, comfy (some are lofts), with handicapped traveller toilets. There's key card access in the lifts, a spa, decent fitness area, nice alfresco pool. modern art eferywhere, and conference facilities. Just across the road is the modern Park Hotel Farrer Park that also offers a few loft rooms.
Grand Park City Hall (the former Park Royal) on Coleman Street is as old world as its sister property Grand Park Orchard is fashion-forward. Encompassing some restored, century-old shophouses and marked as a heritage building, the quaint 336-room property is surprisingly bright and airy – thanks to a retractable sun roof that bathes the lobby with cheery, natural light. Refurbished rooms are less old-fashioned but the dark colour combinations feel a bit dreary.
Rooms are neat, with all the usual amenities including a 32-inch flatscreen TV, safe, hairdryer and mini-bar. There is a small pool, gym, and spa. Don't miss Park Palace for its delectable Cantonese cuisine. The plus point of this hotel is the super little courtyard that runs through the middle of the building – a perfect spot for a cup of tea and scones. Its location is also convenient with Raffles City Shopping Centre and City Hall MRT station just a short hop away.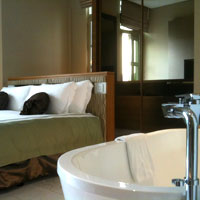 Swish Fort Canning room/ photo: Vijay Verghese
Another Singapore heritage hotel with serious pedigree is the Hotel Fort Canning, which opened 1 November, 2010. Constructed in 1926 for the British Far East Command, it was later occupied by the Japanese, then the British again, and then the Singapore Armed Forces. The whole property is a lovely blend of history and modernity, and set in a lush park. Camouflage jackets are out and now just camera-toting travellers stroll – rather than march – around the Thann Sanctuary and Spa, past the two pools (a landscaped pool for sunbathers and a 25m lap pool for swimmers) enjoying the photo angles. The exteriors are quietly understated while the interiors offer stylish counterpoint. While waiting to check-in, guests can dig into free drinks and snacks and enjoy complimentary WiFi at the swanky lounge, separated from the reception by mod lattice screens.
You should literally watch your step as you wheel your luggage through the lobby – 14th and 19th century artefacts from archaeological digs in Fort Canning Park itself, are proudly displayed under glass panels on the floor. Rooms serve up mod-cons such as large flatscreen TVs, wireless keyboards, iPod docks, Nespresso machines and free high-speed WiFi.
Premium rooms and above offer complimentary Internet. The 28.7sq m Deluxe Rooms on the ground floor offer an open-plan room with a bathtub right next to the bed and a patio to catch the sun. The work desk is slim but the laptop safe is BIG. The 42sq m Premium Rooms serve up a parquet floor with sink-in leather chair and a huge bathroom, perhaps with views of the park. The 50sq m Premier Luxe takes things up a notch with a small foyer (with TV), marble floors, and an outdoor balcony.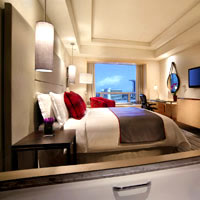 Carlton New Wing Premier/ photo: hotel
Fort Canning is a handy Singapore conference hotels choice as well with several function rooms for corporate meetings and the Legends Ballroom accommodating up to 500. Complimentary shuttles to Shenton Way, nearby MRT stations and Orchard Road are also available.
In this vicinity not far from the venerable Raffles is an establishment that has long served the harried business traveller with quiet aplomb and corporate discretion, the 915-room Carlton Hotel. The location is close enough for a dive into Orchard as well as a stroll up to the art museum or Raffles City for a spot of shopping. The hotel re-emerged in mid-2010 after a substantial refurbishment that ushered in a minimalist, clean, bright, white marble lobby (a change from the conservative woody hues of yore) and a soaring glass-and-chrome porte-cochere. Walk in to space, light, and the friendly street facing Gravity Bar. Rooms in the tower wing are contemporary with pale pinewood doors. Flop on a comfy Sealy mattress, work from an ergonomic Herman Miller chair off a glass-top table that can be rolled about to suit your convenience. Park on the bay window "divan" and pull the desk across.
The rooms are largely in powder grey pastels offset by deep maroon cushions and red velvet chairs. Find WiFi for a fee, two multi-pin sockets, a generously proportioned flat-screen TV, a laptop-friendly safe, hairdryer, iron and ironing board, and an excellent tub in a large glassed section with a HUGE rain shower for that post-contract whoopee dance.
Higher road-facing new wing floors look over Raffles hotel with open views all around. The Carlton offers a swimming pool, a spa, and its trademark Premier Club Lounge. This is a safe business hotel for pin-stripers on the go. Also look at the newer Carlton City Hotel across town on the other side of the business zone in Tanjong Pagar. This is a contemporary construct with smart rooms that will appeal to business travellers.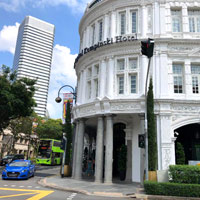 Capitol Kempinski in colonial laundered white/ photo: Vijay Verghese
Smack in the heart of downtown at 15 Stamford Road (with a discrete entrance on Hill Street) within a short stroll of the Singapore Art Museum, the National Gallery, the atmospheric Chijmes restaurant complex, and St Andrew's Cathedral, is the refined classic colonial confection of The Capitol Kempinski Hotel Singapore (1 Oct 2018), a laundered white luxury escape with sibling appeal in the form of the Capitol Theatre and adjacent shopping and dining. This was the former Patina that did not get off the ground. Pick from 157 rooms in two restored buildings that comprise the hotel - the Capitol Building, and Stamford House. The Capitol Wing's Deluxe rooms start at 45sq m with complimentary WiFi, laptop-friendly safe, dark woody furniture, flatscreen TV and pillow menu. It is a clean, minimalist look in a neoclassical style.
The Stamford Wing serves up a small dark-wood balustraded atrium with natural light spilling in through a skylight on the beige speckled carpeting and cream plaster. Enter a 45sq m Grand Deluxe (which might set you back just a trifling S$650) into a creamy marble foyer with the bathing and dressing area on either side. Think soaking tub (with LCD TV screen), rain shower, pressure jet, Ferragamo toiletries, twin vanities for him and her, weighing scales, and a polite rear-up Japanese potty to do your most intimate bidding. The bedroom features rich wooden flooring, a roomy 3.6m-high ceiling, a large mahogany desk with two three-pin multi-plug sockets, a hairdryer and a pull-out vanity mirror with lighting. A humungous Samsung smart TV faces the plump bed (with one three-pin multi-plug socket on either side) and tuck-away reading lights. Completing the homey set-up are a long divan along the French windows (triple glazed to keep our street sounds), long drapes and goldy blinds, matched with reasuringly familiar bookshelves and mirrors. Sink in and get your bearings. There are 49 different configurations for furnishings, so...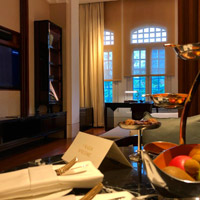 Capitol Kempinski suite/ photo: Vijay Verghese
A 137sq m Heritage Suite in the Stamford Wing serves up timber floors and a similar mix of colonial white and reassuring woody hues paired with long cream settees and comfy cushions. Expect high thread count linen for pampered backs, complimentary WiFi, 24-hour butlers and a study area just after the foyer and before the main bedroom. A local Tiger Beer in the mini-bar is S$15 and, as in the Grand Deluxe, non-alcoholic drinks are free and replenished daily.
The private dining rooms and function spaces are available for eight to 220 persons with modern conferencing solutions. Adjacent is the Capitol Theatre for classy events and more, while apres-work there's the added distraction of a pool, fitness centre and spa. This is a Singapore luxury heritage hotel to keep in mind if you ache for those days of yore and possess a sturdy wallet. This luxury address will certainly impress with small flourishes of attentive service and the sumptuous surrounds. As an intimate retreat, The Capitol Kempinski Hotel Singapore compares well vs The Fullerton or Hotel Fort Canning. It is far more luxurious and with better quality accommodation than at The Fullerton Hotel Singapore that serves up oodles of history but somewhat Plain Jane bedrooms.
On Bras Basah, not far from Bugis, is the Rendezvous Hotel Singapore, with a colonial feel at none-too-pinching price, bright rooms and a focus on ART (Attitude, Retro elements, and Transformation through Technology). Free WiFi helps and the location is useful for business suits as well as leisure trippers.
Atriums and Marina Bay Integrated Resort
Across Beach Road is the Marina Centre, on reclaimed land with several five-star hotels offering views out to sea. The Circle Line extension (opened 2012) makes the trek to this formerly out-of-the-way corner much easier. The neighbouring Marina is being redeveloped with the fulcrum of entertainment moving there and not just on account of the casino.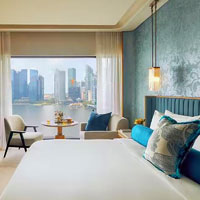 Mandarin Oriental new look 2023 harbour view room/ photo: hotel
The Mandarin Oriental, Singapore closed shutters 7 March 2023 for a six month shutdown for a major refurbishment and upgrade and returned November 2023 with a bang. This 527-key landmark Marina Bay hotel, one of the early atrium design adopters, retains its classic appeal. More in our new 2023 Singapore hotels review.
This is what we said about the property pre-overhaul: The property looks out on the bay. It's dark in there, and exciting. The building is a half-dome in the style of the Mandarin Oriental logo fan and backlit. There's dark carpet, thick drapes, rich colours, black marble, grey-slate textures, leather seating, a circular pavilion bar, and bubble lifts moving up and down the atrium. There is a hum. It resembles an extraterrestrial spaceship.
Eighty percent of the rooms have water views and the décor is light and bright with an "all elements of nature" theme including mother-of-pearl colouring, polished hardwood floors, Jim Thompson silk bedcovers and even gecko door handles. Rooms have surround sound that connects to your MP3 player, but WiFi will cost you a whopping S$30 per day, plus seven percent tax – unless you're on a Club floor, where it's complimentary.
There's a full technology kit available, and a range of adaptors that will find a fit even if you're from Burkina Faso. All rooms have laptop-size safes with charging sockets. Sensors alter temperature slightly according to activity level in the room. Things getting a little hot?
Rooms (excluding the suites) range from 33sq m to 53sq m. Harbour view rooms are more expensive than those overlooking the city but the floor-to-ceiling windows, offering views of the Marina Bay Sands, make them entirely worthwhile. If you can extend to a modest suite, the City Suite doesn't fuss with a dividing wall: a huge and useful desk separates bed from sofa. The Oriental Suite rachets up the luxury and even offers handicapped facilities but not on account of the fact your wallet will take a serious hit. On the edge of the view from several rooms is the expressway. Apparently businessmen like the sight of the traffic. It gives them a buzz. The club level is on the nineteenth floor and offers complimentary benefits such as a clothes pressing service, use of meeting rooms (depending on availability) and daily champagne breakfast. Adding fresh zest for sun-seekers is the redone.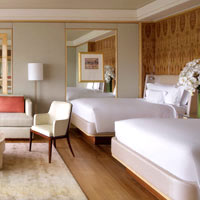 The Ritz-Carlton: blond wood/ photo: hotel
Level 5 pool deck with a breezy resort feel. Step out into Bali, or Langkawi. There is a kids' pool for toddlers while adults can stretch out in loungers set in shallow water or, if you're lucky, stake your claim to a private cabana complete with iPod dock. There is a yoga pavilion and lots of event space with sweeping views over Esplanade and the coast. On hand is also a complimentary shuttle service to Marina Bay Sands. This is a crisp business hotel with sharp service and attention to detail.
The Ritz-Carlton, Millenia Singapore at 7 Raffles Avenue, is an avant garde Star Wars meets Andy Warhol confection with its very own Star Gate - two huge circular windows, representing feng-shui-friendly dragon eyes. Look up and you are transported to the Sistine Chapel in the third dimension with colourful blown glass creations reaching out from the walls; look down and you are back in the humming all-business real world. Jaw-dropping welcome done, the hotel is invigorating in bright earth tones, fawn and gold, with brisk service. While the architecture is impressive, it's this intangible can-do service with a lot of snap that has earned The Ritz-Carlton its position as one of the best business hotels in Singapore and, indeed, Asia.
Renovated in 2012, rooms feature contemporary furnishings, fresh fabrics, a flushed wall-mounted 46-inch LED TV, electrical blackout curtains, daytime roman blinds and plenty of plug points – though none near the mirrors for mane taming. Wooden flooring and deep, sink-in carpets fill 51sq m of standard room space, one of the largest in the city centre.
The speckled blond wood disperses light efficiently creating a bright and airy feel. Beds face the window and plump Sealy mattresses promise deep sleep. The all-marble bathroom completes the picture, with rain showers, micro-fibre Ploh bathrobes and anti-fog mirrors. But the best part has to be the bathtub, with ocean-views through stunning octagonal windows earning it the "sexiest bathrooms" title from at least one magazine. The Ritz-Carlton lays on a butler-drawn bath and rooms stock Asprey Purple Water toiletries. All have complimentary high-speed WiFi connections and a walk-about phone.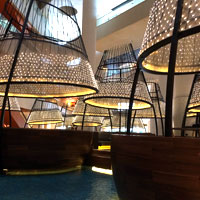 Pan Pacific/ photo: Vijay Verghese
The hotel has a 4,200-piece contemporary art and sculpture collection, often incongruous with the plain light wood furnishings, but eye-catching nonetheless. Even if you aren't staying, it is worth visiting for the iPod art tour. Look for works by the likes of Frank Stella, Andy Warhol and Dale Chihuly. Close by the Suntec exhibition space, this is among the slicker choices among Singapore conference hotels and, even if you're wandering about like a dork with a Widgets Anonymous name badge, you can pretend to absorb the art and impress a friend or two.
One of the original Marina atrium-style properties is the 37-floor 790-room Pan Pacific Singapore that has emerged from a series of progressive renovations with a jaunty stride bordering on hallucinogenic cool. The lobby is much livelier, with chic birdcage lounge seating, the fuchsia-lit 22m-long Atrium bar running along the side, and a resident DJ cranking out a house mix. Glass bubble elevators soar up the central vertiginous atrium past a public art gallery that features local and international artists. From above, the lobby's seating pods looks like islands floating in the ocean.
A second rank of elevators glide up the exterior of the building presenting staggering city views en route to the exclusive Pacific Floors. The bright and functional Pacific Floor rooms occupy the 33rd and 34th floors, featuring an in-room DVD-and-video player, LCD Internet TV, Nespresso coffee machine, a smart work desk with an ergonomic Herman Miller chair, two pressings per day, complimentary soft drinks from the mini bar, ironing board and iron, laptop-sized safe and generously large bottles of complimentary water.
Step in the shower and let the massage jets do their work. If all this doesn't send you to sleep, check out the extensive pillow menu and pick from buckwheat hull organic, contour foam, coil, or polyester. There is a useful, single, "Service One" button that you can press for any and every need, and an electronic finger-touch bedside panel for activating pretty much anything in the room that moves or can be switched on. Two lounges on the Pacific Floors cater for breakfast, cocktails and a steady stream of refreshment while staff briskly attends to any request with alarming eagerness and disarming smiles.
Sporting every shade of gray imaginable, the polished Deluxe Rooms don't have quite the same set of amenities, but do feature the Herman Miller chairs, big windows, a 32-inch internet TV and a Hans Grohe rainshower. And unlike most upscale hotels in Singapore, WiFi is free throughout.
The undisputed Meritus jewel in the crown, The Marina Mandarin Singapore morphed into the PARKROYAL COLLECTION at Marina Bay. It is a hugely appealing green sustainable hotel with a jungle lobby fully reviewed in our new Singapore eco-friendly hotels guide. It is next to the Marina Square shopping complex within easy reach of conferencing though its own meetings facilities are second to none.
Marina Bay Sands/ photo: hotel
The Conrad Centennial Singapore at Temasek Boulevard has rather less of a marine view but a direct line on the Fountain of Wealth connected to the Suntec complex (the story goes that you should wet your hands in it, return to Singapore, and get instant wealth). This is a crisp choice among Singapore business hotels, in a prime office area. The lobby is black, gold and silver with the compulsory tsar and tsarina descending staircase, but the guest rooms conjure up fruit juice: the colour scheme is a light mango, all over. Rooms are a decent 40sq m to 63sq m, all with a generous 46″ LCD TV. WiFi is charged per day at S$20, plus tax. There are two direct phone lines, a big desk, in-room tea and coffee, safe and ironing board, as well as a gratifyingly big walk-in shower.
As at all Conrads business travellers will find, perhaps for late evening company, a rubber duck and a teddy bear that I never quite know what to do with. The hotel has an extensive Asian art collection and supports the Singapore Symphony Orchestra.
The IR (Integrated Resort) Marina Bay Sands Resort (10 Bayfront Avenue) opened mid 2010 and has rolled out the red carpet for big spenders. Gaming is tightly regulated and Singapore nationals and permanent residents need to pay S$100 for a day pass (S$2,000 for a year) to access the rarefied environs of the clattering roulette wheels and green felt tables. While gaming will deliver a generous whack of hotel proceeds (though the casino famously occupies just three percent of the built area), "gambling" is a word mentioned in hushed tones here. To make it easier for cash-hungry trippers, an airline City Check-in counter has opened at the complex (for SIA, Qantas, Air China, China Eastern Airlines, China Southern Airlines, and EVA Air). Spruced-up golf buggies (playfully mimicking luxury brands) ferry guests from one end of the concourse to the other.
The hotel is bustling, the scale staggering. It is a cavernous affair, soaring up several floors with an atrium lobby reminiscent at times of an airport with long metal girders and large glass window panels through which sunlight streams in. The place echoes with the sound of children's laughter and the clatter of breakfast cutlery – expect long queues for a morning tea. Convivial? Clamorous? Take your pick. The scale of the place means that service while efficient, is not the most personalised, though big spenders will be accorded a special welcome. The bright casino lights are on and the 200m rooftop Sands SkyPark with its three Olympic-size infinity swimming pools, fancy restaurants – including a Ku de Ta – and observation deck, breezily beckons. You can enjoy panoramic views of the city as you paddle leisurely in the pool or suntan on starched white daybeds and lounge chairs. Alternatively, simply ogle.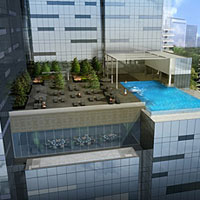 Westin pool/ photo: hotel
The observation deck is open to public, not the pools. Tickets (priced at S$20 for adults and $14 for children) are sold at the ground floor of Tower 3. Direct taxi drivers to the drop-off point there to avoid having to walk all the way from the main hotel entrance at Tower 1.
Staff offer welcoming smiles as they deal with guests streaming through this soaring landmark on the bay skyline with its three curving towers capped, and connected, by the SkyPark.
A pedestrian bridge leading to the IR, The Helix, is a 3.5km creation of fritted glass and steel mesh. Taking a stroll through will be akin to being in a sci-fi movie with neon lights dancing among flashes of steel. The hotel is the biggest in the city – with 2,650 rooms and suites. Consisting of three reflective glass towers soaring 55 levels over the bay, warm shades of cream and brown dominate the hushed interiors. The three towers are connected seamlessly and the hotel is easy to navigate: shops and lifts on the left, dining areas on the right.
The standard Deluxe rooms are classy, spacious, modern and a tad arty, thanks to the whimsical patterned carpeting and funky bed lamps. The standard suite is somewhat similar, except that it comes with a separate living room area.
Rooms either overlook Marina Bay and the city skyline, or the Gardens by the Bay and the sea. Expect the normal amenities including flat screen TV, laptop-size safe, iron and ironing board, in-room coffee and tea. The suites offer the additional lure of complimentary rooftop breakfast, a free daily pressing, iPod docks, twin vanities, a separate glass-wall room for the bathtub, and large flat-screen TVs in just about every sitting space. All guests enjoy free WiFi.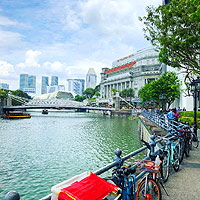 The Fullerton, the former GPO/ photo: Vijay Verghese
Just steps from the hotel, guests can explore celebrity chef restaurants as well as high-end retail in the Marina Bay Shoppes – like the Louis Vuitton store in one of the Crystal Pavilions, connected to the retail mall and conference centre by underwater tunnels. The second pavilion is home to two nightclubs aimed at the Singapore elite. And the futuristic building shaped like a hand? That's the ArtScience museum.
Also along Marina Bay, The Westin Singapore (open November 2013) brings business panache and a host of facilities right next to downtown offices, shopping and the casino at Marina Bay Sands. Expect three restaurants, a breezy outdoor podium-top infinity pool, a Heavenly Spa by Westin and the usual workout extras for fitness buffs. The 305 rooms serve up open views in the contemporary Westin style with that signature staple, the Heavenly Bed.
CBD, Chinatown, Clarke Quay, Duxton
At the other end of the Padang, an icon heading up the business district, is one of the most novel hotel developments of recent years,
The Fullerton Hotel Singapore
. The building was completed in 1928, a classical granite monolith with Doric columns exuding confidence and authority at the mouth of the river. Initially used as government offices and General Post Office, it was turned into a hotel in 1999, in a definite case of thinking outside the (post) box. In December 2015 the hotel was gazetted as
Singapore's 71st National Monument
, a unique recognition highlighting and preserving the building's special connection with the city's history, hearts and minds.
The triangular-shaped building was crafted into 400 rooms and suites, conference facilities, four restaurants and a bar. Savour exquisite wasabi prawn at the Chinese retreat Jade, gaze out at the river from The Courtyard, or pop up to the reincarnated Lighthouse Restaurant & Rooftop Bar. Sports boffins will revel in the roar of F1 racing cars roaring past and the health inclined will enjoy The Fullerton Spa with its arsenal of unguents and potions.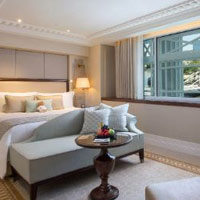 Fullerton elegance, new look room, unfussy and colonial/ photo: hotel
No two rooms have exactly the same shape. The former Singapore Club's poolroom has been kept intact and the cavernous inner courtyard, the former posting hall, is so large that some rooms look out into it. The better views, of course, are outward facing, looking across the river towards Boat Quay and the durian of the Esplanade. Quay Rooms are tall, bright and imperial. The real delight is the 26sq m bathroom, which is as big as the room itself, with Molton Brown toiletries in Club rooms and BVLGARI in Suites. A shoeshine niche adds to the eclectic mix and colonial throwback vibe. Behind the Doric columns and impossibly high windows, some spaces have been split into Loft Suite duplexes with spiral staircases. The double sets of curtains are fun to play with – all room curtains are motor-controlled.
The hotel is unstuffy and a popular gathering point, not just for neighbourhood pin-stripers. Generations of ordinary Singaporeans have worked their way through the building as civil servants and it is not unusual for individuals (including government ministers) to pop in and ask what their old offices look like now. The management says it always tries to oblige. Already widely regarded as one of the best Singapore conference hotels, The Fullerton has additional acts up its elegant sleeve for business travellers and CEOs in search of small corporate meetings.
Boutique sister-property The Fullerton Bay Hotel arrived July 2010 at Clifford Pier, just across the road from The Fullerton. The 100-room, seven-storey development is sleek and ultra-modern. Corridors running in straight lines skirting the angular waterfront are reminiscent of a sharp crossword puzzle, the double-height reflective glass welcoming of light and big views. No puzzle inside. It's an elegant blend of classical, mod and faux-European. Vintage nautical maps and assorted nostalgia rub shoulders with edgy contemporary art while deep-seating furniture exudes a velvet sheen in deep, muted tones. Staff will greet you with genuine warmth at every turn. Clifford Pier where hopeful immigrants once landed doubles up as the main lobby – The Landing Point. The floor mosaic leads into the lobby with a soaring chandelier.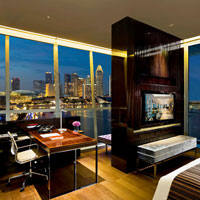 Fullerton Bay theme suite/ photo: hotel
Steal a moment at the rooftop pool and bar that overlooks the bay. Colourful sofas and cushions set the mood here while the look-in glass aquarium pool offers useful distraction. All rooms, suites, and the five theme suites - named after former governors - have water views. The suites occupy the upper three levels of the building. In-room expect at least 45sq m of stretch space, flat-screen TV, mini-screen next to the bathtub (separated from the bedroom by a glass partition), Molton Brown toiletries, Nespresso machine and ample coffee shots, iPod dock, free Wi-Fi, and data ports with multi-pin sockets.
The textures are dark and woody but rich. The pastel carpet leads onto a generous timber-floor balcony, a nice touch in a city hotel. The leather strap handles on drawers, mimicking classic luggage of yore, are chic and tactile. Pull open a drawer to find the flat in-room safe, large enough to manage a laptop. This Singapore boutique hotel has the potential to be a plush private getaway despite being just a stone's throw away from the Central Business District. Roll up your sleeves and get your fingers and senses working. This is a touchy-feely place with textures at every turn. Start with the fish-skin lifts. Looks like crocodile but…
A short stroll from here is the head-turning art deco Ascott Raffles Place Singapore, once the tallest building in Asia, now an elegant longstay residential option in the Lion City. While catering, with considerable class, for high-end travellers in need of a long-stay hotel in Singapore, the place has oomph as a business hotel too. In-room fittings are smart and modern with a lot of generous touches. Expect Gaggenau kitchen systems, fridge, dishwasher, washing machine, enough cutlery to invite the queen, parquet wood flooring and windows welcoming of light with long slat blinds.
Colours are corporate and toned down with dominant greys and muted tones with splashes of bright carpet providing subtle counterpoint. Split-level studios might be just the ticket for pin-stripers with attitude.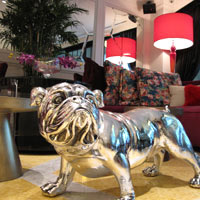 Silver bulldog at Sofitel So/ photo: Vijay Verghese
The leather-top work desk is another example of the clean and thoughtful finish. Guests will find three multi-pin electric sockets, cables, multi-media sockets, high speed WiFi and Broadband, and a large laptop-size safe complete with charger. Keep safe and powered up. Hirsch Bedner, who did the interiors, has left untouched the original brass mail chute. Studio Premiers start at 50sq m with one-bedroom units at 75-108sq m.
The distinctive red-tiled roof topped by three spires marked Park Hotel Clarke Quay's arrival on Singapore's skyline. Earthy tones run throughout the 336 rooms and suites, which are modern with a few Asian flourishes like silk drapes. Standard amenities include WiFi, 32-inch LCD TV, data port, IDD telephone, safe, minibar and rainshower in the marble bathroom. Views are of the city or Singapore River.
The cream stone facade of the Sofitel So Singapore (31 May, 2014) curves elegantly around the corner under leafy trees at 35 Robinson Road with a colonnaded walk that echoes with brisk-stepping bankers and well coiffed ladies. Walk past the perfectly trimmed bonsai trees with their poodle pompoms, into a convivial gastro-bar 'lobby' that will surprise most with its variable mood, seating, and lighting, and the silver bulldog that stands dourly in front of a purple velvet sofa that runs like a neatly parted omega cut, somewhat out of place in this contemporary straight line stew.
The bar runs into the Xperience restaurant with its mixed seating - wire frame chairs with purple stripes to long settees with lipstick red cushions - around an open kitchen to the back where a cobalt blue king bed 'sofa' - sliced in half - presides over a darkly intriguing dining area flanked by a private 'high' table. It's about four restaurants in one. Fine dining awaits with a bit of crunch, bite and zest in three sizes, XS (for tasting), XM (for a single portion), and XL (extra large family-size sharing).
All this under the pulsing lights of wall mounted crystal hexagons that rise up the narrow mini-atrium that separates the heritage wing from the new. The lights brighten and dim, like some primordial pulse, in time to chill-out beats played at a goodly volume. You'll be excused if you stop to take it all in.
Sofitel So, Parisian style/ photo: hotel
Call and tell your mum you're okay and head for the reception where tall women in tight white suits - with epaulettes and slim black coat lapels - will explain it all, with a hint of Michael-Jackson-heads-to-Paris flourish. The doll's-house washroom behind here is in Barbie pink with white trim.
Teaming up with the French Miaja Design Group, the 134-room, 10-suite hotel has restored a heritage building dating back to 1927 with Karl Lagerfeld 'lion seal' motifs turning up in the most unexpected places. The neo-classical facade has been left untouched. It's a one-of-a-kind look. Think royalist pop art and beehive honeycomb. The hexagons are everywhere, from the cream and grey patterned marble lobby floors to the walls and on mirrors.
Rooms ooze Parisian decadence - without the risk of a guillotine. Instead, your head will be coddled on fine linen and silk atop a plump bed from where you can gaze at a light box ceiling dome and velvet fittings as you tap your iPad mini to get things done. A regal 80sq m 'So Lofty' offers grey, blue and pink interiors with wood parquet flooring in the foyer and room, and grey marble in the spacious bathing area set behind sliding frosted glass partitions. The rectangle soaking tub is big enough for a couple and rests on tapered black legs next to the glass entrance wall. A drape can be pulled across to offer privacy if needed. Expect a large dresser space with red hangers, twin vanities, huge mirrors, and a big rain shower in the bathing area with its custom made toiletries - including after-shave cologne.
The imposing bed is the centrepiece with half-drapes pulled back to either side of the headboard with its central crystal flower mirror. A bemused Napoleon looks down from a wall portrait at the ornamental gilt-edged desk upon which sits a tiny silver Eiffel Tower (also with tiny hexagons worked in if you peer closely enough). WiFi is free, there's a laptop-friendly top loading safe, a large flat-screen TV, and the mini-bar is anything but - it's a veritable wall cabinet packed with goodies and distracting trivia marked clearly 'pay as you go' or 'oh so free'. An Asian version of those iconic Russian dolls is available here as well. Light switches are thankfully large and tactile and a three-pin multi-plug socket is to be found at either side of the bed and near the desk.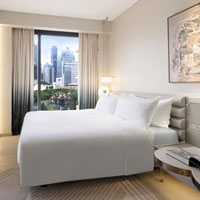 The 302-key Mondran at Duxton (June 2023) melds shophouse genes with a business spirit/ photo: hotel
The extra high ceiling married with the white sculpted skirtings and cornices offers a stately feel to the rooms and a liberating sense of space - which comes in handy as the walls close in to a nose-scrunching 25sq m in the new wing 'So Hip' (with no bathtub but the same configuration and a smaller Napoleon). It feels eerily like someone pushed the walls in but nothing was disturbed. These smaller rooms work well for business suits on the go though the price will pinch even luxe wallets. While the So Lofty offers the delights of a balcony for morning tea flanked by Doric columns - but alas overlooked by several other balconies immediately adjacent and separated only by knee-high glass partitions - the 'So Club' offers a narrow and long version of the stay experience with a smaller tub; and the excellent 55sq m 'So Studio' offers a curved, and cosy room with study and settee that will appeal to women and metrosexuals. The studio makes for a very attractive lodging. Finally, for some breezy open views, head to the rooftop sixth-floor Hi-So for a tipple and a plunge into the gold-tiled infinity pool. So there it is.
For a bit of 'deconstructed shophouse chic' in Singapore (though this may take a while to digest, if not fully fathom), road warriors can now head to the Mondrian Singapore Duxton (mondrian/singapore-duxton) that joined the city's hostelries June 2023. The 302-key hotel serves up a rooftop pool and a contemporary feel melding a sense of the shophouse district with local art and more. The rooms are homey-modern with clean lines and beige-white tones. There is a minimal feel to things. A Duxton Corner would make a fine pick with rooftop views, large painting, larger flat-screen TV, a rain shower in the bath, Lavazza Coffee Machine and amenities by MALIN+GOETZ (always a good sign if you can't pronounce the name). With 237sq ft of elbow room this place is nothing to sneeze at. A great location on Duxton Hill in a happening neighbourhood. The Mondrian is part of Accor's lifestyle collection.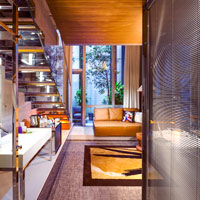 M Social 'Bigger' room/ photo: hotel
Adding to the convivial hubbub at Robertson Quay is the Studio M Hotel Singapore (from Millennium Hotels & Resorts), a 365-room offering that opened March, 2010. Despite its seeming size, this is a mod designer product with uncluttered pastel-tone, split-level "loft" rooms featuring three-metre-high ceilings, and complimentary Wi-Fi and plug-in Broadband. The 22sq m Studio Lofts have a separate sleeping area and work area. Like wooden stairs? Here's your chance.
The units come in two primary configurations. Choose to have your work place at the entrance level (which is also where the super snug toilet and washbasin are) and bed up in the loft or the other way around. Though the blond wood fixtures are starting to show some wear and tear, the limited space is well utilised and the rooms have a friendly, informal air about them, enlivened by large black-and-white photos and colourful cushions.
Walk into an "egg" lobby reception counter and saunter up to a breezy outdoor pool with timber-decks and casual alfresco seating. The river is a stone's throw from here and there is loads of dining at your doorstep at Robertson Quay and a short stroll down at Clark Quay.
Also from Millennium Hotels on Robertson is the designer chic - and very snug - M Social Singapore (June 2016) by Philippe Starck who has produced a charming loft hideaway by the river in woody tones, with his signature aluminium bits and pieces, flashes of colour and a very mod appeal. Along with Pashmina throws and rugs and 'Handy' phone you'll spot a self check-in kiosk at the lobby. Pick from a 'Bigger' room (duplex loft with terrace) or a 'Nicer' room in white pastels, also with a terrace. Plenty of mingling area for the young and restless. Grab a cool drink from mixologists at Beast & Butterflies before heading out into the Singapore night - with your Handy phone with its unlimited data, of course...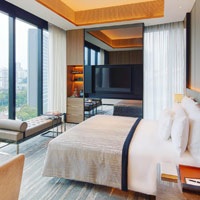 InterCon Robertson Quay is a makeover of The Gallery Hotel/ photo: hotel
The funky Gallery Hotel at Robertson Quay (once an Evason) was sold and redeveloped to re-emerge as the InterContinental Singapore Robertson Quay in late 2017, with a new black glass facade and contemorary interiors featuring 225 well-lit studio rooms and suites with floor-to-ceiling windows, five venues for smaller events, a pool, and fitness centre.
Novotel Singapore Clarke Quay offers easy access to Orchard Road, Raffles Place and, of course, Clarke Quay. This four-star choice has 403 rooms including 19 suites, a 25-metre outdoor pool, and a full-service business centre and meeting facilities. There are three restaurants (Indian, Cantonese and International), a bar and complimentary shuttle service to Raffles Place and City Hall.
Another option for those trawling Singapore business hotels is the new Park Regis Singapore on Merchant Road. The 203-room hotel is just across the street from Clarke Quay and while brisk and fuss-free, generous doses of warmth can be found in the service and breezy, resort-like interiors. Open-concept design rules the day here. The reception area is seamlessly connected to the lobby – complete with chic, laid-back cabanas and in-house restaurant. A jungle of leafy plants and a soothing waterfall make it easy to forget you're smack bang in the middle of the city.
Though a bit snug at 20sq m, the Park Rooms are contemporary and boast an earthy palette of green, orange and yellow. The sleeping quarters are smartly divided from the shower and toilet by the vanity counter-cum-sink. Expect a 42-inch flatscreen IPTV, work desk, safe, iron and board, and hairdryer. Don't panic if you can't find the mini-bar and coffee-making facilities – they are stored neatly in compartments under the vanity table. Unwind after a long day with a cuppa on the comfy daybed by the window.
Splash out a little more to enjoy the direct-access pool rooms – a small patio will lead you straight to the 25m lap pool and wet deck. Go on – dive in. Broadband Internet is free at the business centre, while WiFi costs S$30 a day. Find a well-equipped gym and meeting rooms. Sentosa pick-ups are available. This is a non-smoking hotel so be prepared to step outside if you crave a puff.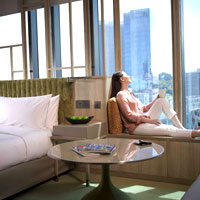 ParkRoyal on Pickering Superior/ photo: hotel
About a block away is the impossible to miss, 367-room PARKROYAL on Pickering (opened January 2013). Reminiscent of Balinese rice terraces, the architecture is eye-catching in its scope and intricacy, with slate grey tiers, tall columns and gardens spilling effusively all over the 16-storey building in a latter-day throwback to Angkor. Naturally, the theme is green. Wonderful to look at and devilishly difficult to maintain. Time will tell. The free WiFi will help as will the cool features and the popular street-fronting cafe Lime with big buffet spreads. More than 15,000sq m of lush gardens, waterfalls and "Living Walls" packed with plants blanket the surrounds. Targeting business travellers, breakfast (included in rates) at Lime is a versatile affair, with an assortment of couches, high stools and circular nooks.
The business centre is far from drab, thanks to bright pink cushions and private multimedia cubbyholes. From there, the design moves well away from the corporate staple. There's plenty of flexible space for events too with more than 700sq m available in various venues like a pillarless ballroom that can accommodate up to 800.
The Orchid Club lounge has a residential feel, with bookshelves, natural light, a communal table, Vietnamese tiles and slate grey furniture. On the fifth floor, the resort-like infinity pool draws an appreciative crowd. The spacious deck has a nice breeze running across it, and brightly coloured, cushioned bird cages for reflective lounging. Right below is a 300m jogging course for sporty types.
Rooms start from 28sq m, but feel larger thanks to an open plan. There's a minimalist, Japanese vibe thanks to the earthy palette and wood and stone finish. In the bathroom, find a sink-in-and-soak tub with a logical recline and separate shower. Recycling is a must, and rooms offer well-marked bins to make sure you get the hint. Views from floor-to-ceiling windows overlook gardens, Hong Lim Park or the Chinatown neighbourhood. Oh, and WiFi is free.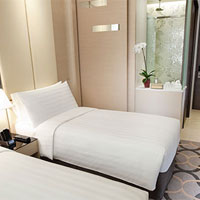 Dorsett, simple, neat/ photo: hotel
A newcomer in the Chinatown neighbourhood is the sparky and bright Dorsett Singapore (March 2013). Sitting atop the Outram Park MRT, the 10-storey hotel has a reflective facade and artistic interiors. Crystal distractions and bold patterns in the lobby greet visitors, while the 285 contemporary rooms lend a playful vibe with fun details like colourful cameras mounted on the walls and shimmering bathroom tiles. Starting at 22sq m, rooms come with free WiFi, 40-inch LED TVs, a cordless phone, iPhone dock and the rest of the usual bits and bobs. Move upscale for a Splash room with standalone tub and pool views. The hotel has several dining outlets, a gym, business centre and koi pond, but the 30m rooftop pool is the most inviting, with manicured trees and enough breeze to survive the Singapore steam. Expect sharp service with a smile.
Havelock Road area hotels
A kilometre away, off Havelock Road on a stretch of the Singapore river yet to be claimed by groovy wining and dining, are half a dozen four to five-star hotels, including the River View, the Novotel Apollo, The Mirimar, the Concorde and two Copthorne hotels. It is an up-and-coming precinct and is well placed for the business district and industrial places to the east and south. The hardy walk up to Orchard Road. Prominent on the junction with Kim Seng Road and with a terraced coffee shop right on the river is the 574-room Grand Copthorne Waterfront Hotel Singapore.
The hotel is of the grand-lobby-and-forecourt-fountain school. With large conference facilities, it is very much tuned to business and the meetings business as well as leisure travellers, in crisp and courteous style. The superior room is perfectly adequate but for a few dollars extra the deluxe provides more space and double windows. There's a shuttle service to all major town centres and you can always take a "bum boat" ride down the river.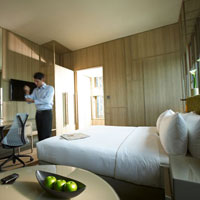 ParkRoyal Pickering room/ photo: hotel
Millennium Hotels & Resorts owns a small empire of hotels in Singapore, including the M Hotel. This property at 81 Anson Road, at the south end of the business district, was the regional leader in creating a sort of wrap-around business hotel. "We don't have a business centre. We are one", was the catch phrase. It opened with all cyber bells and whistles in the rooms, Bose sound flat screen TVs, ergonomic design, retro furniture, and public area Wireless access when these features were mere twinkles in the eyes of others. Gimmicks included a mirror wall between bedroom and bathroom that turned opaque at a button push. All right, that's been copied since, too.
The Holiday Inn Singapore Atrium is a well-known property housed in a grey reflective-glass 27-storey tower with an atrium-style set-up inside. The Holiday Inn Atrium is at 317 Outram Road at the junction with Havelock Road. Expect high-speed Internet and enjoy an outdoor pool.
Sentosa Island resorts, Singapore casino hotels
If you want to turn your back on the city, cross over the Causeway Bridge, pay a small fee (if staying in a Sentosa hotel the fee is waived) and enter Sentosa Island, minding the crossing monkeys as the signs bid you. Private cars are charged S$6 weekdays and S$7 on weekends per entry while taxis are charged S$5 on weekdays and S$6 on weekends. You can walk in on a new footpath from VivoCity right up to Resorts World.
Set in 30 verdant acres of Sentosa Island, Capella Singapore is an exhilarating fall through the looking glass into a fantasy lost world of starched white barracks, prim as ever, with closely cropped lawns and flowering hedgerows where you might spot Jane Eyre of an evening after one G&T too many. It is world away from the bustling city, a retreat for the discerning, bathed in ocean breezes and a perfect spot for a good book, a heart-racing conversation involving, "I do!" or a post-prandial prowl through manicured tropical grounds surrendering to the urge of botany. This address was in the news more recently when North Korea's Kim Jong Un and US President Donald Trump met for talks in June 2018.
This heritage property was previously used by the occupying military for gala events. It remains suitably aloof in style and substance. A colonial white façade and low red roof is surrounded by verdure. Staff are attentive but not invasive – there is plenty of space for absolute privacy here.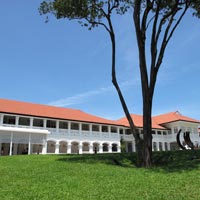 Capella Singapore/ photo: Vijay Verghese
From the white marble and dark wood of the main building, rooms extend outwards in two sweeping curves of modern yet complimentary wings. Both "arms" remain at the original building's height and remain hidden from the front. Rooms are large, starting at 77sq m, with high ceilings and a neat side balcony. Arranged in resort style, twin vanities and a "walk-through" wardrobe sit behind the bed, which faces floor-to-ceiling windows and views over the ocean. Décor is modern with any awkward necessities hidden by smooth curves of dark furniture. Expect touchpad lighting (with regular everyday switches for the uninitiated), swivel 46-inch LCD television, iPod docking station, free WiFi, Nespresso machine, and complimentary daily-replenished soft drink minibar. Bedside controlled lighting, drapes and room temperature.
Capella's signature Auriga Spa has carved out a niche for itself, offering an organic pharmacy and lunar cycle therapies. Capella's grounds include several waterfalls as well as three outdoor pools for guests – a large organic pool built around the trees, a quiet lap pool and a shallow pool for youngsters. Large sun loungers are a tempting offer in or out of the steamy Singapore sun, and sporty types can break a sweat on the tennis court. Sentosa Island features two championship golf courses and a Universal Studios theme park. Tour all this and more in the comfort of Capella's Mercedes fleet or one of its Rolls Royce Phantoms.
Behind Capella is the colonial-style Amara Sanctuary Resort Sentosa, which has 140 rooms and is set in 3.8 hectares of hilly gardens and tropical rainforest. Floor-to-ceiling glass walls and a large disc-shaped skylight flood the lobby with pools of light and the scent of lemongrass adds freshness to the air. The staff, clad in mocha-and-cream uniforms that match the earthy accents of the décor, are friendly and attentive.
Housed in a separate building is a ballroom that can accommodate up to 500 people and function rooms that can more than cater to MICE needs. Those tying the knot should consider exchanging their vows in the stylish Glass Pavilion, which stands amid lush greenery, exuding a tranquil yet romantic allure. Transparent Philippe Starck chairs add flamboyance and a touch of designer flair.
W Sentosa / photo: Verghese
Sanctuary Deluxe Rooms are garden or sea-facing, slightly spartan but neat, and simply adorned with dark wood and natural elements. The top-tier category is the Larkhill Mansion that boasts a minimum of 185sq m of indoor and outdoor space, garden, plunge pool and outdoor shower and bath.
Complimentary WiFi in the lobby doesn't reach the rooms, but free plug-in internet access is available in all rooms. Recreational facilities include two pools, a jogging track, gym and tennis court. Dining options more than suffice with the renowned Thai restaurant Thanying on site and Shutters (modern Singaporean), plus Braise (French) and Silk Road of the Sea (Chinese) only a short stroll away on the beach. Flag down one of the hotel buggies if you are too lazy or tired to make the trip to the beach on foot.
A glitzy addition to the island scene, the 240-room W Singapore - Sentosa Cove (September 2012) is anything but standard. As soon as you enter the bright white lobby, you can feel the 'cool' oozing from sequinned pillows, vivid colours and touch-me textures. In the WOOBAR, bespoke beverages are on tap and high tea is served in bird cages. Swing away the afternoon in an eggshell seat, or head out to the pool, where music plays underwater and celebrity parties bop into the night.
A popular spot for staycationers, the W Singapore is as quiet or rowdy as you wish. Unwind in the AWAY Spa or go all-out in the Great Room, a fantasy-inspired ballroom that can accommodate up to 700 for cocktails. In the 40-42sq m Wonderful Rooms, expect more playful and tech-friendly touches, such as mustache-motif mirrors, chargers for all your devices and those yet to be invented, fuchsia work spaces, a French press, iPod dock, 40in LED TV, rain shower, mood lighting, free WiFi, and Bliss Spa toiletries.
Wooden benches and rock-shaped couches at every turn balance out the ultra modern touches. With the hyper atmosphere, the lobby can get a bit noisy. But, not to worry, check-in with loved ones at "Whisper Booths" — hanging hats block out any evidence of how much fun you're having.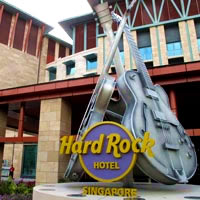 Hard Rock on Sentosa/ photo: Vijay Verghese
An early 2010 arrival to this formerly sleepy island was Resorts World Sentosa, which hosts six hotels and a Spa Villa. The by-invitation-only Crockfords Tower is an all-suite hotel with suites, mansions and villa accommodation. Hotel Michael, positioned as a Singapore boutique hotel, though it is larger than that cachet would suggest, is aimed at art lovers with trendy decor. Expect lots of blonde wood, bright colours and concealed lighting. Hard Rock Hotel Singapore provides its signature blend of music and mod managing to appear the most cheerful and friendly of the lot, set in a horseshoe shape ringing an imitation-beach sanded pool area and a "coliseum". Hard Rock is clearly aiming to set the benchmark when it comes to Singapore family-friendly hotels.
The Festive Hotel is again a more relaxed holiday escape for the whole family. This is a child-friendly hotel with novelty packs for kids and tailored bathrobes. The seven-storey, 172-room Equarius Hotel is surrounded by rainforest both old and new (Resorts World claims to have planted 4,000 trees) and is aimed at families and nature boffins. The Deluxe Rooms connect to a long and winding swimming pool, and the epic two-storey Ocean Suites have a front row seat to the Marine Life Park. A wall of windows on the first floor lets you watch fish and eels swim by from your subterranean bed or bathtub. Last but not least is the Beach Villas, 22 private villas nestled in greenery and fronting a free-flow pool. All rooms have wooden decks, private Jacuzzis, Nespresso machines, Plasma TVs, bathroom TVs, and iHome Docking Station. Alas, no beach in sight. The Beach Villas and Equarius share a gym and outdoor pool and are near the spa.
As Singapore correspondent Lydia Soh says, "Besides predicting that the Hard Rock bar oozes potential to be the next chic hangout (think white uncluttered space strewn with minimalistic designer furniture), two things made an impression. These being the Victoria's Secret boutique at Festival Hotel that will surely bring on stampedes of eager lovelies, and the smiley mandarin-collared bouncer at the entrance to Crockfords, the priciest establishment on the block. Entry was by invitation only, he informed us. He was faultlessly polite and so genuinely apologetic that I left more amused than offended."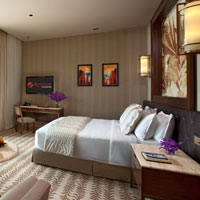 Equarius/ photo: hotel
Look forward to casinos and gaming galore at Resorts World Casino, a host of constantly changing shows and events, a Marine Life Park, Festive Walk for dining and shopping, a Kids Club, wellness treatments by ESPA, and the much-touted Universal Studios Singapore. While this all sounds grand, the hotel complex may be a tad too compact and cheek-by-jowl for some and lacking in differentiation. The resorts are along one circular road around Universal on a less-than-perfect stretch of Sentosa. No beach to speak of in this particular patch and not the best views. Rooms will look out at the causeway linking the island to Singapore, and other hotels, albeit low-rise. For beach and ocean views you'll need to hunt elsewhere on Sentosa, perhaps at Capella or Beaufort. But for a wild time and maybe even a duffel bag stacked with winnings, this could be the ticket as Singapore casinos finally take off. Keep an eye on Resorts World though as the added lure of Universal Studios and a casino certainly lend muscle. And as the hotels get into their stride there should be growing buzz.
The Sofitel Singapore Sentosa Resort & Spa (formerly the Beaufort The Sentosa Singapore) moved to the ACCOR stable and re-emerged early 2016 flying a fresh flag. It has around 215 rooms, suites and garden villas, chic restaurants, a pool and conference facilities for up to 400 spread across 27 acres of tropical woodlands. Dine at Kwee Zen for an interactive fare, do the Rotisserie buffet or pop in for a lavish Sunday champagne brunch. A lobby entrance divides suite bedroom and sitting areas, which is splendid if you have a noisy family gathering you want to escape from.
In fact, for family-friendly Singapore resorts, Sentosa Island is a good hunting ground – you could easily be in a chalet up the Malay coast. Shuttles to and from the city centre run regularly.
But the highlight of the hotel is the So Spa, 10am to 9pm. Set in 6,000sq m of gardens, the retreat has everything from private pools to mud baths, and copper bathtubs to fresh ginger tea. Head next door to the top-notch gym, complete with group classes such as aerobics, tai chi and yoga.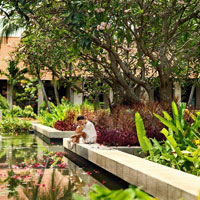 Sofitel Sentosa/ photo: hotel
If you're in town for work, not play, the hotel caters effortlessly to the MICE crowd with a two-storey Conference Centre and more than 1,300sq m of space. The pillarless ballroom fits up to 140 for a sit-down function, while six smaller rooms are available for more intimate gatherings. Floor-to-ceiling windows and outdoor terraces are a refreshing touch. Looking for Singapore conference hotels for a corporate meeting or a place with a difference for a family getaway? This retreat is for you.
Nearby is the 454-room Shangri-La's Rasa Sentosa Resort, set on Siloso Beach, a very relaxed family choice with a fun ambience and a Rasa Spa. In the bright morning sun this confection presents a freshly-laundered all-white image contrasting with green gardens and blue pools fronting the sea and an artificial lagoon. Upon arrival smartly-dressed staff appear seemingly from nowhere, with cheery greetings and helpful, but not overbearing, assistance. Hand over those heavy bags and prepare to get in the holiday groove. Escape the heat and head into the cool lobby where lounge music and gentle breezes waft beneath the distinctive wave-patterned ceiling.
A refurbishment has resulted in five fewer rooms but lots more fun, especially for the kids. As well as water slides at the children's pool, there's also a poolside ice-cream bar that is fabulously equipped with a popcorn machine and a soda fountain that wouldn't look out of place in a Willy Wonka's chocolate factory. Splash into the large freeform pool or part the bubbles at two outdoor Jacuzzis. If the beach seems just too far away (it's a five-second stroll) then plonk your lazy bottom on one of the sun loungers placed on sand by the pool.
Mothers listen up. This is a very child friendly Singapore hotel with its very own Toots Club for tiny tykes. You can enjoy free Internet access in the hospitality lounge or hang out on a mountain of plump cushions scattered temptingly in one corner. There are complimentary meals for children aged between five and 12. Rooms are unfussy with warm tones and feature individual balconies to catch the sea breeze.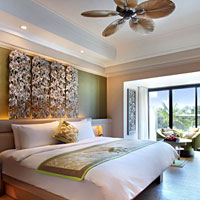 Shangri-La's Rasa Sentosa/ photo: hotel
All rooms have complimentary WiFi, flat-screen TVs and mini-bars, and some categories also have iPod docks, Nespresso machines and DVD players. Book yourself a suite on the seventh floor and you can water your private garden with splashes from the outdoor Jacuzzi, or take up a corner terrace suite for lovely wraparound views of the sand and sea. The safe can manage a laptop and there is an iron and ironing board.
Restaurants offer everything from Cantonese to Moroccan and, wallet willing, you can enjoy some excellent seafood at the very classy waterfront Barnacles. The MICE market is also well catered for with numerous function rooms and ballrooms, and yes, this is a favourite venue for romantic weddings. It may not be Bali, but with the sand between your toes and a blushing sunset overhead, how could you possibly say anything but "I do"? Another offbeat choice on the Singapore conference hotels list.
The old world charm of the Le Meridien Singapore, Sentosa (June 2016) - which took over from Mövenpick Heritage Hotel Sentosa that threw open its doors April 2011 - proved too much of an attraction for Far East Hospitality, which took over the property and closed Le Meridien 1 November 2020. It reopens in late 2021 likely as an Oasia Resort Sentosa. The old hotel served up 191 modern rooms with some suites serving up a private 'onsen' Japanese outdoor pool - a nice touch from Japanese design studio, Super Potato. There was 239sq m of space for all manner of functions and events while a 198sq m pillar-less ballroom was flooded with natural light through floor-to-ceiling windows.
The heritage feel will like be retained thanks to elements of the original 1940s architecture - the building served as a barracks for a Malay artillery unit. What the soldiers lacked then certainly, was the comfort of a penthouse suite in a duplex set-up with rooftop garden and infinity pool.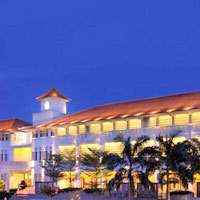 Le Meridien, Sentosa closed 1 Nov 2020 and was taken over by Far East Hospitality/ photo: hotel
Deluxe rooms are quiet and relatively unadorned save for streaky rust carpets, Ferrari-red Nespresso machines with four shots, a mod digital clock, and a sliding door leading to the bathroom where a simple hand-shower cubicle awaits. The working "ledge" is long and narrow with two multi-pin sockets and a data port with USB and HDMI access. The hairdryer in the bottom drawer of the bathroom is ungenerously, and permanently, secured, featuring a cable just long enough to blow your strands in front of the main mirror.
Asmentioned, guests can soak up some sun in the signature Onsen suites, each boasting outdoor space with a traditional Japanese hot tub. Views from the contemporary wing are open and sea-facing, but look across the bus park. Set deep between the two wings is an infinity pool that miraculously catches the sun and provides a semi-private escape.
Also on the Siloso strip is the environmentally conscious Siloso Beach Resort. Rooms come with Sealy Posturepedic mattresses and start at 22sq m, and have mostly beach views, if not the forest or garden. The feel is rustic, and the highlight may be the 95m long pool that offers fun for the kids and several intimate nooks. Hip nightlife is never too far away with the island's coolest bars right in front of the property.
Changi Airport area hotels
If you're in transit in Singapore and need to be close to the airport for an early morning red-eye, like watching aeroplanes, or simply enjoy the novelty of living in a place that resembles a half-unwrapped chocolate box, Crowne Plaza Changi Airport is an option. It is adjacent to the airport and linked to Terminal 3 by SkyTrain. The playfully modern exterior is hard to miss, a construct meant to resemble confetti, with a bit torn off across the middle. It's eye-catching, avant-garde, and odd. The 320 rooms feature satellite TVs, WiFi and Broadband access (charged per day), two-line phones, work desks, coffee and tea-making facilities, and mini-bar. There are separate showers and tubs in bathrooms.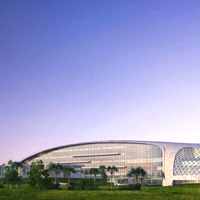 Futuristic Dusit Thani Laguna / artist's illustration: hotel
Families are well looked after with cribs and cots available on request. The hotel has a strong business suite with work facilities including 10 meeting rooms with the latest AV equipment and a ballroom for larger events or conferences. Guests in the Executive Club rooms get access to the Club Lounge, overlooking the pool. The lounge offers complimentary Internet access, breakfast, evening cocktails, business services, and personalised check-in. To wine and dine, try one of the two restaurants or the lively bar '75 – the 30-metre swimming pool and 24-hour fitness centre might just help to burn off dessert.
The Dusit Thani Laguna Singapore (Q2 2019, www.dusit.com) is a matt-steel alien-skin long sleek and low creation - part sports car part spaceship - in the otherwise sedate airport business area with two MRT lines within skipping reach and two green and breezy 18-hole golf courses (Classic and Masters) as an added lure. More seriously minded corporates may of course dive into a speciality conference in the 600-person pillarless ballroom. Find 198 rooms and suites kitted out in sober darkwood Thai tones with large flatscreen TVs and white marble bathrooms. If you have the money and the moxie, splash out on the Championship Suite or the Presidential Villa. If you need a big swing rush, there are eight 241sq m Golfer Chalets or Golf Villas facing lush greens. Expect birdsong, a relaxation pool, a lap pool and kids' pool with a fun set-up for younger guests. The Laguna National Golf & Country Club additionally offers a David Leadbetter Golf Academy and regular international tournaments. Why sweat in the city when the city can come to you? Do Lion City Thai style in a breezy urban resort.
If you're looking for some peace and quiet away from the rumble of jet engines but still want to be near the airport, Village Hotel Changi is a safe bet. Hidden away in an idyllic spot by the sea, you can see the sunrise from its rooftop spa or poolside. Or stroll along the beach boardwalk and enjoy the salty air. Rooms are simply adorned with blond wood and come equipped with bathtubs and rain showers, free WiFi, mini-bar, tea and coffee facilities, safe and hairdryer.
Boutique hotels and trendy hideaways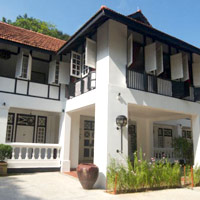 Villa Samadhi on Labrador Road is a colonial getaway with just 20 rooms/ photo: hotel
Boutique hotels are mainly hidden away in cultural districts that double as tourist hotspots. There are also a few on the fringe of the Central Business District. Rates are generally lower than those at five-star hotels but top-tier inns charge top dollar.
A Singapore boutique hotels pick from our editors is Villa Samadhi (early 2017), a black-and-white restored former army barracks on Labrador Road on the east coast of the main island facing the pleasure park of Sentosa. While not in any conventional rooming district, the property has its own heritage appeal and sense of history and decor.
Think timber floors, spacious bathrooms, some four poster beds, old cabinets and a charming setting. With just 20 rooms, service is personal and attentive. The hotel is about a 400m stroll from the Labrador Park MRT Station. Expect WiFi, Bluetooth speakers, cable TV, and rain showers.
A January 2017 entrant making big waves and punching well above its class is the small but spacious and rustic chic The Warehouse Hotel with 37 keys in, what else, but a warehouse, dating back to 1895 on the Singapore River at Robertson Quay. The building, now carefully restored, will have witnessed scenes of merry debauchery - illicit distilleries and opium trade - once rife in the area along with its merchants, secret societies and prostitutes cashing in on the 'international' action. The spacious timber-floor rooms are woody, minimalist and stark but not spartan, neat, and kitted out with see-through bathrooms, flat-screen televisions, free WiFi, Ashley & Co bath amenities and Bang & Olufsen Bluetooth speakers.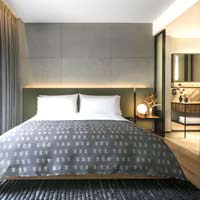 The Warehouse Hotel room - smart, minimalist/ photo: hotel
The lobby is a cavernous shed with deep leather sofas and a unique boutique-meets-business appeal. And for apres-work, there's a Singaporean speciality restaurant and a rooftop fishtank glass-side pool to see and be seen.
Chinatown proper is a preserve of shophouses and it is here where some Singapore boutique hotels thrive. Among the pioneers are Hotel 1929 and the doll's house boutique style Duxton (back after a major facelift late 2018 - formerly Berjaya Singapore Hotel, then Six Senses, and subsequently operated as Duxton Club by Garcha Hotels till late 2017). Early February 2021 the hotel had rebranded yet again under Marriott as the Duxton Reserve Singapore - Autograph Collection. This small and quaint address on Duxton Road, Tanjong Pagar, has a shophouse exterior and colonial-style interior. Endearingly, no two rooms are the same although all sport dark woods against pastel walls. The place is small, welcoming and cosy.
Popular earlier were the darkly elegant 27sq m four-poster bed red and black Opium Room, and the bright, white-laundered, and airy Pearl Suite that offered 36sq m of tidy stretch room with Bose Bluetooth speakers, flat-screen TV and spoiling toiletries. Yes there are soaking tubs. Expect arty touch-ups and old world charm in the new Autograph Collection decor.
At the other end of the scale, Hotel 1929 has a great sense of the unconventional in a very straight city. The lobby is clutter-free and cheerfully quirky. A chandelier comprising exposed bulbs dangles over the waiting area and sofas in bold primary shades clash becomingly with furry animal-skin rugs. And there is the ubiquitous vintage barber chair that is also found at sister properties, New Majestic Hotel and Wanderlust. The owner also collects designer chairs and you'll find at least one sitting in every room. Hallways are lined with framed photographs of Singapore in the 1900s.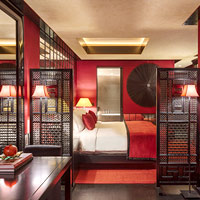 Six Senses, Opium Room reds/ photo: hotel
If you have a sense of humour about skylights, a distinct lack of wardrobes and a shower over the toilet, the 32 oddly shaped rooms and great location will suit you – particularly if you are travelling light and staying only a night or two. In-room amenities include a flatscreen TV, Philips stereo with iPod dock, a mini-me fridge (more like a cooler), work desk, hairdryer hung bedside and you'll find the safe in the drawers under the bed.
For more legroom, try the Terrace Suite. More like a pseudo-bachelor pad, it has a verandah with a cast-iron bathtub and a neat table. Expect extras like a rainshower, Nepresso machine, Kiehl's toiletries, more funky designer armchairs and thank heavens, a good-sized mini-bar. There is free WiFi and internet access in all rooms and items in the mini-fridge/bar are also on the house. Restaurant Ember has a reputation for dishing out great European fare so pull up a chair and tuck in. Next door is the G Hotel that extends functional, fuss-free stays.
Opposite on Keong Saik Road the former Naumi Liora (originally The Saff), occupying a restored come-hither shophouse with beckoning white louvred windows and radiant tangerine paint was sold by the Hind group in 2017, ending its hotel career.
A short walk away is the New Majestic on Bukit Pasoh Road, which every hip dude is talking about. It was once a neighbourhood cinema and the open white lobby is strewn with yet more of the owner's enviable stash of designer chairs. Take a seat and gaze up at the original exposed ceiling as nude bronze male statues watch your every move.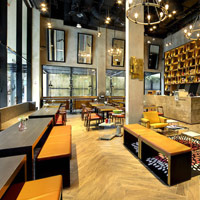 Industrial chic Hotel Yan/ photo: hotel
There are just 30 rooms and the property has the only shophouse swimming pool in town. Diners in the restaurant can rate swimmers' Speedos as they glide by via three portholes that reveal the underwater action. There are four basic room types, where design concepts are let rip: "Mirror" (watch and be watched is the catchphrase), "Hanging Bed" (the fourposter is actually suspended over the floor), "Loft" (where the sleeping chamber is elevated above the living space) and the controversial "Aquarium" (where the centrepiece is the bath).
Five of the rooms were given to local designers to have a go. Themes range from "Fluid" and "Work" to the rather naughty "The Pussy Parlour", with French chandelier, neon lights and mirrors.
Premier Garden Rooms, with baths outside in little gardens with interconnecting doors, cater to parties where the baths are used for stashing the booze on ice. All rooms have a custom-made musical box, complimentary WiFi, LCD TVs, Nepresso machines, Kiehl's amenities, Bose stereos with iPod docks, and a free mini-bar (soft drinks only). It is a relaxed and bright property. Outram MRT station is just a short stroll away.
Santa Grand has a chain of three properties (down from seven) in Bugis and along the east and west coast. Rates will be reasonable during low traffic periods. Rooms are compact, clean and fairly basic, with faux vintage headboards and cabinets, and more elaborate wallpaper or plum walls. Expect an LCD television, safe, hairdryer, iron and ironing board, and complimentary tea/coffee and WiFi. Does 11sq m do the trick with laundry areas and a small swimming pool? A Deluxe room is 15sq m with a nice finish, and the Family room weighs in at 25sq m with a double bed and a single bed as well as a work desk.
Close by Little India on Jalan Besar is Hotel Yan (opened 2017), which describes itself as an industrial chic boutique hotel, and it may have got that right. The hotel is a short stroll from the Farrer Park MRT station. Expect warehouse-style high ceilings, pale wood floors, smart cement block counters for the reception, and long wooden tables and benches, creating an industrial chic escape with rough touches and casual flourishes.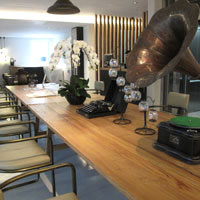 Hotel Clover 769 Bridge Rd lobby space/ photo: Vijay Verghese
WiFi is fast, and there are handicapped traveller facilities - but the hotel's main handicap could be that it is open only to adults over 18 years. Rooms serve up a complimentary mini-bar, Sealy mattress, LED television, electric kettle, toiletries, rain shower and bidet. Opt for a Deluxe Double with balcony view to get a bright, functional, Zen room with see-through bathroom glass wall. Hairdryers are available on request - another odd niggle, but not a deal breaker. There are Luxury suites too - but again sans hairdryer. Ask for one.
Around the corner is Hotel Clover 769 North Bridge Road, a delightfully understated shophouse boutique in a heritage setting that arrived in 2012. It is closed for renovation and expansion till mid-2016. An unassuming two-storey whitewashed facade leads into a generous lobby with wooden flooring and a small but responsive and welcoming reception counter.
A long narrow wooden desk reaches across the length of the room with casual seating on both sides and two leather-upholstered barber chairs at either end. This whimsical lounge or work space (WiFi is free) also includes a brass-horn gramophone, ancient typewriters, an old round-dial phone and a burst of orchids.
Elsewhere in this area are casually arrayed vintage leather suitcases, a bellows camera on a wooden tripod, and a Singer sewing machine in a side alcove where more formal work can be conducted. A small serving area to one side with rustic wooden tables and chairs functions as the breakfast zone with western or Asian sets. It is a cheerful setting with smiles aplenty.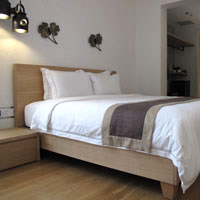 Hotel Clover 769 Bridge Rd simple but compy Plush room/ photo: Vijay Verghese
A glass lift will ponderously open and crawl up, one floor, to where some of the hotel's 27 rooms are arrayed. The street level rooms run along wooden corridors and cream walls that converge on a central open-top skylight 'courtyard' with two woven rattan hanging chairs and a couple of smaller stools and bright cushions. It's a tiny, but verdant, focal point. Upstairs, corridors zigzag unpredictably with half-steps up and down, each room offering a slightly different shape though the DNA is similar - pale wooden floors with low-set bend-down wooden drawers, a comfy bed, a flat-screen LCD television with several satellite channels and small work desk with an old fashioned 'oil' lantern kitted out with an energy-saving bulb. Place the lamp anywhere in the room and plug it in to read, or simply for fun. A flip-down wooden panel offers more working - or unpacking - room at waist height.
A Plush room may serve up an ample walk-through dressing area with open hangers, a top-loading notebook safe, and a complimentary minibar with a couple of soft drinks and snacks. Also spot an electric kettle for coffee or tea and a plugged-in hairdryer whose cord will need to be fully extended to reach the bathroom mirror. The spacious bathroom offers an enormous shower cubicle at the end where a satisfyingly powerful hand-jet produces instant hot water while a rain shower atop imitates a tickling drizzle. Find toiletries from soap to shampoo and lotion. The ensemble is comfortable with the reassurance of an electronic access room key. Lighting is a tad dim, and you may strain to shave or powder your nose in the bathroom, but put it down to squinting colonial charm. Two three-pin multi plugs on one side of the bed will serve to recharge your gadgets while a small and fiddly push-button lighting array on the other side gets the job done with a few random thumps of the palm.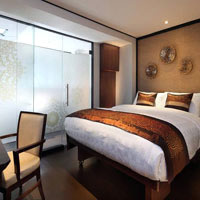 Hotel Clover 33 Jalan Sultan, upscale digs/ photo: hotel
The sole Lavish Suite offers the added pampering of an outdoor Jazuzzi with vertical garden on a timber patio with glass roof. And, everywhere, you'll spot the copper clover leaf motif on walls and corridors. Hotel Clover on North Bridge Road is a wonderful welcoming and unfussy retreat close to Sultan Masjid and the Arab Street area packed with sheesha bars, Turkish kebabs Arabic food and Pakistani biryanis. Explore fragrance shops, fancy dress shops, spas, massage parlours, antique stores and more. While more a leisure retreat, at a pinch it'll do for business travellers too and taxis can always be booked if it's a busy time of day.
Around the corner is the upscale 88-room Hotel Clover 33 Jalan Sultan (late July 2014), a remodelled white-with-brown-trim collection of 17 connected shop houses. Think timber floors, lavish carpeting and garden courtyards for privileged rooms. The space is more detailed and brighter with silk bed runners in green, purple or metallic rust, hanging lamps for reading in some rooms, gleaming dark-wood floors, work desks with comfortable chairs, frosted glass partition bathrooms and plump beds with pricey white linen. Stretched along the road, closer to the Beach Road intersection, this address is in the heart of the bustling street food action, spas, foot massage shops and more. Walk in to a quiet and small reception with cosy seating in a side alcove. Friendly staff will point you to your room or to breakfast cafe where a beaming crew serve up hearty and tasty morsels each morning.
A 'loft' style room on the second floor, again accessed by a lift rather than stairs, is the prime offering with a split level design. The timber-floored foyer and study 'downstairs' is where you'll find a very compact hand shower cubicle and bathroom. It is all neatly compressed with a bidet hose for the fastidious. On this level you'll spot a long work table with three-pin square electric sockets and a decent LCD television. WiFi is free.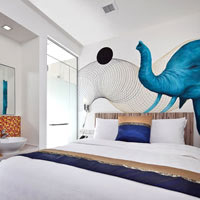 Hotel Clover The Arts/ photo: hotel
A creaking staircase leads up to the 'attic' bedroom where a plump white-linen mattress awaits on a raised plinth just under the sloping roof beams. There is another television here and a cabinet for clothes (that might better work downstairs by the toilet). gain there is an abundance of three-pin plug points and the room switches just behind the headboard are large and comfortably tactile. The master switch will douse all lights at one press. As at other Clovers, you'll spot little wooden artefacts, wire-mesh birds and other adornments. The hotel has character and class but in a very quiet and homey manner. This is not a brash boutique but a quiet and welcoming hideaway.
Fussy travellers or those with two left feet may opt for a regular ground floor compact room where the space has been well used. From the bed you will be master of all your survey. The TV is in front and to one side, depending on room format, is a long glass-partition bathroom. The more generous bathing space may tip the balance for some while others may prefer to squirrel themselves in a darkened loft with not enough light to read but a sufficient glow to soak in your day's reminiscences. Taxis are normally aplenty save for rush hours and the hotel can easily book a cab. Mark this boutique offering down for a look-see.
Hotel Clover The Arts (early 2014) at 58 South Bridge Road is a playful boutique getaway near Boat Quay with artistic offerings in-room from blue elephants on the walls to modern art and floral paintings. This is compact contemporary. Expect open cabinets with hangers and plenty of pale stressed wood features in a pastel palette and rooms upwards of S$148. Around the corner is the excellent good-value and very compact Hotel Clover Hong Kong Street (see 'budget' section).
Also on Jalan Sultan (No. 101) is the immaculately laundered and crisp shop house heritage retreat, The Sultan. With 64 rooms ranging from 17sq m and up, it offers a gleaming ceramic black-and-white-tile-floor lobby, the French Toots Brasserie, and a second-floor jazz club and bar. A Junior Suite comes with wooden parquet floor, a queen bed, free WiFi and local calls, flat-screen TV, a work desk with one three-pin multi-plug socket.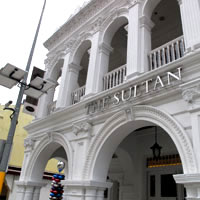 The Sultan shophouse boutique hotel/ photo: Verghese
The mini-bar is free for one-time consumption and a big laptop-friendly safe and a Tiziano coffee machine are on hand for suits chasing a late-night deadline. Also find an iron, hairdryer, and a tile-floor rain shower. A Sultan room is similar but smaller with long narrow dark-wood desk, and a coffee percolator. A Platform room serves up a raised bed with parquet flooring, a Tiziano coffee machine, long working desk, and 'closed' wardrobes (that are a rarity in shop house hotels). And along corridors, faded old photos of celebrities of yore look down impassively on shuffling guests and busy room attendants.
The Scarlet on Erskine Road (near Chinatown) is probably the most delightfully camp and lush. Somehow, 80 rooms and suites, two restaurants and a moody lift have been fitted in. Edwardian houses of boudoir pleasure never came more rouged, velvety and brocaded than this, but you can still take the kids – just about. Standard rooms are themed, with dark woods and wrought iron, but they are on the small side. A few only have skylights.
Executive and premium rooms are more elaborate and fully wired. Opulent, Lavish and Passion suites are riotous, with combinations like "purple, aubergine and mauve", "emerald green, gold and rust with gold sunburst bed-set" and "jet black, matte gold and cardinal red". Men might cringe but some ladies will love the princess interiors, cute posters of handbags and shoes on the walls and the Jacuzzi on the verandah of the Passion suite. The Lavish suite might suit men better with its muted amber tones, slinky black bar counter and Nepresso machine. Bar items are free. There is also a Hastens bed stuffed with horsehair. Food at the Scarlet is really rather fine and has a loyal following among the Club Street crowd. There isn't a pool, but for guests wanting a quick soak, an outdoor Jacuzzi on the second floor bubbly awaits. A short stroll away is Maxwell Road Food Centre, a local favourite for hawker fare. This is top runner in the Singapore boutique hotels sweepstakes.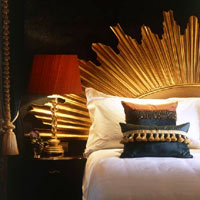 The Scarlet: Baroque touches/ photo: hotel
Up the hill on Ann Siang Road is the monochromatic Ann Siang House (formerly The Club Hotel), which at first glance exudes that members-only vibe. Its pristine white shophouse façade has an air of old money and hushed exclusivity, a sharp contrast though to the welcoming smiles that greet you at reception. Its interiors are a mesh of vintage glam and contemporary sharp. In the lobby and lounge whitewashed walls and the black-and-white tiled floor are juxtaposed with swatches of crimson, glitzy stardust chairs, old-fashioned lanterns, velvet sofas and sequinned cushions. You'll also encounter a huge statue of Sir Stanford Raffles, Singapore's founding father. Go figure.
Rooms are surprisingly spacious with a minimalist black-and-white theme. Expect hints of grey, flatscreen TV, iPod dock, safe, hairdryer, mini-bar, mood lighting, coffee and tea facilities, rain shower and a sitting area perfect for work or play. Like many boutique offerings, clothes storage space is basically out in the open comprising hangers on metal rods. Upgrade to a Wellbeing Suite for even more living space, complete with plush sofas. This property oozes understated cool from every corner. Find a rooftop bar and fine nibbles. WiFi is complimentary throughout.
Straddled between Chinatown and the Tiong Bahru district, and at the base of Pearl's Hill lies Hotel Re! – a psychedelic hoot of a property bursting with '80s flavour. Taxi tip: instruct the driver to enter via Chin Swee Road or you risk having to endure dizzying U-turns. The 12-storey candy-coloured property was once a primary school and is popular with locals seeking weekend getaways. You'll be hard-pressed not to blink when you check in at the hot pink reception area, complemented by swathes of metallic silver and gold around the main lobby.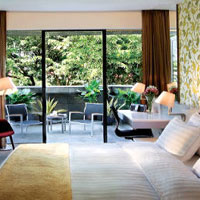 Wangz: grab a Wii/ photo: hotel
Every level has a designated colour theme and we saw a superior room on the pink floor. Gaily greeting me were swathes of hot fuchsia and silhouettes of Marilyn Monroe caught in the throes of her infamous skirt-flying moment. Thankfully, the silver bedding and cushion covers, white work desk and swivel chair create a welcome diversion from all the eye-popping pink. No such luck in the bathroom though as sparkling pink tiles dazzled me as I inspected the shower. A 37-inch flatscreen TV, safe, free WiFi, mini-bar and hairdryer round up the in-room facilities provided. All rooms face either the city or neighbouring park.
Theme suites located at the end of the quietest corridors are a hit with lovebirds. For the fortunate few, the king-sized circular waterbed has to be the highlight. The Jacuzzi bathtub is a close second. Around the hotel, you'll find a gym, spa, restaurant, bar and various meeting spaces. Rates are surprisingly affordable.
Tiong Bahru is yet another locale mushrooming with boutique properties. This area is mostly residential and some of the best local food can be found in the markets and eating houses here. Standing slightly taller than its counterparts and looking a little like an outsider is the 41-room Wangz. Its cylindrical mesh aluminium façade is ruggedly sleek and futuristic and a direct contrast to its more traditional surrounds. If you're in a hurry, you might just breeze past the nondescript main entrance (which I did) and end up pressing your nose against the glass windows of the in-house restaurant in confusion. The lobby is next to the restaurant, with the latter occupying much of the floor space. Works by local artists dot the interiors while some unusual nature photography adds fauna and flora to the walls of every room.
The superior rooms are spacious and comfy, with views of the city or greenery. Decked out in a soothing palette of brown and green, expect free WiFi, 37-inch flatscreen TV, DVD player, iPod dock, rainshower, Molton Brown toiletries, safe, iron and board, hairdryer and coffee and tea. Selected drinks from the mini-bar are on the house as well as breakfast. Splurge on the Soak Room – that comes with a freestanding bathtub by the window – or the chic, expansive 47sq m Deep Suite with multi-functional living space and Nespresso machine. There is a small gym and a rooftop bar for further relaxation. Guests can call reception to borrow a Wii or Xbox, subject to availability. For serviced apartments, try sister property The Forest by Wangz in Novena.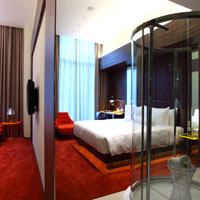 Futuristic Klapsons/ photo: hotel
Next door is the Link Hotel converted from old residential apartments, comprising 288 rooms housed in two wings (named Orchid and Lotus) connected by a pedestrian bridge on the third floor. Rooms have four themes: Chinese, Indian, Malay and Contemporary with the standard ones being neat and fuss-free. You'll find a flatscreen TV, shower, safe, mini-bar, coffee and tea facilities and free WiFi and Broadband. What you won't find are wardrobes. Hang and store your clothes on the standing rack or use the small cabinet below the TV.
Business travellers might want to consider taking up one of the 18 Small Office/Home Office (SOHO) units available, which come equipped with separate living room and sleeping quarters, and printing/scanning/fax machines. There isn't a gym or pool, but meetings and events can be held in the rooftop garden and the function rooms. Catch the free shuttles to Suntec City, Shenton Way, Clarke Quay and nearby MRT stations.
Across the street is the quaint 50-room Nostalgia. Old world charm abounds: from the chandelier and baroque settee to the opulent Persian carpets. Inspired by Singapore in the 1940s, historical images of Tiong Bahru are displayed throughout the hotel. Rooms are decorated in a mix of modern and colonial styles, with oriental touches in predominantly red and gold. It's a little cramped but the vintage knick-knacks help add a cosy ambience.
Expect free WiFi and wired Internet access, flatscreen TV, iPod dock, hairdryer, iron and board and coffee and tea facilities. The alfresco restaurant on the ground floor lets you enjoy the lively Tiong Bahru street scene as you drink and dine. If you fancy a quick dip, head to the outdoor lap pool or relax with a good book on the lounge chairs and sofas. There are public buses that take you directly (from the bus stop next to the hotel) to Orchard Road, Tiong Bahru MRT station, Clarke Quay and Shenton Way.
On the other side of Raffles Hotel, across a small side street, the 73-room Naumi Singapore was back late 2013 after a dramatic facelift. It's playful humour remains in design flourishes as well as packages termed "WTF" - wine, travel and food. Bright rooms are kitted in woody earth tones with the added luxury of Apple TVs and 400 thread-count Egyptian cotton to coddle tired backs atop princess-and-the-pea seven layer bedding. Accommodation here feels more like a snazzy studio apartment than hotel residence and the decor is smart with splashes of assorted kitsch and a sprinkling of Singaporean art. Play games on a Microsoft Xbox 360 or a Nintendo. Clearly, it's all about choice.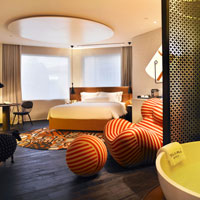 Snazzy Naumi suite/ photo: hotel
Upgrade to a luxe suite "inspired" by Coco Chanel or Andy Warhol, like the chic and mod 43sq m Eden & Nirwana with teak floors, colourful throws, hallucinogenic candy-stripe chairs and open-plan soaking tubs. In-room amenities are plentiful for work and play. As in the previous iteration, there is a dedicated ladies floor with special amenities and security. Yes, there's WiFi throughout. A nutritionist handles calibrated Naumi breakfasts but Indian restaurant Table by Rang Mahal serves up unrestrained curry calories. Guests can burn it all off later at the rooftop infinity pool with open city views.
The 17-room Klapsons, on the other hand, is located in the busy Central Business District of Tanjong Pagar, annexed to an office tower. The initial impression is rather otherworldly with its stark, silver décor and what looks like a half-open space capsule standing in water in the reception area. Then there's the soaring ceiling with its ever-changing neon lighting. But the vibrant paisley and whimsical patterned cushions scattered across the lobby inject warmth and light-heartedness to the otherwise cool and collected atmosphere. But the rooms tell a different story.
Warm and glowing (thanks to the adjustable mood lighting), the executive room is far from clinical with its rich hues, plush carpet, dark wood tones and chic furniture. Expect showering to be an experience with see-through cylindrical shower cubicles in the middle of some rooms while other rooms offer rain showers with mood lighting and radio on demand. Almost everything is controlled by remote and expect a flatscreen TV, Nepresso machine, Chopard toiletries and a pillow menu on request. In-room freebies include WiFi and a mini-bar. Fabrika, the rooftop bar, serves exclusive Chivas cocktails. Rates are inclusive of daily breakfast.
Among the more eccentric Singapore's boutique hotels we reviewed, is Wanderlust in Little India. The grey and white shophouse façade appears tame, but when you step inside, a whole new world beckons. A modern, ultra-cool wonderland of sorts. The 29-room hotel is spread over four thematic floors, the creation of local design agencies. The lobby is created out of all sorts of funky junk. The wall montage is made from the packaging of products sold in Little India and the chairs have been assembled from recycled road signs and supermarket trolleys. The most normal item in this industrial-soup ensemble is the table soccer game.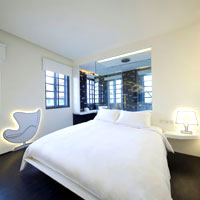 Wanderlust fantasy/ photo: hotel
The capsule-like Patone rooms on the second level are bathed in different coloured light depending on which song title or band name is lit up behind the bed, for example "Yellow Submarine"by The Beatles, or U2's "Red Light". On the next floor, a black corridor leads to the larger, pristine white Mono rooms, decorated with origami and pop art. It's akin to stepping into your very own cartoon home. Disabled-friendly rooms are available on this level too.
The fourth storey houses the Whimsical rooms, which are the biggest and feature loft bedrooms and long tubs encroaching into the living room space. Aluminium stairs take you up to your bedroom equipped with a flatscreen TV. Friendly monsters appear in every room in the form of stuffed cushions, furniture or wall art.
The Space rooms are the stuff of boyhood fantasies and are definitely not for business travellers. Walls and ceilings are pitch-black and dusted with little LED lights for maximum starry effect. Even with all the lamps switched on, you'll only get an eerily dim glow.
Expect flatscreen TV (two in each Whimsical room), laptop-size safe, Nepresso machine, Kiehl's toiletries, and freebies like in-room WiFi and minibar. Some of the rooms overlook the vertical, hanging garden in the middle of the building and rates are inclusive of breakfast. There is an outdoor Jacuzzi on the second floor.
Joining the boutique bandwagon is Moon@ 23 Dickson, an 80-room property a few paces from Wanderlust. The five-storey, contemporary glass façade sets it apart from its low-rise shop house neighbours. A small flight of steps leads up to the entrance. The minimalist yet classic colour scheme includes white, brown and black with hints of blushing pink and violet. The standard room kicks off at 16sq m and space, though constrained, is well utilised. The sink is outside the bathroom along the narrow passageway leading to the sleeping quarters and glassy elements help conjure an illusion of more width.
Heavy packers beware – there isn't much wardrobe space to play around with. All rooms have platform beds with built-in work desks, flatscreen HDMI TVs, Slumberland mattresses, iPod docks, Grohe bathroom fittings, complimentary mini-bars, safes and hairdryers. Some of the lower category rooms don't have windows. The Moonlight Suite at the other end of the spectrum is 30sq m and comes with a breezy balcony and bubbly outdoor Jacuzzi. Rates include breakfast, cocktails (5.30-7.00pm) and free-flow of coffee, tea and snacks at the common dining area.
Budget beds, value, and a funky pod hotel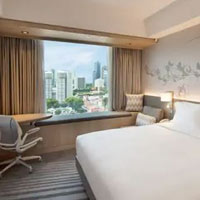 Clean pastel Hilton Garden Inn in Little India / photo: hotel
In the budget hotel or "affordable hotel" range a relative newcomer is the 328-room Hilton Garden Inn Singapore Serangoon in the thick of the Little India bustle close to shopping and eats. The hotel is close enough to the CBD. Rooms are contemporary in clean pastels with little clutter. Also expect 21sq m 'accessibility' rooms for handicapped travellers who can 'roll in' to the bathroom and manage things with ease. Also expect 43-inch HDTVs and complimentary WiFi. Expect rates from S$155. Not exactly burget but great value with the design and service standards of an international chain.
For Singapore budget hotel choices you might consider the Boat Quay area, walking distance from several offices and attractions as well as nightlife. One option here - now under the IBIS Burdget brand - is the simple 101-room Fragrance Hotel – Riverside, at 20 Hong Kong street. The group has 14 options around town including Middle Road, Upper Serangoon Road and Selegie Road. This is a very unassuming medium-rise building with compact rooms and even more compact toilets, but it serves its purpose. The small hairdryer in the desk drawer is a mighty beast but perhaps not enough for women with long flowing locks. There is an LCD TV that has a few channels but not BBC or CNN. WiFi is available.
Just down the lane is the newer and modestly chic Hotel Clover 5 Hong Kong Street (with a handicapped lift to access the raised lobby). This opened late 2013. Staff is attentive and friendly. Expect smart, clean and awfully compact rooms from 15sqm to 17sq m. The rooms are well designed so you do not feel the pinch unduly. The bathrooms are pretty mod, if compact, with bath toiletries and a hairdryer. Expect a multi-channel flat-screen TV, tiled walls, and a pleasant ambience. It's a smart step up from Fragrance next door and the Boat Quay area is lively after dark with wall-to-wall restaurants and bars. If the weather is kind you can walk up to Raffles Place and the banking district, or the grand Fullerton Hotel. Newer Hotel Clover The Arts just around the corner on South Bridge Road is high end and artsy while the flagship Hotel Clover 769 North Bridge Road (see "boutique" hotels section) and Hotel Clover 33 Jalan Sultan (opened July 2014) are heritage shophouse escapes.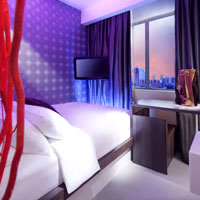 Fly me to the Moon/ photo: hotel
The Holiday Inn Express Singapore Clarke Quay is a space age charcoal building with an intriguingly tilting design and modern rooms. It has morphed from a budget hotel - its original roots - into a pricey lodging, yet one that is not without merit. It is aimed at business travellers, and would have to be with a price tag at around S$190 and up. Holiday Inn Express Singapore Orchard Road (formerly Wellington Building), is pricier still, from S$225 and up.
Lower down the scale there are cheap hostels with shared facilities and the notorious short-time or all night Hotel 81 in Chinatown, Geylang, and on Middle Road, Bencoolen, and Jalan Sultan providing variable comfort and few frills. Pop by only if in a beer haze or if your companion is too saucy for the Ritz. Hotel NuVe (www.hotelnuve.com/) offers three locations with a strong suite in the Masjid Sultan Arab Street area.
Yes, Singapore capsule hotels
Quite a squeeze and hard to find, is the trendy The POD (arrived mid 2013) at 289 Beach Road (near the Jalan Sultan intersection not far from Arab Street). Expect spartan grey cement interiors - this after you have buzzed yourself into a minimalist shoebox lowrise and taken the lift up to the third floor 'lobby' where a single receptionist deals efficiently with tousle-haired backpackers. This is a self-styled 'boutique Singapore capsule hotel' though the bedding arrangement is more like a train with two-tier bunk beds rather than a sealed coffin with TV. And it is this that will help allay the fears of claustrophobic travellers. Better yet, the blinds are affixed to the side of the bed (not at the feet) so there's a lot of potential open space, light (and of course whispered phone calls).
The minimalist grey opens into Nordic pale pinewood spaces with bedding neatly arrayed into categories like Front Entry, Side Entry, Female Only, and Queen. The Queen Pod will fit two and you get two personal lockers. If you need elbow room ask for a Single Pod (side or front entry). Black ladders run up to upper decks. Each POD serves up a private reading light, flip-down table for work, power socket, clothes rack, hangers, comfy duvet, and, remarkably, 300 thread count cotton sheets.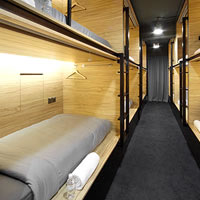 The POD, smart bunk beds/ photo: hotel
There are 83 beds in all (10-12 per room, designated male-only, female-only, or mixed) with pull-down blinds for privacy. A shared lobby-level pantry with long table, television, side settee and high chairs provides a self-serve common area with Nespresso, and WiFi. Complimentary breakfast is served here.
Guests get shoe lockers, key-card access to rooms, free laundry (self service), free dry-cleaning (one item per day), free local calls, mineral water, towels and toiletries. The toilet is upscale too. A shared washroom with black marble basins set against a long mirrored wall offers a common space for shaving and teeth brushing while the self-contained compact private modern bathrooms are well featured, with vanity, flush and glass-partitioned shower. Yes, there's a hairdryer. It can't get better than this if you want a not too pinching leisure spin in a trendy hookah-puffing kebab neighbourhood or even if you're a suit in search of value digs. Rack rates start at S$89 but seasonal variations could have you in bed for just S$40 mid-week.
The latest and quite charming addition to the Singapore capsule hotel fray is the CUBE Boutique Capsule Hotel (mid 2018 cubehotels.com.sg/kampong-glam/) at Kampong Glam, a genuine little tight-space wonder with a royal blue facade, cool features and a nice vibe. This is a vibrant happening district with bars, spices, great food and trendy shops. Neat space-age interiors (not for the claustrophobic) offer free WiFi, female only capsules, blackout blinds, fold-down tables, USB, safe, and storage with locks below the bed. Large purple numbers mark out the beds and the scene is almost reminiscent of a train carriage. A single starts around S$68 and if you really need space and privacy opt for a private rooms with two single capsules for around S$136 up. At the CUBE Boutique Capsule Hotel Chinatown a single starts around S$83.
So there you have it, our A-Z of Singapore business hotels, a smattering of boutique servings and even some child-friendly resorts. Take your pick and don't forget to drive a hard bargain. There's a hotel for everyone.
Send us your Feedback / Letter to the Editor
FAST FACTS

/ Hotel Contact List

The exchange rate is US$1 = S$1.32. All room rates have a 10 percent service charge and seven percent goods and services tax, as well as one percent government tax added on.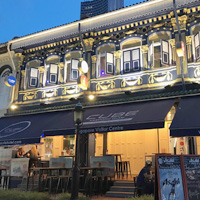 The CUBE Boutique Capsule Hotel Kampong Glam brings a fresh vibe to the district/ photo: hotel
Taxi fares have complicated add-ons. There is an extra charge for travelling at peak times, and another add-on for the central business district. There may also be further Electronic Road Pricing (ERP) charges. If you travel after midnight there is a 50 percent surcharge on the lot. Call a cab and you could start at S$5 or all the way up to S$20 for a Chrysler. (Smoking is strictly forbidden in hotel taxi queues.)
If you buy a Mass Railway Transit (MRT) journey card from a machine at a station, there is a small deposit on the card, which is returned if you put the card back in a machine at journey's end.
Singapore hotels directory
Amara Sanctuary Resort Sentosa. Tel: [65] 6825-3888, (sentosa.amarahotels.com/).
Andaz Singapore. Tel: [65] 6408-1234, (/www.hyatt.com/andaz/sinaz-andaz-singapore).
Artyzen Singapore (November 2023, www.artyzen.com).
Ascott Raffles Place Singapore. Tel: [65] 6577-1688, (www.the-ascott.com/raffles-place).
Carlton City Hotel Singapore. Tel: [65] 6632-8888, (www.carltoncity.sg).
Carlton Hotel. Tel: [65] 6338-8333, (www.carltonhotel.sg/).
Capella Singapore. Tel: [65] 6377-8888, (www.capellahotels.com/singapore).
Conrad Centennial Singapore. Tel: [65] 6334-8888, (conradhotels3.hilton.com/singapore/).
Conrad Singapore Orchard. (Formerly Regent, rooms return Q1 2024) Tel: [65] 6733-8888, (conradsingaporeorchard.com.sg/).
Crowne Plaza Changi Airport. Tel: [65] 6823-5300, (www.ihg.com/crowneplaza/singapore).
Dorsett Singapore. Tel: [65] 6678-8333, (www.dorsetthotels.com/singapore/).
Dusit Thani Laguna Singapore. (www.dusit.com/dusitthani/laguna/singapore/)
Equarius Hotel. Tel: [65] 6577-8899, (www.rwsentosa.com/equarius-hotel).
Equarius Villas. Tel: [65] 6577-8899, (www.rwsentosa.com/en/hotels/beach-villas).
Fairmont Singapore. Tel: [65] 6339-7777, (www.fairmont.com/singapore/).
Four Seasons Hotel Singapore. Tel: [65] 6734-1110, (www.fourseasons.com/singapore/).
Grand Copthorne Waterfront Hotel Singapore. Tel: [65] 6733-0880, (www.millenniumhotels.com/singapore/grand-copthorne).
Grand Park City Hall. Tel: [65] 6336-3456, (www.parkhotelgroup.com/cityhall).
Grand Park Orchard. Tel: [65] 6603-8888, (www.parkhotelgroup.com/orchard).
Goodwood Park Hotel. Tel: [65] 6737-7411, (www.goodwoodparkhotel.com/).
Grand Hyatt Singapore. Tel: [65] 6738-1234, (www.hyatt.com).
Hard Rock Hotel Singapore. Tel: [65] 6577-8899, (www.rwsentosa.com/hard-rock-singapore).
Holiday Inn Singapore Atrium. Tel: [65] 6733-0188, (www.ihg.com/holidayinn/singapore/).
Holiday Inn Singapore Orchard City Centre (formerly Holiday Inn Singapore – Parkview). Tel: [65] 6733-8333, (www.ihg.com/holidayinn/singapore/sinpv/).
Hotel Fort Canning. Tel: [65] 6559-6770, (www.hfcsingapore.com).
Hotel Jen Tanglin Singapore. (formerly Traders Hotel). Tel: [65] 6831-4333, (e-mail: reservations.singapore@hoteljen.com or www.hoteljen.com/singapore/tanglin).
Hotel Jen Orchardgateway Singapore. Tel: [65] 6708-8888, (www.hoteljen.com/singapore/orchardgateway).
InterContinental Singapore. Tel: [65] 6338-7600, (www.ihg.com/intercontinental/singapore).
InterContinental Singapore Robertson Quay. Tel: [65] 6826 5000, (robertsonquay.intercontinental.com/).
JW Marriott Hotel Singapore South Beach. Tel: [65] 6818-1888, (www.marriott.com/jw-marriott-singapore-south-beach/).
M Hotel Singapore.Tel: [65] 6224-1133, (www.millenniumhotels.com/singapore/m).
Mandarin Oriental, Singapore. Tel: [65] 6338-0066, (www.mandarinoriental.com/singapore).
Marina Bay Sands Resort. Tel: [65] 6688-8868, (https://marinabaysands.com/).
M Social Singapore. Tel: [65] 6664-8888, (www.millenniumhotels.com/m-social).
Mondrian Singapore Duxton (mondrian/singapore-duxton)
Novotel Singapore Clarke Quay. Tel: [65] 6338-3333, (www.novotelclarkequay.com/).
Oasia Hotel. Tel: [65] 6664-0333, (www.oasiahotels.com/singapore/oasia-novena).
One Farrer Hotel. Tel: [65] 6705-7856, (www.onefarrer.com/).
Orchard Hotel Singapore. Tel: [65] 6734-7766, (www.millenniumhotels.com/orchard-hotel-singapore/).
Orchard Rendezvous Hotel. Formerly Orchard Parade. Tel: [65] 6737-1133, (www.rendezvoushotels.com.sg/orchard-rendezvous).
Pan Pacific Orchard. (www.panpacific.com).
Pan Pacific Singapore. Tel: [65] 6336-8111, (www.panpacific.com/pp-marina.html).
PARKROYAL COLLECTION Marina Bay. Tel: [65] 6845-1000, (www.panpacific.com).
PARKROYAL on Pickering. Tel: [65] 6809-8888, (www.panpacific.com/pr-pickering.html).
Park Hotel Alexandra. Tel: [65] 6593-6999, (www.parkhotelgroup.com/alexandra).
Park Hotel Clarke Quay. Tel: [65] 6593-8888, (www.parkhotelgroup.com/clarkequay).
Park Hotel Farrer Park. Tel: [65] 6824-8888, (www.parkhotelgroup.com/farrerpark).
Park Regis Singapore. Tel: [65] 6818-8888, (www.parkregissingapore.com/).
Quincy. Tel: [65] 6738-5888, (www.stayfareast.com/quincy).
Raffles Hotel Singapore. Closed till end 2019. Tel: [65] 6337-1886, (www.raffles.com/singapore/).
Rendezvous Hotel Singapore. Tel: [65] 6881-8888, (www.stayfareast.com/rendezvous-singapore).
Resorts World Sentosa. Tel: [65] 6577-8888, (www.rwsentosa.com/).
Royal Plaza on Scotts. Tel: [65] 6737-7966, (www.royalplaza.com.sg/).
Shangri-La Hotel, Singapore. Tel: [65] 6737-3644, (www.shangri-la.com/singapore).
Shangri-La's Rasa Sentosa Resort Singapore. Tel: [65] 6275-0100, (www.shangri-la.com/rasasentosaresort/).
Sheraton Towers Singapore. Tel: [65] 6737-6888, (www.marriott.com/sheraton-towers).
Siloso Beach Resort. Tel: [65] 6722-3333, (silosobeachresort.com/).
Singapore Marriott Tang Plaza Hotel. Tel: [65] 6735-5800, (www.marriott.com/marriott-tang-plaza).
Duxton Reserve Singapore - Autograph Collection. Tel: [65] 6914-1428, (www.marriott.com/duxton-reserve-singapore-autograph-collection/).
SO Sofitel Singapore. Tel: [65] 6701-6800, (sofitel.accorhotels.com/so-sofitel-singapore).
Studio M Hotel. Tel: [65] 6808-8888, (www.millenniumhotels.com/studio-m).
Swissotel The Stamford Singapore. Tel: [65] 6338-8585, (www.swissotel.com/singapore-stamford/).
The Capitol Kempinski Hotel Singapore. Tel: [65] 6368-8888, (www.kempinski.com/en/singapore).
The Elizabeth Hotel. Tel: [65] 6738-1188, (www.theelizabeth.com.sg/).
The Forest by Wangz also D'Hotel Singapore (by Ascott). Tel: [65] 6500-3188, Singapore-Hotels-D-Hotel).
The Fullerton Bay Hotel. Tel: [65] 6333-8388, (www.fullertonhotels.com/the-fullerton-bay).
The Fullerton Hotel. Tel: [65] 6733-8388, (www.fullertonhotels.com/).
The Ritz-Carlton, Millenia Singapore. Tel: [65] 6337-8888, (www.ritzcarlton.com/singapore).
The St. Regis Hotel, Singapore. Tel: [65] 6506-6888, (www.marriott.com/st-regis).
The Sofitel Singapore Sentosa Resort & Spa. Tel: [65] 6275-0331, (www.sofitel-singapore-sentosa.com/).
The Vagabond Club Singapore. Tel: [65] 6291-6677, (www.hotelvagabondsingapore.com/).
The Westin Singapore. Tel: [65] 6922-6888, (www.marriott.com/westin-singapore/).
Village Hotel Changi. Tel: [65] 6379-7111, (www.stayfareast.com/village-changi).
W Singapore - Sentosa Cove. Tel: [65] 6808-7288, (www.marriott.com/w-singapore-sentosa).
Singapore boutique hotels guide
Ann Siang House. Formerly The Club Hotel. Tel: [65] 6202-9377, (annsianghouse.com/).
CUBE Boutique Capsule Hotels. Tel: [65] 6291-1696, 6221-7769, (cubehotels.com.sg/).
Hotel 1929. Tel: [65] 6347-1929, (www.1929hotel.com/).
Hotel Clover 33 Jalan Sultan. c/o Tel: [65] 6340-1860, (hotelclover.com)
Hotel Clover 769 North Bridge Road. Tel: [65] 6340-1860, (hotelclover.com/).
Hotel Clover The Arts. Tel: [65] 8499-2659, (hotelclover.com/).
Hotel Re! Tel: [65] 6827-8288, (hotelre.com.sg/).
Hotel Yan. Tel: [65] 6805-1955, (hotel-yan.com/).
Klapsons. Tel: [65] 6521-9000, (www.klapsons.com).
Link Hotel Singapore. Tel: [65] 6622-8585, (www.linkhotel.com.sg).
Moon@ 23 Dickson. Tel: [65] 6827-6666, (www.moon.com.sg).
Naumi Singapore. Tel: [65] 6403-6000, (www.naumihotels.com).
New Majestic Hotel. Tel: [65] 6511-4700, (www.newmajestichotel.com).
Nostalgia. Tel: [65] 6808-1818, (www.hotelnostalgia.com.sg/).
Park 22 hotel. Tel: [65] 6225-5565, (www.park22hotel.com).
Santa Grand Hotel Bugis. Tel: [65] 6298-8638, (santagrand.sg/).
The Scarlet. Tel: [65] 6511-3333, (sg.thescarlethotels.com/).
The Warehouse Hotel: Tel: [65] 6828-0000, (www.thewarehousehotel.com/).
Villa Samadhi. Tel: [65] 6274-5674, (www.villasamadhi.com.sg/).
Village Hotel Albert Court. Tel: [65] 6339-3939, (www.villagehotels.com.sg).
Wanderlust. Tel: [65] 6396-3322, (www.8mcollective.com/wanderlust/).
Wangz Hotel. Tel: [65] 6595-1388, (www.wangzhotel.com).
Budget stays, capsule hotels and funky pods
CUBE Boutique Capsule Hotels. Tel: [65] 6291-1696, 6221-7769, (cubehotels.com.sg/).
Hilton Garden Inn Singapore Serangoon. Tel: [65] 649-10500, (hiltongardeninn3.hilton.com/garden-inn)
Holiday Inn Express Singapore Clarke Quay. Tel: [65] 589-8000, (www.ihg.com/holidayinnexpress/sincq/).
Holiday Inn Express Singapore Orchard Road. Tel: [65] 690-3199, (www.ihg.com/holidayinnexpress/singapore/).
Hotel Clover The Arts. (thearts.hotelclover.com/).
Hotel NuVe (www.hotelnuve.com/)
Ibis Budget replaces Fragrance Hotels. Tel: [65] 6636-0888, (ibisbudgetbugis.sg-singapore.com/en/).
The Pod. Tel: [65] 6295-8505, (www.thepodcapsulehotel.com/).