FAMILY FUN
The 22 must-dos in Taipei
With a deserved reputation as a friendly city, small Taipei packs a big punch when it comes to fun as we reveal in this guide, from bird fortune tellers and beef soup to late night nibbles, the best fried chicken, and bikes.
SEE ALSO Taipei business hotels | Taipei spa | Taipei nightlife | Beijing hotel reviews | Hong Kong business hotels | HK Yuen Long coffee, cafes | Seoul guide | Shanghai business hotels | Tokyo guide | Songdo fun guide | Hong Kong Haven St food guide | Covid-19 responses | Covid-19 and the return of travel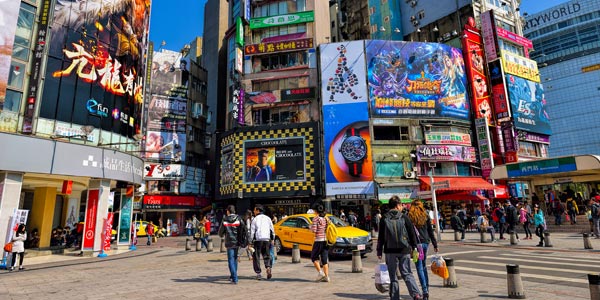 I always joke: Taipei is a mean city. Not mean like the snarky Cruella de Vil who gave those Dalmatians such a rotten time, but mean as in "average" or "in the middle." I mean it as a compliment. How so? Well, it is a busy city but not too crowded, with a well-developed Mass Rapid Transit (MRT) system that doesn't take you hours to master. It is not the cheapest place in Asia to travel to, but it certainly won't cost you a fortune, either. Like a cup of fine tea without too many leaves or excess water, Taipei is flavoured just right.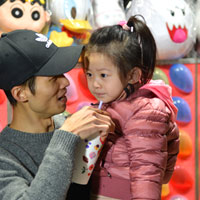 Shilin Night Market balloon shooting stall - father with daughter/ photo: Vijay Verghese
With various hot spots to visit, food to eat and activities to undertake, here is our Taipei fun guide with 20 + 1 musts for any whistle-stop to serve up a balanced and entertaining menu with just the right amount of everything.
A wise Chinese proverb says, "good feng shui rotates," and this, I daresay is evident in Taipei. Popular districts that were traditional hangouts for cool folk and the cognoscenti have gravitated right across the city over the past three decades. Interestingly, as you travel from west Taipei to the east, you also voyage from the past to the present.

Send us your Feedback
1. GOOD GOD. Receive blessings from the god(s) at Lungshan Temple. Located near the Danshui River on the west of Taipei, in the city's oldest district known as "Bangka", the three-century-old Lungshan Temple (MRT Lungshan Temple Station Exit 1, Blue Line, tel: [886-2] 2302-5102, www.lungshan.org.tw) is one of the most revered places of worship in the country. Designed in a manner similar to a Chinese palace, the structure sensibly accommodates several gods, including Guanshiyin Buddha (the Goddess of Mercy). Whether rich or poor, young or old, worshippers from various corners of the island visit the temple to pray to the goddess for protection and wellbeing. The temple is rarely empty, but always extra crowded on the first and fifteenth day of every lunar month.
Pay attention to the intricate hand-carved details on the pillars, ceilings and rooftops of every structure. Rated as a Grade 2 historic building in Taiwan, the temple was restored several times after various disasters; hence to the many generations living in the neighbourhood, this edifice symbolises a rich slice of Taiwan's history.
Send us your Feedback / Letter to the Editor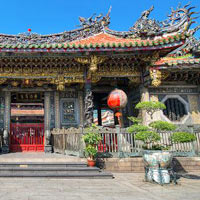 Lungshan Temple is a popular draw
Temples play a large role in shaping cultural behaviour. While stress sends Americans rushing to the shrink, here the Guanshiyin Buddha appears to calm jangled nerves – and at far lower cost.
Within walking distance from the temple is the well-known Snake Alley located on Huaxi Street. This place is a night market with an interesting history and a unique character. In the early years, before becoming a tourist destination, it was a red light district where gangsters hung out.
The night market got its nickname from the many restaurants featuring snake meat and soup, as well as shots of fresh snake blood (and you thought tequila shots were terrifying). Swing by and check it out if you have extra time, but it isn't a true must.
2. PRETTY POLLY. Let a bird tell your future. Taiwanese greatly favour visits to fortune-tellers during difficult times; they seek them out for answers as well as guidance. Younger people also go to fortune-tellers because it's fun. Amidst the cluttered fortune-telling menu, I find the birds and their peckish technique particularly interesting. Plus, the birds are adorable. Just run if one sneezes, threatening flu. Now don't be chicken.
It is said that this form of forecasting can predict success in school, work or love life and marriage. In other words, it covers just about everything. To proceed, have your name, date of birth and the question you want answered ready (not rocket science). You could ask something like, "Will I get promoted this year?" or, "Will I be spending the rest of my life with that daft boy?"
Perhaps avoid enquiries like, "Will I become president of the United States?" The bird might roll its eyes at you in Trumpian fashion. Formalities concluded, the bird will pick out a stick for you; and the chosen stick is then interpreted in great detail.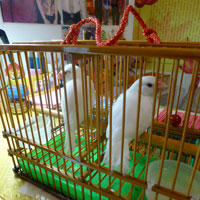 These birds will tell your fortune/ photo: Tricia Chen
You can find several fortune-tellers along the underground shopping street in Lungshan Temple MRT station. Try the famous bird fortune-teller Liao He-tsuen (mobile: [886] 9219-67278, blog.xuite.net/); this place received fame after Taiwanese superstar Jolin Tsai's personal visit (I suppose the bird said she'd become rich and famous).
3. BACK TO SCHOOL. Inhale all that youthful energy at Ximending. Still in the same district, Ximending, the youngsters' territory (no, they won't discriminate because you're "old"), occupies a few blocks along Chunghwa Road and is filled with shops, cafes, restaurants and food stalls. Ximending features the country's first and largest pedestrian area and is a bustling, energetic place. It has been called the "Shibuya of Taipei"; and this is also where gatherings of the local gay and lesbian community take place.
In general, all the clothing, bags, scarves, phone cases and accessories you'll find in Ximending are considerably cheaper than elsewhere. The products are usually non-branded and made locally. Ximending was set up during Japanese rule and is about a century old. Before movie theatres exploded all over Taipei, people used to go to the main "theatre street" in Ximending to watch the latest films or shows. The Red Theatre (MRT Ximen Station Exit 1, Blue Line, tel: [886-2] 2314-2927, www.redhouse.taipei) is one of the oldest.
Originally built as a marketplace, the red brick Grade 3 historical structure has been used as a theatre since 1945. Nowadays, it hosts cultural art events and live performances. On the weekends, you'll find college students selling handmade jewellery and other handcraft items at the many stalls occupying the theatre plaza.
4. SOUPED UP. Eat the local way. You cannot leave the island without trying a bowl of thick soupy vermicelli noodles with oysters and/or braised pork intestines, topped with black vinegar, minced garlic and coriander. This classic Taiwanese dish can be found in night markets all over the country, but I highly recommend Ay-chung (MRT Ximen Station Exit 6, Blue Line, www.ximen.com.tw), which is located in Ximending.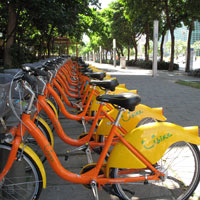 Rent a bike for a quick run around/ photo: Vijay Verghese
The store is impossible to miss, since you'll see a lot of people queued up outside. Tables and seats are not offered here. And yes, "fans" of this place are still willing to savour the noodles standing, even in the hot summer months.
5. PEDAL POWER. You bike? YouBike! Taipei's best feature is the ease of getting around. The numerous bus routes and the highly praised MRT system (often ranked one of the world's best) offer convenience but accessibility really shoots up ground level with a YouBike. There are now over 160 YouBike posts throughout the city; some are found right outside MRT stations while others are in parks and populated intersections. You can rent from place A and return it at place B. To rent a bike, buy and top-up an EasyCard from any convenient store, such as the ubiquitous 7-Eleven or FamilyMart, and register on the official YouBike website (www.youbike.com.tw/). The website is helpful because it also tells you where all the YouBikes are parked, whether there are still YouBikes available or free parking space.
The EasyCard can also be used to pay at convenience stores, for taking buses or the MRT, so it is certainly worth getting. Upon leaving the country, just return the card at any MRT station to get back what is still left in the card. So now, let's YouBike (yes, it is now used as a verb, too) to the next "must-see". You'll find bikes parked outside the MRT Ximen Station Exit 3.
6. GUARDED MOMENT. Watch the changing of the guards at Chiang Kai-shek Memorial Hall. Return the bike at the intersection of Roosevelt Road, Section 1 and Ningpo East Street, the nearest parking spot to the Chiang Kai-shek Memorial Hall (MRT Chiang Kai-Shek Memorial Hall Station Exit 5, Red or Green Line, tel: [886-2] 2343-1100, www.cksmh.gov.tw/).
The entire site occupies a large area of about 250,000sq m. You may enter from any direction but the main entrance faces Zhongshan South Road, with a large white and blue archway inscribed with the words, "Plaza of Freedom". Directly ahead stands the Chiang Kai-shek Memorial Building mirroring the same colours. On two sides, you'll find the National Concert Hall and National Opera House, featuring orange Chinese palace-style rooftops and red pillars. This is a spot for musicals, concerts, performances etc.
Austere clean lines of Chiang Kai-shek Memorial Hall
Locals wisely steer clear of over-trodden tourist destinations in their own cities (for example, New Yorkers rarely go up the Statue of Liberty), but people living in Taipei actually come here over the weekends. Look around, you'll find groups of students practicing their dance routines or couples walking their kids, I mean, their dogs.
There are two things that I love about this place. Firstly, the vibrant colours of the concert hall and opera house, as well as the flowers when they blossom in the surrounding gardens. Most residential and office buildings in Taipei are grey (or white but have turned grey over the years) and brown, so the orange and red adds a dash of vigour.
The second is the changing of the guards at the memorial hall. Every day, (except special holidays) the change happens once every hour from 9am to 5pm. The guards were apparently "carefully selected" to ensure they were "presentable," so in other words, they're supposedly all quite handsome – go see if you agree.
7. SUPERBOWL. A bowl of Beef Noodle Soup. Don't tell anyone you've been to Taipei if you leave the island without having slurped a bowl of noodles with cubed braised beef and sour vegetables in clear beef broth. The trick to locating a good, authentic bowl is to search for a restaurant that doesn't look like much. Yes, the less fancy and older places tend to have the yummiest beef noodle soup. Try Yong-kang Beef Noodle (MRT Dongmen Station Exit 4, Orange Line, tel: [886-2] 2351-1051), which is only a 10-minute walk away from the memorial hall. I would suggest going during non-meal periods to avoid having to queue for too long. Stroll around the streets while you're in the neighbourhood; Yong-kang street itself is a lane packed with foodie attractions. Suck up those noodles, stain your clothes and chew all those chewy bits. This is a Taipei fun guide after all. Let your hair fown.
8. ELECTRIC AVENUE. Shop, in the nerdy style. Taipei is a great place to buy your electronic gadgets, including digital cameras, laptops, mobile chargers, and so on. Stop by the Guang Hua Digital Plaza (MRT Zhongxiao Xinsheng Station Exit 1, Orange Line, tel: [886-2] 2341-2202, www.gh3c.com.tw), a six-storey building dedicated to "3C" products.
Taipei's old Zhongshan District is full of mysterious alleways and bustling streets / photo: Vijay Verghese
The 3 "C"s stands for Computers, Communications and Consumer, a term invented locally (though most Taiwanese don't realise no one outside the country understands what it means). Products here are cheaper than the ones available in shopping malls or department stores. Ask around for a price comparison before you make a purchase. In some countries, retailers raise the price when they see foreigners, but fortunately, this rarely happens in Taiwan.
9. CULTURE VULTURES. Time to feel cultured at the National Palace Museum. The National Palace Museum (MRT Shilin Station Exit 2, Red Line, tel: [886-2] 2881-2021, www.npm.gov.tw/) has one of the largest collections of ancient Chinese artefacts and artworks in the world, and most of them are high-quality treasures once owned by Chinese emperors.
If you're short on time, just take a peek at the star of the museum – the Jadeite Cabbage. The Chinese cabbage is carved from a piece of jadeite with colours naturally going from white to green; look for the camouflaged grasshopper.
Although the cabbage is the most famous, my personal favourite is the seemingly edible meat-shaped stone (I'm more of a meat person, I guess). Sculpted from a chunk of jasper, the surface and layered hues appear akin to a piece of pork braised in soy sauce with lean meat and fat. It reminds me of my grandmother; she makes absolutely the best braised pork. Yum. The museum's souvenir shop is filled with hidden humour. You'll find copies of the cabbage, the meat, and other mini artefacts. Stickers written in calligraphy that say "I know" the way emperors used to refer to themselves are very popular.
On the way back towards the city from the museum, take a stroll at the Shilin Official Residence (MRT Shilin Station Exit 2, Red Line, tel: [886-2] 2883-6340). This is the former residence of late President Chiang Kai-shek. Couples often go for walks down the large garden area surrounding the two-storey western style house, which is open to the public. You'll find parked outside a limousine that belonged to Soong May-ling, or Madame Chiang Kai-shek.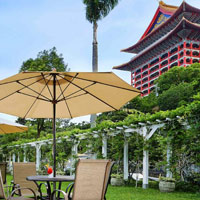 Grand Hotel Taipei/ photo: hotel
10. LET IT SLIDE. Sliding down is indeed much quicker than running down. There have always been rumours about a secret passageway that connects The Grand Hotel (MRT Jiantan Station Exit 2, Red Line, tel: [886-2] 2886-8888, www.grand-hotel.org/) to the Shilin Official Residence, or the Presidential Office Building. Its existence was confirmed recently when The Grand Hotel decided to reveal it. This secret passageway was really built for mundane evacuations during emergencies (the rumours sounded much cooler, I know). The passage is split into half with stairs on the left and a ceramic slide on the right.
The Grand Hotel is the only high-end hotel in the world to feature such a design. There are two tunnels in the hotel; one is 67m long on the east, and the other is 85m long on the west side of the building. On YouTube, you'll find a famous video of a journalist sliding down, screaming. But honestly, it isn't that terrifying.
11. FANTASTIC PLASTIC. Trash turns to treasure. In 2010, everyone in the city was talking about the Taipei International Flora Exposition. Thanks to the event, various corners of Taipei received an intensive beauty treatment with an array of different flowers and plants. Meanwhile, a unique and memorable exhibition hall for the exposition was built not too far from The Grand Hotel – the EcoARK (MRT Yuanshan Station Exit 1, Red Line, tel: [886-2] 2182-8886, www.miniwiz.com/). You can't see much of the floral décor in the city anymore, but good thing the structure didn't wither.
The EcoARK is the world's first fully functional structure made of trash. It must smell! Thank god, no. By trash, I mean plastic bottles that have been recycled and turned into architectural bricks. The building made a statement and successfully focused public attention on the importance of recycling. It later turned into an instant icon. If you visit the EcoARK over the weekends, you'll find a farmer's market right outside, featuring handmade products, local goods and organic fruit. Although it becomes slightly more crowded, the atmosphere and dynamism is appealing.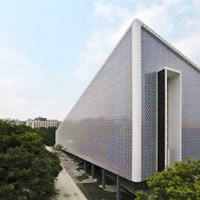 The plastic bottle EcoArk
12. PEARLS OF WISDOM. Can't drink milk tea without the pearls. Moving towards the commonly known "east area," the busy region off Zhongxiao East Road, the many SOGO Department stores are attention-grabbers, while numerous self-owned boutique shops occupy the lanes and alleys creating a minor buzz as well. In this neighbourhood, you'll also be welcomed to all sorts of restaurants, cafes and diners.
Taiwan's pearl milk teas are must-haves, but it is difficult to find freshly made pearls; a large batch for a day tends to be made in the morning. Ten Ren Tea (www.tenren.com/), with various locations around town, remains among the city's most adored tea escapes despite its higher price. It offers customers milk tea with freshly made pearls every day; a new batch is cooked every two hours. Sometimes you might find a queue in the shops but, trust me, it is worth the wait. Plus, the tea is good.
13. LATE BOOKING. Read at midnight. Taipei stays awake all night long, which means you get to see, experience, shop and eat throughout an entire 24-hour day. There are night markets, karaoke places, and lounges with seamless tipples. My favourite late evening fun activity in Taipei is to read books at the Eslite Bookstore's Dunnan Branch (MRT Zhongxiao Dunhua Station Exit 6, Blue Line, tel: [886-2] 2775-5977, www.eslitecorp.com/), the world's first bookstore to remain open 24 hours a day, seven days a week.
You might think since you're only in Taipei for a short period of time, reading at a bookstore would be a waste of time but, trust me, if you haven't yet, you'll be hooked.
The bookstore has a large selection in Chinese, English and Japanese, but visitors will find more than books at Eslite. In fact, the brand represents a culture of creativity and promotes anything artistic. Creations and products by local independent artists or designers, for example, can be purchased here.
14. BREAKFAST BREAD. In time for some breakfast. Taiwanese style breakfast is a must-have without a doubt. The typical breakfast combo people order is a deep-fried strip of dough known as "youtiao" with rice congee, a baked sesame flatbread with rice milk, or an egg pancake with soy milk. You can easily find breakfast vendors in the morning all over the city, but there are also many in town that serve breakfast 24 hours a day.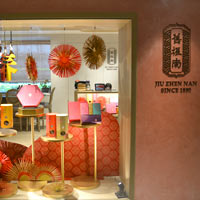 Designer stores are in easy reach if you tire of the streets - Jiu Zhen Nan, Regent hotel basement/ photo: Vijay Verghese
Not far from the bookstore is Chiang Family's (MRT Sun Yat-sen Memorial Hall Station Exit 3, Blue Line, tel: [886-2] 2772-0642), where a large range of quality items can be tasted. Knowing it's open anytime of the day should allow you to squeeze this into your schedule. I highly recommend sitting down for a bite instead of taking stuff out with you, because most of the breakfast items are best eaten on the spot, fresh.
15. TIME FOR A SHAVE? The "star" product from the world of ice. Before ice cream or frozen yogurt arrived in town, traditional shaved ice with three or four choices of toppings was one of the most well-liked, mainstream desserts in Taiwan. The choices of toppings would usually include the infamous pearls, of course, red and green beans, peanuts, taro balls, sweet potato, jelly and local fruits.
Many stores featuring traditional shaved ice have been affected by newcomers; however, some have survived unscathed. East District Pearls (MRT Zhongxiao Dunhua Station Exit 3, Blue Line, tel: [886-2] 2777-2057, www.efy.com.tw) is one of these. This store, opened in 1984, has gained tremendous guest loyalty with its quality ingredients and handmade items. Over 30 different toppings are offered daily for selection, and unlike some stores, East District Pearls packs a whole bowl with ingredients, instead of filling space with ice to cut cost. Visitors have compared this store to the frankness of Taiwanese people and culture. Truth be told, this place makes me smile on even on bad days, terrible days, and cannot-be-worse-than-this type of days.
16. PLACE TO PARK. Experiencing the new and the old. Move farther east to arrive in the popular Xinyi district, where you'll find the celebrated Songshan Cultural and Creative Park (MRT Sun Yat-sen Memorial Hall Station Exit 5, Blue Line, tel: [886-2] 2765-1388, www.songshanculturalpark.org/). This new location is in fact an innovative result of a transformation from Taiwan's first modernised tobacco factory, which has also been listed as one of the city's most significant cultural heritage sites. When the factory was originally designed, as at Google, a lot of employee benefits were taken into consideration, so you'll find large open space and a beautiful courtyard within the plant.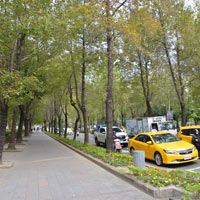 Leafy Zongshan District makes for easy walks/ photo: Vijay Verghese
The factory buildings are now used as exhibition halls for various events such as press conferences, seminars, art and fashion shows. I've gone many times to find dozens of different shows going on simultaneously. You can find a few design and art related shops in the park as well.
Over the weekends, remodelled food vans position themselves in the square adjacent to another Eslite Bookstore, adding "taste" to the cultural park. Imagination and inspiration has brought this abandoned site back to life. The park educates the next generation with its history while communicating and expressing new information and ideas. Like the EcoARK, the discarded has been recycled, and injected with a new soul.
17. BLIND DATE. Got sore feet from walking too much? It's time for a massage. Good and affordable massages are easily accessible in Taipei. But you must try a massage by a blind masseuse. Why? Most of them have received proper training prior to turning professional, as part of a project to offer people with weak eyesight work opportunities.
In all Taipei city hospitals, people can find a corner designated for massages, and most therapists stationed there are blind. The same goes for underground shopping streets inside MRT stations. But since we're in the Xinyi District now, visit the Taipei City Hall (MRT Taipei City Hall Station Exit 2, Blue Line, tel: [886-2] 2720-8889, english.gov.taipei/), where you'll find a partitioned area in the corner on the far right. Prices here are cheap and the masseuses give great head and shoulder massages. They are available on weekdays from 9.30am to 6pm and are usually busiest at noon during the lunch break.
18. TOWER OF POWER. New architectural additions like Taipei 101 (MRT Taipei 101 World Trade Centre Station Exit 4, Red Line, tel: [886-2] 8101-7777, www.taipei-101.com.tw/) have placed the city firmly in the international spotlight. Standing beside gleaming financial buildings, shopping malls and modern five-star hotels, this landmark is a Taipei celebrity that was once the world's tallest building. Designed like a bamboo (although it may take some stretch of imagination to visualise it thus) with eight sections of eight floors each, the building represents growth – the bamboo – and double prosperity – the two number eights.
Taipei 101 mega-structure/ photo: Vijay Verghese
Go up to the observatory on the 89th floor from the fifth floor via the world's fastest elevator. It only takes 38 seconds, and they're very safe. When you're up there, you'll be embraced by a 360-degree view of the entire city. My recommendation is to visit around 5pm, because Taipei seems more beautiful that time of the day. Taipei 101 features the biggest wind damper in the world. Made of over 40 layers of solid steel plates, the wind damper is a massive, extremely heavy gold metal ball suspended between the 88th and 89th floors. It's purposely left exposed with a viewing platform around it (this screams: perfectly good picture spot). I think of it as the protector of Taipei 101, because it swings to stabilise the building in the event of and earthquake or typhoon.
19. IT TAKES A VILLAGE. Living, in the past. If Taiwan and China were to each have a Facebook account, their relationship status would be, "It's Complicated." Glimpses of cross-island history are available throughout the city. Try 44 South Village (MRT Taipei 101 World Trade Centre Station Exit 2, Red Line, tel: [886-2] 2723-7937), which has now been renamed as the Xinyi Assembly Hall, for a taste. The village was built in the late 1940s for Nationalist soldiers and their dependents who retreated to Taiwan from mainland China after the Chinese Civil War. The soldiers and their families eventually settled and became permanent residents.
Houses in these types of villages were mostly constructed poorly. As you could imagine, they were built in a hurry with meagre resources. Later, a lot of these throw together villages were replaced by parks or new apartment buildings. The 44 South Village is one of the few still standing and it is well kept and is in fact a protected space, safe from the wrecking ball.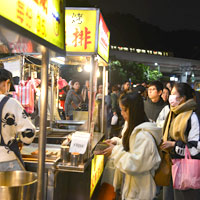 Shilin queues at Homestyle Barbecue Chicken/ photo: Vijay Verghese
A lot of the houses have now turned into themed shops, selling local goods especially popular with youngsters. The most famous one is called Good Cho's, featuring old-school Taiwanese products and snacks in its cafe. One of the old houses turned into a museum; happenings and stories based on the village are told here.
20. CLIMB EVERY MOUNTAIN. It is hard to find a metropolitan area with hiking trails within reach. Yet, you'll be surprised how easy that is in Taipei. Elephant Mountain (MRT Xiangshan Station Exit 2, Red Line) for example, is easily accessible with fabulous walking trails suitable for all hikers and ages. The top of the mountain serves up an amazing view of the city and Taipei 101; tons of people hike up here on New Year's Eve to watch the fireworks. For experienced hikers, the walk up the mountain takes around 20 minutes. There are a lot of pavilions for short breaks if you want to take it easy. Then from there, you can also continue to hike towards the neighbouring Tiger Mountain. Keep in mind, however, that it gets very crowded over the weekends, so try to go on a weekday. The sense of looking at the city from afar tricks me into believing I'm out of town – yet I am ridiculously close.
21. NIGHT BITE OR CHICKEN. Raohe Street Night Market. And last but not least, the final trophy of "musts" goes to – Raohe Street Night Market (MRT Houshanpi Station Exit 4, Blue Line, tel: [886-2] 2763-5733). Located near Shonshan Railway Station, this night market is a bit farther away from downtown, but it is worth the trouble to travel there.
Many people have introduced Shilin Night Market to visitors because it used to be the most famous, but unfortunately, I think it has lost its spark since its gone underground; very few locals actually go there now.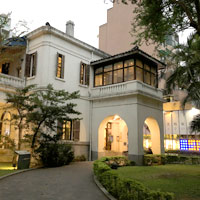 Taipei Film House: visit SPOT Designs upstairs/ photo: Vijay Verghese
Taiwanese say it's rude when guests leave your home still feeling hungry. I suggest you got to Raohe with an empty stomach, because by the end of it, you'll be stuffed. Don't underestimate the power of these "little snacks." Some really good food choices include the one-of-a-kind stinky tofu (it's like blue cheese, don't get frightened by its look and smell), pig's blood rice cake covered with peanut powder, and egg omelette with oysters. Now, was that fun?
Or head to Shilin Night Market once again for some of the best fried chicken the city has to offer at the tiny but industrially busy Homestyle Barbecue Chicken stall (since 1999 as its sign proudly proclaims). Find it outside Exit 1 of the Jiantan metro station where you take the left fork in front of you skirting the market. This street is lined with food stalls and Homestyle is among the first few. It's easy to spot with the long lines as the juicy crispy chicken fries attracting customers. This is one of the best spots in Taipei for fried chicken. Also try Monga (there's a built-up takeaway store in Shilin) with various sprinkle toppings; or the outstanding TwoPeck, which also has several takeaway places around town (try No.8 Nanyang Street neat Taipei Main Station). Most places sell the large fried chicken slabs (bigger than slippers) for around NT$80. Top it all off with creamy sweet tea.
22. PURELY BY DESIGN. Taiwan is already hugely popular for its artistic marvels and Taipei is no slouch when it comes to creative and trendy design stores. SPOT Designs is on the first floor of the Taipei Film House, a gloriously creaking colonial confection that served as the American Embassy in the '70s. SPOT Design makes 'marvelous use" of the diplomatic residence's former coat room, dining room and kitchen space to house a "quirky lifestyle and design store". Much of this emerging design thrust has been engineered by World Design Capital Taipei 2016. Pure Store Pinmo began as a graphic and interior design firm before "turning its hand to designing and promoting its own range of paper products and indie publications, as well as pottery and accessories courtesy of local designers," (No.63, Yongkang St, Da'an District, www.pinmo.com.tw). PPaper churns out a monthly design and lifestyle mag for young and restless professionals craving creative inspiration. "The PPaper Shop houses a selection of fashion and lifestyle products sourced from all over the world that match the brand's high-class feel," (1F, No.2, Lane 26, Section 2, Zhongshan North Road, Zhongshan, www.ppapershop.com).
Artyard is located at Dadaocheng, steeped in Taipei's oldest and most intriguing district that has been given a new lease of life with government backing. Artyard is "a collective of art galleries, cafés, and specialty shops, organized by theme" and nicely housed inside several converted century-old Taiwanese style mansions and townhouses.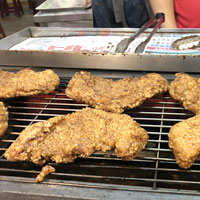 Giant fried chicken laid out to dry after a bubbling deep fry - Homestyle Barbecue, Shilin / photo: Vijay Verghese
Look for Buwu Design clothes and bags, Art Laser Unique's laser engraved products, Hakka Blue's pottery and porcelain, U&S's stationery, and Twine's handmade clothes and materials (No.34, Section 1, Dihua Street, Datong District, www.artyard.tw/). Take a step back in time at Songyan Gallery, which "blends seamlessly into a retrofitted old tobacco factory." Much of the equipment still remains unmolested by the renovations, preserved for posterity to create a part-museum, part-gallery experience.
Send us your Feedback / Letter to the Editor