HEALTH
A wing and a prayer: terror aloft for 30-40 percent of flyers
Does the mere thought of getting on an aircraft make your heart race? Millions of people suffer from fear of flying. Some ways to beat white-knuckle terror aloft.
graphics by Winnie Choi
SEE ALSO Concierge Travails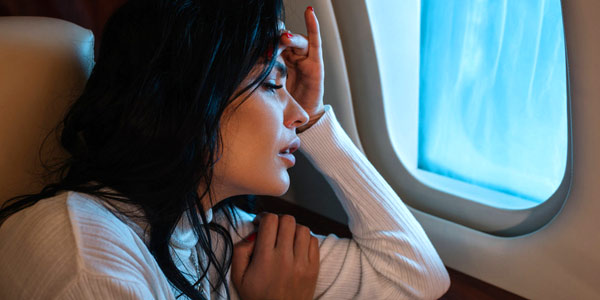 AFTER several years of living in Hong Kong, my family and I were about to leave Asia – but not before a final visit to Vietnam and Laos as a parting gift to ourselves. We asked our travel agent to book the flights but, when the itinerary arrived, I discovered that not only was the Hanoi-Luang Prabang sector operated by Lao Airlines, but the aircraft was – horror of horrors – a turboprop. Panic set in. While I cope reasonably well on large jets provided there is no turbulence about, small planes and dodgy airlines terrify me.
I am not alone. Between 30 and 40 percent of people experience fear of flying ranging from "mild concern" to avoiding flying altogether, estimates the Australia-based Macquarie University Anxiety Research Unit (MUARU). This particular phobia (also known as aerophobia or aviophobia) strikes men and women from all walks of life, including many frequent flyers.
Send us your Feedback / Letter to the Editor
South African publicist Tanya White flies every month for her job. "During most flights I cover the whole range of emotions, from a bit nervous to absolutely terrified and back again. Take-offs and landings are bad, turbulence absolutely terrifies me and anything vaguely out of the ordinary is likely to push me over the edge. I am quite frankly, and quite irrationally, just petrified of the aircraft falling out of the sky," she notes.
White believes her fear of flying may be linked to a "rather frightening" international flight at the age of 11, which "pretty much set the tone" for the rest of her life. "I dread every flight I ever have to take and regret having boarded the plane every single time I do it. During the flight, I'm tense and anxious, even getting to the point of tears when we encounter turbulent weather, which I find absolutely terrifying. I can't read, certainly can't sleep and end up disembarking in a state of exhausted euphoria from having survived another one!"
She hasn't sought professional help. "The courses I've seen publicised tend to focus on helping you understand how safe flying is by explaining the mechanics of the process. That's the last thing I want to know. The more able I am to try and forget that I'm hurtling through the air in a metal tube, the better." While alcohol helps "a bit", she has never tried any type of medication or drugs as she often flies with clients or her daughter. "Flying alone is probably worse, as I'm often very focused on not letting on how nervous I am as I don't want to transfer my fears to my daughter or worry my fellow travellers.
"I hate doing it and I often threaten to resign purely because my job requires that I fly, but it's a bit like childbirth: every time I get off a plane, I forget just how bad it was until the next time. Still, it adds to my stress levels and I recover less quickly from travelling, as the anxiety is very tiring," White remarks.
"It's a bit like childbirth. Every time I get off a plane I forget how bad it was until the next time..."
Project manager Bianca du Plessis, "an uncomfortable, nervous and downright neurotic flyer", describes her fear as a "loss of control thing", adding, if the plane is going down "there's nothing you can do about it."
Du Plessis, who gets particularly nervous "when the aeroplane is old or the tickets are cheap", finds that muscle relaxants help on long-haul flights and good books on short ones. "Bad weather can be very scary. I fly if I have to, but I'm always a bit ratty during takeoff and landing. And turbulence. And the bits in between."
A 2000 study found that one in three air travellers experience some kind of fearful response to air travel, says Hong Kong-based psychologist and hypnotherapist Dr Melanie Bryan. "Fear of flying is probably the second-most common fear that people come to me with, after public speaking. Most people who consult me develop it after years of frequent flying. It's a phenomenon that tends to occur at certain life changes or trigger points, such as the birth of a child or after turbulence. People are then haunted by this and develop fear of flying in spite of having flown comfortably for years."
Where "comfortable flyers" see their flights as a means to an end, fearful flyers see a flight as an end in itself, Dr Bryan explains, adding that aviophobia is not "one class" of fear. "There's a range. While some people are mildly anxious, others are paralysed. Some people get nervous as soon as the flight is booked. Others are terrified of takeoff, but OK with landing, or the other way round. For some people it's the sounds that worry them. Many will keep their eyes on the flight attendant and if they see her moving quickly, they think they're doomed – meanwhile it's probably just that the captain wants a cup of tea."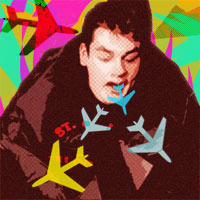 Pointing out that even the language of flying – phrases such as "your last call" and "final check-in" – tends to be anxiety producing, Dr Bryan says she employs a number of techniques to treat aerophobia. These include hypnosis, energy techniques and teaching ways for clients to calm themselves down. Treatment is individually tailored, since fears vary widely, from being scared of "tipping the plane" to worrying that other people's chatting would somehow "disturb" the aircraft.
Dr Bryan adds that people who suffer from fear of flying tend to be highly intelligent and extremely imaginative. "They can easily conjure up escalating images of disaster. Their bodies react to these dreaded images by getting ready for immediate, defensive action, setting off their alarm system replete with pounding heart, sweaty palms and that weak-in-the-knees feeling."
She advises that fearful flyers recognise their tendency to believe that "harmless body symptoms" are signs of imminent danger (which they are not) and that they adopt "an attitude of benevolent acceptance" of fear-related symptoms and beliefs, which helps to calm both mind and body. She also points out that fear attacks are limited and will peak and start to subside in a few minutes and advises fearful flyers to concentrate on breathing slowly and evenly, exhaling longer than they breathe in.
Hongkong-based Toshiko Sawada was always a nervous air traveller, but developed serious fear of flying after a turbulent North Asian flight about 10 years ago. "The nervousness causes my neck muscles to tighten and I have to resort to breathing exercises to calm myself somewhat. I feel my heart racing and my palms getting wet with anxiety," she says.
Sawada has read self-help books and articles on the subject and finds that a natural stress relief spray helps slightly. She finds it easier to travel with her husband and children. "With my little girls, I focus on their needs and the distraction seems to be of some help. Generally, I am better able to cope now, but the fear is still there."
She is most affected on long flights and during bad weather. "Also, I am very sensitive to news about flight disasters and it doesn't help if some such event occurs shortly before my flight. I do not fly on small planes, but only on large jets. I also will not fly on second-tier airlines. I also research extensively, paying attention to different airlines' safety records."
A study done at the Stanford University School of Medicine in the late 1990s showed that more than 60 percent of fearful fliers used sedatives or alcohol to try to reduce their fear. But while alcohol may temporarily relax fliers, it could also make them anxious and hamper business travellers' ability to work after landing. While muscle-relaxant drugs may provide relief for occasional flyers, this isn't a long-term fix, according to the United States-based Anxiety Disorders Association.
One frequent flyer who does occasionally rely on the "relaxing" effects of alcohol is Sydney-based consultant William Parker (not his real name), who flies regularly around Asia for his job. Parker says his fear of flying started 30 years ago. "I didn't have any problems initially and flew in planes and gliders without a problem until I started reading about plane crashes. Since then, I kept thinking about crashing whenever I flew. It got so bad that I once gave up flying for a year and took trains instead, but it was just too difficult and I bit the bullet and went back to flying."
Parker did the Qantas programme years ago. While he found it beneficial, it still was a "rational approach to an irrational phobia". He has also tried hypnotherapy, which worked "on the ground", but he struggled to get himself calm enough to use it in the air. Deep breathing does help "bring the adrenaline down", as do working, reading or watching movies… "anything that distracts me". He finds that alcohol helps him relax when he feels really nervous. "I am famous for my hip flask, but the new cabin restrictions have been playing havoc with this," Parker says, adding that he insists on flying business class, because he finds the immediate service comforting.
Parker insists on flying business class because he finds the immediate service comforting
"I won't get on a small plane and I also use the bigger-name airlines. I won't use the cheap ones. I keep track of storms and I would avoid flying somewhere if I know there's one coming on. If it's a good airline and fine weather it's much easier."
Parker recalls incidents where he had to turn to the crew for help and found that simply having a stewardess sit and chat with him for a while proved helpful. He advises fellow sufferers to find ways to distract them. But while some people think that the more you fly, the more "used to it" you become, he finds that flying more "locks in the fear".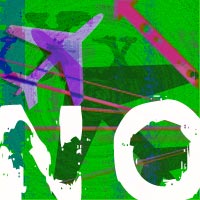 A number of major global airlines offer fear of flying courses, often in conjunction with private companies. Qantas runs a well-acclaimed and longstanding programme with Fearless Flyers (www.fearlessflyers.com.au), a non-profit group that estimates almost one in four people to have fear of flying. The courses (about A$850) are run by pilots, air traffic controllers, aircraft engineers and meteorologists, as well as a psychologist, covering topics such as the physiology of fear, effective relaxation techniques, what makes an aeroplane fly, aircraft design, testing and maintenance, weather forecasting for aviation and navigation for commercial aircraft. It also includes a visit to a flight deck on the ground, tours of the air traffic control tower and (in Sydney and Melbourne) a tour of an emergency procedures training facility.
In New Zealand, Flying without Fear, in association with Air New Zealand, offers a course (www.flyok.co.nz) that is endorsed by the country's Aviation Security and Customs Departments. Courses are run at a range of locations throughout New Zealand, including Auckland, Wellington and Christchurch, and aim to "de-mystify flying" for the participants and to arm them with a "flying toolbox of tricks" to help them overcome their fears.
British Airways offers fear of flying courses at Heathrow, Manchester, Birmingham, Glasgow, Bristol, Dublin and Gatwick airports in affiliation with Aviatours (www.aviatours.co.uk). Aviatours says it has helped more than 40,000 nervous flyers over the years, with a 98 percent success rate. The day-long courses (235 pounds sterling) are made up of four sessions, featuring presentations by British Airways pilots and a clinical psychologist, and covers how an aircraft flies, weather and turbulence, safety and security, claustrophobia, stress and panic attacks, dealing with anxiety and relaxation techniques. The day culminates in a 45-minute flight during which a pilot gives a running commentary to explain the various phases of the flight.
There is also a "flight-only" option for the friends of family of participants, and a "top-up" option (both £95). Aviatours also offers private courses for individuals and for companies wanting to help staff overcome their fears.
Virgin Atlantic, in association with Flying Without Fear Limited (FWF), offers one-day courses throughout the year. The courses (www.flyingwithoutfear.info; £199) are offered at a range of locations throughout the country, including London Heathrow, Gatwick, Manchester, Birmingham and Luton. The programme also includes an optional 45-minute flight with running commentary by a pilot. FWF, which estimates that more than 10 million people in the UK suffer from fear of flying, claims a success rate of more than 98 percent.
The course includes sessions by airline captains, who provide detailed information on aircraft function, noises and safety to help attendees understand how an aircraft works. There is a question and answer session and, again, a psychotherapist talks about fears and phobias and teaches participants skills to control their fears.
British regional airline Flybe runs six-hour Saturday courses in Exeter in conjunction with the company Flying Fear (www.flyingfear.co.uk, e-mail: info@flyingfear.co.uk, from £195 per person). The course includes presentations on aerodynamics and flight characteristics, training, safety and security issues, fears and phobias (by a doctor with an aviation background) and a short flight (not mandatory).
In the Netherlands, the Leiden VALK Foundation (www.valk.org; e-mail: info@valk.org) in conjunction with KLM and Schiphol airport offers fear of flying courses (diagnostic stage, 175 Euros, individual treatment, 85 Euros per session, group treatment [one-and-a-half to two-and-a-half days], 575-895 Euros). The Foundation, run by psychologist Lucas van Gerwen from the University of Leiden, believes that in the Netherlands alone three million people suffer from fear of flying.
According to Van Gerwen, who has studied 5,000 people with fear of flying, women who are fearful flyers generally tend to be afraid of crashing and losing control of their emotions while men are afraid because they cannot control the airplane and fear heights. He believes that knowing these differences may help hone treatment.
A new approach to fear of flying involves the use of virtual reality without placing the traveller in an actual aircraft
During the VALK programme's diagnostic stage, the therapist determines the symptoms in which the fear of flying manifests itself and the origins and causes of the fear, which determines the method of treatment. The first part of the course focuses on behavioural therapy, insight into fear, relaxation exercises, information about specific flight situations and exercises during simulated flights. Exercises in a parked aircraft and a simulated take-off, flight and landing are followed by a supervised KLM scheduled flight.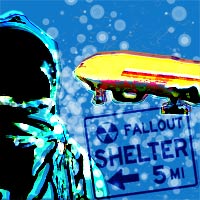 Swiss International Airlines, in conjunction with Swiss Aviation Training, offers German-language "Fit to fly" (www.fit-to-fly.ch) weekend seminars at Zurich Airport.
Northwest Airlines' WINGS fear of flying course is gone with the airline's acquisition by Delta, but several of the programme's former staff now help offer the MySky (www.myskyprogram.com) fear-of-flying weekend seminars in Minneapolis (from US$795) and Detroit (from US$895), consisting of "educational and psychological experiences", as well as a hangar tour and short flight.
If you can't get yourself to a course, try one of several self-help programmes on offer globally. The SOAR Fear of Flying programme (www.fearofflying.com; e-mail: tom@fearoffling.com) is available online and on a set of DVDs. The programme, founded by United States commercial airline pilot and licensed therapist Captain Tom Bunn, has been in existence since 1982 and is based on a "two-step process", including teaching how flying works and the psychology of aero-anxiety, as well as one-to-one telephone counselling. The Guaranteed SOAR Programme package (US$595, including individual counselling) offers a full refund if the course is unsuccessful. There are also less comprehensive courses for those who primarily want to understand how and why flying is safe or mainly want to learn to control their anxiety.
Miami Helicopter (www.miamihelicopter.com/resources) has a resource page with everything from 'fear of flying triggers' and 'overcoming fear of flying' to helping kids overcome flying phobias. Suggestions for the junior set? Let them watch real planes and cart along toy planes and 'comfort items'.
Web-based www.Anxieties.com has a course for fearful flyers run by a clinical associate professor of psychiatry at the University of North Carolina School of Medicine. The Achieving a Comfortable Flight course consists of a series of booklets, tapes and reference cards. Techniques addressed include how to handle your worries before and during flights, responding to uncomfortable physical symptoms, brief muscle relaxation skills for immediate relief, simple breathing skills that reduce tensions and stopping irrational thoughts as they arise.
UK-based Airfraid (www.airfraid.com) is a useful site with a large collection of fear-of-flying-related information, including courses, CDs, tips on flying with children, reviews of books about fear of flying and other useful resources.
A relatively new approach to fear of flying involves the use of virtual reality. One US organisation offering this is Virtually Better (www.virtuallybetter.com), a clinic staffed by clinical psychologists that specialise in treating anxiety disorders. Virtual reality treatment takes place in a carefully designed "virtual environment" exposing patients to "the feared situation" (flying) without taking them into an aeroplane. A psychologist controls the virtual environment through a computer. Virtual reality exposure treatment allows the therapist to manipulate situations to best suit individual patients, according to the Virtually Better staff.
In the United Kingdom, Virtual Aviation (www.virtualaviation.co.uk, e-mail: info@virtualaviation.co.uk) offers well-received individual fear of flying courses at Heathrow, Gatwick and Luton airports using the hi-tech full-motion flight simulators usually used to train airline pilots. According to Virtual Aviation, the Civil Aviation Authority-licensed simulators are excellent tools to help nervous flyers, as they provide them with the only opportunity to sit in a real cockpit and fly with trained pilots. The course is tailored to individual fears – while some people want to know more about aircraft noises, others want to repeat procedures such as take-off or want to know more about turbulence. Course-goers are allowed to bring a "guest" free of charge.
UK company to-fly.co.uk offers a range of tools, from day-long workshops (£135) where participants learn about the mechanisms of fear, technicalities and physiology of aviation and flying and relaxation and coping techniques to sessions of hypnosis offered by qualified clinical hypnotherapists and constructed especially for fearful flyers. The organisation also offers virtual flights in a custom-designed "virtual environment", as well as escorted flights anywhere in the world with retired professional airline pilots.
As for my flight to Laos? I don't relish the alternative: a half-day bus journey along winding roads. Hold that turboprop.
Send us your Feedback / Letter to the Editor