CITY GUIDE
Colombo steps back gingerly
As the city composes itself after the blasts, Colombo business hotels stagger back cautiously serving up rooftop pools, spicy curry, quieter nightlife, shopping, high tea and plain old-fashioned fun in a jittery city.
updated by staff reporters
SEE ALSO Sri Lanka resorts | Maldives resorts | Goa resorts | Andaman Island resorts | Mumbai business hotels | New Delhi business hotels | Singapore nightlife | Kerala guide | Asia child resorts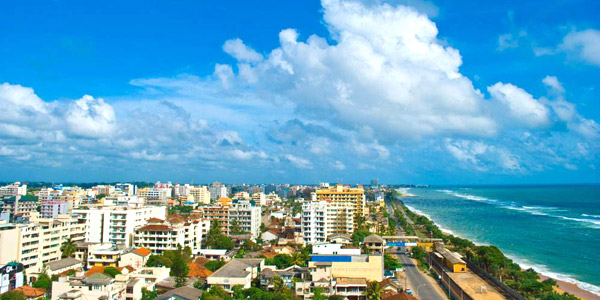 JUMP TO Colombo Airport and nearby hotels | Rooftop bars | Dining and nightlife | Shopping | Business hotels | Heritage hotels and boutiques | Budget hotels | Hotel Contacts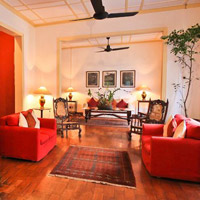 Havelock Place's colonial style/ photo: hotel

Colombo was in lockdown after a spate of hotel and church bombings in and around the capital as well as in the eastern city of Batticaloa on Easter Sunday, 21 April 2019. The affected hotels are the Shangri-La Hotel Colombo (helpline +603 2025-4619), The Kingsbury Colombo, Cinnamon Grand Colombo (enquiries +92 112-437-437), and the historic Mount Lavinia Hotel Colombo 12km south in Dehiwala. Colombo is limping back to business, slowly amidst concerns about further attacks. Several churches suspended services (offering this on TV) and mosques closed. Many shops have shutters down. Caution is advised.
FOR decades hamstrung by security threats, Colombo, the Garden City of Asia in the 1920s, made a swift comeback with an end to the undeclared "war" with the Tamil Tigers in the north. The only checkpoints you'd spot now were for frazzled policemen trying to rein in wayward motorists.
The cocktail circuits hummed and well-heeled travellers returned as, once again, Sri Lanka and Colombo climbed up the wish-list as desirable holiday and business destinations. The 21 April 2019 Easter Sunday attacks at churches and upscale hotels stunned the country as a sense of disbelief and anxiety returned to a city no one thought was in the crosshairs of coordinated bomb blasts targeting Christians and Westerners.
Yet, with security personnel once more in evidence all over the city, Colombo is slowly and may recover its once jaunty style. It remains a charming place in which to shop and eat. As safety and security come to the fore at hotels, and churches limit services and the president bans burqas as jittery shopkeepers keep their shutters down, the city's skyline continues to slowly change as multi-storey hotel, apartment and office blocks sprout skywards.
What was once a military compound on the landside of the famous Galle Face Green waterfront promenade has been colonised by foreign chain hotels building prestigious properties with views of the Indian Ocean, currently being dredged to add acres of reclaimed land to the shore. More hotels in all price brackets are being added throughout the city, giving a huge choice of accommodation.
Welcome to Colombo, Sri Lanka, the capital of the island of Serendipity. Here's a quick guide to Colombo business hotels, leisure digs, restaurants, bars and sights. There's enough in this Colombo fun guide for a languorous holiday or a busy business trip. Business travellers and vacation planners, dive right in.

E-mail Page

Print

Hotel Contacts
By day, Colombo's population is swollen by commuters who join residents to fill its streets to overflowing with sluggish traffic. But an Expressway (with toll charge) has opened linking northern Colombo with the airport, reducing the journey time (once you're on it) to 30 minutes between the city centre and airport check-in. Travel within the city is best done by three-wheeler taxis, most of which have meters, but it is wise to agree on a price before jumping in as, frequently, the meter is "broken". On now with our Colombo fun guide for business and apres work.
Colombo airport area hotels
Jetwing Beach Hotel/ photo: hotel
The peak time for arrivals at Colombo's international airport is between 5am and 10am and for departures, from 7am to 8am. After massive extension work, airport queues flow smoothly. Good duty-free shops are available in the departure and arrival halls, but arriving smokers be warned – there's no duty-free allowance for importing cigarettes, and none are on sale.
Send us your Feedback / Letter to the Editor
All visitors, except Maldivian, Seychellois or Singaporean passport holders must apply online for a visa in advance (www.eta.gov.lk). A 30-day tourist visa costs between US$20 (for SAARC country passport holders) and US$35 for tourists of other nationalities, allowing double entry. Children under 12 are granted free visas, as are tourists in transit for less than 48 hours. If you neglect to apply online, expect to pay an additional US$5 upon entry. For the latest information, check: www.immigration.gov.lk.
Beyond customs is a hall of counters for currency exchange and tourist, mobile phone and taxi assistance and where friends wait to meet arrivals. Hotel representatives with name boards greet guests in this hall and direct them to hotel cars. Expect to pay from US$25 in Sri Lankan rupees for a hotel car to Colombo (US$1=SLRs174). On departure, all passengers must have their luggage x-rayed before they can enter the airport. Consider hiring a porter (tip him Rs100 or less than US$1 a bag) who will steer you through and then guide you to the right check-in desk.
The great news for departing business class passengers on SriLankan Airlines is the separate dedicated-to-business-class check-in lounge with (free) porters to unload luggage and place it on scales to be weighed. After immigration there are several pleasant business class (and members only) lounges with an engrossing runway view with hot and cold buffets, a selection of wines and spirits and free Internet stations.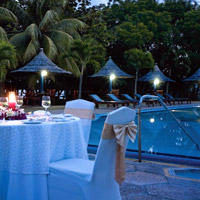 Gateway pool/ photo: hotel
There are snack bars, a pub, coffee shop, and a smoking room in the main first floor departure lounge. Rolling walkways lead to the departure gates for corridor transfer to aircraft although passengers are bused to and from some flights.
While there is a transit hotel with rooms rentable in six-hour blocks within the airport perimeter, The Gateway Hotel, Airport Garden (under Taj) is 10 minutes away by free shuttle. With 210 rooms in a lagoon-side garden, this hotel has Broadband access in rooms as well as public areas. These include Buzz, a restaurant serving international cuisine, and swimming pool. Also on the road to Colombo is the Ramada Katunayke, a cheaper option with 56 air-conditioned rooms, business centre and 24-hour coffee lounge.
Only 24km from the airport and 13km from the centre of Colombo, the 140-room Pegasus Reef at Hendala, Wattala, has been open for four decades but has recently undergone complete renovation. This has resulted in the addition of a rambling sea-side The Fishery restaurant that appeals to visitors for its selection and pricing. Rooms, too, are priced lower than city hotels, so this is a good hotel to combine business in the city with pleasure by the sea.
Another option is the Jetwing Beach hotel, 20 minutes away to the north of the airport on the beach at Negombo. A five-star property with 75 spacious rooms, three suites and extras like an LED TV, rain shower, CD/DVD player and private terrace.
In the same area, don't miss Colombo boutique hotel The Wallawwa. Amid peaceful, rural surroundings, this 200-year-old restored manor is gracefully inviting. The 17 rooms and suites are lavishly furnished in the traditional country house manner and come with a la carte breakfast, free WiFi, and flat-screen TVs. After a walk through the three-acre garden, refresh at the pool, spa or alfresco restaurant, The Verandah.
Rooftop bars for the high life
Cinnamon Red rooftop pool/ photo: hotel
While office and apartment blocks have sprung up, new hotels have followed suit, each new one boasting a roof top bar. In contrast there are also some converted colonial bungalow properties, providing a pleasant place to stay cocooned away from the hustle and bustle, although these may not be so impressive for entertaining business contacts as a flamboyant five-star hotel.
The city is desperately trying to be trendy and daring with smart new restaurants and glitzy ever-open casinos but remains really rather old-fashioned and respectable. It has swanky boutiques, posh lifestyle stores and a modern office infrastructure, yet beneath its bustle old mores hold sway.
Every full moon day (known as Poya Day) is a holiday which, added to statutory holidays, means Sri Lankans have almost as many holidays in a year as working days. Poya days are legally "dry days" and bars also close unexpectedly on other holidays too, surprisingly even on the Christian bacchanal of Christmas Day. On dry days, hotels endeavour to keep resident guests merry by providing mini-bar or room service.
While some city banks are open seven days a week, and some supermarkets and casinos 24 hours a day, restaurants and bars can only serve drinks from 11am to 2pm and from 5pm to 11pm unless they pay for a temporary extension permit. This rule is a hangover from colonial days and had been pretty much forgotten until late 2005, when the police decided to crack down on transgressors.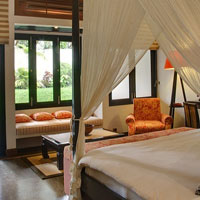 Quaint Wallawwa/ photo: hotel
With very few exceptions, in most restaurants anyone who lunches or dines outside those hours must do so without wine, a small pity. However, Colombo's restaurants are top-notch and fine dining is no longer confined to five-star hotels.
Colombo dining, nightlife
Probably the leading independent restaurant in Colombo is The Gallery Café (2 Alfred House Road, Colombo 3; tel: [94-11] 258-2162, open daily 10am to midnight) in the courtyard of what was once an architect's residence. Tables are packed into a pavilion under shady trees while all comings and goings are monitored by the "in-crowd" enjoying Mediterranean-style dishes. Prices are between US$30 and US$40 per person for a meal with drinks and appetisers.
The Old Dutch Hospital restaurant and shopping complex behind the World Trade Centre is a wellspring of restaurants and bars that has made the area, surrounded by a trio of five-star hotels, the best for evening entertainment. Look for Colombo's beloved Ministry of Crab (tel: [94-11] 234-2722, open daily 11.30am to 11pm; reservations essential, ministryofcrab.com) for a unique fine dining experience with swift service. More conventional with drinks and café dishes is Harpo's Colombo Fort Café (tel: [94-11] 243-4946, open daily). Also in the cloisters of the cobbled courtyard is the Heladiv Tea Club (tel: [94-11] 575-3377, open daily) for snacks, drinks and gooey desserts.
Off the entrance to the courtyard, SriLankan Airlines' catering on the ground, The Semondu (tel: [94-11] 244-1590, open daily 11am to 11pm) has earned its spurs as Colombo's swankiest but informal bar and restaurant. The interior, with colourful, modernistic chandeliers and warm woods will transport you to the gastronomic capitals of the world, sans jet lag. It has tables in the cloisters and the courtyard for alfresco sessions of curries as well as gourmet dishes.
Ministry of Crab/ photo: restaurant
Beyond the hospital walls with its own courtyard and street side tables, Tap House by R 'n' R (tel: [94-77] 377 3844, open daily 11am to 12pm), throbs with music and camaraderie with laid back surroundings and tasty bar snacks. Grab a tower of the local brew, Lion Lager, and relax.
Farther south, you'll stumble upon Park Street Mews (50/1 Park Street, tel: [94-11] 230-0133, open daily 8am to 11pm), another quirky addition to the Colombo dining scene. Around the corner from the Beira Lake Temple in a complex of restored warehouses, this popular spot is known as much for its meat, fish and vegetarian dishes as its event listings, hosting a roster of high profile events such as Colombo Design Week.
More informal and popular with the city's intelligentsia rather than the fashionistas is the garden café at Barefoot (706 Galle Road, Colombo 3; tel: [94-11] 258-9305; open daily) offering innovative dishes in a peaceful atmosphere despite its main road location.
 For food prepared and served quickly in a friendly ambience, there is the ever-popular Cricket Club Café now in a new location (12 Flower Road, Colombo 3; (tel: [94-11] 257 4394; open daily 7.30am-11pm, cricketclubcafeceylon.com) where a meal for two costs from around US$20, and drinks flow with no break in the afternoon from its courtyard bar counter and in its backroom pub decorated with cricket memorabilia.
Run by the Australian couple who originated Cricket Club Café over 20 years ago, the Whight & Company coffee house ([94-11] 438-3236) in an art deco building on Marine Drive specialises in supremely drinkable locally-grown coffee (the owners' own Ruby Harvest 100 percent Arabica brand) and light café dishes, including scrumptious Pavlovas.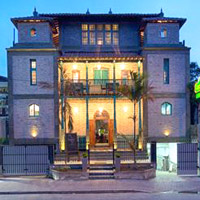 Cricket Club Cafe, the place to score a beer/ photo: hotel
Opened to cater for Colombo 's cognoscenti, Bay Leaf (79 Gregory's Road, Colombo 7; tel: [94-11] 269-5920, open daily) is housed in a magnificent mansion complete with verandah and balcony tables, private dining rooms and party garden. With its own bakery and swish cocktail bar, this locally run restaurant serves prettily presented, delicious dishes and has a gentle, cosmopolitan flair.
The entrance patio of the popular Odel shopping complex has expanded from a gaggle of kiosks dispensing milk shakes and ice-creams into a fashionable piazza thronged throughout the day with tired shoppers and people-watchers snacking in style at the air-conditioned Sugar (tel: [94-11] 744-6056, open daily 10am-9pm) which also runs the open-air courtyard bar counter, and at the Alexandra & Ward Fashion Café (tel: [94-11] 471-8758). One of Dharshan Munidasa's creations it is a glittering space with Italian snacks and Japanese delicacies, open all day.
Colombo is the perfect place to gorge happily on seafood; Sri Lanka's crab and oysters are exported daily to Singapore. The Cinnamon Grand Hotel excels with possibly the country's best seafood restaurant, The Lagoon (open daily for lunch and dinner) with freshly caught fish lying on ice slabs awaiting selection by guests to be cooked as required.
There's a similar set up but less intimate at the Ocean Seafood Restaurant (open daily for lunch and dinner) at the Kingsbury Hotel. The real McCoy is the Sea Spray (open daily for dinner also lunch on Sundays) with well-priced fish and lobster, and real sea spray as it's in the open by the ocean's edge at the Galle Face Hotel.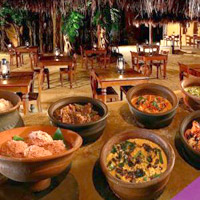 Nuga Gama for spicy curry/ photo: hotel
Restaurants featuring a la carte Sri Lankan cuisine are varied in price and quality, but reasonably priced rice and curry self-service meals are available from the Curry Corner of buffets set up for lunch and dinner in the 24-hour coffee shops of the five-star hotels.
For exquisite contemporary Sri Lankan cuisine prepared with panache and a touch of fusion, the only destination is the Arcade at Independence Square where Darshan Munidasa, the chef of genius behind The Ministry of Crab, has opened Kaema Sutra, (tel: [94 11] 267-0722; open daily noon-3pm; 6pm-midnight, www.kaemasutra.com). Super special is Crab Kottu, like flat rice noodles and with each portion made out of one whole sea crab, only Rs1,200.
Old style Sri Lankan cuisine from clay pots is presented for lunch and dinner daily in a grand setting at The Ceylon Café housed in the Grande Gourmet at Nirj's (39A Horton Place, Colombo 7; tel: [94-11] 71-392-6717; open daily for lunch and dinner). The restaurant also features, on different levels, French, Thai and Malay cuisine and a whisky library.
Village-style cooking can be experienced at the Nuga Gama restaurant, a re-created rural settlement in the grounds of the Cinnamon Grand Hotel, and open every evening (7pm-11pm) and for rice and curry buffet lunch at weekends, from noon to 2.30pm. Tel: [94 11] 249-7468.
Enjoy cheaper (about Rs4,000 for two) and justifiably popular rice and curry buffet meals where locals eat at Raja Bojun (Liberty Arcade, 282 R A De Mel Mawatha, Colombo 3; tel: [94-11] 471-6171; open daily 12noon-4pm; 7pm-11pm).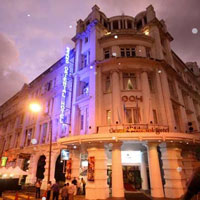 Grand Oriental mood/ photo: hotel
The renovated Palmyrah Restaurant (Hotel Renuka, 328 Galle Road, Colombo 3; tel: [94-11] 257-3598, open daily for breakfast, lunch and dinner) is renowned for its north Sri Lankan (Tamil) a la carte specialities at good prices.
There are air-conditioned food courts open from 11am-9pm featuring Sri Lankan, Chinese, Indian, Thai and Korean dishes in the basements of the Liberty Plaza (R A De Mel Mawatha, Colombo 3), Majestic City (10 Station Road, Colombo 4) and Crescat Boulevard (Galle Road, Colombo 3) shopping malls.
There's an air-conditioned and more upmarket food court attached to the lobby of the new Z-Max Fairway Hotel behind the Dutch Hospital precinct that's open to non-residents too.
Now the city is coming to life again at night, Galle Face Green throbs with sunset action as kids fly kites, lovers promenade, and street hawkers offer snacks like prawns in a deep fried patty.
At night, the well-heeled head for the five-star hotels, some of which have nightclub-cum-discos open at weekends, and all have live music each evening in their lobby bars. Having started small as an insiders' hangout with drinks patio, Rhythm & Blues (19/1, Daisy Villa Avenue, Duplication Road, Colombo 4; open nightly) has blossomed into the city's swing joint that doesn't get into its stride until after 10pm and continues with nonstop bar service and revelry. The food is pretty good too.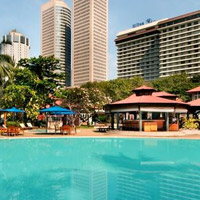 Hilton, old style with trimmings/ photo: hotel
Thanks to the complimentary drinks and snacks, casinos tend to be popular among travellers. Though some have high buy-in points – think US$100 – you can always sell back the chips you don't use. There are three main casinos open 24 hours with Bally's (34 D R Wijewardana Mawatha, Colombo 10; tel: [94-11] 233-2211, near the back entrance to Fort Railway Station) almost exclusively for visitors, with its sister casino Bellagio (430 R A De Mel Mawatha, also known as Duplication Road, tel: [94-11] 257-5271) a glitzy and vast venue, popular with all comers. The newest on the scene is Casino Marina, spanning four floors in a new building at 30 Marine Drive, (tel: [94-11] 421-9988), with slot machines as well as the customary gaming tables, and lots of entertainment.
Colombo's reputation for trendy fashion shopping stems from the success of Odel (5 Alexandra Place, Colombo 7, tel: [94-11] 462-5800), now a fully-fledged department store after starting out as a cut-price local garment outlet. Crowds flock to House of Fashions (101 D S Senanayaka Mawatha, Colombo 8; tel: [94-11] 215-4555) in search of imported items (not just clothes) at low prices.
Colombo has an amazing number of shops with unusual household goods and artefacts for stylish modern homes. Barefoot specialises in fabrics in gorgeous hues, while Paradise Road (213 Dharmapala Mawatha, Colombo 7, tel: [94-11] 268-6043, open daily 10am-7pm) is ideal for ingenious gifts and upmarket décor. Hermitage (28 Gower Street, Colombo 5, tel: [94-11] 250-2196) has an Indian antique ambience.
The air-conditioned Colombo shopping malls of Liberty Plaza, Majestic City and the more upmarket Crescat Boulevard with its designer-label stores, all have shops selling the latest DVDs (you'll be assured they are "genuine copies").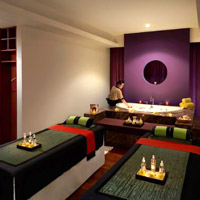 Cinnamon Grand spa/ photo: hotel
There is a branch of Keells Super in Crescat's basement for shopping as the locals do and buying local produce like devilled cashews and pickled quail eggs.
Colombo shopping has got classier with the conversion of some decaying colonial buildings into trendy shopping locations. The Arcade at Independence Square, converted from government offices of the Victorian era, houses several boutique clothes shops, while the former stadium of the Colombo Race Course has souvenir stores and some restaurants.
Sri Lanka is the source of Ceylon tea and Colombo's popular tea bar, Tea Breeze (www.teabreeze.com) has two outlets, one at the Race Course Stadium shopping centre and the other at Perahera Mawatha beside the Beira Lake, as well as at the airport. Good for pots of single-estate-grown leaf teas, unusual tea milkshakes, delicious pastries and sandwiches, all served elegantly by smart stewards in dark green livery. Packaged pure Ceylon and single estate teas can be purchased there and from the Mlesna Tea Counters at Crescat Boulevard, Liberty Plaza, the Arcade at Independence Square, Majestic City shopping malls and from kiosks in the lobbies of the Colombo Hilton and Galadari Hotels. The world famous local Dilmah brand of tea has an outlet inside the Odel shopping complex.
Colombo business hotels review
For years Colombo hotels soldiered on with low occupancy as tourists usually headed straight for the beach or a round-island tour, but business travellers are back and demanding the best. Hotels are meeting the demand by adding lots of restaurant options. Expect decent facilities and venues for small corporate meetings too.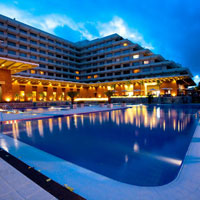 Cinnamon Lakeside/ photo: hotel
The Cinnamon Grand Colombo, which expanded and modernised under the John Keells Hotel Group, leads the way with the most popular seafood market restaurant in town, The Lagoon; an elegant Italian restaurant Echo; genuine 1970s vintage steak house, The London Grill; a saloon-bar pub with great grub, Cheers; a verandah Asian fusion restaurant, Tao; a South Indian restaurant, Chutneys; and the Nuga Gama Sri Lankan village restaurant recommended by us as a foodie spot for curry but not in a hurry.
All the hotel's 501 rooms offer free WiFi and full five-star hotel amenities. There is also a premium executive floor with an exclusive, dedicated bar lounge (and smoking room). This is a dependable Colombo business hotel choice.
The Keells Cinnamon Lakeside (formerly Trans Asia) has revamped its restaurants while retaining the exceedingly popular (must reserve) Royal Thai. The Long Feng (Singaporean) has yielded its location by the Beira Lake to a relentlessly trendy drinks and tapas bar (7 Degrees North) for a conventionally smart room next door.
There is an expanded sushi bar in the hotel's brightly redesigned lobby and glass walled The Dining Room 24-hour coffee shop. With 346 aircon rooms including executive floors that can only be accessed by a special card, the hotel is becoming a smartly efficient choice for executive travellers.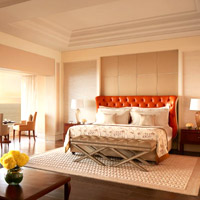 Stylish room at Taj Samudra/ photo: hotel
Facing the sea, the Taj Samudra has 300 rooms with Broadband access and a stylish coffee shop, Latitudes, as well as traditional Indian, Chinese (try Golden Dragon) and steak restaurants. Rooms with sea views cost extra.
Across the street is another option that won't assault your wallet. The functional Ramada Colombo (formerly the Holiday Inn) offers 92 standard rooms, as well as a handful of suites. Expect practical, clean-cut accommodations sans frills.
There is a triangle of hotels, making the old part of town close to the converted Dutch Hospital precincts the fashionable, fun area to stay. The Hilton Colombo has around 382 rooms, including four floors of executive rooms with lounge and butler services. The lobby area has been transformed in the hope of becoming trendy with the Graze Restaurant and the L.A.B (lounge and bar) as an "urban park." It is an old timer popular with locals as well as business travellers who want an international brand with its stamp of quality and well-perfected service.
Its neighbour, the upgraded 450-room Galadari Hotel, is a highly rated address among conventional Colombo business hotels. Galadari's cocktail bar with sea view (Margarita Blue) and the best doormen in Colombo, suit its dedicated-to-business image.
Across the road, what began life four decades ago as the Ceylon InterContinental has been transformed into the 229-room showy (even vulgar?) Kingsbury, with oodles of bling and legions of happy guests.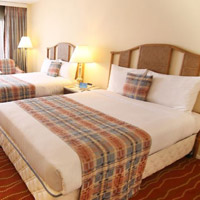 Galadari Superior room/ photo: hotel
There are several food outlets ranging from the gourmet-pleasing Grill (open for lunch and dinner daily) and its all-day dining buffet restaurant, Harbour Court. Top of the city's roof top bars is its Sky Lounge (open daily 5.30pm-4am), which also serves meals.
Adding to the area's reputation as THE place to stay, in a cobbled street behind the Dutch Hospital precincts, The Steuart by Citrus (Hospital Street, Colombo 1) has preserved its colonial style being a recent conversion of an Edwardian office block and revels in a Scottish theme. Its 50 rooms over eight floors come in various sizes and with different tartan themes; it has a lively pub style bar and restaurant on the ground floor.
Opened in September 2016, the latest addition to the area's swinging scene is the clumsily named Z-Max Fairway by Plateno (Hospital Street, Colombo 1) a sprawling 181-room complex stretching over eight floors of a converted colonial building. A rooftop bar is to open and there is an upmarket food court off the hotel's ground floor lobby. Rooms are well designed with a working desk and a sitting area and suites are equipped for self-catering, for families or long-stay residents; some rooms have facilities for disabled guests. With corridor walls hung with colourful abstract paintings and a reassuring ambience, it's a lower cost option than its neighbouring five-star properties.
In the same area the Colombo City Hotel (Canal Row, Colombo 1) opened before the Dutch Hospital was converted into the city's centre for evening entertainment and action. It reflects its chequered past looking somewhat worn and is predictably the lowest priced property in this prestigious location.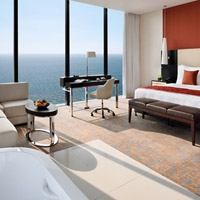 Movenpick open plan tub-and-room / photo: hotel
The first of Colombo's new "five star" hotels in 24 years is by Movenpick Hotel Colombo (opened January 2017). It's a tall (24-storey) slim building opposite the Kollupitiya market and next door to the Liberty Plaza shopping mall: not really a "five star" location.
From the roof top bar (open to non-residents only after 5.30pm) there's a view over rooftops of the Indian Ocean. With floor-to-ceiling windows, rooms are formidably contemporary in style as is its main restaurant; there is a French restaurant too, brightened with reproductions of gaudy impressionist paintings.
Jetwing Colombo Seven opened to guests in February 2017 with 70 plush rooms and 28 serviced apartments, plus the almost obligatory rooftop bar and pool, in the prestigious Colombo 7 residential district.
The Shangri-La Hotel, Colombo, opened in 2017 between the Galle Face and Beira Lake on 10 acres of prime land with excellent sea views. The 541-room hotel offers six restaurants and bars as well as generous events and meetings space for everything from small corporate meetings to MICE venues that are among the best in Colombo.
Cinnamon Red (59, Ananda Coomaraswamy Mawatha, Colombo 3) at 105m high with 26 floors and 242 guestrooms, has been designed to a concept based on paring down luxuries to the essentials as required by the guest on the move.
As a result room rates are lower than in five-star properties. Check in and check out is done automatically on Level 7, vending machines (beverages, snacks and fruit) are on the 8th and 26th levels and ice machines on all bedroom floors.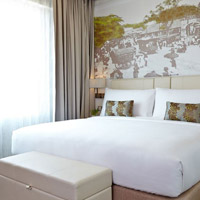 Neat OZO room/ photo: hotel
Even room service is "do-it-yourself" as guests collect their pre-ordered meals from the tea/coffee bar on Level 7; popular for action is the rooftop bar and pool.
The guest rooms are identical with plenty of red décor, king size or twin beds, work desk, and views of either the city, park, lake or ocean. This modern concept hotel is only 10 minutes walk from the Liberty Plaza Shopping Mall and the Galle Road thoroughfare.
Of the many hotels that have sprung up on the landside of Marine Drive since it was opened as a bypass to the congested Galle Road, the 158-room Ozo Hotel in Colombo 4 is proving popular with its naturally lit, bright and cosy rooms and helpful staff. With yet another roof top swimming pool and bar lounge with a view overlooking the Indian Ocean, it has lower rates than similar properties closer to the entertainment hub of the city centre.
Lower room rates are also available at the Best Western Elyon Colombo (102A Baseline Road, Colombo 5) actually a 20-minute ride by three-wheeler from the centre of the city, but nevertheless a fine retreat and close to the Southern Expressway for convenient travelling south.
All 59 rooms are non-smoking, new, compact and comfortable; the staff personable and the atmosphere lively with nightly happy hour and weekend entertainment in the Vu Resto-Bar roof top lounge, open from 3pm.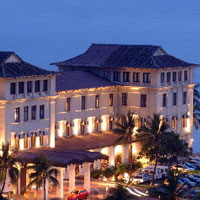 The gracious Galle Face/ photo: hotel
The small ground floor coffee shop yields views of traffic streaming in and out of the city.
The Hilton Colombo Residence (200 Union Place, Colombo 2) has self-contained apartments available for long or short lease and is next to a supermarket offering straight-to-the-kitchen delivery. All apartments have high-speed Internet access and WiFi.
Heritage and boutique stays
For Colombo colonial hotels with true character – and not just a hint of the musty – there are some unique accommodation options. The Galle Face Hotel on the seafront has 65 rooms and huge suites in its Classic Wing, and Broadband access in its business centre. It has spawned a stylish 80-room executive-class Regency Wing, where The 1864 fine-dining restaurant and wine bar attracts loyal guests. This is a splendid (much-improved after extensive renovations and refurbishment) Sri Lanka heritage hotel with a wide following.
At the Grand Oriental Hotel, by the old port gates, rooms are smaller but have the atmosphere of bygone days. Among the first Colombo boutique hotels to open was the Havelock Place Bungalow with only seven colonial style rooms, restaurant and swimming pool, WiFi access throughout the premises and Internet access included in the room rate. This has been followed by the Uga Residence in the happening area of Park Street; it's a huge converted bungalow with 11 darkly handsome woody suites, a swimming pool overlooked by the rooms, an exclusive restaurant and an atmosphere of discretion.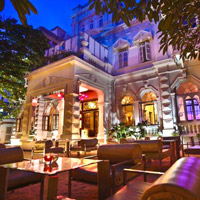 Casa Colombo's villa lights up at dark/ photo: hotel
Casa Colombo off the Galle Road in Bambalapitiya is dubbed a 'retro-chic designer hotel' and each of its 12 suites is a fantasy (some come with in-room laptops, all with free WiFi) and it exudes an atmosphere of extravagance and fun in this conversion from a 200-year-old mansion. If you can swing it, spring for the Royal Suite, complete with deep-soak bathtub and lux accessories.
Beside the German Embassy, seek out swanky urban retreat Colombo Courtyard. This contemporary boutique hotel fuses modern design with eco-friendly elements, such as recycled materials in the décor and high-efficiency lighting. The minimalist, wide-open spaces will please even the most zealous neat freak, while the spacious suites and warm wood details should delight the rest. Peek into the bathrooms for a surprising contrast of angular, industrial-style stone and cement elements. Up for a tipple? The hotel is also home to a few of the city's hippest bars, including Grape Expectations, Loft, and Cloud Cafe.
Tintagel Colombo was created with taste and style from a famous 1930s villa (it was home to three prime ministers) by Shanth Fernando, the designing genius behind the Paradise Road stores and the Gallery Café. A classic and impressive place to stay and a good Colombo boutique hotel choice whose famous guests have included Charles, the Prince of Wales.
Budget beds and value stays
The clue to lower priced accommodation is when the hotel has "City" in its name. Down a lane linking the main Galle Road with the new thoroughfare of Marine Drive is Ceylon City Hotel (11 Upatissa Road, Colombo 4) in Bambalapitiya. With 37 rooms over three floors (and a fourth floor restaurant for residents) its rooms are small but perfectly formed. There is no bar.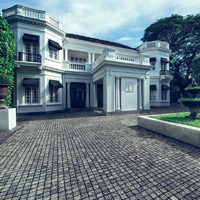 Classical, stylish Tintagel: 1930s villa/ photo: hotel
An established, lower-rate choice in the same central area is Renuka City Hotel. This has Broadband and WiFi access, and a swimming pool down the street. Occupancy at the centrally located Juliana Hotel often exceeds 100 percent since its 51 huge but basic rooms can be booked for day use too.
The Pearl City Hotel has 63 rooms and is located by a busy junction. In the same hotel group, and slightly more upmarket, is the Pearl Grand with 89 rooms. Overlooking the sea, one of the first hotels to be built on Marine Drive, Hotel Westeern (yes, this is Western spelt with an extra "e") has 30 renovated rooms and a friendly informality to match its low rates.
Closer to the action in Kollupitiya tucked down a lane off Marine Drive, the grandly named De-Colombo Boutique Hotel (No 6A, 10th Lane, Colombo 3) is a little known inexpensive hotel – not a pretentious boutique property at all. No bar and no restaurant (but meals can be served in the rooms), its quiet location close to the sea, is convenient for anonymity.
And that wraps up our Colombo fun guide. It may not have the style of its more glamorous neighbours like Singapore and Dubai, but Sri Lanka's capital has enough accommodation, eateries and activities to suit every pocket and whim.
Send us your Feedback / Letter to the Editor
FAST FACTS

/ Hotel Contact List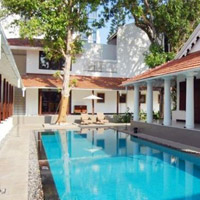 Uga Residence, colonial bungalow address/ photo: hotel
Check out the latest edition of Sri Lanka: The Bradt Travel Guide by our contributor, Royston Ellis (www.roystonellis.com) available from www.bradt-travelguides.com. Ellis is also the author of the Insight Pocket Guide: Sri Lanka Step By Step.
The country code for Sri Lanka is 94, and [94-11] for Colombo. When calling a Colombo number from elsewhere within Sri Lanka, the code is 011. This code must also be used when calling a Colombo number from a local mobile phone, even in Colombo.
The Sri Lankan rupee fluctuates daily, but the exchange rate is roughly US$1=SLRs174. US dollars are not usually acceptable, except in casinos. Banks give a better rate for travellers' cheques than for cash. ATMs accept international credit cards for cash withdrawals.
Three-wheeler taxis are ubiquitous and rates have to be negotiated if the "tuk tuk" doesn't have a meter, or it is claimed to be "broken." Five-star hotels have their own chauffeur-driven cars with rates from around SLRs4,000 for a morning's hire.
Radio taxis are provided by Cool Kangaroo (tel: [94-11] 258-8588) in business for three decades, and several other firms, notably Ace Cabs (tel: [94-11] 281-8818 at Rs72 per city kilometre and about Rs3,000 to the airport. The bijou, but four door, taxis run by Budget (tel: [94-11] 729-9299) are cheaper but better for short city trips than long ones out of town.
For a good introduction to the sights (and the back streets) of Colombo, take the open top London Transport Routemaster bus (built in 1956) that makes a four-hour city tour every Sunday morning, with pick-up from major hotels.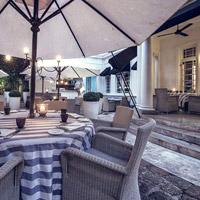 Tintagel outdoor dining/ photo: hotel
Special tours are also organised to tie in with cultural shows on weekday evenings (tel: [94-77] 759-9963; e-mail: info@colombocitytours.com or www.colombocitytours.com).
To any room rates must be added 10 percent service charge and a statutory levy totalling another 17.65 percent unless otherwise indicated. Food and beverage also attract 10 percent service charge and municipal taxes. Any rates quoted here are for rule of thumb only and prices will vary from high to low season. Expect to pay around US$120 for a decent business hotel, going up to US$150-$180 at a five-star heritage establishment or an international brand. Two-star inns will be in the range of US$8 (dormitory style) to US$35.
Among recommended travel agents for local arrangements are the specialists for unique places to stay, even in Colombo, Red Dot Tours (e-mail: enquiries@reddottours.com and www.reddottours.com), the mainstream Aitken Spence Travels (e-mail: astweb@aitkenspence.lk and www.aitkenspencetravels.com), and Walkers Tours (e-mail: info@walkerstours.com and www.walkerstours.com).
Colombo hotels directory
Best Western Elyon Colombo. [94-11] 752-7527, fax: 251 4344, (e-mail: elyon@bestwesternhotels.com or www.bestwesterncolombo.com).
Casa Colombo. Tel: [94-11] 452-0130, fax: 452-0150, (e-mail: reservations@casacolombo.com or www.casacolombo.com).
Ceylon City Hotel. Tel: [94 11] 250-8000, fax: 250-8878, (email: reservations@ceyloncityhotel.com or www.ceyloncityhotel.com).
Cinnamon Grand Colombo. Tel: [94-11] 243-7437, fax: 244-9280, (e-mail: grand@cinnamonhotels.com or www.cinnamonhotels.com).
Cinnamon Lakeside Colombo. Tel: [94-11] 249-1000, fax: 254-4211, (e-mail: lakeside@cinnamonhotels.com or www.cinnamonhotels.com).
Cinnamon Red. Tel: [94-11] 214-5145, fax: 214-5146, (e-mail: infored@cinnamonhotels.com or www.cinnamonhotels.com).
Colombo City. Tel: [94-11] 534-1962; fax: 243-2480, (e-mail: cmb_cityhotels@sltnek.lk or www.colombocityhotels.lk).
Colombo Courtyard. 32 Alfred House Ave, Colombo 3. Tel: [94-11] 464-5333, (e-mail: info@colombocourtyard.com or www.colombocourtyard.com).
De-Colombo Boutique Hotel. Tel: [94 11] 250-0316, (e-mail: decolomboboutique@gmail.com or www.decolomboboutique.com).
Galadari Hotel. Tel: [94-11] 254-4544, fax: 244-9875, (e-mail: info@galadarihotel.lk or www.galadarihotel-srilanka.com/ppc/). From US$190.
Galle Face Hotel. Tel: [94-11] 254-1010, fax: 254-1072, (e-mail: smarketing@gallefacehotel.net or www.gallefacehotel.com).
Grand Oriental Hotel. Tel: [94-11] 232-0320, fax: 244-7640, (e-mail: info@grandoriental.com or www.grandoriental.com).
Havelock Place Bungalow. Tel: [94-11] 258-5191, fax: 258-4655, (www.havelockbungalow.com).
Hilton Colombo Hotel. Tel: [94-11] 249-2492, fax: 254-4657, (e-mail: colombo.reservations@hilton.com or www3.hilton.com).
Hilton Colombo Residence. Tel: [94-11] 534-4644, fax: 534-4648, (e-mail: colomboresidence_info@hilton.com or www3.hilton.com).
Hotel Westeern. Tel: [94-11] 250-7161, fax: 451-8481, (e-mail: info@hotelwesteern.com or www.hotelwesteern.com).
Jetwing Beach. Tel: [94-31] 227-3500, fax: 227-3555, (e-mail: resv.beach@jetwinghotels.com or www.jetwinghotels.com).
Jetwing Colombo Seven. Tel: [94-11] 470-9400, (email-resv.colomboseven@jetwinghotels.com or www.jetwinghotels.com).
Juliana Hotel. Tel: [94-11] 533-4222, (e-mail: info@julianalk.com or www.julianalk.com).
Movenpick Hotel Colombo. Tel: [94-11] 745-0450, fax: 772-3723, (e-mail: hotel.colombo@movenpick.com or www.movenpick.com).
Ozo. Tel: [94-11] 255-5570, fax: 255-5572, (e-mail: reservations.srilanka@ozohotels.com or www.ozohotels.com).
Pearl City Hotel. Tel: [94-11] 452-3800, fax: 452-3866, (e-mail: info@pearlcityhotel.lk or www.pearlcityhotel.lk).
Pearl Grand. Tel: [94-11] 259-7444, fax: 259 7443, (e-mail: info@pearlgrandhotel.com or www.pearlgrandhotel.com).
Pegasus Reef. Tel: [94-11] 293-0205, fax: 481 6053, (e-mail: info@pegasusreefhotel.com or www.pegasusreefhotel.com).
Ramada Colombo. Tel: [94-11] 242-2001, fax: 244-7977, (e-mail: reservations@ramadacolombo.com or www.ramadacolombo.com).
Ramada Katunayake. Tel: [94-11] 225-3646, fax: 225-4157, (e-mail: info@ramadakatunayake.com or www.ramadakatunayake.com).
Renuka City Hotel. Tel: [94-11] 257-3598, fax: 257-4137, (e-mail: renukaht@renukahotel.com or www.renukahotel.com).
Shangri-La Hotel, Colombo. Tel: [94] 11-788-8288, (www.shangri-la.com/colombo)
Taj Samudra. Tel: [94-11] 244-6622, fax: 244-6348, (e-mail: reservations.samudra@tajhotels.com or taj.tajhotels.com).
The Gateway, Airport Garden. Tel: [94-11] 544-0000, fax: 225-2953, (e-mail: gateway.colombo@tajhotels.com or gateway.tajhotels.com/).
The Kingsbury. Tel: [94-11] 242-1221, fax: 243-3251, (e-mail: info@thekingsburyhotel.com or www.thekingsburyhotel.com).
The Steuart by Citrus. Tel: [94-11] 557-5575, fax: 557-5575, (e-mail: web@citrusleisure.com or www.citrusleisure.com).
The Wallawwa. Minuwangoda Road, Kotugoda. Tel: [94-11] 228-1050, (e-mail: enquiries@thewallawwa.com or www.thewallawwa.com).
Tintagel Colombo. Tel: [94-11] 460-2060, fax: 460-2168, (e-mail: reservations@tintagelcolombo.com or www.paradiseroadhotels.com/tintagel).
Uga Residence. Tel: [94-11] 233-1322, fax: 232-8832, (e-mail: reservations@ugaescapes.com or www.ugaescapes.com).
Zmax Fairway. Tel: [94-11] 215-3153, (e-mail: infofairway.zmax@platenogroup.com or www.plateno-group.com).