BUSINESS TRAVEL
Historic trade to MICE muscle
Brisk Canton Fairs and MICE have put Guangzhou business hotels firmly on the map. We look at beds, fun weekend family breaks, and a re-energised river address.
with original reporting by Kate Springer
SEE ALSO Beijing business hotels | Shanghai business hotels | Shanghai shopping | Shenzhen business hotels | Sanya fun guide | Hong Kong business hotels | Hong Kong shopping | Chengdu guide | Xian fun guide

Sofitel Guangzhou Sunrich
JUMP TO Getting around Guangzhou | Nightlife, shopping and culture | Pazhou Expo, Pearl River | Tianhe Financial District | Yue Xiu, Shamian Island | Baiyun and airport hotels | Hotel Contacts
Shamian Island colonial buzz and MICE venues/ photo: Vijay Verghese
GUANGZHOU can paint a grim picture at times - cabbies sealed into knife-proof plastic cubicles behind a solid wall of iron bars, drivers with scant knowledge of local hotels and roads, caged apartment windows... But before you roll your window up to race back to the train station - or airport - take a few minutes to go through our Guangzhou survival guide and you'll see it's not a bad, or excessively tough, place at all.
Guangzhou gets bad press - or no press - not account of crazed gang wars (an average Amercian school does this subject more justice) but because it is a midget of a city when compared with siblings Beijing and Shanghai. Still, it squeezes in a few million souls across a vast urban sprawl. It's a perfectly safe place to strike a deal despite all the tedium of deaf - or disinterested - taxi drivers, and hopeless hotel doormen who will leave you largely to your own devices. Piggybacking on the biannual China Import and Export Fair (www.cantonfair.org.cn), China's third-largest city is firmly moving out of the shadows. Gleaming tower blocks, attractive parks, and tree-lined roads signal its arrival to the main stage. One of the oldest historic points of contact between the West and China, Guangzhou is a storied city, the old swashbuckling tales fast forgotten in the growing corporate din.
The Canton Fair lies at the heart of Guangdong's resurgent stride and it pumps in welcome dollars into the economy every April and October - this since 1957. The largest of its kind anywhere, the Canton Fair stretches across 1.16 million square metres of function space that seems to expand endlessly with hotels constantly mushrooming, many directly attached to expo halls by umbilical cords called skyways. It is a fitting tribute to a city that saw China's first foreign trading port concessions, most along the river on the west side (now known as Shamian).
The fair sees about US$70 million in business turnover from over 200,000 international buyers. The exhibitions run the gamut from consumer goods and textiles to medical devices and machinery. To accommodate the twice annual influx, the trade fair moved from its previous location in Baiyun to the sprawling Guangzhou International Exhibition Centre on Pazhou Island, which is much closer to the downtown Tianhe District. The exhibition and display area continues to grow.
Meanhile the re-energised Shamian Island district and hotels like the new look White Swan pull in families for weekend breaks along the river. Not well known these days is the fact that Guangzhou has long had a fine reputation as a dining destination, especially for Hong Kong travellers.

E-mail Page

Print

Hotel Contacts
Getting around Guangzhou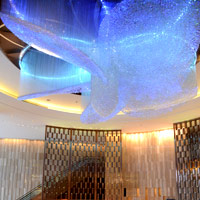 Sofitel Guangzhou's ethereal lotus chandelier/ photo: Vijay Verghese
With the swelling number of fast talkers pouring in during the Canton Fair, it's crucial to book a room several months in advance, not necessarily with 600 thread count linen. Location is important in a city that sees its fair share of traffic. Expect inflated prices during peak periods and traffic snarls. The exhibition centre is not within walking distance to downtown, but most hotels offer complimentary shuttle buses. A taxi from the Tianhe Financial District starts from Rmb10, and runs between Rmb30 and Rmb40 (exchange rate US$1 = Rmb6.21).
Send us your Feedback / Letter to the Editor
Meanwhile, the MTR (www.gzmtr.com) is a cheap and surprisingly clean option with fares starting from Rmb2. The eight lines in operation will get you most places in the city if you're willing to do some walking. Plans to expand the network to 20 lines by 2020 will make the system much more convenient. To get from downtown Tianhe area to the fairground, take Metro Line 3 (dark orange) and transfer to Metro Line 8 (turquoise) and exit at Pazhou. Several Guangzhou business hotels are served by the metro.
Though Guangzhou is home to a relatively young and modern airport, the Baiyun International Airport (www.baiyunairport.com) in the Huadu District, international flights are limited. The largest carriers flying in include Dragonair, Cebu Pacific and China Southern Airlines, which has a longhaul flight to Heathrow. Expect fares upwards of Rmb130 for a taxi ride from the airport to the Tianhe financial district.
In 2012, Guangzhou launched a high speed rail to connect Beijing, but most business travellers still make their way via Hong Kong. This means a painless two-hour trip on the "Intercity Through Train" (www.it3.mtr.com.hk). Trains depart every 45 minutes from the Hung Hom MTR station in Kowloon, and arrive at the Guangzhou East Station, just north of the city centre. Tickets cost HK$190 each way. The first train leaves Hung Hom at 7.15am, and the last around 6pm. The Guangzhou train station is a far cry from the swish corridors of Hong Kong, but it's functional and navigable. Immigration is a breeze, with queues maxing out at the 15-minute mark.
Just when you're ready to give Guangzhou a pat on the back, you'll see the taxi line. It's as bad as it looks, despite the seemingly never ending stream of multi-coloured cabs. Expect no less than a 30-45-minute wait at morning rush hour. Best not to sport flashy watches and jewellery unless you want extra attention from wandering salesmen, panhandlers, and others interested in slipping their fingers into your pocket. The ride to the city centre of Tianhe and the adjacent Pearl River New City is inexpensive, ranging from about Rmb30 to Rmb40.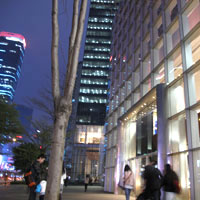 Taikoo Hui shopping / photo: Vijay Verghese
If you don't speak Putonghua, be sure to have your destinations written down in Chinese before hopping in, as most cab drivers don't speak a lick of English. In the sea of taxis you'll notice varying colours, indicating different cab companies. For most consistent service, try to hail a traditional yellow. Blue and red are solid options too, and all come equipped with the fashionable prison-bar dividers to keep you from changing the radio station.
Nightlife and shopping
Though mainly visited for its savvy trade shows and MICE functions, Guangzhou is not all work and no play. Be sure to carve out some time to enjoy the excellent Cantonese cuisine, the colonial architecture of Shamian Island, the leather and wholesale markets near Baiyun. For early evening cocktails, head to the Zhujiang Party Pier and its Zhujiang-InBev International Beer Museum (en.zhujiangbeer.com). Another neighbourhood for booze hounds, Taojin is home to plenty of expat-friendly bars and happy hours such as the Happy Monk (tel: [86-20] 8376-5597), The Hill Bar (tel: 8359-0206) and Elephant and Castle Pub (tel: 8359-3309).
If it's inspiration you're after, creativity thrives at the revitalised factory neighbourhood of Guangzhou Redtory Art & Design Factory (www.redtory.com.cn). Nearby, spot some futuristic architecture at the Guangdong Museum of Art (www.gdmoa.org), Guangzhou Opera House (gzdjy.org), Guangzhou Library (www.gzlib.gov.cn) and in the curves of the giddily spiralling Canton Tower (www.cantontower.com).
Shopaholics should head straight to Beijing Lu Pedestrian Street, where markets and storefronts heave with inexpensive clothes, sporting goods, restaurants and bookstores – the most famous being Xinhua Bookstore. Springtime visitors are rewarded with strings of lanterns that brighten up the streets and alleyways. For shoe shopping and a delicious array of Cantonese flavours, Shang Xia Jui pedestrian mall won't disappoint. This old street is built in traditional Lingnan architectural style, dating back to the Ming Dynasty.
But let's get down to business. Stalwarts are getting makeovers and upmarket accommodations seem to be shooting up overnight, with a crop of new faces including the Park Hyatt, Four Seasons, Mandarin Oriental, W Guangzhou and two Langham Place developments.
Pazhou Expo zone, new Pearl River area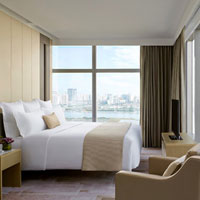 Futuristic Langham Place/ photo: hotel
One Langham is sited at the Economic Development Zone (EDZ), while the striking Langham Place Guangzhou (opened late 2013) is by the Guangzhou International Convention and Exhibition Centre, in the thick of the Canton Fair action with direct access to both the convention area and the subway, ideal for those lugging heavy display material. This will come in handy as taxis can be hard to come by during the peak expo rush as well as when events dry up and few cabs venture to the expo strip. This is the newly developing Pazhou area.
Langham Place Guangzhou has been adventurous with its design - a stack of flat IKEA-style packing boxes in an irregular pattern that distracts - and entertains - the eye, all with a very futuristic glinting steel-and-glass tinge. With an eye on the Guangzhou conference hotels crowd and the booming MICE market, this 408-room hotel serves up spacious hi-tech meeting venues, some open air, along with a commodious 3,000sq ft Great Room for more lavish occasions. Amid the cutting-edge design and space age wow expect old world comforts too in the form of a Chuan Spa where classic massage and wellness therapies await.
Whoosh up in the lift to the lobby floor, cavernous in space with pale wood interlocking support beams arching skywards as the eye moves up to the impressive soaring atrium with a skylight atop. The arrangement is minimalist in a neutral palette with grey marble and blonde wood predominating. All suites had a makeover in late June 2013 as the hotel shut down for a two-week upgrade - a major investment right after the launch. Corner Suites roll out grand views through floor-to-ceiling windows with 60sq m of space to play around with. Think clean pastel tones with pale wood and tan furniture. The laptop-friendly safe is a top loading affair while the 42-inch flat screen TV will keep most entertained into the wee hours. Expect an iPod dock and DVD player (upon request). Suites offer 270-degree panoramic views of the river. This is a contemporary space, unfussy and functional and very much a conference hotel albeit with artistic trim. Lines run straight and square with very few curves to distract the eye. This is true of patterns in the carpet as well as the format of the rectangle washbasins in the bathroom. Corporate suits will appreciate the room's functionality and simple, easy-to-spot room control buttons.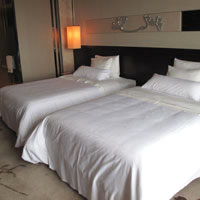 Westin Pazhou twin/ photo: Vijay Verghese
Walking distance from Langham Place and linked to the Guangzhou International Convention and Exhibition Centre (Hall C) by a covered sky walk, The Westin Pazhou is a good bet for fairgoers hunting for a value price range. This reflective glass tower on the edge of the Pearl River is home to 325 rooms and several dining options. Walk into a square high ceiling functional lobby dressed in cream marble and with tall white pillars. Behind the reception is a white plaster bas-relief of old China and pastoral scenes.
A 50sq m Club Room offers a marble foyer leading to a soft tan carpet in the bedroom with bright natural light streaming in from tall windows. Expect an iPod dock, gleaming auburn wood tone cabinets, a large 42-inch flatscreen television, a laptop safe in the chest below the TV, an oval glass-top desk with leather trim and data-port (two three-pin multi-plugs and media sockets), an easy chair, a divan by the window, large lampshades to offer a homey touch, and sliding doors to reveal the bathing area. Here, find a faux-pearl mosaic wall, hairdryer, weighing scales, black granite basin lintel, two-pin electric plug points and three-pin crow-foot sockets (so bring your adapters). There is a soaking tub and a rain shower cubicle. The wardrobe built in to this bathing-dresser ensemble is open-plan (without cupboard doors) for easy reach of hangers but could present an issue if humidity gets into clothes, so keep the aircon humming. WiFi is free in the lobby but is charged in-room unless you have a special package.
The Westin Deluxe Rooms are similarly modern and bright, with a chaise longue, rain shower, LED TV, iPod dock, and excellent floor-to-ceiling views of the river. You'll also find more than 3,000sq m of function space, with 10 rooms that can accommodate anything from quiet board meetings to all-out galas. And in those few minutes of leisure, look for a large indoor pool, aromatherapy spa services and rooftop tennis courts. This is a hotel designed for moving people around efficiently with minimal clutter. The Canton exhibition Hall C is a three-minute skip away.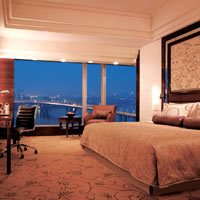 Shangri-La river view room/ photo: hotel
For MICE travellers and brochure heaving conventioneers, a stalwart address for the Canton Fair is the Shangri-La Hotel, Guangzhou – just five minutes east of the Guangzhou International Exhibition Centre on Pazhou Island. Though Shangri-La hotels can vary, this is one of the better offerings. The grand entrance is an impressive start, with high ceilings, several quiet nooks, free WiFi and a luxurious lounge for high tea and all-day snacking. While not walking distance of the Expo area, the discernible upgrade in service and comfort will be worth the investment in taxi time.
Following suit, the 704 guestrooms are equally appealing. Enter through heavy wooden doors, to be greeted with dark wood and rich gem tones. The headboards are especially distinctive, adorned with tapestries meaning "Every Bird Comes Home". Starting from 42sq m, Deluxe Rooms feature extra large desks that will make business travellers swoon. Unlike most of the upmarket hotels in the area, the bathroom does not have a rain shower, but it does come with three shower heads, a bidet and L'Occitane amenities to compensate. For river views, request an odd number room. There are also 26 fully serviced apartments for long-stay guests.
The Horizon Club rooms, located on floors 31 to 36, include private check-in, complimentary shoe shines and one suit pressing, use of private meeting room for two hours per day, and access to the Executive Lounge on the 34th floor. Decked out in rich reds and creamy beiges, the lounge serves up a wide variety of amenities, including a happy hours, complimentary breakfast, all-day refreshments, and two-hour use of the big boardroom with a view. You can even find a rack of reading glasses with prescriptions between 100 and 250.
Pinstripers will enjoy the 6,000sq m of function space, including the 2,240sq m pillarless Pearl River Ballroom, a foyer with panoramic views, a 100-seat auditorium and eight smaller meeting rooms. All the conference spaces are rigged with the latest in AV equipment, such as mobile LED panels, satellite conferencing, simultaneous translation systems, and the usual LCD projectors. Small wonder this address rates high as one of the best Guangzhou conference hotels.
In the urban sprawl it's easy to lose sight of the great outdoors, but at the Shangri-La, it's more likely you'll forget you're in China's third largest city. The facilities are reminiscent of a beach resort in Bali – take a stroll through the lush gardens or try your hand on the putting green. There's also a huge serpentine pool, a 24-hour gym, complimentary Pilates and yoga classes, a heated 50m indoor pool, breezy Thai-style cabanas, two tennis courts, a relaxing spa, and a peppy kid's club.
Guangzhou business hotels review – Tianhe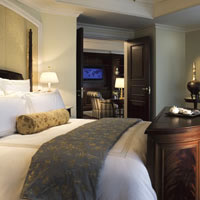 Ritz-Carlton classic style/ photo: hotel
While the new kids find their stride, one grand dame remains a step ahead. Anchoring Xiancun Rd in the heart of the Pearl River New City, The Ritz-Carlton, Guangzhou oozes with luxurious details. From the feng shui water fountain in the lobby to the classic European elements throughout, this elegant address blends inspiration from East and West. The quality is evident at the smart and receptive concierge desk as you peruse billowing drapes, terracotta tea sets, cords tucked away in antique boxes, and round-the-clock peace and quiet.
Starting from 50sq m, Deluxe City View Rooms are spacious and come with free WiFi, iPod docks, touch-controlled lighting, walk-in closets, complimentary shoe shining, Asprey bath products, and flatscreen TVs – including an LCD embedded in the bathroom mirror. The decor is classic, with polished dark wood panelling and distinctively Chinese artwork.
Guangzhou is a premier MICE destination and with more than 1,000sq m of conference facilities, the Ritz-Carlton is equipped to handle all kinds of business functions. Party planners will appreciate the high ceilings and gilded details of the 648sq m ballroom, while smaller affairs can head to the green and gold Carlton Room or one of the two tech-savvy boardrooms.
If you need to clear your mind, the The Ritz-Carlton Spa is a relaxing retreat with treatments starting from Rmb580. Try the signature Hot Stone Massage or Vichy Aquatherapy with Thalasso Body Wrap. Anglophiles and whisky enthusiasts will want to make a stop at The Churchill Bar, where you can smoke a cigar and try your hand at a game of pool. And if you haven't had your fill of European culture, stop into Limoni for an Italian set lunch. The antipasti buffet is fresh and savoury, while the main courses offer melt-in-your-mouth Iberico pork and goose liver. Finish up with a hand-churned bowl of balsamic-infused vanilla gelato and a steamy coffee before heading back to China.
With complimentary drinks and snacks all day, additional meeting rooms, and enviable city views, the Club Lounge on the 33rd floor may be worth the splurge when the stampedes start. Head here for a quiet read or an afternoon cocktail. The accompanying Executive Floor rooms are the same size, but come equipped with a handful of extra amenities such as a Nespresso machine, in-room check-in, personalised stationery, free airport transfers and complimentary suit pressings. This 351-room address is one for your best Guangzhou business hotels short-list.
At the nearby W Hotel (March 2013), visitors are greeted by a stylish exterior designed by Rocco Yimof. Inside, find unusual delights typical of the brand, such as a three-storey waterfall with 3,000 LED lights, a spiral copper "bird's nest" staircase, towering delicate mirror dividers, walls of striped marble, and fragile chandeliers that seem to float midair. Energy abounds in the signature Woo Bar with a long and winding counter that is unexpectedly close to the ground.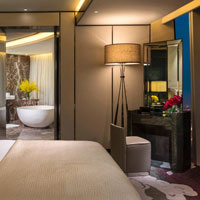 Plush Deluxe Suite at Four Seasons/ photo: hotel
For Cantonese cravings, try the Yan Yu Chinese Restaurant and finish off with a trip to the cigar lounge. With 317 contemporary guestrooms, this is a hip hotel and a happening spot for those seeking urbane environs with bold personality.
Just a few blocks west is the ultra contemporary Four Seasons Hotel Guangzhou (opened July 2012). Perched atop the 103-storey Guangzhou IFC between floors 74 and 98, the 344-room hotel has some of the city's best views from rooms arrayed around a spectacular soaring atrium. Breathtaking panoramas will greet you at the 70th floor lobby lounge, The Atrium, where stark white walls and dramatic floor-to-ceiling windows propel you right into the clouds. The glittering white marble lobby is bright and bedecked with casually arrayed sculptures in lipstick red, modern furniture, and a sky-high ceiling ascending to the skylight at the tip of the building "cone".
The rooms are built around the triangular tower, ensuring that every guest has a full wall of vertiginous views. Laser-cut, misty screen panels – meant to continue the sense of cloud hopping – guide you from room to room, which have been designed, unsurprisingly, to echo nature's four seasons. Continuing the contemporary Chinese decor, rooms are adorned with striking, abstract ink paintings, latticework, white walls and bedding, and varying colour themes such as maroon or turquoise. Space is plentiful, ranging from 53sq m Tower Rooms to the 253sq m Presidential Suite. The bathrooms are spacious as well, with speckled marble, rain showers and heated marble floors.
For a bathtub with a view, book a 70sq m Premier Room. Later, take a swim in the clouds at an indoor pool, horizon-edge, on the 69th floor. Overlooking the Pearl River Delta, the pool is enhanced with mood lighting and underwater speakers. When we visited, service was still catching up at this otherwise sophisticated address.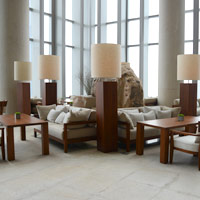 Minimalist pastel lobby at Park Hyatt/ photo: Vijay Verghese
No one rushes to open doors or looks up from their desk until you're nearly face-to-face. Even so, it's a visually pleasing and lavish escape that will please road-worn business travellers. And being in IFC with a handy mall and offices in the building doesn't hurt either.
Just across the road in a neighbouring tower, though not quite as vertiginous, is the new 208-room Park Hyatt Guangzhou whose lobby on the 65th floor serves up wraparound views of the city as well as the river. As will be familiar to aficionados of this luxury brand, the tone is on simplicity and understatement, so much so, it may be hard to find the entrance, so discrete is the place.
Enter a cavernous lift lobby, bare save for wooden bird's nest constructs, and whoosh up to the Sky Lobby. On the same floor you'll find the Living Room in an uncluttered contemporaryt mould serving international food and afternoon teas - with a view - and a Mediterranean restaurant.
Expect luxe minimalism throughout, brisk and attentive service, a 25m indoor pool looking towards Canton Tower, event space for small corporate meetings or bigger functions, and a rooftop bar with live music and cracking good wines. The lobby again, is stark and plain, in cream pastel tones, enlivened just by a corner rockery around which the cream lobby seating is set in neat squares with bird's nest creations like giant coccoons above. On a sunny day the effect can be sparkling with nothing obstructing visual lines of sight, but on a dark rainy afternoon it may appear too bare for some. Park Hyatt Guangzhou will be competing vs rival Four Seasons and offers a somewhat different experience in restrained luxury.
Heading north on Zhujiang West Road is long-time favourite, the Grand Hyatt Guangzhou. This luxury hotel is in the heart of the Central Business District, and just a five minute walk to the closest metro station. Perched atop the 22nd floor, the welcoming Sky Lobby entrance is buttressed with crisscrossing amber beams.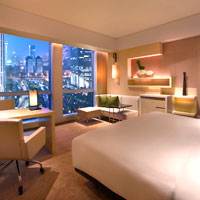 Grand Hyatt Guangzhou pastels. photo: hotel
Attendants are eager to help you find your way, whether to one of the 350 rooms or to the popular "The Market Cafe" that serves up a hearty international buffet and shows off mounds of its signature pink Himalayan salt. Best to make reservations here ahead of time, as it is a hotspot with locals as well as travellers.
Heading up to the rooms, you may find the 45sq m Grand King a bit snug compared with surrounding properties. Keeping with Hyatt-brand colour schemes, the rooms are natural tones with white linens, cream walls and brown woods. The granite bathroom would be quite spacious if not for the awkwardly placed island plunked down in the centre. Otherwise, the walk-in shower and small, square soaking bath – though not large enough for double dipping – would be welcoming amenities after a hectic day. Other thoughtful touches include an iPod dock, free WiFi, a swivelling flat-screen TV, and a desk with a view.
Club King rooms are identical, but come with enviable access to the chic and comfortable Grand Club lounge, where guests enjoy free breakfast and all-day canapés. If a corner table with a view doesn't fit the needs of your corporate gathering, not to worry, meeting planners have 1,315sq m of versatile function space at their disposal, including six meeting rooms and an impressive 979sq m Grand Ballroom that accommodates up to 720 banquet guests. Heading out? Best to budget a few extra minutes. At peak hours, you may have to flag down distracted attendants to help grab a taxi.
Just a tad farther south with great views over the Pearl River in what's called Zhujiang New Town is the Conrad Guangzhou (late 2017) with smart rooms and meeting and conference facilities for 10 to 1,000 persons with the Conrad Ballroom holding up to 800. The hotel's location in a mixed use development near an art park makes for easy access to restaurants, offices and shopping (in the neighbouring IGC mall).
The Executive Club is on the 27th floor with panoramic city and river views. The top-line King Premier Suite River view serves up 144sq m of living and work space with two televisions (one of these a 65-inch stretch monster, BOSE sound and Blu-ray DEVD player.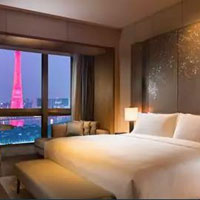 Conrad Guangzhou King Deluxe/ photo: hotel
But before you arrive to gawp at this ensemble, stop a moment to enjoy the 20m Czech crystal light array in the lobby.
For a home away from home, those in search of a good long-stay Guangzhou hotel can head to the serviced apartments at Oakwood Premier Guangzhou (April 2012). Ideal for families, the 225 apartments come fully stocked with everything from toasters to home theatre systems. If you're travelling alone, you may want to consider a studio, ranging in size from 53sq m to a rather spacious 78sq m. For those with families in tow, choose one of the larger apartments such as a one-bedroom from 85sq m, or a four-bedroom from 230sq m.
Warm browns, jewel tones and Chinese touches lend a classic residential feel, while corner views of the city, 400-thread count linens, walk-in wardrobes, deluxe entertainment systems, and shower-cum-steam rooms leave you wishing you could move in for good. Find neatly organized glassware and cooking supplies in charcoal-hued kitchen cabinets, alongside a full-size fridge, four-slice toaster, oven, and four-burner stovetop. Icing on the cake? All the apartments come with a conveniently concealed washer and dryer. Of course, laundry services are also available upon request.
Branching off from the 16th floor lobby is a pleasant lounge serving up excellent Chinese teas with great views of the city. Around the corner are two huge Macintosh computers for guests, a gym complete with personal trainers, and a large children's play area with soft walls, computers and babysitters on call. The only niggle may be the semi-outdoor pool, which is shielded from the sun even on summer days. But the Angsana Spa, managed by Banyan Tree, more than makes up for it. An added bonus – long stay guests receive three complimentary spa treatments. This is a sophisticated Guangzhou serviced apartment option.
Just a few blocks north on Tianhe Dong Road is another quality serviced apartment, Ascott Guangzhou. This classy residence is home to 208 apartments with fully equipped kitchens, large work desks, a washer and dryer, and BOSE HiFi entertainment systems. Decorated with varying palettes and contemporary furnishings, the apartments here span from 64sq m one-bedrooms to the 150sq m three-bedrooms.

Heading northwest, Sofitel Sunrich Guangzhou stands tall on Guangzhou Middle Avenue. Just a 10-minute drive to the Guangzhou East Railway station, this is a very convenient hotel for those on a tight schedule. Check-in is swift, with several eager attendants on hand and a knowledgeable concierge at attention. Employees, with their hair knotted into French twists and sharp black attire, add to the Parisian tone, while modern red sculptures weave in a Chinese feel.
Koi fish wall painting at Sofitel lobby/ photo: Vijay Verghese
Above the spartan marble lobby is suspended a huge multi-crystal "flower" ensemble lit in changing colours that manages to look like a ship's propeller from certain angles. Yet, this is a no-punches-pulled luxury hotel with an eye on Chinese big spenders as well as the European beau monde. The "art de vivre" theme runs throughout, with 493 lavishly appointed rooms and suites, decorated with whites, blacks and bold eye-popping reds.
Textures range from glossy dark wood panels and cream leather walls to the mischievous bordello-red lamps and easy chairs. In the 38sq m superior rooms – and generally throughout the hotel – expect open skyline views through huge glass windows, 40" flat screen TVs, iPod docks, DVD players, stylish deep soak bath tubs with padded headrests and "waterfall" taps, marbled bathrooms, strong and hot rain showers, LCD screens embedded in the bathroom mirrors, and Lanvin, Hermes and L'Occitane toiletries.
The bathroom is set behind see-through glass and blinds will hum down at the press of a button to offer privacy - but only partially. A nice romantic French touch this, along with the vivid red Paris icons highlighted against austere black and white photographs that adorn the head walls. The work desk (with ergonomic chair) is large and well set up with a data-port and two three-pin multi-plug sockets. In the drawer are thoughtfully placed staplers, scissors, glue sticks, pencils and erasers. There is an iron and ironing board to winkle out stubborn creases and a top-loading safe that is just about slim notebook size. WiFi, as at all Sofitels worldwide, is free. This is a small touch that goes a long way. And, everywhere, expect gleaming dark-wood tones in a rich auburn hue with subdued lighting. Suites up the ante with lavish décor and more elephant-swinging space.
With 17 meeting and conference venues, the hotel is also a frontrunner for MICE business. The 900sq m Grand Ballroom can accommodate 800 persons theatre style and two larger salons can host around 300 persons each. Expect an arsenal of facilities for conferencing. Between sit-downs, you can head to one of the five bars and restaurants or take a detour to the indoor pool, where relaxing music tinkles underwater. At the SoSpa, find some unique offerings, such as the ice room, flotation pool and Turkish steam bath. There's even a relaxation room that lulls you to a state of Zen with tranquil blue lights, reflecting onto the ceiling from a pool of water. Try a 60-minute "De-Aging Tropical Massage" for Rmb980. Tell your accountant, that's the price of eternal youth.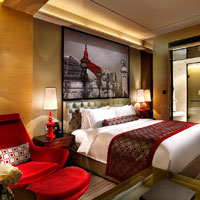 Sofitel Superior with Paris chic/ photo: hotel
Look forward to the splendid breakfast buffet, which stretches across an entire floor with tastes from all over the world, including sashimi, rice noodles, eggs and Cantonese pork buns. Coffee is excellent, brewed fresh in a personal French press. Fittingly for a French offering, food in general is excellent at Sofitel and guests can enjoy quality Chinese and International fare. Try Le Chinois for authentic Chinese samplers including some spicy Szechuan dishes. Mar-Tea-Ni lounge at the lobby level can rustle up chocolaty treats while the Faubourg Bar & Terrace on the eighth floor is a chill spot of an evening with a DJ perhaps and small alfresco area too if it's not pouring. Apres work, club guests will head straight to the 29th floor Club Millesime where excellent red and white pours await along with scrumptious nibbles.
Service everywhere is brisk and attentive and the concierge is a true fast-response post where needs are attended to in a flash. Rent mobile phones or get your business proposals translated. Nothing is too complicated here. From the marble-floor lifts to the screaming red artefacts, the hotel serves up just enough bling and cut-glass to entertain domestic travellers but not so much as to scare the cognoscenti who are adequately distracted by playful Parisian touches. Offering sumptuous surrounds, this is arguably one of the better Guangzhou business hotels on our review. Brush up on your "bonjour" and waltz in.
(Sofitel Guangzhou Sunrich is showcased in our exclusive by-invitation Top Asian Hotels Collection, featuring the best Asian hotels, resorts and spas in a printable A4 page with stunning visuals.)
A five-minute drive east on Tianhe North Road will bring you to the The Westin Guangzhou. This friendly property lacks a dramatic entryway, but the inviting white tea scent will lure you in nonetheless. The lobby could use more seating. Still, there are convenient ATMs around and WiFi is free. The value here is in the gigantic 50sq m standards rooms, great views of the nearby sports complex, proximity to the railway, and a direct metro line to the airport.
Rooms are decked out with brown wood, carpets and white linen. Each room comes with a large desk, coffee maker and a sliding door that conceals a big bathtub. There's a rain shower and more of that refreshing white tea scent in the amenities.
Smart Westin room/ photo: hotel
For refreshments, head to the rooftop where you can plop down and enjoy a cool drink. Or if it's live music you're after, head to the Cuban cigar lounge on the first floor. The Italian restaurant, Prego, is on the 40th floor and whips up decent pastas, a nice cup of coffee and a comprehensive antipasti lunch buffet. There is some wear and tear in the facilities, but there's no denying that this address has everything you could need: two swimming pools, a clean and spacious WestinWORKOUT gym that loans out sneakers and clothes, a hushed spa that's open till midnight, and seven meeting spaces.
The Hilton Guangzhou Tianhe lies around the corner. Opened in August 2011, the property looks young and fresh with a straight-line black stone exterior flanked by water features. The lobby has an eye-catching gold-textured "armadillo" wall resembling armour plates and gleaming marble floors, with velvet furniture a tad at odds with the otherwise modern and clean decor. The lobby lounge is a great place to enjoy a cuppa and watch city life pass by through the huge plate-glass frontage. Upstairs the cafe serves an extensive lunch buffet where the beaming staff attempts to get things right, usually with a modicum of success, as you explore steaming wonton-meen (noodle soup) or deep fried chilly crabs.
The 498 rooms serve up polished marble floors – and walls – staying away from the sort of overdesign aimed squarely at rich domestic customers. The minimalist decor is modestly enlivened by colourful carpets and a simple cream or deep red headboard. The western traveller has been considered here, with extra tall showers and Peter Thomas Roth amenities.
All rooms are equipped with LCD TVs, iPod stations, and an in-mirror bathroom LCD, but Nespresso machines come only with suites and Executive floors. WiFi is free in the lobby and restaurants, but costs Rmb30 per day in-room. Junior Suites offer more stretch space with big views and large flat-screen TVs. In the Panorama Suite, 270-degree views will wow guests from all angles. Peer across the city from the bath, desk or bed – it's your pick. However, the immaculate views through floor-to-ceiling windows are somewhat blotted by a dotted section to remind you not to lean against the glass.
The Hilton is a popular hotel for weddings and conferences thanks to 1,900sq m of meeting space, a giant pillarless ballroom and a foyer with eight-metre-high ceilings. Seven colours of LED lights can mix up the chandeliers or light up the marble walls for dramatic effect.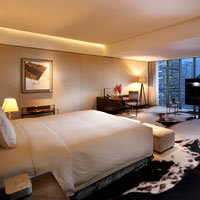 Hilton space and views/ photo: hotel
There's also a popular Cantonese restaurant with vertiginous views and impressive private dining rooms for up to 26. Best of all, apres-work, there's Hilton's in-house wellness retreat – eforea – spa at Hilton. Say hello to mud baths, algae, thermal mineral water and energising oils. Business travellers note, there is a signature treatment for men too in this 9,000sq ft space with ice fountain, hydro-pool, water jets, Vichy shower and eight treatment rooms. Limber up with a massage.
Set in the Tee Mall across from the Guangzhou Sports Centre, The Sheraton Guangzhou Hotel) is a convenient spot surrounded by international brands, entertainment options, and restaurants. The hotel's 445 rooms are furnished with 40in LCD TVs, rain showers and spacious working desks. Expect open layouts with peekaboo sliding windows in the bathroom, plus creamy walls and a small chaise longue. Meetings are a breeze here, thanks to more than 1,460sq m of banquet and meeting room. One slight drawback is the Rmb90 daily WiFi price tag.
A couple of blocks southwest is the 263-room Mandarin Oriental,Guangzhou (opened January 2013) on Tianhe Road. Its location discretely aloof from the main road means fewer cabs saunter in as yet, but the hotel is brimming with smart facilities and its proximity to the swish Taikoo Hui office and shopping complex – think Hermes, Dior, Louis Vuitton, and luxury with a wallet-singeing capital L – is a huge draw. This sophisticated address has high ceilings and dark contoured wood with timber flooring that instantly lends it a residential, even resorty, feel. The elevators too have soothing wood underfoot to coddle your Berlutis, and a long leather bench for the world weary. The place splendidly marries British understatement with classic Chinese touches without turning into a plodding bore. Witness the bone-surgery Chinese welcome tree with its bolts and screws at the entrance, the open zen space everywhere, and green mossy clumps that cry out for a caress. There is a freshly baked aroma to the place and the pleasingly simple grey-brown palette with classic black trim will be sure to endure changing fads.
Standard rooms are by far the largest in this review, starting from 60sq m, with views overlooking the city or gardens. Expect a private foyer, separating the "wet" bathing area with soaking tub and rain shower, and the "dry" side with yin and yang twin vanities – a raised brown ceramic basin complementing the sunken white porcelain. In-room find narrow strip-wood parquet flooring with grey carpets, an invitingly plump white bed, flat-screen TV, walk-in closet, fold-out cabinet, Nespresso machine, and floor-to-ceiling windows that are very welcoming of light.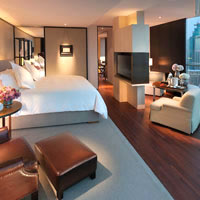 Mandarin Oriental Club Exec Suite/ photo: hotel
The good news for road warriors is the free WiFi for up to four devices per room. Even better? Silk bathrobes and kimonos are available upon request. A valet box near the entrance means you can get shoes shone and clothes pressed without the doorbell ringing incessantly. Long stay guests can opt for one of the 25 serviced apartments.
Mandarin Oriental Guangzhou has not forgotten the minor details with numerous child-friendly features such as miniature bathrobes, baby kits, colouring books, extra rollaway beds, babysitting services, and a "Little Fans" menu at the Ebony classic grill restaurant. The grill and spa (with six treatment suites) are both on the fourth floor where a wraparound patio beckons with loungers, sun umbrellas, and a refreshingly sylvan setting, the striking centrepiece of which is a silver wire mesh stag.
Burn calories at the 25m outdoor heated pool or consume them, delicately or ravenously, with a choice of Chinese and international. Sumptuous tea and dumplings await at the Taikoo Lounge, and cigars and cocktails in The Loft bar. Those hoping to impress the CEO will want to book small corporate meetings in the 200sq m Tian He Room or go all-out with a major conference in the 750sq m Grand Ballroom. Enough of work? Pootle over to Taikoo Hui to gawp at high fashion while downing some low-cost food court fare.
Just down the street from the East Railway Station is the Guangzhou Marriott Hotel Tianhe, a 22-storey hotel with 310 rooms and 9,634sq ft of MICE space. The 35sq m standards rooms are decked out in blonde woods, mauve carpets, rusty red accents and fully equipped glass desks. The look is a bit muted, but the violet sofas, ergonomic chairs and marble baths add a little pizazz. With soundproof windows ensuring a restful night's sleep, this is a practical base for business travellers.
Yue Xiu west side and Shamian Island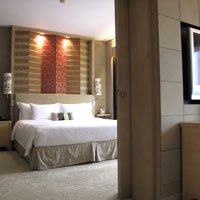 Garden Hotel, Garden Suite/ photo: Vijay Verghese
Most of the newer hotels are popping up in Tianhe and New Pearl River districts, but a wealth of options exist beyond these areas – usually at lower price points, several in the older and greener West side of the city in Yue Xiu district. This is a green, leafy area, that was historically the commercial heart of the city and is known for cultural sights, shopping and restaurants. Guangzhou is famed for its food and this one of the areas you will likely explore. In many senses, this is the true downtown area.
This is broadly where you'll spot the the flagship Garden Hotel that has been a landmark here since 1985, China Hotel, Dong Fang, and the newer Holiday Inn City Centre. Occupying a broad swathe of prime land easy to spot in the midst of the convivial west side bustle is the huge and refurbished The Garden Hotel Guangzhou where 828 rooms and spacious suites await to serve business travellers, conference goers and leisure trippers. The 30th floor Carousel revolving restaurant does breakfasts and fine dining of an evening with a long queue for reservations. The hotel serves up fine Cantonese and other Chinese fare (look for Peach Blossom), Japanese, steaks and western at the elegant vaulted ceiling all white Connoisseur with its high windows bedecked in blue tie-back drapes, and the Cascade Cafe that overlooks the hotel's signature feature - a waterfall-drenched rock face with lotus ponds, verdant greens, alfresco seating if you wish and even a picture-perfect wooden bridge.
The building has an old-world triangular layout reminiscent of Westin Chosun and New Otani with wings spoking outwards from central elevator lobbies. The marble lobby is large and bright with a huge gold etching running the length of the gleaming black wall. Expect hushed broad corridors with peach blossom pattern carpets interspersed with deep purple. A premium 96sq m Garden Suite is an all-in living space with white marble foyer (and small side toilet), pale-wood lattice screens opening onto a comfy living room with welcoming curves rather than a square-cut corporate look, large sofas, Chinese chest, large flat-screen TV, and deep pile carpet. The bedroom features an enormous plumped-up bed with a folding rose-and-gold Chinese screen on the head wall.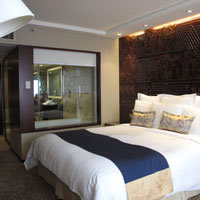 China Garden new look/ photo: Verghese
Find a classic bedside clock with hands, stubby pipe reading lights, thoughtfully large tactile room switches (that alas face away from the bed), two-pin and three-pin multi-plug sockets, coat rack, flat-screen TV, bedside flashlight and two prominent smoke masks for emergencies. A sliding door reveals the study, also in pale wood, with an oval glass-top desk and exercise bike. The marble bathing area features a window-side tub, with separate rainshower cubicle, twin vanities, bright wall mirror, iron, laptop-friendly safe, and a dressing area.
A 64sq m Elite Suite is all cream and pastel with a pale-gold headboard, a glass-partition bathroom with a peekaboo soaking tub (not against the window this time), rain shower and mosaic work on the walls. The Convention Hall can cater for 1,200 persons theatre-style and there are several function spaces for anywhere between 16 and 450 persons. This is part of what makes Garden Hotel a MICE magnet along with its excellent location. This place is no slouch when it comes to exercise and health either, with the fourth-floor Angsana Spa, a large outdoor swimming pool with children's area, an electronic golf driving studio, fitness rooms and squash courts. Garden is a good value option for business travellers, corporate meetings, and families in search of child-friendly hotels for a weekend getaway.
Another hotel with a history is the China Hotel, A Marriott Hotel, Guangzhou. The first Marriott in mainland China and the first five-star hotel in Guangzhou, this old favourite dating back to 1984 is located in the traditional Guangzhou city centre, across the street from the former Canton Fair complex. Though it can no longer lay claim to being the ideal spot for fair-goers, the hotel retains easy access to the metro as well as important clothing, watch and leather wholesale markets. Two major parks are to either side and it is sited in an older leafy neighbourhood. You'll spot something here that is rather rare in Tianhe – trees.
The exterior is dated and the lobby cluttered with shops, but once past the jewellery and oriental rug vendors, you'll find some convenient offerings such as an HSBC, as well as a Starbucks, post office and nail salon. The service is friendly and quick – a nice surprise considering the property is home to 850 rooms and suites. And taxis are fairly fast in arriving. Next door is the drab mustard sprawl of an old locally-run plodder, the Dong Fang which, today, is not quite keen as mustard, to torture an old expression.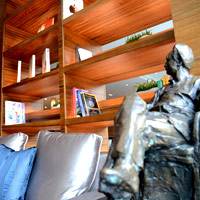 All new White Swan's woody Club in library style/ photo: Vijay Verghese
The 32sq m standard rooms are contemporary Chinese in design with decorative wooden headboards, dark brown woods and burnt orange accents. Soundproof windows, a chaise longue and a rain shower guarantee you're well rested, while a spacious corner work desk and free WiFi ensure productivity. When you're feeling peckish, options are abound. From the Middle Eastern Shisha on 4 to the savoury Prime Steakhouse, the hotel's seven restaurants and bars cater to every craving.
Complimentary parking and 18 meeting rooms totalling 2,254sq m make this a hotspot for doing business, but if you're heading out, do allow plenty of extra time to catch a cab. The wait can take around 10 minutes and the drive into the Tianhe district can take 15 to 45 minutes, depending on traffic.
Farther along towards the river, on Shamian Island, a landmark that has seen it all is the 520-room White Swan Hotel that re-emerged with a new look 15 July, 2015. This storied property has a Thai inspired spa by Thann. The hotel is already operational. It has a front row view of the Pearl River from the banks of the historic Shamian Island and the breezy arrival porte co·chère. It first launched in 1985 – swiftly becoming a fun weekend haunt for Hong Kong families – and the thorough head-to-toe makeover has seen it re-emerge as a modern leisure and MICE contender with a jaunty new stride and modern fittings. The White Swan held on to all its 1,000 staff during the three-year shutdown, a remarkable feat in this age of mushrooming hotels and disappearing staff. It bodes well for continuity and service.
The cobalt blue outdoor pool and sunning patio riverside with its frangipani trees and decorative palms serves up an entirely resort feel - close your eyes and you could be on Bangkok's Chaophaya River. This is a slick and modern dark-timber add-on with a completely redeveloped and relocated pool set after the signature banyan tree and in front of the fitness centre housed in the stepped, lowrise apartment block with its bougainvilleas. From your lounge chair you can watch the river boats chug by or docking in at the hotel's private pier. A neighbouring low-rise building - once the home of the US consulate - will house apartments and offices.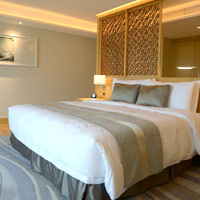 Old stalwart, new look White Swan Deluxe River View/ photo: Vijay Verghese
Ample meetings facilities are available at White Swan in a segretaged block (with its own elevators) for all those corporate dos or, perhaps, a Guangzhou river wedding if you're not too shy. A waterfront conference (with river views to boot) can be set up at the new Grand Ballroom that is capable of being sectioned off into three separate spaces. Or pick the Shamian Room with its huge glass walls affording river views as well as green frontage with flashes of pink bauhinia in season. A huge plus for Canton Fair guests is a ferry service straight to the exhibition site, a 40-minute traffic-free run with the added lure of breakfast onboard if so required. Very civilized.
At 60sq m on the higher floors with expansive views over the river, a Deluxe River View has pride of place in the room inventory with a light and airy marbled bathroom with a windowside soaking tub and rainshower, a dressing table, and twin vanities in irregular shaped alabaster. There's Molton Brown to lavish on weary limbs before plunging into your goose down bedding. And yes, there's a pillow menu. The complimentary WiFi and 50-inch flat-screen TV will take care of any other entertainment cravings. This is a swish, minimalist, cream and pastel space, the serenity amplified by the pale wood floors and geometric filigree partition separating the river-facing bed from an adjoining cream marble work desk to the rear in very much a resort mould.
There is a data port with two three-pin multi-plug sockets and media connections. Room lights are operated through a push-button console (that actually works) or an iPad if you are technically gifted. Expect blonde wood cupboards with his and her hangers - classical wood and in pink - an iron, a flat laptop-friendly safe, pipe reading lights, bedside lamps with dimmers, Nespresso machine with coffee shots, and a mini-bar with a can of Coke for Rmb30 or a bottle of FIJI water for Rmb58. There are two complimentary 500ml bottles of drinking water and, by the window, next to a divan and sitting chair, are further distractions in the form of green apples (a singular departure from the pastel norm) and imported sparkling water (at a cost). An added bonus for business travellers (especially those from China) are the two electric sockets in the bedside drawers (one at either side) with varying plug possibilites including two-pin and the three pin crow's feet socket. If you're looking for a top Guangzhou river address, this room's for you.
An Exective Premier Suite weighs in at 90sq m, in darker earth tones and more sober wood, this time with a more corporate feel. That's a lot of rumpus room. The flooring is entirely carpetted in beige and the circular soaking tub set in the centre of the bathing area may offer a whirlpool massage jet. Standard Rooms at a more compact 30sq m are again in pale wood with beige carpets but no iPad and the Deluxe City View serves up a darker decor again.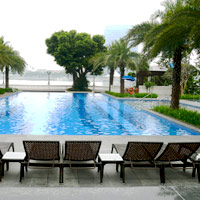 Resort-style pool at White Swan catches plenty of sun/ photo: Vijay Verghese
The redesigned hotel has worked river frontage into restaurants too as at Flavours of China, and the private room at Jade River (that also has an outdoor bamboo garden). Original stained glass patterned windows from Holland have been retained at Jade River, along with the reception koi pool, and the grand waterfall and pagoda in the atrium lobby all under a generous skylight. Some guests will walk in and instantly recognize the place. The design has changed, not the DNA. It is a friendly and relaxing escape in a historic walking district with everthing from French cafes to Chinese acupuncturists. Mark it down too as a child-friendly hotel for a weekend retreat.
The river embankment is a delight with women practising tai chi accompanied by loud music, and old gents diving into the river for a cooling splash. Green parklands dotted with children's play areas set the tone of this cultural and historic district that once served as the trading concession for the British and French. Old pillar-and-plaster buildings line the low-rise area packed with heritage sights. There is perhaps more old European architecture here than in Macau and this is one of the joys of the 'hood.
Baiyun and airport area hotels
Heading farther north into the heart of Baiyun New City is another value option. Encircled by parks and mountains, the 308-room Hilton Guangzhou Baiyun is a gateway to the city's natural beauty. Though a bit farther from the Canton Fair, it's adjacent to the busy Baiyun International Convention Centre and a convenient 20-minute highway ride to the international airport. Aimed at business travellers, the 36sq m Deluxe Rooms come with large working desks, free WiFi, 42in LCD TVs, and iPod dock.
Executive Rooms feature floor-to-ceiling views of the Baiyun Mountains and complimentary breakfast, while all guests can enjoy a steamy tea in the afternoon at the Clouds tearoom or a single malt whisky from Rocks Bar. The hotel is well-suited for corporate functions, with several spacious meeting rooms and a ballroom that can host up to 1,100 guests.
Another 10 minutes north on the Guangdong Highway, travellers can stay totally wired at Langham Place, EDZ, Guangzhou (mid 2013), Langham's other property in Guangzhou. A pioneer in the Guangzhou Economic Development Zone in the Luogang District – Guangzhou's emerging technology and innovation hub – Langham Place combines 320 chic rooms, thought-provoking design, hi-tech gadgets and flexible function space. In the lobby, Portal – Work & Play is a hybrid lounge and business centre for quick sit-downs while a resident DJ sets the vibe.
Just a three-minute stroll to the departure terminal, Hotel Pullman Guangzhou Baiyun Airport is your best option for easy airport access. The focus is on convenience, with a domestic flight check-in kiosk and real-time flight information updates.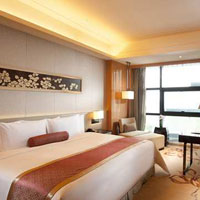 Hilton Baiyun near airport/ photo: hotel
The 460 minimalist rooms are attractive and have been well-maintained with handsome amenities, such as a walk-in rainforest shower, an iPod docking station, free WiFi, a yoga mat, and a tub to soak the day away. As the neighbouring air traffic can be noisy, the rooms are equipped with double-glass soundproof windows. In-room fitness options and smoking rooms are also available on request, while Executive Rooms include complimentary airport shuttle service, late check-out, and one garment pressing per day.
That's the bottom line with our Guangzhou business hotels review. Whether you aim to exercise the expense account or reel in the spending – this booming southern city is armed for all tastes and budgets.
Send us your Feedback / Letter to the Editor
FAST FACTS

/ Hotel Contact List

The exchange rate is roughly US$1=Rmb6.21. Room rates listed here are rule-of-thumb for reference only and represent the best available internet rate or BAR. These fluctuate by season. Some hotels offer better deals for locked-in advance purchases. Travel agents have wiggle room on price too.
Guangzhou business hotels directory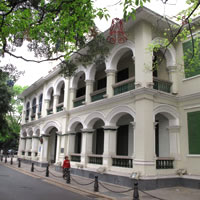 Old world Shamian Island/ photo: Verghese
Ascott Guangzhou. Tel: [86-20] 8513-0388, fax: 8513-0366, (e-mail: enquiry.guangzhou@the-ascott.com or www.the-ascott.com/china/guangzhou/).
China Hotel, A Marriott Hotel, Guangzhou. Tel: [86-20] 8666-6888, fax: 8667-7288, (www.marriott.com).
Conrad Guangzhou. Tel: [86-20] 3739-2222, (conradhotels3.hilton.com).
Four Seasons Hotel Guangzhou. Tel: [86-20] 8883-3888, fax: 8883-3999, (www.fourseasons.com/guangzhou/).
Grand Hyatt Guangzhou. Tel: [86-20] 8396-1234, fax: 8550-8234, (e-mail: guangzhou.grand@hyatt.com or guangzhou.grand.hyatt.com/hyatt/hotels-guangzhou-grand/).
Guangzhou Marriott Hotel Tianhe. Tel: [86-20] 6108-8888, fax: 6102-9999, (www.marriott.com).
Hilton Guangzhou Baiyun. Tel: [86-20] 6660-0666, (www.hilton.com/en/hotels/china/hilton-guangzhou-baiyun-CANGUHI/).
Hilton Guangzhou Tianhe. Tel: [86-20] 6683-9999, (www.hilton.com/en/hotels/china/hilton-guangzhou-tianhe-CANGTHI/).
Langham Place, EDZ, Guangzhou. Tel: [86-18] 2235-3526, (e-mail: pedz.info@langhamhotels.com or guangzhouedz.langhamplacehotels.com). To open in 2013.
Langham Place, Guangzhou. Pre-opening Hong Kong tel: [852] 3552-3939, (e-mail: lppaz.info@langhamhotels.com or guangzhou.langhamplacehotels.com). Opening 2013.
Mandarin Oriental. Tel: [86-20] 3808-8888, (e-mail: mogzh-reservations@mohg.com or www.mandarinoriental.com/guangzhou/).
Oakwood Premier. Tel: [86-20] 3883-3883, fax: 3883-2882, (www.oakwoodasia.com/guangzhou/).
Park Hyatt Guangzhou. [Tel: [86-20] 3769-1234, (e-mail: guangzhou.park@hyatt.com or guangzhou.park.hyatt.com).
Pullman Guangzhou Baiyun Airport. Tel: [86-20] 3606-8866, fax: 3606-8899, (e-mail: info@pullmanguangzhou.com or www.pullmanhotels.com).
Shangri-La Hotel, Guangzhou. Tel: [86-20] 8917-8888, fax: 8917-8899, (www.shangri-la.com/guangzhou/shangrila).
Sheraton Guangzhou Hotel. Tel: [86-20] 6668-8888, fax: 6682-2588, (e-mail: sheraton.guangzhou@sheraton.com or www.starwoodhotels.com/sheraton/).
Sofitel Guangzhou Sunrich. Tel: [86-20] 3883-8888, fax: 3883-3333, (e-mail: H6318@sofitel.com or www.sofitel.com/gb/hotel-6318-sofitel-guangzhou-sunrich/).
The Garden Hotel Guangzhou. Tel: [86-20] 8333-8989, fax: 8335-0467, (e-mail: bc@thegardenhotel.com.cn or www.thegardenhotel.com.cn).
The Ritz-Carlton, Guangzhou. Tel: [86-20] 3813-6688, (www.ritzcarlton.com/en/Properties/Guangzhou/).
The Westin Guangzhou. Tel: [86-20] 2886-6868, fax: 2826-6886, (e-mail: gz.reservations@westin.com or www.starwoodhotels.com/westin/).
The Westin Pazhou. Tel: [86-20] 8918-1818, fax: 8918-1888, (e-mail: westin.pazhou@westin.com or www.starwoodhotels.com/westin/).
W Guangzhou. Tel: [86-20] 2213-1000, fax: 2213-1027, (e-mail: whotels.guangzhou@whotels.com or www.starwoodhotels.com/whotels/).
White Swan Hotel. Tel: [86-20] 8188-6968, fax: 8186-1188, (e-mail: swan@whiteswanhotel.com or www.whiteswanhotel.com).