STAYCATIONS - BEHIND THE SCENES
How muscle business hotels don resort makeup and thrive
What all goes into that staycation or dream holiday. You may be surprised. A behind-the-scenes look at sweat and grind, butlers, laundry, pastries, waste recycling, and consumption numbers. Don't like to cart luggage around? No problem.
SEE ALSO Asia medical tourism | Travel health risks in Asia | Covid travel restart | Bangkok hotels | Airbus vs Boeing | Covid-19 leader forum | Airline Bailouts | Asia tsunami history | Bali volcano updates | HK hotels review | Vietnam resorts review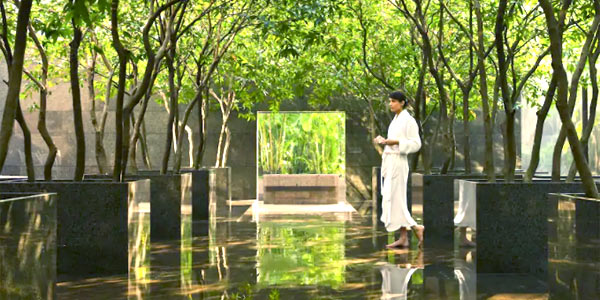 BECALMED by Covid the mind is a febrile thing. One moment hurtling through the infinite blackness of space listening to The Rolling Stones, the other, cruising the balmy tropics with Barry Manilow crooning in the background and the kids whining for BTS K-pop. Then the alarm and a rude awakening, the race for coffee, the fight for the bathroom, the shave, and the conference call, carefully shielding the underwear below the table line – just another day on Lockdown Planet. Total distance travelled? About 20 yards, depending on how far your fridge is from your sofa.
With blue-ribbon Cathay Pacific declaring a loss of US$2.8bn in 2020 (after a US$220m profit the previous year) and Singapore Airlines reporting a July 2021 revenue-passenger-kilometre number 32% of pre-Covid levels, you will be forgiven for nagging worries. Is that travel superstructure on the verge of an epic collapse?
"I don't see that happening… the future of travel is very bright," says Richard Greaves, the quietly fastidious GM of the Grand Hyatt Hong Kong, a good egg, who has scrambled his team – and half a million yolks annually – to keep the motor humming. His hotel consumes 1,445 eggs daily, making for a lot of flustered hens unaware of any pandemic slowdown.
That travel machine continues to churn.
Cathay for one is stoutly flying again along with others of its ilk to destinations as strung out as Phnom Penh, Tokyo, Phuket, Ho Chi Minh City, Beijing, Taipei, Toronto, Los Angeles, New York, Auckland and Sydney. SIA is flying again to the Maldives, Manchester, the UAE, across Asia, and a broad swathe of Europe.
Send us your Feedback / Letter to the Editor
Here, for sceptics, a quick peek under the glitter and gloss, at power generators, mega laundry machines, and hotels whose guests gobble up half a million eggs each year.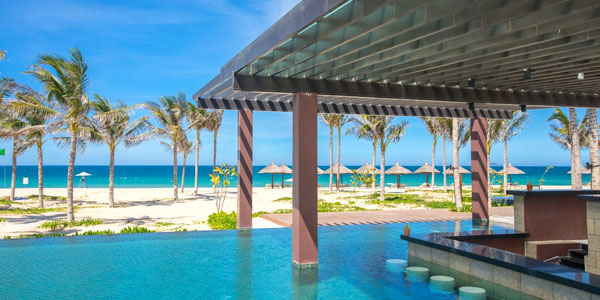 Your dreams are being kept alive by the guardians of the great escape, at haughty hotels and tumbledown inns and on floating cities on the high seas. But how do those unsung minions behind the scenes crank out these picture postcard holidays? Are they still beavering away in these upended times?
There's never a dull moment at the darkly thrumming 542-key Grand Hyatt Hong Kong where suddenly fashionable 'staycations' have receptionists, bellhops and waitresses scurrying at full stretch. "Thank God for staycations," Greaves chuckles, "Otherwise we'd have nothing to do." By midday the hotel is filled to bursting, the lobby packed with snaking 'S' queues. Sitting at the new-look Grissini, tucking into Mayura beef hanger steak, soft-boiled egg spilling over creamed potato and Scamorza cheese, and tomato salad with pickled strawberry and almond cream, it's hard to focus on the chat.
"Our manning levels have not changed," continues Greaves. "We lost a lot of part-timers but we've protected jobs." Saving fulltime jobs has involved an all-hands-on-deck approach that has served to both educate backroom hotel workers in the process of hospitality and boosted morale. Greaves waves a hand and smiles with a small shake of the head, "Staff is more fully engaged now." This is amply on display at all turns.
Hotel management concepts and traditional operations have been upended by Covid. One reason for this – apart from the hygiene and safety procedures that burn up 16,000 mask holders and 1,000 bottles (50ml) of hand sanitizer weekly – is the pressure staycationers have exerted on a "business hotel that has been forced to transform into a resort" with a very different service flavour. This is akin to asking a Sumo wrestler to pirouette into a ballerina. Richard Greaves has managed just that. 
"Finance people are helping out at restaurants, in the pastry kitchen and with pool logistics," he continues, something that would have been considered unthinkable a couple of years ago. Sales and marketing people, starchy finance boffins, checklist-waving HR and admin departments, are all helping with operations. A purchasing manager who volunteered at the pastry kitchen has watched up close the passion displayed by chefs in their single-minded pursuit of quality produce. Suddenly, it dawns, "this is not about procedure, it's about getting products right," Greaves explains. "It has fostered teamwork."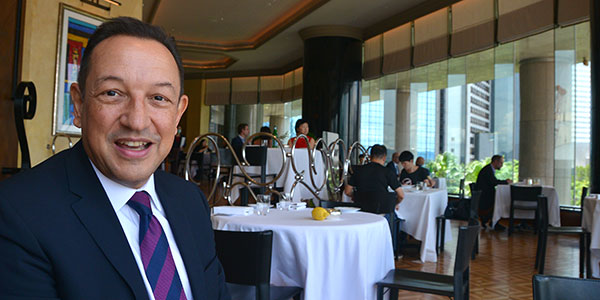 Staycationers paying for these city holidays from their own pocket, no more bankrolled by corporate largesse, are often very demanding. "Their expectations are very high and dealing with that can be challenging." Guests all want breakfast at the same time and the hotel has cranked open two restaurants to cater for this abnormal demand. Think 1,445 eggs each day (salted eggs, pigeon eggs, Japanese eggs, US eggs, and organic eggs from New Zealand).
They all want at least one meal at the hotel (157kg of lobster daily, 175g of caviar and 15.5kg of foie gras). And then there's the pool. The 11th floor sun dappled escape is a huge draw with its harbour views and cosy nooks. "How do you get 600 people into the pool?" asks Greaves with a wry smile, and this, in Covid times. "The answer is setting up slots, some days as many as six or seven, with a 15 minute break between each to allow for a cleanup."
The laundry, which washed 28,000kg of guest clothes in 2020 (and far more in staff uniforms and linen), now also deals with about 859 pool towels per day. Through 2021 till late August, the Plateau Spa on the same floor had provided 6,000 hours of massage and 6,300 treatments, using 180 litres of oil. These are staggering numbers for a 'hard-hit' hotel. So yes, thank God for staycations and special offers.
With the reopening of Alma on its 30 hectares of pristine beachfront along Vietnam's Cam Ranh peninsula, expect a one-hour twice-weekly 'Back of House' tour, leading goggle-eyed guests deep into the mysterious innards of this modern straight-line cubist hotel. You'll visit the Alma's laundry through which pass 26.4 tons of rumpled sheets, duvets, towels and pillowcases weekly. That's 49,690 soggy towels brought back to life, fluffed, scented and with a hint of sea breeze in the folds.
Like many of the artfully designed boltholes emerging along Vietnam's once unruffled coastline, Alma is an Instagrammer's dream with its 12 swimming pools, 14 dining outlets and 70-seat cinema. There's no end to pose possibilities. And since, this is Vietnam, just say 'Bonjour' and head to 'Le Spa' with its 13 aromatic rooms for a good oiling and kneading. Still bored? Missing the Olympics? Try water sports, 18-hole mini-golf, archery, football, basketball or tennis. 
Or let the tour – and your nose – take you to the pastry room that churns out 1,200 Danish pastries, 1,000 croissants, and 800 muffins each week. But why stop there? Imagine 50 litres of ice cream, 10kg of tiramisu, and 50 egg tarts, and you begin to understand what the eight pastry chefs and five bakers are up against. It's a race against the clock to get stuff out fresh, well presented, and primed for serving.
"It's fascinating to see all the preparation involved in delivering a seamless guest experience at a 580-key resort," says Alma Managing Director Herbert Laubichler-Pichler, with more than a hint of pride. To reduce the resort's carbon footprint, there's also "a water treatment plant, electric buggy station, and garbage recycling."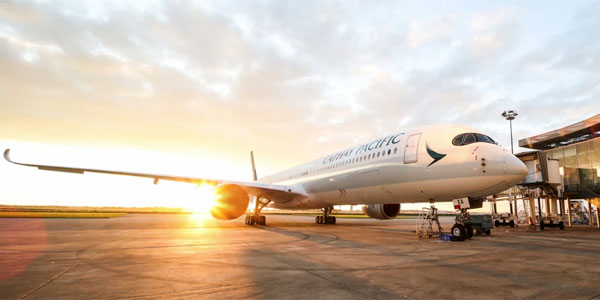 Alma's water treatment plant employs reverse osmosis to deliver 70,000 litres of potable water weekly while the garbage recycling plant processes around 250kg of waste daily. It also manages to extract 110 litres of oil weekly for resale to non-food industries. While behind-the-scenes tour participants figure out the safety scramble monitoring 531 CCTV cameras, 3,162 smoke detectors and 9,548 sprinklers it's worth remembering the hotel is no slouch with Covid safety measures either.
On select cruise ships back on the high seas, things are busy behind the scenes. Multilingual butlers will offer advice, sort out tour logistics for port stops, organise your laundry, bring up DVDs and books, explain the difference between port and starboard (or sky and sea if you're sozzled), help you throw a soirée and separate your Beaujolais from your Bordeaux.
Do you really need someone to unpack? In their defence, butlers, many trained by the Guild of Professional English Butlers (used by The Peninsula, Raffles, Park Hyatt and Regent among others), say that the profession has a positive impact on the daily room rate (from the hotel's point of view of course) and brings in more repeat guests due to higher guest satisfaction. It is a tool hotels plan to use to attract Bertie Wooster millennials in Covid times.
Nothing is too much. Brandon Short, former director of butler services at grandly restored 76-key The Chatwal, New York (a Luxury Collection Hotel from Marriott), recalls how one lady guest received a "giant container of milk" and then waited for the butlers to draw her private milk bath. Was any chocolate or vanilla added? We will never know. He also served a young lady – a Greek millionairess – who exercised obsessively. She had an unfortunate accident and was moved to hospital but requested her favourite butler to accompany her. "She would run around the room while hooked up to an IV," Short quips. He chased around the room behind her carefully holding the intravenous drip. That effort would not have been in vain. This is the stuff that never gets seen by others snoozing on 600-thread-count linen.
The English loved the late Ivor Spencer, MBE, chef, butler and toastmaster extraordinaire, who started out at the Dorchester in London and later founded a school for butlers. In addition to teaching his students articulation and the fine art of polishing expensive leather, he taught them the secret of an upright carriage and dignified bearing by balancing wine glasses on their heads. 
The Raffles Makati has eloquent fast-stepping butlers who manage to serve 32 hotel suites as well as 237 Raffles Residences. That's quite a stretch. Whether they balance wine glasses is unknown. But they seem to manage. They pack and unpack for you, they can draw your bath if you are not yet familiar with that modern invention – the faucet – and shine shoes. There are lady butlers too. One offered to carry my bags but I simply couldn't let her do that. She was dejected but I assured her I always carried my bags myself.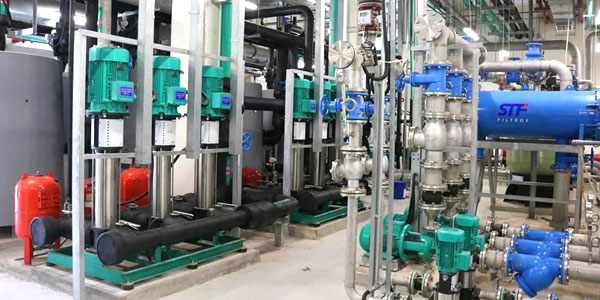 When not carrying brutishly large cases, lady butlers are indefatigable. At The Nam Hai (now a flourishing Four Seasons in Hoi An), the eager young Vietnamese lady assigned to me worked tirelessly to prepare afternoon tea, keep the villa tidy, banish mosquitoes, open and close the curtains, and bring me an endless stream of cookies and fruit. "Do you need anything?" she would pop in and enquire at what seemed to be 15-minute intervals. I felt a burdensome boor for having no epic request in mind. But she did sort out a memorable street food circuit for Danang city that became a highlight of the trip. That fine hospitality continues.
But why cart around luggage at all? The Six Senses hotel group that runs idyllic wellness boltholes from the Maldives and Bali to Samui and Ibiza, would like to see you totally unencumbered, leaving more time to plunge into courses like 'enjoying menopause'. Okay, right. The group has partnered with a shipping service called Luggage Free that eliminates the hassle of carting stuff through airport check-ins and customs, both ways.
Stop hanging around baggage carousels and dissect your menopause. Luggage can be picked up from your home, office, or hotel. The process is "contactless" and includes complimentary insurance and real-time tracking with an on-time delivery guarantee. The service may be booked online or over the phone. Says Luggage Free on its website, "We guarantee [your bags] will arrive on time or there will be no charge and [we] will give you up to $500 per bag to make it right."
With all those heavy suitcases taken care of, you might look around your room with renewed and covetous interest. Bulgari Resort Bali's launch GM Robert Lagerwey told me once with a twinkle in his eye, "The funniest thing is guests who arrive with two suitcases, one of them empty. They always manage to leave with both full to the brim." He added, "The goodies from branded beach hat to board games are meant to go back with the guest. We designed them to be stolen."
So there you have it. If you're paying top dollar, you can raid your room. For its grand opening, the resort gave away gleaming BVLGARI watches. And that's certainly a steal.
Send us your Feedback / Letter to the Editor