ADVENTURE
How deep is your love?
For lovers of the blue, the best Asia dives from the Pacific to the Indian Ocean. A review of Asian dive resorts, operators, and coral-clad wrecks. Now smile and say S-H-A-R-K.
SEE ALSO Maldives resorts | Andaman Islands guide | Boracay | Cebu guide | Palawan resorts | Mergui island guide | Phuket resorts | Golf | Asian casino hotels | Trans-Siberian Railway | Krabi resorts | Fastest roller coasters | Best Asian holidays
JUMP TO Maldives | Indonesia | Papua New Guinea | Malaysia | Palau | Raja Ampat | Thailand | Sipadan | Philippines | Walindi Plantation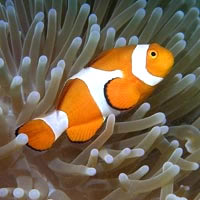 photo: Layang Layang Island Resort
DIVERS are an individualistic and opinionated lot, which is probably why they feel compelled to dive so much in the first place. Under water one can't talk – on penalty of instant demise – but one also doesn't have to listen to the unsolicited opinions of others. All you do is drift along silently, face to face with nature in the raw, while embarking on a bit of deep naval-gazing, and not the belly-fuzz variety.
Yet despite the fact that divers never agree on anything, consensus emerges amongst the better-travelled wetsuits that Pacific Southeast Asia takes an impressive lead over the rest of Waterworld when it comes to first-rate diving locations.
It's largely a numbers game. Indonesia has over 10,000 islands, and the Philippines boasts somewhere between 7,500-8,000 of them, depending on the tide or whom you want to believe. Add to that Thailand, Myanmar, the Maldives, Malaysia, Papua New Guinea and some of those really cool Pacific Islands, and between them you cover an enormous amount of water, reefs and marine life. Welcome to the giddy world of Asian diving.
Send us your Feedback / Letter to the Editor
As always, the more there is to choose from, the harder the choice. Just as one man's trash is another man's treasure, one man's dream dive is another's total washout. Some like it deep, others long, and most like it repetitive. Wrecks are a huge turn-on for one faction, yet others prefer to crawl around on muddy ocean floors in search of elusive critters the size of a pixel.
Luckily though, everyone in the diving community seems to have a soft spot for sharks, and unites behind the notion that eating sharkfin soup is as barf-worthy as reruns of The Bold and the Beautiful. The main problem being of course that very soon there will be hardly any sharks left to kill and eat. But that is another bowl of soup altogether.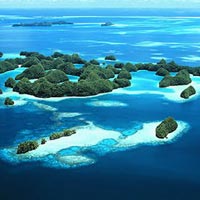 Palau diving/ photo: Carolines Resort
Which brings us back to the problem of having to choose the region's top ten "real" diving destinations, sharks included. So - take a deep breath and off we go. Suited up or not. Here are some of the best dives in Asia for dabblers and pros, in alphabetical order.
Baa Atoll – diving in the Maldives
The Baa Atoll, located 75km north of Male, is one of the very latest regions opening for tourism in the Maldives. The first international class resort, Soneva Fushi, opened in the mid-90s, but nowadays this pristine area of over 50 islands plays host to five top-end resorts. Most of the islands in the atoll are uninhabited, which makes for rather spectacular island-hopping between dive sessions. For eye-popping diving in the Maldives this is as good a spot as any.
A 45-minute helicopter ride or a 35-minute seaplane ride from Male's International Airport brings you directly to your resort of choice. Options are Coco Palm Resort Dhuni Kolhu (tel: [960] 332-4658, www.cocopalm.com.mv), Four Seasons Resort at Landaa Giraavaru (tel: [960] 664-4888, www.fourseasons.com/maldives), Reethi Beach Resort (www.reethibeach.com), Royal Island Resort Horubadhoo (tel: [960] 660-0088, www.royal-island.com and Soneva Fushi (tel: [66-2] 631-9777, www.soneva.com/soneva-fushi).
As with all resorts in the Maldives, all five have fully equipped dive centres, staffed by seasoned pros. Equipment standards are very high and safety parameters are scrupulously respected. Diving is of a very high standard without scrimping on comfort. The drawback is that all this plush stuff doesn't come cheap, and all five resorts are five-star outfits that charge accordingly.
The reefs of the Baa Atoll are generally in pristine condition and well looked after. They play host to an abundance of soft and hard coral and a wide variety of coral reef inhabitants. The biggest attraction is a substantial number of reliable whale shark and manta sightings, mostly between May and July. These surface feeders are attracted by the high concentration of plankton, brought into the area from the surrounding ocean by the southwest monsoon.
During one of my stays at Soneva Fushi I was even fortunate enough to observe dolphins underwater, the only time I have ever seen anything like it. Don't expect them to be like those cutesy dolphins you see on TV though. Out there they are wild, fast, and highly skilled pack hunters - true wolves of the sea, cutting through schools of panicked fusilier fish with total ease.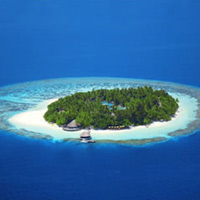 Angsana Maldives/ photo: hotel
Among other outstanding Maldives dive sites is Maavaru Kandu, near Coco Palm, a reef dive with lots of overhangs and an optimal depth of up to 30m. It's suitable for drift dives with sporadically demanding currents past dense soft coral gardens, stingrays, turtles, moray eels and lionfish. Colourful and interesting.
Muthafushi Tila, another exceptional dive, is shallower. The round reef is crowded in by schooling fish – fusiliers, trevallies, jacks and the likes, and packed with morays, anemone, glassfish, bannerfish and the occasional octopus or reef shark. My personal favourite though is Manta Point near Soneva Fushi. The name says it all – I saw the graceful giant gliders at every dive. Sheer magic, not to be missed.
Other comfortable dive staging resort islands worth looking at include the small and intimate Angsana Resort and Spa (tel: [960] 664-3502, www.angsana.com) which boasts a lovely and accessible house reef not far from the airport, Cocoa Island from COMO Hotels and Resorts, the Anantara Resort Maldives (tel: [960] 664-4100, www.anantara.com), the W Retreat & Spa Maldives (tel: [960] 666-2222, www.starwoodhotels.com/whotels) and the fabulously hip, spacious and secluded The Sun Siyam Irufushi, Maldives (tel: [960] 668-0629, www.thesunsiyam.com/irufushi/), which was a former Hilton, and its Pool Villas that were rolled out in 2015 should provide adequate on-shore distraction..
Banda Islands – diving in Indonesia
Divers don't do much else when they are out there, other than eating and sleeping in between dips. Despite this I have seen even the most hardcore narc-heads get excited about Banda Neira, with its unique and colourful history. As the original "Spice Island", where nutmeg was first found, Banda Neira was a hotly contested property after its "discovery" by the Dutch in the late 1600s. Gravestones in Banda's main church attest to forlorn Dutch people being buried there as far back as 1605. As well as wiping out much of the disgruntled local population, the Dutch skirmished at various times with the English, the Portuguese, Arab traders and Bugis Pirates, all of whom were hell-bent on owning the source of a smelly nut worth more than gold.
In 1667 the Dutch even traded Manhattan for the British-owned Run Island (part of the Banda group). It was probably the most dim-witted real estate deal in human history, but I am sure it looked like a no-brainer at the time.
Throw some stunning island scenery into the mix, along with a recently active volcano, and coral life rarely seen elsewhere in such abundance and variety, and what you have is an absolutely world-class destination. Worth at least a week, if not 10 days of non-stop diving.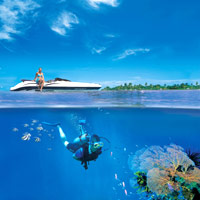 Diving at Conrad Maldives/ photo: hotel
To get to Banda, one needs to be tenacious. The most comfortable option is to take a live-aboard dive ship from Ambon, and to sample the many great spots on the way to Banda and back. That offers the possibility of stopping over at the Lucipara Atoll, three sandy, palm-fringed islets quite literally in the middle of nowhere. Another option is to try to take one of the erratic flights from Ambon or Ujung Pandang and stay at the Banda Hotel, with its attached dive centre. The hotel has seen better days but the recently reopened dive centre is run professionally.
Banda's small archipelago is home to some of the world's most diverse and stunning marine life, with a staggering variety of soft and hard coral. Water temperatures are always around 25 degrees Celsius. Acres of soft coral around one side of an island give way to walls, followed by acres of hard coral. A particularly spectacular dive is "Lavaflow", just outside the entrance to Banda's harbour, which is a unique marine phenomenon. In 1988, Banda's resident volcano called Gunung Api (aptly named in Indonesian as "Fire Mountain") erupted. Its flowing lava stream entered the ocean on the far side of the town of Banda Neira, forming a bizarre underwater landscape in the process.
Since then – in less than 20 years – an enormous colony of hard coral has taken hold there. Table coral, up to five metres in diameter, alternates with just about any other species of hard coral found in tropical waters. What's more, the coral growth reaches down to over 30m. This unusual detail, along with the turbocharged speed of coral growth at this particular dive site, has been studied at length by marine biologists from around the world. Exuding sulphur both above and below, the water at this site is also home to extraordinary numbers of banded kraits. Another must-do dive here is the Mandarin Fish Dive at the harbour jetty. These colourful seabed dwellers are usually shy and hard to find. In Banda however one can regularly observe them mating in the full spotlight of the diving torch beams. Maybe all that nutmeg?
The reefs along the islands surrounding Banda Neira – most outstandingly Pulau Ai, Pulau Run and Kraka - are home to exceptionally beautiful coral growth and dramatic overhangs with big sponges and sea fans. Sightings of devil rays, morays, giant groupers, barracuda, lionfish and scorpion fish are frequent. I have even encountered hammerhead sharks, something treasured by every seasoned diver.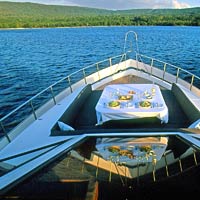 Dive and cruise with Amanwana/ photo: hotel
Batu Kapal, another notable dive, has varied visibility and strong currents, which attracts the occasional manta, huge schools of long nose unicorns, pyramid butterfly fish, schooling bannerfish and different species of fusiliers hovering above the pinnacles.
Banda is an awesome destination all round, but standards of equipment and safety vary from one operator to another. As with everything else in life, you get what you pay for, and the newer the ship, the better the level of service.
Right up there with the very best I have seen is the M/V Adventurer II (tel: [62-361] 282-369), operated by Bali/Ambon-based Archipelago Cruises. The ship is a traditional "Phinisi" wooden hull schooner, 35m in overall length. It sports huge wooden deck space, several dining areas and air-conditioned en-suite bedrooms. The crew comprises three chefs, two stewards, several dive masters and instructors and a full maritime staff roster. I have been on many live-aboards, but I never ever had three cooks at my beck and call, presenting up to three breakfasts before the daybreak dives.
Also consider M/V Kararu (tel: [62-361] 282-931, www.kararu.com), and The Seven Seas (tel: [62-361] 750-129, www.thesevenseas.net).
Kavieng – Papua New Guinea
It's far away from everywhere, but it is oh so worth the effort. Of the top Asian dives, Kavieng is my personal favourite of all time, and I have only been once. To get to Papua New Guinea (PNG) is kind of a stretch to begin with. First, you need to get to Port Moresby, its notorious capital city, and from there you still have quite a trek ahead. Located at the northeastern end of PNG, the island is situated at the northern tip of New Ireland Province and harbours a colourfully war-torn past. Life is a tad more relaxed now with bubbling springs and white sand beaches completing the setting.
The Dutch stumbled upon the place in 1516 though it remained to the Germans to settle it, developing extensive copra plantations in the process. Its local Malangan culture is unique within the Pacific, and the locals practise a sort of sorcery in the form of 'shark calling'. I observed it, but in vain; perhaps on that day the sharks were on holiday.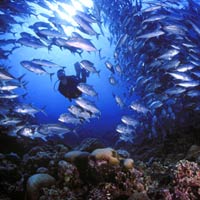 photo: Nusa Island Retreat
Kavieng's main feature is its current-swept channels, which attract a variety of big fish. If you are after little critters, go elsewhere – this is pelagic and shark territory. Eagle rays, mantas, tuna, barracudas, reef sharks and the occasional majestic oceanic whitetip shark – some up to three metres in length – can be experienced up close. Miles of reef walls drop away to great depths, covered in big fans, sponges and beautiful hard corals.
Mention "war", and wreck divers will pay full attention. This area is the final resting place of many second world war wrecks, including an American B-25 Bomber shot down in 1944, a Japanese mini-submarine, a Japanese plane wreck, two shipwrecks and a barge. One of the most impressive plane wrecks in the world in my opinion is that of a Catalina Flying Boat, resting in about 20m of water less than half an hour by speedboat from Kavieng town. These massive planes were used for reconnaissance purposes by US Forces, and with this one it is possible to swim inside and sit in the cockpit, looking out on the wreck's thick coat of coral. Radical.
Other outstanding dive sites here are Echuga Patch, Diner, Albatross Passage and Kaplaman, all of them pristine and fully populated marine environments. When diving the area, we took on the habit of dubbing it the "Fish Soup Reefs" thanks to the massive schools of pelagic fish, including giant barracuda, jacks, dogtooth tuna and several species of sharks. This is Asian diving at its best.
To sample the riches of Kavieng, one can stay on land at Lissenung Island Resort (tel: [675] 984-2526, www.lissenung.com) or Nusa Island Retreat (tel: [675] 984-2247, www.nusaislandretreat.com.pg), both relatively eco-sensitive and community conscious. Even better is to take one of the live-aboards operating in the region during the good weather season. It is a majestic place on the outer fringes of a wild and colourful country.
Check out dive operator Scuba Ventures Kavieng (tel: [675] 984-1244, www.scubakavieng.com), Liveaboards M/V Febrina (tel: [675] 983-5441, www.febrina.com), M/V Golden Dawn (tel: [675] 325-6500, www.mvgoldendawn.com), M/V Paradise Sport (tel: [61-7] 4053-0500, www.mikeball.com), and M/V Tiata (e-mail: tiata@global.net.pg).
Layang-Layang – Malaysia's deep end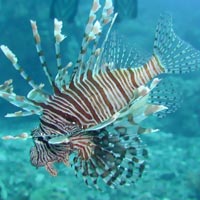 photo: Layang Layang Island Resort
Hammerheads, straight ahead, and lots of them. Hundreds at times, gliding in a silent shark ballet. This is Layang-Layang, a small atoll crest in oceanic waters of up to 2,000m deep. The 13 coral reefs lie about 300km northwest of Sabah, Malaysian Borneo in the South China Sea. They are home to just one resort and dive centre, which is serviced daily by propeller plane flights from Kota Kinabalu.
The island group is considered part of the hotly contested Spratlys (squabbled over by China, Vietnam and Malaysia, among others) and its waters teem with biodiversity, with a special emphasis on pelagic species. For divers, there really is just one good reason to go – those prehistoric-looking Hammerheads sharks – which congregate around Layang-Layang in happy abundance and are clearly visible in deep blue waters with 30-50m visibility. If you want to see them, go there.
In between hammerhead sessions, drift along magnificent reef walls which surround the atoll with extraordinary coral gardens. They have never been exposed to any significant pollution and make for spectacular diving. More than worth the difficult trip.
Try Layang Layang Island Resort (tel: [60-3] 2162-2877, www.layanglayang.com).
Diving with jellyfish in Palau
Believe it or not, it only measures 460sq km, with a permanent population of around 20,000 people, but Palau is an entire country. It even fielded an Olympic Team in the 2004 Athens Games, competing in swimming, running and wrestling. No medals though, but the country is still young.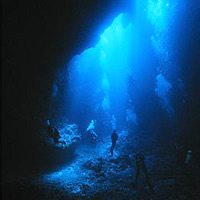 Palau blue hole/ photo: Carolines Resort
The first impression is spellbinding. The plane banks over islands ringed by guardian reefs teeming with marine life. Most diving in Palau happens around the islands to the south of the main chain, such as Koror, Malakal and Pelilu. Some of the best dives in Asia, if not the world, are around here. The popular lagoon near Malakal offers second world war wrecks and pelagic fish. The Blue Corner dive is well known for its huge variety of sharks, rays, barracuda, and giant jacks. Currents are strong with the result that drift dives are not for the faint-hearted. The strongest flows are perhaps in Pelilu. Also try the German Channel, Chandelier Cave, and the Ulong Channel.
Palau's amazing Jellyfish Lake is in the Rock islands. It is one of several marine lakes around the archipelago in which visitors can swim with millions of soft jellyfish. The jellyfish have evolved over centuries without any sting as there is no natural predator in the vicinity. Dive, snorkel, and swim, fearlessly.
Diving in Palau is very comfortable, either by day boat from some of the land-based dive resorts, or using several top end live-aboards. It is no exaggeration to say that Palau dives are among the most spectacular in the world.
Palau dive resorts include Carolines Resort (tel: [680] 488-3754, www.carolinesresort.com), Fish 'n Fins (tel: [680] 488-2637, www.fishnfins.com), and Palau Pacific Resort (tel: [680] 488-2600, www.panpacific.com). Liveaboards include M/V Big Blue Explorer (tel: [714] 995-2438, www.islandcruiseadventure.com), S/V Ocean Hunter, Fish 'n Fins (tel: [680] 488-2637, www.oceanhunter.com), and M/V Palau Aggressor II (tel: [985] 385-2628, www.aggressor.com).
Raja Ampat – Indonesian marine diversity
For serious marine diversity it doesn't get much better than Raja Ampat. Over 1,500 coral-studded islands lazily pepper the Equator and the azure waters are home to over 1,000 species of fish.
The diving in Indonesia offers diverse terrain and marine life. Most dives are drift dives due to strong currents, and a fabulous variety of colourful soft corals and reef fish can be observed. Large schools of fish populate the region, such as sharks, manta and mobula rays, dolphins, whales and turtles.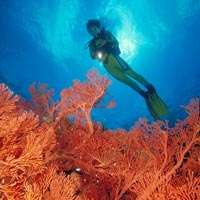 Wakatobi sea fans/ photo: Werner Thiele
At some sites, huge rocks rise up from the ground and water, surrounded by manta rays and barracudas standing guard in the current. Even the rare wobbegong shark can be seen, often lying atop perfect table corals. The epaulette shark, a small shark only a foot long, is indigenous to the area and can be found on night dives in the sea grass.
Raja Ampat also holds plenty of beautiful topside attractions. The islands are characterised by steep mountain shores and deserted white sand beaches. The area is far off the beaten track and is rarely visited by foreigners – a place of raw beauty. The islands' dense jungle interiors are home to many orchids as well as birds of paradise, parrots and eagles.
Liveaboards include S/V Ondina (www.thebestdivingintheworld.com), and
S/V Pindito (tel: [41-44] 870-0207, www.pindito.com). Also check out Dive Resort Papua Diving (tel: [62-411] 401-660/ 402-661, www.iriandiving.com).
Also consider in Indonesia, Wakatobi Dive Resort, Sulawesi (c/o Bali tel: [62-361] 759-669, www.wakatobi.com), and the splendid tented luxury of Amanwana from Amanresorts (www.amanresorts.com) offering unique access to the protected marine reserve off Moyo Island.
Similan Islands and Burma Banks – Thailand
Phuket is hardly a new destination, for divers and non-divers alike. Neither does it necessarily hold the world's best diving all round. Its enduring attraction to divers is its easy accessibility, its large number of top class dive operators and live-aboards, and a reliable six-month diving season. Combine that with a fully developed tourism infrastructure, comfortable hotels, great shopping, just about any food on earth and legendary après-dive nightlife, and you will see why divers keep coming back for more.
The popular Similan and Surin islands are located about 100km up the Andaman coast from Phuket. They can get busy but seldom disappoint. Expect clear waters, granite islands and sandy beaches. The name Similan comes from the Malay word "sembilan" – the nine islands, in other words. Having been awarded National Park status, the islands are protected under Thai law, and this has given the previously overfished place a welcome and effective respite. This is a great area for diving in Thailand.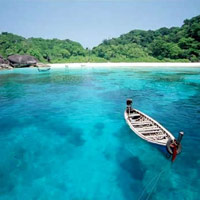 Similan Islands, Thailand/ photo: TAT
The eastern part of the island group features hard coral gardens, sloping from the surface down to approximately 30m, where sand takes over. Drift dives are the order of the day, past large mounds – or "bommies" – covered in soft coral, sea fans and an enormous amount of small marine critters. Diving is easy and navigation simple, allowing for comfortable dives.
A faster pace awaits in the western part, where currents swirl around the huge granite boulders. Smooth and round, these rocks form a dramatic backdrop to explorations through holes, caverns and overhangs. The most dramatic perspective is often gained by just looking up through the clear water at these huge formations, which I have only seen in the Seychelles before.
Further to the north of the Similans are two other diving destinations, which are almost always visited on the same trip - the Surin Islands and Richelieu Rock. The latter has attained cult status amongst whale shark addicts, because these huge plankton-eating beasts – the largest fish known – often congregate around it. Other regular sightings include several species of ray and a Thailand regular – the leopard shark.
Trip lengths vary from three to ten days, and the scope is enormous. As always in life there are no miracles, and you will get what you have paid for. Pay for a better boat and you will enjoy the trip infinitely more; there have been several horror stories over the years of boats losing engines, sinking or suffering other malfunctions.
The best season for diving in the Similans is from October until May, but diving is basically possible all year-round. There are well over 30 chartered dive sites in the Similan chain, with all-time favourites such as Anita's Reef, Breakfast Bend, Christmas Point, Deep Six and East of Eden. Enjoy the Similans for what they truly are – great beaches, excellent coral, prolific fish life in crystal blue water and sensational underwater rock formations. And a very cold beer or two on your return to Phuket, of course.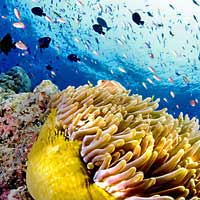 Sipadan coral/ photo: Pulau Sipadan Resort
Liveaboards include Dive Asia (tel: [66-76] 330-598, www.diveasia.com), M/V Ocean Rover (tel: [66-76] 281-388, www.ocean-rover.com), M/V Philkade (tel: [66] 8 9195-2905, www.philkade.com), SEAL (tel: [66-76] 340-406, www.sealiveaboards.com), and The Junk (tel: [66-76] 284-568, www.thejunk.com).
Sipadan – the best of Malaysia
Sipadan is an Asian diving classic. It used to have everything, and it still has more than most. The only oceanic island in Malaysia, it rises 600m from the deep seabed on top of an extinct volcanic cone. It is at the epicentre of one of the richest marine habitats in the world, represented by groups of greenback and hawksbill turtles nesting and mating, and large schools of barracuda and big-eye trevallies intertwined in ever-turning circular formations. One also can regularly see pelagic species like manta rays, eagle rays, scalloped hammerhead sharks and even the occasional whale shark. The island is the only place I've spotted a thresher shark with its huge eyes and endless tail.
A mysterious turtle tomb is hidden beneath the reef, formed by an underwater limestone cave. It's ghostly labyrinth of tunnels and chambers contain many skeletal remains of turtles, but it should not be attempted without cave diving experience and a first class local guide. Divers have died in there as well.
The island used to be at the centre of a territorial dispute between Malaysia and Indonesia, which was finally settled by the International Court of Justice. The court awarded both Sipadan and neighbouring Ligitan to Malaysia. To preserve the marine environment, as well as keeping a sharp eye on cross-border insurgents, the Malaysian government closed all on-island dive resorts in 2004 and directed them to move to other nearby islands like Pulau Mabul. Diving continues however, with divers being ferried in and out by speedboat. Not more than 10 boats are allowed in at any one time and the army, guns bristling, is ubiquitous. Visitors may stop on the beach but are not allowed into the island interior. They persevere for the sight of coral reefs that give way to spiralling vortexes of barracuda, sometimes so dense that they cloud out the sunlight. Reef sharks and herds of massive bumphead parrotfish also tend to provide excitement on every dive. Diving in Sipadan is an adrenalin rush despite the rustic pace of the place.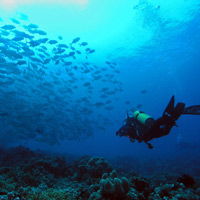 Tubbataha/ photo: Sacred Dive Charters
For the best Sipadan dives, check out Borneo Divers (tel: [60-88] 222-226, www.borneodivers.info), Pulau Sipadan Resort (tel: [60-89] 765-200, www.sipadan-resort.com), and Sipadan Mabul Resort (tel: [60-88] 230-006, www.sipadan-mabul.com.my).
Tubbataha Reef – Philippines
Tubbataha Reef is The Philippines' last remaining world-class diving destination. The vast majority of the country's other 7,000-plus islands have been chased out of the game by dynamite and cyanide fishing; the double whammy of a maritime apocalypse played out in many parts off of the Indo Pacific region.
Located off the southern end of Palawan Island in the Sulu Sea and reached by live-aboard vessels only, the reef is open for business for only three months every year - from mid-March to mid-June. The rest of the year the monsoon makes trips very uncomfortable.
The area is remote, to say the least, and its reefs serve as breeding ground, nursery and bedroom to hundreds of fish species. Officially declared a marine sanctuary, the Tubbataha Reef National Marine Park was declared a World Heritage Site by UNESCO in 1993. The reef is primarily two main atolls – North and South. The channel between the two is around 8km from the tips of the protruding islets. The islands here are uninhabited, but fishing forays by locals mean you may come across the occasional temporary shelter.
A huge diversity of marine life can be found here, much of which is already on endangered species lists. Vivid corals cover more than two-thirds of the reefs, and rival those of the Great Barrier Reef in terms of diversity. Three hundred coral species and over four hundred fish species call Tubbataha home, and divers report regular sightings of manta rays, lionfish, hawksbill turtles and sharks. The main diving feature is wall diving, where the shallow coral reefs abruptly drop, giving way to great depths. Along these prowl schools of giant jacks, barracuda and the occasional hammerhead. Bird watchers will enjoy the place too. Regular avian inhabitants include masked red-foot boobies, terns and frigate birds.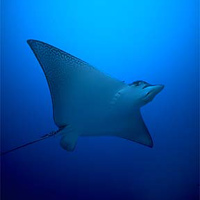 Ray/ photo: Walindi Plantation Resort
Explore with Expedition Fleet (tel: [63-2] 729-6572, www.expeditionfleet.com), Thresher Shark Divers (tel: [63] 927 612-3359, www.malapascua-diving.com) or Sacred Dive Charters (tel: [63] 927-973-8555, www.sacreddivecharters.com) who offer liveaboard cruises in various dive regions.
Walindi – PNG classic
Papua New Guinea is rugged, wild and untamed - yet of a natural beauty that takes your breath away at every turn. Its many different tribes and peoples reflect the often harsh, challenging environment. Beneath dreadlocks, wild looks and tattoos lives a warmth and sense of humour often missing in the modern world. Making the human connection here is easy, and the relationships you develop with the country and its people stay with you permanently.
If you are a reef addict, Walindi is for you. Set amongst beautiful, lush grounds in the midst of a teeming rainforest and surrounded by volcanoes, the outpost-style diving lodge here makes you feel at instantly at home. The owners and staff know their business, and they conduct it with an easy touch. Three daily buffet style meals are served, and lunch is provided on the boats, often taken picnic-style on a small beach on nearby Restorf Island. Restorf is the home of the acrobatic 'Chicken-bone Hawks'. Don't look it up in a birdwatchers book - you'll need to be there to understand.
Spectacular, colourful reef diving is what Walindi is all about. I have never seen such coral diversity and quality anywhere else, and I have been around a lot. The best way to describe it is as an ongoing territorial war between hundreds of coral species. Where else in the world can you still see table corals of several metres in diameter – sometimes so large they crack under their own weight? Combine that with visibility of routinely more than 30 metres, huge seafans, soft coral and barrel sponges, and you have truly astounding conditions. Walindi is world class in many ways.
My favourite dive spots are Bradford Shoals, a deep-water pinnacle rising to around 20m below the surface, covered with branching coral and plentiful fish. Schooling surgeons, fusiliers, bigeye jacks, barracuda and bats congregate in modest to strong currents. Other prime sites are Joel's Reef, North Emma Reef and Susan's Reef, a submerged ridge connected by a saddle to a larger reef. Susan's is Walindi's most photographed reef due to its excellent coral life with huge red sea whips, elephant ear sponges and spectacular gorgonians. Its best sections are on the upper reaches of the reef where sunlight penetrates and intensifies a profusion of colours.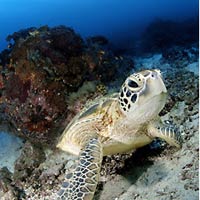 Sipadan turtle/ photo: Pulau Sipadan Resort
Walindi provides day-trip diving via small aluminium catamarans that hold between 8-12 people comfortably. Gear is set up on land and then laid down on the back of the boat. The crews are outstanding, and the hour or so long trips to Walindi's many dive spots - often accompanied by dolphins - fly by. Another alternative is two live-aboards, the Febrina (tel: [675] 983-5441, www.febrina.com) and Star Dancer (tel: [1-305] 669-9391, www.peterhughes.com), which are based out of Walindi and cruise the northern reaches of Papua New Guinea. Also check out Walindi Plantation Resort (tel: [675] 983-5441, www.walindi.com).
Send us your Feedback / Letter to the Editor