ODDITIES
Bods in Pods
Pod hotels for slim travellers on slimmer budgets. From Singapore to The Pod Hotel New York, Yotels, Qbic, Tokyo capsule hotels and even a bed in a bookshelf, no-frills budget hotels are making waves.
SEE ALSO Bangkok business Hotels | Hong Kong Business Hotels | Kuala Lumpur Business Hotels | Singapore boutique Hotels | Underwater hotels | Concierge Travails | Songdo Hi-Tech City |Tokyo fun guide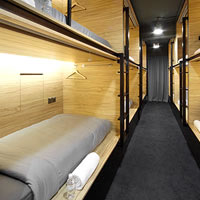 The POD, Singapore - smart bunk beds/ photo: hotel
WE ALL LOVE PODS. From the iPod and Dopod to the blundering but sadly extinct Sauropod, pods have been and will remain an obsession. We are mutating into a master race. The signs are everywhere. Wherever you turn, people are plugged into some snazzy POD or the other, nodding, staring blankly into the middle distance, mouth open, drool spilling out.
So if pods are hot, why not take things to their logical conclusion – and live in one. Live in a pod? That's right.
Pods are now storming the hospitality business. Drawing their inspiration from the toaster-size Japanese capsule hotels – where sozzled salarymen, having missed the last train home and forgotten their wife's name, crash for the night for Y3,000 (US$36) – pod hotels are the next big, or small, thing in accommodation.

E-mail Page

Print

Hotel Contacts
Most people just get back to their rooms for a brief kip before that dawn departure on the next red-eye. So does space really matter? And should we be getting mugged in broad daylight for it?
Quite a squeeze and hard to find, is the trendy The POD (that arrived in Singapore mid 2013) at 289 Beach Road (near the Jalan Sultan intersection not far from Arab Street). Expect spartan grey cement interiors - this after you have buzzed yourself into a minimalist shoebox lowrise and taken the lift up to the third floor 'lobby' where a single receptionist deals efficiently with tousle-haired backpackers. This is a self-styled 'boutique Singapore capsule hotel' though the bedding arrangement is more like a train with two-tier bunk beds rather than a sealed coffin with TV. And it is this that will help allay the fears of claustrophobic travellers.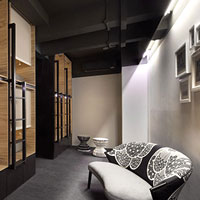 Stylish The Pod Singapore/ photo: hotel
The minimalist grey opens into Nordic pale pinewood spaces with bedding neatly arrayed into categories like Front Entry, Side Entry, Female Only, and Queen. The Queen Pod will fit two and you get two personal lockers. If you need elbow room ask for a Single Pod (side or front entry). Black ladders run up to upper decks. Each POD serves up a private reading light, flip-down table for work, power socket, clothes rack, hangers, comfy duvet, and, remarkably, 300 thread count cotton sheets.
There are 83 beds in all (10-12 per room, designated male-only, female-only, or mixed) with pull-down blinds for privacy. A shared lobby-level pantry with long table, television, side settee and high chairs provides a self-serve common area with Nespresso, and WiFi. Complimentary breakfast is served here.
Guests get shoe lockers, key-card access to rooms, free laundry (self service), free dry-cleaning (one item per day), free local calls, mineral water, towels and toiletries. The toilet is upscale too. A shared washroom with black marble basins set against a long mirrored wall offers a common space for shaving and teeth brushing while the self-contained compact private modern bathrooms are well featured, with vanity, flush and glass-partitioned shower. Yes, there's a hairdryer. It can't get better than this if you want a not too pinching leisure spin in a trendy hookah-puffing kebab neighbourhood or even if you're a suit in search of value digs. Rack rates start at S$89 but seasonal variations could have you in bed for just S$40 mid-week.
The Pod Hotel (www.thepodhotel.com), New York, offers stylish centrally located digs at 230 E 51st St. Just don't attempt to swing a cat by the tail. If you're sharing the bath and toilet, your Single Pod Room could start from as little as US$99 a night. There's a small work area, flat-screen TV, an iPod dock and free Wireless Internet. For a more real sense of space head up to the rooftop garden with bar, or opt for a larger room with queen-size bed that comes with its own glass-enclosed bathroom. Not for the shy or faint of heart.
Send us your Feedback / Letter to the Editor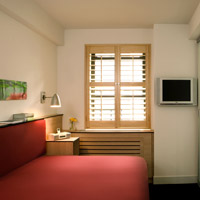 Pod Hotel New York/ photo: hotel
There are bunk bed configurations too, with an in-room display indicating if any of the shared bathrooms are available. A bit like being in an aircraft cabin, only more spacious, with room to swing a modest-size mouse by the tail.
Pod hotels are aimed at hip travellers with slim hips and slimmer budgets who want all the convenience of location and the odd bit of chic design chicanery without shelling out for it. Step out of The Pod Hotel New York and it's a short stroll to Times Square, Radio City or Rockefeller Centre.
The Jane (www.thejanenyc.com), in New York's West Village, has all the efficiency of a pod hotel, albeit with a bit more character. Originally built in 1908 as a hotel for sailors with cabin-like rooms, The Jane was restored in 2008 to become a convenient and whimsical option for budget travellers. Standard "Cabins" are a cosy 50sq ft and come with single beds, wall-mounted luggage rack, free WiFi, 23-inch LCD TVs, DVD players and iPod docks. Bathrooms are shared. Captain's Cabins feature almost the same amenities except with a flat panel TV and a phone, and are significantly larger at 250sq ft. They have queen or king beds, and private bathrooms. Rates start from US$79.
In London, budget airline easyJet founder Stelios Haji-Ioannou has taken his signature cheery orange into the compact, futuristic first-class cabin shapes of his easyHotel (www.easyhotel.com) franchise that offers truth in travel. The range starts with the Small Room (with or without a window). And that pretty much says it all. Rooms are not serviced daily, but they will be cleaned if requested (though there is an extra charge). There are Special Needs Rooms and Standard Rooms.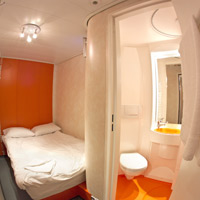 easyHotel Standard/ photo: hotel
Check out London South Kensington at 14 Lexham Gardens; London Earls Court at 44-48 West Cromwell Rd; London Victoria at 36-40 Belgrave Rd; Luton, in the centre of town; or London's Paddington – just a few steps from the station, or London Heathrow Airport. At the easyHotel South Kensington a six square metres Small Room with no window starts at around US$72.
In Basel, Switzerland, you can get a foot in the door from around US$48 or from US$53 in Zurich. Another easyHotel has opened in Dubai with rooms from US$30 and parking for up to 50 cars. The hotel claims, the earlier you book, the less you pay. The easyHotel franchise has extended into Hungary and Cyprus and will eventually spread into North Africa and India.
London Heathrow's Terminal 4, Gatwick South Terminal and Amsterdam's Schiphol Airport are the locations for Yotel (www.yotel.com) where "cabins" can be booked hourly (four hours minimum) or overnight. An overnight stay at London Heathrow in a Standard Cabin costs from £73 (US$117) or US$150 for a Premium Cabin. In Amsterdam a Standard Cabin costs from 76 euros (US$105). The minimum charge for a four-hour stay in a Standard Cabin in London is £25 (US$40) or 40 Euros (US$55) in Amsterdam.
YO! founder Simon Woodroffe, the evil genius behind this butt-squeezing brand, took a pinch of British Airways First Class, a hint of Airbus, and a dash of Japanese capsule hotel to create the Yotel.
Premium Cabins feature a "techno wall" with an iPod or MP3 player port, a workstation with a stowable chair, flat screen LCD TV with surround sound, free WiFi or plug-in Internet, mood lighting, bespoke toiletries and all the storage space you need. Private bathrooms boast showers, heated mirrors and towels.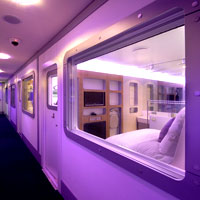 Yotel, compact and futuristic/ photo: hotel
Beds even turn into couches at the touch of a magic button. There's a cabin service menu, which you can order from any time day or night. Unlike an easyHotel, the Yotels are crammed with amenities. It looks like a plane, feels like a plane, but does it fly? Take a test run and find out for yourself. Yotel, backed by Kuwait-based IFA Hotels and Resorts, has plans to bring more of their cabins to airports and city centres across the globe starting with Yotel New York (open spring 2011 in Times Square).
In Amsterdam, check out Qbic Hotels (www.qbichotels.com) where bright "Cubi" rooms beckon mod bods and their PODS featuring a Hästens four-poster bed, LCD TV, in-room safe, high-speed Internet and those obligatory Philippe Starck design touches that can be enjoyed from just 69 Euros a night (about US$95).
Each Cubi comes with different coloured mood lighting – try "mellow yellow", "red romance" or "deep purple love". There are self service check-in terminals dispensing room keys to guests, and "grab and go corners" providing home-made food and other amenities like toothbrushes, chargers, condoms – not that there's room to really use one – and phone cards.
Another choice is CitizenM Hotels (www.citizenmamsterdamcity.com), which has properties in Amsterdam city centre, Amsterdam Schiphol Airport and Glasgow, Scotland. Starting at 79 Euros a night, all rooms have wall-to-wall windows, king-size beds, free WiFi and complimentary on-demand movies. A touch screen MoodPad controls everything in your room from the TV to music to coloured lighting, letting you be as chilled as you want. There is also self-service check-in and a 24-hour canteen. Perfect for world citizens on the go.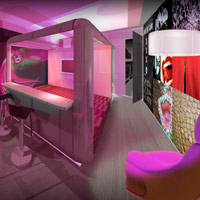 Qbic Amsterdam, mod/ photo: hotel
In Kuala Lumpur, Malaysia, from Tony Fernandes who gave us the shocking reds and mad cut-price scrambles of AirAsia, comes a budget lodging concept that will be music to any budget traveller's ears – Tune Hotels (www.tunehotels.com). The flagship 173-room Tune Hotel at No. 316 Jalan Tuanku Abdul Rahman is reasonably central with rates priced at just RM60 (around US$20). Some rooms at certain times of the year start from as low as just a couple of ringgit but expect to pay extra for amenities – towel rental is RM5, 12 hours of air-conditioning is RM13.50, and WiFi is RM12 per day.
The Tune Hotel in Kota Kinabalu, Borneo, is located in the largest lifestyle "hypermall" in East Malaysia. There is a free shuttle service between the hotel and city centre. Other Tune Hotels include the 135-room Kuching, Sarawak; 258-room Georgetown, Penang, the 135-room KLIA-LCCT in the Low Cost Carrier Terminal (LCCT), Sepang and two properties in Bali – the 139-room Kuta and the 170-room Legian, both only a short walk from the beach. Also find Tune in Johore Bahru, Kota Kinabalu, Manila, Cebu, Hay Yai, and Pattaya.
The no-frills hotel group hopes to emulate the success of high-flying AirAsia, pushing its marketing – and bookings – online. The ever-ambitious Fernandes hopes to grow his empire until he has 100 Tune Hotels across Asia, and now Europe.
London is ripe for a tune-up too. The 79-room Tune Hotel at Westminster was the first in a long line of 15 planned hostelries in London offering "five-star beds with powerful wake-up showers" at one-star prices. Hard to argue with. A larger 183-room Tune Hotel opened end 2011 on Liverpool Street not far from the Tube Station with prices from £35 a night. There are 100 double rooms with windows (an important point) and 52 without. There are "special needs" rooms as well, some without a view.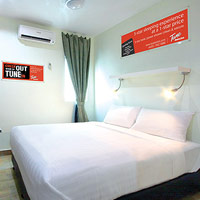 Tune Hotels room/ photo: hotel
Another option is the StayOrange.com Hotel (www.stayorange.com) Kuala Lumpur with its bunk, single en suite and double en suite offerings. Rooms all feature complimentary WiFi, express check-in and check-out among others. Double en suite rooms also have workstations, double beds, bathrooms with hot water, mirror and flat screen TV. Bathroom amenities, towels and DVD players can be rented for a small price. Bunk bed rooms start as low as RM47.
The minimalist and industrial Capsule by Container Hotel (www.containerhotel.com.my/) is targeted at transit travellers, backpackers and frequent flyers travelling through KLIA2, who are looking to recharge overnight. Upon check-in, guests receive an access card, locker key and an amenity bag with towel. The size of each locker is 30x23x15cm and fits most medium-size backpacks and luggage. Travellers can opt for the 3, 6 or 12-hour stay. The access card allows you entry into the sleeping zone or CapSpace, which is gender-specific.
There are 79 basic mod capsules; each comes with bedding by Orthorest, two pillows and a blanket, a foldable table, hangers, personal locker, reading light, power socket and blinds for privacy. Bathrooms are shared and are divided into separate wet and dry areas; the wet area is fitted with a walk-in shower with complimentary shampoo and shower gel while the dry zone has a mirrored dressing area and toilet. There's a Capsule Bar for a quick drink and a lounge area with free WiFi. Capsule is located within the KLIA2 complex at L1-2 and 3 of the Transportation Hub.
Capsule by Container Hotel at Kuala Lumpur Airport/ photo: hotel
For the real thing you'll have to head to Tokyo, Japan, get chased by Godzilla, end up legless on sake, miss the last train, and stagger to the Hotel New Gyominso where a capsule room starts as low as Y3,000 (US$31). There is a ladies floor too. There are separate public baths and changing rooms for men and women. Relax in the bath on the observation platform and take in the view of Sumida River. Included are complimentary toothbrushes, dressing gowns, towels and razors (for men) and toothbrushes, dressing gowns and robes (for women).
A small kitchen area is available for cooking up a bowl of cup noodles. Bathe, soak, slip into something comfortable and then squeeze into your room to watch TV or suffer a panic attack. Most TV channels are in Japanese. You may find a beckoning large red button next to the television. Don't press this. It's not room service. It's the porn pay-movie channel.
Hotel Siesta (www.siesta-en.com) is a short stagger from Ebisu Station and has 136 capsule rooms and 21 single rooms. Capsule rooms cost from Y3,300 per night but are also available during the day for Y500 per hour. For Y1,650 you can book one for up to six hours but only between 3pm and 9pm. Capsules are men-only but there are single and twin rooms available for female guests. They cost from Y6,600 and include a small shower area.
It's not uncommon to wake up feeling like the Hunchback of Notre Dame after a night wedged in one of these fiendish plastic tubes. Those more supple can happily ooze out like toothpaste the morning after. Hotel Siesta aims to reduce cricked necks and achy backs with springy pocket-coil mattresses and plump feather quilts. All capsules have a TV with two free satellite channels and amenities such as toothbrushes and towels. Refresh yourself in the shared bathroom, which has shower booths, hairdryers and shavers.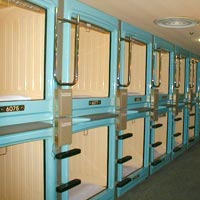 Capsule hotel: merry morgue/ photo: hotel
If you need to check your e-mails, book a room on the second floor where you'll enjoy free Internet access. If you packed in a hurry and forgot a few essentials then head to the front desk where you can buy t-shirts, shirts, socks, underwear, and umbrellas. Sister property Central Inn Gotanda is close to Gotanda Station and has 136 capsules and 17 slightly roomier Private capsule rooms, which are 5sq m. If you're travelling for business you may find the cosy work desk with power supply and small electronic safe rather helpful.
A capsule room at the 441-room Capsule Hotel Asahiplaza Shinsaibashi (www.asahiplaza.co.jp) in Osaka, Japan will set you back Y2,800, though you can take a five-hour "Capsule Nap" for Y1,900. Capsules have TVs, towels and not much else. The hotel has complimentary use of high and low temperature saunas for guests, a public bath and a lounge that is open for breakfast, lunch and dinner. Vending machines, game machines, public phones and laundry facilities are scattered around the complex. Group rooms for two to four people are available for extra privacy. Get a massage or rent a mahjong table to pass time. Dress shirts, ties and underwear can be purchased in the lobby.
Also in Osaka, First Cabin Midousuji-Namba (www.first-cabin.jp) takes capsules to the next level. Imitating airplane cabins but with a futuristic edge, it offers business class rooms for Y4,500 while first class cabins are from Y4,800. For a quick snooze, day stays are also available at Y800 per hour (two hour minimum). Both cabins offer TVs, comfortable cabin wear and toiletries, but the latter is much roomier and even has cable Internet access. Pop by the lounge for a quick bite, or relax the bathhouse and sauna. Shower booths are also available.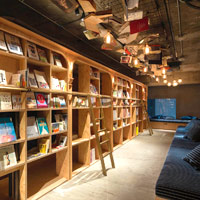 Tokyo's Book And Bed, sleep in the shelves/ photo: hotel
This is a members-only establishment with registration and subsequent reservations done via mobile phone or Internet. Quick, easy, painless. In a sign of true Japanese efficiency, your phone can double as the room key by downloading the "APLI" program onto it. A stroke of security genius. First Cabin has a second property in Kyoto.
The designer Book And Bed (bookandbedtokyo.com/en/) in Ikebukoro, Tokyo, near Shinjuku, serves up something completely different - a hostel in clean wood tones and minimalist lines, with the 'bedrooms' sunk into and behind bookshelves. That's right, you sleep with the books. What seems a quirky idea, seems to have taken off, and the compact rooms - 120cm x 200cm, or the size of a single bed - are well thought out and presented. Pick a 'bookshelf' bed or a 'bunk' with step ladder and choose from two sizes of beds, 'standard' and 'compact'. Whew, this is getting tight, but it sure beats a capsule hotel. A Compact bed may start from just Y3,500 so this is money well spent (or saved). If you never had a chance to sleep in an IKEA cabinet, this is for you. It's all Swedish homey seeming stuff. Find a good book and stuff in for the night. There are day rates too. The books are not for sale, alas, and showers and toilets are shared. The hotel is close to the Marunouchi line to skipping into town is a a breeze if you can fob off the sleepy salarymen.
Listen up space cadets. Get your bod to a POD. NOW.
Send us your Feedback / Letter to the Editor
FAST FACTS

/ Hotel Contact List

Capsule Hotel Asahiplaza Shinsaibashi. Tel: [81-06] 6213-1991, fax: 6212-0954, (e-mail: info@asahiplaza.co.jp or www.asahiplaza.co.jp).
Central Inn Gotanda. Tel: [81-03] 3447-5225, fax: 3447-2041, (e-mail: room@viento-creation.com or www.siesta-en.com).
CitizenM Hotels. Tel: [31-20] 811-7055, (e-mail: reservations@citizenm.com or www.citizenmamsterdamcity.com).
easyHotel: www.easyhotel.com.
easyhotel Basel: info@basel.easyhotel.com.
easyhotel Berlin: enquiries@berlinhm.easyhotel.com.
easyhotel Budapest Oktogon: enquiries@budapestoktogon.easyhotel.com.
easyhotel Dubai, Jebel Ali: enquiries@jebelali.easyhotel.com.
easyhotel Earl's Court: enquiries@earlscourt.easyhotel.com.
easyhotel Edinburgh Princes Street: enquiries@edinburghpsw.easyhotel.com.
easyhotel Heathrow Airport: enquiries@heathrow.easyhotel.com.
easyhotel Larnaka, Greece: enquiries@larnaka.easyhotel.com.
easyhotel Luton: enquiries@luton.easyhotel.com.
easyhotel Paddington: enquiries@paddington.easyhotel.com.
easyhotel Sofia: enquiries@sofia.easyhotel.com.
easyhotel South Kensington: enquiries@southken.easyhotel.com.
easyhotel Victoria: enquiries@victoria.easyhotel.com.
easyhotel Zurich: info@zurich.easyhotel.com.
First Cabin Kyoto-Karasuma. Tel: [81-03] 3237-8720, (e-mail: info@first-cabin.jp or first-cabin.jp).
First Cabin Midousuji-Namba. Tel: [81-03] 3237-8720, (e-mail: info@first-cabin.jp or first-cabin.jp).
Hotel New Gyominso. Tel: [81-03] 3844-5117, fax: 3841-6566, (e-mail: info@gyominso.jp or through Trip.com).
Hotel Siesta. Tel: [81-03] 3449-5255, fax: 3449-5355, (e-mail: room@viento-creation.com or www.siesta-en.com).
The Jane. Tel: [1-212] 924-6700, fax: 924-6705, (e-mail: reservations@thejanenyc.com or www.thejanenyc.com).
The Pod Hotel. Tel: [1-212] 355-0300, fax: 755-5029, (e-mail: info@thepodhotel.com or www.thepodhotel.com).
Qbic Hotels. Tel: [31-43] 321-1111, (e-mail: info@qbichotels.com or www.qbichotels.com).
StayOrange.com Hotel. Tel: [60-3] 2070-2208, (e-mail: mailto@stayorange.com or www.stayorange.com).
Tune Hotels. Tel: [6-03] 7962-5888, (www.tunehotels.com).
Yotel. Tel: [44-207] 100-8010, 100-1100, (e-mail: customer@yotel.com or www.yotel.com).