BUSINESS & PLEASURE
Xian fun guide for suits
Finding the perfect bed for you and those tired terracotta warriors, corporate meeting venues, and some excellent leisure outings, on foot or on wheels.
SEE ALSO Chengdu fun guide | Guangzhou business hotels | Sanya guide| Beijing business hotels | Shanghai business hotels | Hong Kong fun guide | Tokyo fun guide | Songdo, Incheon business hotels | Seoul business hotels | Taiwan spas

Angsana Xi'an Lintong
JUMP TO Getting to Xian | Transport, terracotta warriors, hot springs | Leisure stays Lintong | Xian business hotels, centre, west | Rooms south of city centre | Hotel Contacts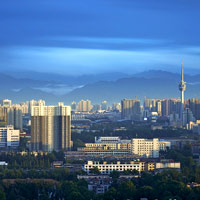 Xian is spread out with low mountains for a backdrop on a clearer day
XIAN is a land full of ghosts. "This city is rich with stories, many stories," a local told me, in an almost conspiratorial whisper. "They are everywhere."
Indeed, as the oldest of the four great ancient capitals of China — and endpoint of the fabled Silk Road — Xian, also spelled Xi'an, is a land with no shortage of history. Nestled in the Wei River valley, believed to be one of the earliest cradles of Chinese civilization, Xi'an was the seat of 11 dynasties, including the Zhou, Qin and Tang, spanning a period of about a thousand years.
Evidence of these bygone eras remain peppered around Xian, now a regional industrial centre full of smoke-spewing factories and shopping malls. Camera-wielding tourists saunter on the Ming-era City Wall; Buddhists flock to the very old and very venerated Famen Temple; and the famed terracotta warriors of China's first emperor, Qin Shi Huang, continue to stand guard over their ruler, more than 2,200 years after his death.
These archaeological sites, and many other related places of interest, make Xian (which was known as "Chang'an," or the "eternal city," until the Ming dynasty) a history buff's wet dream.

E-mail Page

Print

Hotel Contacts
But though the city is still perhaps best known for its ancient clay army, every Xian guide will tell you it's been quietly and steadily undergoing a facelift since the 1990s, transforming from a dusty tourist destination into a regional economic hub.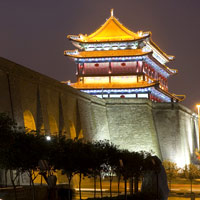 Lit up at night, the city wall and gate pagoda is a dramatic sight
The capital of Shaanxi province, Xian is located near the centre of China, about a thousand kilometres southeast from Beijing. It's one of the 15 most populous cities in the country with a population of around eight million. Though still considered "second-tier" to the bigger and more bustling metropolises like Shanghai and Guangzhou, Xi'an has greatly benefited from China's western development strategy to accelerate economic growth in the country's interior. It is often cited as one of China's top emerging megacities.
"With cities like Beijing and Shanghai getting so overpopulated, the attention has been shifting to places like Xi'an," a marketing executive at one of the city's top hotel told me. "There's definitely been a boom in recent years."
The numbers certainly support this assertion.
Thousands of international enterprises, including big names like Mitsubishi, Panasonic, Coca-Cola, Boeing and Samsung, have set up shop in Xi'an in recent years.
Send us your Feedback / Letter to the Editor
According to a 2010 report, employment in financial services firms in the city increased from 30,000 to 43,000 employees between 1997 and 2006. During the same period, the industrial output value of Xi'an's service industry increased at an annual average rate of more than 13 percent.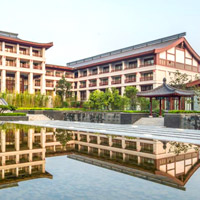 Leisure travellers will enjoy Angsana's nature surrounds/ photo: hotel
Xi'an has also been named one of the top 10 fastest-growing destination cities in the world. Every year, an estimated two million tourists visit the city's terracotta army alone.
Locals seem to disagree as to the "best" time to visit Xi'an. With a vast temperature range and four distinct seasons — including hot and sticky summers, and nippy, sometimes snow-filled winters — it seems the "best" time is dependent on what kind of weather you like best. Still, if you're trying to snag the best hotel or flight deals, you might want to consider a visit sometime between November and February when low season prices coincide with falling temperatures.
Be sure to check the weather report before you travel, as the diurnal range in temperature can be extreme in Xi'an. In autumn, for instance, the temperature can range from a warm 20 degrees Celsius in the heat of day to a chilly five degrees at night.
We'd also advise checking the city's air pollution levels, which — like many industrialised Chinese cities — can be hazardous at times. Though not nearly as bad as the haze conditions in, say, Beijing, Xi'an does experience occasional airborne pollution.
Getting to Xian
Xi'an Xianyang International Airport is the largest airport in northwest China. Located about 40km from Xi'an's city centre, the airport is modern but drab, with a modest variety of food and shopping options.
There are many direct flights into Xi'an from several major Asian cities. Tigerair offers daily flights to and from Singapore; AirAsia flies every day from Bangkok; and Korean Air arrives daily from Seoul.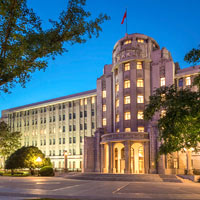 Soviet realist art deco Sofitel Legend/ photo: hotel
There are also direct flights available from a wide variety of Chinese cities (many of which are also serviced by regular or bullet trains in and out of Xi'an Railway Station, located near the city centre); as well as Busan, Hong Kong, Taipei and Osaka.
International airlines like Air Canada, Cathay Pacific, Delta, China Eastern and Finnair also service Xi'an Xianyang, offering flights to Xi'an from several cities in Europe, the U.S. and elsewhere.
If you're just planning on staying in Xi'an for 72 hours or less, you may not require a visa thanks to a new policy implemented in 2014. The new policy applies to travellers from 51 countries, including most of Europe, North America, Oceania and parts of Asia, including Singapore and Korea. It applies not just to Xi'an, but 14 other Chinese cities as well, including Beijing, Shanghai and Chengdu.
Transport, terracotta warriors, hot springs
Before we plunge further into our Xian fun guide, you'll need to get wheels. Depending on where you stay and your itinerary, there are a variety of options for transportation in Xi'an. Metered taxis are fairly easy to flag down in the city centre (or your hotel can call one for you), but just be warned that traffic can be truly horrendous during morning and evening rush hour. If you're sightseeing or doing business in the city centre and are not covering a large distance, getting around by foot or bicycle are possibilities. Ask your hotel about bicycle rental; just be careful when manoeuvring around Xi'an's bustling streets. Renting a car for the day from your hotel will set you back around US$60. The exchange rate is roughly US$1 = Rmb6.34.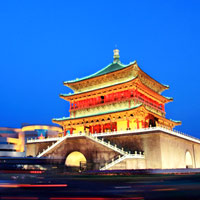 Xian Bell Tower, an enduring icon
The city also has a metro system, which is currently limited to two lines — one travelling east to west, and another north to south — that dissect the city centre. In the next few years, however, there are plans to greatly expand the metro system, including adding a route that will connect the airport to the rest of the city.
Xi'an is fairly orderly in its layout, and relatively easy to navigate. The city centre proper is located within a rectangular area bounded by the Xi'an City Wall, a remarkably complete structure built during the Ming dynasty (1368-1644). Take a stroll or an easy bicycle ride around the wall to observe the city from a height. The stately Bell Tower and Drum Tower, both also constructed in the Ming era, stand near the middle of the city centre; nearby, you can find the Great Mosque, one of the oldest in the country (Xi'an was the first city in China to be introduced to Islam). The bustling — and must-see — Muslim Quarter is also a stone's throw from here.
Swarming with vendors hawking a dizzying variety of food and wares, the Muslim Quarter is a wonderful place to pick up souvenirs and sample the best of spicy Xi'an cuisine. This is street-style Xian shopping at its best, and simplest. Once the Eastern end of the Silk Road, Xi'an is known for its unique array of food and drink. Expect a rich, tongue-tingling fusion of traditional Chinese cooking, with the flavours and spices of the Middle East. Some must-try Xi'an dishes include yang rou paomo (flat bread soaked in lamb stew) and liang pi, or spicy cold noodles. The city is also known for its barbecued meats, and its array of mouthwatering seasonal fruit, including massive pomegranates and bite-sized persimmons. 
A couple of kilometres south of the city centre stands the Little Wild Goose Pagoda, built between 707 and 709 during the Tang dynasty. Further south stands the Giant Wild Goose Pagoda, built about 50 years earlier. The latter, with a height of around 200 feet, is located in a large complex that encompasses several gardens, squares, and an enormous musical fountain, said to be the largest in Asia.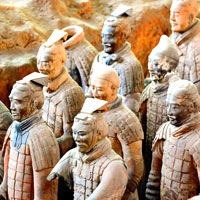 Terracotta warriors/ photo: Sofitel Xian
The two other major archaeological sites around Xi'an are the Famen Temple and Emperor Qin's terracotta army, both located outside the main city area.
Famen Temple, which has a history of about 1,700 years and is said to house a relic of the Buddha, is located in Fufeng County, about 120km west of Xi'an. The terracotta warriors, on the other hand, can be found in a complex around 40km east of the city centre, in the suburb of Lintong.
Often referred to as the eighth wonder of the world, the terracotta warriors are part of Emperor Qin's extremely elaborate — and largely mysterious — tomb. The clay army was discovered by accident in 1974 by peasant farmers who stumbled upon a warrior's head while digging a well. Since then, archaeologists have painstakingly been uncovering and restoring the extensive terracotta collection of soldiers, including archers, spearmen and swordsmen; horses and chariots. Experts estimate that around 8,000 sculptures, each unique, were created for Qin's mausoleum. Several thousand remain buried.
About 700,000 people are said to have spent 40 years building the emperor's (as-yet unopened) tomb. Some of these people were allegedly killed and buried along with their ruler when he died at the age of 49 in 210 BC — a chilling thought to keep in mind when you're ogling at the marvel of each ancient terracotta soldier.
For the better preservation (and presentation) of the terracotta army, parts of which have been found in three separate pits, an air-conditioned complex of buildings has been constructed to house the sculptures. For the most part, visitors are kept far away from the clay works to prevent their wreckage; so bring a camera with a zoom lens if you want to get some up-close-and-personal shots.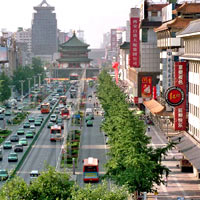 Xian roads, though broad in parts, can get congested
It can be a challenge to fully appreciate the magnitude, meaning and age of the collection when surrounded by hoards of eager, photo-happy tourists. But take your time savouring the experience, and the visit will definitely be worthwhile.
Also in Lintong, located not far from the terracotta army, is Huaqing Hotspring, where a spectacular cultural show called 'The Song of Everlasting Sorrow' is performed twice daily between the months of April and October. The show, a song-and-dance bonanza full of flying "ghosts" and dramatic war scenes with real fire, depicts the allegedly true love story of Tang Emperor Xuanzong (685-762) and his favourite concubine, Yang Guifei. Interestingly, Yang is said to have actually bathed in the Huaqing hot springs when she was alive.
The show, which often plays to a packed house, is one of Xi'an's top attractions.
Hotels and guesthouses are dotted throughout Xi'an, so take your pick. If leisure and sightseeing is what you really want, pick a comfy bed downtown walking distance from some sights, or shoot for farther afield in a spot like Lintong, tucked away from the hustle and bustle. There are also choices near the city's 'High Tech Zone' — where several manufacturing and electronics firms are clustered.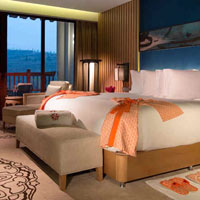 Plush Angsana room/ photo: hotel

Sitting at the base of the evergreen Li Mountain, the new Angsana Xi'an Lintong (opened November 2014) is one of Xi'an's best luxury hotel offerings. Modelled after a Tang Dynasty court, the sprawling complex comprises a 400-room hotel, spa and hot springs facility. Rooms are spacious, starting at 60sq m for a Royal Room to 300sq m for the Dynasty Suite; and are fitted with luxurious touches, including wide balconies, plush linens, flat-screen TVs, and circular bathtubs that are filled with rose petals each evening.
Find a small safe, a mini-bar, Nespresso machine with complimentary coffee capsules, Angsana Spa brand toiletries, rainforest showers, a simple working desk, and comfortable king-sized beds, squishy like marshmallows. The view from the rooms is of the expansive hotel courtyard, full of foliage and garden ponds. Some rooms also offer a view of the lush Li Mountain in the distance.
A well-equipped MICE venue, the hotel has several meeting rooms and an enormous ballroom with a capacity of 800. It is comfortable with largish numbers and excels at small corporate meetings. It also has many recreational and entertainment facilities, such as a large swimming pool that's partially indoors; a gym (open from 9am till late); and KTV and mahjong rooms that are available for rent. The hotel also has several dining options, including international breakfast spreads at the casual Angsana Cafe and sumptuous Chinese cuisine at the ornate Mandarin Palace, where you can dine in private villas. For mums and dads, the hotel also provides a children's play area and babysitting options.
Desire a pampering? The excellent onsite spa has both traditional and unique offerings, including full-body Javanese, Swedish and Chinese-style massages, as well as hot stone and bamboo treatments. You can also mosey over to the hotel's hot springs complex, located in a neighbouring building.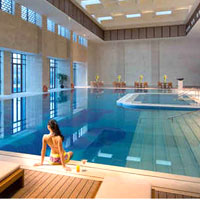 Angsana's spacious swimming pool/ photo: hotel
The facility has one indoor family pool and 25 outdoor pools, each filled with naturally-hot water pumped in from the nearby Li Mountain and "medicated" with pouches of herbs and flowers. 
The hot springs facility is open to the public. Hotel guests, however, are given preferred entrance rates. The complex also has several private cabanas that can be rented for 180 minutes or more.
Staff at Angsana is generally attentive and prompt. While the language of choice is Mandarin Chinese, many of the hotel's employees are conversant enough in English. And the concierge is always on hand with helpful tips.
Angsana Xi'an is located about 15 minutes away from the terracotta warriors; but about an hour from both the airport, and the city centre. A taxi from the hotel to the City Wall costs around USD$20.
(The Angsana Xi'an Lintong features in our exclusive by-invitation Top Asian Hotels Collection, featuring the best Asian hotels, resorts and spas in a printable A4 page with stunning visuals.)
Xian business hotels downtown and west
Within the Xi'an City Wall are a handful of good business hotels and leisure retreats, all a short jaunt away from many of the city's top historical sites — and an approximately 45 minute drive to the airport. The latest addition in the fast-developing CBD (close to the PICO International Conference and Exhibition Center) is the 396-room Grand Hyatt Xi'an (April 2018), a glass tower with a sky bridge situated vertiginously 328ft up linking to an office tower and affording wraparound views of the city below. With almost 25,000sq ft of versatile MICE space this is a top Xian conference hotels contender once it gets into its stride. Also expect an indoor swimming pool, a 24-hour fitness centre and a spa.
The Sofitel group has a sizeable complex of four distinct establishments in the northeastern quadrant of the city centre: The luxurious Sofitel Legend, the expansive Sofitel Xi'an Hotel, and the lower-tier Grand Mercure and Mercure properties.
Reopened in 2014 after an extensive two-year refit, the Sofitel Legend Peoples Grand Hotel is housed in a grand old building from the 1950s that once served as a state guesthouse, hosting a variety of VIPs, including British royals.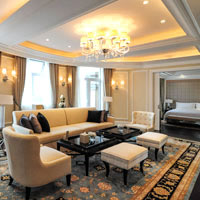 Sofitel Legend, classic good taste/ photo: hotel
The exterior of the building is sombre Soviet-realism with a hint of French and Chinese; inside it is opulent and warmly-lit, with gleaming marble floors, plush carpeting and tasteful art deco details. Expect large, spacious halls, pillars, tall silk drapes, and posh cream furniture with black trim. The hotel has 71 rooms, including 37 suites. The rooms are mostly spacious, ranging from 45sq m to 210sq m for the Imperial Suite. The hotel has a beautiful garden attached, and a modestly-sized swimming pool and gymnasium. It's also home to a chic Italian restaurant, complete with wood-fired pizza open.
In front of the Sofitel Legend stand the two separate curving wings of the 414-room Sofitel X'ian on Renmin Square Hotel. More geared towards business and family travellers than the Legend, the 5-star Sofitel plays host to major conferences and meetings and is a popular MICE venue. It has several meeting rooms, a 1,100sq m grand ballroom, a spa, pool, fitness centre, and other facilities. Rooms start at 36sq m. There are also apartment-style rooms that come with studio kitchens. Those range in size from 70 to 110sq m. Mark it down in your Xian business hotels diary.
Sofitel Xi'an shares many of its facilities with the Grand Mercure Xian Renmin Square and Mercure on Renmin Square, located on the same premises (The Legend, on the other hand, has its own oasis, and all its facilities are limited to Legend guests). The four-star Grand Mercure is furnished in a more traditional Chinese style, with plenty of ornate mahogany furniture and gold touches while the three-star Mercure is more modest, with modern and simply furnished rooms starting at 20sq m.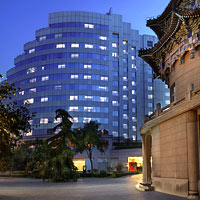 Contemporary Sofitel Xian/ photo: hotel
The four Sofitel properties cater to a wide variety of price points from US$60-US$250 and up depending on the flexibility of your wallet and the office accountant.
Less than a kilometre east of the Sofitel complex stands the Hilton Xi'an, another popular Xian conference hotels choice and events venue with 309 tastefully decorated rooms and suites. The hotel has a spa, fitness centre, pool, meeting rooms and a conference space that can accommodate up to 1,000 guests. The hotel also has special "accessible rooms" that can accommodate travellers who may require additional space.
Also in the city centre, just steps from the Bell Tower, is Citadines Central Xi'an, a modern long-stay establishment run by the Ascott group that offers comfortable apartment-style rooms. All rooms come with a living area and kitchenette; and range in size from 29sq m for a compact studio to 120sq m for the two-bedroom executive apartment. The hotel has a fitness centre, billiards room, yoga room and roof garden.
A little west beyond the city walls, closer to the West 2nd Ring Road, is the 365-room Sheraton Xian Hotel, a modern V-shaped hotel block with 1,200sq m of meetings space, including 13 function rooms.
The Dynasty Ballroom is 462sq m and can manage up to 300 people. Rooms are in unassuming pastel with a few golden hues for a touch of gloss. This is a business hotel served straight up. WiFi is available free at Link@Sheraton and, for exercise, there's a gym, sauna, steam room and an indoor pool.
Rooms south of city centre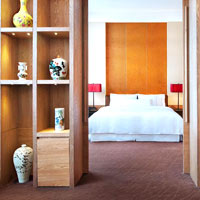 Westin, light and modern/ photo: hotel
The Westin Xi'an is located just south of the city centre. Housed in a quirkily chic building, full of geometric patterns and artistic touches, the hotel has 321 rooms and suites, ranging in size from 45sq m to 300sq m. The rooms come with flat-screen televisions, iPod docks, rainforest showers and bathtubs.
The hotel also has a spa, a 24-hour fitness studio, indoor pool, several meeting rooms, and a 1,440sq m pillar-less ballroom. This is one of the Xian ballrooms with extra stretch space.
Just up the road from the Westin is the Tang Dynasty Art Garden Hotel. As its name suggests, the medium-sized establishment is styled after a Tang Dynasty courtyard, complete with pretty gardens, sculptures and ponds. The hotel has a distinctly Chinese style, and the rooms — ranging in size from 20sq m to 50sq m — are simply furnished with modern amenities.
Also nearby is the grand Wyndham Grand Xi'an South, a large and pretty hotel that opened in late 2014. The hotel, which is tastefully decorated with both Chinese and Western touches, has 565 rooms and suites. With a wide range of facilities, including a spa, indoor heated pool, fitness centre with jogging track and a children's play area, as well as 5,000sq m of meeting and event space, the Wyndham Grand is well-positioned to attract and accommodate both business travellers and families.
Near the High Tech Zone, southwest of the city centre, you'll find a cluster of hotels and guest houses. Some of the better accommodation options in this area include the Shangri-La and the Grand Barony hotels. The Grand Barony Xi'an, a business-oriented hotel with a distinctive Chinese style, has 256 guest rooms and suites, 11 function rooms, a conference room, a health club, an indoor pool and spa.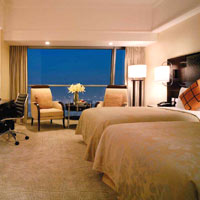 Shangri-La, crisp and neat/ photo: hotel
The Shangri-La Hotel, Xian, is a stylish and slick reflective glass property – ticking off all the parent brand boxes – with the de rigueur marbled lobby. This opulent hotel has 393 guest rooms and suites, most of which come with floor-to-ceiling windows. It also has a spa, 24-hour health club, heated swimming pool, several meeting rooms and a 1,824sq m column-free grand ballroom for glitzy events. Shangri-La is a clear Xian business hotels pick but doubles easily as a leisure address.
So there it is, a road warrior's guide to an ancient city that is now bursting at the seams and has the traffic and pollution to prove it.
Send us your Feedback / Letter to the Editor
FAST FACTS

/ Hotel Contact List

Room rates: Check hotel websites for the best available rates (BAR) and deals, but you can typically expect lower prices during the off-season winter months. From the expensive to the economical, there are hotels for every budget in Xi'an. For some select luxury hotels you can expect to pay US$250 or more a night; while four-star hotels typically go for between US$80 and US$200. Three-star hotels are generally priced closer to US$50 a night.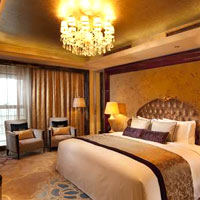 Hilton room/ photo: hotel
The exchange rate is roughly US$1 = Rmb6.34.
Xi'an also has a selection of budget digs, such as Han Tang Inn Hostel, and reasonably-priced guest houses for budget-conscious travellers.
Xian resorts, spas, and business hotels
Angsana Xi'an Lintong. Tel: [86-29] 8387-8888, fax: 8387-6666 (e-mail: reservations-xianlintong@angsana.com or www.angsana.com/en/cn-china-xian).
Citadines Central Xi'an.  Tel: [86-29] 8576-1188, fax: 8576-1189 (e-mail: enquiry.xian@the-ascott.com or www.citadines.com/china/xian).
Grand Barony Hotel. Tel: [86-29] 6297-6666, fax: 6297-5555 (e-mail: gsc@grandbaronyxian.com or xian.baronyhotels.com/en).
Grand Hyatt Xi'an. Tel: [86-29] 8811-1234, (xian.grand.hyatt.com).
Grand Mercure Xian Renmin Square. Tel: [86-29] 8792-8888, fax: 8792-8400 (e-mail: grandmecure@renminsquare.com or www.mercure.com).
Hilton Xi'an. Tel: [86-29] 8738-8888, fax: 8738-9999 (e-mail: xian.info@hilton.com or www3.hilton.com/en/hotels/china/hilton-xian).
Mercure on Renmin Square Xian. Tel: [86-29] 8792-8888, fax: 8792-8400 (e-mail: mercure@renminsquare.com or www.mercure.com).
Shangri-La Xi'an. Tel: [86-29] 8875-8888, fax: 8875-9999. (www.shangri-la.com/xian).
Sheraton Xian Hotel. Tel: [86-29] 8425-1888 (www.starwoodhotels.com/sheraton).
Sofitel Legend Peoples Grand Hotel Xi'an. Tel: [86-29] 8792-8888, fax: 8792-8400 (e-mail: sofitel@renminsquare.com or www.sofitel-legend.com/china/xian).
Sofitel X'ian on Renmin Square Hotel. Tel: [86-29] 8792-8888, fax: 8792-8400 (e-mail: sofitel@renminsquare.com or www.sofitel.com/gb/hotel-5949-sofitel-xian).
Tang Dynasty Art Garden Hotel. Tel: [86-29] 8556-3333, fax: 8556-3310  (www.tangdynastyartgardenhotel.com).
The Westin Xi'an. Tel: [86-29] 6568-6568; fax: 6568-0999 (e-mail: westin.xian@westin.com or www.starwoodhotels.com/westin).
Wyndham Grand Xi'an South. Tel: [86-29] 6821-9999 (www.wyndham.com/hotels/china/xian).