INTERVIEW
I just want to retire, barefoot on the beach
Anchalika Kijkanakorn of Thailand's Akaryn Hotel Group talks about how she started her pioneering boutique lodge business and why hotels need to grow with their guests and constantly reinvent themselves.
September 2019
SEE ALSO Franz Donhauser | Novi Samodro | Choo Leng Goh | Maria Helena de Senna Fernandes | Iwan Dietschi | Cavaliere Giovanni Viterale | Hans Jenni | Carina Chorengel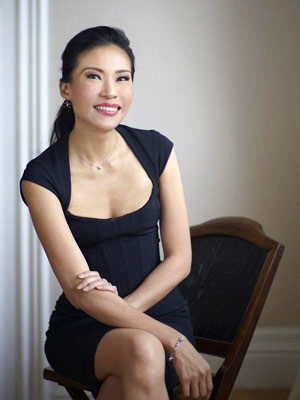 Cool and charmingly corporate is just one facet of Anchalika Kijkanakorn Managing Director of Akaryn Hotel Group, who usually prefers beachside déshabillé/ photo: hotel
Anchalika Kijkanakorn, managing director of the Akaryn Hotel Group, Thailand, breezes into the lounge of the akyra Thonglor Bangkok like a barely constrained typhoon in electric blue, bristling with nervous energy, impatient to get started on some new project, and deeply apologetic about the traffic. An elegant corporate diva (when required) her natural state is best described as 'restless hippie' with hair spilling insouciantly over her shoulders and an incandescent smile lurking behind an intent expression when she listens. Intelligent, informal, and quick to laugh, Anchalika is every girl's ideal self-made tycoon. With a financial background and a long stint in London she returned to Asia - to retire - and to launch a barefoot luxury boutique brand as 'none existed' where she could enjoy the sea and surf undistracted by spreadsheets. She has grown her boutique hotels, helmed Small Luxury Hotels of the World, launched green projects and disposed of single-use plastic in her hotels. She is still trying to retire. Smart Travel Asia Editor Vijay Verghese spoke with her on a hot August afternoon.
Smart Travel Asia: How did you get started in hotels?
ANCHALIKA KIJKANAKORN: I loved painting and drawing but my ma said 'get a business degree'. Luckily I didn't end up a doc or an engineer [grins]. I was 10 years in London, so long they gave me a passport without me asking [laughs throatily]. Then I thought. I just want to retire on the beach. I was 30. I'd had enough. [The waitress has brought our water in glasses with straws and Anchalika whips around to face her. Plastic? 'No ka, paper.' This is a single-use plastics-free place and all is well.]
[Turns back to face me] ...but I soon realised I couldn't do that. There was no concept of barefoot boutique in Thailand then. So I started Aleenta Pranburi with just 10 rooms, too small to make a living on unless I did everything myself. I would make a terrible general manager I realised but I knew what I wanted as a traveller. I am a generalist, a big picture person. My style of hotel didn't exist 15 years ago in Thailand. So I built one. No one could believe I was charging US$200 a night in the middle of nowhere. But the hotel was full. The product created its own demand.
Was this barefoot luxury aimed at the high end or bottom-feeders?
AK: There are all kinds of luxury travellers. Some call 'experience' a luxury. I am like that. Luxury to me is time, not golden toilet seats.
How did it go?
AK: Hotels have to reinvent themselves and grow with their guests. I started with barefoot luxury. This meant no TV. But I was one of the first to offer an Apple Dock with preloaded music.
What did your guests make of this?
AK: They loved the concept. I had just one set menu per day. That's all you get [grins, shrugs, and gestures in the air]. People LOVED it [laughs]. Then we got bigger and were forced to expand menus. Our breakfasts now run till 11am. It works for guests.
Do you think 'autonomous' travellers who want less contact with hotel staff are the future trend or do people still need a GM's touch?
AK: People are different. If I'm on work I don't want to see anyone... not a soul. I'll book online and use my phone - tap, tap, tap. I don't wanna talk. I'm working. My early travel was all like that.
It seems hotel brands are disappearing online with the bookings onslaught.
AK: Ages back when I got my ticket for my New York interview with GE I spotted their meatball logo and thought, 'Who?' Then I spotted their logo on a fridge. I was 10 years with them in Singapore, USA, London. That brand logo is still around. Now automated bookings are in. It's great. I use them. But the process has turned hotel rooms into commodities. This is sad. We do have chat on our sites and if you write in to us it's considered a VIP booking. You are special, not just one of the crowd.
How would you define your brands as personality types?
AK: Well, Aleenta is a grown up bohemian... it's barefoot luxury. I used to backpack but now I want 600 thread-count linen and a goosedown duvet. I'm a grown-up hippie and the hotel reflects my changing lifestyle because I understand the needs. I understand me. We need to reinvent. Hotels need to grow with their guests and reinvent themselves. Akyra is based in city centres with black-and-white photographs. It is a place to discover and... [thoughtful] extroverted.
What other personal lifestyle elements are appearing in your products? Wellness?
AK: Wellness is a new interest. I'm not getting any younger [shakes her head and chuckles]. I hated yoga, gym, mindfulness - now I do it all. I meditate with my mum. It's coming to the hotel.
Does wellness segue into spirituality?
AK: For me it [wellness] is a practical thing - to live longer, to enjoy life longer, and to spend time with the kids.
Tell me about your Kids' Club.
AK: We do a range of things - kick boxing, football, volleyball... you can tell my kids are boys [laughs]. But we also do do planting... and we have a facial.
Do you see kids as the customers of tomorrow?
AK: I think you need to take care of the kids so parents can relax. I don't think they'll come back 20 years later. I'm not sure of [brand] shelf life these days.
How do you deal with hi-tech?
AK: I believe simple and stupid is best. If my mum can't operate it then 'NO'. In-room technology needs to work without me being aware of it or I would feel uncomfortable. Room automation, temperature sensors to save power, auto-doors and so on must operate in the background. I HATED the idea of a local mobile phone in the room. It's gone! Siri, Alexa, voice activated controls... I refuse to have these in my house. NO. I don't understand remotes in my house and you want me to go to a foreign country and learn how to operate a tablet to open curtains? Electronics should facilitate... [the guest experience]. We do use an e-concierge and systems to order food accurately.
How do you see women in travel?
AK: I was the first woman chairperson of SLH [Small Luxury Hotels of the World]... [laughs shyly as if she still can't believe this] but I can't see the difference between male and female employees in Thailand. Thailand is equal. In my office 80 percent are women. My mum works and dad too. But she lets my dad think he's the leader. That's the Asian woman - they let men feel they are in charge but the lady runs the show and manages funds. But when we have kids we have to take a break. Fortunately I was an owner so I didn't take a break. I breastfed my kids for six months. I may have had more success without kids... that's why women lag behind men. But it's a trade-off. I won't trade time with my kids for anything.
Have you ever had a problem with blogger blackmail?
AK: No [puzzled, quizzical].
People trying to hurt you with negative TripAdvisor posts?
AK: TripAdvisor is so last year. Google is in your face with its stars and requires no effort. Maybe because I use GMail [shrugs]. The sheer volume makes statistics more reliable.
Would you really have retired on the beach?
AK: Probably not. I would have driven friends nuts. [Thinks, looks up and laughs] But I am still actively trying to retire.
What would you do next? Travel?
AK: I went out for years to see the world. My mum and dad prefer their own bed. My kids are so sick of travelling they now just want to stay at home. My eldest son says he'd like to do what I do [face brightens]. Things are coming full circle. I'd like to retire.
Send us your Feedback / Letter to the Editor