CITY GUIDE
Manila for suits and suitors
A Manila business hotels review and guide - sniffer dogs, beastly traffic, bars, and shops. The city stirs anew and the Westin returns to Manila.
SEE ALSO Manila fun guide | Cebu resorts | Boracay resorts | Palawan resorts | Hong Kong hotels | Hong Kong shopping | Singapore nightlife | Taipei nightlife | Bangkok shopping | Asian casino hotels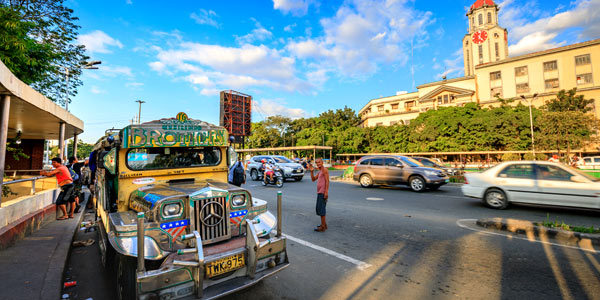 JUMP TO Airport arrival and duty-free | Makati business hotels | Makati service apartments | Alabang boutique | Makati budget hotels | Fort Bonifacio area hotels | Bay hotels | Casino hotels, Entertainment City, Newport City | Ortigas, long stay serviced apartments | Manila budget hotels | Around the city | Manila shopping | Nightlife | Hotel Contacts
YOU'LL receive a hero's welcome in Manila. If you're lucky, it could be confetti, tickertape and the occasional tank. These are the expensive toys employed by revolutionaries, demonstrators and the government – necessary distractions in one of Asia's most robust and colourful democracies – to welcome travellers, along with serenading minstrels. It's a tropical cocktail like no other.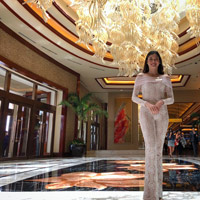 Solaire's shimmering lobby entrance with long-legged hostesses/ photo: Vijay Verghese
Several years ago in Manila I learned heavily armed men strapped with explosives had taken over the airport control tower. An even more heavily armed SWAT team bristling with ordinance had then stormed the place, firing automatic weaponry. All that was missing was King Kong. Reassured by these signs of normalcy, the passengers all went about their regular business. Yet the tension was mounting.
Inside, screaming, stampeding, and gesticulating travellers provided ample proof – that airport staff simply do not appreciate the average Filipino's ability to pack the entire contents of Mindanao in a carry-on bag. And this is the lively street theatre that assails visitors from all sides as they enjoy this country's unique blend of old world and new, power and pathos, commerce and carnival.
Send us your Feedback / Letter to the Editor
At hotels you'll find the customary friendly Filipino greeting. A Labrador with a wet nose sniffed my bags and parts of my anatomy unmolested since my mother demanded to check my underwear before I left for school.
Sniffer dogs are is hard at work in The Philippines ensuring that hotel guests change their underwear daily and lobbies are free of B.O. It's a pretty thorough going-over. Everything gets opened. Bags. Cameras. Parasols. And then comes the handheld metal detector, the x-ray machine and the walk-through metal detector. It's all exceedingly polite and well mannered but it does hold things up - after that two hour cross city taxi ride.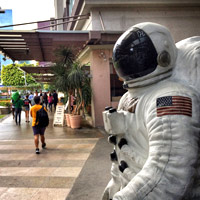 Spaceage decor at Bonifacio Global City BGC/ photo: Vijay Verghese
Of course the fairly new skyway has dramatically speeded up transfers from the airport to Makati as well as between Makati and the newly emerging Entertainment City area on the bay, with its looming megaresorts, Manila casino hotels and child-friendly resorts aiming at weekenders - with no expenses spared on the pomp and livery, be it gold, or neon.
And then come those heart-melting Filipina smiles. It's all worth it. Hotel staff here is second to none. But before we delve into our Manila business hotels review and go head-to-head with the Big Three in Makati – The Makati Shangri-La, The Peninsula Manila, and sprightly new kid on the block, Fairmont Makati – let's look at arriving and tackling the airport and duty-free shopping should you have the money and the moxie.
Send us your Feedback / Letter to the Editor
Arriving and departing Manila Airport
Security at Ninoy Aquino International Airport (NAIA) is tight. Departures entail three levels of security screenings with an x-ray, one right at the entrance for passports and bags. This line may itself take 10 minutes to negotiate. Later, hang on to your trousers as you drop your belts, bags, computers, shoes and inhibitions. After streaming into 'his' and 'her' lines, everything gets checked and you'll be patted down courteously too.
Rules regarding liquids appear to be softening but, to be safe, place these items in your check-in baggage or run the risk of having it all confiscated. I was permitted to take in my unopened bottle of mineral water airside with the caveat, "Finish it before you board."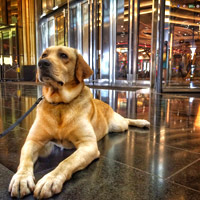 City of Dreams sniffer lab stands guard / photo: Vijay Verghese
Again in March 2018, I sent an unopened bottle of mineral water through the x-ray with nary an eyebrow raised, this time at Terminal 3 (used by Cathay). No problemo.
Despite all this fuss, boarding procedures are laid back, even lax. It has been a while since anyone has asked to match my passport with my boarding pass at the departure gate - though Cathay Pacific and US airlines are stricter. And boarding 'gates' are often just roped off areas that any passerby can leap in or out of.
Most travellers to Manila will be well acquainted with the musty, concrete corridors of the International Airport Terminal 1 occasionally enlivened by wandering minstrels strumming guitars. The Centennial Terminal (T2) is the exclusive domain of the flag carrier Philippine Airlines (PAL). Terminal 2 is a breeze to arrive in - but with just about four open immigration counters, can become a squeeze. The good news is there is an abundance of yellow taxis and regular cabs, far more than at other terminals. The bad news is departures in T2 can be a scrum, with incredibly long, snaking lines to get into the airport, for check-in, for toilets, and to enter the immigration area in particular. It can take 30-40 mins to get to an immigration counter so don't speed in at the last minute hoping to catch a flight. There is unduly warm airconditioning, an abysmal duty-free selection airside and no restaurants - just a few small unexciting kiosks for sandwiches and the like.
The newest building, Terminal 3, is a modestly gleaming enclave for Cebu Pacific, Philippine Airlines and domestic carriers. Cathay Pacific, Singapore Airlines and other biggies arrive here. No departure card is required of foreigners.
Arriving visitors are usually spared the tedious inspection reserved for outbound passengers. Customs checks are quick and, with just carry-on and a well-timed flight in, you could be from gate to taxi in 10 to 15 minutes. For the cheapest ride into town, exit the airport, cross the lane, and look for a local metered taxi. Be warned, it can be a scrum.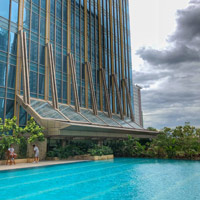 Grand Hyatt Manila pool at BGC/ photo: Vijay Verghese
A local cab ride to the Makati commercial area where most of the exclusive Manila business hotels are located will cost about P120-P180 (roughly US$1 = P55.25) or so depending on the terminal, traffic and the ingenuity of your driver. Using the new elevated Sky Way saves a huge amount of time with an additional toll of around P45 plus P20.
Taxi meters start at P40 but getting drivers to actually use them at rush hour can be tricky. The bright and clean Yellow Cab metered taxis are a godsend with the meter starting at P70. Prefer these though there are few around when you need them. So when in Rome... get into the regular taxi queue and wait about 15 mins to get to the head. 'Fixed fare' taxis en route to the cab stands charge about P440 to Makati.
Unofficial Airport Taxis to Makati are tricky and touts will attempt to hustle you off for anywhere from P1,500-P2,400 depending on how gullible you look. Avoid these. Remember, hotel transport itself rarely touches P2,000... The new elevated skyway will get you to Makati within 15 minutes or so.
UBE Express is a bus limousine service with four routes serving Ninon Aquino terminals touching Makati, Ermita, Mall of Asia (and Solaire), and the Grand Prix Hotel. The buses leave at 30 minute intervals or two-hourly (for Robinsons Manila on the Ermita route) and tickets can also be purchased online.
Departing passengers used to pay a terminal fee of P550 but this has been dropped with the tax now included on your ticket price. Manila airport duty-free shopping is pretty limited and not terribly competitive. But it is brighter and improving, especially at T3 where you'll encounter Longchamp, Bally, Victoria's Secret, Michael Kors, Kate Spade, Tumi, COACH and more.
Pick up a one litre duty-free Johnnie Walker Black Label for US$34 or a 12-year-old duty-free Chivas priced a bit higher at US$38. Duty-free perfume at NAIA in March 2018 was at US$127 for a Chanel 'Coco' 7.5ml parfum, and US$87 for a 50ml bottle of Miss Dior or Miss Dior Blooming EDT. T3 airline lounges are one level up at Level Four. Take the lift.
The SMART telecoms company and assorted other providers all want your business and often station pretty girls to waylay you upon arrival and reset your mobile phone to their frequency. Not a problem.
Makati business hotels review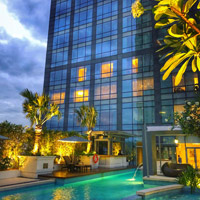 Raffles Makati pool deck/ photo: Vijay Verghese
The Makati odd couple making waves since December 2012 is the Fairmont-Raffles combine at the edge of Makati Ave and Arnais (more regally, and correctly, 1 Raffles Avenue) within handbag-tossing distance of Greenbelt and Glorietta, which pretty much ensures high heeled women will trundle their TUMIs in with eager anticipation. This functional-business meets reticent-luxe combo manages to pull off a daring tango, joined at the hip, with seamless and seemingly unruffled interplay between the two and not just with the shared Spectrum restaurant where lavish breakfasts include a range of gluten-free breads, creamy butters, and scrambled eggs done just right, without the indignity of being always rolled into an omelette as hotel chefs love to do.
The 30-storey Fairmont Makati is the larger sibling by far, its 280 rooms housed in a tidy grey reflective glass box that looks like it has just rolled smartly off the SONY assembly line. It is a toned down, dimly lit intimate space without unnecessary fuss. The service is uniformly excellent, right from the attentive doormen to the brilliant check-in staff who will gladly stretch as far as the Suez to get things right, and smiles, directions and conversation are aplenty. Front-end empowerment has its benefits as guests will quickly realise. The layout is in clean straight lines, with a somewhat sombre, very underplayed, lobby featuring blown glass, wondrous floral arrangements, deep sofas and comfy chairs peopled by earnest hard-working sorts hunched over glowing laptops. The seats by the glass frontage get raked by the headlights of incoming cars so you may prefer to sit farther in. Or hop over for a sweet nibble at the tiny Cafe Macaron.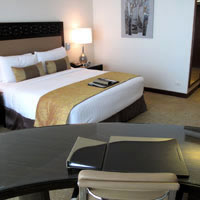 Fairmont is calibrated for business/ photo: Vijay Verghese
Rooms, again, are spacious but simple rather than stylish with a focus on functionality to speed up the business end of things. This is the biggest difference when comparing Fairmont with its more storied Raffles sibling. For one, there are enough three-pin multi-plug electric sockets to keep all your gadgets safely entertained - and charged. Find two in the data port at the huge semi-circular glass-top work desk that will give any low-esteem suit a substantial boost. This is good working space to lay out your impedimenta without piling and losing stuff here and there. Also find an array of useful cables in the "Guest Connectivity" kit in a draw-string bag. Other sockets are two-pin as in the flip-down compartments in the bedside cabinets.
A starched white bed with a mustard runner is the sole adornment atop the carpet and it faces a humungous flat-screen television with all your staple international channels. The bedside clock is reassuringly old-fashioned with "hands" and the smart lampshades and the dark-wood wardrobes give the room a homey feel. Open the window drapes by hand rather than at the press of a button and plop down on a purple velvet easy chair with ottoman.
The bathroom is well equipped but not large, with full wall mirrors and marble underfoot. There is a blush-free soaking tub (without that de rigueur peekaboo glass wall), a satisfying rain shower that purposefully pummels the back rather than teases it with fine mist, a weighing scale, iron and ironing board, a single wash basin, aromatic Rose 31 toiletries, an electronic safe, and a hairdryer with the strength of a jet engine to get your locks disciplined in record time. Unobtrusive paintings adorn the corridors and rooms and the toilet is a phone-free space. No one will disturb you here.
On the fourth floor find an open air lap pool (with bar) open 6am till 10pm, a fitness room and the Willow Stream Spa. And, best of all, for small corporate meetings in Makati or larger events there's 1,700sq m of function space with a ballroom that can hold 720 for dinner. In all, this is a solid prescription for brisk business with little fuss or noisy distraction.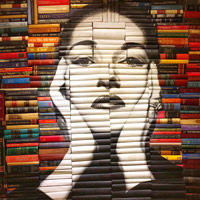 This stunning bookshelf portrait of Maria Callas by Rafael Samson adorns a 9th floor corridor/ photo: Vijay Verghese
Raffles Makati is an immaculate classic cube, small, intimate, and bright, with a white marble lobby - welcoming of light - under a circular crystal shower chandelier that presides over whimsical metal sculptures. A swish lounge - the Writer's Bar - just behind, does great afternoon teas and to the back of this ensemble are the imposing grille gates of the Long Bar where, after noon each day, as at its Singapore namesake, guests toss discarded peanut shells on the ceramic tile floor while sipping immaculate Singapore Slings under the watchful gaze of Manny Pacquiao and his red boxing gloves. This is colonial carnage at its best despite the crisply contemporary setting. Beaming staff will hand you over to a butler should you wish to be pampered in your suite. Now, high above the city, say hello to Mirèio, with its inspired Provencale menus - think beef tartare with goat cheese and herbed sea bass - in elegant surrounds with sweeping vistas.
Expect service on rails here. It is seamless, assured, and quick. The hotel has just 32 plush suites (with a staff to room ratio of three to one, which is highly unusual for city hotels that might average less than 1:1). And then there are the aforementioned butlers who manage to serve the hotel suites as well as the 237 Raffles Residences that are part of the building mix catering for a privileged few and long-stay guests. They pack and unpack for you, they can draw your bath if you are not yet familiar with that modern invention - the faucet - and shine shoes. And they will deal with your every whim in their sprightly stride. There are lady butlers too.
The first thing that hits you as you make your way to your room is the overall space, due in great measure to the double height ceilings and starched white walls. Rooms are arrayed along a stately long corridor with a striped powder rose carpet and tall white doors that make for an impressive entrance. Step into a hushed timber-floor foyer with a flat-screen TV, data-port (there is no media port in the bedroom), coffee machine, sofa, and a small oval dining table set off by red apples.
The connectivity kit is on hand to wire up should you be in the mood for a tech treat rather than caramel macaron. The dark timber floor - and a hint of that Gone With the Wind DNA - continues into the bedroom, which is separated from the foyer by white louvred windows that provide a decadent old world country manor touch. The place is spotless and unsullied with a plump virginal white bed that dominates the space with sheer heft and simple understatement. It sleeps as good as it looks.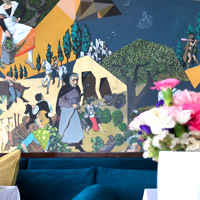 Mireio is the cool new Provencale menu diner at Raffles/ photo: Vijay Verghese
Find homey lampshades, the old round dial clock and another 46-inch flat-screen TV with an arsenal of channels. The bed is large, and negotiating the phone at one extreme, and the sole gold touch-button control panel at the other (there are no other master switches), requires agility and resolve but this is a minor niggle. Come as a couple and, voila!
Below the TV spot a DVD player and a ZVOX box for further audio thrills. Colours are pale pastel with gold tassel cushions, pale red runners and olive carpets. The pace of the room is slower than at Fairmont, unhurried. The only three-pin multi-plug sockets you'll find are in the huge, bright, marble bathroom that shares window frontage with the bedroom. Other sockets are two-pin affairs as in the flip-down bedside drawers that also house the instant-on flashlight. Enjoy a dressing room, twin vanities, a splendid rain shower set in a generous cubicle and a window-facing soaking tub with bath salts and Lanvin toiletries. There is an electronic safe (for a notebook perhaps, and jewellery), a competent hairdryer, and large tactile light switches - but, as at Fairmont, no telephones in the bathing area. The suites offer a sensible layout and inviting space. Junior suite 1011, is the odd child with a foyer TV that is not optimally positioned due to a connecting door and a whimsical media-port near the entrance door well away from any electrical device. But then, who needs two TVs when the bedroom monster is there to satisfy all comers.
Pick a Junior Suite on the 9th floor to be close to the pool as well as the restaurant Mireio, which also serves a delectable breakfast and does excellent eggs Benedict. Expect a thoughtful foyer in two parts, with a sofa, Malongo coffee machine, and flatscreen TV to one side, and a semi-private study at the other with a desk, hanging lamp, welcome fruit and broadband cable. White louvred windows look into the bedroom from the sofa and tall white doors can seal the bedroom if desired. There is a marble bench in the rainshower for tired derrieres, no distraction of a TV in the bathtub-facing mirror, just old-fashioned bubbles and peace, and large bottles with easy-to-read lettering spelling out "SHAMPOO" and so on. You won't have to squint at tiny black bottles with slim gold italics - it's all spelled out. This alone is worth shouting about.
A small pool is set alfresco on the ninth floor with breezy cabanas and a wading section. It is open 6am to 10pm and children under 12 need to be supervised by an adult. Sensible. It is a cosy space for sunning rather than swimming and is overlooked by distant cranes and development creep. A children's activity centre is on the 11th floor. With shared facilities, you can get up to the same mischief at Raffles as at Fairmont should you be inclined towards meetings, glitzy soirees, or a CEO chinwag. This though, is a patently private address at which to savour a delicious time warp and some exquisite service. The art collection is extensive from the lobby sculptures to the Mireio paintings and the stunning bookshelf paint-over portrait of opera diva Maria Callas by Rafael Samson, the main focal point at the end of an unadorned 9th-floor cream corridor.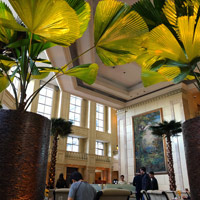 Peninsula lobby: see and be seen/ photo: Vijay Verghese
Built in 1976 for the International Monetary Fund bash, The Peninsula Manila (with the definite article "The") sits proudly at the intersection of Ayala and Makati Avenues, both busy arteries of commerce. The 497-room hotel has undergone steady renovation, but the exterior is tad tired and visibly ageing with black streaks unbecoming of a five-star of this stature. The Ayala Tower had an earlier facelift and rooms and suites in the Makati Tower have also blossomed anew and fresh renovations are constantly planned, if not executed. The classical lobby continues to hold the cognoscenti in thrall. During the aborted coup on 29 November, 2007, rebel soldiers, perhaps tempted by the superlative high teas and chocolate, headed here instead of Congress and stormed the hotel for a cuppa. It all ended peaceably and travellers got their money's worth. It is after all a tale worth telling, anywhere. High-flying guests staying at this excellent address are also likely to be shot – but by flashing cameras – as The Peninsula Manila is an unreservedly top-drawer affair attracting both the beau monde and pinstriped business executives.
A glitzy offering is the 1930s Shanghai high camp throwback lounge bar, Salon de Ning. This is a riot of playful art and mischievous snuggeries in dark mood-lit corners that cover everything from a giant beady-eyed King Kong clambering up the Empire State to a shoes room and a boxing den. Say hello to the red papier mache horse and wander in for a stiff tipple to the sound of tinkling ivories and hip music by live bands and fast-fingered DJs. The Bar (again with the definite article "The") sports a darkly chic new look. Escolta's scrumptious buffets, Spice Garden's Asian flavours and upscale Old Manila's European favourites further expand the menu to suit most tastes.
How do The Peninsula Manila and Shangri-La Makati compare inside? Let's take a look. The Pen's bedrooms are enormous – almost too big for the existing furniture. The hotel was built at a time when travel meant style, and space, not a modern assembly-line box. The smallest rooms start at 40sq m. Sure enough, there's enough carpet area for a small workout if you are so inclined though you could just as easily pop down to the fitness centre. The room smorgasbord runs from Superior and Deluxe to Grand Deluxe, Club Deluxe and Suite.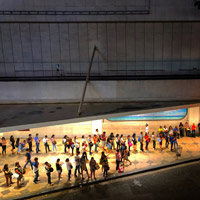 Jeepney queue at dusk behind The Landmark mall, Makati/ photo: Vijay Verghese
The Peninsula offers free in-room Internet access and WiFi in public areas. What is a niggling annoyance at most hotels in this day of "free information" is a delight here. Plug in (using the supplied cable) and get to work mailing your boss or viewing saucy pictures.
A corner Grand Deluxe in the more corporate-style Ayala Wing offers a bed large enough to entertain a small family and a HUGE vertical in-room safe to house a large laptop, cameras, video, and valuables, if not your mother-in-law. The smart black wood worktable offers enough finger-tapping elbow room and comes with Internet and dial-up modem ports (with Ethernet cable supplied) as well as two three-pin (multi) electric sockets. The hair drier is powerful enough to knock down a grown man at 20 paces and is thus, sensibly and permanently, plugged into a drawer socket by the mirror. Not for The Pen the timorous gasp of a midget drier to tickle the eyelashes. The shower, alas, is hand-held though it produces a satisfyingly powerful wake-up jet with instant hot water. Look forward to DAVI toiletries, a flat-screen TV, and a guest-friendly bedside console that runs everything from the curtains to the aircon at the tap of a finger.
No more poltergeists. That spooky, interminable creak emanating from the "capiz" mother-of-pearl shell headboard that crackled at every inflection of changing room temperature is gone. Now it's a black coconut shell headboard.
The Peninsula Manila offers all modern facilities including electronic card keys that you will need to get to your floor though the slot is placed unusually low in the lift, at a child's height. Hotel staff are bright, cheerful, and attentive and their service rivals the best in the country. Add to this an old world flavour, string quartets in the gossipy high-ceiling lobby, a pool surrounded by lush greenery, and The Peninsula Spa.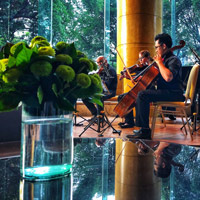 Makati Shangri-La lobby musicians at afternoon tea/ photo: hotel
There is little doubt that The Peninsula remains among the best Manila business hotels for the executive on the go or as a classy conference venue. It is certainly among the top Makati business hotels and should be on everyone's short list.
The gleaming, modern, 696-room Makati Shangri-La, Manila is just across Ayala Avenue, in the heart of Makati 's Central Business District right next to the shopping. The Shangri-La Makati was closed February 2021 as a "temporary" measure in the wake of the Covid-19 slowdown and lockdowns, a face-saving explanation for the quiet return of the P300m a year property to the Ayala group.
It was in many ways the antithesis of the reserved Pen, younger (though also ageing now and set for a top-to-toe room renovation with a new sibling having arrived in 2016 at the Fort), bold, brash, and large. The hotel has cheerfully reinvented itself a few times and outlets have come and gone in mysterious succession. The funky Zu bar made way for the Quezon Ballroom, while the lobby-level Sage Tapas Bar serves up hip-swinging live music into the wee hours (with a Sage Restaurant for fine dining upstairs). Also explore the Circles cafe, Sinfully Circles, and of course wine aficionados can enjoy an all-you-can-drink wine buffet at the Lobby Lounge most evenings, serenaded by red-dressed orchestral violinists. It's enough to make anyone happy, or at least bleary eyed. By late 2018 phased renovations will begin floor by floor to upgrade rooms.
As at many hotels, security is tight, very tight. Expect the usual well groomed Labrador, hand searches, and metal-detectors. The hotel also employs a handheld device that scans not just for weapons but also for drugs, like ecstasy. Another good reason to bring your teenage kids here for a good scanning while you enjoy the endlessly flowing wine.
Let's step inside. The rooms at the Makati Shangri-La are bright and gold-hued – with elaborately curving and sensuous blonde wood walls (The Pen prefers dark wood) that entertain the eyes and enliven the diminished space. It's a ship cabin room that runs long rather than square as at The Pen and the Superior room at 38sq m is a tad smaller. Rooms have the obligatory LCD flat screen, which shows CNN and any channel you care to peruse.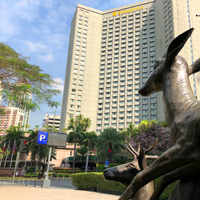 Bronze deer leaping towards the Shangri-La Makati that closed Feb 2021/ photo: Vijay Verghese
The hair drier is a good size, there is a fax in all rooms, a large work desk with leather chair, a laptop sized electronic safe, and a very thoughtful iron and ironing board. The classic round dial clock can be placed anywhere and a flashlight is at hand should you have overindulged at Conway's and can't find your nose. The bathroom is fairly compact though not small by any means, with a jet shower, and a separate bathtub. If you're a workaholic, don't worry, WiFi is free throughout the hotel.
Members of the Horizon Club may avail of exclusive perks such as coddling by butlers, free breakfasts, complimentary pressings and shoe shines, complimentary evening cocktails, and access to the workstations and meeting rooms in the lounge. The hotel also features a comprehensive fitness centre and an open-air podium pool that catches a generous amount of sun. There is no signature CHI spa here (this is currently the preserve of the sister property at EDSA) but there are five rooms for all varieties of treatments and massage.
The hotel had a definite buzz about it and front office and guest-relations staff were on the ball. Sleek women in crimson would materialise from nowhere and guide you here and there. People reached for your bags the moment you stepped in. And that's the two best Manila business hotels for you. Well, just one now. Stately? Slick? Take your pick. And now the cool and contemporary Fairmont Makati has joined the fray, proving its mettle as a feisty competitor.
A Makati stalwart, indeed one of the original occupants of this prime stretch of Manila real estate, the InterContinental Manila, once offered easy access to commerce and recreation with its central location. It closed shutters in early 2016 as Ayala launched plans for a new mixed-use development for the site. Right next door is the Ayala Center, a large commercial establishment complete with theatres, shopping and dining. The hotel's age was sadly all too apparent in the inherited grey concrete cinderblock that paled by comparison to its more illustrious neighbours.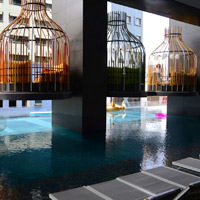 I'M Hotel pool with birdcage loungers/ photo: Vijay Verghese
Pressing on along Makati Avenue past The Peninsula and just past P Burgos (the nightlife strip) you'll pass the competent City Garden Hotel aimed at business travellers, the more appealingly priced three-star St Giles Makati with pool retailing for around P1,800 with discounts for direct bookings. Just on from this budget bunch is the new sleek black and gleaming I'M Hotel (December 2016), which brings a gentrified spirit to this steadily remodelling district with compact five-star elan and a cheeky sense of fun. Step into a hushed dark black marble lobby with pin pricks of light picking out sofas.
Silhouettes of guests and their assorted hi-tech gadgets are etched in blue against a herringbone wall with the large illuminated letters - I'M. There's a hint of W Hotel in its aspiration, a sense of whimsy, no more keenly evident than at the second floor swimming pool (and Mermaid Bar) with quirky 'birdcage' seats suspended above the water, all set on a perilously narrow walkway. The pool itself is open on one side to let in breeze and building views, and features a peekaboo acrylic bottom so make sure you have your haute couture Vilebrequin swimmers on before stretching out for a lap here as pedestrians below can gaze up and check the price tags.
The hotel offers 434 understated neat rooms including 182 larger suites with kitchenettes and dining set-ups. A Classic Studio (about P6,000 with breakfast) serves up a cool stone floor entrance alongside a compact marbled toilet with a power shower, toiletries, vanity mirror, and louvred blinds. The bedroom is neat and unfussy with wooden floors, a neat white bed with tautly-stretched linen, silver-blue cushions, a large window divan, wall mounted flatscreen TV, iron, electric kettle and various sundries for a business traveller on the go.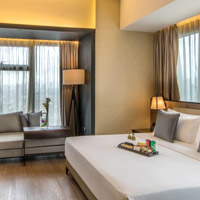 I'M Hotel room/ photo: hotel
The bar array with soft drinks and Coke is complimentary - one time. Gadgets can be easily plugged into two three-pin electric sockets at either side of the bed. The large tactile room switches are a doddle and do not involve rocket science as at so many hi-tech establishments. In many ways, I'm Hotel is simple and functional, built to facilitate rather than impress.
Yet there is much to impress, from the large One Bedroom Executive Premier Suite (that retails for around P9,600) with its electric stove, fridge, and water faucet, with excellent views all around over the city - Mandaluyong and Bonifacio Global City; to the six-floor 3,800sq m I'M Onsen with its Japanese mineral baths, steam rooms, wellness treatments and aromatic flourishes. Is this a spa hotel trapped in a business suit or the other way around? You decide. In any event, it's playfully distracting, friendly, and efficient. The vews from several higher floor rooms are exhilarating. Also find modern Chinese dining at Empress Jade, international all-day options at Bloom, and a street-fronting cafe for a chilled evening beer. A shuttle bus takes guests to Greenbelt 4 for a spot of shopping. This is an emerging mini-business-district at one extremity of Makati with traffic snarls at peak times but it has style and service - and deals - that give a good return for your dollars. Well, I'M in...
The 141-room Discovery Primea launched 15 February 2015 smack on the business artery of Ayala Avenue right next to tumultuous shopping and, yes, some leafy green belts. Close by The Peninsula, this is a smart residential style construct with equal appeal for business travellers, leisure trippers and those hunting for new corporate meeting venues in Makati. Long-stay guests or road warriors on the fly can opt for 40sq m Business Flats with LED televisions and Nespresso for a steaming cup of Joe mornings.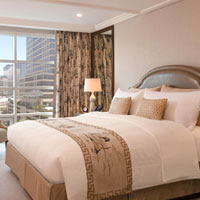 Discovery Primea suite/ photo: hotel
This is really a suite arrangement with a living room in corporate cream tones with cool wood underfoot. A 53sq m Business Suite serves up more stretch space with a 40-inch flat-screen TV and iPod docks. Executive Suites go up to 74sq m while The Primea Premier offers 200sq m of rumpus room in warm beige tones with a king-size master bed and a twin arrangement in an adjoining room. A fully set up kitchen completes the mix. Fast WiFi is available throughout the hotel. Discovery Primea promises to be a swish address for suits and is one to watch as it cranks up the volume.
A rebranded address close to the Greenbelt action is the 595-room New World Makati Hotel (formerly the Renaissance Makati City Hotel, Manila). This highrise tower is just a few steps away from restaurants, shops and bars. Everywhere you turn you'll encounter a slew of upscale designer brands and local fare. The hotel (renovating till early 2013) offers executive services like a Business Centre with Internet, fax, and secretarial backup. There are nine boardrooms for corporate meetings and a pillar-free 675sq m Grand Ballroom for a more lavish event. Also find a fitness centre, open-air pool, and the Marahai Spa for an after-hours rubdown.
Superior rooms start at 34sq m and come with Broadband Internet (charged), iron and ironing board, coffee and tea-making facilities, satellite TV, marble bathroom with separate shower cubicle and bathtub and that all-essential hairdryer. Executive Club Deluxe rooms have irons and ironing boards, long work desks and the usual mod-cons including a 37-inch LCD TV, weighing scale and, usefully, complimentary Internet access.
In-room colours are brighter with burgundy and gold bed-runners enlivening the ensemble. Guests also have access to the Executive Club Lounge with its breakfasts, afternoon teas and cocktails. One-Bedroom Suites offer more stretch room at 48sq m. This used to be a less-pricey choice among Makati business hotels with a good location offering quick access in and out of the area without getting snarled up in the legendary Manila gridlock. For some, this may be a minus as there are a few roads to cross before hitting the central Quad. Greenbelt shopping and eats are closer.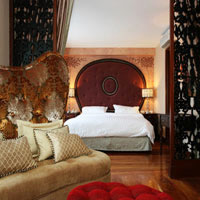 Celeste suite/ photo: hotel
Just a block away is a charming addition to the Makati family on the corner of Makati Avenue and Pasay Road. The Manila boutique hotel, four-storey Hotel Celeste is home to a mere 25 Renaissance-inspired rooms and suites. Designed with a French twist and a hint of Filipino flavour, the hotel is unlike anything else in the city. Each room has its own character, with hand-picked antique furniture and hand-painted wall details, crafted with great care.
Deluxe rooms start at a slightly snug 25sq m, and feature free WiFi, wooden floors, feather duvets, LCD TVs and in-room safes. The bathroom is a bit tight, but the white marble, rain shower, and L'Occitane products make up for that. Suites are much more spacious, measuring 60sq m and offering a large living area with an antique daybed, a dining area with high-back chairs, a small but well stocked kitchen, and a bigger bathroom with a deep tub. No matter the room type, expect a variety of timeless furniture and varying colour palettes. For a memorable and intimate stay in Makati, Hotel Celeste is among the best boutique options.
Forty-year veteran Mandarin Oriental Manila was a staid but solid choice on the outskirts of the Makatu hubbub, becalmed with business traveller currents moving towards the guest-rich neon-lit central business area. The hotel closed its doors end 2014 and the marque will return 2020 in a posh new 275-room in the heart of Makati as part of a mixed-use development.
Around the corner from Raffles and part of the throbbing Glorietta shopping bustle with direct access, is the breezy Holiday Inn & Suites Makati, a lively New Age product with free WiFi, glass almirahs stacked with decorative vases, high ceilings and huge scenic windows at its fourth-floor lobby. Expect great sunsets (before the new crop of buildings rise up). Think grey slate stone, comfy mod seating and an atmosphere where families and business travellers will feel quite at home. This product shares little DNA with its distant American cousins. It is good value and with a terrific downtown location next to shopping that attracts an international clientele. So much so, prices are steadily climbing, lowering the gap with its five-star neighbours.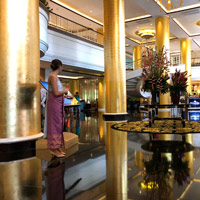 Dusit Thani Manila, Makati and its signature gold pillars/ photo: Vijay Verghese
There are 348 rooms, including 16 suites. A regular 32sq m room provides a small desk with media port with two three-pin multi-plug sockets (one more by the bed), iPod dock, flat-screen TV, olive carpet, gold bed runners, pipe reading lights, an electric kettle, iron and board for crisp creases, a BIG laptop safe, and a compact washroom with power shower. Pillows offer a choice of soft and firm for demanding necks. There are five handicapped rooms with easy access and wide doors and, in-room, find both Bibles as well as indication arrows pointing to Mecca. This is a functional unfussy place with a brisk vibe for all stripes of travellers.
The 538-room Dusit Thani Manila is another old warhorse that has clearly had a shot of Viagra and is catching up briskly with the competition with a renovated gleaming black-marble lobby showcasing its soaring golden pillars. This is a foodie haven and you'll know so as soon as you step in and your nostrils start twitching. The hotel comes with 11 meeting and banqueting rooms equipped with modern apparatus and the ability to host gatherings of up to 1,000 guests. This is a popular Makati conference hotel with ease of access into and out of the area. The in-house fitness centre DFiT serves up 973sq m of exercise and sauna space, while the Devarana Spa is a rejuvenation hideaway.
The hotel has seven bars and restaurants that serve Japanese, Royal Thai, Italian and of course Filipino fare. No visit is complete without a visit to Thai-style Benjarong for some lip-smacking curry. In-room expect refurbishment touches including pastel brown furnishings, flat-screen TV, hairdryer and Internet. The Deluxe King rooms start at a smallish 28sq m with a Corner King at 45sq m.
Also in Makati, a bit away from the traffic and thrum of the central shopping and business area, the 179-room Berjaya Makati Hotel is a value proposition for executive travellers, modern, neat, unfussy and clean. The 31sq m Deluxe Rooms are well laid out with a work desk, TV and a comfortable queen-size bed. The scheme is enlivened by geometric silk bed runners, cushions, and brightly coloured head walls.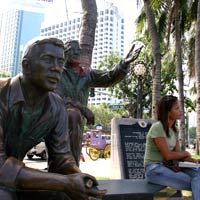 Roxas Blvd statues/ photo: Vijay Verghese
Expect WiFi and in room safes. Suites go up to 47sq m, which is a bit more stretch room, with the Two Bedroom Deluxe at 78sq m. Meeting rooms can handle up to 200 persons in the largest function area.
Just a block away, the 440-suite The A.Venue Hotel (formerly Best Western Plus Antel Hotel) is spread across three towers, with versatile business facilities, a basic fitness centre, spa and an inviting outdoor infinity pool and bar. Rooms are a bit snug – Studio Superior Suites start from 25sq m – but neutral hued decor provides a homey feel. For longer stays, try the one or two-bedroom suites, which have more living space, dining nooks and useful kitchenettes.
Makati service apartments and longstay hotels
The Picasso Boutique Serviced Residences in Makati (run by Hospitality Innovators Inc that also manages the Azumi Boutique Hotel) is near Greenbelt in a converted and renovated old building that now pops with verve and colour. For a start, each balcony is kitted out with bright mod art somewhat akin to a giant Andy Warhol. Rooms may have melon or blue walls, plain cream or black-and-white chequed floors, with stylish slimline work tables and flat-screen televisions. Expect a function room, gym, WiFi Lounge and small spa. This is one for your diary if in search of a fun long-stay Manila hotel in a good area of Makati.
The 30-storey twin tower Ascott Makati (formerly Oakwood Premier apartments) is right smack in the middle of the Ayala Center and the Glorietta 4 shopping mall. Its 306 apartments include studios, one to three-bedroom residences and penthouses. Make use of Broadband access in each apartment at US$20 per day or go Wireless in the public areas. Long-staying guests may also avail of special rates. Expect an outdoor pool, two outdoor tennis courts, spa and massage rooms. In-room facilities include TV, fridge, microwave, toaster, cooking range and coffee machine.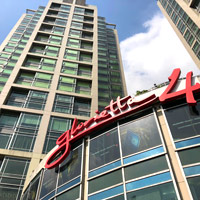 Ascott Makati behind Glorietta 4/ photo: Vijay Verghese
Other Makati service apartments and Manila longstay options include the Ascott's sister properties, Somerset Olympia Makati and Somerset Millenium Makati. Close to The Peninsula, Olympia is the cheapest of the two. It's in an excellent location, though cabs are not the easiest to come by on Makati Avenue at peak hours. Though the apartments are spacious, homey and clean, the property is due for an upgrade. A facelift is in the pipeline. One-bedroom apartments come with a semi-stocked kitchenette, a living and dining room, complimentary bottled water, WiFi at a price (and, frustratingly, only for one device), a large in-room safe, daily breakfast at a choice of two restaurants (Old Swiss Inn being the better option), and solid security. Perhaps the property's most redeeming quality is the perpetually friendly staff.
The 146-apartment Millenium is another mid-range option, though newer and more modern in design. The property lies in a more residential neighbourhood and has a hands-off feel. Despite the lax supervision, don't even think about throwing a party. Strict guidelines in the lobby warn social butterflies to lay low. Expect an inviting lap pool, gym, and lounge facilities. Rooms house a mix of dark and blonde woods with sophisticated beige, brown and black colour-schemes, fully equipped kitchens, comfy couches and WiFi for a price. The Ascott family has christened two new hotels, Ascott Bonifacio Global City and Citadines Salcedo Makati, too. Both were operating by end 2016.
A quality option for a Makati service apartment is 89-room Fraser Place Manila, near Salcedo Village. Expect well-appointed residences with jet pools and multi-point showers, TV with DVD hook-up, Broadband, hairdryer, large refrigerator, microwave, cutlery and iron with ironing board. A handy feature is all apartments come with a maid's room and toilet. There is also an open-air pool, a play area for kids, a wading pool, gym, and business centre for the dads. Internet is complimentary with most packages.
Alabang, south of Manila
Azumi Boutique Hotel is a good long-stay choice/ photo: hotel
A fun choice in the Alabang district south of Manila is the Azumi Boutique Hotel with charcoal tones, grey chairs and a contemporary yet classic flair with photos on the walls and lots of vases and porcelain lined up along the bookshelves. A woody and bright A Villa room serves up just over 67sq m of rooming space with timber floors and large scenic windows, a "garden" balcony leading to the lap pool, and a minimalist interior with microwave oven and other mod-cons for a long stay retreat. Next to the lobby at the ground floor is a pastel-tone nail spa with Persian carpets covering pale stressed wood flooring. The hotel is within Madrigal Business Park. Mark it down as a stylish choice for this developing southern zone. It is owned and managed by Hospitality Innovators Inc.
A crop of budget hotels
Oxford Suites Makati, located close to P Burgos Street – Makati's red-light row – offers convenient access to the city's business district, plus its more playful nooks. This is a useful Makati budget hotel of sorts with in-room cable TV, mini-bar, safe, Internet access, WiFi in the lobby, business centre, coffee shop and function rooms. Smack on P Burgos is the Citadel Inn Makati with in-room cutlery, kitchenware, fridge, mini-bar and a swimming pool on the sixth floor. The hotel even has a small business centre. A studio here will set you back just around P1,900. WiFi is available (charged per day) and the front desk has a safe to store your valuables. The area is teeming with restaurants from Japanese and Korean to Thai, Chinese and American.
A reasonably cheap Manila budget hotel is the gleaming Makati Palace Hotel. It is brash, loud, in the centre of P Burgos, and better appointed than its simpler neighbours. You can get rates of around P1,950 here or lower, depending on the season.
Colourful Picasso serviced residence/ photo: hotel
There is a swimming pool, gym, business centre and complimentary shoeshine on the Royal Executive Floor. This is one of those tawdry over-the-top establishments you won't mind using for the cheap room rate but you'll need to don shades when you step out lest your friends spot you and have you arrested.
For those flying in for a budget weekend, it doesn't get much cheaper than Saint Illian's Inn in Makati. Its deals (for about US$45) can conjure a smile upon the most hardened faces, and the place is smack in the middle of everything. All the basic requisite comforts are available – Cable TV, shower with hot and cold water and air-conditioning.
Paramount's clean and comfortable 21-room Salcedo Suites at LPL Manor have air-conditioning, cable TV and fridge and start as low as around US$48.
A notable addition to the Makati budget scene is the 512-room St Giles Hotel, on the edge of Makati's 'red light' district. The place is a steal if you don't mind the location – about a five-minute cab ride to Greenbelt, and well within walking distance of evening amusements, such as Ringside Bar, where shameless travellers can catch a round of midget boxing and share a booth with relentlessly affectionate young women.
Don't expect five-star amenities, but the clean, modern hotel has solid security, friendly staff, a sky-deck pool with spectacular city views, and a hearty breakfast spread. The rooms are simple, but perfectly functional. Expect electronic key card entry, in-room safes, clean bathrooms and a 32in flatscreen TV. WiFi is complimentary for only one device, which can be frustrating if you're travelling as a couple. Rates here are low, starting at roughly P2,000, but likely to increase with more exposure.
Fort Bonifacio Global City area hotels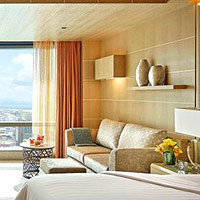 Shangri-La at the Fort, airy views and space / photo: hotel
Given the popularity of the Fort Bonifacio shopping, dining and fun district not far from Makati, hotels have been quick to gobble up plots. Bonifacio Global City, or BGC as it is locally termed, is a business satellite, a firm favourite with multinationals. Posh residences and gleaming office towers are sprouting everywhere.
The first hotel to mark its territory here was the 243-room F1 Hotel Manila (2012, formerly a Best Western). Though the ground-floor entrance is a bit cramped and confusing, friendly and attentive concierge staff will greet you on the fifth floor.
The skyscraper is modern in design, with abstract sculptures throughout, crimson walls, and dark grey furniture. In the 25sq m to 35sq m superior rooms, expect hardwood floors, large safes, a 32-inch LCD flatscreen, coffee and tea facilities, iPod docks, free WiFi, walk-in showers, a complimentary breakfast buffet, and electronic locks. F1 has been overtaken by grander addresses in this area.
The Shangri-La at the Fort Manila (opened early 2016) is a gleaming mixed-use LEED-certified highrise tower with the conference area neatly segregated across the driveway in a separate block with its own entrance for boisterous conventioneers.
The hotel is splendidly positioned to cater for banks and financial institutions - many with offices in the area - and the upcoming Philippines Stock Exchange is a skip away. Step into the cavernous and pleasingly minimalist high ceiling lobby with its soaring white pillars and signature chandelier to be greeted by the welcoming Shangri-La scent.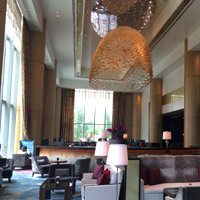 Shangri-La at the Fort, High Street Lounge with its signature chandelier/ photo: Vijay Verghese
Past this elegant museum-like marble slathered hall - not quite as intense with the bling and gold as at some other Shangri-Las - is the High Street Lounge with its unique orange 'cloud' chandelier and grand piano for jazz of an evening.
The 576 rooms in a contemporary cut - think pale wood tones, cream, and large 48-inch flatscreen TVs plus complimentary WiFi - offer generous space and start at a minimum 45sq m with sweeping city views and vistas.
For longstays in Manila there are 97 residences ranging from 90sq m to 124sqm (up to three bedrooms), with dining rooms, living areas, and kitchenettes for a self-contained experience. The Shangri-La's 46 suites offer top line amenities - with the added luxury of a butler - while four specialty suites up the ante further. All rooms feature lap-top friendly safes. The Horizon Club Lounge is on the 40th floor.
This is a Muscle MICE hotel and makes no bones about this with a mammoth 1,650m pillarless grand ballroom that can accommodate up to 1,200 people banquet style in various combinations. Keep an eye on this smart Shangri-La offering as a Manila conference hotels pick for large flashy events, gala weddings, or corporate meetings.
The 8,000sq m Kerry Sports hopes to fill the fitness vacuum in the area and other distractions at the hotel include a pool, and a range of cuisines from Chinese to burgers.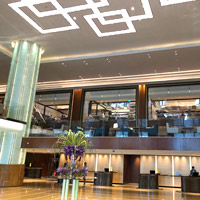 Grand Hyatt minimalist lobby at BGC/ photo: Vijay Verghese
All in, this is a great address for business travellers as well as leisure trippers with that signature Shangri-La feel from the Czech blown-glass floral chandelier in the spacious lobby, to the echoing marble. The grand views in all directions will not disappoint - and also help in plotting traffic snarls and fastest routes, so there's a plus to parking a little out of Makati.
Another newcomer for business travellers as well as those shopping for Manila long stay residences, is the smart Ascott Bonifacio Global City Manila at the 5th Avenue Corner at 28th Street.
The Grand Hyatt Manila (end 2017), is a two tower construct in Bonifacio Global City with the 66-storey office block housing the 461-room Grand Hyatt on the uppermost 25 floors of the MetroBank Financial Center. Expect lavish meeting facilities, fitness, spa and vast open views across this fast-developing zone and beyond. Look for its signature China House for Chinese delicacies, the Grand Kitchen for an international selection, and the Cellar. The Grand Ballroom and salons offer versatile Manila conferences space with grand views to match. The neighbouring 45-storey Grand Hyatt Residences serve up 239 plush units with fast elevators, marble and timber finish.
The lobby is minimalist, dark, and very corporate with high angular glass columns, a geometric pattern light design across the ceiling, low black stone water features, and a small floral arrangement that perhaps struggles to hold the floor at times. The hotel will hit its stride mid-2018 as more facilities and rooms come on line. Rooms (standard from 48sq m and deluxe at 51sq m) serve up rich wood walls with burnished interiors reminiscent of a luxury yacht or a clubby hotel of yore.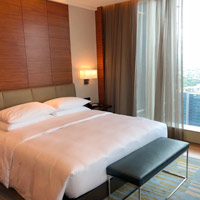 Grand Hyatt room, woody old world/ photo: Vijay Verghese
The decor is a throwback to the good old days of executive privilege with wooden flooring, full length windows welcoming of light and views, flatscreen TV, powder blue carpet under the bed, tan divan, a square corner table, and a small walk-in dresser.
The white marble bathroom offers a bathtub with a view, twin vanities, rainshower, a well lit mirror, and a sliding partition that is translucent. Not for the reticent. The room is homey in an old fashioned way but a minor niggle for business travellers will be the lack of electric sockets around the room. There are none in the vicinity of the bed though the light controls are tactile and easily managed. Two three-pin multi-plug sockets are available at the corner desk with USB ports and this should suffice for all but the most hardened gadget freaks.
An attractive feature at this hotel is the sixth-floor alfresco pool, vast, blue, sun-drenched, and kept at roughly 28C. Find a Jacuzzi too as well as a nice Garden Pavilion with small lawn for functions and romantic events.
The understated Seda BGC (December 2012) is a functional and friendly address in Bonifacio Global City with 179 rooms offering quality four-star accommodation, free WiFi and a small outdoor pool. There is a gym and a bit more muscle when it comes to meeting space with versatile arrangements to expand and contract event areas.
Expect a brisk business hotel with a few playful features - like the steel wire giraffe and internet enabled iMacs in the lobby, and the breezy rooftop Straight Up bar with unrestrained views. Rooms are a comfortable 45sq m and a high-floor Club Lounge caters for executive guests with cosy seating and flowing nibbles and drinks.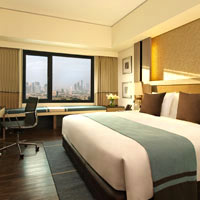 Seda BGC king bed/ photo: hotel
A Club Room offers a faux wood floor with carpeting, beds with gold runners, blue easy chairs, two three-pin multi-plug sockets by the work desk data-port (and two-pin sockets either side of the bed), flat-screen TV, power shower (no tub) and a safe for a 13-inch notebook. Roomier Suites come with a kitchenette, faucet, microwave and larger bathrooms with bathtubs. Expect two flat-screen televisions.
Underscoring BGC's importance, by early 2016, an additional Shangri-La was in operation, with a Grand Hyatt (due fourth quarter 2016) , Ascott long-stay residences, and boutique property Cocoon part of the mix.
Manila business hotels and leisure stays
First off, figure out where your work is. As the crow flies, Manila (the Roxas Avenue area along the seafront and the government offices) and Makati (the business and financial hub) are just a few kilometres apart. But as the car travels – especially at peak time – a commute can be a test of patience and skill. Plan ahead. Manila business hotels are varied though this area tends to also attract a leisure crowd.
Find the large and modern 376-room New World Manila Bay Hotel (formerly the Hyatt Hotel and Casino Manila) in the upper Malate area. With four levels of casino space (one exclusively for foreigners), 123 gaming tables and 626 slot machines, this is one of the largest facilities for high-rollers. The contemporary state-of-the-art ballroom offers 6,763sq ft of flexible space that can handle a 700-person reception. Not surprisingly this is a hotel gunning for MICE business. For the uninitiated, this means meetings, incentives, conferences and exhibitions. At Club Oasis guests can enjoy spa facilities, a fitness centre, sauna, hot and cold plunge pools and a 25m lap pool.
New World Manila Bay room/ photo: hotel
The Residence Club offers business travellers all the little extras and personalised service. In-room there's a work station, flat-screen TV, a DVD and CD player and Broadband access. Rooms are bright and airy on account of the extra-high ceilings and large glass windows that create a nice sense of space. Bathrooms are well lit and welcoming, with rain showers.
Pastel wallpaper mutes the contemporary in-room tone contrasted by bright cushions and textured fabric that adds Filipino spice. For dining expect Li Li for Chinese with Cantonese accents and The Fireplace grill room with a selection of over 800 fine wines. Nothing like a bit of wine to get the gaming started. The exterior is a rather bright mustard yellow that may not be to everyone's taste but the interiors are crisp and modern. This is among the top Manila business hotels in the area.
The New World Manila Bay is part of a cluster of three hotels that will catch your eye. This is where you'll find the gracious Diamond Hotel Philippines (formerly Manila Diamond). The Diamond's bars and restaurants have won numerous accolades and service is crisp with a smile. Its rooms are fashionably European in taste and style – they offer a smart environment with luxury trim and silk cushions. All rooms have Broadband Internet access charged per hour or day. WiFi is free in rooms and public spaces for the first three hours, but after that, expect to shell out. This 27-storey hotel offers great views along Roxas and across the bay. End-of-day wind-down options include the outdoor pool, a massage at Diamond Spa and perhaps a sauna to slough off that daytime Manila muck.
The Pan Pacific Manila is a contemporary hotel adjacent to Robinson's Mall. All rooms are equipped with free high-speed Internet connections, and a CD player. Rooms offer hypo-allergenic bedding for the extra-sensitive,a TV you can view from the bathtub, and 24-hour butler service.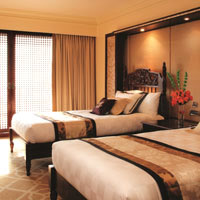 Manila Hotel/ photo: hotel
There is a business centre, several function rooms and a grand ballroom. All three hotels in this area stake their claim to being the best Manila conference hotel choice and, with the Philippine International Convention Center and the Cultural Center of the Philippines, or CCP, across Roxas Avenue, this is perhaps something to heed if business brings you to this area.
The cheaper Bayview Park Hotel is on upper Roxas Boulevard not far from the stately but ageing Manila Hotel that has been home to just about every head of state and celebrity that's ever visited The Philippines. This goes back all the way to Douglas McArthur and right up to Michael Jackson. Experience hoary Philippines hospitality, old world furnishings and decor, and creaking waiters at the 570-room Manila Hotel. It was for a while overrun by conventioneers and general onlookers keen to snap the chandeliers and pose for weddings but is reclaiming some of its earlier poise and pride with a revamp. Internet is available and there's WiFi in the lobby.
Rooms are spacious and warm, with latticed dark wood, mother-of-pearl details, floor-to-ceiling windows, and Filipino artwork. In honour of the hotel's Grand Centennial (2012), all guest rooms have been revitalised with newly upholstered furniture, wallpaper and carpeting. Expect some tech-savvy touches as well, such as a fancy room-key entry, 40-inch LCD TVs, ambient lighting, and pop-up international plugs. The pool, wet bar and buffet restaurants have enjoyed updates as well. Worth a look-see and useful if you are visiting on government business.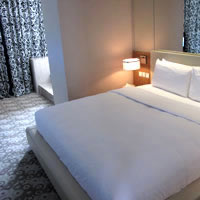 H2O rooms are minimalist/ photo: Vijay Verghese
Despite a great build-up the Hotel H2O is a somewhat disappointing addition to the Manila Bay sweep. Design is dreamy and quirky – in some cases, huge aquarium tanks full of neon-lit jelly fish float beside your bed – but the bizarre location, smack in the middle of Manila Ocean Park jammed with tour buses and overrun by screaming schoolchildren, is enough to crimp anyone's style. Taxis can be hard to come by as well. More so as this is a high-end design offering not really aimed at families. That said, head up a distant lift to the third-floor lobby to be greeted by friendly, welcoming staff.
The 128 rooms and 19 suites are minimalist and on the cosy side. Standards start at 24sq m, while the loft-style suites are more spacious. The décor is lightwood and pastel and many rooms offer HUGE views out over the bay, especially corners. Bedrooms are pleasing with flatscreen TVs, and notebook-size safes. In some, you can watch fish scuttle by as you soak in a long bath. Suites are split-level with high glass windows, black-and-white furnishings and a Jacuzzi with a view. All rooms offer a complimentary minibar and free WiFi. Later stroll down to the boardwalk of the bay-facing White Moon Bar.
At the edge of the old city stands The Bayleaf Intramuros (November 2011). This addition to the walled city marries old and new with a traditional, colonial facade and contemporary interior design. On your way in, expect to battle swimming schools of students. Security is not over-imposing and once inside, the ambience is more relaxing. The stylized lobby sports perfectly placed greenery, backlit walls and modern seating. Every floor has a different colour palette – lime green, zesty orange, fresh teal and a juicy plum – based on paintings by none other than the owner's aunt.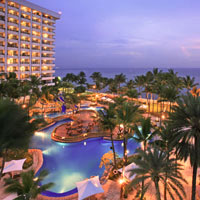 Sofitel poolside and slides/ photo: hotel
The tallest building in Intramuros (legally, no one can stack higher), the 57-room Bayleaf offers stunning 360-degree views of the fortress walls, Manila bay and nearby golf course. Though the mood changes from room to room, all standard rooms come with funky textured headboards, large desks, free WiFi (for one user), free parking, complimentary buffet breakfast, big safes, and spacious all-white bathrooms with mother-of-pearl accents and full body column showers. For now, the hotel remains relatively inexpensive. This is a fresh face in a unique location.
Along the mid-point of Roxas Avenue is the Hotel Jen Manila (formerly Traders Hotel Manila) by Shangri-La with views of Manila Bay, an outdoor pool, fitness centre, club accommodation for executive guests featuring 36sq m rooms with high-end furnishings, free WiFi, satellite TV, and writing desk, and a Club lounge with flowing refreshments and cocktails. Regular in-room Broadband is complimentary, but WiFi is charged per hour or day.
Also on Roxas the G Hotel Manila by Waterfront was a mouthful of a name for a small friendly property, but it is no more. Nearby are the now closed Admiral Hotel and a useful, pretty clean, Manila budget hotel option, the Aloha Hotel. Don't expect too much here but all the basics are available for about US$60 a night.
For one of the best Manila conference hotels, secluded, resort-style and by the bay, take a look at the Sofitel Philippine Plaza Manila, once a concrete relic from the Marcos years, now a revitalised bit of real estate humming with French flair and artistry. Check out their popular buffets at Spiral looking onto generous gardens and open ocean vistas. Heralded as the largest buffet in Asia, Spiral has rebounded from 2011's crippling flood with expanded outdoor seating and an even more expansive spread.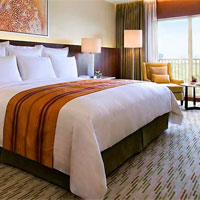 Manila Marriott/ photo: hotel
Upstairs, Le Bar offers a more clubby, leather-chair experience. The 609-room Sofitel is geared firmly towards the business traveller and conventioneer though over weekends it caters with aplomb for Filipino families enjoying an outing.
Sited right next to the Philippine International Convention Center, guests attending conferences and meetings at this venue need only invest in a three-minute walk to the site. Otherwise, Sofitel's meeting rooms can accommodate an array of set-ups, with the largest holding up to 2,000 guests. A 42sq m Superior room is kitted out in pastel tones with pale gold bed runners and burgundy trim. There is a regular classic-face clock, a generous work desk with ergonomic chair, SONY flatscreen TV and a DVD player. Rooms are minimalist and simple but bright. Expect free WiFi throughout the property, in-room coffee and tea facilities, an iron and ironing board, a notebook-size safe, a compact bathing area with shower (no tub) and hairdryer. Some rooms have been redone with small see-through glass partitions separating the bedroom and bath. Many offer private balconies looking onto Manila Bay.
The Sofitel Suites are a generous 84sq m with large king-size bed called "My Bed". Of course! All of these rooms have balconies a reclining sofa and a long work desk with three sockets including two that are multi-pin. For the bathing area expect twin vanities, and a bathtub with shower. The large living room serves up another 46-inch TV and a second work desk. Get a rubdown at the iridescent Le Spa, make use of the hotel's putting greens and driving range, work out on the all-weather floodlit tennis courts, try your hand at petanque, jog, or avail of the Kinesis cable machines in the lime green, 24-hour SoFit fitness centre.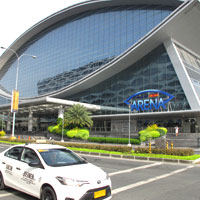 SM Arena by the Bay/ photo: Vijay Verghese
A large free-form pool is set in gardens overlooking the bay. It includes a children's area and small water slides. Not far from here is the cruise departure area for Corregidor Island, an interesting side trip for the road-weary.
And yes, getting to Makati or back from here during peak hours is well nigh Mission Impossible. At other times, it's a 15-minute breeze. In-room Internet is available free for three hours and then charged. All in, this is a good Manila child-friendly hotel.
Not far from here the 450-room The Heritage Hotel Manila, once a sprightly smart option, popular with business travellers, and deemed to be conveniently equidistant from the airport, the bay area and Makati, has evolved into a non-entity in the middle of nowhere. The only view you'll get from here is of traffic and belching jeepneys. At night, the girlie bars take over across the road with loud karaoke music and blaring disco.
The minimal security at the door is perhaps fortuitous for the ladies working late shifts at the dance clubs nearby. Internet is available at a small charge per day. Facilities include a pool and fitness centre. The refurbished Millennium Club rooms offer a better sanctuary with views of Manila Bay and the city. There is a small casino too. Millennium Hotels and Resorts who operate this establishment have many excellent hotels in their stable. Heritage, unfortunately, is not one of these. An advantage of sorts to this location is its proximity to the Mall of Asia, one of the biggest anywhere. Shop till you drop.
Casino hotels Entertainment City, airport area Newport City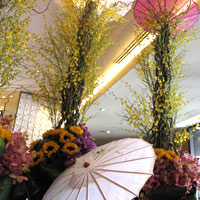 Japanese-style Nobu's umbrella display at the lobby/ photo: Vijay Verghese
While the question on gamers' minds is, "Are Manila casino hotels safe?" security has been ramped up with sniffer dogs and metal detectors.
Right across from Terminal 3 in Newport City (Pasay) is the former Resorts World Manila (tel: [63-2] 908-8833) that rebranded to Newport World Resorts (July 2022, www.newportworldresorts.com/), an integrated entertainment, gaming, and casino hotels complex. The casino re-opened soon after the 2 June 2017 incident when a lone gunman stormed the casino, setting it on fire. He was "not a terrorist" said officials. As many as 37 people died of smoke inhalation. There's also a Games Zoo, equipped with arcade games sure to tucker out the kiddies, a 3D theatre, Broadway-style musicals and several halls of high-end shopping. In the hotels grouping here are the luxury Maxims Hotel, the Marriott Hotel Manila, and the Remington (by early 2018 rebranded as the Holiday Inn Express Manila Newport City). Some of these - but not Marriott - have their snout right in the new elevated skyway snaking out from the airport, so be careful with expected views.
Right across Ninoy Aquino International Airport on Andrews Avenue facing Terminal 3 is the gleaming new Sheraton Manila Hotel (www.marriott.com/sheraton-manila-hotel/) with 393 rooms including some lofts and some deluxe rooms with private gardens.
Maxims, run by the Genting Group is an all-suite affair with 172 keys. Glide up the butterfly-lined escalators to get a feel for the bar and restaurant options, or whoosh up the elevator straight to the private lobby, where the black, grey and red decor and abstract splattered paintings could make Victoria Beckham feel underdressed. The scarlet hues continue into the hi-tech rooms, where you can expect a retractable 42-inch HDTV with wireless keyboard, fog-resistant mirrors, a rain shower, free WiFi, kitchenette, touchpad room service menu, 24-hour personal butler service, welcome fruit, complimentary breakfast for two, and an adjoining massage room.
To make up for the lacklustre panoramas, the city-view suites include wide patios complete with steamy Jacuzzis and dark wicker furniture. The hotel facilities include an infinity pool surrounded by cabanas, fitness centre, spa, cinema, theatre and mall. Parking is free. For something even more upscale, there are three villas and the 600sq m Presidential Suite.
Neighbouring Remington Hotel - by early 2018 rebranded as the Holiday Inn Express Manila Newport City - is much friendlier on the wallet and offers 623 rooms and 89 serviced apartments. The 21sq m rooms are fairly compact, with two queen beds, 32-inch TV and en suite bathrooms. WiFi is free, but conveniences like a hairdryer, phone calls and parking are available for a small fee.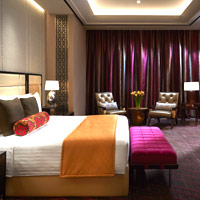 Solaire's lavish Sky Suite/ photo: hotel
The 342-room Marriott Hotel Manila, a mid-rise city-resort complex. Its location close by the airport offers quick access to the casinos and gaming of the July 2022 rebranded Newport World Resorts (formerly Resorts World Manila) as well as the 18-hole Villamor Golf Course. View this then as a Manila casino hotels choice, a family getaway, or simply a multi-purpose business traveller address. In-room expect Internet access, 40-inch hi-def TV, a good array of food and beverage outlets and the Quan Spa. For conference-planners there's the Grand Ballroom and nine meeting rooms for assorted functions.
A newer entrant is the Hilton Manila (early 2018) on Newport Boulevard with Hilton Serenity Beds, 50-inch flat-screen televisions, WiFi, and rain showers. Executive rooms on the 11th floor have modestly more open views with 40sq m of stretch space, walk-in closets, laptop-friendly safes and access to the club lounge. The hotel is close to Terminal 3.
Meanwhile, with 4,522sq m of meeting space, the Okura Manila (late 2019, also within Newpoer World Resorts) is no slouch when it comes to Manila MICE and conference hotel picks. There is versatile function and event space with three ballrooms – the Golden Ballroom in the Pearl wing can host up to 300 in a 502sq m space.
Look at the Glass Ballroom, and the Grand Ballroom (1,955sq m). This is destined to be a premier self-contained Manila conference hotels address and not just for suits - it is gunning for weddings too and small corporate meetings. Meeting rooms for breakout sessions feature high ceilings and 50-inch LED televisions, enough to make any CEO roll in delight on his high-thread-count linen.
Farther north heading towards Pasay City at the tip of the airport along the NAIA Highway (a short stroll from Newport Mall) is the contemporary Savoy Manila Hotel for suits and leisure trippers. The hotel serves up a whopping 684 rooms and suites ranging from an awfully compact 21sq m to a roomy 50sq m. Expect bright furnishings, large floor-to-ceiling windows, pale pastel woody floors and colourful paintings punctuating the walls. The hotel has a bright and welcoming feel. Close by is a pedestrian walkway linking up with T3. Listen up business travellers. Can't get any better to beat the traffic.
Tossing some chips into the Philippines gambling scene in the general area of the fast-developing Entertainment City north of the airport district, is Solaire Resort & Casino (March 2013), which has become one of the more successful Manila casino hotels products by far. Security is sharp and alert but not intrusive. Security patrols scan corridors and gaming areas while closed circuit cameras whirr overhead. Things are as safe as could be. Located on the largely deserted coast of Manila Bay on Solaire Boulevard, this relative newcomer houses 500 rooms, suites and villas, as well as a whopping 15 restaurants and a Grand Ballroom that can accommodate up to 1,000 guests for a sit-down dinner.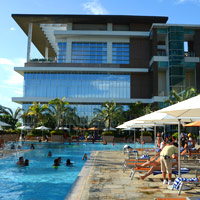 Solaire's sea-fronting pool/ photo: Vijay Verghese
And now there's the new Sky Tower to match the Bay wing. Pick a classic Bay Club Room or splash out on an opulent Sky Tower Suite with its shocking purples, flashes of pink and earth tone pastels. A large living and dining area accompanies the bedroom with large grey sofas and a huge 55-inch flatscreen TV on the wall to complement the one in the bedroom.
Think complimentary WiFi (of course), 350 thread-count bed linen, L'Occitane toiletries and a 19-inch in-mirror TV in the bath for some real soap opera indulgence.
The resort's Bay suites – ranging from 600sq m to 1,000sq m – are outfitted with Jacuzzis, flat-screen TVs, hi-tech controls, and bay views. The jewel in the crown? An 18,500sq m casino with 1,200 slot machines and 6,000sq m of VIP gaming salons.
This is a large, contemporary all marble and crystal affair with a grand lobby with gaming facilities immediately behind it. Two marble lions - rather similar to the HSBC pair - sit watchfully at the entrance. Service is brisk and friendly. Another top Manila casino hotels pick for your high-rolling diary.
Solaire is also equipped with versatile space for everything from small corporate meetings to larger MICE and conference events, weddings and gala banquets. A vast menu of F&B awaits guests. If not sunning at the excellent outdoor seafronting swimming pool, relax at the Sky Tower's sun-drenched Oasis Garden Cafe or Waterside, sample Chinese, Japanese, Korean, Taiwanese, or Western, or park at a vantage point near the iconic crystal statue at the Dragon Bar in the Bay wing looking over the expansive gaming area. Celebrating its fifth anniversary, April 2018 sees the addition of 'Dinner in the Sky' with hoisted platforms, sunset views and a unique spectacle for diners.
The casino does brisk business and a well planned and priced food court does its bit to keep gamers and families satisfied. Luxe travellers may dabble in their spare time at The Shoppes with its designer brand shopping retail collection.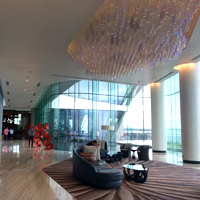 Conrad lobby fronting the bay with its huge sunsets/ photo: Vijay Verghese
The open area is going to develop fast as fresh money sees the take-off for Japanese-funded Tiger Resorts' Okada Manila (see below).
Farther up along the Bay is the mid-rise Conrad Manila (opened 1 September 2016), with its curving ship-bridge architecture. This is a distinctive structure close by conferences and exhibitions space with a direct airbridge into the SMX Convention Center. The SM Arena is around the corner. Conrad sits atop the S Maison high-end retail mall facing the bay and actually offers close-up sea views unlike other resorts set farther inland (except for Solaire). It also fronts a nice lazy promenade down which a peloton of cyclists might whizz by of a morning. Its a fine spot for jogging and the general manager leads the way with his nocturnal pavement pounding.
The airy lobby is welcoming of light, running in creamy curves with lofty white pillars and a 'cloud' chandelier. The feel is pleasingly minimalist, devoid of clutter, with ample space for guests and conference-goers to find their way around without bumping into each other. An outdoor bar verandah looks over the bay and the entertainment - a ferris wheel and other paraphernalia for kids and families. The free-form pool is in a spacious courtyard setting, alfresco, just in from the lobby (through which it has views of the sea) on a raised stone plinth with timbered decks and lounge chairs. Expect a luxe spa, extensive MICE facilities including a pillarless grand ballroom (catering for up to 1,000 guests ) and the fourth-floor Veranda for jogging through the greens and open event space.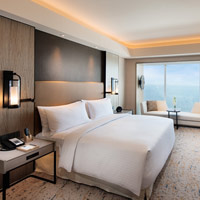 Conrad Bay View Deluxe King/ photo: hotel
The 347 rooms with 42-inch HDTVs, WiFi and espresso machines, start at 40sq m with a Bay View Executive "intelligently" switching on the lights as you enter. Decor is in cream and tan pastel with pale wood cabinets running in smooth curves. The bathroom is somewhat compact but neatly set up with a rainshower (with hydrotherapy jet) and a well-lit mirror. This is MICE and conferences hotel with a tilt towards families too and perhaps this consideration eliminated the peek-a-boo bathrooms de rigueur elsewhere. It makes the rooms more homey, neat, and comfortable with the black trim running along pale wood adding a classy touch.
Find a smart digital clock, two three-pin multi-plug sockets by the bed and two more by the desk, nice brass reading lights at either side of the bed, USB port, ergonomic chair for late-night office catch-ups, speckled carpets and, best of all, pillow menus - pick from Japanese igusa grass or buckwheat or kapok cotton or sink-your-head-in goose down.
The area is deceptively calm mid-week and can turn into a frazzle of activity and traffic come the rains or a weekend as Manila residents head to the Bay in search of 'staycations'. Consider Conrad as an Entertainment City mainstay.
A tad secluded from all this, the vast, smooth gold caramel custard Okada Manila (December 2016 casino preview with a July 2017 grand launch for the hotel) is setting the tone for Manila casino hotels and gaming with a slew of food and beverage outlets, a humungous casino decked out in signature plum - or blushing indigo, take your pick - luxe rooms, a hip indoor beach club, and acres of designer brand shopping.
The casino and its tucked-together magenta drapes soar to the ceiling above vast chandeliers - conjuring blushing visions of looking up an immense haute couture skirt - under which high rollers spin, ponder, and shell out. This mini-destination is set in 44 hectares and, of an evening, serves up vast curtains of dancing fountains to quicken the pulse with dreamy light shows. But this is no large, impersonal abstraction.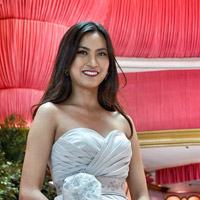 Okada Casino hostess/ photo: Vijay Verghese
Walking into this enormous 993-room casino hotel – it has 1,400sq m Grand Villas too – with its cheerfully plum interiors, you'll be greeted by long-limbed hostesses in flared white gowns, all flashing incandescent smiles, as performers play below tall pink columns crowned by gathers that soar to the ceiling, adorned with faux gemstone inlays. It's part One Thousand and One Nights fantasy, part Las Vegas extravaganza, and quintessentially Filipino. There is a bustling vibe to the place. Expect HUGE smiles and a warm welcome with, of course, the obligatory canine once-over and a metal detector gate.
Rooms in the Pearl Wing (closest to the casino), have a decidedly feminine flavour with a clean white-and-powder-pink palette that Barbie would kill for. A Deluxe Room (offering a standard design blend) weighs in from 55sq m to 74sq m with padded plum fabric headwalls, checked pink carpets, cream chairs, curved white bedside cabinets with two international three-pin plug sockets, a large wall-mounted flat-screen swivel TV, marble work desk, and large wall mirrors all leading straight into the bathroom with its circular Jacuzzi, twin vanities, rose-veined marble floor, rain shower cubicle (with steam room features and a marble bench) and an electronic Japanese potty that rears up to greet you and do your bidding at the touch of a button.
The data-port at the desk has two more three-pin multi-plug sockets, two USB sockets and an HDMI connecter for those who like to watch their media on a big screen. The Coral Wing, for business travellers lies in a separate wing beyond the casinos with rooms in more muscular earth tones with gold hues and, perhaps, a more indiscriminate flavour when it comes to gender.
The dining areas - Japanese, Korean, Chinese and Western - are on either side of the cavernous casino, set farther back so as not to intrude.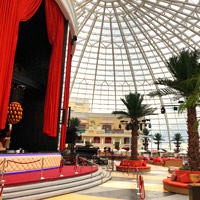 Cove Manila at Okada, indoor beach club and party venue/ photo: Vijay Verghese
Here, among the 21 outlets, you'll find Medley the all-day dining area followed by gleaming retail stretches leading to the Cove Manila (covemanila.com/), a unique indoor beach club with a pool and a split level nightclub with cabanas and snuggeries for romantics and swimmers (yes you can swim and not get sand between your toes as the 'beach' was sensibly eliminated). Cove is a vast event space for parties, events, launches, company gatherings or even weddings. Tall crimson curtains surround the bat cave dancefloor at one end of the glass dome that encases the area including the pool where the sunset drinks session is a popular draw. No entry fee. Pop in, plonk down and enjoy. The later nightclub door charge is P1,000-P3,000 depending on the performers. Also think a pampering Spa with spa gardens, gym, 1,000sq m Kidzone, and Fitness Centre, and swimming pool.
With its mid-rise reflective gold-glass hotel towers, neatly enfolding a rectangle garden 'courtyard' of manicured lawns, walks, and vast swimming pools, City of Dreams Manila has something for everyone. It provides a 6.2 hectare international retail and gaming mini-Las Vegas stretch. This is a three-in-one development with an odd 'stockade' entrance and a hard-to-miss gold 'Easter egg', incorporating the businesslike Hyatt, the Japanese-accent Nobu, and the luxe NUWA (rebranded from Crown Tower in 2018).
The hotels mark the rim of the complex with the common areas in between incuding the below-ground gaming areas - vast spaces for all manner of casino vacation grabbers - and a busy kids' corner at the UG Level for DreamPlay complete with Shrek and other DreamWorks characters. This is a bonanza for children and students and adults will need to accompany a child to enter. There is an admission fee.
Hyatt City of Dreams - unfussy, functional/ photo: Vijay Verghese
Hyatt City of Dreams, Manila (January 2015), serves up 365 rooms, a fitness centre and pool along with easy access to nightclubs, and DreamPlay, a family entertainment venue - a first from Dreamworks. Despite external appearances this is not a MICE hotel for mega meetings but more a business traveller and leisure tripper escape. Expect a sizeable pool with a wading area for kids, a 24-hour fitness facility and The Salon for the latest in stylish hair snips and settings. Rooms, from 35sq m to 85sq m, are contemporary and unfussy, if entirely functional.
In a 50sq m Club Room (exactly the same as the Deluxe, but with added perks), expect 42-inch flat-screen TVs and dark woody tones, russet carpet, tan leather chairs and classic lampshades with a twist. There's an iPod dock from UBL with a 'lightning' connector for iPhones and two three-pin multi-plug sockets either side of the bed. The small work desk serves up another two three-pin sockets. No dearth of charge up options here. The silvery metallic walls enhance the corporate feel of this very minimalist construct. Also find a flat laptop safe, a hairdryer, iron and ironing board, large bathing area in grey marble, a huge deep scalloped basin for vigorous teeth-brushing, and a rain shower.
Local beer from the minibar will set you back just P200 and international frothy will be P250. Not too pinching at all. This hotel ticks off all the right boxes without the flash and glitz of its glamorous siblings. The hotel is around 10 minutes from the airport, depending of course on the vagaries of Manila traffic. Distractions in the area include SM Mall of Asia (SM Malls), World Trade Center and the SMX Convention Center.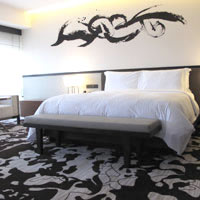 Nobu Suite/ photo: Vijay Verghese
At COD Manila there's the additional allure of the Nobu Hotel from no less a personage than film celebrity Robert de Niro. The 321-room Nobu offers boutique Japanese accents - a far cry from the common casino hotels melee - in a hip setting. The lobby features umbrella and floral arrangements and long-gowned hostesses glide across the floors with beaming smiles. A 42sq m to 46sq m Executive King serves up a mottled choc-and-beige carpet, a simple brushtroke sweep for the headwall, Mt Fuji photos and black-and-whites in small clusters as you might encounter at a Shibuya home and a a few graceful arcs of wall-mounted pink orchids. There is a fresh laundered white bed with a tan sofa facing a 55-inch flat-screen TV. If this is not enough, contemplate the pack of six 350ml bottles of mineral water - a hugely generous inclusion in a city where your clothes will cling to your back anytime you step out for the most modest of exercise. As at the Hyatt, expect a solitary deep cream basin, black-tile cubicle for a white tub and hand and wall shower (no overhead rain shower).
The Nobu Suite is 68sq m of hushed Japanese decor with similar zen minimalism, Nespresso servings, and silvery walls (provided by some amazing woven grass). A minor niggle is the exceedingly narrow 'desk' if one can call it that, and an easy chair that is far too low to allow you to tap on a laptop. There are no plug points save for one under the desk. However, the chances are you're here to roll the dice and not fret over office accounts, so... More entertainment will be had at Nobu bathrooms mastering the electronic Japanese potties that whir and beep and rear up as you approach. Another Japanese touch is to be found in the drapes that lower down like rice-paper screens to create a warm atmosphere. Also find 'Ikaati' premium tea, comfy sofa, iron and ironing board, in-room laptop-friendly safe, and handicap accessible features.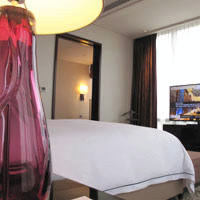 NIWA Suite (formerly Crown Towers)/ photo: Vijay Verghese
The hugely upscale NUWA (rebranded from Crown Towers in 2018 ) is the high end of the CoD trio. Unsurprisingly, it is slathered in marble, rich textures, and gilt with a sense of hushed privacy. Unlike with the other CoD hotels, the casino area is partially concealed and arrival is discrete. The 36sq m Resort Studio in the Resort Tower serves up Bay views, free WiFi and plug-in internet and body-soothing linen.
The plush 119sq m Premier Suites offer more of the same along with Ferragamo toiletries, butler service, 55-inch flat-screen TV, iron, and an ergonomic chair for tired backs Expect rich earth tones, 300 thread-count linen, and darkly handsome interiors with geometric-patterned carpets. Crown accommodations are brighter than at Nobu and Hyatt with a more airy feel. The Premier Suite offers a spacious living and dining room (with yet another humungous wall-mounted TV), kitted out in sober but rich tones, goldy hues and oddly bright mod art that will appeal to some but not all campers. The olive-beige carpet stretches into the bedroom with its plump inviting bed flanked by two stylishly pink blown glass lamps, all facing a 55-inch TV behind which the vistas stretch across the as-yet undeveloped bay. There is one three-pin multi-plug socket at either side of the bed as well as a pair on the wall.
The pale yellow wall fabric is simple and classy adding heft without too much heave. The toilets are the piece de resistance. Find a large walk-in closet, a dresser with triptych mirror, twin vanities (rectangle straight line basisn this time), soaking tub, rain shower and a regular potty unaided by digital prompts. It is an orderly and inviting construct, classic but not over the top as you might expect at a luxury casino hotel. The work desk is a propert set-up for suits with a leather finish and two three-pin electric sockets.
The lobby too is a gleaming marbled hushed affair with tall pillars and modern art carvings. NUWA is very much a corporate retreat as well as a high roller den but can effortlessly double up as a leisure escape (baby-sitting requires 'prior appointment'). Now you know. Casinos and shopping are all close at hand.
Ortigas, long-stay hotels, serviced apartments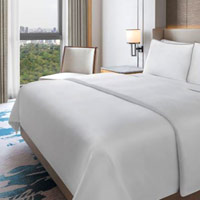 The Westin Manila in Ortigas CBD, cool pastels and big views/ photo: hotel
The Westin Manila (www.marriott.com/) launched March 2023 in Mandaluyong City (better known for its Ortigas CBD), marking a substantial return to the Philippines. The 303-key 32-sotrey hotel includes 57 suites, all with the trademarked sink-in Heavenly Bed and big views across overo the Metro Manila skyline. Expect the de rigueur workout space, a spa, access to shopping malls, jogging routes, and healthcare and, of course, 1,063sq m of function and meetings space. The Sonata Ballroom offers wedding planners a full LED screen wall. F&B includes a thoughtful eat well menu (for kids too) so watch those calories, pump iron, and enjoy this new getaway for work or pleasure, 25 minutes from the airport.
In this fast developing business and commercial district, the 263-room Crowne Plaza Manila Galleria offers a smart product with outdoor pool, gym, spa, business centre and Internet at P900 per hour. Check out the Red Corner fitness club. It is also called the "boxing club" and if your boss has been particularly curmudgeonly you can choose your martial art and have a go. Feel better?
The Kiddie Corner will take care of tiny tykes and the Robinson's Galleria Mall next door has a Toys R Us. The linked 285-room Holiday Inn Manila Galleria (formerly the Manila Galleria Suites) offers pool, gym and spa, with a published rate starting at P7,600, though seasonal specials will be cheaper. Both these properties are located near Ortigas Center.
Stay for one day or one hundred days at Oakwood Premier long-stay serviced apartments in Ortigas, along ADB Avenue, 30 minutes from the airport. Located within the Joy-Nostalg Center, Oakwood Premier offers 230 apartments with fully-equipped kitchens, lounge space and all the facilities you would expect in a five-star hotel.
This includes pool, free Broadband access, children's play area, room service, fitness centre, and full business and meetings facilities. Studios start at 41sq m with the three-bedroom suite stretching over 182 sq m, each bedroom with its own en suite bathroom. Décor is modern but homey with enough TVs to keep screaming kids, wives or bosses at bay. Among Manila long-stay hotels, Oakwood stands a cut above with an official "deluxe" rating.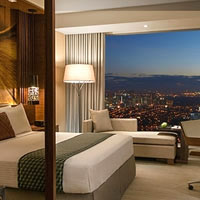 Marco Polo Ortigas/ photo: hotel
The purpose-built 316-room Marco Polo Ortigas, Manila (July 2014) offers contemporary no-fuss rooms for business travellers, kitted out in pastel earth tones with goose down beds, and also Continental Club Rooms with butlers in attendance, flowing canapes and tipples in the club lounge, and a free suit pressing on arrival.
Expect complimentary WiFi, Nespresso machine, marble soaking tubs and a rain shower for a refreshing apres-work back pummel. This is a good choice for brisk meetings and functions with a fair bit of event space. The largest ballroon can host 320 cocktail style.
Adjacent to two major shopping centres (Megamall and Shangri-la Mall), the top dog in the Ortigas area is unquestionably the 632-room Edsa Shangri-la Manila, which provides easy access – when traffic is flowing, of course – to any part of Manila via its main artery, the Epifanio De Los Santos Avenue (or EDSA).
Its alluring CHI The Spa has 3,000sq m of treatment suites, body scrub rooms with heated floors and relaxation lounges.
Although the brand tends to channel the spirit of the Himalayas, it does feature locally-inspired treatments using banana leaves, coconut milk and indigenous herbs. As far as the rooms go, the Tower Wing superiors start at 34sq m with a Premier going up to 46sq m. Edsa Shangri-La is among the more sought after Manila conference hotels for big to small meetings.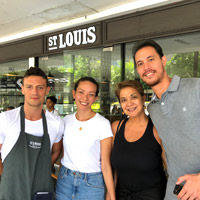 Some of the team (and friends) at the excellent St Louis at BGC. Pop by for coffee, cake, ice-cream or a nibble/ photo: Vijay Verghese
The Discovery Suites complex is a premier all-suite serviced apartment building in the heart of the Ortigas business district and it is well worth a look. It has all the trappings of a business hotel with the comforts of home. Rooms come with complimentary unlimited Internet access, pay-per-view movie channels, a fully-stocked kitchen and local daily newspapers. It has a busy feel and attracts a mixed clientele.
The Astoria Plaza Hotel is strolling distance from Megamall, Shangri-La Plaza, and Robinsons Galleria while Makati is 30 minutes away by cab. In-hotel amenities include a spa, health centre and a beauty salon. The hotel's two-bedroom suites come fully loaded with everything including a kitchen. The Richmonde Hotel, also at the Ortigas Center, is a bit more upscale. The rooms all come with Broadband Internet access, cable TV, a personal safe and a data port for fax and data modems. Internet usage and a buffet breakfast can be thrown in for a small fee.
Budget hotels and pensions
Paramount's Atrium Hotel in Pasay offers comfortable rooms with mini-bar, IDD telephones, cable television, and a bathroom with a bathtub and a handy hair-drier. This is not a budget hotel but a limited service value hotel that offers online rates from as low as US$44 or better.
Malate Pensionne located on Adriatico Street in Malate, is for budget travellers who want to stay close to the action. Rates are low but bottom-feeders can crawl down to about P375 for a dormitory-style set-up. Both fan-cooled and air-conditioned rooms are available at cheap rates and an air-conditioned room will start at P1,000 (US$19).
For international standards and comfy beds try Red Planet Hotels (formerly Tune Hotels) in Makati and other locations with rates from P2,000 and up.
Getting around Manila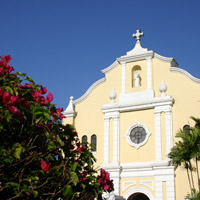 San Antonio church beckons/ photo: Verghese
Moving about in Metro Manila isn't terribly challenging, though you will want to keep an eye on taxi drivers out to make a fast buck. Availing of hotel transport is considerably more expensive than just walking out of the lobby and flagging a street cab.
Most areas of direct interest are about P100-P150 from the Makati area. Make sure your driver turns his meter on – some will conveniently "forget". Rush hour can be maddening so do bear this in mind.
The Manila-Makati cross town could take over an hour-and-a-half if you're unlucky, or a typhoon is sweeping into town. Or you could cross in 15 minutes using the new Skyway. Also, when in doubt, get your hotel to book a Grab taxi. There are also three metro rail systems that make life a bit, if not a lot, more convenient. The MRT or Metro Rail Transit travels the length of EDSA, a major artery that runs through the length of the city. There is a stop near the Dusit.
Manila shopping is fun. No doubt about that. But, while selections are vast, well presented and engaging, prices are often higher than in Hong Kong or Singapore. Malls are conveniently clustered together for ease of access. Pick from a crop of titans - from the SM group (Mall of Asia - more in lower paras - and SM Aura Prestige in BGC) to Ayala's novel kilometre-long Bonifacio High Street that serves up a 'Main Street' experience with a continguous broad swathe of green packed with fun sculptures and family distractions, Market Market, and Uptown Bonifacio (by Megaworld) in the fast developing Bonifacio Global City close by the Grand Hyatt, the site of the old fort and now a teeming business district. The area is simply referred to as BGC or 'The Fort'.
The seamless stretch of modern and classy Greenbelt malls (from Ayala) showcases Makati designer brand shopping at its best. These offer a tad more class and quiet, and feature a variety of upscale designer fashions for that Manila shopping binge. Pop into BVLGARI, Hermes, PRADA or Marc Jacobs. Browse outlets like Firma (tel: 757-4009), which does jewellery and Panama hats from Ecuador at P4,500 up and its sister outlet ac+632 (tel: [63-2] 758-2564) with a wild assortment of funky accessories and home décor (pick up a pearl-handled walking stick for P2,500). Also arrived at Greenbelt 3 is the South Korean cosmetic chain, Etude House with its ever popular face masks and hydrating lotions.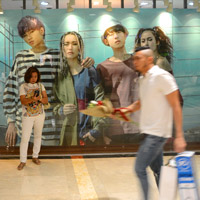 Makati shopping at Glorietta/ photo: Verghese
Also available are outlets from Balenciaga, Banana Republic, Zara, Bijou, Bratpack (for American oversized and tough-wear gear), Adora (bags and clothes), Marks & Spencer, Levi's and Nike. Next to Greenbelt Four is the Ayala Museum with its popular Philippine history dioramas. Moving through Greenbelt Five and beyond the shopping gets even more diverse. Expect Steve Madden bags and shoes, sinequanon, Calvin Klein jeans and underwear, Breitling, Chopard, Omega, Rolex, Patek Philippe, a huge Adidas, Gola (bags) and La Senza for sexy lingerie.
Stop by Soumak Bed 'n Beddings (tel: 757-3914) showcasing a range of bed linen from the Philippines. At The Landmark find hordes of people pottering about the bargain shopping displays. The Glorietta complex, or "The Quad" at the heart of the Makati shopping action has everything from Nautica to Marks & Spencer, eats, junk food, and lots of distraction for kids.
Pick up women's shoes for P800-P1,000 and assorted clothes. The newer Glorietta 5 stands alone with a clutch of fun pubs and restaurants, a tad more upscale than the central Quad. Next to the Shangri-La in Makati, 6750 Ayala houses top-end European brands and designs. Next door, at Rustan's you'll find fragrances and jewellery.
A good place for a long afternoon's trawl is the Galleria-Megamall-Shangri-La cluster. This group of malls is readily accessible via the MRT. From your hotel, it will be more convenient and expeditious to take a cab to the nearest station – Taft Avenue for those in the Manila Bay area and Ayala for those in Makati.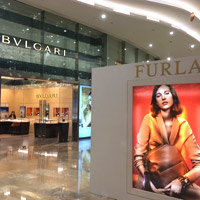 Makati designer brand shopping at City of Dreams/ photo: Vijay Verghese
The ride to Shaw Boulevard station will take about 13 minutes from Ayala station and 16 minutes from Taft station. The fare is a staggering 11-13 pesos. North Avenue Station is about 22 minutes from Taft, and costs around P15.
You'll find just about everything you want for your Manila shopping binge at these three malls, from the familiar to the downright funky. Shopping for things to bring to the folks at home? Check out Tesoro's (tel: [63-2] 887-5550) on Arnaiz Avenue for traditional Filipino handicrafts, Balikbayan Handicrafts (tel: 893-0777) also on Arnaiz Avenue for more of the same with a bit more woody flair, and Silahis (tel: 527-2113) in Intramuros for antique furniture and trinkets.
Megamall's department store has even more offerings in terms of local goods. All three malls have the usual accoutrements, and health and beauty stores like Watson's and The Body Shop have the best selection in terms of skin care and therapy products.
Greenhills, is a Manila shopping centre a five or ten-minute cab ride from any of the three malls. Various stalls selling every kind of merchandise are all housed under one roof in air-conditioned bliss giving the shopper a flea market experience minus the dust and heat. Recent years have seen an explosion in the shopping centre's growth. What was once a mere supermarket and an odd collection of clothing stores has grown into an all-in-one shopping centre replete with cinemas and a fine selection of menus to satisfy every palate. At Greenhills you'll find everything from exotic South Sea pearls to cheap garments, mobile phones and electronic accessories.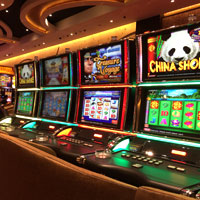 Try your hand at the slot machines at CoD / photo: Vijay Verghese
Depending on the quality, a string of pearls will set you back about US$20-$80. The trinket stores are all side by side making for extremely competitive pricing. Prices can be obscenely low. Like any flea market, haggling is not only acceptable but expected but not in the higher end stores. Purists can head to the old quarter of Intramuros and its antique shops like Galeria Ida Antique.
Up north you'll find TriNoMa, another massive addition to Manila's collection of malls. It's easily accessed by the MRT, which has an entrance that connects directly to the mall. The train ride takes about 12 minutes from the Ayala station in Makati. The mall itself is shaped like a large lopsided triangle, which makes navigating its environs a bit of a challenge. But if you're patient enough, you'll find everything you could possibly fancy. Kids can go to the local Toys R Us, mums can check out a few designer bags, while dads can get their fill of gadgets ranging from electronic shavers to the latest model mobile phones. Mall hours are from 10am to 9pm.
The Mall of Asia (www.smmallofasia.com) is a must-see. It's perhaps the largest mall in Asia, and is built on a huge patch of reclaimed land, south of Roxas Boulevard by the Bay in the Pasay area. Moving around requires a bit of legwork but there's a competitive selection of latest-season goods from high end to middle range. Expect to find Nautica, TopMan, Osh Kosh, Barbie, Esprit, Geox, Kid's Republic, Mango, Guess, Skin Food and U2. You get the drift. The mall also has the only IMAX theatre in the country. Also expect a skating rink and occasional big-name music concerts. The best way to get to the mall is by cab. Mall hours are from 10am to 10pm. SM Malls are all over the city and anew one has sprouted at Bonifacio Global City, the BGC SM Aura Premier.
That's Manila shopping in a nutshell. What's the catch? Well, you'll have to brave the crowds on the weekends and you don't even want to contemplate a visit during the Christmas holidays. This is gridlock like you've never experienced.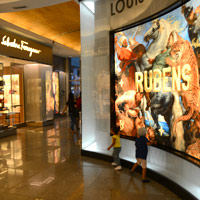 Manila shopping is pricey (for brands) but fun, Greenbelt Louis Vuitton/ photo: Vijay Verghese
Aforementioned Bonifacio Global City, or 'The Fort', is another up-and-coming shopping centre, with inviting lawns, outdoor seating, fountains, modern sculptures and a mix of local and international brands. The grounds are quite clean and security is ubiquitous, with guards on each block. Find brands such as MUJI, Gap, Beauty Bar, Nine West, Calvin Klein, TopShop, United Colors of Benetton, Aldo, Forever XXI, Lush, and many more coming soon.
Of course dining and nightlife
Whatever your taste or pleasure, Manila dining offers something for everyone. The latest area to catch the citizens' fancy is Bonifacio Global City, about a 10-minute drive from Makati without traffic, past the splendid San Antonio church to the broad greens, condominiums, and restaurant areas. Anchoring High Street, Market! Market! is an outdoor shopping and recreational hotspot that worth a look. Surrounded by live music, you'll find an array of local delicacies, souvenirs, fresh fruits and plenty of quick-hit food stalls, but more upscale dining options await across the street.
Heading west onto High Street, the area's pedestrian-only shopping and dining artery, look for places like Red Kimono (Japanese), Hossein's Persian Kebabs (a Manila stalwart, with a terrific upstairs outlet and a "sheesha" hubble-bubble bar near P Burgos too as well as a swish Gilak by Hossain at Greenbelt), Caffe Puccini (Italian), Trio Italian Bistro, Prince of Jaipur (Indian), Sentro (Filipino) and Pier One Bar and Grill (seafood in a pirate shack – or ship, maybe). Definitely make time for St Louis (www.facebook.com/stlouishighstreet/), a relaxed pit stop for coffee, cake, ice-cream, dessert or fast - but fine - nosh as you watch people go by.
Drawing all kinds of attention from those in the know is neither a bar nor restaurant, but rather, a museum. A modern science outpost run by the Bonifacio Art Foundation, The Mind Museum (opened 2012, www.themindmuseum.org) is a hotpot of activity. Stop in to catch one of its more than 250 interactive exhibits, explore its five galleries or wander into one of its alfresco "Science-in-the-Park" events.
At the Ayala Center in Makati, a row of restaurants span Italian to native Filipino fare. A meal for two at most of the establishments here will cost about P1,800 (US$43). At Greenbelt make time to visit Café Bola, where Filipino food is served with panache. Try its "sinigang" (boiled pork in a sour soup) and "tuyo" (dried herring) for a decidedly Filipino experience. MyLK, another Greenbelt restaurant, serves a kaleidoscope of dishes centred on the concept of comfort food.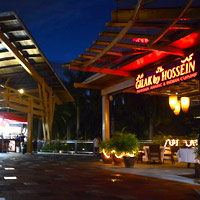 Greenbelt 3 Makati outside Gilak by Hossain restaurant/ photo: Vijay Verghese
Other Greenbelt 3 offerings include Gilak by Hossain (Persian and Indian kebabs and spices - pick the verandah dining option, about P1,000 per person without wine), Banana Leaf (lower priced Malaysian, Thai and Indian curries), the intimate St Marc Cafe (for dessert and inovative pastas), and the prawn fest Bubba Gump.
If you're in Quezon City, check out Mario's Restaurant (tel: [63-2] 415-3887). The food is a mix of Mediterranean and Asian, with options such as a cold-cut platter and shrimp chilli pasta.
Try the oysters Rockefeller with spinach hollandaise sauce and angel hair pasta with black olives. Complement your meal with a choice of wine from the fine cellar. Popular for coffee and cakes too. The restaurant is located on Tomas Morato Ave.
Illustrado (tel: [63-2] 527-2319), housed in a rebuilt turn-of-the-century house in Intramuros, offers Spanish and traditional Filipino fare. There's an excellent menu coupled with an extensive wine list. Try their paella and "adobong usa" (venison cooked in vinegar and soy sauce). The restaurant features a separate coffee shop with freshly prepared pastries. Barbara's (tel: 527-4090) offers a Spanish-inspired setting. It's fairly romantic and seafood is the order of the day here.
For Spanish, there's Guernica's where the menu is strictly traditional. The dishes are heavy on olive oil and garlic and the restaurant's trio of musicians serenade tables. Guernica's is located at Jorge Bocobo Street in Malate.
Manila nightlife is second to none and the partying goes on into the wee hours. The Hard Rock (tel: 893-4661) comes to life at about 10pm. Happy hour starts at 9.30am and ends at 7.30pm, making it perhaps one of the longest "hours" anywhere. Forget that siesta – get happy instead. Café Havana (tel: 757-4370) is located in both Greenbelt in Makati and Malate, and has a reputation for wild drinking and dancing. The bar hopping scene is centred mainly on two locations: Libis in Quezon City and Malate in Old Manila. A bottle of beer will set you back about P150-P300, depending on how snazzy the place is. Meanwhile Grappa's brews its own beer and offers an interesting selection of flavoured beer in addition to an excellent menu.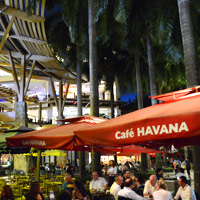 Cafe Havana is a Greenbelt stalwart/ photo: Vijay Verghese
Should you find yourself up in Quezon in the evening, you may want to check out SeventySeven Café Bar and Resto (tel: [63] 917-940-8384). With a homey, '70s throwback feel, this family-run business presents relaxed alfresco dining.
The cosy restaurant downstairs serves its chicken parmigiana and crispy pita and has a decent selection of white and red wines.
Testosterone-crazed Alpha Males will head for the beer and bawdy ruckus of places like P Burgos Street and Malate, where skimpily-clad ladies coo from neon-lit doorways, urging the purchase of an overpriced drink in a noisy establishment.
Girlie bars around P Burgos Street with names like Flamingo, Rogues, Dimples, and Ivory beckon, and continue to do so until 4am while touts outside offer Viagra or Cialis (if they haven't ended up in body bags). You'll be offered the Viagra regardless of whether you're 20 or 70. That's a lot of drinking, and partying. Regular priced beer is cheap (happy hour is cheaper) though your cooing companion's drink will be double opr triple whatever you're sipping.
Send us your Feedback / Letter to the Editor
FAST FACTS

/ Hotel Contact List

Exchange rate: The Philippine peso is at roughlyUS$1 = P55.25.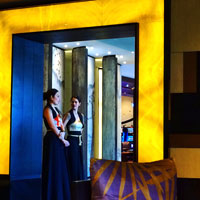 City of Dreams Nobu lobby/ photo: Vijay Verghese
Check Web rates: Visit hotel websites for updates on special rates and promos. Always check with your travel agent or online for the Best Available Rates (BAR). Several hotels offer a best rate guarantee and prices will fluctiate depending on season. Summer months from June to August or September are the best for discounted rates. Often room rates do not include taxes, which range between 10 and 13 percent.
In general, a Makati five-star hotel will range from P10,000-P14,000 low season regular to club (with best rates averaging P8,000); a four-star from P4,500, and a quality budget hotel P1,500-P2,800. Guest houses are cheaper.
Guides & websites: Get a copy of the Metro Manila Street Guide at a local bookstore. Remember to take the metered cabs rather than the hotel variety that charge more for the same service. And always insist on using the meter. A comprehensive Philippines government website with useful information and pictures is www.wowphilippines.com.ph.
Fort Bonifacio Global City hotels
Ascott Bonifacio Global City Manila. (www.the-ascott.com).
F1 Hotel Manila. Tel: [63-2] 928-9888, fax: 928-1888, (f1hotelmanila.com).
Grand Hyatt Manila. Tel: [63-2] 838-1234, (manila.grand.hyatt.com).
Seda BGC. Tel: [63-2] 945-8888, fax: 945-8891, (www.sedahotels.com/bgc/).
Shangri-La at the Fort Manila. Tel: [63-2] 820-0888, fax: 865-3800, (www.shangri-la.com).
Makati business hotels and service apartments
Ascott Makati. Tel: [63-2] 729-8888, fax: 755-8188, (www.the-ascott.com).
Berjaya Makati Hotel. Tel: [63-2] 750-7500, fax: 750-6783, (www.berjayahotel.com).
City Garden Hotel Makati. Tel: [63-2] 899-1111, (www.citygardenhotelmakati.com/).
Discovery Primea. Tel: [63-2] 955-8888, fax: 955-8889, (www.discoveryprimea.com/).
Dusit Thani Manila. Tel: [63-2] 238-8888, fax: 238-8800, (www.dusit.com).
Fairmont Makati. Tel: [63-2] 555-9888, fax: 555-9899, (www.fairmont.com/makati/).
Fraser Place Manila. Tel: [63-2] 818-1818, fax: 818-4222, (manila.frasershospitality.com).
Holiday Inn & Suites Makati. Tel: [63-2] 909-0888, (www.ihg.com/holidayinn/).
Hotel Celeste. Tel: [63-2] 887-8080, fax: 887-8088, (www.hotelceleste.ph).
I'M Hotel. Tel: [63-2] 755-7888, (imhotel.com/).
Makati Shangri-La, Manila. Tel: [63-2] 813-8888, fax: 813-5499, (www.shangri-la.com).
New World Makati Hotel. Tel: [63-2] 811-6888, fax: 811-6777, (www.manila.newworldhotels.com).
Raffles Makati. Tel: [63-2] 555-9777, fax: 555-9799, (www.raffles.com/makati/home/).
Solaire Resort & Casino. Tel: [63-2] 888-8888, (www.solaireresort.com).
Somerset Olympia Makati. Tel: [63-2] 812-1010, fax: 818-8254, (www.somerset.com).
Somerset Millenium Makati. Tel: [63-2] 750-7888, fax: 751-1111, (www.somerset.com).
The A.Venue Hotel (formerly Best Western Plus Antel Hotel). Tel: [63-2] 403-0888, fax: 403-0854, (www.avenuehotel.com.ph/).
The Peninsula Manila. Tel: [63-2] 887-2888, fax: 815-4825, (manila.peninsula.com).
Alabang, south of Manila
Azumi Boutique Hotel. Tel: [63-2] 869-9888, (hii.com.ph or azumi.ph).
Manila long-stays, Makati serviced apartments, budget beds
Best Western Oxford Suites Makati. Tel: [63-2] 899-7888, fax: 897-7900, (www.oxfordsuitesmakati.com).
Citadel Inn Makati. Tel: [63-2] 897-2370, fax: 897-2686, (www.citadel-inn-makati.com).
Makati Palace Hotel. Tel: [63-2] 899-0344, fax: 897-5050, (www.makatipalacehotel.com.ph).
Oakwood Premier Joy-Nostalg Center Manila. Tel: [63-2] 637-7888, fax: 706-777, (www.oakwoodasia.com).
Saint Illian's Inn. Tel: [63-2] 893-0754, fax: 812-1998, (www.saintilliansinn.com).
Salcedo Suites. Tel: [63-2] 893-2654, fax: 892-5322, (www.salcedosuites-makati.com).
St. Giles Makati Hotel. Tel: [63-2] 988-9888, fax: 988-9889, (www.stgiles.com).
The Picasso Boutique Serviced Residences. Tel: [63-2] 828.4774, (hii.com.ph or www.picassomakati.com).
Manila business hotels, leisure rooms, Roxas area, Manila Bay
Aloha Hotel. Tel: [63-2] 526-8088, fax: 521-5328, (www.alohahotel.ph).
The Bayleaf Intramuros. Tel: [63-2] 318-5000, fax: 318-5001, (www.thebayleaf.com.ph).
Bayview Park Hotel. Tel: [63-2] 247-9000, fax: 522-3040, (www.bayviewparkhotel.com).
Diamond Hotel Philippines. Tel: [63-2] 528-3000, fax: 526-2255, (www.diamondhotel.com).
The Heritage Hotel Manila. Tel: [63-2] 854-8888, fax: 854-8833, (www.heritagehotelmanila.com).
Hotel H2O. Tel: [63-2] 238-6100, fax: 238-6188, (www.hotelh2o.com).
Hotel Jen Manila (formerly Traders Hotel Manila by Shangri-La). Tel: [63-2] 523-7011, fax: 522-3985, (www.hoteljen.com).
Manila Hotel. Tel: [63-2] 527-0011, fax: 527-5348, (www.manila-hotel.com.ph).
New World Manila Bay Hotel. Tel: [63-2] 252-6888, fax: 252-6777, (manilabay.newworldhotels.com).
Pan Pacific Manila. Tel: [63-2] 318-0788, fax: 302-9501, (www.panpacific.com/manila).
Sofitel Philippine Plaza Manila. Tel: [63-2] 551-5555, fax: 551-5610, (www.sofitelmanila.com).
Manila casino hotels, Newport City airport area
Conrad Manila. Tel: [63-2] 833-9999, (conradhotels3.hilton.com).
Hilton Manila. Tel: [63-2] 239-7788, (www3.hilton.com/en/hotels/philippines).
Hotel Okura Manila. (www.hotelokuramanila.com/).
Holiday Inn Express Manila Newport City. Formerly Remington Hotel, (www.ihg.com/holidayinnexpress/).
Hyatt City of Dreams Manila. Tel: [63-2] 691-1234, (cityofdreamsmanila.hyatt.com).
Manila Marriott Hotel. Tel: [63-2] 988-9999, fax: 836-9998, (www.marriott.com/hotels).
Maxims Tower (Newport World Resorts www.newportworldresorts.com/). (www.rwmanila.com/hotels).
Nobu Hotel. Tel: [63-2] 800-8080, (www.nobuhotelmanila.com).
NUWA (formerly Crown Towers Manila). Tel: [63-2] 800-8080, (www.nuwamanila.com/).
Okada Manila. Tel: [63-2] 888-0777, (www.okadamanila.com/).
Savoy Hotel Manila. Tel: [63-2] 317-2869, (www.savoyhotelmanila.com.ph/)
Sheraton Manila Hotel. (www.marriott.com/sheraton-manila-hotel/)
Solaire Resort & Casino. Tel: [63-2] 888-8888, (solaireresort.com).
Manila budget hotels and pensiones
Atrium Hotel. Tel: [63-2] 552-0351, fax: 552-0180, (www.atriumhotelpasay.com/).
Malate Pensionne. Tel: [63-2] 523-8304, fax: 522-6626.
Red Planet Makati Manila. (red-planet-makati-manila).
St Giles Makati. Tel: [63-2] 988-9888, (www.stgiles.com).
Ortigas hotels and service apartments
Astoria Plaza Hotel. Tel: [63-2] 687-1111, fax: 910-0370, (www.astoriaplaza.com/).
Crowne Plaza Manila Galleria. Tel: [63-2] 633-7222, fax: 638-2927, (www.ihg.com/crowneplaza).
Discovery Suites. Tel: [63-2] 719-8888, fax: 719-6789, (www.discoverysuites.com).
Edsa Shangri-La Manila. Tel: [63-2] 633-8888, fax: 631-1067 (www.shangri-la.com).
Holiday Inn Manila Galleria. Tel: [63-2] 633-7111, fax: 634-9966, (www.ihg.com/holidayinn).
Marco Polo Ortigas, Manila. Tel: [63-2] 720-7777, (www.marcopolohotels.com).
The Eastwood Richmonde Hotel. Tel: [63-2] 638-7777, fax: 638-8567, (www.eastwoodrichmondehotel.com.ph/).
The Westin Manila (www.marriott.com/)