CITY GUIDE
Thrilla in Manila - 20 must-dos
A Manila fun guide for all reasons, from street shopping and food to saucy pool clubs, beer boltholes, trapeze flips, and cool art.
SEE ALSO Cebu resorts | Boracay resorts | Palawan resorts | Manila business hotels review | Hong Kong shopping | Singapore nightlife | Taipei nightlife | Bangkok shopping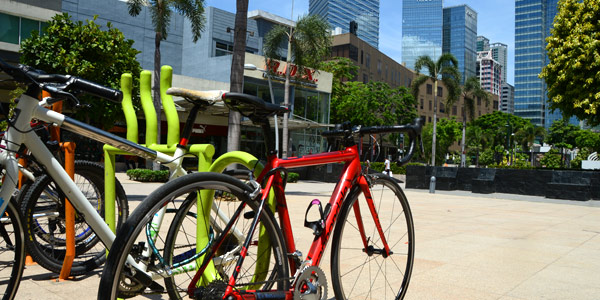 EVERYONE moans about Manila's fearsome traffic and gridlock, the sweat-drenched collars and importuning street children. Yet, they all leave with a smile, vowing to return. Manila is really no different from several Asian capitals but it is an absolute blast for two reasons – the city has genuine soul, and people speak English, with that endearing American purr on the 'Rs'.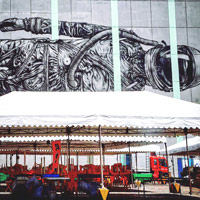 Trendy Bonifacio Global City (BGC) is great for strolls and offbeat snacks and shopping/ photo: Vijay Verghese
From street theatre to stage, from flying trapeze with the family to cultural asides in the museum, from legless bar tipples and lip-smacking street food to top quality art or quiet genuflection in an historic cathedral, the city has it all.
The Manila experience is hugely varied and suits all styles, tastes and pockets. You might enjoy the best of Provence at Mirèio at art happy Raffles Makati, fine dining at Old Manila at see-and-be-seen The Peninsula, or an afternoon's piano at the High Street Lounge at Shangri-La at the Fort.
You may be a high roller headed for the vast beckoning halls of the all plum Okada Casino, swish Solaire, or the family-friendly City of Dreams Manila where dazzling smiles await along with a Dreamplay area to keep children of all ages entertained. It's all here.
But to truly savour some old-fashioned Manila fun, our guide takes you off the beaten path to enjoy some street-level entertainment and distraction – with a bit of mainstream to keep you oriented.  Get your walking shoes on.

Slide Show

E-mail Page

Print

Hotel Contacts
1. BARGAIN BINGE. A lively and entertaining area for a heart-racing trawl is Quiapo, where vendors, cars, jeepneys, tricycles, trucks and weird looking carts cause apocalyptic traffic snarls. You'll know you've arrived when you find yourself marooned in the midst of this swirling activity.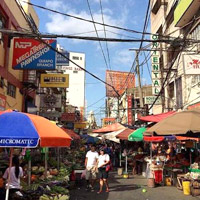 Quiapo is controlled bedlam of the best sort. Head to Quezon Boulevard but watch your valuables
Be warned that while Quiapo is very friendly and accommodating you do need to keep a sharp eye (and hands) on your cash, cameras and valuables.
Quiapo market areas are packed with every imaginable kind of stall and, if you enjoy bargaining and the thrill of the hunt, this place will grow on you. From jewellery to card readers, food stalls and black market goods, the list goes on and on.
Most importantly, Quiapo has made its mark because of its iconic prayer sanctuary, Quaipo Church that attracts millions of devotees annually for the feast of the Black Nazarene. Walk down Quezon Boulevard for a taste.
2. THE REIGN IN SPAIN. Literally meaning 'within the walls', Intramuros is one of the last bits of living history left behind by the Spaniards. Once an inward looking "Walled City" that huddled to protect itself from foreign invaders and coastal pirates, it now beamingly welcomes all travellers to showcase its well-preserved architecture, churches (visit San Agustin and Manila Cathedral), and cobbled streets. Several churches are still in use.
This is an atmospheric part of Metro Manila and shutterbugs will not be disappointed. Journey back in time for a guided tour, a stroll, or a clip-clop calesa (horse carriage) ride (www.intramuros.gov.ph).
Send us your Feedback / Letter to the Editor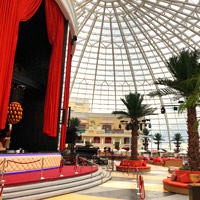 Cove Manila at Okada, offers a chillout space with pool and nightclub/ photo: Vijay Verghese
3. DROOL POOL. Now you are in for a real treat! The Philippines is known as a searingly hot tropical country with fruit, boiling volcanoes and verdant green, but it's water we all crave. The sea beckons, but in town? Yes. Absolutely. At the wet and wild Palace Pool Club (poolclub.thepalacemanila.com/) swinging pool parties have got bigger. With two swimming pools, a clubbing capacity of 4,000, two DJ booths where international and local artists spin their tunes, 12 luxurious cabanas with a personal butler in attendance, steam and shower rooms (some private), what more would anyone crave? A cool tall drink? Well, Palace has that too. Hop over for a cool time. You may get wet but heck, this is a Manila fun guide! BGC (Bonifacio Global City), 9th Avenue, Corner 36th Street, Uptown Bonifacio. Or pop into the Cove Manila (covemanila.com/), a unique indoor beach club with a pool and a split level nightclub with cabanas and snuggeries for romantics and swimmers (yes you can swim and not get sand between your toes as the 'beach' was sensibly eliminated) at Okada Manila by the Bay. No entry fee. This is a truly vast space in a huge glass dome with a nightclub that starts rumbling after 10pm.
4. A WALK IN THE PARK. Now, if you're done with the tours or work or if you happen to have a large family in tow, you should definitely make time for an afternoon coffee or stroll around the BGC (bgc.com.ph) area, or Bonifacio Global City. The place is modern with contemporary architecture, gleaming high-rises, humungous malls, and green walking spaces with interesting shops and restaurants on either side. This is a spot for tired business suits, a pep talk with your team, or racy nightlife. The fact the grass is green underfoot, just adds to the charm. Organic gourmet markets sprout on weekends and the place is pet friendly too (so your boyfriend is welcome). Coddle puppies, sip beer, lick an ice-cream cone, or shop. If you want to splurge head to Uptown Mall (www.facebook.com/Uptown-Bonifacio)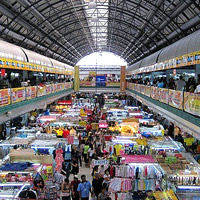 Greenhills: bargain shopping on an industrial scale
5. OODLES OF NOODLES. Are you a fan of Chinese take-out? Well throw away that greasy box and stroll around Binondo. Apart from having the best Chinese delicacies on tap, the area is known for its snappy trade and commerce vibe and it is the oldest Chinatown in the Philippines. A word of caution: lower your expectations a tad as it's not the cleanest and safest area around town, but it is an experience to savour. Munch on tasty and inexpensive Chinese food, especially around Ongpin Street, which houses most of the original restaurants and hotels. You can either ride a jeepney and be one with the locals or take an Uber taxi or 'Grab' cab and enter the location: Ongpin St. Binondo, Metro Manila. Your hotel concierge can help with this.
6. THE HILLS ARE ALIVE. Want to shop till you drop? The Greenhills Shopping Center (www.greenhills.com.ph/) and flea market is a good bet. This is the place for souvenirs and trinkets and it's open daily 10am to 8pm. Doesn't really matter what you're looking for, they will have it. From quality products to faux knock-offs, Greenhills mall will serve it all up.
Usually, Manila folk come here to pick up the cheapest stuff like bags, phones, pearls and so on but here, you need to be an expert at bargaining. Be prepared to haggle at this high energy, take-no-prisoners shopping mall. I suggest you go in the morning and work your way through till the afternoon and have a nice meal outside. Ortigas Avenue, Greenhills, San Juan, 1502 Metro Manila.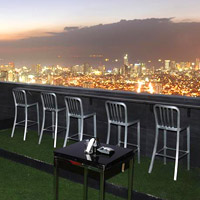 Views forever from 71 Gramercy/ photo: Gramercy
7. LOST AND FOUND. If you prefer grunge and draft beer, Finders Keepers (tel: [63-2] 403-5019, www.facebook.com) will seriously interest you. From the darkly inviting ambience to its blazing red neon signs, Finders Keepers is the place to be as Wednesday night rolls along with its theme – 'Bad Decision Wednesdays' – when everyone gets in the spirit of things. It's a relaxed speakeasy atmosphere and yes they have a good selection of spirits too. Sabio Street, Makati, Metro Manila.
8. ON A CLEAR DAY… Keen for a night scene with a seemingly endless view? Well, 71 Gramercy (tel: [63] 917-809-4093, www.facebook.com) knows how to combine class with heart. Located in the heart of Manila, you'll find this cool bar on the 71st floor where you can book tables and party all night long.
Or simply chill and look at the Manila skyline with a special date. Drinks will be dear but worth it and on a clear night you'll see forever. Find the place at 4738 Salamanca, Makati. Another option for cool views with a nibble could be Solaire's 'Dinner in the Sky' from April 2018 to celebrate the hotel's fifthy anniversary. Get hoisted up for fabulous sea views and other treats.
9. LEND ME YOUR EARS. Whether you are an artist, or simply trying to impress a date, or a bit of a late-blooming Baby Boomer with artsy flair, Sip and Gogh (www.sipandgogh.com/) offers painting classes – you can either book your own freehand art session or just copy stuff from its artist – while serving wine and cheese to get you in the Van Gogh spirit. Save your ears though. Creating art has never been this much fun.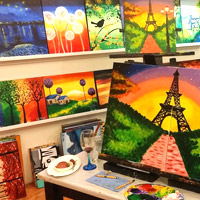 Sip and Gogh art and wine/ photo: Sip and Gogh
Find your hidden talents and art skills while sozzled on red wine. No one will notice if your inner child is not forthcoming. Sip and Gogh is making its mark in Manila with studios at Ayala heights, Eastwood, Kapitolyo, Alabang, Atelier, and Century Mall.
10. FLIGHTS OF FANCY. Dreaming of running away and joining the circus? Well, now you can. Book yourself a trapeze class with Flying Trapeze Philippines (www.trapeze.ph/). This experience is new so you have to book your class in advance as the place has generated more than a fair share of local buzz. For adrenaline junkies – of all ages – this will be a Manila fun highlight. Don't forget to bring your cameras so you can document this once-in-a-lifetime experience and prove once and for all that devilish dad derring-do. Various sessions are on offer at 24 Federation Drive, Taguig, Bonifacio Global City (BGC).
11. OLD IS GOLD. With its gleaming iconic lobby and grand chandeliers, the Manila Hotel (manila-hotel.com.ph/) is an ageing dowager on steroids, dripping with diadems, and one that has seen her share of history as the longest serving upscale hotel in the city. This remarkable address came up in 1909, a decade after America's takeover following the conclusion of the Spanish American War. Then Governor General William Taft tasked New York architect William Parsons with building this classical edifice as part of a larger plan for Manila.
Sited atop a sweeping seaside boulevard, the Manila Hotel became a landmark of distinction. It has long been overtaken by newer hotels, but locals are understandably proud of this ageing grand dame.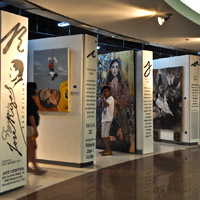 SM Megamall art showcase/ photo: mall
It gets a modest nip and tuck every once in a while. Its musty old world Champagne Lounge remains much in demand and the ballroom caters for everything from gala events to prom nights. Expect things to be creakingly slow and old-fashioned, with a twist of modern Filipino design. Watch for shell inlays, bamboo motifs and lazily whirring ceiling fans.
12. REDS AND BEDS. Once an exclusive residential area in the west of the city, Malate somehow transformed itself over the years to become of the most famous red light districts in the metro. The girlie bars were cleaned out in the nineties but some remained and others returned under the guise of 'art' establishments where skimpily clad models pirouetted about at lunchtime as young guns and salaried suits cheered. The action is back, somewhat, if a pale imitation of its former self.
It's a fun area for a gawp and a beer, and a racy chat that will be largely focused on your wallet. Malate has great food too, from Korean to Chinese and Japanese. Pick from hotpots and barbequed beef, perhaps in the company of a sultry siren. Like a spot of different gaming in this area? There's the Casino Filipino Malate (www.casinofilipino.ph/malate/).
13. FOOD GLORIOUS FOOD. Aside from being one of the oldest food streets in Manila, Maginhawa is also famous for its hidden cafes and sheer variety of food and entertainment. Everyone should experience the food in Maginhawa Street, Quezon City. After all those calories, have a stroll around the area and browse assorted trinkets and gewgaws. The area is full of surprises.
Lively street scene and bars in Malate
14. GOING TO A GO-GO. Business travellers in need of an evening's unwind – and chatty, if commercial, company – can head down Makati Avenue or wander along P Burgos Street for a dash of raunchy neon and loud rock. There's a wide selection of pubs, girlie bars, dance clubs and restaurants in the area.
15. HISTORY BOFFINS. Did someone say FREE? Indeed. You heard right. Now here's a museum that offers free admission to all. The National Museum (Tuesdays to Sundays 10am-5pm, www.nationamuseum.gov.ph) specialises in youth awareness to ensure millennials do not lose touch with their heritage and history.
Manila's storied past is here on display. As your history prof would say, 'feed your mind.' You can pop by at 1,000 Padre Burgos Ave, Ermita, and after the visit you may like to continue your exploration at the National Museum of Anthropology or Rizal Park.
16. CULTURE VULTURES. Showcasing Filipino art and creativity, the Cultural Center of the Philippines (culturalcenter.gov.ph/) on Roxas Boulevard has a busy schedule of exhibits and performances. Pick from ballet, theatre, or classical opera. This establishment supports local performers. It also offers some of the best sunsets across Manila Bay.
17. ART START. While a commercial shopping mall and a carefully curated art show may appear odd bedfellows, SM Megamall (www.smsupermalls.com) has done just this to bring art to the masses in perhaps the biggest exhibition of its kind in Manila.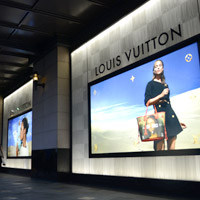 Ayala's Greenbelt serves up green, fountains, food and designer brand shopping/ photo: mall
Shop, grab a bite, and admire art from all over the country. You can spend your afternoon here walking for hours. Grab a bottle of vino and get in the mood for an artsy prowl. Pop by Ortigas Center, Mandaluyong, Metro Manila, or SM Megamall Building A.
18. THE GREENING OF MAKATI. Apart from the greenery, beautiful landscaping, and chic vibe, Greenbelt (www.ayalamalls.com) mall has everything you could possibly need from shops to spirits. From upscale designer brand shopping at stores like Burberry, Bottega Veneta, Bulgari, Armani, Jimmy Choo, Gucci, and Prada, move on to mouth-watering temptations and tipples at restaurants and breweries.
After dark, Greenbelt and the general area comes alive with neighbouring Glorietta, Landmark, and SM Makati lending an eager hand. Best of all, Greenbelt (not to be confused with Greenhills) is in the heart of Makati, right in the centre of town. All you have to do is walk from your hotel. It's breezy Manila shopping at its best. Or cruise Power Plant Mall at Rockwell Center (www.facebook.com/PowerPlantMall/) also in Makati.
19. A MATTER OF DEGREE. The 'Pontifical' University of Santo Tomas (www.ust.edu.ph) is the oldest place of higher education in the country. Apart from its educational credentials, it attracts many Filipinos and foreigners who simply enjoy nothing more than an afternoon's amble around UST. Even the students are taken with this and most just bring along a blanket to study or for a quick lie down. With a huge campus, interesting architecture, and lively people you will feel alive and refreshed.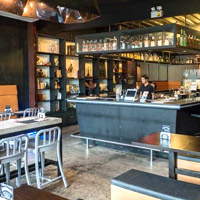 Tipple & Slaw for drinks and food/ photo: bar
And, if you are lucky enough to visit Manila around yuletide, you'll be in for a magical night as the whole university is ablaze with colourful lights and Christmas decorations designed by the students and alumni. Espana Boulevard, Sampaloc Manila, Metro Manila.
20. I CAME I SLAW. Craving something completely different? Tipple & Slaw (tel: [63] 917-654-3318, www.facebook.com) is the way to go with its wide variety of fusion food, desserts and drinks. Tipple is a resto-bar that has become the go-to place for locals and college kids as well as pin-stripers après-work. With various DJs every night specialising in out of the ordinary tracks and with a different theme each day, the place caters for all whims and tastes. It could be 'house' on Tuesdays and 'riot' Fridays. There's cheap nosh and hangover food too because right beside this hip bar is a food bazaar. The Forum Federation, BGC Taguig. Another great BGC option for coffee, ice-cream and desserts is St Louis (www.facebook.com/stlouishighstreet/) run in a friendly laid back manner with good service and tasty treats.
Send us your Feedback / Letter to the Editor