CITY GUIDE
Barcelona guide for Real Men
Gaudi, God, and good hotels in Spain's most charming city.
SEE ALSO San Francisco guide | Asian resort weddings | Child friendly resorts | Underwater hotels | Dubai guide | South Africa game parks | Maldives resorts | New York guide
JUMP TO Saadiyat Island | Yas Island | Dining and fine bites | Detour to Al Ain
Gaudi's curvy Casa Mila
THE RAIN IN SPAIN falls mainly on the plain. But where? The road disappeared into the 40-degree heat-haze, vanishing through a parched dustbowl that stretched seamlessly from Madrid to Barcelona. We viewed the solitary tree in Aragon National Park and pressed on. And now the heat was really on. For the third time, my wife said, "Why don't you admit you're lost and ask for directions?" I gritted my teeth. REAL MEN DON'T ASK FOR DIRECTIONS. Real Men ride harmonica-playing horses in the Grand Canyon or, failing that, cheap French cars in the middle of Spain.
I had exited the N-II onto a minor road, a brilliant manoeuvre that now had us heading in the opposite direction from the one I had intended. My wife fortunately hadn't picked up on this as yet. I offered fast-paced diversions. "Anyone want a toilet stop? I spy with my little eye…." OH DO BE QUIET! "Okay." Then, as we passed a rather obvious and characterful mountain for perhaps the fourth time, my son moaned out aloud, "Hey, I recognise that hill."
Send us your Feedback / Letter to the Editor
The game was up. I pulled over in a small town and asked a lorry driver the way to Barcelona. He beamed and told me his life story, in Spanish. A motorcyclist drew up - at the traffic light - and offered advice. Motorists rolled down their windows and gesticulated, tore at their hair and nodded at anything and everything that was said. The man driving the lorry wasn't sure whether his mother was Basque or Spanish. I turned to my wife. "See?" In the end Barcelona found us. The signs were everywhere. This was fortunate for a Real Man like me. If you haven't driven in Spain, it's worth noting that drivers here are perhaps the most courteous you will ever encounter, anywhere. And that's not an exaggeration. On then with our Barcelona guide.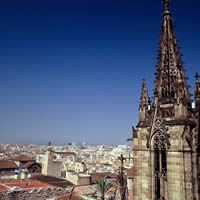 The view from the Barcelona Cathedral
Later that evening strolling down the see-and-be-seen La Rambla, droves of pickpockets flew sorties past us. So I kept my hands firmly in my pockets. When three youths surrounded us, one kicking my shin and the other offering to "help", my hands stayed firmly in my pockets. When another group tried the pigeon-poop-on-the-jacket routine with concerned cries of, "senor, senor," and urgent taps on my shoulder, my hands stay firmly in my pockets, gripping my wallet. I grew to understand those hunched and weathered portraits of gaunt old men at the museums who always had their hands in their pockets as they gazed philosophically into the distance.
The afore-mentioned La Rambla is a wonderful café-and-shops street, stylish, with a hint of peeling paint. Barcelona drips with romance. Courting, cooing couples are everywhere and if you are not tall dark and handsome with a 34-inch waist you might just feel a tad out of place. It's enough to make you want to leap on Dolly the sheep and start cloning (rest her soul) in the Kiwi manner.
Yet, as with most things in Spain, the place is very family friendly. Shovel your kids out of the truck and start walking. The tiny but well kept zoo is home to an albino gorilla called Snowflake. Nobody picks his pockets. But it is Antoni Gaudi (1852-1926) who is the city's most celebrated son. A visionary and daring architect, he created hallucinogenic masterpieces weaving dreamscapes into modern design. His most ambitious work was the yet-unfinished Sagrada Familia, a private church with its easily recognised corkscrew steeples and ceramic-tile finish. You can climb up but things will get claustrophobic as the towers narrow. Up at the top is stunning bird's-eye of the city.
Casa Mila (Paseig de Gracia) and Casa Batllo are two other much-photographed Gaudi buildings but it is in the fantastic Parc Guell (10am-9pm) that Gaudi's spirit comes alive. The gardens display ranges from Moorish to Ice-Cream Cone Modern and all through the walk there's t-shirt vendors playing hide-and-seek with the police. Entertaining stuff. For all this, Gaudi lived and died in relative obscurity as a fringe lunatic tramp. When he was run over by a tram, no one recognised him. Later, the city awoke and posthumously reclaimed its hero.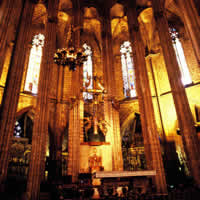 Inside the splendid Cathedral
As every Barcelona guide will inform you, other great views can be had from Montjuic, the site of the 1992 Olympics. A cable-car takes you right up to the gun battery on top of the hill. Looking down along the waterfront from Montjuic you'll spot a tall column where La Rambla begins. This is Columbus Column (Monument a Colom). The Colom is a good reference point should you get lost. Beyond this, heading seawards are a couple of large modern malls that come alive in the evenings. Well, in Spain, everything comes alive in the evenings, usually after midnight. Walk out and catch the sunset at the Moll d'Espanya or browse the chrome-and-glass Maremagnum shopping complex. L'Aquarium (yes, aquarium) is around the corner and it is pretty decently stocked. Aside from the great views at Mount Montjuic, there are a number of attractions such as the National Museum of Art of Catalonia, which contains one of the most outstanding compilations of Romanesque and Gothic paintings in the world.
At the heart of Barcelona (or Barthelona as it is pronounced) is the historic Gothic Quarter, the Barri Gotic. Cobbled streets, few cars, delightful shops and talented buskers make this a must-see. Very thivill indeed. As you head up La Rambla from the Colom, the Barri Gotic is to your right. The centrepiece of this quarter is the ornate Cathedral dating back to the thirteenth century. Again, there are spectacular views to be had from the top to the accompaniment of shrill cries of seagulls.
Museums? Lots. Museums worth visiting are the Museu Picasso (Picasso Museum) and the Museu d'Art Modern (Museum of Modern Art). The Museu Picasso contains an assortment of paintings and drawings from the early years of prolific painter Pablo Picasso, while the Museu d'Art Modern has a range of artworks from the Romantic period and 19th century. The museums are open from Tuesday to Saturday from 10am to 8pm, and 10am to 7pm, respectively. They are also open on Sundays for a short while (10am to 2:30pm/3pm).
For something different, try the Museo del Futbol Club Barcelona, the more outlandish Museum of Erotic Art or visit the Museu Del Comic I La Illustracio (Comic Book and Illustrations Museum). Once inside, you will find a wide range of works. The museum also contains a documentary history showing the evolution of the Spanish comic book genre from the 19th century until today. The museums opening hours are from Tuesday to Saturday from 10am to 2pm, and 5 to 8pm. On Sundays and holidays it is open from 10am to 2pm.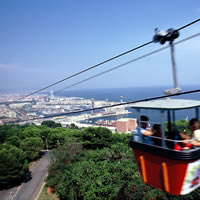 Cable car up to Montjuic Park
With Barcelona covering an area of almost 100 square kilometres, and with such an immense variety of attractions, getting around the city would seem a hassle. Not to worry. The city offers a range of transportation to help you get around smoothly. The metro is a good mode of transportation and covers the whole city through at least one of its five subway lines. The metro runs from 5am to 11pm from Monday to Thursday; 5am to 2am on Fridays, Saturdays and the day before a public holiday; 6am to 12 midnight on Sundays. Buses are also popular. The majority of the bus lines run between the hours of 5:30am and 11pm. (For metro or bus information call 010). For private transportation that will take you directly to where you desire, there are taxis that operate 24 hours daily. (Taxi-radio-movil Tel: 93 358-1111, Servi-taxi Tel: 93 330-0300, Radio-taxi Metropolitana Tel: 93 225-0000).
Accommodation choices are vast but try and stay close to the old quarter. A good choice among the more classic Barcelona hotels is the Hotel Colon Barcelona (tel: [34-93] 301-1404, hotelcolonbarcelona.es/ from €100) right opposite the Cathedral. While picking a place, remember that in Europe you not only have rates for single and double, but also for triple. To complicate matters further, rates are split into several "periods" (elsewhere called high and low seasons). However nothing is quite that simple here. There are four or more periods and in some case, these include a collection of dates through the year. There is also a seven percent tax. It is best to use an agent rather than tear your hair out trying to make sense of it all. If you do happen to get breakfast thrown in (as is common practise) look for the "butifara" sausage. This is marinated in wine and is out of this world. If you've got butifara on the menu, you know it's a good establishment.
Look at the comfortable four-star Gran Hotel Havana (tel: [34-93] 341-7000, www.granhotelhavana.com) that was built in 1882. It has 145 rooms and is in a six-storey neoclassical building near Plaza Cataluna Ramblas. Hotel Rialto Barcelona (tel: [34-93] 318-5212, www.hotel-rialto.com/) is a three-star hotel with reasonable prices in the Gothic Quarter near the Townhall. Other choices might include The Claris (tel: 34-93] 487-6262, EUR150 up) a neoclassical palace, Hotel Rivoli Ramblas (tel: [34-93] 481-7676, www.hotelserhsrivolirambla.com), St Moritz (EUR126 up) housed in a classic building, Hotel Arts Barcelona (tel: [34-93] 221-1000, www.hotelartsbarcelona.com), Hotel Majestic (tel: [34-93] 488-1717, www.hotelmajestic.es) on Passeig de Gracia with modernist rooms and the Le Meridien Barcelona (tel: [34-93] 318-6200, www.lemeridienbarcelona.com/) on La Rambla. A hip choice with a grand sea view is W Barcelona (www.w-barcelona.com/) while a Barcelona luxury hotels pick would be the Mandarin Oriental (www.mandarinoriental.com), superbly located (close to Casa Batllo) on Passeig de Gràcia, with a fabulous timbered rooftop and grand city views. You may shell out 375 Euros or more for a bed here.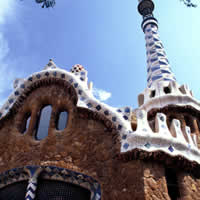 Fabulous creation at Parc Guell
Within the Barri Gotic, several reasonably-priced Barcelona budget hotels can be found. Check out Hostal Lausanne (tel: [34-93] 302-1139, www.hostallausanne.es), Residencia Victoria (tel: 318-0760), Hostal Fontanella (tel/fax: 317-5943, www.hostalfontanella.com/) and Hostal Galerias Malda (tel: 317-3002, hostalmalda.jimdo.com), a large family home with perhaps the cheapest rates around starting at €15.
If you're looking for a nice offbeat accommodation in Barcelona, or elsewhere in Spain, check out the Paradors (state-run hotels) for a more cultural and traditional Spanish flavour. Bookings can be made from the central booking office. (You can also access their website: www.parador.es)
Hands in pockets, and off you go then…
Send us your Feedback / Letter to the Editor