OUTPOSTS
Tashkent guide for the intrepid
Tales and tips for nomads with comfy beds, shopping, nightlife, and notes on those enticing horsemeat sausages.
SEE ALSO Almaty hotels | Bishkek guide | Uzbekistan guide | Yerevan guide | Inner Mongolia | Beijing business hotels | Shanghai business hotels | Shanghai nightlife | Istanbul hotels
JUMP TO Taskent guide to shopping | Hotels, hostels and guesthouses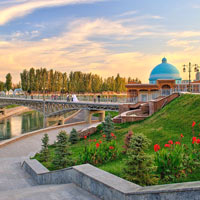 Tashkent is awash with parks, blue-domed mosques and madrassas
YOU may have pictured Tashkent as a low-lying, dusty, windswept place disappearing into the heat-haze and marauding sands of the Central Asian steppes that surround it. So you may be taken aback when the city reveals itself as a sea of green. From 30,000ft aloft a network of wide boulevards and winding alleyways magically appear, all lined with trees. You'll quickly see this is a city for fun, more so than some of its dowdy neighbours. Interestingly, this was where a peace treaty – the Tashkent Declaration – between India and Pakistan was signed in January 1966, following which the Indian Prime Minister Lal Bahadur Shastri mysteriously died – of poisoning, as conspiracy theorists maintained. Arcane mysteries aside, it is better known of course for its strategic position on the Silk Road.
No surprise then that Tashkent, the capital of and largest city in Uzbekistan, has long served as a transport hub for travellers heading off on adventures to its more evocative neighbours – Samarkand, Khiva and Bukhara. But spend a few days here and you will find yourself justly rewarded. Along with boasting some of the best amenities in the region, it is a city full of museums, striking monuments, both modern and ancient, and millennia of rich history encompassing Sogdian, Turkic, Tsarist, Soviet and Islamic influences. Tashkent is a city in the midst of constant reinvention. Everywhere you'll see endless construction – so common to Central Asia – and find a population eager to show off their rapidly changing metropolis.
Send us your Feedback / Letter to the Editor
As any Tashkent guide will tell you, your first introduction to the city's international airport could be daunting, ominous almost – with just one carry-on bag and nothing to declare it may still take an hour or two to get through.
After finally emerging fairly unscathed you can expect to be greeted by the usual press of men offering their taxi to ferry you to the hotel. Normally it is prudent to depend on a licensed taxi but Uzbekistan travel options are limited and the distinction between regular cabs and unofficial taxis is almost non-existent. Although you will see some cars with taxi lights none will have meters and they are not necessarily safer or cheaper than the teenager offering you a ride in his Daewoo. The ride from the airport should not cost more than a few dollars.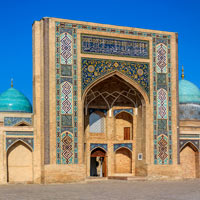 Khast Imam madrassa
Nearly all drivers also double as moneychangers. Black market currency exchange is illegal in Uzbekistan but it is practiced overtly everywhere and clearly tolerated. Although hotels often warn visitors to stick to legal means for changing money, illegal moneychangers can be unusually honest with better rates than at hotels and banks.
The exchange rate is about one US dollar to 2,570 Uzbek sums (UZS). The most common bills are UZS200, UZS500 and UZS1,000. This makes changing a US$50 bill feel more like a bank heist after the hundreds of rubber-banded stacks of money are presented to you. It has a surreal quality to it. Money itself can be such a burden that abandoning your wallet and resorting to a backpack is not too wild an occurrence. Carrying this much cash may seem like a gangster gas at first, but it will lose its charm by the third time you have counted out one hundred and twenty bills to pay for a simple lunch. Hotels and upmarket restaurants often provide prices in US dollars but if you want to sample local eateries or shop in the bazaar you'll need Uzbek sums.
Tashkent is a simple city to navigate. Large monuments and hotels provide points of reference and the city radiates out from a well-defined centre marked by a large Amir Temur statue. Getting around Tashkent is even easier as the city is serviced by an extensive metro system. A ride costs pennies and the experience is quite something. Soviet-style stations are massive, chandelier-lit structures covered in marble. Try and take a snap for posterity however, and you'll be assailed by the omnipresent Soviet-style "militsia" who, at best, will only hassle you and check your passport or, at worst, could confiscate your film and escort you to the police station for questioning.
Taxis are affordable and convenient. Waiting for an official taxi could take hours, so do as the locals do and stick out your hand. I did. In less than a minute a car pulled up offering a ride. It may seem alarming in the West. But in this ex-Communist country helping the comrades is still part of daily culture. If you don't speak Russian, communicating can be problematic so have on hand a list of major hotels and monuments you can plan around.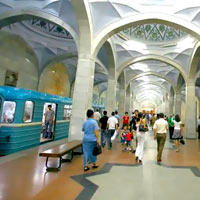 The Metro is a work of art so stop and snap some stations
Even this can be a challenge as signs are in Uzbek (which uses the Latin alphabet) but drivers often only read Cyrillic and will still use the old Russian names for streets and buildings.
Another communist throwback is the profound discomfort exhibited by locals at naming a price. A good rule of thumb, and perhaps polite, is to pay between three and six thousand Uzbek sums for any destination within town. Some drivers will eagerly offer their services to drive you around for the day at around UZS10,000 per hour. Drivers booked through your hotel may be more likely to speak English but the price will run closer to US$20-$30 per hour.
The city has something to offer every kind of traveller. One must-see destination is the Chorsu Bazaar. Located about two kilometres northwest of the town centre, the bazaar is a huge complex of stalls housed under massive blue tiled domes, filling the streets and alleyways for what seems like miles in every direction. This is Tashkent shopping at its best. Here you can find everything from meat, spices and knives to gold, clothes, and films. Keep a special eye out for traditional Uzbek textiles and old Uzbek jewellery, especially antique wedding rings, which can be a bargain.
The Chorsu Bazaar backs up onto the old town of Tashkent and it is well worth exploring and getting lost in for a few hours. The old town is made up of winding alleyways and traditional mud brick buildings. Everywhere life is being lived on the streets and people are always quick with a greeting and a smile. Make sure you pack a good sense of direction and the wherewithal to depart the winding streets for the safety of main roads before nightfall. Another smaller bazaar worth a look-in is the Alayksi Bazaar close to the International Hotel Tashkent.
Be sure to come on an empty stomach. Alleys are crowded with vendors selling all kinds of roasted meats, deep fried pastries filled with mutton fat, Middle Eastern-style meat sandwiches, huge wheels of delicious fresh baked bread, ice-cream, milk shakes, fruits and sweets of all kinds. I left loaded with fresh peaches and fragrant mint tea.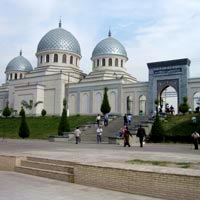 Tashkent's Juma Mosque
Close to the entrance of the bazaar is one of Tashkent's most iconic monuments; the Kulkedash Madrasa. The madrassa itself is a stunning example of 16th century Uzbek architecture. For UZS2,000 you can walk around the small garden, climb into the towers and will likely have the place to yourself. Next to the madrassa is the Juma Mosque, which historically served as the place of execution for adulterous brides. The beautiful building will be crowded with the faithful every Friday morning.
The Khast Imom is the religious centre of Uzbekistan. It is a complex of buildings containing a mosque, library, schools and a local madrassa. With the exception of the modern schools all of the buildings are built in traditional red brick with attractive blue-tiled domes and facades that glint in the bright sun under deep blue skies. The library contains what is purportedly the world's oldest Koran, the 7th century Osmand Koran. Across the street from the library is the Mui-Mubarak or "sacred hair" madrassa where you can see a few hairs of the Prophet Mohammed. On Friday both the library and the Mui-Mubarak are closed for prayers, though you can experience the mosque complex packed with thousands of Uzbeks, from the elderly to school children, praying, talking and enjoying themselves. A rare opportunity to gain insight into Uzbek, Islamic life.
After Friday prayers all Uzbeks go to enjoy vast servings of their national food, plov. Plov, is the Uzbek version of the rice dish also known as pilaf, pulao, or pilau from Turkey across Central Asia to India. The rice is prepared with any number of ingredients including dried fruit, nuts and mutton. On the advice of my driver we followed the faithful to what is undoubtedly Tashkent's best plov joint aptly named The Plov Centre (corner Erashev and Aburashidov). Get there early. It opens at noon and by about two is already running low on the national dish. We arrived at about five past two and ate the very last scraps the place had to offer.
Tashkent riverside walk
On most days a lunch will set you back about UZS2,000 but on a busy Friday the price can triple to UZS6,000 (although my driver assured me that lone foreigners may get hit for UZS10,000 and more). I happily chowed down a big bowl of plov with fresh fruit, dried apricot, nuts, chopped mutton and two big slices of horse sausage, a pot of tea, a round of bread and a glass of cool yogurt. The horse sausage was so delicious that we returned the next day and, ignoring the server's advice ate three servings, leaving us with a nasty stomach ache. The moral of this story: enjoy your horse meat in moderation.
Next door to Alayksi Bazaar and the International Hotel is the Abdul Qasim Madrasa and Craft Center with plenty of souvenir-style traditional Uzbek gifts. A little pricier, but offering a large selection of both traditional and contemporary Uzbek fashions and crafts, is Human House (www.humanhuman.net, Usmon Nosir 30/9 open Mon-Sat 10am-7pm). Profits go towards helping the impoverished people of rural Uzbekistan.
Tashkent has a large selection of museums ranging from the ancient to the modern and from the kitsch to the truly intriguing. For the most part museums are located near each other, are fairly small and also extremely affordable. The best can be sauntered through in one day.
The Amir Temur museum ([998-71] 133-6228, Amir Temur 1) is the city's most famous and, with its new huge dome located in the centre of town, is also the easiest to find. Ironically this is also the first one I would skip if pressed for time, as it is mostly made up of tacky modern murals depicting the supposed civic triumphs of Temur (Timur the Lame, also known as Tamerlane, the source of Christopher Marlowe's play "Tamburlaine the Great") and his descendants. There is also a copy of the Osman Koran. Pop in and whiz round in 20 minutes for UZS3,000 or so (more for photos). The museum is closed on Mondays.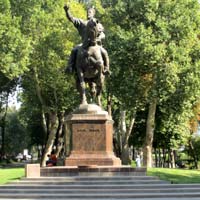 Amir Timur statue
The History Museum of the People of Uzbekistan (30 Sharif Rashidove, tel: [998-71] 239-4839, UZS6,000) is larger, covering three floors with an extensive selection of artefacts from a broad section of Uzbek history. English guides are available from UZS4,000, and cameras are permitted for an additional UZS20,000.
Tashkent also boasts some impressive art museums, including the Tashkent Museum of Applied Arts (15 Rakat-boshi, tel: [998-71] 256-3943, open 9am to 6pm, UZS6,500, guided tour from UZS8,500), located in a traditional 1930s Uzbek house and The Tashkent Museum of Modern Art (near Amir Temur Square and Westminster University), which contains a rotating exhibit of contemporary Uzbek artists displayed in a breathtaking interior space. The Alisher Navoi Literary Museum (69 Navoi, tel: [998-71] 410-275) is renowned for its collection of calligraphy and miniatures.
If local culture leaves you cold, check out the swarming luxury brand malls for Tashkent shopping with a difference. Russian brands are the choicest cut but you can still find a few old European standbys. Dimur, where you can find the expensive Mirstore, is an area worth exploring if you have a hankering for western goods and food.
If in the city during summer and you've brought the kids along or are just looking for a way to escape the sweltering heat try the Akva Park (tel: [998-71] 223-85625, info@uzexpocentre.uz) water playground. This aqua park is near the TV tower, Bodomzor metro station and International Hotel Tashkent – and open only at the height of the summer. Three-hour passes are UZS30,000 for adults and UZS15,000 for kids aged three to 12 years old.
Since Tashkent is the region's safest major city it offers a great opportunity to experience the eccentricities of Central Asian nightlife. Locals brag that the night club scene in Tashkent is the best outside of Almaty and after a night spent investigating it you will need a full day to recover. Clubs don't really get started here until 11pm and don't get crowded until the early hours.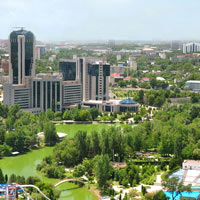 Tashkent remains a largely green city
Almost everyone will tell you that Katacomb, now called K.T. Komba (tel: [998-71] 252-3937, UZS5,000 entrance fee), is Tashkent's greatest nightclub. A surprisingly picturesque location, hidden down a winding road directly on the banks of a river, belies the pumping party inside. The summer club sits on the water's edge while a winter club is further up the hill.
You might explore places like the Opera Nightclub, Casanova (a restaurant club) and Frigate. Fabrique, which took over The Niagara, is conveniently located near the International Hotel but asks a steep entry fee. Although safe, as in any major city, keep your wits about you when out at night and under no circumstances get in a taxi with two or more people in it. The biggest danger by far are the omnipresent drainage ditches running along every street. They are just deep enough to do some serious damage and when coupled with Tashkent's poor lighting and a few drinks, can present a real hazard. Note that, although Muslim, Uzbeks love to drink and will stop at nothing to cajole foreigners into a vodka drinking contest. This is best avoided.
Tashkent beds for all reasons
Tashkent business hotels (or leisure digs) are among the best as you'll discover while travelling through Central Asia, although certainly not the most affordable. Three properties dominate the high-end hotel market, the cream of Uzbekistan hotels. The International Hotel Tashkent (that saw better days and service as an InterContinental), the Turkish-owned Wyndham (formerly the Dedeman Silk Road), and Lotte. All offer quality amenities.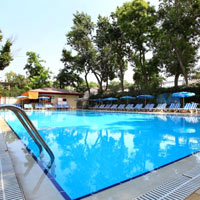 Inviting alfresco Radisson pool/ photo: hotel
The Wyndham Tashkent (tel: [998-71] 120-3700, www.wyndham.com), from about US$150 a night, sits in the business centre of Tashkent, eight kilometres from the airport. The hotel has 206 rooms with internet, safe, satellite TV, mini-bar and hairdryer. WiFi is available. There are three restaurants, a health centre with indoor and outdoor swimming pools, and Turkish bath.
Just a stone's throw away is the relatively new Radisson Blu Hotel Tashkent (tel: [998-71] 120-4900, www.radissonblu.com, from US$125 a night). Standard rooms are a little snug at 24sq m but are bright and airy with free WiFi. Work up a sweat in the fitness centre or take a dip in the outdoor pool.
The International Hotel Tashkent (tel: [998-71] 120-7000, ihthotel.com/) is one of the city's most expensive options (from around US$180 and up a night depending on the season). This address, given its pedigree, goes for old-world European charm with large chunks of marble thrown in for good measure. Standard rooms have satellite TV, stereo and mini-bar. WiFi is free in the bar and lobby but the painfully slow on a dial-up connection in-room charged at US$6 per hour or US$20 for a day. Find a health club, gym, indoor swimming pool, sauna and spa, and massages. Expect American breakfasts and international cuisine with a Sunday "jazz brunch". The hotel partners with a dependable taxi company on call for its guests. This is a good Tashkent business hotels choice,
Also in this price range is the 126-room Grand Mir Hotel (tel: [998-71] 140-2000, www.grandmirhotel.com). Rooms are basic but spacious with fewer of the amenities found in its more modern competitors but it makes for a comfortable, if not impressive, pit stop. In June 2015 the hotel launched the new Villa Grand sports and leisure complex where guests can enjoy tennis, mini football, badminton, volleyball and even a quick dip in the pool.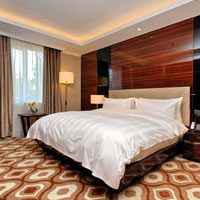 Premier Suite at the Lotte/ photo: hotel
The Indian-run four-star Park Turon has been rebranded as the five-star Ramada Tashkent (tel: [998-71] 140-6000, www.ramadatashkent.com, from US$130 a night), along with a general face lift. You'll find a fitness centre, indoor pool, his and hers saunas, massage rooms, and several watering holes to grab a nightcap. The café also serves good Indian food and the smart business centre is supported by the hotel's very central location.
Another good bet is the Lotte City Hotel Tashkent Palace (tel: [998-71] 120-5800, www.lottehotel.com/city/tashkentpalace/en/) which underwent a complete overhaul in late 2013. Just a ten-minute drive from the airport, this grand address has all the usual in-room mod-cons with free WiFi throughout the hotel. There's also an outdoor pool, sauna and spa. Make sure to grab a bite at the Shark Yulduzi, the rooftop outdoor terrace restaurant that offers fine views of the city. The 140-room Miran International Hotel (tel: [998-71) 232-3000, miranhotel.com/) is a pretty decent option with large contemporary rooms and conference facilities.
Tashkent offers a wide variety of Soviet-style and general mid-range accommodation (a rapid pace of construction ensures there's always more to come). The Hotel Shodlik Palace (tel: [998-71] 120-7292, shodlikpalace.com/en/, from US$55 a night) which overlooks the Pakhtakor Stadium is a good example. The rooms are basic and spacious, with free WiFi throughout the hotel. The City Palace Hotel rebranded from the Markaziy Hotel (tel: [998-71] 238-3000, citypalace.uz, from US$160), which was also formerly the Tashkent Sheraton. It is no longer up to Sheraton standards but it does have two pools (one indoor and one outdoor), spa, sauna, steam room and large comfortable rooms.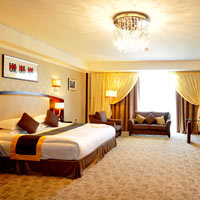 Clean modern decor at Miran/ photo: hotel
If travelling on a shoestring and in need of a cheap Tashkent budget hotel, try the Hotel Ali-Tour (tel: [998-71] 256-7162/253-3134, from US$25 a night). This small, convivial Soviet-style guesthouse has long been a backpacker favourite, largely due to the charms of owner Alisher Khabibullaev who is on hand to offer travel assistance, and lashings of free vodka. Rooms are basic but the hotel can arrange "guide-translators" for US$25 a day, and internet is available at US$2 per hour.
With a car and driver it is possible to see all of Tashkent's main tourist sites in a day but to stop there would be to miss the spirit of the city. To really enjoy the place, spend a lazy afternoon strolling in the park or stretched out on a traditional Uzbek reclining bed enjoying roasted mutton and naan bread in one of the city's many outdoor cafés. Order a pot of tea and a hookah (Arabian hubble-bubble pipe) and join the locals in watching the world go by. On your Central Asian travel itinerary, this is a city that should be on the list.
Send us your Feedback / Letter to the Editor