CITY GUIDE
Hanoi fun guide, beds to silk
Getting value at Hanoi business hotels and a guide to Vietnamese art galleries, silk, shopping, and some saucy nightlife in a thousand-year-old city. The Capella Hanoi opened close by the Metropole and Lotte's L7 brand arrived in 2023.
SEE ALSO Saigon Hotels | Vietnam Beach Resorts | Bangkok shopping | Phuket Resorts | Bangkok business hotels | Phnom Penh | Hong Kong shopping | Sanya Resorts
JUMP TO Hanoi guide to everything | Shopping guide to silk | Art galleries | Restaurants, cafe and bars | Ha Long Bay, Perfume Pagoda | Business, heritage hotels, budget stays | Long-stay hotels | Transport and taxis | Airport and duty-free shopping | Hotel Contacts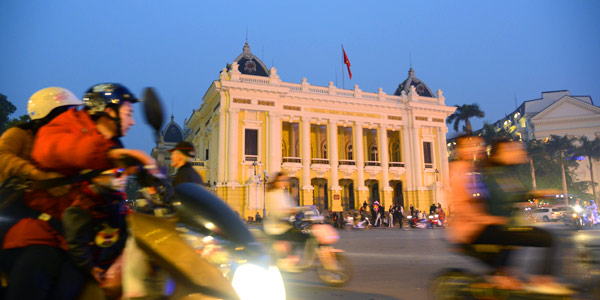 AS ANYONE who has visited Hanoi will recount, the city has a definite buzz. This is usually the buzz of speeding motorcycles that roar through red lights and swarm over pavements and park in every imaginable crevice between tiny doll's house buildings with their narrow frontage and long interiors. This narrow architecture is similar to Amsterdam's (in order to to reduce tax for the privilege of a stretch along a main road). It seems the French had the same idea as the Dutch. As Hanoi launched its 1,000th anniversary celebrations (the city started as Thang Long in the time before time apparently), I prepared to hail a taxi. Instantly a wail of police sirens rent the air and an ominous cavalcade of black cars swept up. I withdrew my hand hastily. The doorman bundled me politely but firmly to one side. The Queen of Denmark stepped out of her limousine regally and vanished into the Sofitel Legend Metropole accompanied by throngs of admirers, diplomats and hangers-on.
Pedicab tour nears Opera House/ photo: Vijay Verghese
The Sofitel was then celebrating 110 years in the business against which my puny 50-something years on the planet paled into insignificance. I had to exit at the other end of the hotel to catch a cab on a non-cordoned-off street. But with classy neighbours such as the Queen of Denmark, I was hardly complaining.
I took it in my plebeian stride and sauntered off into the buzzing thicket of motorcycles and gaily caparisoned pedicabs with their imploring drivers, dozing tourists, and blaring music.
These are the sorts of happenings that make Hanoi's 'buzz' bearable and even enchanting. Come 2021 and not much has changed. Covid yes. But wait...
Hanoi guide to just about everything
The city boasts a new Noi Bai International Airport (Terminal 2) with a six-lane highway and new bridge across the Red River that brings you almost into town before you are flung into the scrum on the approach to burgeoning West Lake. The new Hanoi sprouting from every inch of dust, sports a slew of fresh motorcycle-choked ring roads, meandering highways, and slim-front Cinderella suburban houses in every imaginable hue along with the occasional faux-European embellishment. Add to this beautiful, if peeling, French villas. It's a photographer's dream.
Send us your Feedback / Letter to the Editor
St Joseph's Church, Nha Tho/ photo: Vijay Verghese
With the anniversary celebrations done, the city sported a fresh lick of paint and diligent whitewashing was nowhere more evident than in the spatters on the pavements and on parked bicycles. It is a city of art, cycles, lakes, pedestrians, and gleaming Hanoi business hotels, some with excellent conference and meeting venues for MICE, exhibitions and trade shows.
Hanoi exudes a laid back old world charm and the traffic, though plentiful, moves along at a leisurely pace. Instant string quartets materialise in hotel lobbies. People walk, couples promenade around the numerous lakes. Everyone takes time to sip coffee, often at one of the many excellent Highlands Coffee spots around town. Everyone is friendly, polite, and diligent. Some years back, I walked into a government-run hotel and asked to see the place. The receptionist beamed, took out a large bunch of keys, and we proceeded to do just that - floor by floor, room by room, cupboard by cupboard, inch by inch. She was thorough. A broad smile and a fresh key greeted me every time I said, "Well that does it." So on with our Hanoi fun guide.
Send us your Feedback / Letter to the Editor
At another government hotel restaurant I devoured a huge lunch buffet for just D30,000 (US$1=D23,200). The room was empty save for a long table along the window where a group of about 15 were ravenously devouring heaped bowls of fish, pork, noodles and rice. I was shown to my table. I pointed to the buffet. The waiter smiled apologetically and shrugged. Apparently the buffet was over though it was barely 1.30pm.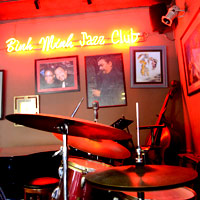 Binh Minh Jazz Club behind Opera House/ photo: Vijay Verghese
It had been cleaned out completely, from what I could gather, by the entire kitchen staff and the waiters who continued to slurp and chew and spit and joke on their table.
At length one of the celebrants rose and took my order. This is quintessential Hanoi, an egalitarian, easy-going, Sort-Of-Communist-But-Unblushingly-Capitalist city. Here, in a splendid reversal of the "chef's table" where guests dine in a five-star hotel kitchen amidst gleaming pots and pans, the chefs dine with the guests. I picked up the buffet flier. It read, "Showcase of chef's talent and enthusiasm of staff". It was exactly as advertised.
In any Hanoi guide, the centre of the city from most standpoints is the lovely Hoan Kiem Lake where lovers stroll and urchins thrust postcards into tourist hands. Hanoi is a city of lakes, and postcards, both memorable for different reasons. There are several lakes. The largest is the West Lake with swan pedal boats and a nice shaded promenade along Thahn Nien that separates this romantic spread of water from Truc Bach Lake. Around Hoan Kiem and its Ngoc Son Temple is a profusion of eateries, silk shops and art galleries.
Most Hanoi shopping for silk, antiques and lacquerware is done along Hang Gai street and its extension, Hang Bong. Try the smart cuts and colours of Khai Silk (113 Hang Gai, tel: 3928-9883, or 26 Nguyen Thai Hoc street at Brother's Café). The Khai Silk outlet at the Metropole Hotel closed a while back so you'll need to make the trek out to browse crinkle silk scarves (US$73 up), purses, men's linen shirts (from US$66 up), and graceful Vietnamese ao-dais (pronounced "ow-zai") from US$US$60.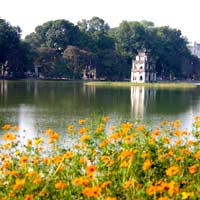 Hoan Kiem Lake: romantic strolls/ photo: Vijay Verghese
Pop into Hadong Silk (102 Hang Gai, tel: 3928-5056) where two-tone silk scarves are from US$13 up and an ao dai will set you back just US$95 or so; Kenly Silk next door; Thuy Ky (98 Hang Gai, tel: 3825-1606) that displays embroidered linen for the home with double bedspreads from US$65.
Silk, ao dai and dress shops abound on Hang Gai and Hang Bong so haggle hard as you walk along this crowded strip buzzing with motorcycles and vendors.
Pop by Silkroad (96 Hang Gai, tel: 3825-4237) with a silk scarf from US$30 and a range of modern ao-dais; Artcen Company (80 Hang Gai, tel: 3825-6154) selling statues, pottery and traditional jewellery; Tan My (66 Hang Gai, tel: 3825-1579) with silk ao-dais from US$40 up, and To Thanh Nga (54 Hang Gai, tel: 928-7550).
Beware of the slimline ao-dai. Vietnamese women are impossibly svelte. They eat noodles by the mile, all day, but the carbs miraculously disappear, which is how you get three or four women on a single moped – and that's just on the handlebar. Talk of hourglass waists…
Fortunately for visitors, garment sizes do not reflect these anorexic waistlines. Business is directed at less-than-compact foreigners so large-size stock predominates. Alterations can be done in hours and a complete dress stitched in a day.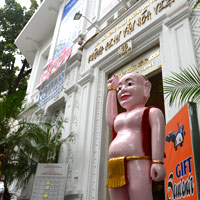 Water Puppet theatre/ photo: Vijay Verghese
Most shops stay open almost 8am till 8pm and some stretch it to 9pm so there's lots of time to rummage around – every day. This is the Hanoi shopping heartland. At one end of this maze of small streets where you're equally likely to find a lifelong treasure or get run over by a grinning road warrior, is the expansive Dong Xuan Market that stocks everything from shoes (US$25 up) caps, jeans and clothes, to handbags, watches, spices and condiments. Cashew nuts are much the craze.
At the other end, near St Joseph's church not far from Hoan Khiem Lake, is the wondrous intersection at Nha Tho that abounds in small neighbourhood cafes (with steaming pho rice noodle and meat soup), funky bistros, and cheery boutique shops selling clothes, home décor, and art.
Mosaique Decoration (22 Nha Tho Street, tel: 928-6181) is typical of the convivial sprawl. It sells lampshades, cushion covers and stuff that MUST get into your home. And just in case there's time, there's the lower case nagu (20 Nha Tho Street, tel: 3928-88020) with an assortment of stuffed bears and handbags. Pick up bric-a-brac for kids, babies or the home. Nagu has outlets at Vincom Center and and at the Continental Hotel too. It would be remiss to leave this out of any Hanoi shopping guide. Also in the Nha Tho area is the South Korean skincare and beauty shop Tony Moly. And farther out near the Sheraton West Lake just before Fraser Suites is Clom's Closet (31A Xuan Diey Street, tel: 3718-8233) with fun cottons, scarves and hats with a trendy Japanese vibe.
Sofitel Metropole's garden-view Le Club / photo: Vijay Verghese
Syrena Shopping Centre (below Fraser) serves up a western grocery store, local fashions and a fun weekend market for bargains with street hawkers from all over the place selling pretty fancy designer stuff. This is a cool expatriate hangout.
From Hoan Kiem it is a five-minute stroll down Trang Tien (pronounced "chang tee en") to the characterful Opera House that dominates the much-photographed landmark square or, rather, roundabout. Motorcycles buzz like hornets and of an evening a newlywed couple will turn up to be immortalised in front of this gracious building. Starting at the new Hanoi Stock Exchange building, Trang Tien is itself an interesting, fast-changing street, packed with a crop of funky art galleries and bookstores. The infostones bookshop (41 Trang Tien Street, tel: 3826-2993, www.infostones.com.vn) has architecture, art and design coffee-table glossies along with cookbooks, dictionaries and Vietnamese language translations. Various other book shops are to be found here like the Foreign Language Bookstore.
The delightful Chi Yang store (formerly at 17 Trang Tien, tel: 936-0027) that stocks a pleasing collection of silk embroidered fabrics put to different uses, has moved to 63 Hang Gai. Pick up gauzy eye-catching wine bottle presentation wraps, cushion covers, bedspreads, or stylish embroidered linen bathrobes (US$80). On Trang Tien find handicrafts (23 Trang Tien, tel: 936-2508), which does carved soapstone boxes, lacquer bowls, and chess sets, while Dang anh Tien (19 Trang Tien, tel: 936-6199) sells old, wooden artefacts and statuettes.
Tucked into another hole in the wall, Life Photo Gallery (39 Trang Tien Street, tel: 936-3886) stocks and displays some eye-catching black-and-whites. L'Espace (24 Trang Tien) run by the French Cultural Centre is a bright stop for flavour-of-the-month exhibitions and music recitals. Next door is the cavernous and sleepy Gallery 42, a display space often used by young artists where the pace is desultory.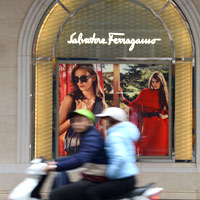 Yes, there's Ferragamo, on Trang Tien Street/ photo: Vijay Verghese
But if you must have a touch of glam and wish to cruise the rarefied environs of top-dollar Hanoi shopping, try the glitzy (by Hanoi standards) Trang Tien Plaza (9.30am to 9.30pm, trangtienplaza.vn), at the Hoan Kiem lake end of the street. This is a polished, mall-style affair with jewellery, perfumes, sunglasses, and handbags and the latest in international designer fashions, all at hideously inflated prices.
Girdling the building are names like Dior, Ermenegildo Zegna, Cartier, BVLGARI, and Burbbery. Also spot louis Vuitton, Salvatore Ferragamo, La Mer and Rolex. Hanoi brand shopping is at its best at the Sofitel Legend Metropole where you'll find top designer labels in glittering surrounds. In this vicinity expect to find Louis Vuitton, Hermes, Sergio Rossi, and the Galerie Royale with Kenzo, La Perla and Estee Lauder.
Hanoi art galleries and artists
As any Hanoi guide will tell you, art galleries are all the rage in Hanoi - for foreigners that is. Apartment walls everywhere from Hong Kong to New York are groaning under the weight of inspired Vietnamese creations, and the oils-and-lacquer avalanche continues. A favourite is the Apricot Gallery (40B Hang Bong, tel: [84-4] 3828-8965, www.apricotgallery.com.vn). The gallery features the colourful impressionist Le Thahn Son, the vivid village scenes of Dao Hai Phong and Hong Viet Dung's shadowy figures emerging from pale gold backgrounds. A 1.5sq m Dao Hai Phong sells for around US$7,500. Apricot has an outlet at 50-52 Mac Thi Buoi as well.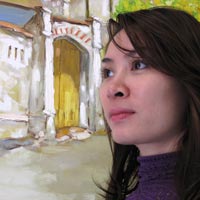 Hanoi Art Gallery/ photo: Vijay Verghese
Apricot sister gallery Thanh Mai (64 Hang Gai, tel: 3938-1146, and 11 Trang Tien Street) has one-metre Dao Hai Phong's from US$3,000 up. At 113 Hang Bong Street is the Mai Gallery (tel: 3938-0568, www.maigallery-vietnam.com) run by none other than Mai herself. She stocks up-and-coming artists as well as the Hanoi Five Faces group, which includes Tran Quang Huy's distinctive metallic female faces set in delicate murals. Another choice on Hang Gai is the Thang Long Gallery (41 Hang Gai, home.thanglongartgallery.com).
Several Trang Tien road art galleries have gone with the arrival of the wrecking ball. It's called development. At the remaining galleries, look for Nguyen Minh Phuoc's ethereal monks walking up temple steps and younger wannabe Le Thanh Sons whose work is vibrant and far less expensive. The largish Thanh Binh Gallery (25-27 Trang Tien, tel: 3825-1532) offers upmarket display space while the spacious Green Palm (15 Trang Tien, tel: 936-4757, and 39 Hang Gai Street, www.greenpalmgallery.com) is well stocked with works by established artists and offers bright splashes of colour like the red lacquer baby-monks from Le Huu Ich from US$2,000 up. Trawl for large stop-in-your-tracks works by Le Quy Tong (architecture, bridges and striking impressionist faces). A one square metre Dao Hai Phong here may retail for around US$3,500 while a larger Le Thanh Son could fetch US$19,000 or more. Close by is the remodelled Hanoi Art Gallery (tel: [84-4] 3934-7192, www.hanoi-artgallery.com/) at 36 Trang Tien Street, a small family run place.
Hanoi Studio (13 Trang Tien, tel: 3934-4433, arthanoistudio.com.vn) run by Duong Thu Hang is closer to the Opera side of the street and offers ample viewing space with stylish works by Bui Tien Tuan who creates sketches of ladies on silk with a print-and-dye finish conjuring up a vibrant Japanese or Paris feel depending on your point of view.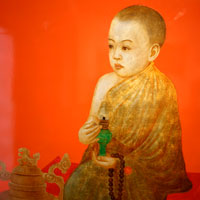 Vietnamese art is colourful/ photo: Vijay Verghese
Pick up a one metre canvas from roughly US$2,800. The studio promotes young and upcoming artists.
Keep an eye out for bright lacquer-on-wood paintings by Thanh Chuong who relentlessly churns out water buffalo portraits, deifying these beasts in all manner of cuddly and cud-chewing poses. Along the way you will also likely encounter Nguyen Thanh Binh's enormous output – devoted almost entirely to paintings of schoolgirls in white against gold backdrops: dull but popular, with many knock-off artists feverishly imitating these styles.
Dining, restaurants, cafes and bars
Dining out is one of the great pleasures in Hanoi and the city has some excellent choices, atmospheric, and relatively cheap. As night falls, the avalanche of cyclos, buses and cars subsides and visitors can venture onto the streets with a small measure of confidence. The pace is sedate though an occasional lady may approach you on a moped and enquire if you want "Boom boom". On then with our Hanoi guide to the most interesting dining establishments.
Tucked right under the Opera building next to an alfresco Highlands Coffee is the chic and upscale nineteen 11 (1 Trang Tien Street, tel: 3933-4801), a contemporary escape for fine dining in brick-and-wood surrounds. Good service, interesting menus (Vietnamese and Continental) and steep prices. Right behind the Opera House on a tiny street you'll find the unassuming Binh Minh Jazz Club which, judging by the photos, has seen its share of visiting greats. There's a live band set-up at one corner of the brick room. Cheerful and fun. Next door is a local snooker bar. Pop in for a go.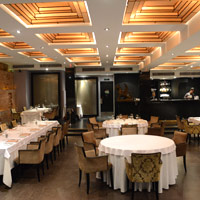 nineteen 11 inside the Opera House, smart dining/ photo: Vijay Verghese
Try the intimate street-fronting Club Opera brasserie on Trang Tien that does a range of food from Vietnamese to French or go straight for the beef at El Gaucho, the Argentinian steakhouse next door.
For some real atmosphere plunge into the clamour of the Old Quarter close by Hoan Khiem Lake to the fabulous Green Tangerine (48 Hang Be Street, tel: 3825-1286, greentangerinehanoi.com) with its alfresco patio and signature blue-green doors leading into a small two-storey villa where you are assured of some rather innovative and tasty French and European treats. Food is excellent, if a tad pricey, and you can expect an extensive wine menu.
An older eatery with a gracious villa ambience albeit wearing a somewhat deadbeat and empty look at times, is Nam Phuong (19 Phan Chu Trinh, tel: 3824-0926). It is housed in an old corner villa, a sedate oasis amidst the whining motorcycles that scream down the street. The menu is not bad at all and also includes some Chinese for changing tastes among visitors. The Thai manager is genial and courteous to a fault.
For Vietnamese fare other choices include Indochine (tel: 3924-4097, indochine-restaurant.vn/hanoi/) that has been in decline for a while but still manages some heroic attempts at style, the excellent, if simple, Cay Cau (De Syloia Hotel, tel: 3933-1010), and the charming villa-housed Le Tonkin (14 Ngo Van So, tel: 3943-3457, letonkinrestaurant.vn). At all these spots, a decent lunch for two without wine will come to around US$25-$40. Le Tonkin is in an attractive restored French villa with green louvred windows. It offers indoor and outdoor seating.
Cosa Nostra restaurant and bar/ photo: Vijay Verghese
Other suggestions for Vietnamese would include Ly Club (near the Metropole), Chim Sao (61 Ngo Hue Street), the 1946 Restaurant (63 Cua Bac Street), Ginger on Ly Thung Kiet and Don at West Lake with a former chef from the Press Club running things.
Also duck into the small alley midway down Trang Tien that doubles as a motorcycle park and a teen hangout with ice-creams and cakes. There are lots of bookstores in this area. Try Club Opera Novel on 17 Trang Tien Street for a Vietnamese bite. This is an old style café. Serving up a cool and chic atmosphere with good service and delicious food is the contemporary Wild Rice (6 Ngo Thi Nham Street, tel: 3943-8896) and its sister Wild Lotus (on Nguyen Du Street). Try their tangy fried beef with coconut sauce. The alfresco courtyard affair Brother's Café (26 Nguyen Thai Hoc Street, tel: 3733-3866) is a breezy and popular choice with extensive buffets.
For less lavish cakes and desserts on-the-run, check out the woody Paris Deli (tel: 3934-5269, 6 Phan Chu Trinh), just across from the Hilton, with a second outlet on Nha Tho Street near the church) and the Highlands Coffee at Nha Tho.
A cool new restaurant and bar with an alfresco terrace too is Cosa Nostra with smart and darkly inviting interior decor, that opened January 2016 close to the Connifer Boutique Hotel at the corner of Ly Dao Thanh and Tong Dan. It's behind the Sofitel Metropole.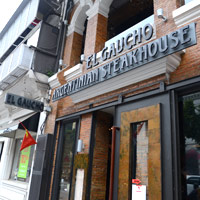 El Gaucho Argentinian Steakhouse/ photo: Vijay Verghese
While wandering down Trang Tien near the Opera, stop awhile one floor above the traffic at the quaint Cong Caphe (formerly Zigzag Cafe, No.2 Nguyen Xi Street), which perches unsteadily above a small leafy t-junction with tables and sun umbrellas scattered along a wraparound balcony. There's an indoor airconditioned section too. Nothing fancy, just a nice rustic pit-stop for a post shopping dawdle. The entrance is hidden in a side street off Trang Tien.
Right opposite the street, also on Trand Tien, is a Highlands Coffee, the quintessential Hanoi hangout.
Also duck into the small alley midway down Trang Tien that doubles as a motorcycle park and a teen hangout with ice-creams and cakes. There are lots of bookstores in this area. The atmospheric Slo Villa (16 Ly Thuong Kiet, tel: 3937-8159) offers Slovakian food along with Vietnamese like Hanoi spring rolls.
The atmospheric Moca Cafe (tel: 3825-6334, 14-16 Na Tho) features just about everything from Italian and Vietnamese to Indian on its extensive menu. The food's not bad at all and this is a great place to hang out, especially upstairs if you bag a window booth. Indonesian nasi goreng? They've got it too, and heaps of books should you wish to stay longer. In this bustling area you'll spot Le Petite Bruxelles (the Belgian bar), Mediterraneo (Italian), and the Salsa tapas bar.
Back at the Opera House and its radial streets, WiFi Cafes and coffee shops abound with the occasional trendy restaurant. Off Trang Tien at 3 Nguyen Khac Can is the compact and cheery three-storey Pane e Vino (tel: 3826-9080) that does passable and jolly Italian with a smile.
Smart Press Club extension for bites and drinks with an outdoor space too/ photo: Vijay Verghese
Nearby are the Au Lac Club (tel: 3936-9009, 3A Nguyen Khac Can), and the tiny Ferrari red Segafredo Zanetti coffee shop (18A Ngo Quyen, tel: 3936-9421).
A popular after-hours spot behind the Metropole is the Press Club (tel: 3934-0888, 59A Ly Thai To, http://www.hanoi-pressclub.com/), which includes fancy French and Euro menus as well as a the revamped and extended Bar Lounge & Terrace that has taken up some of the original alfresco spread on the third floor. Expect chic surrounds, great decor, excellent service and imaginative menus. Try the grilled beef wrapped in betel leaf and other Vietnamese delicacies or opt for something western or a crisp pizza. The deli downstairs has been supplanted by a Starbucks and an Omega watch store.
Of course, for some of the best Vietnamese food in town you'll need to exercise your wallet, but not immodestly, at the Sofitel Legend Metropole's Spices Garden (tel: 3826-6919). Their Le Club rustles up a fancy high tea and chocolate buffet of an afternoon, 3pm-5.30pm. Not to be outdone, the Hilton refashioned its Chinese restaurant into the mod Ba Mien specialising in Vietnamese cuisine taking in the "three regions". It can get a bit dark and quiet here though the service is friendly.
But if you have the money and the moxie and wish for a close brush with the bizarre, check out the Hale Club(pronounced "haa-lay", tel: 3942-4201, 64 Nguyen Du). This is an imitation Bangkok bar with chrome poles, pounding music, dancers (most in red-and-white sailor outfits) and perplexed foreigners downing cheap Tiger Beer. There are karaoke rooms as well.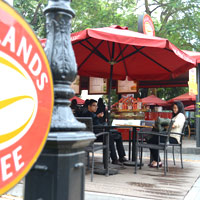 Highlands Coffee next to Opera House/ photo: Vijay Verghese
At midnight the police pop in to turn off the music though die-hards can still drink late. Arrive fashionably late or you may be the sole customer listening to "Five Hundred Miles". Catering mainly for Vietnamese, the throbbing Hale Club is not hard to find. It is next door to the Ministry for Public Security not far from the Nikko Hotel.
For something a bit more risqué - if less so these days - head to one of the karaoke-disco joints. No money, no honey. For more of the same on a grander scale, visit the Hanoi Hotel nightclub after 8pm or, wilder yet, the Big Boss KTV club at the Fortuna Hotel after 7pm where immaculate lovelies will be brought to your table while the mama-san flashes a torch beam on their faces one by one. Tacky and embarrassingly silly, but... there's music, dancing, karaoke and, occasionally conversation – "You handsome man. You take me hotel." The banter will set you back about US$30 for the pleasure of your partner's company. Drinks are extra. Both the Fortuna Hotel and Hanoi Hotel offer massage and pseudo spa treatments.
Sightseeing, Ha Long Bay, Perfume Pagoda
There are several day trips around Hanoi including golf at King's Valley, 36km away, a cruise through Halong Bay with its stone outcroppings reminiscent of Thailand's Phang Nga Bay, and a tour of the Perfume Pagoda following which you can drift down the river on a rowboat peeking into grottos and caves along the way. The verdant Tam Dao hill station is do-able in a day but Sapa (with its hill tribes and wonderful walks) will take at least two to three.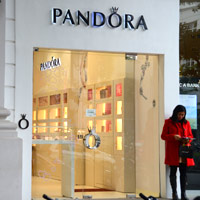 Pandora store behind Metropole/ photo: Vijay Verghese
While hotels have several tour agents listed, one you might try is Asia Sun Travel (Tel: [84-4] 3936-2366, fax: 3936-2388, e-mail: info@asiasuntravel.com or bichha@asiasuntravel.com, website: www.asiasuntravel.com). This is run by the energetic and resourceful Ta Bich Ha whose special interest is tours for the disabled. Bich Ha speaks excellent English. There's the upbeat 4U Tours Hanoi (tel: [84-4] 3927-2368, 4Utourshan@hn.vnn.vn). Or team up with Exotissimo (tel: [84-4] 3933-0621) at one of its many hotel counters. Halong Bay is around three hours by road.
Hanoi business hotels and heritage stays
So where should one stay? Given that Hanoi is not a particularly large town, location is not a major issue though a central spot near the Opera House and Hoan Kiem Lake is considered eminently desirable if you are looking for top Hanoi business hotels. Two charming properties here are the Hilton Hanoi Opera, which mimics the colonial design of its historic neighbour, the Opera House, and the stately 100-year-old Sofitel Metropole Hanoi, once the sole choice for visitors, that includes among its distinguished guests the likes of Noel Coward, Charlie Chaplin and Somerset Maugham.
The 364-room Sofitel Legend Metropole Hanoi with its starched colonial whitewash is a cultural heirloom that comes packaged with a navy-blue vintage car parked outside to underline the point. It has two blocks, the older one sporting creaky teakwood floors. The Metropole offers Broadband in all rooms and Wireless access in public areas at US$18 per day.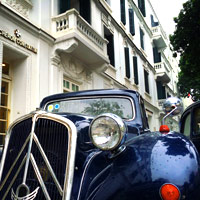 Sofitel Legend Metropole: vintage citroen/ photo: Vijay Verghese
The pool has been renovated. The atmospheric Old Wing of the hotel has undergone refurbishment to emerge all spit and polish.
The 32sq m Luxury Rooms feature compact bathrooms with L'Occitane toiletries, dark wood parquet flooring, a wooden work desk, classical comfy chair, silk cushions in sober colours, and double-glazed windows to firmly keep out street noise. Room features include a classic-face bedside clock, a ceiling fan, a rather comfy bed, flat-screen TV, DVD player and a large safe that can actually accommodate a laptop. Three cheers. One step up is the 37sq m Grand Luxury Room with a larger bathtub (with a separate shower cubicle) and a lounging divan.
The "New" wing or the Opera Wing as the hotel terms it has also gone through a dramatic facelift. The corridor carpets are done in startling orange-red stripes while the walls are in vertical black-and-white barcode stripes across which hang virginal white doors. It's not as hallucinogenic Alice in Wonderland or Sixties as it sounds. The ensemble is designer mod.
Rooms themselves feature flat screen TVs, stark polished dark timber underfoot with starched white linen on the beds and splashes of red in the chairs, crimson wake-up-call toilet tiles and cabinets. The shower is hand-held. Also find a weighing scale, a small box safe (that won't house a laptop), coffee and tea-making facilities, a large-face classical clock, and crisply focused "pipe" lights for reading. It's an interesting and enlivening juxtaposition for an historic Hanoi hotel.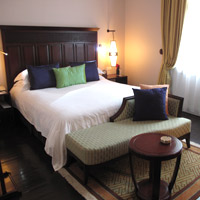 Sofitel Legend Grand Luxury Room/ photo: Vijay Verghese
The premium business traveller Club Metropole is housed in the Opera Wing (converted from office space) and turned into an executive haven with a Club Lounge, complimentary Internet and WiFi, vastly muted colours this time, and 48sq m Grand Premium Club Rooms. Expect a leather-top table, king-size bed with a faux-crocodile leather headboard, floral walls, and a funky freestanding bathtub accompanied by twin vanities and Hermes toiletries. And, in all rooms, you'll spot the stylish black-satin-cloaked bottles of mineral water with their elegantly raised crimson Dracula collars.
For Hanoi brand shopping head to the surrounding block or the hotel's Metropole Arcade for Louis Vuitton, Cartier, Chopard, Rolex, Salvatore Ferragamo, Hermes, Sergio Rossi, Jaeger-le Coultre, Bally, Burberry, IWC and more. In the vicinity are Esprit, Escada and Estee Lauder. Despite the colonial opulence and seemingly laid back atmosphere, this is easily one of the best Hanoi business hotels with brisk and friendly service.
After hours, unwind in the fabulous new Le Spa du Metropole set in a dedicated wing across three floors of elegant, classical, dreamy, aromatic décor with seven treatment rooms, a foot reflexology lounge and a hammam steam room. Check out the plush themed rooms and pick from Oriental or modern among others. Later, bop the night away at Angelina.
A stone's throw from the historic Opera House and its selfie-throngs and wedding parties dressed to the hilt in lace and finery, the all new 47-room Capella Hanoi (January 2021, www.capellahotels.com) is a Bill Bensley designed throwback in an "une petite auberge" mould saluting a nostalgic time of operatic enjoyment and refinement. Yet this is anything but a casual small inn.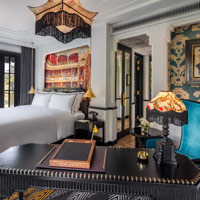 Capella Hanoi Junior Suite, plush vintage feel/ photo: hotel
Capella Hanoi is a magnificent and sumptuous construct, from its curving white exterior with balconies to the spacious interiors and vast suites from 59sq m to 194sq m kitted out with generous daubs of red velvet, marble, cobalt blues and irridescent greens facing neat black-trim windows welcoming of light. Think vintage decor, tasselled silk lampshades, recessed paintings, spoiling bathrooms and a delicious Auriga Spa for apres-pho.
Also expect special aromatic coffees, Bluetooth speakers, complimentary bar (non-alcoholic), and online newspapers and magazines. There is a gym for the fitness inclined (though we caution Hanoi is very much a walking city) and an indoor pool with sauna. Unwind in the Living Room with its selection of old literature and recipes dug up from the 1920s.
The playful and smart 107-room Hotel de L'Opera (opened mid 2011) replaced the old Danchu Hotel, with boutique flourishes and a riot of colour set around a delightful atrium courtyard with water fountains and canopies. From the M Gallery by Accor, this hideaway has fashioned living and rumpus space that is personal, casual, friendly, and mod. Things are chic yet rakishly tousled if you prefer. The location is superb. The style may not appeal to purists but will work admirably for young couples, women, and the hip and restless.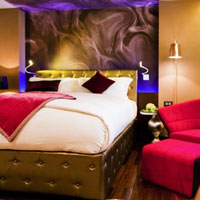 Get ready for boudoir reds at Hotel de L'Opera/ photo: hotel
The lobby serves up visual distraction by the yard - starting with the crystal-curtain 'tent' top - and, draped over the bar, you'll find immaculately accoutred young executives playing with iPads, as well as local cognoscenti, listening intently to jazz strains of a piano and cello combo perhaps. The best views at this medium-rise hotel open up from the sixth to eighth floors. The seventh-floor rooms share a pleasant walk-out terrace - with flower-pot dividers - that offers modest rooftop views of the Opera house.
A generously proportioned seventh-floor Suite serves up a riot of colour in the Living Room with velvet burgundy sofas and a large flat-screen television, further exaggerated by an oversize ornate silver frame. A full length mirror has a similar touch. The impression is not unlike having stepped into a Dali art gallery and guests will be excused for touching and feelings things as they make friends with their Alice-in-Wonderland space.
This is in sharp contrast to the plain pale-gold corridors with the single lick of rose carpeting running right down the centre. Long satin curtains run the length of the windows and glass sliding doors linking the living and sleeping areas. The verandah is beyond.
Step past glass-top work desk and its crimson-lip chair into the bedroom where a plump oversize bed sits regally atop a raised plinth requiring some amount of manual dexterity to climb into for the vertically challenged but it provides a splendid perch from where to watch TV - again set in a large gilt arty frame - and pore through your favourite sites on your mobile or laptop using the complimentary WiFi. Best bedtime story? 'Princess and the Pea'. No worries, you won't feel the pea.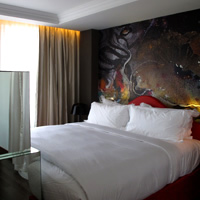 Hotel de l'Opera's trendy room/ photo: Vijay Verghese
Expect an iPod dock, lamps with foot switches, classic dial clock, muted impressionist art along the head wall, reading lights and, in a wardrobe alcove, a laptop safe and hairdryer. The good news for road warriors is that the three-pin electric sockets are multi-plug friendly.
And there's a pillow menu for demanding necks with a choice of water pillows and bean husk. The faux tiger skin rug on the floor is a playful tribute to colonial times but no animal was ruffled - it's all fabric.
The pearl-mosaic tile bathroom is stylish with L'Occitane toiletries, twin vanities, a rain shower and a claw-foot soaking tub. The long bright mirror is a joy to use - you can stop those Facebook selfies for a moment to get a peek at the real thing. Service is attentive and friendly and quick, something not always encountered in Vietnam.
And the concierge will guide you to taxis or tours. It's a far cry from the old Danchu where guests waited for the chefs to finish their supper before being served. It's part of the evolution of this 1,000-year-old city. For a taste of Baroque boutique, Hotel de L'Opera has to be the favourite choice in this city.
The Hilton Hanoi Opera, by contrast, has modern interiors, a businesslike feel and a high-ceiling lobby that echoes to the sounds of live music some nights. You could transport the Hilton and plonk it down in Paris without causing a murmur. It slips into period that well. This is a brisk hotel but long delayed renovations have dulled the sheen somewhat and service can get patchy at times. A fresh look is planned featuring a remodelled new entrance on the main road (so no more sneaky side street arrivals) with the bakery relocated streetside at the other end of the lobby and refurbished rooms. This may involve a hotel closure for a period with new rooms coming on line sometime 2017.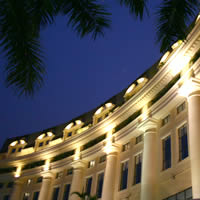 Classical lines of the Hilton/ photo: Vijay Verghese
The executive floors here feature free Broadband though all hotel rooms have access at a modest fee. Satellite television is available in all 269 rooms. The rooms at the Hilton feature bright floral prints and wallpaper married with a smart working desk and three-pin (square) plug connections. None of those old-fashioned European round plug sockets here.
The impression is bright, if unexceptional, welcoming and friendly. These are the sort of rooms where you can relax and crank out work. (If you need executive pampering, book into the seventh floor where refreshments and snacks flow endlessly.) The toilets feature a separate shower cubicle and bathtub. A good spot as any to catch some rays, is the small outdoor pool overlooking the Opera House.
The Chinese restaurant was reincarnated as the signature Vietnamese restaurant Ba Mien. Ba Mien specialises in three regions' cuisine, dishing out Hanoi, Hue and Saigon favourites in a spacious, cool and chic environment. The hotel houses some designer brand outlets with fashion accessories. It is among the top Hanoi business hotels downtown. Expect free Wi-Fi in the lobby from 8am to 10pm and Broadband in-room at about US$15 per day. One of the more interesting aspects of this address is its architecture that mimics the adjoining Opera House. Call it neo-colonial or classical, there's a French feel to the design though the interior is unabashedly American with a Vietnamese twist in the large oil paintings strung along the lobby.
Right opposite the Press Club behind the Sofitel Metropole is a splendid Hanoi boutique hotels choice, aptly named the Conifer Boutique Hotel. This is a small and friendly establishment in a great central location, right next to the Opera House. There are just 34 rooms at this tiny establishment with three or four per floor. There are six Suites with 37sq m of stretch space with narrow balcony (some look onto each other).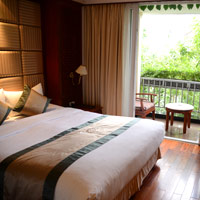 Conifer Boutique Deluxe balcony/ photo: Vijay Verghese
Expect a brown sofa, flat screen TV, free WiFi, gold fabric headboard with wooden side panels, three-pin old plug sockets with an adapter, and a laptop safe. The compact toilet has a tub with a rain shower (in combination), toiletries, and a box wall-mounted hairdryer that manages a decent gust.
In some Deluxe rooms there's cherry wood furniture, a grey silk bed runner, a bathtub with hand shower, black marble toilet, and a nice reading alcove or balcony. All this in 28sq m. The foyer is stone floor that gives way to wood underfoot. Ask for a room with a balcony. It will make a huge difference. There's free WiFi, bed light dimmers, see-through bath window, hand shower with tub (set a tad close to the ceiling, which can prove awkward for anyone over six feet), dark marble bathroom floor, laptop safe, small cupboard, tea and coffee and a mini-bar where a can of Tiger beer sells for D52,000. The wall mounted hairdryer roars a lot but will barely tickly the eyelashes and street sounds tend to filter in from the lively alfresco cafe downstairs. The balcony with green hanging vines and a table and chair is a splendid escape. Some Deluxe rooms come with just a rain shower (and no tub). These may be preferable for taller guests.
There is a small restaurant on the premises on the second floor and outdoor streetside tables for coffee. Small the place is but it rolls out services galore - along with smiles. Up on the top floor is the Aroma Spa where an excellent oil massage for 30 minutes will set you back just D380,000. There are three compact rooms with scented air, ambient music, and nimble hands. Conifer is smart and modern - with an old world feel - and homey. Definitely one of the best value Hanoi boutique hotels around, and with a super downtown location.
Arriving mid 2015 with views of the city's Hoan Kiem Lake centerpiece, the 123-room Apricot Hotel is positioned as a luxury boutique getaway with a stunning array of local art on display. The focus on art is perhaps no surprise as this medium-rise tiered confection is owned by the Apricot Gallery group that has been a Vietnamese art leader for years. It is in a leafy neighbourhood facing the lake on the west Hang Bong side next to the water puppet theatre. Step into a glittering virginal white lobby with a long central black-tile water feature adorned with bronze sculptures, under the glow of two large low-set chandeliers. Think long-stem aromatic lilies, cream gilt-edge faux-Euro funiture, double height ceiling, sculptures, and large soft-tone art works by the likes of Hong Viet Dung who specialises in misty impressioninst landscapes. Staff is welcoming and friendly.
Apricot Hotel's classic all-white lobby/ photo: Vijay Verghese
A 60sq m Masterpiece suite is a spacious construct with a two-entrance bathing area permitting access from the foyer as you enter, and through the bedroom. The white marble foyer with cream wallpaper gives way to a carpeted living room with large comfy sofas, plenty of homey bric-a-brac, wooden cabinets with ornate show-plates, a large flat-screen TV and a HUGE working desk. There is just one three-pin multi-socket set a bit awkwardly under the desk on the floor. WiFi is free. Odd numbered rooms are likely to have a lake view with some offering alfresco garden balconies too.
The pale golden hues and silk cushions may remind some of the Park Hyatt Saigon. If it does, you will be chuffed to learn it's the same designer. In the bedroom there's more art on the walls, one three-pin multi plug socket conveniently set on either side of the bed, easy chair and divan, in an airy setting welcoming of light. Expect a classic hand-dial clock by the bed, an iPod dock and yet another humungous flatscreen television. The white marble bathroom has a soaking tub as well as a rainshower cubicle, a single vanity, hairdryer, iron and ironing board, and flat laptop safe in the wardrobe. Scattered around the suite are wooden tables in varying shapes and two 'vintage' phones that are a tad twee but clearly chosen to blend in with the period France feel.
The hotel serves up a heated pool on the 10th-floor rooftop set in a timbered patio with a bar and, now, a covered top to ward against unfriendly weather. There is a bar with views of the lake and the Old Quarter. Also find a fitness centre, two restaurants, a spa and meetings facilities for a small corporate chinwag. On the ninth floor is the clubby Library (with a few balcony seats as well), a chill-out spot for guests with flowing tea and coffee (charged or free depending on room category).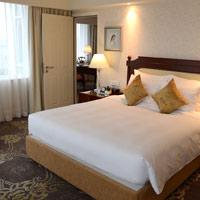 Apricot Hotel 'Masterpiece' suite/ photo: Vijay Verghese
Among the art on display arouind the hotel, spot Nguyễn Dung, Mai Thu, and Hồng Việt Dũng. There's everything from misty impressionism to vibrant lacquer-work. Take a good look around and then pop by the gallery. The in-room art is a big plus though some of the more risque works and nudes need to be dicretely covered up when guests of a more conservative disposition check in. A complete rework of the old Phu Gia Hotel, Apricot is 10 storeys of refined residence, art, and pampering in a neoclassical colonial-meets-contemporary creation. This location is close to shopping, art and some sights, and is a 10-minute stroll from the Opera House.
The latest hotel in the West Lake area is the L7 Hotels by Lotte West Lake (mid-2023 www.lottehotel.com/westlakehanoi), a modern 264-room hotel with 192 serviced residences within a sprawling complex. Expect an alfresco infinity pool rooftop and special dim sum treats from Hong Kong. This property represents the first export of this brand outside South Korea. Try out a 40sq m Superior Lake View or bump up to an 80sq m Studio Suite Room.
The bustling Pan Pacific Hanoi (rebranded 1 October 2016 from Sofitel Plaza Hanoi) overlooking the West Lake is more group oriented. Its highrise rooms offer sweeping views and you can take a dip, any time of year, in the top-floor all-weather pool - with a retractable roof. Classic Rooms start at 30sq m offering lake or river views and most come with a bathtub and separate shower.
This is a busy and brisk hotel with a crisp business feel, ample lobby space and some spruced up interiors. While the exterior is dated, head on up to the roof to the Lounge Bar for some breezy views of West Lake and sizzling sundowners. This is also a good address for small corporate meetings in Hanoi.
A bit farther out on the far, secluded side of the lake, the gleaming Sheraton Hanoi offers a stylish resort ambience with all the crisp flourish you'd expect from quality Hanoi conference hotels. It is an interesting, and relaxing mix, with lakeside frontage and pleasant gardens. Views are great, though the rooms look askance at the lake, rather than all the way across the length of it. This is a minor quibble as the place is really first class, especially if you have a large cranky corporate meeting in tow. The rooms feature conservative pastels with dark, rich, wood tones and, yes, three-pin (square) sockets. There is a flat safe for small notebooks if not a full-size laptop.
Pan Pacific views/ photo: hotel
Rooms are Broadband enabled (US$18 per day) so you can plug in and start surfing right off the bat. There are two telephone lines. Call your wife and boss simultaneously, and then wonder why on earth you attempted this. Internet access is free for a brief surf at the lobby Link@Sheraton that is set up with a couple of humming computers. In-room find two generous 500ml bottles of complimentary mineral water.
To work up a sweat, or cool off, there's a free-form pool set in the lakeshore gardens, an extensive fitness centre, and a tennis court. Pin-stripers can de-stress all the while marvelling at the excellent meetings facilities. Savour Vietnamese fusion at Hemisphere's and later unwind at the CHIME Bar, a jazzy wine and tapas lounge.
If you wish to just look at the Sheraton and can't afford to stay there, the next best thing is to kip at the neighbouring Dragon Hotel, an ornate Chinese establishment that offers a dizzying amalgam of artefacts, urns, ceramic horses, gods and wood carvings in a bright yellow building that resembles a pagoda. The place is basic but clean and more than a bit eccentric. If you get spooked easily, think twice before checking in. But it's fun. Service is friendly, there's an aviary in the basement ceramic tile patio where songbirds sing, and the small rooms are basic but clean. This is Halloween meets Friday the 13th. Heck it's only about US$39 a night.
A newer kid on the block – or over the water, more appropriately – is the InterContinental Westlake Hanoi that opened in March 2008. Formerly The Lien Resort Hotel, the 359-room InterCon has upgraded this over-water enterprise with considerable flair.
Expect an inviting tropical swimming pool right by the lakeside, Club InterContinental for business travellers in need of all-day butler service and high speed Broadband and Wi-Fi (US$18 per day), and capacious rooms upwards of 43sq m with 32-inch LCD televisions, satellite channels, twin vanity, and bathtub with separate rainshower.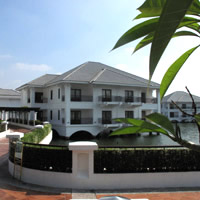 InterContinental Westlake Hanoi/ photo: Vijay Verghese
Rooms reflecting a modern Vietnamese style largely look onto the waters of the lake. Gourmets can enjoy Italian, French and Asian fare. Service is welcoming and brisk, a cut above the usual Vietnamese five-star fare.
A bit out of town in Kim Ma Street is the Korean-owned if-you've-got-it-flaunt-it Hanoi Daewoo Hotel. Needless to say, the kimchi and bulgogi are terrific though the hotel is a tad rundown after years of busy service and few updates. The high-rise hotel is slathered in marble and it boasts an extraordinarily generous 80m outdoor pool in which you could have shot The Titanic. This is one of its top features - on a nice summer's day. Presidents Vladimir Putin and Bill Clinton have stayed here but I'm not sure if cigars are big around here. Daewoo also has apartments, a good fitness centre, an 18th floor sky lounge and meeting facilities. High-speed Internet is available free, which is a huge plus. There are 411 rooms, mostly in bright pink-rose pastels with a work desk, a deep safe (not laptop size unfortunately), and generous views of lakes in all directions. Floors 15-17 offer the benefit of an Executive Lounge with canapés, drinks and breakfast. In the evenings, the young and restless – or old and jaded – can pop into Club Q for an enlivening moment.
Confidently thrusting up above Daewoo and the low-rise surrounds in the reflective glass tower of the Lotte Center (with its buzzing Lotte Department Store), is South Korean rival, and winner by a length, Lotte Hanoi. Opened September 2014, this 318-room high-rise hotel with its vertiginous The Lounge Sky and lobby on the 65th floor, offers unrivalled views around town - only on a clear day, mind you - and snappy service with several staff having worked with pedigreed Hanoi hotels prior to sign-up here.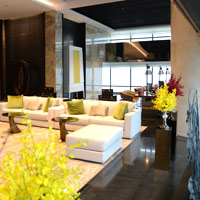 Lotte Hanoi's spacious 65th-floor lobby with a view/ photo: Vijay Verghese
Smiles are welcoming and service is crisp and attentive to suit the needs of fast-stepping business travellers and those in town for corporate meetings. The hotel is close to the exhibition areas and is itself a Muscle MICE venue with the Crystal Ballroom capable of hosting up to 1,200 guests. The fast pace and minimalist decor of the place appeals to the diplomatic set and visitors from multinational companies.
The bright and airy lobby is spread out with cream sofas and carpets, moss-green cushions, beige marble, and bowing guest relations ladies who may usher you into the lift Japanese style. WiFi is free and requires no setup or password. This is alone would be worthy of a recommendation but the hotel of course has more up its sleeve. Wood-panel corridors lead to 42sq m 'Asian' style rooms with beige marble floors in the foyer, pale earth tone floral carpets, silk fabric head walls, and a single three-pin multi-plug socket by the bed. Expect a classic clock with hand dials by the bed, uni-directional pipe reading lights, a large flatscreen TV, floor to ceiling windows serving up BIG views, an easy chair, and marble-top working desk, with two three-pin (multi-plug) electric sockets and one two-pin point. There is a flat laptop-friendly safe, an iron with ironing board, rich wood wardrobes, a soaking tub and separate rainshower cubicle, and an electric Japanese potty to do your botty in more ways than one.
The 'Western' style Deluxe Suite with 99sq m of stretch space presents a brighter less woody option, this time in pastels and pale ochre, with plenty of marble and powder-blue cushions. The corridors on these floors are brighter too with cream walls. The overall feel is lighter and we would prefer these room types. The in-room accoutrements are similar with two televisions, plenty of electric sockets (three pin and two pin), a settee, a four-seater round table and a Nespresso machine.
Lotte 'western' style Deluxe Suite/ photo: Vijay Verghese
With an Evian Spa, a fitness centre, a Tim Ho Wan restaurant for tempting dumplings, and the breezy rooftop 'Top of Hanoi Kitchen & Bar' on the 67th floor with an elegantly dark walk-up to the timber deck with its varied bars and seating, the Lotte Hanoi is a minimalist and straightforward corporate retreat and a good Hanoi conference hotels pick with a hidden nighttime pulse and some clever touches. It gets the job done.
The stodgy and lacklustre Hanoi Horison Hotel has miraculously morphed into the chic and stylish The Pullman Hanoi. The property is not too far from the action and offers quick access to both the airport as well as downtown. Walk into a large high-ceiling lobby with an apple leitmotif - indeed there's a large one right as you enter - and circular seating with powder green sofas and gauze curtains separating the lobby lounge.
Expect purple tones, an art deco feel, a tarted up exterior, a small open air pool on the second floor along with a spa and gym, 700-pax function space, free WiFi, and a 10th floor executive lounge with open views and a small boardroom. The L shaped hotel holds in its embrace a tall chimney from a historic brick kiln.
A 35sq m Deluxe serves up grey-and-purple patterned carpets and a functional room with work table, dataport, multi-pin electric socket, flat-screen TV, tea facilities and a mini-bar stocked with free soft drinks. Compact toilets offer a rain shower and Roger & Gallet toiletries.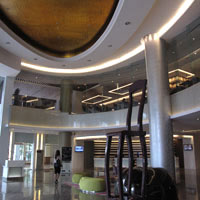 Stylish lobby at The Pullman Hanoi
The inroom safe is a tad small and will manage just a large camera at best. Executive Floor rooms switch to a charcoal-orange theme while Exercutive Suites stretch to 78sq m (purple tones again), twin vanities, two televisions, more generous toilet with rain shower and a bathtub. This address is worth a look-see if you need to touch several bases in the city.
A 20-minute drive out past Daewoo brings you to the fast-developing West Hanoi district much favoured by government ministries and newer entrants to the city as rice fields get replaced by housing and exhibition space and industry. This is where you'll find the Crowne Plaza West Hanoi with its breezy open views. It is 45 minutes from downtown - quite a haul - and 30 minutes from the airport. Yet, once ensconced, the place has a modern, brisk feel unlike several other Hanoi hostelries. This is a proper Hanoi business hotels puncher with less slugging and much finesse. While not close to historic sights like the Opera House, for many business suits, the drive out may be worth it.
One reason you may be here is for a corporate meeting in Hanoi or a company conference. The second-floor ballroom holds 500 while outdoor venues dish out space for a further 700. This area is, after all, Hanoi's "new CBD". The 393-room hotel is complemented by 135 residences in an adjoining block. The 40 Club Suites weigh in at 60sq m with a living room, L-shape sofa, woody tones, tan ripple carpet, iPod dock, and a nice bedroom with a see-through glass partition bathroom. Expect three-pin multi-plug sockets, large tactile light switches, laptop safe, iron and board, hairdryer and a shower cubicle with a power shower. A minor niggle is the paucity of plug points so recharge wisely.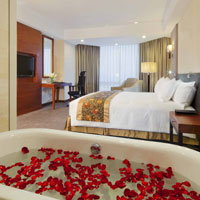 Peekaboo bath at Crowne Plaza/ photo: hotel
Nice Deluxe Rooms offer 34sq m with table and dataport, peekaboo bathroom (plus a spare plug point by the minibar and another one in the corridor). The Club Lounge is on the 24th floor where Club Suite and executive floor guests will find a small meeting room that can be used for two hours on a complimentary basis. High tea runs 3pm-5pm and cocktails from 6pm to 8pm.
Not far from here is the soaring cloud-tickling blue reflective glass tower of the InterContinental Hanoi Landmark72 (originally due in end 2013 but finally opened late 2017), the "tallest hotel in Vietnam". InterCon pulled out after quality controls failed to match exacting American standards and the place is now locally run with offices and apartments. It is tall. Other emerging buildings are but shoulder high. With rooms running from the 62nd to 71st floor, this 359-room address offers sweeping views in all directions and is part of the Landmark 72 complex with cinemas and wall-to-wall shopping. The hotel serves up 8,000sq m of spa and fitness facilities. MICE planners can explore the 941sq m pillarless ballroom and versatile function and event space is on hand to cater for Hanoi conferences of all size and shape. There's 3,000sq m of meeting space. Expect rooms with big floor-to-ceiling views, glass see-through bathroom walls, pale mustard carpets, oval glass-top work desks, three-pin multi-plug electric sockets, classic bedside clock and charcoal lampshades.
The Melia Hanoi offers Broadband throughout the hotel. Wireless is available in the lobby as well as on select floors. There is an open-air pool, a fitness centre, and a Grand Ballroom that seats 1,200. There are, of course, smaller function rooms as well. Rooms are pretty straightforward, with light wood, and pastels. Here you'll get THREE 330ml bottles of complimentary mineral water, a small safe, and a well-stocked mini-bar. Melia is not your average understated address.
Landmark 72 room/ photo: hotel
It is large, businesslike and busy. Expect woody hues, echoing hallways and a sense of people on the fly. After hours enjoy tapas at the foot-tapping Latino Bar.
The Hotel Nikko Hanoi is minimalist and corporate and its has been around since 1989. Deluxe rooms start at a spacious 36sq m with swirling pattern tan carpets, a woody interior, light pastel tones with goldy drapes, a flat screen TV, two-pin sockets, a bright easy chair, coffee maker, a small box safe for a camera, and a delightful bottom-pampering Japanese electric potty that shares space in the bathroom with weigh scales, a tub with hand shower and hairdryer. WiFi is charged.
Executive rooms stretching that to 48sq m with more silk cushions and a separate glass cubicle for the hand shower. There's Chinese on the menu as well as Japanese while a broad-menu brasserie covers more bases and palates. Also find a sunny outdoor swimming pool and a fitness centre with sauna, massage services and Jacuzzis.
The Fortuna Hotel is a four-star Hanoi MICE hotel close to the main exhibition area that is neat and orderly and does not masquerade as a masterpiece. The place is functional and brisk. Find a spa, fitness centre, friendly doormen, two ballrooms of 700sq m each and six meeting spaces for corporate chinwags. A newer addition is the open-air pool set in see-through aquarium glass walls set next to the executive lounge. Start slimming folks.
This uncomplicated ensemble works splendidly for business travellers who may be in need of a testosterone outlet apres-work in the form of the boisterous Big Boss KTV dance club in the basement bristling with bosomy distractions that emerge 7pm. The rooms are compact but not bad at all. Deluxe rooms start at about 25sq m (with WiFi at US$15 per day).
New Fortuna Premier rooms are bright/ photo: Vijay Verghese
Expect iron and ironing board, a hairdryer, a flat-screen TV, a decent work desk with three-pin multi-socket plugs, a coat stand, large laptop-size safe, blonde wood features, and even a Jacuzzi (in some room types). Try a Studio (which has the aforementioned Jacuzzi), or move up to a nice and spacious Premier with lighter pink-rust tones and a bright welcoming feel.
Farther afield the JW Marriott Hanoi (September 2013) is a MICE hotel set within the sleek contemporary lines of a medium-rise polygonal construct that somehow blends a a ski lodge, I.T office, stadium, cruise ship, stealth bomber and hotel into a single comprehensive structure that is hard to miss. The rooftop pool juts out across a cantilever providing a touch of oomph and gee whizz for jaded travellers.
Opting for space rather than height, JW offers a staggering 2,400sq m of meeting space in two ballrooms and 15 function areas with ample stretch for pre-function parties.
The living room style Studio is aimed at CEO chinwags for up to 20 persons. The 450 rooms include 48sq m modern ensembles in sleek straight lines with enough space to swing an elephant by the tail and the 56 Suites ramp it up further.
Expect a Spa at JW with 11 treatment rooms and wellness by the yard with Vietnamese as well as Asian treatments and massage. There is an indoor swimming pool and a round-the-clock fitness centre for de-stressing suits in need of a cardio-workout when that iPhone keeps buzzing. This is a no-nonsense business and conference hotel but its location is a tad far for leisure trippers.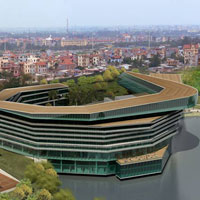 Futuristic JW Marriott Hanoi/ photo: hotel
Closer to town, the Sunway Hotel, positioned rather boldly as a "boutique" property, is a tad disappointing. Its service and facilities are fair but the overall ambience is bit cramped and dark. On the bright side, it offers a health club with assorted fitness gadgetry, a sauna, and some herbal spa massages.
Its location is not far from the Opera House area. Sunway went through a renovation that has brightened rooms up a bit with bed runners, woody tones and patterned carpets.
Right next door on Pham Dinh Ho Street is the newer and brighter Prestige Hotel Hanoi, a four-star property, that is cheerful and welcoming with attentive and friendly staff. From a small modern marble lobby head up to a fairly compact but well laid out room with a frosted glass bathroom partition, quick and powerful rainshower, toiletries, decent hairdryer, coffee making facilities and perky beds that are comfortable enough.
The safe will hold a laptop should you need to lock it away. Some corner rooms serve up a bathtub instead of shower cubicle. The tubs are somewhat awkwardly positioned and not easy to get into. Don't slip. Should you gain an inadvertent bump, head up to the rooftop pool and bar for a sundowner. Prestige is simple, unfussy and works hard to get it right. It is just a 15-minute stroll from The Opera House or Hoan Khiem Lake.
Opened 2 April 2013 is the Hilton Garden Inn that introduced this few-frills business brand to Southeast Asia. Housed in the former Oriental Pearl Hotel (that was taken over by Hilton and modified before completion of the building), the Inn is on a small scale, with tiny lobby, a business centre, an unadorned but functional bar, and a "satisfaction or no payment guarantee" from the chain.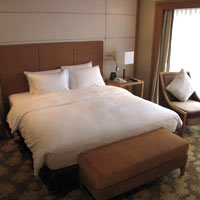 Compact, functional Hilton Garden Inn
This small building has 25sq m Deluxe rooms that are compact but cheerful and bright with a glass partition bathroom, free WiFi, pipe reading lights, comfy beds, and balconies. Find an MP3 socket, a work desk with ergonomic chair (worth US$800 so sit carefully on your designer perch), and two three-pin electric sockets. There is a flat-screen TV, a big laptop safe and an empty fridge that guests can stock up. In the bathroom expect a rain shower with bathtub, and white marble finish. There are eight 50sq m Suites with floral beige carpets, large bathtubs with separate rain shower and two TVs but no balcony. The rooftop spa is outsourced and there is a fitness facility. Documents can be printed at the business centre via WiFi and there is small meeting room for 40 persons behind the lobby.
A smaller but interesting option is the well-located doll's-house De Syloia that offers the Cay Cau Vietnamese restaurant, a small business centre and a gym. This is a compact, homey establishment but you will find meeting rooms, a business centre, in-room safe and satellite TV.
The smart Guoman rebranded as the Movenpick Hotel Hanoi. It always had strong European accents and this trend continues - albeit with a very mod transition - in this Hanoi boutique hotel incarnation. There are 154 rooms starting at 30sq m. Super Deluxe rooms have dark accents with wood flooring enlivened by a green border carpet, silver chest-of-drawers below the flat-screen LCD TV, a black leather sink-in reading chair, silk drapes, and large face bedside clock. The wallpaper is in grey tones and a partial see-through glass wall leads the eye from bedroom to a compact bathroom. Expect an iron and ironing board, a large electronic safe, weighing scales, a data port and two multiplug electric sockets by the table.
Chic Super Deluxe at Movenpick
The hotel also has rooms set aside on the third floor for women travellers who will appreciate the iron and ironing board, bright lighting, and a portable make-up mirror. Find pale green cushions, a big data-port with two multi-pin sockets, and a flat laptop-friendly safe. There are choices for mattress covers and a pillow menu too. On the third floor too is the Kinetic Gym and Wellness Studio. Head here for a workout or spa treatment. And in the Junior Suites find a Jacuzzi bathtub. All rooms offer Broadband Internet access at US$12 per day and WiFi is accessible throughout the hotel in rooms and in public areas. Meeting facilities are brisk, if small-scale, catering for corporate get-togethers, with Wireless and plug-in Internet access. Also expect a gym with massage and sauna, reflexology and a Jacuzzi. Not to be outdone by the Metropole, Movenpick has a cream vintage Citroen parked outside. This is a good hotel choice but don't expect a swimming pool.
Not commonly mentioned in any Hanoi guide, the very welcoming and friendly Hoa Binh Hotel is centrally located just two blocks from the Opera House on Ly Thuong Kiet Rd. This is a three-star establishment with a French restaurant, a sleepy yet inviting air and a fair bit of character not least on account of the numerous classical columns and creaking floorboards. The place first got underway in 1926 under the name Le Splendide, and that name is retained by its French restaurant that doubles as a cheerful breakfast venue that serves a hearty buffet in the mornings. Staff are keen to help and manage weddings, foreign visitors and local guests with egalitarian charm. They clearly take pride in their hotel.
One receptionist told me her mother had worked there previously and she was carrying on that family tradition. Deluxe rooms here are much larger than your average five-star Hanoi hotel (these are practically suites), with a diwan, two Edwardian chairs, a writing desk, a vanity table with mirror, a large bed, a flatscreen TV, an electronic safe that will house your video camera if not a laptop, a mini-bar, and firm pillows.
Old World Hoa Binh is all creaking floors
You'll get a large wooden almirah in the foyer (remember foyers?), shampoo and bath gel, a shaver, wall-mounted hair-drier (that may be temperamental) and two bottles of mineral water each day. There is a tea and coffee-making facility. There is a huge amount of space though the surroundings are somewhat spartan. Some street-facing rooms on the third floor have balconies on which you can step out of an evening. Double glazing in these rooms ensures there is not too much street noise invading the room. Bathrooms again are large and could be brighter. The shower is a teasing trickle rather than a Niagra Falls but put it down to building character. It's all good fun. There is a sauna on the premises and a massage can be had (but not in-room) for D220,000 for an hour. WiFi is free in-room but may not produce a strong signal at all times. It is available in the lobby too at a faster speed.
A local agent could secure this with a huge breakfast for around US$55 per night. I booked into room 255 that mysteriously was not on the second floor. It was not on the third floor either. I was mystified. A maid later pointed out a side staircase on the second floor that went up to the fourth floor where my room was located at the end of a long corridor. Quite a bit of schlepping about but at that price I'm not complaining. Do watch out for the noise though in these upper rooms. Being on a busy intersection means you will be vigorously reminded of the huge strides modern Vietnam is making as heavy trucks and whining motorcycles roar by at all hours.
Farther along the road at 94 Ly Thuong Kiet Street near the Central Station is the new and modern four-star French-run Mercure Hanoi La Gare with 102 rooms featuring a look-in glass bathroom wall. Playfully, the drapes are on the outside.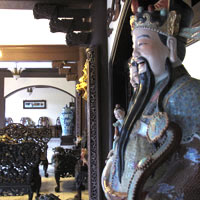 Chinese-style Dragon Hotel
A flavourful and tiny Hanoi boutique hotel option is the tucked away Cinnamon Hotel near St Joseph's church in the Nha Tho area (26 Autrieu Street) with just six rooms. Cosy, welcoming and well located and a steal at US$75 up.
A modern option is the 106-room four-star Hanoi boutique hotel, Silk Path Hotel (opened March 2010) at 195 Hang Bong not far from Hoan Khiem Lake and smack in the middle of all the action at a busy intersection in the Old Quarter. Walk into a small high-ceiling marble lobby past an outdoor verandah where a small group can enjoy an evening beer watching life roll by. A slim "skywell" runs up eight floors allowing light into a sliver of the hotel. Pop by the Belissimo restaurant if street fare has proved too much for you. Expect a gym, Jacuzzi, and a glass lift with marble inlay floors. A 30-35sq ft Executive room serves up pale wine and olive candy-stripe carpets, flat screen TV, and free WiFi (throughout the hotel). Ten rooms offer balconies. Expect three-pin plugs, laptop safe, weighing scale, coffee maker, a study alcove, shoeshine stuff, a somewhat compact bathtub with hand shower and burgundy marbled floors in the toilet. There is a wall mounted box hair drier that actually works and spits out a fair amount of hot air. This is a friendly establishment with genuine smiles and a great old Hanoi location perfect for walking though it can get more than bustling at peak traffic times.
Church Boutique Hotels offer another interesting alternative for those in search of something different with rates from around US$60 and attractive, clean, intimate surrounds. Expect a lot of white and faux Euro flourishes. One hotel is on Hang Gai in the Old Quarter, with another more expensive property in Nha Tho and a third on Hang Ca Street.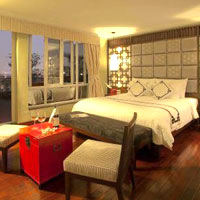 Maison D'Hanoi Hanova suite/ photo: hotel
And a stylish option for a taste of old world charm is provided by the two Maison D'Hanoi hotels, also in the Old Quarter. The Maison D'Hanoi Boutique hotel serves up 42 rooms with TV, WiFi and in-room safe. A Classic room offers a mix of old and new comforts with wooden floors and pastel surrounds with a muted but adventurous colour palette. Expect a king-size bed and iPhone dock. Maison D'Hanoi Hanova is a stroll from Hoan Kiem Lake. Opt for one of the two inviting Deluxe Suites with timber floors, balcony views over the city, a red lacquer wooden chest serving as a table and white drapes setting off the ensemble. A classical Chinese-style wooden carved headboard with hanging lamps completes the picture. The effect is bright, contemporary with a hint of nostalgia.
For high rollers and karaoke enthusiasts, there's the Hanoi Hotel (modern yet a tad grotty but with a lakeside location), with a smart Chinese restaurant, a sauna and massage, a slot machine room for foreigners only, and a bopping nightclub where you'll encounter the usual avalanche of nimble, nubile lovelies. This is a BIG hostess nightclub. Best to come with friends if you don't wish to look too furtive and lost.
Hanoi long-stay hotels and executive apartments
For Hanoi long-stay hotels and for visitors in need of something more laid back there's the Sedona Suites Hanoi, in the Quang Ba area 15 minutes from downtown, with 175 rooms (starting at 59sq m) with kitchenette, satellite TV, in-room safe, and a raft of activities from badminton and tennis to squash, basketball and sauna.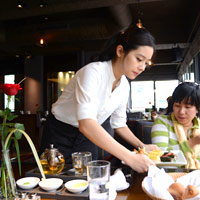 Press Club, excellent food and service/ photo: Vijay Verghese
There is a mini-mart, a business centre and small meetings facilities. Other apartment-style long stay hotel options include the upscale 185-residence Somerset Grand Hanoi (from the Ascott group at 49 Hai Ba Trung Street) close by the Melia in town, with gym, sauna, business centre, conference area, tennis, Wi-Fi, and kindergarden; and the newer, smart, and contemporary Fraser Suites near West Lake on Xuan Dieu Street. Expect secure keycard access to residential floors, large LCD TVs and the usual mod-cons. Families can avail of a children's playroom and the Syrena Shopping Centre is just a hop and a skip away. Hanoi has several decent serviced apartment options.
Transport, taxis, and getting around
Getting around Hanoi is not too difficult. There are metered taxis, and metered taxis and. Well, some taxis start at D12,000, some start at D6,000, while still others start at D7,000. At the end of the day for a distance over 2km the fare will be roughly the same, as the cheaper taxi meters run faster. Make a note of Hanoi Taxi (tel: 3853-5353). Rides within the city are normally about D20,000-D40,000 though some meters run at Olympian speeds.
Within the city, hotels can arrange a private taxi with a driver and an air-conditioned vehicle. How much English your driver speaks is another matter. A hotel car will set you back a wee bit more with perhaps a more significant vocabulary range. As one guide explained to me, "Here, driver speak English is not popular." This is about as good as it gets.
Airport survival tips and duty-free shopping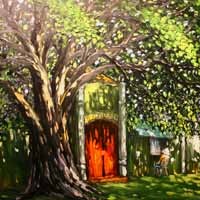 Le Thanh Son: colourful but pricey/ photo: Vijay Verghese
Getting in to town from the new Noi Bai International Airport (T2) is a doddle. The old terminal (T1) now handles domestic flights. Airport Taxis are just US$15-$20 to town (though the temptation will always be to ask for more) and they are parked right at the front entrance as you exit. Public taxis will cost around 350,000 Vietnamese dong. That's a lot of cash, in terms of volume, if not in buying power. Carry some. On the journey from hotel to the airport you should be paying about the same or up to D380,000 though doormen will try to pass you to a private cab for D600,000 or so, claiming unrivalled luxury and comfort. Politely decline.
The new Hanoi international terminal (launched December 2014) boasts air-bridges to connect to jets (dispensing with the creaking buses), and glassed-in immigration officials. A handy sign on all the glass booths used to offer a word of caution for visitors. "Do not pull the glass," it read. Quite right. It has gone, a sign of breathless upgrades at the shiny and roomy new terminal. The airport is clean, neat, bright and airy (with a high ceiling) and on a good day you can get from airplane gate to taxi in 10 minutes, a feat helped in great measure by the elimination of arrival and departure forms. This simplified process is pretty efficient.
Departures are fairly painless too with efficient check-in counters and a new shared airline lounge upstairs after immigration that serves up quality food, drinks and cream furniture with WiFi and electric sockets arranged conveniently by the chairs.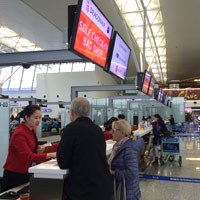 New Noi Bai International Airport T2 check in/ photo: Vijay Verghese
There are just a couple of duty-free shops in the new T2 with the usual array of alcohol and perfumes, trinket stalls (British colonial sola topi sun-hats and the like), and some cafes along with a Burger King outlet. Travelators usher you to boarding gates set along a single corridor.
The old bookstore at T1 (domestic) is now the sole repository of books in English, like the riveting Our Great Spring Victory. It also stocks contemporary fare such as Selected Writings on Utilitarianism by Jeremy Bentham and the collected works of Thomas Hardy. Change your dong BEFORE you clear immigration at T2. One of the good aspects of the new Noi Bai International terminal is the abundance of banks and money changing counters on arrival.
Hanoi Noi Bai duty free shopping prices are about what you'd expect anywhere in Asia. A Johnnie Walker Black Label one litre bottle is US$34 and a 12-year-old Chivas weighs in at a pricier US$37. Here's you'll find Bally, Ferragamo, Burberry, Longchamp and Aigner. Christian Dior's 50ml EDT J'adore retails for US$95, a Miss Dior 50ml EDT is UA$89, while a BVLGARI Rose Essentielle 50ml eau de parfum is US$93.
Airport staff, like people everywhere in Hanoi, are exceptionally polite. I caught some in the middle of a tearful Korean soap opera that had just about everyone glued to the large-screen tellies around the terminal. I had to apologise to the ladies to have to tear them away to reopen their shops and turn on the lights. They wept some more when I enquired about further discounts.
Duty-free shopping at Noi Bai, Hanoi/ photo: Vijay Verghese
If you're flying out of Hanoi on Vietnam Airlines (www.vietnamairlines.com.vn) bear in mind that its Airbus A320s have a 3-3 configuration in economy with a HUGE middle seat. I kid you not.
Middle seats B and E are at least three to four inches wider than the rest. Don't ask why. On the A321s sporting the new corporate livery and deep blue upholstery, pick Exit Row 8 Seats ABC and EF. Seat 6D right behind business class has terrific legroom and no seat in front. For legroom, also try Exit Row 21. Remember the large middle seats.
Offer your wife the window, graciously, then lean back in seat B, don your sola topi and snooze.
Send us your Feedback / Letter to the Editor
FAST FACTS

/ Hotel Contact List

Room rates may be subject to a 10 percent VAT and five percent service charge unless stated otherwise. Any rates shown here are for reference only. Several hotels have official promotional rates available that slash prices by 50 percent or more. Smaller boutique hotels may charge upwards of US$60 per night while four stars will be priced around US$85. Five star international chain hotels will generally charge around US$125, going up to US$260-$400 for luxury stays.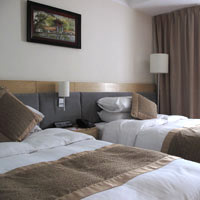 Cosy and brisk Prestige Hotel/ photo: Vijay Verghese
Better rates can be had as you move away from the Opera city centre to newer districts where conference hotels are located. Off season and sans conference this is where the best rates are to be found.
The exchange rate hovers around US$1=D23,200. American dollars are freely used for taxis and purchases. You might even get change back in US dollars. Keep plenty of small dollar bills. For travel agents and arrangements, try Asia Sun Travel (tel: [84-4] 3936-2366, fax: 3936-2388, e-mail: info@asiasuntravel.com or bichha@asiasuntravel.com, website: www.asiasuntravel.com), 4U Tours Hanoi (tel: [84-4] 3927-2368, 4Utourshan@hn.vnn.vn), or Exotissimo (tel: [84-4] 3933-0621).
Note: As of October 2008 Vietnam Telecom changed the telephone numbering system on its service with an addition "3" right before the old number. We have added this extra digit to the numbers listed here but it may not always work. And the area code for Hanoi changed to 24 in 2017. Make a note in case your telephone calls don't connect.
Apricot Hotel. 136 Hang Trong. Tel: [84-24] 3828-9595, (www.apricothotels.com/).
Capella Hanoi Tel. [82-24] 3987-8888, (January 2021, www.capellahotels.com)
Church Boutique Hotels. Hang Gai. Tel: [84-24] 3938-2233, (www.churchhotel.com.vn).
Cinnamon Hotel. Tel: [84-4] 3938-0430, (www.cinnamonhotel.net).
Conifer Boutique Hotel. Tel: [84-24] 3266-9999, (coniferhotel.com.vn).
Crowne Plaza West Hanoi. Tel: [84-24] 6270-6688, (www.ihg.com/crowneplaza/).
De Syloia Hotel. Tel: [84-24] 3824-5346, (www.desyloia.com).
Dragon Hotel. Tel: [84-24] 3829-2954, (hoteldragon.vn).
Fortuna Hotel Hanoi. Tel: [84-24] 3831-3333, (www.fortuna.vn).
Fraser Suites Hanoi. Tel: [84-24] 3719-8877, (hanoi.frasershospitality.com).
Hanoi Daewoo Hotel. Tel: [84-24] 3831-5000, (www.hanoidaewoohotel.com.vn).
Hanoi Hotel. Tel: [84-24] 3845-2270, (www.hanoihotel.com.vn).
Hilton Garden Inn Hanoi, Tel: [84-24] 3944-9396, (hiltongardeninn.hilton.com).
Hilton Hanoi Opera. Tel: [84-24] 3933-0500, (www.hilton.com).
Hoa Binh Hotel. Tel: [84-24] 3825-3315, (www.hoabinhhotel.com).
Hotel de l'Opera. Tel: [84-24] 6282-5555, (www.hoteldelopera.com).
Hotel Nikko Hanoi. Tel: [84-24] 3822-3535, (www.hotelnikkohanoi.com.vn/nikko/public).
InterContinental Hanoi Westlake. Tel: [84-24] 6270-8888, (www.intercontinental.com/hanoi).
InterContinental Hanoi Landmark 72. Tel: [84-24] 3698-8888, (www.ihg.com/intercontinental).
JW Marriott Hanoi. Tel: [84-24] 3833-5588, (www.marriott.com).
L7 Hotels by Lotte West Lake (mid-2023 www.lottehotel.com/westlakehanoi).
Lotte Hanoi . Tel: [84-24] 3333-1000, (www.lottehotel.com/hanoi/en).
Melia Hanoi. Tel: [84-24] 3934-3343, (www.meliahanoi.com).
Mercure Hanoi La Gare. Tel: [84-24] 3944-7766, (www.mercure.com).
Maison D'Hanoi Hotels. Hanova. Tel: [84-24] 3938-0999, (www.hanovahotel.com).
Movenpick Hotel Hanoi. Tel: [84-24] 3822-2800, (www.moevenpick-hotels.com).
Pan Pacific Hanoi (formerly Sofitel Plaza Hanoi). 1 Thanh Nien. Tel: [84-24] 3823-8888, (www.panpacific.com).
Prestige Hotel Hanoi. Tel: [84-24] 6299-9888, (www.prestigehotels.com.vn).
Sedona Suites Hanoi. Tel: [84-24] 3718-0888, (www.sedonavietnam.com).
Sheraton Hanoi Hotel. Tel: [84-24] 3719-9000, (www.sheraton.com/hanoi).
Silk Path Hotel. Tel: [84-24] 3266-5555, (www.silkpathhotel.com).
Sofitel Legend Metropole Hanoi. 15 Ngo Quyen Street. Tel: [84-24] 3826-6919, (www.sofitel.com).
Somerset Grand Hanoi. Tel: [84-24] 3934-2342, (www.somerset.com).
Sunway Hotel. Tel: [84-24] 3971-3888, ( hanoi.sunwayhotels.com).
The Pullman Hanoi. Tel: [84-24] 3733-0808, (www.pullmanhotels.com).