ADVENTURE
Return to the Andaman Islands
Explore some of the best beaches in the world, crystal waters, rainforests and volcanoes. Our Andaman Islands guide to hotels and resorts.
with photography by Catharine Nicol
SEE ALSO Bangalore Guide | Chennai | New Delhi Business Hotels | Goa Resorts | Gulmarg | Himachal | India Spas | Kerala Resorts | Ladakh Guide | Mumbai Business Hotels | Pondicherry guide | Rajasthan Palace Hotels | Zanskar treks | Maldives | Sri Lanka Resorts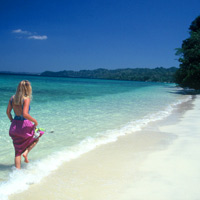 Havelock Island beach
The picture postcard Andaman Islands are devilishly hard to find on the map. This is a good thing. Picture postcard islands are not meant to be found, and overrun. Sprinkled over a corner of the Indian Ocean, the islands are part of India but geographically closer to Myanmar and Thailand. They are not easy to get to but then the fun is all in the journey, right? The arrival is pretty spectacular too – especially after you've pulled out most of your hair trying to confirm bookings on Indian Airlines or Jet Airways from Kolkata (Calcutta) or Chennai (Madras). A journey by ship takes 48 hours from Chennai or 56 hours from Kolkata. That's a lot of hair. Here's an official Andamans site that can make things a lot easier to figure out. Airlines like Jet Airways (www.jetairways.com), Air India (home.airindia.in), Kingfisher Red (www.flykingfisher.com) and JetLite (www.jetlite.com) connect the main city Port Blair to other Indian metropolises including Kolkata, Chennai and Delhi. Prices from about US$190.

Slide Show

E-mail Page

Print

Hotel Contacts
Even though the islands are far to the east of India, local time is still based on Indian time, which means it gets dark at 5.30pm and daybreak is at 4.30am. Flights land at Port Blair. Immigration formalities are conducted at a makeshift desk and chair where foreigners get special permits to visit the islands. This is accomplished with ease. Permits are valid for 30 days but tourists are not allowed to visit any of the Nicobar group of islands. Foreigners wishing to travel to the Andaman Islands by sea will need to get a 30-day permit in advance from the Ministry Of Home Affairs (mha.nic.in) in New Delhi or from the Foreigners Regional Registration Office located in Mumbai (Bombay), Chennai, Delhi, Calcutta, (and at key immigration departments).
Pure rainforest and beach
The places covered by this permit for overnight stays are: South Andaman Island, Middle Andaman Island and Little Andaman Island (except the tribal reserve), Neil Island, Havelock Island, Long Island, Diglipur, Baratang, North Passage and islands in the Mahatma Gandhi Marine National Park (excluding islands Boat Hobday, Twin, Tarmugli, Malay and Pluto). An overnight stay in the Park is with permission only. Day trips are allowed to the South Cinque Island, Ross Island, Narcondum Island, Interview Island, Brother Island, Sister Island and Barren Island.
Send us your Feedback / Letter to the Editor
Permits can be obtained at the airport but it is preferable to obtain these through overseas Indian embassies while applying for a visa. Permits are also issued at the Ministry of Home Affairs in Delhi, or at the Foreigners' Registration Office in Delhi, Mumbai, Kolkata or Chennai.
Indian citizens do not need a permit for entry into the Andamans. However, all visitors are best advised to carry some form of identification (driver's license, PAN card or passport) with them. Permits for foreign passport holders are issued upon their arrival at the airport in Port Blair. As long as they have a valid Indian visa, and there is no stamp on the back of the visa that says, "Not valid in restricted areas," they should be fine.
Foreign visitors can stay overnight in South Andaman, certain places in Little Andaman, Middle Andaman, Neil Island, Havelock, and only in Diglipur on North Andaman. Day trips are permitted to the islands of Viper, Ross, Interview, Jolly Buoy, Red Skin, Cinque, Narcondum, Brother and Sister. It's all deserted islands with pristine white beaches, diving, and an exploration of the unique culture, rituals and geography of the Andaman and Nicobar Islands.
Rainforest near Wandoor
Our journey to Port Blair had taken us years to organise from conception to execution. Delhi-based Mandip Singh Soin, explorer, eco-warrior and zany adventurer hit upon the idea of climbing a volcano in 1978. I was invited along. It was hard to refuse. I'm his wife. A team of nine members from the UK, USA, Spain and India was assembled as part of the International Eco Tourism and Volcano Expedition sponsored by the Ministry of Tourism and the Andaman administration and we set off.
One of the prime objectives was to climb a remarkable marine volcano on Barren Island, three kilometres long, 351 metres high and a 135km haul from Port Blair. After being obligingly quiet for almost two centuries, it had woken up in 1994. As we now trudged up slowly and carefully, in step with Paul Deegan, an accomplished climber from Britain, the ash was deep underfoot and the air heavy with sulphurous fumes. Nearing lip of the crater, the air bristled with menace and beauty while the ground baked our feet. But we had arrived. Visitors can get to Barren Island aboard their vessels but are not allowed to disembark as the island has been declared off-limits.
The Andaman group of islands lie between India and Myanmar - more than 372 of them extending over 750km north to south and many of them unexplored until today. There is more virgin beach here, all of it spectacular, than anyone could possibly enjoy in a lifetime. Marco Polo visited these Islands in the 13th century and in the 19th century the British took control of the islands to use them as a penal colony. The Cellular Jail, as one of the former holding camps was called, runs an occasional son et lumiere.
A 20-minute boat ride departs from Phoenix Bay, Port Blair, every day except Wednesday (8.30am, 10.30am, 12.30pm and 2pm.) taking travellers to Ross Island, the administrative centre of the British, till an earthquake in 1941 destroyed the elegant buildings and wide roads.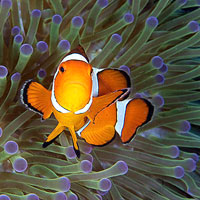 Underwater hues/ photo: Dive India
Present day Ross Island showcases remnants of what were an opera house, a library, and a bakery. Port Blair has an interesting Anthropological Museum with fascinating displays of photos of indigenous tribal people, their native dress, and tools. Admission is free.
During the 18th and 19th centuries, missionaries from Europe arrived on the islands to convert the locals. Things didn't go well for either side: the tribes were faced with diseases that they had no immunity against and many were wiped out while missionaries had to abandon the islands due to lack of water and mystery illnesses.
The Andaman Islands are a land of immense natural beauty - forests lead down steep hillsides to rocks, hard-packed beach, white sand, or, in sheltered areas, small mangrove forests. Along the shores are fringing coral reefs where the ocean depths show their wealth of sea life. This is diving and snorkelling paradise.
If you plan to snorkel, it is a good idea to bring your own equipment though it is available on hire as well. There are several dive centres.
Barefoot Scuba (tel: [91] 95660-88560, www.diveandamans.com) on Havelock Island offers recreational diving for all levels, encompassing a range of courses from introductory programmes to advanced levels such as divemaster and instructor. Activities include PADI courses (for Rs13,000), open water dives, underwater photography, and speedboat trips to islands and beaches (starting at around Rs14,000). One of the unique attractions that Barefoot Scuba brings to the table is the once-in-a-lifetime experience to venture out into the ocean with Rajan, the "diving elephant". A dive or snorkel with Rajan costs around Rs10,000. There is also accommodation ranging from Rs150 for a simple Frame Hut, to Rs3,500 for a Sea-Facing Duplex Cottage.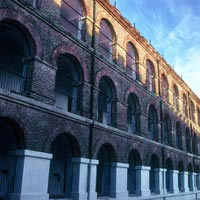 The historic building housing the jail
Dive India (tel: [91-3192] 214-247, or contact Vikas, the dive manager, on [91] 3320-2616, www.diveindia.com) is based out of Island Vinnie's Tropical Beach Cabanas, and offers diving trips to some interesting sites including Barren Island and Invisible Banks. Dive India has courses to suit every level of diving enthusiast, including PADI and SSI diving courses, open water, divemaster and instructor courses, rescue and emergency response training, and underwater photography. A half-day programme for non-certified divers will set wallets back by Rs4,000.
Also on Havelock Island, Lacadives (tel: [91-22] 6517-7381, or call Siddarth Pujari on [91] 98700-98951, www.lacadives.com) offers various dive sites ranging from a 2-15m dive on Elephant Beach, to a 10-50m dive at The Wall. Lacadives offers a similar palette of activities for a similar price, as does Andaman Bubbles, (tel: [91-3192] 282-140, or [91] 98452-36747, www.andamanbubbles.com) a PADI approved dive centre located on beach number 5 (beaches are numbered rather than named) at the Wild Orchid resort. Expect opportunities for open water dives, speed boat trips, and emergency first response training.
Havelock Island's beach number 7 or "Radhanagar Beach" is a long, curved sweep of sugar-white sand, lapped by turquoise water and rimmed by forest. Inland, it is like a piece of rural India, cast adrift in the sea. Boats depart on the four-hour journey from Phoenix Bay Jetty in Port Blair to Havelock on Tuesday, Wednesday, Friday, and Saturday. The ferry leaves Port Blair for Havelock Island, at 6am and 8am (with one afternoon departure as well) and takes two hours and fifteen minutes to arrive at Havelock Island.
For the environmentally aware and the eco-friendly, Reefwatch Marine Conservation (www.reefwatchindia.org) focuses on marine and coastal conservation around the Andaman and Nicobar Islands, and in the Lakshadweep Islands. Reefwatch Marine Conservation is conducting ongoing research on endangered marine life and habitats and has been crucial in pushing for protection acts and reform to help conserve these pristine waters.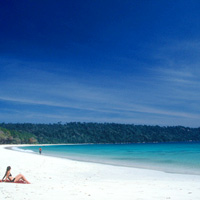 No. 7 Beach at Havelock
Andaman Islands resort and hotel choices are fairly simple. Andaman Islands boasts nothing more than a few good eco resorts like the Fortune Resort Bay Island (from Rs5,800) in Port Blair or the Barefoot at Havelock (from Rs5,500), SilverSand Beach Resort (from Rs5,500), and The Wild Orchid at Havelock (from Rs3,000 with AC). The sea-facing government-run Dolphin Resort is also an option (tel: [91-1382] 282-411). Most others are "just to sleep" sort of hotels. An eco resort or basic guest house will be under US$60.
There is nothing that can be really termed "Andaman cuisine". The food, like the people, is eclectic. The natives were originally tribals, but Indian immigrants from the mainland now out-number the original inhabitants.
In North Andaman, we travelled by ship to Diglipur. The impressive Saddle Peak at 725 metres, the highest peak in the Andaman Islands, is worth the long day's hike. We crossed the sandy beach at Kalipur for an hour-and-a-half and began our trek up the thick, rich forest of tall trees for over four hours. A permit needs to be obtained from the Forest Officer at Arial Bay and the only place to stay is the well-located (but basic) government-run Turtle Resort Kalipur, Diglipur (tel: [91-1382] 220-603). The rooms offer amenities such as satellite television, music systems, phone service, laundry, 24-hour room service, and air-conditioning (in some rooms).
Mayabunder, 160km by sea from Port Blair in Middle Andaman was our next halt. There are several islands in the bay. Part of the village, is home to a large number of Burmese Karens who were originally brought here as cheap logging labour by the British. It is a vibrant, now Christian, community.
Wild Orchid cottage/ photo: hotel
Mayabunder can be reached by the daily bus from Port Blair (nine hours). There are several daily buses to Rangat and Karmateng. To get to North Andaman Island, you take a ferry to Kalighat (two hours, daily around 9am) or Arial Bay, from where you can catch a bus to Diglipur. Private boats leave early in the morning to Kalighat as well. The Government rest house, occupying a prime spot above the jetty, is large and very comfortable, with a pleasant garden and gazebo overlooking the sea, and a dining room serving good set meals.
We returned to Port Blair and left towards Cinque Island. Dr Laurent Montels of Surmai Fishing Club (tel: 235446, fax: 246232. e-mail: surmaifishing@hotmail.com) takes professional fisherman to battle with line and bait (on a catch and release basis) to haul in trevally jack, skipjack, giant kingfish, garoupa, great barracuda, king mackerel, sailfish, marlin and tuna.
Cinque, a great place to snorkel, is uninhabited, and visitors are allowed to visit only for day trips. Cinque actually comprises two islets, joined by a spectacular sand isthmus, with shallow water either side that covers it completely at high tide. The main incentive to come here is the superlative diving and snorkelling around the reefs. Although there are no ferries to Cinque, it is possible to arrange dinghies from Chiriya Tapu village on the mainland. The two dive centres in Port Blair also regularly come here with clients.
Car Nicobar, 270km from Port Blair was the highlight of our trip. These are ancient lands and peoples. Immigrants from Malaysia, Indonesia, Burma, greater India and China, later settled here, integrating with the indigenous people of the island. Many voyagers once referred to Nicobar Islands as the 'Land of the Naked', or Nakkavar. In 1957, the Government of India declared Nicobar Islands an Aboriginal Tribal Reserve Area. Even Indians require a special tribal pass to land here.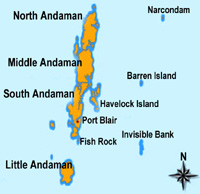 Should anyone be lucky to get a permit, Car Nicobar is a 16-hour journey from Port Blair by sea and ship schedules and reservations need to be made in advance at the Shipping Office at Port Blair. One has to rely on government guesthouses at Car Nicobar and reservations should be made well in advance.
The 11th island on our expedition route, was the magical sounding, Little Andaman or Eyubelong as it is called by its inhabitants, the Onges - a tribe, who, seem closely akin to the Jarawa tribe. The island also has the tribes of Nicobarese migrants. Little Andaman offers a perfect mix of white sandy beaches bewitching waterfalls, creeks, mangroves, rainforest, elephant safaris and surfing. Four of the world's seven species of sea turtles nest on the island's beaches.
It is a fragile eco-system and visitors must bear this in mind. The Jarawa and Sentinelese have been on the Andamans so long, it is easy to think of them as part of the ecosystem, equally in need of careful conservation. Leave your footprints in the sands but tread carefully.
Send us your Feedback / Letter to the Editor
FAST FACTS

/ Hotel Contact List

The temperature stays fairly even most of the year, between 22ºC (71ºF) and 33ºC (92ºF). There are two rainy seasons, one from June to mid-September and the other from November to mid-December. The best time to visit is from the end of November to the end of April. December and January is the busiest season.
For more information, the Directorate of Tourism offices of the Andamans can be reached in Delhi (tel: [91-11] 2687-8120/ 268-7114).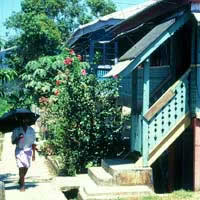 Port Blair houses
The State Bank of India changes cash and travellers checks (9am to noon). The exchange rate is around US$1=Rs66. Island Travels (tel: [91-2192] 233-358 / 233-034 or islandtravels@yahoo.com), near Sampat Lodge, Aberdeen Bazaar, changes money daily except Sunday 2pm to 4pm. The better hotels usually change money. At the present time there is nowhere to get cash advances using a credit card. But fear not, ATMs have sprung up and are mostly sprinkled around Aberdeen Bazaar. There are also the ICIC bank, Co-op bank, and the Andaman and Nicobar State Co-operative Bank Ltd at 98 Maulana Azad Road, Port Blair, amongst others. Most budget hotels do not accept credit cards so check first.
For information on tours and ferry schedules go to the Directorate of Information, Publicity & Tourism, A & N Administration, Port Blair, A & N Islands. Office Tel: [91-3192] 232-694, fax: 232-747, (e-mail: accommodation@and.nic.in). There is also a tourist counter at the airport, which provides information about accommodation and sites on South Andaman Island as well.
Port Blair has a reasonable taxi service. Inter-island travel is on motorised boats. Avoid country boats even if invited, for sometimes the Bay gets wild, and currents are strong. It is easy to hire motorbikes or scooters from the main Aberdeen Bazaar for US$3 per day. Taxis can be hired at the main taxi stand in Aberdeen Bazaar. The GPO is about 1km south of Aberdeen Bazaar. Next door, at the Telegraph Office (fax: [91-3192] 221-318), visitors can send and receive faxes. Recently, a few Internet cafes have sprung up though the download time is excessive.
Specialist Travel Agents
Ibex Expeditions Private Limited. New Delhi Tel: [91-11] 2646-0244, 2646-0246, (e-mail: ibex@ibexexpeditions.com or www.ibexexpeditions.com).
Travel Corporation (India) Ltd. (TCI). New Delhi. Tel: [91-11] 2331-5834-38, fax: 2331-6705, 2331-3320 (e-mail: info@tci.co.in or www.tcindia.com).
Trade-wings Tours Limited. New Delhi. Tel: [91-11] 2332-1822, 2332-5106, fax: 2332-4005 (e-mail: del@tradewingstours.com or www.tradewingstours.com).
Travel Agents in the Andamans
Island Travels. Aberdeen Bazaar, Port Blair 744101. Tel: [91-1382] 233-358, 233-034, fax: 233-051, (e-mail: islandtravels@yahoo.com). They also do package tours, vehicles on hire, and foreign exchange.
Shompen Travels. Middle Point, Port Blair. Tel: [91-1382] 233-028, 232-644, fax: 232-425.
Andaman Islands Hotels and Resorts
Substantial discounts are available at Andaman Island resorts and hotels during the rainy off season so do negotiate.
Port Blair hotels and resorts
Fortune Resort Bay Island. Port Blair. Tel: [91-3192] 234-101 / 232-123 / 232-112, fax: 231-555, (e-mail: bayisland@fortunehotels.in or fortunehotels.in). Managed by Welcomgroup, overlooking the Bay of Bengal, it is built almost entirely of red timber Padouk wood in the native style. Relaxed pace, nice garden, views and a pool.
Hotel Sinclairs Bay View, Port Blair. South Point, Port Blair. Tel: [91-3192] 227-824 / 227-937, (e-mail: portblair@sinclairshotels.com or www.sinclairshotels.com).
Peerless Resort, Port Blair. Corbyn's Cove, Port Blair. Tel: [91-3192] 229-311 / 229-313, fax: 229-314, (e-mail: pblbeachinn@yahoo.co.in, pblbeachinn@sancharnet.in or www.peerlesshotels.com). The resort is located in a quiet area next to the beach.
Havelock Island resorts
Barefoot at Havelock. Beach No 7, Radhanagar, Havelock Island. Tel: [91-44] 2434-1001, fax: [91-44] 4500-0106, (e-mail: reservations@barefootindia.com or www.barefootindia.com).
SilverSand Beach Resort. Beach No 5, Vijaynagar, Havelock Island. Tel: [91-3192] 282-493 / 4, (e-mail: info@silversandhavelock.com or www.silversandhavelock.com).
The Wild Orchid. Beach No 5, Vijaynagar, Havelock Island. Tel: [91-3192] 233-358, fax: [91-3192] 230-109, (e-mail: contact@wildorchidandaman.com or www.wildorchidandaman.com).