ADVENTURE
Bhutan journeys with playful spirits and foreigner levies
A Bhutan fun guide for adventurers mad about mountains, monasteries and meringue. Picking the best Bhutan luxury hotels, lodges and treks – and dealing with meddlesome spirits. The daily foreigner levy came down to US$100 on 1 September 2023.
updated by Tenzing Y Thondup and staff reporters
SEE ALSO Andaman Islands | Delhi | Goa | Himachal | India Spas | Kerala Resorts | Ladakh | Mumbai | Rajasthan | Zanskar treks | Nepal Treks | Bangkok shopping guide | Phuket resorts review | Bali guide | Child friendly hotels in Asia
JUMP TO A Bhutan visa and getting there | Geography and roads | Bhutan luxury hotels | Thimphu | Punakha and beyond | Trekking and adventure | Spirits | Hotel Contacts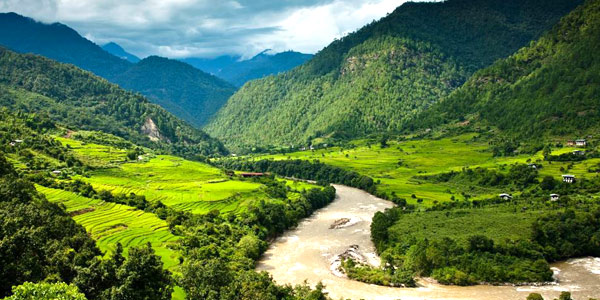 I ALWAYS THOUGHT Y2K was a problem with men's briefs. So while a hysterical world awaited electronic meltdown and bankers watched their stocks by night, I bought six of the best in white cotton from Marks & Spencer and slipped away to the mountain kingdom of Bhutan, a place so remote the yaks have never drooled over Scarlett Johansson or puzzled over the financial dialectic of a dotcom.
Monk in crimson robes walks into the shadows/ photo: Vijay Verghese
In fact, television was only officially permitted in Bhutan in 1999. The point is not that yaks are silly, shaggy creatures. They are. Nor is there a moral in my rampant purchase of underwear from Marks & Spencer. The point is that Bhutan is remote. It lies on the farthest fringes of imagination, closed to all but a privileged few, and that is how they like it over there. It works. Not much has changed since the advent of the new millennium. Yaks amble, and people yak, watched by benevolent snow-clad peaks. In March 2008, at the king's bidding, the country held its first elections – albeit reluctantly – to set up a democracy. The people favoured a royal succession, but the king, having announced his modernising intentions, stood firm. And a democracy it now is.

Slide Show

E-mail Page

Print

Hotel Contacts
About the size of Switzerland and with a population of just over 770,000 by 2015, Bhutan is a breathtaking prospect and not just because at 10,000ft it can be a tad difficult to breathe. Here things are done slowly, at a leisurely pace. Perhaps those plodding yaks aren't so stupid after all. The kingdom's beauty lies in the fact that it has been painstakingly pickled with its fabulous mountains and monasteries intact. There's little pollution, tree planting is in ample evidence and the quaint airport at Paro is squeaky clean.
Beginning in 2012, the government more than tripled the permitted number of annual visitors from 30,000 to 100,000. Compare that with over 42 million for Hong Kong and you get some idea of how it is possible to survive in the 21st century without "door close" buttons in elevators or indeed even elevators. Here you use things called stairs. Remember them? By August 2023 the country had notched up 60,000 arrivals for the year.
Send us your Feedback / Letter to the Editor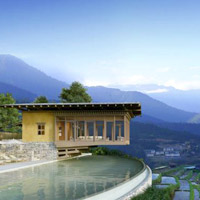 One of the Six Senses Bhutan lodges/ photo: hotel
Perhaps the most incredible thing about Bhutan is the flight in from New Delhi (via Kathmandu) on Druk Air (www.drukair.com.bt). Druk Air ("druk" means dragon) also flies to Paro from Bangkok, Bagdogra, Calcutta (now Kolkata), Delhi, Bodh Gaya, Guwahati, Kathmandu, Dhaka and Singapore, a network that keeps its small fleet of Airbus 319s, A320s (augmentied by three BAe-146s and a couple of ATRs) fully occupied. My three-hour flight vaulted through laundered blue skies over eight of the mightiest peaks in the world including Everest, Kanchenjunga, Annapurna, Dhaulagiri and Bhutan's very own Jumolhari. Once the peaks emerge, the window seat is very much public domain. You'll discover people on your lap (not necessarily young and nubile) thrusting cameras of all description into your fumbling hands.
In Hong Kong they used to clap after the laundry-grazing touchdown at the old Kai Tak Airport. At Paro we just pushed our eyeballs back into their sockets. Pure Mahayana Buddhism is the official religion, a devotion well attuned to maintaining the ecological balance and harmonising with nature. Most of Bhutan remains virgin forest and there are a multitude of restrictions on hunting as well as fishing. With the advent of the monarchy in 1907, a succession of far-sighted, and popular, kings have steered the country towards a national ideal measured in terms of the "gross national happiness" (in preference to abstract GDP). If travellers are smiling, well, it's just that GNH at work. Bhutan tourism and the dollars it produces simply adds to the smiles.
Getting there and visitor levies
Thinking seriously about Bhutan travel? Some quick tips. If you are heading for Thimphu the capital (at 8,000ft), it is a further two hours and 60km by road from Paro. Taxis charge over 10,000 Bhutanese ngultrum for the ride from the airport to Thimphu (US$1 = 82 ngultrum) but are only available to Indian nationals, since all other foreign travellers will have transportation arranged by tour agencies.
The Bhutanese ngultrum is roughly on parity with the Indian rupee (which is accepted everywhere, although Rs500 and Rs1,000 notes may not fly). Tourists can also enter or exit Bhutan by land via Sambdrup Jongkhar and Gelephu, and there's even a one-night royalty waiver if you stay at government approved hotels.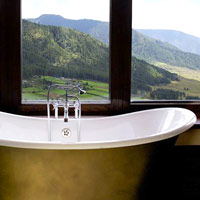 Gangtey Goenpa Lodge/ photo: hotel
Many groups, however, make Paro their base to save time. Why would you worry about time in an idyllic place like Bhutan? Simple. Tours pre-pandemic were usually charged at US$250 per adult per day all-inclusive (US$200 per adult per day during the low season).
On 1 September 2023 the daily Sustainable Development Fee (SDF) was cut to US$100. This levy will be valid until September 2027 and offers some relief for visitors. Young children get special concessions too. In early 2023 the government had opted to drop all-inclusive tour fees and began charging a flat US$200 per head for foreigners (with a special Rs1,200 rate for Indians). The freebie was over. Hotels and tour operators complained that this was killing tourism as foreigner now had to pay the $200 fee and fork out separately for hotels, transport, and meals. This resulted in the cut. Border towns do not attract a levy. Indians don't require a Bhutan visa. Fortunately for Bhutan, a billion Indians are too busy watching B-grade Bollywood movies to consider levitating north. Maldivians and Bangladeshis are also exempt from the visa requirement.
Everyone (barring Indians) needs a visa for Bhutan. Plan and book early. In the high season consider yourself plain lucky to just have a room. The rates may include a "royalty" charge that goes towards Bhutan's social welfare programmes. Bear in mind that package rates apply to "groups" of three or more persons. If you have opted for a "package" as an individual "with your own specially tailored itinerary), it is likely there will be a daily US$30(or higher) surcharge or US$40 (or higher) if you're travelling solo.
For more information and travel advice, check out the Tourism Council of Bhutan (tel: [975-2] 323-251/2 or www.tourism.gov.bt).
A quick geography lesson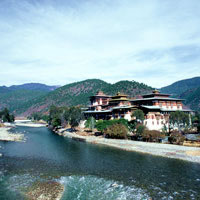 The splendid Punakha Dzong/ photo: Vijay Verghese
So there it was, Bhutan. The Land of the Thunder Dragon. Armed with a good Bhutan Map we coasted along the bottom of a valley following the icy blue-green waters of the Paro Chu (from where the Wong Chu rushes south to the Indian border at Phuntsholing) and then snaked onwards to the capital. Fresh off the North Indian roads where survival, not arrival, is the main focus, it came as a surprise to see the Bhutanese drivers doing a diligent 30km crawl, slower cars giving way for any tailback to overtake. These are first generation drivers imbued with equal measure of Buddhist courtesy and common sense.
In the late Seventies when the first cars appeared, awestruck villagers would make offerings to the metal beasts and their drivers. Today cars are everywhere, the favoured models being four-wheel-drive Toyota Land Cruisers and the ubiquitous Indian-made Marutis. In Thimphu of an evening you may even spot a modest traffic jam.
The hill stretches are far emptier. All things considered, the vertiginous ribbons of road looping through Bhutan's gorgeous, daunting terrain, are very good indeed. They are built and maintained at elevations of up to 13,000ft and temperatures well below zero in winter by Dantak (Indian border roads), whose signs exhorting you to drive safely will confront you at most challenging corners. This, however, is academic. Most visitors will either be in the hands of a tour driver, or on foot.
Treks are popular and the routes impressive. Bhutan has more options than you can shake a stick at. Pick from tropical teak forests, alpine meadows fringed with poplar and oak or high, desolate glacial valleys. The tallest peaks (several above 23,000ft) jut upward from the east-west Himalayas to the far north and have long provided a natural border with Tibet. Jumolhari (also Chomolhari) lies on the northwest fringe.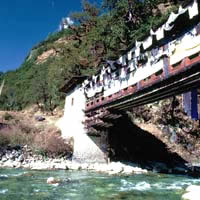 Bridge in upper Thimphu Valley/ photo: Vijay Verghese
Moving broadly west to east, the key districts are Paro, Thimphu, Punakha, Trongsa, Bumthang and Trashigang, most of these in parallel valleys running more or less north to south. The solitary highway runs east-west crossing some majestic passes along the way. Dochu La (pass), at 12,000ft en route from Thimphu to Punakha offers spectacular views of snow-clad ranges, best viewed early morning before clouds move in. Brightly coloured prayer flags flutter on banners clustered on dizzying spurs importuning the gods on the breeze while travellers burn juniper twigs to seek safe passage. The pass is about 45 minutes from Thimphu. See our Map of Bhutan.
Bhutan luxury hotels, Paro and surrounds
Getting around will not be a problem. The Bhutanese speak Dzongkha (literally "language of the dzongs" in a Tibetan script) but English is widely understood at most Bhutan hotels, as is Hindi. The dzongs are monasteries-cum-administration centres, several fortified, and you will see them perched on impossible crags – great for recluses, terrible for government officials in a hurry. Get those legs in shape. The only way up is the hard way while you frequently pause (supposedly to enjoy the view) and fully appreciate why this is a country of such incredibly hardly people.
One of the first dzongs you'll encounter should you make Paro your initial base, is the vertiginous Taktsang (Tiger's Nest), clinging to a sheer cliff. This is where the revered Guru Rimpoche was said to have arrived from Tibet in the first century, riding on the back of a tiger. Picturesque Paro Dzong was featured in the movie Little Buddha. Bhutan hotels moved upscale with the arrival of the pioneering Aman resorts – which runs a string of intimate lodgings – and the Uma Paro by COMO Hotels & Resorts, where rooms go for over US$1,000 a night. They were later joined by Indian hotel chain Taj.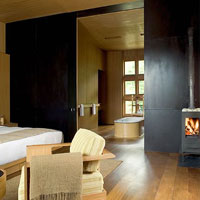 Amankora Paro/ photo: Amanresorts
In March 2019 Six Senses Bhutan (the first three of five cosy lodges, in Paro, Thimphu and Punakha) brought added oomph to the kingdoms luxury hostelry. The Gangtey and Bhumthang lodges arrive mid 2019. Says GM Sally Baughen. "Six Senses Bhutan offers endless options for every kind of traveller... from architecture and art, to birdwatching, botany, history, meditation, spirituality, sports, wellness and more."
The hermit kingdom of Bhutan now hosts five Amans all under the Amankora name. Amankora lodges are currently located in Paro, Thimphu, Punakha, Bumthang and Gangtey, offering guests the ability to tailor a unique "Amankora Journey" through some of Bhutan's most scenic and mystical valleys. Amankora derives its names from the twinning of the Sanskrit word "aman" (meaning other worldliness or peace) and "kora" (describing the circular Buddhist pilgrimage in Dzongkha).

Amankora Paro is a 30-minute drive from Paro near Balakha Village about 2,250m above sea level. Broad views take in the ruins of the historic Drukgyel Dzong as well as majestic Jumolhari. Typically understated but nonetheless lavish in its resounding simplicity, Amankora Paro's design is unobtrusive and faithfully Bhutanese, with rammed-earth walls, gently sloping roofs and wood-panelled interiors typical of the region.
The luxury lodge has 24 suites. In addition to a large and chic central fireplace warming the lounge, rooms have individual wood-burning "bukharis" or stoves. After a day of trudging about absorbing stupendous views and chill mountain air, guests will enjoy the two-floor Spa replete with a sauna, steam rooms, five treatment rooms featuring hot stone baths, and a yoga suite. There's also a library which doubles as an Internet centre.
(Amankora features in our exclusive Top Asian Hotels Collection, featuring the best Asian hotels, resorts and spas in a printable A4 page with stunning visuals.)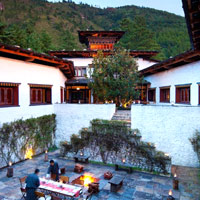 Uma Paro/ photo: hotel
The charmingly rustic Uma by COMO, Paro is set on a ridge above the town and was formerly the home of a local nobleman. The place remains true to Bhutanese architecture and form right from its earthy exteriors to the shingle roof kept in place by large rocks. Interior floors deviate modestly – smooth black marble underfoot along with cool timber planks. Deck chairs overlook blue pines and, beyond, steps lead to hot stone bathhouses. Alternatively, guests can pop into the group's very own Shambhala Spa, that will stretch the limbs and imagination working through a range of regimens covering yoga, rubs, and treatments. Conveniently sited near Paro Airport, Uma looks the perfect country lodge, its 29 rooms arrayed around a cobblestone courtyard, with a few private villas nestled amidst 38 acres of hillside. A stay at the latter even gets you your own personal butler. Beyond the standard trekking and sightseeing trips, the hotel also runs yoga retreats throughout the year.
Sister hotel Uma by COMO, Punakha also offers luxe beds along the banks of the Mo Chu River with nine hillside rooms and two standalone villas offering splendid views of the scenic Punakha valley. Every rooms serves up a view. Look at the two villas, which can house families comfortably in two rooms or a couple looking for a romantic escape (in a one-bedroom villa). Expect blond-wood floors and neat floor to ceiling windows in narrow wooden frames, free WiFi, 32-inch LCD televisions, in-room safes, hairdryers, and Italian linen. Walk out to a 51sq m alfresco terrace with stone walls overlooking the verdant valley greens. Its a bracing -and inspiring - view for all comers. Later retire to marble bathrooms and enjoy the amenities line-up.
A newer option is the Le Meridien Paro, Riverfront, which boasts breezy and bright modern rooms with traditional Bhutanese accents and dark wood tones. Opt for a Deluxe room on one of the upper floors for views of the river and the Himalayas. Expect marble bathrooms with separate rainforest showers and bathtub, as well as a daybed nestled against the windows to enjoy the panorama outside.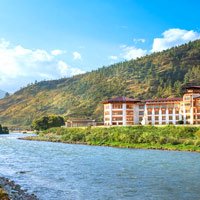 Le Meridien Paro overlooks the river/ photo: hotel
There's an onsite exhibition on Bhutanese arts and crafts, an indoor pool, fitness centre, business centre and even a spa. Le Meridien Paro, Riverfront is one of the best Bhutan hotels in our review.
Another option for a local style hotel in Bhutan is 45-room Zhiwa Ling Hotel, the first locally owned establishment to receive a five-star rating. The list of facilities is impressive. The Menlha Spa offers traditional Bhutanese outdoor hot-stone bath, a sauna and steam room and a fitness centre. The hotel also has several yoga retreats on offer. Perfect for some me-time. There's a business centre and conference spaces for the corporate-minded, but the star attractions are its Tea House, Meditation House and Mad Monk Bar. Traditional Bhutanese wood carvings and stonework are obvious, but that's not all. A temple has been built on the second floor using 450-year-old trees from Gangtey Monastery, a local landmark.
Going green in Paro takes on a new meaning at the eco-friendly Nak-Sel Boutique Hotel & Spa. The whole building is constructed using indigenous material. All rooms feature en-suite bathrooms, flat-screen TVs, WiFi, phones with IDD, hairdryers, personal safes and even under-floor heating to ensure your toes are always toasty. Decked out in gleaming timber and stone, the Menchu Himalayan Herbal Spa offers four treatment rooms, a yoga room overlooking Jumolhari peak and a traditional hot stone bath.
For a local-style experience, Hotel Olathang is a charming option, set amidst a forest and flower-strewn paths. Here guests will be handed out tiny keys on giant six-inch brass key-holders. Young women in traditional kiras will whisk your bags away in seconds as you wander in to peruse a large portrait of His Majesty King Jigme Singye Wangchuck. The king's benevolent gaze will follow you at most hotels, restaurants and shops around the country. It was the king's coronation in 1974 that prompted the opening of this 59-room hotel that hosted invitees for the event. Choose from colourful Bhutanese rooms or larger cottages set amidst 28 acres of woodland. Don't let the rustic exterior fool you. This hotel boasts modern amenities such as a spa, WiFi for a small fee, cable TV, business centre, 24-hour room service and laundry, and even a conference hall seating with a capacity of 250.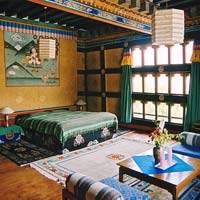 Gangtey Palace Hotel/ photo: hotel
Look at the pleasant and spread out Kyichu Resort Paro (they also operate a resort in Wangduephodrang). Expect simple, clean surrounds, an unhurried atmosphere and indigenous decor. Just 15 minutes from the airport, Kyichu Resort (sometimes spelled Kichu) offers an attractive five-acre natural setting with lovely lawns, flowers and a riverside location. Nearby Tiger's Nest Resort has several rooms and suites in addition to 11 small cottage-style apartments with commanding views of the Taktsang monastery and Chomolhari peak. All include bathrooms with hot and cold water, under-floor heating, free WiFi, cable TV, room service, laundry and IDD phones, while the apartments include added benefits like a dining room, lounge and porch.
Also check out the traditional 100-year-old Gangtey Palace hotel. Gangtey Palace belonged to the royal family until mid 1930 when it passed into lesser hands, albeit still aristocratic. Enjoy cinemascope views and visit the centrepiece altar room, which houses the Shambhala fresco There are 20 acres of garden for strolls, cameras, honeymooners and those communing with inner children or more. Have a mid-life crisis here unmolested by traffic, TVs or mobile phones.
Thimphu hotels, shopping, dining
Thimphu is a small town in a picturesque valley with a main street boasting a supermarket, a movie theatre, general stores and handicrafts. Traffic of sorts, ambles along, unimpeded by modern contrivances like traffic lights. This is yak country that would do any harmonica-playing Marlboro pony proud.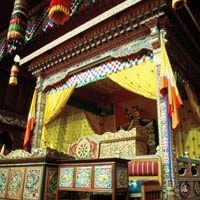 King's throne in the Assembly/ photo: Vijay Verghese
Taxis in the form of Maruti minivans ply the streets and these can be hired for short trips within the city. Taxis are metered though drivers prefer to haggle. Fix a rate before setting out. It is common to share a taxi on a fixed route. If you need a private vehicle, companies like the Bhutan Tourism Corporation Ltd (or BTCL, Thimphu www.kingdomofbhutan.com/) can assist with a car. It is unlikely you will need wheels, however, as your package includes a car and driver or at least a van and driver. Alternatively, hop on a yak, point the beast in the right direction, and have a snooze for about a week.
On Saturdays and Sundays the colourful weekend market is worth a trawl for curios and clothes. The place is overwhelmed with vegetables, some rather appetizing, so you'll have to dig around. The best places for traditional items are the government-run National Handicraft Emporium which has reasonable prices and the tad more expensive Bhutan Arts & Crafts Centre (tel: [975-2] 323-861). The craft centre has decent tankhas (Tantric cloth paintings) starting at around Rs3,000 for small pieces. Better pieces are far more costly. The Bhutanese ngultrum is roughly on parity with the Indian rupee (which is accepted everywhere). Embroidered kiras, the traditional women's gowns, sell from Rs5,000 for the most basic designs to Rs65,000 (in silk) and up. Interestingly, many Bhutanese ladies prefer to buy the silk for their kiras at the Yue Hwa department store in Hong Kong.
Thimphu is awfully compact and most distances can be covered on foot. While the city is uniformly charming in a modest way, the Bhutan Arts & Crafts Centre is at the very hub of things not least because of its location next to the popular Swiss Bakery, a favourite hangout for foreigners and locals alike. Here, culture-shocked expats can pick up a reassuring Swiss roll for a few rupees. The place is awash with "what's on" notices and it's a good spot to acclimatize in before starting out.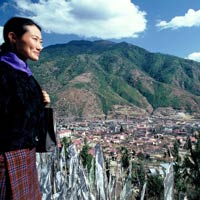 Thimphu from Changangkha/ photo: Vijay Verghese
Venture forth to the Hotel Druk (for Indian), the Hotel Tandin (for Continental) and the Rabtan Apartments(for Bhutanese) where a lot of the city's VSOs (voluntary services overseas personnel) end up. Or try popular restaurants and pit stops like the conveniently located Plums Café, sandwich shop Art Café, Khamsa Coffee House, and Bhutan Kitchen, (often patronised by the royals). I encountered the Crown Prince on more than one occasion, his tough, steely-eyed security detail gazing unwaveringly – at him. Local dishes, often spicy, include paksba paa (pork with red rice), Bhumtbang puta (buckwheat noodles) and mengye (a sort of rice pizza).
After hours, which is as soon as the sun sets or even before, Thimphu goes to sleep, but not entirely. There is nightlife in Bhutan, and Thimphu the capital strives to rustle up a beat. The city has a few lights on but those strolling the outskirts will have to navigate by starlight (which is abundant) and the occasional headlights cutting through the inky black. This is when discos and music lounges like Mojo Park, Vivacity, and Space 34 Nightlub get going, attracting a young, Westernised set. There's no formality here. Knock, enter, smile, and smile some more. Royals, foreign dignitaries and local folk mix amiably at these melting pots, getting into their groove.
Changangkha monastery above Thimphu in the Motithang area is responsible for the guardian deity of children. Things can get all too fertile if the deity is pleased so keep an eye on your date. Families make a regular pilgrimage here to spin prayer wheels – a wonderfully mechanised way to keep in touch with spirits – thank the Gods and get their fortunes told with the roll of a dice. Should you not wish to tempt fate, step outside to take pictures. The relentless blue skies and crisp winter weather especially during winter will keep your camera clicking fingers busy.
Thimphu's impressive and stately Tashichho Dzong is the country's main administrative centre and not far from it is Bhutan's only official golf course. Upriver from Thimphu the road follows the stream north passing Dechen Choling (where the Royal Family live at the palace), terminating after a 25-minute drive at the base of the Tango monastery. An old cantilever bridge spans the brook, depositing visitors onto a picturesque meadow and a path that climbs straight up to the dzongs. This is a nice spot for a picnic if you haven't the time to venture farther.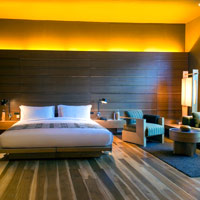 Amankora Thimphu/ photo: hotel

If your wallet will stretch, the top choice on the Bhutan luxury resorts front in this picturesque Motithang area is Amankora Thimphu (one of five simple yet stylish Aman resorts lodges). Its architecture mimics the local dzongs and their high, brilliantly laundered whitewashed stone walls, and courtyards welcoming of visitors and eye-squinting sunlight. There are 16 suites with ample room, twin vanities, and the warming "bukhari" stove, and the Spa offers three treatment rooms and a steam room. You can also relax in the library and outdoor dining deck, or drop by the boutique where you can pick up some Bhutanese textiles, Himalayan art and jewellry. The Amankora Journey is a circuit worth considering, sweeping you from one magnificent vista to another.
(Amankora features in our exclusive Top Asian Hotels Collection, featuring the best Asian hotels, resorts and spas in a printable A4 page with stunning visuals.)
Another high end option is the new Le Meridien Thimphu, Starwood's latest offering in Bhutan. The elegant Bhutanese exterior gives way to a marbled lobby and cool modern interiors throughout. There are 78 rooms on offer, all with dark wood floors and clean white tones with splashes of colour to liven the mood. Fitness buffs can enjoy the heated indoor pool and fitness centre and then step into the Explore Spa to relax those sore muscles. This address offers all the luxury and comfort you'd wish for and all just a stone's throw from the Memorial Chorten and Changlimithang Stadium.
In 2009, the Indian hotel chain opened Taj Tashi. It boasts 57 rooms, all decorated with traditional hand-painted murals of clouds. The nine suites are furnished with walk-in closets, canopy beds and home theatre systems.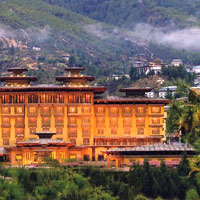 Taj Tashi's grand exterior/ photo: hotel
The rest of the hotel is equally well equipped. The Jiva Spa offers a well-rounded list of treatments, great for relaxing after a long day outdoors.
The hotel arranges religious tours, nature trails, visits to local landmarks and local textiles and crafts tours. If you just want to stay in, burn off some calories in the fitness centre, or just take a dip in the heated indoor pool. For comfort and pretty standardized conveniences this is a hotel in Bhutan for your diary and one of the top runners in our Thimpu hotels review.
Another nice pick is the four-star Namgay Heritage Hotel, colourfully decorated with locally crafted furniture and warm wood panelling. Standard and deluxe rooms offer twin standard beds or one queen-sized bed with a separate living area, WiFi and TV. If you want something more luxurious, stay at one of the executive suites. Located on the top floor, these offer traditionally furnished bedrooms, sitting rooms and changing rooms, and have great views of Thimphu.
The 27-room Hotel Migmar is located about a kilometre outside town. Though quite snug at 15sq m, Standard Rooms offer LCD TVs, DVD players, chandeliers, WiFi, IDD, a work desk and auto heating in the bathrooms. Deluxe rooms offer similar amenities but have a bit more breathing room at a still modest 37sq m. The hotel has gender-separate steam rooms and a dip pool. If you need to get away from the kids for a while, there are babysitters to take them off your hands.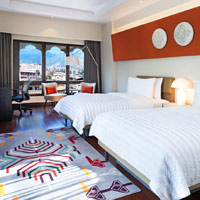 Le Meridien Thimphu/ photo: hotel
Also located slightly outside Thimphu is the Terma Linca Resort & Spa, which stands on the banks of the Wangchu River. With deluxe rooms starting at 51sq ft, there's more than enough space here to swing a monkey by its tail, and the décor is sufficiently minimalist to avoid knocking anything over. There's plenty to see and do as all rooms are river-facing, and guests can enjoy a host of activities including archery, yoga, meditation, cooking classes and more. We visited its site to be greeted with a 'malware' alert. Be on the lookout for this at smaller establishments with local servers that may not be adequately protected.
Hotel Druk, smack in the heart of the business district downtown, has attentive staff and clean rooms. It has been open since 1985. Druk offers 51 deluxe rooms and luxury suites. The former offers WiFi, LCD TV, 24-hour room service and same-day laundry services, freestanding bathtubs, with a choice of twin or double beds. After a day of sightseeing, stop by the LHAYUL Spa to rejuvenate. You can pretty much walk from here to any point within the city. Not much in the way of views here unless you can wrangle high-floor rooms facing the archery field and the river. Sister property Hotel Druk -Phuntsholing has been added to the family.
The Hotel Jumolhari has simple décor, friendly staff and clean neat rooms that are modern but decidedly bland for a four-star offering. Amenities include electronic safes, hairdryer, Internet, TV and IDD. The library is an added bonus.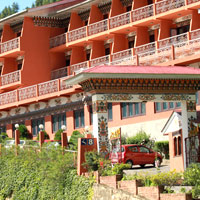 Old favourite Riverview/ photo: hotel
If you are so inclined you can even try out the aromatherapy massage at the health club, which also features a steam room and sauna. Also in the area is the three-star Norbuling Hotel. Owned by a local family, this hotel offers standard rooms with private balconies, free WiFi and a spa to work out those knots after a long day's walk. Also expect 32-inch flatscreen TVs, in-room safes, electric kettles and electronic room keys. Executive rooms here stretch to a spacious 450sq ft, and some overlook the archery pitch and Changlimithang Stadium.
For decent views you might try the more "modern" Riverview Hotel, which actually lives up to its name. The place offers refuge from the city's incessantly barking dogs and nice wooded river views. Its 50 rooms all have balconies, sun deck, hot and cold water, TVs and heaters. For workout lovers, there's a fitness centre, jogging trails, and a dry sauna too. As with the more "modern" establishments though, staff may occasionally forget to smile. Our guess is they're being "professional". The homely Pinewood Hotel (also Pinewood Lodge) lies up on a wooded spur while other lodging choices could include Hotel Taktsang, and Jambayang Resort just outside Thimphu.
Newer Ariya Hotel also offers reasonably priced rooms with two serviced apartments for travellers looking at longer stays. Another option for travellers exploring Bhutan long stay hotels is Bhutan Suites, which serves up 15 rooms all replete with their own kitchenettes, private balconies and free WiFi. The rooms are bright and reasonably spacious if a little stark in their decor.
East to Punakha and Phobjikha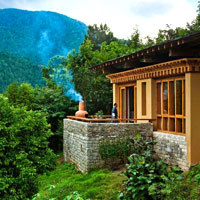 Uma by COMO Punakha/ photo: hotel
Lying about 60km and two-and-a-half hours to the east, Punakha, the old capital makes an interesting visit. Its impressive dzong (built in 1637 AD) at the confluence of the Pho Chu (male river) and the Mo Chu (female river) has been through major renovation. What's additionally impressive about Punakha Valley is that is lies almost at sea level and you can briefly fill your lungs with oxygen before the tour moves up into other more rarefied environs. About 30 minutes up the valley wall is the important Talo monastery (built in 1764 AD). The last few miles are on a dirt track passing through terraced rice fields and lush firs.
About 20 minutes along the same ridge but at a slightly lower elevation is the pretty little village of Nobgang with a few orderly houses and bright red splashes of poinsettia. You can buy oranges here for almost nothing and they'll beat Sunkist anytime. Nobgang's claim to fame is that Bhutan's current queens (all sisters) came from here. Amankora Punakha offers a stately home away from home here with eight suites, north of the dzong.
The second property in Bhutan for COMO Hotels & Resorts, the 11-room lodge Uma by COMO, Punakha (opened 2012) features nine deluxe rooms, a one-bedroom villa, and a two-bedroom villa on the banks of the Mo Chu River. Both villas can additionally link to a deluxe room, providing the option of two bedrooms, perfect for a family getaway. Expect traditional hand-painted Bhutanese décor and wood-burning stoves for that added rustic flavour. Guests can take advantage of the nearby COMO Shambhala Retreat which serves up two treatment rooms with traditional Bhutanese wooden hot stone bathtubs. There are opportunities aplenty for sports enthusiasts. There's even an option to create a combined trekking package with sister hotel Uma Paro.
New kid on the block Dhensa Boutique Resort offers 24 suites that blend traditional Bhutanese exteriors with modern interiors. Expect high airy ceilings with wooden tones. There's free WiFi, a library, spa, business centre and more. Don't miss out on the fantastic views at its outdoor dining area.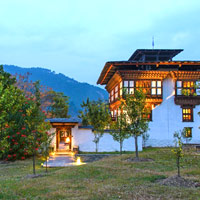 Graceful Amankora Punakha with its usual understated appeal/ photo: hotel
Two decent hotels in the general vicinity are Dragon's Nest Resort in Wangdue, and the Zangthopelri (also Zangtho Pelri) in Punakha with 45 rooms (attached bath and hot running water). Another nice spot near Wangdi (on the Thimphu-Punakha road) is the small Kyichu Resort with cottages right on the river. (Kyichu also runs a splendid family resort in Paro.) This is where you might overnight en route to the picturesque high valley of Phobjikha, home to rare black-necked Siberian cranes in winter. There is rough-and-ready accommodation at the beautifully preserved Gangtey monastery overlooking the valley, but this might be too basic for some and far too cold.
Fortunately, the Amankora Gangtey is at hand with eight comfortable suites and the obligatory bukhari. Domestic airports operate in Bumthang and Tashigang as part of the government's plan to open Bhutan tourism to the east. Tashigang is located close to the Tibetan border, and there isn't much tourist traffic here – yet. Don't expect five-star treatment but there are several cheerful guesthouse options. Bumthang is already frequented quite often, and as such has several excellent options. Check out the Amankora Bumthang, Yu-Gharling Resort & Spa, or the family-run Jakar Village Lodge, all of which are four or five stars. Merak Sakten valley only recently made it onto the Bhutan travel map.
In Phobjikha it's worth venturing to the rustic-chic, if stately, Gangtey Goenpa Lodge run by the Melzers, an indefatigable husband-and-wife team with an Aman pedigree design by Mary Lou Thompson. Expect a mini-dzong feel with huge timber beams, dark wood hues, deep cream sofas, rich furnishings, and 12 suites with fireplaces for a crackling good evening. Then there are those panoramic monastery and Gangtey Valley views. Expect to fork out US$400 up in the low season with rates at US$800+ in the high season. Spring and autumn highlights here are the breathtaking hot air balloon tours over the high Himalayas. The husband-and-wife duo pioneered 'Balloons over Bagan' in Myanmar (Burma) so it's no surprise to see the huge behemoths rising majestically into the air here.
Bhutan trekking and adventure tours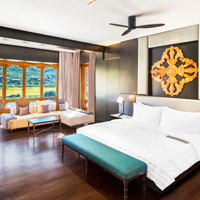 Flamboyant Le Meridien Paro room/ photo: hotel
Trekking in Bhutan is extremely popular and there are a number of stunning options ranging from three days to three weeks. A Jumolhari trek going up to 10,000ft will take at least six days while the Druk Path crossing a series of ridges with rhododendron forests and lakes from Thimphu to Paro (or the other way around) is a brisk four-day hike and one of the more popular all-age Bhutan treks. Gasa, the district immediately to the north of Punakha offers in-your-face close-ups of the Himalayas. The Laya-Gasa trek from Jumolhari to Laya is a nice wilderness option and the more ambitious can try the Punakha-Lunana high-altitude trek, an instant slimmer through the rugged Karkachu La (pass) into one of Bhutan's more remote districts.
Etho Metho Tours run up to 21-day foot-scorchers through the stark inner Himalayan valleys offering itineraries to Bumthang at the other end of the country, Laya, Chomolhari (also Jumolhari) and even Punakha in winter. If this is too aerobic for your liking, there are gentler low altitude options like Gangtey (in the stunning Phobchikha Valley) taking in meadows, magnolia and the charming monastery. Other circuits can be tailor-made for you if there are special requests or needs.
What if spirits sabotage your trip?
Bhutanese friends had warned me about the tashigacha or inauspicious days for journeys, but the sheer joy of visa-free travel on an otherwise much abused Indian passport proved too much and I headed off in all directions regardless. Fortunately, it turned out that week was fine. I did burn some juniper twigs up at Dochu La for good measure. And I washed my underwear vigorously.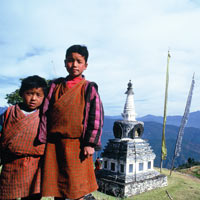 Boys and chorten at Nabgang/ photo: Vijay Verghese
There are other more ominous periods like the "Confluence of Nine Evils" which are said to be particularly dodgy. But then again, if you're really keen to send your mother-in-law up some death-defying pass on a hobbled mule, who's to say no. The Bhutanese realize this could put a serious crimp in your plans and they have the perfect solution. They pack their bags and head off a day before the actual journey to "trick" the spirits. Then they return home with stealth, which is still possible in this land of well spread-out neighbours, to actually leave the next day. The kindly mountain spirits fall for this ruse every time.
Perhaps they're distracted by the paintings on village houses featuring large male organs. Don't be alarmed. These are fertility symbols. Go on, take the high road. But first take a deep breath, at sea level.
Send us your Feedback / Letter to the Editor
FAST FACTS

/ Hotel Contact List

Church & State: Buddhism was brought to Bhutan in the Eighth Century by Guru Padmasambhava. The country is ruled by a popular King. The Je Khempo, or chief abbot, heads the Buddhist hierarchy. An official's rank can be determined by the colour of his "kamling" (scarf). White is common. The ranks go up from maroon and saffron to yellow (which is only worn by the King and the Je Khempo). Druk means dragon.

Currency: Ngultrum. 1 ngultrum = 1 Indian rupee. US$1 = 82 ngultrum.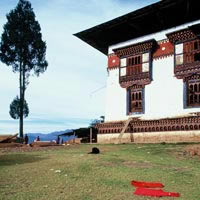 Nabgang village mansion/ photo: Vijay Verghese
Climate is warm (30C average high) in lower valleys like Wangdi and Tashigang in April and May; cold (minus 5C to 9C in Paro) in January. Thimphu average temperature 15-24C in June and minus 1C to 14C in December. The winter months have clear skies and the sun can warm up considerably. Layers of clothing are necessary to accommodate the daily temperature gradient.
Druk Air (Tel: [975-8] 271-856/7/8, 271-860 or www.drukair.com.bt) has offices in Bangkok (tel: [66-2] 134-3040), Delhi (tel: [91-11] 4712-5100) and Kathmandu (tel: [977-1] 411-3112). Tickets can be purchased online from its website.
Electricity: Bhutan runs on 220/240 volts AC and hotels use two-pin round-hole sockets as well as three-pin.
Hiking Season: Best months for most areas are March, April, May, October and November. The rains are heaviest in July and August.
Visas & Fees: Visas and all ground arrangements are handled by tour agents in Bhutan. Indians do not require visas or packages. Maldivians and Bangladeshis are exempt from the visa process as well. Your agent in Bhutan will confirm your visa clearance and forward it to both Druk Air and yourself. An online visa system started in mid-2010 has cut down processing time to two or three days instead of three weeks.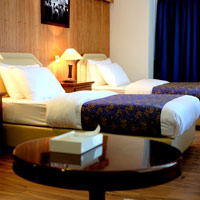 Norbuling twin room/ photo: hotel
Tours pre-pandemic were usually charged at US$250 per adult per day all-inclusive (US$200 per adult per day during the low season). By early 2023 the government opted to drop all-inclusive tour fees and began charging a flat US$200 per head for foreigners (with a special rate for Indians). Hotels and tour operators complained that this was killing tourism as visitors now had to pay the $200 fee and fork out separately for hotels, transport, and meals. In August 2023 the daily Sustainable Development Fee (SDF) was cut to US$100. This levy will be valid until September 2027, according to the Bhutanese government. For more information, contact the Tourism Council of Bhutan (tel: [975-2] 323-251/2 or www.tourism.gov.bt).
Literature: Illustrated Guide to Bhutan (Francoise Pommaret), Birds of Bhutan (Salim Ali), Dragon Country (Nirmala Das). Perhaps the most charming account is in Enchanted Frontiers (Nari Rustomji, Oxford University press, 1971).
Bhutan Travel Agents and Tourist Information
Alpine Bhutan Travel. Thimphu Tel: [975-1] 761-2210, fax: [975-2] 233-4911, (www.alpine-bhutan.com).
Bhutan Tourism Corporation Ltd. Or BTCL, Thimphu Tel: [975-2] 322-647, 324-045, (www.kingdomofbhutan.com/).
Bhutan Travel. California. Tel: 1-800-950-9908, (www.bhutantravel.com).
Bhutan Mystical Tours & Adventures. Tel: [975-2] 381-038, (www.bhutanmysticaltours.com). Tel: [975-2] 381-038.
Far Flung Places LLC, California. Tel: [1] 415-386-8306, (www.farfungplaces.com).
Etho Metho Tours & Treks Ltd. Thimphu Tel: [975-2] 323-162, (www.bhutanethometho.com).
Ibex Expeditions Private Limited. New Delhi Tel: [91-11] 2646-0244, 2646-0246, (www.ibexexpeditions.com).
Bhutan Luxury Resorts and Lodges
Paro accommodation
Amankora Paro. Tel: [975-8] 272-333, (www.aman.com/amankora).
Gangtey Palace. Tel: [975-8] 271-301, (www.facebook.com/GangtayPalace/).
Kyichu Resort Paro. Tel: [975-8] 271-468.
Le Meridien Paro, Riverfront. Tel: [975-8] 270-300, (www.marriott.com/le-meridien-paro).
Nak-Sel Boutique Hotel & Spa. Tel: [975-8] 272-992, (www.naksel.com).
Olathang Hotel. Tel: [975-8] 271-304/5, (www.hotel.bthotel-olathang/).
Six Senses Bhutan. Tel: [975-2] 350-773, (www.sixsenses.com/bhutan/).
Tiger Nest Resort. Tel: [975-8] 271-310, (www.tigernest.bt).
Uma by COMO Paro. Tel: [975-8] 271-597, (www.comohotels.com/uma/bhutan).
Zhiwa Ling Hotel. Tel: [975-8] 271-277, (www.zhiwaling.com).
Thimphu hotels
Amankora Thimphu. Tel: [975-8] 272-333, (www.aman.com/resorts/amankora).
Ariya Hotel. Tel: [975-2] 333-999/342-222, (www.ariyabhutan.com/).
Bhutan Suites. Tel: [975-2] 333-377, (www.bhutansuites.com/).
Hotel Druk. Tel: [975-2] 322-966, (drukhotels.com/thimphu/).
Hotel Migmar. Tel: [975-2] 338-901/2/3/4/5, (hotelmigmar.com/).
Hotel Norbuling. Tel: [975] 1711-1727, 233-5754, 233-1416, (www.facebook.com/hotelnorbuling/).
Hotel Taktsang. Tel: [975-2] 322-102, 326-719.
Jambayang Resort Thimphu. Tel: [975-2] 327-731, 322-349, (www.jambayangresort.com/).
Jumolhari Hotel. Tel: [975-2] 322-747, (www.hoteljumolhari.com).
Khang Residency. Tel: [975-2] 339-111, 339-222, (www.khangresidency.com).
Le Meridien Thimphu. Tel: [975-2] 337-788, (www.marriott.com/le-meridien-thimphu/).
Namgay Heritage Hotel. Tel: [975-2] 337-113/4/5, (www.nhh.bt).
Pinewood Hotel. Tel: [975-2] 325-924.
Riverview Hotel. Tel: [975-2] 325-029/30/31/32, 323-497.
Taj Tashi Thimphu. Tel: [975-2] 336-699, (tajhotels.com/en-in/taj-tashi/).
Terma Linca Resort & Spa. Tel: [975-2] 351-491, (termalinca.com).
Hotels in Punakha, Gangtey, Bumthang, Phobjikha
Amankora Punakha, Amankora Bumthang and Amankora Gangtey. Tel: [975-8] 272 333, (www.aman.com/resorts/amankora).
Dhensa Boutique Resort. Tel: [975-2] 584-434, (dhensa.com).
Gangtey Goenpa Lodge. Tel: [975-2] 340-943, (www.gangteylodge.com/).
Jakar Village Lodge. Tel: [975-3] 631-242, (www.bhutanlodge.com).
Kyichu Resorts. Tel: [975-8] 271-468.
Uma by COMO, Punakha. Tel: [975-8] 279-999, (www.comohotels.com/umapunakha/).
Yu-Gharling Resort & Spa. Tel: [975-3] 631-948, (www.yugharling.com).
Zangtho Pelri (also Zangthopelri). Tel: [975-2] 584-125.