BEACH ESCAPES
Phuket beds for discriminating wanderers, luxe to boutique
With travel picking up sharply, fun anf flavour has returned to Southern Thailand, some of it detailed in this Phuket resorts review for lovers and frazzled families in search of child-friendly digs.
SEE ALSO Phuket guide | Bangkok hotels | Bangkok shopping | Koh Samui resorts | Chiang Mai guide | Krabi resorts | Thai spas | Small meetings in Asia | Golf | Resort weddings | Vietnam Resorts | Pattaya guide | Bali fun guide | Yangon | Hua Hin Guide | Mergui island guide | Goa resorts review
JUMP TO North and east Phuket | Mai Khao Beach, Nai Thon, Layan | Bang Tao Beach and Laguna area | Surin and boutique resorts | Kamala, Kalim, Nakalay Beach | Patong | Relax Bay, Karon Beach | Kata, Nai Harn, Rawai, and south | Phuket Town, Panwa, southeast | Khao Lak resorts | Hotel Contacts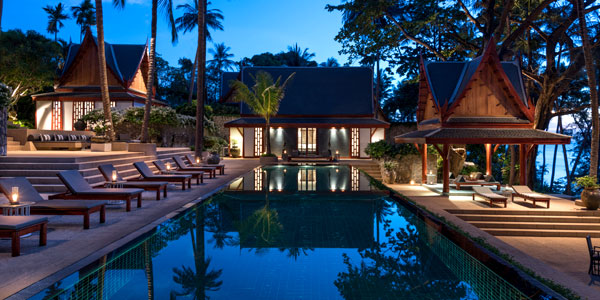 IF YOUR idea of an exotic Asian holiday is having yourself photographed with baby elephants, screeching jungle birds, and iridescent lizards that will perch comfortably on your shoulder cocking bulbous eyes enquiringly at the camera, call David Attenborough. But if you want the whole ensemble, this time with a transvestite thrown in, draped in little more than a pink feather boa and perhaps a snazzy, if fake, Dior clutch bag, head to Phuket, Thailand.
Patong, the neon-emblazoned nightlife strip and budget paradise, is alive with feral promise, chatty t-shirt vendors, burnished bodies, and that ultimate barometer of commercial health, fake DVDs. Take your pick of cut-price knock-offs, from Harry Potter to the intriguing Shaving Private Ryan. It's all here. Nothing has dented its showy stride - not the tsunami, not the military, not the feeble pens of city planners.
A newish airport terminal late-2016 poured more bronzed bodies on increasingly scuffed beaches as the overly cramped old airport switched to domestic operations. Without further ado, our Phuket resorts review, from luxury hotels with 400-thread-count bed linen to villa hideaways and threadbare shacks, from coral bays to the best white sand beaches to leave your footprints in.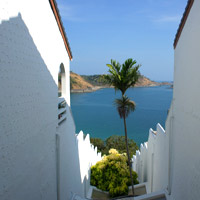 Santorini whites at The Nai Harn, huge views/ photo: Vijay Verghese
The island remains a huge magnet for top-drawer brands and the NextGen claims have been staked by the likes of the Rosewood Phuket (opened November 2017 www.rosewoodhotels.com), a 71-villa, 32-residence sybaritic retreat southwest of Patong at Emerald Bay's Tri-Trang Beach; the JW Marriott Phuket Resort & Spa Chalong Bay (2019) in the south; Hotel Indigo Phuket Patong (180 rooms, May 2018); and the Splash Beach Resort (by Langham that arrived late 2018). Also watch for a Park Hyatt Phuket, and a Bill Bensley designed Kempinski Hotel Phuket (that was due 2019 but is delayed) - these last two are at Siray Bay on the southeast coast closer to the Westin. It's quite a party.
Who has the best beach for swimming in Phuket and who has the hidden rocks - for your mother-in-law's next visit? We'll reveal all.

Hotel Contacts
We include a top Khao Lak hotels guide with several good spa hideaways and family-friendly options. Khao Lak has developed in recent years as the 'old' traditional North European and UK business migrates north in search of quietude and that rustic charm that brought doughty travellers to Phuket in the first place. This has by no means been a wildebeest Serengeti migration but a steady trickle north as Russian and Chinese menus start appearing in the south. Understanfably, the pace is slower in the far north, and frenetic in the south with some notable exceptions.
In north Phuket, beyond the airport, a newer crop of luxury resorts have arrived, creating a welcome counter-magnet to the overcrowded development in central and southern Phuket (which is a mess of traffic and mopeds often driven by inebriated foreigners flouting all the rules after a few Singha beers).
This Phuket resort review runs in a straight line north to south, tracing the western coastline from Mai Khao Beach in the north beyond the airport to Promthep Cape in the south where romantics huddle to watch the sunset beneath lazily spinning wind turbines. At the end of our report is our Khao Lak resorts review, where the damage from the Boxing Day tsunami is entirely indiscernible and blotted from memory as the strip grows in stature (though Asians remain reticent) as a popular 'old-Phuket' throwback. Khao Lak is about a 75-minute drive north from Phuket Airport.
Send us your Feedback / Letter to the Editor
North and east Phuket, Naka Island, Yamu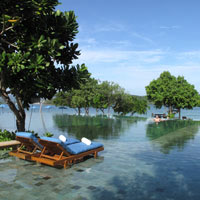 Naka Island pool/ photo: Vijay Verghese
To get to The Naka Island, a Luxury Collection Resort & Spa, Phuket, a Starwood creation that later moved into the Marriott family, you'll need to get some sea spray in your hair. The resort is sited on the small Naka Yai island off the northeast tip of Phuket just far enough from the madding crowd to be romantically endearing and close enough to be a 25-minute hop from the airport by car and speedboat. Seclusion and privilege is generously ladled out at 67 private villas with a pleasingly rustic but polished finish with smooth, pale apricot skin-tone walls, private pools, and outdoor showers.
Set amidst the stunning Phang Nga Bay and its limestone karst formations, this hideaway is a spoiling escape with far-from-rustic air-conditioning (there are ceiling fans for the heroically inclined), iPod docks, 32-inch flat-screen TVs, DVD players, and WiFi. At the iPod docks, 32-inch flat-screen TVs, DVD players, and WiFi. At the top-of-the-line 1,600sq m Royal Horizon Pool Villa Suite, a vision of blue stretches to infinity from the large timber sun deck and its mirror-still pool.
There are two separate split-level thatch-roof villas with a sunken living area littered with deep blue cushions, elevated bedroom with canopied gauze-draped bed draped in 300-thread-count linen, 52-inch flat-screen TVs, Bose surround sound, iPod docks, lounging divans, work desk, and vast bathrooms – one constructed around its own glass-wall greenhouse, with well spaced out twin vanities, toiletries from Remede Spa, and a private steam room. Wireless connectivity is free throughout public areas but, alas, charged in villas.
Guests can stay connected on foot, tracing sandy pathways, pootle around on bicycles, or careen about on electric buggies. The gentle, grassy hillocks are no impediment to discovery. Ubiquitous and quaint, but potentially treacherous after a couple of Singha beers, however, are the overly elevated stepping stones that accompany most paths.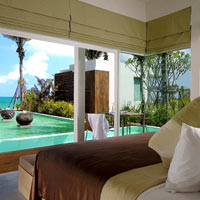 Aleenta Pool Suite/ photo: hotel
A minor niggle. But step wisely. Wellness therapies are set apart in a vast and perfectly manicured, Hobbit-like enclave, with individual treatment villas, meandering ponds, wooden bridges, steam rooms, and a "Watsu massage pool".
Attempt a milk bath or a honey mango body polish. Never try this at home. Leave it to the professionals at Spa Naka. Service is friendly and trundles along at island pace and there is much to explore and discover. Mark this down as a good Phuket spa resorts choice.
North of Phuket in the direction of Khao Lak, about a 20-minute drive from the airport, is the Aleenta Phuket on the enticing stretch of Natai Beach. Accommodation marries conical-thatch-roof villas with modern cubist design. Pick from an array of Pool Villas, Pool Suites or Pool Residences in differing decor, some with bedrooms overlooking the sea. The resort is stylish with rooms offering an iPod dock, large LCD TV, soft cotton linen, spoiling toiletries and plunge pool.
Pick a Pool Suite with 360-thread-count Egyptian cotton and complimentary WiFi. Expect clean lines and grand views mixed in with spa treatments, yoga and cooking classes. Aleenta offers a stylish and very friendly escape for younger honeymooning couples. The luxury spa is - Ayurah Wellness Centre - worth a long browse for everything from scrubs and wraps to body polishes, and if you're exploring options for a Phuket resort wedding on the beach, take a good look at Aleenta. It has a nice stretch of sand and will go the extra distance for a wedding set-up.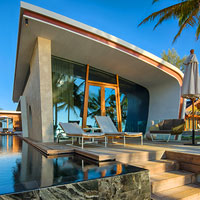 Iniala Beach House villa luxe/ photo: hotel
A little north of Aleenta, is the uber-stylish Iniala Beach House, an 'interpretation' of Thai style in three designer beachfront villas and one penthouse on Natai Beach. Each villa has its own dedicated staff to cater for upscale whims 24 hours a day.
This service - at a wallet humbling price of course from US$1,995 up - comes with a butler, chef, maid, spa therapist and chauffeur. There is other relief too as the villas can sleep from two to eight persons. So pass that hat around and save up. Pick from the cocoon style light and airy Villa Siam, east and west Villa Bianca, the Penthouse, or the top-line Collector's Villa (from US$3,315 up). Step onto golden sands, laze in draped cabanas, snap selfies from timber decks, dip into a pool or have your limbs stretched and rubbed down by wellness experts.
Driving down to Phuket across the bridge you'll spot the Royal Phuket Marina (www.royalphuketmarina.com), a luxury lifestyle development that positions itself as a venue for meetings, conferences and weddings with a 2,500sq m Exhibition and Conference Centre. Large wedding in Phuket? No problem.
Overlooking Po Bay on the northeast coast of Phuket Island is the Supalai Resort & Spa Phuket (formerly Best Western Supalai Resort & Spa) with 144 sea-view rooms, 38 poolside villas, a spa, a humungous 1,000sq m pool with a Jacuzzi at one end and a 450sq m ballroom for conferences and meetings. In this area too is the Mission Hills Golf Resort & Spa where it'll set visitors back Bt4,500 for 18 holes with a Bt400 caddy fee. The 'follower' fee for non-golfers is Bt1,200. Good thing this isn't Instagram. There's a pro shop and a driving range if the pool and spa are not sufficient distraction. Accommodation ranges from well featured Deluxe Rooms to Executive Suites.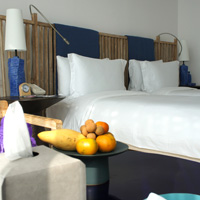 Point Yamu by COMO/ photo: Vijay Verghese
Along the secluded non-touristy east coast shoreline of the island a country road snakes out towards Cape Yamu, a quiet hamlet with a gravely beach, a few private villas, a laid-back rustic air, breezy sea views, and the chic cubist lines of the Baan Yamu Residences, a smart Surin hideaway that continues to set the pace. The "Club Yamu" concept includes a small group of villas with private pools, executive villas, and condominiums. Pick up a home away from home starting at around US$500,000 and going up to US$2.5m. Notwithstanding the lack of a swimmable beach, this is a great spot for a family holiday and there is a two-floor kids' club.
The U-shaped development follows a strict grid and encloses within its "arms" a stretch of lawn and a long infinity pool that runs almost the length of the estate, its blue contrasting with the pastel grey and creams of the units. Expect straight clean lines, rows of palm trees, giant earthen urns, painstaking symmetry, and a minimalist Zen approach at this low-rise and starkly modern development. For a long stay away from neon and buzz, with excellent service an added bonus, consider this Phuket child-friendly resort.
Up the cape past a row of luxury residences is the grey and minimalist Point Yamu by COMO (December 2013) perched unobtrusively on a low promontory, open to the winds and the elements with vast wraparound views but, alas, no beach. That is a trifling niggle in an otherwise interesting ensemble that strains to be schoolroom perfect with a relentless raw cement finish that is sparse to the point of being spartan in a youthful advertising office kind of way, but with an occasional "wow" factor like the 100m pool strung out across a sun-drenched timber deck with panoramic vistas. Boats will shuttle you to neighbouring sands. High ceilings add to the sense of space and gardens and water features provide neat distractions in this modular construct where the emphasis is on unruffled simplicity.
An entry level 45sq m Bay Room without a balcony or tub serves up the signature patterned tile flooring in the Sino-Portuguese tradition, cobalt-tile bathroom with rain shower, plump beds and a startling white decor into which light comes streaming unreservedly.
Flash of red in grey zen court at SALA/ photo: Vijay Verghese
Twin vanities are served by two rows of naked bulbs, a playful throwback to an actor's dressing room, and WiFi is free. Expect two three-pin multi-plug electric sockets either side of the bed, a big laptop-friendly safe, a classic bedside clock, electric kettle, and a complimentary selection of digital newspapers streamed on your own devices.
A 65sq m Verandah Room offers the added distractions of a soaking tub set in a spacious bathing area, large flat-screen TV, a bright splash of colour in the fruit basket and the aforementioned verandah. A Bay Pool Suite with a private 9mx3m plunge pool has its own living room with sofas and round bathtubs. Rounding off this chic retreat are a spa, yoga, Pilatus, and villas, coming on line in stages till July 2014.
Brisk service, breezy views and bright, if refreshingly underplayed, rooms, in a new part of Phuket that may prove challenging for some. Surin Beach is the closest distraction at around a 15-20-minute drive. This area along the less travelled east coast is secluded and very quiet.
Perched along the as yet undeveloped northeast of the island, is the spread out and attractive Chandara Resort & Spa. Expect a two-deck swimming pool, water sports galore, cycling, cooking classes and thatch-roof Pool Villas and Jacuzzi Studios set in manicured gardens overlooking a broad stretch of beach on Po Bay. And of course, the Chandara Spa for a wellness workout. There's ample stretch space. A Studio Pool villa starts at 140sq m while a Family Villa goes up to 225sq m. Swing an elephant by the tail. The group offers the less lavish Absolute Sea Pearl Beach Resort in Patong as well.
Mai Khao beds, northwest, Nai Thon, Layan
Crossing the Sarasin Bridge heading down into the island of Phuket, the first resort, still well north of the airport along a secluded stretch of Mai Khao Beach, is the sprawling JW Marriott Phuket Resort & Spa. Relatively unmarred by the frenzied development that has turned vast swathes of Phuket into higgledy-piggledy concrete, the area is a quietish enclave though small malls and eateries have arrived.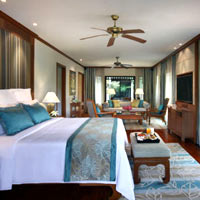 JW Marriott Phuket Ocean Front Suite/ photo: hotel
The Marriott is huge, not so much high as vast. Its three-floor structure (with just over 250 rooms) radiates out in two wings amidst large, lush gardens and engaging water features. There are three swimming pools and with room enough to swing several elephants by the tail, recreation options are practically unlimited from horse-riding and mountain biking to diving, snorkelling, sailing, tennis and jogging. Rent a bicycle and work off excess calories. The hotel will equip you with a helmet, a map, a bottle of water, and a mobile phone which, alas, you'll have to return.
The hotel offers the young and restless an arsenal of distractions while younger kids are catered for with activities like face painting, learning the circus trapeze, and Thai dancing. Babysitters are at hand with short notice. Escape to the health club, then dine Italian, Japanese or Thai. A wellness sala offers meditation, yoga and pilates lessons if you need a good stretch. The bright and attractive rooms at the JW Marriott Resort and Spa have nice residential touches including a steam iron and ironing board (perfect for soggy cottons or flabby bellies), flat-screen TV, a DVD player and a reading alcove that easily doubles as a kid's "bedroom".
All rooms offer plug-in high-speed internet while public areas and meetings rooms have WiFi. Expect ceramic floor tiles for messy family feet and gleaming polished rich wood flooring in Ocean Front Suites. The dedicated Mandara Spa serves up bliss and "Javanese lulur" at a price, with aromatic private rooms for couples, plunge pools and lap pool. Try assorted wraps, a coffee scrub or get waxed. There are spa treatments for teens and kids too if you can surgically separate them from their iPhones. A 'Romantic Geratway, Couple' treatment for four hours is priced at Bt17,500. That's about three nights at a fancy hotel but... youll emerge ten years younger. A 60-minute Swedish massage will pinch less at Bt3,300.
With several meeting rooms and over 15,000sq ft of conference space this is a useful address for small corporate meetings in Phuket or larger international MICE evens that require stretch space and a top-notch set-up. The function space and the long strip of almost-private beach means this is an excellent venue for Phuket resort weddings where guest numbers need not have a ceiling unlike at smaller boutique resorts..
Sala pool villa and courtyard/ photo: Vijay Verghese
Located within the Sirinath Marine National Park, the JW Marriott Phuket has earned kudos for its conservation work with marine turtles. No, there's no turtle soup on the menu. Still, at Ginja Cook, the cooking school at JW Marriott Phuket Resort & Spa, you may bone up on traditional Thai cooking, or opt for Indian or even Japanese.
Also set on Mai Khao beach (at the end of the road leading on from the JW Marriott) is the very chic, cubist SALA Phuket Resort and Spa. The resort offers 79 smart villas and suites with contemporary design blending black-tile water pools, clean lines and gardens with beige-white exteriors in an unobtrusive lowrise setting. The overall appearance is quietly welcoming without any of that mad Disneyland clangour of megaresorts. Garden spaces and trees blend in with discreet buildings. The design works because perhaps it does not try too hard and, while sophisticated, it is user-friendly.
Sixty-three villas and rooms have private lap pools, and rooms feature outdoor bathrooms with freestanding bathtubs, chandeliers, in-room WiFi, 40-inch flat-screen televisions and daybeds. For families and larger groups there are 13 one and two-bedroom suites. Pick from 63sq m stretch space or opt for a humungous 158sq m Garden Pool Villa.
There are three beachfront pools, one for kids, and the SALA Spa offers a range of treatments with five indoor treatment rooms and three massage venues by the beach. The pool fronts the gardens with their shady casuarina trees, which in turn lead on to the sand.
If you're shopping for a Phuket resort beach wedding, SALA is definitely one for the diary. It is simply crying out for a shocking pink bikini to disturb the virginal Santorini white surrounds. There's ample space for a classy boutique wedding with a spread of lawn fronting a lovely beach. The place scores high on our Phuket resorts review and it is sited on a secluded strip of Mai Khao sand in an undisturbed patch that will appeal to honeymooners or young couples in search of privacy. We certainly like the vibes here.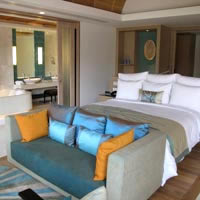 Renaissance Phuket villa/ photo: Vijay Verghese
Close by is the younger minimalist Zen Renaissance Phuket Resort & Spa that helps breaks the musty nondescript mould of the group (following on the heels of the club lounge-style Renaissance Bangkok). Walk past the wood-screen porte cochere into an airy lobby with a design focusing on light and symmetry.
Grey stone and pale wood contrasts with the bright cushions, and water features dominate the central area leading to the beach. The resort runs in two low-rise three-storey arms enfolding the gardens and villas and pointing towards the sea. These house the rooms and suites. There are 180 rooms in all including four one-bedroom ocean front villas, 21 one-bedroom pool villas and one three-bedroom ocean front villa.
Be prepared for a pleasant surprise. The courtyard style villas are enclosed within walls with green spaces and a plunge pool set alongside a natural-timber-floor patio. The high curved pale-wood ceiling is very Japanese in effect, if not in intent, the bedroom bright, with natural light streaming in through the floor-to-ceiling glass windows and colourful green-blue furnishings.
Expect flat-screen TV, DVD player, large terrazzo-chip bathtub, twin vanities, digital clock, Internet access and WiFi at Bt642 per day (complimentary if you're paying the full rate in a villa), a data port, a narrow work desk behind the bed, a notebook safe, and an iron and ironing board. From the outside, the curved shingle roofs are reminiscent of a conquistador's helmet.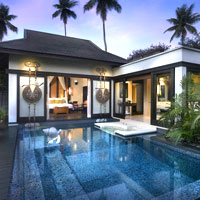 Anantara Mai Khao Phuket Villas with private pool/ photo: hotel
Deluxe Rooms are similarly bright with 44sq m of stretch space, a see-through glass partition for the bathroom, a separate tub and shower, orange wall lamp, plump bed with lime green runner, flat-screen TV, small round multi-purpose table, data port and two multi-pin sockets. The end result is funky, clean, inviting and contemporary.
This resort features a Quan Spa, a fitness centre, a kids' club, bikes for rent, non-motorised water sports and even a karaoke room to exercise vocal chords. The attractive black-tile pool is set along the beachfront, again minimalist and simple, but effective. Staff, much of it imported from Bangkok, is friendly and responsive. A definite thumbs up for this Renaisance Phuket review.
Cheek-by-jowl with the JW Marriott, is the somewhat eclectic Anantara Mai Khao Phuket Villas with 83 one-bedroom pool villas featuring large bathrooms and an outdoor soaking tub for couples. In-room expect iPod and docking station, flatscreen TV with DVD player, daybed, outdoor sala, and WiFi. Timbered floors add gleam and class contrasting with the plump, starched white linen beds, gauzy drapes, and bright silk cushions and throws. Step out of bed and wade right into your own private pool and then step right back into the bath for a wash and lazy tub soak.
Fittings and finish are tasteful and well executed as you might expect of a Thai luxury villa resort. Despite its high-end appeal, Anantara remains a family-friendly hotel with a well-equipped Turtle Club to cater for the younger set. The resort is a 15-minute drive up from Phuket Airport and close to the green mangrove lungs of Sirinath National Park. This hideaway features the group's signature ochre brick entrance, luxury villas with quality Thai flourishes and lotus ponds accessed by a tiny driveway that can be a squeeze. Service is good and accommodation is more than comfortable. Fidgety? Cycle, play tennis, try yoga, aerobics, or opt for a raft of watersports.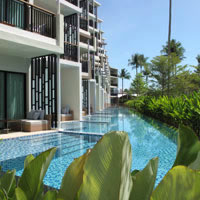 Holiday Inn Mai Khao/ photo: Vijay Verghese
Also say hello to the smart and modular clean-line 246-room Holiday Inn Resort Phuket Mai Khao Beach that opened September 2011 and retains a fresh youthful spirit. The full name is a mail-train mouthful but this family-friendly Phuket resort is a fine four-star offering. More a friendly condominium than a stiff hotel, the design is functional, neat and unpretentious and the place brims with smiles. The resort runs to the beach with the three-storey room wings on either side, and a central grass lawn leading to a fine pool and excellent beach. Find a tailor-made Kid's Suite for keeping the holiday smiles on. The cosy children's area serves up a bunk bed and a play corner with a flat-screen television, bean bag, and a game console. The kids' room is connected to the master bedroom through the shared bathroom with its big rain shower, generous mirrors, and pastel wood sliding doors. There is a pale-wood work desk along the wall with two electric sockets and data port. WiFi is free throughout the resort. The room is attractive for its simplicity and light.
A Pool Access room offers the convenience of water lapping at your verandah. Or pick a larger Family Suite. In-room expect a decent flat-screen TV, DVD player and iPod dock. During the day parents can leave typhoon tykes at the Kid's Club with its slides and bouncing pit or at the Teen Zone. Take your pick. Elsewhere, resort iPads will keep you connected. Now that's fun for the entire family including harassed parents. This eco-friendly hotel offers a fitness centre, a long stretch of beach, and the Tea Tree Spa to work off calories and soothe city muscles.
If work has got you in a hole, pack your bags and head to the Mother of Holes, the Canyon Course Hole No. 17, described as one of the "Top 500" in the world". A splendid sight for sore eyes is seamless green of the Canyon Course (Bt5,600 for 18 holes) and the Lakes Course (about Bt4,000 for 18 holes) at the 720-acre Blue Canyon Country Club just minutes from the airport on Highway 402.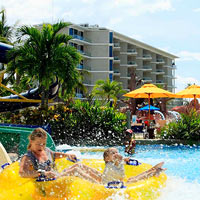 Splash Beach Resort (formerly Grand West Sands) serves up a big water park for kids/ photo: hotel
This refreshing, verdant escape offers rooms blending into the hillside, residential condominiums for longer stays, and a breezy clubhouse that commands unimpeded views of the greens, which have hosted some Johnnie Walker Classics and more.
Plunge into a Jacuzzi, enjoy a muscle-working massage, or sip a tall cool drink. There's even a professionally-run school to help you improve your swing. During those quieter evenings when you're done chasing balls, retire to The Spa at Blue Canyon for soothing Ayurvedic, Thai and Swedish treatments. Therapists are on hand to suggest the most appropriate balm. The invigorating environs and fresh air make Blue Canyon Country Club an extremely popular choice for golfers, families and resident expatriates.
Just up the road is the Maikhao Dream Villa Resort & Spa Phuket. Pick from beachfront two or three-bedroom pool villas for a lot of stretch space - at a price of course. The two-bedroom villa starts at a generous 5,000sq ft with 46-inch flat-screen TV, jet pool set in a timbered sun deck, living and dining areas, a kitchen, electronic safe and free WiFi. A butler will help get your holiday sorted. Enjoy beach activities or retire to the spa. Sister property Maikhao Dream Resort & Spa Natai, Phang Nga, is within driving range and offers 56 rooms.,
The large Grand West Sands Resort & Villas Phuket - once under Centara - re-emerged 2018 as the 459-room Splash Beach Resort from Langham. Expect largely white sand. The resort sprawls over 47 lazy acres with a long 500m stretch of beach. Enjoy a humungous sun-drenched pool and child-friendly facilities served up in spades. Think a full-fledged water park with splash slides and a 335m Lazy River. There are 12 water attractions in all including a wave machine. Who needs Disney?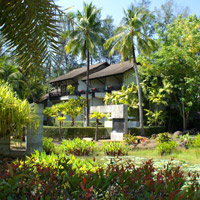 The Slate (formerly Indigo Pearl) serves up acres of soothing green/ photo: Vijay Verghese
The property has a broad range of accommodation from Deluxe to Pool Villas (the villas are being developed to run under the Cordis brand). A Deluxe Room with flat-screen TV, DVD and broadband, starts at 65sq m, and that will give you some idea of the scale at this place. Villas go up to 480sq m. WiFi is complimentary so get unplugged and start playing. Expect a spa, stuff for kids, fitness centre, and babysitting facilities,. This is an unabashed roll-up-your-sleeves leisure escape without too much fuss, so dive in.
Just south of Phuket Airport on Nai Yang Beach is The Slate from Design Hotels (formerly Indigo Pearl). Indigo faced a challenge with its name competing head-on with the funky InterContinental INDIGO brand and it re-emerged August 2016 like Sandro Botticelli's 'Birth of Venus' in a fresh and no less engaging incarnation with a brand new name and identity. Step into the crystal and metal-works lobby with its surreal blue lights and glass, and embark on a pleasant hallucinogenic trip. The imaginatively designed resort offers double-size rooms featuring huge trendy bathrooms, stone walls, timber-slat headboards and a chic tin-mine feel. There are three swimming pools (with bars), acres of manicured garden and a lagoon. Deluxe rooms come with balconies overlooking the gardens while private villas offer courtyards and alfresco showers. At the upper end of the scale are pool suites and high-ceilinged luxury suites with their own private plunge pools.
The Slate has stretch room galore – both an attraction as well as a drawback for some who prefer not to walk – with lush gardens. Nai Yang beach rates well. In season, the water is exceptionally clear, to rival the best. With the government crackdown on beach structures (this includes sun beds and beach umbrellas apparently) hotels in Phuket have become increasingly inventive. The Slate has been no slouch on this score and has its seafronting Shore Thing on a raised sanded platform with all the trimmings of a fine beach (that's not) with enjoyable buffets .Everywhere you turn, wacky flourishes engage the eye, making it clear this is no run-of-the-mill beach resort.
Despite its eccentric outpourings, it exhibits definite personality and style. Versatile conference facilities and the Coqoon Spa (with eight spoiling treatment rooms) complete the mix. Get a mud, green tea or oatmeal wrap and finish up with a skin-firming massage.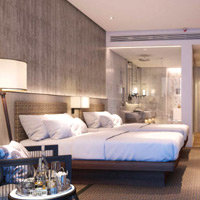 Phuket Marriott Nai Yang, woody hues/ photo: hotel
With its tall rubber trees and lazy roads winding through hills and paddy fields, this district is one of Phuket's prettiest and well worth a drive to explore.
On Nai Yang Beach, a few kilometres out on the curve of the bay, is the former Imperial Adamas Beach Resort that has rebranded as the Phuket Marriott Resort & Spa, Nai Yang Beach (opened 1 June 2016). It is a spread out low-rise getaway with a vast central pool offering open sea views and cooling breezes. Gravelled walks lead from the main hotel building to the pool and on to the beach lined by sun umbrellas and wooden deck chairs. There are three pools in all actually, a lagoon pool, a kids' pool and a beachfront pool. There is a Quan Spa at hand for those in search of pampering as well as a fitness centre for cardio workouts. A very secluded tucked away spot for a non-taxing family getaway or a honeymoon without overly taxing the wallet. Expect pale woody hues in-room with see-through bathroom glass walls, large flatscreen LCD televisions, breezy balconies for some rooms and pool access for others. The design is contemporary with Thai touches.
The gorgeous and unpopulated Nai Thon Beach is worth a look-see at any time. The Naithonburi Beach Resort is across the road from here, a short stroll from the sea. This is a simple but clean hotel-style compound with a swimming pool and 79 rooms in contemporary Thai decor and ceramic tile floors. The Russians are here - and several store signs are in Cyrillic. Nai Thon is a secluded and unspoiled beach area with good local food and occasional steaks. The sand is excellent.
The Hotel Pullman Phuket Arcadia Naithon Beach (opened early 2013) covers a low hill to the north of the beach with sea access on one side and open sunset views from the small but magnificent 'cliff-edge' lobby-level adult-only infinity pool, spa and restaurant. Not to worry, there are two more pools at this family-friendly resort and lots of action for kids. The resort is in grey olive tones with three-storey structures.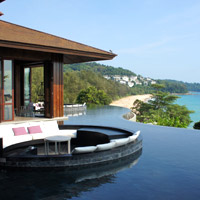 Pullman Arcadia sweeping lounge bar view/ photo: Vijay Verghese
A 45sq m Deluxe is in beige pastel with free WiFi. Upgrade to an Oceanview room to enjoy Nespresso and grand panoramas. Or opt for a 170sq m Pool Villa. Expect neat pale wood floors, white furniture, and blue cushions (almost reminiscent of SALA or Twinpalms), and rooms welcoming of light given the elevated positioning that helps catch the rays. A 60sq m Family Deluxe is the one to pick for a group with kids in tow. There's a separate room for the anke-biters with bunk beds and a play area. The resort aims for small to medium size corporate meetings with a ballroom that accommodates 250 comfortably, or 450 for cocktails. The Dhatri Spa offers Thai-style massage and a range of wellness treatments. As at other hip resorts around the island, this one reserves special energy for weddings business. A nice spot for a romantic getaway but do bear in mind it is not actually on the beach. This should not prove a hindrance though as the views are worth it
But it's just down the road that you'll stumble across a real gem – the Andaman White Beach Resort. The unassuming villas, connected by wooden walkways, spill down a lush hillside through coconut groves to meet one of the island's most perfect white sand beaches with gauze-draped sun loungers, tables for diners, kayaks, and hammocks. The combination of rustic dark-wood, cream stone and white-sand beach is visually arresting, and the curving picture-postcard bay is wonderfully private. The shaded sea-fronting turquoise blue pool is lined by Indian Ganesha statues with the distinctive elephant-god's head, in freshly painted brick-red, watching your every floppy stroke. So do make an effort. It's good to know that Ganesha enjoys his food and fun and this pretty much sets the tone for the place that rates well on our Phuket resorts review, largely on account of the spectacular sand. For a holiday to remember, pick the modestly elevated Beach Suite with its stone-floor verandahs with sea views, rich timber flooring in the interior, comfy furniture and sparky yellow bedroom walls.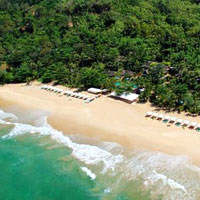 Andaman White Beach/ photo: hotel
The minimalist villas (with parquet flooring), toilets (with a sunken tile bathtub that may alarm some and delight others) and general décor are Thai-chic, if unfussy even bordering on rustic in parts. The rooms have been steadily upgraded. A small gym and the Dala Spa (with Thai and Swedish massages and salt and tamarind scrubs) complete the ensemble.
The top-line Beach Front Pool Villas offer gleaming parquet wood flooring, full-length glass windows and a private plunge pool. The seaside pool offers wireless connectivity and Wi-Fi has been extended into all public areas and the beach. Dine Italian with a view, or grab a hot pizza right on the beach. This is an idyllic spot for a Thai-style Phuket beach wedding.
Andaman White Beach is a charming getaway with a several quirky edges – in design and service – admittedly, but it manages to remain reassuringly homey in a non-cookie-cutter way. The indefatigable Italian general manager is a cheerful and chatty presence with a can-do attitude. He spends his time getting staff to march in step with him – not always a successful endeavour.
The Anantara Phuket Layan Resort & Spa (opened early 2014) supplanted Bundarika with upgraded villas around a quiet leafy cove with mature vegetation. The 77 villas cover two separate areas - one by the beach and the other, separated by a small road, up the hillside. It is all still reasonably compact and easily walkable. Pool Villas dominate the beachfront while other Pool Villas and Suites are a wheezing climb up to where the view opens up dramatically at the spa deck with its pool and lotus-inspired treatments. Chang, the kids' club is in this vicinity too just below an array of 2,500sq m residences (some up to five bedrooms) priced at a cool US$10m and a signature Thai restaurant and A-frame chapel that succeeds in being attractively simple.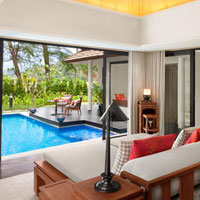 Anantara Layan/ photo: hotel
The overall palette here is dark olive-grey tones all the better to view the private cove and the blue beyond. Sited in a marine reserve, beach development is minimal and no sun loungers scar the sands. This will delight purists. From the main beachfront pool the villas arc out on either side. A 145sq m Beach Front Pool Villa serves up a small dark blue pool set on a timber patio with two sun beds, wood flooring indoors with woven leaf ceiling fans, sofa, chair, flat-screen Apple TV (iPad enabled), BOSE sound, and a central bed facing the sea next to a dark-wood lattice partition. The minibar is thoughtfully pre-stocked for guests based on their requirements with Krups coffee shots at hand for a morning cup of Joe. expect twin vanities, rain shower, pool-facing tub, a book selection and that most indispensable of modern comforts - free WiFi.
A two-bedroom Family Pool Villa offers a grand bathroom with two soaking tubs, daybed, and central pool with bedrooms on either side and the lounge in the middle. Above the lobby and facing the pool is Sala Layan, an East meets West drinks and dining spot with a breezy alfresco section and the fuss and fun of felicitous attention from a 'wine guru' and a 'salt guru' who will advise you of the best picks for nibbles and more.
Listen up, or simply dive into your chilled Singha beer. At the Thai restaurant, submit to yet another guru, this time for rice. And when not being instructed in the fine art of cuisine and health, hop on a complimentary bicycle and pedal off to explore the wooded rolling hills and countryside.
Next up, clinging to the curves of a scenic headland, are the large pool villas of the Trisara. There are open undisturbed views of the rippling Andaman Sea in all directions. This 40-acre Phuket luxury resort is a quirky oriental amalgam when it comes to architecture. It is also lot more spread out than your average cosy hideaway.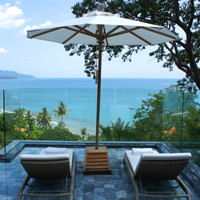 Luxury Phuket hideaway Trisara fronts the bay/ photo: Vijay Verghese
The villas offer panoramic views with a nice infinity pool. The sumptuous interiors feature silk and timber with amenities like free WiFi, flat-screen plasma TVs, spacious bathrooms and an outdoor rain shower.
There's free WiFi in public areas, at the pool and in the Library. You will need a buggy to transport you up and down though steps are available for the exercise inclined. The resort spills amiably down to the sea and a long lap pool near ocean-fronting restaurants and a well-stocked library with internet access and DVDs. Music can be downloaded onto iPods, which Trisara will happily lend you free of charge. There is a wine cellar and cigar room as well. The beachfront area has been livened up with outdoor dining and sun umbrellas, much for the better. The 1,500sq m Trisara Spa comprises six private treatment suites, each over 100sq m. The resort also hosts some privately-owned villa residences running from 750sq m to 1,500sq m with generous pools.
Service is excellent. The restaurants and bar are by the same designer who branded the well-known Ku De Ta in Bali's Seminyak. And these spaces have been reworked yet again to emerge with a fresh look in time for the New Year and 2016. These are great chill-out spots for a sundowner or more. Sample tapas with wine, or pop into newly minted DDen (formerly the Library), a space for guests to sample and create their videos of memorable holidays on a GoPro high definition camera supplied by the hotel. Hotel staff are on hand to help with the editing and additional clips if required. It's all in 4k, the best image quality you can get hold of. Also set just above the lower lever water features is the new Concierge Lounge, a breezy, woody space.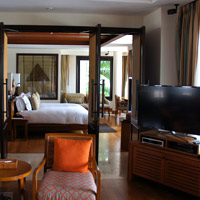 Trisara villa residences sport rich woody tones/ photo: Vijay Verghese
The closest villas to the beach, if you don't want to hoof it, are 101 and 102 and, on the other side of the pool, 408 and 409. There is a kids club for tykes (from four to 16 years) called Trisara Kids. Needless to point out this is a tony address for a CEO chinwag or a small corporate meeting with a sprinkle of sand in the hair.
And it is a fabulous spot for a small destination wedding too with plenty of spread out space for utter privacy. A jetty serves the expanding cruise business. Not for the Queen Mary perhaps, but for boats much slimmer and classier. The landing is dismantled during the monsoon season, and water sports are abandoned, perhaps sensibly, May-October.
Inserting itself into this somewhat exclusive and reclusive zone, at some distance inland however, is the vibrant, hip and startlingly white 174-room Dream Phuket Hotel & Spa (early 2016). Unfazed by lack of sea views, the hotel has taken over the former Nikki Beach Club and manages it as the Dream Beach with chillout drinks and sundowners for revellers and tanning beds for the bronzed set. Regular shuttles are available for hotel guests for the five minute hop to the sand and there is no entrance fee for them.
Just north of the Laguna area and Bang Tao, this is a courtyard style three-floor set-up brought to you by the Kata Rocks designers. That signature virginal white theme takes centre stage with small balconies and pool-access rooms looking onto a central freeform pool with a generous timber deck skirted by tall grass, sun beds covered in shapely bodies and bright bikinis, and stretched white tarpaulin sail sun shades for the adjoining Trilogy restaurant. The ensemble is punctuated by slim coconut trees and a stylish vertical garden. It is a breezy, friendly vibe, not unlike some newer hip Seminyak properties in Bali.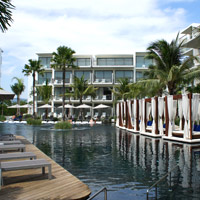 Dream Phuket Hotel & Spa pool courtyard/ photo: Vijay Verghese
A 35sq m Deluxe Swim-Up offers a curving balcony with a step-in plunge pool that carries on past a set of rooms. The white stone floor is set off by deep blues and tan brown leather chairs. WiFi is free at the resort and you'll also get Bluetooth connectivity in-room and a collection of charging cables all set for your many gadgets. Expect pipe reading lights at the bed, one three-pin multi plug socket, a compact bathing area set behind see-through glass with a soaking tub and rain shower. There is a laptop safe, shoeshine stuff, and a ceiling fan. Its simple and minimalist. Head up to the top floor for the more indulgent - but equally neat but spartan - Sky Pool Suite with a generous living room, a kitchenette with electric range, open views, and a spacious terrace with a neat raised-sides alfresco plunge pool. This is not for laps. It's for selfies. So tan and get clicking. There are ceiling fans, one three-pin multi-plug socket by the bed and a soaking tub just behind the bed in an open plan format. A curtain separates the bathing area with its single vanity and rain shower.
Dream offers clubby leather seats, wine, and cigars too at 'Indulge', with 'VU' the chic rooftop pool bar serving up Thai-style cocktails and breezy seafood barbeques on a timber deck running along the naroow pool. There is a spa too. Dream is young, lively, unfussy, and friendly and staff is welcoming and attentive, always with a smile.
Bang Tao Beach, Laguna area
Just before Bang Tao Bay, perched atop a vertiginous hill is the chic, small and intimate The Pavilions, Phuket (formerly Phuket Pavilions) with a smattering of pool villas. The views are astounding, the setting romantic and the breeze enough to dry your hair in an instant, but it is a steep climb up to get here. You will need to buggy up a vertical road and then down again. This may be problematic for some if you have game knees, but exhilarating for others.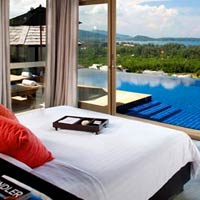 Set on a hilltop, Pavilions villa shows off its fine view/ photo: hotel
Pavilions is a resort experience rather than a beach romp. In this respect it does not disappoint. The 105sq m one-bedroom pavilions are capacious and comfortable with spoiling infinity pools from where on a clear day you can see forever. The 310sq m Oceanview Pool Villas offer a large living room and kitchenette, rain shower, CD/DVD player, complimentary WiFi, and past-the-horizon sea vistas.
The three-bedroom pool villas are 595sq m, far more than an average Hongkonger will enjoy in his entire life, and that's reason enough to visit. Pampering in-room spa treatments and aromatherapy are also available. Expect friendly and attentive service at this somewhat different Phuket luxury resort. It's more home than hotel.
Once a scarred moonscape of tin mine excavations where Neil Armstrong would have felt quite at home, Laguna Phuket is a marvel of reconstruction and a worthy mini-destination. This green oasis with its lazy lagoons, sheltered drives, blossoming plants, broad recreation facilities and child-friendly attitude is a favourite with families, and golfers.
Staking their claims here are some of the best Phuket luxury resorts and the pantheon includes the sprawling Banyan Tree Phuket, Allamanda Laguna Phuket, Angsana Laguna Phuket (formerly Sheraton Grande Laguna Phuket), the Dusit Thani Laguna Phuket, Laguna Holiday Club Phuket Resort, Outrigger Laguna Phuket Beach Resort and the Angsana Villas Resort Phuket (that took over recently from Outrigger).
The all-suite Laguna Holiday Club Phuket Resort is for the exclusive use of members and guests of the Laguna Holiday Club. This is a family friendly resort overlooking the golf course with a Kids' Club, swimming pool, wireless in the lobby and internet access in rooms. The suites can mange anywhere from four to six persons depending on the configuration.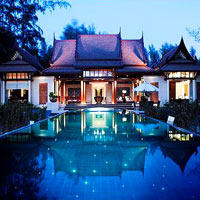 Banyan Tree pool villa/ photo: hotel
Occupying a generous spread at one end of this development but not directly on the beach, is Banyan Tree Phuket, a spread-out villa-style estate redolent of Thailand with rich motifs and design flourishes. There is also the added luxury of a highly regarded spa and golf course that returned in 2015 with all new greens, fresh drainage, and a crisp new feel. Electric buggies will ensure you are not overly exercised negotiating the distances. Each sumptuous villa is an all-in private hideaway for honeymooners, couples, or holidaymakers needing that little extra. There 136 spoiling villas with a further 25 DoublePool Villas and 12 more spacious villas in the Banyan Tree Spa Sanctuary.
By Christmas 2015, all the resort's villas had been upgraded and remodeled as pool villas making this an incomparable escape for sybarites, golfers, and corporate escapees. Banyan Tree keeps wedding planners busy and with good reason. It is a splendid spot for luxury resort weddings and the service is top notch. Over long years it has managed to sustain a level of guest attention unmatched by many other hideaways of its ilk.
The DoublePool Villa is a rarefied escape featuring up to 2,700sq m of space, a 15m infinity pool, jet pool, and garden. From the bedroom, tiptoe into the wading pool and plonk down on a submerged chair to enjoy a cool evening cocktail. Guests staying at one of the 25 Double Pool Villas will be whisked from aircraft gate through immigration and customs straight to the resort where a personal host awaits. At the Spa Sanctuary, enjoy unlimited massage in your villa, set in a vast private compound with cobalt blue pool, gardens, and a raised pavilion perfect for breakfasts, yoga, or a good book. In-villa expect beds under tented canopies looking out through full-length glass windows on three sides, twin vanities, steam and shower room, outdoor tub, Palazzo Espresso machines, flat-screen TV, DVD player, work desk and free Wi-Fi.
Of course the jewel in the crown here is Banyan Tree Spa that offers a smorgasbord of selection from full-day workouts to customised scrubs, massage, aromatherapy, hydrotherapy and treatments like the Royal Banyan herbal pouch massage.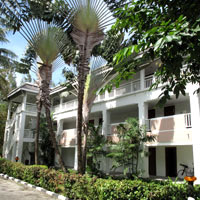 Allamanda Laguna Phuket/ photo: Vijay Verghese
There's a romantic wedding chapel set overlooking a lagoon at the Laguna complex too. The chapel seats up to 50 and Thai as well as Western ceremonies are available. Phuket is a popular choice for Asian resort weddings. Laguna Phuket is a resourceful and imaginative group that handles activities as diverse as corporate training and team building to sweaty triathlons.
The Laguna Phuket Golf Club is an 18-hole delight meandering through lagoons and verdant greens. It was completely overhauled and returned with fresh verdure in 2015. Not quite ready? Try the driving range, putting green and practice bunker. There is professional instruction available should you require it. If you're still bored, and single, get married. Banyan Tree Phuket will roll out the red carpet with Buddhist monks, blessings, candles, dance, music, and snap-perfect locations by the acre.
From Banyan Tree, perched at the edge of the golf course in the Laguna development is Cassia Phuket (www.cassia.com/en/index.html), an ultra-chic long-stay residence complex, with kitchens and free WiFi. It arrived late 2015. The address maintains a small eco footprint and looks to conserve energy resources.
Across a lagoon and again some distance from the beach is the neighbouring Allamanda Laguna Phuket by RESAVA (no longer a Best Western). The 125-room resort is popular with families and it is not hard to see why. The rooms and suites (up to two bedrooms) are spacious with separate living and dining areas as well as a kitchenette. Some look onto golf greens. Rooms are bright and cheerful, the staff welcoming. Enjoy volleyball, yoga, or kayaking. There are two swimming pools to dive into and a Jacuzzi. The kids' club is open again and after a brief swing towards mainstream traffic the place is once again a top Phuket child-friendly resort. A typical 80sq m One Bedroom Suite offers a split level living and dining area with a recessed open-plan kitchenette with microwave, cooking range, fridge and cutlery.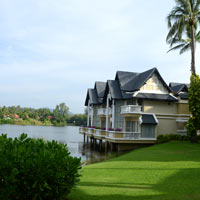 Angsana lagoon views and grass/ photo: Vijay Verghese
Expect a flat-screen TV, tile floors in the drawing room and wooden parquet in the bedroom. The bathroom is compact with a rain shower and hand shower too for those hard-to-reach spots on your back. Enjoy free WiFi, ceiling fans, a laptop-size safe, and a balcony view of green open spaces. This is a very popular and well regarding Phuket long-stay serviced apartment pick.
The Angsana Laguna Phuket is on a scenic isthmus with its 400-plus rooms and villas rimming the lagoons. A US$30 million facelift in 2011 delivered a solid Angsana feel to this former Sheraton. Think purple, was clearly the adage. That's the colour that greets you as you step into the lobby, from uniforms and carpets on to the orchids, cushions, welcome drink, mosaic underfoot, and lighting. And there is something invigorating about it.
Once you get to the beach, which is a long way off down endless corridors and twists and turns, past a snaking pool, over a stone bridge, past Marketplace with its delightful alfresco lagoon-side breakfasts and air-conditioned interiors, the yoga centre and sports shop, to the lavender towels atop the cream sun beds, you will marvel at how disabled-friendly a place as large as this can actually be. At the end of the day, this popular resort manages to do it all without dropping its stride – wedding venue, MICE hangout for Phuket conferences (with 11 meeting rooms and four outdoor spaces), family escape, you name it.
Launched mid-2013 were the three-bedroom two storey Angsana Pool Residences with kitchenette, private pool and green views. There's 357sq m of rumpus room and a villa host is on hand to make the settling in seamless. A 40sq m Laguna Room serves up a plump white linen bed with purple carpets, cool grey tile floors, black silk bed runners, flat-screen TV, laptop-friendly safe, large lamps to soften the lighting, a work desk with two electrical sockets, a breezy balcony, and full-length dark purple-burgundy drapes.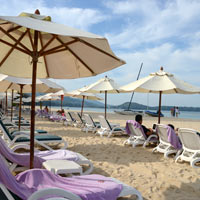 Angsana beach and lavender towels/ photo: Vijay Verghese
The bathroom features weighing scales, good lighting for make-up and other thoughtful touches. Kick back and relax in polar air-conditioning or opt for the lazy whir of a ceiling fan. Explore the 357sq m Angsana Pool Residences, all self-contained villas set in a private enclave.
Expect a 40-inch LCD TV, high speed internet, work desk, hairdryer, in-room safe and a pillow menu for troubled necks. Top of the line is the 490sq m Angsana Grand Pool Residence. There are rooms as well with easy access for handicapped travellers.
There are more corporate and bigger meeting facilities at this Phuket conference hotel than you can shake a stick at. The ballroom can seat up to 400 guests theatre style. The Angsana Laguna Phuket has ample restaurants and a snaking 323-metre-long swimming pool providing ample distraction for kids. There's the Tree House Kids Club too replete with toys for boys and the occasional visits by Lucky the elephant who's a dab hand at posing for cameras. Hire a cycle for Bt650 per day and set off on your own adventure.
This is a toddler-friendly Phuket resort that will let you breathe easy. Angsana fronts a broad stretch of Bang Tao Beach where the Ibiza-style XANA fun club pumps out chill-out music with white loungers scattered through the garden and a raised seafronting pool for a swim-up sundowner or a pretty decent tan. Expect chic rosy-cheeked crowds with shades and a faraway look. And there is always the trusty Angsana Spa for tired limbs the day after.
Next up on the strip (heading south that is) is the Dusit Thani Laguna Phuket with a free-form pool, beachfront gardens and a low-rise Thai-style design. There is an Angsana Spa here as well with eight treatment rooms. The 226-room and 28-villa resort has undergone considerable redevelopment and upgrade over the years with the Dusit Pool Villas the jewel in the crown. The privately-owned Dusit Thani Laguna Pool Villas arrived several years back in 2008 elevating the feel of what was until then Thailand's premier family holiday spot. Most of these villas have a lagoon view though some offer a sea view too and enough room to swing an elephant by the tail.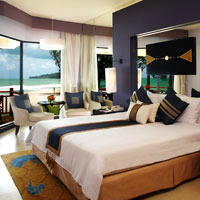 Dusit Thani, Thai chic/ photo: hotel
Wireless coverage extends up to the beach (WiFi is free in the lobby) and rooms in general offer plug-in broadband. Rooms and bathrooms (which now feature glassed-in shower cubicles and hairdryers) offer coffee and tea making facilities, mini-bar, and for several categories, a breezy balcony. The smart 35sq m Dusit Club Rooms on the ground floor face the pool area and sea with a small sunning patio with deck chairs to catch some rays. Expect large flat-screen TVs, flashes of rich Thai silk in deep hues, tile floors and a comfy living area.
The Thai and Italian restaurants enjoy open views of the gardens. The Dusit is a Phuket child friendly resort and well set up for families. Its Kids' Club caters for tots to teens with activities and crafts. Kids enjoy special menus and assorted freebies. This is also a useful address if you're shopping for Phuket conference hotels or have a small corporate meeting in mind. Also enjoy cycling, Thai cooking classes, tennis, and a three-hole putting track.
The Outrigger Laguna Phuket Beach Resort (much earlier, the Laguna Resort) is a sprawling complex at the southernmost edge of the manicured Laguna enclave. Yes, Candy the baby elephant visits twice daily delighting children at the Koh Kids club. The elephant bas-relief wall has gone from the pool area and the entire splash zone is not more contemporary and open. The lobby retains the Sino-Portuguese patterned floor tiles but the palette is muted and elegant with woody, charcoal tones and dark gold cushions replacing the bright pink and blue of yore. Outrigger took over the place in 2012 and closed for a year-long renovation till its 4 April, 2013 relaunch. The wait was worth it and the place remains a hip escape for the young and restless.
Outrigger Laguna Club Lagoon/ photo: Vijay Verghese
The 255-room resort targets families and is a super child-friendly resort with three outdoor tennis courts for the energetically inclined. WiFi is free throughout. The 43sq m Deluxe Sea View rooms serve up hot orange floor tiles for flip-flops and wet bathers, iPod docks, a working desk with one three-pin multi-plug socket and two older two-pin affairs, a bright orange bed runner, gold patterned headboard wall, a day bed (that can host kids too), and a patio or balcony. Indoors is a large flat-screen telly, a woven rug under the bed for finicky feet and a compact powder-green bathroom with a somewhat awkward step-down sunken tub with rain shower. A sliding wooden door reveals the bathing space. Also find a notebook-size safe, an iron and ironing board.
A 54sq m Club Lagoon ups the ante with smart simple decor and pool area access via the verandah. Brighteners come in the form of red cushions. The bathroom features a floor-level rain shower with a separate sunken tub. Club guests get private lagoon-fronting Club access with wraparound water views as hotel ferries saunter in and out. Outrigger offers ample space for guests to carve out their own nook or cranny and can work just as well for couples and honeymooners as for families. Also consider it for small unfussy corporate meetings if looking for something different.
Farther up the coast lies Movenpick Resort Bangtao Beach Phuket, a breezy property that's home to 40 contemporary Thai residences. The rooms are large, starting at 33sq m and running up to 360sq m, with fully equipped kitchens, balconies, complimentary WiFi, flatscreen TVs, coffee and tea-making facilities, and direct beach access. Expect woody surrounds with neutral-toned décor and burnt orange pops of colour. In the larger, more secluded residences, you'll find private pools, floor-to-ceiling windows, entertainment systems, Jacuzzis and panoramic sea views. This is a quiet choice on one of Phuket's most pristine beaches.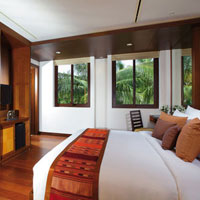 Movenpick Bangtao/ photo: hotel
For those who prefer their resorts with a feel of home, the Angsana Villas Resort Phuket (which took over in mid-2016 from the Outrigger Laguna Phuket Resort and Villas) might be just the ticket. Along with the usual one and two-bedroom suites, it offers two, three and four-bedroom villas that include free Wifi, a full kitchen and laundry area. A one-bedroom villa for three starts at 936sq ft with flat-screen TV, MP3 player, iron and ironing board, in-room safe, and a balcony to catch the breeze.
While not on the beach and just outside the main Laguna enclave, this residential complex offers a balmy tropical setting around a lagoon close to the seashore with easy shuttle access to broad swathes of sand. Expect plenty of leisure choices with shopping, spas, restaurants, and an 18-hole golf course heading the list. Babysitters are available and a kid's club is on hand.
On Highway 4030, between the Laguna turn-off and Surin Beach, was a fairly desolate stretch of scorched red earth (now somewhat built up) with a sign for the Amora Beach Resort Phuket. Despite the unpromising entry, the road leads to the surprisingly pleasant Amora (formerly Rydges) offering 255 simple but comfortable rooms with cool white tile floors and dark wood cupboards, some with balconies overlooking the Andaman Sea, in a low-rise complex. There are two generously large pools and direct beach frontage.
Facilities are available for both children as well as businessmen and incentives groups so, if you're a fraying wife, here's an ideal opportunity to dump everyone and relax. This is affordable luxury in a nice location at the bottom end of Bang Tao Beach. It is not part of the Laguna complex but is connected to it through backroads.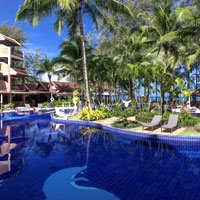 Best Western Bangtao pool/ photo: hotel
Also fronting Bang Tao Bay but closer to Surin is the large low-rise hotel complex of the Best Western Premier Bangtao Beach Resort & Spa. The resort features two restaurants, two pools, one kids' pool, and a generous spread of beachfront with a garden area.
The hotel-style rooms are neat, with ceramic tiles underfoot, woody accents and chocolate earth tones.
This is not a bad spot at all in a quiet less developed neighbourhood situated at the southern curve of Bang Tao Bay with grand views right across to the north.
Surin Beach, boutique resorts and hip hotels

At Surin Beach head right and then left up a private headland to find the elegant Amanpuri Phuket (Aman Resorts' first in 1988) whose signature Thai-style pavilions spill unobtrusively down through a mature and scenic coconut grove to a lovely white-sand beach. As with other Amans, it has the ambience of a gracious home without the fuss of excessively intrusive service. The central midnight-blue pool is set high above the bay with steps leading down to the sea.
Beautifully refurbished during a three-month closure, the resorts returned in September 2023. This storied escape was the brainchild of then Aman powerhouse and creator Adriaan Zecha who envisioned a sybaritic yet friendly retreat set within this pristine coconut grove. Amanpuri did all that and more while barely ruffling the trees, most of which were preserved.
There is the tempting Aman Spa, set on a private headland, where you can peruse a diverse menu of treatment from Kinesiology and Bowen Therapy to Reiki and sound healing. Opt for a private Villa or a Pavilion set up the hillside and accessed by a stilted stepway or van. There is no sense of being in a hotel.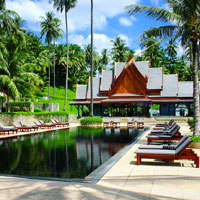 Amanpuri black-tile pool/ photo: Vijay Verghese
This is a home and no one will hassle you to sign and add your room number on the restaurant bill. Each Pavilion is a standalone living space with a shingle roof and sculpted cherrywood features. Expect a small private patio with resting sala and sun loungers.
In-room find an open-plan bedroom that spills into the bathing and changing area with its twin vanities, Japanese potty, rainshower (with a quick and strong flow of hot water unlike at many other resorts) and bathtub. The toiletries are made inhouse at the spa. The floor is rich burnished wood and this is the central Thai theme throughout. There's lots of luggage space, roomy drawers for clothes and impedimenta and sliding doors to let in the light and keep out mosquitoes. Wood panelling runs throughout with some mirror work to create a greater sense of space. The large hairdryer can knock a grown man at 20 paces. And for workaholics, there's a generous work table with fast and free WiFi. Expect LOTS of complimentary drinking water, a flat laptop-friendly safe, a yoga mat, and multi-plug electric adapters.
Amanpuri also runs an extensive fleet of cruise boats and luxury yachts that cater for everything from romantic picnic outings to blue-water cruises, in style. At the far end of the resort is an exclusive enclave of privately-owned villas (managed and sublet by Amanpuri) that offer an ever greater degree of privacy should you require it. You'll need to bring along your own shades and paparazzi, of course. This is the original Aman that set the luxury villa resort benchmark in 1988. It is still being cloned by competitors. To find out why, drop in. It will cost you, but, what the heck. It is after all one of the best Asian luxury resorts around and sets a benchmark internationally. Staff is friendly and attentive with none of the snobbery associated all too often with high-end escapes.
(The Amanpuri features in our exclusive by-invitation Top Asian Hotels Collection, featuring the best Asian hotels, resorts and spas in a printable A4 page with stunning visuals.)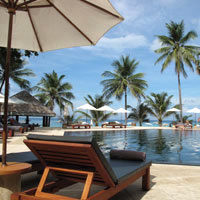 Surin Phuket pool/ photo: Vijay Verghese
Just before the Amanpuri and sharing the picture-postcard Pansea Beach is The Surin Phuket (formerly The Chedi, managed by Singapore-based GHM, which placed this rustic cottage hideaway firmly on the international map). This is a charming property with 108 cottages set along the headland connected by stilted walkways. The Surin Phuket fronts the beach and the Beach Deluxe and Beach Studio suites are right on the sand. There's a lot of walking up and down that may tax senior ankles. It can be invigorating or killing depending on your point of view. I quite like the breezy open plan, the privacy and the mesmerising sunsets. The rooms have been revamped, the thatch roofs replaced by crisp wood shingles, the dark wood overtaken by pale greys and powder beige. The overall effect is lighter and airier than before.
In-room expect, a modest flat-screen TV, a work desk, a bay window divan for lounging, pipe reading lights, silk cushions, tap key card access, and free Wi-Fi (also in public areas). The wood floors have been replaced by tile and whatever may have been lost in terms of "elegance" is gained in terms of "friendliness" and lack of fuss. Space has gone up in some quarters from 28sq m to 32sq m. Every bit counts. The bathing area features twin vanities, hairdryer, and two multi-pin electric sockets near the washbasin.
There are also two sockets at the luggage rack. The box safe is somewhat inconveniently placed under the bedside table but this niggle aside the living space is welcoming and bright. Expect spa facilities and a 120sq m meeting room for a corporate get-together. The Surin Phuket targets honeymooners and those heading for nuptials. Mark it down as a good Phuket resort weddings choice.
As many as five golf courses, some of them international level, are within a half-hour drive of the resort. Swinging out is pretty easy. But perhaps the biggest selling point for this property is the powder-soft sand, among the best on the island and one of the truly great beaches of Asia. The striking polygon black-tile pool faces the surf and big sunsets.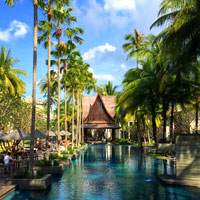 Twinpalms pool/ photo: Vijay Verghese
The stylish Twinpalms Phuket is located a short stroll from the beach and offers contemporary chic in a secluded but extensive compound. Distinctive Thai-style architecture combines with water features and clean modern lines for an atmosphere of elegant simplicity. The resort has grown over the years but has a splendid boutique feel to it. Everything here is bravely different, well executed, and simplified to facilitate, not flummox, travellers. Service is on rails, intuitive, friendly, always with a smile. This is perhaps one of the more endearing traits of this hideaway that has garnered a loyal following over the years.
The centrepiece is a striking blue pool set in a courtyard ringed by white and grey-stone two-storey units, each with wooden slats shielding broad breezy verandahs with divans and whirring ceiling fans. At the far end is its signature Thai sala or pavilion for shade, a yoga pose, or a wonderful view back to the arched lobby that will have eager camera fingers clicking away. A timbered sun deck – with a stately palm tree colonnade – runs along the length of the chest-deep pool and rolling grass lawns and frangipani trees complete the mix. The tableau is equally stunning – and calming – at night when the lights come on setting off the azure and highlighting the palms.
The woody black-and-white rooms and suites are large, minimalist and open plan with the bedroom seamlessly merging into the splendid oversize bathing area with twin vanities, a soaking tub set against a floor-to-ceiling glass wall very welcoming of light, rain shower, and sliding frosted glass walls. Hot water is quick to arrive and the pressure is good. In-room expect a flat-screen TV, DVD player, and butler service. WiFi is complimentary.
The unpolished dark wood flooring and furniture contrasting with the crisp white bed linen lends a homey feel to the place. A narrow wooden 'ledge' serves as the table running behind the bed's headrest with two international three-pin sockets and one domestic outlet. The two reading lights at either side of the bed are sharp and bright. The bed itself, with the bathroom behind, faces out towards the courtyard greens.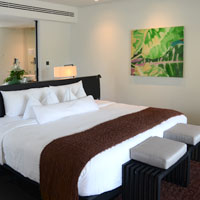 Twinpalms clean, minimalist room/ photo: Vijay Verghese
A single green floral painting adorns a wall and a couple of throws line the floor to trap stubborn sand. The mini-bar is well stocked and sells everything from t-shirts (hotel branded of course), to CDs with relaxing strains, shaving gear, and a Coke for Bt85 or a Singha beer for Bt145 (about what you'd pay in a bar). While the simplicity of the décor is the engaging, two minor niggles could be the whimpering hairdryer that will whisper at your eyelashes but leave long permed locks unruffled; and the very low-set electronics control that is a tad hard to reach from the bed.
Top of the range are Twinpalms Residence Suites – 21 units in a one and two-bedroom configuration with over 150sq m of honeymooning space. Expect private plunge pools, roof gardens, wine cellars and home theatres with surround sound. Within each high-ceiling hideaway find a 46-inch flatscreen SONY TV, iPod and dock, a DVD player and an extensive work desk with as many as seven three-pin (square) electric sockets to keep ALL your appliances charged. The highlight of the bath is the moulded Korean granite tub that resembles a futuristic half-egg. Ask for Room 102 to squeeze in a little sea view and sunset.
Imbibing calories is all too easy at Oriental Spoon (which does an excellent Sunday brunch), or at the new and stylish Palm Seaside (southern Thai catch of the day stuff) a short drive around the corner at the southern tip of Bang Tao with its in-pool sunken seating and breezy sun deck. The good news is right next to Palm Seafood is the re-incarnated Catch Beach Club that migrated from Surin after the government's beach club demolitions. It reopened 24 December 2016 and pulls in the usual hip and swinging crowd.
Yet, for those in need of a workout or a  serious rubdown, there's a fitness centre with exercise equipment, and the Palm Spa with nine treatment rooms and exotic Esthederm 'cellular treatments' including a 'gentlemanly facial' at Bt3,000 for 60 minutes or a 'Qi Gong' facial at Bt3,300 for 25 minutes. Massages start around Bt2,000. Whether you're looking for a Phuket spa resort with an intimate feel without that oppressive big-chain pressure, a honeymoon break, or whether you're in search of a classy boutique resort wedding, Twinpalms fits the bill nicely. This is a hip resort that doesn't strain its voice overly.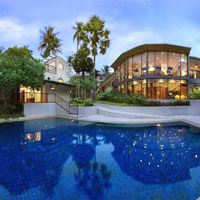 Novotel Phuket Surin / photo: hotel
The Novotel Phuket Surin Beach Resort (formerly DoubleTree by Hilton and earlier the Courtyard Phuket) took over in April 2016 in an attractive location, close by a good beach (but on the beach), and 20 minutes from the Patong nightlife strip. Not much has changed design-wise with the new management and the resort maintains its signature friendly vibe. There are around 256 rooms and 1,800sq ft of meeting space plus a fitness centre. In-room expect iron and ironing board, pull-out sofa bed, cable TV, DVD player, large fridge, a laptop-size safe, and Internet access. Bathrooms have showers, not tubs, with an intermittent flow on the high floors. Family rooms come with connecting doors and pullout beds.
A one-bedroom suite offers a fair bit of space with a comfy bed and spare divan that can double as an extra bed. The balconies look onto the courtyard pool area and the huge splash slide for kids – the resort encloses the pool with bright orange sun umbrellas and the views are inward. Expect a good hairdryer, decent safe and TV in both the bedroom as well as the living area. There is a generous outdoor freeform pool and a fitness centre. WiFi is free in the public areas.
This is a smart and family-friendly Phuket resort – and is set a little away from the beach, which is a pleasant two-minute walk across a field. The hotel is recessed and set back from the road making the environs a tad quieter. The good news for motorists is there is ample parking. This is a full service hotel – having traded up from the initial Courtyard days – and the bright Asia Alive cafe serves up a variety of cuisines and a HUGE buffet breakfast that runs late while the Champions Bar and Grill (retained from Doubletree days) pulls in the beach weary for some refreshing tipples.
Next door is the interesting The Chava Resort, a wannabe Phuket boutique hotel that in many respects, manages to pull it off. The resort sports a smart cubist exterior with ground floor units offering plunge pools and apartments going from two bedrooms and up. Expect a decent kitchenette, cream or black sofa sets with bright cushions. Block A has the largest pools, with a patio and sun chairs. The Chava has one cafe that serves Thai food. The starting category is a two-bedroom deluxe.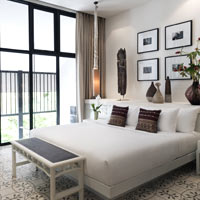 Manathai new look rooms are brighter/ photo: hotel
Next door is the small but classy Manathai Resort Phuket earlier emulating a Chiang Mai village feel but morphing into contemporary mood late 2015, the heavy dark wood and Thai silk giving way to bright white rooms with Sino-Portuguese floor tiles, large floor-to-ceiling windows with black frames, and collections of old black-and-white photographs on the walls. The giant bird cage in the lobby symbolizes a dip into Phuket's heritage and hobbies of old. Also find lotus ponds, a pool with pool bar, and authentic Thai cruising with Thai cooking classes for budding chefs. There are 66 rooms in all at this compact place that sits about 200m away from Surin Beach. Manathai is a splendid choice among Phuket boutique resorts and has a lot going for it, not least its location in one of the more genteel happening areas on the island. No drag shows or cabarets here - yet.
A budget hotel alternative is the small and very modest but clean Surin Bay Inn that may retail at Bt1,500 or lower depending on season. Expect tile floors, silk cushions, clean toilets and old-fashioned box televisions and wicker furniture at this 12-room Surin stalwart.
Ayara Hilltops Boutique Resort & Spa occupies a breezy perch on Surin hill, overlooking Surin Beach and the Andaman Sea. Araya is a villa-style address among the better Phuket boutique resorts with around 50 suites and a sense of scattered luxury. Look forward to some panoramic views and a range of spa programmes and therapies. The Spa Sereniti offers individually tailored spa treatments to suit specific needs. Araya also offers a swimming pool – with a kids' pool – and the Spice Terrace Restaurant for indoor or alfresco dining.
Kamala, Kalim, Nakalay Beach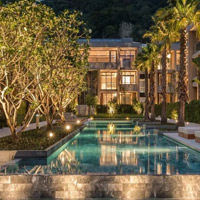 Twinpalms MontAzure, chic getaway / photo: hotel
Another classy offering from Twinpalms that set the party tone at Surin is Twinpalms MontAzure (2020) set at one end of Kamala Beach with grand views. Expect spacious suites, pool suites and a penthouse with open views as well as fine dining (something this group is well known for). For breezy beachfront dining try Shimmer. A two-bedroom Grand Azure Seafront Suite with private pool offers 326sq m of stretch space in cool minimalist surrounds with a 55-inch flatscreen TV, Nespresso, and an oversized bed for a languorous roll.
The Novotel Phuket, Kamala Beach (opened August 2013) is set on a hair-raising hairpin bend coming down the hill from Surin where a dexterous u-turn brings you to a compact orange-and-white lowrise with tremendous views across the bay. Perched at one end of the cove, this is a good stretch of sand and fairly private. The 166 rooms feature free WiFi with the hotel-style Two Bedroom Villa (No.614) offering a perch of choice for the best vistas. On The Roof is a timbered patio above the breezy lobby with sunset views and a chill-out vibe. Lower down, a sun-washed pool fronts the sand and sea. This is a fairly compact and bustling space with a busy lobby and not much walking at all to get to the beach.
The youngish Swissotel Resort Phuket Kamala Beach (formerly Courtyard Phuket) is positioned as a family resort with a selection of two and three-bedroom suites with generous kitchenettes, ideal for long stays, and a Kids World for ages four and up. Expect wood parquet flooring, flat-screen TVs, in-room internet access and Wi-Fi in public areas, working desk, iron, hairdryer, a café, pool, and fitness centre. The resort is good for kids with splash slides and a range of activities. This hotel is not on the beach – being set away on the hillside – and is a short drive from the sand and beachfront restaurants.
At the reviving Kamala Beach that is slowly gentrifying, is the tucked away and hard-to-find Wabi-Sabi Boutique Resort. It's a mouthful of a name and, set in the higgledy-piggledy of the beach road shophouses and stores crammed with tailors and bikes, about a five minute stagger to the beach. At low tide, a small stretch of beach is revealed with fishing boats and swimmers. The main Kamala Beach strip is around the corner across a small arched stone bridge. The pool is being extended.
There are 38 suites ranging from 40sq m to 90-sq m. The spacious rooms are the real surprise here. They come with gleaming wood floors, romantic gauze mosquito drapes over the bed (not four poster), a small safe, seaview balcony, and large Jacuzzi and rain shower in the bathroom. It is a pleasing and fun ensemble. Soak and turn on the massage jets. Aaah...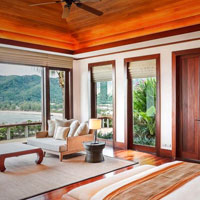 Andara villas, woody hues/ photo: hotel
Driving south past Kamala Bay, take the beach turn-off just before the road climbs up again. On a quiet headland is the small Kamala Beach Estate with a choice of lowrise apartments or villas. All units come with kitchens, separate living and dining areas and balconies. The resort is perched on a rocky headland and there is not much clear beach in the immediate vicinity.
The Andara Phuket on a Kamala Bay hillside (set away from the beach) offers panoramic sea views from its plush villas and residences. The Andara Pool Villas are expansive with up to six bedrooms, some running to 2,000sq m. Expect a generous private pool, floor-to-ceiling windows, a detailed kitchen manned by a chef, a family room, gleaming wood underfoot, large flat-screen TVs, DVD player, car park, walk-in closets, big bathtubs, twin vanities, large safe and complimentary Wi-Fi.
The resort's main black-tile pool at Level 2 echoes the Amanpuri ensemble. It is set on a sunny deck with rich wood lounge chairs with charcoal mattresses running all the way up to the horizon tracked by a row of coconut trees. The raised terrace offers unobstructed sea views. Set behind the pool are a bar and the indoor Silk restaurant that does excellent Thai. Everything about Andara is gleaming wood, cool stone, and striking artefacts.
The Andara Residence Suites are again screamingly large with Thai touches. There is the de rigueur flat-screen TV, BOSE sound system, the Andara mix of gold and green, one-press mix-and-match lighting combinations, large bathtubs and 200sq m to 400sq m of horse-swinging space. The resort has a 40m pool, spa, gym, and tennis court. Andara is a lavishly appointed high-end Phuket luxury resort, very Aman in much of the execution, but you will find activities for kids too.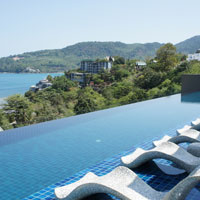 Hyatt Regency Club sunning pool/ photo: Vijay Verghese
The ensemble is engaging but on the beach though the resort operates a beach lounge (restaurant and bar) at the northern end of Kamala Bay with regular shuttles for those overly fortified with Singha beer. Wi-Fi is free throughout the resort and, for high rollers, there is the added attraction of two luxury yachts. Book a half-day cruise for 12 on a 28m boat for a trifling US$4,000. The reception area is smart but compact with lots of burnished wood, large statues and soaring wooden columns. Service is outstanding. You will need to buggy up and down to your room as the hill setting involves climbs.
Replacing the old gussied up Kamala Bay resort and with the addition of a new blend-in building, just after Andara and the attractive Cape Sienna, is the Hyatt.
The 200-plus-room Hyatt Regency Phuket Resort is just south beyond the beach and set up on a vertiginous hillside. The views are superb, the beach less so and the only swimming here will be in the fabulous and expansive azure infinity pool at the lobby level or higher up at the Regency Club where the panorama is even more impressive, with mosaic-tile lounge chairs set in the water for a pampering tan session. There are plans though for a stretched jetty to enable guests to swim and snorkel. There may be artificial sanding of the beach too. By early 2016 the resort was going through a Fix-It 2.0 redesign on account of the steep hillside, which is tough on toddler legs though it is a boon for the views. Consequently, the simplified kids' area comes down from its uphill perch to the lobby area and the Nahm Spa similarly takes the elevator down to offer easy access in a new location just across from the main lower pool.  
With the addition of a new alfresco grassy events area by the lobby the hotel is set to offer breezy weddings and fun get-togethers around the huge pool with its extensive sun-dappled decks and large square-cut reclining areas. At the same time the upper level spa rooms morph into suites (with a view) and the former kids' room may serve up events. Smart move.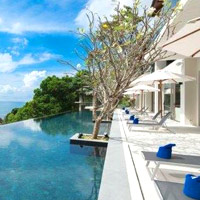 Seven-bedroom Aquila/ photo: villa
A 45sq m Regency Club Ocean View Pool (in the new wing) is smart and simply laid out with a tile entrance and wood flooring in the bedroom. Expect free WiFi, a laptop safe, iron and ironing board, balcony with view and a dipping pool, flat-screen TV, peek-in bathing area with tub and rainshower. Workaholics get one three-pin multi-socket electric point below the glass table but other sockets are old-style two-pin affairs.
A Regency Club Deluxe may serve up a larger pool with patio and a day bed, and a bathtub facing the bedroom. Rooms are bright and airy. The Regency Club is set higher up the hill and, as with the rooms, requires buggy rides along narrow hairpins to get there. There are no stepped walkways or shortcuts enabling fast access to the lobby from higher levels. This can be tedious for walkers but rest assured you'll be in top shape. Keep an eye out too for the Hyatt Place Phuket, Patong (15 May 2016).
On the hillside about a short drive from Kamala is the spoling and contemporary seven-bedroom The Aquila villa set in a 10,000sq m estate with a 30m infinity pool. Plenty of nature and grand views across the Andaman Sea from the bright airy rooms, breezy belvederes, and the pool. A spa is on hand for wellness treatments and beauty work.
Nestled in the Kamala Bay hinterland in a wooded grove well away from the beach is the Keemala Phuket (August 2015), an all pool villa affair. A member of Small Luxury Hotels of the World, Keemala offers 38 villa escapes with a storyline celebrating four fictional mythological Phuket tribes, the 'Pa-ta-pea' (Earth), the'Khon-Jorn' (Wanderers), the 'We-ha' (Sky), and the 'Rung-Nok' (Nest) people. This playful motif forms the inspiration for the somewhat unique design for the various villas that resemble a cross between a Hobbit House, a birdcage, and a stretched-tarpaulin camp. This is not your traditional Thai getaway nor, perhaps, like anything you've seen before. Step into a 3D video game. But this is real.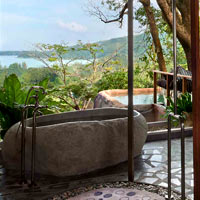 Bird's Nest Villa at Keemala with caveman pool/ photo: hotel
Enjoy the Mala Spa, meditation, yoga, impeccably fresh food, running trails and even Thai boxing if you need to work up a sweat. While the four different cottage designs are all intriguing, we like the birdcage Tree Pool Houses but tend to favour the 185sq m Bird's Nest Pool Villas with their rough clay bath tubs, timber interiors and floors, and stunning views.
Overall, this villa type has a reassuringly sturdy feel to it. It resembles a hollowed out bun turned into your exotic man cave. With its quirky brand of design 'magic', Keemala hopes to attract Phuket weddings and honeymooners in search of fairy tale romance. If you enjoy make believe and hope to see a unicorn, this is definitely one for your diary. Do note it is not on the beach and there are no great sea views to speak of from most lower villas though the valley offers green surrounds looking onto - from a distance - the road that cuts north to south linking Surin to Patong.
Farther south after the mountainous hump are Nakalay and Kalim beaches. There are sections along here that are totally out of bounds for swimming especially at low tide due to rock and old coral.
This is particularly true of Kalim. On Nakalay Beach is the tucked-away Thavorn Beach Village & Spa. The original resort was almost entirely crafted of dark-wood. It has been refurbished completely and now sports a brighter contemporary feel without losing any of its grand Thai flair and beautiful water features including the main centerpiece, its large freeform swimming pool set in tropical gardens. A wellness spa is available as well and the all-white pale-wood Beach Villas with their attic-style ceilings are close to the private beach.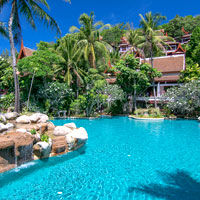 New look Thavorn Beach Village & Spa / photo: hotel
Nice walks and views but not really swimmable save for at peak high tide perhaps, and that too gingerly. Pick a Honeymoon Pool Access with Jacuzzi or a Hillside Ocean View. Good staff, private dining on the beach, and a splendid secluded location that cuts you off from the world. Still, the place is just minutes from the hurly-burly of Patong.
The Naka Phuket (opened 2013) is a hard to find hideaway but is well worth the short and steep excursion off the main road to get to a splendidly private cove with sweeping beach, a vast expanse of green lawn beckoning wedding planners and energetic kids, and a dark-tile raised pool looking onto the beach. This is a serene spot that will delight honeymooners and romantics. The high-ceiling and minimalist lobby is set up the hill with a refreshing breeze and commanding views of the resort spread out below and the surrounding hills embracing a huge expanse of blue sea.
The 94 "villas" are set like flat slate shoe boxes piled neatly around the bay, all facing the sea. This is far smarter than it sounds, a zen compilation of straight lines and grey pre-fab concrete slabs. The units feature wraparound windows with the bedroom looking out over the waves and a living room at the back kitted out in charcoal tones with rich wood flooring and an enfolding black curtain that creates the curious impression of having suddenly emerged under a woman's skirt. The curtain, and the illusion, can be speedily dispensed with and once drawn, there is more light than you will know what to do with.
Expect an outdoor sunken black marble tub, a rain shower, coffee shots, pipe reading lamps for the bed, balcony, and a private courtyard with plunge pool. The look is spartan but neat. Small wonder this place is a member of the Designer Hotels group. Larger two and three-bedroom villas offer a kitchen too. It would be good to have modern three-pin multi-plug sockets in the rooms and the astro-turf roof cladding is a bit tacky but, all in, this is a great escape and one that definitely confers bragging rights.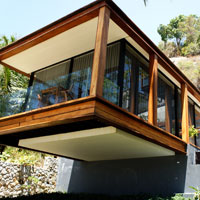 Cubist Naka Phuket/ photo: Vijay Verghese
The pebbly beach is scenic but not swimmable and a narrow jetty extends over the rocks to deposit guests in deeper water from where boat rides and kayaking can be enjoyed. Up the hillside is the spa.
Just beyond, the Diamond Cliff Resort & Spa is set on a steep hillside away from the beach. It offers fine views but the construction is a touch dense and the walk up is taxing. The neighbouring long-serving Novotel Phuket Resort offers similarly vertiginous walks up and lacks a beach but serves up amazing views, a three-tier pool, and an arsenal of facilities for children including babysitting services. Expect a health club, fitness centre, tennis courts and a switched-on concierge service with tips for local sightseeing and more. To unwind pick from six bars and restaurants. Rooms, which were redone in 2007 remain spacious and bright. In the same area, the simple but homey and clean Patong Lodge Hotel is a friendly, unassuming, and a far less pinching option. If you need a sane budget bed not far from Patong and with a nice pool, this may be one to explore.
Patong area hotel choices
The clutter-and-clatter of Patong is not for honeymooners or doddering retirees in search of calm but there are pockets here and there of relative peace and some funky options. The unassuming grey square-cut B-Lay Tong sits at the very beginning of the Patong strip to the north as you drive in.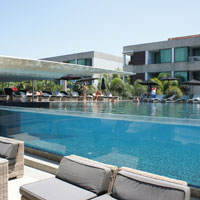 B-Lay Tong's goldfish swimming pool/ photo: Vijay Verghese
This means it can be accessed from the first roundabout directly into its open car park - or via the Beach Road, which requires a go around in Patong's one-way system. It also faces - across a busy road - a nicer stretch of the beach (bag a sunbed for Bt100 per day) before the serious bustle farther south where more bodies are jammed onto the sands than in a sardine can. This is a lively place with a sense of mischief and fun.
The open sided lobby says it all with its giant pivoting wood-frame glass doors that lead to a sun drenched raised pool with glass sides for a goldfish peek at well-fed swimmers and some fancy legs. A giant red 'throne' with gilt edges dominates the lobby and it is here that guests flock for a signature photo opp. Be a queen - or king - for a day but make sure the kids aren't watching.
This is a small modular lowrise resort. The B-Hive restaurant at the ground level is a funky all-black ensemble with large teen pop art adorning the walls edge-to-edge replete with wide-eyed elves and playful comic-book depictions. It's almost Japanese in execution though the artist is Thai.
A 40sq m Deluxe Pool Access room is a favoured retreat with simple linoleum floors and a patio extending to a private-ish pool that runs lengthwise along the courtyard. This pool is shared only by the pool-access units and is set in foliage without the fish-tank design of the main swimming area. In-room expect a small flat-screen TV, a see-through bathing area with rain shower, free WiFi and pale green decor. The best Suite with a view would be Room 521 with its spa bed. Good food, fun and flair.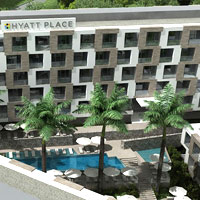 Cubist Hyatt Place is at the north end of Patong/ illustration: hotel
Bring the kids as this is definitely one of the better Phuket child-friendly resorts. B-Lay Tong in Thai simply means, "be yourself". And that is exactly what guests do in the 123 rooms.
A new entrant in this area is the Hyatt Place Phuket, Patong (15 May 2016), a simple zen grey cubist construct with balconies and a central swimming pool.
It is a short stroll from the beach. Sited far up the northern end of the Patong sprawl (intersection of Phrabarami and Thawewong) on a low rise as you turn in from the beach-skirting highway from Surin and Kamala, the 161-room hotel (with 10 suites) has several west-facing rooms with views of the sea and the sunsets for which Patong is renowned.
The fitness room offers ocean views. Also find a children's pool and an E-Room with computers and printers for guest use. WiFi is free throughout the hotel.
You will be excused for rubbing your eyes when you confront the Quixotic Phuket Graceland Resort & Spa. It's hard to describe the place, a steroid mix of Euro kitsch and Lifestyles Of The Rich And Famous vigorously shaken and plonked down in a Thailand beach resort. The endeavour clearly is luxury with business facilities in a five-star setting. And business facilities are ample. The hotel can handle conferences of up to 1,000 persons, and the smart rooms have internet access. The 460-room Graceland is a busy presence with the added lure of generous lawns and a decent pool. Kids will enjoy it and place can be fun. You need to cross the beach road to get to the sea.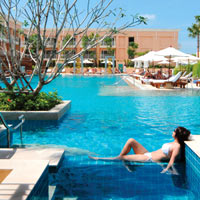 Millennium rooftop swimming pool/ photo: hotel
The Millennium Resort Patong Phuket bills itself as an alternative "urban resort". Located in the hip Jungceylon mall-and-lifestyle complex not far from the bustle and neon of Soi Bangla, the hotel offers a Beachside Wing and a Lakeside Wing. Expect two pools, a spa and fitness centre. In-room find a safe, WiFi, work facilities, iron and ironing board, hairdryer, and coffee-making facilities. Lakeside Superior rooms offer the added indulgence of a balcony. Expect cheerful unfussy rooms with cool white ceramic floor tiles and clean white feel with touches of green or orange to liven things up. This low-rise Patong hotel is in a busy and bustling part of town a short walk from the beach, past traffic.
The Novotel Phuket Vintage Park Resort in the heart of Patong (not on the beach) offers comfortable four-star accommodation and easy access to Phuket shopping malls, street bargains, nightlife and bars. The resort focuses on Southeast Asian food and its feather in the cap is the Thalasso spa. This Novotel can manage small meetings too if you are looking for a better price point.
A short distance away from the beach and nightlife is the Grand Mercure Resort Phuket, Patong, with 314 rooms in a contemporary mould along with one bedroom pool villas and two bedroom family villas. The pool is set at the centre of the modern mid-rise blocks that outline the plot. Rooms are bright in cream pastels and white with lots of colourful lighting and cushions. Pick a 90sq m Deluxe Suite with a spacious living area, a smaller room, or a larger villa to suit your style or holiday need. WiFi is free. The Ryn Spa is on hand for aching muscles or a soothing massage and the Grand 'M' Ballroom can handle up to 250 persons theatre style should you have a meeting or conference in mind. As at other French-managed ACCOR hotels, restaurants have zip and flavour.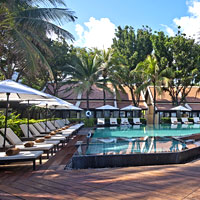 Impiana pool and timber patio are right on the beach/ photo: hotel
An unfussy family option is the neighbouring high-rise Andaman Embrace Resort & Spa, Phuket (formerly Club Andaman Beach Resort) set in extensive gardens and, as with many properties, separated from the beach by a road. Andaman also has some cottages offered as a "resort within a resort", set away from the main building. Or try the spa.
An oasis in the bedlam and an attractive Patong hideaway is the beachfront Impiana Resort Patong, Phuket. It offers boutique flourishes and decent food. The resort re-emerged post-tsunami with redesigned and vastly upgraded rooms, and a new name (it was formerly the Phuket Cabana). Along with trendy and tasteful décor you get air-conditioning, ceiling fans, in-room safes, hairdryers and a private balcony. The pool is literally by the sea and young kids can splash out in their own wading pool. For rejuvenation, there's the Swasana Spa. The most compelling feature of this resort is the location, an oasis of calm in the heart of throbbing Patong, and right on the beach. It is among a handful of resorts in this area actually on the beach and not separated by a busy road.
Less than a block from Patong beach, the 277-room Holiday Inn Express Phuket Patong Beach Central is a practical option at an attractive price point. Rooms are basic, but have some nice touches like the cheerful sea foam palette, private balconies, three-head massage showers, 200 thread-count linen, 32in LCD TVs and work desks. Guests also enjoy complimentary breakfast, free WiFi, and a self-service laundry room. Another Phuket budget hotel choice is the Red Planet Patong, Phuket (formerly a Tune hotel).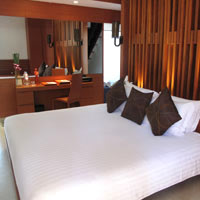 La Flora pool villa/ photo: Vijay Verghese
The La Flora Resort Patong offers a contemporary experience with a combination of rooms and some beachfront villas. Expect a spa, two lap pools, fitness centre, business centre, WiFi, and babysitting facilities. The beach area is busy, packed with sunbathers, umbrellas and all manner of water sports. A Deluxe Pool Access room serves up 42sq m of space and you can walk right into a slim and sunny pool. Expect clean lines, cream tile floors, free Wi-Fi, flat0screen TV and DVD, a work desk, and complimentary mini-bar (that includes four beer cans). It is restocked daily.
A sliding wooden partition leads to the bathing area with step-in tub, separate rain shower cubicle and an array of attractive toiletries. The room also has a large laptop-size safe. Go upscale to a split-level 97sq m Pool Villa done in woody tones with a high ceiling and small plunge pool. The general tone of the resort is simple, uncluttered, and friendly. The price is a tad high but the location in north Patong is quieter yet close to seafood and bars.
Not far from here, tucked away in a quiet soi a short walk from the beach, is the Nap Patong, a contemporary, cubist and stylish address with 86 rooms and five villas. The white exterior is clean if unprepossessing but the interiors have nice design flourishes bordering on minimalist, with pale wood tones and light pastels.
Expect hairdryers, LCD televisions, DVD players, Apple TVs and iPod docks, and free WiFi. Some rooms have balconies. Enjoy a smart bar, a stylish pool with timber sun deck, and a fitness centre. That's a sizeable package for value rates at this find.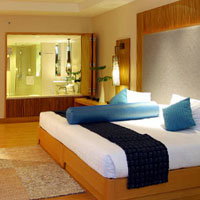 Holiday Inn Phuket style/ photo: hotel
The Holiday Inn Resort Phuket is a brisk, cheerful, child-friendly Phuket hotel. Both the Main Wing and the stylish Thai-style Busakorn Wing – featuring spacious villa and studio rooms girdling an attractive pool – have had fresh licks of paint and design upgrades while the Aspara spa tends to aching muscles.
The luxury Busakorn Wing is unlike any Holiday Inn you may have seen. If you have any misgivings about mid-market American chains, this is the one to visit to dispel any worries. Studio rooms offer 42sq m of stretch space with smart wooden floors, gleaming work desk, flat-screen TVs, DVD player, BOSE sound, and internet.
The Busakorn Villa Pool Access rooms are the apex accommodation here with elegant Thai furnishings in a contemporary mould. In keeping with its family-friendly reputation, the Holiday Inn Phuket also offers Family Suites, KidSuites, its Club 12, and the Kid's Club with ample distractions like PlayStations, Internet, art and craft, and even karaoke. There is a toddler's pool and another pool for older kids as well with water slides and more. The hotel is just across the road from Patong Beach.
Projecting a jaunty, carefree appeal is the popular boutique-style Burasari Patong. Burasari is a playful option right next to shopping and nightlife and a quick stroll from the beach. As a hotel it's pretty straightforward but the small design flourishes and use of colour make all the difference. The place certainly breaks the mould. Why on earth should all rooms look the same? Well they don't. Not here. Pick a Mood Collection room with a name like Blue Breeze or Mocha Spice to delight in a bright confection of silk cushions, vivid paint, casual rugs and mod-cons including free Wi-Fi. Almost like home – with a bit of runaway imagination to liven up things. And the mini-bar, replenished daily, is complimentary. Opt for Elite, Premier or Honeymoon "collections" and scroll through classic Thai or contemporary. The choice is limited only by the number of rooms – 186 at last count.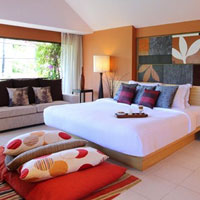 Burasari Mocha Spice/ photo: hotel
There's a decent pool, a gauze-draped lobby and bright splashes of tropical colour and art at every turn. The hotel draws inspiration from its energetic young owner, Lily Udomkunatum, who has positioned Burasari Patong as a desirable and funky four-star escape. Enjoy a spa and two restaurants too. This is a fun Phuket hotel packed with whimsy that will appeal to families and honeymooners alike.
A storied and striking stark white, colonnaded building a block in from the beach is the Swissotel Phuket Resort Patong Beach (rebranding from dusitD2 1 June 2016). The resort opened as a Courtyard in April 2014 and quickly became a lively landmark with its Hard Rock Cafe later joined by a Hooters. This is another stylish kid-friendly Phuket hotel with a rooftop pool and spa (boasting nine treatment spaces), gym, and, of course, WiFi. The beach is a short stroll away down a side soi as is shopping. In-room, expect flat-screen TVs and smart decor, gleaming dark wood floors and cabinets.
Opt for a Pool Access room or move up to a 64sq m One Bedroom Suite with polished rich wood floors, a generous bathing area with soaking tub, and a flat-screen TV for languorous movie-packed evenings. Families can expect a Kids' World with daily planned activities, babysitting services, and safety boxes at the front desk.
The 400-room Patong Merlin Hotel is old-fashioned, large, and well run, with tour groups bussing in and out. It is set away from the beach. The property offers three swimming pools and landscaped gardens along with a spa and an Internet Corner.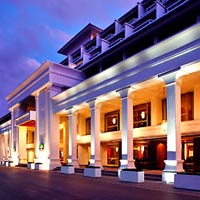 Swissotel Patong, formerly dusitD2/ photo: hotel
The huge 36-acre Duangjitt Resort & Spa with its low-rise rooms and bungalows is one of Phuket's best kept secrets. It's a spot for families and bargain hunters. Yet you'll find three large free-form swimming pools, one with a waterfall and swim-up bar, and extensive grassy grounds packed with flowering shrubs and trees. The place is a delight and has been upgraded steadily over the years with the in-room kitsch now replaced by dark woody Thai accents, flat-screen TVs and ceramic ochre or green floor tiles to remind you you're on holiday. Try a 38sq m Deluxe Bungalow Sino Style with bright mustard-yellow or powder mint walls and Chinese wooden screens with ornate floor tiles. Duangjitt Resort is a decent, friendly and clean choice for families. The resort is set far enough from the soi to offer peace and quiet yet it is walking distance to the beach.
Farther south along the Patong Beach strip is the Avantika, a cosy little resort with modern styling and boutique touches. The resort offers around 30 seaview rooms with wireless and a spa.
Continuing up the headland, the road deposits you at the Amari Phuket perched on a promontory with fine views over Patong Bay. The resort has been considerable spruced up and now sports a jaunty contemporary air, best appreciated from its stunning pool deck. Rooms offer balconies with delightful views, simple, tasteful contemporary décor in quiet cream and charcoal pastels, neat wooden floors, white desks and cabinets, orange bed runners, tea and coffee-making facilities, flat-screen TVs, DVD players, Wi-Fi, and that travel essential, hairdryers. Or pick a Deluxe Ocean View with calmer olive tones, pleasant balconies, and clean minimalist lines. Attractive new Ocean Wing rooms are kitted out in Santorini white.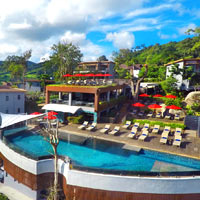 Amari Phuket set up on a hill has sunshine and views/ photo: hotel
Sample La Gritta for stylish Italian with a view, or chill out at the Samutr Bar. The Breeze Spa is a big plus, as are the eye-catching swimming pools. The spa features romantic hillside salas where you can be wrapped, pummelled and exfoliated to the accompaniment of breaking waves. Later, stroll the path down to a small strip of beach to look across the bay at the Patong lights.
Activities here include tennis and snorkelling and there is a Jacuzzi for those who prefer their bubbles closer home. This is a child-friendly Phuket hotel well set-up for families with babysitting services too. Set apart from the main beach, the Amari Phuket maintains a small private stretch of sand.
On the other side of the same headland on the pebbly Tri-Trang Beach is the spread-out 400-plus-room Merlin Beach Resort with three pools, spa, and a children's club. At this far remove, this is a very peaceful and secluded enclave that has set its sights on Phuket resort weddings too with plenty of space and options for the nuptials. This is a quality mid-range hotel that punches above its class.
The graceful Aman-wannabe Baan Yin Dee Boutique Resort is up on the hill between Tri-Trang Beach and Patong. This is a stylish and small boutique resort with a dark-blue four-tier pool, Jacuzzi, children's pool, and traditional Thai massage. It has utilised the space well and its three-storey accommodations with grey-slate Thai-sala roofs have a good interior finish with lots of burnished wood. It affords fine views of Patong Bay. Despite the lack of beach, it is easily one of the more interesting boutique-style resorts and scores reasonably well on dining. The restaurant is set too close to the main road however with vans whizzing by, as is the pool, but the views and food more than compensate.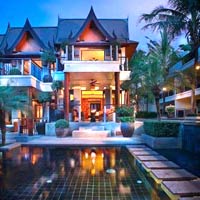 Baan Yin Dee: Aman tones/ photo: hotel
South from Patong, past Baan Yin Dee and up a low hill is the striking Avista Hideaway Phuket Patong, MGallery by Sofitel (rebranded in April 2016 along with the rebranded Novotel Phuket Kata Avista Resort and Spa). It is an amazing confection of differing styles that strive to blend in with unique spaces at each tier of this retreat. There's no beach but the views are tremendous, especially from the Moorish square-cut brick entrance with its array of sharp angled arches and a dazzling geometric mirror-work 'compass' at its centre. Wear shades as you enter. The high-ceiling cream lobby is modern and breezy with pale patterned Sino-Portuguese tiles covering the floor. There is a large sun deck in front with grand panoramas on all sides. The 150-room resort offers free WiFi and the pool is set farther down the spine. Stepped walkways lead from the lobby to lower decks with flourishing garden courtyards and accommodation on either flank in two-storey dark-wood units with shingle roofs. The ensemble strives to create a traditional village feel.
A 55sq m room has simple grey flooring and cobalt-hued glass set into the wall arches behind large hanging copper lamps. The blue theme predominates married with rustic earth tones. Slide a partition door to reveal the bathtub, twin vanities and rain shower.
Expect a large hairdrier too and ample balconies accessed through blue-grey gauze curtains for that Rapunzel moment. There's a tan sofa in the balcony, which overlooks the pool. Two more tiered pools disappear down the hillside. Find a laptop safe and, for when you must leave your room, a spa, fitness centre and kids' club.
If you have the money and the moxie, try upgrading to a Jacuzzi Suite or an Executive Suite. A nice low density resort to rummage about in, self-contained and fun with some chic features, but set away from the beach and requiring much legwork to get around.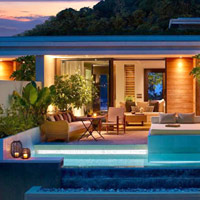 Oceanview Pavilion at Rosewood at Emerald Bay / photo: hotel
Farther around the hill down a vertiginous road is Paradise Beach, once an unspoilt hideaway, that has been overtaken by bikers and a restaurant that charges Bt100 for entry and a deck chair. It is overpopulated at peak times and messy though the views back to Patong are nice.
Sited along a 600m beach in 43 acres of tropical foliage at Emerald Bay, luxe escape, the Rosewood Phuket (opened November 2017) aims to set a new benchmark with a focus on destination weddings and the latest in wellness therapies at Asaya. There are 71 villas (starting at 211sq m) and pavilions set a short hop from the seafront with a vast spread of swimming pools and water features. Expect dark-wood interiors smartly laid out over timber floors with a very contemporary feel. In a 326sq m Beachpront Pool Villa expect sun loungers, WiFi, Nespresso coffee machines and 48-inch flatscreen television.
An Oceanview Pool Pavilion (pictured above) offers 130sq m of stretch space with a small infinity pool, floor-to-ceiling windows letting in the light and open views and a sunning patio for fast tans or a good book. The resort is sited around the curve of the bay not far south from Patong (which it studiously ignores on its website), the entertainment and shopping district. This is a new Phuket luxury resorts address (pitched at the Amanpuri and Banyan Tree crowd) with much up its sleeve as it gets into its stride vs upscale competitors.
Relax Bay, Karon Beach
The proud Le Meridien Phuket Beach Resort with its signature green "hats" offers two enormous pools that dominate the seafront at aptly-named Relax Bay. It is a very good beach indeed. And as private as you can get as Thai beaches go. This is an old-style resort cast in the grand Gone With The Wind mould. Ageing lines and other blemishes attracted a complete makeover with no stinting on teakwood and rich Thai fabrics that have dramatically brightened the rooms and suites as well as the overall ambience. There is WiFi in public areas and in-room broadband. Expect an iron and ironing board, coffee and tea-making facilities, safe, and open-view balconies.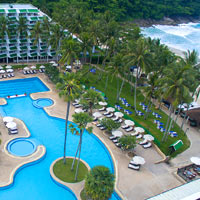 Le Meridien has a private beach and spacious pools/ photo: hotel
The Royal Suites run to 266sq m with huge 126m balconies. This is a Phuket family resort with more activities than you can shake a stick at from table tennis and volleyball to wind surfing and beach sports. Yes, there is babysitting available and a spa for the older set. The 40-acre Le Meridien Phuket Beach Resort was among the original 5-star resort pioneers in Phuket.
The airbrushed lobby and beachfront do it much more justice now and show why this place is such a huge favourite with European travellers and as a Phuket resort weddings venue. But it just as effortlessly doubles as a Phuket conference hotels pick with good MICE facilities and a secluded location for undistracted meetings. There are six meeting spaces, the largest at 8,734sq ft.
High above Karon Noi, a very tight hairpin leads to the tucked-away Centara Villas Phuket and its 72 Thai-style villas, two swimming pools and SPA Cenvaree. This is a hideaway set in 22 hectares of forest, with a breezy, treetop-lookout feel to it and fine wooded views. The sea-facing villas come with decent balconies to catch the rays and the scenery. The Centara Karon Resort Phuket is a four-star Phuket hotel with three swimming pools, children's pool, a SPA Cenvaree, two floodlit tennis courts, a kids' club, snooker, darts, and facilities for the disabled. This is a child-friendly Phuket hotel with babysitting and other services. Accommodation is in four zones catering for couples, families, and high-end travellers.
The 262-room Centara Grand Beach Resort Phuket (arrived late 2010) is tucked away in a secluded hilly fold with access to the beach. The hairpin turn-off is somewhat tricky and larger tour buses disgorge passengers on the highway with transfers into the resort in smaller vans. This spread-out resort runs along the hillside with terrific bay views. The somewhat lurid pink will hit the eye on a sunny day and the assault is relentless but, as a family resort with more distractions for typhoon tykes than you could shake a stick at, and a fun, convivial atmosphere bordering on theme park or Disneyland, this bright confection works. Think Marbella and you have a rough idea. Sino-Portuguese and Moorish overtones – replete with columns and arches – are the leitmotif here.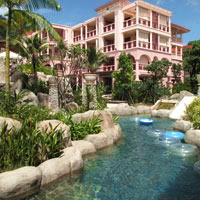 Centara Grand Beach/ photo: Vijay Verghese
This mini-destination offers a smorgasbord of four swimming pools, an elaborate Lazy River water ride for kids, waterfalls, and even water slides. There is a spoiling SPA Cenvaree for the older set and two well-stocked Kids Clubs (Camp Safari and E-Zone). Sports options include tennis, fitness, and water sports. There is no end to the list of activities here but despite the buzz, people – and hubbub – are well spread out leaving vast undisturbed pockets of quiet too for a good book.
Rooms, some with plunge pools or Jacuzzis, start at a spacious 52sq m. Bring BIG bags. No need for carry-on squeeze. Expect pale wood floors, plenty of light, grand views from windows and balconies, flatscreen TVs, granite-top work desks, and sliding doors revealing the bathtub. There is a separate rain shower. The hairdryer can be used with gusto in front of a satisfyingly large mirror and a ceiling fan whirs overhead if aircon is not to your liking. The ballroom can hold up to 780 people.
The reasonably enticing The Front Village is attractively lit up at night but the beach is a good 200-400 metres or more away. And no, there is no Back Village though there is the ochre-hued hobbit house, spa, Broadband, and Jacuzzi.
The Mövenpick Resort & Spa Karon Beach Phuket (formerly, and briefly, the Crowne Plaza) is a resort hotel that features hi-tech meetings facilities for small groups and large conferences. It offers 175 rooms, in the main building and 30 sea-facing residential style apartments. Guests can unwind at the spa while kids scamper about assisted by their very own club – the excellent Play Zone – which serves up arts and craft, a DVD lounge, PlayStation, table tennis and more.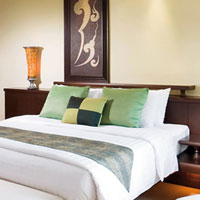 Movenpick pastel & wood/ photo: hotel
The airy hotel lobby is decorated with artefacts and design oddities and the dining area wends its way down steps, and large private "birdcages" for those intimate candle-lit moments. The Mövenpick Resort & Spa Karon Beach Phuket is the reincarnated Karon Royal Villas (pre Crowne Plaza). This villa holdover sports some bright mustard and blue three-storey arrangements that didn't quite gel, but are being gradually tamed and smartened. Villa interiors are pleasant and the hotel rooms are attractive with dark wood floors and pale silk fabrics. The main hotel itself is, well, a hotel. And the whole ensemble is set away from the beach with a road in between.
Longtime neighbour is the meetings-and-conventions Hilton Phuket Arcadia Resort & Spa. The Hilton Phuket is a set of condo-style, low, circular towers set in 75 expansive acres of landscaped grounds with lagoon, five swimming pools and flowering trees. This is a hotel-style development but the contrast with its neighbour is striking. There is space, less clutter, colours are well thought out and, for all its age, the Hilton exudes an elegant contemporary feel.
The 1,500sq m spa with its treatment villas is set apart from the main hotel by a small bridge over the lagoon. Peacocks used to wander the resort grounds, dodging water sprinklers and posing for guests. But no more. The hotel offers in-room Wi-Fi and broadband as well as a business centre. The rooms are smart, somewhat traditional, with cool tile underfoot, flat-screen TVs, and plenty of stretch space. The garden setting is a huge plus with ample room for walks, jogging, and energetic kids. Play tennis or squash, swim, cycle, or try out the putting green. The list is endless. This is a popular choice for those shopping around for good Phuket conference hotels.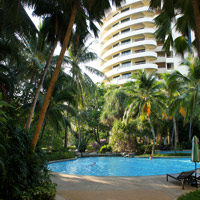 Hilton Phuket Arcadia/ photo: Vijay Verghese
With sweeping views of Karon Bay, the Marina Phuket Resort (formerly Marina Cottages) estate is manicured and tasteful. While lumbering left-brain dinosaurs roam the adjacent mini-golf Dino Park terrorising toddlers, everything at Marina Cottage is right-brain, detailed and attentive from the grounds and pathways to the rooms. Wooden walkways connect the bungalows, leading down to the seaside remodelled On The Rock restaurant looking out over the bay. Facing the sea is a clutch of gleaming Thai style villas with Ocean View rooms. Expect parquet flooring, chic black marble toilets with bathtub and generous balconies right above the ocean. A sliding screen reveals a plasma flat-screen TV. Jungle View rooms set on a grassy knoll are nice too with standalone terrazzo tubs and gleaming wood floors. Or splash out at the 100sq m Grand Villa if you are in the mood.
Kata, Nai Harn, Rawai, and south
Around Kata you'll find the large Kata Beach Resort & Spa. The group also runs the Phuket Orchid Resort & Spa at Karon that by early 2016 saw its new giant water slides in full swing along with a great many child-friendly features including a kids' club and family rooms with bunk beds to make it an instant hit with families carting weeping toddlers or hyperactive teenagers around. The resort also does conferences and has a Thai traditional wedding package for those insisting on saying, "I do…"
The large 479-room Kata Thani Phuket Beach Resort, sprawls along the semi-private Kata Noi Beach with a three-storey building that runs along extensive gardens, two large freeform pools, and a nice stretch of walk-on sand. You won't have to cross a road and get run over trying to get to the beach. This is an elderly-friendly hangout for Europeans mainly who enjoy catching the rays on the beach. The property is kid-friendly too.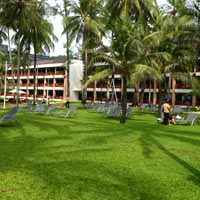 Kata Thani Beach Resort has ample gardens/ photo: Vijay Verghese
Rooms range from lime to cream pastel with louvred pale-wood partitions separating the bed from the bathing area. Nice breezy verandahs look onto the pools and bay. Sister-property The Shore at Kata Thani is a tasteful high end pool villa escape on Kata Noi just up the road and notched into the hillside.
The much-loved 37-room Boathouse by Montara (formerly Mom Tri's Boathouse) has been a signature presence here for years serving up fine cuisine in a relaxed setting, positioned among the favoured Phuket boutique hotels. Boathouse has tasteful rooms (with sea views, and some with direct beach access) as well as 89sq m suites. The resort was relaunched after extensive renovations and a five-month shutdown, mid October 2011 and now features the Re Ka Ta Beach Club, a spa, and spacious Family Suites. Sign up for cooking classes and pick up a Boathouse Cookbook. Boathouse is now owned by Montara Hospitality, which also runs Trisara. The aforementioned Mom Tri's sister property on Kata Noi, Mom Tri's Villa Royale, is another gracious escape.
The Club Med Phuket is stretched along 1.5 kilometres of beach (across a road unfortunately), with a redesigned Club Med Spa and extensive facilities for children. In fact everyone over four months old is welcome at this family-friendly hotel. Enjoy yoga, cooking classes and a nine-hole pitch and putt golf green. Catering for children of various ages are a Baby Club Med, a Petite Club Med and a Mini Club Med (four to under-elevens). With the usual adrenalin-pumping arsenal of activities and testosterone by the pound, this is a resort for ripped biceps to get to work – tennis, squash, archery, mini soccer and volleyball.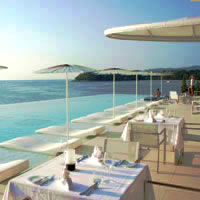 Spectacular view from Kata Rocks pool / photo: Vijay Verghese
Devilishly hard to find and accessed via a spaghetti-slim track, the Kata Rocks (March 2014) experience is an adventure in itself. It is worth the stagger up the hill as the views that will assail you from the virginal white pool deck are as unblemished as you will find on any picture postcard. The laundered Santorini touch is offset by the surrounding azure and the relentless sun will have you reaching for your shades even as the resortwear gets unpeeled in record time. Linger here again to savour a BIG sunset. Kata Rocks is set in tiers along a vertiginous buggy trail, each private villa reminiscent of a yacht with its projecting tarpaulin pool cover. The approach is minimalist and resolutely contemporary with clean lines and ample viewing space through huge windows in all directions. There are 34 units in all and work continues apace to put in the finishing touches by mid 2014.
The private villas are managed by the resort. A typical 134sq m One Bedroom Villa serves up two levels with the living and dining below - facing the pool - with the bedroom above looking onto the scenic tableau through full-height windows.
To ensure a full-on experience, the bedroom lacks a forward wall, substituting this with a see-through glass railing to create a balcony effect that will delight some and unnerve others. Sound travels easily up as well as down. Pale wood features and a rustic stressed wood floor are nice touches in an otherwise simple, if well planned, clean layout. Expect a kitchen with dishwasher, a flat-screen TV, free WiFi, and small patch of green outdoors. A 195sq m Two Bedroom Villa is set on a single level with the living room in front bagging the view and the bedroom in the rear, near the entrance, with two three-pin multi-plug sockets. Also find a bathtub and rain shower and a WiFi keyboard for the television. Fittingly, these are all called 'Sky Villas'.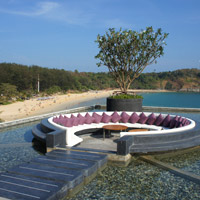 Splendid Reflections chill-out zone at The Nai Harn/ photo: Vijay Verghese
On towards sunset country, Promthep Cape.
But just before we get there, pull a right onto Nai Harn Beach at the end of which is the all-white rustic chic stucco plaster The Nai Harn (opened early 2016, a relaunch of the former Royal Phuket Yacht Club). As one of the first trendsetters on the island, this address has first dibs on the beach and those grand bay views as you heave up red ceramic-tile open corridors that let in wind, rain, and sweeping panoramas. The midday sun presents a sharp contrast between the white adobe-style units terraced up the hill, and the deep azure of the sea. The hotel approach has got a bit crowded with Yacht Club wannabes, imitations and shops that nevertheless still manage to lend the place a festive atmosphere. You'll need to park at the nearby pagoda or let the valet attend to your wheels. From there on it's a blast.
The Nai Harn serves up 130 rooms and suites which, after a serious 18-month workover, offer contemporary amenities and a jaunty fresh stride, stylish in an understated, neat and unassuming way, friendly enough to encourage wet feet on cool timber floors. Rooms offer breezy balconies with arresting views of the Andaman Sea. Some offer 40sq m outdoor terrace with sun loungers and day beds. That's elbow room for sure. An ample 8th-floor Royal Ocean Suite with one generously proportioned bedroom is a walk-up of two storeys from the sixth floor, which is as high as the lifts go.
Pale stressed wood floors set the tone here offset by tan-grey settees and chairs and flashes of green and mustard cushions and ochre-blue daubs of art adorning the walls. The feel is residential and minimalist with a large flatscreen television (linked to Bose sound) in both the living room and bedroom.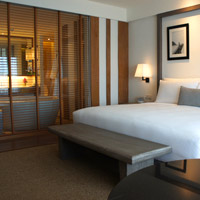 Woody hues at the Royal Ocean Suite, The Nai Harn/ photo: Vijay Verghese
Expect an Espresso machine, large taut-white-sheet bed, iPod docks, simple push-in switches for room controls, a smallish notebook safe, a single long washbasin, rain shower, soaking tub set behind a Venetian blind peekaboo glass partition, Elle Spa toiletries, and two international three-pin multi-plug sockets with data-port set, unusually, well away from the bed, below the wall-mounted TV. Other free sockets are of the local two-pin variety. The arrangement is similar in the living area. This niggle aside there is much to recommend.
The knock-out blow comes in the form of a stunning balcony with a lazy divan with green overstuffed pillow-mats stretched across a blacony with breathtaking views of the bay and beach. This is Baywatch country. Come armed with svelte bikinis and sufficient megapixels in that camera. A smaller Deluxe Ocean View may come with a king or twin bed arrangement with much the same amenities and a checked carpet in the bedroom with a sliding door leading to the bathing area and a bright green-tile toilet - with a door that stays capriciously unlocked. With a challenging rework of an ancient hulk, the designers have done a fine job of letting in light through narrowish windows. These are not floor to ceiling but you will be unlikely to spot the difference with all the sheer gauze curtains and bright sunlight streaming in.
Mark your diary with some highlights - the Nai Harn Spa (due June 2016), quality event space for corporate meeting planners, babysitting services for frazzled families, an oceanview pool, the eye-popping Reflections rooftop alfresco lounge-bar with its signature sunken circular sofas set in a tranquil pool facing the beach and blazing sunsets, and ample Phuket resort wedding options. Watch for transport and access issues though. All in, this is arguably one of the top addresses in southern Phuket, hip, neat, and contemporary, with attentive staff. It compares well with other high end properties on the island. Like to arrive or depart by helicopter? Or on a yacht? Sure...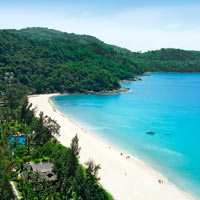 Splendid Kata Noi Beach with the Kata Thani Beach Resort/ photo: hotel
One of the better offerings riding on this property's coat-tails is The Sands, a pleasant three-storey resort-style condominium with 150sq m apartments with kitchens. The resort is managed by the Kata Thani Phuket Beach Resort group. Another is the Sunsuri Phuket, a neat and compact property with modern rooms set up a hillside facing a central pool. WiFi and kids' club and bicycle rentals too. Described as a 'design economy hotel' the All Seasons Nai Harn Phuket Hotel from ACCOR is a pleasant break from MICE muscle monstrosities with a friendly vibe and simple ceramic-tile-floor rooms kitted out in cheery saffron or yellow. There's a nice outdoor pool as well. All Seasons is a steal at around US$50-$60 up depending on date and season with the backing of a reliable group. It is on the approach road to Nai Harn Beach and is a quick hop to the sand.
A short drive from here, sited on a breezy hill, is the Lord of the Rings hobbit-style family-run Mangosteen Resort & Spa. This is an interesting getaway that distracts you sufficiently with ayurvedic remedies, Thai food, a wine cellar, and grand vistas to forget that the nearest beach is a few kilometres away. The round elfin dwellings have interesting touches. There are around 40 villas. Think bathing areas – some with Jacuzzis – open showers (covered by a thatch roof), smooth-pebble floors, blue-green tiles, and rattan reclining chairs. Now that's a toilet. Take your time. Rooms have a sense of space and offer plenty of light and air. WiFi is free throughout. Park on a large bed under gauzy drapes. The wooden floor underfoot is rimmed by orange ceramic tiles. It is all an eclectic throw-together homey mix. Expect a hairdryer, a boxy safe that may accommodate a tiny notebook, flat-screen TV, DVD/CD player, and a modern sound system.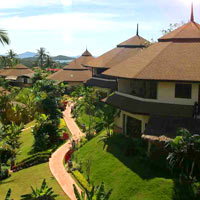 Mangosteen/ photo: hotel
Deluxe Jacuzzi Villas start at 74 sq m. Or go upscale to the Royal Balcony Jacuzzi Villa, which is the pick of the lot for light, décor, and ambience. These are not luxury villas to be compared with an Aman or a Trisara but homegrown escapes with a friendly touch. The resort offers fine views of hills and seascapes and a spa is available for that extra pampering. Bit of a hike up the hill, but enjoy the resort.
In this south Phuket area looking out towards Chalong Bay are the 45 villas of the contemporary Morrocan-influenced Villa Zolitude Resort & Spa. No beach, but green surrounds and open, breezy views. Pick from 170sq m Deluxe Pool Villas set low on the hill – each with spacious living areas, flat-screen TVs and king-sized beds – looking out at, but not over, the forest canopy; or go uphill in height and price to the Grand Pool Villas with views across the bay and more stretch space. Traditional massage and exotic treatments await at the Zense Spa.
Rounding Promthep Cape, after Rawai, Highway 4233 leads to the former Evason Phuket & Bon Island, which was relinquished by Six Senses on 24 May, 2012.
On Rawai's Friendship Beach is the all-villa The Vijitt Resort Phuket spread over 20 acres of land. Built on a hillside, most of the 92 villas, 20 with pools, have views of the sea – and each other – over woodchip-tile rooftops. It's convivial if not entirely private. The standard deluxe villa has an attractive horseshoe layout with floor-to-ceiling windows, outdoor rain shower, local amenities and a large bathtub with shuttered windows. There is complimentary broadband in-room but, given the spread out nature of the resort, WiFi can be problematic.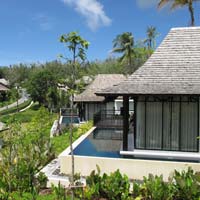 Vijitt Resort/ photo: Vijay Verghese
The most private residences are along the seafront. Check on breezy villas one to four and five to nine, set on the grassy verge looking out at the blue. Expect personal space ranging from a minimum of 20sq m up to 200sq m. The beach is clean and uncluttered but narrow and the tide reaches the sea wall twice a month. This means few, if any, hawkers are on hand to pester guests.
The water remains shallow for a good 200 metres – good for splash-happy kids. Tots can also avail of the play area with slides and a wading pool. A glinting infinity pool almost blends into the ocean. The V Spa, with open as well as air-conditioned salas, will massage away your troubles. The treatments retain a very Thai flavour – except perhaps the "wood stone" detox.
Phuket Town, Panwa, southeast
At Siray Bay, a young mood hotel from Starwood, The Westin Siray Bay Resort & Spa is arrayed on the hillside, its smart grey-shingle-roof villas overlooking the bay and the sands. The Westin is young, hip and relaxed, focused on rejuvenation and recharge. Opened late 2010, this hillside bolt-hole-with-a-beach, a short drive from Phuket Town, offers 261 rooms with balconies and open vistas. Expect three pools, a Westin Kids Club ®, workout facilities and, best of all, a Heavenly Spa®. There is also 643sq m of function space if you must don your best beach duds and work while tanned lovelies sashay by.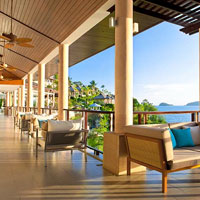 Westin Siray Bay/ photo: hotel
Rooms are modern and sleek with lots of tactile textures. Muted pastel colours and cream tile floors are playfully tousled by bright turquoise cushions that dot the rooms and balconies. Expect 37-inch flat-screen TVs, DVD players, fast internet access (charged alas), an in-room safe, and a choice of satellite TV channels. Flop on a rattan chair in your private balcony and enjoy Cinemascope views. Later pootle down to the beach to stroll, snorkel, or try your hand with kayaks and wind-surfers. The beach gets sanded once in a while to keep it pristine.
In Phuket Town, check out old workhorses Phuket Merlin Hotel and the Pearl Hotel, both adequate city stops if business brings you here. While the traffic is not an attraction, rates from US$35 may be an inducement at these two properties for some who don't care for the beach, preferring the town location for food and historic wanders.
The Radisson Blu Plaza Resort Phuket Panwa Beach offers a beachfront family-friendly getaway in the far south towards Cape Panwa with three tiered free-form pools, a wellbeing spa, and a dedicated Kid's Club. This is a resort that holds appeal for couples as well as those with typhoon tykes in tow. Expect a useful mix of 211 rooms, suites and pool villas done up in modern Thai decor, a fitness centre and a choice of four restaurants.
The Radisson – pitching to be a more than useful Phuket conference hotel – also offers extensive meetings facilities with the usual arsenal of hi-tech equipment and a ballroom that can handle up to 150 persons. The resort is a contemporary low-rise development in brown tones.
There are a lot of funky and mod features, chiefly the private poolside loungers that look onto open blue sea. The pool area is inviting if compact, set below the restaurants and a lobby that tries a bit too hard. Grand views but alas the beach is pebbly and not really swimmable though it gets artificially sanded from time to time.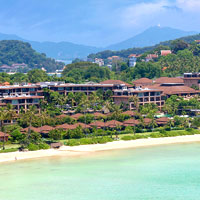 Radisson Blu Plaza/ photo: hotel
Cape Panwa Hotel, a much older property at the far end of hard-to-find Highway 4129, is at the other end of the south. It's the sort of old-fashioned place you'd expect to find in an American '60s TV romance. Lots of activities and the occasional celebrity. There's WiFi too. And the look is now pleasantly contemporary.
A tramcar used to ferry guests to the beach and the charming Sino-Portuguese wooden all-white Panwa House serving Thai. But it's just as easy to walk. Much of the shoreline has coral and stone underlay so watch for it at low tide. Sample a Thai massage on the beach, hop onto a Cape Panwa cruise boat, or work out at tennis, badminton, canoeing, sailing, or learn batik or Thai cooking. There are two swimming pools, a fitness centre, a games room plus a sauna and whirlpool at this sleepy end-of-the-island escape. This is an interesting spot to stage a corporate event or a romantic beach wedding.
Around the hill is the Kantary Bay Hotel, a clean, basic, salmon-beige affordable studio or one-to-two-bedroom option. In an earlier incarnation it was managed by Cape Panwa Hotel. Expect free Wi-Fi in the lobby. The hotel is bright and breezy and fronts the ocean promenade.
Tucked around the corner and up a steep hill, the Sri panwa is a high-end escape. The estate features villas with contemporary decor and Thai furnishings. Expect a stylish fusion of warm rust-red tropical tones and ocean-inspired motifs in the resort's 52 bright and spacious villas. There are also four two-bedroom Family Villas. Expect spacious split-level bedrooms with living/dining areas, flat-screen TVs, WiFi, iPods (for guest use) work desks, a fridge that is replenished daily at no charge and chic wood tones. How about a bathroom with outdoor shower? No problem. The living area looks onto the pool deck and beyond across the bay. Interiors are thoughtfully stylish though the earth-tone exteriors are a tad drab and boxy.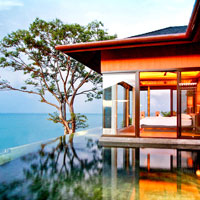 Sri panwa pool villa/ photo: hotel
One-Bedroom Luxury Pool Villas offer darker grey tones with grey-tile floors and a spacious Jacuzzi. As with the other villas, the fridge gets restocked daily, but this time there's champagne too. Enjoy your very own steam room and summon a "villa assistant" (butler) if you can't figure it out. The views are stupendous, the more so the higher you climb up the vertiginous hill. Small vans, not buggies, are needed to power guests up and down. Atop the hill is Baba Nest, a stunning 360-degree view rooftop bar and chill-out spot. Flop on a large cushion on the timber and gaze up at the stars. And, lower down, at the Baba Pool Club enjoy more stylish water features with clean lines and intriguing sunken sofas – with a view. Below is a small private beach for those who wish to leave their footprints here. This part of Phuket is more for tanning than swimming. In any event the views will keep you entertained.
Opened early 2012 was the 224-room Phuket Panwa Beachfront Resort (formerly the Crowne Plaza). Catering for both corporate meetings as well as the usual leisure trippers, the resort is on Makham Bay and is done up in a Sino-Portuguese style with two seafront pools and a third more private dipping area for those booked at the Loft Pool Suites. WiFi is free throughout the resort. This address will comfortably handle meetings, events and weddings and has a strip of garden running along the beach.
Just off the southern tip of Phuket (35 minutes by speedboat) is the idyllic island hideaway, The Racha, on Koh Racha Yai, with 85 villas. Good sand, breezy, open layout and facilities including a spa. Opt for a Grand Deluxe Pool Villa.
Khao Lak resorts review
Khao Lak is in full swing, albeit in its laid back, rustic style, with a campy drag show or two, and new resorts, shops and vendors are busily in evidence. With international resorts providing a much-needed nucleus and greenback-waving tourists, commerce, like water, has found its own level.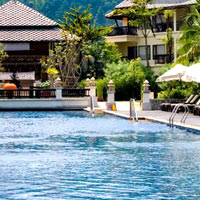 Centara Khao Lak does romance plus meetings/ photo: hotel
If anything, Khao Lak is now better developed, planned and organised than before with newer resorts keeping a keen eye on their green eco-friendly credentials. It also has its very own elephant camp and monkey show so it has certainly come of age in the Thai scheme of things. Still, ubiquitous signs caution: "Entering Tsunami Hazard Zone" with a stylised image of a monstrous wave. The area is an hour's drive from Phuket, about a 100km run. Remember to fill up on petrol. There are several petrol pumps around Kokloi a small town en route.
Set along Nang Thong Beach in the south of the Khao lak strip is the Centara Seaview Resort Khao Lak, with a generous stretch of sand, kids' facilities (including Family Residences), and its signature Spa Cenvaree. If four swimming pools (one by the beach) are not enough, check out the children's pool with water slide, the fitness centre, tennis and squash courts, putting green for golfers with itchy hands, or the snooker room. The resort has babysitting services to free frazzled mums and dads too.
There are 230 rooms to pick from with several categories leading up to the Deluxe Pool Villas or the Luxury Pool Villa. Room interiors are woody with rich-tone floors and darkwood furniture and rust-coloured bed runners and cushions.  The Deluxe Pool Villas offer 105sq m of stretch space with a private plunge pool set in green surrounds. Families with kids will likely opt for the large 107sq m Deluxe Two Bedroom Family Residence set in a two-storey design with two bathrooms so no one is queued up. There are a range of F&B options with romantic dining by the beach too. For meetings there's a 432sq m hall that accommodates 400 so it is a leisure-cum-business escape with easy access to Phuket Airport.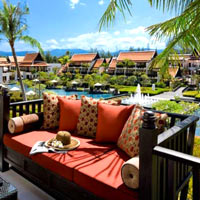 JW Marriott Khao Lak balcony/ photo: hotel
The manicured and sprawling 298-room JW Marriott Khao Lak Resort & Spa lies far to the north along a secluded and pristine stretch of beach formerly occupied by the ill-starred Sofitel. The post-tsunami transformation could not be more dramatic and vividly underscores the progress the area has made. This manicured, verdant estate incorporates four low-rise hotel wings set around a 16,000sq m lagoon pool that offers the possibility of a three kilometre swim if you're up to it.
On to our JW Marriott Khao Lak review. The buildings are laundered white Mediterranean with timbered balconies and gleaming shingle Thai-style roofs that glint in the bright sun. As many as 148 ground floor rooms have direct access to the swimming pool. Wade right in. Rooms offer 40-inch LCD TV screens with a useful WiFi keyboard that you can use to surf the web. Wondrously, WiFi will not cost you a cent and coverage extends right to the beach.
In-room expect a DVD player, multi-pin plug sockets, iron and ironing board, a touch-screen phone that calls up the weather, and a see-through glass partition separating the bathroom with its rain shower, weighing scales and tub. Rooms start at 55sq m with a breezy balcony. The safe is somewhat anorexic but can manage a notebook. When not watching big sunsets and soaking in the beachfront Jacuzzi, guests can indulge at the spa with its 15 treatment rooms each with a private sauna or steam room.
Our room picks would be the Deluxe Lagoon Pool Access for a walk-in experience, and the 45aq m Premium Lagoon Pool View with light-welcoming floor-to-ceiling windows and a black-wood balcony. This verdant, manicured retreat and spa hideaway gets high marks. Ankle-biters and typhoon tykes are not neglected either.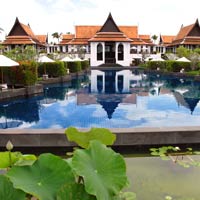 JW Marriott Khao Lak view/ photo: Vijay Verghese
There are a series of playrooms catering for different age groups offering everything from a pool table to video games and diapers. Excess adrenaline can always be burned off on the squash or tennis courts unless cycling or water sports appeal more. This is a fun Khao Lak child-friendly hotel. With 71,698sq ft of event space, 15 function rooms and the ability to host up to 500 in the largest event space, this is a pleasant, and secluded, Khao Lak conference hotels choice that rates well vs Phuket hotels of comparable scale. And weddings on Khao Lak beach are a cinch. This strip of sand catches the evening rays and conjures some spectacular sunsets.
The Thai-style Takolaburi presents itself as a "cultural, spa & sport resort" that pretty much covers all bases. This is on the turnoff leading to the Apsaras resort and sits just off a small road running along the beach. There is not much traffic on this deadend street so kids should be okay crossing to the sand.
The wooden villas feature Thai murals on the walls and tasteful wannabe decor. Expect satellite TV, DVD player on request, mini-bar, and Broadband Internet. There are several swimming pools including one for kids, and a spa. Takolaburi is a neat, laid back option for families looking for style without wallet-pounding rates. The villas are set amidst water pools and rustic, rambling gardens. At the end of the road is the Apsaras Beach Resort & Spa (with direct access to the beach) and along the same strip is the lowrise and simple, but neat, Grand Southsea Khaolak Beach Resort (that served briefly as a Best Western Premier), with a large pool, children's pool, Jacuzzi, babysitting services, and a wellness spa. As with Takolaburi, South Sea Grand is across the street from the beach. South Sea is a reasonable, hassle-free Khao Lak kid-friendly resort with contemporary decor and an unfussy feel.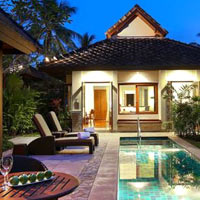 Robinson Club takes over from Pullman Khao Lak after Bt350m refit/ photo: hotel
Two Khao Lak resorts that warrant careful consideration are the boutique-style Sarojin and the larger full-board Robinson Club.
Farthest up the azure coast, the Robinson Club Khao Lak (the former Pullman Khao Lak Katiliya Villas which in turn picked up from the tsunami-hit Le Meridien) arrived early 2018 after a 350 million baht redevelopment to offer several swimming pools, manicured grounds and a ROBINSON WellFit that serves up a wellness and fitness regimen, with the usual essentials like sauna, massages and yoga. Add to this cycling and a splendid beach.
Rooms feature flat-screen televisions, WiFi, and timber floors. In addition to rooms, the hotel offers a selection of plush Thai-style villas, some with private pools. The 80sq m ocean front villas perched at the edge of the sand have their own big-stretch garden. Villas have wooden parquet floors, plump beds with silk runners, flat-screen TVs with DVD player, and larger ones come with outdoor showers with an indoor tub and twin vanities so there's no argle-bargle between Him and Her.
Never a dull moment at Robinson Club – there are activities galore and not just on the beach. This is a breezy open complex with plenty of garden. It is a toddler friendly Khao Lak resort with a separate lagoon-style pool for kids complete with sand and a range of activities.
The free-form swimming pools are large and front the ocean. The hotel is sited along an excellent beach with long views around the arcing bay. Spread out over several acres the resort offers ample stretch space for walkers and joggers.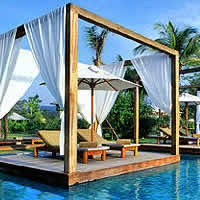 Sarojin sun decks/ photo: hotel
The 56-room boutique property The Sarojin Khao Lak, also offers the Pathways spa within its 10 landscaped acres, a pristine beach, lotus ponds, tranquil walks and bicycle paths for those who prefer pedal power. Pathways is an interesting Thai spas option with double and single treatment rooms with outdoor "tree showers".
Designed in a contemporary Asian style with modern looking "residences", this hideaway Khao Lak resort is arrayed around a large garden area that leads on to the sea. There is a lot of space and the central lawns can be a sizzling hot expanse in summer. Sarojin has complimentary WiFi and broadband internet if you absolutely must stay in touch, but the emphasis is clearly on relaxation. The Sarojin residences feature private gardens, spoiling baths, sundeck, rain-showers, DVD/CD player, in-room safe and TV.
The resort is aimed at an older set and honeymooners who might enjoy a round of croquet when not looking deep into each other's eyes. Grown-ups only. Children under 12 years are not permitted at the Sarojin. A Khao Lak beach wedding is very much up the Sarojin's alley.
La Flora Resort & Spa, is neat, compact, bright and welcoming, if a tad predictable and busy. It has neat lines, trim lawns and fronts the beach. Not too much walking here. The pool is right on the beach and is a good spot for sunsets and tans. Dive into the two lap pools. Or unwind in the Jacuzzi while the kids wade in the children's pool.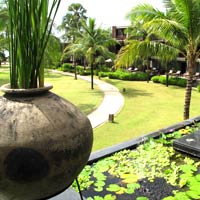 Ramada Khao Lak green/ photo: Vijay Verghese
Deluxe rooms and Sea View Villas feature modern Thai design interpretations and for long, lazy afternoons there's the Spa La Flora with herbal steam baths, yoga and meditation. This is one of the safer – and sane – choices on our Khao Lak resorts review. It is a family-friendly option.
The Ramada Resort Khao Lak is surprisingly pleasant – more so than the Ramada name might suggest – with its clean lines and lowrise layout. Several rooms have good ocean views. Find a large swimming pool, a spa, 84 rooms, extensive gardens, and meeting facilities. The resort is keen on Thai wedding ceremonies to so if you have the money and the moxie...
The modern Khao Lak Laguna Resort, Phang Nga, is just off the main drag in town close by shops, supermarkets and restaurants. It occupies several acres of landscaped grounds and fronts a broad swathe of beach. The hotel is clean looking to the eye and sports a laundered white-washed appearance with red-tile roof. Expect a large beachfront pool, the Chiva Spa, and games to keep all ages occupied. Opt for an independent Oriental Villa or a regular hotel room called a Siam Chalet in a low-rise block. This is among the hotels closest to Phuket airport, with the secluded Le Meridien, the farthest.
The pleasant renamed Moracea by Khao Lak Resort slopes down a hillside to a 400m stretch of beach with a choice of bungalows and villas, several with private pools, some with Jacuzzis, and 46 hotel-style rooms, all with balconies from where guests can take in the sunsets. The hotel rooms are set higher up the hill closer to meetings and fitness facilities. This is an elegant, understated, Thai-style establishment.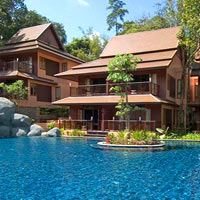 Khao Lak Merlin pool/ photo: hotel
Closer towards Phuket, the Khaolak Merlin Resort is a quietly unassuming hotel-style low-rise occupying a hillside leading to a 190m stretch of sand. The property covers 15 sloping acres with 200 rooms and villas (with their own private pool). Pool Access Rooms are smart and spacious with plenty of light. Families and larger groups will enjoy the four swimming pools, a children's pool, kids' corner, tennis court, tailor shop and health club. All rooms have satellite TV, a mini-bar and coffee and tea-making facilities. When the Boxing Day tsunami waves swept through the area in 2004, the Merlin was pretty much the last man standing.
Other choices include The Sands Khao Lak (by KataThani Collection, in the south), a spread-out grassy resort with a spa, pool, beach, kids' club, and wedding possibilities; the Beyond Resort Khaolak, a similarly large resort with spa, several pools, beach and a few pool villas much farther north up the coast; and the Baan Krating Khao Lak Resort (with a sister property, Baan Krating Phuket, near Rawai beach in the south of the island). And that sums up our quick Khao Lak resorts review.
Find your spot, turn off that mobile phone and, hey, what's that pink feather boa doing in my soup?
Send us your Feedback / Letter to the Editor
FAST FACTS

/ Hotel Contact List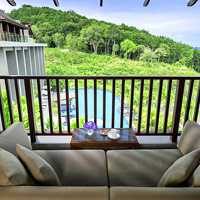 Avista Hideaway by MGallery Sofitel/ photo: hotel
Service charge and government tax on rooms amount to an additional 17 percent. Room rates will vary depending on the season. May till end October (the monsoons) is normally the low season with the best prices. Always check for the best available rates (BAR) online and talk with your travel agent. In general room prices may range from around Bt2,000-Bt3,500 at modest establishments, and Bt3,500 –Bt7,000 at mid-range resorts to Bt8,000-Bt55,000 for luxury villas. Rates in Khao Lak may tend to be slightly lower compared with Phuket, especially during the rainy low season when Khao Lak tends to empty out. While Phuket has steady business through the year, Khao lak has very high swings in business between the winter high season and summer low period.
The exchange rate is roughly US$1=Bt35.60. Use moneychangers or banks in tourist areas for the best rates. Hotel exchange rates are rarely favourable.
North and east Phuket, Naka Island, Yamu
Aleenta Phuket – Pha Nga Resort and Spa. Bangkok office tel: [66-2] 514-8112, (www.aleenta.com/phuket/).
Baan Yamu Residences. Tel: [66-76] 310-517, (www.baanyamu.com).
Chandara Resort & Spa. Tel: [66-76] 317-800, (www.chandara-resort.com).
Iniala Beach House. Tel: [66-76] 451-456, (www.iniala.com/).
Mission Hills Phuket Golf Resort & Spa. Tel: [66-76] 310-888, (www.missionhillsphuket.com).
Point Yamu by COMO. Tel: [66-76] 360-100, (www.comohotels.com/pointyamu).
Royal Phuket Marina. Tel: [66-76] 360-811, (www.royalphuketmarina.com).
Supalai Resort & Spa Phuket. Tel: [66-76] 302-302, (www.supalaiphuket.com).
The Naka Island, a Luxury Collection Resort & Spa, Phuket. Tel: [66-76] 371-400, (www.marriott.com/naka-island/).
Mai Khao Beach and northwest, Naithon, Layan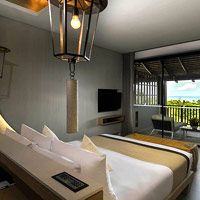 Avista Hideaway MGallery room/ photo: hotel
Anantara Mai Khao Phuket Villas. Tel: [66-76] 336-100, (phuket.anantara.com).
Anantara Phuket Layan Resort & Spa. Tel: [66-76] 317-200, (phuket-layan.anantara.com).
Andaman White Beach Resort. Tel: [66-76] 316-300, (www.andamanwhitebeach.com).
Blue Canyon Country Club. Tel: [66-76] 328-088, (www.bluecanyonclub.com).
Dream Phuket Hotel & Spa. Tel: [66-76] 609-888, (www.dreamhotels.com/phuket).
Holiday Inn Resort Phuket Mai Khao Beach. Tel: [66-76] 603-699, (www.holidayinnresortphuketmaikhao).
Hotel Pullman Phuket Arcadia Naithon Beach. Tel: [66-76] 303-299, (www.pullmanhotels.com).
JW Marriott Phuket Resort & Spa. Tel: [66-76] 338-000, (www.marriott.com/phuket).
Maikhao Dream Villa Resort & Spa. Tel: [66-76] 371-371, (www.maikhaodream.com).
Naithonburi Beach Resort. Tel: [66-76] 318-700, (www.naithonburi.com).
Phuket Marriott Resort & Spa, Naiyang Beach (formerly Imperial Adamas). Tel: [66-76] 625-555, (www.marriott.com).
Renaissance Phuket Resort & Spa. Tel: [66-76] 363-999, (www.marriott.com).
SALA Phuket Resort and Spa. Tel: [66-76] 338-888, (www.salahospitality.com/phuket/).
Splash Beach Resort. By Langham, and formerly Grand West Sands Resort & Villas Phuket. Tel: [66-76] 372-000, (splashbeachresort.com/en/).
The Slate. Tel: [66-76] 327-006, (www.theslatephuket.com/).
Trisara. Tel: [66-76] 310-100, fax: 310-300, (www.trisara.com).
Bang Tao Beach, Laguna area
Allamanda Laguna Phuket by RESAVA. Tel: [66-76] 324-050, (www.resavaholidays.com).
Amora Beach Resort Phuket. Tel: [66-76] 314-236/2, (www.amorahotels.com/).
Angsana Laguna Phuket (formerly Sheraton). Tel: [66-76] 324-101, (www.angsana.com/en/phuket/).
Angsana Villas Resort Phuket. Tel: [66-76] 336-900, (www.angsana.com/villas-resort-phuket).
Banyan Tree Phuket. Tel: [66-76] 324-374, (www.banyantree.com/en/phuket/).
Best Western Premier Bangtao Beach Resort & Spa.. Tel: [66-76] 270-680, (www.bangtaobeach.com).
Cassia. Tel: [66-76] 362-333, (cassiaresidences.com/destinations/phuket).
Dusit Thani Laguna Phuket. Tel: [66-76] 362-999, (www.dusit.com/dusitthani/lagunaphuket/).
Laguna Holiday Club Phuket Resort. Tel: [66-76] 271-888, (www.lagunaholidayclubresort.com).
Movenpick Resort Bangtao Beach Phuket. Tel: [66-76] 310-400 (www.moevenpick-hotels.com).
Outrigger Laguna Phuket Beach Resort. Tel: [66-76] 360-600 , (www.outrigger.com).
The Pavilions, Phuket. Tel: [66-76] 317-600, (www.thepavilionsresorts.com/phuket-home/).
Surin, Phuket boutique resorts
Amanpuri. Tel: [66-76] 324-333, (www.aman.com/resorts/amanpuri).
Ayara Hilltops Boutique Resort & Spa. Tel: [66-76] 271-271, (www.ayarahilltops.com).
Manathai Surin Phuket. Tel: [66-76] 270-900, (www.manathai.com/phuket).
Novotel Phuket Surin Beach Resort. Tel: [66-76] 303-300, (www.novotel.com).
Surin Bay Inn. Tel: [66-76] 271-601, 621-626, (www.surinbayinn.com).
The Chava Resort. Tel: [66-76] 372-600, (www.thechavaresort.com).
The Surin Phuket. Tel: [66-76] 621-580, 316-400, (www.thesurinphuket.com).
Twinpalms Phuket. Tel: [66-76] 316-500, (www.twinpalms-phuket.com).
Kamala, Kalim, Nakalay Beach
Andara Resort & Villas. Tel: [66-76] 338-777, (www.andaraphuket.com).
Diamond Cliff Resort & Spa. Tel: [66-76] 340-501, (www.diamondcliff.com).
Hyatt Regency Phuket Resort. Tel: [66-76] 231-234, (phuket.regency.hyatt.com).
Kamala Beach Estate. Tel: [66-76] 279-756, (www.kamalabeachestate.com).
Keemala Phuket. (www.keemala.com)
The Naka Phuket. Tel: [66-76] 337-999, (www.thenakaphuket.com).
Novotel Phuket, Kamala Beach. Tel: [66-76] 303-700, (www.novotel.com).
Novotel Phuket Resort. Tel: [66-76] 342-777, (www.novotelphuket.com).
Patong Lodge. Tel: [66-76] 341-020, 340-286, (www.patonglodgehotel.com).
Swissotel Resort Phuket Kamala Beach. Tel: [66-76] 303-000, (www.swissotel.com).
Thavorn Beach Village & Spa. Tel: [66-76] 618-217, (www.thavornbeachvillage.com).
Twinpalms MontAzure. Tel: [66-76] 684-368, (www.twinpalms-montazure.com/).
Wabi-Sabi Phuket. Tel: [66-76] 385-944, (www.wabisabiphuket.com/).
Patong area choices
Absolute Sea Pearl Beach Resort & Spa. Tel: [66-76] 341-901, (www.absoluteseapearl.com).
Amari Phuket. Tel: [66-76] 340-106, (www.amari.com/phuket/).
Andaman Embrace Resort & Spa (formerly Club Andaman Beach Resort). Tel: [66-76] 370-000, (www.andamanembrace.com).
Avantika Boutique Hotel. Tel: [66-76] 292-801, (www.avantika-phuket.com).
Avista Hideaway Phuket Patong, MGallery by Sofitel. Tel: [66-76] 681-681, (www.accorhotels.com).
B-Lay Tong. Tel: [66-76] 344-999, (www.b-laytong.com).
Baan Yin Dee Boutique Resort. Tel: [66-76] 294-104, (www.baanyindee.com).
Burasari Patong. Tel: [66-76] 292-929, (www.burasari.com).
Duangjitt Resort & Spa. Tel: [66-76] 366-333, (www.duangjittresort-spa.com).
Grand Mercure Phuket Patong. Tel: [66-76] 231-999, (grandmercurephuketpatong.com/ ).
Holiday Inn Express Phuket Patong Beach Central. Tel: [66-76] 360-000, (www.hiexpress.com/phuket/).
Holiday Inn Resort Phuket. Tel: [66-76] 370-200, (www.holiday.phuket.com).
Hyatt Place Phuket, Patong. Tel: [66-76] 626-777, (www.phuketpatong.place.hyatt.com).
Impiana Resort Patong, Phuket. Tel: [66-76] 340-138, (phukethotels.impiana.com).
La Flora Resort Patong. Tel: [66-76] 344-241, (www.laflorapatong.com).
Merlin Beach Resort. Tel: [66-76] 294-300, (www.merlintritrang.com/).
Millennium Resort Patong Phuket. Tel: [66-76] 601-301, 601-999, (www.millenniumhotels.com).
Novotel Phuket Vintage Park Resort. Tel: [66-76] 380-555, (www.novotel.com/gb).
Patong Merlin Hotel. Tel: [66-76] 349-888, (www.merlinpatong.com/).
Phuket Graceland Resort & Spa. Tel: [66-76] 370-500, (www.phuketgraceland.com).
Red Planet Patong, Phuket . Tel: [66-2] 613-5888, (www.redplanethotels.com/en/).
Rosewood Phuket. Tel: [66-76] 356-888, (www.rosewoodhotels.com).
Swissotel Resort Phuket Patong Beach (changed from dusitD2 1 June 2016). Tel: [66-76] 337-000, (www.swissotel.com/phuket-patong/).
The Andaman Beach Suites. Tel: [66-76] 341-879, (www.beachsuites.com).
The Nap Patong. Tel: [66-76] 343-111, (www.thenappatong.com).
Relax Bay, Karon Beach
Centara Grand Beach Resort Phuket. Tel: [66-76] 201-234, (www.centarahotelsresorts.com/centaragrand/cpbr/).
Centara Karon Resort Phuket. Tel: [66-76] 396-200, (www.centarahotelsresorts.com/centara/ckr/).
Centara Villas Phuket. Tel: [66-76] 286-300, (www.centarahotelsresorts.com/centara/cvp/).
Hilton Phuket Arcadia Resort & Spa. Tel: [66-76] 396-433, (www.hilton.com).
Le Meridien Phuket Beach Resort. Tel: [66-76] 370-100, (le-meridien.marriott.com/).
Marina Phuket Resort. Tel: [66-76] 330-625, (www.marinaphuket.com).
Mövenpick Resort & Spa Karon Beach Phuket. Tel: [66-76] 396-139, (www.movenpick.com/en/asia/thailand/phuket).
Phuket Orchid Resort & Spa. (www.katagroup.com/phuket-orchid/en/home/).
The Front Village. Tel: [66-76] 398-200, (www.frontvillage.com).
Kata, Nai Harn, Rawai, and south
All Seasons Nai Harn Phuket Hotel. Tel: [66-76] 289-333, (naiharn-phuket.com).
Boathouse by Montara . Tel: [66-76] 330-015, (www.boathousephuket.com).
Club Med Phuket. Tel: [66-76] 330-456, (www.clubmed.com/cm/).
Mangosteen Resort & Spa. Tel: [66-76] 289-399, (www.mangosteen-phuket.com).
Kata Beach Resort & Spa. Tel: [66-76] 360-300, (www.katagroup.com/kata-beach).
Kata Rocks. Tel: [66-76] 370-777, (www.katarocks.com).
Kata Thani Phuket Beach Resort. Tel: [66-76] 330-124/5/6, (www.katathani.com).
Mom Tri's Villa Royale. Tel: [66-76] 333-568, (www.villaroyalephuket.com).
Sugar Palm Grand Hillside. Tel: [66-76] 330-388, (www.sugarpalmgrand.com).
Sunsuri Phuket. Tel: [66-76] 336-400, (www.sunsuri-phuket.com/).
The Nai Harn (formerly The Royal Phuket Yacht Club). [66-76] 388-210, (www.thenaiharn.com/).
The Sands Boutique Condominiums. Tel: [66-76] 236-550, (www.thesandsphuket.com).
The Shore at Kata Thani. Tel: [66-76] 330-124, (www.theshore.katathani.com/).
The Vijitt Resort Phuket. Tel: [66-76] 363-600, (www.vijittresort.com).
Villa Zolitude Resort & Spa. Tel: [66-76] 521-333, (www.villazolitude.com).
Phuket Town, Panwa, southeast
Cape Panwa Hotel and Spa. Tel: [66-76] 391-123, (www.capepanwa.com).
Phuket Panwa Beachfront Resort (formerly Crowne Plaza Phuket Panwa Beach Resort) Tel: [66-76] 302-900, (www.phuketpanwabeachresort.com).
Pearl Hotel. Tel: [66-76] 211-044, (www.pearlhotel.co.th).
Phuket Merlin Hotel. Tel: [66-76] 212-866, (www.merlinphuket.com/)
Radisson Blu Plaza Resort Phuket Panwa Beach. Tel: [66-76] 602-500, (www.radissonblu.com/resort-phuket).
Sri Panwa. Tel: [66-76] 371-000, (www.sripanwa.com).
The Kantary Bay Hotel, Phuket. Tel: [66-76] 391-514, (www.kantarybay-phuket.com).
The Racha. Tel: [66-76] 355-455, (www.theracha.com).
The Westin Siray Bay Resort & Spa. Tel: [66-76] 335-600, (www.marriott.com/westin-siray-phuket/).
Khao Lak resorts review
Apsaras Beach Resort & Spa. Tel: [66-76] 584-444, (ww.apsarakhaolak.com/).
Baan Krating Khao Lak Resort. Tel: [66-76] 485-188, (www.agoda.com/baan-krating-phuket-resort/).
Beyond Resort Khaolak. Tel: [66-76] 592-300, (www.katagroup.com/beyond-khaolak).
Centara Seaview Resort Khao Lak. Tel: [66-76] 429-800, (www.centarahotelsresorts.com/centara/csk/).
Grand Southsea Khaolak Beach Resort. (thegrandsouthseakhaolak.com/).
Robinson Club Khao Lak. (www.robinson.com/khao-lak/).
JW Marriott Khao Lak. Tel: [66-76] 584-888, (www.marriott.com).
Khao Lak Laguna Resort Phang-Nga. Tel: [66-76] 427-888, (www.khaolaklaguna.com/).
Khaolak Merlin Resort. Tel: [66-76] 212-866, (www.merlinkhaolak.com/).
La Flora Resort & Spa. Tel: [66-76] 428-000, (www.lafloraresort.com).
Moracea by Khao Lak Resort. Tel: [66-76] 428-111, (www.moraceakhaolakresort.com/).
Ramada Resort Khao Lak. Tel: [66-76] 427-777, (www.ramadakhaolak.com).
Takolaburi Cultural, Spa and Sport Resort. Tel: [66-76] 429-777, (www.khaolaktakolaburi.com).
The Sands Khao Lak. (www.thesandskhaolak.com/).
The Sarojin. Tel: [66-76] 427-900, (www.sarojin.com).