FAMILY FUN
Sri Lanka resorts and tea breaks
As Sri Lanka starts cautiously reopening, show off your handlebar moustache at a colonial tea-planter retreat or dance along a deserted beach. It's all here in our fun guide to the best Sri Lanka beds.
SEE ALSO Colombo Guide | Maldives Resorts | Sri Lanka Resorts | Kerala guide | Goa resorts review | Asian child resorts | Phuket fun | Bali fun guide | Maldives resorts review | Fun Asian holidays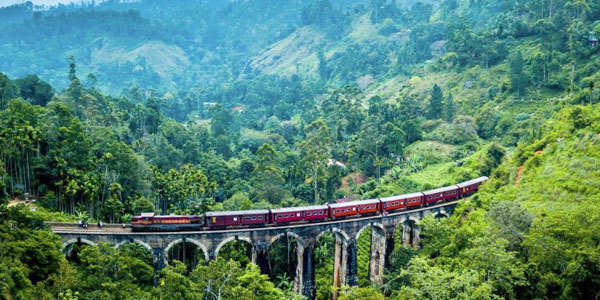 JUMP TO Kandy resorts | Inland parkland | Eastern Sri Lanka | Mountain lodges | Northern escape | Sri Lanka beach resorts | Colonial and luxury hotels | Hotel Contacts
AFTER YEARS of scraping the bottom of the budget-holiday barrel, Sri Lanka resorts were sprinting ahead with top-end traveller deals and a touch of razzmatazz. Say goodbye to terrorism, and the 2004 tsunami that still excites online chatter and timorous fingers for some reason. Then the coronavirus hit. The island is cautiously reopening as the Covid-19 graph drops but several hotels may have reduced operations or closed. So do double check.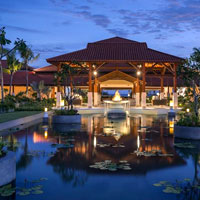 Shangri-La's Hambantota Resort & Spa reflections/ photo: hotel
New hotels have throughout the island over the past decade and there is an international airport in the south to complement its deep water harbour, even though few airlines fly there.
While old mass-market Sri Lanka beach resorts have been tarted up, it is the fresher off-the-beach-and-beaten-track retreats that have caught our eye. This will delight those who recall the gracious Ceylon of yore, as the new Sri Lankan boutique resorts and tumbledown colonial retreats emphasise individuality and a movement back to simplicity, charm and local pride.
Following the end of the decades-long civil war, the country has reclaimed its allure as one of Asia's top destinations. A string of Sri Lanka boutique resorts and hotels with personalised service and impressive local food are finally taking advantage of the naturally elegant surrounds.
However, the introduction of home-stay schemes and smart guest houses at less than exorbitant hotel room rates has benefitted guests but left many upscale properties struggling with low occupancy rates and little wiggle room for promotions.

E-mail Page

Print

Hotel Contacts
Ancient ruins, Buddhist culture, adventure tourism, game park safaris, colonial remnants, local shopping and not-so-local casinos are some of the big charms from this small island. Room rates are rising according to demand but off-season bargains are plentiful.
Buffet breakfast, lunch and dinner accompanied by the local calypso band wearing silly straw hats, are long forgotten stereotypes.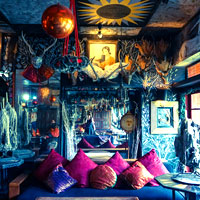 Helga's Folly: pure whimsy/ photo: hotel
Signature restaurants and wellness spas have become benchmarks of a new level of sophistication for the new level of guest.
Sri Lanka is awash with boutique and independents experimenting with local talent and a variegated history. Stay in a tea planter's bungalow or a villager's mud hut, a jungle tree house or a designer villa. It's not just the diversity that's attractive about holidaying in Sri Lanka, but the ease of organisation. While companies can tailor-make tours, independent travellers can easily make arrangements upon arrival.
Send us your Feedback / Letter to the Editor
Advance reservations at Sri Lanka luxury resorts and even smaller hideaways are not necessary except at peak times such as December/January on the west and south coasts, April in Nuwara Eliya, and during the "Perahera" (festival of the tooth) season in Kandy, which falls in July/August and the seasonal peak of July/August at east coast resorts.
Minivans with an English-speaking driver can be hired for about US$70 a day. However, if doing this, be firm and know where you want to go. Good drivers can be informative about local traditions, others may be reluctant to follow your itinerary and steer you towards gem shops or hotels where they'll get a commission.
Most inland hotels provide the driver with free food and a free bed in dedicated drivers' quarters when they bring guests. (An exception is Helga's Folly in Kandy, which is why drivers try to deter visitors from staying there; Helga directs drivers to a local guesthouse instead.)
Travellers can also explore new routes through the countryside via train. Tickets for travel in privately-run luxury carriages cost an extra US$10 to US$15, and most tourists will be thankful for the upgrade – the premium ensures clean toilets and bearable seats. Buses require a strong constitution and to rent a car on your own, you'd have to be insane. As they say… "Mad dogs and Englishmen…"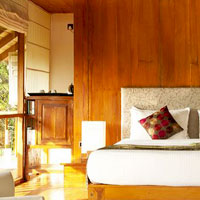 Wild Grass Nature Resort, Sigiriya/ photo: hotel
Kandy and cultural triangle
Kandy is the ancient hill capital and has retained much of its original charm. Two hour's drive from Colombo, it is compact with bustling but friendly crowds, a lake and the world-famous Temple of the Tooth. At the annual Perahera the casket bearing a blessed replica of Buddha's tooth is paraded around town in a spectacular pageant with acrobatic dancers, drummers and Kandyan chieftains in attendance. More than 100 caparisoned elephants, whip crackers and jugglers take part in the 10 nights of celebration, climaxing on the night of the Esela full moon usually in August. There is a daylight Perahera the day afterwards.
Kandy figures on most visitors' "must see" list and as a result has a range of good resorts.
Known only to the cognoscenti, The Royal Bar & Hotel in Kandy is hidden behind and above a 19th century arrack tavern now converted into a genteel coffee house. It leads to a cobbled courtyard where educated drinkers gather to gossip alfresco seated on upturned barrels while upstairs are five bijou bedrooms in colonial style spread over two floors. The building has so much history, it even has its own museum.
There's a first floor restaurant furnished like something out of a Somerset Maugham story with balconies overlooking the traffic in King Street below or the gaggle of well behaved carousers in the courtyard. It's a genuine, old-school retreat matching well the dignified reputation of Kandy, and is a real gem.
An eccentric choice is Helga's Folly, whimsically termed an "anti hotel", a sprawling red, Bauhaus-style building clutching the hillside, with enough fantastic décor to satisfy your inner child. "If this is a folly," wrote a guest in one of the voluminous guest books, "it's foolish to be wise".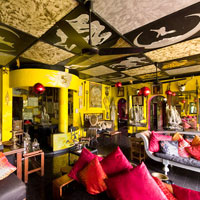 Yellow room at Helga's Folly/ photo: hotel
Helga, who presides over her erstwhile home with the grace of a duchess, has created a fantasy-land with outrageous colour schemes and candle-lit parlours full of antiques and whimsy. "It's tongue-in-cheek," she says to startled guests. "Staying here should be fun." It's an attitude that has made the place popular with cosmopolitan trendsetters. There are 30 rooms in operation, most are air-conditioned.
All rooms have private balconies accessed through French windows and overlook magnificent mountain scenery, with glimpses of the lake and golden-roofed temple. Helga claims the swimming pool, surrounded by jungle, is guarded by fairies. The food is as memorable as the over-the-top décor, with such dishes as fish poached in tea. This retreat sets the benchmark for barmy-boutique.
The Olde Empire Hotel, by contrast, is down-to-earth, with 14 rooms and boasts a balcony, overlooking the temple square – a meeting place for young backpackers. While this is a budget hotel, the rate increases to big-spender levels during the Perahera season because of its proximity to the parading elephants. Rooms, apart from two, have shared bathrooms and the hotel enjoys the unusual intimacy of a travellers' club.
Kandy's hotel scene has been rejuventated with the opening in 2016 of the ultra modern, 122-room Ozo Kandy, part of the Onyx Group of Thailand. It has all the panache of a vibrant city hotel with lots of colour and a sense of trendiness in its décor.
Spread over six floors with even a rooftop pool and lounge, it has views of the city, the Kandy lake, and distant hills. Rooms are neatly furnished and bright, with murals of the Kandy Perahera.
Olde Empire, good service/ photo: hotel
It is set in an elevation above the south side of the Kandy Lake and the colonial Hotel Suisse, a comfortable 10-minute walk into town and the Kandy Temple, but easier to return by tuk-tuk.
At the other end of town with impressive service and large rooms with splendid river views, the Mahaweli Reach has expanded over three decades from a family guesthouse to a 112-room, four-suite five-star resort. Mahaweli's renovated rooms retain a homely character, while suites offer panoramic views of the Mahaweli River and surrounding mountains, Jacuzzi, safe, minibar, LCD TV, IDD phone and private balconies. It has a new business centre and dynamic-looking gym.
Less than a 45-minute drive from Kandy, Ellerton began its current existence when a bungalow and mini tea factory were bought by a British couple for their retirement. So many people wanted to stay, they replaced the disused factory with extra accommodation and equipped the bungalow for paying guests. The bungalow – at 2,400 feet above sea level – is set atop a 12-acre tea plantation. The whole valley below features organic vegetation so there is an amazing abundance of birdlife.
Guests stay in the Main House with its two double and one single guest rooms, or in the Valley House also with two doubles and one single. All bedrooms have en suite bathrooms with hot water. There is a swimming pool with a view for 20 miles down the forested valley; meals are served in a dining pavilion overlooking the forest. The retreat has several secluded corners so guests who don't know each other can keep to themselves, or join in the polite house party atmosphere.
A jaunt to the northeast will take you to one of Kandy's best offerings. Effortlessly chic, The Kandy House occupies a 200-year-old palazzo. Repurposed for modern times, the contemporary design feels both modern and romantic.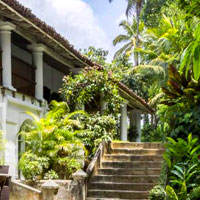 Cosy Kandy House/ photo: hotel
Each of the eight rooms is named after a type of butterfly, and includes a chaise longue, verandah, vivid bed linens and four-poster bed. The infinity pool may as well disappear into the canopy, while the Butterfly Bar is perfect for a lingering drink and a handful of cashews.
If you work up an appetite, dig into The Kandy House restaurant's signature, twice-weekly 10-course curry buffet.
On the road from Kandy to Nuwara Eliya, a former tea planter's bungalow has been converted with panache in a chintzy colonial style next to the renowned, visitor-friendly Labookellie Tea Factory. Taprospa Labookellie Villa has three bungalows, each with a Jacuzzi overlooking the garden and valley, and an in-house qualified masseuse on call to soothe limbs aching from hiking in the hills. It's billed as being "boutique luxury in harmony with nature."
Inland parkland retreats
Farther inland in the heart of tea country, await five bungalows from Ceylon Tea Trails. Spread out across the countryside, each house comes with its own character. Whether you opt for a colonial experience or something more modern, you'll appreciate the landscape and atmosphere at more than 4,000ft above sea level. Tranquil surrounds come with butler, chef, and house attendants in tow, and you can book an entire bungalow or just one of the rooms.
Around 160km from Colombo airport, Amaya Lake (formerly Culture Club) provides a back-to-nature experience. The Village Experience offers an intimate 11 traditional thatched-roof huts, while the four lodges and 92 chalets offer luxury and local artistry. Don't miss the Ayurvedic Spa with their heaven-scented treatments. Children and sports enthusiasts are catered for, as is the constant-businessman, with full WiFi access. We still think you'll want to leave the laptop at home.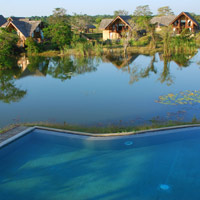 Vil Uyana: wetland fantasy/ photo: hotel
With views of the vast hunchback Sigiriya Rock, wetland retreat Vil Uyana offers 25 luxurious thatched cabanas (many with their own swimming pool), amongst tall grass, paddy fields, and basking crocodiles. Large sunken bathtubs and rain showers are features of spacious bathrooms in 115sq m rooms. While rubbing shoulders with nature, expect such modern wonders as air-conditioning, IDD telephone, minibar, satellite TV, coffee and tea-making facilities, DVD/CD, safe, and even your own sarong, reed slippers and umbrella. With an extravagantly stocked wine cellar, exquisite cuisine, and rooms that transform a childhood dream of tree-houses into five-star reality, it is the small touches that impress at Vil Uyana.
The four master-suites at the 137-unit Cinnamon Lodge Habarana in the Cultural Triangle seem designed for permanent residence, spread over two floors with a sarong-clad butler on call and monkeys gambolling by the lake in its vast parkland setting. Beds are piled high with silk cushions and spread with crisp, Egyptian cotton in rooms wrapped around by balconies or verandahs. If you can tear yourself away, a plethora of local activities are on offer, such as elephant rides, a visit to the ancient ruined city of Polonnaruwa or golden temple at Dambulla. Any day out is complemented by hearty buffet fare.
Another mainstay in the Cultural Triangle is Wild Grass Nature Resort, near Sigiriya, which lies within 30 acres of jungle and mountains. The eco destination has left the wilderness untouched, and encourages travellers to follow suit. Chance encounters could include peacocks, elephants, wild boars and more than 40 types of birds. Other than the wildlife, you're virtually alone, with just eight villas spaced out across the property at a minimum distance of 50ft.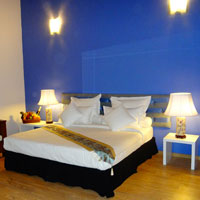 Brook boutique/ photo: hotel
Seamlessly blending with the surroundings, the two-level villas have open-air lounges and outdoor bathrooms. Décor sticks with the theme, featuring neutral colours and natural elements, such as wood and stone.
Another nature hub is the Brook Boutique Hotel & Spa, also in the Cultural Triangle near Melsiripura. Surrounded by 80 acres of coconut, banana, cashew and mango groves, this stylish property offers country and mountain views. Each of the contemporary rooms and chalets comes with large plasma screen TVs, Jacuzzis, and terraces.
Guests staying in one of the chalets wake up to private gardens, plunge pools and even a personal trainer, if you so desire. Take a walk up to the top of the hill and take a dip in the pool, where you can enjoy stratospheric views – mountains above and estate below – from the water's edge.
Standing starkly in 200 acres of scrubland, amongst "nature-scaped" gardens is the Elephant Corridor Hotel – so-called because of its location at the crossroads for wandering wild animals. The Presidential Suite sleeps eight and there are 20 other air-conditioned suites, each with its own private terrace or garden and plunge pool. Each suite, decorated with granite blocks and striking colours, is built on a plateau for protection from animals.
Elephant Corridor, in a huge reversal of buffet culture, tailors meals and mealtimes to your whim, even offering gastro experiences "under the trees". Visit the Om wellness spa for pampering or the on-site ayurvedic doctor for those nagging ills. It is within easy motoring distance of the Sigiriya Rock and the ruins of Anuradhapura and Polonnaruwa.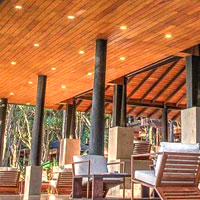 Deer Park: eco friendly and rustic chic/ photo: hotel
The Deer Park Hotel, set well within the jungle, mixes urban décor to create 77 homely, well-appointed cottages. Located near the lake at Giritale, it is handy for viewing the ruins of Polonnaruwa as well as for indulging in environmental bliss. A patchy mobile signal seems to point to enforced relaxation but, for necessary communication, rooms have free WiFi access. Best to lay back and enjoy the spa, surrounded by flora and fauna.
Along with the restaurant and bar, there is also the choice of private dining with a personal butler in ethereal seclusion on the banks of the reservoir – your transport, an elephant or buggy.
Deer Park has a rural charm spiced with urbanity and ingenuity that pitches it among the best Sri Lanka resorts. It is also a child-friendly Sri Lanka resort option.
Eastern Sri Lanka escapes
Trincomalee has long been the traditional destination on the East Coast where one of Sri Lanka's first hotels, the Welcombe Hotel was opened overlooking the town in 1937. It still functions with a 1930s ambience with a wood panelled bar reeking with atmosphere, although a monstrous steel girder canopy has been erected at the hotel's entrance. There are 28 rooms over two floors, and a garden swimming pool.
The east coast just north of the huge natural harbour of Trincomalee, is experiencing a resurgence in popularity, even outside its peak season of May to October, following the transformation of the forlorn Club Oceanic into the trendy 81-room Trinco Blu by Cinnamon. The transformation is more than the addition of mosaic mirror walls and glittering disco balls in the lobby; it's like a brand new hotel with a deliberate retro touch.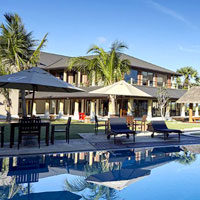 Amaranthe Bay, future of smart tourism/ photo: hotel
Leading from the lobby is a boardwalk heading past the huge swimming pool to the beach, with rooms (confusingly called chalets) in blocks of four on one side, and beach rooms on the other.
With walls and furniture of white with orange cushions galore and a denim half-counterpane on the bed, each room is as bright and as cheerful as the hotel's sunny setting. And the food, whether in the main open-sided restaurant or in the beachside crab speciality restaurant, is delicious.
The area's newest hotel, reached by going down the lane to Trinco Blu and turning left at that hotel's gate, is the Amaranthe Bay. This is a cluster of five three-storey pavilions each containing six rooms all with a lagoon view. Perhaps to compensate for not being on the beach (although that's pretty close) each room has a large Jacuzzi set in a glass-walled alcove. Rooms are wooden-floored with solid, well-made wooden furniture and superbly comfortable beds. Every room has an extension serving as a lounge.
While Amaranthe Bay seems to be the future of smart tourism on the East Coast (it rivals the new hotels further south at Passikudah), just a few yards away is a relic of the old East Coast. Club Dive Paradise consists of a few small, concrete block rooms on the beach with metal frame beds.
There's no pretension here, just all that's needed for a beach and diving holiday, plus great sea food served at tables on the beach as 1970s reggae music blasts out from strategically placed speakers. It's Trinco's answer to the ceaseless fun of Unawatuna in the south.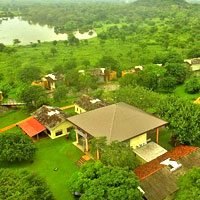 The expansive greens of Elephant Corridor/ photo: hotel
A beautiful drive of about two hours southwards past lagoons and paddy fields leads to Sri Lanka's newest beach resort, Passikudah. Once deserted, the long, curving beach there has sprouted several hotels. Maalu Maalu designed in imitation of fishing shacks with A-frame wooden walls concealing bright white and blue painted bedrooms, some with private plunge pools, was one of the first.
The hotels complement each other in what they offer so tourists can find something to suit all budgets. The Marina Beach Passikudah with its fully-equipped diving school and water sports centre staffed by PADI-licenced dive masters caters for the active as well as those who just want to laze by the pool or on the beach at a value-for-money price. Its 30 air-conditioned rooms are above the public areas of reception, restaurant and bar, spread over two floors of a block stretching out to the beach.
Mountain lodges, country homes, and tea
Styled as an English country house, Hotel Glendower, in the hill country retreat of Nuwara Eliya, offers a warm welcome with log fires in the public rooms. A reproduction bungalow, it has 10 rooms and suites with teak floors, handcrafted polished mahogany furniture, and beds that guarantee a good night's rest. Even the quilts are filled with silk. Close to the town centre and adjoining golf course, its King Prawn Chinese restaurant provides a relief from the bland boarding-house fare of grander neighbouring hotels.
The closest Sri Lanka has to the hill station resorts of India is the Calamander Lake Gregory, previously known as Governor's Chalets. In a majestic grove of pine trees on the town-side bank of the sprawling Lake Gregory, four timber lodges, each containing two accommodation units, have been restored and refurbished as snug retreats. Each has a veranda overlooking the lake where holidaymakers rent paddleboats or jet skis or leisurely dine on floating restaurants.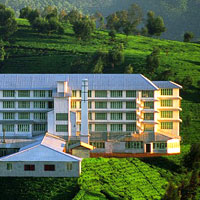 Heritance Tea Factory/ photo: hotel
The lodge interiors are cosy and imaginatively designed with a king-size bed with four sturdy corner posts which support an attic where a queen-size bed is perched, reached by a wooden staircase beside the master bed. Great fun for families.
Unusual in Nuwara Eliya resorts, each room has a Scandinavian style ensuite bathroom with bath tub, rain shower and hot water. The resort's warm restaurant, shaped like a boat, has spread into the garden and is very popular for a la carte lunch served alfresco after the sun's chased the chill away.  This is a sister resort to the Calamander Unawatuna Beach.
One of the most unusual hotels is a few miles from Nuwara Eliya, at Kandapola, 6,500 feet above sea level, in the middle of acres of rolling hillsides carpeted with tea and often bathed in mist. Heritance Tea Factory resembles a gigantic, phantasmagorical construction produced by a zealous boy scout overdosing on Meccano. The exterior has preserved the original tea factory's corrugated iron walls, painted silver, and hundreds of tall, wooden casement windows. Inside its reception hall atrium (once the tea drying room) latticed with steel, two giant wooden roof-fans turn slowly.
The Tea Factory's "Green Philosophy" represents comprehensive energy-saving policies, sustainable community projects and delicious indigenous food. Eco-warriors and gourmets will approve. All 54 cosy bedrooms are equipped with heater, bathtub and lashings of hot water, and a kettle for making tea from the estate's own brand. It's a snug kind of place, ideal for lazy lingering in isolation for a few days or hiking in hills, forests and village hamlets.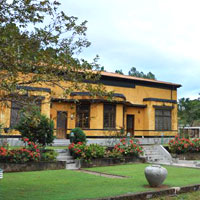 Saffron Hill House is true to its name/ photo: hotel
A traditional, unreconstructed Sri Lankan colonial hotel that has escaped the popularity of those in Nuwara Eliya, is the Bandarawela Hotel (opened in 1893), in the neighbouring tea town of Bandarawela. Despite an occasional lick of paint or modification, it remains reassuringly locked in a time warp somewhere between 1930 and 1950. At 4,000 feet above sea level, on a bluff overlooking the town, it was originally favoured as a sanatorium by the then Ceylon's British residents. The 33 colonial rooms, all with bathrooms, TV and IDD phones, are also wheelchair accessible. Its beds with brass knobs and the hushed, measured tread of the sarong-clad staff convey a sense of restful calm. Tea on the lawn or in the long verandah lounge is a ritual, and the restaurant caters for those with a tea planter's healthy appetite.
For a real taste of the old-fashioned lifestyle, try Saffron Hill House, converted from his grandparents' sprawling bungalow overlooking Bandarawela town by a SriLankan Airlines cabin steward. This magnificent discovery has four bedrooms, some of which are furnished with original art deco pieces, and all of which can house up to 12 adults and five children. The décor combines 1930s flamboyance with solid modern touches and the ambience is discreet and unique. This Sri Lanka bungalow escape is worth a note in your travel diary.
A 10-minute drive from there leads to a modern purpose-built holiday home, the MF Estate Holiday Bungalow, ideal for families or friends who want modern fittings as well as olde world charm. Each room has a double and a single bed and an attached bathroom with shower and lots of hot water. There are three lounges and a large dining room with valley views. Cook and staff are on hand to prepare meals from guests' supplies.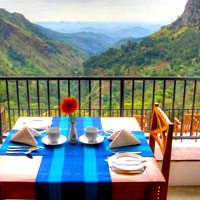 Tea for two at Ella Mount Heaven/ photo: hotel
Sagala is not a colonial bungalow but began as an ancient door, two window frames and four posts acquired by a British antique dealer on a visit to Sri Lanka which, instead of exporting, he decided to use to build a home in the hills. The result is a traditional southern style bungalow with the latest mod cons and a breezy high view above Bandarawela railway station. It's run by a caretaker/cook and has four guest rooms, some opening onto the first floor balcony, which are available individually or the whole bungalow can be rented for a relaxing stay.
Ella, 12km east of Bandarawela, has become Hikkaduwa in the hills, in other words a town packed with backpacking tourists of all ages and budgets, mingling with other foreigners in search of a spiritual or artificial high. Close to the town but away from the hoi polloi is Ella Mount Heaven where two rooms have a heavenly concept, an indoor swimming pool actually inside a bedroom with a panoramic view, instead of in an adjoining garden or beachside. Its 22 rooms are contained in one rambling building hugging an undeveloped hillside three-and-a-half kilometres off Ella on the road (A23) southwards to Wellawaya. It might not appeal to the fussy (rooms have no clothes cupboard only wooden hooks) but is in an ideal location for visitors on a stopover while touring. Minimum age for guests is 18.
There is a bungalow resort near Ella, called without pretension, simply Planter's Bungalow. It's a treat for those who want to retreat to nature with every comfort, good food and fine conversation (if the British host is in residence). There are three double bedrooms, including one with an enormous sitting room, and a separate tiny cottage with outside bathroom and kitchen and rooftop dining deck. This is an elegant bungalow home with superb food (the owners once ran a Michelin-star inn in Britain), in a picturesque setting at a bargain price.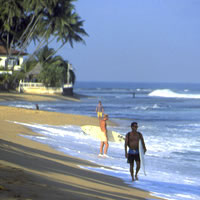 Sri Lanka beach
The nearby hill country town of Haputale has been a favourite of backpackers since the days of hippies when places like High Cliffe by the railway track offered dormitory accommodation. High Cliffe with six new rooms with en suite bathroom and hot water is still cheap and easy going but its main attraction is a building with a secret entrance – you sidle inside an opening in the wall to find stairs leading up to a raucous bar in the old-fashioned plantation style. Great fun.
Located above Haputale, just off the road to Adisham, Sri Lanka's stately 1930s home converted into a novitiate open to day visitors, is Leisure Mount View Holiday Inn, a guesthouse that has the informality of a homestay property without the annoyance of having to socialise with the owner. Hashan, who runs it, is a charming young host with hotel experience who has transformed the family home into a 10-room hillside retreat with the attributes of a boutique property. One room, much in demand, has a wooden double bed that swings. Hashan's mother is the cook and produces meals with an authentic, home-made hill country flavour served in a glass-walled dining room with breath-taking tea valley views.
Good accommodation is now available at the gleaming
Olympus Plaza Hotel that will surely make Haputale more popular. The 42 simply furnished rooms in three wings cling to the hillside on four floors below the reception lobby, and there is a panoramic rooftop bar with stunning views.
What about those wonderful Sri Lanka bungalow resorts? While there are now several tea plantation bungalows that take guests, the pioneer is the Kelburne Mountain View Holiday, at Haputale. With gob-smacking views across forested canyons right down to the south coast, there are three cottages set in the hillside around a central garden that has a dining pavilion and kitchen. Meals from the resident chef's menu can be served in each bungalow's dining room and a butler is always on call. Aerie Cottage has two parlours, two bedrooms (each with attached bathroom), and there are another two bungalows that sleep six each. Tea grows up to the window ledges.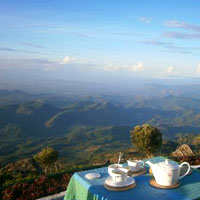 Grand views from Kelburne/ photo: hotel
An enchanting eco villa on the fringe of Kalawana is 10-suite Boulder Garden, a Sri Lanka boutique hotel that was built by village residents on the shoulder of a stark black mountain. The rain forest setting, where it's common to spot a monkey or eagle, combined with the stone architecture provides a mystical, medieval feel.
Winding stone stairs will take you past clinging trees and pools formed amid the rocks. Suites are tiered up the side of the boulders, and adorned with thick timber beams and private terraces. Grab a drink at the bar, built inside a cave, or head out for a more intrepid afternoon of spelunking and trekking.
The new northern escape
You haven't seen Sri Lanka until you've ventured north to the Jaffna Peninsula. After three decades of being isolated through civil conflict followed by a few more years of restrictions on visits by foreigners, it's booming. People there seem industrious and resilient and there are several cultural sites to see as well as the spicy Jaffna cuisine to enjoy.
No longer cut off from the rest of Sri Lanka, the city can be reached by domestic flights from Colombo, by long distance trains (eight hours) and by the newly-surfaced A9 road from the south. Jaffna is slowly reinventing itself.
The first major hotel to open was the Tilko Jaffna City Hotel. Located near the city centre, this bright but basic property offers rooms without unnecessary frills, at reasonable prices.
In 2016, the Jetwing Jaffna hotel opened in a convenient central location, fulfilling the new demand of foreign tourists visiting the city and wanting comfortable, straightforward accommodation. The 55-room hotel on seven floors is furnished in "cultural contemporary style" which translates as décor of bare brick and varnished wooden murals conveying a hint of Jaffna's Tamil heritage. The cuisine reflects the Jaffna touch too.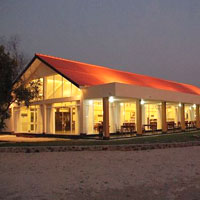 Fort Hammenhiel, echoes of the past/ photo: hotel
The hotel is located next to Cargills Square (also new) which has a supermarket arcade and an ATM machine and has become a focus for Jaffna's shoppers; it's also near the original meat and vegetable markets and by the parking space for some classic jalopy taxis.
Perhaps the most unusual place to stay in Sri Lanka is Fort Hammenhiel where, on special request, guests can spend a night on a pallet in the cells. It began life as a Portuguese then Dutch Fort, which the 19th century British used as a quarantine station and the 20th century Sri Lanka Navy utilised as a prison for detainees. Isolated on its own small island, the jail's officers' quarters have been converted into four boutique-style bedrooms. Access is by navy launch from the mainland camp where there is a restaurant for guests.
Sri Lanka beach resorts, south and west
The pioneering major resort complex on the west coast north of Negombo at the government-declared tourist area on islands off Kalpitiya is Dutch Bay Resort. While there are other places to stay within the area, Dutch Bay has been developed with style and integrity in a purposeful manner to bring benefits to the area as well as a peaceful retreat for tourists. It is the first phase of the development of 184 acres of land and currently consists of 16 solid white-painted clay brick buildings like sturdy, Dutch-style Lagoon Lodges.
It is a drive of nearly four hours from Colombo to take a speedboat ferry across the bay direct to the jetty of an allocated Lodge deep in the mangroves. The interior of these very private abodes is of startling white, unplastered brick (manufactured in clay works in Kalpitiya). The bed, at seven feet by seven feet built of solid mahogany and raised to waist height for easy sliding in under the luxury linen duvet, has a mattress that delivers a great night's sleep. The central recreation complex is fronted by a saltwater swimming pool and has a restaurant serving fusion seafood (no pork or beef).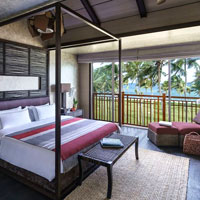 Plush Shangri-La's Hambantota Resort & Spa bedroom/ photo: hotel
If you have an early check in at the airport or want to recover from a long flight before exploring the island, the Amagi Lagoon is a reasonably priced option.
Just 7km from the airport and overlooking the 35sq km Negombo lagoon on the west coast, the hotel has vibrantly decorated interiors, a swimming pool, lakeside tranquillity and an abundance of seafood. It has 20 rooms serviced by staff adept at dealing with transit and short stay guests as well as those staying longer.
Meanwhile, Sri Lanka's south coast offers a variety of places to stay, both on the beach and inland. A fantasy of a tropical holiday experience has been created in the 53 acres that comprise the Shangri-La group's first foray into Sri Lanka. The Shangri-La Hambantota Resort & Spa has 300 spacious rooms furnished with unexpected accoutrements to entice guests to relax and enjoy the seclusion. There is a health club, a 30-metre long swimming pool and a freeform lagoon pool, Chinese and Ayurvedic treatments at the Spa, and an 18-hole golf course. The hotel's isolation in the deep south near the Yala and Bundula National Parks adds to its charming exclusivity, even though it all seems a bit contrived. It is 35km from the new Mattala International Airport, which has yet to take off until major airlines decide to fly there, and a five-hour drive south from Colombo.
Nevertheless, with a well stocked Cool Zone Club for kids, this is a child-friendly resorts pick for harried families and it also serves up five versatile function rooms for small corporate meetings, gala dinners or weddings. Guests also enjoy a trapeze (mainly for kids), an area set aside for flying drones, and a 30m pool to catch the sunsets.
Heading westwards along the south coast, tucked between Rekawa's bird and wildlife sanctuary and an isolated beach, you'll find Buckingham Place, home to 15 boutique rooms, inspired by nature. Each room in this relatively young property has a balcony overlooking the Rekawa Lagoon, which is accessible in the hotel's canoe.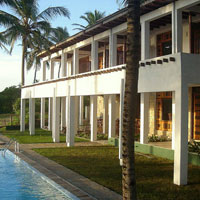 Informal Turtle Bay/ photo: resort
Venture to one of three nearby national parks or laze on the beach, it's up to you. And when you're done, come home to airy spaces, WiFi, rainshowers and giant tubs. This is one for the shortlist.
Close to the Kalametiya Bird Sanctuary, off the Tangalle/Hambantota highway, seek out Turtle Bay hotel. Guests can gaze from the hotel's swimming pool on a bluff over the long sweep of deserted beach with nary a building in sight among the coconut palms.
Unlike Sri Lanka's other boutique hotels this one has an agreeable lack of formality, being owned and run by young Sri Lankans who delight in giving guests what they want, whether it's breakfast at 4pm or giant prawns for brunch. There are five spacious (40sq m) suites on the upper floor, each with an oversized bed (no mosquito nets as there are no mosquitoes) big bathroom, wooden floors and tea/coffee maker; TV only on request. Two ground floor rooms open onto the pool. A relaxed resort proving very popular with British guests so advance reservation is essential.
A masterpiece designed by Geoffrey Bawa, The Last House in Tangalle has a beach-chic, laid-back vibe. The airy spaces melt into the natural surroundings, while the antique indoors sing of days gone by. The six rooms include free WiFi, iPod docks and access to a leafy courtyard and jungle-lined pool. Beachside barbecues as well as private meals are popular, but you'll have to BYOB if you want to get tipsy. Leave your heels at home – you won't need much more than a sarong and sandals. Book the full house or by the room.

Continuing westwards along the south coast just outside Tangalle is the stunning Amanwella resort, 77km from Galle. Amanwella is resolutely modernist in contrast to its sister hotel, Amangalla in Galle Fort. The first glimpse new arrivals have is a forest of tall, black square concrete columns complementing the palm trees of its coconut grove location.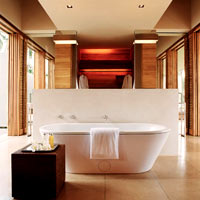 Amanwella: modern touche/ photo: hotel
Accommodation at this hideaway, among the best Sri Lanka luxury resorts, is in 30 villas strung out in three tiers along a hillside curving around a golden beach. The villas have glass-sided walls and no curtains, and partial privacy comes from the closing of lattice screens. With roofs of old clay tiles, the villas blend beautifully into the environment and inside all the furniture and fittings are locally made from dark-grained palm wood.
The latest technology powers the lights and air-conditioning, which means some guests need instruction on how to operate them. Each villa has a private swimming pool and there is a huge one in the main complex, where there is also a library, a restaurant with an excellent menu, and a bar so demurely lit at night, one wonders if it's there.
(Amanwella and Amangalla are featured in our Top Asian Hotels section with more information and stunning visuals.)
"Organic Sri Lankan cuisine prepared over cinnamon wood fires by the family cook," proclaims the resort describing the attractions of the Robin Hill Suites. It is a town bungalow, a mini-mansion in a village a short drive from the main Yala to Galle south coast highway, at Weligama. It has been carefully restored by its Sri Lankan owner with a welter of wooden furniture and tall columns contrasting with contemporary touches like busts sprouting plants.
Running the length of the bungalow's courtyard is a suite of two bedrooms with an attached (but outdoor) shower/toilet. At the other side is a two-floored suite with a long private lounge furnished with antiques and dining room with its original stone floor. This is a simple, gracious place to stay for guests who want to enjoy traditional, home cooked Sri Lankan food in unpretentious surroundings. With accommodation for just six adults (with extra beds for children as long as they are more than 12 years old) Robin Hill is popular for renting in its entirety.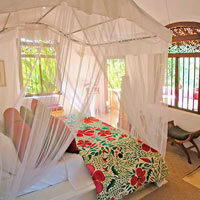 Illuketia: colonial charms/ photo: hotel
Farther along the south coastal westwards road to Galle, there is The Fortress Resort and Spa, which opened on the beach at Koggala in 2007. It has announced the world's most expensive dessert, a chocolate and gold leaf confection with an 80-carat aquamarine for US$14,500, as part of its ambitions to position itself as an exclusive resort for high net-worth visitors. Its 53 rooms are defiantly modern in design and gadgets (an iPod in every one), set in a huge reproduction fortress stretching along the beach with one of the longest swimming pools in the country and, for the hedonist, a wine cellar dining parlour with glass cutlery, crystal glasses and a floor of crushed Dolomite stones.
A few miles west, the welcoming Apa Villa Thalpe faces the ocean. Among the three villas, find Asian touches and simple whites, woods and greys. If it's not sand you're after, there's an inviting pool and sociable seafood restaurant. Even better, find countryside living in style at sister property Illuketia, a few kilometres inland from the southern coastal road near Galle. The property consists of two villas, one with its own pond and open-air bathrooms, another with cloistered rooms around an interior swimming pool. The furniture is bold colonial, with Chinese touches, and the atmosphere grand.
Featured with awe in glossy magazines worldwide Kahanda Kanda, off a country lane heading inland nine kilometres east of Galle, was originally built as the owner's private, fantasy residence following his purchase of an abandoned 12-acre tea plantation in 2000. He has since created a retreat of 10 suites with a stunning swimming pool, ponds, and two recreational pavilions.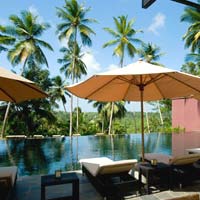 Kahanda Kanda retreat/ photo: hotel
Each room has been individually styled by in-vogue Sri Lankan designers. Furniture is made locally to the owner's design. Luxurious extras like the double shower and attentive service make you feel at home.
Close to Sri Lanka's southwest corner, Unawatuna was once considered one of the best beaches in the world as much as for its hectic after-beach life as for the quality of its sand and sea. Then a breakwater was built that caused much of the beach to erode, and the after-beach life became rather tacky, until one enterprising Singapore investment company decided to change all that. It bought the fabled but tired Unawatuna Beach Resort and transformed it into a glittering hotel of superior standard now known as Calamander Unawatuna Beach. Not only have all the rooms been modernised (and a beach bar added), so have two swimming pools (one a long lap pool, the other circular and pink). And the beach has been pumped back making the hotel the place to stay away from the dross of the area's low-budget rooms
On the outskirts of Galle, above the harbour, Closenberg Hotel is a genuinely traditional (and perhaps slightly eccentric) place, governed by the family motto (not a copywriter's spin): "service to others comes first." Built by a British P&O captain, Francis Bayley, as his home in 1860, it has been owned by the same Sri Lankan family since 1889. They converted it into a four-roomed hotel in 1965 adding a block of 16 bijou rooms overlooking the sea in 1983.
Guests enter through verandahs that sweep around the house, below rafters carved with the rising sun motif of the P&O line. There are gardens and terraces and nooks and crannies galore, a soaring swimming pool and a rock pool at the water's edge below.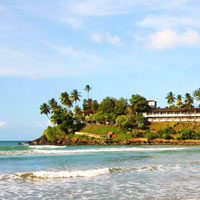 The eccentric Closenberg has a picturesque spot above a beach/ photo: hotel
The Fernery Restaurant, distinguished by a permanent rock garden of ferns, serves good southern rice and curry as well as innovative modern cuisine on demand. The staff match the hotel's colonial image, with discreet courtesy and individuality: a touch of the Ceylon of yore.
"Everything's negotiable" is the philosophy of the owners of Templeberg, a newly renovated bungalow built in 1864 in five hilly acres of coconuts, fruit trees and lush wilderness, a few minutes' drive from the Galle exit of the Southern Expressway. It's an ideal retreat for a writer or artist and the Antipodean owners sponsor an annual scholarship for an Australian writer to stay for a month, all expenses paid. You don't have to write to enjoy the charm of revived colonial living in one of five bedrooms, with authentic local cuisine, just a short tuk-tuk ride from Galle Fort's sophistication.
About seven kilometres outside Galle along the coast, Ambalama is home to four elegantly designed rooms, all with complimentary WiFi, stainless steel kitchens and iPod docks. Modern touches balance historic artefacts, pillowcases embroidered with Asian motifs, and louvered French doors. Outside, green stones, sea views and palm trees bedeck the infinity pool.
On the west coast driving towards Colombo, is the Aditya Resort which sets an upscale standard. An ultra-modern boutique concept designed by Bernard Gomez, the property features 11 spacious suites, with private plunge pools, country or sea views, exotic artwork and Balinese furniture. Expect shining concrete floors, warm woods, airy rooms, white linens and outdoor bathrooms in this dreamy retreat.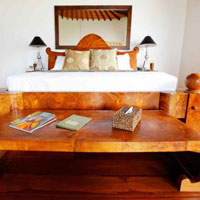 Aditya resort/ photo: hotel
Farther north in Hikkaduwa, the 150-room Hikka Tranz by Cinnamon takes cues from trance music, aiming to bring travellers to an "alternate state of consciousness". For better or worse, rooms don't come with anything more potent than colourful mosaics, rattan furniture and private balconies overlooking the coast. If you have some down time, get PADI certified in the hotel's dive centre or head up to the rooftop spa.
A property where the owners, architects and management (Jetwing) have created an informal luxurious hotel experience instead of a huge block of rooms for mass market tourism, is Calamansi Cove near Balapitiya on the west coast 80km south of Colombo. It's an enchanting complex of 12 rooms in clusters of three hidden by stark bright white walls enhanced with lush tropical vegetation. You enter each unit through a private, walled garden that has a daybed, lots of power points, a dining/smoking table, and a tea/coffee making counter, and outside shower to wash off the beach. There are steps to the roof top sun deck. Each bedroom is bright with two walls of floor to ceiling glass, neat white-painted wooden and concrete fittings, a wooden floor, and a modern four-poster king size bed with perfect mattress. The bathroom has a glass roof. It's just a short walk to the swimming pool and the idyllic bay, with fishing boats at one end and boulders at the other, with safe sea swimming.
The European "club" concept of a holiday where alcohol as well as food is included in the room rate has arrived in new style with the opening in 2016 of the 500-room Riu part of a Spanish hotel chain by the beach at Ahungalla. It's more exclusive than a boutique hotel since non-residents are not allowed entry so a keen camaraderie develops among guests sipping cocktails by the three pools, snacking the whole day, plundering the buffets, dining a la carte in the steak or Italian restaurants, and raving in the nightclub, all "free." The room rate fluctuates according to seasonal demand.
Saffron & Blue/ photo: hotel
At neighbouring Kosgoda there is no clue to the architectural masterpiece accessed by a simple door set in a white painted wall at the end of a lane past village houses, beside a vacant lot where kids play cricket and villagers stroll to the beach. This is a specially designed beach holiday house, the Saffron & Blue; a wondrous embracement of space where every vista is open to the sea, but where every corner intrigues. Entrance is to a cobbled courtyard with a simple pond, and a concrete slab that serves as a bar counter segueing into the open kitchen. The courtyard leads to the grand terrace beside a swimming pool with beach view, with a ceiling that soars three storeys.
There are four nifty bedrooms, each with en suite bathroom and its own colour scheme; a television room; a dining room with square table for 12; and oodles of plump cushions and sofas everywhere. The décor is both simple and alluring, brightened with a collection of exotic art. Staff are around if requested to prepare a decent curry.
For visitors who want something different from mainstream, package, boutique or backpacker hotels not on the sea, there's Kadolana Eco Village. It's a retreat by the Madu Ganga (river) created in a former cinnamon garden. The entrance pavilion reveals a magnificent view and a glimpse of the glimmering swimming pool poised above the wide sweep of the river. There are two air-conditioned rooms with all mod-cons, as well as four "eco chalets" built of new clay bricks and roofs thatched with woven palm leaves (not a camouflage for asbestos sheets). The chalets are neat and compact with small bathrooms open to the sky. There is a separate dining pavilion with a modest (and low priced) menu of Sri Lankan or Western dishes, available if ordered in advance as nothing comes from a deep freezer.
On the Galle Road at Induruwa about 66km from Colombo, Whispering Palms is not hidden behind high walls like posh beach hotels but has its gates wide open to reveal the wow view of the beach and sea beyond.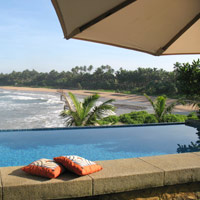 Saman Villas pool/ photo: hotel
With just 15 rooms and a beachside swimming pool, this hotel is the creation of a British couple who manage the property with panache, making it a bargain option for a fancy free holiday. While the food is fine there is a super restaurant, Osteria Romana next door for an Italian-inspired dinner in gracious surroundings.
Among the first of Sri Lanka's boutique hotels was Saman Villas that passed into the hands of Jetwing Hotels in early 2018. Built in 1995, some rooms have swimming pools. All have spectacular views over the ocean and golden, unspoilt beaches that extend from both sides of the rocky outcrop it perches on. With only 27 suites, decoratively and practically furnished (no modern gadgetry here), this hotel has matured into a reliable, popular place for sun and sea worshippers.
Shanth Fernando, the genius behind Colombo's Paradise Road brand of tropical neo-colonial home accessories, has turned his many talents to creating Paradise Road The Villa Bentota close to the National Tourist Resort of Bentota. With its 15 rooms and suites all impressively furnished, this villa hotel is both over-the-top and laid back. The décor enhances the wow factor and does much to make up for an awkward location with a railway line separating the hotel from the beach. There are also two delightful swimming pools and a rarefied atmosphere, supported by gourmet-inclined Asian fusion cuisine.
Colonial homes and luxury beds
The Sun House was created as a fine Sri Lanka boutique hotel out of a colonial mansion overlooking the Galle harbour. The approach, up a road lined with suburban houses to a door set in a wall, gives no inkling of the idle splendour within. It now has seven double bedrooms with the addition of a more modern suite with balcony and large bathroom complete with huge terrazzo bath.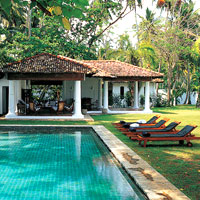 Pool at The Dutch House/ photo: hotel
The large Cinnamon suite has a bath on the balcony for languishing in private under the stars. Dick's Bar (named after the last owner whose home this was) looks out onto the courtyard. Dining is on the loggia by a garden with terraces and a sunken swimming pool. High walls keep out the world. This is among the better Sri Lanka resorts in this review.
Across the road, The Dutch House known as Doornberg was built in 1712 – the outside wall and entrance verandah look appropriately "period" with peeling umber paint. Its four huge, immaculately kept bedrooms come with antique colonial furniture including Edwardian-style bathtubs. Columned cloisters enclose a sun-drenched lawn, with frangipani blossoms floating in clay pots and a path that leads to a lower-level infinity swimming pool. Room rates at both properties include breakfast and afternoon tea.
The Sun and Dutch houses are part of the Taprobane Collection (www.taprobaneisland.com) of exclusive properties named after Taprobane Island, the only privately owned island off the shores of Sri Lanka, at Weligama, near Galle. With five en suite bedrooms in its neo-Palladian mansion, the island of 2.5 acres of garden, complete with infinity pool, can only be reached by wading through the sea. Perfect for privacy. It is available for renting in its entirety, as is its sister property, The Beach House, with five bedrooms and resident staff, set on the beach near Tangalle. On with our Sri Lanka resorts review.
The only hotel in Sri Lanka to achieve the distinction of a UNESCO Heritage Award for Cultural Heritage Conversion is located in the very heart of Galle.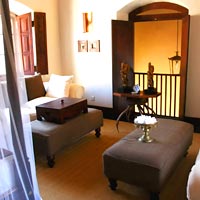 Galle Fort Hotel interiors/ photo: hotel
The conservation and conversion of a 17th century Dutch mansion into the Galle Fort Hotel has clearly been done with passion and love. Guests enter through the verandah, adapted to a café serving eclectic food, and a dining hall furnished with exquisite Chinese porcelain, to a courtyard with swimming pool and tall columns. Food is a central theme and four-course Asian fusion dinners are served in the frangipani garden.
Three garden rooms lead off the cloisters and there are nine elaborately furnished suites including the largest (2,500sq ft) in Sri Lanka. All this pomp and grandeur is made more fun by the serving lads who, instead of the traditional tunics and sarongs, wear beach shorts and t-shirts.
The place has become an iconic Galle Fort experience and several international magazines have done fashion shoots there. The hotel also has a superb gallery selling a small but exquisite collection of art and antiques.

In the same road and league as a Sri Lanka luxury hotel, is Amangalla (formerly the New Oriental). Parts of the building hark back to its days as a barracks during the 17th century Dutch construction of the fort. Visitors who pop in for drink on the broad, art deco tiled verandah, as they did many years previously, are astonished by the successful transformation of the property from seedy to sophisticated.
The dated essence of its predecessor has been lovingly enhanced with spit and polish. The shining wooden floorboards of the Grand Hall are original, as are the metre-thick walls and the corridors of suites and chambers.
While four-poster beds and some of the chunky period furniture remain, more comfortable, slimmer pieces have been added creating a confident elegance.
Amangalla: remodelled chic/ photo: hotel
Hidden in the cloistered garden is a huge, sleekly modern swimming pool and The Baths – a spa. Amangalla is among the top Sri Lankan luxury resorts.
(Amanwella and Amangalla are featured in our Top Asian Hotels section with more information and stunning visuals.)
There is a haven of undisturbed peace (no waves pounding the beach, no mobile phone or Internet contact) a short drive inland from the west coast metropolis of Kalutara, just 100 minutes from Colombo. No in-room telephone either, just a hand bell to summon a steward. This anachronism in Sri Lanka's relentless rush to modernity offers two cottages and central dining and lounging pavilion at Halketha, a 10-acre working rubber estate.
A thatched awning and an ancient wooden door frame with low transom requires visitors to crouch low, as though entering a wardrobe, to step into its orderly garden of rubber trees, tea bushes and neat crannies of flowers. Halketha is run as a hotel, with either of its three cottages available by advance reservation, no minimum stay. They are both simply equipped, with modern accoutrements (even television if you insist) but with oil lamps lighting up the garden at night. The perfect escape for a few days lazing in solitude.
Not far away the Pantiya Estate Holiday Bungalow is just 68km from Colombo at only 900m above sea level, but with all the attributes of a traditional hill country plantation home. Built in 1907, this former home of a planter has been converted with the addition of three guest rooms and a mini-villa alongside a sparkling swimming pool. It is let only to one group at a time to ensure complete privacy. Guests can cater for themselves or have meals prepared by the cook, whose father and grandfather both cooked for the owner.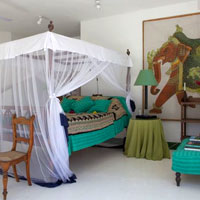 Taprobane four poster bed/ photo: hotel
Fascinating antiques are to be seen there, including an elaborate chest made in Germany in 1711 and an intriguing chandelier of antlers, also from Germany that was made for Herman Goering. The bungalow seems to house a lot of secrets, not least in its location, making it impossible to find by chance. The perfect place for serene seclusion.
Although it's a town one would normally drive through (it's an hour by car from Colombo on the road to Galle), Wadduwa now has one of the most impressive places in the whole country in which to stay. The Reef Villa and Spa bills itself as "the ultimate tropical beach villa" but is really much more. For a start, forget the beach – it's a murky strip of fenced-off sand and the sea's not for swimming.
However, from the moment guests arrive they are transported into a wonderland. A narrow path wanders through a tropical garden to rival Kew's, leading gently away from the cacophony of the Galle Road to other secret lanes of flowers, ponds and stepping stones to elegant rooms of immense proportions designed with breathtaking extravagance on Indo-colonial lines.
Punkah fans, marble floors, bathtubs hewn from a single block of granite, antique Calcutta four-poster beds, teak furniture, clay tile roofs, are all complemented with the latest mod cons (TVs, safe and minibar are hidden in ancient almirahs). Seven guest suites, pavilions for private dining on gourmet cuisine, a sea view lawn, swimming pool and amenable staff combine to make this a relaxing – and not awkwardly modern – retreat.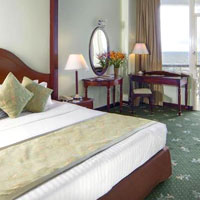 Mt Lavinia remains a cautious dowager/ photo: hotel
Through a time portal to the north awaits the gleaming, white colonial Mount Lavinia Hotel. A throwback to old-world romance – literally, the place is all about the secret love story involving the British Governor General of Ceylon and Lovina, an alluring mestizo dancer – the heritage hotel offers modern fixings and antique surrounds.
Predictably, this period piece attracts couples and intimate gatherings, but there are plenty of kid-friendly attractions as well, including themed dinners and elephant rides on the beach.
And that's our guide to the best Sri Lanka resorts from budget to bungalow.
Send us your Feedback / Letter to the Editor
FAST FACTS

/ Hotel Contact List

All visitors, except Maldivian, Seychellois or Singaporean passport holders, must apply for a visa in advance through the internet (www.eta.gov.lk). A 30-day tourist visa costs between US$20 (for SAARC country passport holders) and US$35, for tourists of other nationalities, allowing double entry. Children under 12 are granted free visas, as are tourists in transit for less than 48 hours. If you neglect to apply online, expect to pay an additional US$5 upon arrival. For the latest information, check: www.immigration.gov.lk.

Feel free to stock up on booze but the importation of duty-free cigarettes is not allowed. There is no customs declaration required of foreign currency being brought in, unless it is in excess of US$10,000. Beyond customs is a hall of counters for currency exchange and tourist, mobile phone and taxi assistance, and where friends wait to meet arrivals. Hotel representatives with name boards greet guests in this hall and direct them to hotel cars. Expect to pay from US$25 in Sri Lankan rupees for a hotel car to Colombo.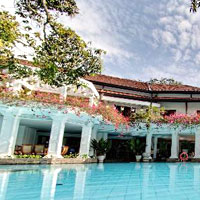 Mahaweli Reach, sun-dappled pool/ photo: hotel
The Sri Lankan currency is the rupee and the exchange rate is US$1=174 Sri Lankan rupees (SLRs). Keep exchange receipts to facilitate changing rupees back to a foreign currency. Hotels calculate bills in US dollars but accept rupees (and all major credit cards) for payment.
Hiring of chauffeur-driven cars or minivans for an independent tour can be arranged at the airport, through a hotel's travel desk or with freelance guides/drivers you'll encounter outside resort properties. Check the vehicle, and the driver, as well as the price (expect around Rs10,000 a day) before agreeing. Self-drive cars can be hired but are often more expensive (and more stressful) than hiring a knowledgeable chauffeur.
Among recommended travel agents for local arrangements are the retreat specialists Red Dot Tours (www.reddottours.com), the mainstream Aitken Spence Travels (www.aitkenspencetravels.com), and Walkers Tours (www.walkerstours.com). Also check out holiday planner and luxury, all-incusive bungalow provider Ceylon Tea Trails (www.teatrails.com) and Eco Tourism (www.srilankaecotourism.com) for a guilt-free vacation.
The Sri Lanka Tourist Board is at www.srilankatourism.org. Our contributor, Royston Ellis (www.roystonellis.com), is the author of Guide to Sri Lanka available through www.bradtguides.com and the insight guide: Sri Lanka Step By Step.
Not all the retreats mentioned here are licensed to serve alcohol but guests can bring their own by arrangement. Rates increase at Kandy hotels during the July or August Perahera Season. Special deals at lower rates are usually available for walk-in guests. Per night room rates are generally for double occupancy with breakfast. Service charge (10 percent) and statutory levy (about 17.5 percent) need to be added to quoted room rates unless indicated otherwise.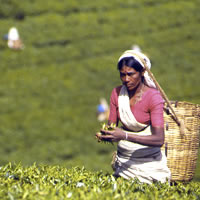 Ceylon tea, arguably the best
While Sri Lankan hospitality staff members are naturally friendly, a tip in cash pressed into a helper's palm will work wonders, since the compulsory service charge doesn't always filter down and wages are very low, compared with ever-rising room rates.
Sri Lanka resorts guide
Aditya Resort. 719/1, Galle Road, Galle. Tel: [94-91] 226-7708, (www.aditya-resort.com).
Amagi Lagoon, 640/82 Colombo Road, Kurana, Negombo, tel: [94-31] 223-8385, fax: 223-8389, (www.amagihotels.com).
Amangalla. Tel: [94-91] 223-3388, fax: 223-3355, (www.aman.com/resorts/amangalla).
Amanwella. Tel: [94-47] 224-1333, fax: 224-1334, (www.aman.com/resorts/amanwella).
Amaranthe Bay. Uppuveli, Trincomalee. Tel: [94-26] 205-0200, fax: 205-02000, (www.amaranthebay.com).
Amaya Lake. Tel: [94-66] 446-1500, fax: 228-6932, (www.amayaresorts.com).
Ambalama. Dahawella, Galle. Tel: [94-77] 770-0932, (www.ambalamavilla.com).
Apa Villa Thalpe. Ellukkatiya Watta, Wanchawela, Galle. Tel/fax: [94-91] 228-3320, (www.apavilla.com).
Bandarawela Hotel. Tel: [94-57] 222-2501, (www.aitkenspencehotels.com).
Boulder Garden. Sinharaja Road, Koswatta, Kalawana. Tel: [94-45] 225-5812, fax: 225-5813, (www.bouldergarden.com).
Brook Boutique Hotel & Spa. Madahapola Road, Alipallama, Melsiripura. Tel: [94-66] 750-0500, (www.brook.lk).
Buckingham Place. Rekawa Beach, Tangalle. Tel: [94-47] 348-9447, (www.buckinghamplace.lk).
Calamander Lake Gregory, Nuwara Eliya. Tel: [94 52] 4925206, fax:  222 3654, (www.calamander-lake-gregory).
Calamander Unawatuna Beach Resort. Unawatuna. Tel: [94-91] 438-4545, (www.calamander-unawatuna).
Calamansi Cove. Wijerama Road, Balapitiya. Tel:  [94-91] 225-8740, (www.calamansicove.com).
Ceylon Tea Trails. Trails Pvt. Ltd. 46/38 Nawam Mawatha, Colombo 2. Sri Lanka. Tel: [94-11] 774-5730, fax: 774-5731 (www.teatrails.com).
Cinnamon Lodge Habarana. Tel: [94-66] 277-0011, (www.cinnamonhotels.com).
Club Dive Paradise. Uppaveli, Trincomalee. Tel: [94-26] 205-0295, (www.easternsrilanka.natgeotourism.com).
Closenberg Hotel, Magalle, Galle. Tel: [94-91] 222-4313, (www.closenberghotel.com/).
Deer Park Hotel. Tel: [94-27] 224-6272, fax: 224-6470, (www.deerparksrilanka.com).
Dutch Bay Resorts, Dutch Bay Island, Kalpitiya. Tel: [94-11] 785-0850, (www.dutchbayresorts.com).
Elephant Corridor Hotel. Tel: [94-66] 228-6950, fax: 228-6952, (www.elephantcorridor.com).
Ella Mount Heaven. 15th Mile Post, Wellawaya Road, Ella. Tel: [94-57] 493-3200, (www.ellamountheaven.com/).
Ellerton. Tel/fax: [94-81] 241-5137, (www.ellertonsrilanka.com).
Fort Hammenhiel Resort. Tel: [94-11] 381-8215, (www.forthammenhielresort.lk)
Galle Fort Hotel. Tel: [94-91] 223-2870, fax: 223-2939, (www.galleforthotel.com).
Halketha, near Matugama. Tel: [94-11] 748-8288, fax: 748-8988, (e-mail: halketha@yahoo.com).
Helga's Folly. Tel: [94-81] 223-4571, fax: 447-9370, (www.helgasfolly.com).
Heritance Tea Factory. Tel: [94-52] 555- 5000, fax: 555-5050, (www.heritancehotels.com).
High Cliffe. Station Road, Haputale. Tel: [94-57] 226-8096, (www.facebook.com).
Hikka Tranz by Cinnamon. Hikkaduwa. Tel: [94-91] 227-7188, (www.cinnamonhotels.com).
Hotel Glendower. Tel: [94-52] 222-2501, fax: 222-2749, (www.hotelglendower.com).
Illuketia. Tel: [94-91] 438-1411, (www.villa-srilanka.com/apailluketia).
Jetwing Jaffna. Tel: [94-21] 221-5571, fax: [94-11] 234-5729, (www.jetwinghotels.com).
Kadolana Eco Village. Tel/fax: [94-91] 225-4400, (www.kadolanaecovillage.com).
Kahanda Kanda. Tel: [94-91] 494-3700, fax: 562-2518, (www.kahandakanda.com).
Kelburne Mountain View Cottages. Tel: [94-11] 257-3382, (www.kelburnemountainview.com).
Leisure Mount View Holiday Inn. Magiripura, Haputale, tel: [94-57] 226-8327, (www.leisuremountview.com).
Maalu Maalu. Passikudah. Tel: [94-65] 738-8388, fax: 738-8397, (www.theme-resorts.com).
Mahaweli Reach. Tel: [94-81] 247-2727, fax: 221-2854, (www.mahaweli.com).
Marine Beach Passikudah. Tel: [94-65] 205-0244, (www.marinapassikudah.LSRhotels.com).
MF Estate Holiday Bungalow. Attampitiya, Pattiyagadara, Bandarawela. Tel: [94-57] 222-2618, (www.mfholidaybungalow.com).
Mount Lavinia Hotel. Tel: [94-11] 271-1711, fax: 273-0726, (www.mountlaviniahotel.com).
Olde Empire Hotel. Tel: [94-0] 776-321-867, (www.oldeempirehotel.com).
Olympus Plaza Hotel. Tel: [94-57] 226-8544, (www.olympusplazahotel.com).
Ozo Kandy. Tel: [94-81] 203-0700, fax: 203-0600, (www.ozohotels.com).
Pantiya Estate Holiday Bungalow. Matugama. Tel: [94-11] 748-8288, (www.srilankaholidayhome.com/).
Paradise Road The Villa Bentota. 138/22 Galle Road, Bentota. Tel: [94-34] 227-5311, (www.paradiseroadhotels.com).
Planter's Bungalow. Karandagolla, Ella. Tel: [94-57] 492-5902, (www.plantersbungalow.com).
Reef Villa and Spa. Tel: [94-38] 228-4442, fax: 228-4431, (www.reefvilla.com).
Riu. Ahungalla Beach. Tel: [94-91] 522-0000, fax: 522-0001 (www.riu.com).
Robin Hill Suites. No 39, Kandewattha, Weligama. Tel: [94-71] 417-4714, (www.robinhill.lk).
Royal Bar & Hotel. 44, Kings Street, Kandy. Tel: [94-81] 222-4449 (www.facebook.com).
Saffron & Blue, Kosgoda. Tel: [94 91] 226-4444, (www.jetwinghotels.com/saffronandblue).
Saffron Hill House. Tel: [94-57] 222-2341. (www.saffronhillhouse.com).
Sagala. Poonagala Road, Bandarawela, Tel: [94-71] 850-0005, (e-mail: www.sezaleisure.com).
Saman Villas. Tel: [94-34] 227-5435, fax: 227-5433, (www.samanvilla.com).
Shangri-La's Hambantota Resort & Spa. Ambalantota. Tel: [94-47] 788-8888, (www.shangri-la.com).
Taprobane Island. Weligama. Tel: [94-91] 438-0275, (www.taprobaneisland.com/).
Taprospa Labookellie Villa. Labookellie Estate, Nuwara Eliya. Tel: [94-11] 438-0707, (www.agoda.com/en-in/taprospa).
Templeberg, Wanchawala, Galle. Tel: [94-77] 710-8477,  (www.templeberg.com).
The Beach House, Tangalle. Tel: [94-91] 438-0275, fax: 222-2624, (www.taprobaneisland.com).
The Dutch House. Tel: [94-91] 438-0275, fax: 222-2624, (www.thedutchhouse.com).
The Fortress Resort and Spa. Tel: [94-91] 438-9400, fax: 438-0338, (www.thefortress.lk).
The Kandy House. Amunugama Walauwa Gunnepana, Kandy. Tel: [94-81] 492-1394, (www.thekandyhouse.com).
The Last House. Nakulugamuwa, Tangalle. Tel: [94-81] 720-1115, (www.thelasthouse.com).
The Sun House. Tel: [94-91] 438-0275, fax: 222-2624, (www.thesunhouse.com).
Tilko Jaffna City Hotel. Tel: [94-21] 222-5969, (www.cityhoteljaffna.com).
Trinco Blu by Cinnamon. Uppuveli, Trincomalee. Tel: [94-26] 222-2307, fax: 222-7532, (www.cinnamonhotels.com).
Turtle Bay, Kalametiya. Tel: [94-47] 788-7853, (www.turtlebay.lk).
Vil Uyana. Tel: [94-66] 228-6000, fax: 228-6005, (www.jetwinghotels.com).
Welcombe Hotel, Trincomalee. Tel: [94-26] 222-2373. (www.facebook.com).
Whispering Palms, Galle Road, Induruwa. Tel: [94-34] 227-5181, fax: 227-5816, (www.whisperingpalmshotel.com).
Wild Grass Nature Resort. Govigammana Main Road, Kumbukkadanwala, Sigiriya. Tel: [94-66] 493-5577, fax: 567-0681, (www.wildgrass.lk).