SPA REVIEW
Oiled up for Bali spa resorts
A detailed review of island spas and some esoteric local treatments from Javanese lulur and coffee scrubs to seaweed, Thalasso hydrotherapy, and "craniosacral" work. Good Heavens!
SEE ALSO Bali fun guide | Bali resorts review | Bali volcano and safety update | Australia spas | India spas | Malaysia spas | Taipei spas | Thai spas | Golf | Jakarta business hotels | Resort weddings | Lombok guide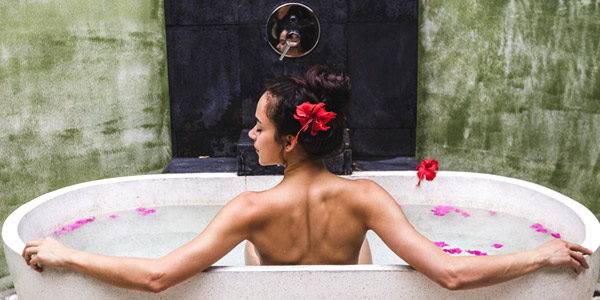 JUMP TO Nusa Dua | Benoa | Uluwatu | Jimbaran spas | Kuta | Legian | Seminyak | Ubud spas | Sanur | Manggis | Pemuteran | Tembok
IN THE OLD days they called it being flayed alive. Today, in fashionable circles, skin exfoliation is said to be devilishly good for you. People scrape your body with everything from pumice stones and coconut husk to rice powder, turmeric and coffee beans.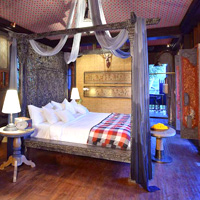 Capella Ubud, luxury tents/ photo: hotel
At the end of all this, if you are not admitted to the nearest hospital, your ex-wife or ex-husband will be on the phone begging for reconciliation and, in general, persons of the opposite sex will be flocking to gape at your inner glow, if not inner child.
And there's no better place to savour the cathartic gush of a colonic irrigation, a traditional "jamu" treatment or just a straight-up aromatic massage, than in Bali, the Island of the Gods, where cleanliness is akin to godliness. Of course all this muddy Deep Sea adventure will cost but, heck, how often do you have the opportunity to shell out to get beaten to within an inch of your life?
On then to a look at Bali spas review and some of the best Bali spa resorts from Nusa Dua to Seminyak and Ubud. Seminyak spa resorts would like to be thought of as trendy while Ubud spa resorts claim to capture the "soul" of the place, if you can find them at all on Bali's higgledy-piggledy roads.
Also watch for JW Marriott (in Nusa), Kempinski (Nusa), Pullman G (Kuta), a 101-room corporate meetings Westin Ubud Resort & Spa (2018/2019), a new 165-key avant-garde InterContinental in Canggu (2018, with villas, wedding chapel, spa and even a cinema), and luxe names like Waldorf, Raffles and Mandarin Oriental. Also look out for Eaton Luxe by Langham near the Nirwana Bali golf course, and Indigo Seminyak Bali (opened 2016). Bali Golf & Country Club closed for a major overhaul and returned mid-2014 as the Bali National Golf Club sporting fresh greens designed by Robin Nelson and Rodney Wright (but the same par 72 course) and a bevvy of villas and hotel rooms from Shangri-La (possibly by 2019).

Slide Show

E-mail Page

Print

Hotel Contacts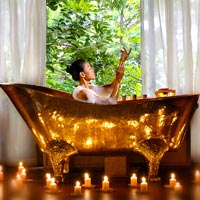 Kupu Kupu Barong tub treat/ photo: hotel
Spas, seaweed, seawater and jamu treatments are all over the island like a rash, so for the purposes of this Bali spa resorts guide, we shall concentrate on the standouts. Big is not always better and some small establishments have some rather attractive spa set-ups. Take your pick.
Bottom line, Bali is a truly magical place and no matter where you end up you will likely be enchanted by the service, treatments and ambience. While there are several reasonable independent spa operations around the island, you will likely spend time at an on-site spa so our focus lies here. Check our Bali Map and dive in.
Nusa Dua, Benoa, Uluwatu
Watch out for super high-end Banyan Tree Spa at Banyan Tree Ungasan, Bali, causing a wallet-bending stir in the south. Which is as good a place as any to start – specifically in the manicured, tourism enclave of Nusa Dua where everything looks like the drive into town from Singapore's Changi Airport. The Nusa Dua Beach Hotel & Spa, one of the first occupants along this strip runs the custom-built Nusa Dua Spa. Set aside from the main resort in a renovated villa, this spa features a lap pool, steam room, sauna, Jacuzzi, cool dip pool, treatment rooms and spa treatments including the Balinese "boreh" (involving acupressure without oil and a body mask), traditional coconut scrubs or Javanese "lulur" and Balinese facial treatments.
Javanese Lulur, a turmeric and sandalwood exfoliation, can be had on its own as well, along with aromatic and, yes, jetlag, massages. After you've been stretched and massaged ad infinitum, stop by the Spa Café next to the lap pool for a refreshing cup of herbal tea. Besides treatment rooms, all other facilities are complimentary.
Send us your Feedback / Letter to the Editor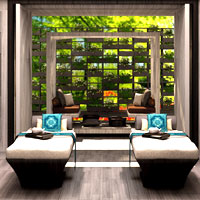 Heavenly Spa by Westin/ photo: hotel
Next door, The Westin Resort Nusa Dua has debuted its Heavenly Spa by Westin. The swish remodelled spa offers 16 treatment rooms, replete with gardens and gazebos in contemporary pastel-grey wood-and-stone trim with a warm-up Himalayan salt sauna, hydro pool and steam room. Try a 60-minute aloe vera wrap for Rp800,000, a 60-minute sea salt scrub for Rp700,000, or a warm 'sacred stones' healing journey. Special packages and seasonal offerings are available. Men might try a one hour well being shiatsu/reflexology workout or dip in the Heavenly Spa Swirl Pool by the seafront. Best news of all for weary parents is the addition of a dedicated Westin Kids Spa that covers everything from massage, facials and nail polish to hairstyling and hair braiding. A 30 minute massage will set you back Rp300,000 (about US$25). Kids can celebrate a birthday here with face painting, a temporary tattoo, or massage. Of course, this too for a small fee. In one fell swoop, Wesin Nusa Dua has entered the fray as one of the top Bali spa resorts and compares very favourably vs the competition.
The sprawling The Laguna, A Luxury Collection Resort & Spa, Nusa Dua, Bali (once the Sheraton Laguna Resort & Spa, now part of the Starwood Luxury Collection) with its vast swimmable lagoons and greenery has The Lagoon Spa with Balinese and Javanese specialties from massage to scrubs and beauty treatments. Also check out its signature Dr Babor treatment packages, which feature enough anti-ageing treatments to have you looking like a newborn babe.
The swish Grand Hyatt offers extensive treatments at its dramatic new Kriya Spa echoing the cadences of a Balinese water palace. This is a spacious, breezy complex with water features that come alight in the evening. It is among the more contemporary Bali spas around.
Each spa villa has its own courtyard, plunge pool, soaking tub, and twin massage facilities. The colours are light, pastel, and soothing. The pale, cool stone runs in clean straight lines defining water pools and channels, offering a pleasant counterpoint to the heat of the overhead sun. Sample a Traditional Healing Massage, a Yoga Massage, a Balinese rubdown or an exotic Warm Stone Massage. All spa offerings are based on traditional Balinese healing philosophies of harmony, purity, energy and bliss. There's wellness treatments by the bushel here but you'll be well advised to book in advance.
At the attractive Club Med Spa at Club Med, in its own private setting, expect everything from Balinese rub-downs and reflexology to a 50-minute hot stones massage, Jacuzzi, steam bath, and the top-end Pure Indulgence package with a floral foot bath, lavender wash and floral aromatherapy bath - accompanied by cookies and herbal tea.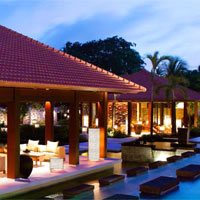 Grand Hyatt Kriya Spa/ photo: hotel
For a double dose of relaxation, luxuriate in a Four Hands massage, featuring two therapists simultaneously using a blend of various massage styles. French-run Club Med tends to be an all-in experience with accommodation, meals and activities.
The reborn INAYA Putri Bali (September 2015) features a mix of contemporary and classic with rooms and villas and expansive 11 hectare grounds and a Spa utilising herbal remedies derived from nine Indonesian tribes. The massage and treatments here are drawn from places as diverse as Bali and Manado with Padang and Java styles.
The Spanish-run Melia Bali is unfussy and welcoming with a separate villa section. Set in 25 generous acres, the Melia Bali launched the group's Yhi Spa brand and offers extensive wellness indulgence with the all-pervasive aromas of ginger and frangipani. The Balinese spa is set in gardens where you can also pursue yoga. There are 10 indoor treatment rooms with outdoor baths and showers for couples and two suites, and five outdoor bales, one right on the beach. Check out the Body Elixir treatment or the Javanese Lulur. The one-hour Yhi Signature Massage incorporates Thai massage with long flowing Swedish-style stroking as well as acupressure.
The renamed Ayodya Resort Bali (formerly the breakaway Bali Hilton International) and its exclusive Ayodya Palace wing, is crammed with all manner of striking statuary depicting scenes from the Hindu epic, the Ramayana. Apart from its 300m beachfront and luxurious Ayodya Palace villa and suites complex, the resort has a spa facility with treatment suites and rooms. The Ayodya Spa by Madara offers 13 treatment rooms and four Spa Villas, reflexology room, recovery room and a library, all sprinkled liberally with Balinese artwork and incorporating local materials. Firm, tone up, detox or just enjoy a fitness workout.
Bordering the Ayodya is the former Bali Golf & Country Club, which returned mid-2014 as the Bali National Golf Resort. It formerly managed the self-contained The Villas at Bali Golf and Country Club. This space is being redeveloped possibly for Shangri-La. Down the road, the Courtyard Bali Nusa Dua (opened early 2011) boasts an onsite lagoon swimming pool, dedicated beach club facilities on Nusa Dua Beach, and a fitness centre to work up a sweat in. When you're done, stop by the Courtyard Spa for body scrubs, wraps, facials, massages and more. This is a no-frills hotel from Marriott that is easy on the wallet and a child-friendly hotel to boot.
Next door the big-mouthful Hotel Novotel Bali Nusa Dua Hotel & Residences offers fun for the whole family as well. The In Balance Spa is also kid-friendly. Parents can enjoy a Spa Sampler (US$120) while the tots are indulged in the Junior In Balance Spa, where staff is on hand to do hair-braiding.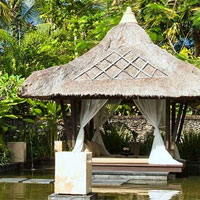 Remede Spa at St Regis/ photo: hotel
Perched on a low promontory, The Balé is a beige limestone villa hideaway. This Lifestyle Retreats property features an intimate and secluded spa. Try the 120-minute "Tropical Romantic Ritual". The spa offers holistic treatments (and a spa restaurant) with yoga, meditation and a range of other "body, mind and spirit" options. Among the offerings are a Healing Hot Stones Massage (wherein heated volcanic stones are placed over the body) and assorted coconut and seaweed body scrubs, maska and marine bubble baths. The spa packages also include a two-course meal specially designed by the Executive Chef to compliment the treatments. Men can ask for a strong coffee – not to sip, but to apply.
The Coffee Ritual involves espresso massage oil, a cappuccino body scrub and a latte body lotion. Yes, you can have some coffee later too. Opt for Pilates, or even "craniosacral" therapy if you can figure out what that is. Of note is the spa's Master in Residence program, featuring seminars and workshops led by visiting practitioners. The Grand Bali, – Nusa Dua (formerly the Swiss-Grand) is set away from the beach but is a smart set-up, less pinching on the pocket and with a spa that focuses on balancing and relaxing all comers using locally sourced essential oils. Every stay gets a complimentary 15-minute massage.
At this end of the Nusa Dua beach stretch is the St Regis Resort and Residences that opened mid September 2008. With 2,820sq m of recreational space and 350m of beachfront there's pretty much something for anyone no matter how pernickety, from swimming and yoga to jet therapy pools, sauna, and the dedicated Remede Spa with its glowing onyx lamps set amidst reflecting pools. The spa is a spoiling hideaway with a wide range of holistic treatments. Walk past the koi pool to 12 treatments rooms and two spa suites. Try the "Bloody Mary Inspired Ritual", treatments for men, customised aloe vera and seaweed wraps, or a top-to-toe workout for him or her. When you're done, the spa's Aqua-Vitale Pool will work out any remaining kinks with its pressure jets.
From Jakarta haute hoteliers Mulia comes the sprawling Mulia Bali, (opened late 2012) a mini destination on its own with three hotel experiences in one. Stroll through The Mulia (an all suite seafront medium rise complex), the Mulia Resort, the middle section set away from the beachside with hotel accommodation, and the Mulia Villas, set farther inland up a rise with electric buggy access. The Mulia Spa is a grand affair with a broad range of wellness treatments and massage with stylish couple's rooms set in walled courtyards with ample room for a stretch and wind down. Expect the full works here as befits a luxury getaway.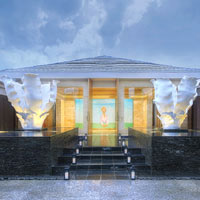 Mulia Bali Spa/ photo: hotel
Continuing up the rise, following the coast, is the Sekar Nusa Villas. Like the Balé, this charming little place is on a hill, away from the beach. The unassuming spa offers traditional remedies, available inroom, while a five-minute drive on, set in pristine isolation is the Hilton Bali Resort (formerly the Grand Nikko Bali and rebranded on 1 December, 2016). This smart upgraded hotel-style resort features a fun beach area set beneath vertiginous cliffs with new pool villas for romantics. The hotel boasts a spa (formerly Mandara) with eight comfy spa villas, as well as a Beachside Bale. Guests can gaze at the sweeping views of the Indian Ocean while masseurs work at revitalizing those aching muscles, or simply pile on the pampering with manicures, pedicures, facials, you name it.
East and north of Nusa Dua, heading into the Benoa peninsula, there are two properties with excellent spa facilities - the new Conrad Bali and the Grand Mirage Bali – with the latter boasting the first Thalasso Bali spaon the island. True to its name (thalassa means sea in Greek), the spa utilises seawater, seaweed and a whole host of marine elements in its treatments. Try out the "aquamedic spa" pool and hydrotherapy jets. Invigorated?
The Conrad Bali is intriguingly zen, with minimalist lines, sweeping ocean views and fine swimming pools. Its Jiwa Spa does a range of treatments with the added luxury of a 25m spa pool. Or opt for a romantic massage by the beach in a breezy bale. This is another child-friendly Bali resort so parents can get some rub-time away from the ankle-biters.
The kids can test some fun treatments especially designed for the younger set, or pair up with mummy for the Mum and Me package. Try the Rekindle (package for two) at the Spa Villa with scrubs, baths and lunch. Conrad's signature Ocean Flow Massage runs rippling acupressure over the body with a pinch of aromatherapy while the Inner Radiance realigns the body's natural energy channels. A speciality is the 1,000 Petal Flower Bath (yes, there's space for water too) which can be enjoyed in your own bath with some fragrant essential oils on the side. And if you're still peckish and light calories are not for you, head down to Eight Degrees South and order pizza by the metre. Now that's a meal.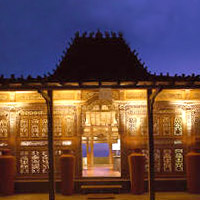 Swish Bulgari Spa/ photo: hotel
Look out for the contemporary and very swish The Royal Santrian in Benoa. This is an attractive villa complex with clean lines and design flourishes that are not overwhelmingly traditional. A good mix of comfort and culture here and a spa that serves up everything from sea salt body washes and flower petal baths to body scrubs including a honey coffee scrub. Hmm... The "Body Scrub – Body Wrap" includes much of this at US$89 for one person over an hour-and-a-half. The "Energizing Stone Senses Body Massage" runs over two hours at US$85. Want to look like royalty when you tie the knot? Look no further. The spa offers "The Prince and Princess" pre-wedding package, which includes four and a half hours of primping and pampering at US$450 per couple.
A stylish option in Uluwatu, a 15-minute drive from Nusa, is the Blue Point Bay Villas & Spa, a Japanese-owned complex with private villas set on the cliff, each with a pool and stunning views to boot. There two main swimming pools and a dedicated spa. The spa offers three and four-day programmes, featuring a different treatment each day.
The chic Bulgari Resort Bali offers leggy models, glitterati, beautiful people, hangers-on and a stunning spa – a traditional ensemble complete with hand-carved teakwood doors at the entrance. It will cost an arm and a leg of course, but then, trained therapists are on hand to massage your limbs back to top working order.
The Spa at the Bulgari Resort in Bali offers an upscale yoga pavilion, relaxation lounge, six treatment rooms and two Royal Pavilions where couples can savour plunge pools, a private garden and stimulating rain showers. This ranks among the best Bali spas. Walk up to the hand-carved teakwood Joglo house and begin your transformation. Try the three-hour "Bulgari Royal Lulur for Two" with four therapists to attend to one couple. Or opt for the "Hot Stone" therapy. With class, style, and a breezy cliff-top location that's hard to beat this villa escape weighs in as one of the best Bali spa resorts.
The Anantara Bali Uluwatu Resort & Spa (opened 2013) is a modern cliffside presence, almost hidden, with a flat, layered structure that rises reticently above a tiered infinity pool. This address is thoroughly contemporary with straight uncomplicated lines. There is a Wedding Chapel as well as the must-try dedicated Anantara Spa with four treatment rooms for single trippers, a room for romantic couples and a bale for other wellness treatments. Trained therapists provide bespoke treatments to guests drawing upon local Indonesian traditions, the best of Asia, and western practises.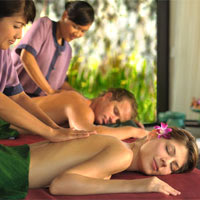 Banyan Tree spa treatment/ photo: hotel
Not too far from here is the Karma Kandara Resort, whose meandering gardens are sprinkled with 46 private beach villas all fitted with private pools, decks and gardens. A cliff-hanger at 85m above sea level is the Karma Spa, featuring an infrared detox sauna (whatever that means) and a Himalayan crystal salt pool. Try the Karma Rejuvenation Day (at US$240), a three-and-a-half-hour experience that includes a Balinese massage, lunch, energy smoothies, organic facial and a manicure or pedicure. There are also yoga sessions held every sunrise and sunset at the Temple Lounge.
The Banyan Tree Ungasan, Bali, sprawls across the cliff-face in the Uluwatu area. Opened end 2009, the resort offers a lavish Banyan Tree Spa and pool villa accommodation with panoramic sea views. Spa enthusiasts should check out the "Banyan Day" package for eight hours of head-to-toe treatments with a healthy lunch included.
The minimalist designer-chic 84-villa Alila Villas Uluwatu is spread over 13.5 hectares, perched on a scenic cliff looking across the sea. This is an eco-friendly wellness escape. For those in search of pampering and potions there is the Spa Alila with comfortable treatment villas. Couples can opt for the more private spa villas, replete with herbal steam shower, bathtub, his and her grooming stations, and a sound system to choose your own music. Expectant mothers can try the pregnancy massage. This welcoming and very contemporary resort offers an environmentally sustainable design with more than a fair share of whimsy.
The new Renaissance Bali Uluwatu Resort & Spa (March 2018), sited on a cliff with great views (but no beach) and a huge pool, serves up a full-fledged spa with everything from body wraps to scrubs and facials. Or opt for paraffin hand treatments and hair and scalp workouts or just a simple body massage.
Jimbaran area spa resorts
The quiet western coast of Jimbaran, south of the bay sweeping up to the airport, hosts three top-drawer properties – InterContinental Bali Resort, Four Seasons Resort Bali at Jimbaran Bay, and the Ayana Resort & Spa - all armed with enough essential oils and exotic spa menus to keep your midlife crisis at bay for years.
The new Le Meridien Bali Jimbaran (December 2012) is for the young and hip and offers distraction by the metre including healing therapies at the Serenity Spa. Bear in mind this is not your typical Balinese thatch-roof escape. The place is mod and funky with chill-out music and a central freeform pool. The hotel is not directly on the beach and views are inward. Bring a good book, a close friend, and pamper yourself.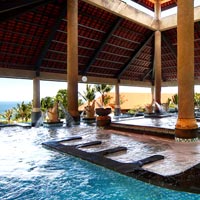 Ayana Resort & Spa hydro jets/ photo: hotel
The Ayana Resort & Spa (formerly a Ritz-Carlton) features its own 22,000sq metre hydrotherapy Thalasso & Spa which is almost a resort within a resort. If this place were any bigger, it would mint its own currency and hand out passports. Amidst the gardens and water-features, are the spa villas, a spa suite and a 650sq metre "aquatonic" sea water pool. The water flows and swirls in varying temperatures while jets and hidden currents massage and relax. If the standard treatment rooms are too plebeian for you, book one of two Spa on the Rocks villas perched atop the cliff, but keep in mind that getting there requires a 100-step hike. The intrepid may sally forth to try the signature Diamond Miracle treatment with a nonstop two-and-a-half hours of sheer indulgence. Think crustal peeling, rose bath and a facial with sea quartz and diamond dust. Better still, grab that dust and run. Wrap up with strawberries and chilled champagne. Or go for a simpler Aroma Sensation at a cool US$432 per person. Note this one down.
Apres-spa is fun too. The Rock Bar, accessed via an inclinator that traverses the cliff-face, is Ayana's open-top bar, perched on a rocky outcrop at the base of the resort's towering cliffs. Enjoy uninterrupted, 360-degree views. Two more platforms, one accessed via a natural cave that leads to a "secret" garden, sit astride the bar.
The beachfront InterContinental Bali Resort has gone through ongoing facelifts. It is a sprawling child-friendly place with crisp business flourishes and smart Club InterContinental rooms. For serious pampering head for the Spa Uluwatu or the more secluded Villa Retreats where traditional Balinese remedies await in your own private sanctuary. You can also arrange for a tented pavilion right on the beach. All spa products are locally produced from natural ingredients. Check out the InterContinental Signature Health Massage (waterlily back mask and body massage), a Marine Caviar & Pearl De-Ageing Facial (exfoliation, mask and cream, 75 minutes) or, for teens, a Strawberry Hydra-Boost for 60 minutes. Spa Uluwatu will serve up deep tissue massages and at the Villa Retreat, a Golden Lulur exfoliation followed by a frangipani bath awaits.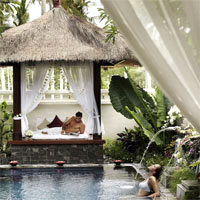 InterCon massage bale/ photo: hotel
The Villas also offer the romantic Sea of Love which, at four hours and a hefty price tag, throws in a good mix of reflexology, sandalwood lulur, head and scalp massage and and fruit and coconut bath. For the lazy or bone-weary, there's an extensive inroom massage menu including Traditional Balinese and Foot Reflexology. Believe me, it's worth it, and more.
The Four Seasons Resort Bali at Jimbaran Bay is quite a mouthful but jaws do tend to drop once introduced to this villa property cascading down a hillside overlooking the bay. Lots of walking needed here and buggy rides are the answer. The 1,000sq m Spa offers eight treatment rooms, three spa suites, as well as the pampering Royal Spa Suite. Expect sea-salt crystals, seaweed and a host of exotic ingredients. Try the two-hour Ocean Ritual involving a Balinese santi oil massage, sea salt scrub, wrap and bath followed by generous application of "ocean lotion" moisturiser. Alternatively, enjoy a rain shower, a papaya hibiscus body scrub or an aloe and lavender body wrap. Pop by the Spa Juice Bar for a jamu, or herbal drink, when you're done. This is a property popular among our readers and scores high on our Bali spas review. It's sister property in Sayan (near Ubud) is a specialist spa treatment hideaway.
Just above the Four Seasons is the new Raffles Bali (July 2020) a small luxury resort from this highly regarded upscale brand. Perched on the hillside with private pool villas (including two-bedroom escapes and a grand Presidential Villa), the resort offers a good spa, a very generous pool that catches the rays and an excellent private beach.
Karma Jimbaran is a gracious all-villa affair with an array of one-two-four-bedroom villas to pick from and its Chakra Spa and Wellness Centre for some serious chakra realignment, massage or beauty treatment. Check out the bamboo stick seaweed facial or the hot blue grass massage, featuring a Japanese scrub made of wakame, sea salt, clay and cherry blossoms. Or pop by the inviting Jamahal Private Resort & Spa where a one-bedroom pool villa will cover most needs. The Jamahal Spa employs Balinese treatments interspersed with hot stones, sunburn treatment, mandi lulur, chocolate facial and Javanese massage. Jamahal has just 11 villas.
Four Seasons Jimbaran/ photo: hotel
Kupu Kupu Jimbaran (opened April 2011), is the sister property of the quirky Kupu Kupu Barong up in Ubud. It features 30 suites, a meld of contemporary and Balinese traditional with rustic touches. There is also the Bamboo Spa by L'Occitane with14 treatment rooms designed with a bamboo. Unique to this spa is the "Verbena Bamboo Fusion Therapy", a massage utilising both bamboo sticks and L'Occitane's signature verbena formulas to help "stimulate the flow of energy". For some information on booking Bali villas see our Fast Facts at the end of this story.
Farther up the road down a narrow turn-off leading to the beach is the Belmond Jimbaran Puri Bali (formerly by Orient-Express Hotels), a boutique resort on the beach that has been completely refurbished with a nice swimming pool and the The Beach Spa. Hop over to the beach where sea breezes waft through gauze-curtained bales set up for aromatherapy massages and more. A 60-minute Balinese massage will set you back just US$71, a 90-minute Warm Jamu Massage US$89, and a 30minute Balinese Coffee scrub US$47. A 150-minute Ultimate Spa Journey is priced at US$184. Because of its small scale and hideaway setting, this resort offers a perfect escape for romantics and honeymooners in search of a Bali spa escape.
Kuta, Legian, Seminyak, Kerobokan
Heading up to the shops and beer sunsets (and roadwork diggings) of Kuta, the Hard Rock Hotel continues to gyrate with a hip and young crowd, great packages, and the Rock Spa. There are treatment rooms and poolside cabanas as well as an array of massage chairs. Sit back and relax. An Ultra Glow will set you back just around US$70 and the Rejuvenate treatment US$50. Kids are included in the fun, with aptly named treatments like the Glitter Princess Manicure & Pedicure and Papaya Ice Cream Body Scrub.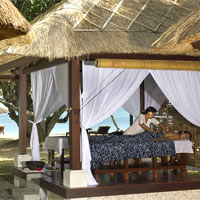 Belmond Jimbaran Puri Bali beach spa/ photo: hotel
The 203-room Sheraton Bali Kuta Resort (opened end of 2012) has upped the ante on this formerly beer and bellies t-shirt sunset strip. This is a muscle MICE hotel but also serves up its Shine Spa for Sheraton with Balinese treatments and signature therapies.Start with the whirlpool and sauna to slow down a half-hour prior to your treatment and then pick from the three-hour "Sensational Shine" massage, facial and body treatment at Rp1,400,000, or a "Cool & Renew" lily body wrap for 90 minutes at Rm500,000. Lots more on the menu from facials and hand treatment to waxing.
Another higher end offering, this time from Marriott's Autograph Collection, The Stones Hotel, Legian Bali (opened late 2012) is a chic, contemporary enclave with a minimalist space age lobby and a refreshing azure pool around which the two wings of the hotel are set. This inner oasis is bright and welcoming of light and breeze. Its stylish Celestine Spa requires prior appointment and serves up massage and assorted Balinese wellness treatments. Pick from scrubs and wraps and couple's treatments to facials, waxing and even massage lessons.
The quiet and laid-back Alam KulKul Bali runs an authentic Jamu Traditional Spa. All the ingredients are produced inhouse using natural sources and traditional formulae. The Jamu spa is set in the heart of the resort in a quiet and shaded area next to the pool. The emphasis is on intimate rather than grand. Try Javanese Lulur or a Vanilla Mocha Body Scrub. Facials and traditional massages are available. The Royal Beach Seminyak Bali (formerly the Sofitel Seminyak Bali) offers its dreamy Namaya Spa which dishes up local Indonesian treatments.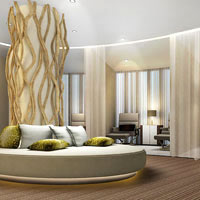 Spa at Stones Legian/ photo: hotel
The Holiday Inn has been reincarnated in the gentrified neighbourhood as the Holiday Inn Resort Baruna Bali with breezy balconies, a beachside bar, inroom video games, and the Tea Tree Spa. This is a highly rated hotel that scores well with guests. It is a good friendly spa hotel pick in the Kuta and Tuban area close to shopping, nightlife, and the sunset beach strip. For family-friendly fun in this area it is a sound choice.
Moving out of the Kuta scrum and heading north is the charming Seminyak area, home to some fine resorts and a very vibrant nightlife. The exquisite, old-world and very authentic The Oberoi Bali offers outdoor treatments at its The Oberoi Spa where everything from Ayurvedic, Balinese, Thai and Swedish remedies are available. Try a mud wrap, hot lava shell massage or the now-obligatory Javanese Mandi Lulur. Sports enthusiasts should try the after workout massage. This spa is a delightful experience. This was the original designer resort on the island and it offers a lot of old-world charm as well as garden space.
Just up the road, The Legian, is more contemporary with a crisp elegance and spa suites in serene surrounds fronting the crashing surf. The Spa at The Legian is set in verdant lawns amidst lotus ponds, overlooking the sea. It includes a fully-equipped gymnasium, steam room and pedicure lounge. The hotel offers a booklet with its "spa basics". On the delicate matter of clothing, it says, "Choose what is most comfortable for you. Our therapists will always use draping techniques to respect your privacy."
Good. If you're Swedish or Japanese, just ignore this and, well..., strut your stuff. The "Legian" treatment, which runs three hours, includes an aromatherapy foot polish, massage, facial, reflexology, lulur and steam bath, and will set you back US$250 or more. There's a nail bar too for the truly decadent.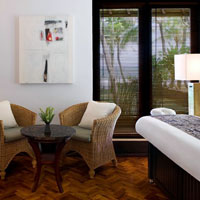 Legian treatment room/ photo: hotel
On this posh, if tumultuous, stretch of beach is the W Bali - Seminyak (March 2011, no longer called W Retreat), with 232 rooms and villas, a sumptuous spa, and the trademark W bed to commence your romance. The design is minimalist with a preponderance of cool grey bathed in mood lights and pink cushions. The hotel fronts the beach with a stepped pool and an alfresco après-spa bar.
The hotel lists its features out loud and proud, and all in caps. This includes a SWEAT fitness centre, and the AWAY spa. The AWAY Spa offers five treatment rooms and two spa suites, the latter featuring wet and dry treatment rooms, facial room, hair salon and mani-pedi lounge. Kick start your treatment with a hot stone bath, dip your toes into the vitality pool and explore the hamam. All AWAY products are devoutly organic.
Not far from here The Seminyak (formerly the Resor Seminyak) offers comfortable landscaped grounds and the Khayangan Spa specialising in herbal treatments, massage and reflexology.
The Samaya Seminyak Bali offers nice private courtyard villas and a main pool set in green lawns fronting the ocean. Along the sea front new massage balés offer much holistic spa indulgence. This Seminyak boutique resort has a tranquil air about it. And it now comes with its very own dedicated Spa at The Samaya. Explore the Balinese Eternal Bliss package for couples (though He may make a wild dash hanging on to his wallet), an Indian Head Massage, or Aroma Hot Stone Therapy.
The property has being completely renovated and sports a more contemporary look. Sister property The Kayana Seminyak, Bali, offers its Ayur Spa. Indulge yourself with, well, what better than the 180-minute Kayana Indulgence (US$170) involving a floral foot bath, a scrub, citrus body wash, herbal tea and a Kayana massage. Or for something short and sweet, there's the Indian Mind Balancing Massage (US$35), which promises to leave your head in the clouds.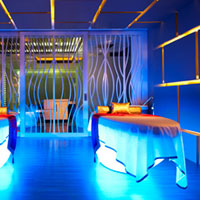 W Bali spa suite/ photo: hotel
Keep an eye out for the intimate The Amala Seminyak, a 12-villa construct, contemporary, cubist, private. Six are Spa Villas, replete with herbal steam showers. Expect clean lines whites and pastels and blue plunge pools. The spa is the soul of the place and it dishes out all manner of holistic treatments.
Sample yoga, massage, rubs, martial arts, Water Pilates and Craniosacral Therapy. Or opt for more traditional Balinese Massage (60 minutes at US$50), or the Indian Abhyanga rubdown that takes 90 minutes and costs US$75. A more complex Rebalancing Ayurvedic Ritual will require a full two hours (US$100 single, US$160 for a couple). This is a sister property of The Bale at Nusa Dua.
Keep an eye out for the stylish new beachfront Alila Seminyak with its broad swathe of gardens and splendid sea-facing sun-drenched swimming pools. The Spa Alila serves up a raft of wellness goodies from avocado and coconut hair smoothies and pedicures, to cleansing rituals, four-hand massages, and the 'Alila Signature Massage' with acupressure and Swedish deep tissue techniques. Also try the Indian Shirodara warm oil head drip to keep your 'third eye' in tip top shape, reflexology, or a Balinese Beauty Ritual. This retreat also has a good selection of retail offers on lotions and potions and scrubs.
Still in Seminyak is The Villas Seminyak. Villas feature private swimming pools, with a private entrance and garden, as well as high-speed Internet access, CD player and satellite TV.
The Prana Spa - a startling orange fantasy, Indian Bollywood meets Love Boat confection - with its exotic archways, crenelated ramparts, cotton drapes and hallucinogenic hues, serves up a huge variety of treatments. This is a popular spot with visitors as well as locals and is a mini industry with expectant Koreans, Japanese and Australians streaming into the scented reception awaiting the ministrations of a trained therapist.
The treatment rooms have bright green and burgundy walls with subdued lighting, Indian ornaments, Mughal paintings, mirror work, drapes and everything you'd expect of an Arabian Nights fable.
Or try the four-hour Ayurvedic Rejuvenation. Things are fun, if a bit high camp. One thing you will never miss out on at this place, is colour, riotous colour. Soothing? Shocking? Take your pic.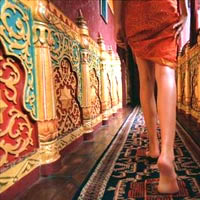 The Villas Seminyak/ photo: hotel
Anantara Resort Seminyak, on Bali's hippest strip has two infinity-edge swimming pools, holistic kneading at the Anantara Spa and beachside SOS Beach bar serves up snacks during the day and sunset DJ beats at night. The mixes don't stop there – ask your resident drinks "mixologist" for a taste to suit the mood.
Farther up the coast is the inviting Plataran Bali Resort & Spa (formerly Novus Bali Villa, and before that, Canggu Puri Merta) where assorted treatments are on tap.
Still heading north is the refreshingly different Hotel Tugu Bali with its antiques and artefacts and even a Walter Spies Suite, a replica of the home of the German artist who did much to popularise Indonesia. This is a traditional chic place with towering timber pillars and beams in its lobby and billowing gauze curtains. The spa treatment pavilions are all moulded from different inspirations. This is perhaps the secret of Tugu's charm. Lots of wood, antiques, incense, water features, bright colours, and a nice laid back atmosphere.
The Waroeng Djamoe Spa at Tugu Bali, is a Jamu exponent drawing upon local herbs and flora like the frangipani, magnolia, rose, jasmine and ylang-ylang. Treatments may be enjoyed in your inroom massage bed, in a treatment room, or in an outdoor balé. To really go all the way, and I mean ALL THE WAY, buckle in for an eight-hour Gemulai Penari Bali involving scalp massage, floral bath, a Balinese dancer massage, body scrub, a light gourmet lunch, hydro treatments, Jacuzzi and plunge pool. Some of the spa rooms offer choreographed Balinese massages where the hands and pressure application follows the flow and ebb of the gamelan orchestra. This has ranked in polls as one of the best Bali spas around.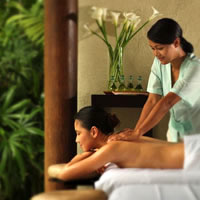 Samaya massage/ photo: hotel
Keep on up the coast and you'll arrive at the Pan Pacific Nirwana Bali Resort (formerly Le Meridien Nirwana Golf & Spa Resort). Pan Pacific took over on 1 April, 2010. Situated just across from the famous Tanah Lot temple that is accessible only at low tide, the resort is set in 100 expansive acres of rice fields and greens of the award-winning Greg Norman golf course. The Penguin Club will keep your kids entertained while you slip away for a romantic rubdown. The Nirwana Spa fuses the best of East and West combining Balinese Hindu concepts with Western remedies. Fight muscle fatigue, battle cellulite, and get rid of body toxins.
There's something for everyone. The 48-villa retreat from Alila is sited near the temple of Tanah Lot and. The Alila Villas Soori is a breezy, contemporary complex set in a flowing Balinese rice-terrace landscape, with its Alila Spa. Couples looking to rekindle their romance can opt for the Beauty and Balance package, with a footbath, massage, body scrub, and the opportunity to slather your partner's face with a coffee and coconut mask. This two-and-a-half-hour treatment will set you back US$204. This is a group serious about wellness and environmentally-friendly design.
Ubud Sayan, Payangan
Up in the cool hill country of Ubud where Bali's true soul resides, the Mandapa, a Ritz-Carlton Reserve arrived September 2015 to add a touch of class to the local offering. With swish accommodation in darkwood surrounds in Suites or Villas arrayed through this expansive resort, the Mandapa Spa is set at one secluded corner just above a bend in the sacred Ayung River, the sound of the water instantly transporting you to a place of peace and inner thoughts.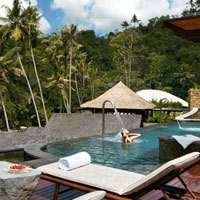 Mandapa Spa treatment room pool/ photo: hotel
This is a quality retreat with couples treatment rooms, privace, and soothing views. Pick from an arsenal of wellness menus. Expect friendly service and welcoming smiles. Aching muscles begone! The spa is open 9am to 9pm and yoga is on offer too.
Try the two-and-a-half-hour 'Royal Spice Ceremony' with exfoliation and lulur, flower-petal washes, and a four-hands massage. That's two experienced people massaging you, of course, not some creature from the swamp. Some of these specials are on request to make an appointment. A variety of scrubs, facials and massages are on offer, including the 'Rose Quartz Crystal Scalp Massage'. Teens have their own treatments with fun items like 'Party Nails'.
On the other side of town, the Maya Ubud Resort & Spa is a must-see spot. Stretched out along paddy fields above a river valley, the Maya Ubud is stylish and chic. The Spa at Maya, is some distance away from the main resort. To get there you can walk or hop on a buggy that drops you off at an unobtrusive elevator that takes you down to the river level where this enticing spa is located, halfway down the hillside at the Toya Mampeh spring with attractive standalone villa residences for ultimate indulgence. The Spa at Maya straddles a scenic bend in the river and some treatment rooms with their beaten metal bathtubs are right above the gurgling waters. The steep, wooded valley walls add to a sense of other-worldly enchantment. There is a separate swimming pool here with a spa menu for light meals.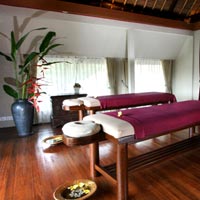 Kamandalu treatment room/ photo: hotel
Just a ten minute drive north from here is the Kamandalu Resort and Spa. Set amidst terraced rice paddy fields above the Petanu River gorge, the resort is compact and classy. You won't need to walk for miles. It was built to resemble a traditional Balinese village. The Spa at Kamandalu is at the lip of the valley with open views and pool area. The treatment rooms feature Jacuzzis and saunas. Treatment names are light and playful, and couples will be spoilt for choice with the "Wrapped in Love" package, and might even want to get a taste of "Heaven". Try a herbal wrap, a spot of hydrotherapy, a Javanese Lulur or get on the scent with a relaxing aromatherapy rubdown. Or continue with a Botanical Essence Facial or an Island Mocha Remedy. Have your partner lick it off later. There is a Beauty Salon too.
Right next door is the compact and exclusive enclave of theViceroy Bali with its manicured lawns, just a handful of discrete pool villas in varying configurations and The Lembah Spa. The spa features treatment rooms, steam room, plunge pool, Jacuzzi, and outdoor relaxation decks where you can take in views of the Petanu Valley below.
At the top end of the rubdown charts is the secluded and alluring COMO Shambhala Estate at Begawan Giri. COMO has revitalised this elegant establishment and there is a buzz about the place. The five spacious "residences" as they are called (housing 21 suites), are spacious, pretty and utterly private. All feature breathtaking pools and a butler. Two Retreat Villas come with private therapy rooms, steam shower, pool deck and private pools.
The COMO Shambhala Estate boasts an attractive spa, Kedara (formerly The Source), set further down the hill near a natural spring and waterfall. Toya Mampeh, the spring, is known in local lore for its healing properties. This mineral-infused water also feeds the chlorine-free Vitality Pool. Pick a custom-made treatment, stretch out over Yoga exercises, head up a climbing wall, or limber up in the Pilates Studio. Three, five and seven-night retreats are available, and the spa offers a wealth of ayurvedic, cleansing, get fit, stress management and rejuvenation programmes. The COMO is actually in Payangan, about a half hour's drive north of Ubud.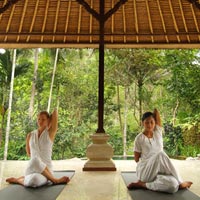 Royal Pita Maha stretches/ photo: hotel
At the heart of Ubud are the Pita Maha (Tjampuhan Resorts & Spa), the Hotel Tjampuhan & Spa, and the Warwick Ibah Luxury Villas & Spa. The delightful Ibah is built on a human scale and is wonderfully intimate and green. It has its spa on the banks of the Tjampuhan River. Try Shiatsu, Thai, Balinese or Swedish treatments. Opt for ginger or ylang-ylang essential oils as you breath in the scent of flowering frangipani. Finish off with a rose petal bath or go whole hog with a cocoa rice powder wash or green tea.
The Pita Maha and Hotel Tjampuhan & Spa have good spa facilities and the latter also boasts a spring-fed pool, a grotto setting (with some pretty extensive and outlandish carvings) and sauna and steam rooms. The Pita Maha spa is for the exclusive use of couples, and features an outdoor treatment pavilion, steam room and plunge pool. The Tjampuhan Spa is a Hollywood Lord of the Rings setting with an Asian flavour. At Hotel Tjampuhan you'll also find the original Walter Spies villa.
A third and quite sumptuous Pita Maha sibling is the Royal Pita Maha in Ubud's Kedewatan area with its exclusive Royal Villas and extensive spa menus. Here you'll find a very atmospheric Royal Kirana Spa (now managed by the hotel) surrounded by 18,000sq m of lush vegetation that plunges down to the river gorge. There are 15 villas to choose from, including six Suite Villas and the exorbitant Presidential Villa which boast their own private spas. Expect spring-fed water and a range of treatments as you plunge into your Royal Wellness and Healing routine. The spa is set along a hillside away from the lodgings to create a private getaway. Try a "Beauty Healing Package" - deep tissue plus facial - for 180 minutes at US$195 or an "Angel Retreat" body scrub and facial for 180 minutes also at US$195. This resort scores high on our Bali spa resorts review.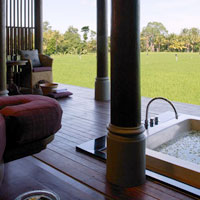 Tanah Gajah spa/ photo: hotel
Not far from the Hotel Tjampuhan, up a series of hairpins in Penestanan is the tiny Villa Nirvana that opened early 2011. The six villa units set on individual green terraces are Mediterranean in style, with a saffron theme, chill-out music, and friendly staff. A good spot for undisturbed yoga.
The Tanah Gajah Ubud, a resort by Hadiprana, which took over from The Chedi Club, Ubud run by the GHM group on 1 January 2020, offers 20 self-contained units in five hectares of garden looking onto rice fields. This is a private home away from home format, spoiling, rustic, and mellow. Two one-bedroom spa villas with plunge pool, massage suite and sauna, cater for for aromatic rubdowns to the accompaniment of jungle calls and birdsong (which is a lot better than listening to your boss hollering over the telephone). There's also a yoga studio and gym on hand to round off the experience. The resort is becalmed in a sea of shockingly green rice paddy, enough to make your eyes pop out and your heart sing. Mark it down.
South of the Chedi but north of Sukawati (the art village) is the new Sthala, a Tribute Portfolio Hotel, Ubud Bali (October 2016) that plans a slew of anti-ageing treatments and more at its planned spa - Creme de la Creme by Vinski and Tompi. Expect a range of beauty treatments.
Another Ubud option is the atmospheric and tucked-away Villa Semana featuring 10 traditional Balinese villas overlooking the Ayung River gorge and rice fields. It is small, reclusive, and pretty. The Villa Semana Spa is in a private open-air bale on the river with lotus pond baths and varied treatments. Complimentary daily yoga is available, with free snacks and tea to be had by the spa's poolside restaurant after 4pm.
The Uma Ubud is almost a small self-contained village with Balinese style villas featuring chic modern bathrooms, some with plunge pools and Broadband access for those refusing to part with their laptops. There's plenty of green space, tranquil nooks and corners for a reflective moment, water features, rockeries and shaded walkways. At the COMO Shambhala Retreat, spa out in a treatment room, steam off your city stress, detox in the sauna, or settle in to some soothing yoga. There's a balanced blend of relaxing therapies like the Javanese Royal Lulur Bath and active workout opportunities including trekking, mountain biking and, for the truly adventurous, white-water rafting.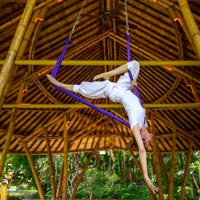 Four Seasons Sayan's anti-gravity yoga/ photo: hotel
At the very lip of the Ayung River is the architecturally striking Four Seasons Resort Bali at Sayan. You literally walk into a giant lotus pond to access the resort and then wend your way down through accommodation levels to the river, the pool, and the villas. The new all-bamboo Dharma Shanti Yoga Bale offers breezy 'anti-gravity' yoga exercises that involve upside down suspension. Rice fields surround the small turtle-shaped structure that rises up from the greens. Meanwhile the spa offers traditional Indonesian herbal treatments, massage, sauna and whirlpool. In addition to the main spa, there are Spa Villas redolent of teak underfoot and the rustle of Sulawesi silk. Each includes outdoor bathing pavilions with steam showers and soaking tubs overlooking a private garden courtyard. The Tropical Rain treatment is a three-and-a-half-hour ritual with warm red ginger body polish, a daub of ginger almond essences, a blended oils massage followed by the application of mountain flower lotion and an ylang-ylang petal bath. Explore the "Rice and Spice Body Scrub" and the "Clay Body Mask". Ayurvedic options also abound, like the "Chakra Dhara", "Suci Dhara" and "Usada Sayan".
Up the road is the extremely elegant Amandari, which offers spa treatments that use only local ingredients chosen for soothing and healing properties. Most treatments can be enjoyed in the privacy of your own room, but for the full experience try one of two open-air bales overlooking the Ayung Valley. This is an understated resort, beautifully and authentically traditional where you will feel you're in Bali, NOT Milan. Amanusa and Amankila (also from the top-notch Amanresorts stable) have some spa treatments available.
The Alila Ubud, has its Spa Alila with extensive spa packages, some going up to four hours. Well if that's what wellness takes, just do it. Among the offerings are a Balinese massage, Indian head massage, warm stone massage, reflexology, seaweed wraps and all manner of potions and rubdowns. At the end of all this if you have any skin left at all you'll be lucky but boy will those girls (or men, and alternative genders, lest we be politically incorrect) be chasing you.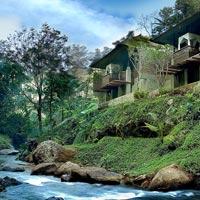 Maya Ubud spa/ photo: hotel
The Ubud Hanging Gardens (formerly by Orient-Express Hotels) and renamed Hanging Gardens Ubud by the owners mid-November 2013, is worth a look. As the name suggests, the Balinese villas are perched - pretty securely - above the Ayung River gorge, the de rigueur location for any upscale Ubud hangout. The 38 villas with thatched alang-alang roofs are set on wooden pillars with four-poster beds inside, outdoor showers and plunge pools. The Spa close by the river offers birdsong (which is free) and fancy herbal spa treatments and scrubs combining Balinese ingredients with assorted wellness techniques. Pick masks, exfoliation, massage and end it all with a floral bath.
A new 2018 Bali spa resorts offering is the tiny 22-tent Capella Ubud, a rustic chic affair tucked into the verdant rainforest. Expect all of the Capella's expected luxe touches along with a lot of vintage teak, creaking wood underfoot, and striking cobalt blue canopies. There is an Auriga Wellness offering for spa treatments and invigorating massages with Bali potions and scrubs and rubs. Pilatus and yoga is available too. This is colonial 'village' but make no mistake, it is a luxury getaway.
Four more Ubud options are provided by the Komaneka resorts group. Pick from the Komaneka at Monkey Forest, the Komaneka Tanggayudawith its pool villas and spa overlooking the Oos River, the Komaneka at Bisma is set in verdant rice paddy terraces on a rather narrow access road above the Campuhan River, and the Komaneka at Rasa Sayang near the Monkey Forest. Try a "Healing" package at Tanggayuda or Bisma, which includes two nights' accommodation and four hours of pampering treatments with daily organic foods.
A real gem is the Puri Wulandari which describes itself as a boutique resort and spa. That is pretty accurate. The resort is in a superb garden setting with fabulous across-the-river views and lovely villas, some with valley-edge plunge pools. Spa facilities are excellent. It is a pity the resort tends to limp along when it has some of the best product around. The Lila Ulanguan Spa at Puri Wulandari is a very pleasant affair. This is a dedicated area for rest and relaxation. Try their Balinese massage or the half-hour Sea Salt Scrub. There is also Swedish massage, reflexology, the Indonesia honey facial, and Javanese Lulur. The spa utilises remedies passed down through generations of Balinese healers and there nice open views of rice fields. Other interesting Balinese treatments include the "Balinese Honey Masque" and the "Balinese Boreh".
Kupu Kupu Barong Ubud/ photo: hotel
Making a smart comeback is Kupu Kupu Barong Resort & Tree Spa a Hobbit-style villa reserve on the Ayung gorge. The Mango Tree Spa by L'Occitane has been created out of silk and wood and is sited atop a mango tree, overlooking the valley. It's a firm perch despite the description. Villas offer vertiginous views of the river - and some rather steeps steps to get to breakfast. Fortunately, a butler can be arranged to do all the running about. This is one of Bali's oldest boutique hotels (it opened in 1986 as a restaurant) and is worth a look in. If you're concerned about treehouses, surprisingly, the contrivance works, complete with water features, Jacuzzi and more. If you insist on keeping your feet on the ground, opt for Lumbung House or the Garden Spa. The resort also serves up one of the biggest steam rooms in Bali, a ceramic tiled Arabian Nights sort of adventure.
The Kori Ubud spa does a one hour "chi" massage at US$25, while the "Spirit of Kori Ubud" is a US$49 two-hour thalasso, foot wash, lavender body wash, turmeric body scrub routine. The full works. This is an attractive unpretentious resort. The Ubud Village Resort & Spa nestles in lush foliage near the Monkey Forest and the two-storey Kama Karana Spa is nestled in rustic surrounds, and offers customised programmes such as the four-and-a-half-hour "Rama & Shinta" treatment.
A small and neat and unfussy spot on the Ubud main street is the Aniniraka Resort & Spa, a trendy sort of place, compact and friendly. Aniniraka is surrounded by lush paddy fields and a small upstairs restaurant. The spa offers the usual massages and facials, but not at wallet-humbling prices.
Wellness in Sanur area, Manggis
The civilised east coast of Sanur that catches the sunrise is host to several nice properties. Exotic seaweed lashings, massage and scraping goes on at wellness spas in the area. Try The Fairmont Sanur Beach Bali, a newcomer with acres of space and a beachfront setting, or the dinky Jamu Spa at the Tandjung Sari resort. The Bali Hyatt spa is closed along with the reort for a complete renovation 15 November 2013 till late 2015 to return as the Hyatt Regency Bali.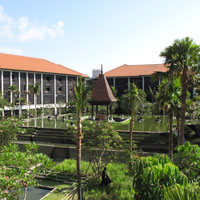 Fairmont Sanur Beach Bali/ photo: Verghese
A major contender for upscale business in this formerly mid-range area is the Fairmont Sanur Beach Bali (December 2014, formerly the Regent Bali). A grand and stately construct, it is right at the end of the Sanur strip, perched at the very edge of a sharply tapering beach, with ocean views. A spa with Balinese wellness treatments is on hand for tired limbs and a181sq m Premier Spa Suite (one of only two) offers more than ample elbowroom with 70sq m set aside for the bedroom. Start off with a ginger and jasmine foot bath and move on to a signature massage followed by a vanilla and nutmeg bath. Indonesian facial treatments here employ everything from honey and avocado to ypghurt, orange and cucumber.
The charming twin resorts Puri Santrian and Griya Santrian offer the Santrian Spa where ample sea salt footbaths, lulur scrubs and traditional massages await. Some Balinese options include a detox seaweed and volcano mud body mask, and the "Fresh Papaya Enzyme, Avocado and Cucumber" fruit scrub.
Farther east, the Alila Manggis Bali, is a laid-back sanctuary with no airs but plenty of rustic style. Set amidst a coconut grove in gardens facing a salt-and-pepper beach, the resort is arrayed around a large square central swimming pool. For tired limbs there's the Spa Alila where you might try out a Balinese Massage for an hour or a two-hour Seaweed Farm Body Wrap at involving, among other things, exfoliation with sweet almond and sugar oil.
Pemuteran, North, East Coast, Tembok
Heading up to the far north of Bali and its forgotten shores of Pemuteran and Lovina, there is a clutch of properties to choose from. The lovely Damai Villas, perched on a hillside, offers eight bungalows and a simple but super restaurant as well as a spa pavilion looking onto paddy fields. The Matahari Beach Resort & Spa is on a black sandy stretch near Pemuteran and heading west along the coast, the 129-room low-rise Sunari Villa & Spa Resort (formerly Sol Lovina) offers spa treatments. The Matahari Beach Resort & Spa's the PARAWATHI SPA is inviting with water features and brightly lit tropical gardens.
Puri Ganesha Villas is the place that put reclusive Pemuteran on the map. This charming property offers four two-storey thatched roof Balinese-style villas on a generous 400sq m of beachfront. It is a bit of a stretch from the airport (three-and-a-half hours) but then, the best things in life don't come easy. A great place for a long, slow detox.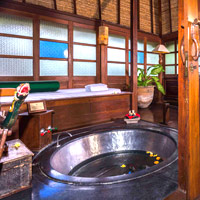 Hotel Tugu is a splendid option - Rejang Suite/ photo: hotel
While there is no huge spa facility, there are plenty of massage treatments available and, upon request, an extensive five-day detox treatment can be rolled out with gallons of fruit juice, organic foods and, of course, the oil for weary muscles. There is a small spa area called the Sunyi. This bright pink thatched hut is as colourful inside, and has a treatment room, library and front deck overlooking the gardens. Puri Ganesha is a useful spot to use as a staging point for forays into Bali's uncrowded north, taking in black sand beaches, rolling hills and a spot of rainforest too. Near Seririt and perched above the Sea of Java, is the Zen Resort Bali, a small boutique hotel featuring Balinese architecture. There are 15 ocean-view villas. Guests can indulge in individually created (and Ayurvedic Master approved) spa packages, or meditate and practise yoga on the special yoga pavilion. There's also a forest walk to a sacred temple, a meditation terrace perched on treetops, and a tranquil beach. The resort is a three-hour drive from Denpasar, and two hours from Ubud.
On the Jalan Singaraja-Amlapura road winding along the island's ruggedly beautiful east coast at Tembok, is the The Spa Village Resort Tembok – Malaysian YTL's first foray into Bali. This dedicated spa resort offers a cosy seaside setting with just 31 rooms, two suites and two villas. Keep in mind that the resort does not accommodate kids under 16, and advocates a mobile phone and TV-free environment. Perfect for adults looking to get back to basics. And a whole lot of pampering.
Expect elegant Balinese design in a contemporary setting, generous space, marble bathrooms with sunken baths, and balconies or terraces with panoramic views. The villas have private plunge pools. The highlight is of course The spa where assorted treatments await minus the shrill rings of cellphones and pagers (which are discouraged, along with smoking). Try the 100-minute "Penganten Melukat" pre-wedding ritual or the 100-minute Campur-Campur Malay-Thai combination. Check out the Spa Village Academy, which holds classes on Balinese massage techniques, herbal remedies, and more. This is a distant location with a pebble beach but it offers an away-from-it-all feel with little distraction and spa treatments galore.
And that's the A to Z of Bali spa resorts. Well, get cracking.
Send us your Feedback / Letter to the Editor
FAST FACTS

/ Hotel Contact List

The wet season (and it can get pretty wet when the heavens part) runs from late October to mid-March. Yet there is enough sunshine in between to keep most people happy. This is the period to push for discounts during the low season. August and September temperatures can be surprisingly pleasant with cool nights. The international departure tax is Rp150,000 (domestic is Rp40,000).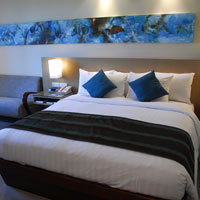 Child-friendly Courtyard/ photo: Verghese
The exchange rate hovers around US$1 = Rp13,300 or better (especially in Kuta). Prefer moneychangers and banks to hotels. Hotels may add on an extra 10 percent service charge and 10 percent government levy up to around a 21 percent tax. Internet rates are available at several resorts and these fluctuate almost daily.
Check for the best available Internet rates (BAR). Room rates will vary from about US$80 at budget establishments and US$130 at mid-range properties to around US$1,200 or more at luxury villa resorts. An average rate at a good Bali five-star hotel will be in the range of around US$220.
Bali villa escapes for honeymoons
A lot of travellers prefer to stay in Bali private villas. One company offering a range of choice is Bali Luxury Villas (www.baliluxuryvillas.com/page/experience) with options in Canggu, Nusa Dua, Jimbaran, Seminyak and Ubud. We have listed a few Bali villas by district below.
Bali villa escapes for honeymoons
A lot of travellers prefer to stay in Bali private villas. One company offering a range of choice is Bali Luxury Villas (www.baliluxuryvillas.com/page/experience) with options in Canggu, Nusa Dua, Jimbaran, Seminyak and Ubud. We have listed a few Bali villas by district below.
Nusa Dua, Uluwatu, Ungasan & South
Alila Villas Uluwatu. Tel: [62-361] 848-2166, (www.alilahotels.com/uluwatu/).
Anantara Bali Uluwatu Resort & Spa. Tel: [62-361] 895-7555, (bali-uluwatu.anantara.com).
Awarta Nusa Dua Luxury Villas & Spa (formerly Centara Grand Villas). Tel: [62-361] 773-300, (www.awartaresorts.com/).
Ayodya Resort Bali. Tel: [62-361] 771-102, (www.ayodyaresortbali.com).
Bali Desa Villa. Tel: [62-361] 772-688, fax: 772-678.
Banyan Tree Ungasan, Bali. Tel: [62-361] 300-7000, (www.banyantree.com/en/bali_ungasan/).
Bulgari Hotels and Resorts Bali. Tel: [62-361] 847-1000, (www.bulgarihotels.com/en-us/bali).
Blue Point Bay Villas & Spa. Tel: [62-361] 769-888, (www.bluepointbayvillas.com).
Club Med. Tel: [62-361] 771-521, 771-523, (www.clubmed.com.my).
Courtyard Bali Nusa Dua (by Marriott). Tel: [62-361] 300-3888, (www.marriott.com).
Grand Hyatt Bali. Tel: [62-361] 771-234, (www.bali.grand.hyatt.com).
Hilton Bali Resort (formerly Grand Nikko Bali). Tel: [62-361] 773-377, (www3.hilton.com).
Hotel Novotel Bali Nusa Dua Hotel & Residences. Tel: [62-361] 848-0555, (www.novotelnusaduabali.com).
Hotel Santika Siligita Nusa Dua Bali. Tel: [62-361] 846-5777, (www.santika.com).
INAYA Putri Bali. Tel: [62-361] 774-488, (inayahotels.com/).
Karma Kandara. Tel. [62-361] 848-2200, (www.karmakandara.com).
Kayumanis Nusa Dua. Tel: [62-361] 770-777, (www.kayumanis.com).
Melia Bali. Tel: [62-361] 771-510, (www.meliabali.com).
Mercure Bali Nusa Dua. Tel: [62-361] 846-7000, (www.mercure.com).
Mulia Bali. Tel: [62-361] 302-7777, (e-mail: info@themulia.com or www.themulia.com).
Nusa Dua Beach Hotel & Spa. Tel: [62-361] 771-210, www.nusaduahotel.com).
Renaissance Bali Uluwatu Resort & Spa. Tel: [62-361] 200-3588, (www.marriott.com/hotels).
Samabe Bali Resort & Villas. Tel: [62-361] 846-8633, (www.samabe.com).
Sekar Nusa Villas. Tel: [62-361] 773-333, (www.snvbali.com).
Sofitel Bali Nusa Dua Beach Resort. Tel: [62-361] 849-2888, (www.sofitel.com).
Swiss-Belhotel Bay View. Tel: [62-361] 847-8000, (www.swiss-belhotel.com or www.swiss-belhotelbayviewvilla.com).
The Balé. Tel: [62-361] 775-111, (www.thebale.com).
The Bali National Golf Villas. Tel: [62-361] 771-791, (www.balinational.com/villas/villarates/).
The Edge Bali. (www.facebook.com/The-edge-bali/).
The Grand Bali – Nusa Dua (formerly Swiss-Grand Bali). Tel: [62-361] 776-688, (thegrandbali.com).
The Laguna Resort & Spa, Nusa Dua, Bali (formerly the Sheraton Laguna Resort & Spa). Tel: [62-361] 771-327, (www.thelagunabali.com).
The Ritz-Carlton, Bali. Tel: [62-361] 849-8988, (www.ritzcarlton.com).
The Shanti Residences & Resorts. Tel: [62-361] 734-656, (www.shantiresidencesandresorts.com).
The St Regis Bali Resort. Tel: [62-361] 847-8111, (www.stregisbali.com).
The Westin Resort Nusa Dua, Bali. Tel: [62-361] 771-906, (www.westin.com/bali).
Benoa hotels
Aston Bali Resort & Spa. Tel: [62-361] 773-577, (www.astonbali.com).
Conrad Bali Resort & Spa. Tel: [62-361] 778-788, (www.conradbali.com).
Grand Mirage Resort. Tel: [62-361] 771-888, (www.grandmirage.com).
Hotel Ibis Styles Bali Benoa. Tel: [62-361] 300-1888, (www.ibis.com).
Mantra Sakala Resort & Beach Club, Bali. Tel: [62-361] 775-216, (www.sakalaresortbali.com).
Melia Benoa. Tel: [62-361] 771-714, (www.meliabenoa.com).
Novotel Bali Benoa. Tel: [62-361] 772-239, (www.novotelbalibenoa.com).
Rumah Bali, Bed & Breakfast. Tel: [62-361] 771-256, (www.bedandbreakfastbali.com).
The Royal Santrian. Tel: [62-361] 778-181, (www.theroyalsantrian.com).
Jimbaran resorts
AYANA Resort and Spa. Tel: [62-361] 702-222, (www.ayanaresort.com).
Belmond Jimbaran Puri Bali. Tel: [62-361] 701-605, (www.belmond.com/jimbaran-puri-bali/).
Four Seasons Resort Bali at Jimbaran Bay. Tel: [62-361] 701-010, (www.fourseasons.com/jimbaranbay).
InterContinental Bali Resort. Tel: [62-361] 701-888, (www.ihg.com/intercontinental/).
Jamahal Private Resort & Spa. Tel: [62-361] 704-394, (www.jamahal.net).
Kupu Kupu Jimbaran. Tel: [62-361] 703-342, (www.kupujimbaran.com/).
Karma Jimbaran. Tel: [62-361] 708-800, (www.karmajimbaran.com).
Le Meridien Bali Jimbaran. Tel: [62-361] 846-6888, (www.lemeridienbalijimbaran.com/).
Raffles Bali. Tel: [62-361] 201-5800, (www.raffles.com/bali/).
RIMBA Jimbaran Bali. Tel: [62-361] 846-8468, (www.rimbajimbaran.com).
Villa Balquisse. Tel: [62-361] 701-695, (www.balquisse.com).
Kuta & Tuban
Aston Kuta Hotel and Residence. Tel: [62-361] 758-699, (www.astonkuta.com).
AlamKulkul Boutique Resort. Tel: [62-361] 752-520, (www.alamkulkul.com).
Bali Dynasty Resort. Tel: [62-361] 752-403, (www.balidynasty.com).
Discovery Kartika Plaza Hotel. Tel: [62-361] 751-067, (www.discoverykartikaplaza.com).
Hard Rock Hotel. Tel: [62-361] 761-869, (bali.hardrockhotels.net).
Holiday Inn Resort Baruna Bali. Tel: [62-361] 755-557, (www.bali.holidayinn.com).
Padma Resort Bali at Legian (formerly Padma Hotel Bali). Tel: [62-361] 752-111, (www.padmaresortbali.com).
Poppies Bali. Tel: [62-361] 751-059, (www.poppiesbali.com).
Rama Beach Resort & Villas. Tel: [62-361] 751-557, (www.ramabeachhotel.com).
Sheraton Bali Kuta Resort. Tel:[62-361] 846-5555, (www.sheratonbalikuta.com/).
The Patra Bali Resort and Villas. Tel: [62-361] 751-161, (www.thepatrabali.com/).
Legian & Seminyak
Alila Seminyak Bali . Tel: [62-361] 302-1888, (www.alilahotels.com/seminyak).
Anantara Seminyak Bali. Tel: [62-361] 737-773, (bali.anantara.com).
Bali Mystique. Tel: [62-361] 730-465, (www.balimystique.com).
Bali Niksoma. Tel: [62-361] 751-946, (www.baliniksoma.com).
Bali Rich Luxury Villa & Spa Seminyak. Tel: [62-361] 731-468, (www.balirichseminyak.com).
Centra Taum Seminyak Bali. Tel: [62-361] 473 1797, (www.centarahotelsresorts.com).
Divine Villas (Seminyak and Canggu). Tel: [62-361] 759-609, (www.divinevillasbali.com).
Downtown Villas. Tel: [62-361] 736-464, (www.downtownbali.com).
Grand Balisani Suites. Tel: [62-361] 730-550, (www.bali-sani.com/grand/).
Hotel Indigo Bali Seminyak Beach. Tel: [62-361] 209-9999, (www.ihg.com/hotelindigo/hotels/).
IZE. Tel: [62-361] 846-6999, (www.ize-seminyak.com).
Jambuluwuk Oceano Seminyak Hotel. Tel: [62-877] 800-400-80, (www.jambuluwuk.com/seminyak).
Katamama. Tel: [62-361] 302-9999, (www.katamama.com/).
Konaditya House. (www.villa-bali.com).
Laksmana Villas. Tel: [62-361] 733-320, (www.laksmanavillas.com).
Legian Beach Hotel. Tel: [62-361] 751-711, (www.legianbeachbali.com).
Maya Sayang Villa Seminyak. Tel: [62-361] 732-230, (www.mayasayang.com).
Pullman Bali Legian Nirwana. Tel: [62-361] 762-500, (www.pullmanbalilegiannirwana.com).
Sentosa Private Villas and Spa. Tel: [62-361] 730-333, (www.sentosaseminyak.com).
The Seminyak. Tel: [62-361] 730-814, (www.theseminyak.com).
The Amala. Tel: [62-361] 738-866, (www.theamala.com).
The Breezes Bali Resort & Spa (formerly Contiki). Tel: [62-361] 730-573, (www.thebreezesbali.com).
The Elysian Bali Villas. Tel: [62-361] 730-999, (www.theelysian.com).
The Haven. Tel: [62-361] 738-001, (www.thehavenbali.com).
The Kayana Seminyak Bali. Tel: [62-361] 847-6628, (www.thekayana.com/).
The Legian, Bali. Tel: [62-361] 730-622, (www.ghmhotels.com/en/legian-bali/).
The Oberoi Bali. Tel: [62-361] 730-361, (www.oberoihotels.com/oberoi_bali/).
The Royal Beach Seminyak Bali – MGallery Collection (formerly Sofitel Seminyak Bali). Tel: [62-361] 730-730, (www.theroyalbeachseminyakbali.com).
The Samaya Seminyak. Tel: [62-361] 731-149, (seminyak.thesamayabali.com).
The Stones Hotel, Legian Bali. Tel: [62-361] 300-5888, (www.marriott.com).
The Villas Seminyak. Tel: [62-361] 730-840, (www.thevillas.net).
U Paasha Seminyak. Tel: [62-361] 822-8888, (www.uhotelsresorts.com/upaashaseminyak/).
Uma Sapna. Tel: [62-361] 736-628, (www.coconuthomes.com/umasapna_overview.php).
Villa Aqua. Tel: [62-361] 847-6630, (www.villa-aqua-bali.com).
Villa Sin Sin. Tel/fax: [62-361] 735-599, (www.villasinsin.com).
W Bali - Seminyak. Tel: [62-361] 738-106, (www.whotel.com/baliseminyak).
Canggu /Kerobokan & Tanah Lot
Alila Villas Soori. Tel: [62-361] 894-6388, (www.alilahotels.com/soori/).
Balisani Padma Hotel (formerly the Grand Balisani Hotel). Tel: [62-361] 730-550, (bali-sani.com/balisanipadmahotel.htm).
Hotel Tugu Bali (also for Villa Tugu Bali). Tel: [62-361] 731-701, (www.tuguhotels.com).
Plataran Canggu Bali Resort & Spa. Tel: [62-361] 411-388, (www.plataranbali.com).
Pan Pacific Nirwana Bali Resort. Tel: [62-361] 815-900, (www.panpacific.com/Bali/).
Waka Hotels & Resorts. Tel: [62-361] 723-629, (www.wakahotelsandresorts.com).
Sanur and southeast coast
Bali Hyatt. Tel: [62-361] 281-234, (www.bali.resort.hyatt.com).
Fairmont Sanur Beach Bali. Tel: [62-361] 301-1888, (www.fairmont.com/sanur-bali/).
Griya Santrian. Tel: [62-361] 288-181, (www.santrian.com/griya/).
Grand Inna Bali Beach (formerly Inna Grand Bali Beach Hotel, Resort & Spa). Tel: [62-361] 288-511, (www.innagrandbalibeach.com).
Mara River Safari Lodge. Tel: [62-361] 950-000, (www.marariversafarilodge.com).
Maya Sanur. Tel: [62-361] 849-7800, (www.mayaresorts.com/sanur/en/).
Mercure Resort Sanur Bali. Tel: [62-361] 288-833, (www.mercureresortsanur.com).
Puri Santrian. Tel: [62-361] 288-009, (www.santrian.com).
Sanur Paradise Plaza Hotel. Tel: [62-361] 281-781, (www.sanurparadise.com).
Tandjung Sari. Tel: [62-361] 288-441, (www.tandjungsarihotel.com).
The Pavilion Bali. Tel: [62-361] 288-381, (www.thepavilionsresorts.com/bali-home).
Villa Mahapala. Tel: [62-361] 286-222, (www.villamahapala-bali.com).
Ubud, Sayan & Payangan, Gianyar
Alila Ubud. Tel: [62-361] 975-963, (www.alilahotels.com/ubud).
Amandari. Tel: [62-361] 975-333, (www.amanresorts.com/amandari/).
Aniniraka Resort & Spa. Tel: [62-361] 975-213, (www.aniniraka.com).
ARMA Museum & Resort. Tel: [62-361] 976-659, 975-742, (www.armabali.com/resort/).
Biyukukung Suites and Spa. Tel: [62-361] 978-976, (www.biyukukung.net).
Capella Ubud. Tel: [62-361] 2091-888, (www.capellaubud.com).
Champlung Sari Hotel. Tel: [62-361] 975-418, (www.champlungsariubud.com).
COMO Shambhala Estate. Tel: [62-361] 978-888, (www.comohotels.com/comoshambhalaestate).
Four Seasons Resort Bali at Sayan. Tel: [62-361] 977-577, (www.fourseasons.com/sayan/).
Hanging Gardens Ubud. Tel: [62-361] 982-700, (www.hanginggardensubud.com).
Hotel Tjampuhan Spa. Tel: [62-361] 975-368, (www.tjampuhan-bali.com).
Komaneka (Ubud/ Bisma / Tanggayuda / Monkey Forest). Komaneka Monkey Forest. Tel: [62-361] 401-2217, 404-2218, (www.komaneka.com).
Kamandalu Resort and Spa. Tel: [62-361] 975-825, (www.kamandaluresort.com).
Kayumanis Ubud Private Villa & Spa. Tel: [62-361] 927-777, (www.kayumanis.com).
Kori Ubud. Tel: [62-361] 972-487, (www.koriubud.com).
Kupu Kupu Barong Villas and Tree Spa. Tel: [62-361] 975-478, (www.kupubarong.com).
Mandapa, A Ritz-Carlton Reserve. Tel: [62-361] 479-2777, (www.mandapareserve.com).
Maya Ubud Resort & Spa. Tel: [62-361] 977-888, (www.mayaubud.com).
Nandini Bali Jungle Resort & Spa. Tel: [62-361] 982-777, (www.nandinibali.com).
Natura Villa Resort & Spa. Tel: [62-361] 978-666, (www.naturaresortbali.com).
Pita Maha Resort & Spa. Tel: [62-361] 974-330, (www.pitamaha-bali.com/).
Puri Wulandari. Tel: [62-361] 980-252, (hotelpuriwulandari.com).
Sthala, a Tribute Portfolio Hotel, Ubud Bali. Tel: [62-361] 301-8700, (www.sthalaubudbali.com/).
Tanah Gajah, Ubud, a resort by Hadiprana. Tel: [62-361] 975-685, (www.tanahgajahubud.com/).
The Royal Pita Maha. Tel: [62-361] 980-022, (www.royalpitamaha-bali.com).
The Ubud Village Resort & Spa. Tel: [62-361] 978-444, (www.theubudvillage.com/).
The Westin Ubud Resort & Spa. (www.starwoodhotels.com/westin/).  
Uma Ubud. Tel: [62-361] 972-448, (www.comohotels.com/umaubud).
Viceroy Bali. Tel: [62-361] 971-777, (www.theviceroybali.com).
Villa Nirvana (Penestanan). Tel: [62-361] 979-419, (www.villanirvanabali.com).
Villa Semana. Tel: [62-361] 898-7111, (www.villasemana.com).
Warwick Ibah Luxury Villas & Spa. Tel: [62-361] 974-466, (www.warwickibah.com).
East Bali, Candidasa, Manggis
Alila Manggis. Tel: [62-363] 41011, (www.alilahotels.com/manggis).
Amankila. Tel: [62-363] 41333, (www.amanresorts.com/amankila/).
Candi Beach Cottage. Tel: [62-363] 41234, (www.candibeachbali.com).
The Bali Shangrila Beach Club. Tel: [62-363] 41829, (www.balishangrila.net).
Buleleng Regency, North Bali
Zen Resort Bali. Tel: [62-362] 93-578, (www.zenresortbali.com).
Pemuteran, Lovina and East Coast, Tulamben, Tembok
Bali Handara Golf & Country Club. Tel: [62-362] 342-2624, (www.balihandaracountryclub.com).
Damai Lovina Villas. Tel: [62-362] 41008, (damai.com).
Matahari Beach Resort & Spa. Tel: [62-362] 92312, (www.matahari-beach-resort.com).
Mimpi Resort Menjangan. Tel: [62-362] 94497, (www.mimpi.com).
Mimpi Resort Tulamben. Tel: [62-363] 21642, (www.mimpi.com).
Puri Ganesha Villas. Tel: [62-362] 94766, (www.puriganesha.com).
Sunari Villas & Spa Resort. Tel: [62-362] 41775, (www.sunari.com).
Spa Village Resort Tembok Bali. Tel: [60-3] 2783-1000, (www.spavillage.com/tembokbali/).
Central Highlands/ Penelokan & Bedugul
Lakeview Hotel & Restaurant. Tel: [62-366] 52525, (www.lakeviewbali.com/).