HONG KONG ART MUSEUMS
Art makes a start in the greening of new Hong Kong
Stocks-obsessed Hong Kong has long lacked anything approaching a Metropolitan Museum, a National Gallery, or a Louvre. But times are changing as art museums sprout. A fun guide to art and culture in Hong Kong.
29 November 2022
SEE ALSO HK Yuen Long coffee, cafes | Asia medical tourism | Travel health risks in Asia | Covid-19 leader forum | Asia tsunami history | Bali volcano updates | Behind the scenes - Staycations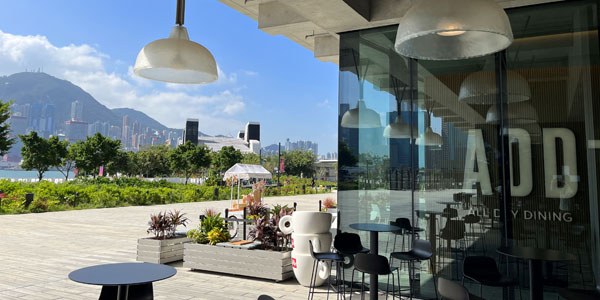 IN A city long known for its teetering skyscrapers and show-off architecture, propitiating both coy customers and the Gods with names like Great Smart Tower, Intelligent Building and Opulent Building, there has now been a welcome efflorescence of museums, many of them a joy to behold. Despite the excellent annual Hong Kong Arts Festival, briefly becalmed by Covid, and a couple of art shows including Art Basel and the Affordable Art Fair, the city's denizens have long been starved of homebased cultural dips.
The iconic Hong Kong Cultural Centre on the Kowloon waterfront at the tip of TST is a performance facility and occasional exhibition gallery. The equally iconic eggshell Space Museum has been around since 1980 and the excellent Hong Kong Science Museum is not far from here. Around the TST promenade, the Hong Kong Museum of Art (HKMOA, 10 Salisbury Road, tickets HK$78) does a fine job of displaying slices of local history and Chinese artefacts as well as hosting visiting exhibits, some exceptional, as with an earlier Botticelli extravaganza. HKMOA is open 10am-6pm most days and is closed Thursdays. It's sister Flagstaff House Museum of Tea Ware is housed in a whitewashed colonial building in Hong Kong Park at No.10 Cotton Tree Drive, Central. Tea buffs can enjoy the doll's house exhibits from 10am to 6pm through the week except Tuesdays. Entrance here is free. The park itself is worth a wander.
Books aplenty can be found at the Hong Kong Central Library in Causeway Bay but some might baulk at the sheer ugliness of this building, a bland ochre construct with a faux mini Palladium impossibly wedged into its roof.
What the city long lacked was anything remotely approaching a Metropolitan Museum, a National Gallery, a Rijksmuseum, a Prado or a Louvre. After all it is a city obsessed with money and the stock market, not taste and artistry, despite the best efforts of some indefatigable private collectors. Now, finally, it has all come together in the form of the West Kowloon Cultural District development, a grand stab at greenery, breezy walks, and vast modern museum spaces.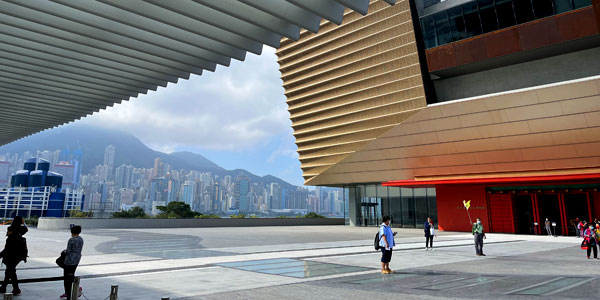 West Kowloon is a fair stagger from Kowloon Station (Tung Chung line, Exit C, Elements Mall, Metal Zone 2/F and across the Artist Square Bridge to the right of the Ritz-Carlton final escalator). The young and chipper will be able to walk over, briskly, with some fumbling around the mall, in about 10-15 minutes. This is the easiest route for most ages and once in the district the landscaping is hugely inviting with seating and a few pricey eateries dotted around.
The pedestrian bridge drops down behind the M+ Museum "of visual culture". This a stark, cubist clean-line modern building, a mix of casual grey concrete, oversize ceiling lamps, and swish glass frontages with dramatic views over the harbour. It is a spacious but compact layout with easy navigation and good accessibility features. The museum is open Tuesdays to Sundays 10am-6pm with Fridays running to 8pm. You need to book tickets in advance. Standard general admission tickets are priced at HK$120 with concession tickets (as for seniors over 65) at $60. Special exhibition tickets are priced a little higher.
Similar ticket pricing is on offer at the stately Hong Kong Palace Museum, a five to 10-minute stroll from M+ through the gardens along breezy meandering paths. The entrance is from the side as you approach, up a long escalator onto a large podium level with the large scarlet doors of the museum across the grey stone courtyard. Be warned that backpacks and bulky items will not be permitted into certain areas like Gallery 8, which is reserved for special exhibitions, like the Liechtenstein Princely Collection (till March 2023), painstakingly gathered over 400 years, with an assortment of classic oils from Peter Paul Rubens the Flemish baroque master and his contemporary, Anthony van Dyke.
HKPM showcases hundreds of artefacts from the Palace Museum Beijing. Expect everything from Chinese Tang dynasty tricolour pottery, horses, and Qing Dynasty regalia.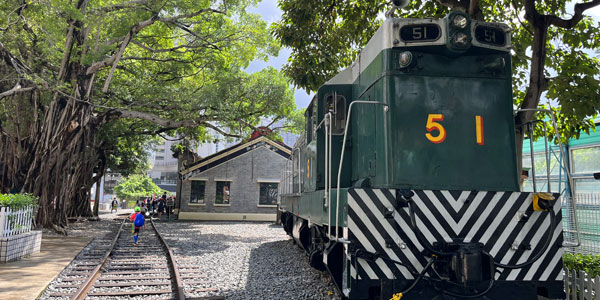 The museum is well laid out with attractive design touches. It entails a great deal of walking (be warned) but is wheelchair friendly with excellent accessible toilets and inviting alfresco verandas with big sea views. There is ample seating in most central spaces on various floors.
As you stroll around the cultural district, you'll spot the striking Xiqu Centre for traditional Chinese theatre and the brooding minimalist Freespace, which hosts drama and music performances. There is ample event space available here in attractive surrounds.
On Hong Kong Island, the Arte M museum at the K11 Atelier at 728 King's Road (Quarry Bay MTR, 11am-7pm Mon-Sun) offers a modern "immersive art" experience that will appeal to some but leave others cold. An adult ticket is priced at HK$128 weekdays and HK$148 weekends. The space is minimal with clean lines and of course impenetrable dark spaces with blackout curtains that will have some creeping through the interiors bumping into mirrors trying to find their way to the next exhibit.
The 'art' is projected onto the walls and surrounds and can be captivating at times and ho-hum at others. At a 'Jungle' exhibit, for example, giraffes and lions wandered slowly through hallucinogenic tropical fronds as colours changed and then the entire tableau looped again. There are jungle sounds and mysterious whispers. It could be more meditative than simply art perusal. This about describes the various exhibits where flowers might rain from the skies and sea water rolls across the floor lapping at your feet. Let your imagination free.
Two other notable Hong Kong museum mentions are the University Museum and Art Gallery at the University of Hong Kong (art, digital displays and collections, 90 Bonham Road, 9.30m-6pm Mon-Sat, and 1pm-6pm Sun), and the Hong Kong Heritage Museum (under renovation till end 2022).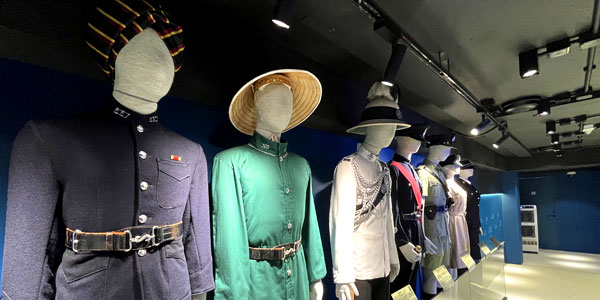 Surprising at it may seem there are other small museums dotted around the city like the Hong Kong Museum of History, the Hong Kong Maritime Museum, the Hong Kong Police Museum (housed in a former police station at 27 Coombe Road off Stubbs Road at Wanchai Gap, advance registration), and the Hong Kong Railway Museum (Tai Po Market, 6,500sq m covering the old station area, 10am-6pm, closed Tue, admission free). The railway museum is a short stroll from Tai Po Market station (East Rail Line) and will make for a quick visit to see a couple of engines and racing-green carriages, though you might potter about longer in the market areas in this vicinity. You might also try your luck at the Hong Kong Museum of Coastal Defence, Shau Kei Wan, and the easily accessible Dr Sun-yat Sen Museum (closed Thursdays, 7 Castle Road, Mid-Levels).
Be warned that some of these government websites may be hair-pullingly slow and you might prefer watching paint dry.
So next time around, perhaps dip into some Hong Kong culture and history. The chances are there may be an international exhibition or two in town.
Send us your Feedback / Letter to the Editor