NIGHTLIFE
Kuala Lumpur nightlife blitz
Cool KL bars, fine dining, nightclubs, music lounges and throbbing dance floors.
SEE ALSO Shanghai nightlife | Hong Kong guide | Singapore Nightlife | Kuala Lumpur hotels | Kuala Lumpur shopping | Langkawi guide | Penang guide | Malaysia spas | Sabah guide | HK Haven Street food guide | Second Life virtual travel
JUMP TO Kuala Lumpur nightlife | Hip Bangsar bars | Damansara and Mont Kiara | Party time in Petaling Jaya, or PJ | Clubbing and dancing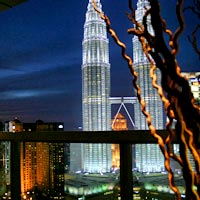 Traders SkyBar view/ photo: Vijay Verghese
KUALA LUMPUR it so happens, has, dish for dish, some of the finest Asian and International fare available anywhere. When it comes to securing the votes of gourmet palates this small city's nosheries punch way above their class. And the Kuala Lumpur nightlife throb pulls in locals as well as visiting pin-stripers, its full-throttle crescendo during the March F1 race period. Days can be devoted to food for KL serves everything from the lightest, savoury kuehs (cakes) to the silkiest curries round the clock. When the craving for a steaming bowl of noodles strikes at 5am, you won't go hungry. We're always starving, so speedily on with our Kuala Lumpur nightlife guide to cool bars, fun nosh, and more.
"Sudah Makan"'(have you eaten?) the cook bellows. It's 7am at a small gerai (street hawker) on an obscure lane downtown – umbrellas have been popped open, stalls set up, simple round tables and plastic stools laid down and all manner of cooking is furiously underway. By nightfall, countless woks would have been stirred and umpteen bowls of noodles and curries dished out to hordes of hungry people.
A plate of nasi lemak (a combo of coconut rice, spiced anchovy, chilli relish and condiments) served at a street-side stall can surpass the best eating that five-star hotels can offer. KL street food is cheap too. Dinner for two at a street vendor in Chinatown can cost as little as RM20 (US$6), hooch included, making Kuala Lumpur dining one of the most inexpensive, yet most palate-tickling, experiences.
Kopitiams (coffee shops) and hawker stalls are icons where owners know their customers by name and tastes. Their service, intimate and personalised, while their dishes are packed with flair. Breakfast is an all day affair at the legendary Yut Kee (tel: [60-3] 2698-8108), one of the city's oldest kopitiams. Though having moved premises after 86 years, Yut Kee still packs in the charm. Gone are the faded tiles, straight-backed wooden chairs and marble-top tables. Yell for some "kopi si" (strong, dark coffee with evaporated milk) and dig into restorative soft boiled eggs (RM2) and thick slices of homemade, charcoal toasted bread smeared with kaya, luscious coconut jam (RM1.80).
Send us your Feedback / Letter to the Editor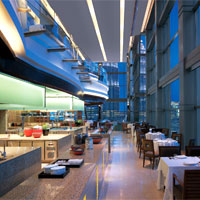 Thirty8 at Grand Hyatt/ photo: hotel
Running a close second to Yut Kee's breakfast experience is the Chee Cheong fun stall in the heart of Chinatown. This unassuming stall with its age-old wooden stove, manned by a husband and wife team, has achieved a certain notoriety for its smooth-as-silk rice noodles. The layers of rice flour rolls are packed with chopped spring onions and tiny bits of dried prawns.
Not many know of Prasad Chetty Naadu Mess. Locating the eatery, which has been around for more than 25 years, is in itself an exciting excursion. Make your way up a narrow and dimly lit footpath at the far end of Lebuh Ampang. It's a small canteen-like space that serves no-frills Southern Indian food on banana leaves. There is conventional seating, with fewer than a dozen tables to share. Expect good food and efficient service. It's an extraordinary combination – a dollop of perfectly cooked white rice, on top of which is heaped thick dhaal (lentil gravy), vegetable, curried mutton and poppadum crackers (all for just RM6). Different dishes are offered daily: turkey curry on Wednesdays, kudal mutton on Saturdays and chicken biryani on Sundays. This is a terrific informal Kuala Lumpur dining option.
Another lunch option is 10 minutes away from the city centre, Pak Din's ikan bakar (Grilled Fish) at the Tanglin Hawker Centre, near the National Mosque. Arrive well before noon for the best selection of his fiery, turmeric-laced grilled fish. Cracking a wide, no-holds-barred smile, Pak Din welcomes regulars with a swift nod of the head. Dip the delicate fish morsels into some air cucuh assam (tamarind sauce), laden with chopped onions and sliced chilies. Pak Din charges around RM5 (US$1.60) for kembung (fish).
Right next door is Tang Lin's nasi lemak. It's inspired cult-like devotion among foodies, the sambal sotong (squid chilli relish) a fantastic combination with the fluffy coconut-infused rice (RM2.80/US$0.90).
The buzz at Sri Nirvana Maju (tel: 2287-8445) in Bangsar – the Kuala Lumpur nightlife Mecca – is exhilarating despite the quite ordinary setting. There are mile-long lines to get a table for a quick lunch of curries served on banana leaves. Wash your meal down with homemade yogurt drinks. Of course, top of the curry league, is the alfresco Raju Restaurant in Petaling Jaya (tel: 7561-361). Or for more of the same make a beeline for Penang's most famed Line Clear Nasi Kandar (tel: 019-280 8491) in the Kampung Baru area. Annalakshmi (tel: 2272-3799), a volunteer-run Indian vegetarian restaurant at the Temple of Fine Arts in Brickfields, dishes out a variety of curries, vegetables and breads daily.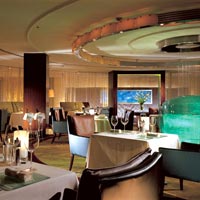 LaFite, Shangri-La/ photo: hotel
It is pretty much compulsory to visit Coliseum Café (tel: 2692-6270) on Jalan Tuanku Abdul Rahman. Decidedly cosy and delightfully worn around the edges, this almost 90-year-old café with its worn tiled floors and stained walls makes you feel like you've stepped back in time. Seasoned waiters and a stream of eccentric regulars add to the atmosphere. The colonial era bar is a great draw. The café does lunch and dinner (old school greasy steaks) but you'll be mad not to sample their thick slices of bread dipped in spicy prawn sambal. Precious Old China (tel: 2072-5915) serves Peranakan dishes in a reproduction Peranakan house setting at Central Market. Peranakan cuisine is an amalgam of Chinese and Malay fare. Try nasi lemak, rendang (beef cooked in spices), kari kapitan and bubur cha cha for dessert. Bon Ton (now at Central Market, tel: 2272-2287) is a stalwart serving Nyonya and western dishes. Décor is the usual oriental clutter of antique furnishings, ethnic carvings and rich fabrics in a kampung house setting.
No place else will do but Jai Hind (tel: 2692-0041) for Punjabi and Northern Indian food. This low-key restaurant on Jalan Melayu has inspired cult-like devotion for its soft, fluffy chapattis (griddled flat breads cooked in tandoor ovens), best savoured with kheema (a delicious concoction of minced meat and peas). Take home some jewel-coloured sweets like gulab jamun, jalebi, and rasmalai.
Ramly Burger is popularly found all around the city. Look out for makeshift stalls selling these seriously messy, yet sinfully yummy burgers (sandwiches of beef or chicken patties, smeared with mayonnaise and ketchup). Typically spotted in front of 7-11 stores or at street corners.
The stalls on Petaling Street and Jalan Alor open late and have earned an enthusiastic following. Kim Lian Kee (tel: 2032-4984) and Lien Bee (on Petaling Street) are the top two favourites. Chicken is king at Jalan Alor's Wong Ah Wah's (at the end of the street). Pull up a chair among the locals and tuck into succulent, finger-licking-good grilled wings (RM4.20 for a pair). Find Coffee Amo (tel: 2857-2677) housed within the Petaling Street Art House and enjoy a hand-brewed cuppa or view local contemporary art at Aku Café and Gallery (tel: [60-3] 2857-6887); watch home-grown experimental musicians in action at Findars (No.8, 4th Floor, Jalan Panggung) and Reggae Bar Chinatown (tel: 2026-7690) for plenty of Bob Marley, cheap drinks and a game of pool. Popular with the backpacker crowd. Push through creaky wooden doors to discover PS150 (tel: 2022-2888) - a former brothel turned sexy cocktail bar for some original concoctions. To soothe your hangover, there's always the instagram-friendly Merchant's Lane (tel: 012-389-6386) for brunch and some mod Asian food.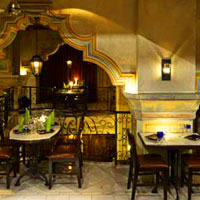 Westin Qba / photo: club
Walk five minutes towards the quieter enclave of Tengkat Tong Shin and to the popular neon-lit Ngau Kee beef ball noodles stall. If you're still peckish, roll up your sleeves and stroll across to the 24-hour Estana Curry House (tel: 2141-1958) around the corner from the Istana Hotel. Estana does terrific tandoori chicken and a gut-busting meal here will set you back less than RM10. On a side street nearby, Estana also runs the Restoran Nagasari Curry House, a clean banana leaf slop shop with aromatic South Indian fare.
Stadium Negara Restaurant (tel: 2161-8557), formerly located at the national stadium, now sits grandly at a bungalow close to the Twin Towers. Impossibly popular, this restaurant continues to serve the same dishes it did back in the Sixties – try chilli crabs with deep fried and steamed buns, BBQ chicken and squid, butter prawns, chili lala (cockles) and kangkung (greens).
Kuala Lumpur nightlife, cool bars
There's never a shortage of clubs or bars charting a new course. Start your night out in a sleek eatery, wine and dine, and get into the party mood before ending up somewhere louder later.
Saucy Kuala Lumpur bars abound around Jalan P Ramlee. For a bird's-eye view of the city, shimmy up to the observation deck of the 421m Menara KL (tel: 2085-448, open 9am-10pm). Tickets for foreign visitors are priced RM15 (adults), and RM9 (children).
The Menara also houses a restaurant and the Mega View Banquet Deck that lays claim to being the "highest" banquet facility in KL. Now you know. For just as good views of the city, take the lift up to the rooftop Luna Bar (tel: 2332-7777). Up there, it's cool with a hot cocktail list and even hotter clientele. The 18-metre pool doubles as a party space. If you want to play pool, right opposite the Istana hotel at the intersection below the monorail is the Lodge Paradize lounge bar, useful as a quick pit-stop if you get caught walking in the rain.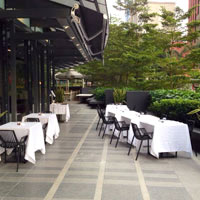 Zenzero/ photo: outlet
Just up the road is the swanky St Mary Place housing Black Market (Tel: [60-3] 2022-2060), a grown-up restaurant serving excellent pork-based dishes, with hints of fusion. Order Spanish cured ham with grilled pork shoulder, oven-baked pork ribs, and pork chop Panini. For a sprawling view of the Royal Selangor Golf Club, opt for their Kampung Pandan location - just outside of the city. A few doors down, Zenzero Restaurant & Wine Bar (Tel: 2022-3883) is very popular. Expect intense flavours in dishes such as black ink risotto with grilled marinated calamari, pan-fried foie gras with caramelised pear and crispy smoked duck ham, ravioli filled with Piedmontese beef and Atlantic cod with Sicilian salmoriglio. Be ensured of efficient service and wallet-friendly prices. Also check out noodle bar Niu Taste (Tel: 2856-9866) for bowls of Asian-fusion noodles and grilled specialties.
Over at the Shangri-La Hotel, the Lafite (tel: 2716-3111) menu is inventive to say the least while Shang Palace (tel: 2074-3904) offers delectable dim sums. Everything is top-notch Japanese at Zipangu, from sushi and sashimi to sukiyaki. The former pub has been refurbished and renamed Arthur's Bar & Grill, a Manhattan-style bar and grill – great for cocktails and above-par food.
A real gem is just a short walk up from the Shangri-La. Cuisine Gourmet by Nathalie (tel: 2072-4452) has struck a chord with its brilliantly devised, great-looking and delicious Asian inspired French dishes. Cuisine Gourmet by Nathalie teams up two talented chefs — Belgian chef Evert Onderbeke and French chef Nathalie Arbefeuille. Together they create exciting tastes and textures. There is a la carte, seafood, set lunch (RM60-70/US$19- 22) and tasting menus.
Opposite is Menara Hap Seng, where you'll get the whole lot under one roof. Find German fare at Brussels Beer Cafe, spicy Indian food at the Olive Tree (tel: 2031-7887), Italian fare at Trattoria Il Porcellino (tel: 2022-0460), healthy fast-food at Hale (first floor), Oiso for Korean hotpot teeming with tentacles, bulgogi and vegetables, and Chinese (golden-fried pork spare ribs and mud-crab with salted egg yolk) at Elegant Inn Hong Kong Cuisine (tel: 2070-9399).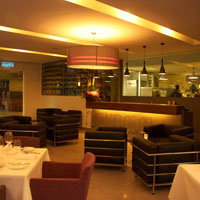 Cuisine Gourmet/ photo: outlet
Jalan P Ramlee, a name synonymous with KL nightlife, is usually bopping by sundown with sleek bars, sleeker women – many with undisguised commercial intent. The strip is helmed by Modesto-managed string of pub-nosheries led by, of course, Modestos (tel: 2694-6868) and the raucous Beach Club. The bigger and better Beach Club (tel: 2161-6666) has moved up the street but is still eternally crowded. Its laid back surroundings, staff in casual beach wear, top 40 music and sleek women with commercial intent are a big draw for partying tourists. Across the road the fast expanding Thai Club has gained a saucy reputation, not just for its short-time inn that now competes for business with established service apartments in the area.
Close by on Jalan Perak is Skillet 163 (tel: 2181-2426) for creative European cooking with Asian nuances by local Chef Raymond Tham, top-class wine and cocktail lists and very good selection of pastas and breads for weekday lunch. Try rempah (spicy) chicken and nasi lemak open sandwich for lunch; chicken mille-feuille - spicy chicken otak-otak in local percik sauce, and pan-seared barramundi with turmeric barley risotto for dinner. Ten Japanese Fine Dining (tel: [60-3] 2162-9999) just a street away on Jalan Pinang, is a celestial temple to traditional Japanese cuisine nuanced with French flavours.
Around Jalan Sultan Ismail the legendary queues are no more, but Hard Rock Café (tel: 2715-5555) remains the granddaddy of live music. A host of regional bands play nightly for a mix crowd of locals, tourists and expatriates who take their partying very seriously. KL Live (tel: 2162-2570) is now the city's most outstanding live music venue that sees a dazzling number of big names each year. It's a huge airy space with industrial ducting. The Havana Club (tel: 2711-2791) at Concorde Hotel is a cosy cigar divan specialising in Cuban cocktails and a ground floor view of the bumper-to-bumper traffic on Jalan Sultan Ismail.
Tamarind Hill (tel: 2148-3200) occupies a hilltop bungalow right in the heart of Sultan Ismail, serving choice Thai-Burmese. Next door is Neo Global Tapas & Luxe Lounge (tel: 2148-3700), a polished bar, restaurant and lounge with sleek modern interiors.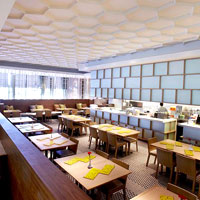 Stylish local food at Madam Kwan's/ photo: outlet
For height-defying cocktails and the best sunset views KL has to offer, head up to Heli Lounge (tel: 2110-5034) on the 34th Floor of Menara KH on Jalan Sultan Ismail. There are no barricades, so enjoy the 360-degree view at your own risk.
In the KLCC area and beyond are quite a few choices. The best place to take in the views is from the foot of the Petronas Twin Towers at Chinoz On The Park (tel: 2166-8277), one of the city's most exciting restaurants, where everything is superb: location, food, décor, wine list and service. It serves modern Japanese food nuanced with the tastes of Italy and Spain. Another chic restaurant is Madam Kwan's (tel: 2026-2297). Its continuing success is a tribute to the endearing friendliness of the place and its no-holds-barred menu. Have nasi lemak, char kway teow (wok-fried flat rice noodles tossed with bean shoots and shellfish) or fish-head curry, best savoured when drizzled over warm rice. Or sample English tea of scones and clotted cream at the Harrods (tel: 2166-6000). KLCC is a useful area to start your Kuala Lumpur nightlife and dining trawl. Ben's (tel: [60-3] 2382-2828) is chic and has a splendid park view. The place serves crunchy salads and appetising local and Western fare. Mama San (tel: 019-787 5810) by award-winning chef Will Meyrick, has settled nicely, occupying a prime spot overlooking the park. The restaurant is all about its innovative Southeast Asian dishes like wood-roasted Balinese-style barramundi wrapped in banana leaf, Acehnese chicken korma, rogan josh lamb shank and sambal jantung pisang with fresh prawns; and stellar cocktails like coconut passion fruit pineapple daiquiri and pineapple kaffir lime margarita.
Melur & Thyme (tel: 2181 8001), on the ground floor, is positively quirky with décor that's a delight to the eye. Their fun east-meets-west menu pleases the palate. Try Peking duck served with roti jala, duck satay or salmon masak lemak (coconut-based broth).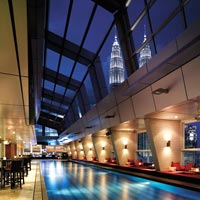 SkyBar at Traders/ photo: hotel
Or splurge at the new M Marini Café (tel: 2383-6030) after a dose of shopping at the mall's designer boutiques. Empty your wallet on their royal breakfast for two (RM800) and feast on a platter of fresh seafood and eggs, and champagne. Satisfy your sweet cravings at Loco Gelato (Concourse level), Garrett Popcorn Shop (tel: 2166-7933), Candylicious (tel: 2161-7633), Durian Durian (Concourse Level). Get your Japanese street-food fix at the Isetan Food Market (tel: 2382-7777), ribs at the Harley-Davidson Cafe and fancy Italian at Svago Cucina e Musica (tel: 2163-0188).
Sky Bar (tel: [60-3] 2332-9888) at the Traders Hotel is one of the best spots for stargazing in the city. Up here, the bar, by the long pool, is full of shiny folk, tourists and post-work crowd, lapping up the stunning views of the Twin Towers. Its discreet and relaxing ambience is ideal for an after hours wind down. Views give it an extra edge. Or pop by the Grand Hyatt's minimalist and spacious room with a view - Thirty8. Expect fine dining with 360-degree views in a zen setting. Whenever you can tear your eyes away from the view, focus on the excellent Japanese, Chinese or Western menus. This is a also a great spot for afternoon tea. The Mandarin Grill (tel: 2179-8960) at the Mandarin Oriental is a very grown up restaurant serving a seductive range of grills plus lots of girlie desserts. For sparkle and glamour, head to the hotel's Sultan Lounge (tel: 2179-8966) – the perfect example of a grand hotel bar tuned up for the 21st Century. Highlights include the 10 semi-private booths running along the lounge's entire length.
Casbah (tel: 2380-8888) – an opulent Arabian-style lounge – takes over from Pacifica. Its Mediterranean mezze and tapas menu is pleasantly consistent: Lebanese patata harra with labneh (strained yogurt), chicken moghrabieh, Moroccan lamb merguez sausages, and paella Valencia. The bar serves super cocktails such as the exotic Moroccan green tea mint derby.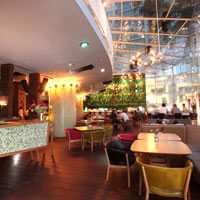 Lively Tujo / photo: outlet
Everyone hot and hip, and visiting celebrities make a stop at the sleek and sexy Marini's on 57 Italian Restaurant & Bar (tel: 2161-2880). Arrive early. Sip on 57 sour or their melon sundown for the city's best views. The bar and lounge oozes glamour and service here is spot-on. Stay on for vitello tonnato (chilled veal slices poached with tuna sauce and capers), prawns timbale with avocado in champagne dressing, spaghettini with mullet roe (botargo), and Manfredine pasta with squid ink. Being at Marini's is a mark of cool. KL-ites now get to savour the Nobu experience. Located a floor lower than Marini's (on the 56th floor), Nobu serves up an innovative menu of Japanese dishes with South American nuances, sparkling service and splendid views- all for a steep price of course.
Close by is the former 7atenine, which has morphed into the refined Tujo Bar-sserie & Grill (tel: 012-210 3055), a groovy playground for city slickers. The kitchen adopts a vibrant approach to fusion cuisine; the bar stirs hot cocktails.
Zouk KL (tel: 2171-1997) has reached iconic status with a big move to its new RM38 million home at Trec KL, an entertainment hub on Jalan Tun Razak with golf course views and multiple watering holes. A long line of eager clubbers waits amid clouds of perfume and cigarette smoke, with a priority lane for tourists. Inside, the club's dance floor, the biggest in town, is charged with retro, funk, hip-hop, electro, trance, EDM and rock. Zouk KL is now bigger with several club rooms, a beer garden, member's lounge, private lifts and even an indoor slide, promising clubbers a new level of energy and a packed roster of big-name international DJs. Check out the Red Room for a tipple, speakeasy Ikki for artisanal whiskies, Live House for cheap laughs, Como by Pisco Bar's killer cocktails and tapas, and late night Japanese dining at Hacha Mecha, Ladies enjoy perks – free flow of wines- Wednesday and Thursday at the plush Avalon Club Lounge.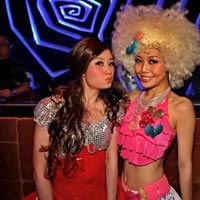 Zouk party time/ photo: club
An excellent new entrant is Omakase & Appreciate (Ming Annexe Building, Jalan Ampang) - a strictly underground bar with an eclectic cocktail list. Built into the facade of a fire exit, the snug interior of this speakeasy bar flirts with eastern and westerns elements, and packs in just 35. Under9 KL is the brand new home for underground music fans. Local DJs play electronic and house dance music to about 130 feet-tappers in this bunker-style club.
Avenue K is in the midst of a resurgence – there's Samba Churrascaria (tel: 2181-8112) for robust meats; Black Bull (tel: 2166-6666) for drinks, darts machines, pool tables and a bowling alley (yes!); Wondermama X with its eclectic cuisine and interior; cafes Urbean Coffee, Library Coffee Bar and Bankara Raman; and Whisky Tango Foxtrot – a whisky and cigar lounge accessible through a phone-booth entrance from within Samba Churrascaria. Taste Enclave is the mall's sprawling food court with a diverse range of street fare from Singapore and KL, plus restaurants Dolly Dim Sum for halal dumplings, Fresca Mexican Kitchen and Franco for Jap-French fusion.
Multi-concept Brolly at Menara Felda (close to KLCC) - with its nine outlets serviced by an efficient single kitchen- is a fun, quirky stop especially for large groups. Find under one-roof Moley's Oyster Bar, the Nove 9 Pizzeria (try their spinach dough pizzas), Japanese curry rice at Raksaksa Mirai, Ember & Bara BBQ, My Wing Man and the Bang Bang Baller Bar.
Why order a conventional meal when tiny, innovative morsels are more fun at the Marketplace Restaurant and Lounge (tel: 2166-0750). In the Jalan Yap Kwan Seng area, the large space is divided into a bar, a restaurant on one level and an upper lounge with a view of the Petronas Towers. Tucked away on a quiet corner, Sassorosso (tel: 2166-6428) is laid back, serving commendable pastas and pizzas.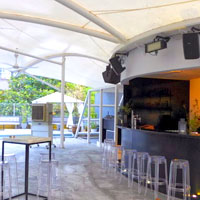 Top Italian nosh at La Scala/ photo: outlet
Close by are Songket (tel: 2161-3062) for Malay delicacies and cultural performances; La Vacas for meat lovers, Delhi Royale (tel: 2165-1555) for well-executed Indian dishes and 1919 (tel: 2161-9919) for Chinese and Nyonya fare.
The new La Scala Restaurant (Tel: 2161-2291) is enticing fans with exhilaratingly fresh flavours. Familiar rustic delights are transformed into sophisticated dishes like the truffle-roasted Hokkaido bay scallops with quail eggs, potato gnocchi with Bolognese sauce, and Gorgonzola cheese risotto. Come early to sip on Bellinis at the rooftop terrace bar. The main dining space on the first floor combines gallery with restaurant. It's our pick as Kuala Lumpur's top fine dining spot.
The very animated Mr Amarjeet will welcome you into Spice Garden Imperial (tel: 2142-2220) for straightforward North Indian delights and some Middle Eastern fare.
Undoubtedly the most happening place for Kuala Lumpur nightlife and dining in this neighbourhood is the basement of the Starhill mall near the JW Marriott, crammed with eateries from around the world. Head to Sentidos Tapas (tel: [60-3] 2145-3385) for interesting nibbles (though the Sangria is doubtful), or Tarbush Restaurant (tel: 2144-6393) for Lebanese, Enak (tel: 2141-8973) for fine Malay cuisine and the impressive Luk Yu Tea House (Tel: 2782-3850) for yum cha (tea and dim sum). These are theme restaurants with decor to match. Also try Khushi Spice, Jake's Charbroil Steak (tel: 2145-6015) for delicious, juicy cuts, Kaihomaru (tel: 2141-1442) for Japanese and Koryo-Won for Korean. Pak Loh Chiu Chow Restaurant (tel: 2782-3856) is a lavish recreation of a traditional Chinese restaurant.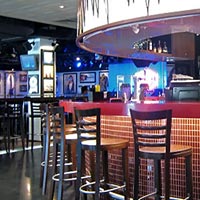 Hard Rock Cafe/ photo: club
The menu features cold fish, lion-head goose, deep-fried fresh prawn balls, cold flower crab and braised goose feet. Satisfied? The cooking at Shook! (tel: 2719-8535) brings a new depth and subtlety to menus that range from sushi and tempura to Chinese dishes and steaks. This smart, spacious restaurant with its four diverse kitchens is popular among local celebrities, fashionistas and the arty set. For a stiff drink try the Village Bar (tel: 2782-3852). JW Marriott's Shanghai does exactly what its name suggests.
It's always a pleasure to dine at Li Yen (tel: 2142-8000) at the Ritz-Carlton. The restaurant's kitchen focuses on refined Cantonese specialties, sumptuous dim sum and the fresh Hokkien seafood flavours. KL's only hotel restaurant voted into the '101 Best Hotel Restaurants Around the World' list.
Prego at the Westin continues to draw a crowd for authentic Italian cooking and an enviable Sunday brunch. Its Bubbly Brunch is priced at RM268 (US$85) per person with alcohol); RM168 (US$53) per person (without alcohol); and RM84 for children aged four to twelve. Check out the new Five Sen5es for porky Oriental dishes such as their 'thousand-layered' pig ears and charcoal-roasted ribs. The hip swaying Latin beat dominates at the Qba (tel: 2731-8333) at the Westin. Reminiscent of Cuba in its resplendent years, Q-ba is a regular crowd puller. Count on cocktails laced with rum, an authentic five-piece Cuban band, plush sofas, velvet drapes, a cigar lounge, wine cellar and all the necessary props.
Fahrenheit 88 has a host of eateries – try Al Amar Express for Lebanese fast food, Grand Harbour for all-day animal-themed dim sum, and MFC Food World for all things Taiwanese.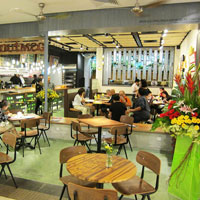 Nutmeg/ photo: outlet
Opposite, Pavilion KL has an enviable list of restaurants. The Loaf (tel: [60-3] 2144-1153) is KL's artisan bakery. Breakfast on handmade pastries and breads and follow that at 11am with a slice of poppy seed pound cake. Go for excellent Middle Eastern fare at Al-Amar (tel: 2166-1011) or at Al Halabi Gourmet Restaurant (tel: 03-2113 0061); authentic bak kut teh flavour at Pao Xiang Bak Kut Teh; La Lot Vietnamese Cuisine, Italian at Spasso Milano (tel: 2148-0688); and exceptional Japanese fare at Kampachi (tel: 2148-9608). Celadon Royal Thai Cuisine (tel: 2148-8708) offers unfussy Thai cooking coupled with a chic and modern interior; while Grandmama Café & Cuisine (tel: 2143-9333) serves up yummy local hawker fare, straits fare at Little Nyonya (first floor) and Izakaya Aka Chochin for ambitious Japanese food.
Also check out La Boca Latino Bar (tel: 2148-9977) for salsa dancing, tapas and cocktails; Tom Dick and Harry's Live for beers and live music; Quivo@ Kate Spade (tel: 2141-6151) - a Mediterranean restaurant; and Soju Bar where tourists get in for free and enjoy a cocktail on the house (passport required). Explore Tokyo Street (on the sixth Floor) for all things Japanese. The strip is crammed with cafes, boutiques, and snack stalls resembling those you'll find at the Ginza and Shibuya districts of Tokyo. Order steaming hot ramen from Hokkaido Santouka Ramen; bread and pastries from En Ginza Café; rice cakes from Mochi Sweets; donburi at Tokyo Don and an array of teppanyaki from Tokyo Tepan.
How about street food, indoors? At Lot 10 the Hutong Food Court is worth a look-see. Perched atop the mall's rooftop is the newly revamped hotspot Rootz (tel: 2782-3557). The interior is rock baroque, with lavish walls and plush seating. There's a spacious dance floor with DJs and two private rooms.
Head over to Greyhound Café (tel: 2148-1188) – Bangkok's first outpost on Jalan Bukit Bintang- for upgraded classic Thai dishes like salmon sushi with green hot sauce, fish-sauce marinated chicken wings and sticky rice mango parfait.
If you have an urge for some Hong Kong-style Chinese in a large efficient establishment, head to the Imbi Palace Restaurant (tel: 2145-4822) where the clatter and menu won't disappoint. Noble House (tel: 2145-8822), off Jalan Imbi does Peking duck and lots of pork.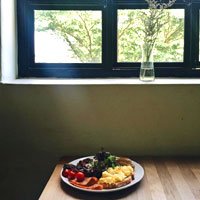 VCR brews and bites/ photo: cafe
Nearby, a row of Chinese shop lots off Jalan Pudu, house a couple of gems in the form of VCR – a café with an old-world vibe and good brews with a tempting cake selection; and Barlai (tel: 2141-7850) – a watering hole that retains the old world charm, and serves Milo cocktail and pandan infused pina colada. A great stop for a visiting backpacker.
For late nights and large wallets there's always the twinkling lights of clubs like Bintang Palace or Kelab de Vegas. Bintang Palace faux-Versailles karaoke rooms start at RM200 (US$63) or more per night and a crooning companion will set you back around RM60 per hour. Drinks and the mandatory fruit platter are extra and a four-hour minimum levy for your lady friend will add some hefty zeroes to the bill. At de Vegas the room is RM300 (US$94) and your companion is a more modest RM50 per hour. Things at these establishments only get moving after 9.30 or 10pm.
Finding the right cool Kuala Lumpur bar to start the evening is almost as important as choosing the right pair of heels. The route down this hilly strip – Changkat Bukit Bintang- involves passing by countless bars, restaurants and hawker stalls- the perfect place to begin your rendezvous. Old Chinese shop houses have been lovingly refurbished; things shift from swanky to laid back as you trot downhill. Find anything from French, Japanese, Greek and Italian to English, German, Indian and Chinese.
Head farther up to Jalan Ceylon to bungalow establishments like Bijan Bar & Restaurant (tel: 2031-3575) for unpretentious Malay fare that brings traditional dishes out of homes and places them firmly in the KL high street. Try masak lemak ikan (fish cooked in coconut broth), cucur udang (prawn fritters) and ikan masak asam pedas (fish cooked in spicy tamarind); and the cosy Nero Vivo (tel: [60-3] 2070-3120) that serves excellent Italian in eccentric surrounds with large, eye-catching paintings. It takes ages to get a table on weekends. Order familiar rustic staples such as osso bucco, lasagna, pizzas prepared in a wooden oven and delectable dolci (the pannacotta drizzled with hot chocolate sauce is a must). Or sample its more sedate, non-halal (serving pork) younger sister Nero Teca (tel: 2070-0530).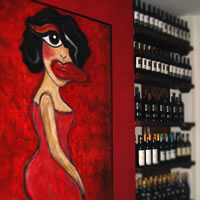 Nero Vivo humour/ photo: Vijay Verghese
Newcomer on Jalan Bukit Ceylon – Lepaq Lepaq – is quite stunning with floor-to-ceiling windows and an interior that combines wood and steel, in a quieter, greener part of Bukit Bintang. On the menu are such novelties as nasi lemak cheesecake (glutinous rice and peanuts, with cucumber gelatin, anchovies and chili flakes), cotton candy cloud coffee and mocktails served in boxes with straws. 
Also check out the Aussie style bistro Twenty-One Kitchen & Bar (tel: 2142-0021), which doubles up as a cool lounge, packing in the after-dinner crowd; the very good eat-in chippy Magnificent Fish and Chips Bar (tel: 2142-7021) championing the British staple; the Green Man Pub & Restaurant (tel: 2141-9924) where regulars congregate to talk about soccer and more soccer; and the evocative Opium (tel: 2142 5670) for curious cocktails and fusion food, replete with Oriental day-beds and lamps. Also try Pinchos Tapas Bar (tel: 2145-8482), is where the kitchen stays open till late for serious tapas; Giovino (tel: 2141-1131) for a wide range of Greek mezze selections; Loco for Mexican tapas; Latin Tropical Yoko's which serves up Colombian flavours; Baan 26 (tel: 2142-8878) for Thai staples and Thai-inspired cocktails; crowd-puller Havana (tel: 2142-7170) for Creole grub; Sutraa (tel: 2144-7788) for spicy Indian nosh; Cicio (tel: 2141-8605) for Italian; sublime steak at the Pampas Grill & Bar (tel: 2148-5548); Palillos Spanish Yakitori (tel: 2110 5051) for engaging Japanese-Spanish fusion; and El Cerdo (tel: 2145-0511) for gutsy pork dishes from multi-award winning Chef Werner Kuhn.
Abandon your vision at the door and plunge into pitch darkness, in exchange for a unique dining experience that's finally found its way to KL. Put your remaining senses to the test as you sniff, fiddle and savour your surprise menu of starters, mains and desserts at Dining in the Dark (tel: 2110-0431).
Changkat's Reggae Bar is more hip than its original outlet near Petaling Street, with a boisterous ground-floor bar and on the upper floor, a more intimate dining space. Other drinking dens include Finnegan's (tel: 2145-1930), Ceylon Bar (tel: 2145-7689) and Healy Mac's (tel: 2144-5778). Others include Never Mine Bar that serves RM10 (US$3) Tiger beers all night; Whisky Bar (tel: 2143-2268) and Black Forest for a wide selection of single malts and beers. New to the block is The Rabbit Hole (tel: 016 680-2200) – your one stop shop to dance, drink and dine. For hot grooves head to the Green Room; get artsy at Translate Art Bar; enjoy lush alfresco drinking at Bamboo Forest; and for hushed conversations step into Arthur's Room. There's talk of a rooftop pool bar and a Roman-themed private club… Shhhh.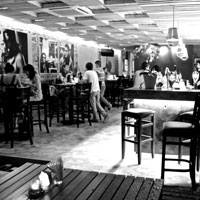 Pisco Bar for Peruvian tapas/ photo: outlet
On Jalan Berangan (right behind Changkat Bukit Bintang) are Albion (tel: 2141-928) a next-generation gastropub, Fuzio Bar and Ristorante (tel: 2110-0303) for Italian and the robust Hubba Hubba for fusion favourites.
None is more serious than No Black Tie (tel: 2142-3737) for live performances. Musicians, writers and poets mingle in this effortlessly chic venue that's all about uncovering and promoting new talents. Pop in before the curtain-raiser for tasty mod-European delights. Dishes and cocktails are served by friendly, unhurried staff. On the same row, check out Pisco Bar (tel: 2142-2900) for Peruvian tapas, delicious cocktails and nu-disco; Limablas (tel: 2110-1289) for traditional Nyonya; Table 23 (tel: 2141-0023) for porky dishes; Nagabar for late night dancing; and Feeka for gourmet coffee. Over at Calavera (tel: 2110-5303) the party crowd hits the dancefloor every Wednesday (ladies' night), Friday and Saturday with live DJ sets. The bar has an unmistakably Mexican vibe with colourful décor and plenty of skull designs.
Right opposite is LUST Restaurant and Bar (tel: 2142-0525) – the menu is a mishmash of western and Spanish delights, and potent shooters. After a stellar opening night that included Michelle Rodriguez at the decks, LUST has become one of the city's favoured nightspot. Taps Beer Bar (tel: 2110-1560) pours Australian and Japanese craft beers from a dozen rotating taps, alongside brews from America, Norway, Denmark, England and India. The best beer drinking experience in town.
Drift Dining and Bar (tel: 2110-2079) serves modern, vibrant Australian cuisine with heavy Asian influences in a cool, laidback setting. Have slow-braised baby pork ribs with yakiniku sauce, pan roasted whole baby red emperor and steamed Manila clams.
For a final exotic touch, there's Sao Nam (tel: 2144-1225), on Tengkat Tung Shin – one of the best Vietnamese restaurants in the city and a great favourite among food critics and gourmets. In essence, it's just a homely Asian kitchen but there's something really fresh and original about the cooking.
La Vie En Rose (tel: 2078-3883) along Jalan Raja Chulan, is a romantic restaurant housed within the walls of a mid-20th century bungalow. Solid French cooking, with roasts and grills, helps it feel deliciously decadent.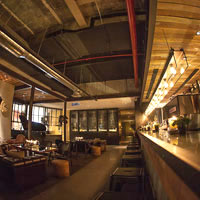 Steaks at BEAST/ photo: outlet
Along and around Tun Razak look for places like Cilantro Restaurant and Bar (tel: 2141-3363), which has been brought back to life and continues to attract a loyal audience. Kirishima (tel: 2162-8127) at Dua Residency is the sole survivor of this once multi-outlet stop; testament to its excellent Japanese food, efficient service and wallet-friendly prices.
At the Intermark, Hanare (tel: 2164-2133) is excellent for creative Japanese and a sumptuous Sunday champagne lunch; and Juan Valdez Café for expertly brewed Colombian coffee and luscious snacks. Other restaurants here include In Colonial, Cellar Door, Onsemiro, Kin No Mizu, and Porto Romano.
Restaurateur Benjamin Yong, a consultant with the BIG group, has had profound impact on the dining scene in the past years. Here at the Intermark, the BIG Group has opened up BEAST (tel: 2163-573) – a sumptuous steakhouse and the discreet Tate (tel: 2161-2367), a gentlemen's bar. Party at one of the city's newest hotspots, Providence KL - although strictly speaking, Providence is an exclusive club with a limited number of VIP tables. Big name international and local deejays spin here.
Over at the Doubletree by Hilton, savour your favourite local dishes at five different open kitchens at the splendidly decorated Makan Kitchen (tel: 2172-7272).
Bombay Palace (tel: 2145-4241) is instantly recognisable on the Tun Razak strip, a stately colonial bungalow whose kitchen dishes out some of the best Northern Indian gravies. Close by is the very grown up View Rooftop Bar at the G Tower Hotel. Ride up to the 30th floor – there's a whiskey lounge, an Absolut bar, a champagne room and breathtaking views over KL. Tanzini (tel: 2168-1899) at the hotel is a glamorous restaurant serving hearty Italian fare (downstairs); and a swanky degustation menu upstairs at the Upper Deck. Sample smoked duck consommé served in a teapot or lobster wrapped in sheets of apple.
Long-running Rama V (tel: 2143-2663) on Jalan U-Thant does classy Thai and remains a popular Kuala Lumpur dining draw. An overhaul has resurrected Ciao (tel: 9285-4827) on Jalan Kampung Pandan. Expect standard Italian fare in a romantic restaurant with cosy seating and murals.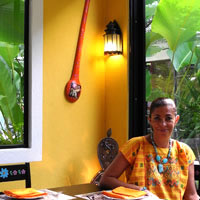 Mexican chef Carmela from La Mexicana/ photo: outlet
Over on Jalan Delima Fukuya (tel: 2141-6939), offers old school Japanese cooking; and RGB@ The Bee Hive for coffee and snacks - is slowly starting a revival of Jalan Damai. Stalwart Top Hats (tel: 2142-8611) still dominates with fusion cuisine on Jalan Stonor.
Cantaloupe at Troika (tel: 2162-0886) - on the 24th floor- is pure escapism. Expect food of elegance, flavour and imagination. Try such delights as oysters marinated in anchovy cream, chorizo-dusted scallop, lobster bisque with rosemary herb foam, and beef cheek terrine. Service is crisp; and there's a magnificent wine list that's easily paired with this style of food. One of the city's most stunning restaurants. Or opt for rustic Italian at Strato (tel: 2162-0886); inventively fiery South American tapas and tangy cocktails at Feugo (tel: 2162-0886); and Claret Wine Bar for drinks- all of which come with fantastic views of the city's skyline. At street level is the stylish Acme Bar and Coffee (tel: 2162-2288) offering haute café food with a Malaysian twist. Word is out that the BIG Group's successful venture – Hit & Mrs- whose kitchen had won deserved praise for its experimental cooking is moving to Troika.
Around the corner is the very sleek Marble 8 (tel: 2386-6030). This premium steakhouse comes complete with a cocktail bar- the glittery M8 by Marini's (tel: 2386-6030), which boasts an indoor lounge and a garden terrace with views of the KLCC park.
Amongst the cluster of old bungalows nearby is Maison Francaise (tel: 2144-1474) serving classic French; and a fast rising hotspot Capricon KL (tel: 2141-9998) that keeps the party going all week with its multi-genre music roster.
Over at Royale Chulan hotel, L' Heritage, a predominantly French restaurant, is slowly garnering a following. Expect French classic cuisine. Head over to Restaurant Chef Choi (tel: 2163-5866) on Jalan Ampang for a gastronomic adventure as the mostly Chinese kitchen dabbles in everything from Peruvian to European flavours; complete with a sushi bar too.
At the Terrace at Hock Choon (tel: 017-209-8477), a two-storey bungalow complete with poolside bar, flavours shift from authentic Mexican at La Mexicana (tel: 4253-5251) and traditional Japanese at KOBE Japanese Restaurant & Bar (tel: 42518-688) to quirky cocktails at the Balcony Bar & Grill and authentic home-cooked Johorian dishes like the Johor Laksa, lontong (rice cakes in coconut vegie stew) at Katie's Stove. La Mexicana has opened its second outlet in the Bangsar suburb, about four kilometres outside the city centre.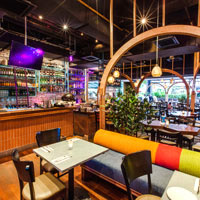 Estilo tapas bar/ photo: outlet
The popular Souled Out has opened a second branch in Ampang (tel: 2181-1626) – bringing the party vibe, its fusion food and killer cocktails to this part of town.
Tamarind Springs (tel: 4256-9300), a bit farther out, is spectacular – enter through a Balinese-style wall and gate down a candle-lit path to a spread-out thatch-roof bungalow set in lush greenery, above a golf course, and with its own quick-dip pool. The open-sided establishment has a wraparound balcony, ceiling fans, and walls in a deep salmon hue. The menu is Lao, Cambodian and Vietnamese. Enjoy the crisp, fresh air and surrounding greens at Mandi-Mandi (tel: 4251-7200) for traditional Malay flavours that have been tweaked for the adventurous palette. That about sums up Kuala Lumpur dining options in this area.
Once a go-to nightlife strip, the Asian Heritage Row – a district of converted shophouses running along Jalan Doraisamy – has now been reinvented. Dubbed simply as The Row, it's a cluster of cafes, bars and shops. Still standing strong is the revived Mojo, perfect for outdoor drinking; Limapulo: Baba Can Cook (tel: 2698-3268) thrives with gutsy Nyonya food such as ayam pongteh, shrimp and petai sambal, curry noodles, and ayam berempah (spicy chicken); the newly opened French bistro 2OX brings skilful French cooking, matched by a trendy interior and an affordable wine list; wine bar Bacchus; and Timbre for local live music. Next to Heritage Row is the interesting pool-level Italian Villa Danieli at the Sheraton Imperial.
Café Café (tel: 2145-8141) on Jalan Maharajalela is one of the most dramatic and glamorous places in town, but you'd never suspect it from the discreet entrance. A resolutely Parisian style bistro, Café Cafe injects its French and Italian food, and décor with appealing whimsy. Indulge in mussels in white wine, escargots, scallops with black truffles and crème brulee. The Museum Restaurant (tel: 2270-5152) at the Islamic Arts Museum (near the Lake Gardens) serves traditional dishes such as fatoush, harirah, mansaf, mousakhan and bamya tajin, in a richly decorated space with low tables.
Hip Bangsar area bars and dance clubs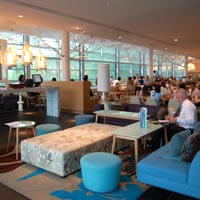 Delicious/ photo: Arjuna Wijasuriya
The Bangsar suburb has always been sought after: a succession of small, delicious tapas are brought to the table at La Bodega (tel: 2287-8318) but the real action is at the bar and in the laid back lounge upstairs; enjoy non-halal tapas that have a freshness and extra gutsy edge at El Meson (tel: 2282-8290); and for a menu that appeases serious meat lovers, there's Ril's Steakhouse. Do head upstairs to their glam Prohibition-style bar for inventive cocktails. Seafood lovers will eat lip-smacking grub at the contemporary Bait (tel: 2201-8187). The kitchen brilliantly replicates staples of the seafood repertoire: fish and chips, seafood salads, soft-shell crabs, seafood pastas and deep-fried calamari. Highly recommended by the Spanish Embassy, the lively Mercat (tel: 2201-5288) keeps pace with strong Catalan food trends serving small plates of smoked sardines, Iberico ham, salmorejo and more. Popular with expats and dedicated foodies.  
Other additions to the ever-evolving Telawi area include Matsuya Japanese Cuisine (tel: 2202-2618) for wonderful fresh sashimi; Les Deux Garcons (tel: 2284-7833) which stocks quality modern French cakes and premium macaroons; the utterly porky Naughty Babe Dirty Duck (tel: 2288-8188) for big portions at affordable prices; KGB (tel: 2201-1220) or Killer Gourmet Burgers for funky renditions of the basic burger; Beato Steakhouse for dry-aged beef (tel: 2202-2405) and Inside Scoop (tel: 2202-0235) for some of the city's best ice cream – full-bodied and creamy durian, green pistachio and Valrhona chocolate. Recent addition Jaslyn Cakes (tel: 2202-2868) is a crammed quarter shop that bakes some of the best cakes, macaroons and desserts in town.
Mikey's Original New York Pizza (tel: 2202-0080) gives KL a sliver of the Big Apple with foot-sized slices of classic NY flavours. Ashley's by Living Food (tel: 2202-2778) is a restaurant with a conscience and endeavours to use only organic stuff. It sounds deadly serious but, in fact, is quite glamorous and fun. Try dishes such as quail currant stew, Wagyu beef ribs with pumpkin spinach mash, organic dim sum and saffron-spiced quinoa with shrimp, scallops.
Antipodean Café (tel: 2282-0411) has been an instant hit, serving Arabica blends from Sumatra, Java, Sulawesi and Bali and an all-day non-halal breakfast. You won't find a menu here; just a huge chalkboard displaying all the dishes. Order their big breakfast of chicken, pork or beef sausages, scrambled eggs, herbed hash brown and bacon, sandwiches, Kiwi lamb burgers or Burmese shredded chicken salad. Plus points – portions are adequate; prices are affordable; and a little kid's play area complete with toys, games and a television.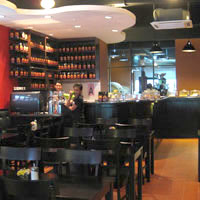 Antipodean Cafe/ photo: Cafe
A few doors down is a personal favourite - Yeast (tel: 2282-0118), a friendly and romantic all- day French bistro and bar. Breakfast on almond croissant and Nutella puff, and follow that with a slice of quiche or a baguette for lunch. Try robust dishes such as boeuf bourguignon (braised beef ribs in red wine), salmon poêle Bordelaise-Béarnaise and steak au poivre at dinner.  The piece de resistance is poulet rôti – a seven-spice roast chicken. Alexis Restaurant & Bar – one of the area's pioneers – is an agreeable, laid back restaurant that hasn't let its fashionable reputation go to its head. Alexis still draws in the crowds for its mix menu of traditional and Western fare, and delectable desserts.
Nutmeg (tel: 2201-3663) at Bangsar Village II has won fans as a brunch spot with its imaginative menu. Settle down to spinach frittata, a bountiful croissant-wich of house-cured salmon and scrambled eggs, or eggs Benedict with slices of salted beef. There's also Delicious for fancy desserts and comfort street fare such as curry laksa (vermicelli immersed in coconut-rich gravy), sambal udang tumis (prawn chilli relish with pickled condiments and rice), Nyonya assam garoupa (grouper simmered in a tangy tamarind gravy) and nasi kerabu (flavoured rice with salted egg, raw vegetables and grilled chicken). There's also a good wine list.
At Village I, the Daily Grind (tel: 2287-6708) does an inspired version of an American diner with cosy seating, and an imaginative take on diner staples; Plan B (tel: 2284- 8790) – part of the Big Group – keeps shoppers fuelled on pastries, pastas and local favourites. Customers love the wide range of cupcakes at Bisou (tel: 2287-3535 ) on the first floor. Foodies cannot get enough of the Three Little Pigs and the Big Bad Wolf (tel: 2283-2270) that serves up a cauldron of porky delights; Wondermama for quirky Asian dishes; and Acme South for South American BBQ.
The trendy Roost (tel: 2201-1710), just opposite Village 1, has introduced a familiar yet intriguing menu of poultry and seafood dishes with a strong European theme. There's deep-fried frog legs, mangrove crab ravioli, and duck ragout that pay homage to the restaurant's farm-to-fork philosophy. Open cooking kitchens within the dining space lend an informal feel to your dining experience. Service is friendly.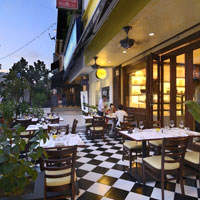 Streetside Yeast/ photo: outlet
Flamboyant Chef Ismail will personally welcome you into Rebung (tel: 2283-2119). A large buffet spread of classic Malay kampong (village) dishes is served for lunch; a la carte is also available. You'll find delicious rendang (spicy beef) and sambal terung (brinjal in spicy sauce); the varying flavours reflect the chef's rich kampong upbringing. Chef Ismail also conducts cooking classes for those interested in learning how to cook popular Malay dishes.
Over on Jalan Kemuja – along with hip coffee hangout DR. Inc and Straits Food Company – is Southern Rock Seafood (tel: 2856-2016 ), a popular neighbourhood restaurant that boasts fresh seafood (including oyster tasting plates) and an extensive yet fairly priced drinks menu. Visit on Tuesdays and Thursdays for the freshest seafood.
Close by is Jalan Bangkung, a side road heading up a low rise and lined with shop lots. Restaurants such as Opus Bistro (tel: 2092-4288), Cava (tel: [60-3] 2093-6637) and Leonardo's Dining Room (tel: 2096-2226) have been quietly dazzling diners with top-notch food. The popular Jarrod & Rawlins joins this strip, serving its brand of hospitality and meaty dishes in a more posh setting; along with Pinch Bistro (tel: 2201-5766) with its broad repertoire of European favourites such as steak tartare, fennel-roasted pork, beef bourguignon and pork ragout; Bobo (tel: 2092-5002) for modern European cuisine and a piano lounge; and the more casual Lucky Bo (tel: 2092-1222) for local Hainanese fare.
In a little enclave in old Bangsar, sits Mario & Luigi (tel: 2282-3571) in a refurbished shop lot – yet another BIG Group venture that has created a chic and cheerful blend of Italian cooking, with dishes such as braised beef cheek, braised short ribs with polenta and linguine with bay bugs and crushed tomato sauce. Service is prompt and efficient. Upstairs is Luigi – an intimate bar serving craft cocktails.  On the same stretch there's another BIG Group baby, Bakar (tel: 2280 0073) which sizzles impeccably with its range of charred meats done right over a charcoal flame, a porky repertoire at Pink Belly, Ganga Café (tel: 2284-2119) for pure Indian vegetarian meals, a mix-bag of Mediterranean small plates at their sister restaurant Barat and Cultura (tel: 011 1227-4936) for breads and pastries. Close by is Pulp by Papa Palheta (tel: 2201-3650), which has been integrated into a 50-year old printing factory and warehouse. A visit here is akin to a museum with mementos of the warehouse on display including a paper-cutting machine that's been reused as a coffee bar.
Bangsar Shopping Centre has many exciting restaurants. Chinoz and Busaba Thai are noteworthy additions. The latter, with a kitchen headed by a Thai chef, produces excellent mieng kam, rolled Thai betel leaves stuffed with a variety of condiments; the spicy, clear tom yam soup (laden with lime, lemongrass, chili and prawns); and creamy green beef or chicken curry with pea aubergines.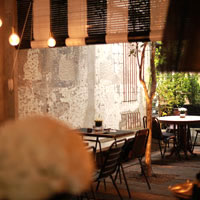 Hit & Mrs/ photo: outlet
Vineria.IT (tel: 2287-7889), is slowly becoming an institution. Its alfresco bar can get crowded but there's more comfortable dining room indoors with a kitchen smack in the middle.
Every bowl of noodle, steamed or deep-fried dim sum is meticulously prepared at Grand Imperial (tel: 2283-1118). Hong Kong and Shanghai have inspired the kitchen's subtle cooking style with an accent on pork and seafood, and absolutely no MSG. Reservations are a must on weekends. Old favourites WIP (tel: 2094-1789), Monte's Restaurant (tel: 2094-01112), La Bodega, Alexis and Ming Room (tel: 2284-8822) are still going strong.
Le Midi (tel: [60-3] 2094-1318) is a very sophisticated restaurant. Its kitchen churns out good, wholesome, Mediterranean food using top quality produce. Try Bouillabaisse Marseillaise, Mediterranean octopus salad, and prawns with roasted fennel. The restaurant has an impressive wine list. Efficient service headed by a maitre d' from London. Le Midi is a fanfare of wood and leather. Its interior is fun and accessible with nautical-inspired features such as sails, portholes, yacht lights, a wavy ceiling and a hypnotic display of jellyfish in a circular tank. Push open the tool panel and enter Mr Brooks (tel: 2282-0241) - a bespoke bar that's a sumptuously furnished gentleman's den for discreet conversations. New additions to BSC include Ippudo Ramen; and local Just Heavenly Café (tel: 2011-4866) for exquisite cakes and hot snacks. The expansive yet sleek Ruyi & LYN (tel: 2083-0288) packs in a bar, a lounge, a cigar room, private karaoke rooms and a restaurant with a menu of fun Asian tapas. If you're a svelte, rich, gorgeous party animal, you'll probably end up here. Even if you're none of the above, it's still a great place to take in the scene and the city's stunning views.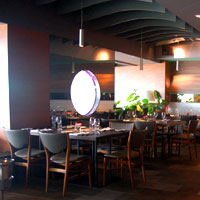 Le Midi/ photo: Arjuna Wijasuriya
Over at the Gardens Mall, Alexis Bistro & Wine Bar (tel: 2284-2880) serves honest, unfussy food; Belanga (tel: 2287-5136) dishes out traditional Malay food; and Coliseum Café & Grill Room (tel: 2202-0588) preserves colonial charm through a menu that pays tribute to classics such as its sizzling Chateaubriand steaks drenched in black pepper, mushroom or garlic brown sauce, Hainanese chicken chop, oxtail and onion soups, and caramel puddings.
Do try to get a spot at the chef's table at Sage Restaurant and Wine Bar (tel: 2268-1188) at the Garden Residences. This smart, new restaurant and bar has spurred on new life in this part of KL. Chef Daniel has reinvented the concept of fine dining, with ambitious Japanese-influenced French cuisine. He plays with taste and texture but never forgets that what you basically want is something delicious to eat. Raring to go is the new Gravity Club, next door. It's all about glamour with private rooms, steel-framed chandeliers, velvet drapes and suede lounge seats. Big name International and local deejays spin house, edgy electronic and hip-hop.
At Mid Valley Megamall, Tiffin's by Chef Korn (tel: 2201-7368) is serious about Thai home cooking and family recipes. Expect well-executed dishes such as the signature tom yam, crispy pork with basil and fiery pork balls. Order their rice and noodle sets and eat from their tiffin carriers.
Venture into the masculine Chambers Bar & Grill (tel: 2264-2592) at the Kuala Lumpur Hilton for prime cuts of meat, beautifully aged (14 to 36 days) in a special Himalayan salt tile dry-aging cabinet before being grilled robatayaki style (on skewers). At the hotel's Zeta Bar (tel: 2264-2501) the party crowd arrive, champagne corks pop and the dancing starts when the music peaks. It's party central for the energetic and well-heeled.
On the daily menu at Prime (Level Five, tel: 2263-7888), Le Meridien's plush steakhouse, are cowboy-size portion steaks. The former Al Nafourah Middle Eastern restaurant has redesigned itself as the Italian outlet Favola.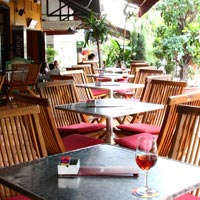 La Bodega tapas/ photo: restaurant
Cross over to Simply D (tel: 9221-8266) at Nu Sentral for pastas, sandwiches and cakes; Wxyz Bar (tel: 2723-1188), synonymous with Friday live music, and Mai Bar for panoramic views, Tiki-themed décor and cool cocktails plus International DJs at Aloft Kuala Lumpur Sentral. Or for a touch of nostalgia, opt for the Colonial Café at the Majestic Hotel, with its timber flooring, leather chairs, white linen tablecloths and age-old bar. The menu revisits such classics as old-fashioned faggots (minced beef and lamb with mushroom mash), Hainanese chicken rice balls, and mulligatawny (curried lentil broth) - all at steep prices to match the heritage experience.
Damansara and Mont Kiara action
Many a Sunday afternoon has been spent coming back to life at the casual Jarrod & Rawlins (tel: 2093-5830), after a Saturday night devoted to all those late night excesses. Come for a heart-starting breakfast or a relaxed weekend brunch of eggs and bacon with champagne. Whoops. Also look at Nero Fico (tel: 2089-5312) for wood-fired pizza and El Sid's Cocktail Bar (tel: 2095-7437) - the new neighborhood hangout for South American fare and cocktails. Recent additions include dive bar Blue Elephant (tel: 2011-7715)– a discreet and intimate space for good house music and hot cocktails.
The Jalan Batai enclave has had a serious makeover. Sitka Restaurant (tel: 2011-1117) is one of the few in town that thrives on sustainable farm-to-table practices, producing such clever dishes like roast beetroot with hummus, lobster roll on squid ink bun, and Peking duck with hibiscus and cherry. Joining Sitka are noteworthy spots such as the Yellow Brick Road (tel: 2035-5922) for scrumptious brunch and sultry Ekkamai (tel: 2095-2772) for cocktails with a kick (try the sriracha bloody mary) and mod Thai fare. The Big Group has colonised this corner with its grocery store and hearty bistro food served at Ben's General Food Store, desserts from Ben's Bake Shop, coffee at Plan B Roasters and sandwiches from B'wiched.
Aliyaa Restaurant & Bar (tel: 2092-5378) boasts a kitchen of Sri Lankan chefs who deliver some of the city's best Sri Lankan fare - spicy and flavourful fish cutlets, Jaffna prawn masala, mutton paal porayal, and the spicy Colombo styled crabs. I absolutely relish the sambals (spicy condiments), sweets and puddings. Way Modern Chinois (Tel: 2095-1118) is not your typical Chinese restaurant. The menu is contemporary Chinese; order waterless chicken soup, Pac-Man dumpling (steamed prawn marinated in Szechuan spices), golden rose wanton (deep-fried prawn stuffing wrapped in a crisp rose shell), truffle roast duck, and pina colada crab. Babe (tel: 2095-8599) – the city's first by a Michelin-starred chef- ups the ante with fun, innovative Japanese-nuanced tapas. Have Jap curry meringue, green mussel and prawn nanbanzuke, truffle nori fries and charcoal grilled Alaskan crab.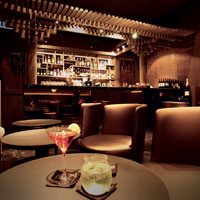 Way Modern Chinois/ photo: outlet
In the Mont Kiara area find La Vacas Steakhouse, Watercolor Café, Rui Patisserie and Porto Romano Italian, a family friendly establishment. The neighbourhood has countless Japanese restaurants, mostly located at Plaza Mont Kiara. One Mont Kiara – the new neighbourhood mall- is gaining attention with newbies like The Barn – a cool watering hole; LaHagen for everything porky; and Taps Beer Bar for specialty beer.
Solaris Mont Kiara is stuffed with a wild array of Korean and Japanese restaurants, bars, cafes, specialist shops and boutiques. Go feast fresh seafood from South Korea at Crazy Fish; savour breads and pastries at Korean-run Nabe Bakery Café; Japanese at Shuraku; or sample handmade noodles at Sutaya and Korean BBQ at the family-run Bon Ga.
Nearby is Solaris Dutamas, another up-and-coming enclave with noteworthy restaurants. The real star here is Nathalie's Gourmet Studio (tel: 6207-9572). Chef Nathalie Arbefeuille has adapted luxurious French bistro-style cooking to the modern taste for lighter food (with a slight Asian twist). The menu varies every month, featuring a choice of five appetizers, five mains and five desserts. Be sure to sample her famed macaroons that come in 13 flavours including raspberry, chocolate, caramel and coconut. The restaurant opens for lunch and tea and stays open for dinner twice a week on Fridays and Saturdays. Check out three new arrivals: Fatboy's The Burger Bar for gourmet burgers, The Red Beanbag for breakfasts and desserts, and Yamagoya Ramen. When the sun goes down, head to Devil's Brew, Bar Fly, Lucid Lounge, Back to Skool, The Bee, Social or Paradiso Lounge.
The BIG Group has also dominated the dining scene here at Solaris Dutamas with countless eateries such as Journal by Plan B, Ben's, B'wiched that serve an extensive selection of sandwiches and my personal favourite, S.Wine. Expect everything from pastas laden with pork belly to whole slabs of sticky ribs and Parma ham with ripe melon. The menu has a section devoted to local porky favourites such as the Nyonya assam pork curry, Hainanese pork chop and Chinese pork rib and duck soup. Its interior is simple and stylish with flashes of shocking pink to remind you that the menu is utterly porky. Their breakfast platters deserve mention – imagine Mexican pulled pork with poached eggs and avocado-feta mash on toast and French toast with applewood-smoked bacon.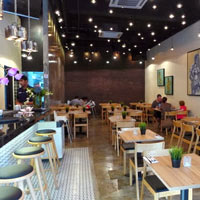 Fiercer for curry/ photo: outlet
Be sure to try one of the city's most durable restaurants Moussandra Mediterranean & Tapas Restaurant (tel: 6206-4999). Moussandara has found a new home but food is still delicious with an extensive range of well-executed tapas. Or head to Fiercer by Fierce Curry House for a variety of biryani styles from the popular mutton and chicken varieties to the more sumptuous lobster, scallops and crab biryani. Fiercer is the more upscale and modern sister restaurant of the casual Fierce Curry House (tel: 019-383-0945) in Bangsar. Also check out Wondermilk Café (tel: 6211-1092) for freshly baked cupcakes; Estilo Tapas Bar & Charcoal Grill (tel: 6203-9883) for tapas and drinks; and part restaurant part boutique, Elegantology Gallery & Restaurant (tel: 6206-5577) where a team of stylists are on hand to style and make you over before you sit down for their fusion fare. Right smack at the square is the eye-catching Bxie Blonde, a two-level shipping container equipped with a bar and kitchen for coffee, evening cocktails and dinner.
Other must stops include Ante Kitchen and Bar (tel: 6206-3364); Osteria Real Blue for rustic Italian; Namoo on the Park for yummy Korean desserts; Pyramid Secret Egyptian Food; Teppanyaki Matsuoka Japanese Restaurant; and Marmalade (that is fitted with a play area for kids). Or sample wood-fired pizzas and weekend brunch at Fahrenheit 600.
Party time in Petaling Jaya, or PJ
The suburb of PJ is awakening taste buds with some very exciting restaurants. PJ gets its very own taste of fine dining with the opening of Soleil Restaurant and Wine Bar (tel: 7932-5989). Expect delicious and modern seafood, with Asian seasonings and ingredients, such as herb crusted Barramundi with crab ravioli, yellow fin tuna with wasabi mayo and citrus gel, and pan fried Hokkaido scallops with gnocchi. An equally outstanding entry is Bistro a Table (tel: 7931-2831) where Chef Isadora Chai creates haute French food that's inventive and daring with luxury ingredients. Go for their degustation menu every first Monday of the month. It costs an arm and a leg to experience it properly, but the memorable food surely does tempt the palette with robust flavours executed to military perfection.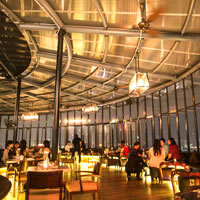 Malt and Leaf/ photo: outlet
A must try is KomPassion Thai Fusion (tel: 7731-9256) that will surprise your palate with its modern and playful take on classic Thai dishes. Order pork Lay curry with ramen, scallops in Panang curry with salted duck, cod in massaman curry sauce, and pork belly curry with a side serving of soft-shell-crab cucumber salad. Torii Japanese Yakitori & Whisky Bar (tel: [60-3] 7733-9309) lists inventive Japanese tapas-like dishes such as a trio of unagi, omelette and foie gras; steamed duck egg custard crowned with foie gras shrimp and salmon roe; shrimp tempura topped with sea urchin and plum sea salt, and an extensive selection of over 40 grilled skewered specialties. Torii also stocks the iconic Japanese whisky Shinjiro Torii.
You no longer have to leave the suburbs in search of a good party. The Roof - perched high on the 30th floor of Bandar Utama's First Avenue could very well be the next big thing. Its main restaurant Signature serves fusion cuisine; the breathtaking helipad Stratosphere provides a 360-degree view of suburban PJ; there's the classy single malt and cigar lounge Malt and Leaf; sports bar Score; and clubbing venue Playwhere parties are packed to the door. Go on Wednesdays (ladies' night) for hip-hop, R&B, electro and a complimentary bottle of vodka (for groups of four ladies).
It's KL's best kept secret. The Restaurant (tel: 7806-7000 ext 6722) at The Club Saujana Resort may be miles away from the city but it's worth the visit. Head Chef Alexander Waschl has wowed palates with his inventive interpretation of classic European food. He has a preference for seasonal ingredients, and injects molecular gastronomy into his cooking. The wine list is impressive and service is impeccable.
Kuala Lumpur's most exhilarating, new restaurant - Dewakan (tel: 5565-0767) - is literally in the middle of nowhere, located within the confines of a university campus in Shah Alam. Make the trek to experience and relish modern Malaysian dishes you'd never otherwise find. Chef Darren Teoh – a strong advocate of local produce- injects his touch of ingenuity into each dish using inaccessible ingredients such as budu (fermented fish), ketumpang air (pepper elder), pucuk gajus (cashew shoots) and bunga telang (clitoria flower).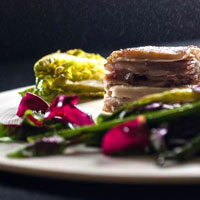 Dewakan delights/ photo: outlet
Standouts include cured blue mackerel with pomelo with pickled local flowers and ulam raja herbal salt; smoked piked conger (local fish) with fermented long beans radish, roasted okra and clams foam; and gula Melaka marquise with sour meringue and pulut ice cream.
Ala carte dishes are not available. Have lunch for either a three- (RM90/ US$23) or four-course (RM145/ US$37) meal, or opt for a five - (RM180/ US$46) or ten-course (RM240/ US$61) dinner. Service is spot-on; theirs is a concise wine list with some top drops.
More clubbing at Sunway
The Kuala Lumpur clubbing scene has been given an injection of youthful fizz by Soju Sunway at the Sunway Lagoon Resort. Drive about 45 minutes out of town to this fun resort for some serious party flavours. It's sexy and exciting, with pole dancers, superior music (top '40 club hits), local and world-class DJs from Korea.
Who said Kuala Lumpur nightlife is staid?
Send us your Feedback / Letter to the Editor