BUSINESS TRAVEL
Seoul guide, unplugged
Seoul business hotels review and top conference venues. Fun beds, spas, new value hotels in Myeongdong, and boisterous shopping and nightlife from Itaewon to Gangnam.
SEE ALSO Songdo, Incheon business hotels | Beijing business hotels | Shanghai business hotels | Hong Kong business hotels | Tokyo fun guide | Inner Mongolia guide | Taipei hotels review | Taiwan spa | Xian fun guide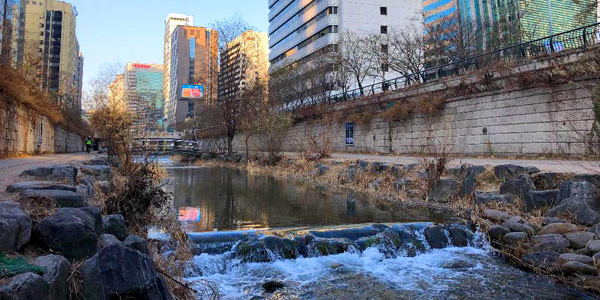 JUMP TO Airport and duty-free | Taxis and transport | Seoul shopping | Sightseeing | Nightlife | Newer value Myeongdong hotels | Seoul business hotels downtown | Gangnam Yeouido | Budget hotels | Incheon Airport business hotels | Hotel Contacts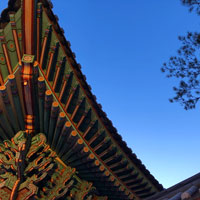 Deoksugung Palace building/ photo: Vijay Verghese
MY ARRIVAL in Seoul was not as brisk as customary. Business class was full so I was awarded the first bulkhead aisle seat in economy. Not too bad. Moments later a stewardess asked if I would mind switching seats to let a family sit together. I obliged. My new seat, in row 62, right at the back, hemmed in between two burly Koreans sporting gold teeth, ensured I was not among the first to be frantically disgorged when the plane reached the gate at Seoul Incheon International Airport. So, unusually, I did things slowly. It was a civilized entry, far from the windmilling arms up front. Immigration was efficient and friendly. Getting to town was a breeze with a KAL limousine bus to Myeongdong at just W16,000 for a comfortable 60-minute transfer.

Slide Show

E-mail Page

Print

Hotel Contacts
It was a shock then to find myself surrounded by red fire trucks and militia in black at a posh Myongdong hotel. Duty-free shoppers milled around as tough, muscled characters barked orders. I covered my egregiously prominent "Taliban" nose and peered about. The hotel was evidently besieged. Not good. Then I spotted a small sign in the lobby. It read, "Emergency rescue drill… smoke bombs and grenades will likely be used. We ask for your deep understanding." Right. But who would save us from the emergency rescue drill? It is a measure of how seriously South Koreans take security that dramatic enactments like this, which have foreigners leaping out of their skins, are simply ho-hum in a country whose northern neighbour pushes brinkmanship to new levels daily, heaving propaganda – and sneak ordnance – across a much-pummelled border. Various G20 meets are done, artillery shells have rained across the border, North and South Korea have a continuing tense standoff, and life continues normally. Sort of, with occasional fresh buzz as at the 2018 Winter Olympics at Pyeongchang.
Itaewon shoe store - bargains by the mile/ photo: Vijay Verghese
South Korea is a study in baffling contrasts. The "Land of Morning Calm" is anything but. Money is being made everywhere and not just at expatriate condominiums where landlords demand a year's rent upfront which they then invest and turn into profit – returning the original principal at the end of that period. In the old days when the won wobbled, landlords who lost their money in scams did the honourable thing. They jumped off high buildings to prove to their tenants that there is a direct link between gravity and dud investments. What their tenants did thereafter has not been adequately chronicled.
Send us your Feedback / Letter to the Editor
Seoul is purposefully mid-stride in its very own version of the American Dream. Morning calm has been steadily replaced by 4am-awakening office workers, beetling traffic, modern skyscrapers, glitzy hotels, and de rigueur student demonstrations where setting police on fire with Molotov cocktails is regarded as an intrinsic part of the university curriculum. There is a bit of the Wild West in all this and it's fabulously entertaining.
Amidst the liberating thrum of industry and heavy machinery, people scurry about their work. This is a busy, busy place. And it is growing fast. Everywhere you turn there are tall buildings, tall church steeples and tall advertising billboards. People are shooting up too. One stunningly tall office lady caught my eye. Being a rude foreigner, I enquired what her height was. "About 1.7 kilometres," she responded, flashing a brilliant smile through purple lipstick (another hallmark of the South Korean capital).
Seoul is a modern hi-tech city where Samsung and LG have pretty much wired up every aspect of life, from TVs in refrigerators to mobile phones that can (from the other side of town) turn off the electricity at home and, perhaps, lock your mother-in-law in the toilet. Urban regeneration continues apace nowhere better epitomized than in the brilliantly revitalized Cheonggecheon canal that flows across central Seoul attracting large numbers of strollers, commuters, lovers, and even movie production companies. If you are up for a good stretch or just a wide-eyed Seoul shopping wander, the canal's extremities link metrosexual Myeongdong with local-style arts-and-crafts Insadong and the bustling Dongdaemun market.
Lotte World Adventure, fun for kids/ photo: Vijay Verghese
This is a city on the march, be it the next generation of Seoul business hotels, fancy Seoul shopping with ingenious new rip-offs of designer brands, trendy dining outlets, or the ubiquitous karaoke-crazed nightlife. There's something for everyone. For starters you could rummage about the comprehensive Korea Tourism Organization (english.visitkorea.or.kr) site. Also visit the very informative Seoul City Tourism website (visitseoul.net) with breezy tips for bus and walking tours, flea markets, exhibitions and hikes. Or pop by the newer buzz korea aimed at the young and hip Twitterati set with a grab bag of blogs, news feeds and chat groups relating to South Korean food, fun and frolic. This is managed by the Korea Tourism Organization too.
Incheon International Airport duty free
The relatively young Seoul Incheon International Airport (www.airport.kr/eng) is a gleaming modern marvel that could easily be plonked down next to the Louvre without anyone batting an eyelid. It is efficient and quick, and involves a minimum of walking. From aircraft gate to taxi can be accomplished in 20 minutes unless you have the Moscow Circus in tow. Regular Airport Limousine buses (www.airportlimousine.co.kr) do a 45-minute to one-hour shuttle to most Seoul hotels in fast-growing Kangnam (also Gangnam), as well as to the central City Hall and Myongdong (also Myeongdong) across the Han River. The one-way adult fare is 15,000 Korean won (approximately US$1 = W1,122). Another alternative is the rail service (AREX to Hongkik University to Seoul Station). The underground rail link costs W3,950 (US$3.80) and takes about 40 minutes to reach downtown.
If Seoul Airport duty-free shopping is your thing, on the way out, rummage through the Fendi, Celine, BVLGARI, Chanel, Calvin Klein, Burberry, Salvatore Ferragamo, Emporio Armani, Furla, COACH, and Gucci outlets. Pick up a duty-free Johnnie Walker Black Label one litre (US$44) or a 12-year-old Chivas Regal one litre at US$41. A 50ml eau de parfum (EDP) of J'Adore from Dior is US$111, a 50ml EDT of JOY is also US$111, and a 50ml EDP of the BVLGARI Rose Goldea is US$101. Look for brands like Sulwhasoo, and skin-care specialists MISSHA and Tony Moly (gold snail hydrogel mask 'intensive care') with a pack of 30 for US$80. Press hard for discounts, specials and extras.
If you're too lazy to walk, visit the Korean Air Sky Shop that makes a huge play with whiskies, Scotch and cognacs so popular at home. Look at Johnnie Walker Blue Label (US$138 when discounted), 21-year Royal Salute (US$106), 30-year-old Ballantine's (US$315), 18-year Chivas (US$60), and 18-year-old Glenfiddich Single Malt Whisky (US$78). The airline is no slouch on inflight duty-free on the perfumes front either.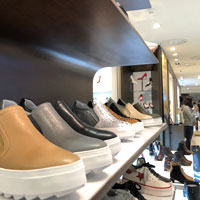 Lotte store downtown, shoes for ladies/ photo: Vijay Verghese
The satellite concourse also sports a decent Korean restaurant, a Museum of Korean Culture, and a Play Zone for kids. This is also where you'll find the duty-free pick-up points (next to Gate 121) for Lotte Duty Free, Shilla, Walker Hill, Dongwha and Shinsegae. Seoul duty free discounts vary from season and there are several buy one get one bonus offers. So do check.
Downtown, shoppers often compare Lotte vs Shilla on duty-free prices but the difference is less in price and more in layout and access. The Lotte high-rise store is easy to find in Myeongdong - and always packed to the gills. Shilla duty-free is farther out (but well in town) in a green enclave next to the hotel, with a more upscale hushed experience.
Taxis and metro
Despite its intimidating size and bluster, getting around Seoul is relatively easy. Regular metered taxis start at W3,800 (since Feb 2019), with comfy deluxe taxis (largely for tourists and businessmen in a rush) starting at W6,500. A cross river ride in a deluxe cab from, say, the Westin Chosun near City Hall to the Park Hyatt in Gangnam, will likely be in the region of W33,000 or more, depending on traffic.
If you prefer a cheaper regular cab, tell the bell boy, or he'll whistle up a gleaming black deluxe cab with a white-gloved chauffeur and a fast-ticking meter.
While there's no dearth of taxis at Seoul business hotels, another good option is the subway train network. The subway (see a Seoul subway map) is pretty extensive and well signposted. The fare is about W1,000 from City Hall to Kangnam and, to make things utterly simple, stations are numbered (maps are in English, Chinese and Korean), and tickets can be bought at ticket windows saving you the bother of figuring out vending machines. It's all quite civilised. An average Seoul subway ticket fare is between W1,000 and W1,300 (the latter includes a refundable deposit that can be claimed back after the trip). Purchase of a T-Money prepaid smartcard is highly recommended. You can use it on all public transport, including taxis. The card is good for ticket purchases to museums and theme parks too. It is rechargeable at subway stations. Rent an EGG mobile WiFi router from Korea Telecom at W4,400 (US$4) per day, or less, at its outlets at the airport and elsewhere.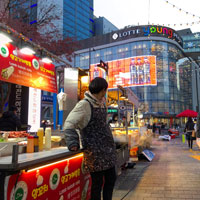 Myeongdong food stall/ photo: Vijay Verghese
If you do find yourself in a pickle, grab any passing Korean and holler "BBB". This refers to the volunteer translation service (www.bbbkorea.org/en/). BBB stands for Before Babel Brigade. According to booklets handed out at the airport, your newfound Korean friend will then connect you to a translator. You can do this through a BBB smartphone app.
Of course, depending on your approach, he might panic and run for it or clobber you with a large ginseng root. For more travel information, simply dial 1330.
Old Seoul, around City Hall, Myungdong and Namdaemun (South Gate) Market is cluttered and convivial with buildings and streets on a human scale. (The grand Namdaemun edifice dating back over 600 years succumbed to a blaze in early February 2008, partially destroying one of Korea's best-loved landmarks. It underwent extensive restoration.) Across the Han River in Kangnam, the city blocks are gargantuan and roads dauntingly wide with up to eight or more busy lanes to traverse should you dare to sprint across. No chickens ever cross the road here.
For an authentic peek into Seoul shopping, late in the evening venture to the wholesale Namdaemun night market, which is at its obstreperous best in the wee hours. Crammed into the side alleys and underground shopping arcades are stalls selling everything from jeans, silk and a mind-boggling assortment of clothes to mountain gear, flowers, saplings, chocolates, DVDs, celadon vases, and the ubiquitous Korean movie heartthrobs imprinted on T-shirts, mugs, posters and even underwear – all at knock-down prices. Bargain hard.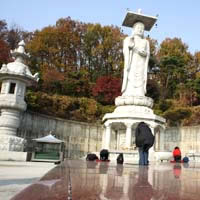 Bongeunsa Temple statue near COEX/ photo: Vijay Verghese
A short stroll from here is Myeongdong (also Myeong-dong or Myong dong or Myung-dong) district, a ritzy, compact neighbourhood for high fashion, bars, cosy eateries, coffee shops and cosmetics (the popular Toda Cosa has moved, to be replaced by Olive Young). Young people course through pedestrian-only streets, pondering the likes of Noon Square (visitkorea.or.kr), H&M, Zara, Converse, Guess, Puma, Reebok, Nature Republic (a pack of 10 face masks for W35,000), North Face, Polo Ralph Lauren, Body Shop, Samsung, Giordano, Adidas. K-Swiss and more.
Drop by Holika Holika (www.holikaholika.co.kr), MISSHA, or Tony Moly for body care products and face masks (W150,000 for a 50-pack bundle of the much-in-demand Gold Snail Hydro Gel mask), cruise Etude House (www.etudehouse.com), Aritaum and Espoir. Also visit the trendy and popular Too Cool for School and Banilla. Both specialise in skin care products, lipstick and eye shadows. Uni Qlo has a big outlet in this area. You'll also find GAP and Forever 21. Also look for stylish Mamonde cosmetics and face masks that have started appearing.
Myeongdong shopping has a definite buzz and is conveniently round the corner from the Westin Chosun, Lotte and The Plaza hotels. This is perhaps the best spot to commence your Seoul shopping tour. Pop down to the extensive Sogong Underground Shopping Center to escape the cold or heat and browse everything from Zippo lighters (W40,000) to American Tourister wheelie cabin bags (from W70,000). In Myeongdong, ladies shoes cost around W30,000-W40,000 (compared to the Lotte basement shop where a classy pair may set you back W300,000 and a JW Gold Reserve 750cl W85,000).
In the midst of the shopping carnival are fish foot spas that have put to use the questionable exfoliation talents of some hungry finned folk. Give them a nibble if you're up to it. Underground shopping is also good around stations like Jamwon near the express bus terminal, and Jongak near City Hall.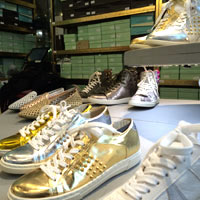 Bling shoes at Doota ain't cheap/ photo: Vijay Verghese
The Lotte Department Store (exit at Ulchiro-2ga Station, Subway Line 2) is at hand should you prefer an indoor rummage through designer brands without hassle and there is a Lotte Duty Free at Lotte World across the river (exit Jamshil Station, Subway Line 2) in Gangnam as well as a quiet set-up at the InterContinental COEX. For a broad range in Seoul duty-free shopping head up to the 9th to 11th floors of the Lotte Duty Free at the department store (close by Westin, Lotte, Plaza and President) to rummage around.
Find BVLGARI, Chanel, Sulwhasoo, Hermes, and moisturising face masks from Etude House and other local brands at throwaway prices. Also expect Swarovski, Cartier, Dior and more designer brands than you can shake a stick at. There's bags, cosmetics and watches. Or try the trendy neighbouring Lotte Young Plaza to explore MUJI, Style Nanda, Didier Dubot, Zara, Top Girl, Levi's, Crocs, Giordano, New Balance, Reebok, Uni Qlo and more. Shop in style at the renovated Shilla Duty Free (at the Shilla hotel, tel: [82-2] 2639-6000, www.shilladfs.com), which hosts the likes of Bobbi Brown, Hermes, BVLGARI, CK Jeans, Folli Follie, Prada, and Ermenegildo Zegna, where all you need do is present your passport and ticket. Pay, and collect your items at the airport after clearing immigration. Shilla Duty Free is a high quality set-up with a spacious layout in a dedicated building set away from the hotel across the lawn.
Dongdaemun Market is similar to the Namdaemun sprawl, with the addition of some trendy malls. This is Seoul shopping at its best, set in a vast garment wholesale and retail area. Three notable high-rise shopping malls in this vicinity are the ever-popular Doota (Doosan Tower, exit 4 and 5, Dongdaemun Station, Subway Line 2, tel: 3398-3114, www.doota.com), the adjacent Hello a_pm (www.helloapm.com) and the somewhat cramped Migliore.
These malls have the distinction of staying open till 5am so come and party. Hello a_pm offers perhaps the cheapest selections and the best opportunity to practise your bargaining skills. Pick up a Pastel nail polish, denim jeans for W40,000 and cotton blouses for W30,000. On the sixth floor are accessories, hats, nail polish: in brief, this is girlie heaven. Also find costume watches and junk jewellery galore.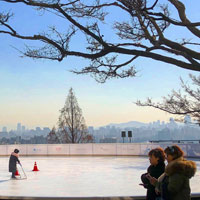 Winter ice rink at the Grand Hyatt Seoul/ photo: Vijay Verghese
Cheek by jowl is Good Morning City where a cabin bag will set you back W60,000, men's shoes W45,000 and a straw hat W16,000. Neighbouting Doota and the new JW Marriott hotel is the ever-popular packed and messy Pyoung Hwa Fashion Plaza (where you also get some of the best currency exchange rates in the area) selling folding umbrellas and linen floppy hats for women. At the increasingly pricey Doota a pair of ladies' high heel office shoes will set you back a cool W250,000, dress shoes W450,000, and denim hot pants W50,000.
Just across the big intersection is the newer Maxstyle mall, swankier, and also open 11am to almost 5am the following morning. And set a bit farther back is the younger U:US Fashion Mall. Each mall has a designated off day. Beyond Maxstyle is the wholesale area.
Doota incorporates a lively local fashion scene on its first floor showcasing young Korean designers. The third floor features shoes and handbags, the fifth floor accessories and the sixth floor is all kids' stuff (with a play area and a "breast-feeding room". The seventh floor offers welcome respite in the form of a well-stocked food court where you can finally make a pit stop and rest those weary legs. Of an evening, especially during weekends, the malls put on fashion shows and rock music spectaculars. If you're lost, just follow the noise and lights. Or grab someone and holler, "BBB".
Alongside Doota and running on either side of the revitalised Cheonggyecheon canal, now a haunt for romantics and walking boffins, are wholesale shops selling everything from books, hats and decals to chocolates. Buy stuff by the sackful. There is also the Dongdaemun Shopping Complex where further volume rebates await. Cheonggyecheon is well worth a leisurely walk along as much of its length as you like. It is a wonderful example of urban restoration.
Continue your Seoul shopping browse at Itaewon (just down the hill from the Grand Hyatt). Itaewon remains the main draw for jeans-and-labels knock-offs with a few Korean chests thrown in. Fakes are not as brazenly displayed as in the past but if you wander the side alleys and gawk at the handbags, options will present themselves speedily enough.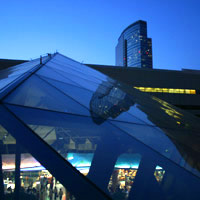 The huge COEX Mall/ photo: Vijay Verghese
Other bags might be Louis Vuitton for all intents and purposes save for the monogram that reads LM. In Itaewon you'll also spot the likes of Calvin Klein, Rockport shoes, Reebok, Adidas, Levi's, Body Shop and more.
Knee-high ladies' leather boots start with shelf price tags of around W200,000 but you should be able to knock the price down substantially. Or get a cashmere suit stitched in a day for around US$350.
If you prefer shopping in Seoul for some rather unique jeans with a spot of street-side art, a smattering of cafes and punk rock, head down Subway Line 2 (green line, station 241) to Ewha Women's University, Sinchon or, a couple of stops on, to Hongik University. At Ewha, (take exits 1 or 2), trawl the side streets for coffee, hair stylists, and the usual stores like Olive Young, Missha and innisfree (face masks from W950) and stop for a coffee at Homestead.
For something a tad traditional with oodles of charm, drop by Insa-dong (exit Anguk Station, Line 3) to sample its tea shops, traditional restaurants, roadside snacks and alleyways. Insadong is not all tradition. It has some rather smart shops selling everything from tourist gewgaws to home furnishings and old prints. If there's time, visit the Mokin Museum (www.mokinmuseum.com), which displays unique Korean wood carvings depicting humans and animals in playful poses. You must visit the popular corner store run by Sanchon – Korea Temple Cooking (www.sanchon.com), with its sacks of exotic herbs and dried roots. Sanchon restaurant was started by Kim Yon Shik who spent 18 years as a Buddhist monk before devising his healthy yet hearty recipes. In this area, savour fresh berries and cherries, or ogle colourful hanbok dresses, brassware, art, hats, carvings, masks, silk hand fans, and postcards. It is also worth visiting Samcheong-dong, which is packed with boutique cafes and galleries.
Across the river in Kangnam, where the city's well-heeled live, there's much high end Seoul shopping to be done in the hip and happening districts of Apkujong (check out The Galleria www.galleria.co.kr) and adjoining high fashion Cheongdamdong.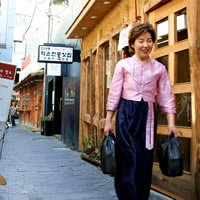 Traditional streets of Insa-Dong/ photo: Vijay Verghese
The Galleria has vast retail space and stocks local Korean designers as well as Western designer fashion brands. In this area you'll come across Ferragamo, Missoni, Jill Sander, Ralph Lauren, a Hyundai Department Store and a lot more. The COEX Mall (Subway Line 2, Samseong Station, www.coex.co.kr) close by the two InterCons is a vast shopping haunt with everything from Levi's and DKNY to SONY and Samsonite. Enjoy the aquarium, a kimchi museum, music, an IMAX theatre and books. Browse for hours in its Underground Shopping City.
In Apgujong – a major nighttime haunt for the young and restless – you'll also spot numerous cosmetic surgery outfits all hoping to redefine your bust, nose, face, bottom and pretty much anything that protrudes or jiggles. Other Seoul shopping options could include the I'Park Mall at Yongsan subway station (Line 1) and Times Square mall (Yeongdeungpo Station, Line 1, exit 3, www.timessquare.co.kr) where you'll come across the Shinsegae Department Store with over 500 high end brands, the Kyobo Book Centre and the Courtyard by Marriott Seoul Times Square.
Seoul fun guide for the family
When it comes to sightseeing in Seoul you'll soon realise there's more than you can shake a stick at, from touring the demilitarized zone (DMZ) separating South and North Korea, to cruises down the Han River and going bonkers at child-friendly amusement parks like Lotte World (adventure.lotteworld.com), Everland (www.everland.com), and the COEX Mall (www.coex.co.kr) where Inca villages and the Amazon rainforest await. At the Lotte World Shooting Range Alpha Males can pump lead out of anything from a Smith & Wesson to a Beretta before mincing back to their wives for a full-scale bollocking. Lotte World is one of the largest indoor amusement parks and it does not disappoint.
Fortunately, as the city has grown and modernised, it has managed to preserve much that is old and traditional. Among the do-sees if you have time, are the Chosun-dynasty Gyeongbokgung Palace, the "Secret Garden" pavilions, pagodas and ponds of Changdeokgung Palace, Jogyesa temple, and the very accessible Deoksugung Palace right next to City Hall. Tragically, the historic Nam Dae Mun "South Gate" structure was greatly damaged in a fire in early 2008 but the bustling Namdaemun night market remains busy.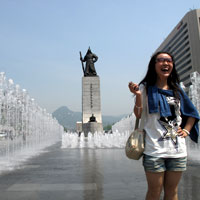 Posing at Admiral Lee's statue/ photo: Vijay Verghese
The revitalised Cheonggyecheon canal is a marvel of modern city redevelopment. It runs across much of Seoul, offering a landscaped strip for romance, exercise, and long walks amidst fountains and greenery. It is a prime example of urban regeneration that has created a buzz along its entire length inviting joggers, walkers, movie production companies, and salarymen alike.
Across the river in Gangnam right opposite the COEX InterContinental hotel are the characterful pagodas, pavilions, manicured gardens and statues of the Bongeunsa complex (tel: [82-2] 3218-4895, subway line 2, gate 6). Come festival season, the place is festooned with lamps and packed with Japanese tourists lugging frightfully large cameras. The original temples were built in this precinct around 1618. Fires and natural calamities destroyed most of these in 1939 after which the complex was reconstructed. Learn meditation here, observe tea ceremonies or opt for a temple stay. Telephone them. The website is often flagged for drive-by malware, such are the worldly perils of other-worldly beatitude.
If you're up for a bit of a trek, head across to 63 City, one of the tallest buildings in Seoul where the underground 63 Square offers food and fashion. To get punters interested there's even an IMAX theatre and 63 Sea World boasting over 20,000 species of marine life. That's a lot.
And for a taste of Korean art and culture, only marginally bordering on twee, try a meal or a folk performance at the recreated Korea House (tel: 2266-9101, www.koreahouse.or.kr) that has been chugging along since 1957. The best views of the city of course are on panoramic display atop Namsan hill, from Seoul Tower (www.nseoultower.co.kr). Despite the hurly-burly, Seoul is a family-friendly city and children are well catered for. Take in the preserved Bukchon Hanok Village, a maze of old stone walls and clay bricks. This is an interesting area to explore on foot. Sip interesting leaf blends at the Tea Museum in Insadong. A fun outing for kids will be to the Children's Grand Park with its collection of white bears, otters and more parrots than you could swing a stick at. Admission is free.
Nightlife, dining, cool bars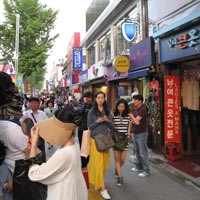 Itaewon: top Seoul shopping draw/ photo: Vijay Verghese
Dining in Seoul is a riot. But it's not always expensive. Dump ersatz Western and go for delicious Korean bulgogi (marinated beef strips), galbi (spare ribs) and lots of spicy kimchi (cabbage pickled in chilli).
A set course of bulgogi usually arrives with rice, soup and assorted vegetables. It is in Myeong-dong that I was introduced to putae-chiga, a spicy noodle and frankfurter soup which my host informed me dated back to the days when American GIs handed over leftover rations to the locals who then cooked up a storm with lethal amounts of kimchi and whatnot. If your palate can manage this, it comes highly recommended as a simple but tasty meal.
The intrepid may wish to sample the street side pojang-macha tents that spring up in the evenings all over town serving intriguing dishes and soup. In Seoul's minus-20C winters, the tents are a great way to stay warm as they practically zip shut. This sort of fare is available in Myong-dong. For something Korean, reliable, foreigner-friendly and flavourful, the much-recommended Gomsotzib (199-13 Euljiro 2-ga, Jung-gu) has closed to be replaced by the smaller Nobizib (tel: 757-4084) round the corner, ground floor next to TGIF. Try its trademark beef fillet and galbi (ribs).
While there is a veritable riot of eateries and bars in Apkujong and Cheongdamdong, the new nightlife strip frequented by the young and hip, is Sinsadong in the same broad Gangnam area. Hop off the cab along Garosu-gil – the main drag – and Enjoy a lavish galbi set (for two) for just W20,000 in the Sinsa-dong side streets. I sat amidst the smoke and charcoal trying to forge through this huge repast while the owner peered at me, quizzically, wondering why I could not, on my own, polish off a few kilos of beef.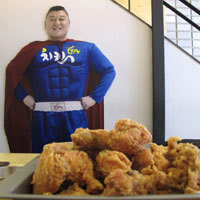 Fried chicken is all the rage/ photo: Vijay Verghese
The Once in a Blue Moon (tel: 2549-5490) jazz bar is worth a special mention. Blue Moon follows a similar format to Tokyo's Blue Note where heftily-priced tickets are snapped up for dinner shows and live performances by talented local bands and occasional international artistes.
Sit back to bebop, fusion or swing. Itaewon has its share of clubs, pubs and bars like the popular Gecko's opposite Hamilton with a balcony-view of the action. Pick from Italian, Indian, Arabic and Middle-Eastern fare. It's all cheek-by-jowl. Here's where you'll find Between (tel: 795-6164) a street-fronting glassed-in dining and tapas lounge bar. By night, Itaewon's bars draw drunks and bosomy ladies in miniskirts who are keenly interested in economics. They will want to see your wallet. Japanese and American economies are of particular interest to these business students.
Beware of grope bars though where your Budweiser costs just W6,000 but the lady's drink is upwards of W25,000 – and she'll want a few to keep herself and you entertained. More healthy are the MilkCow ice-cream outlets that will tickle your taste buds with that something extra - creamy vanilla with a slab of oozing honeycomb. It's fresh bee produce. Or sample some of the city's suddenly famous fried chicken outlets - after being popularised in Korean TV dramas.
For something laid-back, venture out to Samchongdong, an old district in the hills, where you'll find Jazz Story. Drop in for a broad selection of music from jazz to folk. The smart set intent on wowing their date with vertiginous views may wish to drop by the Top Cloud grill and cafe (www.topcloud.co.kr) perched on the thirty-third floor of Jongno Tower. The best views are from the bar. Park there and enjoy a French steak.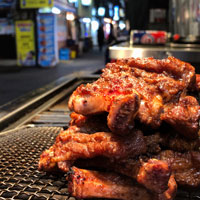 Barbecued meats grilling by the mile, Insadong/ photo: Vijay Verghese
Your concierge will likely discourage you from visiting local karaoke parlours that do not always welcome foreigners. Drinking is copious. In Korea you even have so-called "deli" drivers who can drive you back (in your own car) should you get completely legless. Now, that's service.
Some Seoul nightlife and dining options include the elegant Ninth Gate at the Westin (tel: [82-2] 317-0366), Boutique Blooming (tel: 518-1962, 623-4 Sinsa-dong, Gangnam-gu, Seoul) for Italian, Gong Yeon (tel: 3673-1104, 170-3 Gahoe-dong, Jongro-gu) for Korean royal cuisine, Budnamujip (tel: 3473-8354, 1340-5 Seocho 2-dong, Seocho-gu, www.budnamujip.com) for a belly-stretching beef barbecue, and Guk Hwa Jung Won (tel: 741-0020, 264 Sungbuk 2-dong, Sungbuk-gu) for authentic Korean traditional fare.
Also try Cha Ma Si Neun DDeul (tel: 722-7006, 35-169 Samcheong-dong, Jongro-gu) a Korean tea house with a charming garden. Or look at Tani (tel: 2118-6100, 9F Avenuel bldg, 130 Namdaemunro 2-ga, Jung-gu) for French-Japanese fusion, and The Restaurant (tel: 735-8441, 59-1 Sogyuk-dong, Jongro-gu) for French.
And for a more rocking time if Seoul bars and club lounges are more your thing, head to Gangnam's Ark Lounge (tel: 515-9078, 84-20 Cheongdam-dong), or The Timber House (tel: 2016-1234, www.seoul.park.hyattrestaurants.com) at the Park Hyatt with its live music and sake bar.
Myeongdong newer value hotels for executives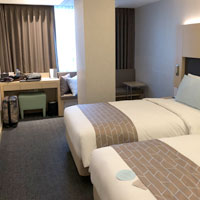 aFIRSTMyeongdong is a top hotel for business travellers/ photo: Vijay Verghese
Hotel Gracery Seoul (seoul.gracery.com/) near Namdaemun a short walk from the Westin is a new, larger hotel, with rooms from 22sq m, and the the expected free WiFi.
Think neat rooms with flat-screen TV, woody sliding doors and cabinets, a bathtub, humidifier, and a contemporary Japanese style. The hotel-style building has a laundromat too.
aFIRST Myeongdong (afirsthotelgroup.com) that opened in 2017 is also a short stroll north of Westin with a neat lobby with open spaces, seating, plenty of natural light, and a couple of iMacs with an internet hook-up. Staff is friendly and polite. WiFi is free. Best of all, the KAL Airport Limousine Bus Route 6701 has a pick-up and drop-off at the larger neighbouring New Kukje Hotel (www.newkukjehotel.com/) around the corner opposite Koreana on Sejong-daero road. And just around the corner from aFIRST is a food alley packed with galbi (barbecued ribs) restaurants, ramen joints and fried chicken eateries.
At the 140-room aFIRST Myeongdong expect a coin laundromat, street views, coffee shop, fitness centre, and neat rooms with white walls, pale wood fixtures, flatscreen television (no CNN or BBC, only Korean channels), a plump medium-firm bed, grey carpet, electric kettle, small divan, and a fair bit of stretch room. Find useful toiletries in the bathroom with a robust hairdryer and a satisfyingly powerful rain shower. There's also a Japanese toilet with press button controls. There are hangers for clothes but no cupboard. There is a small well-lit work desk and two three-pin plug sockets by the bed.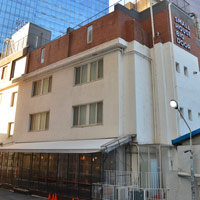 Small House Big Door offers a great Myeongdong location with value rates/ photo: Vijay Verghese
Breakfasts are filling with a broad range of dishes including eggs. Beer is on tap evenings. The hotel is popular with business travellers seeking to escape the tyranny of the five-star wallet squeeze.
Just around the corner too is the charming Small House Big Door (smallhousebigdoor.com) boutique hotel with a few more design flourishes and a zen simplicity that is appealing.
The hotel is a little tucked away but easy to find, with a pale wood lobby, all white rooms decked out in stark minimalism, with popular Corner Rooms that retails for about W90,000 weekdays to W130,000 on weekends.
The Nine Tree Premier Hotel Myeong Dong 2 (ninetreehotel.com) is a larger and slick 408-room newer hotel with compact but pleasant 26sq m rooms featuring grey carpets, pastel tones, olive bed runners, city views, and free WiFi. Also find a fitness centre, spa, ancl 3 meeting rooms if you happen to be in need of a small meeting. The place is run by Parnas, well known for its business and meeting hotels.
Stay B Hotel Myeongdong (www.staybhotel.com) is a little further from the central City Hall area and is a tad cheaper with fun design touches and flashes of colour.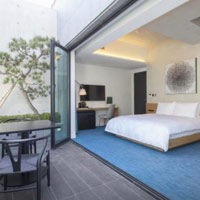 Stay B Myeongdong, Panorama Suite with terrace/ photo: hotel
Expect plain white 27sq m rooms that are attractive and simple with plump white beds facing large flat-screen wall-mounted TVs, pale wood cabinets and wall trim, and bathtubs or showers. Also look at the more generous 32sq m Panorama Suite with alfresco terrace balcony. Triple rooms are available for families.
Hotel Doma Myeongdong (www.vellasuitehotel.com) is also a little further but in the Myung-dong district while DOTT Hotel Myeongdong serves up tight 12sq m rooms with the lure of free WiFi, a rooftop garden with a city view, and massage services. No free bottled water in the room though. Dott is somewhat elusive online so track them down through one of the online travel agents.
A little farther away and walking distance to delightful Insa-dong is the quirky concept design Makers Hotel (www.makers-hotel.com/) with a great deal of budget individuality in rooms starting at W80,000 (about US$70). Pick from economy triples or go for a suite. Plenty of fun and style at affordable rates.
Seoul business hotels review
Towering above the 'Gwanghwamun' - from a respectful distance - the largest formal gate of the historic Gyeongbokgung Palace, is the sleek and contemporary Four Seasons Hotel Seoul where service is on rails and luxury oozes from every marble pore. This is a younger entranst and it shows. Rooms are in cool pastels with floor-to-ceiling windows (many with fine views over the palace), tall-back leather chairs (offering a classic undertone), pale wood features and a hint of indigo in the carpets. It's a pleasing set-up for both urban metrosexual executives as well as women travellers in town for a weekend's respite and shopping binge.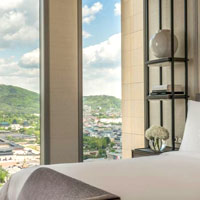 Fabulous views from the Four Seasons Seoul/ photo: hotel
Make time for the spa, plunge into the all-year swimming pool and savour delicate morsels at the excellent Yu Yuan Cantonese restaurant. Four Seasons also offer 2,196sq m of event space and is a fine pick for Seoul conferences or hished corporate meetings on a more intimate scale. The ballroom here can hold up to 800 guests.
The JW Marriott Dongdaemun Square Seoul (opened February 2014), is inserted quietly like an unobtrusive bookmark separating serene history (the Dongdaemun East Gate) from 24-hour shopper mayhem as crowds eddy through the retail and wholesale mecca in search of everything from shoes and handbags to curios for the home.
This elegantly contemporary low-rise hotel with its smooth curves and huge views over the Gate, is shaking up this once shopping-only district with some high class facilities and rooms that scream "convenience" for leisure trippers as well as suits in search of top Seoul hotels for corporate meetings. With just 170 rooms in all, this is a "boutique" corporate hangout with a modern feel. Service is top-notch in all departments and the place has a nice youthful energy, be it the Itaewon bartenders up at Griffin or front office staff who attend to you like you're the very last guest on the planet.
The long curve of the building is welcoming of light and this carries into the rooms with their marbled foyers and "open plan" sliding-door bathrooms. Expect manageable space where the effort is on the functional rather than the phantasmagorical, which makes the place both friendly and accessible. Find wood flooring underfoot, floral carpet, burgundy reading chair with ottoman, pastel tones and blonde wood throughout and a plump white bed with a wine-red runner. Large mirrors - like the casually leaning black frame - offer the briefest whimsy and much opportunity to preen.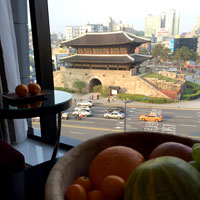 Now that's a view - JW Marriott Dongdaemun/ photo: Vijay Verghese
The cosy 10th-floor executive club lounge serves canapes and drinks at various hours, service is welcoming and brisk, and a long alfresco balcony affords further views of the Gate after hours when a beer will aid in your apres-work reverie. The Griffin Bar, one floor up, is another clubby hangout with lady DJs, husky bartenders, and well spaced seating. On the 2nd floor Tavolo24 is a commodious fine buffet (and breakfast) outlet with pine flooring and the same wraparound views of Dongdaemun Gate. But the signature experience is perhaps the BLT Steak restaurant where succulent Korean "Hanwoo" beef is matched with the wickedly inviting "pop-over" bread, a distant and more muscled cousin of the Yorkshire pudding. This place is a must for meat lovers.
Later, think a five-lane electronic golf driving range, four spa treatment rooms, a two-lane lap pool, and a Korean-style sauna. Club 501 is an exclusive fitness area for members and hotel guests.
Or sample the neighbourhood's 24-hour shopping that just about fades at 5am. New malls are in the pipeline too and the eye-catching space age Dongdaemun Design Plaza (DDP) is an intriguing exhibition, conferencing, museum, art and retail space worth a serious browse. Access? Underground train lines are right at the hotel entrance. One niggle. No Airport Limousine bus serves the hotel so you need to hike across to a nearby Hanwa Bank to catch a No.6002 Airport Bus for W10,000 (cheaper and perhaps quicker too than the KAL bus).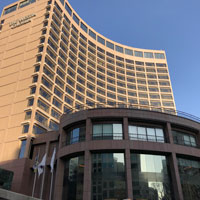 Westin Chosun: brisk city landmark/ photo: Vijay Verghese
Those in need of an address in the heart of Seoul should look no further than The The Westin Chosun Seoul , which is something of a landmark, one block from City Hall and a short walk from banks and the lively Namdaemun market. The original Chosun Hotel was established in 1914. The establishment proudly displays a bronze plaque from the Guinness Book of World Records at the entrance attesting that it is indeed the "oldest hotel in the Republic of Korea." The Westin Chosun – with its 462 renovated rooms (including 20 suites) and terrific location – is a top choice among Seoul business hotels, extremely popular among executive travellers.
It is also a handy Seoul conference hotel choice with crisp service and elegant interiors. The hotel's public areas went through a dramatic transformation to re-emerge mid 2011 in a modern and minimalist incarnation with cream marble walls and floors and a new and more private check-in facility with smart seating set to one side of the entrance. The sole distraction in the clean, almost sterile, new lobby is a solitary bronze art piece.
In Business Deluxe Rooms expect flat-screen LCD TV, iron and ironing board, and a Nespresso coffee maker with a few complimentary cartridges per day. The woody tones have given way to contemporary pastel, bright lamps, cream divans and plenty of light. The plump white-linen beds are terribly inviting. In-room Internet is free and so is WiFi in public areas..
A corner work table offers three multi-pin sockets and a Broadband cable. Other plug points in-room are deep round hole with two pins. The warm and welcoming Japanese potty will tickle, sprinkle, massage, warm, fan and dry your bottom if necessary. You could spend all day here, grooming, emerging flushed and glowing. Who needs a girl friend when you have this friendly contraption?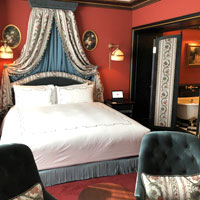 L'Escape luxury boutique hotel is all faux-Parisian/ photo: Vijay Verghese
Westin Executive Club rooms up the ante. Rooms in general are fairly plain with the emphasis clearly on functionality. Fitness fanatics can opt for a WestinWORKOUT® Room. Or try a Family Room that accommodates three, with a large double bed and an extra single bed. The beds of course are all "heavenly" to borrow the Westin trademark.
Completing the Westin ensemble are an indoor year-round pool (redone with a fancy skylight), fine dining, good meeting facilities and an extensive pillow menu (from Japanese soba to moulded, goose down and even a full length hugger). The Westin is in the heart of the business and financial district, walking distance from sightseeing, the subway, and the rough-and-tumble of Seoul shopping. This is a sound choice for small corporate meetings or larger conferences.
Sister luxury boutique hotel L'Escape - think fantasy Louis XVI decor - is entirely that, an escape into a sumptuous burgundy velvet environ, a cross between a lady's boudoir and a plush love hotel or, as the hotel describes it, a'A Parisian escape in the heart of Seoul'. This is not an address for everyone but if you're young, in love, a metrosexual on the move, or a group of ladies in need of some soft-bottom pampering, this may be a perfect fit with its crystal shower marble lobby, gilt-edge furniture, large classical paintings, vaulted ceilings, deep carpets and floral wall paper.
It's a step back in time with the burgundy-red surrounds in a 43sq m Deluxe with portraits of seeming royals, a plump white bed, teal-blue sofas, velvet chairs, and plush marble bathrooms with soaking tubs. Yet this is a modern fast-forward hotel with the latest in voice-activated room controls via its 'Genie-ya' tablet bedside that you speak to operate room controls, check the weather, or to order room service. Expect a Japanese potty that will do your bidding at the push of a button. The 53sq m Atelier Suite would be the pick here with patterned floral wall fabric, two flatscreen smart televisions, crimson sofa, a separate living area, silk and brass lamps, views of Namsan and free beer. Hurrah!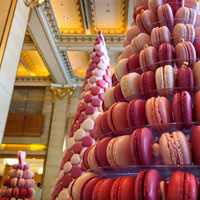 Lotte Main Wing lobby macaron tower/ photo: Vijay Verghese
There's another red velvet chair in the bathroom next to the tub, perhaps for an attentive partner or one buried in a book perhaps? The 204-room hotel, tucked away in a less travelled part of the city a little south of the Westin in the Namdaemun Gate and station zone with the Metro Line 4 nearby and the Airport Limousine buses 6015 and 6001 for a ride into Incheon's T1 or T2.
Bang next door is the Lotte Hotel Seoul, which sports a classic New Wing that adds a fair bit of class and faux-European gilt-ceiling Baroque touches – along with a Hublot watch showroom – to brighten up the pace. The older wing actually has a bright and roomy lobby looking onto gardens, with marble flooring and pinewood pillars that offer grand views of waterfalls or frozen tableaux in winter. Also find here a Breitling watch store and a TUMI baggage shop. The 759 rooms in the main wing have gone through a substantial facelift to step into the modern era.
Expect black marbled wall slabs, lots of white, variegated headboard colour styles, flat-screen TVs, DVD player, a complimentary mobile phone for guest use (you pay for calls), separate bath and shower set around glass-wall partitions, and a bidet – Japanese-style massage, wash, scrub, fountain for needy bottoms. Club Rooms are darker with woody overtones, and pastel carpets. They offer access to the Club Lounge with complimentary breakfast, snacks and refreshments. Whoosh out of the lift at the lobby level to be greeted by bowing ladies in the Japanese custom.
On the 22nd floor of the Main Wing, women travellers will enjoy the comforts of a Ladies Floor with its own Club Lounge stocked with books on fashion, travel and cooking. On this pampered floor, expect L'Occitane toiletries, Jacuzzis, special beverages, and discounts on duty-free shopping at the Lotte store.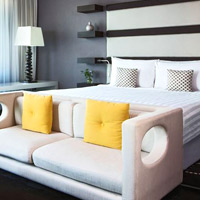 The Plaza Autograph Collection/ photo: hotel
In The New Wing catering for businessmen, all rooms have computers and Internet access is a snip. You'll also find a complimentary mobile phone and a printer. Certain room categories including Club Floor include a fax machine too with breakfast in the lounge and free use of a meeting room. The New Wing offers smart service in addition to piped choral music and strangely soothing chamber strings.
In total, Lotte Hotel Seoul offers a staggering 1,120 rooms. As always, the list of restaurants at this hotel is impressive. Our staple is the Korean restaurant Mugungwh. Enjoy some Joseon Dynasty food.
Across the road, The Plaza (formerly the Seoul Plaza) reopened in November 2010 after a long renovation shutdown. Overlooking the dancing City Hall fountains, this is a prime location with a new twist. Gone is the drab four-star of yore to be replaced by a crisp and ultra-modern Italian-designed "luxury boutique business hotel". That's quite a mouthful but The Plaza goes a long way towards securing its new credentials. And in early 2016 it re-emerged as The Plaza Seoul, Autograph Collection by Marriott. This is the first such Marriott branded property in South Korea, opening up new markets for this humming and fun property.
Expect dark woody tones and textures, surprising sculptures and wall hangings and soft pools of lights. Staff are very on the ball. Electronic touch cards open the elevator doors as well as rooms, introducing a new level of security for women as well as for careful business travellers.
The 30sq m Deluxe rooms are playful, with giant floor lamps hovering like Jurassic brontosauruses, casting a warm glow over plump white beds and scarlet red stools. The bed is right in the centre of the room and you can walk all the way around it. Peekaboo glass separates the bedroom from the startling white toilet.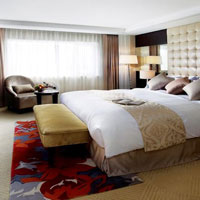 Grand Ambassador room/ photo: hotel
In-room find dark wood cupboards, a large flat-screen TV, a flat laptop safe, Ferrari red Nespresso, red lanterns, and free WiFi. The former 455 rooms have been whittled down to just 400, allowing for more suites and stretch space. The Junior Suites are more restrained, mod classical if you like, with a divan adjoining the bed. City Hall-facing rooms offer splendid views.
Next door is the highrise Hotel President that largely handles Japanese group business. The lobby is brighter these days. The hotel has a business centre and a few restaurant choices including Japanese. The room decor is older with bright orange or peach bedspreads and pearl checked wallpaper.
What it loses on style or substance it makes up on price. And the Japanese who make up up to 80 percent of the custom, love the place. Rooms are being steadily upgraded. The centrally located four-star Koreana is friendly if musty and old world. The business floors are reasonably smart with flat-screen TVs and generous working desk, hairdryers and toiletries. A Queen Room on these floors is around 28sq m. The hotel offers a fitness room, sauna, business centre and even a barbershop.
The Grand Ambassador Seoul - Associated Pullman Hotel (formerly a Sofitel) is in the thick of things with an ultra-long name, modern facilities and a European flavour. It offers business amenities with hi-tech touches, conference facilities, a fitness centre, gym, indoor pool, spa with hydrotherapy and a golf driving range. Expect 413 rooms kitted out in contemporary pale wood and, for die-hard romantics, fireplaces.
Find espresso machines, WiFi access, mobile phone rental, and a data-port linking all your sundry fun gadgets to the television. Of the total inventory about a quarter of the rooms have been refurbished and there are six VIP floors. Expect button-down leather headboards, pastel tones, bright rugs and gold bed runners. This is an old-style hotel with modern rooms in contemporary trim.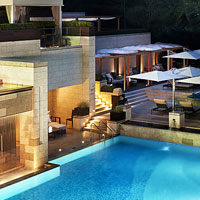 Shilla's reborn pool/ photo: hotel
In-room also find maps for one-hour walking and trekking trails along Namsan (the neighbouring hill). The hotel thoughtfully provides a "Trekking Pack" for W30,000 with a map, backpack, towel, mineral water, energy drink, and a Polaroid camera (to be returned after use alas). There are seven restaurants and a bar and function space for up to 700 guests in varying formats. The lobby level The King's is a multipurpose restaurant that does lunch and dinner buffets with a hearty spread of grilled foods and crabs. It is very popular with the local crowd. The National Theatre of Korea is walking distance from here as is the "jok bal" (pig's foot) restaurant street set up by grandmas after the Korean war. You'll find 10 or more restaurants all claiming to be the original one. (Don't confuse this hotel with the 230-room Novotel Ambassador Seoul Doksan near the Kasan Digital Complex.)
On the eastern flanks of Mt Namsan is a private enclave of peace, enclosed in traditional gardens sprinkled with stone sculptures, ornamental trees and flowers. A private road winds up this idyllic hillock to the neatly boxed redbrick Shilla Hotel, another Seoul icon, not least on account of its stylish duty-free shopping distractions.
The Shilla (relaunched August 2013) was been renovated head-to-toe with contemporary luxe interiors and a striking woody lobby with a soaring sloping wooden ceiling somewhere between a church and an alpine lodge, an eye-catching signature "cloud" chandelier formed by suspended crystals, and an attractive GRAFF jewellery shop. You can feel your wallet getting exercised already. While the hotel has smartened up dramatically, the changes are incremental and understated rather than revolutionary. What hasn't changed is the brilliant service. And this is what sets Shilla firmly apart. Staff is attentive, responsive, smiling and unfazed by quirky questions or outlandish requests. Everyone from the doorman to the concierge and the ever-smiling waitresses have a nimble urgency about their movements that bodes well for the business traveller. This is a classy address and you'll know it as soon as you step inside.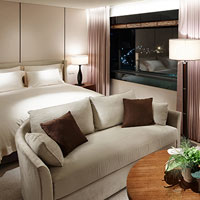 State favourite Shilla Deluxe/ photo: hotel
Ladies can have their fill of pampering at the Guerlain Spa. Or plunge into the Shilla Duty Free (bring along your passport and ticket). A striking redevelopment is the "Urban Island" pool area on the 3rd floor with indoor and outdoor swimming space (with sliding roof), heated pools (28C year-round), sunning cabanas and an all round resorty feel with green views of Namsan mountain.
The space is welcoming of both honeymooners as well as kids with a separate area for typhoon tykes. This floor also houses the fitness area with an understated slate grey cubist entrance.
An Executive Room serves up elegant timber floors with carpet, a designer mini-bar concept with a "private bar" feel, venetian blinds, silver drapes, a plump white bed with inviting 400 thread-count cotton, and cream grey earth tones. There is a sofa and chair for a civilised read, free WiFi, a data-port with two three-pin multi-plug sockets, humungous 55-65-inch flat-screen TV in an ultra-slim format that will have techies drooling in no time, bathtub, large rain shower and more. It is a contemporary yet classic feel with tartan tan carpets with slender black piping reminiscent of a Dior jacket. Everywhere the views are superb.
The Executive Lounge occupies almost a whole floor up on top with wraparound vistas to contemplate, a huge dining area, and clubby corners for business or quiet chats. The feel is homey and welcoming with woody tones and large venetian blinds. No scrimping at The Shilla.
Later, a lunch or dinner buffet at Parkview (lobby level) is a must. It serves arguably the best buffets in town and among the best in Asia. This is no overstatement. Let your taste buds do the testing.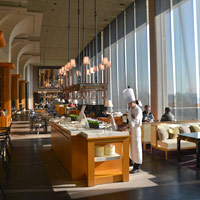 Grand Hyatt new look cream lobby/ photo: Vijay Verghese
The Shilla is a solid business address and a frequent host for state functions. There is ample conference space and the secluded environs make for focused meetings. The large manicured grounds provide a wonderfully private setting for corporates, families or even those on a shopping whistlestop. Service is always courteous and attentive. As you wait in the porch for your cab, watching the winter snow come down, electric heaters spring to life overhead to bring back blushing colour to your cheeks. This is a Samsung affiliate company and you might encounter Samsung mobile phones in the rooms, a Samsung fax in Club Rooms, and a Samsung monitor in the lift to catch quick CNN excerpts. Also check out the Shilla Stay Seodaemun (www.shillastay.com/seodaemun), with 40-inch LED televisions, complimentary coffee and tea facilities and an in-room safety deposit box. There is a fitness centre and meeting facilities too. This value hotel from Shilla is a short drive from City Hall. Shilla Stay Mapo opened 1 September, 2015. There's the Shilla Stay Yeoksam as well in Gangnam across the river.
One of the loveliest views is to be found at the 601-room Grand Hyatt Seoul from where vistas stretch out over the city and river to distant hills and Namsan. The lobby exploits this to the fullest with soaring glass frontage looking down towards the enticing open-air pool and Jacuzzi (there's an indoor heated facility too) and tiered gardens. The Grand Hyatt is a stylish address with lots of wood, marble and the clatter of elegant feet. JJ Mahoney's is still a popular after-hours haunt for a quick tipple and risqué conversation.
The Robin Hood green of the original lobby has been replaced 2018 with a crisp contemporary cream (yet still classic) feel with huge glass windows fronting the winter ice rink and views that go on forever. Expect fine buffest, crisp coffee service, and the de rigueur grand piano with violins ensemble.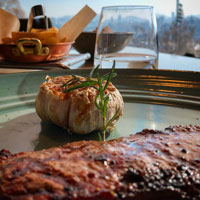 Fancy a steak? Grand Hyatt/ photo: Vijay Verghese
The Grand Club offers an escape for busy executives with well-appointed rooms and a lounge for all-day tea, snacks, refreshments, and morning breakfast. Rooms at the Grand Hyatt Seoul have had a complete facelift as have the meetings facilities, which emerged with a jaunty stride early 2010.
In-room, expect a bright and airy feel with floor-to-ceiling windows, glass-top working tables (with multi-pin electric sockets), flat-screen TV, DVD, blonde-wood flooring, pastel-tone walls and two-seater sofas. The rooms are very compact but welcoming of light, so much so, you won't feel the pinch.
The safe is on the small side but will handle cameras and jewellery. WiFi is on hand. The new-look spa features 14 massage rooms and a signature Korean ginseng treatment. Recreation facilities are abundant and the splendid outdoor pool doubles as an ice skating rink December to February as the Big Freeze descends. With its panoramic views and great location close to business and Itaewon shopping and nightlife, the Grand Hyatt is a good Seoul conference hotel choice.
On the other flank of Mt Namsan, the Millennium Seoul Hilton is an old timer with a new name and a jaunty stride. The 22-storey hotel marries Italian marble and European flourishes with hi-tech features like rooms with their own fax machine and data ports. Deluxe Rooms start at 34sq m with windows that can actually open. Hurrah! The rooms are bright, the suites more traditional. Expect high-definition LCD TVs, radio alarm, work desk, Broadband access, and down pillows. Good views in most directions.
The hotel is just a couple of kilometres from Namdaemun Market and the business hubbub downtown. Executive floors up the ante with service frills and a lounge. The grand ballroom is having a touchup, more meeting rooms are planned, and guestrooms will get a steady overhaul too.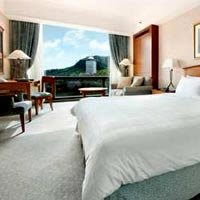 Millennium Hilton Executive Room/ photo: hotel
Elsewhere, those with calories to burn can swing out at the golf driving range or do laps in the 59ft pool. For corporate meetings in Seoul, the hotel has a choice of eight function spaces that can accommodate up to 500.
Dine Italian, French or Japanese and, at the Orangerie, there is a play area for kids. This is a family-friendly Seoul hotel with smart business facilities and the added lure of the Seven Luck Casino (www.7luck.com) next door. The casino has a branch in Gangnam too.
Down the hill in Itaewon, not far from the Grand Hyatt, is the utterly camp IP Boutique Hotel (part of the Imperial Palace group) that opened in March 2010. It is one big hallucination from the word go. Walk in to a Mad Hatter's Ball of checked floors, crimson carpets, deep-padded high-back yellow sofas, wall mirrors creating depth-of-field illusions, and swings in the lobby. The 142-room hotel occupies a small mid-rise block at one quiet end of the Itaewon strip. Clearly it shall not remain quiet for long.
Ornate lifts with mosaic tile floors rise up to overly darkened corridors pierced by thin points of pencil beams. It is startling then to throw open a door and walk into a bright virginal all-white room. Expect a flat notebook-size safe, a white mini-bar done up like an old ocean steamer trunk, a wall mirror creating visual space, white table, flat-screen TV (the sole black distraction), coffee and tea making facilities and two three-pin multi-plug electric sockets (one next to each side of the twin beds).
IP Boutique Hotel, Itaewon/ photo: Vijay Verghese
Once you adjust to the painted bubbles and the rest, the plain white is appealing and the W-Fi is free. This is certainly a Seoul boutique hotels option with plenty of attitude. It will not appeal to all but the younger set will enjoy its whimsy and WiFi.
Atop Namsan, serenely far from the madding crowd is the new Banyan Tree Club & Spa Seoul that opened June, 2010. This hillside retreat represents a major departure for Banyan Tree, better known for its beachside resorts. The remodelled mid-rise reflective glass building forms the hotel wing while, across the driveway, are the low grey-granite cubist cadences of the sprawling futuristic club and spa complex. Outside, bathed in sunshine on a nice summer morning is Oasis, the swimming pool area, overlooked by the Festa bar and terrace. Within the Club – strictly for members – are a heated indoor pool, a Kid's Club, a cigar room, and the obligatory Banyan Tree Spa.
The hotel features a minimalist lobby with lots of grey and dark wood crowned by a sparkling Swarovski array. Deluxe and Premier Rooms run up to 70sq m with private indoor plunge pools and wraparound views of Namsan. Light wood flooring and cabinets frame a pastel palette with counterpoints of ochre, yellow and pale green in Premier Rooms. Bold zebra-stripes adorn the headboard behind the bed.
Expect huge bathrooms (with a panoramic view), extended dressing areas, oversize rain showers, twin vanities, steam sauna, flat-screen TVs, BOSE sound system, DVD and free Wi-Fi.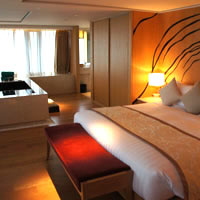 Banyan Tree Club & Spa Seoul, Premier/ photo: Vijay Verghese
Not much missing save for an interesting travel companion and a good book. Deluxe Suites are darker, woody and more sombre, with bright enlivening cushions. Again featured is that generous plunge pool with rose petals and grand views.
The safe is laptop friendly. Twin vanities, a large shower and bottom-pampering Japanese-style bidet await in the large bathroom while a polished driftwood table gleams in the living room. All the rooms feature Nespresso machines. And for corporate conferences, meetings and events, the stately Crystal Ballroom can accommodate 280 guests. Do bear in mind this is a retreat, not a business hotel on the go. Cabs are not the easiest to come by here so put your feet up and enjoy the latest Seoul spa hotel offering.
Farther from the action and miles from the pack when it comes to design eccentricity, is the funky 252-room Vista Walkerhill Seoul (which took over from the W Seoul-Walkerhill in January 2017 ). Perched on a promontory above the Han River – and a snaking expressway – The W was less a hotel than a fashion statement for the hip and gloriously reckless. It combined an ultramodern exterior with eclectic furnishings seemingly borrowed from a Manhattan nightclub or a trendy Hong Kong bar.
Vista has toned down the lipstick red decor and eye-popping colours, replacing them with no less inviting virginal whites and pastels. Some of the circular rumpus beds remain.
There's a family-friendly kids' area, outdoor pool, tennis, and walks. The V Spa offers wellness as the mainstay of this urban retreat. Much of the former art has gone but the view from this riverside belvedere remains as stunning as ever. Our pick would be a Corner Suite with its sweeping panoramas and curved powder blue sofa curving along the length of the window. Also take a close look at this address for an out-of-town wedding or a company conference or product launch gala.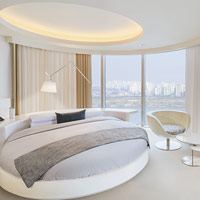 Vista Walkerhill Seoul, Corner Suite view/ photo: hotel
The adjoining 589-room Sheraton Grande Walkerhill also changed over to Grand Walkerhill Seoul (January 2017) is sprucing modestly but does not compete with its sibling next door on style or attitude. It's rooms are woody in simple earth tones. The focus here is on Muscle MICE events, corporate meetings and, of course, large showy weddings. The address is a value Seoul conference hotels choice if being a little out of town is not a deal breaker.
On the slopes of Mt A-Cha, this is a holidaymaker's retreat with a full-fledged casino (for foreigners only), golf driving range, duty-free, and colourful revues. Its arsenal includes a broad range of cuisines and an extensive conventions menu. WiFi abounds.
The Walkerhill Casino runs 24 hours with baccarat, blackjack, roulette and more. If your tastes are timid, try one of the 160 slot machines. In a nutshell, for those in search of a Seoul casino hotels retreat, this is it.
On the northwest fringe of the city, is the Grand Hilton Seoul. The Grand Hilton Seoul is very much a conventioneer's hangout with extensive and modern facilities though the building itself shows some age. It is located in a green area about a 15-minute drive into town when the traffic is kind. There are hiking paths leading up the hill and a six kilometre jogging path to the Han River.
Executive floors offer computers with high-speed Internet access, fax and copier machine, and complimentary breakfast and refreshments in the Club Lounge. Guests also get use of a conference room for two hours and a free pressing of a suit or dress. The fitness centre features a half-Olympic-size indoor pool and there is no lack of workout options here, from aerobics and treadmills to saunas and massage. This is an all-in-one Seoul conference hotel. Internet is available in all rooms at a fee.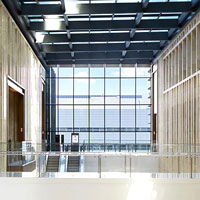 Grand InterCon new cream tower/ photo: hotel
Travellers looking for Seoul long-stay hotels and serviced apartments might consider the Somerset Palace Seoul, a 432-unit residence from the Ascott Group. The Somerset Palace overlooks the Gyeongbok presidential residence and the Kangbuk central business district.
Nearby are multinational companies, and embassies. Guests have high-speed Broadband Internet access, the latest in home entertainment systems and fully-equipped kitchens, in addition to a fitness centre and more. Mark this down as a Seoul long-stay hotel option.
A much sought-after MICE destination for regional conferences and corporate meetings, Seoul regularly hosts major events and remains an increasingly popular city for meeting planners, mixing shopping, history and food with some excellent venues.
An interesting pick is the 1972 nostalgia construct, SamcheongGak that was built as a banquet spot north of the Han River to enable Red Cross conferences between North and South Korea. The place mimics a Korean royal home or palace with plenty of timbre, sloping shingle roofs and a green hilly setting.
Cultural items are often on the menu here. There is no rental fee for the space but a W70,000-W100,000 catering fee per head is charged. SamcheongGak is about three kilometres from downtown hotels like Westin Chosun and Plaza.
More information on atmospheric Seoul meetings (www.miceseoul.com). Also explore The Raum in the Gangnam area south of the Han River with meeting space for 50 persons at a fee of W550,000 for a full day. Or pop by the Seoul Marina Club.
Gangnam for business travellers, Yeouido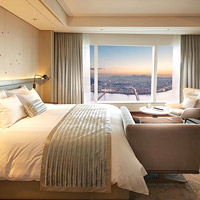 Attractive Grand Deluxe at Signiel Seoul/ photo: hotel
Finally, a brief peek at some key hotels for business travellers, Seoul conference hotels and a new generation of trendy Seoul boutique hotels. While business downtown is brisk and rooms are not always easy to find, hotels at the fringe or farther out tend to be a lot quieter and prices softer. Larger convention-driven hotels also tend to offer better bargains during off periods and business hotels are cheaper over weekends.
A towering newcomer, literally, occupying the 87th to the 101st floor of the vertiginous Lotte World Tower - the tallest structure in South Korea - is the 235-room Signiel Hotel Seoul (April 2017) by the Lotte group. Think panoramic views (of course), premium bedding, easy-on-the-eye pastel decor in light tones, a minimalist landscape with beige and tan furniture, high speed WiFi, pale wood cabinets, concealed lighting and sculpted ceiling skirtings.
The extra large flat-screen TV is very much in evidence in all rooms. A Grand Deluxe room runs from 46sq m to 60sq m while a Premier Suite stretches from 68sq m to 87sq m. But the party doesn't end there for the gigantic 353sq m Royal Suite at the Signiel Seoul awaits VIPs with personalised pillow menus and a 68-channel TV screen.
Also find an Evian Spa, an indoor swimming pool, gym and sauna, top line food and beverage outlets, and a 550sq m Grand Ballroom for Seoul conferences on a grand scale. There are function rooms for smaller corporate meetings and panoramic space for what is billed as the "highest wedding" in Seoul or what the hotel likes to term, "A Wedding in Heaven".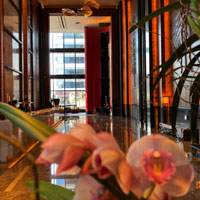 Conrad woody lobby/ photo: Vijay Verghese
The hotel is located just to the east of Gangnam in Songpa-Gu. A stay in the tallest hotel in Korea has a nice ring to it but find brisk service and top-notch facilities too. Mark this one down for its wow factor.
Joined at the hip - well, via the basement, actually – to the International Finance Centre in the heart of the Yeouido Business District, the 434-room Conrad Seoul (opened late 2012) is a tech-savvy luxury option with soaring ceilings and space for a Swan Lake pirouette or two. Expect muted earth tones, plenty of wood and texture by the yard. Gingko leaf motifs are ubiquitous from wall engravings to the lofty glass chandeliers high above the lobby.
A design patented spiral staircase corkscrews up from the lobby up the atrium with 175 steps for the intrepid. Of course, old fashioned elevators are on hand as well and they are fast and well planned within various zones. On the second floor are two key restaurants, Atrio (Italian) and Zest (multi-cuisine with four open kitchens). The wood flooring immediately lends this floor a calming resort feel. It is a rough hewn texture that is appealing and extensive.
On the third floor is the Grand Ballroom (with a capacity for 700 banquet style) with the Park Ballroom on the fifth level. The sixth-floor STUDIO offers flexible meeting space for events. In all, this is a prime Seoul hotel for corporate meetings with attentive service and quick response times. While a relatively "new" area for hotels, this is a hoary financial district and the subway lines No.5 and No.9 are right below for fast getaways. City Hall is a 20-minute taxi ride through road traffic to Gangnam can get tangled up at peak times.
Apres work guests can pop by Pulse8 (on the eighth floor, where else?) for a fitness workout, a dip in the indoor heated pool, or a swing at the indoor driving range. There are two electronic screens for golf enthusiasts as well and the spa is up one floor. Most rooms have a grand view of the Han River. Room drapes activate as you open the door and the views expand to greet you through expansive windows welcoming of light. This is good as the rooms are fairly plain and unadorned in a zen sort of way in light pastel tones.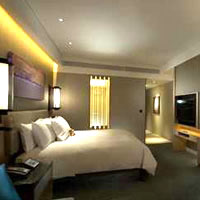 Conrad Premium room/ photo: hotel
Tidy and uncluttered are two words that come to mind. The Deluxe serves up 48sq m of space for a stretch with a 42-inch hi-def Smart TV, Mac Mini, and a wireless keyboard for television surfing. A simple tan leather headboard holds up the bed with a window-side lounging divan with blue cushions for late night river gazing. The hi-tech is pretty much "surround" but not confounding. Take the TV remote. It is simple with idiot-proof controls. Anyone who has torn his hair out at 2am pressing buttons and levers trying to get CNN will hug a techie for this "smart" feature.
A deep teal blue carpet covers the floor. A semicircular working desk set close by the window features a data-port with two three-pin multi plug sockets while elsewhere, sockets are deep round hole with two pins. A small glass window to the bathroom turns opaque at the touch of a button. Put it down to designer whimsy. Inside the bathroom find an LCD TV screen set within the large mirror with bright lighting around the frame. No problems with shaves or cosmetics here and the twin vanities provide ample space for Him and Her. Find a bathtub and separate rain shower as well as a Japanese style at-your-service potty, or bidet as some like to term it. A Nespresso machine is on hand for a morning cup of Joe, the flat safe is laptop friendly and there is an iron available for crisp creases the morning after.
Suits might upgrade to a roomy 96sq m Corner Suite with a generous Living Room, two flat-screen televisions and a sliding door to the bathroom. Some bathtubs are by the window but a view is not guaranteed. Aromatherapy Associates provide the toiletries but guests may pick from other choices upon arrival. Later, retire to the 37 Grill & Bar for panoramic views and fine dining. This is also where you'll find the executive lounge, a homey affair with deep sofas for a comfy lounge.
Andaz Seoul Gangnam (www.hyatt.com/andaz-seoul) opened mid 2019 in the bustling Apgujeong neighborhood known for its fashionable teen crowds, lively cafes, and clubs. Upscale Cheongdam-dong is the neighbouring district. The hotel is close to the metro with fast access across the river. Expect 241 mod pastel-tone pale-wood rooms with open spaces, unfussy minimalism and pops of colour. Find an indoor 16m pool, spa, whirlpool, hot baths, sauna, several dining options, and meeting space.
Chic Park Hyatt/ photo: hotel
Kangnam's main street is very much the "axis of business", not evil, despite an amusingly ironic name – Teheran-ro. This is where you'll find that bastion of capitalist excellence, the Park Hyatt Seoul in all its impassive zen, minimalist glory. The gleaming modern glass structure is bang next to a subway stop. The design, tone and inspiration are overwhelmingly grey – from the grey-black uniforms, to the grey-checked corridor carpets and the grey stone lobby reception counter on the twenty-fourth floor. The monotone is broken by bright magenta and orange paintings that adorn the walls and stone and wood textures offer an interesting counterpoint. Service is brisk, attentive and friendly.
The Park Hyatt Seoul offers 185 rooms including 38 suites, 42-45sq m, again minimalist with a somewhat Swedish feel. The first thing that will strike visitors is all that natural light pouring in through 3.4m high glass windows supplemented by soft recessed lighting. You also get vertiginous views out, overlooking COEX, perhaps even from your bathtub.
The mood is cool and quiet with blonde-wood flooring, sculpted granite outcrops, textured walls, flat-screen TV with DVD, iPod dock, and neatly square bathtubs and basins beckoning a communal plunge.
Wi-Fi and plug-in Broadband are available. Gold Passport and Platinum members get complimentary Internet access while WiFi is free in the lobby. The in-room safe is a tad small for a laptop but will handle most other personal items or a wee notebook. Check out the Spa and Fitness Centre. Plunge into the cool glass-wall aquarium pool and show off your kicks before wandering down to The Timber House with its live entertainment and chic bar. This is a hip if understated luxury hotel with a welcoming feel and polished service. It is also a useful venue for small corporate meetings.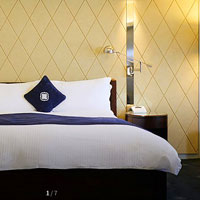 Grand InterContinental new Premier: brighter/ photo: hotel
Right across the busy road and traffic, is a Kangnam hotel icon, the renamed Grand InterContinental Seoul Parnas that introduced its new grand ballroom in 2014 with a 1,040-capacity for banquets. If the Park Hyatt is head-scratching understatement, the InterCon is a tried and true business classic with everything where you'd expect it to be. The place is reassuring, warm and brisk, all clubby wood, deep carpets, and leather. It features a signature dark-wood atrium lobby - accompanied by the new tower's attractive cream light-filled lobby. More function spaces have been added - making 25 in all including COEX - to make this an unbeatable MICE pick in this Seoul conference hotels review. Expect free WiFi. Soft refurbishing upgrades continue constantly with rooms brightening up with creamy gold headwalls, stylish cushions and an uncluttered feel.
The hotel offers a wealth of meeting and banquet facilities and hi-tech add-ons. Expect dark, stylish rooms with large flat-screen TVs, DVD players, and candy-stripe carpets starting at 40sq m. Junior Suites start at 60sq m while the Residence Suites extend over a roomy 83sq m. In-room, expect weighing scales, mod bowl basins, a private tub and separate shower area. The bathrooms are large and the toilet seat is reassuringly normal – no Japanese electronic surprises here. There are standing lamps, a work desk, a HUGE vertical safe, and Internet access is charged.
Seamless access to the COEX convention and exhibition centre, the City Air Terminal and the World Trade Center is a huge plus for executive travellers and those looking for a Seoul conference hotel with access to entertainment. Gangnam, with its I.T. industry and tech offices, attracts a fast set that stays an average 1.5 days. Where they go the remaining .5 days is a mystery. (Downtown around City Hall, on the other side of the Han River, is where you'll find the banks and finance establishments.)
For special pampering, check in to a Club InterContinental floor where canapés and cocktails flow and continental breakfast is on the house. And, right around the corner, is the InterContinental Seoul COEX where business travellers can unwind with a 25m indoor lap pool, a golf driving range and health bar. Guests can use the facilities at either InterCon. Both are popular hotels for conferences and meetings, with COEX being a particular MICE favourite (that's Meetings, Incentives, Conventions and Exhibitions for the uninitiated).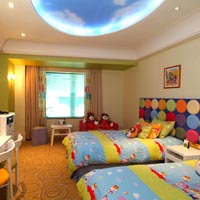 Lotte World Character Room/ photo: hotel
A useful Kangnam pitstop is the family-friendly Lotte Hotel World in Jamsil (with its fun Lotte World Adventure Park free-for-all). The 513-room Lotte Hotel World is well sited for subway access and sports bright new-look rooms. If business hotels are too drab and dull for you, hop on over for some cheery hues. Rooms feature Internet access for a fee, LCD TV, a Japanese bidet, tea-making facilities, hairdryer and safes.
Deluxe and Executive Rooms are fairly sober and smart while playful "Character Rooms" for families are a riot of fairy tale wall paintings, brightly patterned bedspreads, DVD players, PlayStation 3 consoles, and something mischievously called "egg pong soap". The hotel has nine banquet rooms and is big on theme weddings.
Le Meridien Seoul (rebranded from Ritz-Carlton Seoul in September 2017) has 336 rooms including suites featuring cool linen (not Frette anymore alas), flatscreen TVs, LM Beds with Sealy mattresses, and Internet. Rooms are quietly pastel grey with starched white linen on the beds. Some offer balconies. As an offset, there's a hint of indigo in the decor.
A 919sq ft Balcony Executive Suite offers open views over Gangnam. The hotel interiors, from the six-storey atrium lobby to the rooms, are neat and welcoming. Plunge into the indoor pool, sweat it off in the fitness centre, get a massage at the spa, or swing out at the indoor driving range. Also expect a Le Meridien Club Lounge on the 12th floor as well as the M Contemporary Art Centre with exhibition venues and an LED wall to strut your stuff. Expect somewhat awkward access and traffic in the approach.
The Novotel Ambassador Seoul Gangnam Hotel (even more of a mouthful than its siblings) offers a pub, a fitness centre, indoor pool and a golf putting facility. The lobby offers a substantial bit of glass walling at the back with a waterfall on the other side to enliven proceedings. The centrepiece bar is relentless gold and glitz and the kids corner is a tad cramped, but the hotel ticks off all the right boxes and even serves up two iMacs in the lobby for guest use. WiFi is free in the lobby. The small business centre is bright and brisk. The hotel is not far from COEX and right next door to Le Meridien. The 332 rooms are unfussy and simply laid out with deep blue carpets and deep blue bed runners.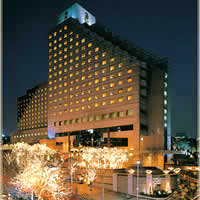 Le Meridien took over the The Ritz-Carlton, Gangnam, in Sep 2017/ photo: hotel
Executive Rooms feature large LCD televisions, a data-port, narrow work desk, two three-pin sockets, Nespresso machines, a small safe (for a camera only), weighing scales, iron and ironing board, and complimentary shoeshine. Family Rooms for two adults and two kids are an option for those with Tiny Tykes in tow. In all, this is a useful mid-range business or child-friendly hotel.
The Club floor rooms are bright and airy with plenty of cream and gold, a small safe with jewellery compartments, white work desk with three pin square sockets and an Internet cable, and a BMW of a toilet seat in the bathroom.
A newish kid on the Yeongdeungpo block is the 283-room Courtyard Seoul Times Square (by Marriott) close to new shopping and entertainment areas. As with the brand this is a minimal service operation with a Momo Café, bright welcoming rooms, and big smiles. Expect clean, good value digs at this Seoul family-friendly hotel.
New in Kangnam and not far from COEX is the Aloft Seoul Gangnam (opened October 2014), with amenities from Bliss Spa and and in-room 42-inch monster TVs for work and play. Bedding is hypoallergenic and the accents are bright and woody. This is a hip hotel for Seoul and offers something different for business or leisure travellers in Gangnam.
Opened 1 October 2014 in Gangnam is the Shilla Stay Yeoksam, the light-on-the-wallet business hotel from South Korea's premier hotel brand. The hotel is close to downtown Gangnam near Teheranno Boulevard. The first Shilla Stay in Seoul, this address offers 306 rooms, including three Grand rooms. Expect fine views over Seoul, quality bedding with goose down (Hungarian, no less), a cafe, a bar and a fitness centre. The design is Italian with clean straight lines and earth tones. Also check out the Shilla Stay Seodaemun across the river.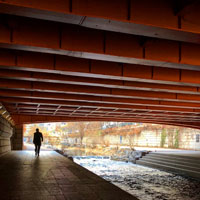 Cheonggecheon Canal/ photo: Vijay Verghese
The JW Marriott Seoul is a modern highrise with quick access across the river to downtown Seoul by car or subway. It is not particularly close to any business hub but there is shopping nearby for those inclined to exercise their cards, and a raft of renovated business and conference amenities for the more discriminating. High-speed WiFi will make your life easier. You may find a keyboard at hand. Lie back in the bed and use the TV screen as a giant monitor. The in-room safe won't quite manage a laptop but it will house a camera or small video with ease. The jewel in the crown at the JW Marriott Seoul is its spacious Marquis Spa & Fitness Club incorporating a rock climbing wall, a humungous indoor swimming pool, and even a deep pool for SCUBA diving.
Marriott sister-property Renaissance Seoul Hotel was one of the first off the blocks when Gangnam started developing in the late Eighties and it remained a familiar landmark till 2014 when the building finally came under the wrecking ball.
If you favour bold and brash with gold trim, wood-panel walls, faux-European flourishes, classical busts, bronze lions, art, and marble floors, all in one place, look no further than the Imperial Palace, just down the road from the Renaissance. It is the ultimate in whimsy – a sort of Barbie meets Louis XVI. There may even be a Mercedes convertible in the lobby. This is a big hotel with lots of bustle, brass, and business facilities. The Club floor rooms are bright and airy with plenty of cream and gold, a small safe with jewellery compartments, white work desk with three pin square sockets and an Internet cable, and a BMW of a toilet seat in the bathroom.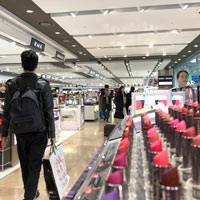 Incheon Airport duty-free shopping, lipsticks/ photo: Vijay Verghese
After hours check out the traditional Oriental Spa. Of course, you could even spend an afternoon exploring the statues and paintings decorating the lobby. Peruse 1910 English chinaware, 1930 Japanese Noritake bowls and period furniture the Queen could be proud off.
Nothing is understated at the Imperial Palace and care has been taken to demonstrate unmitigated eye-popping opulence at every turn. Needless to add, it's a hit with the Japanese.
Budget hotels and youth hostels
Finally, if you really need a budget hotel or a place to kip without unduly denting your wallet, try your luck at the Seoul Youth Hostel at Mt Namsan. There are 50 rooms accommodating up to 300 persons. There are kitchenettes for home cooking and even a rooftop cafe with great views across the city. Also look at Hi Seoul Youth Hostel.
Rent a bicycle, or a laptop here, and get exercising, sightseeing, or working. Other options include Seoul Backpackers (with free Internet access) and a garden near the Duksung Women's University School of Continuing Education, and Namsan Guest House on the lower reaches of the mountain in central Seoul with free Internet and breakfast.
Incheon Airport, Songdo business options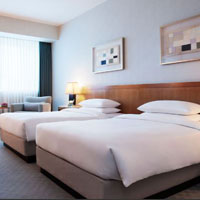 Grand Hyatt Incheon/ photo: hotel
More in our detailed Songdo business hotels review including, the long-stay serviced apartment Oakwood Premier Incheon, The wonderful hanok-style traditional wooden Gyeongwonjae Ambassador Incheon, the all-business Sheraton Incheon, with its signature Sheraton Sweet Sleeper beds, and the modern and functional MICE and meetings Grand Hyatt Incheon right next to Seoul-gateway Incheon Airport and the neighbouring largish Paradise City hotel-gaming-and-entertainment complex. Best Western is another airport hotel choice. Songdo IBD, is a 'smart' city coming up 20 minutes from the airport, a computerised and efficient International Business District in the Free Economic Zone belt along the coast. It has grown over a decade, attracting multinationals, I.T firms and bio-tech and green companies. It is an eco-friendly, open area with cycling trails, a scenic Central Park, and broad boulevards.
Take your pick of Seoul business hotels, budget inns, or leisure escapes. Remember, if lost, just holler "BBB".
I departed Seoul stopping only at the airport for some last minute shopping and to ponder a conundrum. One of the most popular cigarettes in Korea is a brand called THIS. "What's that?" I asked the girl at duty-free. "This?" "No, that." "That's THIS," she responded ungrammatically. "So that is THIS but is this, that?" She rolled her eyes and walked off.
Send us your Feedback / Letter to the Editor
FAST FACTS

/ Hotel Contact List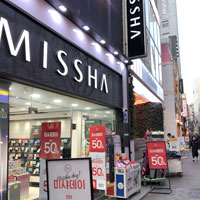 MISSHA skincare store, Myeongdong / photo: Vijay Verghese
Exchange rate roughly US$1 = W1,122. Seoul hotels may additionally levy a 10 percent VAT (hotel tax) and 10 percent service charge. Any rates listed here are as a guide only. Ask for promotional discounts especially during low winter season and check with your travel agent or an Online Travel Agent (OTA) for the best prices. Also look at best available rates (BAR) that hotels post online from time to time though OTAs often have the edge on deals. The national airline Korean Air is at www.koreanair.com and Asiana Airlines at www.flyasiana.com. Fun and feisty low cost carrier Jin Air is at www.jinair.com. A useful and comprehensive site from the Korea National Tourism Organization is at english.visitkorea.or and the Seoul City Tourism website is at visitseoul.net.
Room rates are roughly from W190,000-W290,000 depending on hotel category and season. Youth hostel and guest houses charge from around W50,000.
Gangnam business and conference hotels, Yeouido
Aloft Seoul Gangnam. Tel: [82-2] 510-9700, (www.marriott.com/aloft-seoul-gangnam).
Andaz Seoul Gangnam. Tel: [82-2] 2193-1234, (www.hyatt.com/andaz-seoul)
InterContinental Seoul COEX. Tel: [82-2] 3452-2500, (seoul.intercontinental.com/).
Conrad Seoul. Tel: [82-2] 6137-7000, (conradhotels3.hilton.com/conrad-seoul).
Courtyard Seoul Times Square. Tel: [82-2] 2638-3000, (www.marriott.com/courtyard-seoul-times-square/).
Grand InterContinental Seoul Parnas. Tel: [82-2] 555-5656, (seoul.intercontinental.com/).
Imperial Palace Hotel. Tel: [82-2] 3440-8000, (www.imperialpalace.co.kr).
JW Marriott Hotel Seoul. Tel: [82-2] 6282-6262, (www.marriott.com/jw-marriott-seoul/).
Le Meridien Seoul. Tel: [82-2] 3451-8000, (www.marriott.com/le-meridien-seoul).
Lotte Hotel World. Tel: [82-2] 419-7000, (www.lottehotel.com/world/en/).
Novotel Ambassador Seoul Gangnam. Tel: [82-2] 567-1101, (www.accorhotels.com/novotel-ambassador-seoul-gangnam).
Park Hyatt Seoul. Tel: [82-2] 2016-1234, www.hyatt.com/park-hyatt-seoul/).
Shilla Stay Yeoksam. Tel: [82-2] 2230-3000, (www.shillastay.com).
Signiel Hotel Seoul. Tel: [82-2] 3213-1000, (www.lottehotel.com/signielseoul/en/).
Seoul business hotels downtown, riverside
Banyan Tree Club & Spa Seoul. Tel: [82-2] 2250-8000, (www.banyantree.com/club-and-spa-seoul).
Four Seasons Hotel Seoul. Tel: [82-2] 6388-5000, (www.fourseasons.com/seoul/)
Grand Ambassador Seoul - Associated Pullman Hotel . Tel: [82-2] 2275-1101, (www.accorhotels.com/grand-ambassador-seoul-pullman).
Grand Hilton Seoul. Tel: [82-2] 3216-5656, (www3.hilton.com/grand-hilton-seoul).
Grand Hyatt Seoul. Tel: [82-2] 797-1234, fax: 798-6953, (e-mail: seoul.grand@hyatt.com or seoul.grand.hyatt.com).
Grand Walkerhill Seoul. Formerly Sheraton Grande Walkerhill. Tel: [82-2] 455-5000, (www.walkerhill.com).
Hamilton Hotel. Tel: [82-2] 6393-1000, (www.hamilton.co.kr).
Hotel President. Tel: [82-2] 753-3131, (www.hotelpresident.co.kr).
IP Boutique Hotel. Tel: [82-2] 3702-8000, (www.imperialpalaceboutiquehotel.com/).
JW Marriott Dongaemun Square Seoul. Tel: [82-2] 276-3000, (www.marriott.com/jw-marriott-dongdaemun).
Koreana Hotel. Tel: [82-2] 2171-7000, (www.koreanahotel.co.kr).
L'Escape. Tel: [82-2] 317-4000, (www.lescapehotel.com/main.do).
Lotte Hotel Seoul. Tel: [82-2] 771-1000, (www.lottehotelseoul.com).
Millennium Seoul Hilton Hotel. Tel: [82-2] 317-3114, (www3.hilton.com/millennium-seoul-hilton).
Nine Tree Hotel Myeong-dong. Tel: [82-2] 7500-999, (ninetreehotel.com).
Novotel Ambassador Seoul Doksan. Tel: [82-2] 838-1101, (www.accorhotels.com/novotel-ambassador-seoul-doksan).
Shilla Stay Seodaemun. Tel: [82-2] 6388-9000, (www.shillastay.com/seodaemun/).
Somerset Palace Seoul. Tel: [65] 6730-8888, (www.somerset.com/somerset-palace-seoul/).
The Plaza Seoul, Autograph Collection . Tel: [82-2] 771-2200, (www.marriott.com/plaza-seoul-autograph.
The Westin Chosun, Seoul. Tel: [82-2] 771-0500, (www.marriott.com/westin-chosun-seoul).
The Shilla Seoul. Tel: [82-2] 2233-3131, (www.shilla.net).
Vista Walkerhill Seoul. Formerly W Walkerhill. Tel: [82-2] 465-2222, (www.walkerhill.com).
Myeongdong good value hotels for business
aFIRST Myeongdong (afirsthotelgroup.com/)
DOTT Hotel Myeongdong
Hotel Doma Myeongdong (http://www.vellasuitehotel.com/eng/about/overview.php)
Hotel Gracery Seoul (seoul.gracery.com/)
Makers Hotel. Value boutique closer to Insa-dong (www.makers-hotel.com/)
New Kukje Hotel. (www.newkukjehotel.com/)
Nine Tree Premier Hotel Myeong Dong 2 (ninetreehotel.com/)
Stay B Hotel Myeongdong (www.staybhotel.com)
Seoul budget hotels and youth hostels
Hi Seoul Youth Hostel. (hiseoulyh.com/en/).
Namsan Guest House. Tel: [82-2] 752-6363, (www.namsanguesthouse.com).
Seoul Backpackers. Tel: [82-2] 3672-1972, (www.seoulbackpackers.com).
Seoul Youth Hostel. Tel: [82-2] 319-1318, (seoulyh.go.kr/.en/).
Incheon Airport hotels
Best Western Premier Incheon Airport Hotel. Tel: [82-32] 743-1000, (www.airporthotel.co.kr/en/).
Grand Hyatt Incheon. Tel: [82-32] 745-1234, (www.hyatt.com/grand-hyatt-incheon).
Paradise City. (www.p-city.com/)