FAMILY FUN
No speed limit in Asia
Why we're head over heels in love with the fastest roller coasters in Asia. From Abu Dhabi to Japan, a fun guide to wild rides and theme parks.
SEE ALSO Asian cruises | Child friendly resorts | Asian dives | Golf | Hong Kong guide | Phuket guide | Singapore guide | South African safaris
JUMP TO Fastest coasters in Asia | China | Hong Kong | Japan | Singapore | Australia | South Korea | Malaysia | India | Philippines | Bali - Indonesia | Bangkok - Thailand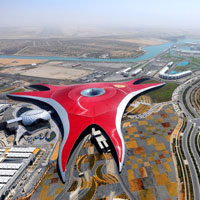 Ferrari World Abu Dhabi/ photo: park
EVERY roller coaster has that lingering moment of suspense as you inch toward the sky waiting for the whole world to drop from beneath you at any second. It's a heroic pause followed by that near-death rush until the twister comes full circle leaving you unable to pass a comb through your hair for weeks. Equally heroic are the two-hour-long queues, the week of whiplash, and all that lunch embarrassingly disgorged on the sidewalk.
This was certainly true of the coasters swooping through my childhood at Hershey Park, a chocolate factory-cum-amusement park in central Pennsylvania. From "The Great Bear" to "The Super-Dooper-Looper" to the dreaded "Sidewinder", these mammoths twisted and arched, swooped and inverted, before that grand finale beast of a plunge.
Still, it's not every day you face certain death and return to ride again. Adrenaline junkies, rejoice! We take you on a walk through the Valley of Fear to see who has the fastest, meanest, baddest rides across theme parks in Asia. For decades, the US led the way, but Japan, Australia and the Middle East are nipping at its heels.
For a more peaceful but wetter and no less adventurous option, try Penang's new ESCAPE theme park (Sep 2019, www.escape.my/), that has launched a mammoth 1,140m waterslide that loops and twists down the hill through dense jungle. The park also serves up ziplines and a fun obstacle course.
Top five fastest roller coasters in Asia
World's Fastest Coasters
Formula Rossa; Ferrari World Abu Dhabi; 240kmh (149mph)
Kingda Ka; Six Flags, New Jersey; 206kmh (128mph)
Top Thrill Dragster; Cedar Point, Ohio; 190kmh (120mph)
Dodonpa; Fuji-Q Highland; 172kmh (106.9mph)
Superman: Escape from Krypton; Six Flags Magic Mountain, California; 161kmh (100mph)
Tower of Terror II; Dreamworld Australia; 161kmh (100mph)
1 Sprawling across 86,000sq m, Ferrari World Abu Dhabi (www.ferrariworldabudhabi.com/) is not only the world's largest indoor theme park, but also home to the world's fastest ride, "Formula Rossa", which debuted in 2010. Passengers lining up for this bad boy don't just buckle their seatbelts – they must also don protective goggles and have a stomach of iron.
Send us your Feedback / Letter to the Editor
The turbo-charged thriller is designed after the Ferrari F1 racing car. It propels riders around a 2.07km Grand Prix track in just a minute and 32 seconds. Sprinting from the starting line, the racer accelerates from zero to 200kmh (124mph) in less than two seconds, then reaches top speeds of 240kmh, or 149mph. Littered with sudden drops and tight turns, the course offers a glimpse of Yas Island before whipping across the finish line. Aspiring F1 drivers of all ages will approve. Ticket prices are based on height, rather than age. Guests measuring 1.3m and up will pay AED225, while shorter visitors shell out AED185.
2 Sun or snow, thrill seekers have been flocking to the second-fastest ride in Asia for years. Japan's "Dodonpa" rollercoaster at Fuji-Q Highland (www.fujiq.jp) is located in Yamanashi – roughly 100km from Tokyo at the base of Mount Fuji. This one is a real pulse-pumper, with a near vertical fall of 52m (170ft), unforgiving angles, and hurtling accelaration of zero to 172kmh (111mph) in 1.8 seconds. As it shoots up and down a 170ft tower for 55 seconds, the launcher packs in a 4G force that's akin to blasting off in a jet fighter.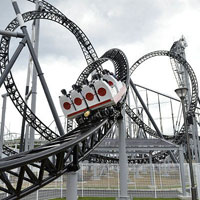 Fuji-Q Takabisha/ photo: park
This pseudo rocket-launcher is not the only stomach-churning behemoth under this park's roof. Fuji-Q is also home to one of the world's steepest roller coasters, "Takabisha" that starts with a vertical ascent straight into the sky, before sending you flying over a 121-degree angle free fall. Meanwhile, the "Eejanaika" holds the record for the "highest number of spins" in the world. The crux of this creative design involves 360-degree seats, which spin, twist, loop and flip while hurtling through the air. And if that's not enough for you, also worth a joyride is "Fujiyama, King of Coasters", which maxes out at 130kmh (81mph) and boasts a 70m (230ft) drop.
The park is chock-full of family friendly rides as well, such as some good old tea cups and a friendly looking Ferris wheel. Snag tickets from Y1,300 for guests 12 and up; Y700 for kids 3-11. This price only includes the entry; however. Visitors pay for rides and attractions ad hoc. Expect to shell out between Y500 and Y1,000, depending on the attraction.
3 Dreamworld Australia's (www.dreamworld.com.au) "Tower of Terror II" – formerly "Tower of Terror" and completely unrelated to Disney's ride of the same name – has bragging rights to being the region's third-fastest roller coaster. Guests enter the ride through a metallic skull with blood-red eyes. After navigating a perilous maze, they step into a launch pod and blast straight up for 115m – the equivalent of 38 storeys. Following an L-shaped route, the ride reaches a top speed of 161kmh (100mph) in just seven seconds, before retracing its track earthwards.
Organized into 13 different "worlds", the 30-hectare park is home to everything from interactive shows to wildlife encounters, but is perhaps best known for its "Big 8 Thrill Rides" – the country's fastest and most exciting roller coasters. Casting a shadow over the parking lot, "Buzzsaw" is one of the most menacing. Thrill seekers ascend 46m in open carriages, flip upside down at the peak, and dangle 15 storeys up in the air, before a free fall and 360-degree barrel roll.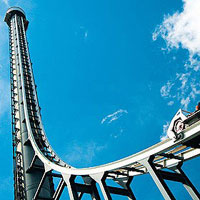 Dreamworld Tower of Terror/ photo: park
Also worth the long lines are "The Cyclone", "The Giant Drop" and "The Claw". Families can check out Tiger Island and Wiggles World for more low-key child-friendly adventures. Online prices from A$89.99 for adults and A$69.99 for children. Tickets include access to next door Whitewater World, which offers a handful of wet 'n' wild attractions.
4 Asia's fourth-fastest ride is found in Japan at Nagashima Spa Land (www.nagashima-onsen.co.jp). More than a decade old, the "Steel Dragon 2000" is still going strong at 153kmh (95mph). It might be an ageing model, but it has earned its stripes. Not only is it one of the fastest, but it is also boasts the world's longest track at 2,500 metres. And, not to worry, the coaster's highest point, rising to a vertiginous 318ft, is reinforced with plenty of steel.
Established in 1976, Nagashima offers 45 rides, 18 water slides and 18 more family-oriented attractions, including "Safari World", "Snow Sled" and "Caribbean Bay". Elsewhere in the park, guests can explore "Aesop's Village", or hop onto the "White Cyclone", which clocks in at 63.4mph. Or, skip the rides and gimmicks altogether and head straight for the hot springs at "Yuami no Shima". With six different types of jet spas and an array of huge outdoor baths, this steamy side trip is worth the wade.
5 Heading west towards China, you'll likely come across the Happy Valley (cd.happyvalley.cn) chain of amusement parks, which tends to borrow heavily from Disney. The first park opened in Shenzhen in 2002. Over the past decade, several more parks have sprouted up in some of China's major arteries – Shanghai, Beijing, Chengdu and soon, in Tianjin (expected 2013).
Located at the original Shenzhen amusement park, "The Bullet Coaster" is Asia's fifth fastest roller coaster, reaching 133.6kmh (83mph) and a maximum height of 196.8ft. Elsewhere in the sprawling 350,000sq m park, look for family fun at "Cartoon City", "Play Maya Water Park" or "Happy Times".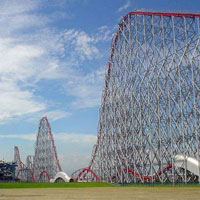 Nagashima Steel Dragon/ photo: park
Just slower by a hair, the 83mph "Extreme Rusher" at the Beijing Happy Valley park deserves an honourable mention. This branch is home to unique themed areas, such as "Aegean Sea" and "Shangri-La". And you simply can't miss the towering "Atlantis" castle, which guides you on an imaginative stroll through ancient deep-ocean life.
Scared of heights or simply looking for a more leisurely day at the park? Not to worry, Asia's amusement parks aren't all thrills and spills. From India to Indonesia, there's plenty to do for kids of all ages. In China, while not home to many record-setting coasters, the Happy Valley Shanghai park offers 863,500sq m of space to explore, divided into themed zones with names like "Sunshine Beach", "Gold Mine Town", and "Typhoon Bay". Movie fanatics will want to check out the "Flying Cinema" which gives you the sensation of soaring during the movie. For little ones, head to "Ants Kingdom" or check out one of the performances, such as "International Magic Festival". Day passes cost Rmb200 (adults), Rmb100 (kids, 1.2m to1.4m tall), and free for kids under 1.2m.
For a roaring good time, don't miss China's Changzhou Dinosaur Park (www.konglongcheng.com). Also known as Oriental Jurassic Park, this 60-hectare property hosts a museum, theme park and a landscaped jungle area filled with cliffs, waterfalls, forests and caves. At the research centre, there are 36 nearly complete dinosaur skeletons on display. All of the games on the premises are dino-inspired, and there is even a hot spring pool for mom and dad. For science education and general amusement, this is a one-of-a-kind treat.
In Guangzhou, Chimelong Paradise park (www.chimelong.com) has a few offbeat sidewinders. Try the "Dive Coaster", a non-traditional track with moments of dangling, a 90-degree dive at 120kmh, or a zip through a cave. A celebratory 10m high wave marks the finale. Most of the rides have some kind of unique spin, such as the "human pendulum", where guests are strapped around a circular orb and swung to heights of 42m at 110kmh; the "Half Pipe", a horseshoe-shaped coaster that nails otherwise perilous stunts; and the 850m-long "10 Inversion" mammoth, which claims to hold the Guinness record for most spirals in the world. For the faint of heart, a 4D "Ice Age III" theatre and an "entirely American" burlesque lumbering performance are leisurely alternatives.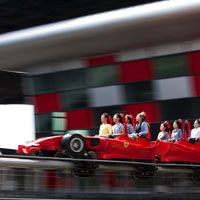 Formula Rossa, Abu Dhabi/ photo: park
Of course, the good old Splash Mountains and obligatory Cinderella's Castle photos are also available in several locations across Asia. Shanghai Disneyland (16 June 2016) theme park, with the Shanghai Disney Resort (en.shanghaidisneyresort.com.cn) in Pudong has adult tickets priced at Rmb499 and Rmb375 for a child. The first Disney resort in mainland China, the park follows the Disney tradition with magical worlds - check out Disneytown - and family-oriented fun. Guests can also expect two themed hotels - Shanghai Disneyland Hotel from Rmb1,650 per night and Toy Story Hotel from Rmb850 per night - and as well as large entertainment and shopping venues. The TRON Lightcycle Power Run is said to be one of the fastest rollercoasters ever created for Disney. Shanghai Disney also does meetings and events and 'Disney Fairy Tale Weddings' if you want a bit of pixie dust tossed in with the bridal bouquets. Wedding at an Asian theme park? Well, why not? Things here are are described as "authentically Disney and distinctly Chinese."
Meanwhile, by early June 2016, Wanda Cultural Tourism City (www.wanda-group.com) in Nanchang, Jiangsi province, was comfortably sprawled over two square kilometres, the first of 15 such parks to spread across China hoping to take the wind out of Disney's sails. The ticket price at roughly Rmb198 (going up to Rmb248 weekends) is about half that of Disney Shanghai's entrance fee. But will it encourage visitors to switch? Time will tell. Top thrills and spills? The indoor ocean park - claimed to be the biggest in the world - and China's highest roller coasterwith steep drops accelerating the ride to over 136kmh. The Soaring Dragon and Dancing Phoenix serves up an extreme ride incorporating loops, inversions, a 'cobra' roll and interlocking corkscrews. Wanda Dalian's Wang Jianlin - one of the richest men in China - told a local television station, "This craze for Mickey Mouse and Donald Duck is over." The park hopes to reassert China's cultural heritage and this is the dominant theme. Once the adrenalin has subsided, head to one of the country's largest shopping malls.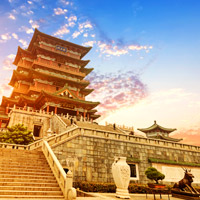 Nanchang Temple - the city gets a Wanda theme park
In bustling Hong Kong, an evergreen and inventive favourite is Ocean Park (www.oceanpark.com.hk), where rides are geared towards older kids. Located on the southern end of Hong Kong Island, the park is accessible by car (about 20 minutes from Central) or public bus (about an hour). An MTR station and a hotel are in the works, but neither will likely come to fruition till at least 2014.
Stalwart coasters include the "Hair Raiser", a looping thriller overlooking Deep Water Bay, "The Dragon", perched above the South China Sea, and "Mine Train", 85m above sea level. Nearby, spot colourful fish circling the Grand Aquarium, dolphins performing in the Ocean Theatre, and seals lazing in the sun on Pacific Pier ready for photo ops. Visitors can also hop onto the cable car linking The Summit to Old Hong Kong. Added in June 2012, this nostalgic corner brings 1960s Hong Kong back to life with the Heritage Tram and throwback street scenes. Tickets from HK$385 for adults and HK$193 for kids ages three to 11.
Though not as opulent as its western counterparts, Hong Kong Disneyland (park.hongkongdisneyland.com) manages the basic attractions with an eastern spin. Set apart from the rest of Hong Kong on Lantau Island, the park can take upwards of one-and-a-half hours to reach from the Central district by MTR (train), and between 40 minutes and an hour by car. The highlights here are Grizzly Gulch – an area of the park dedicated to Wild West fun – and the Asia-exclusive Toy Story Land, where Woody, Buzz and Rex come alive in the form of "Parachute Drop", "RC Racer" and "Slinky Dog Spin" attractions. General admission for a day pass is HK$539 for adults, and HK$389 for kids three to 11 years old. Seniors 65 years and up get a special ticket at HK$100. Ticket prices for Disneyland Hong Kong have climbed but specials are available like a two-day pass for adults at HK$739 and so on. For easy access and discount packages, stay at the adjacent Hong Kong Disneyland Hotel (park.hongkongdisneyland.com).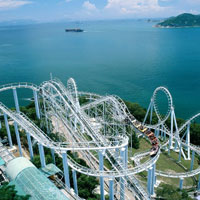 HK Ocean Park's Dragon/ photo: park
With 126 acres to explore, Tokyo Disneyland (www.tokyodisneyresort.co.jp) has remained a favourite in Japan thanks to popular thrillers spread across seven themed 'lands'. In Westernland, the big draw is the off-the-tracks Gold Rush ride, where a train in an abandoned mine goes a little too wild in the west. More suitable for the little ones, Toontown's "Chip n' Dale's Treehouse" gets a little nutty. For those who wish to extend the magic another day, there are three Disney hotels – Disney Ambassador Hotel, Tokyo DisneySea Hotel MiraCosta and Tokyo Disneyland Hotel – and six other "Tokyo Disney Resort Official" hotels on the premises. Other hotel rooms can also be bagged at lower prices nearby.
Attached at the hip, Tokyo DisneySea (www.tokyodisneyresort.co.jp) is also a popular family destination. As its name hints, the park focuses on seven themed 'ports', like Mermaid Lagoon, Arabian Coast and Mysterious Island, connected by the DisneySea Transit Steamer Line. At Mediterranean Harbour, for instance, you'll find Venetian gondolas and in Port Discovery, the Aquatopia water ride awaits to spin you under waterfalls and toss you over rapids. Nothing too high-speed or hi-tech here, just refreshing water rides and old-fashioned fun.
"Campus Day Passports", which allow you to visit either Disneyland or DisneySea, are available from Y4,900 for adults and Y4,300 for children ages 12 to 17. Kids from four to 11 are charged Y4,100 each. If you wish to visit both parks in the same day, look for the "1-Day Passport", from Y6,200 for adults, Y5,300 for juniors 12-17, and Y4,100 for kids four to 11. Evening-only tickets for either park are available for Y3,300 across the board.
Farther afield in Osaka, Universal Studios Japan (www.usj.co.jp) knows how to draw a crowd with six shriek and smile-inducing ride such as "Back to the Future" and "Jaws", as well as 3D shows like "Terminator" or "Shrek's 4D Adventure". The venue plans to fold the Wizarding World of Harry Potter into the mix by 2014. In which case, celebratory butter beers will be in order. Tickets run around Y6,600 for adults, and Y4,500 for kids from four to eleven.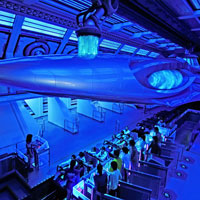 Tokyo Disney's Space Mountain/ photo: park
Aside from the aforementioned, other parks worth a visit in Japan include Spaceworld (www.spaceworld.co.jp), with its 80.3mph "Zaturn" ride; Tokyo Dome City (www.tokyo-dome.co.jp), with "Thunder Dome" clocking in at 80.8mph; and Yomiuriland (www.yomiuriland.com), reaching speeds of 68.4mph on its "Bandit" ride.
As part of Resorts World Sentosa (www.rwsentosa.com), Singapore opened its own Universal Studios (www.universalstudios.com) where beloved movies such as Jurassic Park and Shrek take centre stage. Also check out the Marine Life Park next door, where you'll find 800 marine species in the SEA Aquarium – claiming to be the world's biggest – as well as the Adventure Cove Waterpark, where visitors can snorkel among stingrays or zip down one of the many water slides. The resort offers six hotel options, including a Hard Rock and the child-friendly Festive Hotel.
Along Queensland's Gold Coast in Australia, don't miss Sea World (seaworld.com.au). The whales and dolphins making a splash are sure to win over the kids. Favourite children's TV characters make an appearance at the nearby Warner Bros Movie World (movieworld.com.au), where rides such as "Superman Escape", "Green Lantern" "Scooby Doo" or "Road Runner" are fun for the whole family.
A Disney-look alike in South Korea, Lotte World (www.lotteworld.com) has its own "Magic Castle". But despite some obvious borrowings, the park offers up its own spins like an ice rink, a "Carnival Parade" with 200 performers, and even a folk museum that showcases 5,000 years of Korean history. Like most parks, Lotte World is split up into themed districts. Inside, you'll find "Adventure" land with all kinds of imaginative rides and games.
Outside, a lake encircles Magic Island, where most of the speed rides can be found. Top crowd-pleasers include the "Gyro Drop" and the "Gyro Swing". Admission costs W25,000 for adults, W22,000 for youths and W19,000 for kids, but does not include attractions. Expect to pay anywhere from W1,000 to W4,000.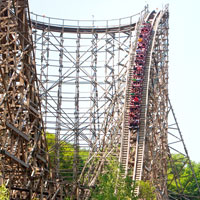 Everland's T-Express, Korea/ photo: park
Also in South Korea, try Everland Resort (www.everland.com) in Yongin to ride one of the world's steepest and fastest wooden roller coasters, the "T-Express". This the quintessential old-school looper, ramping up for what feels like forever, before a 71-degree plunge – enough to stop your heart and toss your lunch. At its fastest point, this ripper of a ride reaches 104kmh (64.6mph). Prices from W40,000 for adults, W34,000 for teens and W31,000 for kids.
In Malaysia, check out Sunway Lagoon (www.sunwaylagoon.com). Divided into five themed sections, this park is aimed at families with slower rides and plenty of playgrounds. Look for everything from wading pools and easy tube slides to waterfalls and exotic African villages. One of the highlights is the 13,000sq m Surf Beach – one of the world's largest manmade beaches – with waves reaching up to eight feet high. If you're not a natural on a long board, get some help from FlowRider, a ride that simulates skateboarding, surfing, snowboarding, wakeboarding, and skim boarding.
Meanwhile, younger sun worshippers can build sandcastles, while parents play some volleyball or dip their toes. In the evenings, it is not uncommon for the beach to host concerts and festivals featuring big-name artists, such as LMFAO, Akon, and The Black Eyed Peas. Don't be surprised if the manmade volcano erupts in the background. This 75ft tall mountain puffs out plumes every few minutes from its stage on Surf Beach.
Frontiersmen will appreciate "Extreme Place", where all of the wilderness activities are kept in one chaotic corner. There's kayaking, paddle boating, biking, wall climbing, paintball shooting, and even a bungee jump trampoline. Actual bungee jumps will cost RM130. Meanwhile, for RM60, the "G-Force X" will fling you 65m into the air like a slingshot, reaching 120kmh in two seconds.
Elsewhere in Malaysia, head to Resorts World Genting for a slew of entertainment options, including the Genting Highlands Theme Park (www.rwgenting.com). For indoor thrill rides, hop on the "Euro Express" or "Flying Dragon". Outdoors, queue up for "Cyclone" and the "Corkscrew". Despite the handful of coasters, Genting Highlands is better known for its extensive children's activities. Stop into "Funland", step onto the monorail, take a whirl on the "Rodeo Rider", or hop aboard a pedal boat to enjoy some quality time in the sun.
Vortex at Siam City/ photo: park
For those ultra heat waves, there's a video game arcade and a water park on the premises. Full-day passes cost RM70 for adults and teens, RM49 for kids (12 and under), and RM213 for family packages (two adults, two children). Stay at Resorts World's Theme Park Hotel (www.rwgenting.com) for easy access to the more than 40 attractions, plus the complex's casino and evening entertainment.
India is not known for its theme parks, but there are a couple of quirky options if the mood strikes. Try the 82-acre Wonderla (www.wonderla.com), located about 30km from Bangalore. Here you'll find more than 50 attractions, of which nine are aimed at the little ones. For those who don't mind getting wet, one of the highlights is the "Rain Disco". This psychedelic dance floor is rigged up with sprinklers that pulse to the music. Weekday prices from Rs590 for adults (Rs730 on weekends), Rs460 for kids (Rs540 weekends). There's also a luxury resort on the premises, Wonderla Resort, which doubles as a business hotel.
There's another Wonderla (formerly Veega Land) about 15km outside Kochi, which has roughly 40 water rides and attractions. It covers all the bases, with a lively "Wonder Splash" boat ride that sails through grottoes, as well as a 3D theatre. Tickets are Rs460 for adults on weekdays (Rs600 weekends); children Rs360 weekdays (Rs470 weekends).
Though more of an entertainment destination than an amusement park, Kingdom of Dreams (wwws.kingdomofdreams.in) is another Indian offering. Located within Delhi, this carnival centre showcases a handful of live musicals and performances in its amphitheatre and air-conditioned auditoriums. Do check out the "Culture Gully", which houses all kinds of handicrafts and delicious treats.
The Philippines is not home to many amusement parks, but one worth a look-see is located just south of metro Manila. At Enchanted Kingdom (www.enchantedkingdom.ph) you are more likely to see "Eldar the Wizard" than "Mickey Mouse", but the park is still considered the "Disneyland" of the Philippines. Say 'hello' to fire eaters and tribal dancers in the heart of the Amazon at "Jungle Outpost" or journey to the moon at "Spaceport", meant to recall US space explorations of the 1960s. There's everything from the dainty Grand Carousel to "The EKstreme Drop Tower", which whooshes up 120ft at 47mph before an instant drop. Adult day passes cost P500 on weekdays (P600 weekends), and children 36-inches to 47-inches tall cost P250 on weekdays (P320 weekends). Kiddos under 35 inches can tag along free.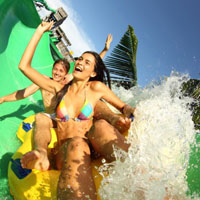 Waterbom Bali fast slide/ photo: park
If you want to make a big splash in Bali, head to Bali Waterbom Park (www.waterbom-bali.com) in the heart of Kuta. Built across 3.8 hectares, this water park has more than 20 waterslides. The 70kmh "Climax" is an adrenaline rush, with a sudden and near-vertical 19m drop and 2.5 G-force speed. Daredevils will also appreciate the ingenuity of the "Super Bowl". As if you're being flushed down a toilet, riders swoosh around a cauldron-shaped track at 50kmh before sliding into the pool below. There are several other fast-track slip and slide rides, but the "Lazy River" and "Funtastic" water playground are best for kids. Admission costs US$31 for adults and US$19 for children (two to12 years old).
A stalwart in the City of Angels, Siam Park City (www.siamparkcity.com) has been around since 1980. This amusement park is located in the Khan Na Yao district of Bangkok, and is home to five zones: X-Zone, Water Park, Kids World, Family World and Fantasy World. Not surprisingly, the fast and furious rides are found in X-Zone, with the highlights being the "Boomerang", "Vortex" and "Giant Drop". Though the highest speeds reach a mere 80kmh, the rides veer from the traditional rise and fall tracks, and venture instead towards inversions, sudden drops and periods of gravity-defying suspension.
The rest of the park's arenas cater for families, with a lazy log flume and the popular Dinotopia museum, which brings the Jurassic Period to life with actual dinosaur skeletons. Perhaps the most tailored towards tiny travellers is Small World, where you'll be greeted with Thumbelina-size boat rides, carousels and a ball pit. Daily passes from Bt900, kids Bt120.
And that's our guide to Asia's fastest roller coasters and child-friendly amusement parks. Whether you live for that suspenseful split second of terror before the big plunge, or whether twirling teacups are more your thing, Asia has thrills and spills for all occasions.
Send us your Feedback / Letter to the Editor