ADVENTURE
Samui resorts review as travel returns to an island that 'rocks'
A detailed Samui fun guide to new luxury resorts, nightlife, the best beaches, dives and spas. Check out the newish Hyatt Regency, the Melia (which replaced Imperial Boathouse, in case you're wondering), and the reborn Centara Reserve Samui (that emerges from the Centara Grand Beach Resort on Chaweng).
with updates by staff reporters
SEE ALSO Bangkok Hotels | Bangkok Shopping Guide | Chiang Mai Guide | Phuket Guide | Phuket Resorts | Thai spas | Hua Hin Guide | Krabi resorts | Pattaya Guide | Bali Fun Guide | Best Asian holidays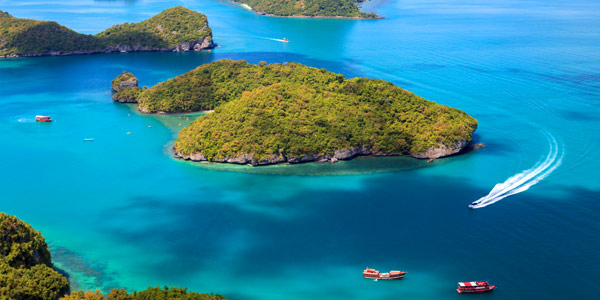 JUMP TO Getting to Koh Samui | Choeng Mon, Tong Son | North coast and Bophut | West and Taling Ngam | Chaweng | Lamai Beach | Koh Phangan | Koh Samui Spas | Nightlife and shopping | Hotel Contacts
KOH SAMUI ROCKS. In fact this Thai island in the Gulf of Siam is all about rocks – big rocks, bigger rocks, characterful rocks, and even fibreglass rocks for those who lack natural granite and common sense.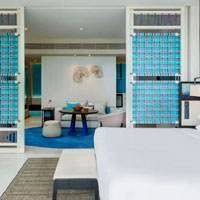 All new Hyatt Regency Koh Samui suite / photo: hotel
The original rock is at Tamarind Springs, the herbal spa retreat. This much-photographed boulder was assembly-line cloned and plonked down in so many Koh Samui spas, Tamarind was forced to hit back with THE MOTHER OF ALL ROCKS.
An even larger boulder. Camera-wielding Japanese meanwhile continue to head for Hin Ta and Hin Yai (Grandfather and Grandmother rocks), the former a proud and naturally phallic landmark.
But first, you'll need to peruse the Safety Health Administration SHA Plus+ Certified hotels on the approved list that followed the Phuket sandbox reopening scheme on 1 July 2021.
And, for louder rock (music) or just Ecstasy-fuelled head-banging, there is always Koh Phangan and its famously over-the-top full moon parties, just 20 minutes by speedboat from Bophut. Drugs, overcharging, overcrowded boats, and buckets of barf have dimmed Koh Phangan's appeal somewhat but the young and restless will be young and restless. For quieter pursuits there's the spectacular Ang Thong National Marine Park with its karst outcrops, deserted beaches and clear water for divers, and golf.

Slide Show

E-mail Page

Print

Hotel Contacts
On Ko Samui, Thailand, the most active denizens used to be the monkeys. Turn anywhere and you'd spot the ubiquitous, sign – "Monkey work coconut". There is even a Monkey Theatre in Bophut where you can watch our distant cousins clamber up coconut trees to pluck the fruit. I am glad to report this is not a drag show with Wonderbras and red lipstick though we would certainly pay to see that. Monkeys do less work these days, its impact evident in the slowing economy. Then there are the tigers. I came across one behind a hotel reception counter. Apparently they do a show too. Butterflies brazenly strut their stuff as do slithering snakes. Someone find Noah and put this place on his map. For travellers, a simple Koh Samui map will suffice.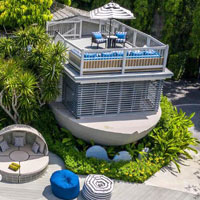 Melia Koh Samui's reconditioned boat suites (building upon the old Imperial Samui Boathouse) / photo: hotel
Scratch the sand, find a spa. Koh Samui spa resorts are dotted all over the island like a rash threatening to exfoliate visitors alive and deposit them neck deep in Deep Sea mud. If you're looking for a quieter, pre-pubescent version of Phuket with decent food, scenic drives and a spot of professional "colonic irrigation" to get the innards humming, cast an eye over this Samui guide.
The beaches and water are not quite up to the Phuket mark but there are some outstanding stretches. These days local spas and hotels are inseparable so we've reviewed the whole lot together.
For purposes of clarity and ease of use our Koh Samui resorts review (with a small Samui spa guide for some stand-alone establishments at the end) runs in a circle around the island, pretty much following Highway 4169. See our Koh Samui map.
Send us your Feedback / Letter to the Editor
A host of fresh faces have invaded Samui, considerably enlivening the hitherto rustic cupboard.
Getting to and around Samui
Far to the northeast is the tiny but steadily modernising airport. Samui Airport (www.samuiairportonline.com) is owned and run by Bangkok Airways (Bangkok tel: [66-2] 270-6699, reservation@bangkokair.com or www.bangkokair.com). Samui airport has been through an upgrade, moving from a two-shack homey affair to a small international airport (there are now several more breezy shacks) while still shaking its eco-friendly tail.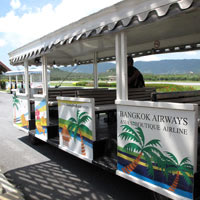 Samui Airport, trolley transfer/ photo: Vijay Verghese
The Hawaiian feel remains, right down to the trolley cars with floral paintings that shuttle passengers to their aircraft. Check-in and then walk a baking 100 yards down to the departure lounge – in another extended shack – passing the whimsically named "Samui Park Avenue", which houses outlets from Quicksilver, Roxy and Jim Thompson (for Thai silk confections) along with a few eateries. En route on a grassy lawn are a few driftwood chairs, relics from the original airport. Air-conditioning is only in the Bangkok Airways club lounge and in the duty-free shopping corner.
Bangkok Airways uses small Airbus jets and prop planes connecting Koh Samui to Bangkok (Suvarnabhumi Airport), Singapore, and Hong Kong. Expect a remarkably stress-free journey with friendly service. On a Bangkok Airways international service A319, the best legroom is in Row 4 (the first economy row in a 3-3 configuration) that allows you to stretch your feet immodestly into the business cabin. Seats are surprisingly wide but inflight entertainment is solely in the form of drop-down overhead screens that may be hard to watch. Exit row 8 is another option with more leg space and a better viewing angle for the video show.
THAI Airways International (www.thaiairways.com) flies in from Bangkok. Other airlines with flights to Koh Samui (depending on Covid restrictions and changed schedules) include Berjaya Air (www.berjaya-air.com) from Kuala Lumpur and once budget airline FireFly (www.fireflyz.com.my) from Penang, Malaysia. SilkAir (www.silkair.com) has flights from Singapore. The only other way to get to Samui is via a three-hour ferry from Surat Thani (served by Thai Airways) on the Thai mainland.
The island's hilly centre is encircled by Highway 4169 that inscribes an almost perfect loop. Highway 4170 branches off from 4169 to explore Baan Taling Ngam and the southern coast before rejoining it just before Lamai. It's hard to get lost. While cheaper car rental options abound, it is perhaps safer to go with Budget (tel: [66-77] 203-9222 or www.budget.co.th), or Avis (tel: [66-2] 251-1131, e-mail: res@avisthailand.com or www.avisthailand.com). An Avis Toyota Vios 1.5 will cost about Bt1,650 per day. Budget is set up at the airport and at Chaweng Beach.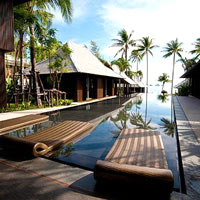 Akatsuki: chic and Zen/ photo: Vijay Verghese
Local taxis have meters that are notoriously underused. Perhaps the manual does not explain how to turn them on. The brief journey from the airport to Chaweng will cost around Bt400 (US$1= Bt32.90) by taxi depending on your bargaining skills. And the equally brief run from Chaweng Beach to Lamai Beach may be quoted at Bt400 or more, well above the metered rate from downtown Bangkok to distant Suvarnabhumi Airport, including highway tolls. A taxi from the airport area to the west coast Taling Ngam is Bt900. It is highway robbery, no less, but you'll have to grin and bear it unless you enjoy the risk and bottom-numbing rigour of a moped (rentals from Bt300 per day). On then with our Koh Samui resorts review.
Resorts in the northeast: Choeng Mon, Tong Son
The north and northeast of Samui, along Choeng Mon Beach, Tong Son Bay, Bophut and Maenam, is where much new building activity is feverishly concentrated. Villas sprout every week and entire hillsides disappear as builders excavate for rock, sand, and access. Still, the northeast fringe has its nice spots and the far northwest, where Four Seasons Resort, Koh Samui, is located, remains fairly verdant and unspoiled.
The Six Senses Samui (reopened 1 July 2015 after extensive refurbishment) is a spread out boutique getaway set on a secluded northeastern headland not far from the airport. The Hideaway sprawls over 20 hilltop acres with spectacular views of the coast and outlying islands, nowhere better exemplified than from the spa. The Six Senses Spa at this high-end Koh Samui spa resort features a range of exotic treatments like the "Tibetan balls" or "ringing" balls laid out on your back to send good vibes through your body.
Alternatively, vibrate to the sounds of an Australian didgeridoo. The 66 villas set along a rise ensure there are ample views for all and they feature "open" bathrooms, with 52 boasting private pools.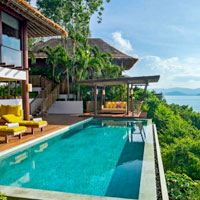 Six Senses Ocean Retreat/ photo: hotel
Care has been taken for the development to blend into nature and all-pervasive bamboo screens create interesting enclosures and line pathways. Personal butlers are on hand in each villa to ensure you don't have to lift a finger. A Pool Villa set higher up the hill throws open vast vistas from a gauze-draped bed set above a small outdoor patio with plunge pool. Expect neat timber floors in the new-look rooms and a lime green settee. A few steps down, the bathroom offers an outdoor shower, a sunken tub and two coconut shell washbasins with old-fashioned pipes and taps that would make your grandfather yodel. This is rustic chic at its best. Also expect a generous laptop-friendly vertical safe that can double as a small cupboard.
Bushels of aromatic lemon grass fringe the lobby and bar. This is a place for the well heeled, not high heeled – as you may get your feet stuck in the otherwise attractive railway-sleeper timber planks in the car park. Isolated and thoroughly spoiling – simply clap your hands for a butler – the Six Senses Hideaway is chic and aloof. Restaurants look onto undisturbed panoramas and a short walk or quick buggy ride will get you to a small beach that is, alas, shared with a couple of other less fancy resorts. However it is a fair bet that the attractive sun-drenched pool will make that trek unnecessary. In keeping with its modern approach, the resort offers free WiFi throughout. This is one of the top Koh Samui spa resorts on our review.
Just around the hill spur is long in the making The Ritz-Carlton Koh Samui (opened October 2017). It got into its full stride around March 2018. This is a top luxury Koh Samui resorts escape with just 175 pool villas and suites so expect personalised pampering. You'll need a buggy to get up and down and around the hillside and these are easily available.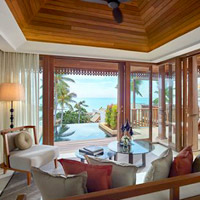 Ritz-Carlton Koh Samui pool villa style/ photo: hotel
Expect two beaches, one with a seafronting restaurant, and plenty of rocky areas. Good for tanning, less so for swimming, which can be splendidly accomplished at the main swimming pool (with a children's section) or the Swim Reef with its display of tropical marine life.
There's a Ritz Kids program for toddlers to teens, a Spa Village with eight well kitted out treatment suites, a breezy Sala set on a promontory for weddings and vows, space for more intimate small corporate meetings rather than muscle MICE affairs, and ample exercise from tennis to jogging, sailing, and a fitness centre with a kick-boxing ring. Get your kicks here or head to the bar.
Close by at Samrong Bay is the The Bay Samui (formerly Arayaburi Boutique Resort), a simple and clean establishment with large freeform pool, cottages and a beachside setting. It shares the beach with Six Senses and is close to Choeng Mon Beach. Next door is the Melati Beach Resort & Spa with a collection of neat suites and villas, some with pools, and a beach strip. The swimming pool is large and attractive.
The Tongsai Bay is a born-again contender, more laid back than most. Soft-spoken owner and general manager Thanakorn Hoontrakul inherited a passion for nature from his father. Unsurprisingly, a strong eco-friendly theme pervades all aspects of this family friendly resort. There are over 40 kinds of birds to be spotted in the generous, green surrounds, not all in bikinis.
The Tongsai Bay is one of the nicer resorts on the island with green space and a welcoming feel. It has been upgrading steadily and the lobby, restaurants, Pool villas, Cottage suites and Grand villas all sport a jaunty look. There are two large swimming pools. Split-level Cottage suites feature contemporary décor with teakwood flooring and verandahs, some with soaking tubs overlooking the bay.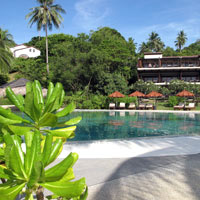 Tongsai Bay: sun-drenched/ photo: Vijay Verghese
The Grand villas are HUGE. There is no other word to describe them. You walk into a very spacious verandah with teak flooring, a four-poster day bed, a gleaming white bathtub and a kitchenette with bar. Entertain, read, or get up to mischief here (though, embarrassingly, you may be visible to others).
Walk up a half level into a dressing room/foyer that leads into a vast bedroom with a TV and DVD player. The bathroom area with twin vanities and small in-room safe opens onto another enclosed patio. You can walk around your room for days. If that's not big enough, give the even larger Akorn Villa (264sq m) a spin. The newly remodelled Beachfront Suites offer a giant bathtub with rain shower, twin vanities, and four-poster beds. There is a sunning patio and, a few steps up, the washroom. WiFi is free throughout the resort.
The holistic Prana Spa is a focal ingredient at The Tongsai Bay. Treatments include standard aromatherapy along with traditional Thai massage and some Prana originals like the 45-minute "Khamin-Din Sor Pong" white clay body mask. Yes, there's Dead Sea mud too. Leisure activities are ample, with tennis, snooker, fitness room, canoes, sailing, windsurfing, snorkelling, fishing, and cooking classes, to name a few. The beach is very private but slopes down sharply. It's worth knowing if you're planning a long wade. Tongsai rates high on our Koh Samui resorts review.
Close by is the relatively younger SALA Samui Choengmon Beach Resort, a classy hideaway on a compact beachfront in Choeng Mon. Some Pool villas face the sea, while the two-storey Balcony villas and Garden Pool villas ring green lawns. Most rooms feature outdoor bathrooms and terraces or balconies with inroom DVD and a safe that can handle a notebook computer. The pool villas all have private plunge pools as well as salas to lounge in after your soak. There is a SALA Spa with an arsenal of potions and lotions.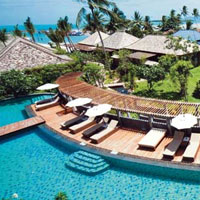 Outrigger/ photo: hotell
Try a lime and ginger salt glow body scrub or Javanese lulur and everything in between. There's even a 'Sun Soother' package for the sun burnt. And for cooling dips head to the twin sea-facing pools – one entirely in black. There is free WiFi throughout. SALA Samui is a high-end resort with a crisp feel and welcoming staff who seem to know what they're doing. This is a cosy retreat for the hip set.
A younger entrant in this area is the Outrigger Koh Samui Resort & Spa, which occupies a long plot extending from the road to the beach. Two sets of mustard lowrise units, each with its own swimming pool, provide the bulk of the accommodation with a few manicured private villas making up the rest. A larger third pool fronts the sea alongside the restaurant. The beach is not swimmable alas but offers views of a marina and the Big Buddha across the bay in Bophut. The rooms are exceptionally large – pick a 67sq m Studio Pool Access Suite for all the space you'll need for a week PLUS the kitchen sink.
Find, yes, that kitchen sink, a microwave, a HUGE bedroom with wooden floor, glass partition bathing area with bathtub and a rain shower cubicle with a pebble floor that will soothe or alarm depending on your point of view. There are adequate toiletries, a hairdryer, a flat-screen TV, DVD player, weighing machine, and ubiquitous shell decorations.
Most of the space is empty however so toss your things around and party. There is also free WiFi access. This is an unpretentious and friendly establishment that ticks all the right boxes including those for spa facilities and fun stuff for kids. Finish is rough and ready but not unattractive and some door locks may still be a tad fiddly; do persevere.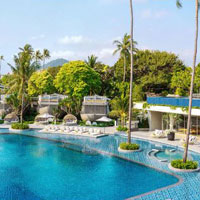 Melia Koh Samui pool/ photo: hotel
White House Beach Resort & Spa is a pleasant 43-room boutique option with its red umbrellas, rich décor, quirky antiques and silks. Superior rooms start at 40sq m, laying a strong claim to be among the largest in Samui. Cambodian influences are evident in the statues of assorted devas and nagas. Here you'll find all the convivial clutter of your grandma's home in a compact resort. Expect the in-room style to be old fashioned and woody with box TVs and, in Deluxe Rooms, maroon and white striped bedcovers and whirring ceiling fans. This is homey not exotic. There is a swimming pool overlooking a nice strip of Choeng Mon (or Chengmon) beach, and a small spa facility. There is a reading and Internet room, spa, fitness centre and a small inhouse shopping arcade. Web access is free.
Melia Koh Samui (since 2021, formerly the Imperial Boat House Beach Resort) has acquired a snazzy modern look set in the north on Choeng Mon Beach. The Imperial Boathouse was long a family and honeymooner favourite as one of the original Samui resorts. The boat-style teakwood accommodations that ringed the 700m pool have been upgraded to luxury suites that retain the boat shapes. A 'Level Boat Suite', as it is termed, offers unfussy but classy duplex digs with roomy washrooms and modern comforts.
Set on a low headland alongside the Imperial Boathouse, the Q Signature Samui (formerly The Samudra Retreat Samui and, briefly, Samui Peninsula, till the lawyers came knocking) is a chic little establishment that is now showing some signs of age despite its relative youth. Management has changed a few times. The villas are in the Sukhothai and Ayutthaya style. The Pool villas are attractive with gleaming teak parquet flooring, one or two bedrooms, a private pool, Jacuzzi, and outdoor shower. Expect butler service and high-speed Internet in-room.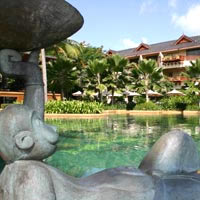 Monkey business at Anantara Bophut/ photo: Vijay Verghese
There is a dedicated Thalasso Spa, a poolside conference centre, and an accent on beach weddings should you be in the mood. There are three pools including a dedicated kids pool, and plenty of water sports like kayaking, fishing, and beach volleyball to keep the tots occupied. The only drawback is the lack of beach (the resort looks onto rocks at low tide). Still, the views from here will be more than enough to impress your date. And prices, while exorbitantly high when the property launched, are now in the more affordable range.
North coast, Bophut, Maenam, Laem Yai
Along the north shore of Bo Phut Bay is the renamed 82-room Anantara Bophut Resort & Spa with its signature orange-ochre entrance walls, spa, attractive freeform infinity pool, plenty of dark teak underfoot and generous lashings of iridescent silk. The name change from Anantara Samui was occasioned by the arrival of a second property on the island. This is a compact rectangular plot – with the resort built along two "arms" embracing the pool. As a consequence, balcony views are not particularly private. The deep-soak terrazzo tub will comfortably host a romantic couple heading to candlelit soapland bliss after a morning of yoga. The swimming pool, lined by statues spouting streams of water, fronts a nice beach. Walk through the lingering scent of kaffir lime to the atmospheric library and get your teenage kids to string one complete sentence together, or just delve into the Anantara Spa, all 3,000 square metres of it. In-room Broadband is available. Much of the resort, including the pool area, function rooms and the lobby, is Wireless enabled. You'll need to pay for WiFi access.
Anantara is a comfortable size and will not require too much tramping about or those infernal buggy transfers. Its chic touches have attracted honeymooners and those planning a Koh Samui beach wedding. The resort will toss in a priest or MC, with private dinner and spa treatment and a legal ceremony. If this is too much of a palaver, head out into the sunset on a catamaran. This is a popular choice among Koh Samui spa resorts.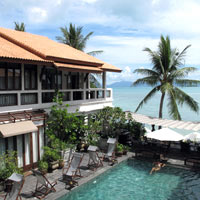 Scent Hotel is a quaint retreat/ photo: Vijay Verghese
Next door is the simple and unpretentious family-run Peace Resort with a spa, paid WiFi, ceramic-tile-floor villas and an open-air pool by the sea. The resort reopened in June 2011 after extensive renovations, which included a complete revamp of its pool area and Sea Wrap Restaurant. It offers "traditional Thai hospitality" at prices that will not unduly alarm. In keeping with its eco-friendly approach, guests are encouraged to plant trees around the resort. If you're a gourmet, there are Thai cooking classes too. Also on Bo Phut are the Bandara Resort and Spa, a hotel-style low-rise with an elegant pool area and spa focusing on herbal anti-oxidants and aqua-therapy, and Santiburi sibling, the Bo Phut Resort & Spa. Billed as a boutique resort but a bit large for that moniker, the Bo Phut offers deluxe rooms and villas built around various water features in a contemporary Thai style with tile floors (though some suites have wooden parquet). There is free WiFi in the lobby, at the restaurants and at the beach. Business travellers can also use the Internet room at no charge. For a treat, stay at one of the 28 Bandara Villas, which feature private gardens, plunge pools and inroom spa treatments. There is a fitness centre and the Bo Phut Spa. The beach frontage at this resort is nice and the sand – as along much of this strip – is not bad. Hop on a shuttle bus to Santiburi Samui Country Club and swing out a full 18 holes.
The rebranded Scent Hotel (formerly The Karmakamet Aromatic Hotel, from Relais & Chateaux) at Bophut offers a quirky cultural mix and, on occasion, classical movies in the tearoom with assorted scents on the breeze. Pick your favourite fragrance for your own room. The beachfront property melds the traditional with the contemporary and offers just 15 rooms so service is not too thinly spread around. Dine beachside on a timber boardwalk looking out over the ocean (cuisine is Michelin-inspired), check out the Library with its DVDs, books, and WiFi, or wander to the spa for an aromatherapy rubdown with organic essential oils.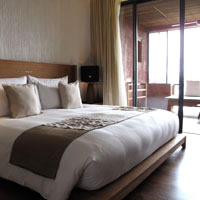 Hansar room: clean lines/ photo: Vijay Verghese
Suites, arrayed on two floors with the "arms" enclosing a small sea-facing pool, are a stylish, muddled, friendly mix of Chinese, local and European with lots of fine silk and cottons in light tones. In the Chinese rooms expect plenty of dark wood, old wooden almirahs and chests, creaking floorboards, flat-screen TV, grey terrazzo tub, shower cubicle, tile floors and a beaten copper basin.
Also find an ancient writing table with a spin-dial phone (that's right). The space is compact but well utilised and welcoming. And this stretch of beach is not bad. The Scent Hotel is an attractive find, close by the airport and a short hop from the throb of Chaweng. It has grown organically from inception as an essential oils shop in the Bangkok Weekend Market in 2001. Can't get more quirky than that.
Not far from here is the Hansar Samui opened July 2010 with 74 rooms. This is a contemporary escape with red-rust plaster walls and precise military lines. The resort is set on a large grassy patch with the main wing and two enfolding arms (set at right angles) protecting a large sun-drenched dark-tile pool that seems a favourite with residents, old and young alike (always a good sign). This is a child-friendly Samui hotel though its design flourishes will appeal to the more discerning as well. An upper-floor 50sq m Sea View Room is spacious with broad wooden planks underfoot and a large breezy balcony with a divan. Find a large hair dryer, free WiFi, and a walk-in rain shower with fine rope tassels separating it from the bedroom area.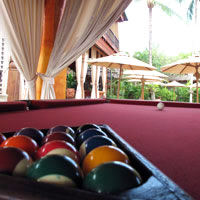 Zazen: hip and happy hangout/ photo: Vijay Verghese
No glass partitions here. Just a Turkish harem and a mood to match. There is a big fitness room for the sports inclined and a spa. The beach area is expansive and gauze-draped salas are positioned to catch the rays and your best camera angles. If you want just sun you've come to the right place.
At the western end of Bo Phut is the cheery and colourful Zazen Boutique Resort & Spa. The youthful and energetic Alexander and his Thai wife Ti (Thitima) are the odd couple that run this constantly evolving, and very endearing, establishment. Zazen offers a free-form pool, a pleasant seafront café, a funky bar in a sala (Thai pavilion) with flowing drapes, Ganesha statues, serene Buddhas, a few friendly house dogs and a good selection of Cat Stevens music. Very retro and uncomplicated. Now also enjoy the second floor Le Salon de Ti (a pun on the wife's name) that serves Dilmah Ceylon brews in a breezy open-sided belvedere with long drapes, comfy seating and lashings of French colonial décor featuring chandeliers, a genuine fireplace, and slow-whirring palm-frond ceiling fans. Sample a "Rosehip Revolution Hibiscus Infusion with Bombay Sapphire Gin" for Bt250 – a steal for something seemingly straight out of a Paris nightclub. There are 23 kinds of tea for the more straitlaced. And in the basement is a near-perfect wine cellar at 18C with 375 choice varieties of vintage pour. Most will not break the wallet so splash out. Later, grab a cue and smack those balls on a vintage table overlooking the sea.
Zazen's Deluxe Bungalows offer warm yellow-orange exteriors with TV and DVD, burgundy interior walls, a raised teakwood platform with a futon-style bed, teak furniture, statues and an outdoor (but covered) bathroom. The views are nice and the beach – close by a fishing village – is swimmable. This is a genuine boutique resort in size and ambience. Despite its fast climb to hipdom this is a surprisingly child-friendly Samui resort that welcomes families and honeymooners with equal vigour and fun amenities.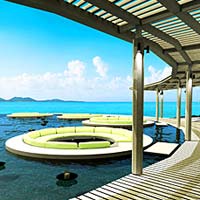 W Koh Samui lobby view/ photo: hotel
Ti's family has run the place for over 30 years and the atmosphere, unsurprisingly, is welcoming and homey. Expect free WiFi throughout the resort, tropical gardens, an Internet Lounge with complimentary access, a selection of DVDs for inroom viewing and a spot of complimentary kayaking or windsurfing courtesy of the Beach Club. The wellness menu at Le Spa Zen includes traditional Thai massage, Swedish massage and herbal compresses.
Adding fresh hip factor to the north shore is the W Koh Samui that runs down a hillside at the intersection of Maenam and Bophut (throwing open sunrise and sunset possibilities). Opened November 2010, the hideaway is cool and stylish in parts, its signature circular lobby-level pool with "floating" sunken sofas and impressive views being very much the photo-op mainstay. Below this, in the rotunda, is the signature Kitchen Table restaurant. The W serves up 75 villas with private pools and access to a beach. Villas run from 162sq m to 220sw m with the Extreme WOW Ocean Haven at a javelin-tossing 892sq m.
The Extreme WOW space is welcome as is the privacy, as there's not enough of it around at this otherwise attractive resort. The beach area pool villas are all overlooked from the higher lobby level as well as from the main swimming pool halfway down the hill. The lower villas – similar to sheds in design, albeit contemporary in execution, with a single sloping roof – are set in rigid rows more evocative of a neat American suburb than a tousled tropical resort and this creates a tangible "disconnect" with the sleek upper floors. Hillside villas and residences are far more private. Once by the sea, the beach area is bright and welcoming with green cushions and plenty of chill-out space. Watch out for the feisty water sprinklers.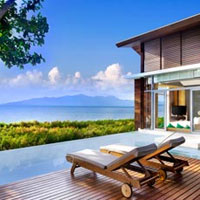 W Ocean Haven WOW/ photo: hotel
In-room, expect bright and spacious living areas with smooth clean lines, earthy tones and woody elements with the occasional eye-popping red, including the red teddy bear that gets a turndown night suit to ensure you realise the day is over. Rooms have 46-inch LCD TVs, iPod docks, DVD/CD players and Yamaha sound systems. For refreshment there is an Illy coffee machine, wine fridge and "Munchie Box". Outside you'll find a rain shower and sun loungers by the 11m pool. Also keep an eye out for the complimentary beach bag packed with fun stuff for the sun. Surf Wi-Fi free or head to the hotel library for a book, CD or board game. If you're feeling active pop along to the outdoor pool, tennis courts, gym or water sports centre. Get a good kneading at the Thai-inspired AWAY Spa then head to one of six bars and restaurants including Woobar, perched on the hillside, serving cocktails under the stars. A cool feature at this resort are the inviting ice boxes at various points along the buggy trails, packed with complimentary ice-cream and sodas. Grab one, whenever. The W Samui is a hip hotel with potential and smart features but it struggles to reach the bar set by sibling properties elsewhere.
You'll pass the Fairhouse Villas & Spa (it has a nice sister property in the south at Chaweng). Not far along the coast is the simple yet immaculate Paradise Beach Resort with 78 deluxe rooms, 11 bungalows and six suites. Roma, the Italian restaurant by the beach, complete with Roman columns and bronze she-wolves suckling infants (those would be Romulus and Remus), is an enjoyable dining spot with views across to Koh Phangan (the full moon rave party island). The beach is swimmable and the resort offers two pools, one by the beach. Free WiFi is available throughout the resort. This is a compact, green, Samui child-friendly resort set away from the noise and clamour of Chaweng with a clientele largely from Europe, the UK and Australia. This is a value establishment that is hugely popular with European families, not least because of its quiet location. Dive, sail, swim…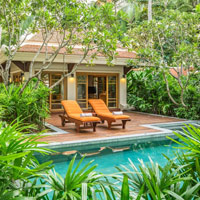 Santiburi Koh Samui Grand Deluxe Beachfront Villa with two bedrooms/ photo: hotel
Dominating a prime stretch of Mae Nam beach in 23 manicured acres of green and shaded coconut groves, is the
Santiburi Koh Samui
. The beach area is spacious and nice with plenty of quiet corners for lazy lounging. The sand is clean and golden. The enormous focal pool area is perfect for some, um, lazy lounging. Santiburi works equally well for families, honeymooners and meetings and conference planners. Dabble in golf, tennis, Thai boxing or squash, sail off into the blue, or opt for the full works at
The Santiburi Spa
(by Bhawa Spa), a must-try with an arsenal of lotions and potions and treatments from body wraps and scrubs to soothing oil rubs, shower workouts and Turkish massage. This is one of the top Samui spa resorts and an excellent Samui conference hotels choice. It also offers grand locations for a spectacular destination wedding on the beach.
A new luxe-end but relaxed Grand Reserve Pool Villa serves up 250sq m of sound-proofed rumpus room for relaxed beach-chic hedonists with pillow menus, WiFi, soaking tubs and sprightly rain showers. Think neat slate roofs, clean contemporary lines and flash of sun-drenched turquoise. The spacious Grand Deluxe Pool Villas meanwhile offer a private spa sanctuary in tropical green surrounds with the signature pool and shaded sala. Mark this hotel down in your diary.
The old wing of the underrated Samui Palm Beach Resort has a nice grassy layout, simple wooden villas, an excellent and large pool area by the beach, but less-than-snappy service. The new wing is unadventurous hotel-style white concrete. There are lots of facilities though from a fitness room to table tennis to snooker and even a giant chessboard laid out in the garden. It's not a bad laidback Koh Samui family friendly hotel choice and the space is great for kids.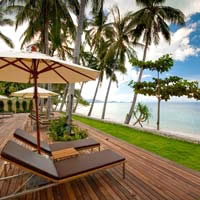 The Passage, seafront boardwalk/ photo: hotel
Spilling down a quiet hillside, the Belmond Napasai (formerly Orient-Express) offers smart, airy Thai-style villas with small balconies, large in-room safes, and free Internet access. For a treat, try the three-bedroom pool residence featuring spacious living areas, private pool, terrace, and even an inhouse maid's room for extra fast service. Grassy slopes lead down to a generous pool fronting a large stretch of beach that has been revamped along with a swimmable lagoon helping in some measure to overcome the island's lack of coastal allure. Indulge in a feast of water sports before retiring to the spa for a Pala Energy massage. Enjoy tennis, table tennis, mountain biking, and beach volleyball, or book a Samui diving excursion. There is a children's pool too.
In this general area is the popular Health Oasis Resort that does up to 21-day fasting and cleansing programmes if you are up to it. The rates won't break the bank especially if you opt for a fan-cooled room. With treatments like intestinal flora implant and vibrational blood cleansing, you might be understandably hesitant, but for health menus, this wellness place has the works. Mark it down as a Koh Samui spa resort for your diary.
The thatched roof and Jacuzzi combination at Mimosa Resort and Spa Koh Samui offers an attractive mix of modern and traditional Thai in its 32 villas. All villas are sprinkled liberally with mimosa wood furniture, candles, and bathrooms feature Jacuzzis and Rain Tree amenities. There's a beachside restaurant and a spa along with some killer sunsets at this intimate resort. Villas start at 35sq m and go up to 138sq m at the Jacuzzi Family Pool Suite.
The Four Seasons Resort Koh Samui is a top-end entrant, offering a verdant hillside escape with the obligatory sea views and swaying coconut palms. This is one of the best Koh Samui spa resorts around. There are also one to five-bedroom Residence villas starting at 188sq m with Wi-Fi, mod-cons and a housekeeper who will race about to do your bidding. This is a true hilltop eyrie. Guests arrive at a minimalist Zen belvedere before being whisked down a vertiginous rollercoaster path to a breezy Living Room with sweeping views, ponds and circular divans offering chess and other distractions. The 60 stilted one-bedroom resort villas come with private infinity pools and cinemascope views. Cladding greenery has sprouted up over the years to create a lived-in feel. Not that the resort wants for more shrubs. Its 42 acres are sprinkled with two million trees and 150 species of flowers. Meander solo, or take one of the guided tours.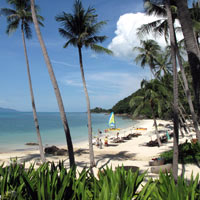 Private Four Seasons beach/ photo: Vijay Verghese
This is not a custom-built Four Seasons. The group took over mid-construction and did a comprehensive makeover. Expect a flat-screen TV, iPod dock, comfy bed, twin vanities, custom-moulded terrazzo bathtubs, and a safe that can handle a laptop. Villas come with infinity pools and a hardwood deck with loungers. Find an iron and ironing board for those less-than-tousled evenings, non-allergenic pillows, and a CD/DVD player. There is WiFi throughout the resort (on a paid basis) though the Library has free Internet and a DVD selection. The 14 residences offer similarly stylish space with cobalt blue pools. Indoors find large plump white beds with gauze drapes, flat-screen TVs, timber floors, large wicker chairs, high ceilings and wood-shingle roofs.
Drop your kids aged two to twelve at the Kids Club for various games and activities, and then head to The Spa for some well deserved back kneading. The Spa is the high point of any stay here and its five pavilions are set in a mature coconut grove. Each pavilion can host a couple for indoor or outdoor treatments along with the added luxury of a sauna and outdoor showers. Alternatively, do jogging, kayaking, and snorkelling. There's also a yoga pavilion with complimentary classes on Fridays. The main pool overlooking a private arcing bay is a treat. Not large but classy. From here, walk through soft sand into azure waters. Keep an eye open for rocks underfoot, especially at low tide. Despite the tedium of enforced cart rides up and down overly vertiginous inclines and the occasional buggy gridlock, the Four Seasons Resort certainly sets a benchmark and rates high on our Koh Samui resorts review.
Just rounding the coast, set on the beach but away from the road you'll stumble through the foliage upon the elegant The Passage Samui Villas & Resort (formerly Movenpick) that returned with a refurbishment November 2014. Rooms and villas, some with plunge pools, have garden and sea views, terraces, 40-inch flat-screen TVs, DVD players, and free Wi-Fi access. All rooms are named for the hand painted artwork within, such as the Purple Passion and Pink Pearl. Rooms are smart with modern amenities and there is a long stretch of beach with a low breakwater wall separating the hotel from the sand and a seafront timbered boardwalk with sun loungers. Expect ample water sports, facilities for children, cooking classes, Thai massage, a business centre, spa, an infinity pool, a beachfront swimming pool and a Jacuzzi pool. That's a lot of pools.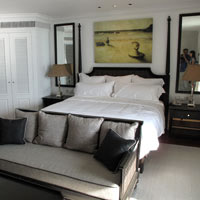 InterCon Baan Taling Ngam/ photo: hotel
Set inland in wooded environs, Kirikayan Luxury Pool Villas & Spa is about one kilometre from the beach. Beach bums never fear as a separate Kirikayan Beach Club sits on the Maenam shoreline. There are 31 private pool villas and suites at the resort with one to three bedrooms and free WiFi is available throughout the resort. Guestrooms start at a spacious 110sq m and villas start at 200sq m. The Sukko Spa bills itself as "the only cultural spa in Samui" – take from that what you will.
Villa interiors are packed with dark wood and white walls but have a modern rather than colonial feel. There is a library too. This is an offbeat choice but an interesting one in our Koh Samui resorts review. The Kirikayan Boutique is its sister property on Chaweng Beach.
West and Southwest Samui, Taling Ngam
Past the sleepy ferry port town of Nathon on the far west of the island - about 40 minutes from the airport – is the dramatic, cliff-hugging InterContinental Samui Baan Taling Ngam Resort (open end of 2011, formerly a Le Royal Meridien). Jaw-dropping vistas are a given, especially from its signature infinity pool with Thai sala swim-up bar. The place is divided into two main residential areas – cliff and beach. Spacious 57sq m villas offer private balconies and a completely reconstituted interior with plenty of laundered white, pastel fabrics, louvered shutters, roomy bathrooms and more mod-cons than you could shake a stick at including data-port with multi-pin sockets, free WiFi, and flat-screen TV.
Expect a glass partition bathing area, rain showers and, in the bedroom, large lampshades to make things more welcoming. The entire resort has been stripped and gutted and remodelled. As is to be expected there is quite a bit of to-ing and fro-ing in electric buggies to get from beachside to "upstairs" poolside or any one of the resort's seven swimming pools.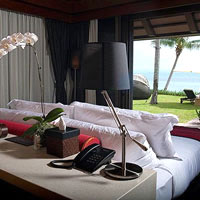 Akatsuki villa view/ photo: hotel
Opened in December 2010, the very smart Akatsuki Resort is located on Lipa Noi Beach, this Zen retreat with clean, straight, lines and woody grey tones is set in manicured green and offers just five suites catering for up to 15 guests. It is the perfect spot for a secret getaway. Wake up and throw open the blinds and shutters to face the full-throated roar of the surf – from bed. Expect to walk in straight to the bathing area with free-standing tub and rain shower to slough off the sand, with the bedrooms on either side, featuring redwood floors, fans, spa amenities, and an iPad to place in-room orders. There is a large flat safe that is amply laptop friendly. Find a butler, a driver, and a chef awaiting your bidding though there is no conventional "restaurant". There is a dining room, however, very much like at home. And that's what the resort aims to be – a home away from home, inspired by Aman, which is faithfully emulated throughout. Expect a three-tier black-tile swimming pool, spa facilities, private beach (with broad sandy swathes) and water sports on request. The beach is swimmable December to March during the wet season when the water levels are higher. At other times the coral and pebbles underfoot make swimming more arduous. There are even small meeting facilities and a dance floor as well as a theatre room with a plasma television and full surround sound. WiFi is free. The small garden area catches the sunsets and an adjoining lawn doubles as space for romantic Samui beach weddings. Stylish, smart, and dressed in understated black, this shingle-roof Japanese-Thai establishment is a splendid addition to the coast.
At the Conrad Koh Samui in the secluded southwest of the island, find a multi-tiered, 80-villa contemporary construct facing west to harvest the full force of the magnificent sunsets. Arrayed along the steep shoulder of a hill, the villas listen in to sea sounds and birdcalls. Here you can be one with nature but you will need a buggy to get about the hairpin bends and steep inclines from sea to sky. More wind in the hair is not a problem but don't forget your iPhone at the beach before you head up to the lobby.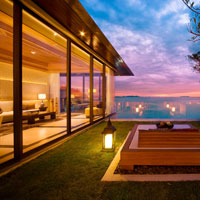 Conrad Oceanview villa/ photo: hotel
The views are staggering. From every level. And all villas and restaurants have been designed to fully capitalise on this. Oceanview Pool Villas offer an elephant-swinging 65sq m of indoor silk-and-timber stretch space as well as a 28sq m patio with a 10m pool, all set on high stilts.
Look forward to HUGE rain showers, oversize soaking tubs, twin vanities, spa amenities, flat-screen TVs, iPod docks, and DVD players – toys enough for him and her. A MacMini with "direct stream" opens up new possibilities for in-room dining. Why bother with telephones and dog-eared menus? Or organise a right royal rumpus in the 186sq m two-storey Oceanview Two Bedroom Villa. And everywhere, are panoramic views of the rippling ocean.
The freshly sanded beach is broad and private and, to swim, walk out down the jetty to the open sea beyond the rocks and pebbles. This is a modern haunt that will appeal to the international beau monde – and that is exactly whom this chic resort is aimed at. Whip out that ring and she'll scream in delight. Or was that the rollercoaster buggy ride? Either way, it'll have to be a "Yes".
Tucked away in the southwest of the island is a private luxury villa retreat set in 17,000sq ft of manicured estate overlooking the sea - Baan Wanora. HK-based owner Jennifer Hill has put in some serious thought into guest comfort and experience with a sensibly strong focus on staff, the key to any real getaway. This is perhaps what separates the high life here from high dudgeon in other cheek-by-jowl establishments in the more crowded beach areas.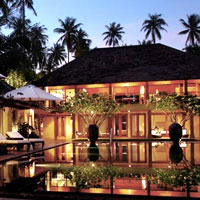 Baan Wanora, luxe escape/ photo: hotel
The 10,000sq ft villa with five en suite bedrooms is an all wood construct drawing on Thai traditions but with a contemporary feel. Expect clean straight lines and an eye for detail, from the shingle roof to the tasteful statuettes, fish ponds, gleaming wood parquet floors, rich fabrics, soaking terrazzo tubs strewn with petals, wooden chests and iridescent cushions.
The living room at the main villa is spacious and bedrooms offer dreamy custom-made four poster beds with cotton drapes. Stay in touch with the world - if you must - via WiFi, and large flat-screen televisions.
The reflective pool is a broad blue rectangle at the centre of the resort's enfolding embrace, looking out over the sea. Pick other distractions from the games, DVD and book library. Or just bring your own inspirational tome and dig in for a good read. The staff will attend to your needs with surprising alacrity and beaming smiles. Minimum three nights for wallets that can fork out upwards of US$1,325 per night depending on the season.
East coast, Chaweng Beach hotels and spas
A short drive south from the airport along the east coast brings you to the North Chaweng strip where you'll find the delightful new Hyatt Regency Koh Samui (opened 2021), bashfully minimalistic in white and cream amidst the tropical Thai outpourings left and right.
Rooms are light and airy - welcoming of light and views - in simple white with deep blue rugs and powder blue sofas and cushions with flashes of turquoise. The suites have more colourful flourishes and features.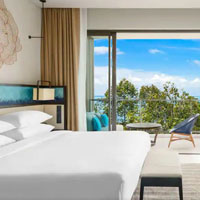 Hyatt Regency Samui suite with a view / photo: hotel
At a 70sq m Hyatt Regency Suite enjoy two 55-inch flat-screen televisions, 'Sleepwell' mattresses, iron and ironing board and digital newspapers for executives on the go. Expect four freeform pools at this family-friendly Samui resort, a spa (opening late 2021), and a Camp Hyatt for kids that runs from 9am to 6pm.
At this getaway for typhoon teens and tots, children up to 12 years can enjoy educational classes and entertainment packages. Kids under three need to be accompanied by a parent or a babysitter (that can be supplied by the hotel). The hotel is connected to a beach it describes as 'semi-private' and beach shoes are advised for the rocks. More for sunbathers than swimmers though no one will mind. There are four pools after all. This is a pet-friendly hotel.
Close by is the quiet, hillside retreat of Absolute Sanctuary, which has gained a loyal following over the years for its rigorous detox programmes paired with healthy food, simple – almost abstemious – surrounds, save for a few bright daubs of paint, and focus on yoga and meditation.
It is not a beach resort. It is not hip. It throws no lavish parties, but still they come, seeking something different and a brief respite from the Big City treadmill. Here, within the mustard walls of this mid-size Portuguese-style establishment with its one pool, large fitness room, and yoga/meditation room, guests seem to find a different kind of solace.
There are six spa rooms, each in a raw cement finish with two tones of colour, pink, purple, brown, green... There are a further five colonic irrigation rooms and six outdoor salas for treatments. A Seaview Suite on an upper floor of the two-storey establishment serves up an iron four-poster bed with lathe work, purple silk drapes, gauze curtains, ceiling fan, LCD TV, and jewellery safe.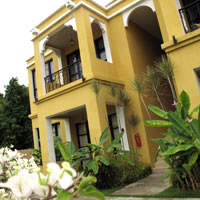 Absolute Sanctuary: Portuguese feel/ photo: Vijay Verghese
Walls, as elsewhere inside the resort, have a simple cement finish with a two-tone colour combination separating the lower half from the upper, like a layered sponge cake. Find a balcony with a glimmer of ocean views. The 37sq m Superior offers a choice of twin or queen beds and a small LCD screen.
In the vicinity is the compact and stylish Nora Beach Resort & Spa with its grand lobby and steps leading down to the Anodas Spa that draws on eastern and western traditions, and a very attractive seaside pool (with Jacuzzi). The beach area has been well exploited. WiFi is available and the lounge has computers with complimentary Internet access. Need a Koh Samui beach wedding with Thai ceremonies laid on so thick you'll be swimming in frangipani? They'll arrange one. Give this one a look. Sister Nora Buri Resort & Spa, is also located along the same road, set on the hill, while the Nora Chaweng Hotel (opened 2011) is a smaller modern construct in the bustling Chaweng strip set away from the beach.
The Bhundari Spa Resort & Villas (formerly run by Centara) is a dark, woody affair with the only bright splash the bright magenta of the lobby. The resort is inconveniently split in two by the main road (an affliction common to more than a few resorts in Samui) with half the villas and hotel rooms on the hillside and the remaining villas heading down to the carefully sanded but not really swimmable beach, and seafront restaurant. The road crossing makes buggy transfers a tad slower than optimal. Look for a sea-facing pool villa.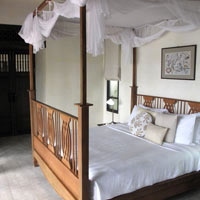 Anantara Lawana: mixed styles/ photo: Vijay Verghese
TheAnantara Lawana Koh Samui Resort, right after Coral Bay, is a quiet, elegant and smart construct with a mixture of Portuguese, Chinese and Thai. It is close enough to Chaweng but sufficiently far away from the noise and riffraff. The finish is more solid and well thought out than much of the rough and ready stuff you'll encounter on the island. The 61sq m upstairs Deluxe Lawana is set within grey-wash timber walls with a shingle roof and gas lanterns for bed lights (electric of course). You get the drift. A gauze mosquito net is suspended above the bed. Also expect a flat-screen TV, free WiFi, a small work desk, a square grey terrazzo bathtub, rain shower and notebook-size safe. A wraparound verandah offers views through the bamboo fronds. It's all rustic chic here and it's well executed. Pool Villas on the other hand are in dark wood with four-poster beds and outdoor bathtub. The beach is not swimmable (not surprising in Samui) but you can retire of an evening to the delightful Treetops restaurant on stilts higher up the hill, serving an international mix.
The Kanda Residences Samui (which took over Karma Samui's villas) are attractive but stacked rather close together, connected by a narrow Monte Carlo Formula 1 "S" path that winds down the hillside, with tight switchbacks, to the beach area. No overtaking. There are 36 pool villas (some with four bedrooms) facing a sand beach – fringed by rocks at the waterline – that greets the sunrise. Classy villas offer twin vanities, a bathtub and outdoor shower, a safety box that will handle a video but not a laptop, flat-screen TV, DVD player and a four-poster bed with a gauze canopy. There is free WiFi throughout. While the villa interiors are roomy, there is a sense of compactness about the place. Still, it is a fine option, especially when you toss in the Spa and the contemporary seafront restaurant. It is of course a lot more solid than the description suggests and offers a chic bar and cosy vantage points to catch sea breezes. Set on descending terraces, most villas have open sea views. There is a main pool and a children's pool as well.
The Le Paradis Boutique Resort & Spa offers something different – 12 traditional Thai teakwood houses and a further 14 villas sporting a more contemporary feel. Houses have balconies, plush interiors and all mod-cons. Expect cable TV, DVD players, free WiFi, ceiling fans (just in case you don't care for air-conditioning) and a pleasant beachfront pool. A new look is on the way.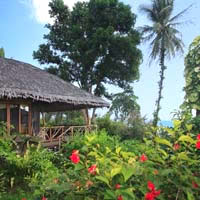 Coral Bay, comfy rustic/ photo: hotel
Coral Bay Resort & Spa on Ya Noi Bay is a wonderfully uncomplicated hideaway. It was one of the first resorts on Samui when it opened in 1982. It has a nice café overlooking the pool and beach and simple but charming wooden bungalows with rattan furniture, timber beams, thatch roofs, bamboo four-poster beds and yet more wood. The rooms are ethnic chic with cool pastels, mosaic walls, funky toilets with skylights, and big verandahs.
Sink into an extra large 7ft king-size bed, tune in to satellite TV, or fiddle with the CD/DVD/MP3 player. Enjoy the scenery through the skylight while you do your thing in the bathroom. In the lobby you'll find bookracks with potboilers in several languages. There's WiFi here and at the poolside. The Amataspa offers detox routines, an infrared sauna and even high-pressure-jet massage. Coral Bay Resort & Spa is certainly different and has a welcoming feel to it. The grounds are green and spread out. This is an eco-friendly 56-bungalow 10-acre resort that takes great pains to treat all sewage and waste. Doris, the lady who runs the place is efficient, knowledgeable and attentive to guest needs. Mark this down as a family-friendly Samui resort.
Baan Haad Ngam Boutique Resort & Spa is a boutique property with a selection of hotel-style rooms and Hobbit-style villas (the latter painted a distinct lime green). There are pebbled walkways and streams leading down from reception and the hotel rooms, past a side road, to the villas set around the seafront infinity pool. All rooms feature teakwood floors, twin vanities, Jacuzzi, separate shower cubicles, satellite TV and an outdoor patio or terrace. The beachside Italian restaurant, Olivio, is gaining a following. Or try out its Satira Herbal Spa.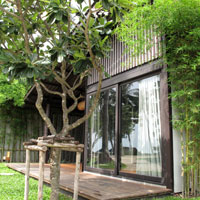 Akyra: rustic chic and simple/ photo: Vijay Verghese
The AKYRA Chura Samui (by Aleenta) appears flimsy at first sighting but grows on you as you wander down towards the beach area. The resort opened in June 2011 and offers a swimmable beach – hurrah! – lined by blue sun umbrellas and an azure seafront pool. A Grand Deluxe Seaview at 44sq m comes with a raw cement floor, grey walls, unadorned save for a framed square of Jim Thompson silk, complimentary mini-bar, blue tinted glass windows set in traditional wood panels and a flat laptop-friendly safe. In the midst of this stark simplicity is a large, plump, white bed, your new best friend. There is a spa too.
Close by is the Sareeraya Villas and Suites. This is a smart and stylish set-up with villas (some with pools and four-poster beds) featuring wooden parquet floors, lots of rich fabric and bright silk cushions. The beachfront pool is a wonderful escape. There is a children's pool as well, a fitness centre, and a spa. Expect stylish modern Thai décor and prices to match.
The intriguing Muang Kulaypan Hotel with its black-tile pool set within an expansive grassed courtyard and rooms arrayed around the lawns, saw fluctuating fortunes. It closed for a long stretch and reopened late 2017 as the completely remodelled SALA Samui Chaweng Beach Resort. The Beach Wing serves up 52 Pool Villas and Suites while the 83-room Garden Wing will arrive late 2018 along with a second pool, a SALA Spa and a SALA Gym. The hotel sports a low-rise contemporary design with private pools stretching from 18sq m to 46sq m, enough to make a splash in. Think smooth white walls, arches, curved pool alcoves and private snuggeries.
Siblings Chaweng Beachcomber and the Chaweng Blue Lagoon are middling resorts with decent pools, reasonable facilities but a tad bland. The Blue Lagoon is a touch brighter and has a few cottages as well.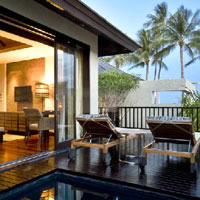 Sareeraya patio/ photo: hotel
The family-friendly Amari Koh Samui (formerly Amari Palm Reef) boasts an atmospheric and wildly popular Italian restaurant – Prego – that delivers mixed results street side; and the Breeze Spa is on hand to work off those big-city aches. The Amari is a big-facilities comfortable family option though romantics will enjoy it equally. Smart modern Thai-style suites with rich fabrics and wooden floors open onto balconies with sea views while dark wood family bungalows offer space and greenery. The resort has two free-form pools as well as two splash pools for toddlers. There's floodlit tennis, a fitness room and a dive centre. The Amari resort is split by the main road (with one half on the beach) so check which side you are housed in.
The Chaweng Regent (no relative of The Regent, Four Seasons) is an evergreen Thai-style villa complex with two pools (one by the beach), fitness centre, library and a spa. Expect lots of dark wood and bursts of silk. There are plenty of water sports and yoga options, and if you feel like being a little naughty, the hotel can arrange transport to the (in)famous full moon parties on Koh Phangan.
The Briza Beach Resort & Spa, Samui, offers smart villas (some with pools) designed in the Srivijaya empire style. Expect canopied beds, gauzy curtains, butler service, non-allergenic pillows, 29-inch flat-screen TVs, DVD players, WiFi (throughout the resort), twin vanities, and elegant facilities. There is a small safe that can hold a laptop at a pinch. Check out the Sukko Spa, which bills itself as a "cultural" experience, drawing inspiration – and treatments – from ancient Thai Ayurvedic philosophy.
The downside is The Briza is a rather overbuilt with not enough space for genuine privacy. The pool is stifled by buildings on all sides (it's not at the beach). However, things get more spread out and breezy as you approach the beach area and bar. Should you have a Beachfront Pool villa you'll have no quibbles.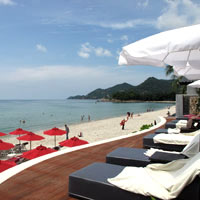 Kirikayan Boutique Resort: seafront/ photo: Vijay Verghese
Poppies Samui has won international acclaim not least on account of the numerous personal touches provided by veteran hotelier Michael Holehouse, the former general manager. He banned mobile phones for one. Well done. Twenty-four smart cottages with stylish bathrooms are set around a central free-form pool area adjacent to one of the best stretches of Chaweng Beach. The bathrooms also feature private screened gardens to be viewed from the sunken tubs. The resort has a small sala for spa treatments ranging from massage and reflexology to body wraps and Dead Sea mud. Food is excellent. A webcam looks onto the beach and the Poppies website faithfully conveys the gist. If you're in the mood, contribute to the Dog Rescue Center Samui (tel: [66-77] 413-490, mob: [66] 818-939-449, www.samuidog.org).
The Kirikayan Boutique Resort (opened December 2009) is a sliver of an escape running through a narrow passage to the sea that has been expertly utilised with a quaint walkway lined by all manner of topical foliage and quirky sculptures. On either side of the defile are two-storey Swiss-style chalets in black and bright red. Somehow it all hangs together though smart guests will prefer the upper floor or, better, a Sunrise Jacuzzi Suite (rooms 999 and 888) facing the sea with private balconies, a tub with a view, bright cushions, large flat-screen TV, DVD player, small safe, hairdryer, and free WiFi. Atop this ensemble is the obligatory shingle roof. Within, there is 50sq m of stretch space.
A remarkable breath of fresh air on Chaweng is The Library. This Thai-run place features inspired contemporary design – two-floor units resembling the early Macintosh computers spaced out on either side of a wooden walkway leading to the sea. Everything is in neat squares, geometric, in place, spaced out, and white, save for the large seafront pool with its dark red tiles that come alight at sunrise and sunset.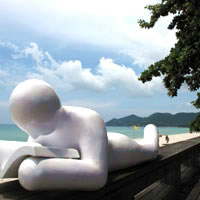 A reader at the Library resort/ photo: Vijay Verghese
There is none of that cram-them-all-in sense that one gets at so many new establishments intent on squeezing ever more villas into ever smaller spaces, cutting out light, breeze and views.
The Library has elbowroom, refreshingly green gardens, and quirky white fibreglass characters placed at various points, casually reading books. The beachside patio is timbered and vast offering alfresco dining at The Page should you require it. There is a fitness centre and a library (complete with gleaming iMacs for guest use). Room interiors are minimalist with white, laundered beds on black floors backed by a large mood light panel (guests can choose their own lighting colours and thus contribute to the overall effect). Expect a flat-screen TV, wireless headphones, an iMac, free Broadband, an iPod dock and a patio with louvered panels.
There is Lavazza coffee too and a laptop friendly safe. WiFi is free throughout the resort. Suites have a Jacuzzi and rain shower all, of course in virginal white. In all there are 29 "Pages" (rooms). Ask for the pillow menu. There are 10 to pick from including the enticingly named "lover pillow". Get one and hug it if your date walked out. The Library is mod, in the groove, and as hip as you can get in laid back Samui. This is a must-see, if only for its blood-red pool or a bite by the beach.
Reborn August 2021 as the uber-luxury Centara Reserve Samui, replacing the family-friendly Centara Grand Beach Resort Samui that was closed for renovations since June 2019, this is a grand colonnaded establishment straight out of Gone With The Wind with a huge grass lawn offering a counterpoint to the stark white building. The gussied up pool area is right on the beach. The sea is swimmable even at low tide.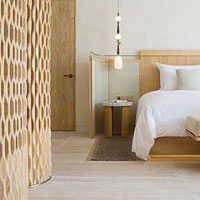 The Centara Reserve Samui has replaced Centara Grand. Pool Suite/ photo: hotel
The resort is a civilised and comfortable option for families and upscale romantics or honeymooners or those looking for something more mainstream with an excellent spa to boot.
The resort offers 184 spanking-new top-end rooms, pool suites and beachfront pool villas equipped with 'sleep therapy clocks' and Reserve Hosts for suites and villas. This is family-size space and the Reserve Ocean Pool Villa conjures up 500sq m with access to a private walk-on beach.
For foodies, the Reserve offers everything from a barefoot beach bar to fine dining, seafood, Thai tapas and a gin bar.
Also look forward to further indulgence at the Reserve Spa Cenvaree while children are kept entertained at the kids' club. A range of non-motorised sports - yoga, kayaking, beach volleyball, canoeing, catamarans - are on offer to ensure low beach noise and to stay with the resort's eco-friendly credentials. The tennis courts are gone but the colonnades remain in brighter fashion with a chic new look in the lobby.
Stay here if you want a comfortable Koh Samui family resort with an away-from-it-all air yet within a few minutes' walk from the centre of the strip. The 184-room resort has mostly sea-facing accommodation with easy access to an evening chill-out, cocktail in hand. This roomy escape ranks high in our Koh Samui resorts review.
Other Chaweng hotel options are Banana Fan Sea Samui (a nice place with simple bungalows), the strawberry and turquoise Baan Samui Resort, and the Chaba Samui Resort where you can let your hair down for a Marbella-style cocktail-strewn getaway. The shocking pink tuk-tuk has mysteriously disappeared though.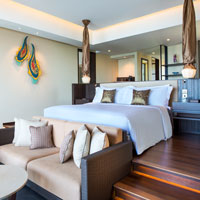 Stylish Vana Belle room/ photo: hotel
Look at the Buri Rasa Village Resort & Spa with its villa-style rooms, a stylish lobby and atmospheric beach-facing restaurant, or the Kandaburi Resort & Spa. The Muang Samui Spa Resort offers 53 suites, Thai décor and a large freeform pool. Its spa has a beachfront location and rooms (starting at 53sq m) are lavish and timber-floored. All rooms have the regular mod-cons, and the bathrooms are furnished with a Jacuzzi and separate shower.
For something completely over the top and entertainingly hallucinogenic, head to (but heavens don't stay at) the Chaweng Resort. A bedlam of Baroque faux-European flourishes dominate this east-meets-west concoction. You'll need a strong will and a few fortifying Singha Beers to confront this architectural gem. For something cheap and cheerful, explore the Chaweng Buri Resort. It has a decent-size free-form pool by the beach, canopied beds hung with mosquito-net gauze, and spacious villas. It is rather laid back.
Slipping into the sands of quieter Chaweng Noi Beach is Vana Belle, a Luxury Collection Resort, Koh Samui. Expect traditional Thai touches and natural colour palettes – think dark wood contours, beige decor and bright white linens – from this plush beachside resort. Take in sea views from bed, the tub, your private infinity pool, or the balcony – it's up to you. The ocean-facing, open design blends seamlessly with the sunny surrounds, while an iPod station, 46in LCD TV, and free WiFi keep tech junkies plugged in.
There is a fitness centre and a library too but with direct beach access and an outdoor pool, these may not be top of everyone's list. Refreshingly, there is no meeting facility at the resort and none of that pin-striper conference clamour. Instead, leave unruffled footprints in the sand from dawn to dusk. Dine Italian or international in fine breezy venues.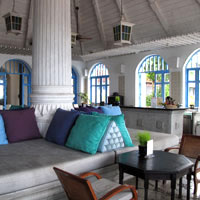 Imperial Samui is now a Sheraton: little bit of Greece/ photo: Vijay Verghese
At the secluded southern end of Chaweng, the Sheraton Samui Resort took over from The Imperial Samui Hotel in December 2014. The place projects a profoundly Mediterranean ambience with its white stucco cake-icing exterior. There are quite a few steps down past the freshwater pool through the gardens to the beach and the seawater lagoon-pool with "natural" rocks and the odd bit of sand underfoot.
The Premier Ocien View rooms have gone through a dramatic transformation, emerging in Grecian whites and blues, with flat screen TV and cosy balconies. The balcony offers breezy ocean views as promised. Think cool blue carpets and timber floors.
WiFi is charged. There are also several suites for folks with kids or who want a roomier experience. For a fee, you can participate in daily activities like Thai cooking class, soap carving, photography and food carving. Garden tours are held twice a week. The Spa offers treatment rooms and a couple of spa suites with steam bath and Jacuzzi. The icing on the cake here, to borrow the metaphor twice, is the magnificent Long Talay restaurant set just above the pool with delightful views of the shimmering sea. With its startlingly white décor and large glass panels welcoming of light, the place is a delight.
The Fair House Beach Resort & Hotel is a pleasant option, running down a hill, ranging from two-storey hotel rooms to roomy bungalows on the beach by a free-form pool. A new building has been added, offering a further 42 rooms to the mix. Fair House even boasts a three-hole 169-yard golf course integrated into the resort gardens. Swing out from 6am till 6pm at just Bt200 for three tee-offs. There's also two pools, as well as a sala on the beach that offers spa treatments.
Impiana: stylish and compact/ photo: Vijay Verghese
A bit quieter is the secluded Impiana Resort Chaweng Noi, Koh Samui with 98 modern rooms, all with ceramic tile floors, TV, balcony and minibar, and a nice sea green pool overlooking the beach. This is a smart construct. It is friendly, and on a human scale, after all the behemoths sprawled farther up the coast. No buggy rides, just walking shoes or bare feet. WiFi is available throughout the resort. Getting around is easy with the shuttle service. Or rent a motorbike to feel the wind in your hair. This is a no-worries choice for holidays or meetings. It falls somewhere between a hotel and a resort with stylish design flourishes, pale stone walls and clean geometric lines. The Impiana Suite is a big draw for honeymooners. It is sited right by the sea in pastel earth tones. A flatscreen TV divides the bedroom into the sleeping area and living area. There is a soaking tub and twin vanities as well as a laptop-size safe. An endearing feature is that on two sides the suite has full floor-to-ceiling glass welcoming of light and views. You will need to close the blinds before you get overly romantic. The Deluxe rooms and Suites offer more space with regular rooms being fairly compact.
About two kilometres south of Chaweng Beach, on the main ring road, is the hillside Sandalwood Luxury Villas. Villas sleep two to six and are arranged over two areas, with five villas in each and two infinity swimming pools. Lotus villa, the flagship villa for Sandalwood, covers 150sq m over two floors each with a bedroom and bathroom. The upstairs outdoor bath has views over the ocean. In-villa you can stay connected with free WiFi, Satellite TV, DVD and stereo. Other villas feature Jacuzzi, private pool or a garden space. Inroom microwaves are a thoughtful touch. There is a restaurant and a small spa. The resort is not on the beach and has a traditional feel that appears to be ageing a bit.
Leaving Chaweng behind and heading south to Lamai, the road winds up a hill and you might almost miss the charming Baan Hin Sai Resort & Spa that flashes by to your left. The alfresco dining area is refreshingly simple, set high above a three-tier swimming pool. The bay stretches out below and beyond. The rooms are simple and a steep concrete path leads down to the rocky beach. Complimentary transportation to Chaweng and Lamai Beach is available.
Lamai Beach, Laem Set, Thanon Beach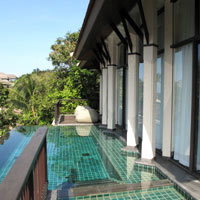 Banyan pool villa: lux with a view/ photo: Vijay Verghese
Raising the bar considerably on Lamai Beach is the Banyan Tree Samui (opened July 2010). Your wallet may get somewhat exercised but the experience is more than worth it. Planned and executed with typical Banyan Tree panache, the 78 Thai-style villas range from 130sq m to a whopping 316sq m (Sanctuary Villa), all elegantly appointed in neutral tones and with private swimming pools. This is a resort on a grand scale, sweeping down a verdant hillside with well-planned – and broader – arterial buggy routes from which steeper narrow paths spike up to the vertiginous hillside eyries. This sort of planning eliminates some of the buggy gridlock you might experience at other establishments.
The finish at this resort is above par and it weighs in well above several Banyan Trees we have reviewed. At your villa expect a 33sq m outdoor pool set on a timber patio with lounging sala. Inroom find high ceilings, plenty of dark, gleaming wood, and deep greens and browns dominating the colour mix. Walk in through the foyer with its comfy divan and tick off the large flat-screen TVs, DVD players, iPod docks, work desk with complimentary WiFi or plug-in Internet, and other toys for techies who need that wired buzz on beach holidays. Enjoy the large white bathtub, twin vanities, walk-in dressing alcove, and that GIANT full-ceiling rain shower set in a stylish black-tile cubicle. There is a laptop-friendly safe for the MacAir crowd too. Cinemascope panoramas stretch all around. Set high on concrete stilts, the villas are welcoming of light and breeze, all underlined by the floor-to-ceiling glass frontage.
Children from three to ten years will enjoy the Kids Club, where face painting, sandcastle building, t-shirt art and pool games are the order of the day. Inhouse babysitting is available for US$18 per hour per child. Who said parenting was cheap? But this will enable harried parents to escape to the beckoning Banyan Tree Spa with its signature draw, The Rainforest, "a hydrothermal wellness experience". Here you'll find aptly named experiences like the body-soaking "Rain Walk" through a bamboo-lined path, the "Bucket Drench Shower" and the "Ice Fountain".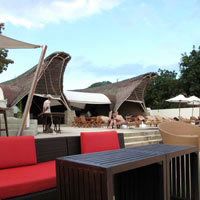 Beach Republic: for the young and restless/ photo: Vijay Verghese
Take your pick. The interiors are dark and soothing with blue lights rippling through the indoor pool. If all this scares the bejeezus out of you, head for some simple alfresco pleasures by the large sea-fronting pool set above a grassy lawn with hammocks and walks leading to an arcing sandy bay. Play table tennis, laze in a gauzy sala, or sit down and finish that book you've been impressing friends with. If, in this Cyperspace Age, you are a genuine old-fashioned reader of print, brandish that lost art with pride and toss out a few large words while you're at it. Five bars and restaurants cater to all gastronomic whims.
The fun and irrepressibly young Beach Republic is a great spot for the bold and beautiful – or young and legless – to strut their stuff. The resort describes itself as "sexy, sophisticated and cosmopolitan", which sounds a bit like an 18-30s for the slightly snobbier. In the flesh, this is an informal chill-out spot by the beach. Enjoy a nicely designed beachfront with soaring thatch awnings, a raised dark-tile pool above the sea line, a long stretch of virginal sand and lots of bright red sofas for that languorous 20-megapixel pose. Started as a club in 2009 the place developed into a resort and now offers a mix of villas – with the signature thatch roofs – as well as more contemporary rooms closer to the road. Each villa features open-air bathrooms, Tivoli music system, iPod dock, LCD TV, DVD player, and private plunge pool. Expect a butler for your kitchen detail and kids' care.
There is an attractive spa as well with herbal steam room. If you've been to Bali, there are certainly shades of Ku De Ta here, Thai style. Designed by an Irishmen, with a feel of a Malaysian longhouse, and serving signature Cuban mojito cocktails, this is an endearingly mad and happening place that is busiest in the daytime as people come in for long brunches while enjoying the sun and sea soaks. Keen to spot sun-burnished women with legs going up to heaven? Come here. If you want to swim in the sea, head out a couple of hundred metres into the ocean past the rocks and splash out.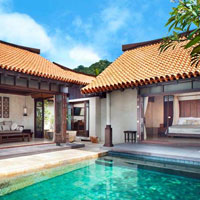 Le Meridien villa/ photo: hotel
In September 2011 the Le Meridien took over the Gurich Samui (formerly Langham Place Samui) on Lamai Beach. New moniker, new game? Find out. This is a hip addition to the Samui coastline with a punchy mixture of sepia-movie Chinese, old Thailand and up tempo mod. Walk up to a red-tile-roof low Chinese brick courtyard set in a quadrangle with a pool at the centre. From here steps lead down to a long garden flanked by villas. A restaurant is set along the main beach pool from where a jetty leads into deeper sea for safe swimming past the encroaching rocks. The 77 villas and suites are decked in timber, stone and gold fabrics for a Thai feel, but don't forgo the essentials: WiFi, 32" LCD TV and DVD, iHome and iPod dock, and coffee and tea facilities. All have high ceilings and open-air bathrooms. Beachfront villas serve up plunge pools, four-poster beds, Nespresso machines, suspended gauze mosquito nets, terrazzo floors and dark-wood Chinese furniture offset by silk bedspreads. There is an open-air tub, round this time, for après-dinner bubbles. There's a spa on hand as well. This is a sumptuous property with potential.
The constantly transforming Rocky's Boutique Resort is a tasteful, tucked away, escape with shimmering red silk, timber, red parasols, manicured plants and a very cosy seafront pool area. Expect 50 rooms with 16 new Garden View rooms and six Ocean Villas in an upper-level development with a new pool and the trendy Bistro restaurant. A lot of work has gone into this resort, and it shows. Deluxe Junior Suite Ocean View villas offer spacious 42sq m interiors, roomy, light-filled bathrooms, and flashes of rich Thai silk. There is a TV and DVD player, free WiFi in public areas and a safe that will handle a laptop.
Livewire general manager Erik Larsen bubbles with ideas and his obvious enthusiasm drives the place. This is a honeymoon haven, a quaint spot for a Samui beach wedding and, despite the upscale additions, also a popular Samui child-friendly resort. Rocky's has an arrangement with Tamarind Springs for herbal spa treatments and the like.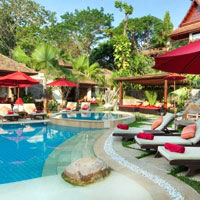 Rocky's new pool/ photo: hotel
The Centara Villas Samui (formerly Central Samui Village) is big, manicured, and well-run, with a Spa Cenvaree and a range of Thai-style villas, several upgraded to Pool Villas, and villas with Jacuzzi plunge pools. Most of the beach is swimmable. The Pavilion Samui Boutique Resort continues to reinvent itself. It is otherwise a breath of fresh air with an eclectic mix of cottages and spa suites set in gardens leading to the sea and a free-form pool set within salmon-pink walls.
The Best Western Samui Bayview Resort is rather high up a steep hill, with good views once you get there. There are several small pools, spa and massage facilities, Internet access and a sauna and steam area.
The 60-room Mercure Koh Samui Beach Resort (formerly Fenix), on Lamai Beach off trusty Highway 4169 is 25 minutes from the airport and enjoys open views of the Gulf of Thailand. It serves up 52 rooms and eight villas. Expect contemporary chic and bright colours. This is a mod and functional resort with some value deals. Sadly, the Laem Set Resort and Spa (formerly Laem Set Inn) is no more after the sell-off to local owners several years ago.
Built around an ancient Buddhist cave temple, the Kamalaya offers an "integrated approach" to wellbeing. Guests stay in villas, bungalows or suites furnished with natural materials and Asian textiles all neatly blending in with the landscape, but not to the exclusion of 21st century amenities such as high-speed Internet. Wellness treatments range from traditional Chinese medicine to naturopathy, homeopathy, Ayurveda, acupuncture and Western medicine. Experience a Taoist abdominal massage. Try yoga, or just relax around the sanctuary's lap, leisure and plunge pools. The Alchemy Bar serves tonics based on Taoist, Thai and Ayurvedic recipes. Facing the sandy beach, the swimming pool is ringed by lotus ponds. This mimics the "traditional bathing areas of Nepal and India" though visitors today will be hard-pressed to find such nirvana on the subcontinent.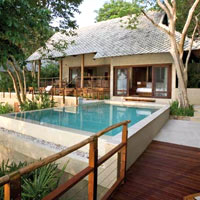 Kamalaya villa/ photo: hotel
If healthy living is getting you down, splash out on a Pool Villa brimming with amenities or go whole hog with a stylish shingle-roof Beachfront Pool Villa where sliding glass doors will let in the sun and sea breezes. Breakfast on the raised patio poolside or lounge indoors on comfortably padded wicker divans. The Kamalaya offers a healthy, stylish escape but with a strong rustic undertow to keep you grounded. This is one of the signature Samui spa resorts for your diary.
Set on a sloping hillside that comes to rest at Laem Set Beach (not far south of Lamai) with its vast shimmering sea views is the ShaSa Resort & Residences , Koh Samui. A series of free-form swimming pools work their way down in massive steps from the rooms – set higher on the hill – to the shoreline. The resort offers a spa, a gym, a kids' club and even a business centre. While the rooms are set in medium-rise "hotel" blocks with some villa-style accommodation, the design is snappy, clean and contemporary, and manages to retain a smart resort feel. This is a modern establishment with Thai motifs but no overreaching classical ambitions. It will work for families as well as honeymooners or pin-stripers looking to retire their Blackberries for a weekend.
The striking hotel-and-villa complex of the Renaissance Koh Samui Resort & Spa (once the Buriraya Resort & Spa) is a smart development with the burgundy-ochre villas and "hotel" separated by a private road. The villas are decorated in Thai style with Balinese overtones. Renaissance Villas (seven with Jacuzzi plunge pools) offer twin vanities, a four-poster canopied bed, iron and ironing board, TV and DVD player, with added – American-standard – safety features like in-room sprinkler systems and electronic card keys. Internet access has to be paid for but is available in all rooms. Complimentary WiFi can be enjoyed in all public areas and meeting rooms. The pool fronts the expanse of beach and the Quan Spa area includes four treatment pavilions with nice sea views. The rocky beach is not swimmable – and some low tides may recede excessively sending the sea right back to the horizon – but, heck, there's plenty of sun, and even kayaks at hand. For meetings there is a conference area that can comfortably manage up to 60 persons. The deluxe rooms are set across the walkway, over the private road, against the hill, and for guests looking to go all out the property boasts 33 private pool villas. Expect spacious bathrooms and flat screen televisions with DVD players and stereos. Pool villa guests can enjoy private balconies overlooking the garden and bay as well as private plunge pools that also function as Jacuzzis. The hotel proper features a long lap pool that is open to all guests. Expect brisk and friendly service.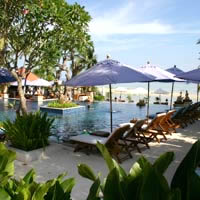 Breezy Renaissance pool/ photo: Vijay Verghese
The Samui Orchid Resort and Aquarium meanwhile serves up more than a few antics in the form of a tiger show combined with a bird show and an aquarium with underwater sea life displays. Tigers stalk around in cages just behind reception and the occasional growl can be disconcerting. There is WiFi so if you've caught a tiger by its tail and are not sure of your next course of action, start tapping those keys. Make sure you paid for an Air Card though. After all this would you need conference facilities? Well, they're available. Rooms are pretty standard and come with all the regular mod-cons, and the one to two-bedroom villas all feature private pools.
X2 Samui Villas by Design (formerly The X2 Resort at Koh Samui, X2 is pronounced "cross two") is a younger property on this Koh Samui resorts review. Spread over five acres this contemporary escape (part of the Centara Boutique Collection) includes 27 designer villas ranging from 110sq m to 225sq m. The 23 pool villas have their own 30sq m plunge pools, while the four garden villas have a private garden. Expect private terraces, garden patios, flatscreen iApple TV with DVD, iPod docks, and WiFi for hard-pressed pin-stripers. Bathrooms are fitted with bathtubs and rain showers. There is also a Spa Cenvaree with an outdoor massage pavilion and a beachfront restaurant.
Koh Phangan Resorts
Better known for its wild full moon parties and midnight revelry, the island of Koh Phangan is discovering its other side as developers turn to its unspoiled and less charted shores for a more restrained sort of offering. Among the younger breed of Samui boutique resorts is the hideaway Santhiya Resort & Spa with 99 rooms, some with private pools. From the deluxe rooms to the Grand villa and Royal Pool Villa suites, this retreat is awash in Thai motifs and silk with its signature teak carvings adorning window and balcony frames. All have double king beds, balconies or terraces, DVD player and satellite TV. Pool villas are near the beach, and feature outdoor bathrooms and private plunge pools.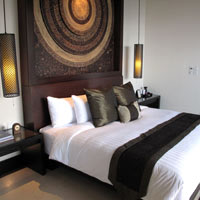 Plush Banyan Tree villa/ photo: Vijay Verghese
The 1,200sq m main pool is more than a match for any adrenalin junkie and there is a children's pool as well. Expect a spa, fitness centre, free WiFi in the lobby and restaurant areas, and babysitting facilities. Santhiya is on the secluded northeast of the island and is accessed by ferry from Koh Samui.
Opened late 2011, the Anatara Rasananda Villa Resort and Spa ups the lux ante on Koh Phangan. Set on Thong Nai Pan Noi beach, this collection of 44 suites and villas faces the ocean, embracing a central infinity pool. Rooms range from 100sq m to 250sq m and all include private plunge pools. Guests enjoy free WiFi throughout the resort. Foodies can try the poolside fare or opt for a Thai cooking class, while wine lovers will appreciate the cellar at The Lounge. Also find spa treatments and yoga instruction.
Specialist Koh Samui Spa resorts
Blissfully transcending the Samui spa wars is Tamarind Springs (tel: [66-77] 230-571, formerly incorporating the Tamarind Retreat) near Lamai, a no-nonsense traditional herbal spa that has grown in stature through marvelling word-of-mouth. It is refreshingly green, natural, undisturbed and small gravelled paths wend their way past tall coconut trees to the spa. It also is the proud possessor of THE ROCK, now to be accompanied by an even bigger rock, all completely natural of course. This was the original Samui herbal sauna when it was launched in 1998 by Shelley Poplak (now retired). Tamarind Springs has stayed with its homey roots, most recently abandoning its villas and long stays in favour of a back-to-our-roots spa-only development that will see new hot and cold pools, fresh steam saunas, all "very primaeval". There's also yoga, tai chi and chi kung.
Much of the Tamarind Springs formula – including the welcome ginger-and-tamarind drink and THE ROCK – has been unabashedly cloned at the Eranda Herbal Spa (tel: [66-77] 422-666). On the north shore near the Big Buddha at Bo Phut you'll find the small but well regarded Ban Sabai Big Buddha Retreat & Spa (tel: [66-77] 245-175). This place offers the works – aromatherapy, herbal steam, Jacuzzi – in a couple of classic wooden Thai houses.
The aforementioned Kamalaya is a top-notch choice for wellness along Lamai while a cheaper option is the Spa Resort Koh Samui (also The Spa Resort). All manner of exotic detox treatments are on offer along with wraps, facials and the obligatory colonic irrigation that, fortunately, comes with "your own personal colema tip and lubricating gel". This is a hot spot for people drying out after one binge too many. People flop around like sacks of potato (they're fasting), drink unimaginable herbal mush, have their bodies pummelled and then flushed.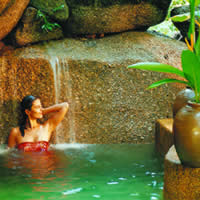 Tamarind Springs, The Rock/ photo: spa
There are bungalows that squat around a rustic pool and standard hotel-style rooms facing Lamai Beach. Spa Samui's newest accommodations are the "island-style" villas, billed as a "five minute stroll along the beach" from the main complex. These two-bed villas include a private salt-water pool, open-style kitchen, lounge area, garden bathrooms with hot water showers and DVD/VCD/MP3 player, all set in tropical gardens. Detox, yoga, raw food, qi gong, reiki and meditation classes are available to guests. Expect a library stocked with health-related books and DVDs, pool, spa, sauna and a Thai herbal steam room with 32 herbs. Simple and unfussy.
At the far western end of Maenam Beach on Koh Samui's north shore is the Health Oasis Resort (tel: [66-77] 602-096) where more fasting and colonic cleansing await. This is a popular establishment and offers up to 21 days of rigorous treatment. Try shiatsu, acupuncture, reiki and Thai massage or simply enjoy the tarot-card reading and astrology. Closer to the airport as well is the Absolute Sanctuary (mentioned earlier) on a Chaweng hillside, a hugely popular getaway for those seeking dedicated Koh Samui spa resorts. Another option is the Is Spa (Chaweng, tel: [66-77] 414-141, one hour aromatherapy for Bt2,000).
Chaweng Beach is all shopping, neon, glitz, girlie bars and restaurants. At campy transvestite cabarets like the toe-curling STARZ, there are ladies that aren't, and the Green Mango area is throbbing late at night with discos, bars and drunken swagger. The STARZ show is a far cry from the sophisticated productions of Phuket and Pattaya and the performers are clearly well past their sell-by date. Still, the drinks are just Bt150 so it's hard to complain. The Sound Bar runs till 6am. Another option is the Solo Bar. Or try Sweet Soul for some hip-hop and R&B.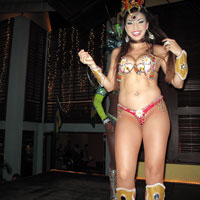 Zico's Brazilian dancers have disappeared/ photo: Vijay Verghese
For true-blue Samui nightlife, the cognoscenti once headed to the wild and hopping Brazilian Zico's managed by the Centara hotel group but the venue has been transformed into a new concept. With its live, hip-gyrating Brazilian dancers and Latino music, wines and food, this was the place to see and be seen. Late nights at the Reggae Pub (www.reggae-pub.com) are still fun though there is perhaps less Reggae than in the old days and fewer patrons.
The drunken cognoscenti and light of wallet will appreciate the cavernous beer-hall-style and twinkly lights of the Ark Bar (1 and 2) right on Chaweng Beach with wooden planks and tables hosting food and beer for hordes of young trippers. It is all one vast shack with booming music and genuine gaiety. Samui girlie bars and go-go haunts have been swept off the menu, fortunately, but only to be replaced by unappetising and drab pink-lit massage parlours manned by listless, dozy women who occasionally holler at passing pedestrians before going back to slurping noodles and picking their teeth.
For something more upscale and with a view, book at The Cliff Bar & Grill (tel: [66-77] 414-266, www.thecliffsamui.com). And then wander back to Chaweng and up a steep incline to the above-it-all Q Bar (tel: [66-77] 962-420, www.facebook.com/qbarsamui/) a delightful vantage point for a chilled sundowner, open valley and lake views, cool sea breezes, a game of pool, or hip-swinging arm-flailing disco. Kids are more than welcome, and have their own playroom with toys, movies, games and more. The upstairs bar is open 6pm till 2am and the disco downstairs stirs to life 10pm on. Go in late. There's no one there till about 11pm. Get in early and you'll simply invite blank looks.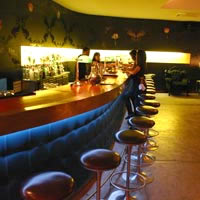 Mysteriously quiet Q Bar/ photo: Vijay Verghese
Samui shopping is all trinkets and t-shirts. Chaweng's main road is wall-to-wall t-shirts and sportswear. DVDs can be had for a song and the ubiquitous Armani tailors – from India – will assail you everywhere. Need a bikini? Hop over to the Australian Bikini Shop (tel: [66-77] 422-630). And for a serious mall trawl head up to the cavernous Tesco Lotus (tel: [66-7] 245-400, www.tescolotus.com).
Sightseeing and activities can range from a boat trip to (and dives around) the stunning Ang Thong Marine Park (tel: [66-77] 286-025) to frantic go-karting at Samui Go-Kart (Bophut, tel: [66-77] 425-097, 9am to 9pm). Other possible stops might take in the two waterfalls (Namuang and Hin Lad), the Big Buddha at Bophut and Wat Kunaram (to view a mummified monk). Of course there is always the Samui Aquarium and Tiger Zoo (tel: [66-77] 424-017, www.samuiaquariumandtigerzoo.com, show time 1pm) at the Samui Orchid Resort and Aquarium. Evergreen draws for the tour-bus crowd are the Hin Ta and Hin Yai rock formations on Lamai Beach – also Grandfather and Grandmother Rock, for their amusing similarity to the male and female reproductive organs.
Boat and dive options are numerous. Look at Blue Stars Kayaking (tel: [66-77] 413-231, www.bluestars.info) and 100 Degrees East (www.100degreeseast.com).
That's our Koh Samui fun guide and detailed Koh Samui spa resorts review. Now all you need is a butler to arrange things – or a monkey.
Send us your Feedback / Letter to the Editor
FAST FACTS

/ Hotel Contact List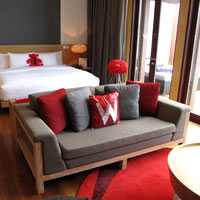 W room bedecked in red/ photo: Vijay Verghese
Room rates may incur an additional 10 percent service charge and a 7 percent VAT. There is also a curious 1 percent "provincial" tax. High season tends to run 15 July to 15 September and rates will climb during this period. Winter monsoons bring unsettled weather but it can rain any time during the year. The Thai baht exchange rate is roughly US$1= Bt32.90.
Northeast: Tong Son Bay, Choeng Mon, Samrong Bay hotels
The Bay Samui (formerly Arayaburi Boutique Resort). Tel: [66-80] 143-1554, (www.facebook.com/thebaysamuibeachresort/).
Melati Beach Resort & Spa. Tel: [66-77] 913-400, (www.melatiresort.com).
Melia Koh Samui (formerly The Imperial Boat House Beach Resort). Tel: [66-77] 938-899, (www.melia.com).
Outrigger Koh Samui Resort & Spa. Tel: [66-77] 417-300, (www.outrigger.com/).
SALA Samui Choengmon Beach Resort. Tel: [66-77] 245-888, (www.salahospitality.com/samui/).
Six Senses Samui. Tel: [66-77] 245-678, (www.sixsenses.com/resorts/samui/).
The Ritz-Carlton Koh Samui. Tel: [66-77] 915-777, (www.ritzcarlton.com).
The Tongsai Bay. Tel: [66-77] 245-480, (www.tongsaibay.co.th).
White House Beach Resort & Spa. Tel: [66-77] 247-921/2/3, (www.samuithewhitehouse.com).
Q Signature Samui (formerly The Samudra Retreat Samui). Tel: [66-77] 428-100, (www.kosamui.com/q-signature/).
North and Northwest: Maenam, Bophut, Laem Yai hotels
Anantara Bophut Resort & Spa. Tel: [66-77] 428-300, (www.anantara.com/en/bophut-koh-samui/).
Bandara Resort and Spa, Samui. Tel: [66-77] 245-795, (www.bandaragroup.com).
Belmond Napasai. Tel: [66-77] 429-200, (www.belmond.com/hotels/asia/thailand/koh-samui/).
Bo Phut Resort & Spa. Tel: [66-77] 245-777, fax: 245-776, (e-mail: info@bophutresort.com or www.bophutresort.com).
Fairhouse Villas & Spa. Tel: [66-77] 429-000, fax: 429-099, (www.fairhousevillas.com).
Four Seasons Resort Koh Samui. Tel: [66-77] 243-000, fax: 243-002, (www.fourseasons.com/kohsamui/).
Hansar Samui. Tel: [66-77] 245-511, (www.hansarsamui.com).
Health Oasis Resort. Tel: [66-77] 602-096/7, fax: 602-098, (www.healthoasisresort.com).
The Scent Hotel (formerly the Karmakamet Aromatic Hotel). Tel: [66-77] 962-198, fax: 962-199, (e-mail: info@thescenthotel.com or www.thescenthotel.com).
Kirikayan Luxury Pool Villas & Spa. Tel: [66-77] 332-299, fax: 332-288, (e-mail: rsvn@kirikayan.com or www.kirikayan.com).
Mimosa Samui. Tel: [66-77] 247-740, fax: 247-513, (e-mail: info@mimosasamui.com or www.mimosasamui.com).
Paradise Beach Resort. Tel: [66-77] 247-227/8, fax: 425-290, (e-mail: reservation@samuiparadisebeach.com or www.samuiparadisebeach.com).
Peace Resort Koh Samui. Tel: [66-77] 425-357, fax: 425-343, (e-mail: info@peaceresort.com or www.peaceresort.com).
Samui Palm Beach Resort. Tel: [66-77] 425-494/5, (www.samuipalmbeachresorts.com/).
Santiburi Koh Samui. Tel: [66-77] 425-031/2/3/4/5, fax: 425-040, (www.santiburisamui.com/).
The Passage Samui Villas & Resort. Tel: [66-77] 950-045, (www.thepassagesamui.com/en/).
W Koh Samui. Tel: [66-77] 915-999, (www.marriott.com/w-koh-samui/).
Zazen Boutique Resort & Spa. Tel: [66-77] 425-085, (www.samuizazen.com).
West, Taling Ngam and Southwest coast
Akatsuki Resort. (akatsukisamui.com/).
Baan Wanora. Tel: [66-81] 968-5384, (baanwanora.com).
Conrad Koh Samui. Tel: [66-77] 915-888, fax: 915-889, (www.conradkohsamui.com).
InterContinental Samui Baan Taling Ngam Resort (end 2011). Tel: [66-77] 429-100, (www.intercontinental.com/samui).
East Coast and Chaweng Beach hotels guide
Absolute Sanctuary Koh Samui. Tel [66-77] 601-190/1/2/3, fax: 601-209, mob: [66] 813-747-782 or 813-747-784, (e-mail: info@absolutesanctuary.com or www.absolutesanctuary.com).
Akyra Chura Samui (by Aleenta). Tel: (Bangkok) [66-2] 514-8112, (www.theakyra.com).
Amari Koh Samui. Tel: [66-77] 422-015, fax: 422-394, (www.amari.com).
Anantara Lawana Koh Samui Resort. Tel: [66-77] 960-333, (www.anantara.com/en/lawana-koh-samui/).
Baan Haad Ngam Boutique Resort & Spa. Tel: [66-77] 231-500, fax: 231-520, (e-mail: info@baanhaadngam.com or booking@baanhaadngam.com or www.baanhaadngam.com).
Baan Hin Sai Resort & Spa. Tel: [66-77] 422-624/5/6/7, fax: 422-628, (e-mail: booking@baanhinsairesort.com or www.baanhinsairesort.com).
Baan Samui Resort. Tel: [66-77] 230-965/6/7/8/9, fax: 422-412, (e-mail: baansamui@see2sea.com or www.baansamuiresort-online.com).
Banana Fan Sea Samui. Tel: [66-77] 413-483/4/5/6, fax: 413-487, (e-mail: info@bananafansea.com or rsvr@bananafansea.com or www.bananafansea.com).
Bhundari Spa Resort & Villas. Tel: [66-77] 915-000, (www.bhundhari.com/).
Buri Rasa Village Resort & Spa. Tel: [66-77] 230-222, fax: 231-838, (e-mail: info@burirasa.com or www.burirasa.com).
Centara Reserve Samui (Opened August 2021, formerly Centara Grand Beach Resort Samui). Tel: [66-77] 230-500, (www.centarahotelsresorts.com/reserve/crs/).
Chaba Samui Resort. Tel: [66-77] 230-407, 422-135, fax: 422-380, (e-mail: chaba@chabagroup.com or www.chabanet.com).
Chaweng Beachcomber. Tel: [66-77] 422-041/2/3, fax: 422-388, (e-mail: reservations@beachcomber-hotel.com or www.beachcomber-hotel.com).
Chaweng Blue Lagoon. Tel: [66-77] 422-037/8/9, (www.bluelagoonhotel.com).
Chaweng Buri Resort. Tel: [66-77] 422-465, fax: 422-466, (e-mail: booking@chawengburi.com or www.chawengburi.com).
Chaweng Regent Beach Resort. Tel: [66-77] 442-389, 422-008, fax: 422-222, (e-mail: admn@chawengregent.com or usmrsvn@chawengregent.com or www.chawengregent.com).
Chaweng Resort. Tel: [66-77] 422-230, 422-467, fax: 422-378, (e-mail: info@chawengresort.com or www.chawengresort.com).
Coral Bay Resort & Spa. Tel: [66-77] 234-555, fax: 234-558, (e-mail: info@coralbay.net or www.coralbay.net).
Hyatt Regency Koh Samui. Tel: [66-77] 448-777, (www.hyatt.com)
Impiana Resort Chaweng Noi, Koh Samui. Tel: [66-77] 422-011, (samuihotels.impiana.com).
Kandaburi Resort & Spa. Tel: [66-77] 428-888, (http://www.kosamui.com/kandaburi/).
Kanda Residences Samui. Tel: [66-77] 234-500, (kandaresidences.com/).
Kirikayan Boutique Resort. Tel: [66-77] 332-299, (www.kirikayan.com/kirikayanboutique/).
Le Paradis Boutique Resort & Spa. Tel: [66-77] 239-041/2/3, (www.leparadisresort.com).
Muang Samui Spa Resort. Tel: [66-77] 429-700/1/2/3, (www.muangsamui.com/).
Nora Beach Resort & Spa. Tel: [66-77] 429-400, (www.norabeachresort.com).
Nora Buri Resort & Spa. Tel: [66-77] 913-555, (www.noraburiresort.com).
Nora Chaweng Hotel. Tel: [66-77] 913-666, fax: 913-600, (e-mail: reservation@norachawenghotel.com or norachawenghotel.com).
Poppies Samui. Tel: [66-77] 422-419, fax: 422-420, (e-mail: info@poppiessamui.com or www.poppiessamui.com).
SALA Samui Chaweng Beach. Tel: [66-77] 905-888, (www.salahospitality.com/chaweng/).
Sandalwood Luxury Villas. Tel: [66-77] 414-016, fax: 414-017, mob: [66] 857-829-708 (www.sandalwoodvillas.com/).
Sareeraya Villas and Suites. Tel: [66-77] 914-333, fax: 914349, (e-mail: rsvn@sareeraya.com or www.sareeraya.com).
Sheraton Samui Resort. Tel: [66-77] 422-020, (www.marriott.com/sheraton-samui-resort/).
The Briza Beach Resort & Spa. Tel: [66-77] 231-997, fax: 231-990, (e-mail: infosm@thebriza.com or www.thebriza.com).
The Fair House Beach Resort & Hotel. Tel: [66-77] 422-255, 422-525/6, (www.facebook.com).
The Library. Tel: [66-77] 422-767, (www.thelibrarysamui.com/).
Vana Belle, a Luxury Collection Resort, Koh Samui. Tel: [66-77] 915-555, (www.marriott.com/vana-belle).
Southeast: Lamai, Laem Set hotels, Thanon Beach
Banyan Tree Samui. Tel: [66-77] 915-333, (www.banyantree.com/en/thailand/samui).
Beach Republic Samui. Tel: [66-77] 458-100, (www.beachrepublic.com).
Centara Villas Samui. Tel: [66-77] 424-020, fax: 424-022, (www.centarahotelsresorts.com).
Kamalaya Koh Samui. Tel: [66-77] 429-800, (www.kamalaya.com).
Le Meridien Samui (formerly Gurich Samui). Tel: [66-77] 960-888, 458-630, (www.lemeridiensamui.com).
Mercure Koh Samui Beach Resort. Tel: [66-77] 424-008, (www.fenixresortsamui.com/).
Pavilion Samui Boutique Resort. Tel: [66-77] 424-420, fax: 424-029, (e-mail: info@pavilionsamui.com or www.pavilionsamui.com).
Renaissance Koh Samui Resort & Spa. Tel: [66-77] 429-300, (www.marriott.com).
Rocky's Boutique Resort. Tel: [66-77] 233-020/1, fax: 233-021, (e-mail: reservations@rockyresort.com or www.rockyresort.com).
Samui Bayview Resort (Best Western). Tel: [66-77] 413-540, fax: 413-321, (e-mail: samuibayview@loxinfo.co.th or www.samuibayviewresort.com).
Samui Orchid (Ocean Resort). Tel: [66-77] 424-017/8, (www.samuiorchidtheoceanresort.com/).
ShaSa Resort & Residences Koh Samuil, Koh Samui. Tel: [66-77] 913-888, (www.shasahotels.com/).
X2 Resort at Koh Samui. Bangkok reservations Tel: [66-2] 696-8239, (x2resorts.com/resorts/samui/).
Dedicated Koh Samui spa resorts
Absolute Sanctuary Koh Samui. Tel [66-77] 601-190/1/2/3, (www.absolutesanctuary.com).
Ban Sabai Big Buddha Retreat &Spa. Tel: [66-77] 245-175, (www.ban-sabai.com).
Eranda Herbal Spa. Tel: [66-77] 422-666, (www.erandaspa.com).
Health Oasis Resort. Tel: [66-77] 602-096, fax: 602-098 (www.healthoasisresort.com).
Spa Resorts Koh Samui. Tel: [66-77] 230-855, (www.spasamui.com). Two resorts – Spa Samui Beach and Spa Samui Village.
Tamarind Springs. Tel: [66-77] 230-571, (www.tamarindsprings.com).
Koh Phangan
Anatara Rasananda Villa Resort and Spa. Tel: [66-77] 239-555, (www.anantara.com/en/rasananda-koh-phangan/).
Santhiya Resort & Spa. Tel: [66-77] 428-999, (www.santhiya.com).