INTERVIEW
Guests must feel they are being looked after
We talk with Franz Donhauser the general manager of the Island Shangri-La in Hong Kong about uncomplicated light switches, technology, and the windswept plains of Patagonia where some incredible hiking beckons.
February 2018
SEE ALSO Novi Samodro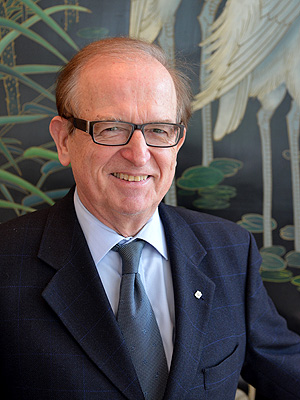 Franz Donhauser's second stint as general manager of the Island Shangri-La Hong Kong began in 2014/ photo: Vijay Verghese
Dressed in a sharp three-button dark blue jacket with the signature Shangri-La lapel pin, Franz Donhauser is a quintessential hotelier. Tall, courteous, and patient to a fault, he breaks into a disarming smile every once in a while as he recounts an anecdote. Austrian-born to a family that has been in small hotels for three centuries, starting with the '1000 Year Old Linden Tree' in scenic Kirchberg am Wechsel. It's in his blood. In much the manner of his restless peripatetic ancestor who journeyed through the provinces, backpack donned, hoping to 'learn a trade' – Franz journeyed to the East in search of adventure and experience, his managerial style and acumen honed along the way at the Hotel Bristol and the ANA Grand, both in Vienna, Hyatt, Shangri-La Sydney and Island Shangri-La Hong Kong, the group's flagship property (2002-2008 and again since 2014). On a cold February day Franz Donhauser spoke with Editor Vijay Verghese, about his adventures and the guest experience.
Smart Travel Asia: Where did you start your professional hotel career?
FRANZ DONHAUSER: I did my training in Hotel Bristol, Vienna, where I ended up in the kitchen as a chef. It was one of three top luxury hotels in the city at the time. During my first six weeks I was a bellboy, bringing papers and documents to the GM who had a lovely office. I thought to myself, 'One day I want an office like that.' It was then I realized that it's always important to have a goal.
Tell us about your introduction to Asia.
FD I came to Asia in 1969 on a flight from Frankfurt to Bangkok. In those days there were several stops along the way including Bombay where we had to walk out of the plane. It was super hot, I thought the place was on fire! At The President Hotel in Bangkok I served various personalities including Queen Sirikit and her family (on his phone Franz shows me a treasured, faded, black and white photo). Since then, my guiding principle has been simple – more important than learning the language is respecting the culture.
What about hoteliering has changed in all these years?
FD Nothing has really changed. It's just evolved. The telex became a fax and then the fax became an iPhone. Now social media is big, but basic hospitality is still the core. A guest who has stayed with us over a hundred times recently told me, 'I stay here because I feel at home.' Hospitality will never change; if you lose that, social media cannot help. Customer acquisition may have changed but customer retention remains the same; guests must feel looked after. Important features are a clean bedroom, a comfortable bathroom and user-friendly devices as people prefer simplicity.
What do you see as the role of technology?
FD It is important. Like our mobile app that enables booking, check-in and check-out. In future the iPhone can also be used as the room key. This in turn means the reception area becomes less crowded. All this should coexist with traditional technology. But I see Hong Kong falling behind China in technology where e-payment is very common. The other day my wife and I drove into a store car park; they had two attendants and no Octopus [smart] card. The procedures were like going through immigration (laughs).
The hotel has been around since 1991 and, while hugely popular, it is ageing. How will it evolve?
FD Two designers were brought in and the conclusion was that this is an iconic hotel with a distinct personality that must be preserved. There are items here like the atrium silk mural that is irreplaceable. We expect to have guestroom mock-ups this year and by 2019 the renovation will start a few floors at a time.
There was a time when the hotel general manager was tremendously visible and the key representative of the brand. What is your view?
FD Yes, human interaction is a key benefit for guests, people want recognition. Nowadays you end up with over 100 e-mails a day and it is a lot of work that confines you to your desk or your phone. People expect immediate answers. Travellers who wish to interact with the GM are usually at the Horizon Club [the executive floors] and I have breakfast in the lounge there to meet with regular guests. For our more frequent guests we have our Golden Circle loyalty program that hosts monthly guest appreciation gatherings with wine tastings and so on. It's the little things that count.
So the GM is the brand custodian?
FD Well, the general manager will not always be available, so someone else on the team needs to be visible - like the hotel manager or our other managers. Interacting with our guests is essential.
With more women joining the industry, how do you see their role?
FD I believe that more women in the workforce is positive and we don't discriminate. Women have been in hotels for a long while now, they are bridge builders. I recall at one point in Seoul, female sales managers had just been introduced and even then, they were not allowed to go for meetings with male clients in the mornings as it was considered bad luck. Korean women have changed incredibly since then and so have hotels. During my first time at the Island Shangri-La, around 2005, we had just one senior woman as our Director of Sales and Marketing, Ms Irene Lau. I used to repeat to my management team: 'If any of you leave, make sure you have a woman ready to take over.' On my 60th birthday, my colleagues coordinated a private luncheon where our male staff dressed as women and there was Irene dressed as a man! There's a collective passion observed in my female colleagues that makes them excel in the hotel industry. We can only expect great things.
With service quality such an essential ingredient, how do you hold on to trained staff?
FD Shangri-La is one of the best for retaining staff. We treat all staff as family and there is little rank pulling. That's the good about Hong Kong - no matter what job, people are constantly trying to do their best. That is what I respect.
Is there a bizarre or amusing guest experience you'd like to share?
FD (Thinks carefully then beams). When I went to Sydney after almost seven years at the Island Shangri-La Hong Kong where service is so good, it was different. In Australia people are very friendly but service sometimes feels like doing someone a favour. I had just been there a week when one guest – a loyal Shangri-La customer accustomed to Asian service culture – lectured me on what he felt was wrong. He said, "If you want to see how a good hotel is managed, hop on a plane and see the Island Shangri-La."
What do you think makes a great hotelier?
FD The ability to build a good team. After all, as GM you don't reach every customer yourself. People often ask, 'Who can run the hotel after you?' and I reply, 'Anybody, the staff here are so good that any one could manage.'
You've had a long and distinguished career. What would you like to do when you hang up your boots?
FD In Lausanne once when I was 21, I set off to swim across Lake Geneva. Unfortunately it started storming. I was blue with cold as I swam between giant ferries and rising waves. Eight hours later I crawled out and went to a hotel to drink three pots of hot tea until my colour came back. I have always liked the outdoors. What I'd really like to do is the great hiking trails of the world starting with Patagonia. (The day after we met, Franz Donhauser, ever a restless soul, was out pounding the challenging 50km Hong Kong Trail from Victoria Peak to Big Wave Bay, which he finished in good time).
Send us your Feedback / Letter to the Editor