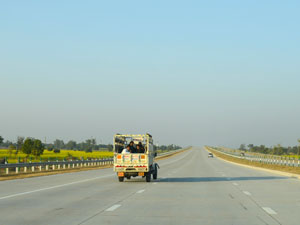 Joy of driving: no kidding - the new Delhi-Agra expressway
'TIS THE SEASON for great folly. In New Zealand, three rescue dogs have been taught to drive cars to prove that they are indeed intelligent creatures worthy of adoption, which is more than one could say about humans who teach animals such unbiblical stuff. God gave dogs four legs for a reason. Quick hunts and swift getaways. None of this involved a Mini Cooper. How does a dog make off with a leg of lamb between his jaws if he's hauled up for not paying his parking tickets? In any event, the Russian super dog Laika made it to space in a Sputnik as far back as 1957. Beat that.
In Mumbai I scanned the newspapers. "Man-eater of Mumbai," the headlines screamed. A leopard had devoured a watchman in Bhandup and left his half-eaten remains in the forest. This is not the sort of news you expect to read in Maximum City Mumbai. Leopards normally finish their meals. Entirely. But how on earth could a leopard wander about unnoticed in this urban tangle, a place stuffed to the gills with cars, slums, corporate fat cats, cows, pigs, dogs, and dabbawallahs delivering lunch boxes on sardine-packed trains? Perhaps, this is a big cat's perfect habitat – a concrete jungle where it can blend in with ease in a fancy neighbourhood posing as a Cartier Christmas accessory.
Send us your Feedback / Letter to the Editor
Imbued with uncustomary caution then, I returned to the Sofitel Mumbai in the new commercial outskirts of the Bandra Kurla Complex, and hesitantly entered my hotel room. Then I did something remarkably foolhardy. I sat on the bed. And that's when it happened. I heard it before I felt it. In a sigh of foam and high-thread-count cotton, the bed enveloped me. Completely. I sank into its maws, fighting every inch. But it was too much for my feeble efforts. Soon only my hands and feet were visible as the bed swallowed me whole. I was in the belly of the beast and did what any victim would in such circumstances. I surrendered and slipped into perhaps the best sleep of my two-week India foray.
I have to say I was not prepared for this. My hard bed at my parents' place in Delhi had taught me to stay alert. I had slept on hard mattresses as a young reporter in Mumbai too and had to be taken to the hospital with mysterious pains as my hosts thought I might be having a heart attack. "Change your mattress," a kindly doctor advised, saving me an expensive triple bypass.
So what happens if a man-eating bed escapes from a top hotel? There's just one solution. Send out the canine patrol – in a posh sports car – to outrun a swollen fully fed bed that python-like, must stop and hibernate while its springs and coils do their work. I could see the headlines. "Man-eating bed stalks posh neighbourhood." "Citizens live in fear." "Travellers demand rooms without beds."
So what happens if a man-eating bed escapes from a top hotel? There's just one solution. Send out the canine patrol – in a posh sports car – to outrun it...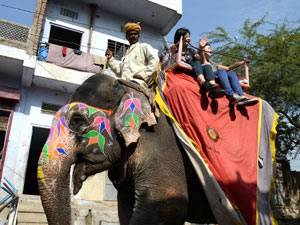 More modern modes of transport are available too
Not for nothing is it called Incredible India. There is nothing pedestrian about the place. And everything is different, be it the shock of effortless arrival at Delhi's new Terminal 3, or the half-hour wait just to get into Mumbai International Airport in the dead of night. At my parent's place in Delhi, my father, a veteran journalist who has written erudite tomes on harnessing Indian rivers to do man's bidding, is still wrestling with the plumbing in our bathroom. For my Hong Kong colleagues' visit, he installed a new toilet and a shower, something unheard of in our home where a bucket of hot water is the pinnacle of luxury. My colleagues were thrilled to find such a modern bathroom in India but perplexed to find the shower yielded only scalding hot water while the washbasin taps spouted icy cold. The solution? The time honoured bucket. The mysteries of plumbing remain as arcane as ever and I hear our plumber has disappeared in a remote village, possibly run over by an overenthusiastic poodle with a learner license.
I used my parents' bathroom where the showerhead has been removed to permit water to whoosh out of the overhead pipe unrestrained. Hot and cold water can be mixed – hurrah! – but you need a volleyball player's dexterity to catch the playful jet as it changes course with every switch in temperature and pressure. By day three I was performing Rudolf Nureyev pirouettes right out of Swan Lake.
India is a modern country now. This means there's WiFi. My goggle-eyed Hong Kong colleagues and I savoured our connection with the outside world – for about five seconds. Then the power cut and the WiFi disappeared. The power came back but not the WiFi. I wandered around my building, iPhone in hand, trying to locate a functioning signal, eventually locating the strongest point in my neighbour's flat one floor below us. They kindly gave us their password and we sat, huddled around our dining room table – the only spot where we could receive a signal – savouring every WhatsApp ping. But who needs WhatsApp in a country that's 5,000 years old? Well, apart from every five-year-old kid…
If you need hi-tech, in Mumbai you can now go online to book car parking at designated spots and check on availability too. This is of course largely a leap of faith for drivers. At the Taj in Agra, the marble monument to love, we were ushered along a serene "high value tourist" route to all the best spots, while the route for "Indian tourists" remained a maelstrom of schoolchildren and bawling babies. In Pushkar, Rajasthan, at the camel fair, we rode mean mannered camels, elegant horses and were becalmed atop dozy elephants while turbaned men paraded the world's longest moustaches.
Much to my surprise, in New Delhi we were offered a "Lenovo" for transport. This turned out to be a generously proportioned Toyota Innova and on the immaculate new two-hour expressway to Agra, it purred down the asphalt like a Rottweiler in a Rolls. Later at New Delhi's Hauz Khas Village I bought gifts made from recycled elephant poo. My guests returned to Hong Kong unscathed by Delhi Belly or even a sniffle. Incredible India indeed. Do visit. But first, throw away your watch. And beware of overly plump hotel beds lingering in the shadows.