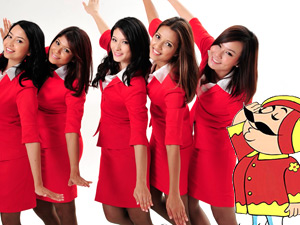 Maharaja founder meets the Ladies in Red
WHAT goes up must come down. Or does it? Property prices in Hong Kong, long fuelled by hot money from across the border would certainly appear to flout this Newtonian adage. While a 400sq ft home to comfortably accommodate a family of six or more – with room for a helper, Chihuahua, a foldaway mahjong table and a major midlife crisis involving the wagging of at least one finger at the spouse – remains eternally just out of grasp, air fares too have had a fondness to soar into the stratosphere, citing everything from imminent bankruptcy to fuel surcharges.
At the height of the transpacific air wars you could hop across the pond for a mere three cents a mile. That was US cents in an age of American airline ascendancy when miles were king and kilometres, like the Raj, were in mumbling decline. Times have changed.
Send us your Feedback / Letter to the Editor
Even those frequent traveller airline miles assiduously racked up are not free at all when you queue up for redemption. Add miscellaneous taxes, government cess and fuel surcharges, and you could be paying as much as you would for a regular flight. A "free" mileage ticket redeemed by a passenger from New York to Europe may cost up to US$600 or more. "Free" award flights within Asia may rack up around US$200 depending on route.
Business class redemptions shoot up higher still. London's Heathrow is expensive to fly out of because the government charges a hefty Air Passenger Duty. On business class this could be over US$200 per ticket for those bound for America. Savvy travellers will then opt to fly from the UK to a closer European point like Paris or Amsterdam and then fly on to USA thereby avoiding usurious hidden fees. While American Airlines, United and US Airways may not add fuel surcharges on mileage redemption, several of their international partners will if your onward ticket moves into their turf. Transfer to a European carrier at your own peril.
Flying the 7,236 miles from Hong Kong to Los Angeles, a ticket was once in the realm of US$0.03 per mile. That's three cents. Unbelievable but true. In 1910 it was free – well, there was no transpacific flight then. Charles Kingsford Smith (Smithy) finally flew Australia to USA in 1928. And, back then, a flight from Sydney to London – presumably with passengers used as ballast depending on the exigencies of weather and the captain's whims – took over 10 days.
Business class redemptions cost more. London is expensive to fly out of because of a hefty Air Passenger Duty. On business class this could be over US$200 per ticket...
Today a transpacific LAX-HK ticket costs anywhere from US$0.28 to US$0.46 per mile, at cheapest still a 933 percent increase. Of course if one peers back far enough into history, everything is substantially cheaper than today. But these prices reflect the change from the Seventies to the present. It's not that long back and nowhere has inflation adjusted price leaped so absurdly high, though Argentinians and Zimbabweans may disagree. So how did this happen?
Oil prices have climbed with every sabre-rattle and upheaval in the Middle East from Israeli-Arab conflicts to the Iran-Iraq face-off and the more recent Western-backed Gulf Wars which, designed to secure oil prices, had the opposite effect.
Indian domestic air fares are egregiously expensive with a Delhi-Bangalore often more expensive than a Delhi-Bangkok. In India as elsewhere, we might place the blame on monopoly routes and lack of competition, airport fees, stiff over-flight charges (especially for China and Russia), interest on borrowings as aircraft get ever more expensive, staff salaries, and general inflation.
In India, growing competition and passenger ire has finally brought airline prices crashing. Low cost airlines that launched to attract train customers - with fares close to second class air-conditioned express rates - have risen to eye-popping levels. Cut the fat and low ticket prices are eminently possible as during periodic price wars. In mid-February 2013, Jet Airways put two million seats on the market at astonishing fares of between Rs2,250/US$41 (Mumbai-Ahmedabad one way) and Rs3,300/US$60 (Mumbai-Delhi one way). This came on the heels of a SpiceJet January three-day fire sale. Other airlines like IndiGo and Go Air were forced to match the offers. Jet Airways may be skating on thin ice flying through budget air space but fares in India, as elsewhere must come down. The AirAsia-TATA joint venture is welcome news for low-cost travel and marks the return of TATA, the company that ran Air India during its maharaja heyday before slack and sloth and the clumsy hand of government crept in.
Yet, price gouging continues merrily as budget and full service airlines try to extract maximum advantage during the holiday fares over Chinese New Year or Easter when, say, the Hong Kong-Bali fare, normally around HK$4,800, climbs to over HK$9,930 on Cathay; or an Easter roundtrip from the aforementioned budget champion AirAsia Hong Kong to Kuala Lumpur stacks up at a cheeky HK$3,740 (with add-ons for seat reservation, checked in bag, insurance etc), as expensive as Cathay Pacific's "economy special" at HK$3,720.
With due respect to Newton's Law, what goes down, must come up. Defying gravity, physics, and common sense, this is an airline aphorism for our times.