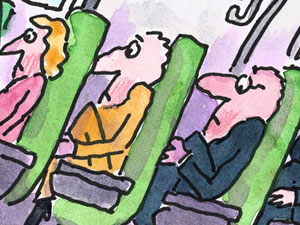 How many brand segments can you squeeze into 10 feet?
THERE comes a time in every man's life when the call of adventure beckons, quickening the pulse and focusing the mind. Thus it was one morning, in the footsteps of Sir Ranulph Fiennes, I decided to do something truly momentous. These are the defining moments that chisel a man, taking him far beyond the threshold of pain to a place of quiet, numb exertion as he strives to overcome unspeakable odds. I felt panic welling up inside, fought it, regained momentary calm, and reached across to pick up the hotel phone to dial the operator. "I can't find the light switch," I said.
Hotel design being what it is today, it is a minor miracle if any traveller can find a light switch – or any other brilliantly concealed contrivance – and successfully master it to accomplish something useful. Here the light options were simply, welcome, movie, reading, and romance. There was no single control for the bedside lamp. That would be Neanderthal. As new studies tell it, Neanderthals became extinct because they had far too large eyes – to absorb more light for the long winter nights – and this diverted critical brain processing power from more urgent exigencies like irate cavewomen with large clubs intent on bashing their men about the head. Less light can kill. Hence more light. Mankind has been preserved but I cannot turn on a bedside lamp.
Send us your Feedback / Letter to the Editor
Are hotels becoming too clever?
Let's leave aside the niggles of design and humbling toilet encounters where grown men weep trying to turn on a faucet or force suds out of shrink-wrapped soap, there is now such a proliferation of brands and sub-brands, and minor brands that it threatens to turn an honest holiday into a bewildering boondoggle. The humble budget ibis hotel – that many of us have secretly slept in and loved – occupies the lowest rung of the food chain, yet it has reinvented itself, skilfully carving out three subsidiary brands of relative penury. Will have-nots take comfort in the fact that they can opt for a modestly "better" status, albeit still as a bottom feeder with the addition of a bright silk cushion that may later serve as triumphal proof on Facebook?
So you have ibis hotels for the drudge, ibis styles for the hip but impecunious who like green pillows, and ibis budget, which is right to the point, cheap. Any Ibis is a good choice for tired wallets but why split hairs when there's so little room to manoeuvre? All hotel brands woo different market segments by playing with price, design, facilities and service levels. Has it gone too far?
The Choice Hotels smorgasbord includes Comfort Inns, Comfort Suites, Clarion, Quality, Econolodge and five other brands under its marquee. That's a lot for a non-premium brand. It's a bit like subdividing airline economy class into 10 segments based on price, service and frills with the ones in the back rows berated every half-hour by bullying stewards in order to justify their deep discount tickets. This break-up is already happening and, unlike the continental drift, will not take eons to accomplish. Take a look at premium economy, which seems to be taking off simply because economy seats are so crummy and tight you'll get deep vein thrombosis simply looking at them.
The idea is not wrong but there is alarming wrongheadedness about the manner in which hotels have gone about defining – and catering to – customers, real and imagined. If this lemming-like stampede were on account of demand-driven design, it would be hard to argue with, but much is rash supply-driven silliness based on fads of property owners and design ingénues who believe "If it is there, it will be filled."
With an online focus on bookings rather than building brand image (which is going to drive all those bookings), major hotel chains are in effect going extinct while upstarts cavort....
Consistency is the hallmark of any great brand, big or small, and a close match between the promise and the delivery, the expectation and the experience. Easier said than done.
Marriott gets high ratings for consistency despite having a fairly large extended family that now includes a motley collection from Gaylord Hotels, Courtyard, Residence Inn and Springhill Suites to JW Marriott (the group's flagship benchmark billed as "Marriott's most elegant and luxurious brand"), The Ritz-Carlton (that always requires the definite article the and is "a worldwide symbol for the finest in accommodations"), Autograph Collection ("strikingly independent"), Edition ("luxury boutique"), and Bulgari ("leading luxury hospitality"). You'll forgive any luxury explorer, discerning adventurer or business traveller (different terms for much the same species) for pulling out his hair and leaping, frothing at the mouth, from a tall building.
The sober Hyatt group incorporates in its fold a smaller though no less daunting array of personalities from the stylishly zen Park Hyatt and the imposing muscle-marble Grand Hyatt to the chi chi Andaz and down the pecking order past Hyatt Regency to Hyatt Place ("casual hospitality") and Hyatt House ("casual hospitality for individuals who want suite accommodations"). Starwood goes further with an arsenal of beds aimed at all manner of travellers (Sheraton), the hip and happy with attention deficit disorder (W Hotels), luxury travellers (St Regis), luxury travellers seeking distinctive experiences as opposed to unimaginative big spenders (Luxury Collection), Europhiles (Le Meridien), and on. Add to these, Four Points, Aloft, Westin and Element and... That Starwood has succeeded in defining several, if not all, of its brands, is no small achievement.
A stubborn few have refused to board the Balkanized-brand bandwagon, opting for quality over quantity. Among their ranks are the likes of Four Seasons, Peninsula, Raffles, and Mandarin Oriental that offer top-drawer travellers a single concept without excessively clever or irksome guff. At Aman Resorts, less is more and you are unlikely to accidentally topple and crack some priceless bone china vase set irksomely in the way – not as part of the décor, but to bluntly remind you how posh the setting is and to steel you for the pain when the bill arrives.
Simple as it sounds, this sort of mono-branding actually works. Focusing on a single product means a hotel can polish an idea and rev up service to tease out the sort of lustre so hard to find at many establishments. The Mandarin or Peninsula marquee stands out and is immediately recognised by any discerning suit regardless of accent, taste or gender. Raffles focuses on "emotional luxury". GHM, which started out as a multi-product ensemble now mines a single top-drawer vein with several gems in its bag. Keeping things simple is an art – a lost one apparently. As Albert Einstein famously quipped, "If you can't explain it to a six-year-old, you don't understand it yourself." And design genius Leonardo da Vinci put it thus: "Simplicity is the ultimate sophistication."
This is not to say that brand segmentation is idiocy. Consumer diversity must be recognised. But at the end of the day, travellers want good beds, attentive service, tasty nosh, fast and free internet, hot showers and a useful location. Wrap this up and serve it day in and out and, boring as it may seem, you have a sellable brand.
Small boutique and budget hotels do well online because they are simple (so everything exceeds expectations). But their real strength is their prepubescent guests who spend their entire days flicking iPad screens uploading pictures of food, rooms and cheesy V signs, thereby serving as monstrously chatty brand ambassadors. Luxury brands coddle white-haired gerontocrats who may send a handwritten postcard to surprise mum who will in turn surprise them with the blunt Alzheimer's retort, "And who the hell are you sonny?" The budget boutique gets an instant audience of thousands per visit with constant word-of-mouth amplification while the huge muscle brand gets one, perhaps. This is of course an over-exaggeration and we wish everyone's mum a long, happy, postcard-strewn life, but it underlines a basic point.
Again, with an online focus on bookings rather than building brand image (which is going to drive all those bookings), major hotel chains are in effect going extinct while upstarts cavort.
Consistency is ever harder to find as new brands and sub-brands proliferate. But any gap, even a perceived gap between expectation and experience, means the customer is gone, snatched by the whirlwind of online choice. Consistency remains the Achilles heel of a hospitality business plagued by erratic franchise operations and hard-to-find trained staff especially in places like China where huge hotel projects that defy any sane economic argument simply Hoover up qualified personnel – and fussy grads too.
Would you marry the devil you know or some schizophrenic with 15 unique and unpredictable personalities? Sybil, sybil, SYBIL, Sybil… Take your pick.