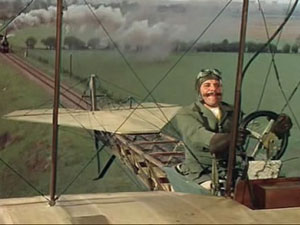 Pick a winner: Those magnificent men in their flying machines...
SALVATION is finally at hand for pink-eye travellers. While beaming accountants will wedge you into any mobile crevice – as long as it's cheap – passengers at the receiving end of sardine seats, flight delays and bilge-water coffee, have rarely fought back. After all, companies have to watch their bottom line and your unsung bottom is grist for their mill as you careen across continents, heroically unmindful of hold-ups, hassles, and haemorrhoids. But bottom squeezer bargain basement fire sale fares are a thing of the past. If an entire country like Bhutan can measure Gross Domestic Happiness – without tossing Piers Morgan to an angry yeti – surely travellers can attempt to do the same? Low fares are one thing but getting to the other end, intact, with a smile on your face, is a big ask. So can you actually measure happiness on a trip?
New York start-up Routhappy believes this is eminently possible by looking at size and style of seat, layout, age and type of aircraft, length of flight, and traveller feedback. Its particular brand of cheery alchemy melds the byzantine workings and fare computations of the Amadeus booking system with its smile recipe to generate happiness scores. Routehappy states it simply: "Find the happiest flight", adding, "all flights are not created equal – get the best flight experience for the lowest price."
Send us your Feedback / Letter to the Editor
So how does this work in practice? We explored one way fares from Beijing to Hong Kong for 17 July, 2013. The lowest was a 2.9 rating for a 9hr 45min flight on an Air China B737-800 with a tedious layover in Chongqing at US$659. The biggest smiley face at 8.5 (out of 10) was reserved for a US$356 ticket on Air China's A330 with a 3hr 25min flight with variable seat width and entertainment and an "average" rating by flyers. Cathay's US$578 ticket was rated a high 8.5 with its B777-200 listed as having a "very good" flyer rating.
On 17 July again, the one-way chart from Singapore to London is topped by a 9.3 smiley for Virgin on an A380-800 with roomy seats for a 13hr 25min flight at US$1,360. Singapore Airlines weighs in a tad lower also at 9.3 with its own A380 (at an expensive US$5,393) and the Emirates A380 with a 16hr 35min flight with one stop in Dubai has an 8.2 happiness score on a fare of US$843. For Sydney to New York, Korean Air tops with 8.7 on a B777-200 for a 26hr 45min flight with a stop in Seoul priced at US$1,357. Virgin bags the next few slots followed by Delta and Cathay (all these before Qantas). Routehappy is a flight search site and does not sell tickets but links you on to airlines (American, Delta, United) and agents (Priceline). Its sales net and reach will grow over time. Forewarned is forearmed and travellers can shop for the best deals using the ideal flight profiles.
If an entire country like Bhutan can measure Gross Domestic Happiness – without tossing Piers Morgan to an angry yeti – surely travellers can do the same?...
A lot of imponderables go into a happiness mix though and while size of seat and age of aircraft and brilliance of the cabin crew's Nina Ricci outfits all play a role, journeys are fraught with mundane peril. We cite a few.
At Hong Kong International Airport, Cathay Pacific's vast and speedy business class check-in counters have been switched to bag drop lanes (UNHAPPY). Fiendishly limited Marco Polo desks deal with enormous queues and irate passengers (MORE UNHAPPY). Unconscionable six-and-a-half hour Dragonair delay in Beijing (NOT HAPPY). Sidestepping deftly, if deviously, Dragonair blames Beijing weather when all other flights appear unaffected (TREMENDOUSLY UNHAPPY). No in-flight entertainment at all (BALLISTICALLY UNHAPPY). On CX watch the irrepressible Jeremy Clarkson, Richard Hammond and James May from Top Gear play car rugby with a fleet of KIAs in Twickenham Stadium (HAPPY). They trash the cars and turn a beautiful grassy field into a chewed up bog (VERY HAPPY – men only). Also watch Stephen Fry in Gadget Man trying to bring a robot shopping cart to heel and master various devilish devices (DELIRIOUSLY HAPPY).
Our modest list continues. Awful food on Jet Airways Delhi-HK and sloppy toilets (UNHAPPY). MAS summer fares at an astounding HK$2,880 for an HK-KL business class return (FIENDISHLY HAPPY). Watch Cathay stewards wretchedly wandering the aisles with hand-scrawled placards offering 15 percent off on duty-free (EXTREMELY UNHAPPY). Stewardess gives you her telephone number (SMUGLY ECSTATIC). Her boyfriend answers the phone (SUICIDALLY DISTRESSED). Bangkok traffic (MADDENINGLY UNHAPPY). Spicy Thai food (RIDICULOUSLY HAPPY). New York Hilton Midtown drops room service (UNHAPPY). Turkish Airlines introduces signature scent (HMMM...). United Airlines adds 28 kennels for pets at Chicago's O'Hare airport (HAPPY AS A HOUND).
It all comes down to one thing eventually. Is the flight on time? And no index anywhere can compute the odds of this happening with any degree of certainty. With airlines straining to claim that journey times are getting longer (as amply evident in stretched ticketed arrival times that attempt to build in various delays to con the consumer), it comes down to common sense. Use your loaf, people. We agree: cheapest is not always best. Do get your pilot to land a fully loaded B747 on Piers Morgan (OVER-THE-MOON HAPPY).