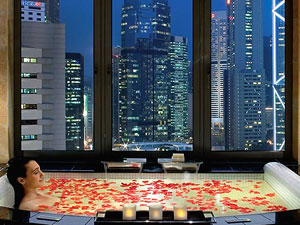 Another No.1. Find out who and where. Clue: Hong Kong
TRAVEL POLLS can reveal wondrous things. For one, hotels can fly. This development may soon relegate the Airbus vs Boeing battle to the dustheap of history and cheer those who kvetch about airport humbug and travel delays. Hotels in Thailand mysteriously found their way into the top ranks of our keenly contested Best Airlines Worldwide category this year. They also swept the polls for Best Budget Airline, Best City for Business, Best Cabin Service and so on. Another curious fact is how many people in Thailand, Taiwan and South Korea are named ";lkj" – to be respectful, with a capital ";". That's one punchy hi-tech moniker for those name-your-baby books.
The 2013 Smart Travel Asia BEST IN TRAVEL Poll ran from May to July. Once we cleared the air of enthusiasts who simply love voting for their country, those following "team orders" and a great many more tinkering incessantly – but unproductively – with proxy servers and robot voting programmes, we arrived at other truths, no less important.
Send us your Feedback / Letter to the Editor
1. Brand perception is interlinked. A hotel, for example, cannot attain its natural peak if the local airport is Neanderthal or if business travellers have to wrestle taxi drivers for sane fares. Several elements combine to shine a positive or negative light on the other, each reinforcing a brand perception. Hotels are doomed to march lockstep with airport and city barometers. Remarkably, some buck the trend. Like historic gem the Taj Mahal Palace Mumbai which, despite the egregious burden of one of the most fiendish airports east or west of the Suez and doubly plagued by cranky red-eye 2am arrivals, is sufficiently grand, courteous and comfortable to muster support.
Interlinking means a hotel, for example, cannot attain its natural peak if the local airport is Neanderthal or if business travellers have to wrestle taxi drivers for sane fares...
Weather is part of that interlinking process. Beijing has been blanketed under smog of Biblical proportions for much of the year, losing both tourist traffic and the glossy magazine editorial space that drove that traffic. Compounding the problem, according to FlightStats, in June 2013 Beijing Capital International Airport had an ontime departure record of just 18 percent. This is the busiest airport in Asia with 73 million passengers annually and it is slowly choking to a halt with overly rapid China fleet expansion, persistently poor weather, and military controls over air space.
Directly in the line of fire, airlines like Cathay Pacific and Dragonair suffered as flight delays stoked passenger ire. Yet, jaunty, anything-goes, art-incubator The Opposite House swam against the Beijing tide to put in a stellar performance as a leisure retreat. Sometimes strong brands with a loyal following can buck trends.
2. Visibility is hugely important. Out of sight is out of mind. Travellers say they vote for their favourite brands based on three factors of varying importance. First, knowledge and/or use of a product; second, feedback from friends and reviews; and third, brand visibility in the voter's browsing space. Spotting something as you arrive at a decisive point – be it voting or booking – can be a turning point in a crowded online space. An actual stay may account for just around 30 percent of the overall voting decision in the case of an average hotel, and 20 percent or less for a luxury address. This is similar to people voting Rolls Royce the best luxury car with few having ever sat in one and fewer still owning one. Feedback and visibility are prime components of brand perception. And brand recommendations are crucial.
Expensive image advertising in printed magazines often misses the mark as the intended readers happen to be elsewhere, usually on the Web, arguing with Tanya from Smolensk for a better rate on her titillating video feed. As paying print subscribers move online where information is both free and immediate, magazines (especially English titles in Asia) have been forced to pump free copies into hotel rooms to make up their circulation numbers. This "circulation" is aspirational, even fictitious, rather than real and reaches fewer and fewer people. In some cases this "bulk" circulaction may account for over 90 percent of a magazine's purported distribution breakdown. Many magazines serve up great editorial content but lifestyles have dramatically changed.
Travellers do not commonly read in their hotel room and many prefer information in their own native language. If it is a toss up between reading about the demise of the Russian rouble in a staid business title or heading to the nearest Bangkok bar for a chilled Singha beer, the outcome is pretty clear.
3. Even the best brands need voters. Real ones. Hotels that fly will end up permanently banned from our poll as will airlines that claim to be the Best Leisure Destination. But winners can only be established when there are sufficient votes. Unfortunately this favours muscle brands and big thrumming cities like Hong Kong, Singapore and Bangkok whose hotels get bumped up on the goodwill – and traffic – surge. Quaint hotels in Bhutan and Lijiang fail to make the grade though their charms may be significantly more appealing than designer city cinderblocks.
At the end of the day, with voters taking an average 12 air trips a year and staying at innumerable hotels for business or pleasure, our poll, now in its ninth iteration, is well placed in a space where knowledge is abundant and small nuances get seen if not always sufficiently amplified. It is an imperfect process and we attempt to refine it each year. But it offers us - and the winners - a wealth of useful information on frequent traveller habits and brand tastes.
Unlike many polls, ours is not paid for and there is no alarming nomination fee or arm-twisting for that gala dinner. Familiar with being fleeced for awards, some winners still quail at the prospect of meeting us and ask fearfully, "How much will this cost?" Nothing. This is about research, not razzamatazz. We hope you will enjoy viewing our readers' frank assessments. Perhaps you will agree Vietnam is the flavour of the month and book in at the disarmingly ingenuous but persuasive Nam Hai. You might sing along with that Singapore Girl. You might seek the company of hospitable wolves in a snowy forest, as the ads have it. Or not. It's called choice. Exercise it.